REM GLEN HELEN RACE REPORT: THAT WAS THE YEAR THAT WAS
The 2018 REM season started with Val Tamietti picking up his number one cup for being the highest points scoring rider at Glen Helen in 2017. Val said, "I used to be the most famous motocross person in my house, but now people just refer to me as the husband of the famous photographer Debbi Tamietti." Photo by Debbi Tamietti (of course)
Photos by Debbi Tamietti, Dan Alamangos, Mark Chilson, Jon Ortner, Rich Stuelke & Ernie Becker
The 2018 REM Motocross season went out with a whimper instead a bang—as high winds forced REM to cancel the last motocross race of the year. MXA thought that they would take the time to highlight some of riders and events that made the 2018 season so memorable. If you'd like to join in on the fun, the 2019 REM motocross season starts on January 12, 2019 at Glen Helen Raceway.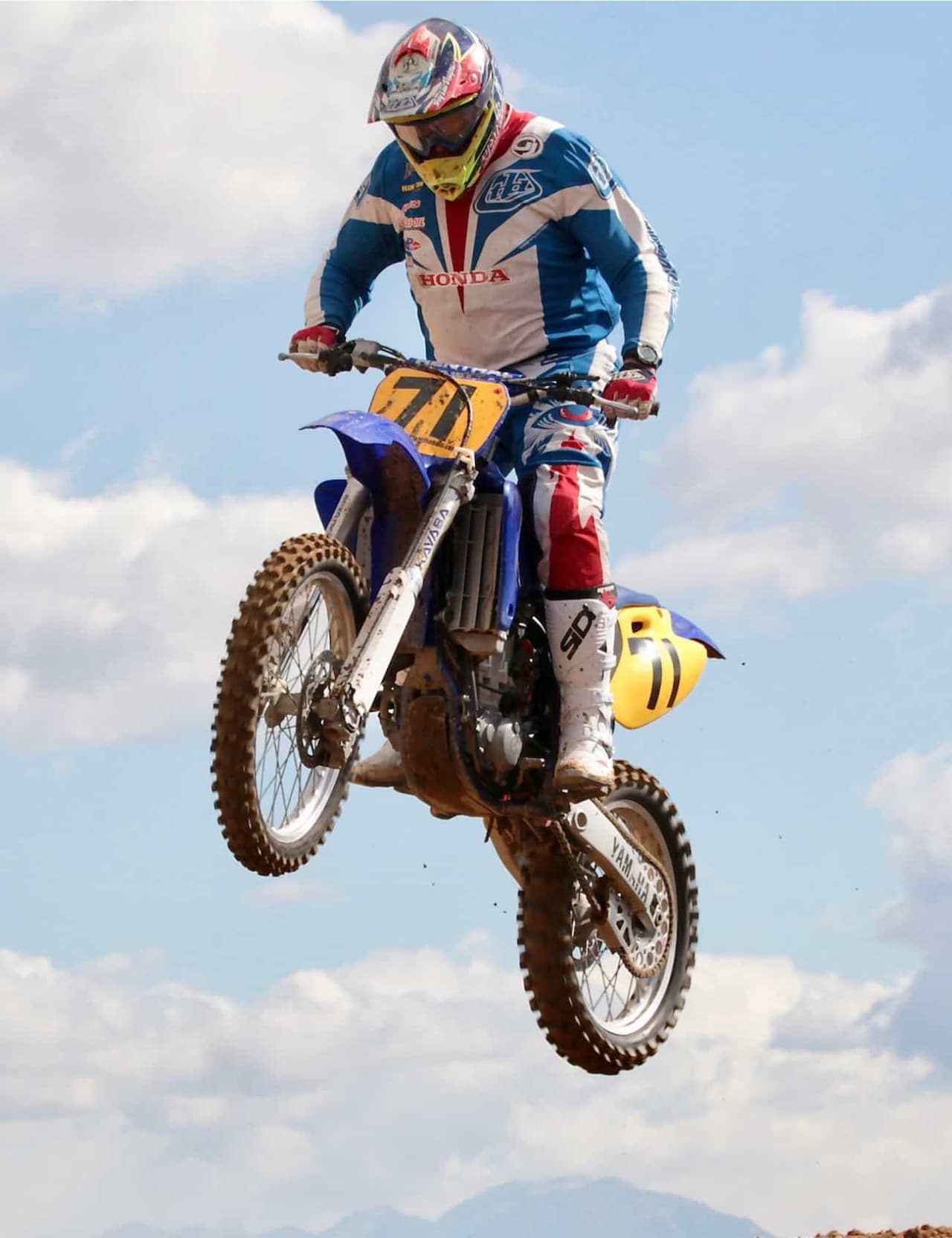 Four-time 250 National Champion Gary Jones refurbished an old Yamaha YZ426F and decided to go ahead and race it. Photo: Debbi Tamietti
Dutchman Ralf Schmidt became the TM Motorcycle importer for the United States and became a regular at REM in the Over-40 Expert class. Photo: Debbi Tamietti
Irish racer Jim O'Neill flew into SoCal to stay with Dennis Stapleton and ended up racing a string of REM races before heading home for the Irish Nationals. Photo: Debbi Tamietti
Jon Ortner (10) takes a moment to wave a "thank you" to Chris Cole (45), who moved over at the top of the hill to let Jon and Luther French (2) go by. Photo: Rich Stuelke
Japanese rider Tatsushi Kawakami (412) was one of the many Japanese, British, Swedish, Brazilian, New Zealand, Irish, Kuwaitti and Australian riders to race at REM in 2018. Photo: Dan Alamangos
In what must have been a practical joke, someone replaced Willy Simons, Jr's dog with a pig while he was walking to the riders meeting. Photo: Debbi Tamietti
REM racer's are almost all friends. After Joe Sutter crashed, a crowd of worried friends gathered at Joe's Sprinter to check on him. Joe was out for a couple months, but came back once he healed up. Photo: Jon Ortner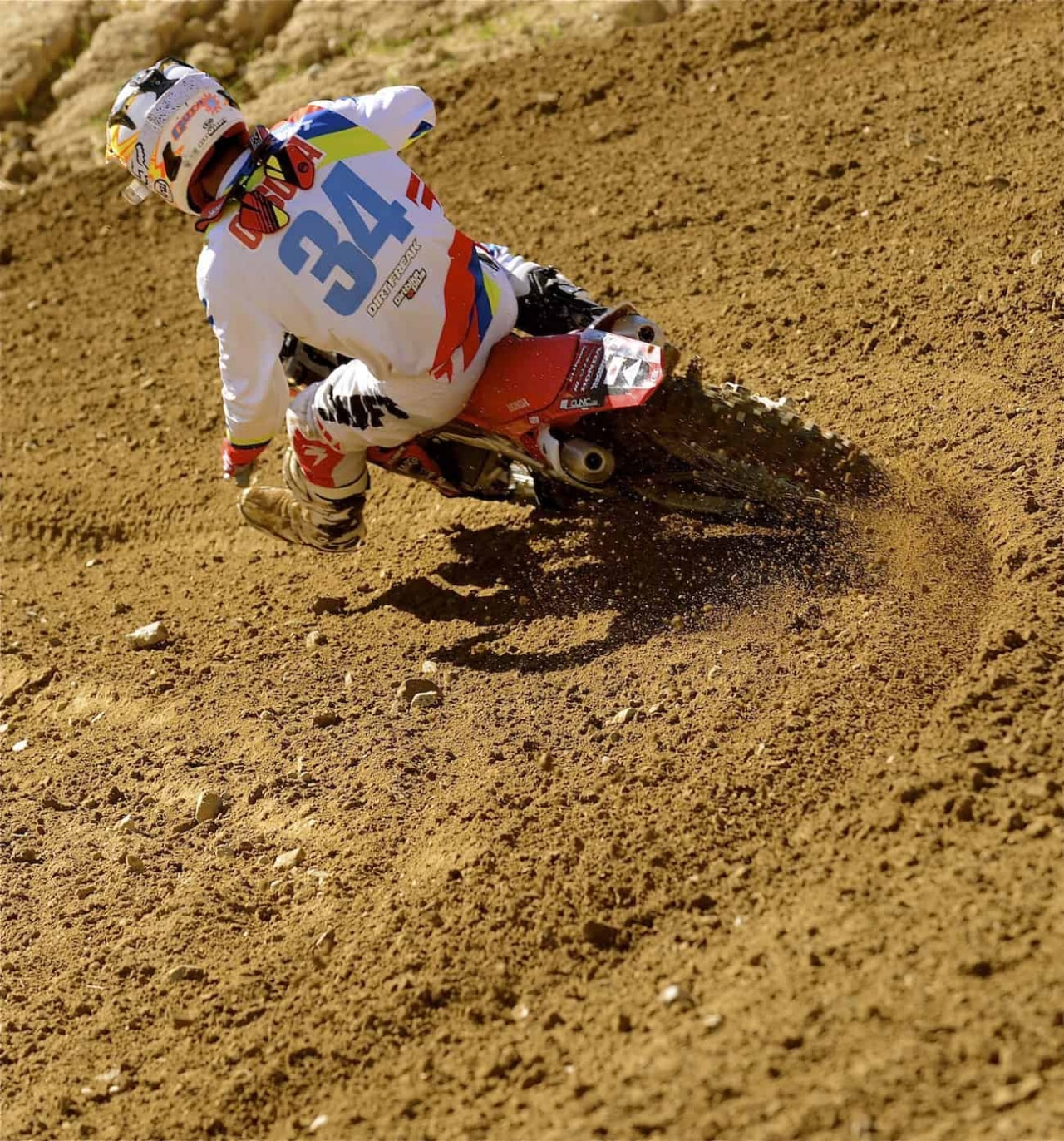 February was a big month for visiting Japanese riders. In fact, Gota Otsuka led a Japanese sweep of the top three spots in the 450 Pro class with Taiki Koga and Ukyo Michiwaki at the February 10th race. Photo: Jody Weisel
Randy Skinner rode injured all year long. In February he had a bad wrist (note the Mobius brace). In March he had a bad back and by Summer he stopped to have shoulder surgery. He returned in December.  Photo: Debbi Tamietti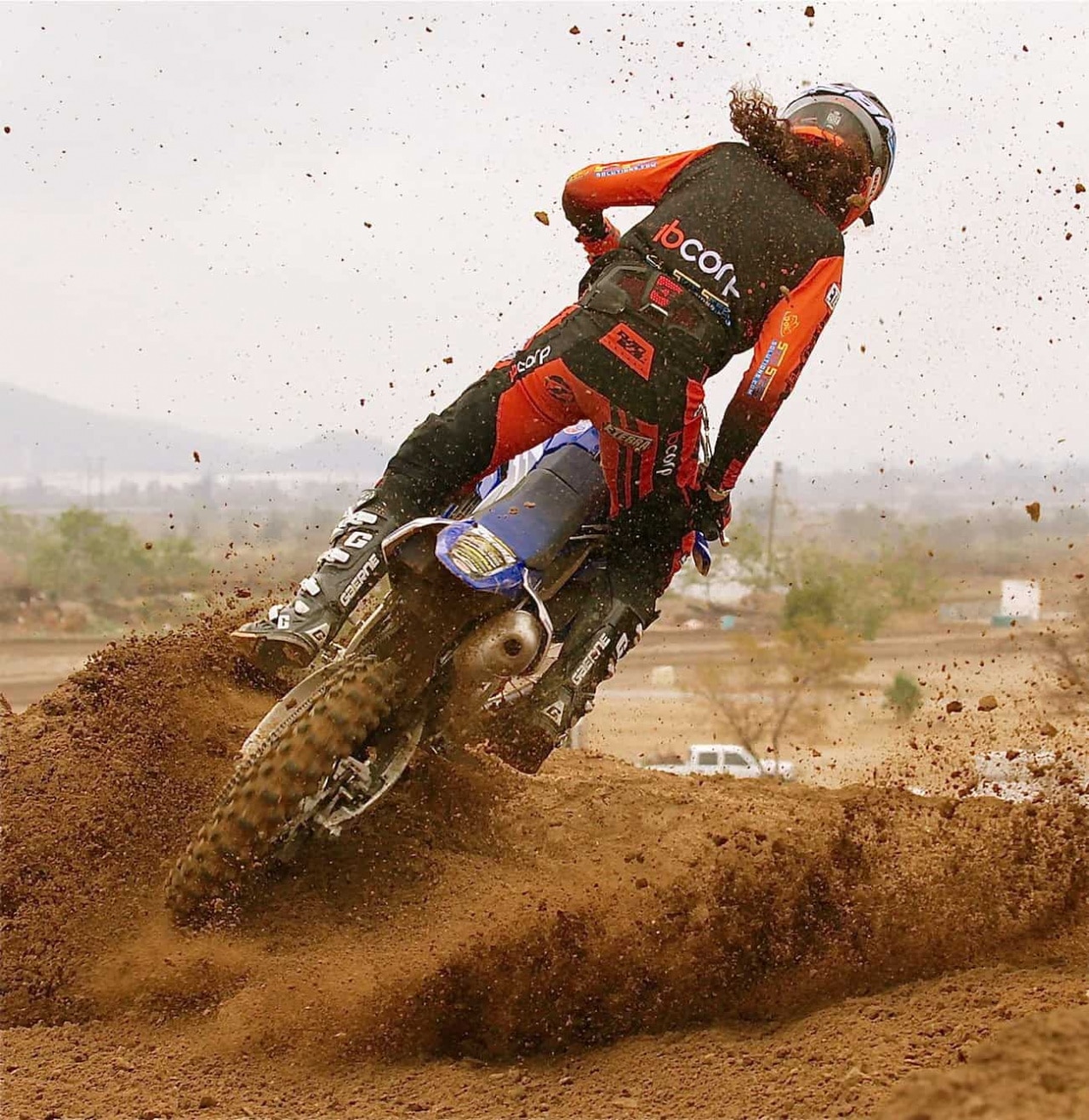 Never give up. Blake Wharton hammers the throttle even though he has missed this turn and is headed over the berm. He fought it for the next three photos. Photo: Debbi Tamietti.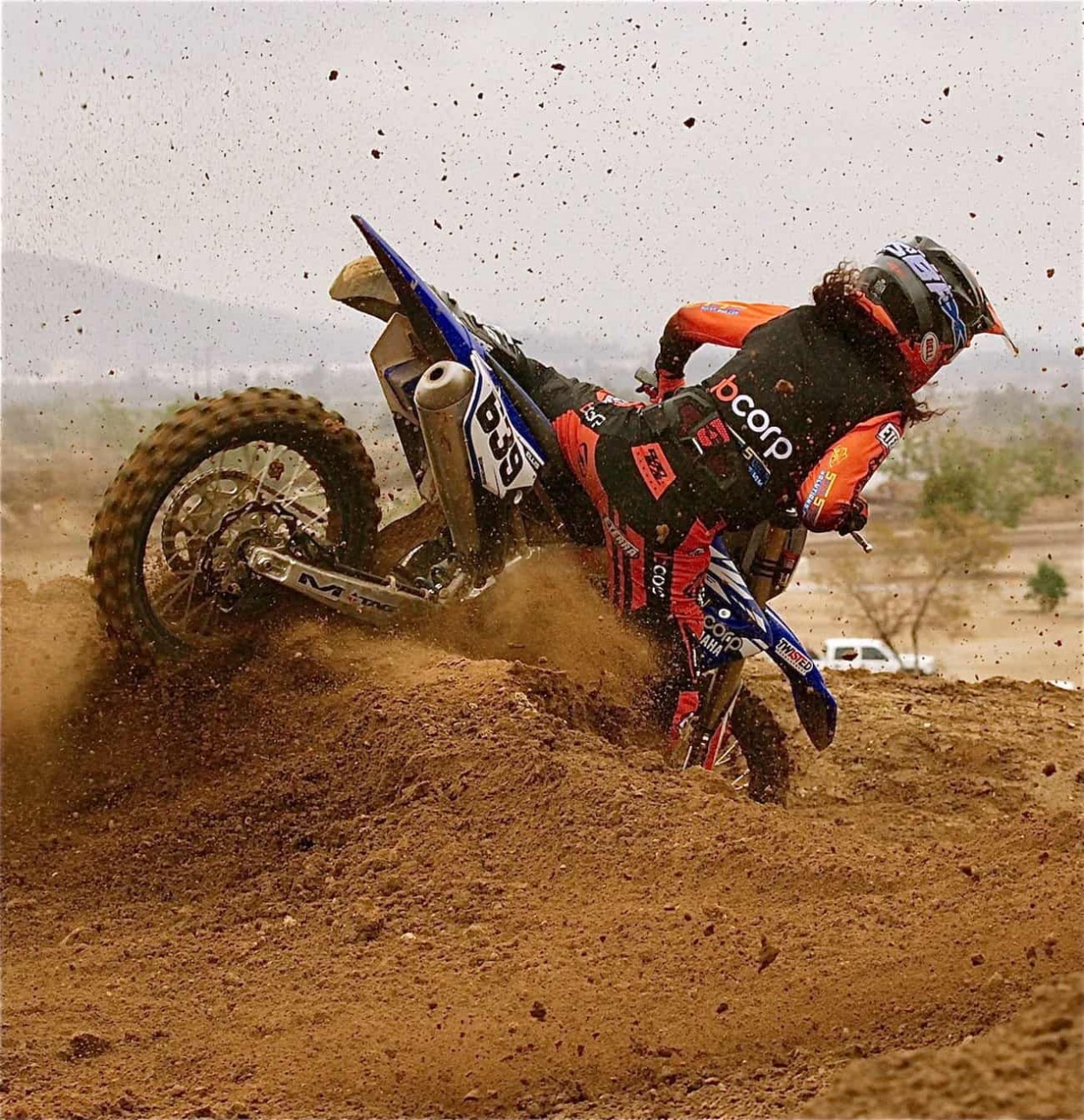 Down to the right.
Upper-cut to the left.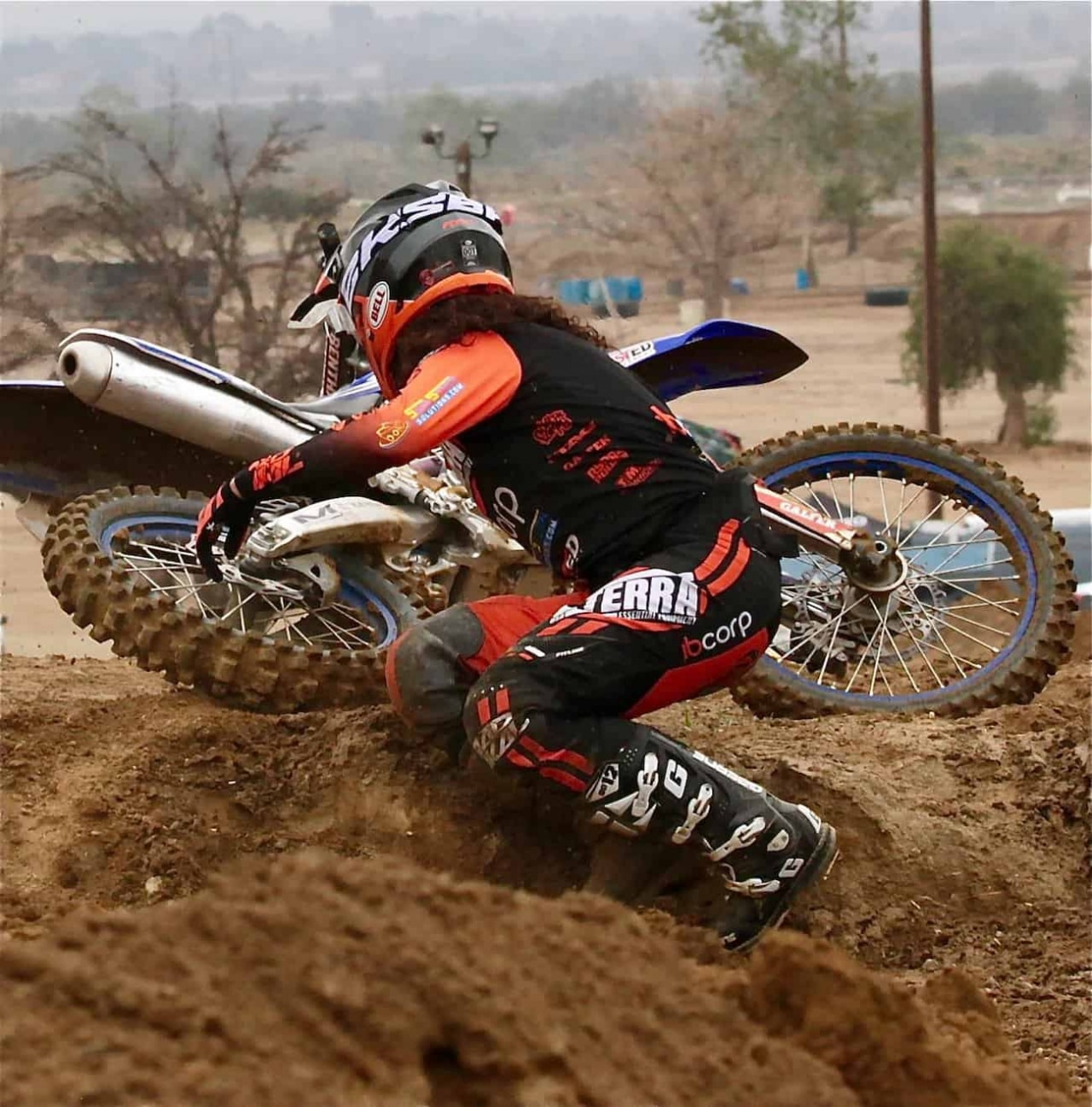 And, finally, Blake laid it down for good.
Richard Taylor (44) leads Enzo Lopes (16) and Pedro Bueno (970) out of the back portion of REM. Photo: Debbi Tamietti.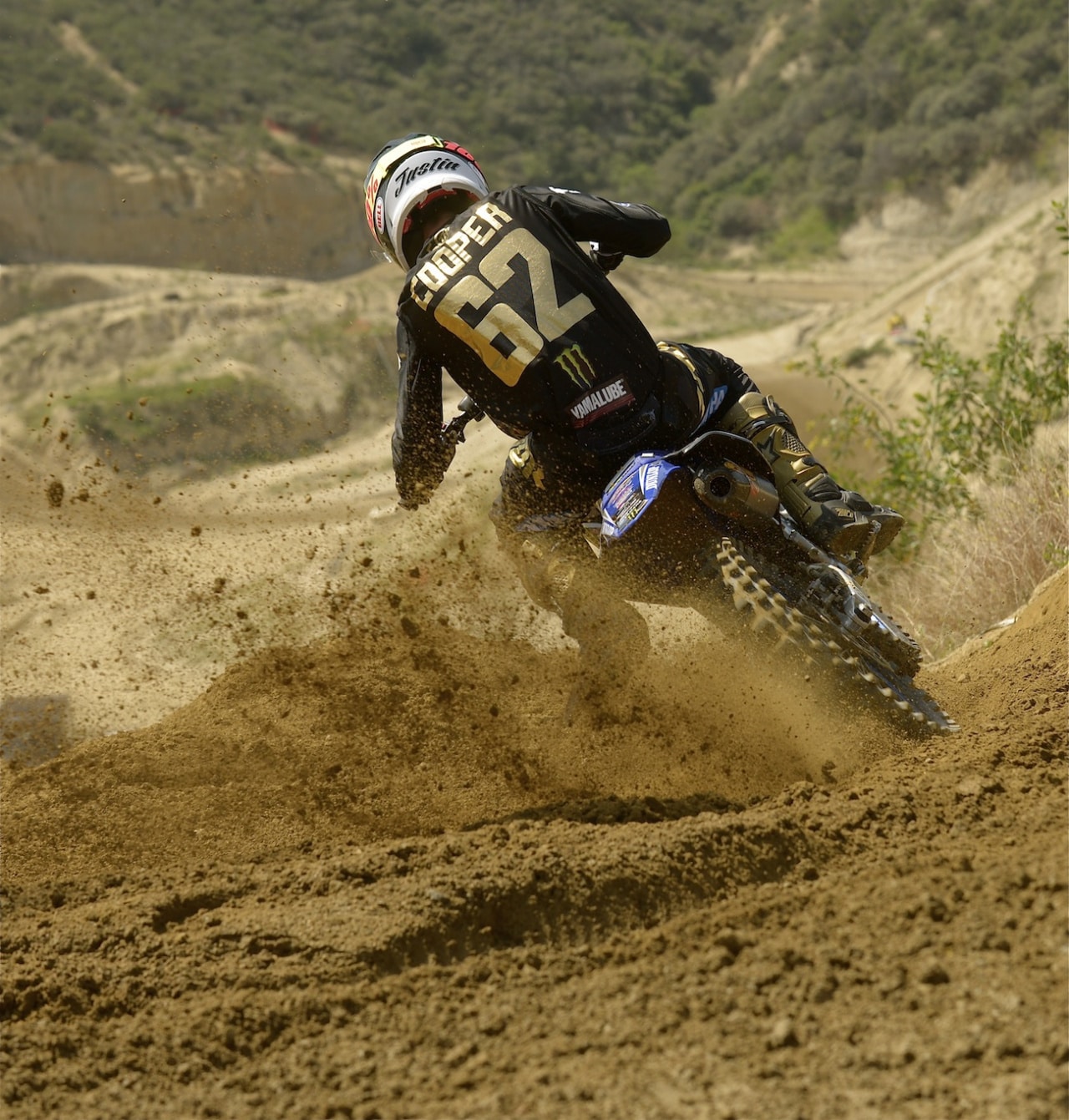 In late March, Star Yamaha's Justin Cooper came to REM for a test race to make sure he was all healed up before the AMA 250 Nationals started. Photo: Dan Alamangos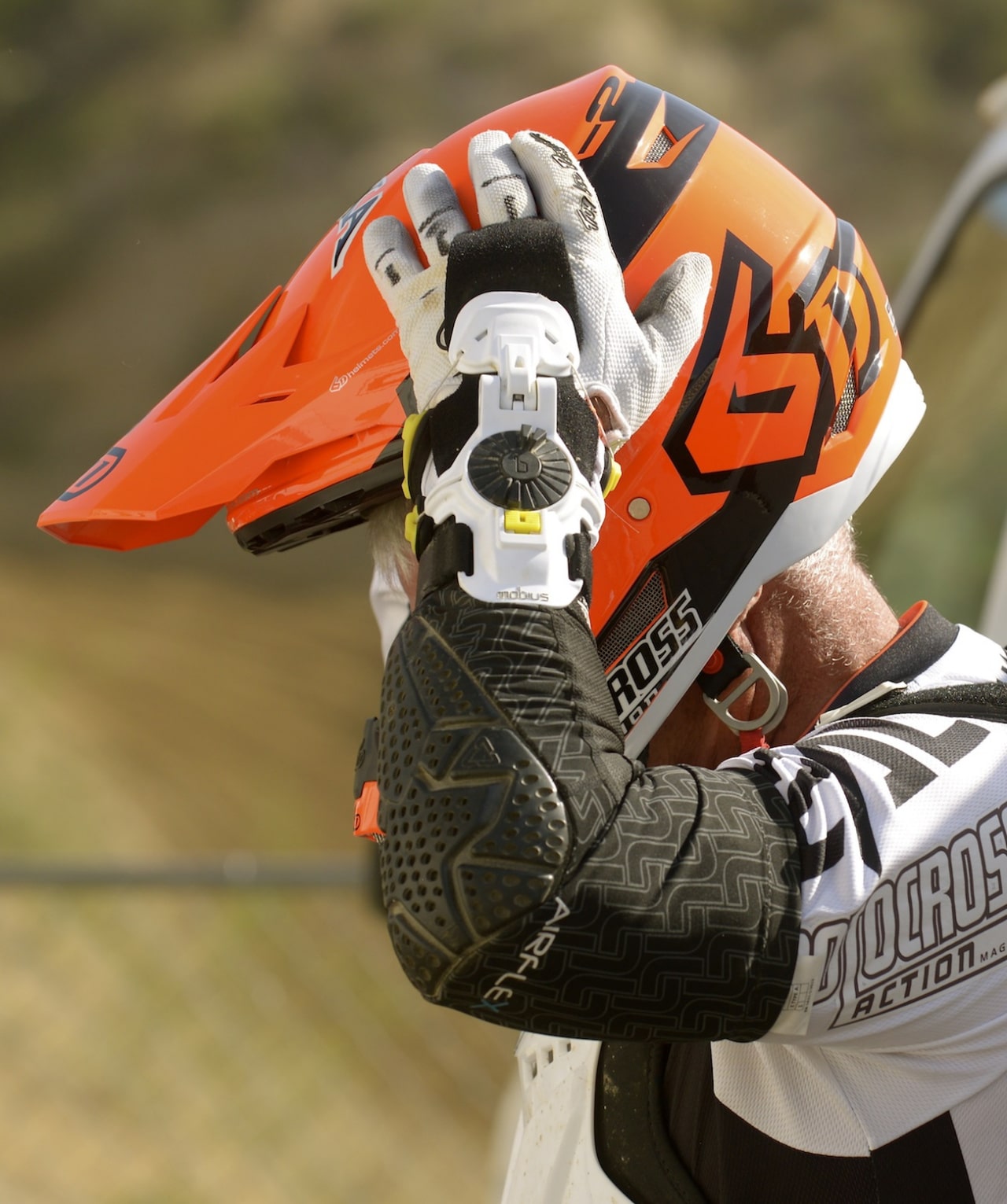 In April Jody Weisel returned to action from the broken arm and wrist that he had plated back in November. He looked a little bionic. Photo: Jon Ortner
New England Champion Austin Squires raced the AMA Nationals from 1997 to 2004. Austin now works for Metzeler/Pirelli. He hadn't raced in about five years, but decided to make his comeback on his old Suzuki at REM. Photo: Debbi Tamietti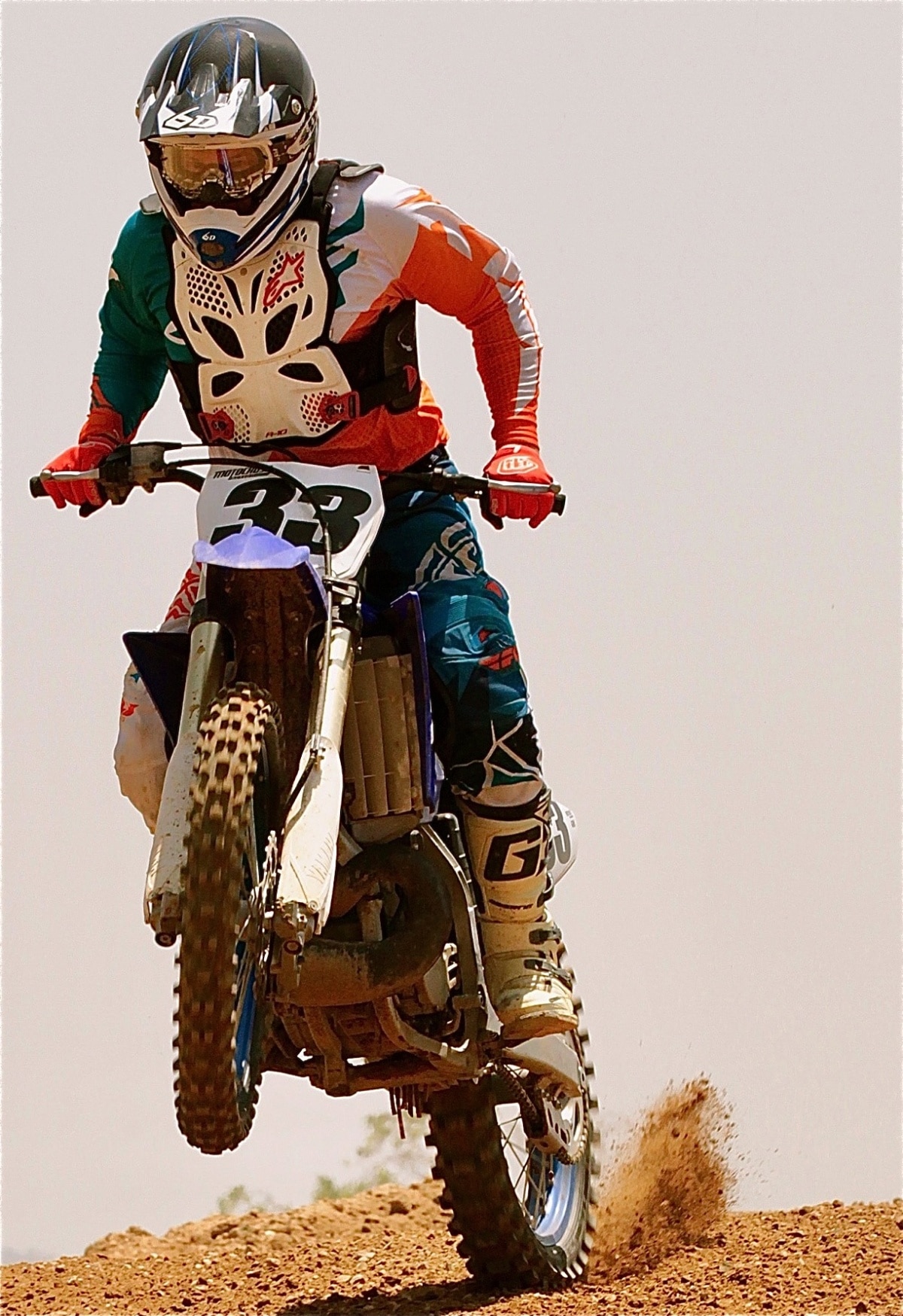 The Dentist of the Stars (DDS), Mark Crosby made the switch from a 250 four-stroke to a 250 two-stroke in April and never went back to his four-stroke.  Photo: Debbi Tamietti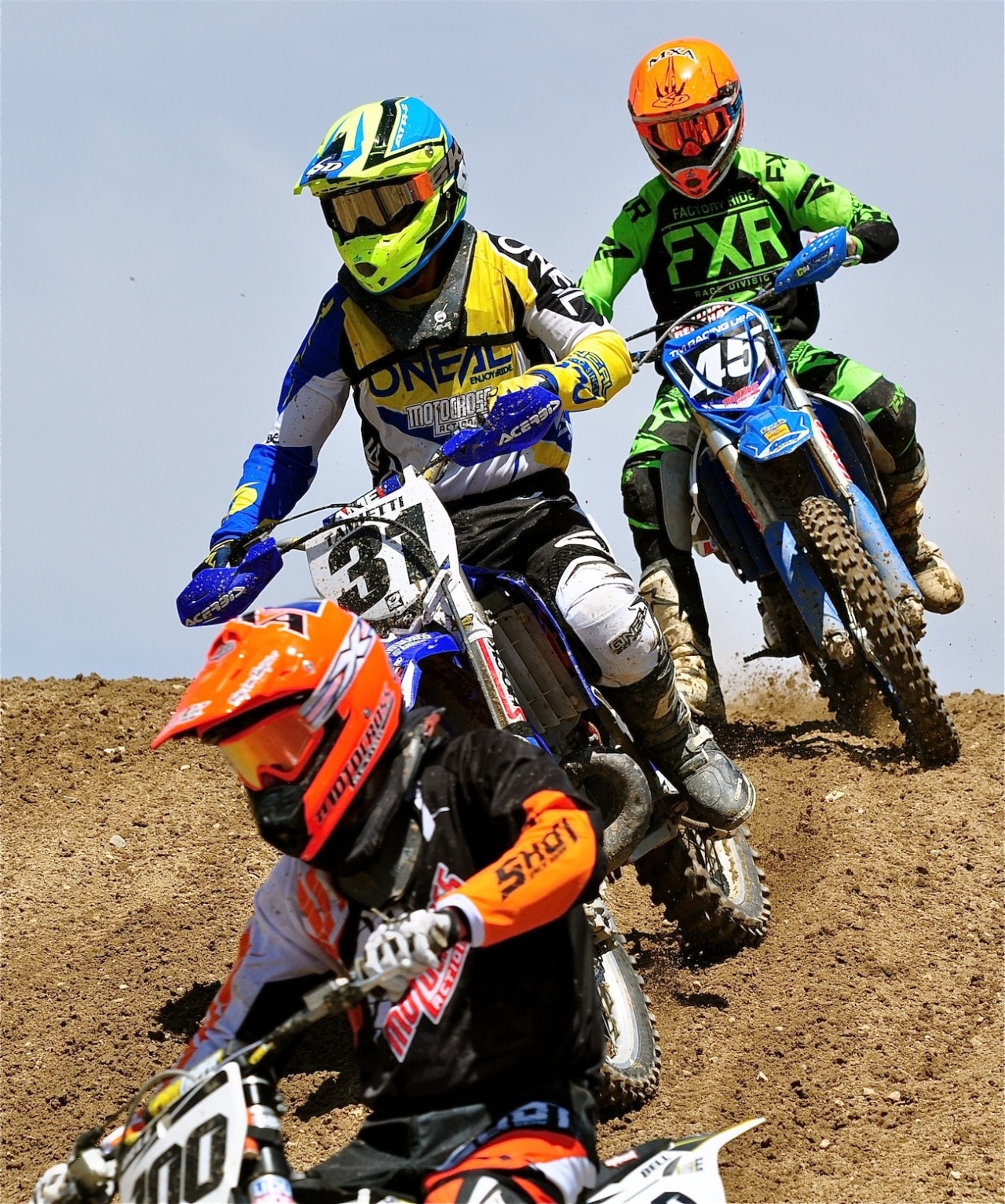 The Over-60 class exploded in 2018 and these three guys were major players—former Pro Circuit Husky rider Mike Monaghan (100), former CMC Number One rider Val Tamietti (31) and former Michigan Pro Randel Fout (45). Photo: Mark Chilson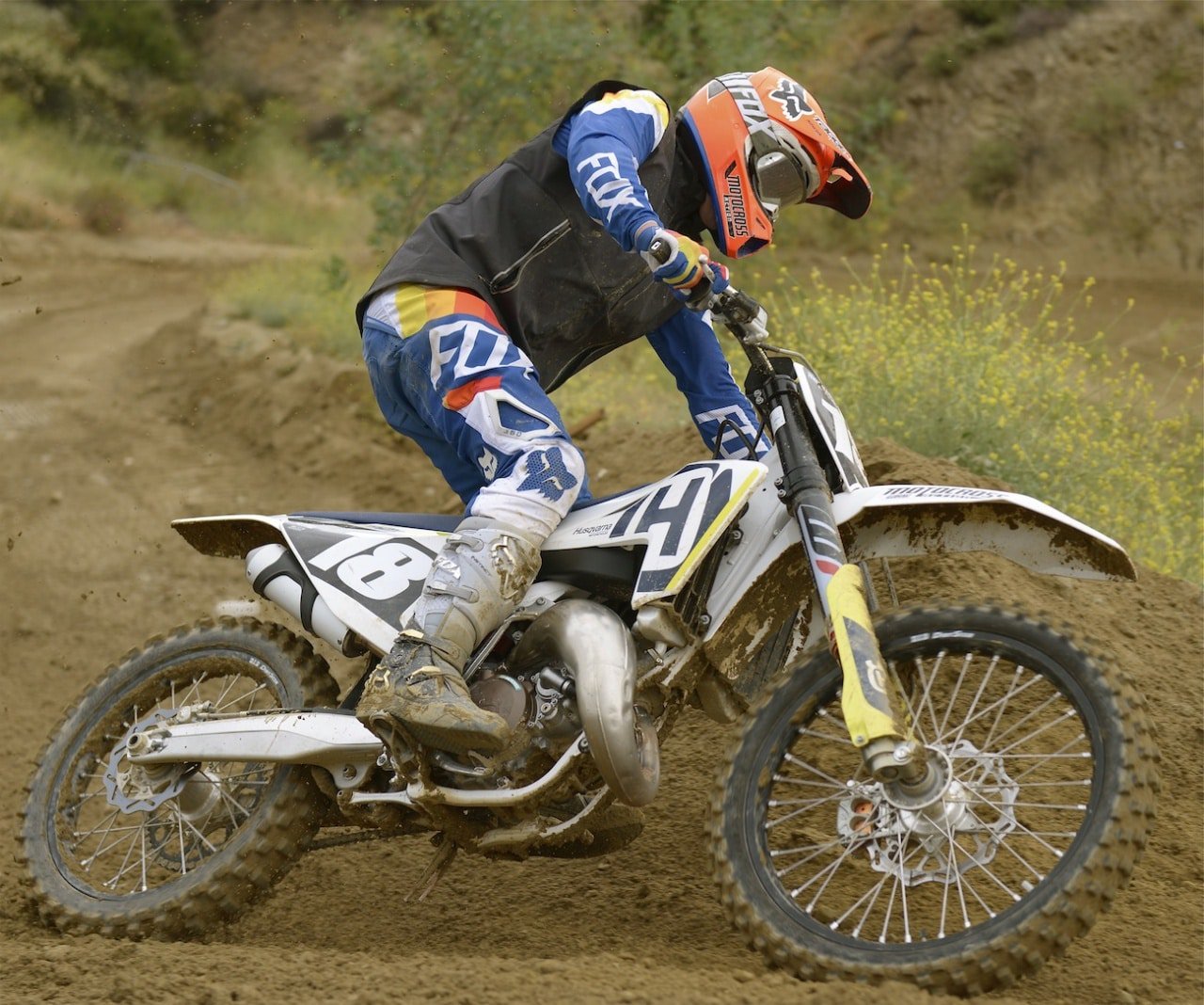 MXA test rider Dennis Stapleton (18) came to REM weekly to get in more time on MXA's test bikes. Here, he tries out a Husqvarna TC125 before heading to Hangtown to race the 125 All-Star two-stroke class at the AMA 250/450 National. Photo: Dan Alamangos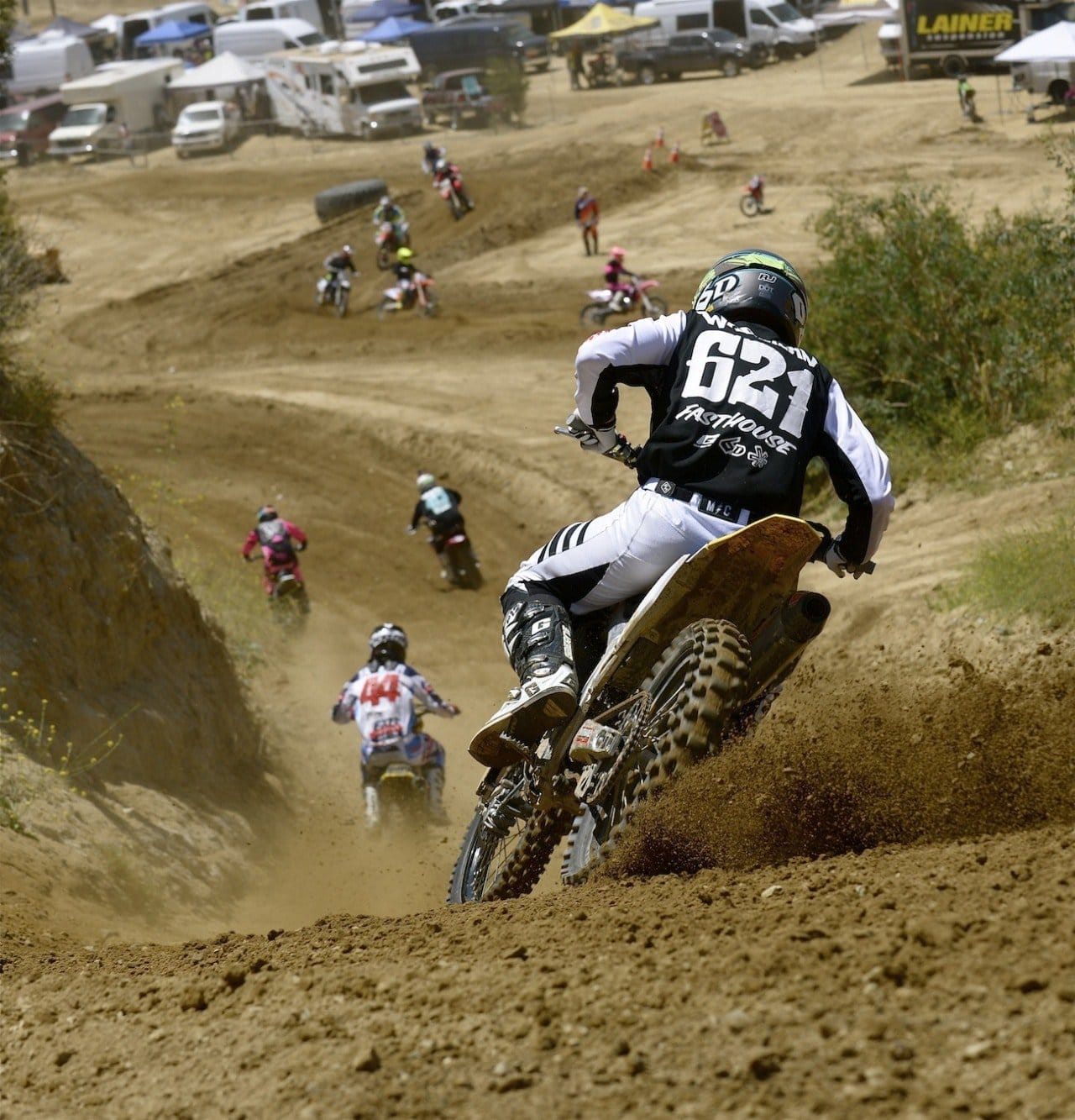 R.J. Wageman (621), son of former AMA Pro Russ Wagemen, chases Richard Taylor, son of former AMA Pro Rich Taylor, in the 450 Pro class. Photo: Dan Alamangos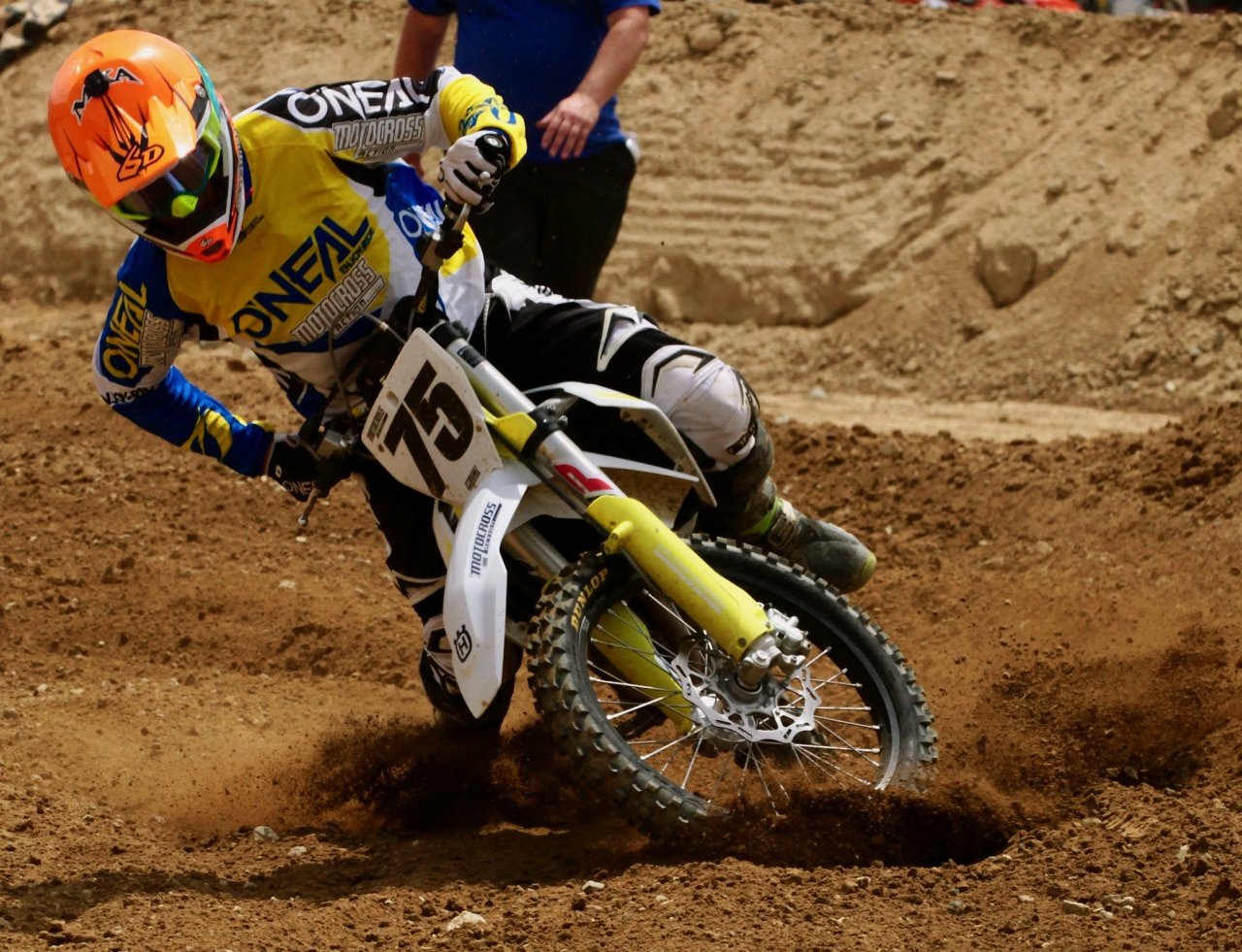 MXA test rider Josh Fout (75) tucks the front end in a sharp right-hand corner. What happens next is almost unbelievable. Photo: Debbi Tamietti
Josh loses the front end and hits the ground hard.
Then, his Husqvarna flips up and over, but Josh is still hanging on.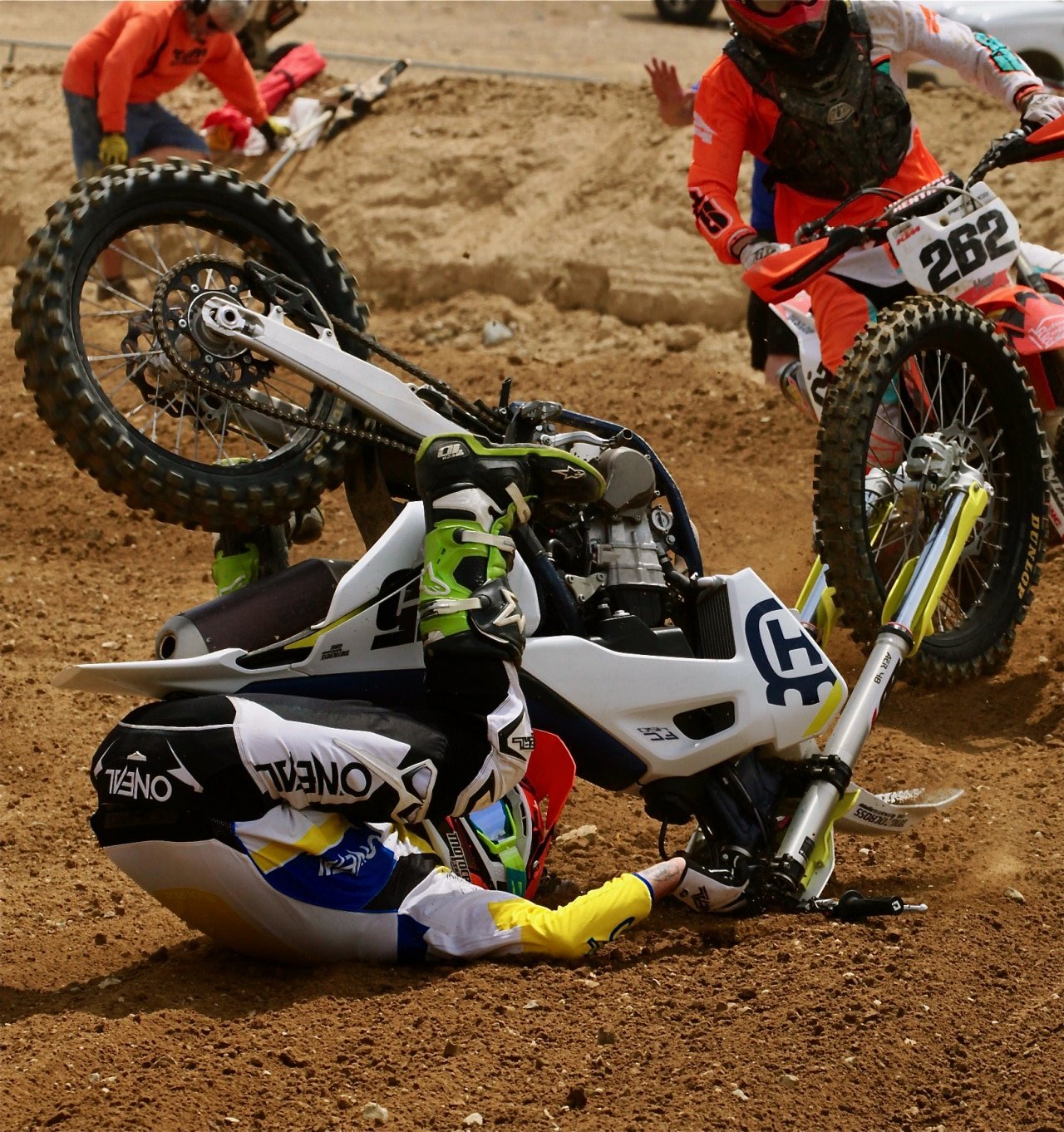 In the final frame Josh ends up completely upside down. He was unhurt, crawled out from under his bike and continued on.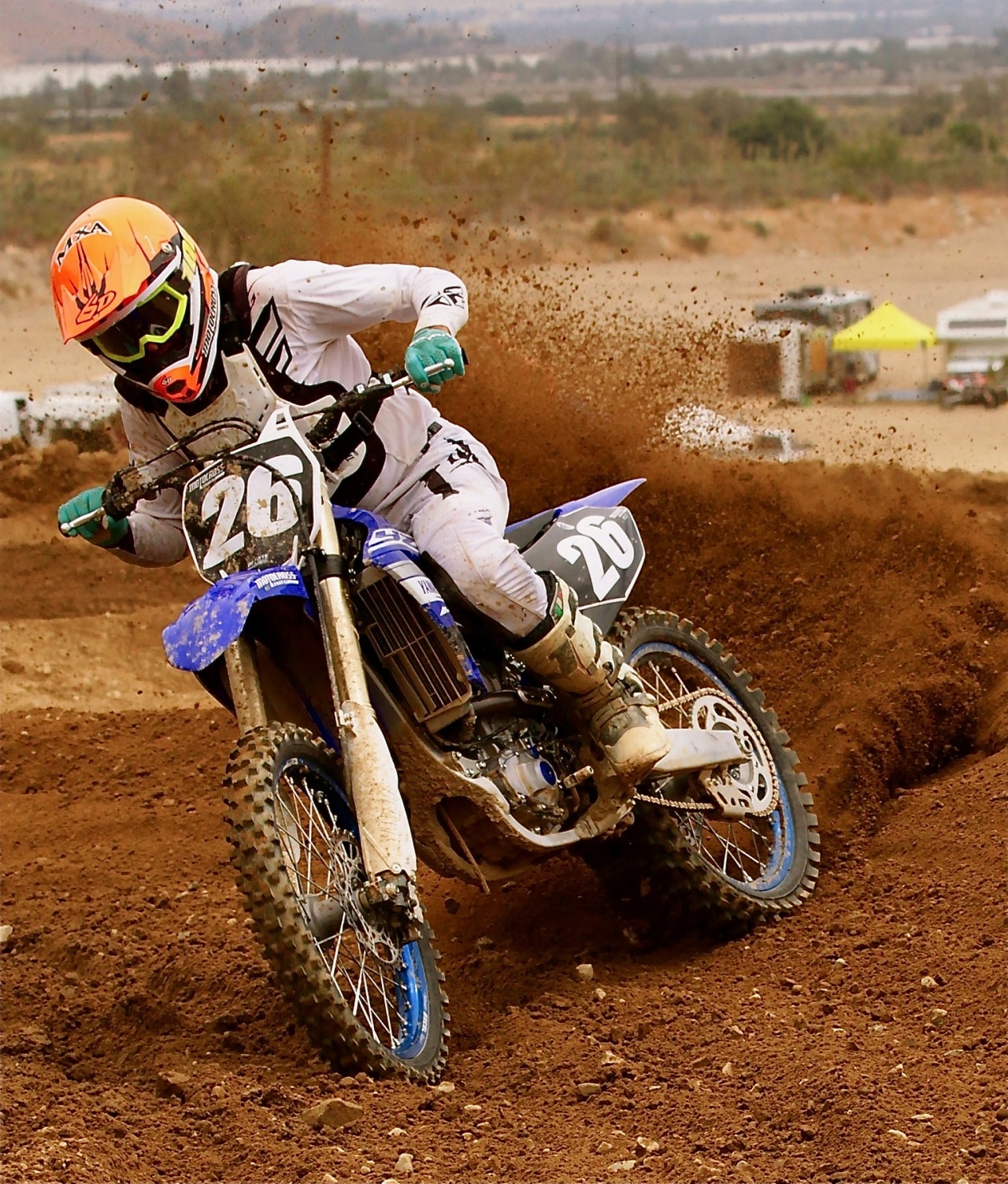 Australian motocross racer Dan Alamangos powers MXA's 2019 Yamaha YZ250F through some rocky loam. Photo: Debbi Tamietti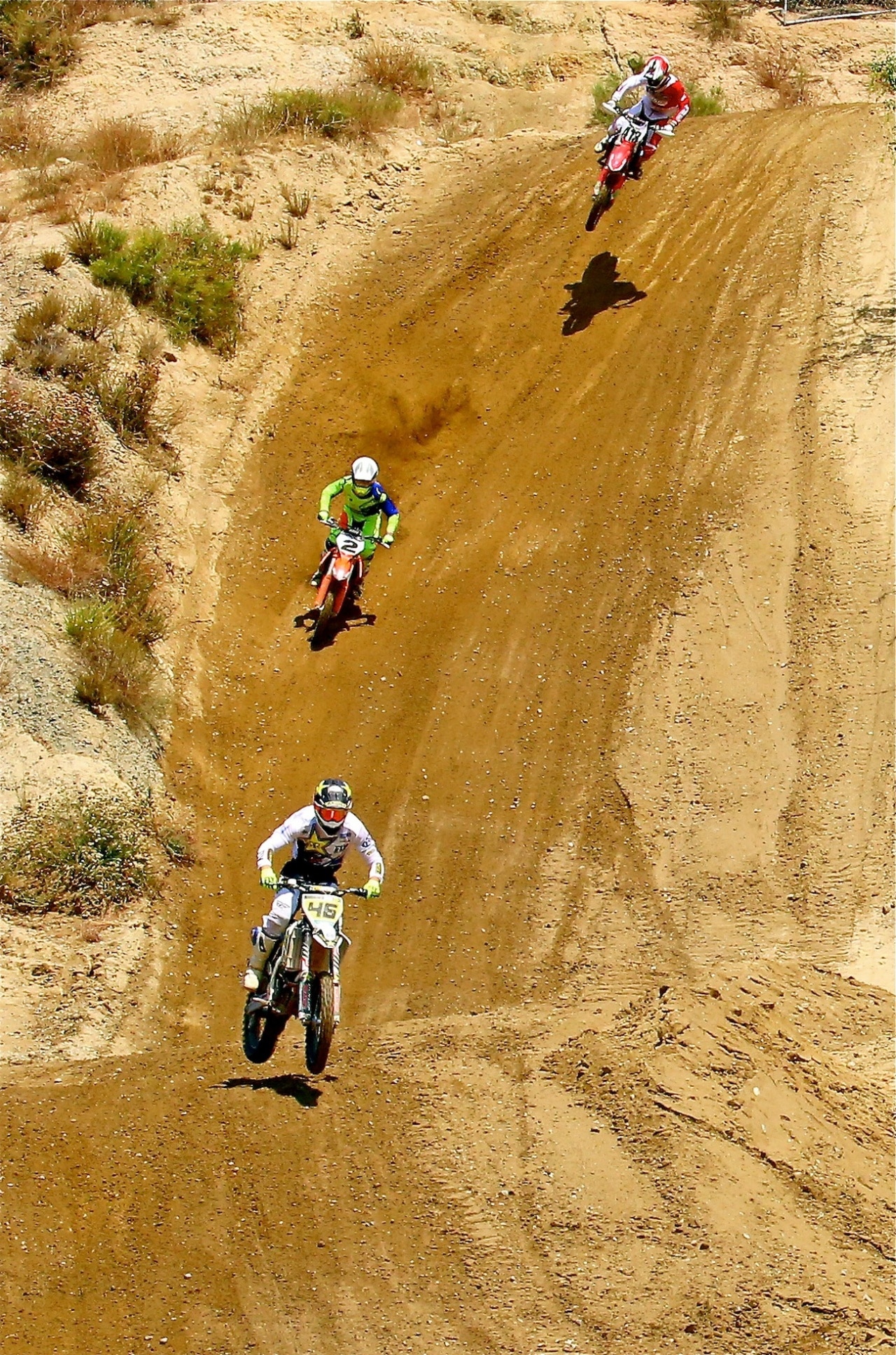 Dalton Shirey, Kurt Nicoll and Shaun Hillion rocket down a hill. Photo: Rich Stuelke
Kuwaitti Adulahtif Al-Kahanna is one of the fastest racers in the Middle East, but at REM he is a 250 Novice. Photo: Jon Ortner
The Enticknap brothers showed up to race at REM in August.  Adam won and Tyler (723) took a little trip. Photo: Jon Ortner.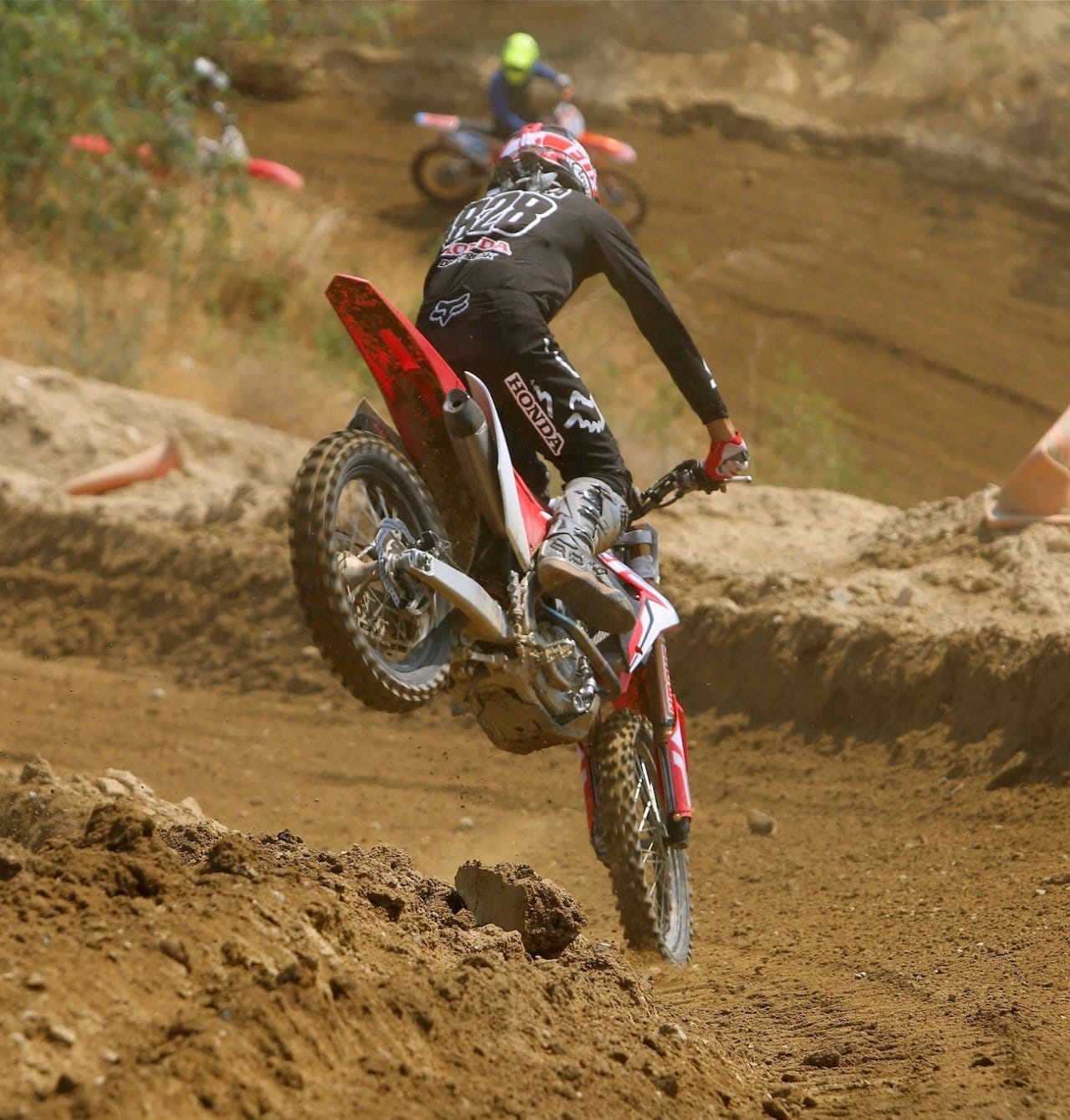 Japanese Honda rider Chihiro Notsuka over-cooked the corner at the bottom of this downhill and the rear end kicked up. Photo: Ernie Becker
You can't tell from this photo, but Chihiro was the 2017 All-Japan 250 National Champion, raced the 250 Grands Prix in 2017 and has represented Japan at the Motocross des Nations. Photo: Ernie Becker
Chihiro was flipped over the bars and down the bank. Photo: Ernie Becker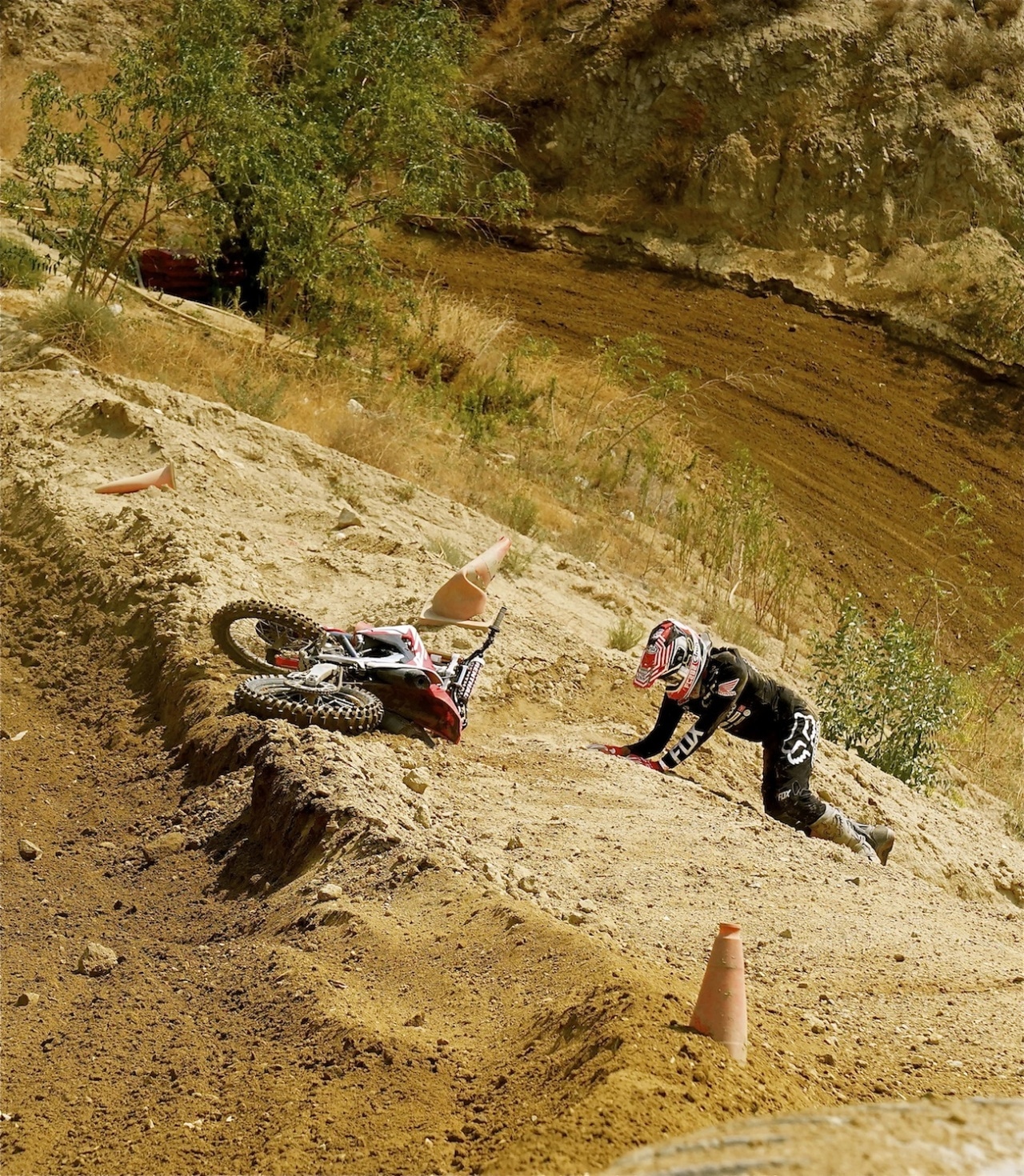 Chihiro had to crawl back up to his bike. Photo Jon Ortner
Debbi Tamietti catches the light just right as Jon Ortner is framed in his own roost. Photo: Debbi Tamietti
Carson Mumford is in the middle of his long-term contract with Geico Honda and is finally on big bikes. He's fast. Photo: Debbi Tamietti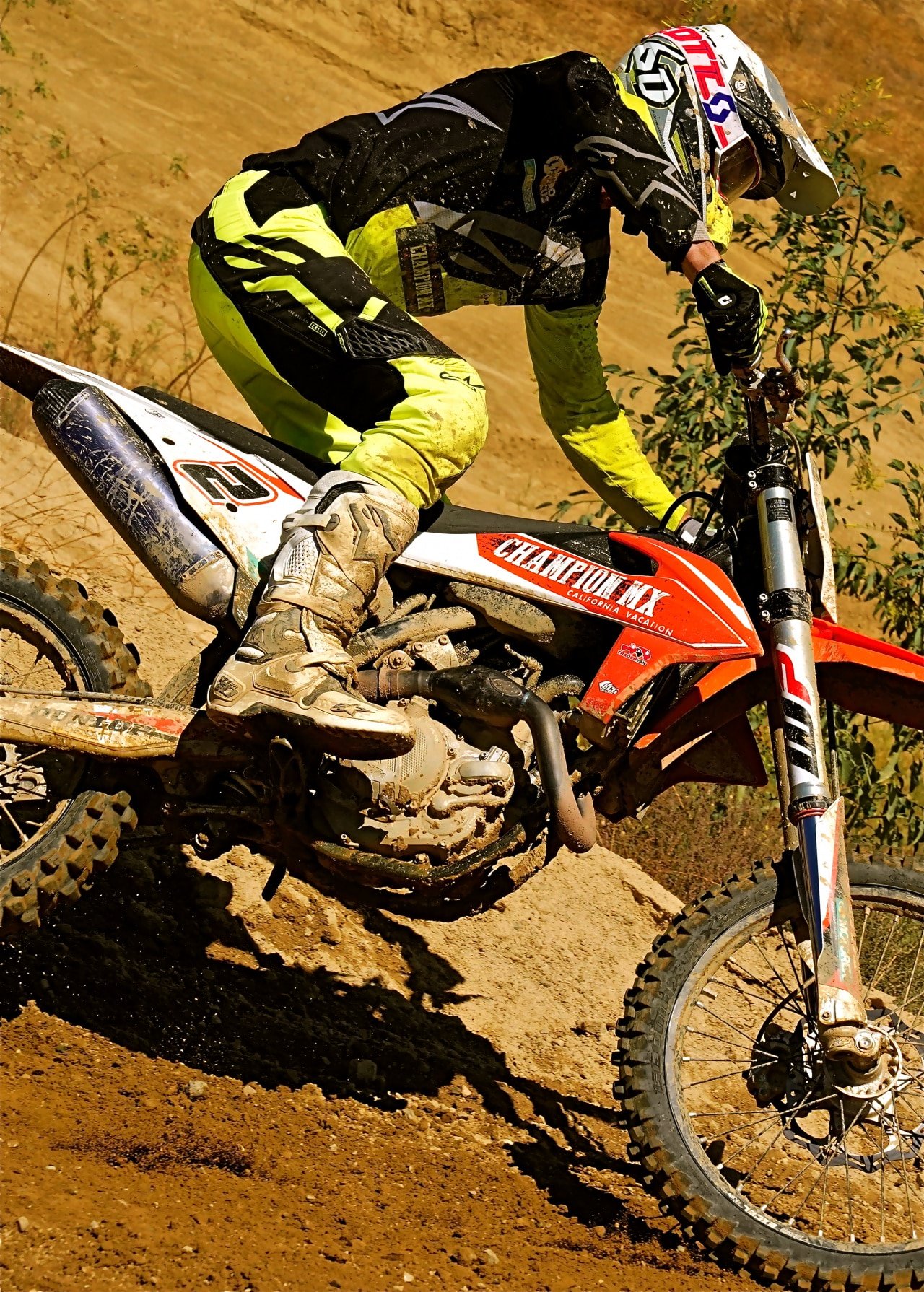 53-year-old Kurt Nicoll is the current Over-50 World Vet Champion, but when he comes to REM he signs up as a Vet Pro so that he can race with the 450 Pros. In September, Kurt won a moto over the young guys. Photo: Jon Ortner
It may look like the Blue Angels choreographed this jump, but Chuck Cook (827), Steve Watson (75) and John Diana (100) managed to fly in formation with no previous aerobatic experience. Photo: Debbi Tamietti
The weekly wars between Luther French (2) and Jon Ortner (10) in the Over-50 Elite class were the highlights of 2018 season. Unfortunately, Luther crashed in December and has decided to take some time off from racing.  Photo: Debbi Tamietti
Plastic surgeon Joaquim Sunol came from Barcelona to race the REM Octobercross and the World Vet. The REM Octobercross was a chance to get some laps in on the World Vet track before the big weekend. Photo: Debbi Tamietti
Former Troy Lee Designs' rider Mitchell Oldenburg showed up at the annual Octobercross and swept both motos of the 450 Pro class. Photo: Debbi Tamietti
Mitchell Oldenburg wasn't as lucky the next time he raced at REM. Here,  Mitchell (far left) crashed coming over the Mt. Whitney hill. Tallon LaFountaine landed on Oldenburg's Yamaha and careened over the bars. Note Tristian Higgins looking back to see if everyone else made it through. They didn't. Photo: Jon Ortner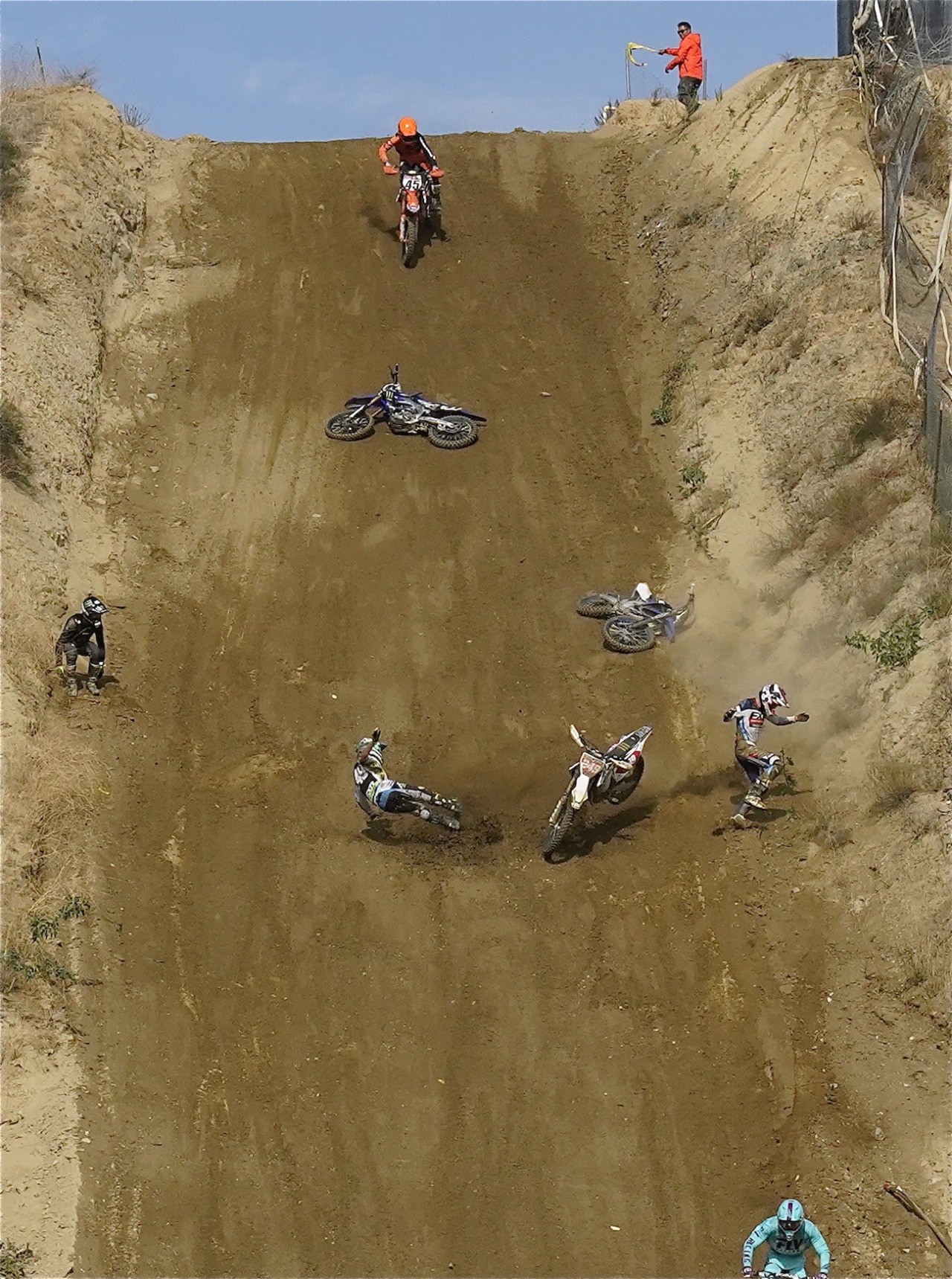 As Josh Mosiman (45) crests the hill (with the brake on), Tallon is still flipping down the hill. That is Richard Taylor (far right) running for his life.
As Josh Mosiman picks his way through the fallen bikes, LaFountaine finally slams into the bank on the side of the track (lower left). The crash continued on as one more rider came over the top and hit Oldenburg's Yamaha.

Former SoCal 125 Pro Dave  Eropkin (811) had a great second half of the season—winnning the large Over-60 Expert class with regularity. Photo: Debbi Tamietti
Former Grand Prix racer, ISDT Gold Medalist, co-founder of THOR gear, AMA Hall of Famer, three-time World Vet Champion and MXA test rider since 1973, Lars Larsson, raced MXA's 2019 Husqvarna TE300i fuel-injected, two-stroke, off-road bike. Photo: Jon Ortner
Hawaiian Brian Medeiros (934) navigates down a loose and loamy straight — it takes a little leg swag to keep his KX250 going straight. Photo: Debbi Tamietti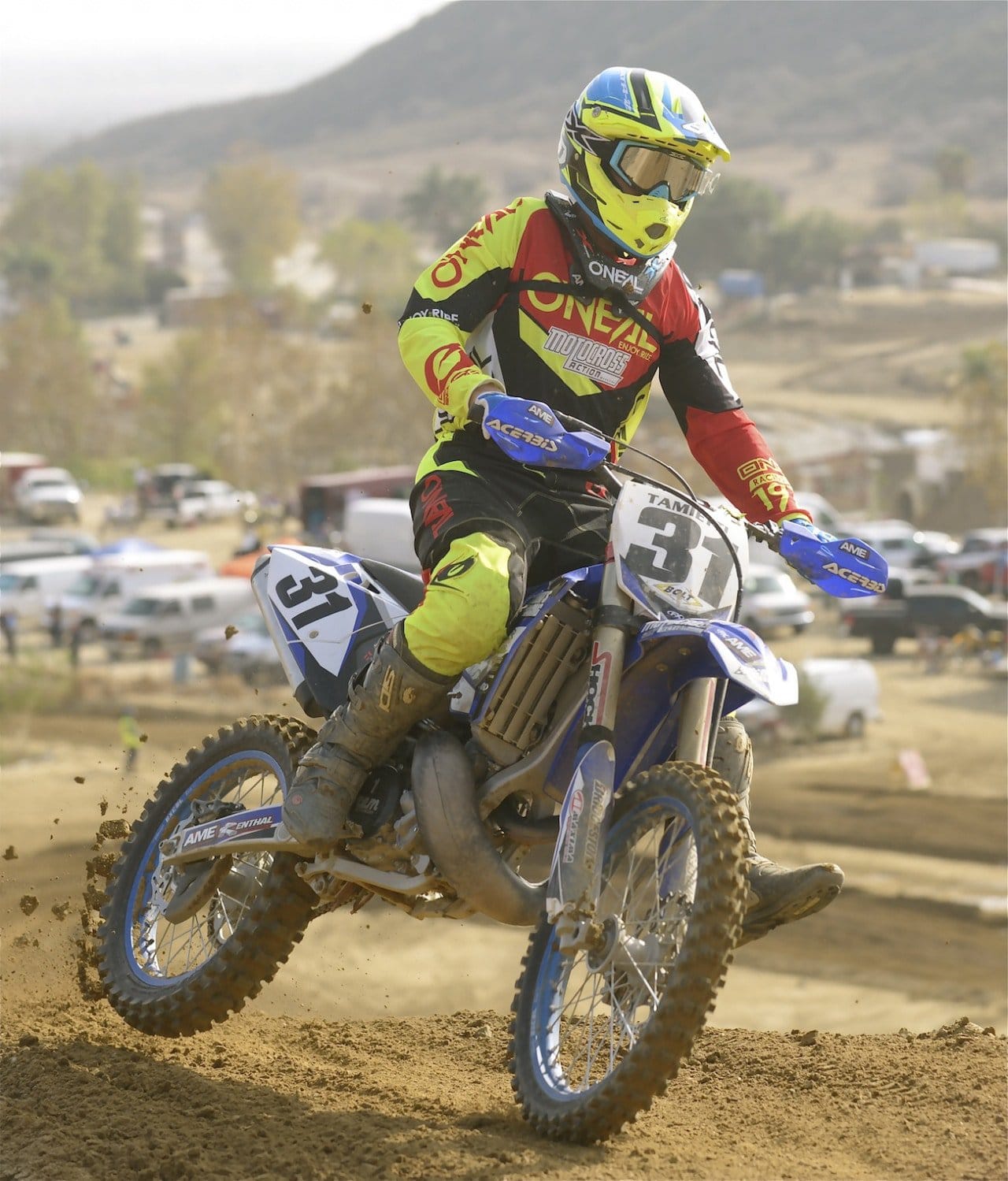 Val Tamietti was leading the Glen Helen points standings for the second year in a row, but tangled with two lappers and suffered a broken tib/fib in his left leg.  Photo: Dan Alamangos
Stilez Robertson (325) may not be a Pro yet, but he was the fastest rider on the track at REM on this week. Photo: Dan Alamangos
AMA National rider Josh Mosiman got hired as a full-time MXA editor in December and won his first REM 450 Pro race — on a 2019 RM-Z250. Photo Debbi Tamietti
Frank and Myra Thomason celebrated their 43rd wedding anniversary in 2018 the same way they have celebrated the last 35—by running the REM races.  Photo: Ernie Becker