REM GLEN HELEN RACE REPORT: THE AMAZING "UN-RACE" RETURNS
Click on images to enlarge.
Photos by Jon Ortner and Dan Alamangos
This corner is way in the back of the REM track, at the end of a fifth gear straight and on the top of a knoll. As you can see it was plenty wide. Photo: Dan Alamangos
REM motocross racers are different from the modern breed of motocross racers in three ways: (1) They are incredibly loyal to their race organization and to each other. The typical REM race is more like a Love-In than a dog-eat-dog competiton (until they are on the track). (2) As a group, they race more motocross races per year than anyone in the country. When you count the 40 REM races a year, plus World Vet, World Two-Stroke and the Un-Races, REM motocrossers only have about 10 weekends off a year. (3) Only REM motocross racers would show up at a race that was canceled, water the track themselves, talk the Cat guy into fixing a few things and hold their own impromptu races. They called it the "Un-Race," because it was just a typical practice day, but held on days when REM thinks the weather is too bad to hold a race.
If you think that Aussie Chris Alamangos (94) and Jon Ortner (192) are close in this photo, you (and the camera) should have seen them a split second later when they kissed wheels in mid-air. Photo: Dan Alamangos
Jody Weisel (192) rounds an uphill bend with a majestic, snow-capped, 10,000-foot peak as a backdrop (oh yeah, and a 100,000 square-foot warehouse as a counterpoint). Photo: Jon Ortner
SoCal weather over the short winter season has been disastrous. Week after week it has rained so much that REM has been forced to cancel all but one race in December and one race in January—when it would normally have held four or five races. This weekend, it didn't rain! So, you would think that there would be an REM motocross at Glen Helen Raceway Park. Not so! High winds, predicted to be gusting at 50 mph, forced REM to err on the side of caution and cancel this week's race also—given the hilly nature of the REM track and the negative effects of a crosswind on a bike teetering on the edge of a cliff, it was probably a wise decision.
Mike Marion has this nice little wheelie well in hand… Photo: Dan Alamangos
…Or so he thought. Photo: Dan Alamangos
But, immediately after REM canceled the race, the  jungle drums started beating about holding an "Un-Race." The track had been prepped and the consensus was "How bad could the wind really be?" Six MXA test riders volunteered to get to Glen Helen early and start dragging fire hoses around to water the complete track. By 9:00 a.m., they had finished putting the finishing touches on a pretty sweet track. Yes, the wind was blowing, but the gusts were only about 25 mph—and the prevailing wind on the REM track is straight from the front or directly from behind. Thus, the wind was not a major factor, other than shortening the distance you could jump going into it and lengthening the distance with the wind.
Val Tamietti is frozen in place on his YZ250 two-stroke. Photo: Jon Ortner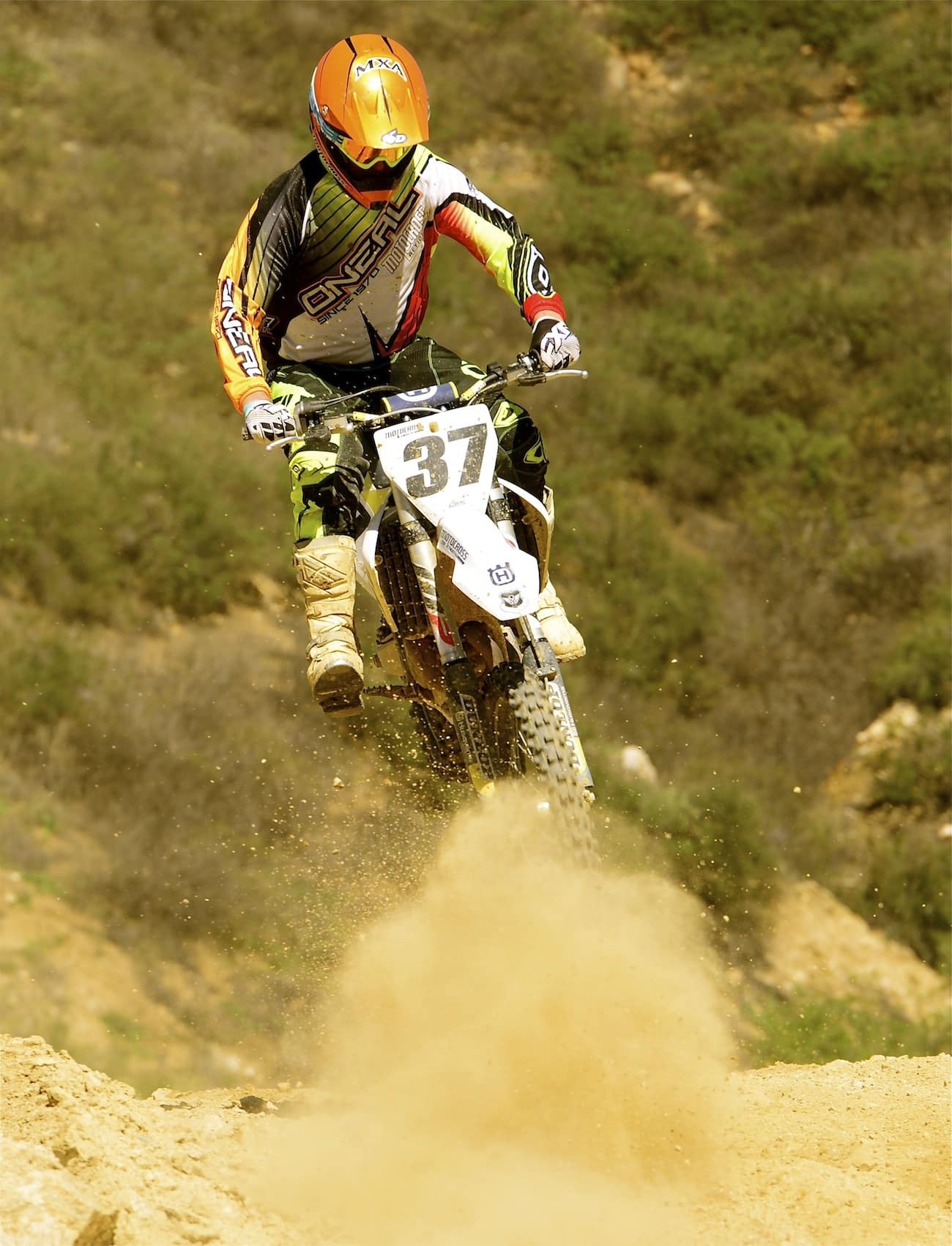 Josh Fout (37) has his landing spot obscured by the roost of the rider in front of him. No problem, he'll just land it on instruments. Photo: Dan Alamangos
Mike Stafford came to Glen Helen for the first time ever to race at REM, but when it was canceled they told him at the front gate that he could ride anyway at the "Un-Race." Mike was glad later because he said it was a little more difficult than he expected and the practice helped him. By the way Mike, we found your front number plate after you left. It's in perfect condition and you can reclaim it at the front gate. Photo: Dan Alamangos
How do you organize an "Un-Race?" By word of mouth over the course of about two hours. On the night before the Un-Race, Randel Fout called Jody Weisel and said, "Let's go anyway." Jody emailed the rest of MXA guys, who called their friends and the rest is history. Obviously there were more than a few REM motocrossers who were left out of the loop because nobody emailed them, they had made other plans or were afraid that the weather reports were 100% accurate. The prize rarely goes to the timid. The riders that scoffed at the Channel 7 weatherman, were the ones that got to ride.
Jon Ortner floats down a hill, Note the flags blowing and the flag poles bending in the breeze in the distance. Photo: Dan Alamangos
Former Baja star Bob Rutten has had terrible luck. This weekend was the second time he drove from his new Utah home to REM only to find the race had been canceled. Photo: Jon Ortner

Bill Seifert (37) used the "Un-Race" to break-in his brand-spanking new 2017 Husqvarna FC350. He used the rest of the day to buy a new clutch lever. Photo: Dan Alamangos
REM racers who came to the Un-Race owe thanks to Randy Skinner, Bob Rutten, Dan Alamangos, Josh Fout, Marc Crosby, Robert Pocius, Randel Fout, Chris Alamangos, Jody Weisel and others for manning the fire hoses during the day. These hard-working racers made it possible for others to be able to ride on a day when it wasn't considered possible. It should be noted that the Un-Race was not affiliated with REM in anyway, apart from the fact that it was on their track and every rider was an REM racer. Glen Helen's General Manager, Lori Wilson, was gracious enough to let this merry band of pranksters have the track and even sent Cat operator John Allen over to make sure that everything was good to go. Everyone hopes that there won't be any more Un-Races in the future. We want the rain and wind to stop, at least on races days, and for REM to get back to its regular schedule—which includes a race every weekend in February
Todd Gravitt didn't let a little wind scare him away from a little air time. Photo: Dan Alamangos

Chris Alamangos railing a berm on MXA's 2017 KTM 150SX. Photo: Dan Alamangos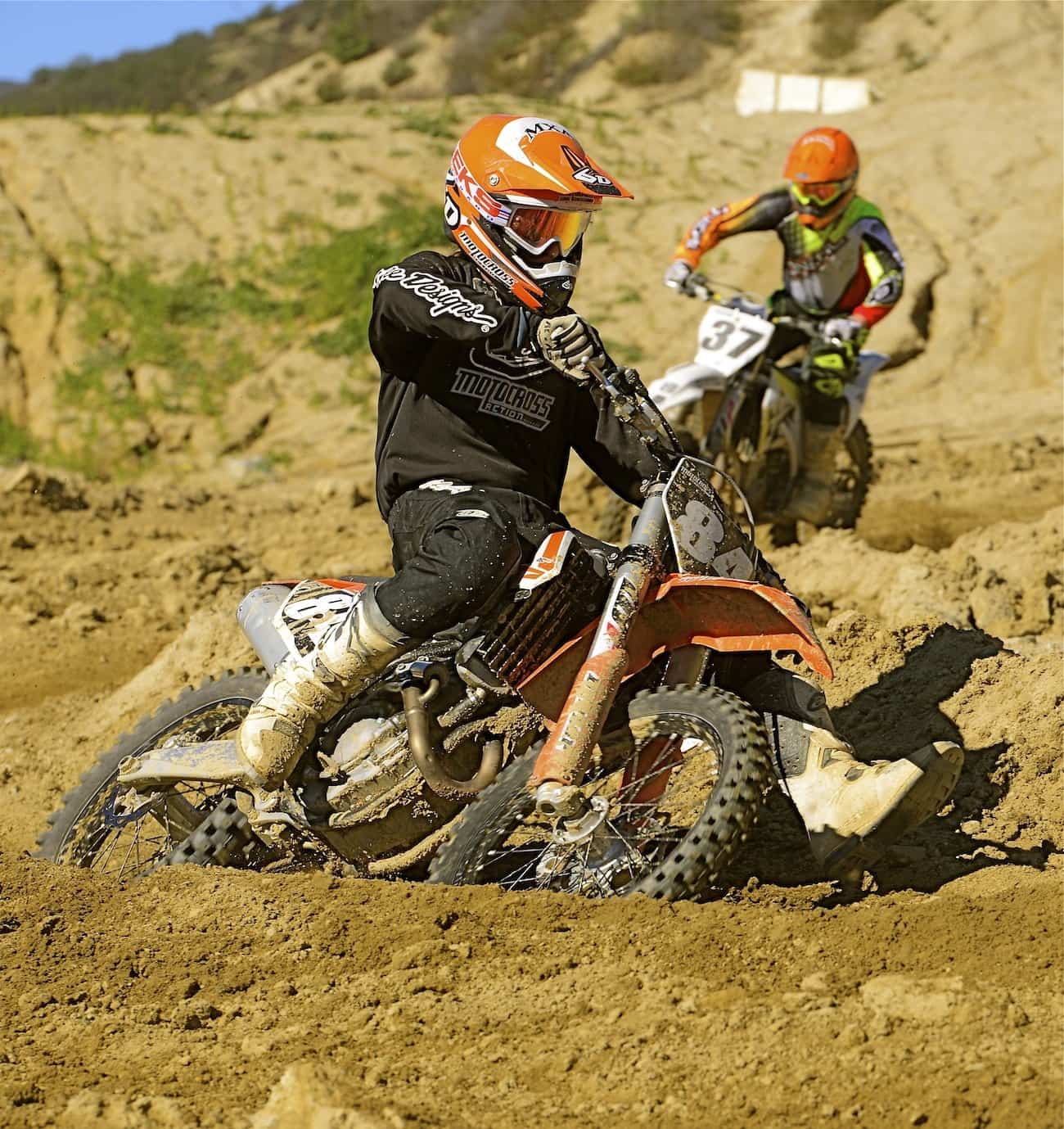 Like father, like son. Randel Fout (84) leads Josh Fout (37). The elder Fout better enjoy it while he can because in the motocross world, the son is eventually faster than the dad. Photo: Dan Alamangos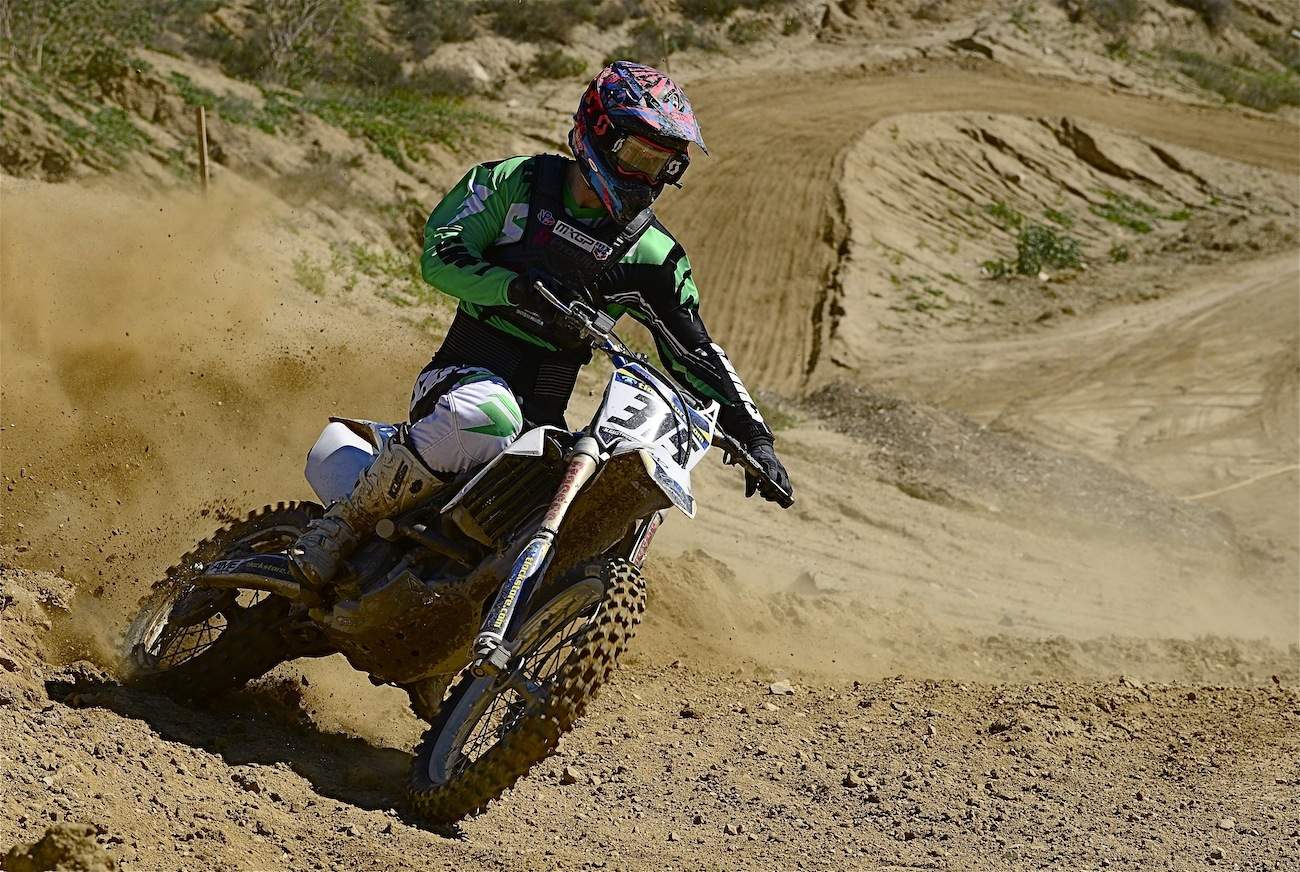 Swede Nicklas Gustavsson (315) enjoys the wide open spaces. Photo: Dan Alamangos
For more info about REM motocross go to www.remsatmx.com