REM GLEN HELEN RACE REPORT: THE ENTICKNAP BOYS BUST OUT OF LOMPOC
Tyler Enticknap was in the wrong place at the wrong time when the riders in front of him collided and he went flying. Photo: Jon Ortner
Photos by Rich Stueke, Jon Ortner and Pam Skinner
Since this was Vet weekend at the Mammoth Mountain Motocross the REM regulars were looking for a small turnout and a quick day of racing. Surprise! Lots of riders skipped Mammoth this year and stayed home to race. The biggest classes were the Over-50 Intermediates, Over-40 Novices, Over-60 Experts and Over-50 Experts. It was a busy weekend at Glen Helen with REM (on the upper track) and the SoCal Vintage Classic (on the National track) on Saturday, and the Old School Scrambles on the Lucas Oil Offroad Truck track and an ARC vintage race on the National track on Sunday.
The aftermath. Tyler Enticknap (far left) wonders what happened as riders continue to fall. That's Swede Kristoffer Palm (127) going over the bars. Photo: Rich Stuelke
It's nice to see a park full of motocross enthusiast, both young and old on both young and old machines, racing on the same weekend. And making matters more interesting was an invasion of Lompocians—led by the Enticknap brothers and Shawn Wynne.
The Enticknap boys—Adam (left) and Tyler (right). Photo: Jon Ortner
The next biggest group was MXA test riders (although none of them were from Lompoc). Now that it is 2019 new bike test season MXA showed up with all of its test rider save for a few and lots of new bikes—which they switch between motos to insure that the new bikes got tested in as many classes as possible.
Adam Enticknap (722) went 1-1 in the 450 Pro class. Photo: Jon Ortner
Dennis Stapleton (184) holeshot the 450 Pro class and ran away from the pack for a couple laps. He was first Vet Pro. Photo: Rich Stuelke
Tyle Enticknap, still wearing the mud from his crash, charged back through the pack to second in the 450 Pros behind his brother. Photo: Jon Ortner
Dennis Stapleton works on his forks between motos. Photo: Jon Ortner
MXA's Jody Weisel adjusts the play on his 2019 KTM 350SXF front brake. Photo: Jon Ortner
Bryan Friday was a happy cat after pulling a massive holeshot in the first moto of the Over-50 Expert . Bryan finished 2-2. Photo: Jon Ortner
450 PRO
1. Adam Enticknap…1-1
2. Tyler Enticknap…2-2
3. Kurt Thomas…3-3
450 INTERMEDIATE
1. Ryan Washburn…2-1
2. Bradley Denton…1-2
3. Ron Lawson…3-3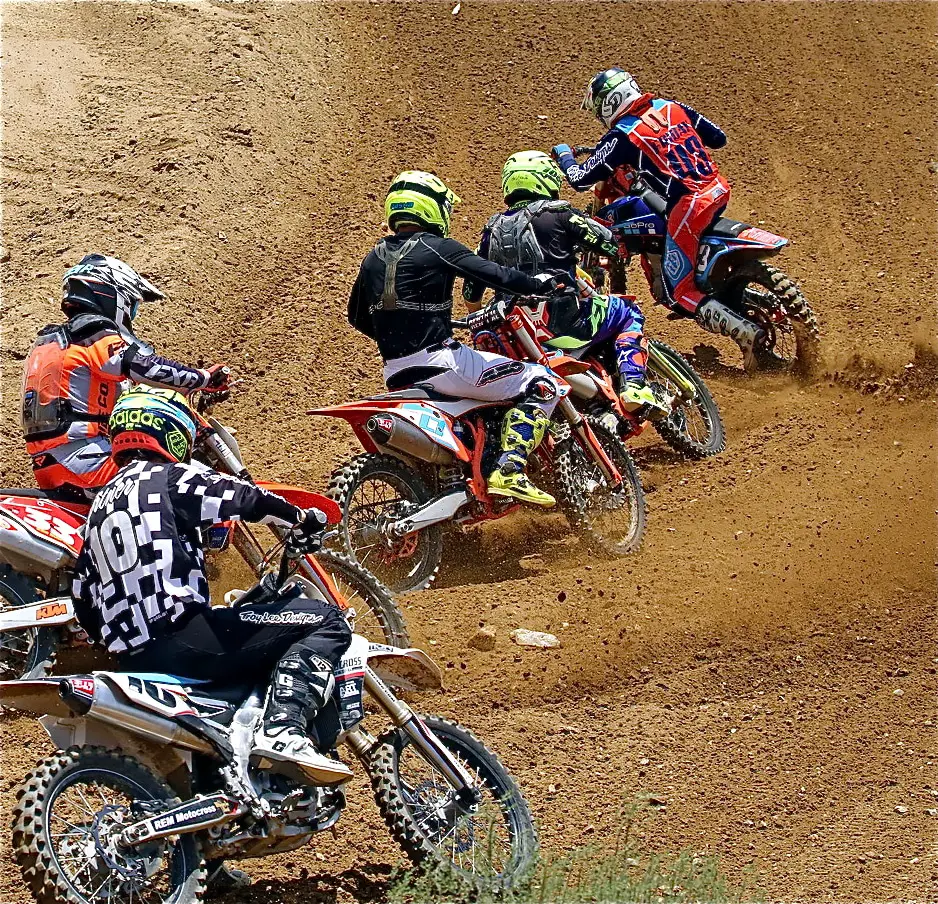 Proof positive that Bryan Friday got out of the first turn first—here, he is ahead of Luther French, Pasha Afshar, Ron Shuler and Jon Ortner. Photo: Rich Stuelke
Over-50 Elite rider Jon Ortner (10) closes the gap on Over-50 Expert winner Ron Shuler (33). If you are an Over-50 Expert you don't want to put up too much fight against the Over-50 Elite riders because you could find yourself moved up. Photo: Pam Skinner
OVER-50 ELITE
1. Luther French…1-2
2. Shawn Wynne…3-1
3. Jon Ortner…2-3

OVER-50 EXPERT
1. Ron Shuler…1-1
2. Bryan Friday…2-2
3. Robert Reisinger…3-3
OVER-50 INTERMEDIATE
1. Steve Coster…2-1
2. Nate Otto…1-2
3. Luc DeLey…3-3
Luther French won the Over-50 Elite class (reserved for riders who are too fast for the Over-50 Experts). Luther went 1-2 to edge out Shawn Wynne's 3-1 and Jon Ortner's 2-3. Photo: Jon Ortner
Joe Sutter (111) raced two classes, but only ended up doing the first moto of both. Photo: Jon Ortner
VET NOVICE
1. James Giordano…1-2
2. Brandon Woods…5-1
3. Mark Taylor…4-3
OVER-50 NOVICE
1. Todd Wiseman…3-1
2. Corby Reutgen…2-2
3. Joe Pena…1-5
"After you guys are done playing, can I get my bike back?" asks Joe Sutter as Shawn Wynne and Robert Reisinger block Joe from getting back in the Over-50 race. Photo: Rich Stuelke
OVER-40 NOVICE
1. Jerome Mage…1-1
2. Lance Sloane…4-2
3. Joe Pena…3-3
OVER-40 INTERMEDIATE
1. Jason Goss…1-2
2. Doug Redding…3-2
3. Nick Lucero…2-3
Rich Stuelke (4) laid down his camera to race his moto and Pam Skinner picked it up. Photo: Pam Skinner
Gene Boere (62) and Tom Holmes (510) battled over third in the Over-60 Intermediates. Holmes got third and Boere fourth. Photo: Pam Skinner
Mike Mongahan went 3-2 in the Over-60 Expert class—although he had to get up off the ground after Jody Weisel knocked him down in the second moto. Photo: Jon Ortner
OVER-60 EXPERT
1. Dave Eropkin…2-1
2. Randy Skinner…1-3
3. Mike Monaghna…3-2
OVER-60 INTERMEDIATE
1. Steve Chandler…1-1
2. Carl Powell…2-2
3. Tom Holmes…3-3
OVER-65 INTERMEDIATE
1. John Huegel…1-2
2. Bill Seifert…4-1
3. Jody Weisel…2-3
Gavin Leachman (109) took the 250 Intermediate victory on a YZ250 two-stroke. Behind him, Bradley Denton went 1-2 in the 450 Intermediates (only to lose to Ryan Washburn's 2-1). Photo: Rich Stuelke
Bradley Cole (14) gets the checkered flag as he wins the 450 Novice class. Joe Pena (911) was second in the Over-50 Novices and third in the Over-40 Novices by day's end. Photo: Rich Stuelke
VET BEGINNER
1. Clint Lund…1-1
2. Steve Witzke…2-2
3. Robert Cassera…3-3
VET NOVICE
1. James Giordano…1-2
2. Brandon Woods…5-1
3. Mark Taylor…4-3
David Cincotta found out how powerful the brakes on his TM MX250 are. His unique steer-by-stomach technique did not impress Pasha Afshar who had to veer to avoid the all-pink flying object. Photo: Rich Stuelke
Bill Reimer (71), Luc DeLey (28), Greg Groom (62), Scott Richeson (94), Glenn Pietronico (262) and Steve Watson (75) sweep down a hill in the Over-50 Intermediate class. Photo: Rich Stuelke
125 BEGINNER
1. Gannon Pindt…1-2
2. Lucas Wells…2-2
3. Zayden Howe…3-3
250 BEGINNER
1. Joseph Palmer…1-2
2. James Pietronico…3-1
3. Jacob Wondolowski…2-3
Robbie Carpenter (132) leads the pack through the roller coaster section with Gavin Leachman (109) on his tail. Photo: Rich Stuelke
50 PEE-WEE BEGINNER
1. Ryder Larson…1-1
2. TobyGarrett…3-2
3. Ivan Lund…2-3
65 JUNIOR CYCLE ADVANCED
1. Harlem Nelson…1-1
2. Patrick Nguon…2-2
3. Justin Nguon…3-3
REM has a very nice Kid's Track built right next to the big track so that the sons and daughters of REM racers can come out and race themselves. It is limited to 50cc, 65cc and miscellaneous small four-stroke play bikes. Here, Ryder Larson (1) and Ivan Lund (511) get in some racing just like dad. Photo: Rich Stuelke

UPCOMING REM RACES
June 30…………………..Glen Helen, CA
July 14……………………Summer Series #1
July 21……………………Summer Series #2
July 28……………………Summer Series #3
REM doesn't race at Glen Helen next week, although there is talk of an "Un-Race" on Saturday, June 23.For more info on REM Motocross go to www.remsatmx.com