REM GLEN HELEN RACE REPORT: THE PERFECT/IMPERFECT CONUNDRUM

Click on image to enlarge
Photos by Dan Alamangos & Debbi Tamietti
Dylan Merriam easily won the 450 Pro class in a two moto sweep.
Thanks to rain a few days earlier, the REM track had almost perfect dirt, but perfect dirt at Glen Helen means ruts, bumps and sand sections where a week before there was no sand. Every racers loved the dirt, but it is safe to say that it bit approximately 50% of them during the race day. Riders were getting cross-rutted, missing corners, falling in the sand, of course, crashing. This was perfect for the rider that rode with precision, but imperfect for those that rushed it. Check out the photos for all the action.

The early morning shot of Glen Helen shows the upper pit filling up, a tractor waiting for any track repairs, the sun rising to the east, the AMA National track on the right and the REM track on the left. Photo: Harry Leitner.

It's not just a matter of how high you can fly, but whether you are willing to go sub-orbital. Dylan Merriam was the only rider to attempt this jump.

Here is a side view of Merriam's jump. You can't see where he took off from and you can't see where he is going to land, but suffice it to say that it is a long way.
Cole Zitterkopf, son for former AMA National rider Greg Zitterkopf, learns that SoCal traffic isn't limited to the freeways. Cole went 3-2 for second in the 250 Pro class behind Dean Spangler.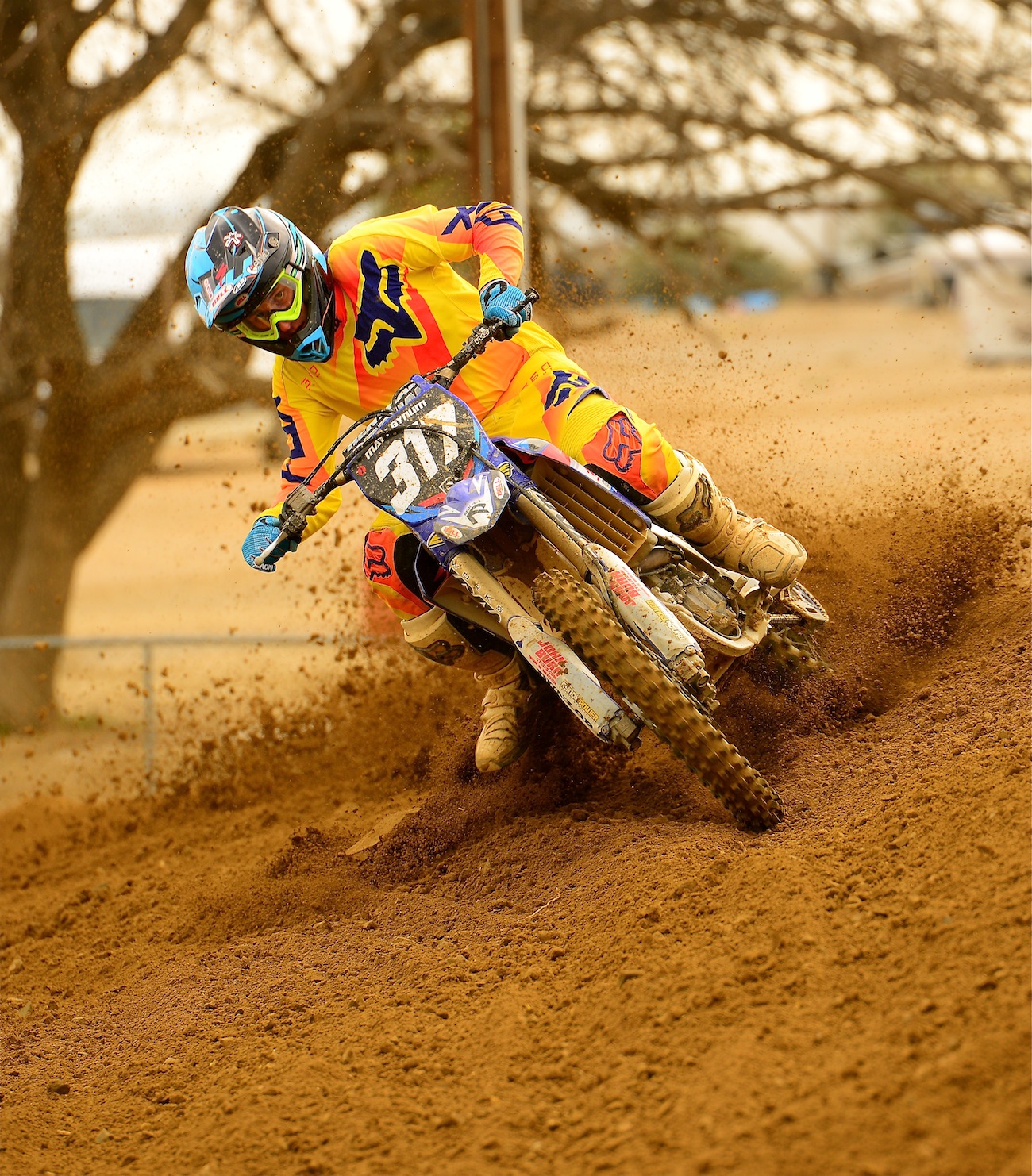 Matt Bynum cue balls high of the wall in the 250 Intermediate race. His eyes tell the story of where he's headed.


German Philip Maassen (7) gets to roost some Glen Helen dirt during his California vacation thanks to TM importer Ralf Schmidt—who lent him a TM 300MX.
Val Tamietti (31) is a new man since switching to a KTM 350SXF…or is he the man he was back in the 1970s when he took his Maicos to the CMC number one plate at Saddleback Park. Val won the Over-50 Expert class—in no small part because of starts like this.

Before County Line Raceway's Dean Sarver left North Carolina to come to SoCal to watch the Anaheim and San Diego Supercrosses, MXA's John Basher arranged for Dean and Scott Highland to race on the morning of the San Diego Supercross. In this photo, Dean had just made the pass that would have given him a 2-1 victory in the Over-50 Expert class when he got caught up in the S-turn ruts and went down. He ended up with a 2-2 day instead.

Dean's buddy Scott Highland, from CV Products, also finished second in his class, but not without a few incidents—here Scott steps off momentarily on his way to second in the Over-40 Novice class.


John Ortner (10) won the Over-50 Elite class over a top five of Ian Fitz-Gibbon, Luther French, Phil Dowell and Chuck Sun. The Over-50 class is so popular at REM that the Elite class was put in above all the other classes to handle former AMA Pros.

Here is a rare photo of Ian Fits-Gibbon without Jon Ortner breathing down his neck.
1980 AMA 500 National Champion Chuck Sun drove in from Las Vegas to race REM—then he drove back to Vegas right after the race. Chuck is helping TM motorcycles in the USA because of his connection from working at Husaberg and KTM.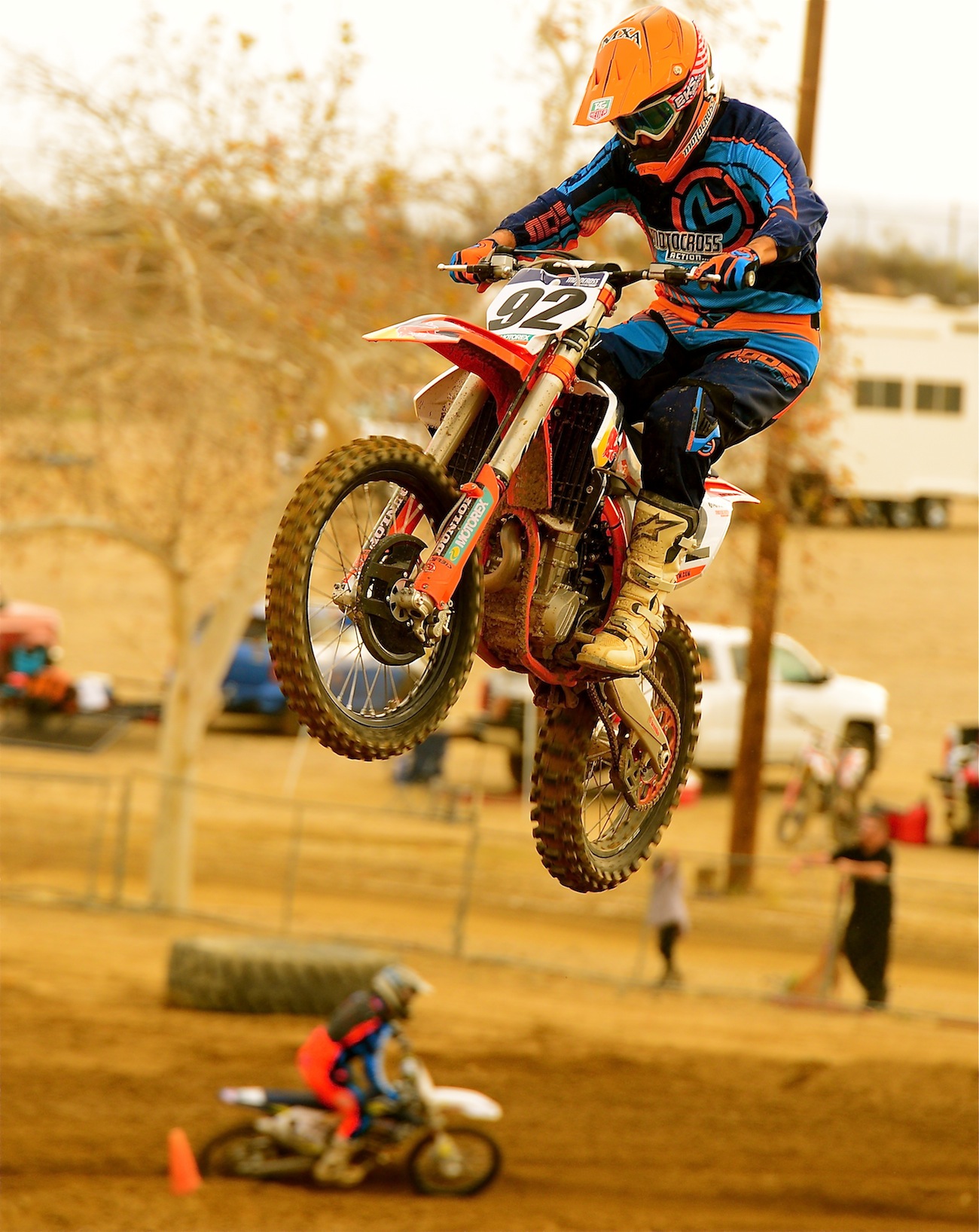 As always MXA was busy testing bikes by racing them. This 2016-1/2 KTM 450SXF Factory Edition V got a workout with four different test riders and back-to-back motos. Here, Mark Hall lofts the air-forked Katoom high above the maddening crowd. The FE-V's won't be in dealerships until March.

MXA has had great luck with WP's Cone Valve kit forks. At this race Dan Alamangos (67) was testing the WP forks on a 2016 Honda CRF450, while Jody Weisel raced a 2016 KTM 350SXF with the forks on it. We were impressed by WP's version of Showa A-kit forks. And, while they aren't cheap at $3400, they are half the price of Showa A-kit forks.



With twenty Over-60 racers on the line, getting a good start was half the battle. Kent Reed (491), Lyle Sweeter (55) and Ken Ehlers (103) get a fleeting glimpse of eventful winner Bob Rutten's roost. Yes, that is another set of Cone Valve forks on Kent Reed's KTM.

REM's Over-65 Expert class had two Over-70 World Vet Champions on the line. Sweden's Lars Larssen (56) was the Over-60 World Champ in 2001 and the Over-70 Champ in 2011 and 2012. Colorado's Bart Kellogg was the Over-70 Champ in 2013. REM doesn't have an Over-70 class, so Lars and Bart were thrown in with those young 65-year-old whippersnappers and finished fifth and sixth behind T.V. Holmes (2-1), Lyle Sweeter (1-2), Jody Weisel (3-3) and Bill Seifert (4-4).

Last month MXA's Jody Weisel built a special, all-white, full-race, 2016 Kawasaki KX250F for himself, but he has never ever raced it. Every time he plans to race it, he ends up being assigned to a different test project — and he's the guy that makes the assignments. Instead, Randel Fout (192) has been having a ball on it.
Gavin Leachman won the 125 Intermediates.
Yeah, yeah, we know, your local track is rutty. But are the ruts this deep?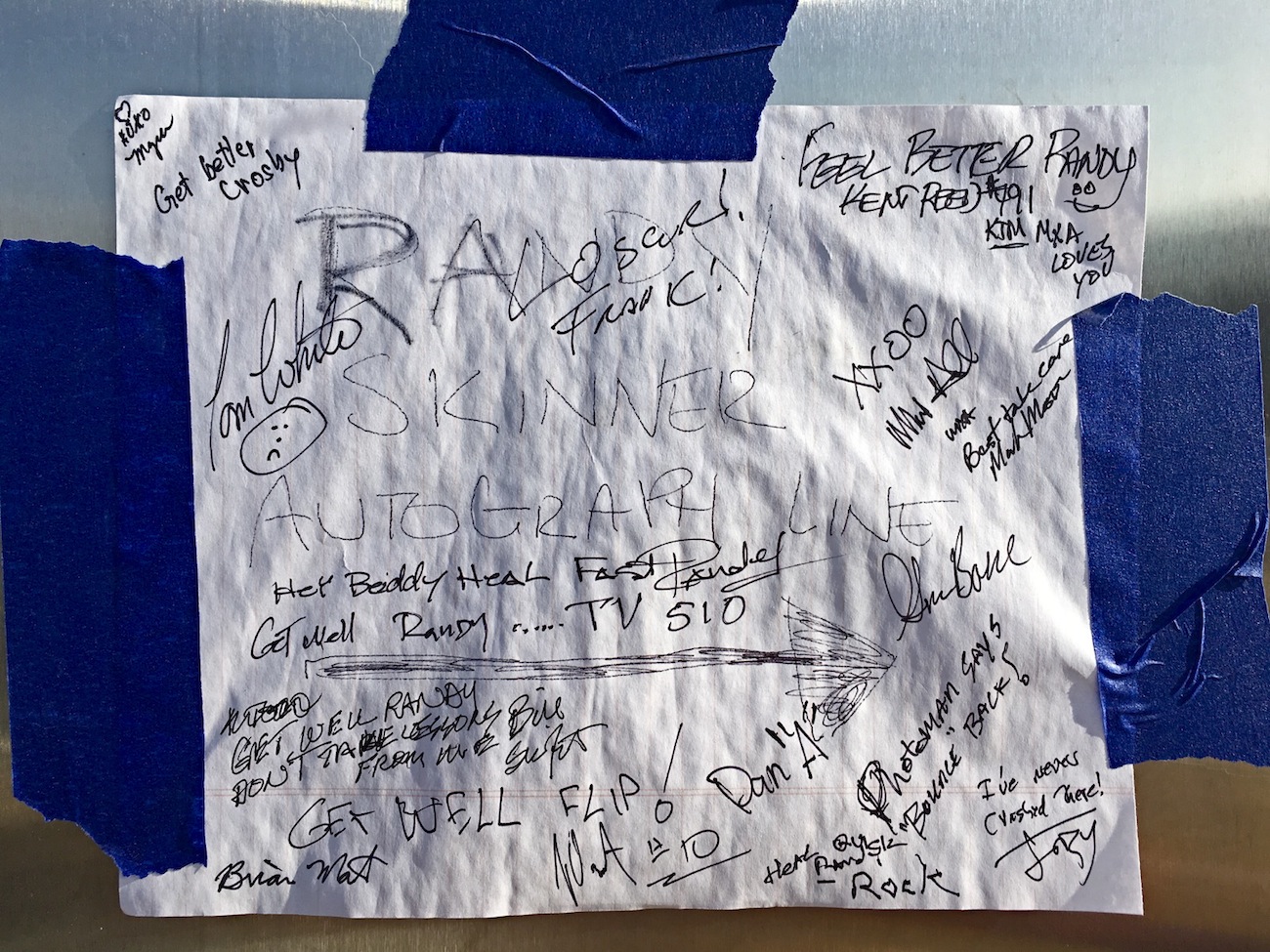 After legend Randy Skinner crashed and was taken to the hospital to have his broke collarbone, shoulder blades and concussion cared for, his friends wrote a Get Well note and taped it to his box van. He'll see it until the next time he races…around April.
REM races again at Glen Helen next Saturday with the same cast of characters. For more info about REM go to www.remsatmx.com