REM GLEN HELEN RACE REPORT: THE SEASON THAT NEVER ENDS
Click on images to enlarge.
Photos by Dan Alamangos, Debbi Tamietti & Rich Stuelke
The war of the Wageman's —Robbie and R.J. Photo: Dan Alamangos
For most motocross racer across the country, the idea of still racing in November and December is a pipe dream. But, for the intrepid motocross gang at Glen Helen's weekly REM motocross races the big push is still to come. There are four more races left in 2014 (Dec. 6, Dec, 13, Dec. 20 and Dec. 27).
Kendall Stanley flattracks his way to a 6-5 day in the Over-40 Intermediates.  Photo: Dan Alamangos
The 2014 REM motocross series started back on January 4, 2014, and has continued for 36 races so far (and the final four in December will make it 40 events). REM keeps points for every rider in every race and hands out awards to the top ten. Last year Jon Ortner became the 25th rider in history to win the number one plate. Here are the 25 riders who have stood on the top step of the podium after 40 races — starting back in 1989.
REM GLEN HELEN NUMBER ONES (1989—2013)

1989 …Curtis Jablonski
1990 …Robert Failing
1991 …Robert Failing
1992 …Jeff Van Camp
1993 …Todd McKay
1994 …George Kohler
1995 …Alan Olson
1996 …George Kohler
1997 …Alan Olson
1998 …Jody Weisel
1999 …Dennis Boulware
2000 …Rich Eierstedt
2001 …Randy Skinner
2002 …Bengt Johansson
2003 …George Kohler
2004 …Billy Musgrave
2005 …Mark Crosby
2006 …Tim Murphy
2007 …Dennis McAdam
2008 …Dennis Boulware
2009 …Dennis Boulware
2010 …Dennis Boulware
2011 …Ray Pisarski
2012 …Randy Skinner
2013 …Jon Ortner
2014 …????????
THIS WEEK'S WARRIORS
Ralf Schmidt (73)  is the new TM importer for the USA. His Gravity Racing company is in Banning, California. Ralf likes to test his product by racing it. Photo: Dan Alamangos
As hard as it is to believe, the glamor class at Glen Helen is the Over-50 Experts. Led by a merry band of former AMA National riders and talented journeymen, it is the biggest class of the race day — followed in size by the Over-50 Intermediates and the Over-50 Novices. Because SoCal is the home of the motorcycle industry, most of these old-school racers have been able to keep racing into the Autumn years because they were never forced to stop racing. It was the business they worked in and when you add in the former Pros and late bloomers you have the recipe for all-out war on the track.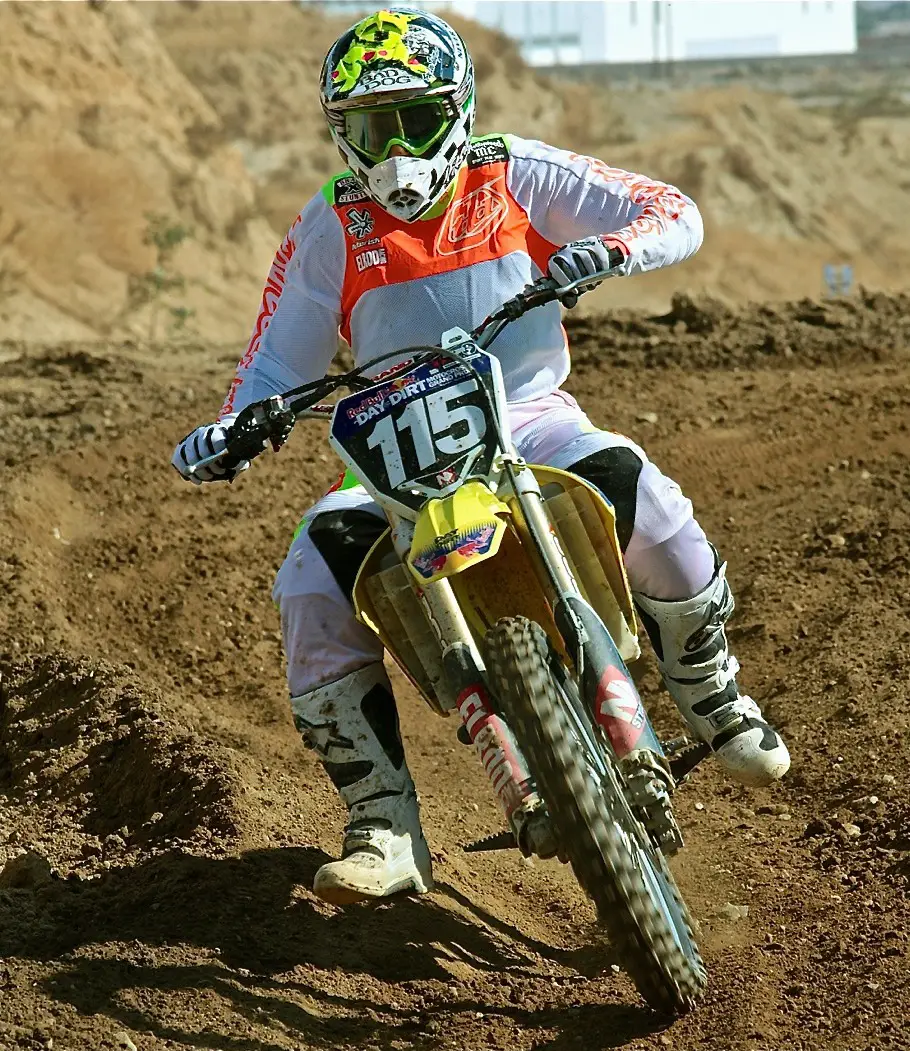 Hollywood stuntman Mic Rodgers (115) went 3-3 in the Over-60 Experts. Photo: Debbi Tamietti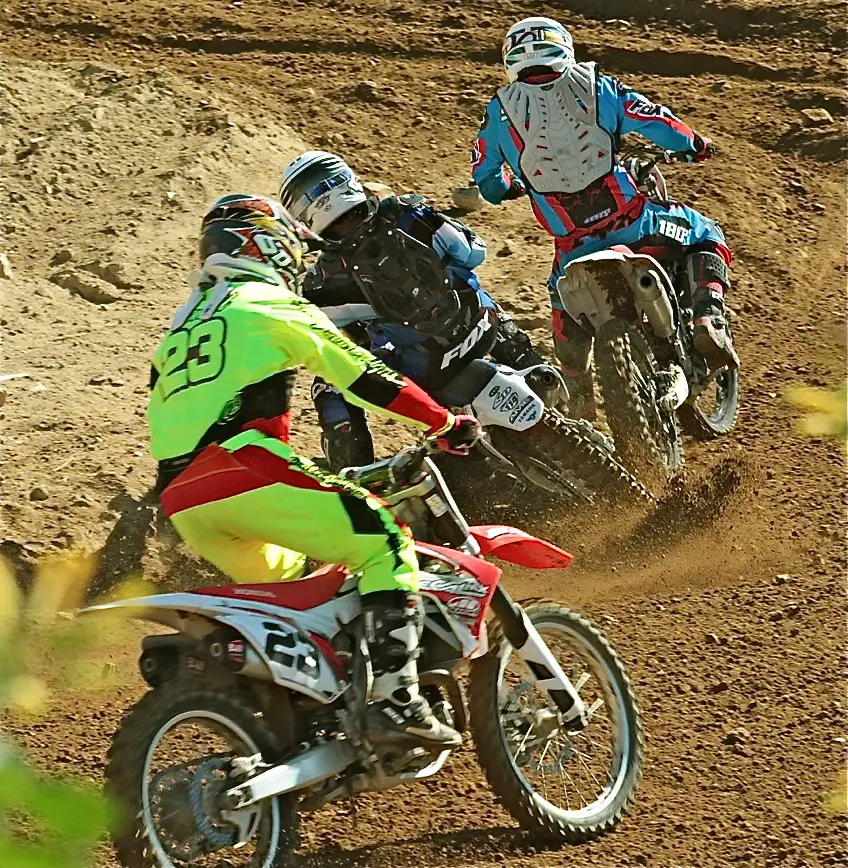 How hard do they race in your class? Val Tamietti (black) clicks rear wheels with Over-50 Expert winner Tony Schuler in an attempt to get by. Phil Dowell (23) would use this opportunity to move into second behind Schuler. Photo: Debbi Tamietti
This week's Over-50 Expert race saw a furious battle that was highlighted by a nine-man freight train in hot pursuit of Tony Schuler. Schuler had the track wired and opened up quick gaps that kept his pursuers from getting a clear shot at him. Tony was helped by the fact that the eight riders behind him were dive bombing each other into every corner. In the end, the most aggressive guys got to the front, or in this case, near the front with Phil Dowell second, Val Tamietti third, Luther French fourth (and Luther came from the back to join the nine-man battle at the halfway point), Chris Cole fifth, Bryan Friday sixth, Dave Eropkin seventh, Will Harper eighth, Randy Skinner ninth and Mark Hall tenth.
Shy Moshe (185)  won the Over-50 Intermediates. Photo: Dan Alamangos
Chris Cole (45) was fifth in the Over-50 Expert class, but couldn't hold off hard charging Luther French (2) who came from the back to finish fourth. Photo: Debbi Tamietti
The next big battle of the day came one race later as the Over-50 Intermediates hit the track. Last week's winner Harley Hall holeshot moto one, but that was the highlight of his day as he scored 17-15 for 16th overall. Last week's second place rider, Shy Moshe, took the overall with a 2-3 in front of Dirk Davidow (4-2), Jeff Scott (5-4) and "back from the past" Glen Senecal (9-7). Over-60 Expert winner Carl Gazafy finish fifth overall with a 7-10.

Mike Hillion (413) uses two-stroke quickness to dive bomb inside of Anthony Rose (127) in the Over-50 Novice class. This pass secured third overall. Photo: Dan Alamangos
In the Over-50 Novice class Robert Pocius has been on fire for the last three months (the previous nine months were kind of average, but he found the groove late in the year). He strung together a two-month straight win streak, but suddenly he has faced more resistance. Robert lost last week to Lonnie Paschal and this week Paschal came straight off the lien and won the first moto over Pocius. Their second moto battle was awe inspiring — either could have won, but in the end Pocius made the pass to get the gold. Paschal's 1-2 gave him second, while a revitalized Mike Hillion was a solid third with a 3-3.
David Cincotta swept both motos of the Over-40 Intermediate class and looked good doing it.Photo: Dan Alamangos
Jeff Carpenter (219) and Cade Matherly (425) practice their close formation flying. Photo: Rich Stuelke
But it wasn't just the old guys duking it out — the Wageman brothers engaged in a war of their own. R.J. was in the 450 Pro class, while Robbie was in the 250 intermediates. When the race schedule put their two classes on the same starting gate all bets were off. Brothers always rise to the occasion, so forget all about Robbie being an Intermediate —he and R.J. shot to the front and ran nose-to-tail, snaking through lapped traffic like it was standing still. In the end, it was kind of a draw with Robbie winning one moto overall and R.J. the other. Of course, they both won their respective classes.
THE WALKING WOUNDED
Several riders returned to action this weekend after recovering from injuries: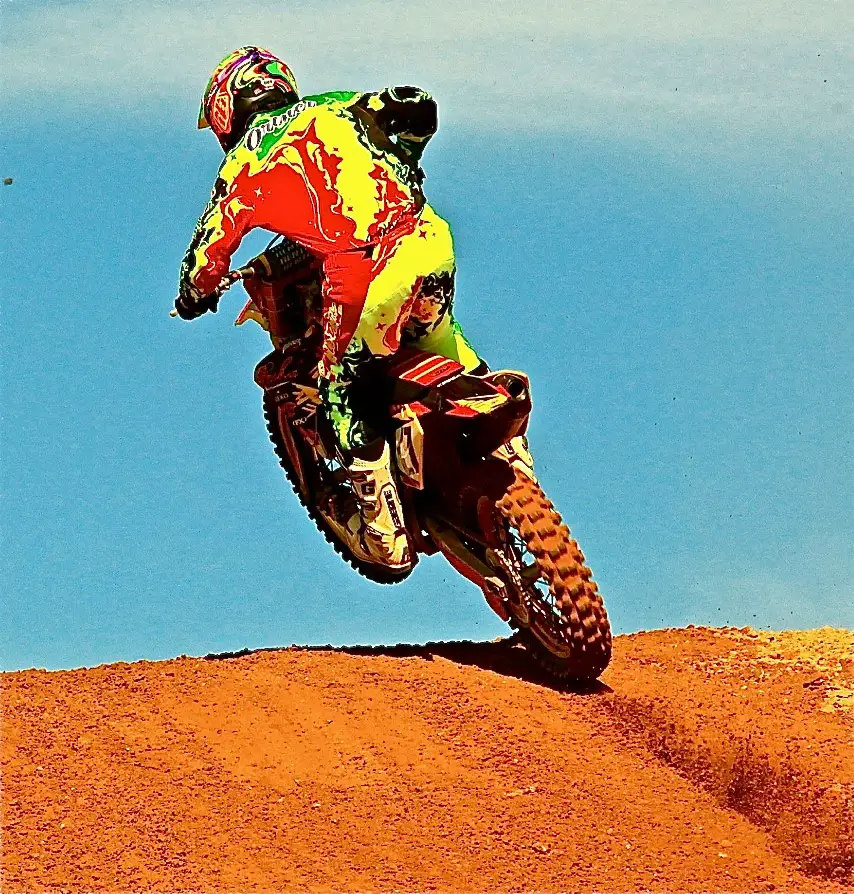 Jon Ortner broke his finger at the World Vet Championship and has been trying to ride, but it hasn't been easy. Photo: Debbi Tamietti
Jon Ortner broke his finger at the World Vet Championship and came out just to see if his finger was healed enough to ride. It was, but not good enough to use it to its fullest. He cruised to a safe and sane third behind Willy Simons and Pete Murray in the Over-50 Elite class (yes, there is actually an additional Over-50 class above Expert).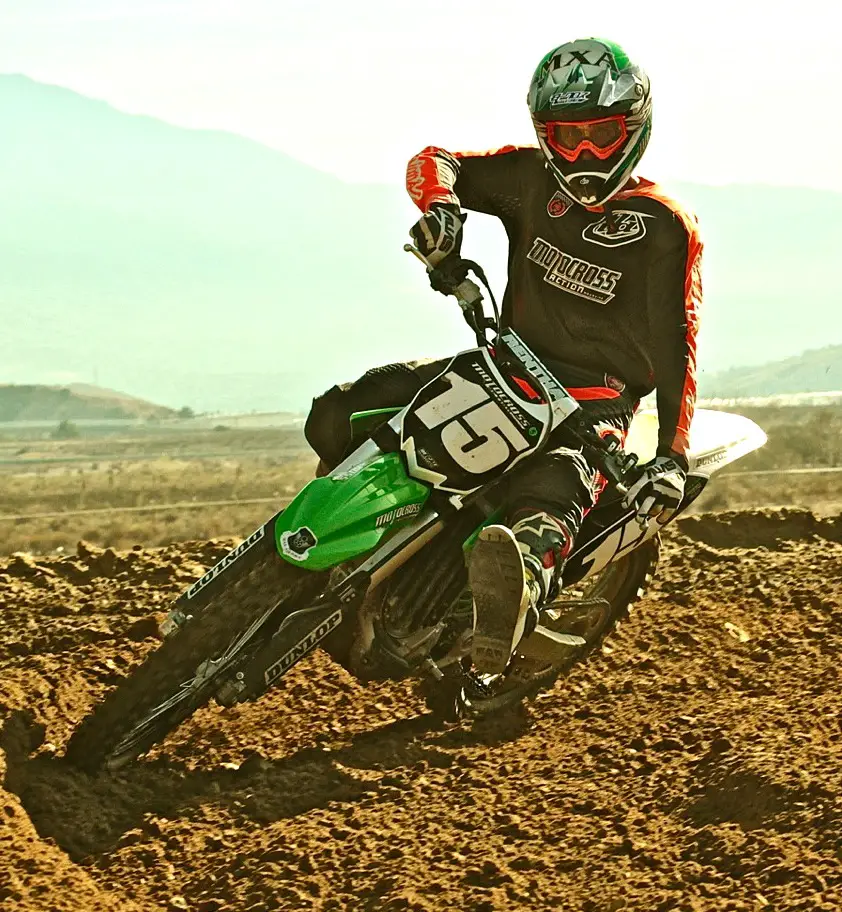 Randel Fout raced last week after months off to have his plated ankle heal, but last week's race meant that he couldn't race this week. Photo: Debbi Tamietti
Randel Fout raced for the first time in six months last week, by wearing a boot one size larger on his still swollen ankle. He broke his ankle back in May. This weekend he suited up, but now his ankle barely fit in his oversize boot. So, after a couple laps he pulled in.
Jody Weisel has never missed as many weekend of racing as he has in 2014 — but still has raced over 30 times. Photo: Debbi Tamietti
MXA's Jody Weisel crashed out of the World Vets — suffering a bruised lung (not good for a rider who fought a bout with pneumonia just three months ago) and aggravated an old shoulder injury.  He showed up at REM this weekend wrapped up like a mummy and cruised at a safe and sane speed to seventh in the Over-60 Experts.
Bill Seifert will miss a few weeks recovering from Saturday's crash. Photo: Dan Alamangos
The newest rider to join the injury brigade was Bill Seifert. Bill highsided down one of REM's many hilltop corners in the Over-60 Expert race and needed to be transported to the hospital where he was diagnosed with a bruised lung and shoulder injury. Don't you just hate a copy cat crasher?
THIS WEEK'S BIG WINNERS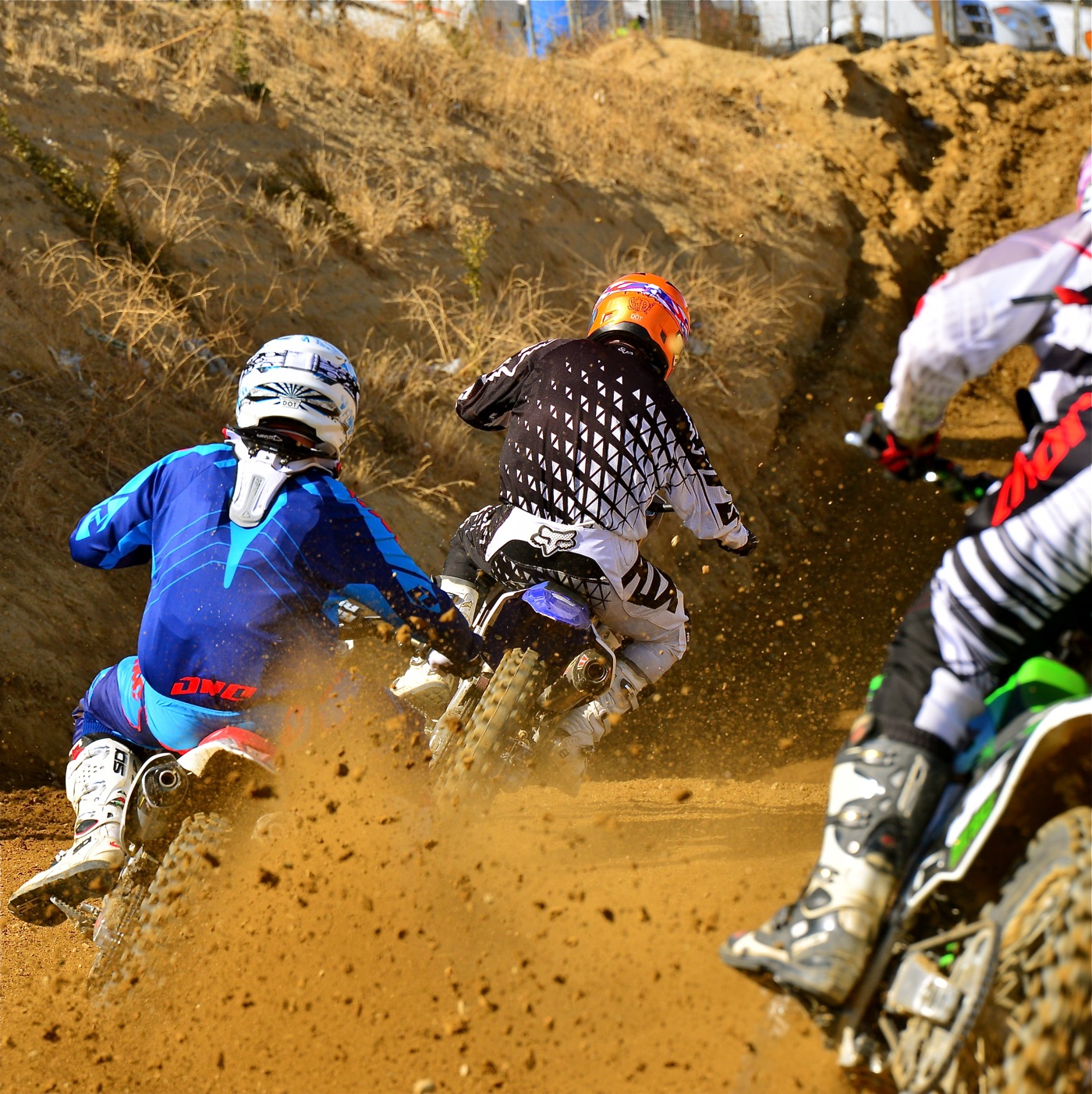 This is what a holeshot looks like to the fourth place rider. Mark Hall got to style for awhile. Photo: Dan Alamangos
R.J. Wageman (450 Pro), Dennis Stapleton (Vet Pro), Bradley Denton (450 Intermediate), Robbie Wageman (250 intermediate), Billy Mercier (Over-40 Expert), David Cincotta (Over-40 Intermediate), Gabi Ebaiov (Over-40 Novice), Willy Simons (Over-50 Elite), Tony Schuler (Over-50 Expert), Shy Moshe (Over-50 Intermediate), Robert Pocius (Over-50 Novice), Carl Gazafy (Over-60 Expert), Brian Martin (Over-60 Novice), Anthony Gonsalves (85 Novice), Ezra Lewis (125 two-stroke), Cole Tompkins (250 Novice), Brandon Reid (450 Novice) and Aviad Goverman (Vet Novice).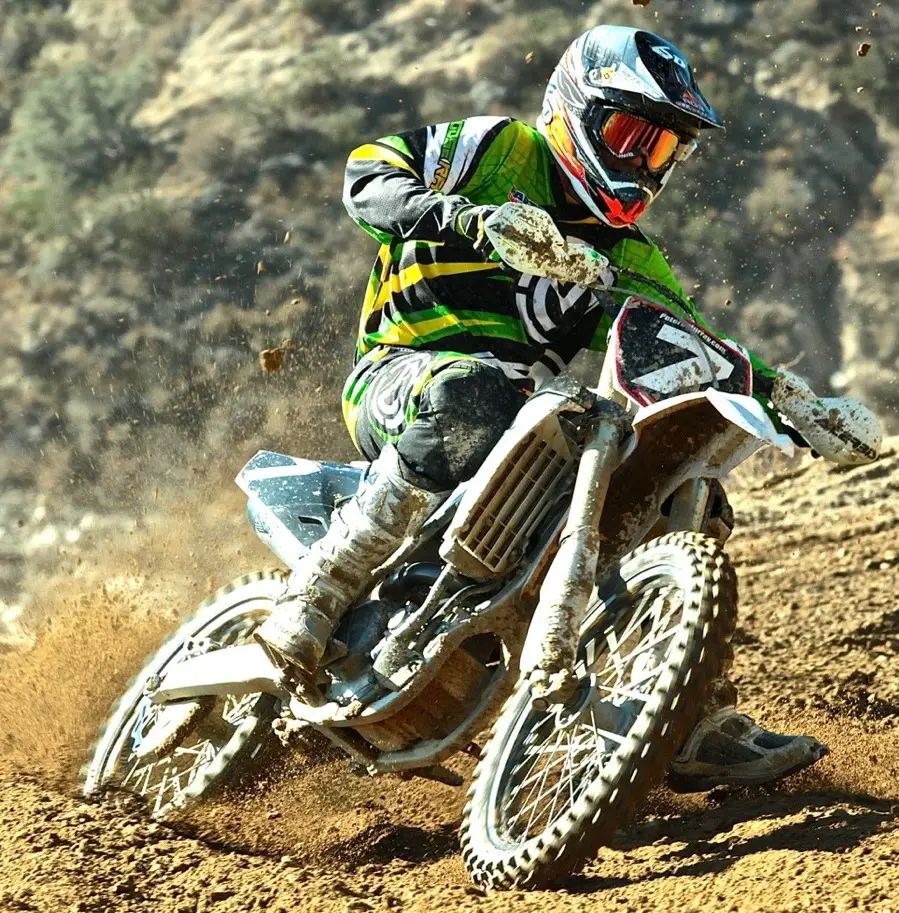 Pete Murray's YZ250F gave up the start to Willy Simon's YZ450F and that was a disadvantage that he could never make up. Photo: Debbi Tamietti
Father and son: Willy Simons gives the thumbs up to Will Junior during the 250 Intermediate race. Photo: Debbi Tamietti
Father and son: Either Doug Dubach is showing son Carter the hot line or vice versa. Photo: Debbi Tamietti
REM does not race next weekend because of the "Day in the Dirt" Grand Prix at Glen Helen, but returns for four straight weeks in December. For more info go to www.remsatmx.com