REM GLEN HELEN RACE REPORT: TWO-STROKES OUT IN FORCE, BUT IS THE FORCE WITH THEM
Andrew Denton whips it. We're not sure what track he was at. We think it might have been Glen Helen. Photo: Jon Ortner
You didn't need anyone to tell you that the 2019 Dubya World Two-Stroke Motocross Championship was only a week away at REM Glen Helen. The two-strokes were out in force as their riders wanted to take one last chance to race their smokers one more time before the Saturday, April 20, World Motocross Championship event.
Trevor Stewart (75), Tristian Higgins (411) and Benny Breck (315) peel off in the Pro race. Photo: Debbi Tamietti
The mixture of sounds ricocheting off  Mt. Whitney was sweet music, as the four-stroke rumbled like bass drums and the two-strokes sounded like the brass section. On thing for sure, you could tell which riders were which by the sound way before they got to you—especially since there was one lone Alta electric bike on the track that nobody heard coming or going.
Matthew Hubert steps out on his way to a 3-3 day in the 450 Pro class. Photo: Dan Alamangos
The big REM motocross winners this week were Trevor Stewart (450 Pro), Casey Cromer (450 Novice), Braden Larson (Vet Novice), Lamont Dusseau (Over-40 Novice), Benjamin Stevens (65cc Beginner), Jon Ortner (Over-50 Elite), C.T. Falk (Over-50 Expert), Lonnie Paschal (Over-50 Intermediate), Mike Monaghan (Over-60 Expert), Mic Rodgers (Over-65 Expert), Mitch Evans (Over-60 Intermediate) and Bill Seifert (Over-65 Intermediate).
Benny Breck tries to move a mountain on his way to the Vet Pro victory. Photo: Jon Ortner
This week's breakdown by brands was very surprising as the battle between KTM and Yamaha continues, but Kawasaki fell way down the list, as only 1% of the motocross racers at REM this week were on green. What makes Kawasaki's number more dismal is that the were beaten by TM (5%), Suzuki (3%) and "other" brands, like Ossa, Alta and unlisted (3%)
BREAKDOWN BY MOTORCYCLE BRAND AT REM
1. KTM…34%
2. Yamaha…30%
3. Honda…14%
4. Husqvarna…10%
5. TM…5%
6. Other brands…3%
6. Suzuki…3%
8. Kawasaki…1%
Tyler Nichols runs into some of the mountain that Benny Breck moved. Nichols went 1-2 in the 250 Intermediate class. Photo: Dan Alamangos
Chance Fullerton (999) tries to change his line on the inside berm, while Tristian Higgins rails the outside for all it's worth. Fullerton went 4-4 and Higgins 6-6 in the 450 Pro class. Photo: Debbi Tamietti
Bradley Denton (474) went 5-5 for fifth in the 450 Pros, while… Photo: Jon Ortner
…younger brother Andrew went 1-1 in the 450 Intermediates. Photo: Jon Ortner
It wasn't long ago that Luis Macias was one of a group of hot-shot TM 85MX minicycle  racers. He has sprouted up and fits on a full-size TM two-stroke now. Photo: Debbi Tamietti
Since Jody Weisel is struggling with vertigo and has to come in when he gets too dizzy to keep racing, he handed over his fuel-injected, Cone Valve-equipped, full-race, 2019 Husqvarna TE300i two-stroke to Randel Fout. Randel seemed to know exactly what to do with it. Photo: Debbi Tamietti
Chris Cole was a welcome sight back at the races after a lay-off for an injury. Photo: Jon Ortner
Another long-lost REM racer was Eddie Davis. After almost two years recovering from injuries, Eddie came out and won the first moto of the Over-50 Elite class. His return to racing wasn't totally successful as he lost the second moto and overall to two-stroke-mounted Jon Ortner. Photo: Debbi Tamietti
Although the temperature at Glen Helen was 80 degrees, there was still snow on the top of the nearby peaks. Dan Alamangos had a great day at REM. He holeshot both Over-50 Experts motos on a Husky FC350, won the first moto and came from last, after a crash, back to 4th in the second moto. He ended up third overall. Photo: Debbi Tamietti
Hollywood stuntman Mark Donaldson ("National Treasure", "Air Force One," "Fast and Furious 7," "Independence Day," "GI Joe," "The Road" and "Pirates of the Caribbean") had a 5th in the first moto of the Over-60 Expert class, but got taken out in the second turn of the second moto. His 5-9 got him sixth. Photo: Debbi Tamietti
Jacob Wondolowski (251) leaves a  roost trail for the rider behind him to follow. Photo: Debbi Tamietti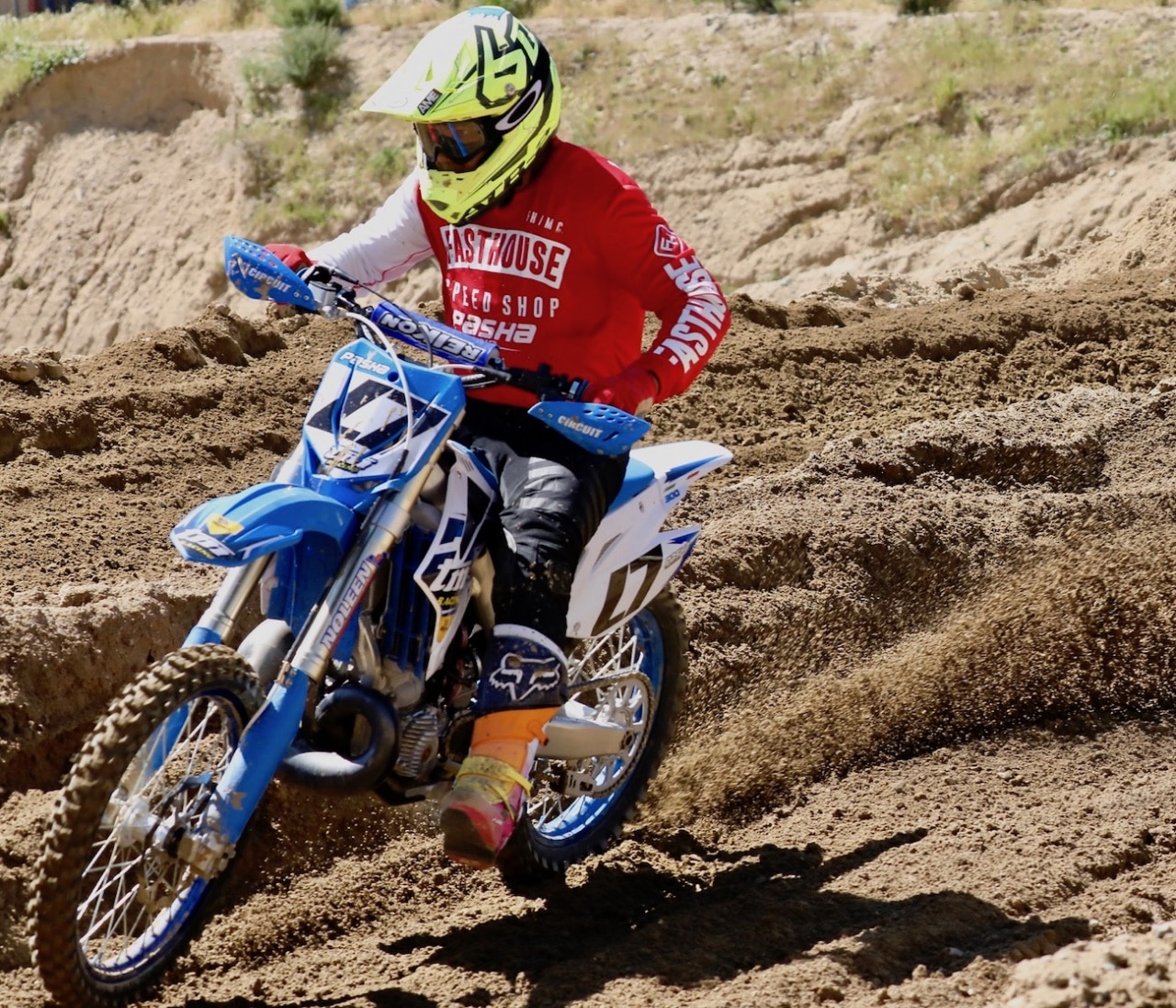 Pasha Afshar (L7) broke in his 2019 TM 300MX two-stroke this week for next Saturday's World Two-Stroke Championship. Photo: Debbi Tamietti
Dan Alamangos (right) shows Mike Monaghan how to do a backyard fix on a slipping clutch for Mike's YZ250. Photo: Debbi Tamietti
Val Tamietti (left) adjusts Mike Monaghan's front brake for him. Val is still recovering from a broken leg, but is an ace at YZ250 prep. Photo: Debbi Tamietti
Nobody has to show Mike Monaghan how to ride. The former Pro Circuit Husqvarna rider from the 1980s won both motos of the Over-60 Expert class on a YZ250X (with the kickstand still on it). Okay, he only won the second moto, but first moto winner Randel Fout (192) decided to ride a different class for the second moto. Photo: Debbi Tamietti
Bill Seifert (37) leads former L.A. Police Chief Charlie Beck. Seifert won the Over-65 Intermediate class, while Charlie was second in the Over-65 Experts. Photo: Dan Alamangos
Mark Taylor (126) went 2-2 for second in the Vet Novice class on his YZ250 two-stroke. Photo: Debbi Tamietti
Josh Fout uses a lot of Body English in this downhill bend. Photo: Dan Alamangos
It is obvious that the track goes left, but don't tell Jacob Wondolowsk (251) because he's hooked up and flying to the right. Yes, he is going in the wrong direction, but he's not shutting off. Photo: Dan Alamangos
Next weekend, Saturday, April 20, is the Dubya USA World Two-Stroke Championship, but REM will return to Glen Helen on August 27.  For more info about REM motocross go to www.remsatmx.com or their Facebook page by Clicking Here.
REMAINING 2019 REM RACE SCHEDULE
Apr. 27…Glen Helen
May 4…Cahuilla Creek
May 18…Glen Helen
June 1…Glen Helen
June 8…Cahuilla Creek
June 15…Glen Helen
July 13…Glen Helen
July 20…Glen Helen
Aug. 10…Glen Helen
Aug. 17…Glen Helen
Sept. 21…Glen Helen
Oct. 4…Glen Helen
Oct. 19…Glen Helen
Oct. 26…Glen Helen
Nov. 16…Glen Helen
Nov. 23…Glen Helen
Dec. 14…Glen Helen
Dec. 21…Glen Helen