REM GLEN HELEN: SADDLEBACK SPECIALISTS, LOMPOCIANS, KOGA & MAXIMUS (UPDATED)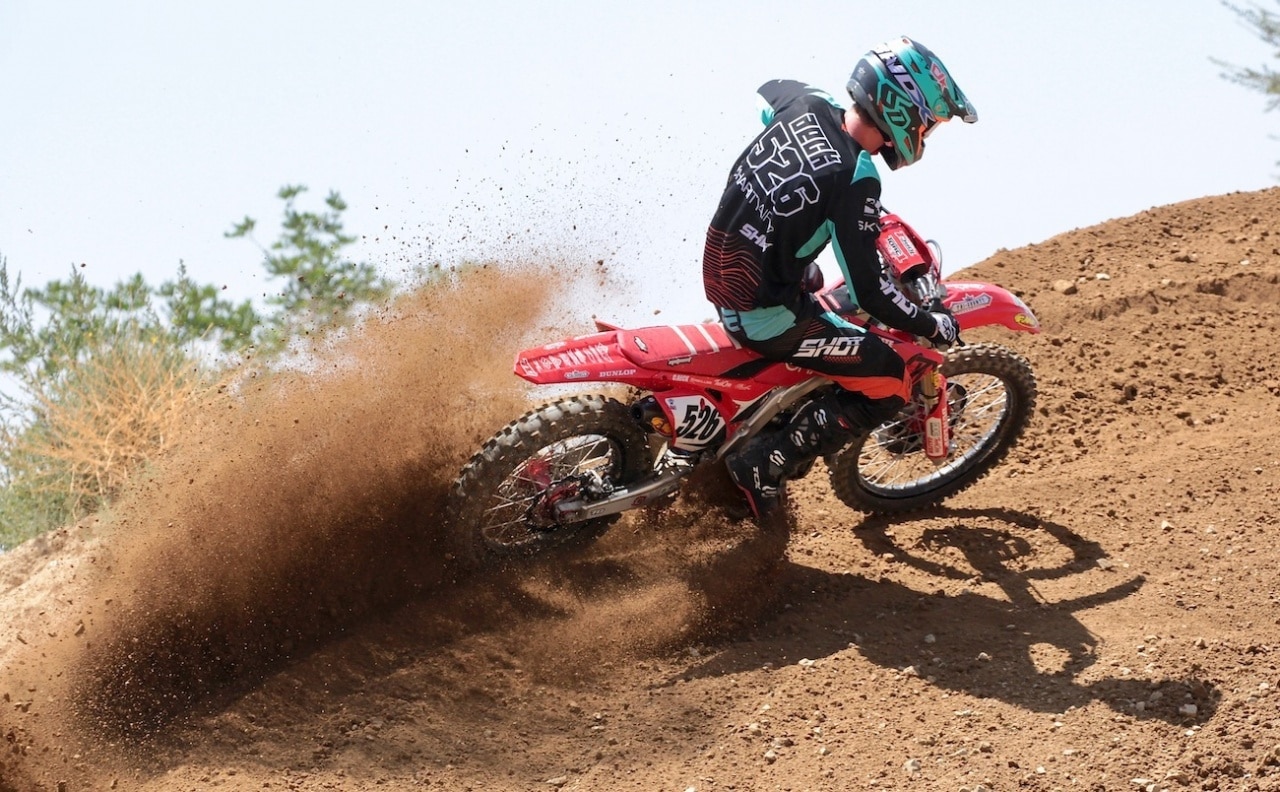 Colton Aeck (526) was a strong third in the 450 Pro class behind Tallon LaFountaine and Adam Enticknap, but ahead of Dalton Shirey, Tyler Enticknap, Richard Taylor, Shaun Hillion, Noah Hickerson and Jacob Argubright. Photo: Debbi Tamietti
Photos by Debbi Tametti, Kyoshi Becker, Rich Stuelke & Jon Ortner
(Click on images to enlarge)
The best thing about the weekly REM moto-wars is that you never know who will show up. As of late the gang from Lompoc has been making the long drive to Glen Helen to race. First it was just Shawn Wynne, then he was joined by the Enticknap brothers and now they have a whole crew hitting the races.
Noah Hickerson crosses his YZ450F up as he jumps back into the stadium section of the REM track. Photo: Debbi Tamietti
Joining the Lompocians this week were riders from England, Australia, Sweden and Japan. The best of the foreigners was Japanese rider Taiki Koga. He won the 250 Pro class, beating out Swede Kristoffer Palm, but in the process took on the 450 Pros who started on the same gate. Koga was fast enough in the second moto to get in front of the whole field and stay there.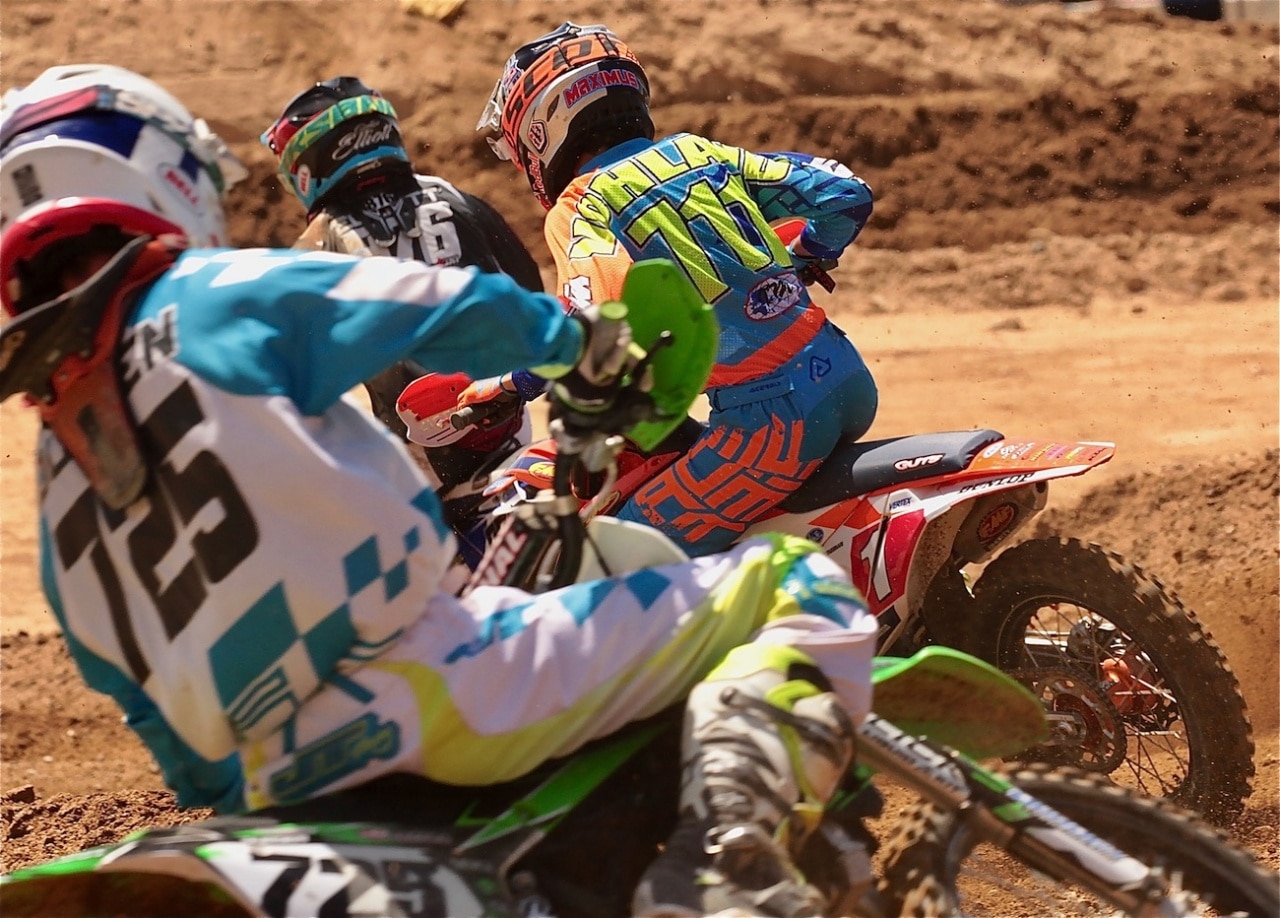 Collin Elliott, Max Vohland (711) and Michael Durden (725) carve up their personal sections of this flat sweeper. Photo: Debbi Tamietti
Jacob Argubright (911) and Todd Gravitt (4) negotiate this difficult fall-away drop off that bends back to the left on landing. Photo: Debbi Tamietti
REM has the largest contingent of what's left of the Saddleback Specialists of the 1970s and 1980s. No one who raced at Saddleback on a big bike could be younger than 50 years old today. The simple fact that there are so few of them left racing, it is a joy to see them all together in one place.
Richard Taylor, son of former AMA National rider Rich Taylor, had trouble on the first lap of both 450 Pro motos to go 6-5 for the day. Photo: Debbi Tamietti
Why were the called "Saddleback Specialists?" Saddleback was one of the most famous racetracks of the 1970s  and 1980s, but it had hard-packed, blue grooved, rock-hard dirt that was extremely difficult to race on. There were very few berms and no soft dirt (once the dirt clods of the morning track prep were broken up). It was only watered before the races started and never again. To do well at Saddleback, you had to be able to make radical direction changes on dirt that resembled concrete. Saddleback Specialists mastered the ability to spot tiny ripples and rills in the dirt that their tires could bite into (and tire choices were limited to Metzelers in the 1970s and Bridgestone M22/23s in the 1980s). It was a difficult skill to learn and first timers at Saddleback struggled while the locals, who practiced on the track during the week when it was bone dry, absolutely flew. Originally, the term "Saddleback Specialist" was used derisively to mean that these riders were only good at Saddleback and not at any other track. But, later became a badge of honor and something to be proud of.

Maximus Vohland, son of former GP and Pro Circuit Kawasaki racer Tallon Vohland, won the 125 Intermediate class on his KTM Supermini. Photo: Kyoshi Becker
This week the Pro class was packed with a potpourri of riders from different disciplines. There were young up-and-comers like Noah Hickerson, Tallon LaFountaine and Richard Taylor mixing it up with old AMA hands like Adam Enticknap, Tyler Enticknap and Colton Aeck. And Jacob Argubright and Dalton Shirey crossed over from the offroad side of the sport to join in. And when you considered that Max Vohland was nipping at their heels on his KTM Supermini in the 125 Intermediate class—it was exciting to watch.
Tyler Enticknap (723) was one of six racers at REM from the small Central California town of Lompoc. Taiki Koga (X) was the only rider from Japan at REM, but he was blazing fast (and came through all the 450 Pros on his CRF250 in the second moto). Photo: Kyoshi Becker
Val Tamietti was a Saddleback Specialist back in the day. He won the CMC number 1 plate on a Maico—last year he earned the REM number 1 plate on a YZ250 two-stroke. Photo: Kyoshi Becker
But its no secret that REM is a local track—it exists and is popular across the globe because it caters to regular racers, the majority of which are over the age of 40. They come to REM because the track is more of an old-school motocross track and less like a flat field with jumps on it. It has hills, offcambers, steep drops and lots of undulations. Yes, there are a few jumps, but each rider can choose his own distance because there are no doubles. REM is about riding hard on a rough track and not about worrying about someone landing on you.
Randel Fout (45) spent the day dialing in MXA's 2019 Kawasaki KX450. How did it work? Randel ran away with two massive moto wins. Photo: Kyoshi Becker

A large majority of REM racers have raced against each other for decades—they know each other, are familiar with the other guys riding style and , most of all, they know who they can trust going into a hairpin and who they can't. These guys didn't make it to this age without learning a thing or two about survival. REM has been holding races for 30 years (first at Carlsbad and then at Glen Helen). With a mix of young, middle-aged and old, the REM motocrossers are an eclectic group of racers—who are friendlier than at most track because of the experiences they had over their long careers. They like to hang out together, most of them know at least half of the people in the pits and they enjoy racing with each other. You should try it.
Ed Foedish made the drive over from Arizona to get in some serious practice to get ready for Loretta Lynn's at the end of the month. Two holeshots gave him an easy win in the Over-50 Elite class. Photo: Kyoshi Becker
UPCOMING REM RACES
July 14……………………Summer Series #1
July 21……………………Summer Series #2
July 28……………………Summer Series #3
August 11……………………Summer Series #4
August 25……………………Summer Series #5
MXA's Jody Weisel was a Saddleback Specialist. He lived a couple miles from the famous track, went there every day and used local knowledge to be the number one Vet Pro in 1984. Geez, that was 34 years ago. Photo: Debbi Tamietti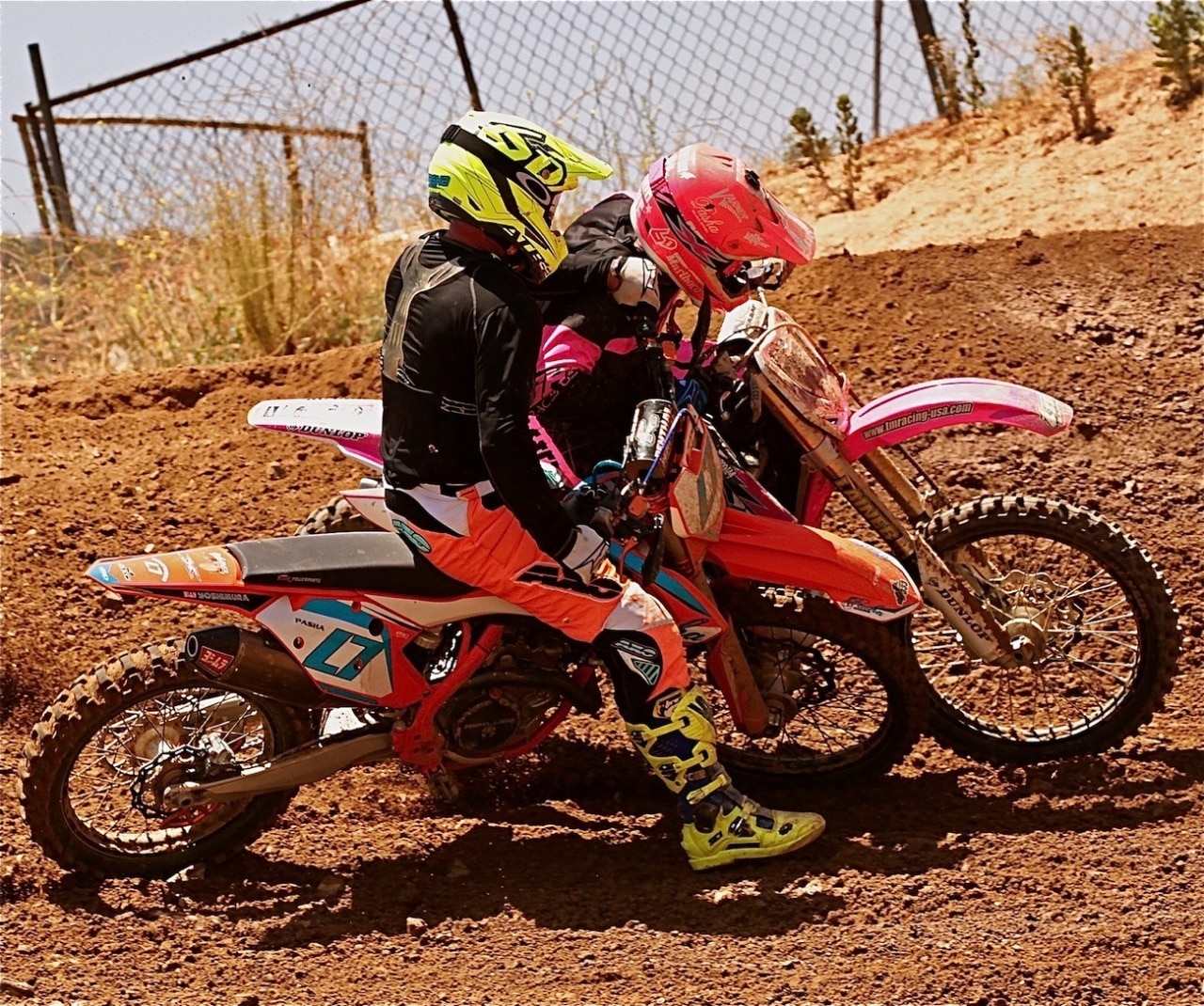 These two guys are friends. Well, at least they were. Pasha Afshar puts his grip in David Cincotta's right ear. Photo: Debbi Tamietti
If you raced at Saddleback, Irwindale, OCIR, Indian Dunes or Carlsbad in the 1970s, you know who Dave Eropkin is. Dave won the Over-60 Expert class on Saturday. It was a big win because he has been working hard to beat Val Tamietti ever since they both turned 60. Photo: Debbi Tamietti
Pete Murray is a two-time World Vet Champion (he won the Over-40 Pro class in 2000 and the Over-50 Pro class in 2012). Pete Murray was also a Saddleback regular. He went 4-4 in the Over-50 Elite class at REM. Photo: Debbi Tamietti
Jon Ortner (10), Ron Shuler (33) and Robert Reisinger (96). On old Pro from Indian Dunes, one from the desert and one from Saddleback—all over 50 years old now. Photo: Rich Stuelke
Steven Chandler won the Over-60 Intermediate class on a TM two-stroke beating out Steve Donovan, Mitch Evans, Gene Boere and big field of chasers. Photo: Debbi Tamietti
Randy Skinner (white helmet) grabbed the holeshot in the Over-60 Expert class on his birthday. Photo: Debbi Tamietti
TM importer Ralf Schmidt (73) goes the long way around Pasha Afshar. Ralf believes that the best way to sell TM's is to race them. Photo: Kyoshi Becker

Darren Berg (2) and Gary Stotenberg (781) finished 5th and 6th in the Over-50 Novice class—although in the opposite order from the photo. Photo: Debbi Tamietti
Luc DeLey (28), another former Saddleback Specialist, makes a low-level strafing run on Kyoshi Becker's camera. Photo: Kyoshi Becker
Here is Luc Deley again, only this time on a KTM 125SX two-stroke. Luc won the Over-50 Intermediate class with a 2-2. He was beaten in the motos by Robbie Carpenter and Gary Sewell. That's Joe Pena (911) on his outside. Photo: Debbi Tamietti
Marc Crosby (28) gets the inside line on Brian Martin (65) as they approach a steep left-hand drop-off. Photo: Jon Ortner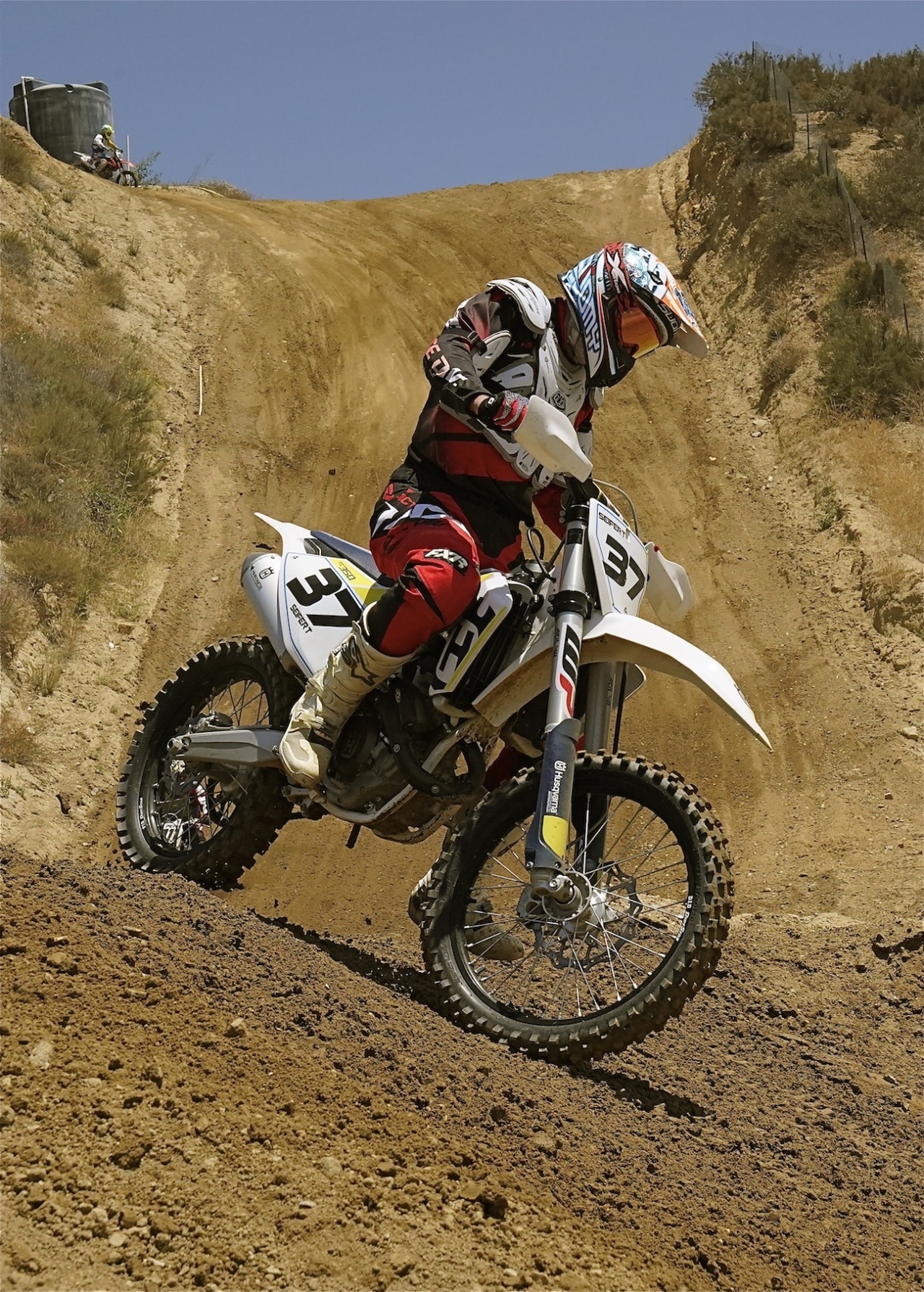 Bill Seifert was a Saddleback racer back in the day, but after Saddleback closed in the mid-1980s he quit. Only to come back to racing 30 years later when the late Tom White told him about REM. Photo: Jon Ortner
Kent Reed gets pumped up about his next moto. Kent, who was an Indian Dunes guy in the 1970s, can fall asleep anywhere. Photo: Jon Ortner
Gene Boere went 4-5 on his KTM 250SX two-stroke in the Over-60 Intermediate class. Photo: Jon Ortner
MEANWHILE, DOWN AT THE REM PEE-WEE TRACK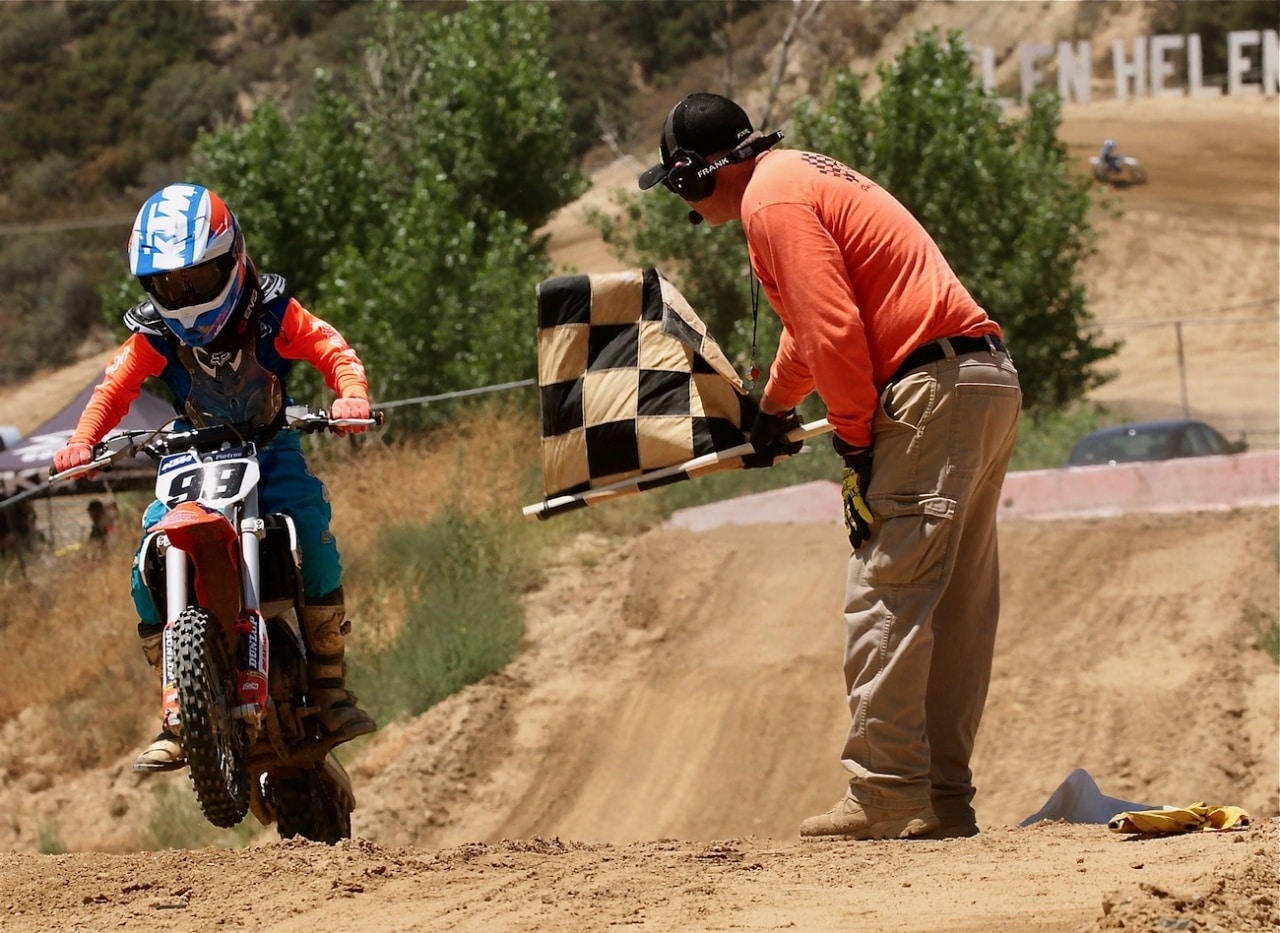 REM has a really nice Pee-Wee track attached to the end of the big REM track. It is perfect for young riders just starting out and is limited to 50cc, 65cc and small four-strokes. It is safe, sane and loads of fun for a kid who just wants to ride. Most of the little racers are the sons, daughters or grandkids of REM racers—so they get to do what dad does on the same day. This is Travis Pietronico winning the 50cc Beginner class. Photo: Debbi Tamietti
REM Pee-Wee racers can ride anything from KTM 50SXs to Yamaha PW50s to Honda CRF50s to all manner of small bikes. Photo: Debbi Tamietti
Conner McCarthy (88) leads Zayne Baril's Suzuki. Photo: Debbi Tamietti
Ethan McCarthy (128), Jacob Crain (12), Conner McCarthy (88), Jacob Tilley (50) and Travis Pietronico (99) demonstrate the wide variety of bikes that are able to race on the REM Kid's Track. Photo: Rich Stuelke
Payton Trimble (613) and Mowgli Roe (1) demonstrate girl power. Note the dad's in the background waiting for their little racers to come around. Photo: Rich Stuelke
REM doesn't race at Glen Helen next week, July 7, although there is talk of an "Un-Race" that Saturday. For more info on REM Motocross go to www.remsatmx.com