REM GLEN HELEN "UN-RACE" REPORT: THE UNOFFICIAL 41ST EVENT
Click on images to enlarge
Hollywood stuntman Will Harper had time to squeeze in a couple hours of riding before getting back to the studio for a night shoot. Will has missed a lot of REM motocross races this past year while working on "Guardians of the Galaxy II" in Atlanta and has a new movie starting in Hawaii next month. You gotta ride when you can.
No local motocross racers anywhere in the world race as often as SoCal's REM regulars. They start their yearly motocross season the first week of January and race straight through until Christmas. All told, there are 40 REM races a year. There are breaks in the REM schedule for the AMA National, USGP, WORCS series, 24 Hours of Glen Helen, Tough Mudder, Day in the World, World Vet Championship, Last Dog Standing, King of the Hammers and Lucas Offroad Truck Championship. Imagine that your local track raced continuously, every weekend with only one weekend off a month (on average) for 12 straight months—before staring next year's motocross series right after New Year's.
Todd Gravitt came out to the "Un-Race" to spend time with his three daughters.
Life with kids is always amazing. Here Todd gives instruction to his youngest, while the other two girls keep occupied.
What's the coolest thing about the above photo of the Gravitts? The pink cowboy boots.

Would you want to take a break from motocross after 40 races? Well, if you did, you wouldn't be REM material. This weekend was a scheduled break in the REM race series, not because there was anything big happening at Glen Helen, but because summer temps in August near Devore, California, are always over 100-degrees. REM felt that taking some time off for the dog days of summer would be a good idea.
The three amigos— Terry Varner, Pasha Afshar and David Cincotta.
Tom White has had a storied career. He had an AMA Grand National dirt track number. He raced AMA National road races on a Triumph. He started the White Brothers and built it into one of the countries largest distributing companies before selling it. He won the 1990 World Vet Championship. He owns one of the world's best motocross museums. He is a member of the AMA Hall of Fame. He announces some of the biggest races in the world. And, he is still racing today.


Randy Skinner showed up on crutches with a knee he tweaked at work. Two questions arise from this: (1) How dedicated are you to show up at a casual ride day when you neeed crutches just to walk? (2) Who has a job where you can get hurt so bad that you have to miss days of riding? Isn't that suppose to be the other way around?
Greg Preston may not be as famous as his son, 2001 AMA 125 East and 2002 125 West Supercross Champion Travis Preston, but Greg races almost every week, while Travis is busy working as Yamaha's full-time test rider.
But, since the track was sitting there, and Glen Helen General manager Lori Wilson mentioned Jody Weisel that she would have it prepped if any REM racers wanted to come out and ride. Jody told Lori that if she had heavy equipment operator John Allen rip the track and water the flat parts with the water truck, that the REM guys would man the fire hoses for the rest of the day to do the hilly parts and keep the track in good working order. Then, Jody called Dan Alamangos, Dan told his brother, his brother told Brian Martin, Brian told Kent Reed, Kent Reed told Will Harper, and so on and so — and pretty soon 50 REM racers converged on the upper pits on their weekend off.
Aussie Dan Alamangos has lots of outback experience, so a pleasant 103-degree day is no big deal to anyone from down under.
Before Jon Orter became REM Number 1 for three straight year, he raced the AMA Nationals and all around the globe—Now Jon focuses his attentions on the weekly REM wars, his art career, playing some obscure instrument in a Santa Barbara band and collecting Mexican somberos.
Rich Stuelke was a high school principal, and we are betting that he was a very strict disciplinarian, but as a motocross racer he is a big Teddy Bear.
Kent Reed (491) blasts around a corner marker that you can't miss seeing, but you better hope that your leg doesn't hit it.
It wasn't a race—just a ride day for racers. Yet there were cases where every rider in a class showed up—so they could ride together without having to kill each other for a trophy. Some used the day to test suspension setting, break-in new bikes or try out some trick new gizmo. No pressure, just fun. It was just a day for guys who race against each other 40 times a year to spend a 41st day hanging out without each other one more time.
Tom White measures the sag on his new WP Traxx shock.
John Perry takes a moment to relax before jumping back into the fray behind him. Note the "Flying Mike Brown Racing Products" T-shirt.
Gary Denton had a brand-new never been ridden 2017 KTM 350SXF with him at the "Un-Race," but elected to ride his trusty but rusty Honda CRF250.
Mike Hillion has raced for years and has passed the racing bug down to his son.

Thus, there are no results. Just photo of smiling guys having a great time. It was the "Un-race."
At the last REM race Brian Martin's fuel line kinked inside the gas tank and burned up his fuel pump. He had to miss a race, which to an REM racer is like donating a kidney, but he's back  now

Luther French might have jumped over the berm by a couple feet, but he knows how to make a mistake disappear—full throttle.
How many motocrossers does it take to change a lightbulb? Let's hope it takes less than it took to put one one bike into the back of a box van. Did you see the "Indian Dunes 126" T-Shirt on Will Harper? The 126 refers to the road that Indian Dunes was on.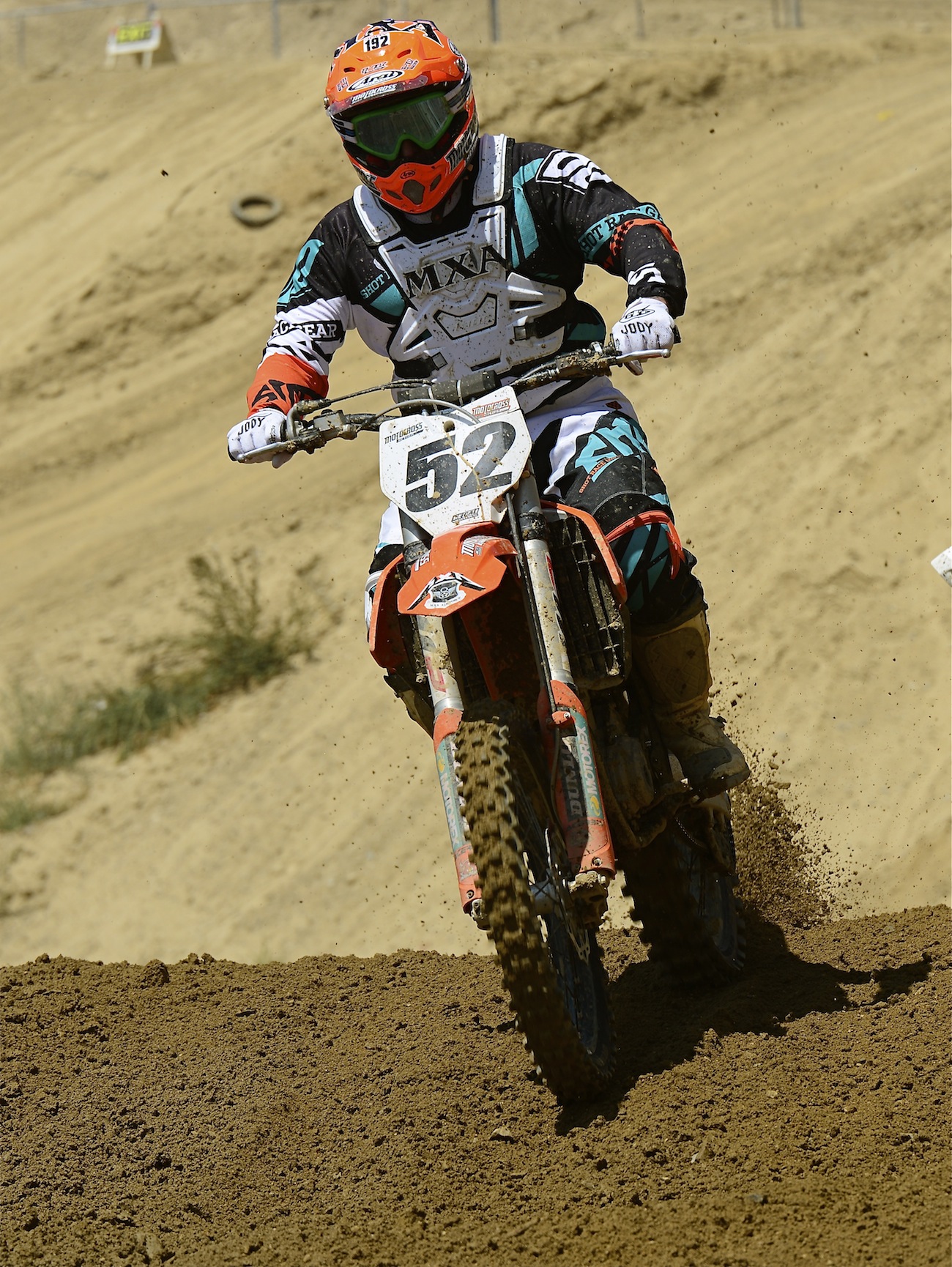 Jody Weisel (52) watered the back portion of the track, while Dan Alamangos, Marc Crosby, Josh Fout, Kent Reed, Gary Taylor and friends kept the front part moist. Then, they all rode to their hearts content.
Dirt Bike magazine editor Ron Lawson and two-time World Vet Champion Pete Murray came out to spin laps on a couple 2017 test bikes.
Earl and Ron Shuler are REM and desert regulars. Earl has been in the motorcycle business for decades, but found fame recently for his WP 4CS suspension work with his ESR company.
Pete Vetrano is perhaps the most eccentric motorcycle importer in America. Pete has been the importer for everything from TM (twice) to LEM to Vertemati to Falcon to VOR. He is now the new American importer for SWM, but while he's waiting for the 2017 SWM bikes to hit the docks, he's racing a Husqvarna.
Tony Parsons left foggy London town behind and moved to America—where he gets to race 40 times a year and enjoy 103-degree days like at the "Un-Race."
For more info on REM Motocross and their full race schedule go to www.remsatmx.com