REM GLEN HELEN: YOU CAN'T WIN THE CROWN AT RACE ONE, BUT IT MIGHT BE THE ONLY ONE YOU WIN
Pete Murray won the Over-60 Expert class last week on a YZ125, so when he showed up this week on a YZ450F, it was a foregone conclusion. Murray is a four-time World Vet Champion (and the current Over-60 World Champion). In fact, there were four riders in this race that were in the top ten at the 2020 World Vet Championship—Murray (1), Reisinger (2), Harper (3) and Mike Monaghan (8) Photo: Dan Alamangos

With the first Saturday of 2021 falling on January 2 , it didn't take long for racing to get started in SoCal. REM plans to hold at least 30 races in 2021, which makes the hardcore REM racers happy as clams. Like all motocross racers in America they suffered during the lockdown months with no gate drops, just a lot of Professional Practice riding. When racing finally started back up in late May of 2020, they were hot to get back to thrashing and bashing with their buddies. But REM could never make up the races that they missed and with every race organization that had been shut out of their normal race tracks looking to Glen Helen as a place to hold their events—it became the hottest commodity in town.
Justin Muscutt (816) had a big lead in the first 450 Pro moto until he entered the tight, uphill, 180-degree, right-hand turn before the finish line. He pushed the front end and went down, allowing Hawaiian Brian Medeiros to pass him for the win. Photo: Mark Chilson

It hasn't been unusual for Glen Helen to hold five races every weekend. Luckily, they have two big motocross tracks, an amateur Supercross track, the Lucas Oil Off-Road truck track (for Scrambles and side-by-sides) and miles of trails for Grand Prixs and endurance races. Every racer hopes that 2021 is a little less hectic and that all the other tracks begin to hold more races to lessen the weekend crowds at Glen Helen. On a good note, on the first weekend of 2021, REM was the only race on Saturday and there was on the New Year's Grand Prix on Sunday.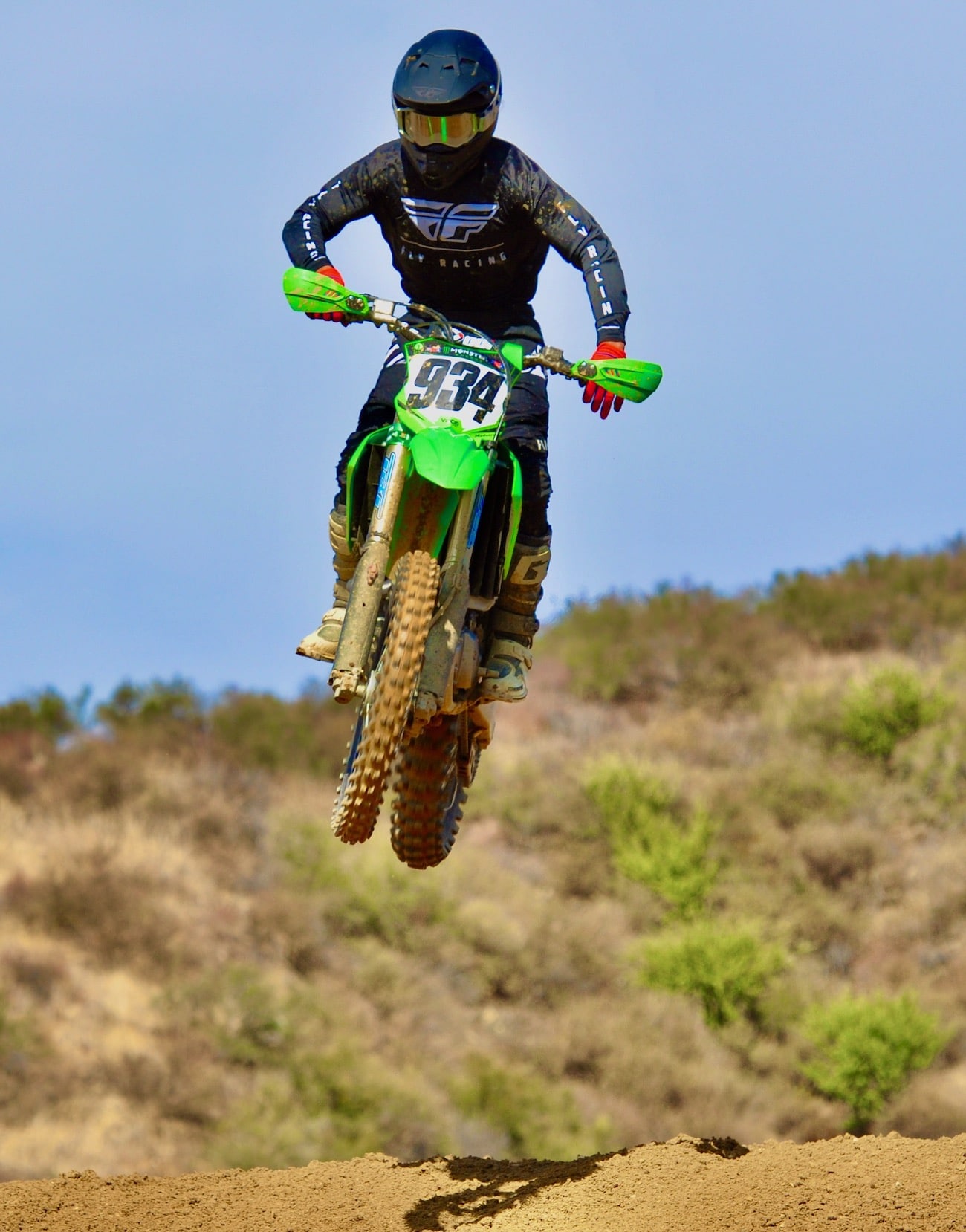 Brian Medeiros (934) won the first 450 Pro moto and was leading the second moto on the last lap (make that all the way to the tight, uphill, 180-degree, right-hand turn before the finish line). In the final turn, with the checkered flag in sight, a lapper swerved into Brian's line and pushed him into the bank on the left-side of the track—giving Justin Muscutt enough room to take the moto win and the overall. Photo: Mark Chilson

Not everyone was so anxious to break out of the Christmas and New Year's revelry to strap the boots on for a race on the second day of the new year. But, not so with the old guys. REM offers all the big bike classes, by age groups, skill levels and engine size, and  for some reason, it draws massive groups of over-50 and over-60 racers. It turns out that no group of racers is as dedicated as the old guys. They want to race. They want to race every weekend. They want to race two classes on every weekend. They get very perturbed if there isn't a race every weekend.  But on January 2, 2021, they were happy to be racing—so happy that riders over the age of 60 years old made up 40% of the riders at REM.

Brian Medeiros (left) and Justin Muscutt (right) have been MXA test riders, roomies and earned their AMA Pro licenses in the same year. Both work in the motorcycle industry now. Photo: Dan Alamangos

Here is a photo essay on the first race of 2021 with photos from Dan Alamangos, Jody Weisel, Mark Chilson, Mark Donaldson, Rich Stuelke and Jon Ortner (with everyone but Chilson also racing that day).

Just three turns into the race, the track makes a sweeping right-hand bend and goes up and over this hill to the canyon on the other side…

…and then, 15 second later, the riders emerge over the ridge 20 feet away from where they went up and come down in the opposite direction (you can see the tree in both photos). The riders on the down side looked different than the ones on the up photos, but that is because they had already gone over the ridge before the first photo was shot. Photos: Jody Weisel
OVER-60 EXPERT RESULTS
1. Pete Murray (Yam)..1-1
2. Robert Reisinger (Hus)…3-2
3. Ed Guajardo (Yam)…2-3
Will Harper (7) and Robert Reisinger (98) picked up right where they left off in their 2020 battle for the Glen Helen number one plate.  Robert went 3-2 for second behind Pete Murray and Harper went 4-4 for fourth in the Over-60 Experts. Let the 2021 points chase begin. Photo: Mark Chilson

OVER-60 INTERMEDIATE RESULTS
1. Luc De Ley (Gas)..1-1
2. Marc Crosby (KTM)…2-2
3. Frank Emerson (Hus)…3-3
Ed Guajardo of Zaca Station fame split the Reisinger/Harper duo in both motos and ended up tied with 6D Helmets' Robert Reisinger for second overall, but ended up third on the 2-3 and 3-3 moto scores. Photo: Jon Ortner

OVER-65 INTERMEDIATE RESULTS
1. John Bosanko (KTM)..1-1
2. Joe Root (Hus)…2-2
3. Gene Boere (KTM)…3-3
Dave Eropkin went 5-6 on his KTM 350SXF. Photo: Dan Alamangos
OVER-60 NOVICE RESULTS
1. Angel Montoya (KTM)..1-1
2. Owin Wright (Hon)…2-2
3. Mark Homan (Yam)…3-3
Former Saddleback Pro Luc DeLey has returned to his roots. Here, he gives a graphics display of just how far below the ground is as he jumps off the top of Mt. Whitney. Photo: Dan Alamangos

OVER-50 ELITE RESULTS
1. Jon Ortner (Yam)..1-1
2. Ron Shulr (KTM)…2-2
3. Alan Julien (Yam)…3-3

In what has to be a strange coincidence, Mark Donaldson (94) and Carl Gazafy (176) showed up wearing the exact same gear. It was strange because Donaldson and Gazafy do not know each other off the track and the gear is from a start-up mail order brand named "True MX." Not only did they wear the same gear, but they were in the same race and raced side by side. Photo: Dan Alamangos

OVER-50 EXPERT RESULTS
1. Mike Carter (Hon)..2-1
2. John Griffin (KTM)…1-2
3. Nick Waters (Yam)…4-4

It rained so hard earlier this week that the road to Glen Helen was closed for flooding on Tuesday. The REM first turn had to be moved down its steep banking because of the rain ruts. Will Harper gets the holeshot with Pete Murray (7), Robert Reisinger (98), Randy Skinner (383), Dave Eropkin (811) and Greg Groom (596) in pursuit. Photo: Mark Chilson
OVER-50 INTERMEDIATE RESULTS
1. Bill Reimer (KTM)..1-1
2. Glen Tatum (Yam)…2-2
3. Ernie Becker (Hus)…3-4
Everybody at Glen Helen finds these parking signs for MXA to be a funny joke, but they are based on the reality that this is exactly where Jody and the MXA gang park every week. Photo: Dan Alamangos
OVER-40 NOVICE RESULTS
1. Lamont Dusseau (Yam)..1-1
2. Gary Taylor (KTM)…2-2
3. Michael McCune (Hon)…3-3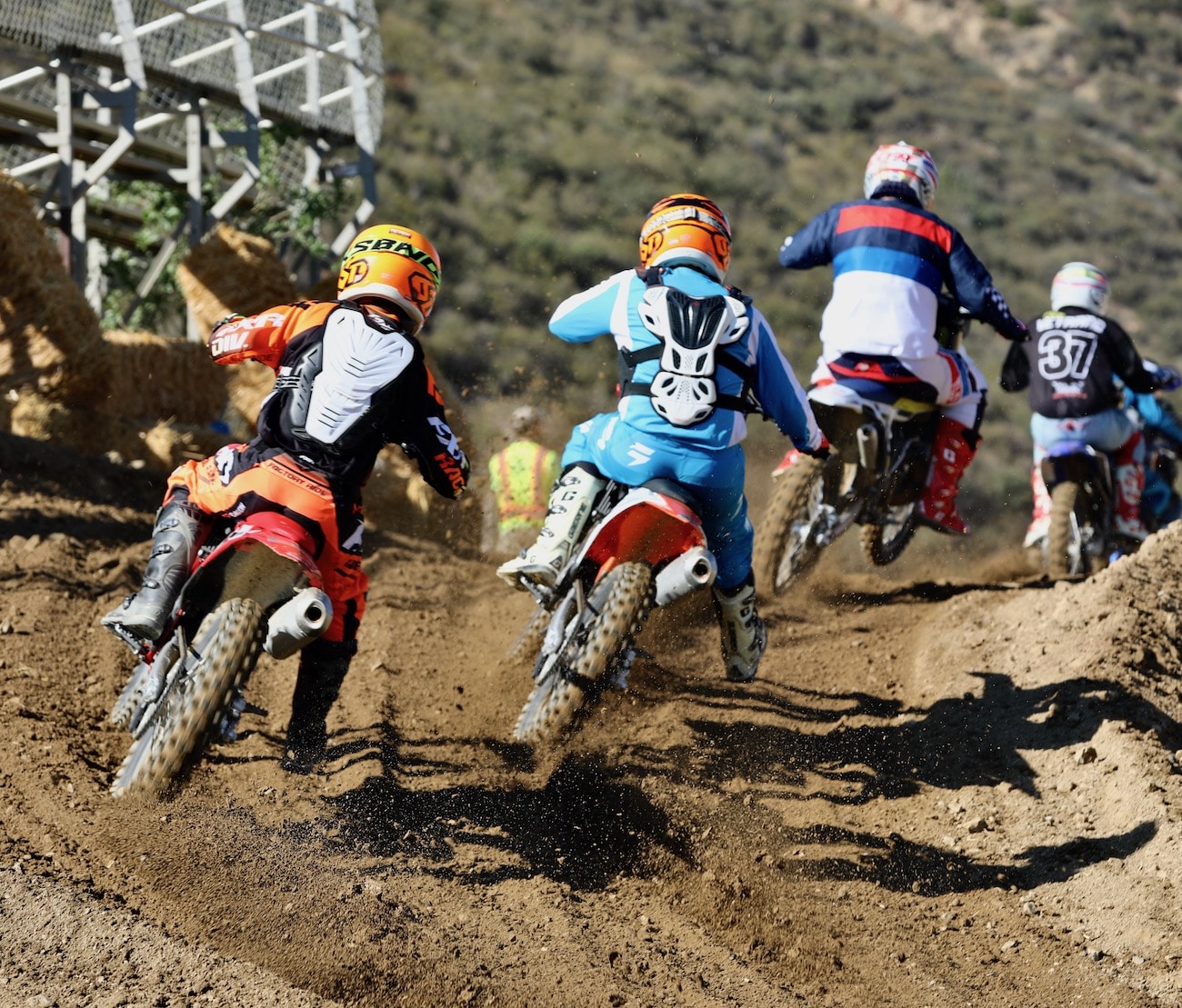 There were a lot of orange helmets at REM this week as MXA continues with its 2021 450 Shootout testing. The seven-bike shootout had been waiting for the GasGas and the Suzuki to show up. Photo: Jody Weisel

OVER-50 NOVICE RESULTS
1. Geoff Patterson (Kaw)..1-1
2. Frank Hartsell (Hus)…2-2
3. Jim Gonzalez (KTM)…4-3
Jon Ortner won the Over-50 Elite class, but the former 1980s AMA Pro got a thrill out of running third overall for a lap when his class was combined with the Pro classes. Here, 250 Pro winner Billy Lea (49) sets his sights on Ortner's Simi Valley Cycles YZ450F. Photo: Mark Chilson

BREAKDOWN BY BRAND
1. KTM..35%
2. Husqvarna…23%
3. Yamaha…18%
4. Honda…7%
5 .Kawasaki…6%
6. GasGas…5%
7. TM…3%
8. Suzuki…1%
Will Harper has stepped up to a 2021 Husqvarna FC450 Rockstar Edition. If you look closely under Will's right arm you will see Robert Reisinger (98) trying to make a pass. Photo: Dan Alamangos

John Caper is back among the living—that is as a full-time motocross racer. He is happy to be healed up enough to race again. Photo: Jody Weisel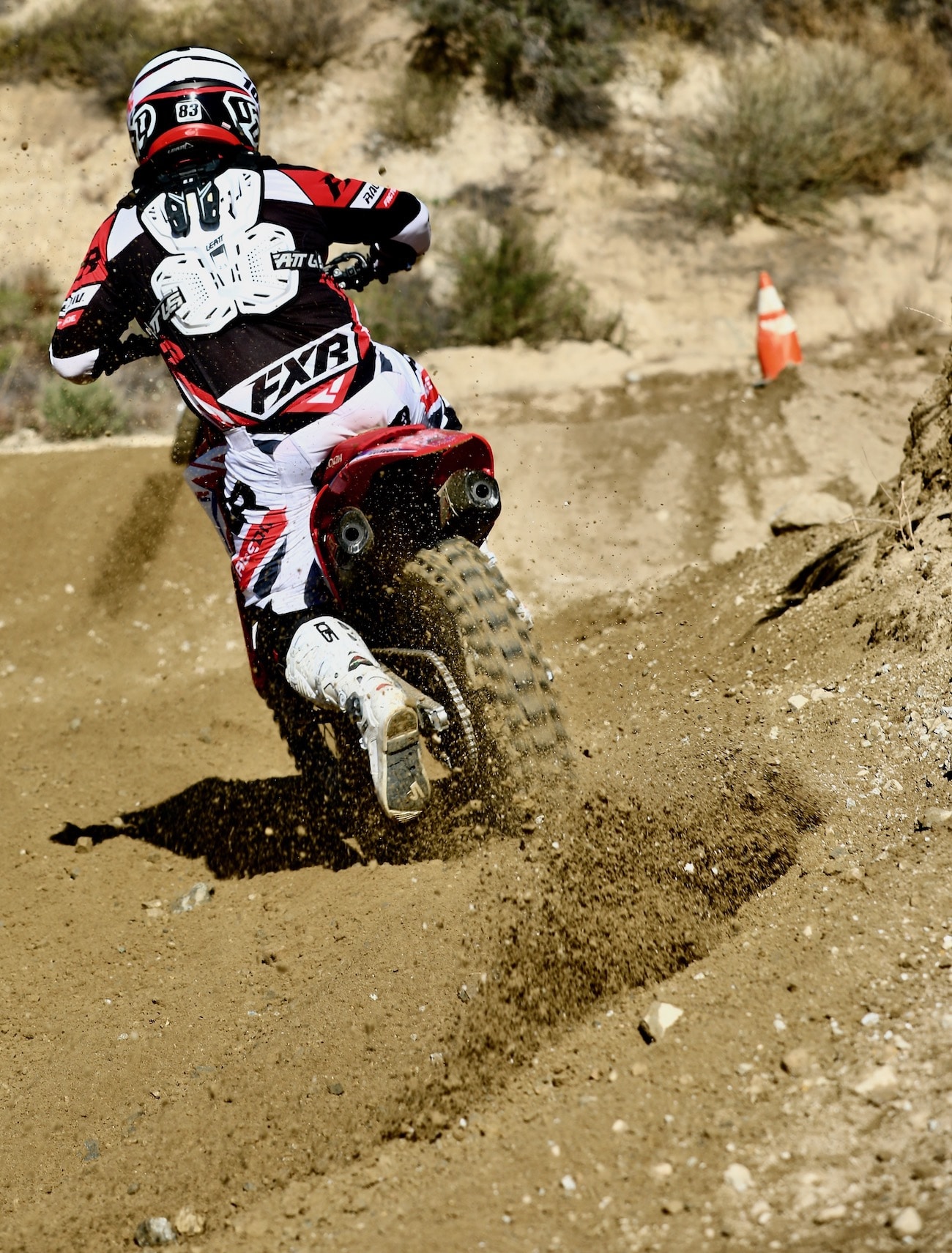 Jim Hanson heads through a new corner that heads down to the sand straight in the canyon. All he has to do is turn right at the cone. Photo: Jody Weisel

You can't really appreciate how massive the hills and cliffs are at Glen Helen, but this photo show you the scope of their size. The letters of the Glen Helen sign are 8 feet tall and there is even a section of the REM racetrack above the riders (behind the chain link fence). Photo: Mark Chilson

This downhill is only 75 feet away from where the previous photo was shot. Photo: Mark Chilson

Former Saddleback Pro Luc De Ley (53) is the sixth MXA test rider assigned to race the 2021 GasGas MC450F. We have lot of time on the other bikes, so we are making up for lost time by riding the GasGas virtually every day. Photo: Jon Ortner
Justin Muscutt, who won the 450 Pro class, works for KTM, Husqvarna and GasGas in the press relations department. Press relations at a motorcycle company means that you are a racer, mechanic and salesman. Photo: Mark Chilson

Brian Medeiros tries to get a little aerodynamic lift by laying his KX450 flat. Photo: Rich Stuelke

450 Pro winner Justin Muscutt (816) gets the start. Photo: Rich Stuelke
John Bosanko (101) went 1-1 in the Over-65 Intermediate class. At the first REM race of the year, 40% of the racers were in one of the Over-60 classes. Photo: Jon Ortner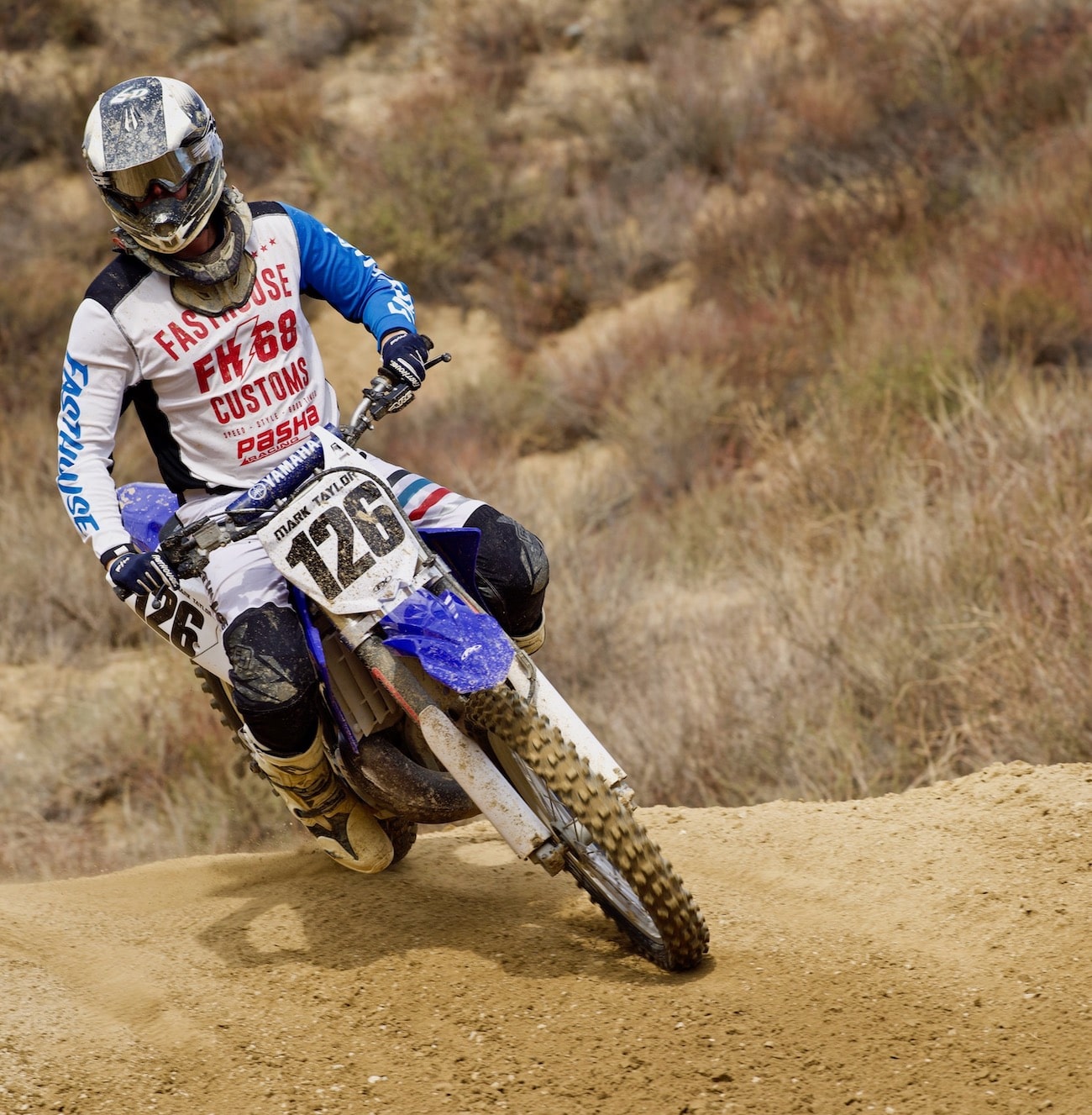 Mark Taylor (126) won the Vet Novice class with a 1-1. Photo: Jon Ortner
Gene Boere  (62v) has been winning the Over-60 Intermediate class regularly, but this week John Bosanko and 1970's SoCal hero Joe Root pushed him back to third—which takes the pressure off of Gene from the "Move him up!" crowd. Photo: Jon Ortner

TM USA importer Ralf Schmidt finally got the TM 112MX SuperMini that he has been working on with TM for two years—so he decided to race it and he was winning until he crashed on a steep uphill. Photo: Rich Stuelke
This just looks like the water truck is on the track' in truth it is watering the Pee-Wee track and these riders are about to turn on to the tight, uphill, 180-degree, right-hand turn before the finish line. Photo: Rich Stuelke
PHOTOS BY DAN ALAMANGOS, JON ORTNER, MARK CHILSON, RICH STUELKE, MARK DONALDSON & JODY WEISEL
REM is schedule to race on January 16, January 23, and January 30. For more info go to www.remsatmx.com or Click Here for REM's Facebook page.