REM MOTOCROSS: 6D BOYS, ZACA FOUNDER, FOUT ROUT & SIX-OH EXPLOSION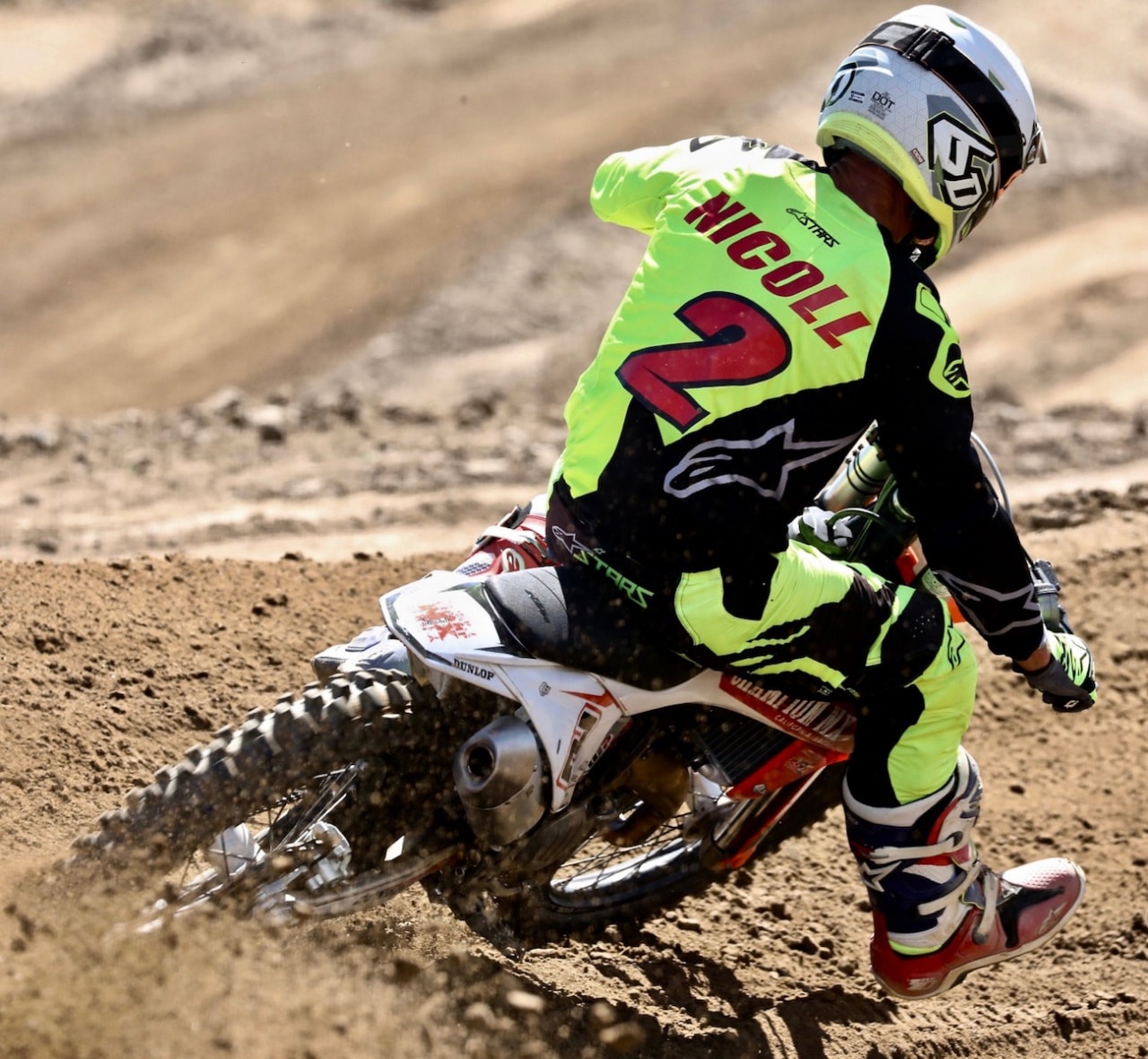 Kurt Nicoll has been riding almost every day for the past couple weeks and plans to race the World Two-Stroke Championship on May 20 at Glen Helen. The 53-year-old is still blazing fast and gave the Pros at Cahuilla all they could ask for. Photo Debbi Tamietti
REM couldn't be at Glen Helen this weekend because the track was hosting the "Tough Mudder" mud run (with 9000 runners), so REM moved South to Cahuilla Creek MX Park on the Cahuilla Indian Reservation. The track is located between Aguanga and Anza California, but don't blink twice or you'll miss them. REM Motocross is only scheduled for four rounds at Cahuilla, and this week's motocross was round two.
Gary Scott is a man that keeps coming back through adversity. Over the last few season he suffered  partial paralysis of his arm (which he recovered from), temporary blindness (midway through every moto) and all sorts of ailments. But he keeps recovering and coming back for more. Photo Debbi Tamietti
The big stories at this week's REM race at Cahuilla were former 500 Grand Prix racer Kurt Nicoll,  Over-50 Elite racer Jon Ortner, Over-60 ace Randel Fout, Hawaiian Darren Dabin (in the Over-40 Novice class), 6D helmet execs Bob Weber and Robert Reisinger and the Over-60 Explosion.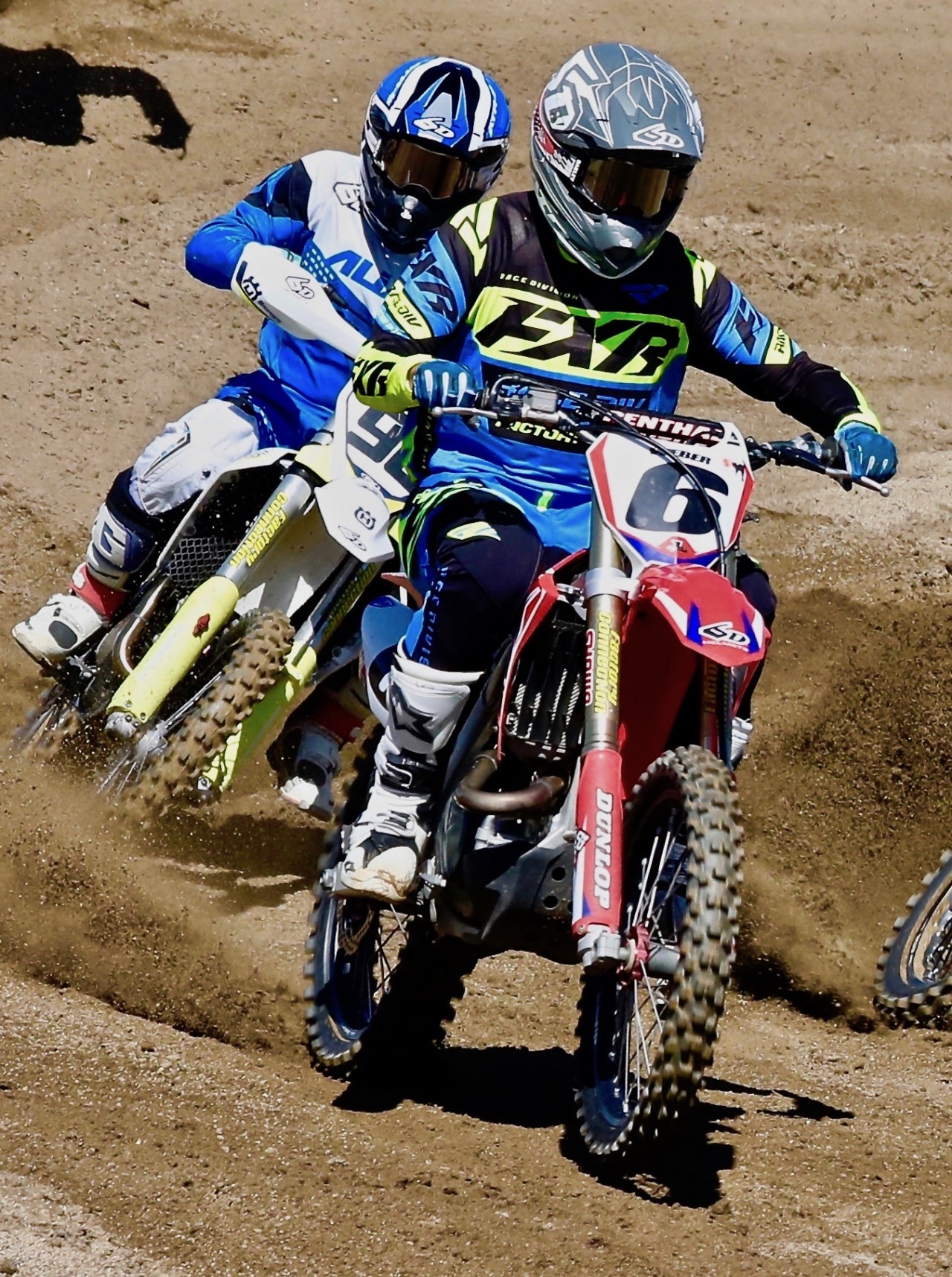 6D helmet's Bob Weber (6) and Robert Reisinger (96) combine a little racing with product testing—like Weber's cool gray 6D ATR-2. They split 3-4 and 4-3 results with Weber getting the nod. Photo: Debbi Tamietti
Kurt Nicoll has had a long career in motocross,  including finishing second in the FIM 500 World Championships four times, being the KTM team manager, winning the Over-40 and Over-50 World Vet Championships and running his motocross vacation company. He is a busy man, but he always takes times to ride his motorcycle—and he rides it every well. Even at 53-years old, Kurt doesn't waste time racing in his age group, he prefers to race against riders 20 years younger than him.
Jack Phinn made the long drive from Agoura, California, to Cahuilla Creek by starting at 3:30 in the morning. He said he loved the drive because he'd never seen an empty freeway in SoCal before. Photo: Debbi Tamietti
Jon Ortner drove 213 miles from Santa Barbara, California, to Anza, California, to race. Of course he got there late and missed practice. No big deal—Jon is always late, even to closer races. Without practice he went straight to the starting and won both motos of the Over-50 Elite class.
Bob Pocius (153) had a consistent 3-4 day in the Over-50 Intermediates. Photo: Debbi Tamietti
Ed Guajardo ran the epic Zaca Station track until it was closed down. It is a shame that Zaca Station isn't around anymore because it was a great. Not everyone could ride there, you needed to be on the very limited gate list as Ed could only have so many riders at the track on a given day. This made Zaca even more special for those who planned ahead. We don't have Zaca anymore, but Ed is still around. He was second to Jon Ortner in both motos—and also faced the 213 mile drive home.
The Cahuilla Creek uphill section. Photo: Debbi Tamietti
Randel Fout wins virtually every Over-60 Expert race in SoCal, but he doesn't want to be scored. He'd rather just race for the pure fun of it—exactly what you'd expect from a surfer who lives on a boat in Oceanside Harbor. Randel and son Josh are regulars at REM. This week they both won their classes, but don't waste your time looking in the results for Randel's name. He wasn't scored. He likes it that way.
Bryan Friday (43) won the Over-40 Expert class over Nick Waters and Dan Paulson. Photo: Debbi Tamietti
David Dabin came to California from Kaui to sharpen his skills against tougher competition and to find more tracks to race on. His dad Darrell made the trip with him and the father son duo spend their weekends racing together. There is no doubt that David is faster, but this week at Cahuilla Creek, Darrell took a hard-earned 1-1 victory in the Over-40 Novice class. David  went 1-3 in the 250 Intermediate class to give bragging rights to good old dad.
Bob Zingg (39) cues balls off of one of Cahuilla Creek's many banked turns. This one is at the bottom of the hill after the finish line. Photo: Debbi Tamietti
Bob Weber and Robert Reisinger are both former Pro motocross racers. Weber grew up racing the NESC circuit in New England, while Reisinger was a SoCal Pro who worked as a Kawasaki test rider. As their Pro days waned, they both started new careers. Bob worked as a magazine ad executive and general manager at both White Brothers and Troy Lee Designs, before heading off to change the helmet business. Robert Reisinger was a creative designer and engineer—proving it when he built the  highly regarded Mountain Cycle San Andreas full suspension mountain bike brand  When Robert joined forces with Bob Weber at 6D, the two industry veterans developed the biggest breakthrough in helmet safety of the last 50 years. Best of all Bob and Robert love to race…and, as of late, Robert has been doing a lot of on-track helmet testing. Glad to say that his hard work in the lab paid off on the track when Robert did his Chadapault-clone crash at Glen Helen a month ago. However, at Cahuila there were no impromptu helmet tests as Bob and Robert dueled to a virtual tie, but there is no tieing in motocross.
The next Zingg, Adrian, won the 65cc Advanced class over a top five of Mason Hibner, Grant Schafer, Ryder Friday and Shad Hansen. Photo: Debbi Tamietti
The Over-60 class explosion started about five years ago. It's no secret that REM was the place where this odd movement bloomed — largely because REM races in the heart of the American  motorcycle industry. The people who work in the motorcycle business are racers, many of them very successful racers, who as they grew older they didn't want to hang up their boots. So, they kept racing, fueling the Over-30 Vet class movement that started to expand back in 1990. Surprise! Those Over-30 Vets turned 40 in 2000. They reached 50 years old in the 2010 and are all now approaching 60 years olds as we get closer to 2020. REM has always attracted industry veterans, former National pros and World Vet Championship alumni.
Jody Weisel, on MXA's fuel-injected Husqvarna TE300i motocross bike, is one of many motocross racers from the good old days who isn't ready to hang up his leather boots. Photo: Debbi Tamietti
This week at Cahuilla Creek 25% of the racers were in the Over-60 classes. Obviously, most of these "Big Six-Oh" racers raced in the 1970s (with a smattering who raced in the 1960s). To even be 60 you would have to have been born in 1959. But at this week's race there was a strange confluence of groups. REM had once been a Carlsbad Raceway club—until they moved to Glen Helen 21 years ago. When REM decided to come down to Cahuilla Creek this week, the old Carlsbad crowd, who didn't make the move north to Glen Helen, came out to race with their old buddies. It was a reunion of racers who hadn't see each other since they were 20 years younger — which would have made them 40 at the time. Now they are 60 and ready to race.

Dakota Bender (224) rockets out of a corner with extreme prejudice. Dakota's serious attack plan paid off with a 2-1 win in the 250 Intermediate class over Hawaiian David Dabin's 1-2. Photo: Debbi Tamietti
Cain Bainbridge (187) and Lamont Dusseau (217) share a moment. Based on their throttle hands, neither one has pulled the trigger yet. Photo: Debbi Tamietti
David Moates (23) came out to play in his late brother Marty's LOP jersey.  Photo: Debbi Tamietti
Frank Derby (30G) leads Rich Stuelke (1) over a crest. After the Cahuilla Creek race, Rich was heading for the track consecutively known as Sunrise, Race Town and 395 for a race the next day. The round trip loop from his house to Cahuilla to Sunrise and back home would have gotten Rich to San Francisco. Photo: Debbi Tamietti
Jon Ortner (1) and Zaca Station's Ed Guajardo both drove down from Santa Barbara. That's a 426-mile round trip. Then, they raced each other in the Over-50 Elite class with Ortner going 1-1 and Guajardo 2-2. Photo: Debbi Tamietti
Ed Guajardo ran one of the best motocross tracks in California for years — until the farmers who owned the land closed it down. If you've ever been to Zaca Station, you have Ed to thank. Photo: Debbi Tamietti
Mike Monaghan (16) didn't win the Over-60 Expert class, but the position of the checkered flag, American flag and Mike's YZ250  was to cool for school. Photo: Jon Ortner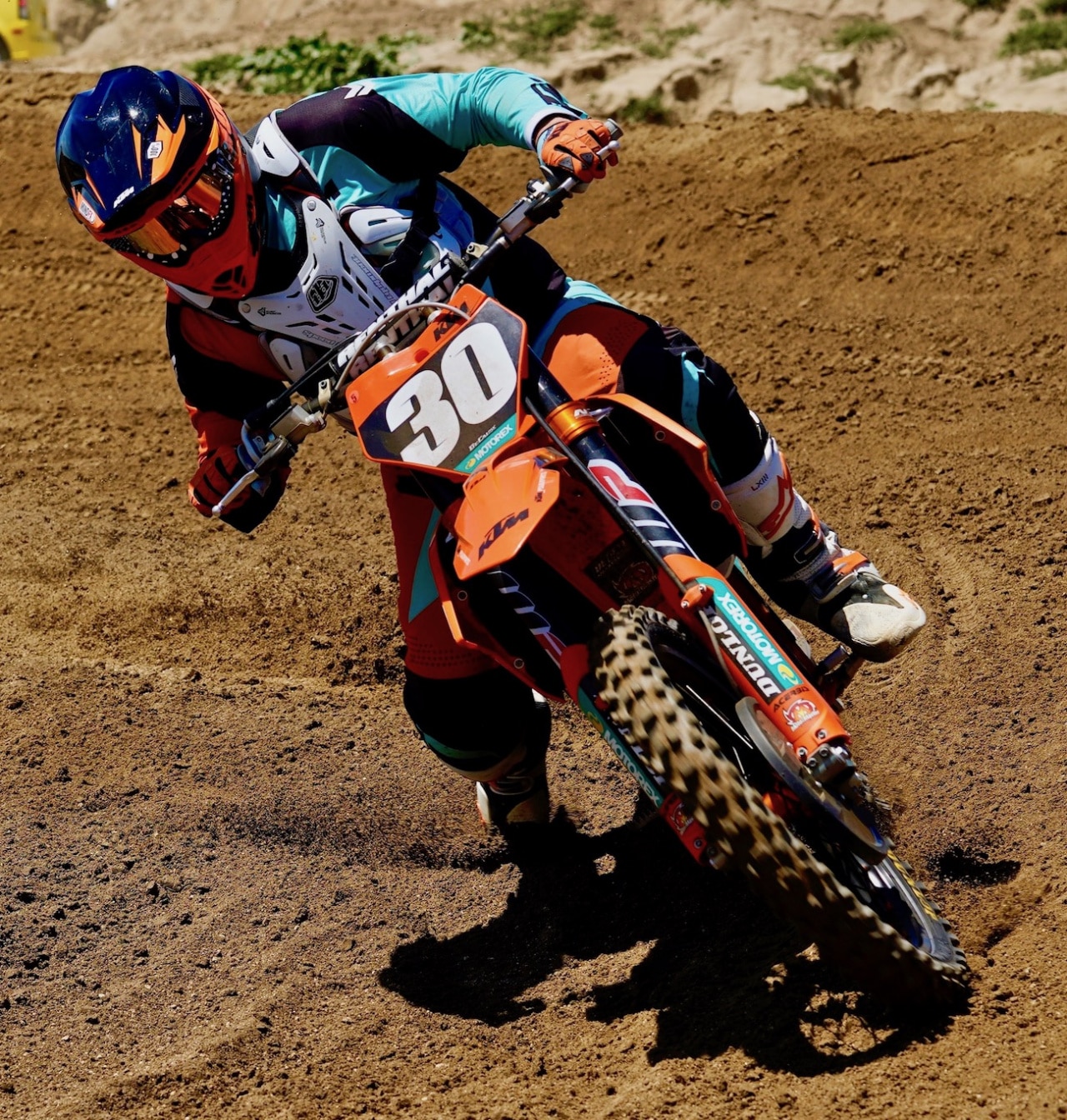 KTM's David O'Connor (3) won the Vet Novice class with the help of a little toe drag. David is from Ireland, but works at KTM's Temecula building. As you can imagine, his KTM 250SXF is very trick. Photo: Jon Ortner
One-quarter of the racers at Cahuilla Creek were over 60 years old. The fastest of these was former Michigan Pro Randel Fout. He swept both motos of the Over-60 Experts. Randel is so relaxed on and off the track that it is no surprise that he doesn't care if the promoters score him. Photo Jon Ortner
Randel's son Josh easily won his class—after grabbing two big holeshots. Photo: Debbi Tamietti
David O'Connor. Photo Jon Ortner
Mike Marion (lower left), Marc Crosby (upper left), Patrick Flynn (upper right) and Rich Stuelke at the finish line jump. Photo: Jody Weisel
TM importer Ralf Schmidt talked British racer Grace Richards into riding her TM SuperMini in the 250 Beginner class against the men rather than in the minicycle class. She went 1-1. Photo: Jody Weisel
Hollywood stunt coordinator Mic Rogers looking out across the Anza Valley. Photo: Debbi Tamietti
Next weekend, Saturday, April 13, REM will return to Glen Helen.  For more info about REM motocross go to www.remsatmx.com or their Facebook page by Clicking Here.
REMAINING 2019 REM RACE SCHEDULE
Apr. 13…Glen Helen
Apr. 27…Glen Helen
May 4…Cahuilla Creek
May 18…Glen Helen
June 1…Glen Helen
June 8…Cahuilla Creek
June 15…Glen Helen
July 13…Glen Helen
July 20…Glen Helen
Aug. 10…Glen Helen
Aug. 17…Glen Helen
Sept. 21…Glen Helen
Oct. 4…Glen Helen
Oct. 19…Glen Helen
Oct. 26…Glen Helen
Nov. 16…Glen Helen
Nov. 23…Glen Helen
Dec. 14…Glen Helen
Dec. 21…Glen Helen