REM MOTOCROSS RACE REPORT: BIG DAY FOR HUNTER YODER, JON ORTNER, ROBERT REISINGER & TALON HAWKINS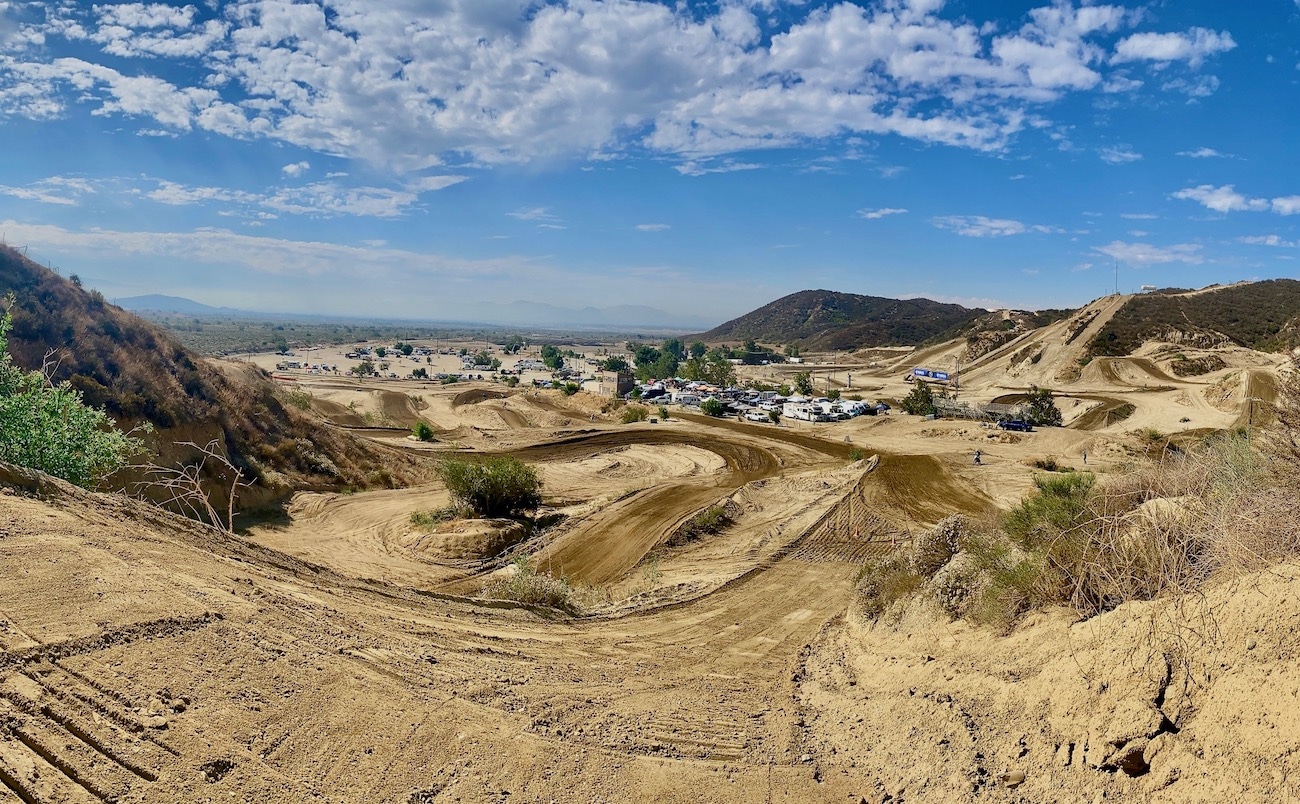 This is the view from the little hill on the REM track, the big hill is on the left. The Glen Helen National track is in the background

PHOTOS BY DEBBI TAMIETTI

Suddenly, young future Pro racers have discovered that the best way to prepare for a future in the rough and tumble AMA Pro ranks is to race—not five laps motos on a smooth track, not on a practice track that doesn't resemble what they will face in the big time, not a jump-track that is manicured to perfection and not at a track without the specter to real true-to-life competition to push them. So, Hunter Yoder, Brian Medeiros, Geran Stapleton, Tyler Belknap, Talon Hawkins, Sean White, Tyler Nichols and Jackson Gray showed up at REM's 3rd of July "Ice Cream Race."
The REM track underwent a few modifications before Saturday with two new and tricky on/off camber corners and the REM regulars were ready to give the youngster a run for their money. At the top of the list of regulars were Sean Lipanovich and Justin Jones—both on 450s. They proved to be tough to run down as the track got rough and bumpy over the 20-minute Pro motos. Sean Lipanovich was the fastest starter and quickly opened up big leads over Jones who suffered from mistakes, meanwhile the 250 Pros sorted themselves out for the long motos, made all that much longer by the 95-degree temperatures and continuous up and down circuit.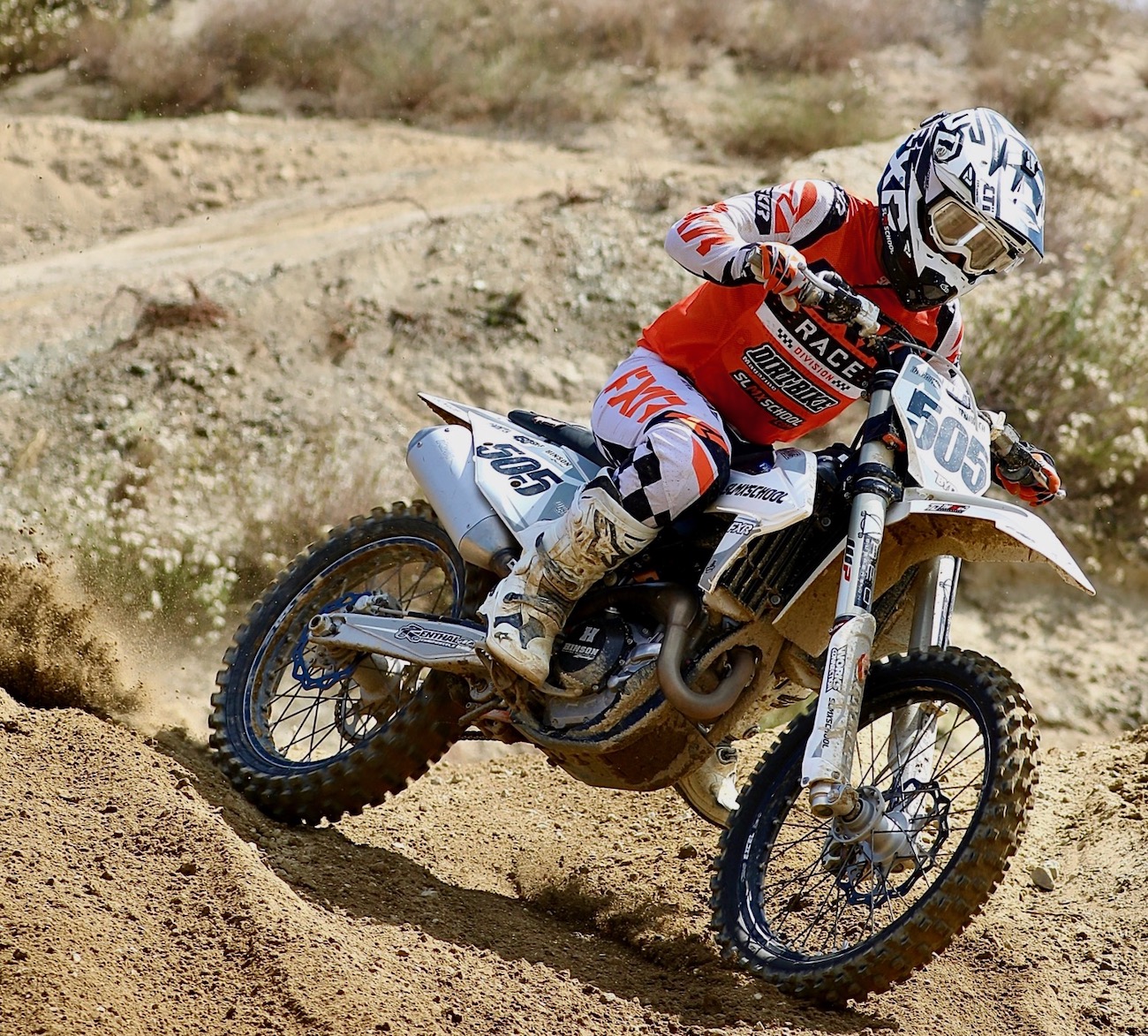 Sean Lipanovich (505) raced the 250/450 Nationals and 250 West Supercross series in 2010-2012, but now runs a popular motocross school. And if his race results are any indication, he's a good teacher — since he went 1-1 in the 450 Pro class at REM.
There were standouts in every class, as the best riders rose to the occasion, while the workman-like REM regulars often chose to race two classes, with only one moto between the checkers and the next gate drop.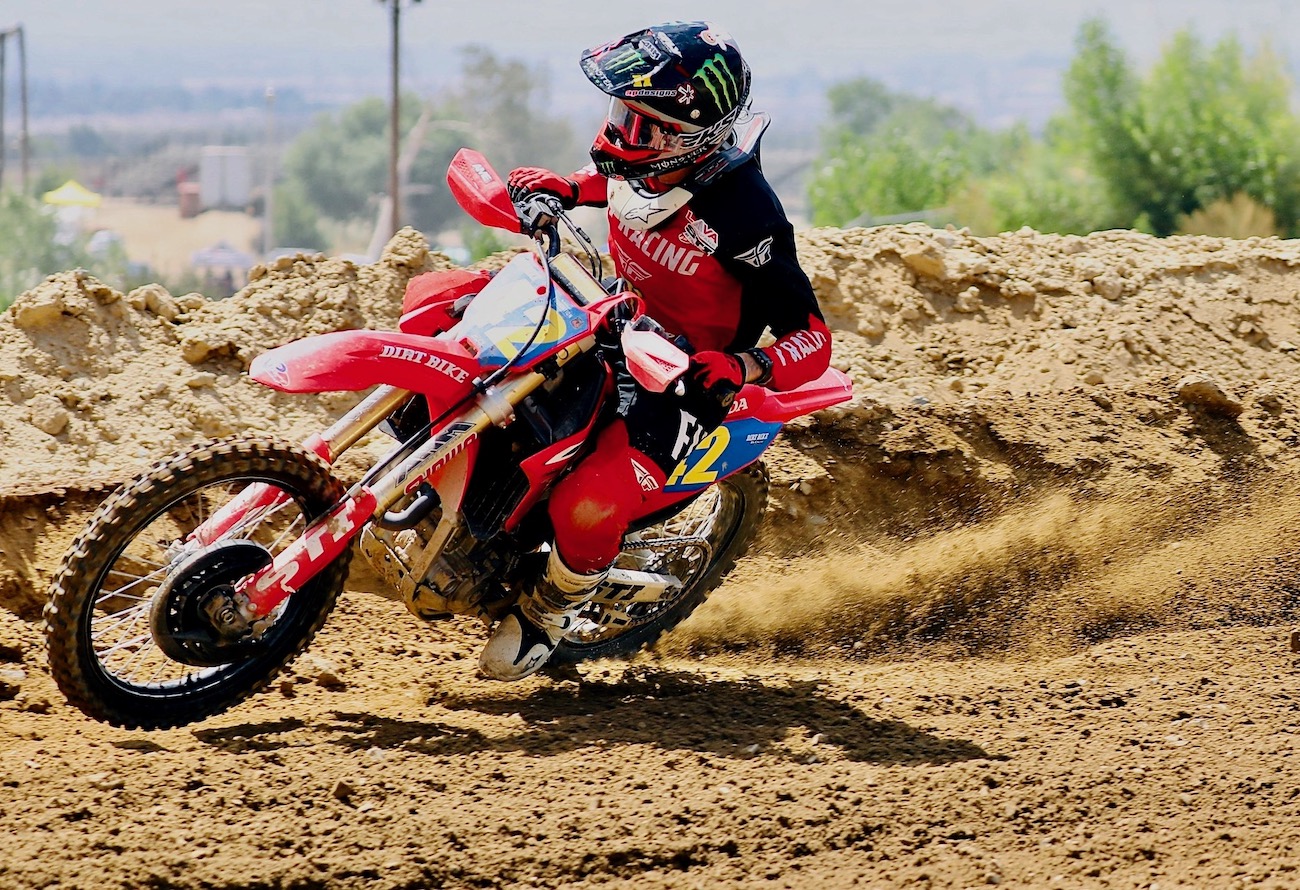 Justin Jones (42) has had a successful motorcycle racing career. He has won the Baja 1000 four-times, led the US. Junior Trophy team to ISDT gold and is going to school at the same time. He likes to race motocross to keep sharp. Justin was second in the 450 Pro class.

THE TWO-FIDDIES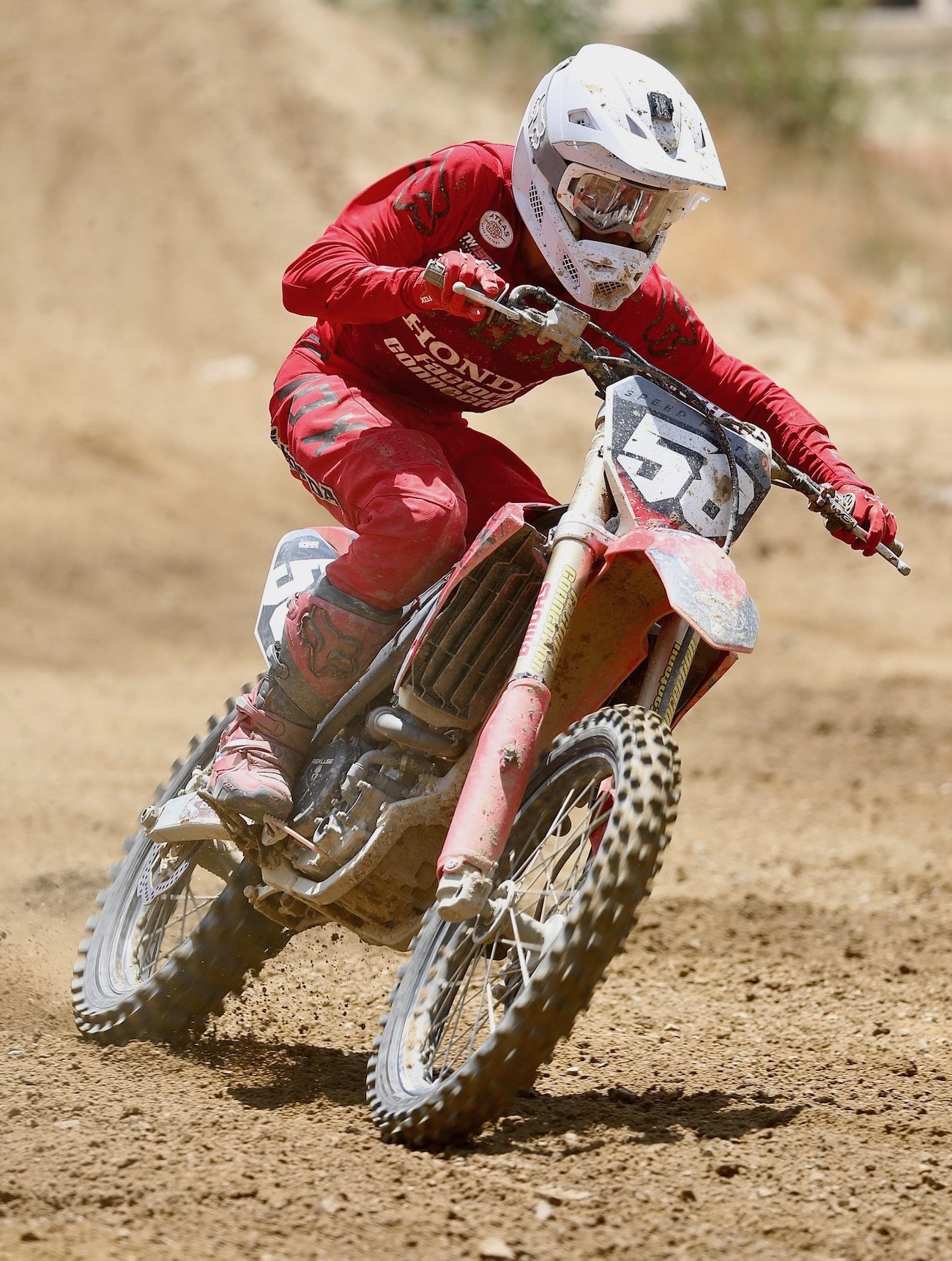 Hunter Yoder (58) rides for Twisted Development on a Honda CRF250 and he can make it fly. Hunter rode two classes and won them both with only one moto between his 250 Pro and Open A second motos.
In the 250 Pro class Hunter Yoder went 2-1 for the overall win. Hawaiian Brian Medeiros, fresh from a television interview for his hometown channel in Kaui, keeps racing MXA's stock Suzuki RM-Z250 to surprising results. The Hawaiian went 3-2 for second overall after Australian Geran Stapleton, who had won the first 250 Pro moto, faltered back to fifth in moto two. The Aussie's 1-5 was good enough for third. Later in the program, Hunter Yoder, Jackson Gray and Geran Stapleton signed up for the Open A class to make sure that they got in a full day's work. Yoder went 1-1 to win his second class of the day.
Brian Medeiros (934) chose to race MXA's Suzuki RM250  (from the bikes he could have chosen). He says he's willing to give up a couple horsepower for the thrill of being on a bike that nobody thinks can win.

Hawaiian Brian Medeiros' TV interview for his hometown channel in Kaui was a nice boost for the sport in the islands (to see the TV interview Click Here).
Brian Medeiros and Aleigha Scovel have been close friends since they were in Kindergarten on Kaui.

Geran Stapleton (914) and Hunter Yoder (58) put on an exciting show for the REM fans in the 250 Pro class.

Aussie Dan Alamangos roots on fellow Bounder Geran Stapleton (914) on his way to the first moto win in the 250 Pro class. Unfortunately, Geran's second moto didn't go as well. This photo is for both of their families back home in Australia.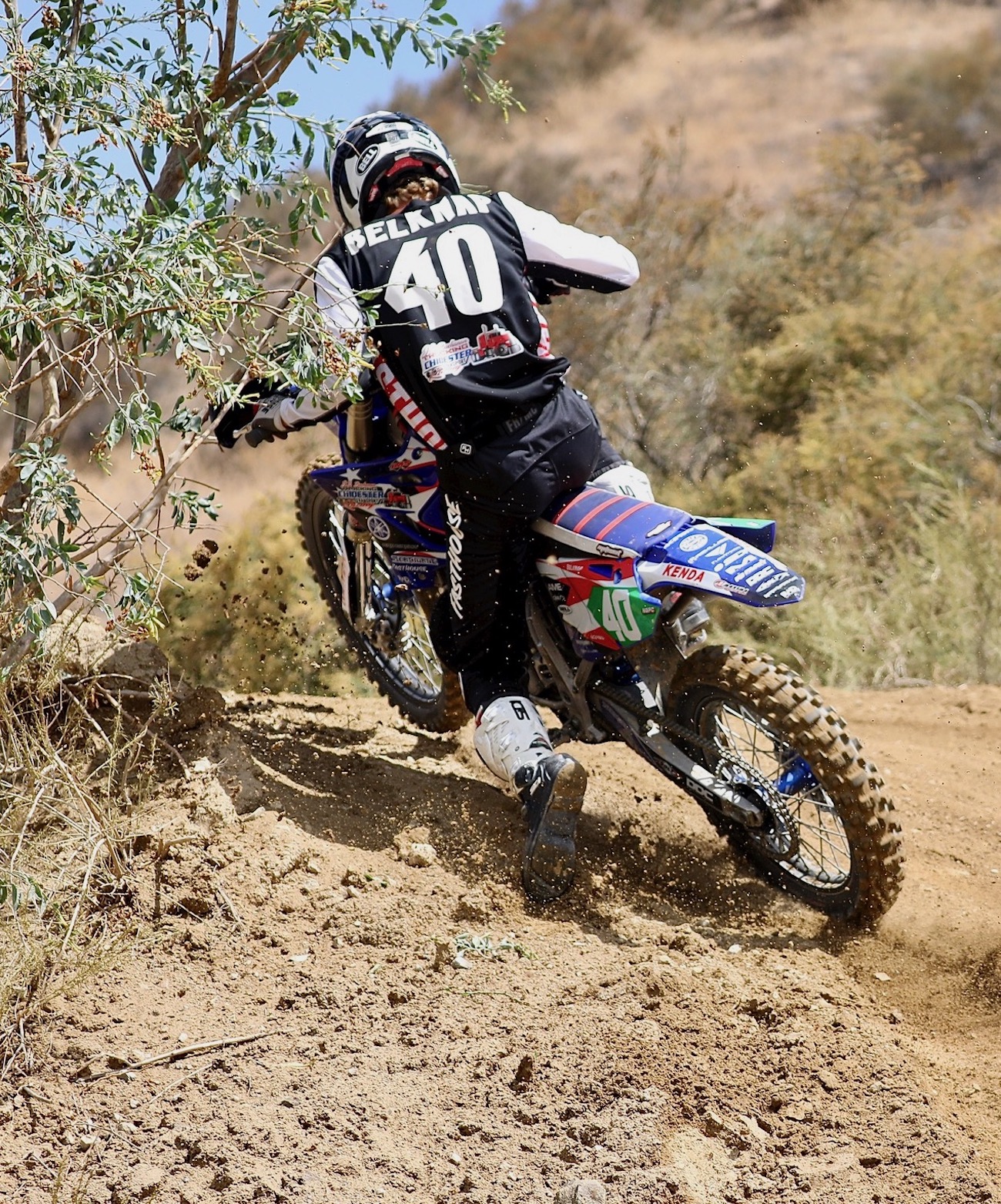 There are very few trees on the REM track, but 250 Pro Tyler Belknap (40) managed to find this one. 
Talon Hawkins (71) won the 250 Intermediate class and ran well up in the 250 Pro rank while he was at it. Photo: Jon Ortner

In the 250 Intermediate class, Talon Hawkin went 1-1. The last time Talon was at REM he came up short on a the big jump next to the scoring tower (he was the only one doing it) and demolished his rear wheel and was lucky to ride it out. This time, no one was jumping Hawkins Leap, which was okay with Talon. Sean White went 2-2 in the 250 Intermediates with Farzam Marzi third.
One of many father/son duos at REM, Fred Nichols (56)  finished sixth in the Over-60 Experts and son Tyler (55) won the 450 Intermediate class.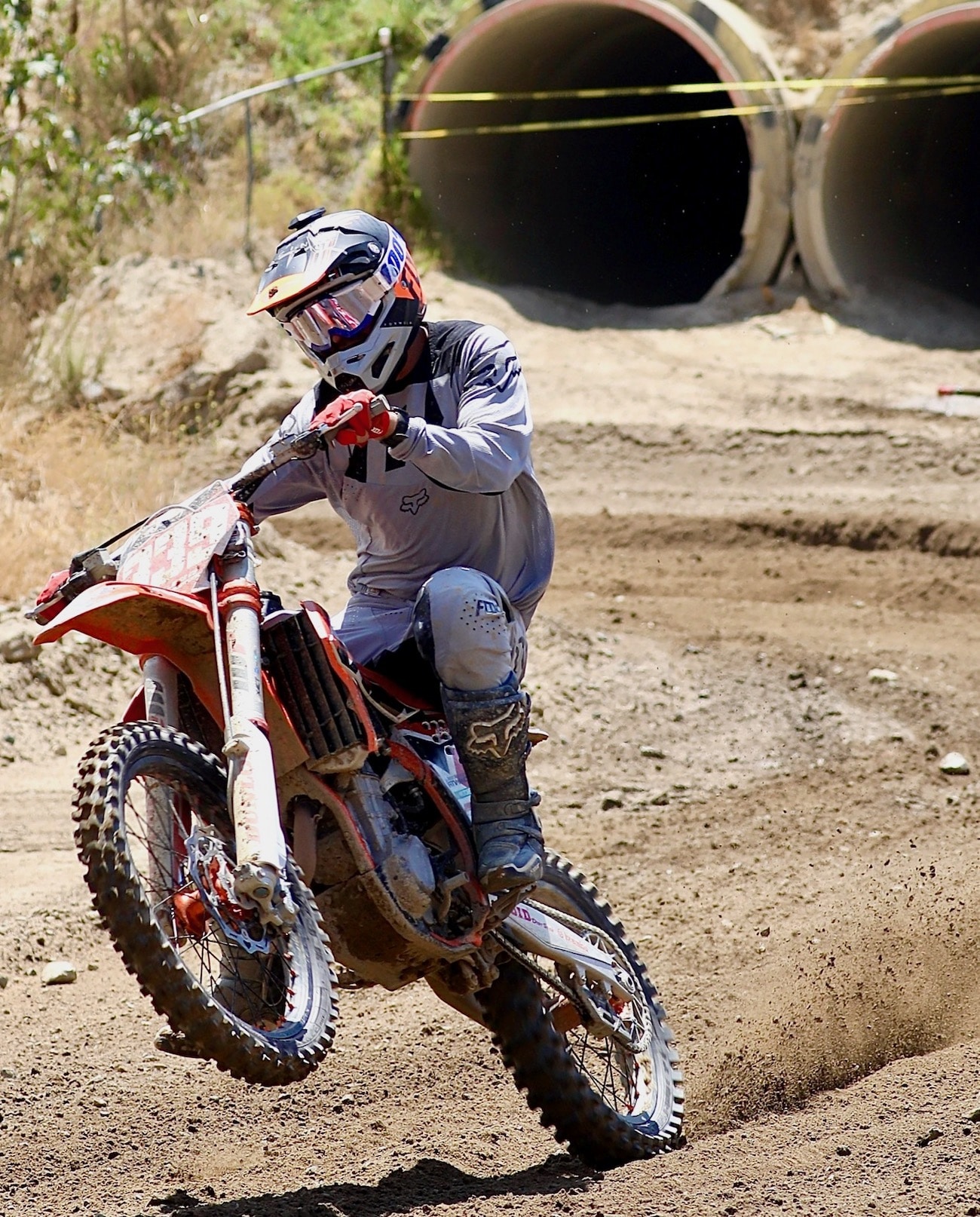 Jason Miller (339) came over from Las Vegas to win the Over-40 Expert class.


AND THEN CAME THE OVER FIDDIES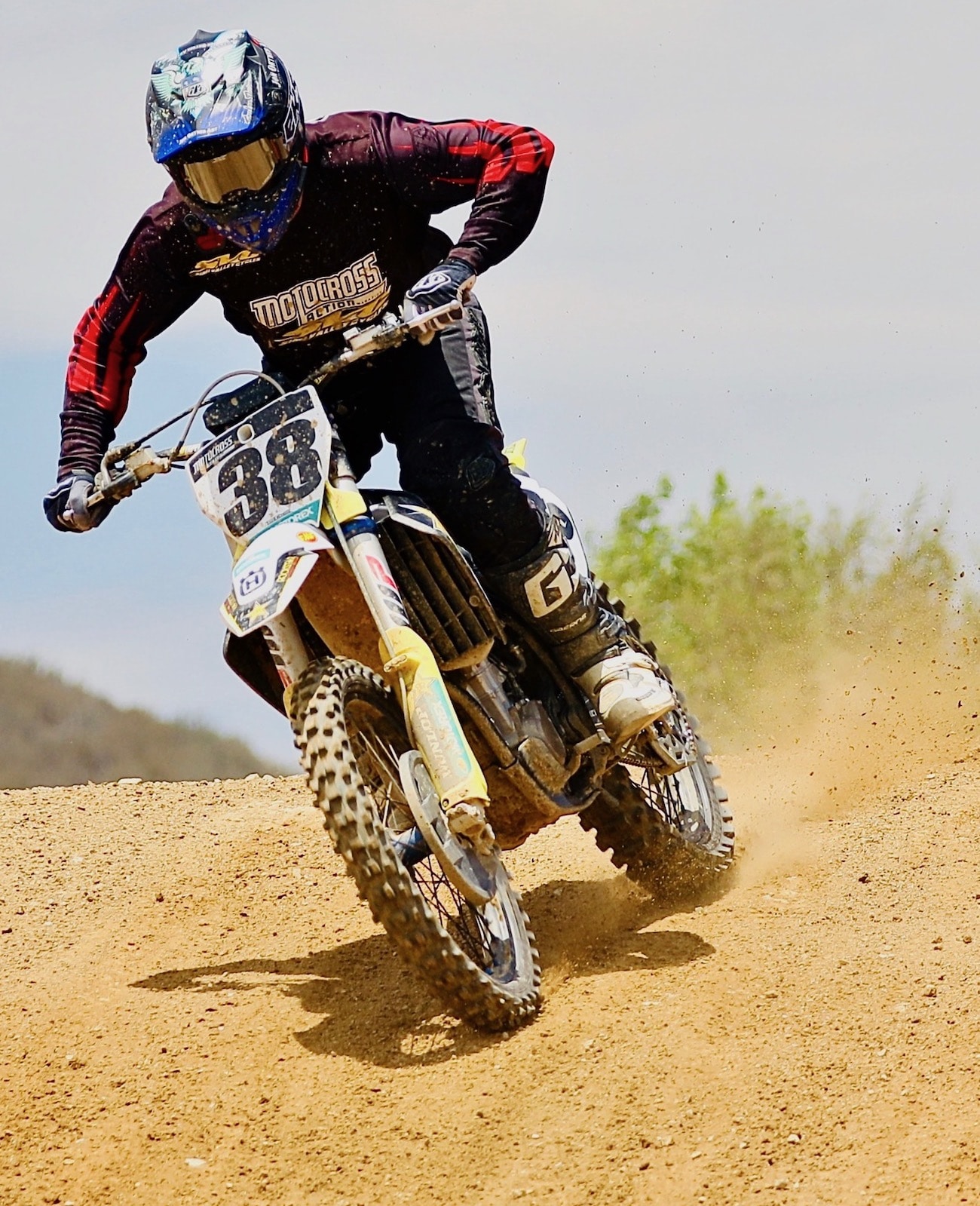 Jon Ortner (38) came back from a three-month layoff from a badly broken foot to win the Over-50 Elite class. He decided to race on Friday afternoon after testing to see if he could squeeze his foot into his Gaerne.

The biggest surprise of the day was that Jon Ortner, who spent three months with pins in his foot from a practice crash that broke four bones, decided to race when he found out that he could put his foot in his boot the day before. Surprise! Ortner won the Over-50 Elite class with a very smart, safe and sane 3-1 score over ESR's Ron Shuler and 6D's Robert Reisinger. Ortner's race craft had him follow Ron Shuler late in the second moto, but not pass him until the last lap out of fear that Robert Reisinger would follow him by Shuler and get the Over-50 Elite overall with a 1-2. Ortner's last lap ploy gave him a 3-1 score to Reisinger's 1-3 (pushing Reisinger back to third behind Shuler's 2-2).
Mike Monaghan (39) went 5-5 in the Over-60 Experts and 3-4 in the Over-50 Experts. Photo: Jon Ortner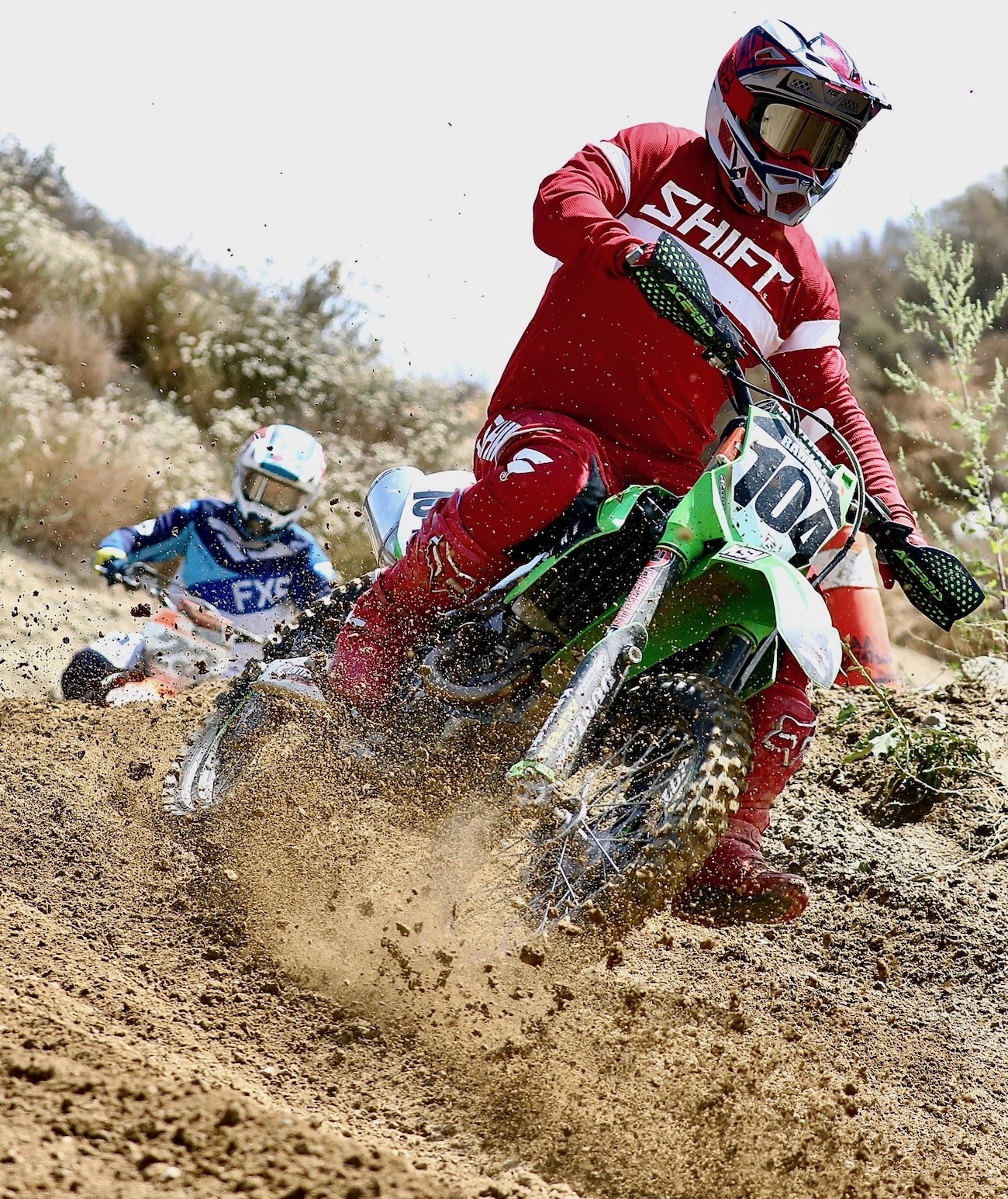 Chris Radzinski won the Over-50 Expert class

Chris Radzinski took the Over-50 Expert class over Australian Dan Alamangos with Mark Sandzimizer, Morgan Pierce and Ernie Becker rounding out the top five (although Becker manage to throw in a big crash on the last lap of the second moto).
Ed Guajardo (27) and Robert Reisinger (96) split moto wins in the Over-60 Expert class. Reisinger 's 2-1 got the win when Dave Eropkin pushed Guajardo back to third in the second moto.

After his third in the Over-50 Elite class, Robert Reisinger came back later in the day to win the Over-60 Expert class with a 2-1 over Ed Guajardo's 1-3, Dave Eropkin's 3-2, Val Tamietti's 4-4 and KTM 150SX-mounted Mike Monaghan's 5-5. Former Baja Champion Bob Rutten was the Over-65 Expert class winner in front of four-time 250 National Champion Gary Jones. Luc De Ley used a box-stock GasGas MC 125 two-stroke to win the Over-60 Intermediate class over a top five of Bill Reimer, Marc Crosby, Lance Sloane and Tim Hoole.

MXA's Jody Weisel (43) gets over the gate first at the start of the Over-65 race. On his right is John Huegel and on his left is Donnie Quanstrom (62), Ron Boozell (321) and Rick Stuelke. Mark Homan elected to start behind Jody.
Bob Rutten (83) won the Over-65 Expert class with a 1-1 sweep.
Over-60 Intermediate winner Luc Delay put the number 129 sticker on the back of his helmet in honor of long-time friend Jeff Ogan.  Sadly, Jeff died unexpectedly,  leaving a wife and 3 kids and Luc wanted them to know he supports them.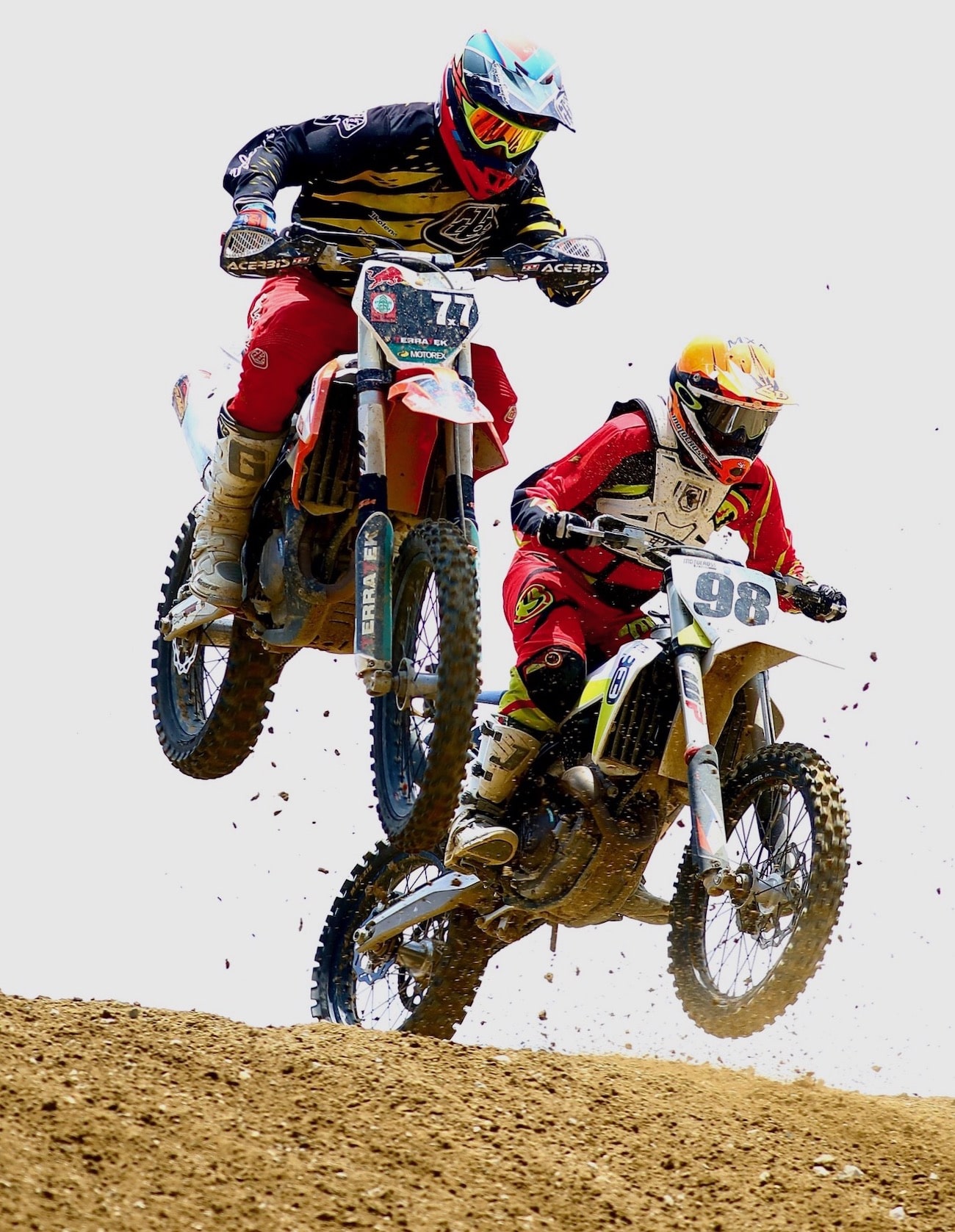 Jonny Benskin (77) and Australian Dan Alamangos (98) fought hard in the Over-50 Expert class, but Alamangos' 2-2 was good enough for second overall, while Benskin's 4-3 held on to third in a tie breaker with Mike Monaghan's 3-4.
T.V. Holmes (510) won the Over-65 Intermediates with a 2-1 over the 1-2 of Gene Boere.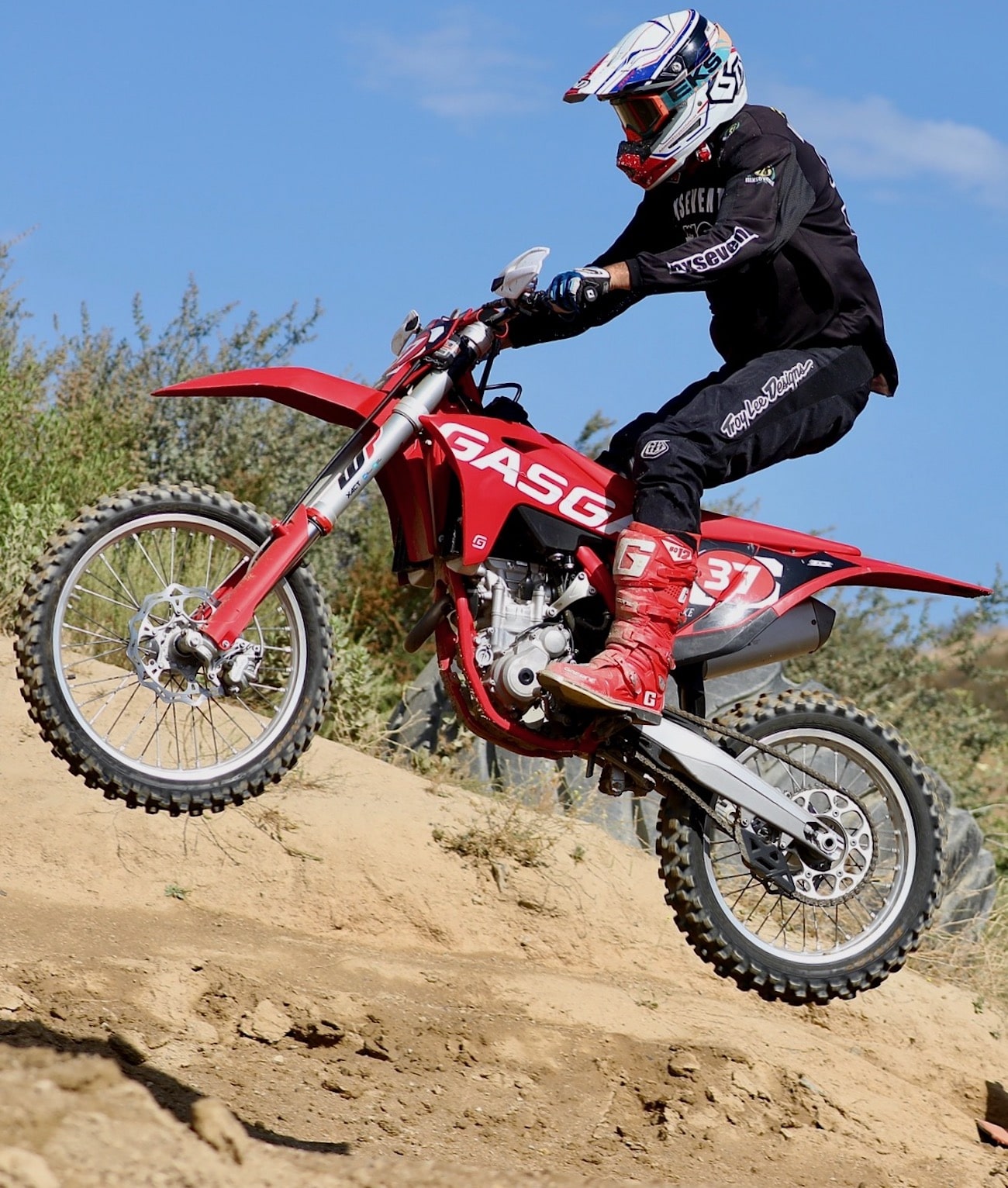 Pete Vetrano loves the motorcycle business. He was the TM importer (twice), the VOR/Vertemati importer, the LEM importer, the SWM importer and is currently importing Scalvini pipes, but he finds it more relaxing to race a Gas Gas. This was Pete's first race back since his hip transplant.

Hunter Yoder collects his cash after a hard days' work.
Pete Vetrano was sixth in the Over-50 Intermediates and ninth in the Over-60 Experts, but the Scalvini importer was supported by girlfriend Leanne.

BIKE BRANDS RACED AT REM GLEN HELEN THIS WEEK
Four-time 250 National Champion Gary Jones (5) helped Yamaha's total numbers at REM, but his son Justin did the same for Honda.
With riders on eight different brands at REM this past weekend,  the breakdown by brand showed the not surprising strength of KTM and Husqvarna.
REM TURNOUT BY BRAND
1. KTM…41%
2. Husqvarna …22%
3. Yamaha…20%
4. Honda…6%
5. Kawasaki…5%
6. GasGas…4%
7. TM…1%
8. Suzuki…1%
THE 2021 REM RACE SCHEDULE: TWO MORE RACES IN JULY
John Caper (44) struggled while getting ready for this year's Mammoth Motocross, but made it to the race and was healthy enough to lay down some laps. Now he's back to his regular REM schedule. Photo: Jon Ortner

2021 REM RACE SCHEDULE
July 17…REM track
July 24…REM track
Aug. 7…National track
Aug. 14…REM track
Aug. 21…REM track
Sept. 11…REM track
Sept. 18…REM track
Oct. 30…National Track Octobercross
Nov. 20…REM track
Dec. 4…REM track
Dec. 18…REM track
REM will be racing on Saturday, July 17 and again on July 24 . For more information about REM go to www.remsatmx.com or Click Here for REM's Facebook page.