REM MOTOCROSS RACE REPORT: FROM ZERO TO 100 IN A SPLIT SECOND
Ricky Dietrich (39) won both motos with ease. He was chased home by Dennis Stapleton in moto one and Sean Collier in moto two. Photo: Jon Ortner

This Saturday at Glen Helen was a circus of events. If you didn't get to the REM motocross races early in the morning, you got stuck in a traffic jam that was backed up all they way to the 215 Freeway. It was strange to show up at the race and be going zero miles per hour to get into the track and then be subjected to the first 100-degree race of the year. From zero to 100 in a few minutes.
The "Inland Empire Terrain mud run" at the San Bernardino County Sheriff's Emergency Vehicle Operations Center (EVOC) next to Glen Helen Raceway attracted thousands of runners for a 5K event that  included mud, climbing walls, obstacle course ropes, monkey bars and more than 15 different obstacles. When you combined the mud run traffic with the Lucas Oil Off-Road truck race held at Glen Helen's truck track and the REM motocross race, higher up the hill, going the one mile from the freeway to the race track was an hour-long endeavor.
Sean Collier's (207) starts were a little rusty, but he has some very creative lines to get near the front in both motos. Photo: Dan Alamangos
Glen Helen personnel rushed to the Glen Helen Pavilion, site of the US Festival and other rock concerts, and got them to open up the gate between the race track and the Pavilion, but it was too late to help people who decided not to wait out the traffic jam. Worse, yet, the Terrain Race organisers canceled the running event (after everyone was already at the EVOC center) because of the extremely high temperatures (promising all who got turned away on Saturday, that they could run for free on Sunday—including free parking). With three events on the same day, Glen Helen was packed to the gills.
Most of the hardcore REM racers showed up to race, with the smartest of them coming early and missing the crowd—or calling friends who were inside the track for advice on how to get into Glen Helen Raceway without using the main road. There are two other roads into Glen Helen, one through the prison grounds to the West and one through the Pavilion to the North, but both have gates.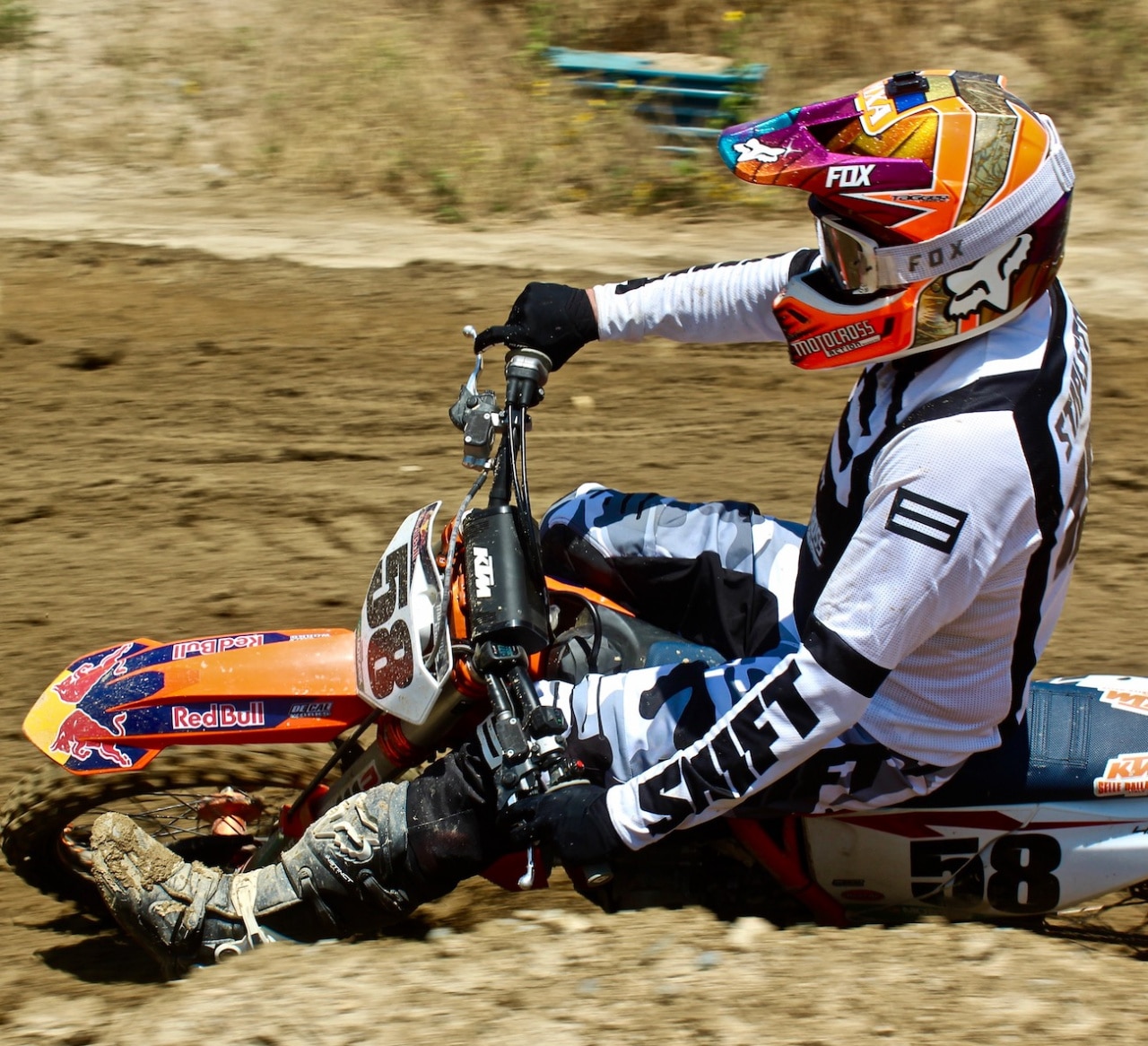 Dennis Stapleton's job is to test motorcycles virtually every day of the week. He's in shape. Photo: Jody Weisel

The racing this week was intense in every class with Ricky Dietrich, Sean Collier, Dennis Stapleton, Brian Medeiros, Mike Carter, Shaun Hillion and others battling for the Pro wins. The Intermediate classes saw Max Vohland, Tyler Nichols, Todd Sibell, Tyler Belknap and Allen Mendelssohn battle. There were epic battles in the Over-50 classes as Kurt Nicoll, Jon Ortner, Robert Reisinger, Ron Shuler and Phil Dowel rounded the top five in the Elite class, while Paul Krause, Nick Waters, C.T. Falk, Scott Lindley  and Mike Monaghan filled in the Big Five in the Over-50 Experts.
Brian Medeiros floats down from the top of Mt. Whitney on his way to the 250 Pro win. Photo: Dan Alamangos
Mike Monagahan came back from his Over-50 motos with only one motos rest to race in the Over-60 Expert class. In the first moto of the Over-60 Experts Dave Eropkin took the win in front of Monaghan, Val Tamietti, Bob Rutten and Jim Hanson. In the second moto Mike Monaghan came from the back of the pack to catch Dave Eropkin and pass him for the lead by using the outside line in the bowl turn.  With a little more than one lap to go, Monaghan decided to give up on the outside line in the bowl turn and take the inside line that Eropkin was using. Guess what? Monaghan had never taken the inside line before and he flubbed it, allowing Eropkin to get back into the lead. Eropkin went 1-1, Monaghan 2-2 and Tamietti 3-4.
This is Max Vohland's view of the Mt. Whitney downhill.  If you do it right, you land just before those braking bumps. If you do it wrong, you land in them. Photo: Dan Alamangos
Photo one: Tyler Nichols' bike is aimed in the wrong direction after he lost the rear end in this fast uphill sweeper. Photo: Jon Ortner

Photo two: Tyler corrected his mistake and now his right leg is headed in the proper direction of travel. Photo: Jon Ortner
This is the exact corner that Tyler Nichols crashed in. Allen Mendelssohn (127) was able to pull it back before suffering the same fate as Nichols. Photo: Dan Alamangos
The Over-60 class at REM is  growing faster than any other class at REM. Here, Ken Ehlers chases a few fellow Big Six-Ohs. Photo: Jody Weisel
Former Baja 500 and 1000 star of the 1970s , Bob Rutten (83), is typical of the talent level in the Over-60 class. Bob went 5-3 for fourth. Bruce Ashmore (111)  was 10th. Photo: Jody Weisel
Bruce Ashmore (111) trying his luck in the  in the uphill sweeper. Photo: Dan Alamangos
Lots of lines—some that cross. Photo: Dan Alamangos

Two of the three Ogan family racing at REM this week were Samantha (996) and Ryan (9). The Ogan family lives in the same neighborhood as Mitch Payton and Luc DeLey and decided to come out for their first race. Photo: Debbi Tamietti
Lucas Hansen (222) was second in the 450 Beginner class behind Ryan Ogan, but ahead of Justin Ogan. Photo: Debbi Tamietti

Australian Dan Alamangos (55) is putting together an Aussie team for the World Vet Championship's "World Cup of Nations"  in November. Dan and former Yamaha team manager Steve Butler are looking for a third Aussie to join them. They need a fast 30-year-old. Photo: Debbi Tamietti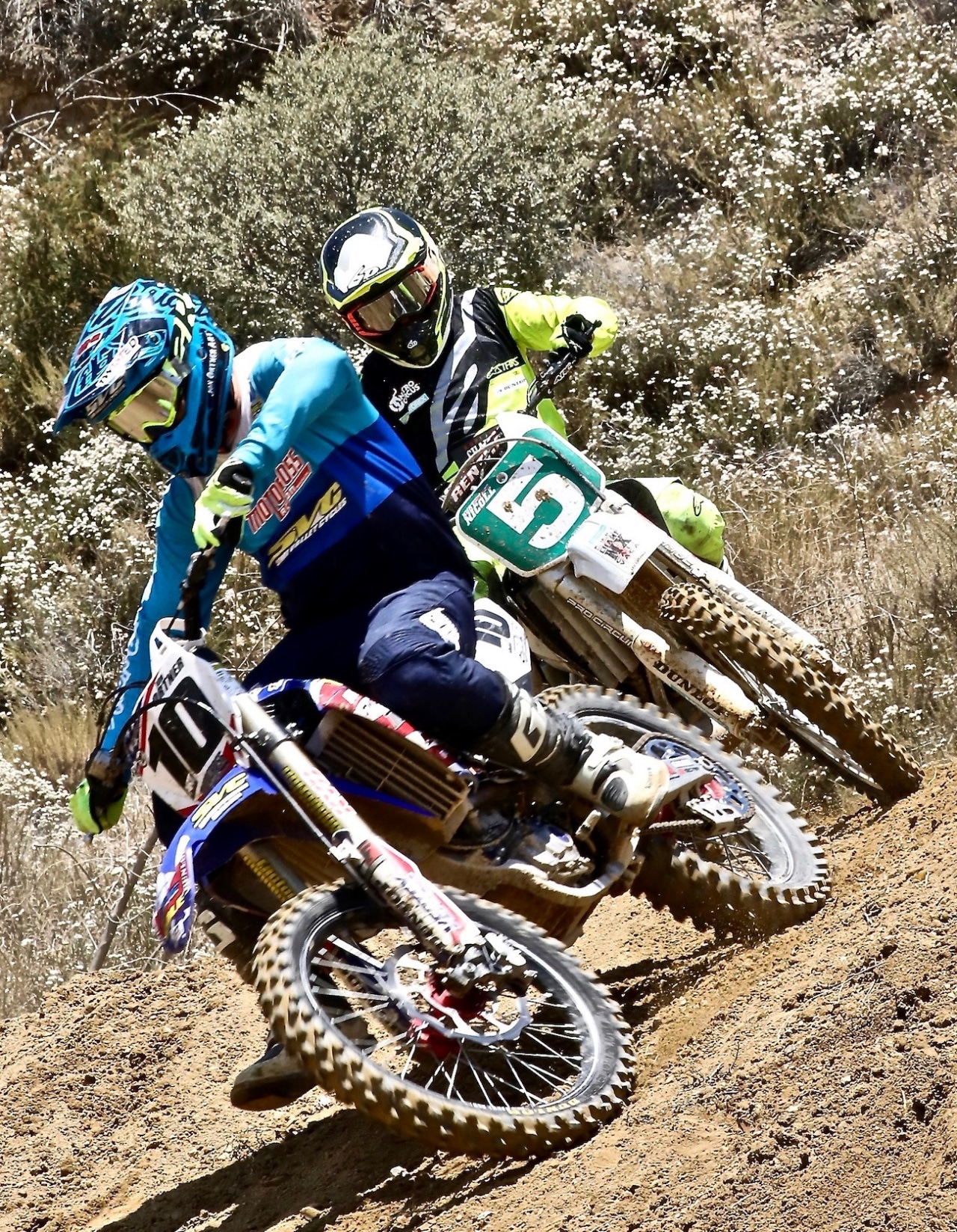 Jon Ortner (10) was thrilled to stay in front of former Grand Prix rider Kurt Nicoll (5) for three laps in both Over-50 Elite motos, but after Kurt, on a 1995 Honda CR250, passed Jon, he was nice enough to hang around to toy with Ortner's emotions. Photo: Debbi Tamietti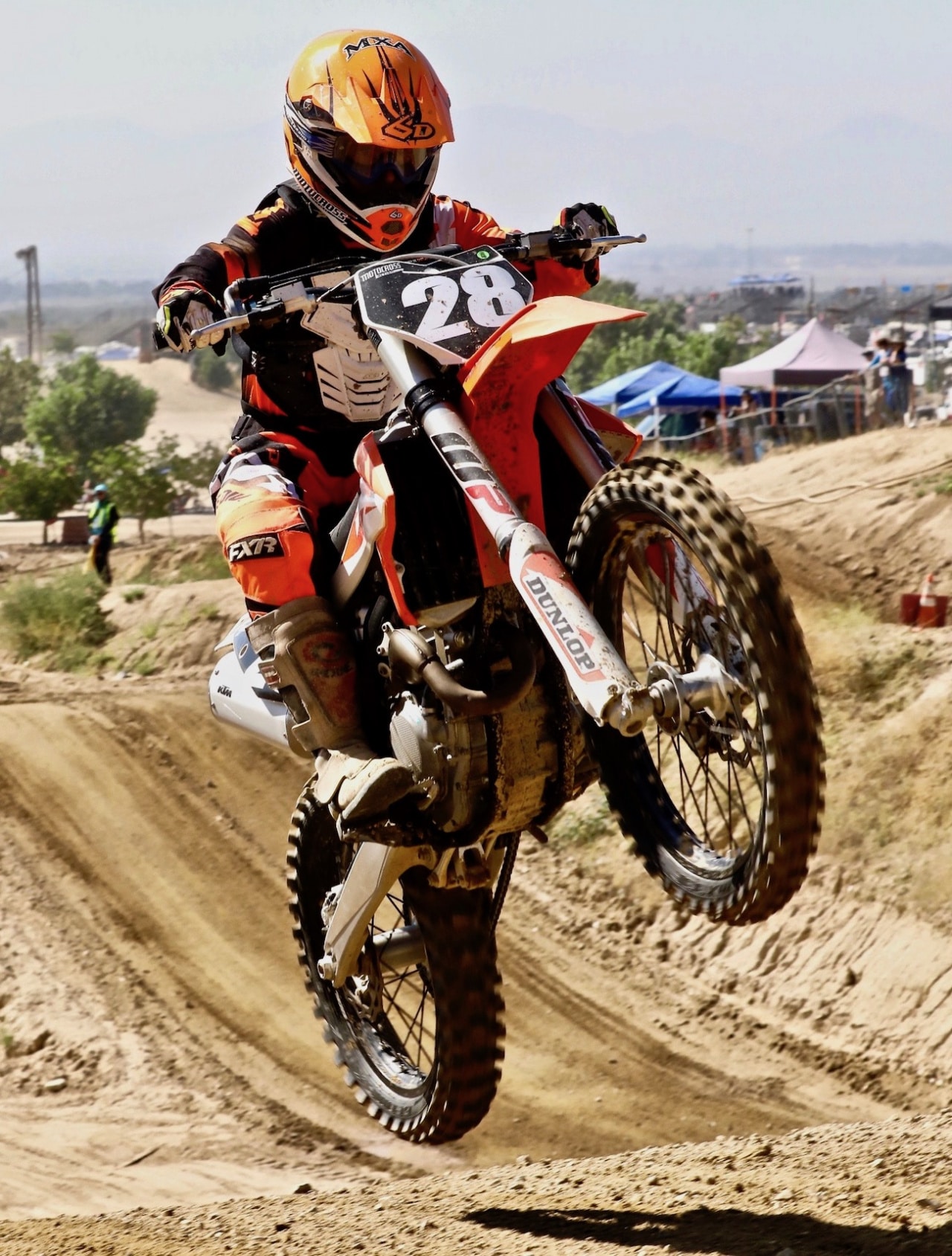 Belgian born Luc DeLey is Mitch Payton's next door neighbor in Norco, California. Luc is recovering from a shoulder injury, but came out to test the waters. He said it felt fine. Photo: Debbi Tamietti
That's Val Tamietti (31) in the lead, with Dave Eropkin (811) and Randy Skinner (383) looking down on him from above. Eropkin would take the Over-60 Expert class win with a 1-1. Photo: Debbi Tamietti
Whoa, podnar! Randy Skinner tries to tame the beast over this step-up jump. Randy ran up front in the Over-60 Experts, but faded in the 100 degree heat to end up 6th overall. Photo: Debbi Tamietti
MXA guys always find each other on the track (by looking for the nearest orange helmet). Here,  Dan Alamangos (55) and Mike Monaghan (36) hook up for a run through the Over-50 Expert pack. Monaghan came back one moto later to go 2-2 in the Over-60 class. That is a lot to ask of your body on a 100-degree day. Photo: Debbi Tamietti
Jody Weisel's doctor told him not to race until his Vertigo heals up. Jody ignored that advice…at least until he got dizzy and ran off the track three laps in. Photo: Debbi Tamietti
We don't know where Ricky Dietrich's left leg went in this photo. Photo: Jon Ortner

Shaun Hillion (413) went 3-3 in the 450 Pro class. Sean's dad, Mike, went 4-5 for 4th in the Over-50 Novice class. Dan Alamangos
Scott Lindley looks for a little cooler air at a higher elevation. That is the Glen Helen bridge in the distance. Photo: Dan Alamangos
Pasha Afshar's TM 300MX two-stroke roosts a bread crumb trail as he heads up one of the many hills at REM. Photo: Dan Alamangos
Randel Fout (65) slices under John Caper (44). John came injured and left injured, but still went 3-3 in the Over-60 Intermediates. Photo: Jody Weisel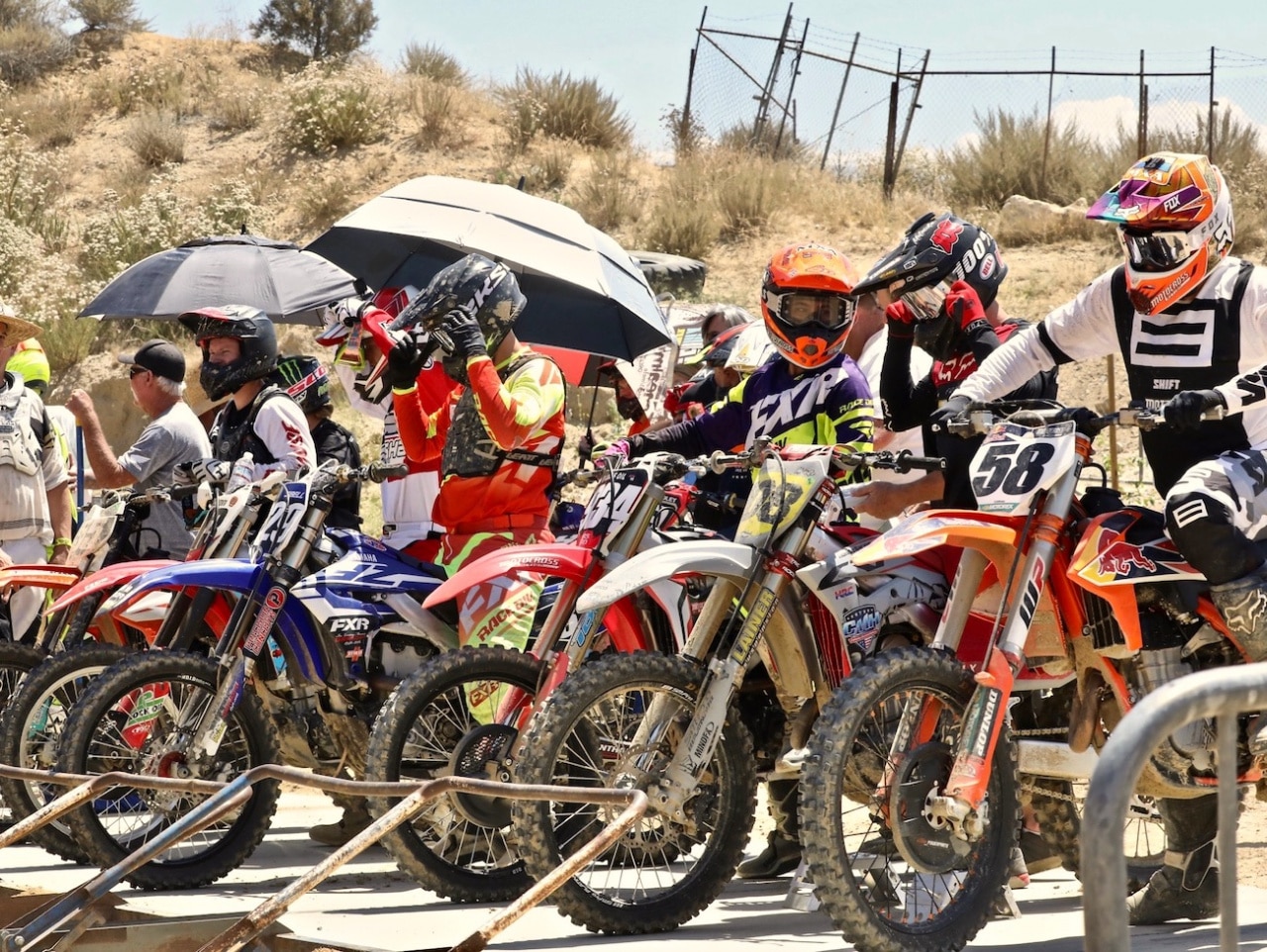 There will come a time, most likely in August, when a 100-degree day will feel cool at Glen Helen. But, this 100-degree day was the first one of the season. On the track it didn't feel too bad, but sitting motionless on the starting line it was sweltering. Photo: Debbi Tamietti

Todd Sibell (829) was positive that he had the holeshot in the Pro/Intermediate combined race. Photo Rich Stuelke
"Oops! Was that the first turn that I just blew past."  Photo Rich Stuelke.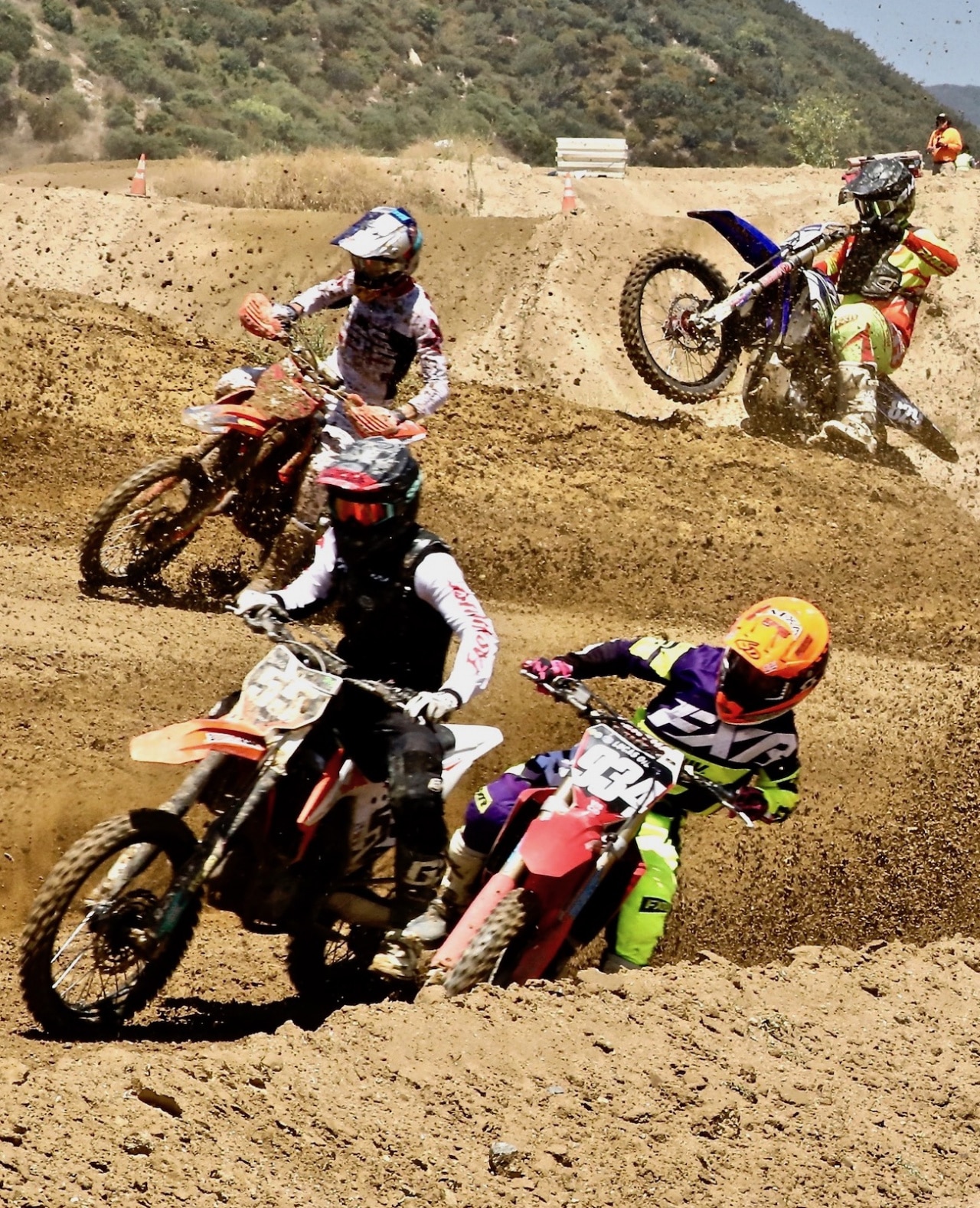 "No problem. I'll just come back over the top of the banking." Photo: Debbi Tamietti
REMAINING 2019 REM RACE SCHEDULE
July 20…Glen Helen
Aug. 10…Glen Helen
Aug. 17…Glen Helen
Sept. 21…Glen Helen
Oct. 4…Glen Helen
Oct. 19…Glen Helen
Oct. 26…Glen Helen
Nov. 16…Glen Helen
Nov. 23…Glen Helen
Dec. 14…Glen Helen
Dec. 21…Glen Helen
REM will return to Glen Helen next Saturday, July 20. For more info about REM motocross go to www.remsatmx.com or their Facebook page by Clicking Here.