REM MOTOCROSS RACE REPORT: JET REYNOLDS PLAYS WITH THE BIG BOYS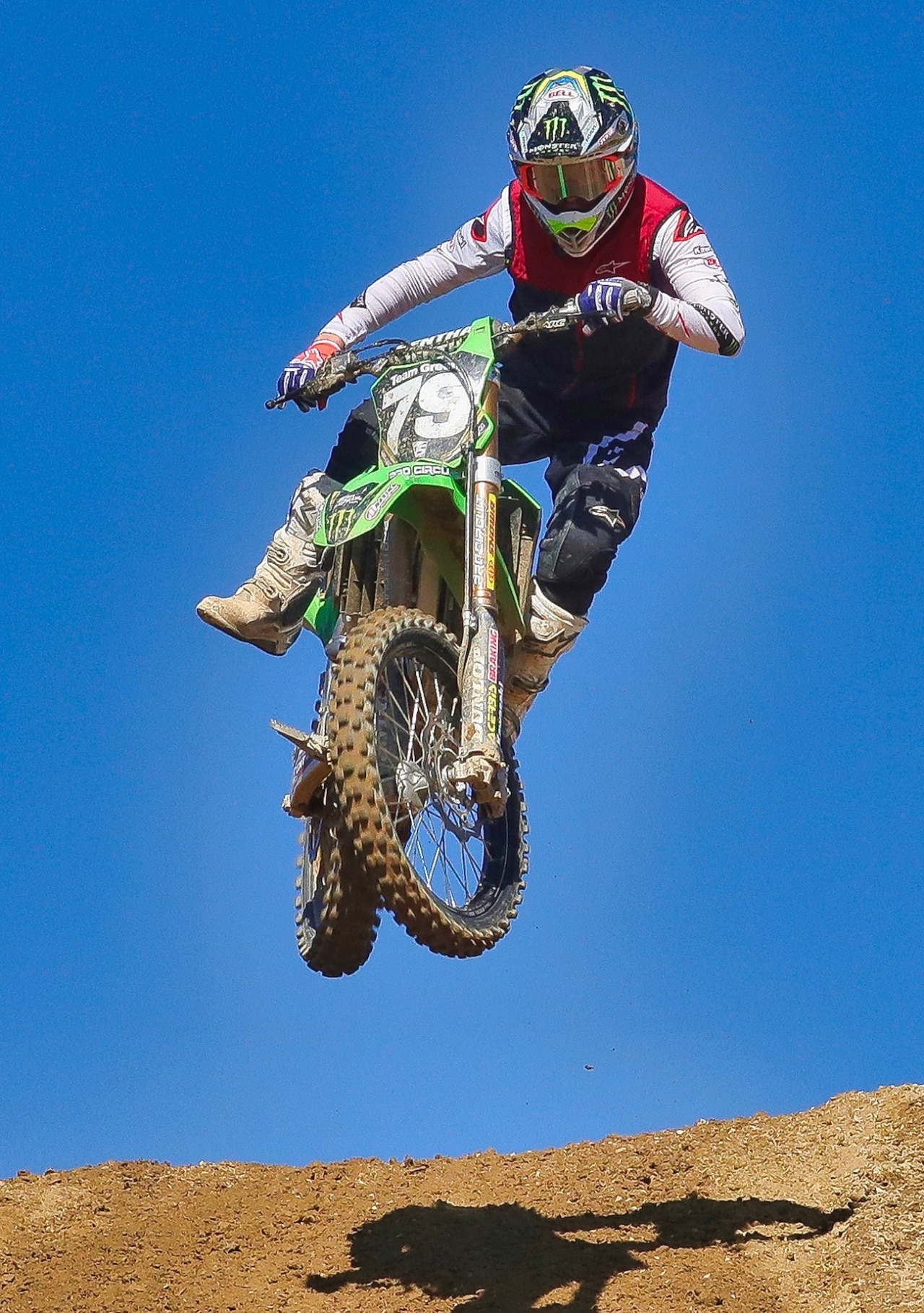 Jet Reynolds.  Photo: Rich Stuelke
PHOTOS BY DEBBI TAMIETTI, DAN ALAMANGOS, JON ORTNER & RICH STUELKE

The REM Motocross crew has been promising a new track design for the past two months, but weather, crowded schedules or high winds have always stopped the new track from appearing. Not so this weekend. The new track was here. It featured a new first turn, lots of steep technical hills, tight turns and dirt that had been blessed by Mother Nature's showers two days earlier. However, after practice, not everyone who wanted a new track design was happy that they got one.  "Too tight," "Not enough passing room," "The corners are too technical," "Too rutty," "Not enough room to roam," said the naysayers.
And they were right. It was all of those things. But because lots of the track was built on fresh ground or with the riders going in the opposite direction to what they were used to, the track was an unknown quantity. As practice came to an end and the first motos began, the track that they hated in practice suddenly became wider, more flowing and less rutty. The new dirt and new directions didn't seem so foreign once a pack of racers were rambling around it. The new track, went from a bust to a boon, in the matter of an hour.
With so many ups and down in the new track layout it was hard for a rider to break away. Here, Kent Reed (491) leads with Jody Weisel (96), Owin Wright (473), Brian Martin (65) and Mike King (47) in close pursuit. Photo: Dan Alamangos
Oh, don't get it wrong, it was tougher than the old track layout (not as fast, not as many straights, and not as familiar), but the tougher design resulted in closer racing. It managed to keep riders of equal talent together in tighter packs and, in the big popular classes, you could see the five fastest guys come by the scoring tower dueling for every inch and then 10 seconds later, you'd see 5 to 10 guys come by in hot pursuit of the lead group while banging bars to secure 6th place and behind them would be the next group, also tightly packed, hunting down a top-ten finish.
How close did they run at REM? Eventual Over-60 Expert winner Dave Eropkin (811) is stalked by the triple threat of Will Harper (7), Ron Lawson (22) and Bob Rutten (83). Photo: Debbi Tamietti
It wasn't all pretty. There were riders who fell, riders who faded and riders who never found their rhythm. But, that is what happens with a new layout.
Talon Hawkins won the 125 Intermediate class with a 1-1. Photo: Debbi Tamietti
Perhaps the best ride was put in by former minicycle star Jett Reynolds, who, although racing in the 250 Intermediate class (which started on the same gate as the Pros), quickly showed his dominance—not only beating all of the Intermediates, but giving the Pros the what-for at the same time.
TM importer Ralf Schmidt (73) leads MXA's Josh Fout, while…  Photo: Debbi Tamietti
…Josh Fout (45) leads Alan Jullien (70).  Photo: Debbi Tamietti
Josh Fout and Ralf Schmidt engaged in a two-moto war on their two-strokes (Ralf on a TM 300MX and Josh on a Husqvarna TX300i). Technically, they were not in the same class, but as they do every weekend they immediately found each other and, joined by South African Alan Jullien, engaged in a Dutch/American/Afrikaner war. Only they know who won, because they all won some portion of the battle.
Enzo Temmerman (21) was second in the 125 Intermediate class. Photo: Dan Alamangos
OVER-60 EXPERT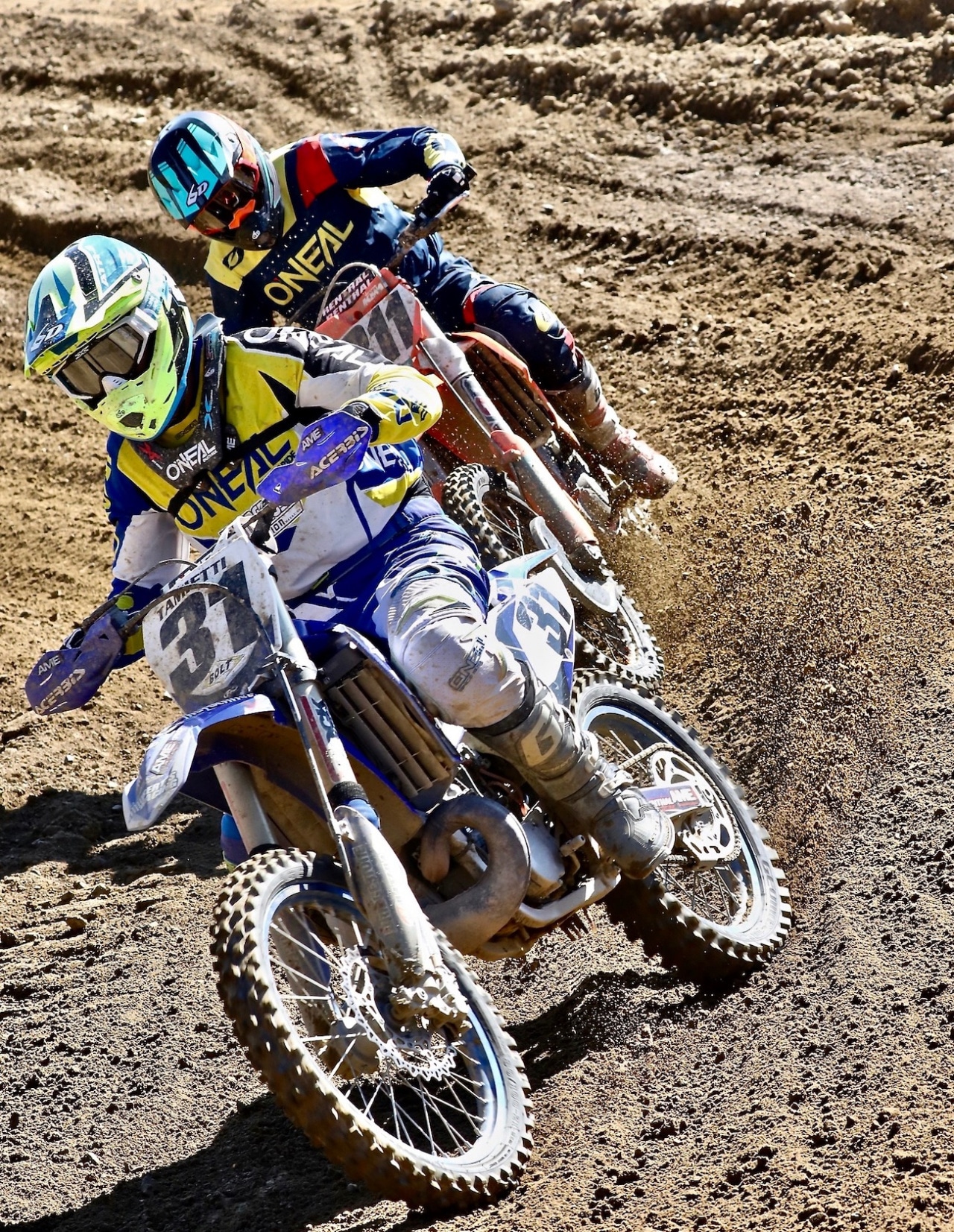 Val Tamietti (31) won the second moto over Dave Eropkin (811), but it wasn't enough for the win. Photo: Debbi Tamietti
The biggest feeding frenzy was in the unlikely Over-60 Expert class—where every rider in the race had true racing credentials, albeit from the 1970s and 1980s. Dave Eropkin won the first moto in the last 10 feet when he passed early leader Will Harper on the short uphill run to the checkers after Harper was balked by a lapped rider. That allowed Eropkin to squeeze by Harper at the flag. Val Tamietti was third, former Pro Circuit Husqvarna rider Mike Monaghan fourth and former Baja Champion Bob Rutten fifth.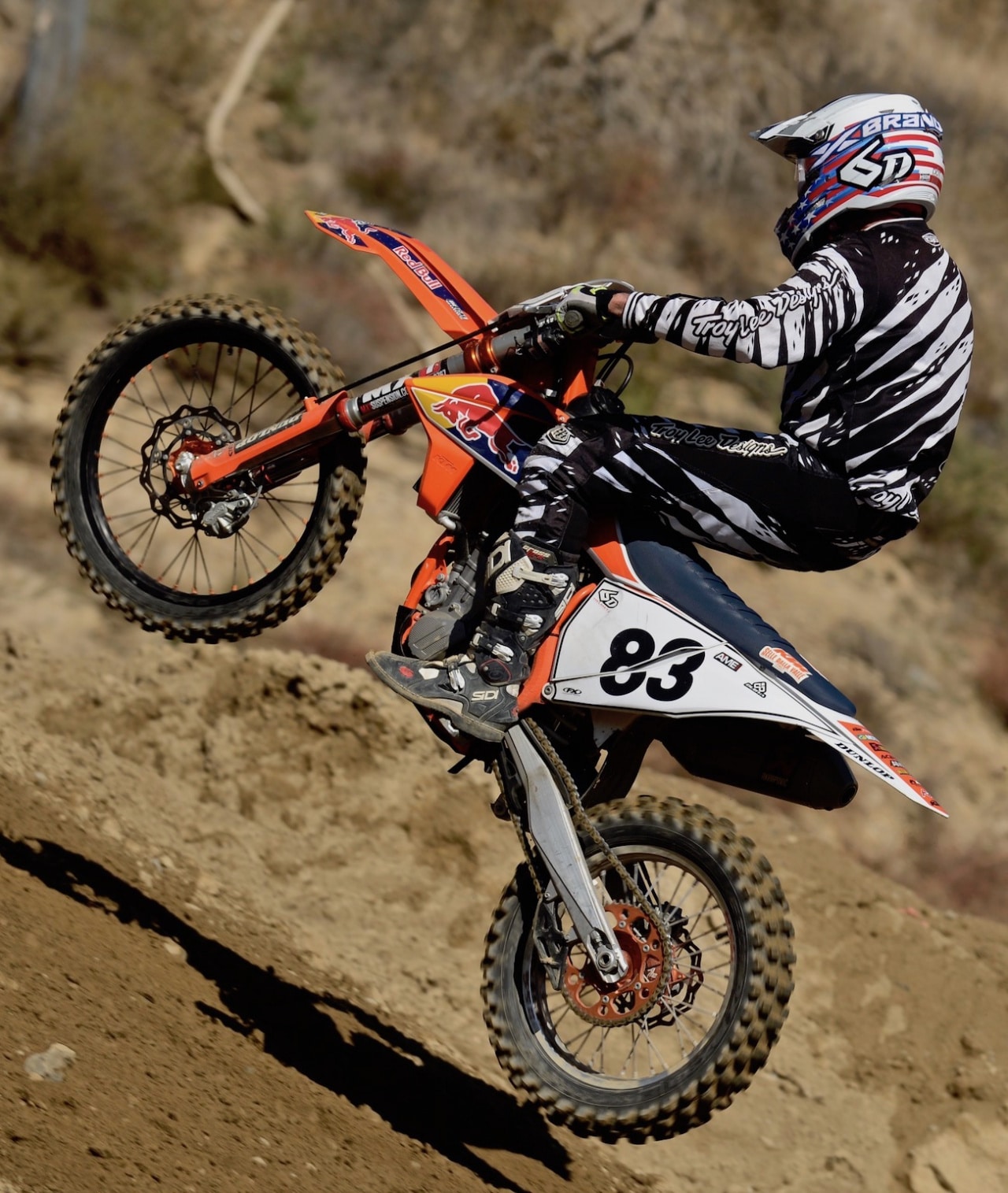 Bob Rutten (83) was third overall in the Over-60 Expert class. Photo: Dan Alamangos
In the second Over-60 Expert moto Val Tamietti used his YZ250 two-stroke to great effect on the technical track to win moto two—it didn't hurt that Will Harper blew the most difficult uphill turn to end up on the ground and under his bike. By the time Harper recovered he was back in 6th place. With Harper out of the picture, Val took the moto win with Dave Eropkin 2nd, Bob Rutten 3rd, Mike Monaghan 4th, speedway racer Randy Skinner 5th and Harper 6th. In the final tally Dave Eropkin won with a 1-2, Val Tamietti's 3-1 was good enough for second, Bob Rutten's 5-3 got him third overall in a points tie with Mike Monaghan's 4-4. And, Will Harper's 2-6 left him with a disappointing sixth overall.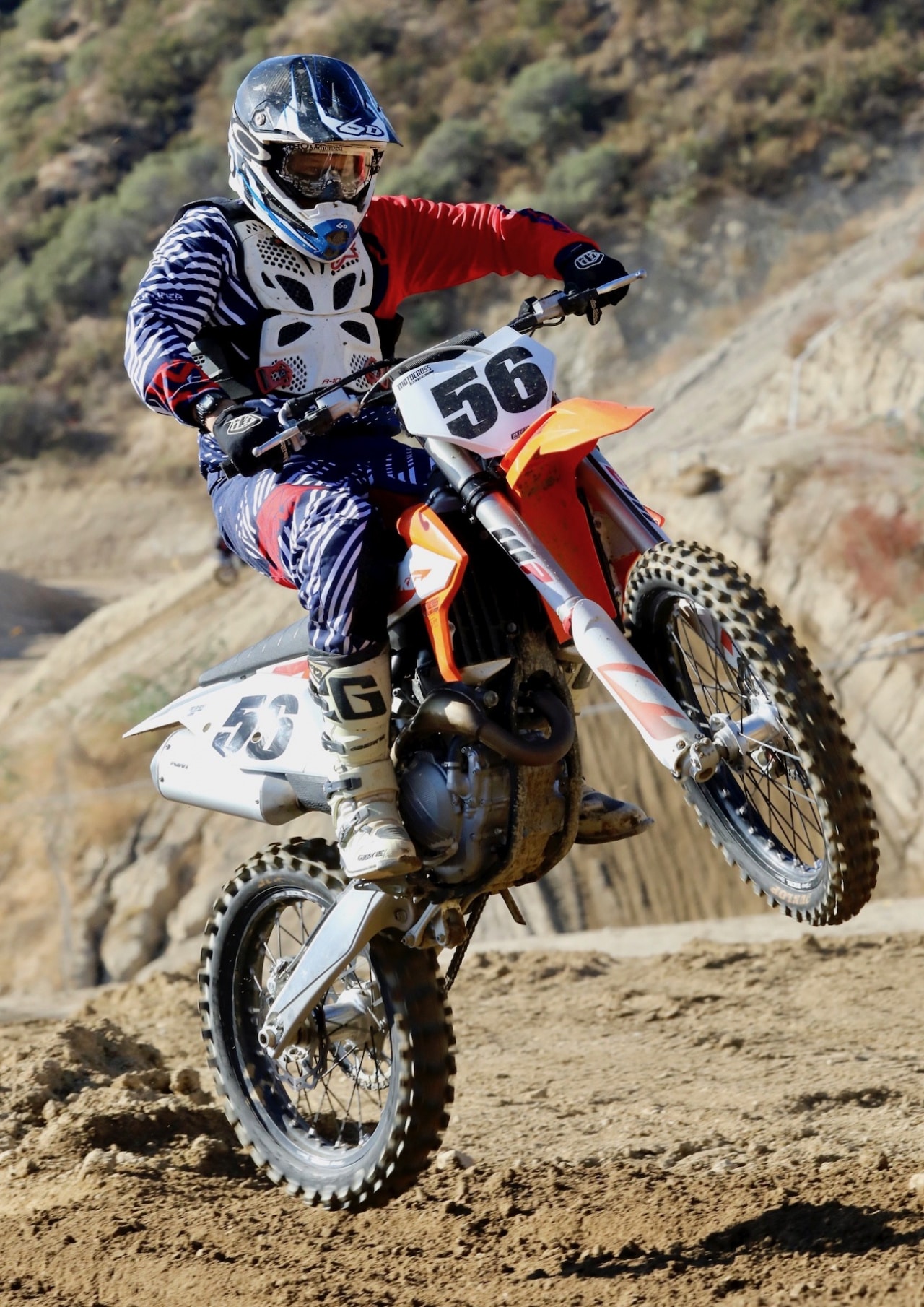 Marc Crosby (56) said that he hadn't raced that hard for a 9th place finish in his life. Photo: Debbi Tamietti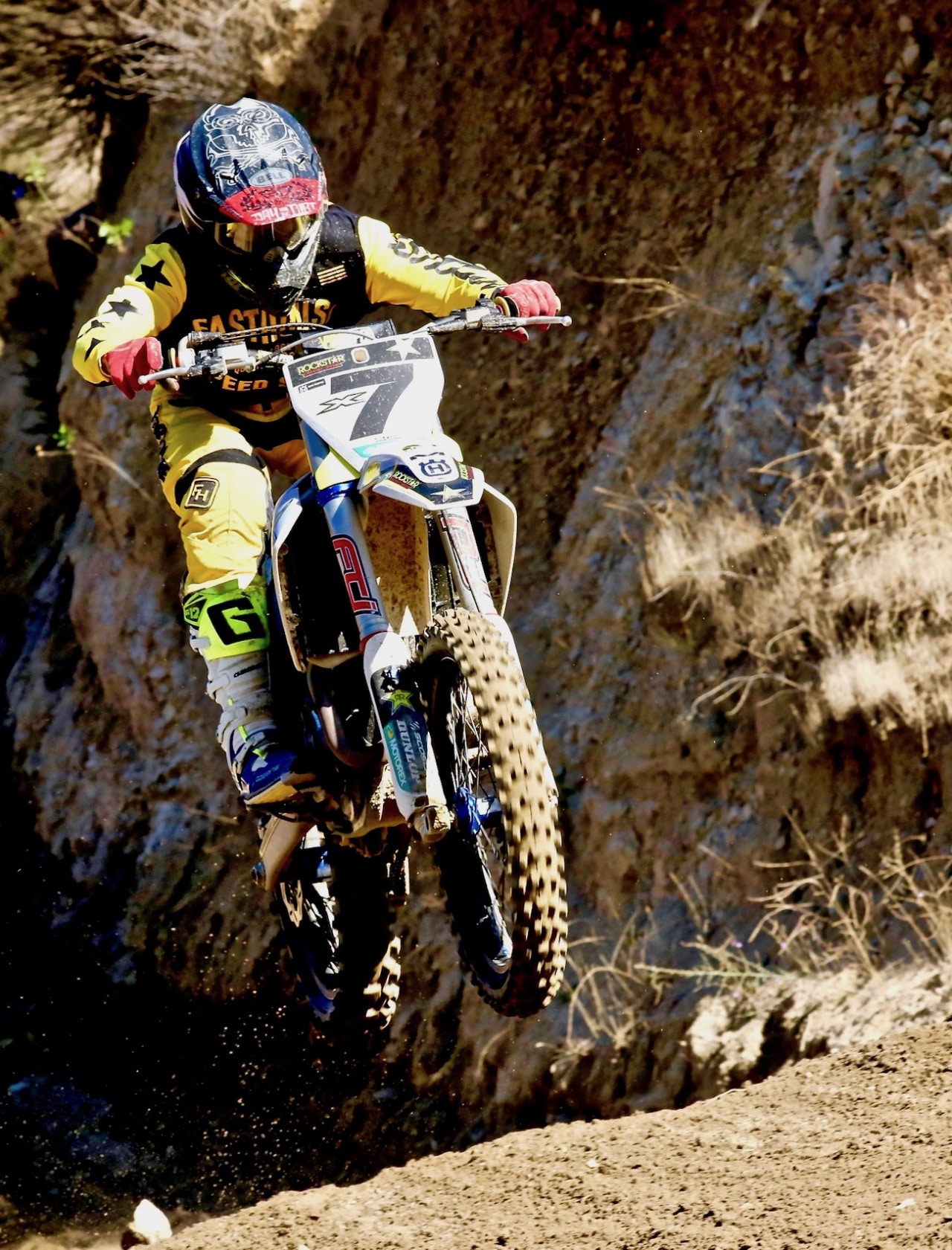 Will Harper (7) had a bad day. He was blocked by a lapper in the last 10 feet of the first Over-60 Expert moto to lose the moto win and then crashed in the second moto to end up 5th overall. Photo: Debbi Tamietti
Hollywood stuntman Mark Donaldson (66), who was once an AMA Pro, and Randy Skinner, who once vowed to only race Suzukis, battled over 6th in the Over-60 Experts. Photo: Debbi Tamietti
OVER-50 ELITE & EXPERT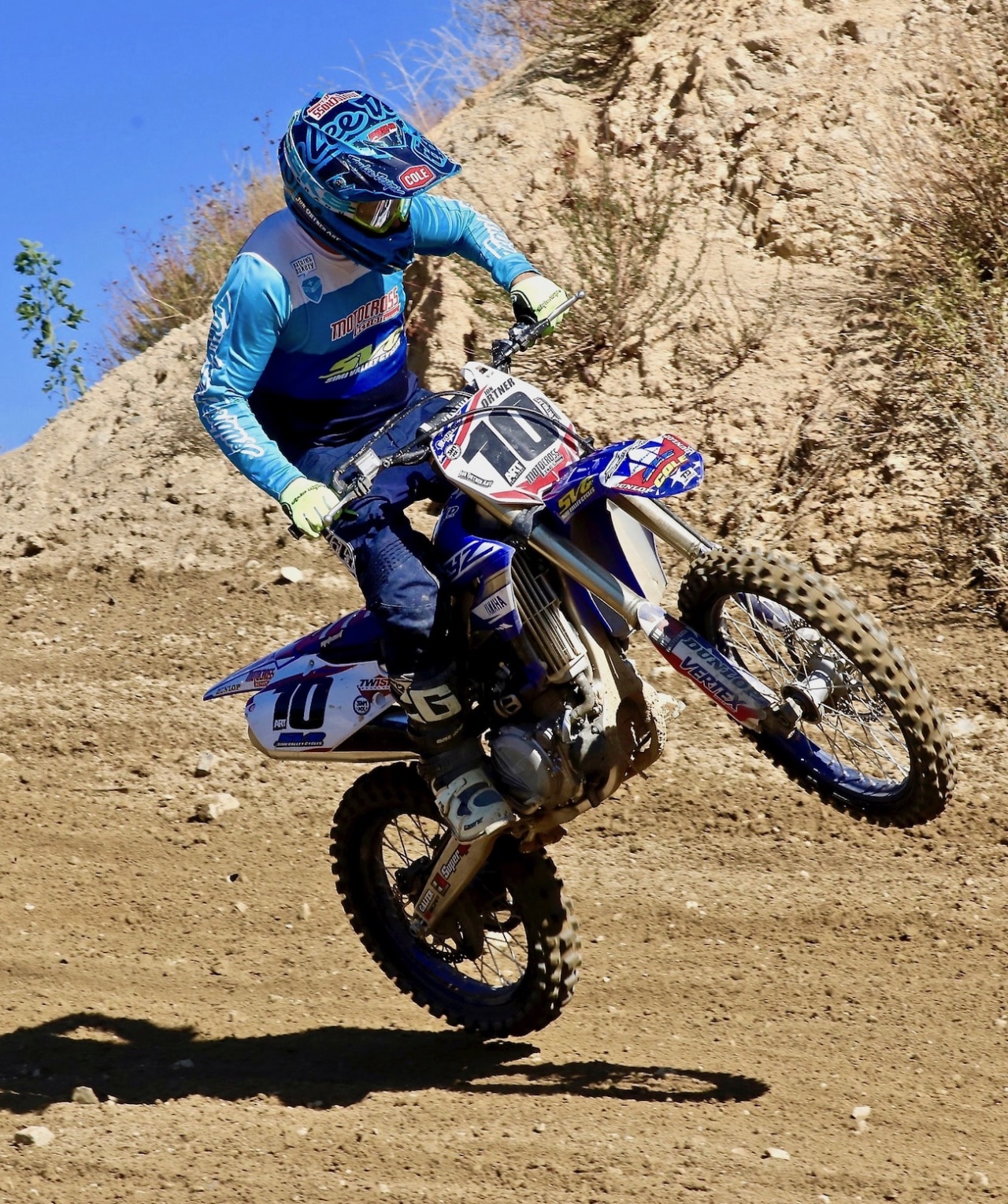 Jon Ortner (1) mastered the new track layout quickly to go 1-1 in the Over-50 Elite class. Photo: Debbi Tamietti
As always the Over-50 Elite and Over-50 Expert race was high profile. The Over-50 Elite riders started with the Over-50 Experts and quickly proved why these former Pros have a special class all their own. The first four Elite riders got to the front almost immediately with Jon Ortner, Luther French, Robert Reisinger and Ron Shuler battling for position. At the end of the day Jon Ortner went 1-1 for the win over Luther French's 2-2 and Ron Shuler's 3-3.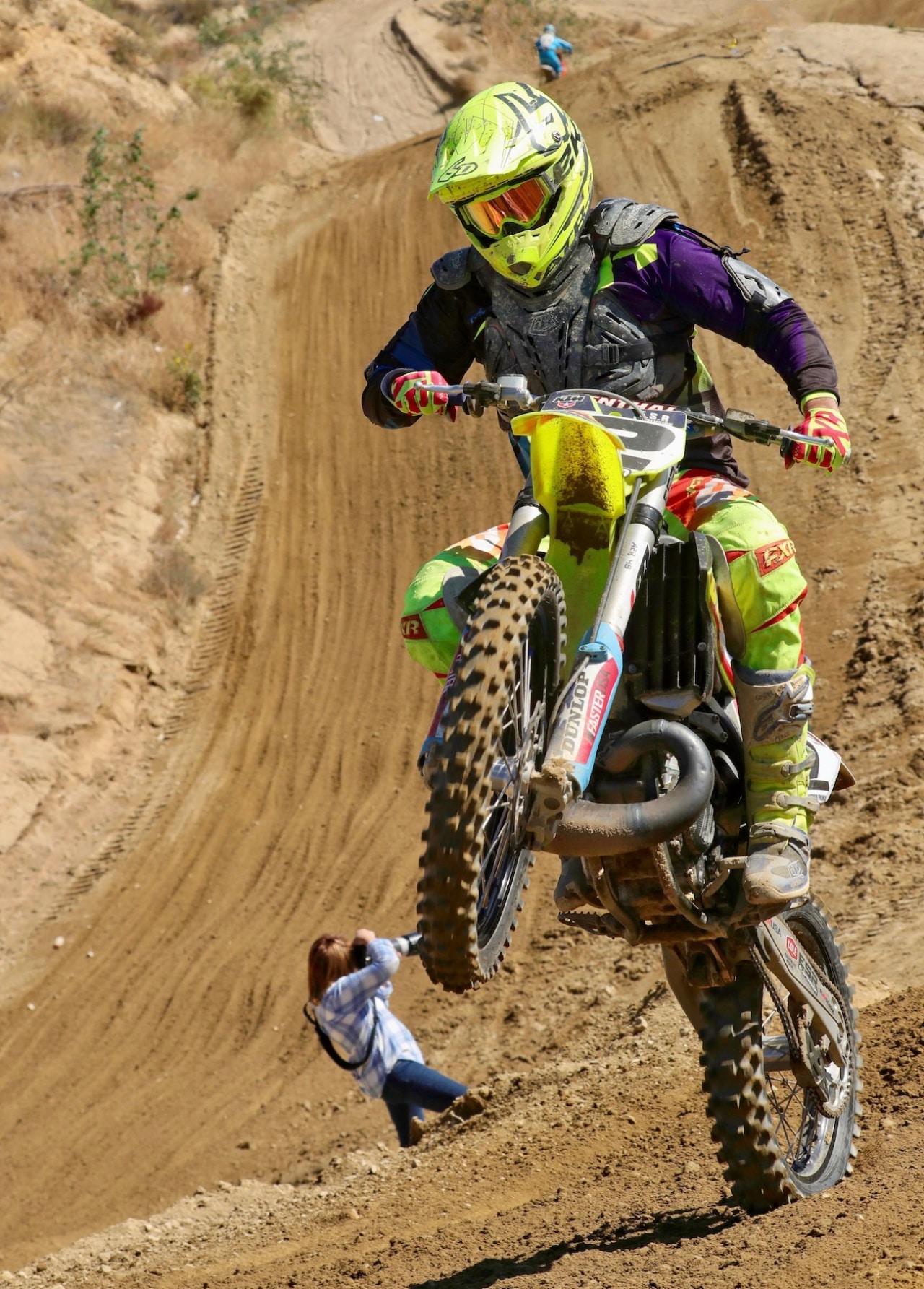 Luther French (2) is taking it easy on the starts since his return to racing, but Luther makes up for it with blistering fast lap times late in the moto. He caught Jon Ortner in both motos, but not soon enough. Photo: Rich Stuelke
In a surprise move two Over-60 Experts decided to double-class it in the Over-50 Experts. The surprise was that they went one-two with Val Tamietti winning the Over-50 class and Mike Monaghan following him across the line—their 2-1 and 1-3 scored were only broken up by Joe Sutter's 3-2.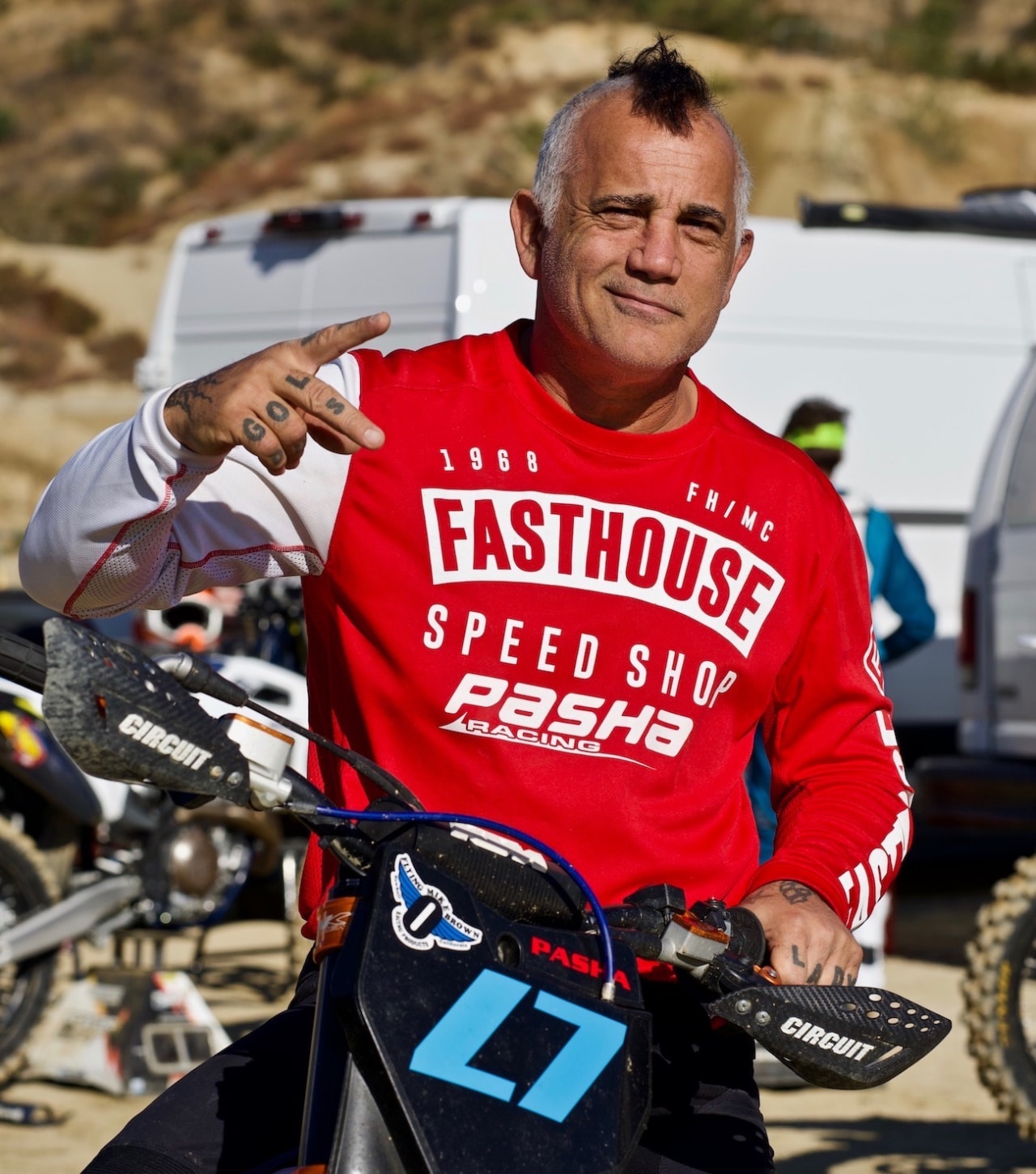 Amazingly enough Pasha Afshar looks exactly in real life as he did when he played the bad guy in the "Bennett's War" motocross movie. Which is now available for digital downloads on iTunes, Amazon Video, Vudu and Fandango Now. Pasha went 5-4 for 4th in the Over-50 Expert class. Photo: Jon Ortner
Pasha Afshar looked like he could crack the old guys stranglehold early in the first moto as he hung with the Elite riders pace for three laps—but hanging on for dear life meant that Pasha used up too much energy early and ended up with a 4-5 day for 4th overall.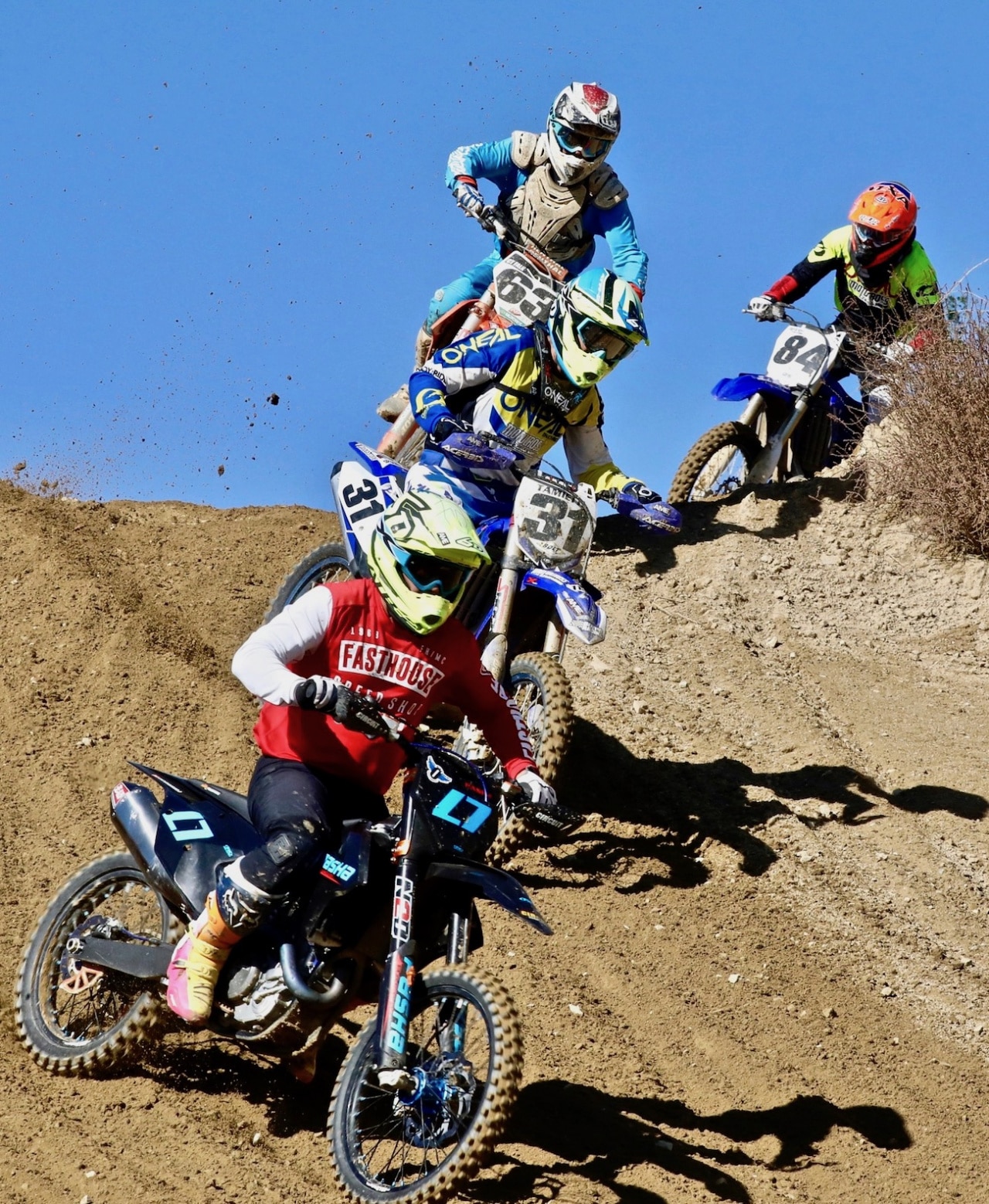 This is the battle for the Over-50 Expert victory. Pasha Afshar (L7) leads, with Val Tamietti (31), C.T. Falk (63) and Mike Monaghan (84) in close pursuit. At day's end the two sixty-year-olds, Tamietti and Monaghan, had gone one-two against the youngsters. Photo: Debbi Tamietti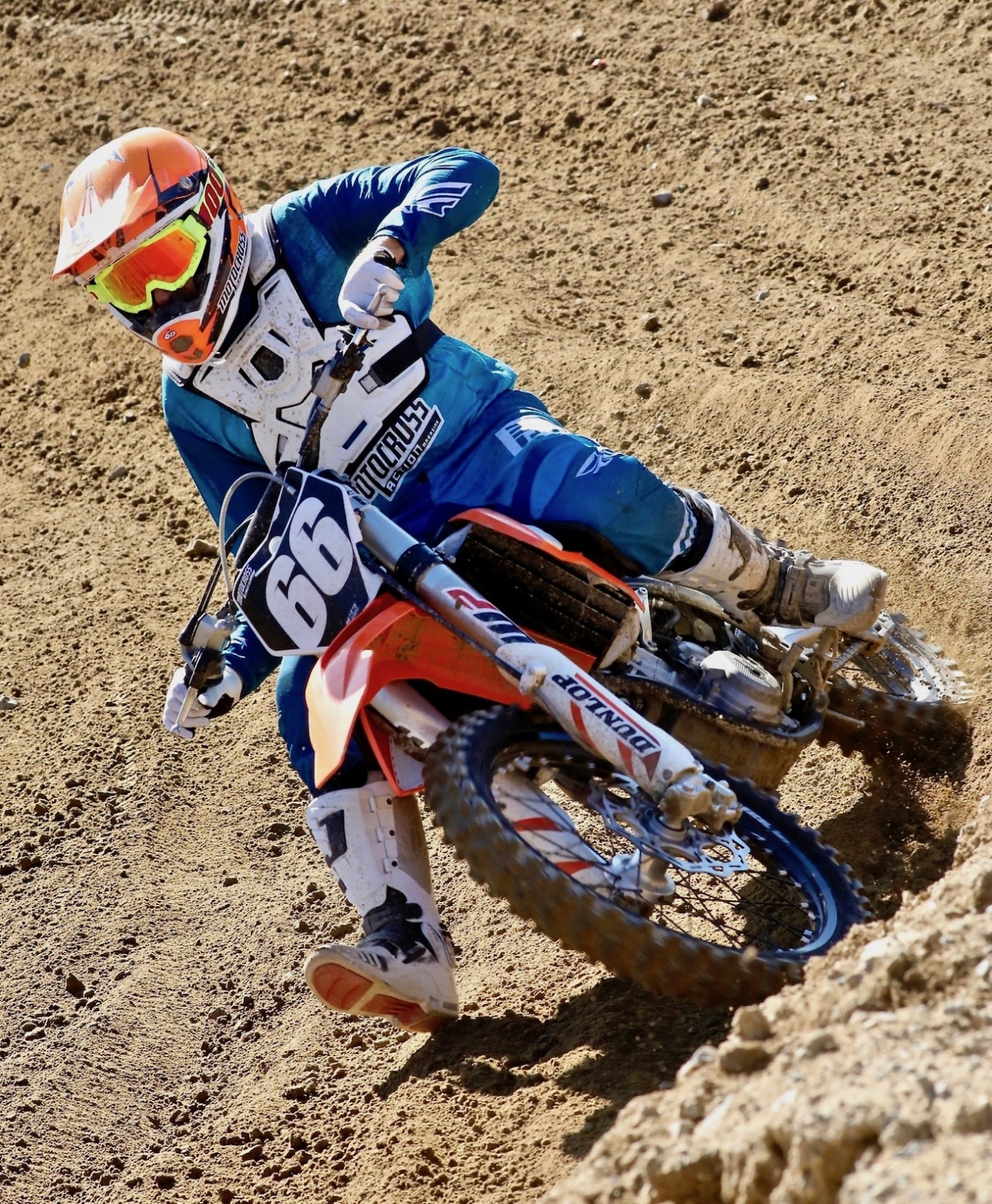 Australian Dan Almangos (66) was running near the front of the Over-50 Expert class in both motos, but crashes forced him back to 8th. Photo: Debbi Tamietti
MISCELLANEOUS CLASS RESULTS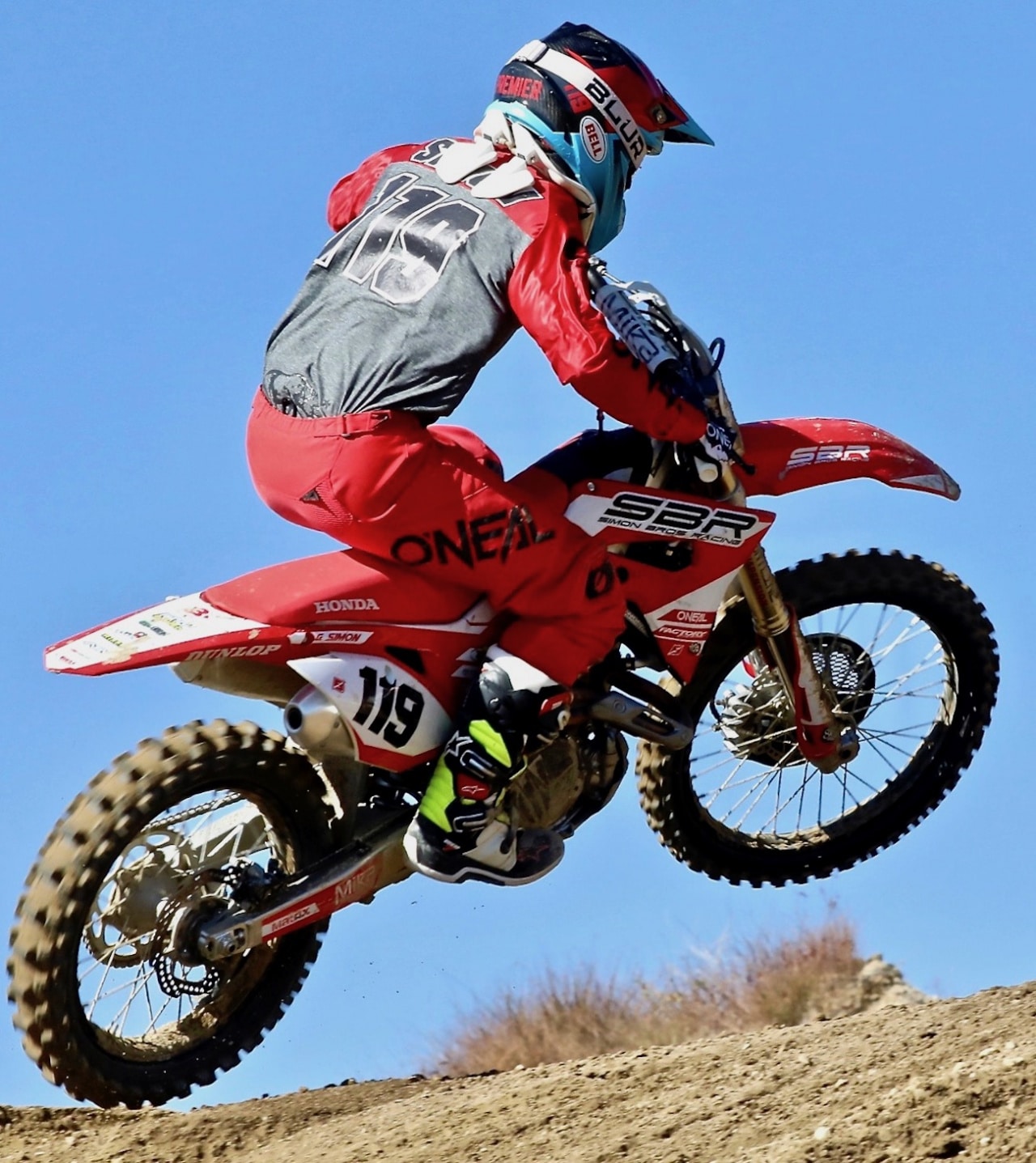 This is where 450 Intermediate Geza Simon (119) took off from… Photo: Debbi Tamietti
..and this is where he landed after whiskey throttling his way into orbit. Photo: Debbi Tamietti
250 INTERMEDIATE
1. Jett Reynolds…1-1
2. Ryusei Otsuka…2-2
3. Kyle Allison…3-3
250 NOVICE
1. Connor Styers…1-1
2. Stephen Sundvold…3-2
3. Michael Oetzell…2-3
Myles Lupan (409) went 4-9 for 7th in the Vet Novice class. Photo: Debbi Tamietti
VET NOVICE
1. Travis Snyder…1-1
2. Joe Licon…3-2
3. Jesus Henedia…2-3
OVER-40 INTERMEDIATE
1. Ty Green…1-1
2. Sean Kamborian…2-2
3. Joe Sutter… 3-3
OVER 40 NOVICE
1. Todd Sundvold…2-1
2. David O'Connor…1-2
3. Gary Taylor…5-3
Kevin McCarthy (711) had a 6-6 day in the Over-50 Intermediate class. Photo: Debbi Tamietti
Ernie Becker (65) had a 7-7 day in the Over-50 Intermediates. Photo: Debbi Tamietti
OVER-50 INTERMEDIATE
1. Jonny Benskin…2-1
2. Glenn Pietronico..1-3
3. Robert Pocius…5-2
Chris Cole (45) and Bob Morales split moto wins in the Over-50 Novice class. Photo: Debbi Tamietti
OVER-50 NOVICE
1. Chris Cole…2-1
2. Bob Morales…1-2
3. Todd Heagstedt…3-3
Steven Chandler (306) was the easy winner of the Over-60- Intermediates. Photo: Debbi Tamietti
OVER-60 INTERMEDIATE
1. Steven Chandler…1-1
2. Phil Cruz…2-3
3. Gary Scott…5-2
Mike Marion (80) raced his Tom White Tribute bike to the Over-65 Expert win. Tom gave Mike his YZ250 as a present shortly before his death and Mike made it into a 1974 Yamaha MX250 replica in honor of Tom. Photo: Debbi Tamietti
OVER-65 EXPERT
1. Mike Marion…1-2
2. Patrick Flynn…3-1
3. Mic Rodgers…2-3
Gene Boere (62v) won the Over-65 Intermediates for the second week in a row. Photo: Dan Alamangos
OVER-65 INTERMEDIATE
1. Gene Boere…1-1
2. Tony Parsons…3-2
3. Mike Kind…2-3
Close racing was the rule of the day at REM. Here Brian Martin (65) and Jody Weisel (96) style for awhile as Gene Boere (62v) and Tony Parson (68) wait for the moment to pounce. Nobody in the Over-65 class stands up unless they hit a bump that bounces them to their feet. Photo: Debbi Tamietti
REMAINING 2019 REM RACE SCHEDULE
Dec. 14…Glen Helen
Dec. 21…Glen Helen
REM doesn't race next weekend because of "The Day In The Dirt" event, but will be back on December 14 and December 21 for the final two races of the 2019 REM race schedule. With the 2019 season coming to a close, the new rider classifications will be announced at the opening round of the 2020 series. This is when riders who have dominated their classes or the overall points system will be moved up to the next skill level, but since you know who you are you might as well move up voluntarily.. For more info about REM motocross go to www.remsatmx.com or their Facebook page by Clicking Here.
EVERYBODY LOVES A RACE PHOTO—DEBBI HAS THEM
Give Debbi a day or two to process this week's REM photos to her SmugMug account and then browse to your hearts content. To look at this week's REM race (posted in a couple days), Sunday's World Vet Motocross Championship photos, REM (10-06-19), REM (9-01019) and Debbi's favorites photos go to www.debbitamietti.smugmug.com