REM MOTOCROSS RACE REPORT: MATT BYNUM'S SCARY RIDE & WILL HARPER'S RETURN
PHOTOS BY DEBBI TAMIETTI, DAN ALAMANGOS & JON ORTNER
Will Harper finally got his 2020 REM Number One jacket and Boulware Cup. Why did he get last season honors in August of this year, because Will spent all of 2021 in Atlanta working on a movie. He just got back last week. REM saved his prizes until his return. Photo: Debbi Tamietti
Let's go back to December 19, 2020, when two riders, former AME number one Pro Will Harper and former AMA Pro and Kawasaki test rider Robert Reisinger, had their final showdown in a series-long battle to earn the most points of any rider at Glen Helen Raceway in 2020. They both raced in one of the toughest classes at REM—the Over-60 Expert class. That may not sound all the tough to riders outside of SoCal, but the Over-60 Expert class at Glen Helen is full of former AMA Pros and is often the most jam-packed class of the day—and the biggest REM Glen Helen points come from winning the largest and toughest classes. Being the Number One rider comes with perks and prizes (and a trophy that is not surprisingly classier than anything they hand out at an AMA National), but most of all it comes with a sense of satisfaction.
Outside of motocross, Will Harper is a successful Hollywood stuntman from one of Tinsel Town's elite stuntman families, while Robert Reisinger designed his own full suspension mountain bike, the Mountain Cycle San Andreas, was inducted into the "Mountain Bike Hall of Fame" and designed the industry changing 6D ATR-1 and ATR-2 helmets. Like little kids, they both wanted to win the REM Number One plate, and the points race had come down to this final showdown last December.
Seven months away from REM didn't hurt Will Harper's speed, but it didn't do his motocross fitness any favors. Will finished second overall in the Over-65 Expert class behind fit-as-a-fiddle Bob Rutten of Baja fame. Photo: Dan Alamangos
But there were surprises in store for Will and Robert on the big day. First of all, Pete Murray's arrival at the final race of 2020 meant that gathering points had suddenly become tougher. Pete Murray is a four-time World Vet Champion with the Over-40 Pro title in 2000, Over-50 Pro crown in 2012 and the Over-60 Expert Championship in both 2019 and 2020. Even though Murray showed up with a YZ125 two-stroke, he was definitely going to take points away from Harper and Reisinger. And he did! Coming from the kind of start that 125's get against 450s, Murray sliced his way to first place in both motos—winning easily. Robert Reisinger's second, followed by Zaca Station's Ed Guajardo in third, narrowed Will Harper's points lead. But all Harper had to do to clinch the crown was stay in the top five in the second moto and he did. With his 4-4 day, Will Harper won the Number One plate that he had set out of win back in January. Robert Reisinger settled for second overall.
Which get us to Saturday's 2021 race at REM. The Reisinger/Harper battle royale from one year ago is important to this story because soon after winning the Number One plate, Will Harper had to go to Atlanta to work on a movie—a movie that took so long that Will didn't get back to Glen Helen for seven months. Guess what? REM was ready with his number one jacket (they give jackets to the top ten in overall point each year) and his giant silver Boulware Cup, named after the late Dennis Boulware, who won the number one plate four times before suffering a fatal heart attack in the pits in 2012. REM's Frank Thomason held a presentation at the rider's meeting to finally give Will Harper his just rewards.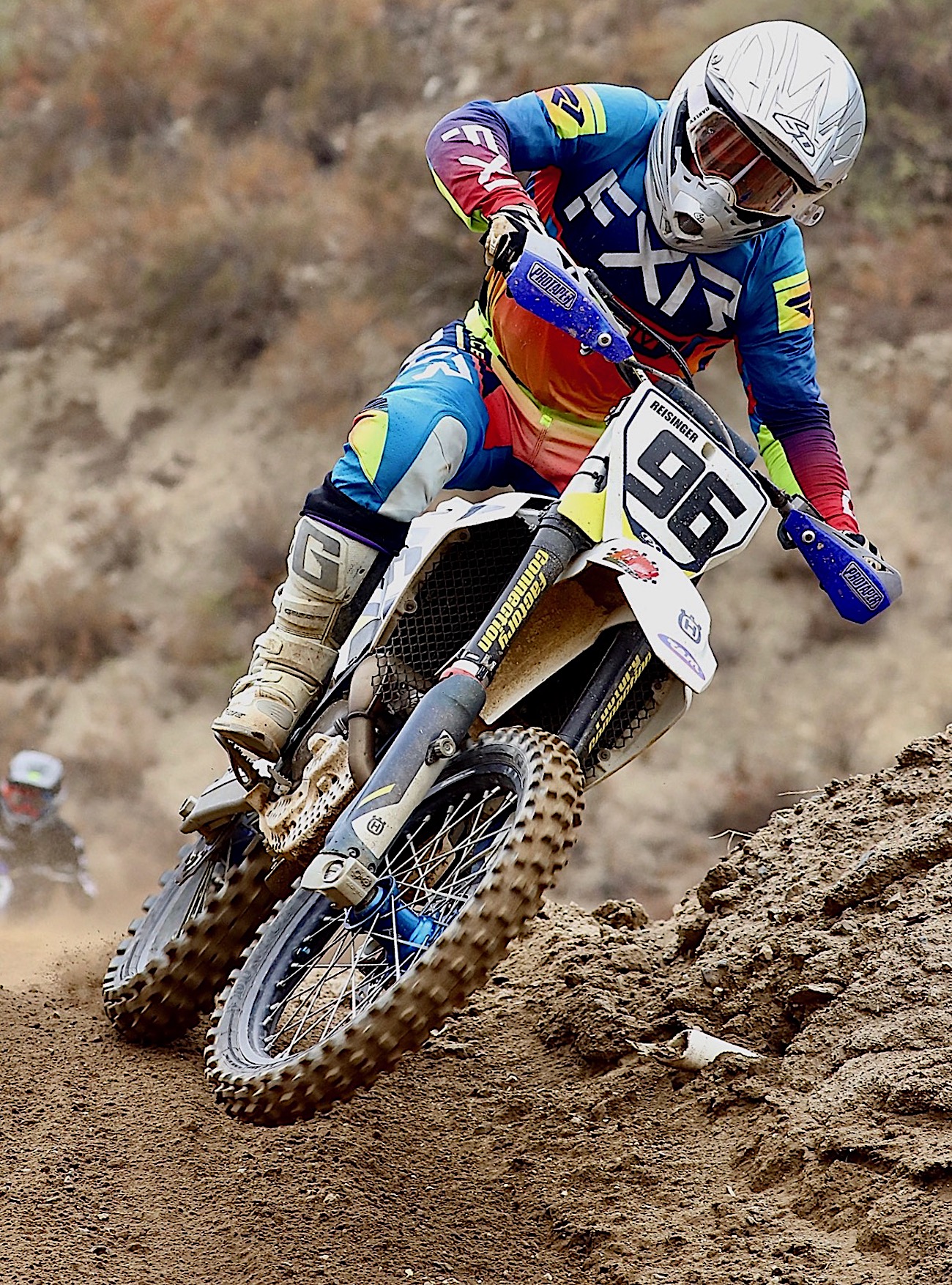 Robert Reisinger raced two classes, winning the Over-60 Experts and finishing second in the Over-50 Elites. Photo: Debbi Tamietti
Of course, the kicker to this heartwarming story is that an hour later, Harper found himself on the starting line next to Robert Reisinger—although Harper had moved to the Over-65 Expert class during his time away from Glen Helen, the two classes started on the same gate and Robert Reisinger swept both motos of the Over-60/Over-65 Expert classes. It was Robert's "Welcome Home" to Will Harper.
REM GLEN HELEN NUMBER ONE RIDERS (1989-2020)
(Names in blue are still active racers)
1989 …Curtis Jablonski
1990 …Robert Failing
1991 …Robert Failing
1992 …Jeff Van Camp
1993 …Todd McKay
1994 …George Kohler
1995 …Alan Olson
1996 …George Kohler
1997 …Alan Olson
1998 …Jody Weisel
1999 …Dennis Boulware
2000 …Rich Eierstedt
2001 …Randy Skinner
2002 …Bengt Johansson
2003 …George Kohler
2004 …Billy Musgrave
2005 …Marc Crosby
2006 …Tim Murphy
2007 …Dennis McAdam
2008 …Dennis Boulware
2009 …Dennis Boulware
2010 …Dennis Boulware
2011 …Ray Pisarski
2012 …Randy Skinner
2013 …Jon Ortner
2014 …Jon Ortner
2015 …Jon Ortner
2016 …Tom Holmes
2017 …Val Tamietti
2018 …Val Tamietti
2019 …Dave Eropkin
2020 …Will Harper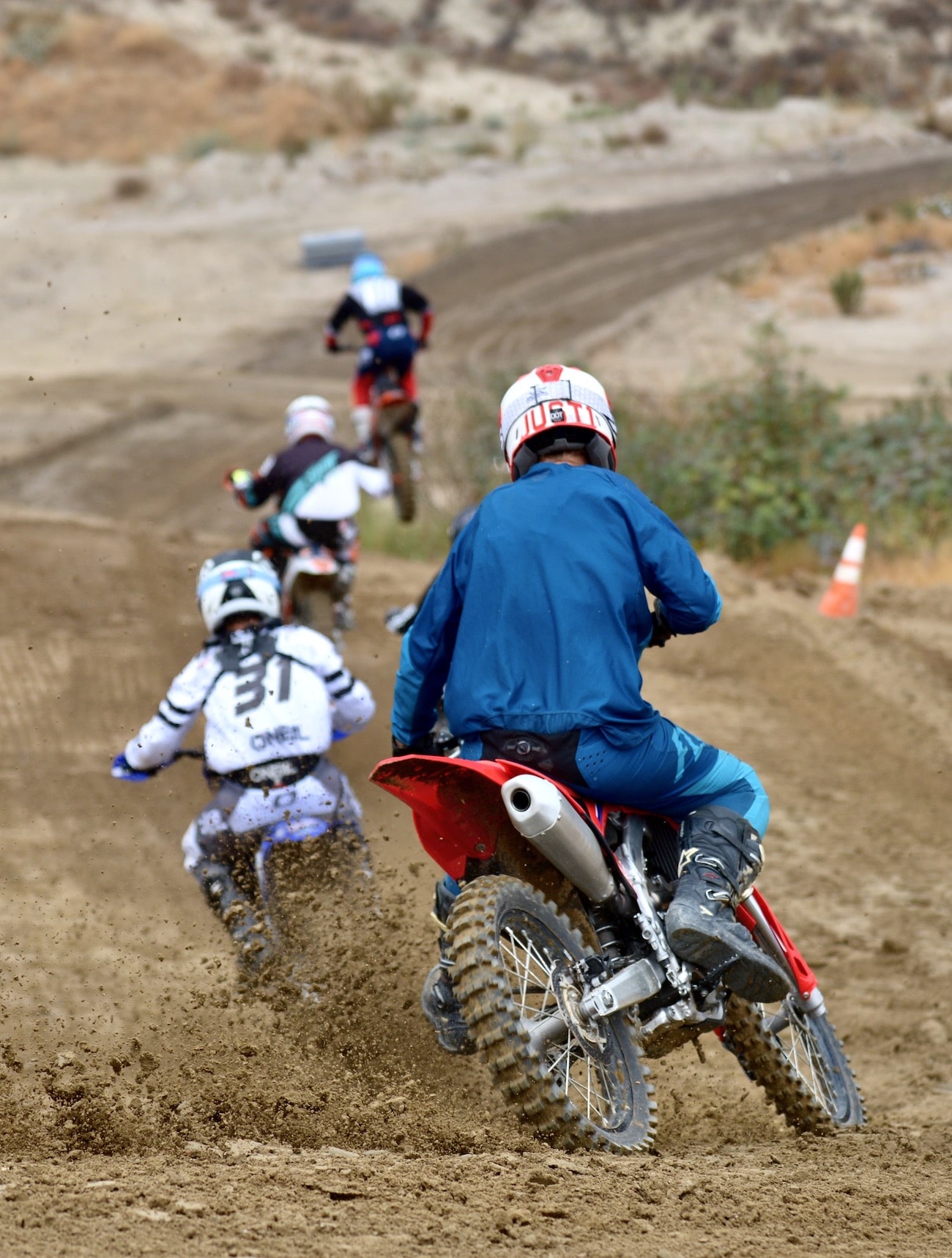 In the distance is the new sand section, which replaced last week's new sand section. Last week the track turned right behind the bushes, this week it kept going before sweeping around the bend. Photo: Dan Alamangos
The other big news at REM this week was that the popular track change they made last week, by adding a deep sand straight through the Bud's Creek section of Glen Helen, was taken out and a newer, longer and faster sand section was put in. The new section started with a stairstep-style series of drops that the riders hit at high speed (see the photos of Matt Bynum below to see how steep they were) and ended with three tight corners that led to the mouth of REM's back canyon sand straight. This new section was even more popular with the riders than last week's change.

450 Intermediate winner Matt Bynum (317) tried to wheel tap his way over this steep drop-off, but the front end got away from Matt.

Once over the lip Matt was just along for the ride as the front end of his KTM 450SXF just keep climbing. He tried to suck the bike up with body English, but it was only interested in going straight up. Note how far it is to the ground below. Photo: Debbi Tamietti

At this point, the bike is starting to lose altitude, but luckily, it was a long way to the bottom. Matt was able to touch down on the rear wheel before hitting flat land. Close call! Photo: Debbi Tamietti

Brian Medeiros won the first 450 Pro moto over Sean Lipanovich and the two had a barn burner of a battle in the second moto, but Sean's 2-1 beat Brian's 1-2. Photo: Debbi Tamietti

THE BIG WINNERS AT REM ON SATURDAY
Sean Lipanovich looks as good now as he did back in his AMA National days. Since ending his National efforts, he teaches young riders how to ride and does private motocross lessons for Vets. Photo: Debbi Tamietti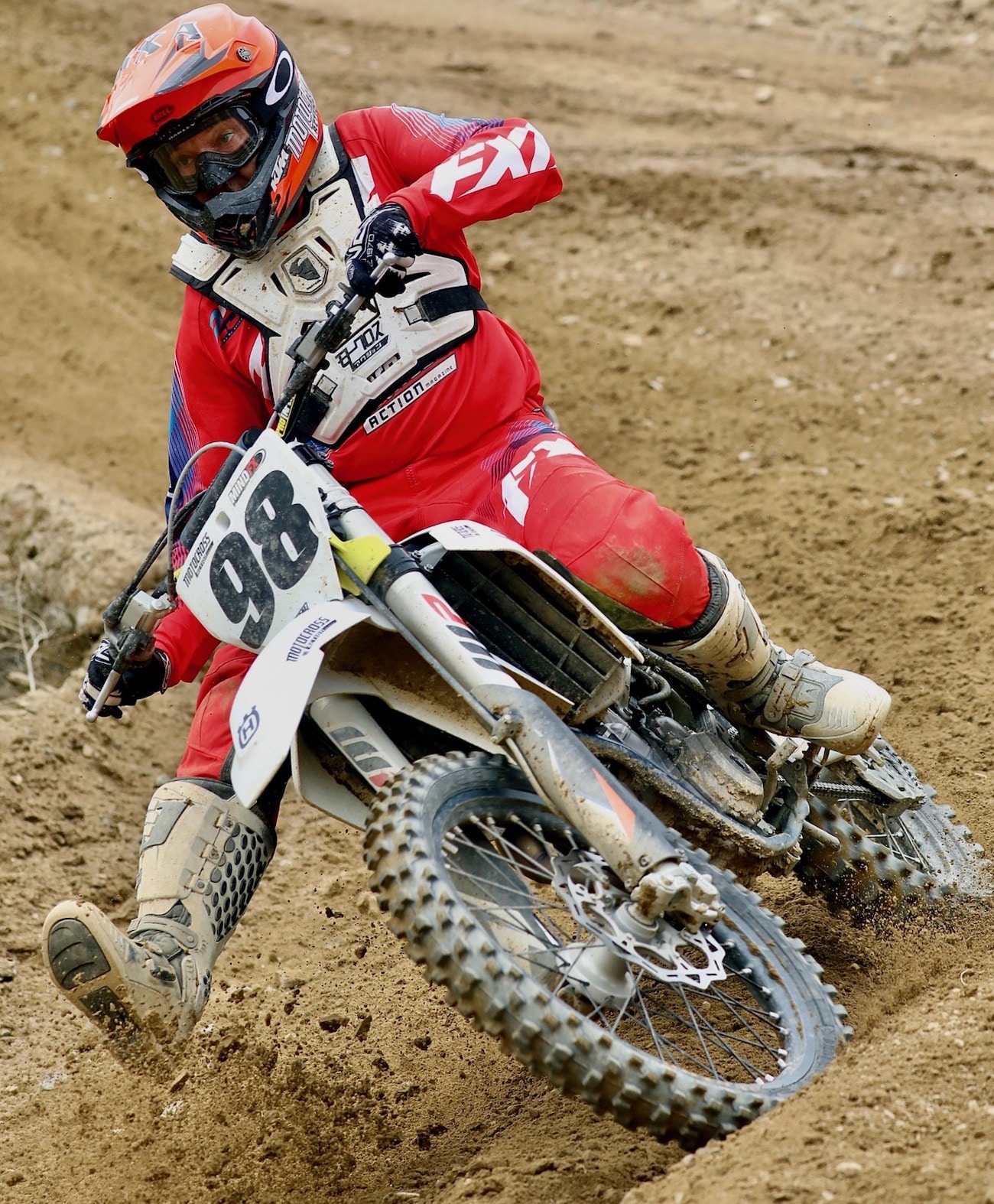 MXA's Dan Alamangos (98) swept both motos of the Over-50 Expert class on a Husqvarna FC350. Nick Waters was second with a 3-2 in front of last week's winner Joe Sutter's 2-5. Photo: Debbi Tamietti

Jon Ortner is still limping around from breaking his foot and having it pinned back together a couple months ago, but he won the Over-50 Elite class for the second week in a row on MXA's 2022 KTM 450SXF. Photo: Dan Alamangos
Bob Rutten (83) won the Over-65 Experts and mixed it up with the younger Over-60 Experts. Photo: Debbi Tamietti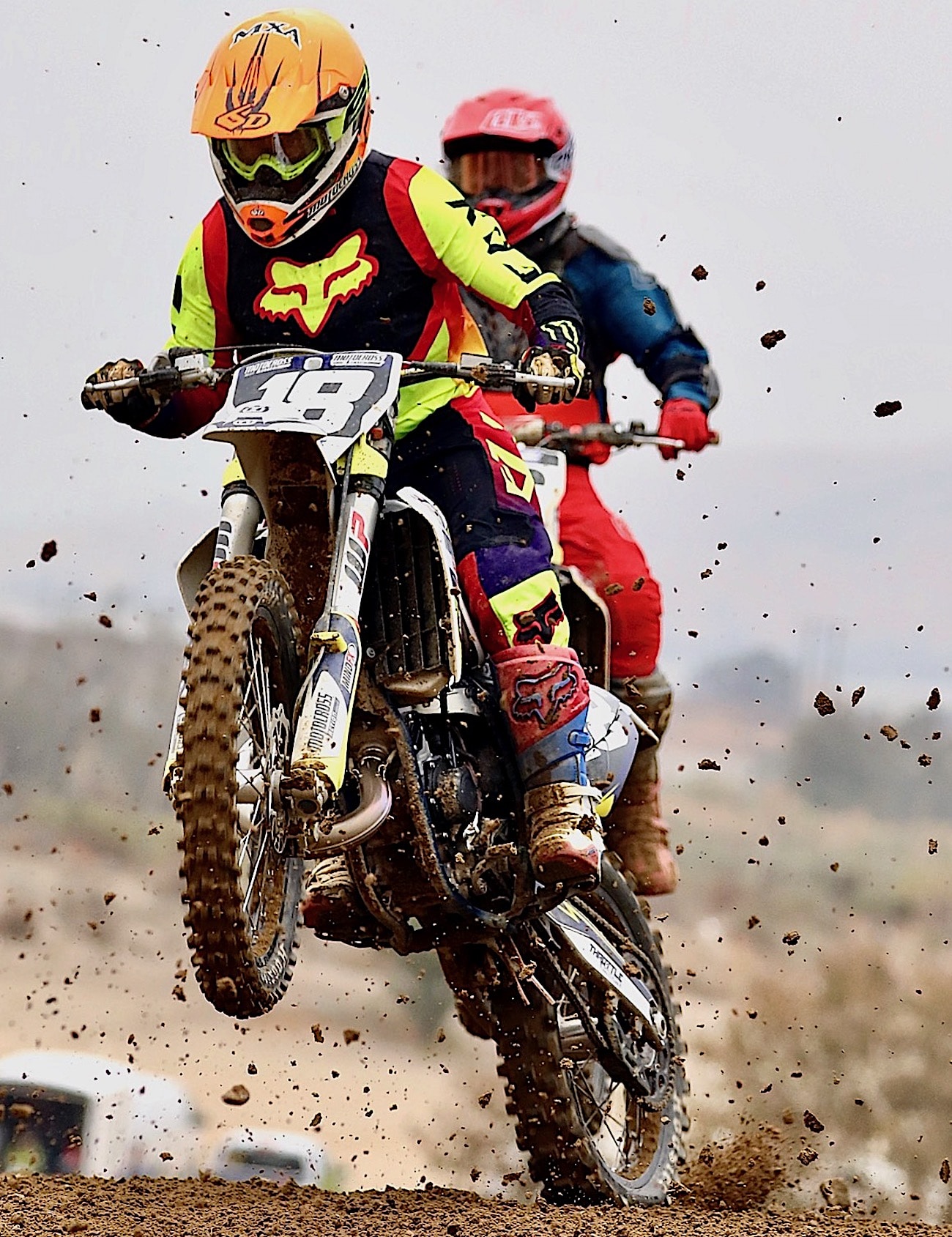 Luc De Ley (18) came from a bad start, which is to be expected since he was on a box-stock Husqvarna TC125 in a class full of 450 four-strokes, and came all the way from the back to just barely catch and pass Bill Reimer in both motos in the Over-60 Intermediates. Photo: Debbi Tamietti
Andrew Yarnell (57) is 30 now and decided to get ready for his first World Vet Championship on November 5-7. He won the Vet Pro class and had time to throw in a crash at the bottom of the Mt. Whitney downhill that brought out three yellow flags and got three riders talked to after the moto for racing through the track workers at the scene. Photo: Debbi Tamietti
Josh Fout (92) raced MXA's 2021 GasGas EX 350F to the Vet Intermediate victory. He said that with the six-speed cross-country gearbox he raced mainly in second and third gears and only hit fourth on the new sand section. Photo: Debbi Tamietti
Jason Giordana's 2-1 took the Over-40 Intermediate victory over arch-rival Steve Moore's 1-2. Photo: Debbi Tamietti
Zack Wiley (13) was only at his second-ever REM race and got to holeshot the first moto and started dead last in the second moto. He still won the 450 Novice class. Photo: Debbi Tamietti
THE NON-WINNERS AT REM ON SATURDAY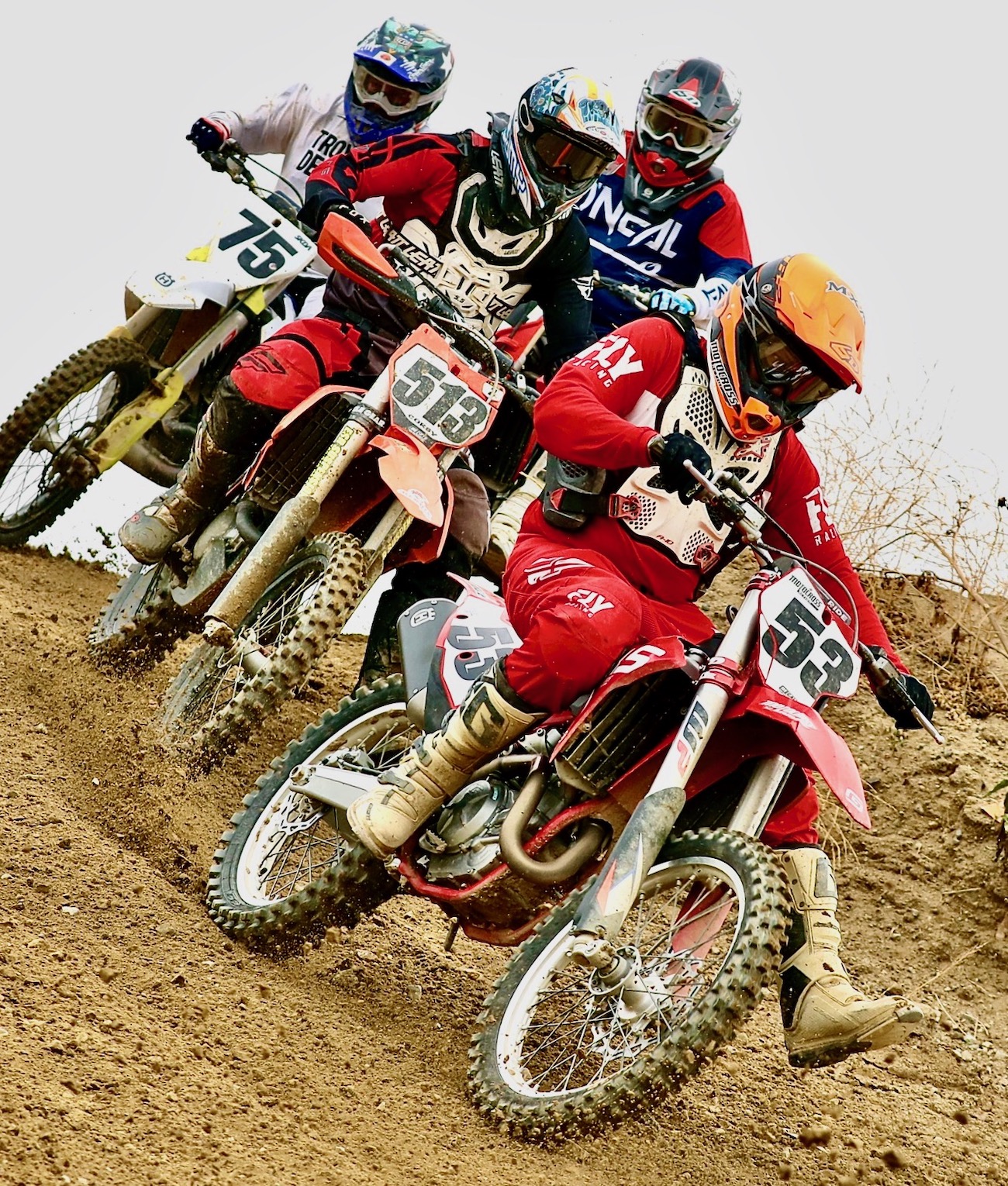 Marc Crosby (53) leads Corby Reutgen (513), John Caper (behind Reutgen) and Frank Emerson (75) in the biggest class of the day—the Over-60 Intermediates. Crosby was 5th, Frank Emerson 6th, Reutgen 9th and Caper 13th. Photo: Debbi Tamietti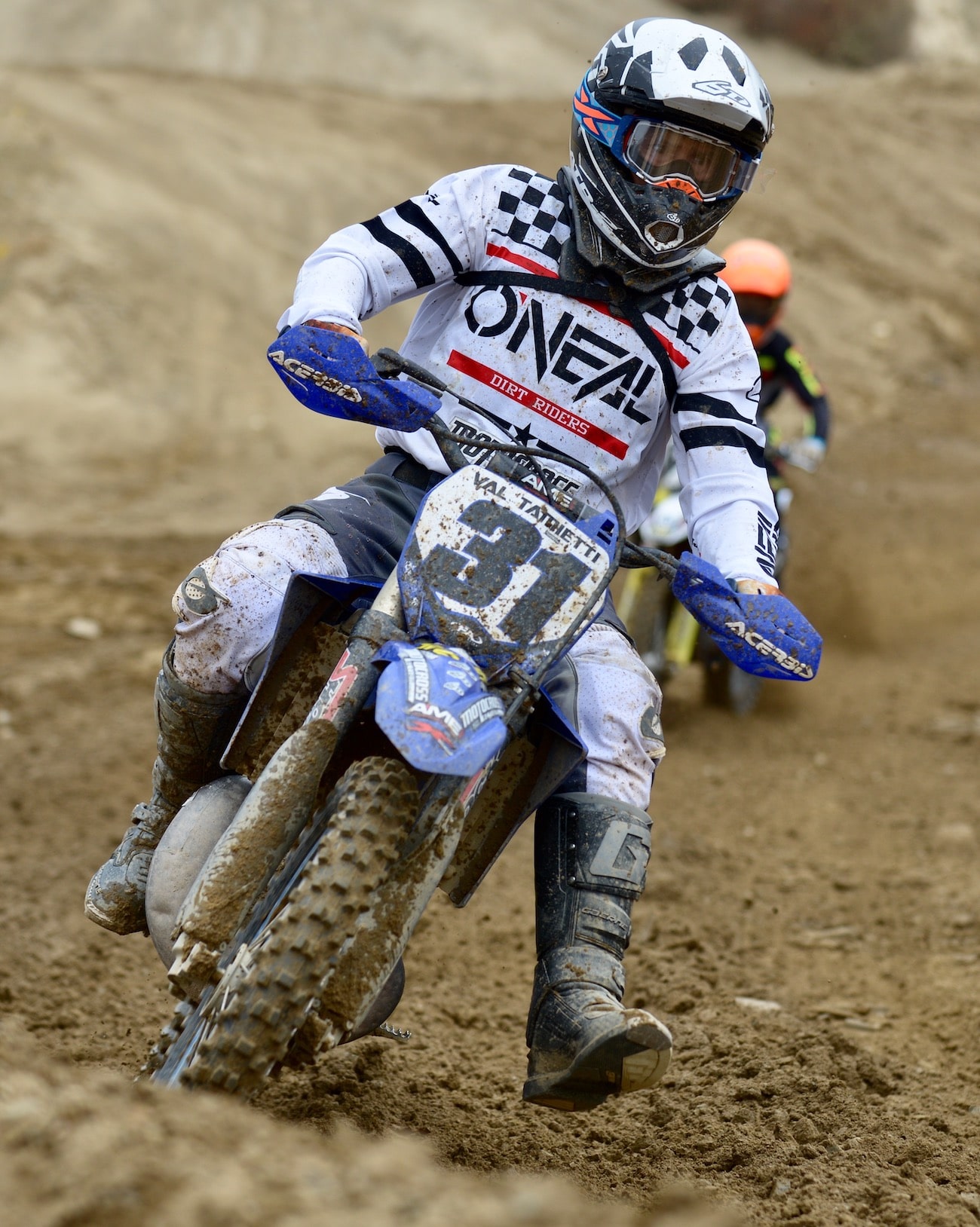 Val Tamietti (31) was 4th in the Over-60 Experts behind Robert Reisinger, Ed Guajardo and Dave Eropkin. Photo: Dan Alamangos
Jody Weisel's old school, all-leather, Super Victory boots are normally the most obvious throwback to the past at REM, but Gary Taylor's blue jeans took the cake this week. Photo: Debbi Tamietti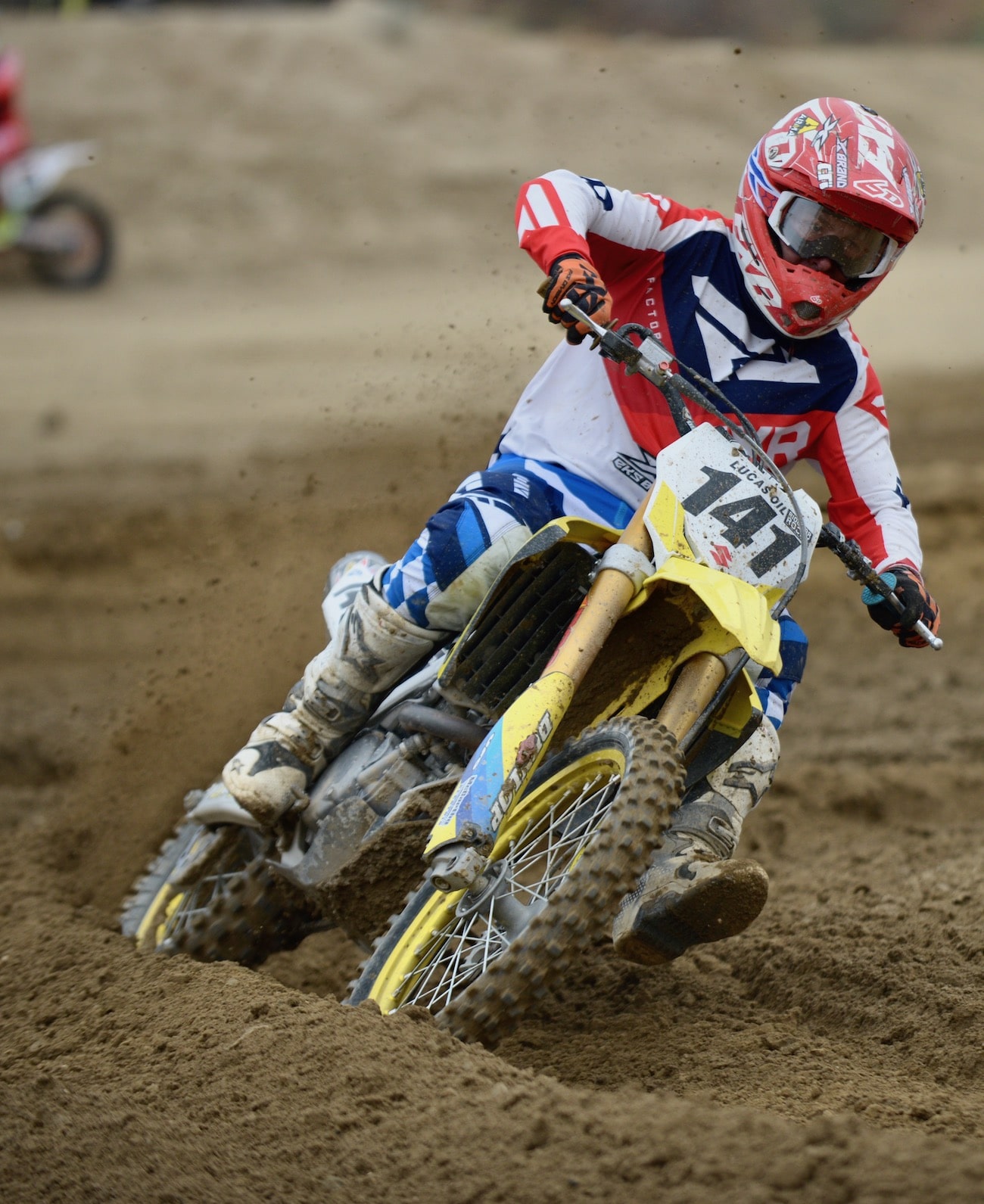 Rich Taylor (141) spins a few laps to keep in race-ready shape. Photo: Dan Alamangos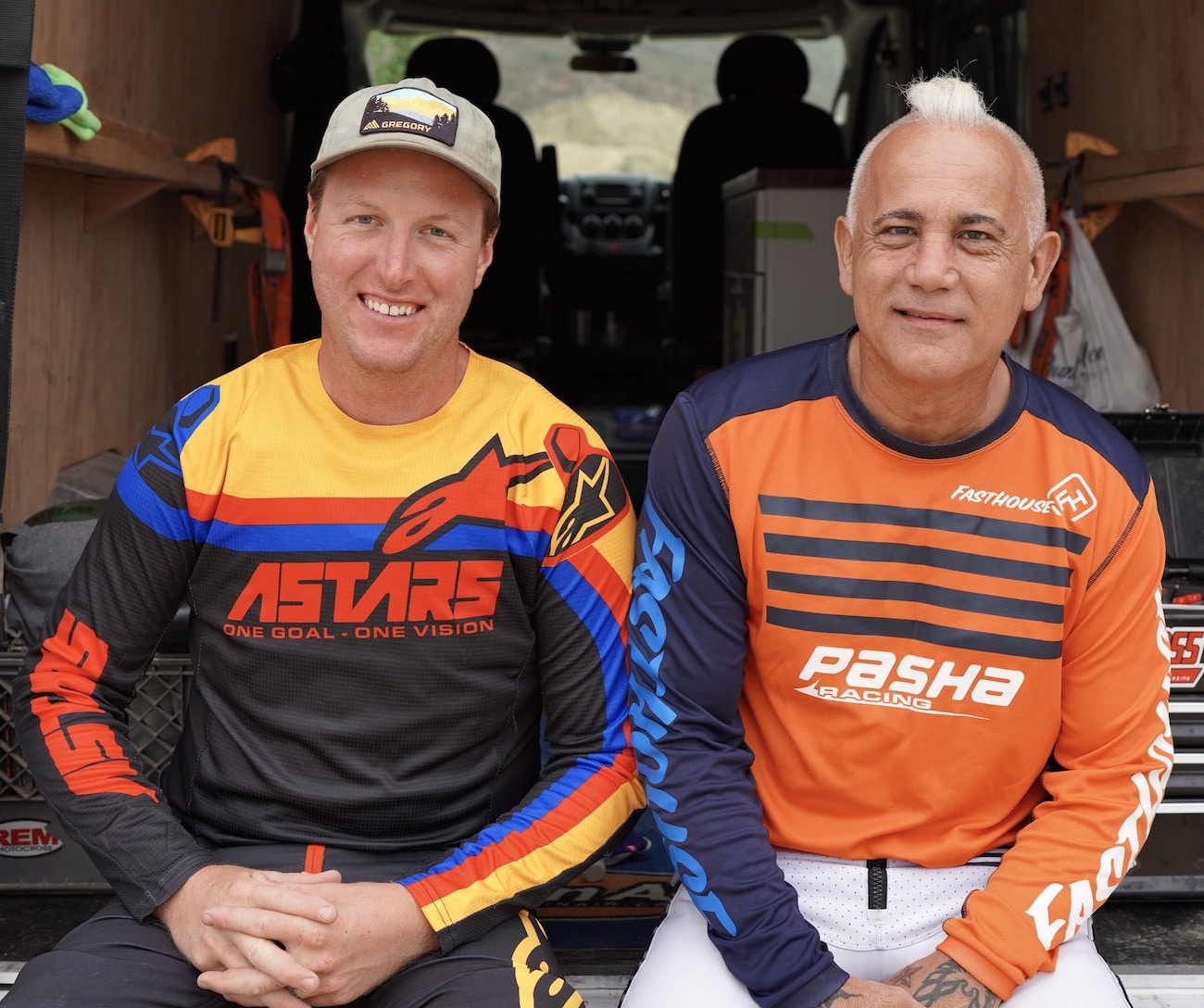 Josh Fout (left) with 125 two-stroke empresario Pasha Afshar. Pasha is working on a big purse for the 125 Pro classes (Over-30 and Over-50) at the World Vet Championship. Photo: John Ortner
Robert Reisinger (96) won the first Over-60 Expert moto, but if this hadn't been the second to last corner Ed Guajardo (27) would have passed him for the first moto win. Photo: Dan Alamangos

Mark Hall (16), who has worked at the White Brothers, VP Fuels, 6D helmets, MTA and Pro Circuit before moving to Boise, Idaho, to work at WPS came down two weeks ago to race at REM and was back this week. He claims he won't be back again until the World Vet in November. Photo: Debbi Tamietti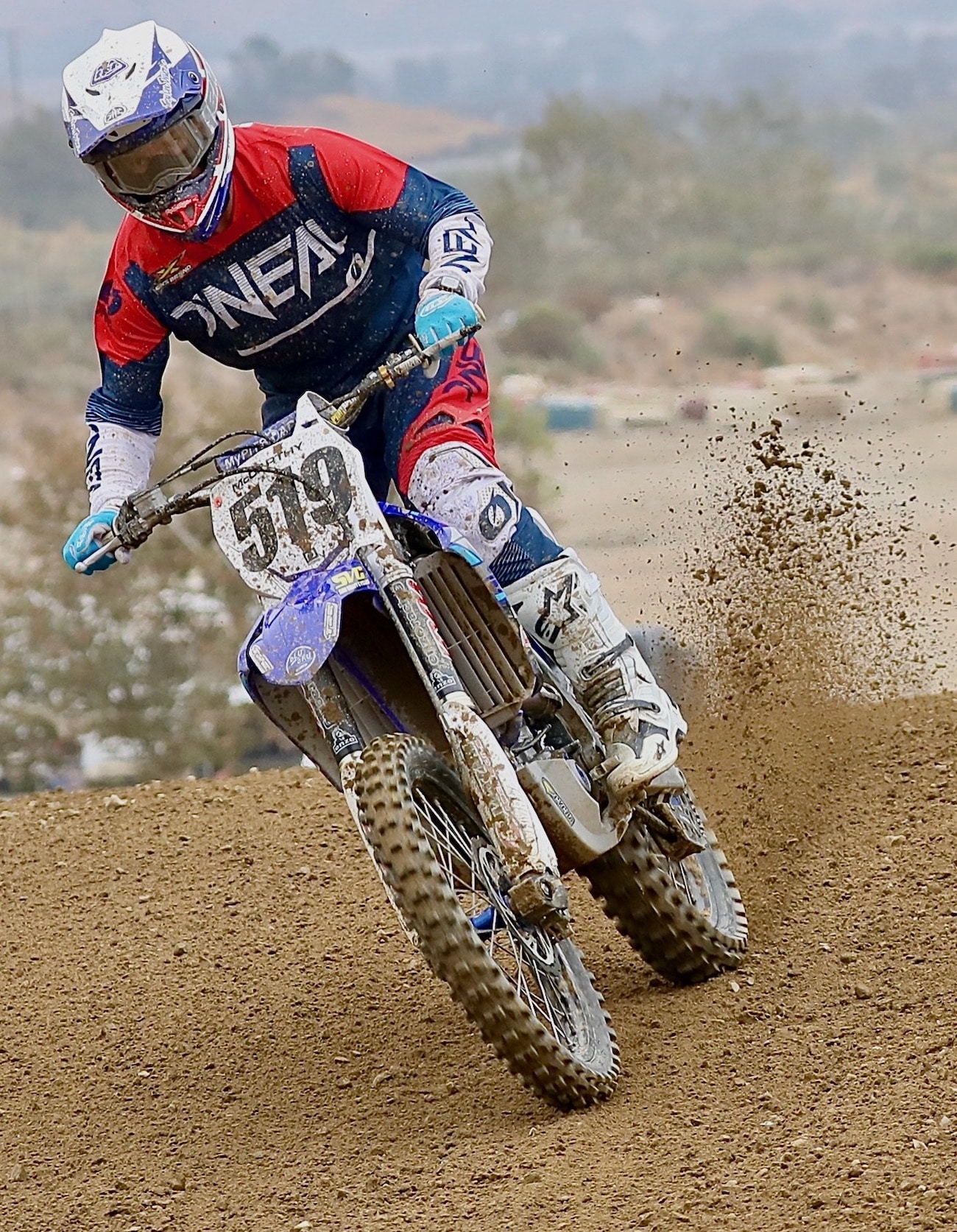 David McCarthy (519) went 2-2 to get second overall in the Over-50 Novices behind Bob Morales. Photo: Debbi Tamietti
Mark Vallejo (17) proves that everyone who wants to be a motocross race can be one. Mark raced a beat-up Honda CR125 (note his clutch lever), wearing mix and match gear and Vemar goggles to fourth place in the 125 Novice class. Would he have done better on a $7000 KTM 125SX is all-new gear? Debbi Tamietti
Kenny Rawson (64) went 1-2 in the Vet Novice class, but lost to Michael Oetzell's 2-1. Photo: Debbi Tamietti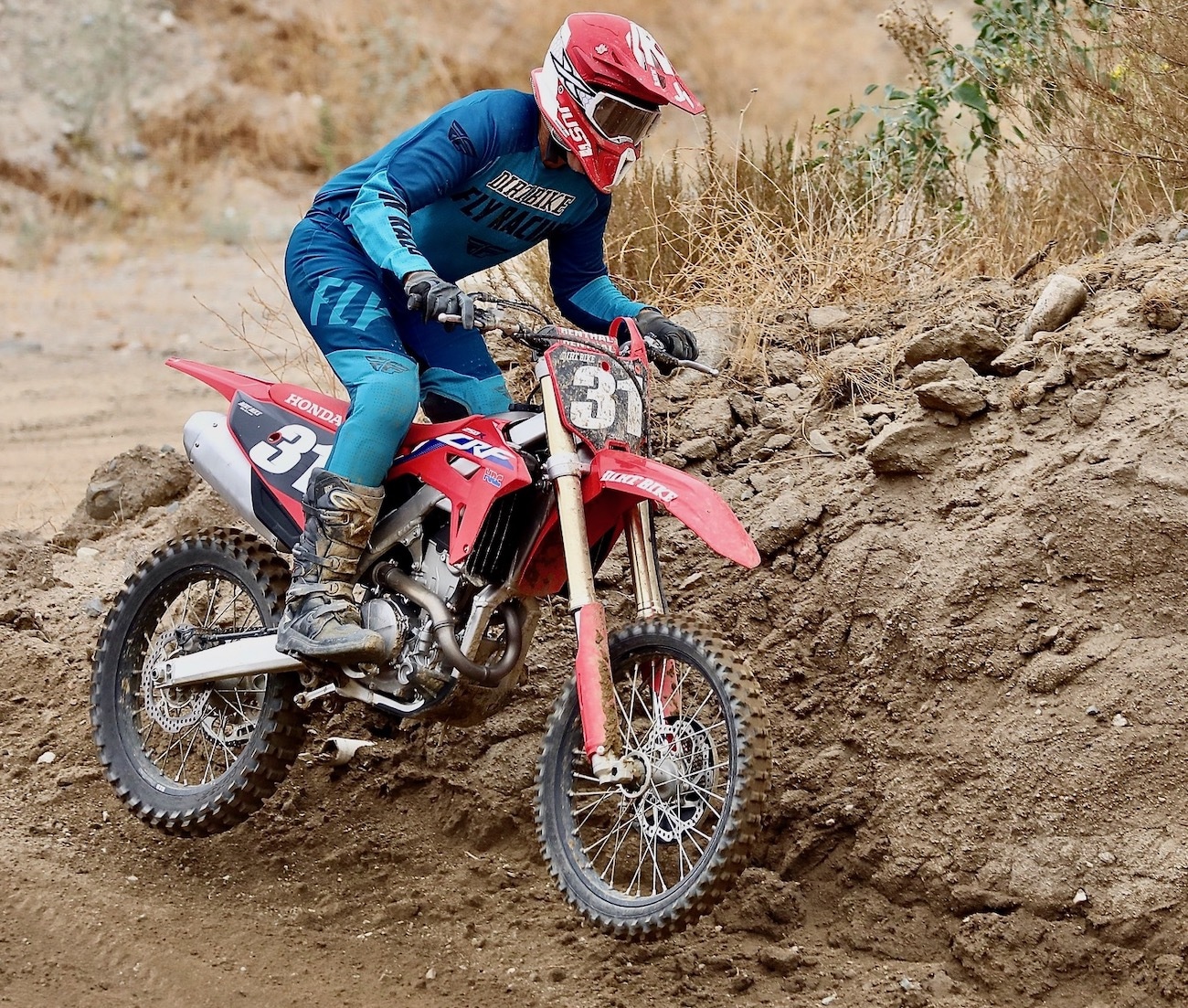 Dirt Bike Magazine's Ron Lawson raced a 2022 Honda CRF250 in the Over-60 Expert class. The best thing about this photo is how close Lawson is jumping next to this wall of dirt.  Photo: Debbi Tamietti

Tom Robertson (147) was another Honda two-stroke rider. Tom went 3-3 in the Over-50 Novice class. Photo: Debbi Tamietti
2021 REM RACE SCHEDULE
Sept. 11…REM track
Sept. 18…REM track
Oct. 30…National Track Octobercross
Nov. 20…REM track
Dec. 4…REM track
Dec. 18…REM track
REM will take two weeks off before racing again on Saturday, September 11 and September 18. For more information about REM go to www.remsatmx.com or Click Here for REM's Facebook page.