REM MOTOCROSS RACE REPORT: STAPLETON, COLLIER & AIELLO SHINE IN THE SUNSHINE
Dennis Stapleton (184) and Sean Collier split moto wins in the 450 Pro class, but Stapleton won the one that counted. Photo: Dan Alamangos

As always Glen Helen had several events planned for this past weekend. REM Motocross was racing on their hillside track, while the National track was being used for a UTV, Quad and Bike event. While all of this was going on, the track crew was working on building the SRA Grand Prix track for Sunday. This week the REM motocross regulars were greeted by a redesigned track. The long fast straights of the past two months were shortened and a series of 90-degree turns that went right/left/left/right/right were added. Additionally, for the first time in a long time, the REM racers went up and down Mt. Whitney and its small partner to the north—instead of just going up and over one side.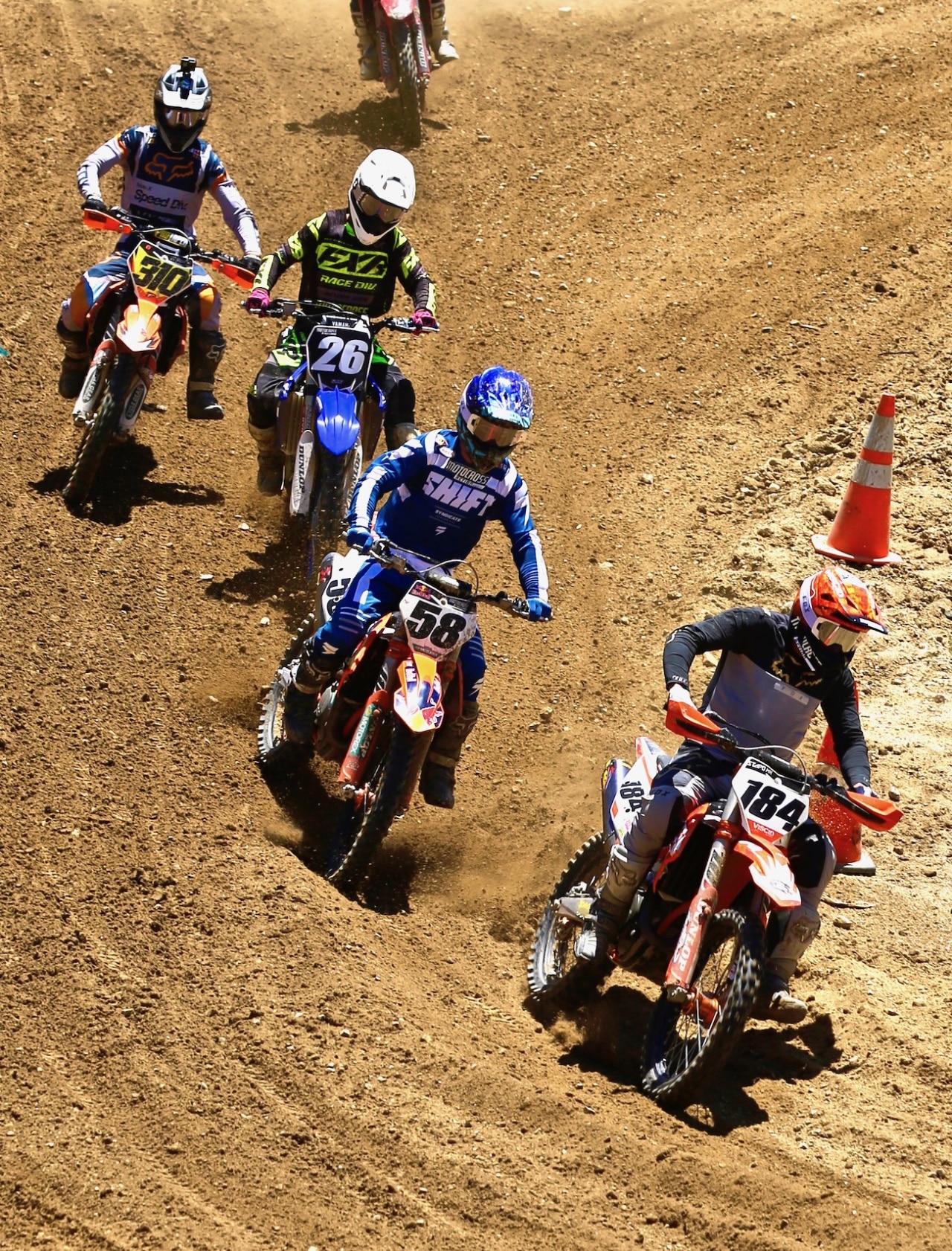 Three MXA test riders lead the Pro race with Dennis Stapleton (184), Justin Muscutt (58) and Brian Medeiros (26). Kai Aeillo (310) is fourth. Photo: Jody Weisel

The best race of the day was in the Pro class with Dennis Stapleton, Sean Collier, Justin Muscutt, Kordel Caro, Kai Aiello, Brian Medeiros, Connor Kilmartin and Tony Amaradio in the first gate, followed by Intermediates Jeff Fitzgerald, Tyler Nichols, Carter Dubach (who were combined with the Over-40 Experts) in the second gate.
Last week at REM, Ricky Dietrich took the 450 Pro win, while Collier and Stapleton battled for the runner-up spot. This week it was a four-man battle, as the MXA duo of Stapleton and Muscutt got to the front quickly and opened a gap on 250 Pro's Kai Aiello and Brian Medeiros. Sean Collier was not near the front in the first turn, but quickly moved up to fourth and starting working on third by mid-moto.
In the first moto, Stapleton led all the way to until the last lap — and then he flubbed the first right in the right/left/left/right combo. That put Collier right on his tail. When they went out of sight Stapleton was leading, when the came back over the hills, Collier was in front.
Kai Aeillo won the 250 Pro class with a 1-1 day. Photo: Dan Alamangos

"He got me in the same place where he passed me last week," said a bemused Stapleton. "I've got to be faster there in the second moto." As the second moto started Stapleton led with Kai Aiello following closely in front of Justin Muscutt. Sean Collier was busy working his way towards the front. Once he finally cleared most of the slower competition, he caught up to Aiello and Stapleton. Unfortunately, when things were looking up for Sean, he slid out trying to maintain max speed around the flat, fast and shiny sweeper below the tower. He laid his bike down, but was up quickly. The time  Sean lost was all Dennis Stapleton needed to pull away — and, on the last two laps, Stapleton dropped Aiello–who was  going to  win the 250 Pro class whether he stayed with Stapleton's KTM 450SXF or not.
Brian Medeiros switched from testing MXA's Honda CRF250 for the last month to a Yamaha YZ250F. Photo: Dan Alamangos
The Over-60 Expert class ended up being a two-moto rout for Dave Eropkin, but it wasn't as easy as it sounds. In the first moto, Randel Fout came from the back and caught Eropkin on the big downhill. Fout assumed that Dave was going to take the inside hairpin at the bottom of the hill because that was where he was aimed, so Fout,  who was right on Eropkin's tail, moved to the outside berm. But Eropkin changed his mind and jumped to the outside berm just in time to get tagged by Fout's front wheel. Fout felt so bad about knocking Eropkin down, that he left his bike laying on the track and went over and picked Dave's bike up and got him going again.
"I don't really care where I finish, but I felt bad about hitting Dave because he was leading. So, I help him get going. Luckily, he was able to win the moto and eventually take the overall" (as Fout switched to a different class for his second moto).
One of contenders to beat Eropkin with regularity is Val Tamietti, who is working his way back up to speed slowly after breaking his tib/fib late last year (for the second time). Val doesn't try to get the start and rides conservatively for 2/3rd of the moto and them picks up the pace to get into the top three. Val went 2-3 for second.
The other contender was Mike Monaghan. Mike has been winning the Over-60 Expert class on occasion on a Yamaha YZ250X offroad two-stroke. But Saturday was not his day. He crashed in almost every moto (and he raced both the Over-50 Experts and the Over-60 Experts). His crashes cost him any chance of making the top five and he ended up feeling worse for the wear.
Sean Collier (207) looked like he was on track to win the 450 Pro class, but spun out on a flat fast sweeper and allowed Dennis Stapleton to get away. Photo: Dan Alamangos
Enjoy the photos of this week's REM Glen Helen race. They were shot by Dan Alamangos, Debbi Tamietti, Jon Ortner and Jody Weisel.
EKS Brand's Rich Taylor (24) came out to spin some laps and looked good while doing it.  Photo: Debbi Tamietti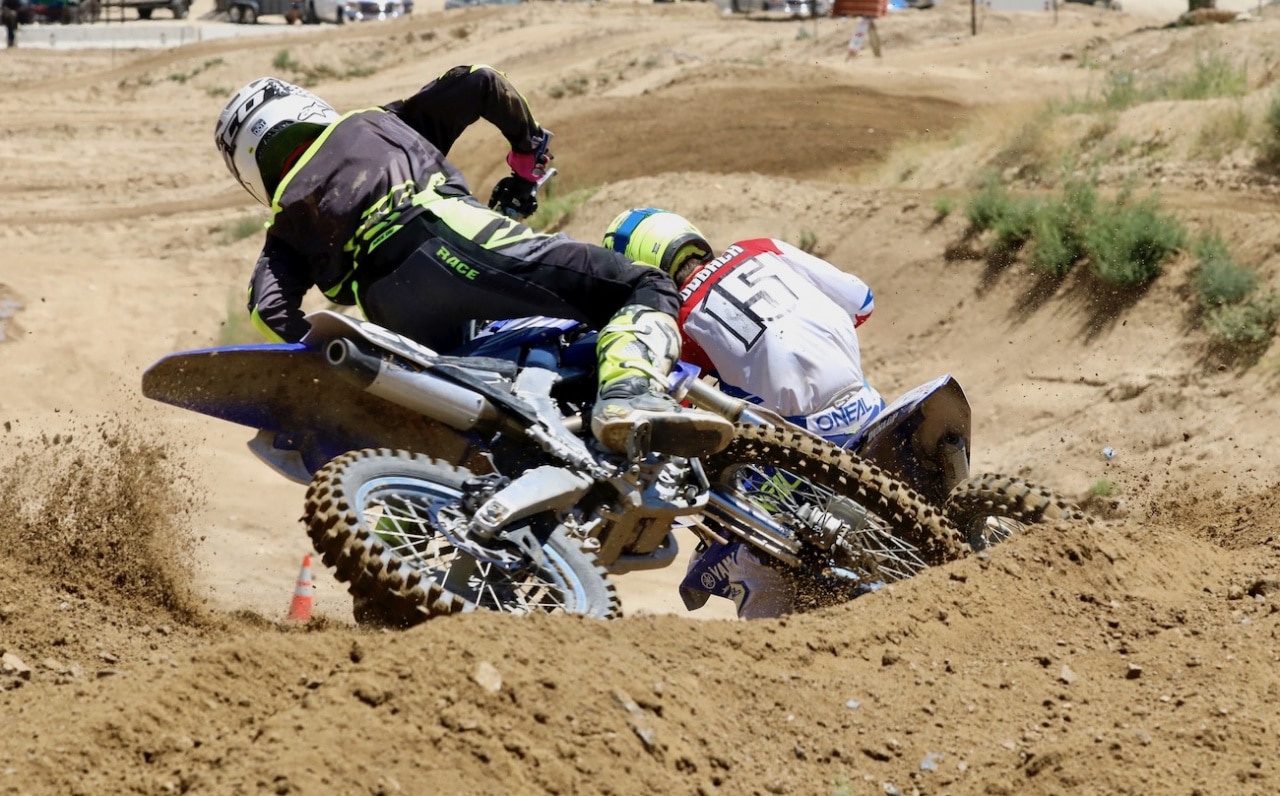 Crash photo #1: 250 Pro Brian Medeiros fell on the last lap of the second moto. He got up in time to jump in behind 250 Intermediate Carter Dubach (15). On a steep downhill Brian thought that he was going to accidentally ram Carter's swingarm, so he turned his front wheel away. Photo: Debbi Tamietti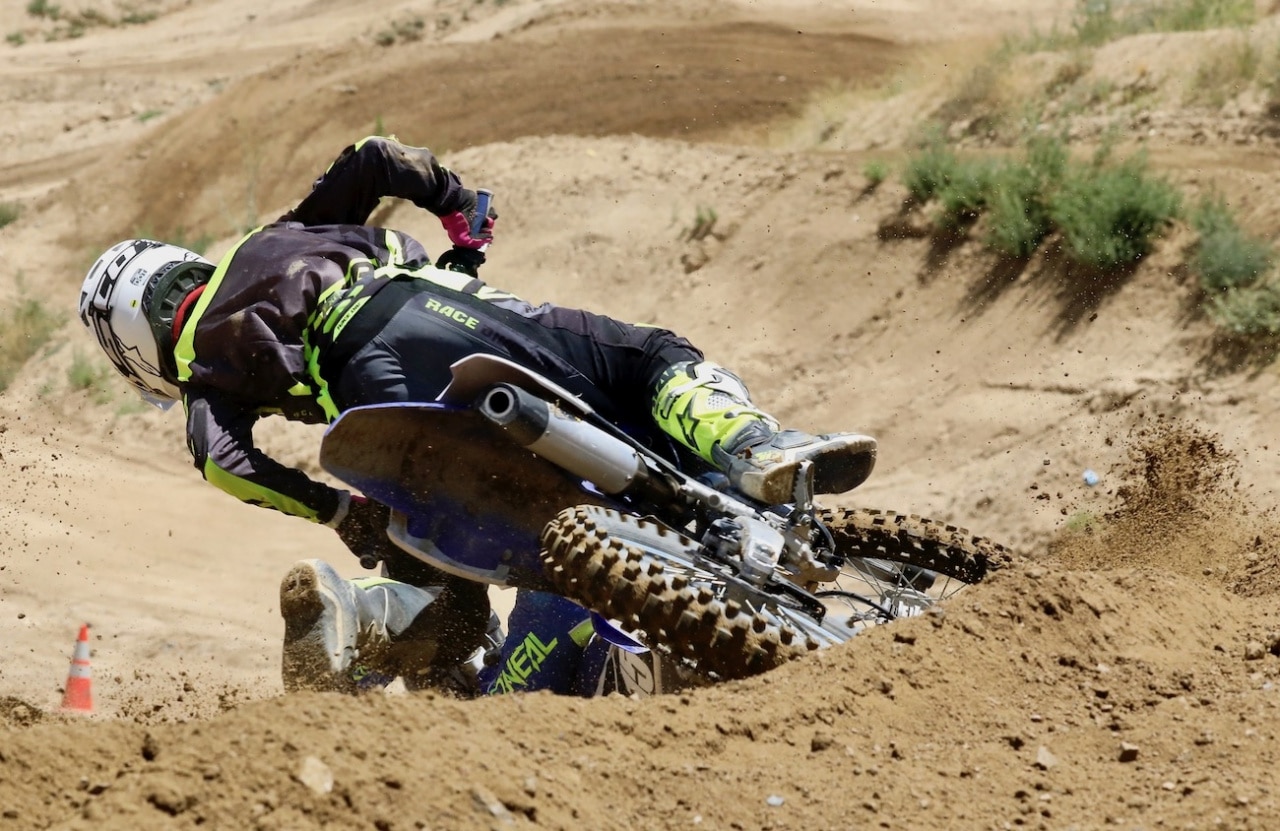 Crash photo #2: Unfortunately, as the front wheel went over the edge of the downhill it lost traction and Brian started to fall down the hill. Photo: Debbi Tamietti

Crash photo #3: Still trying to stay on his bike, Brian rode it into the ground—which was still falling away from him. Photo: Debbi Tamietti

Crash photo #4: And down he went, but got up in time to get second overall in the 250 Pro class. Dubach won the 250 Intermediates on a YZ125. Debbi Tamietti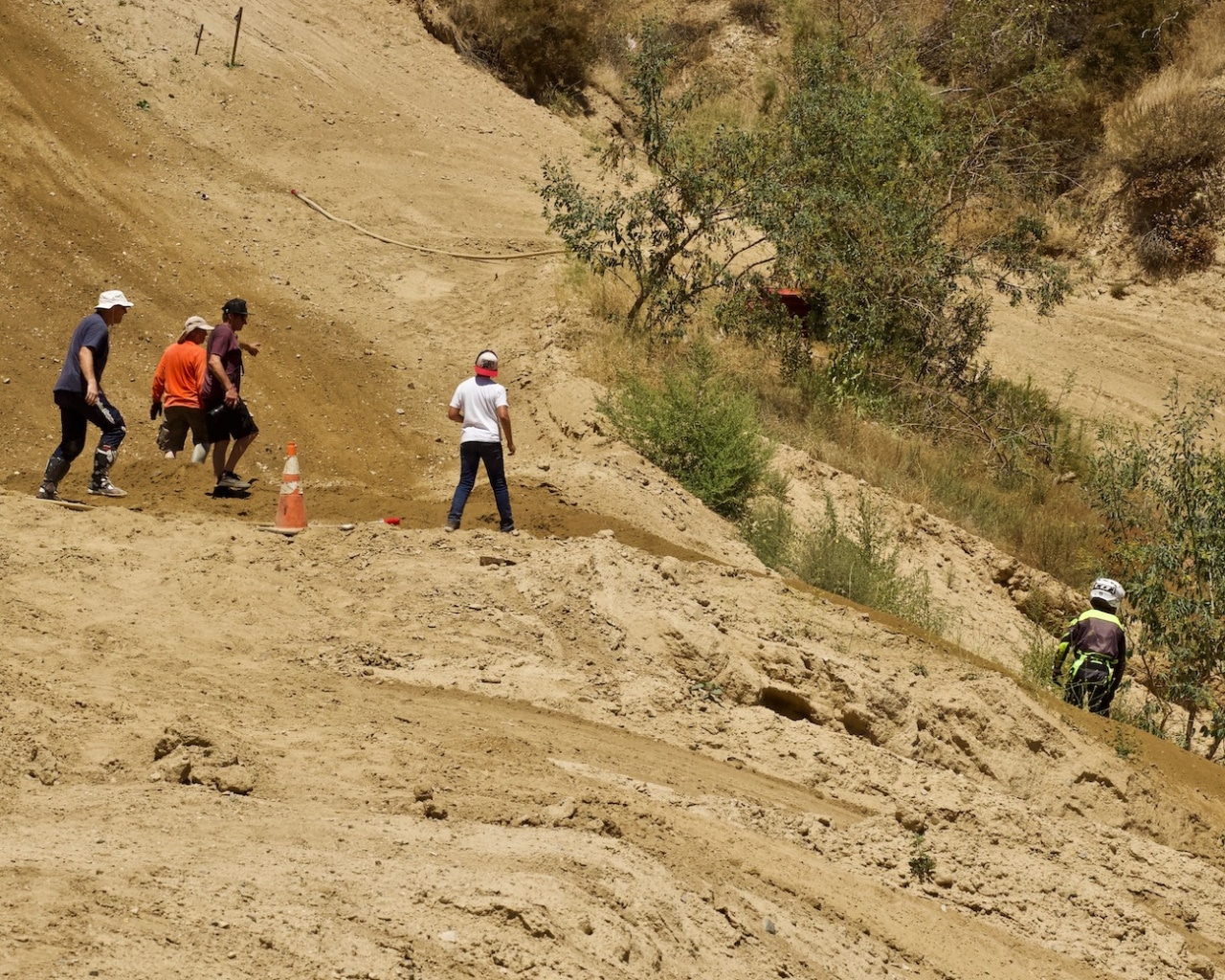 Crash photo #5: This is a side view of the hill that Brian Medeiros fell down trying to avoid Carter Dubach. Medeiros bike is farther down the hill.  Photo: Jon Ortner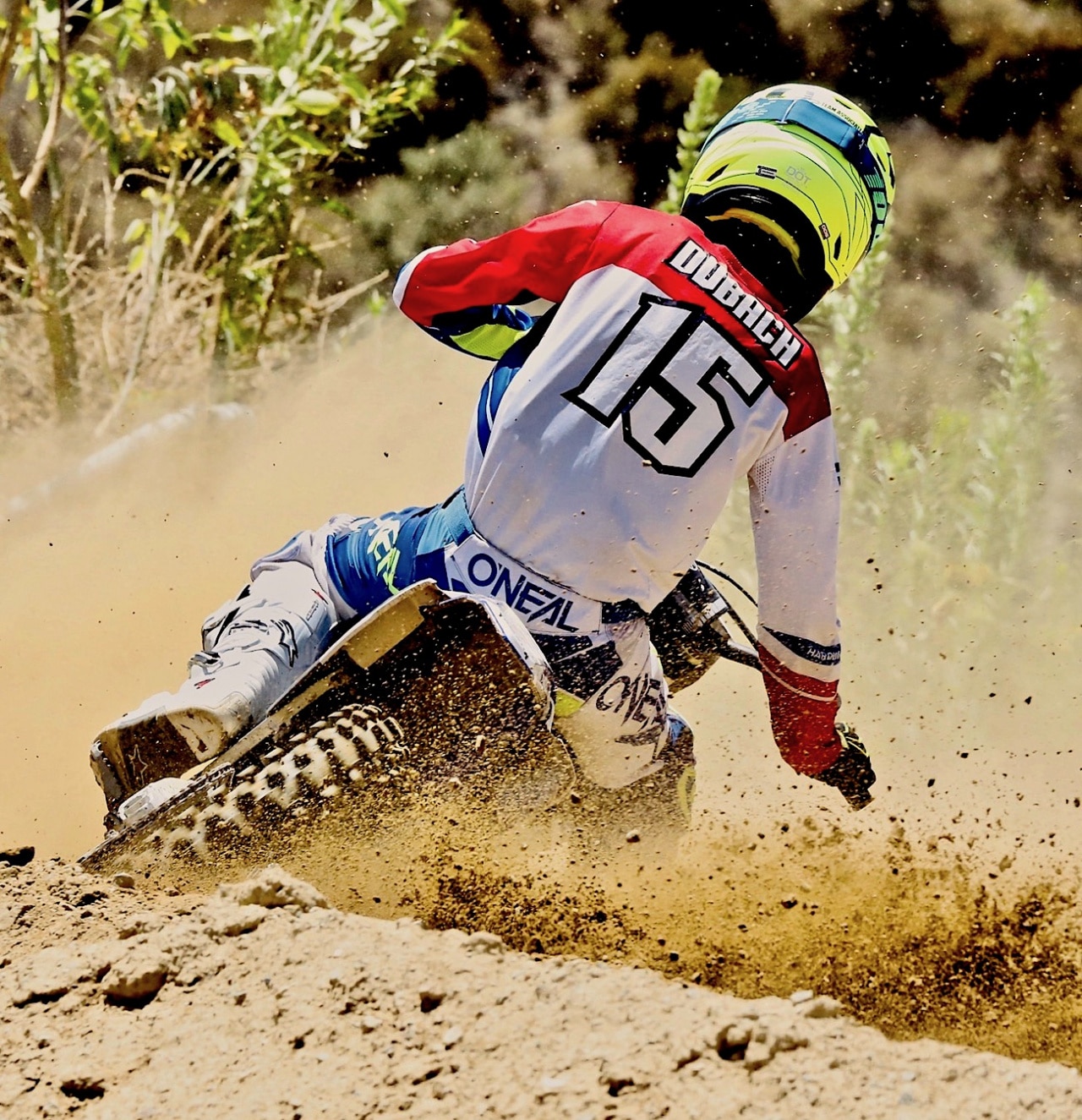 Carter Dubach (15) keeping it pegged. Photo: Debbi Tamietti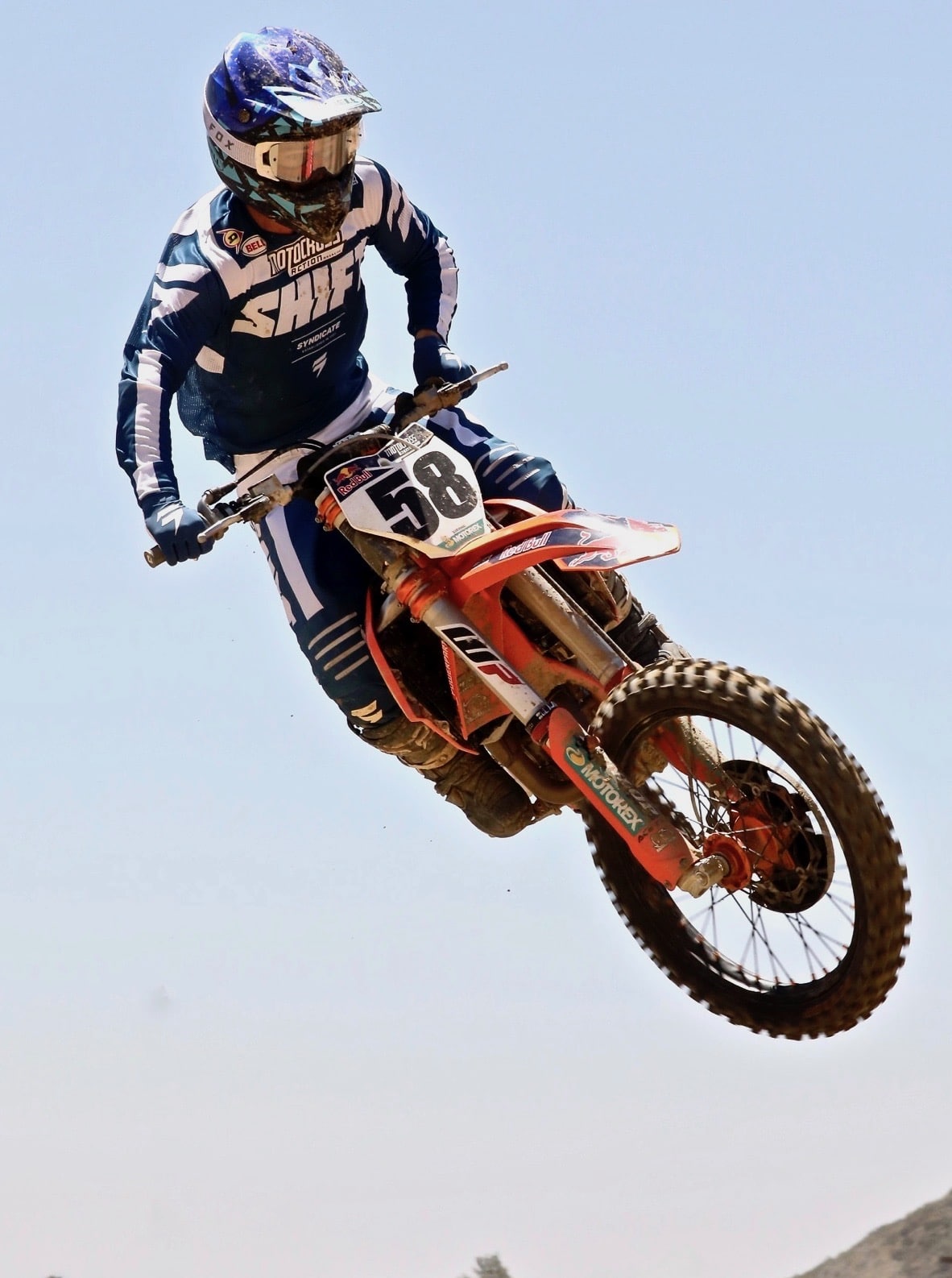 Justin Muscutt (58) got great starts on MXA's KTM 450SXF Factory Edition and held his own against Stapleton and Collier. Photo: Debbi Tamietti

Phil Dowell (23) head sup the hill, while two riders turn and come back down. Photo: Jody Weisel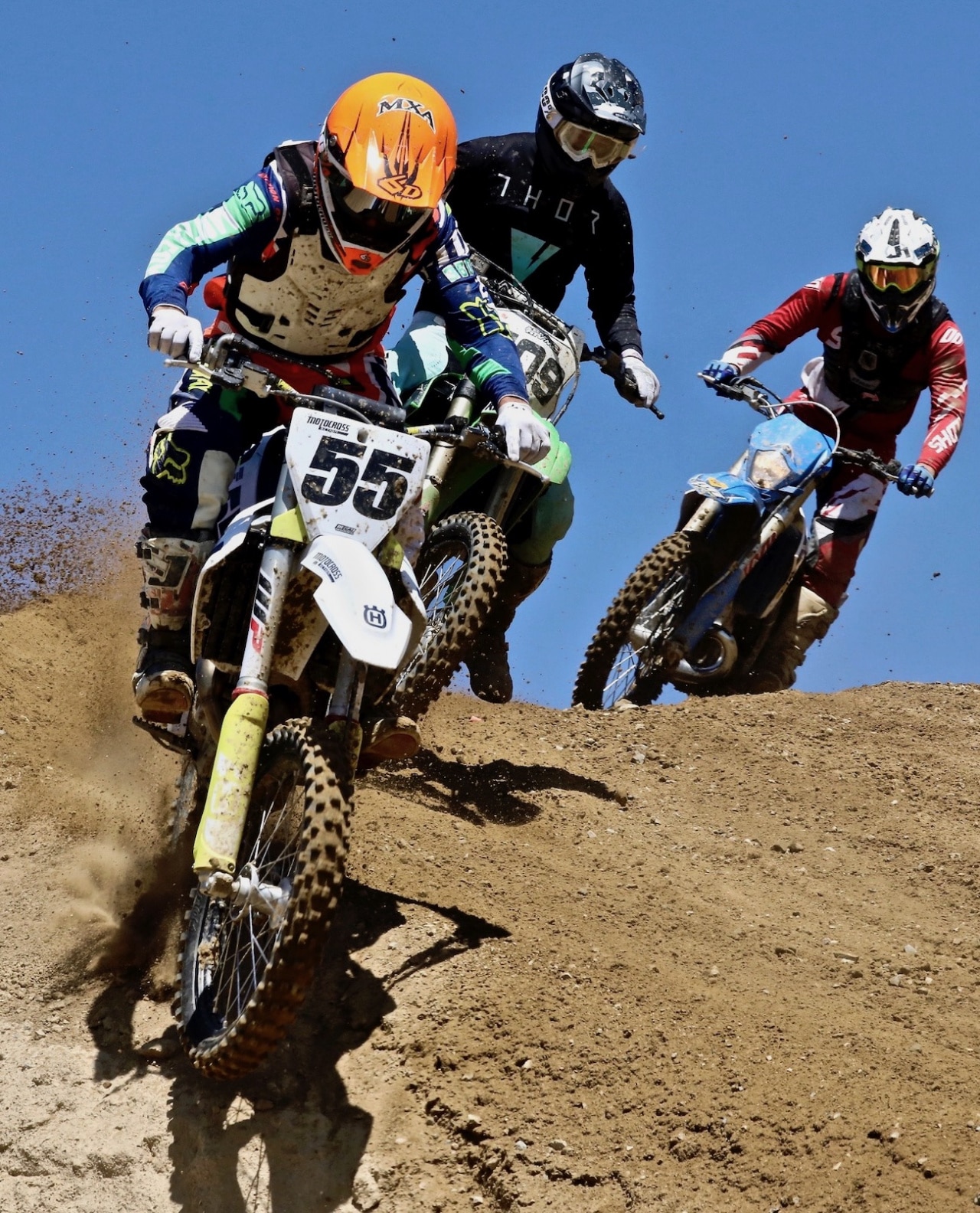 Dan Alamangos (55) breaks new ground on his way down this drop-off. Nick Waters (109) and Ralf Schmidt learn from the Aussie's mistake. Photo: Debbi Tamietti
Ralf Schmidt (73) was second in the Over-40 Experts class on a TM MX300. Photo: Dan Alamangos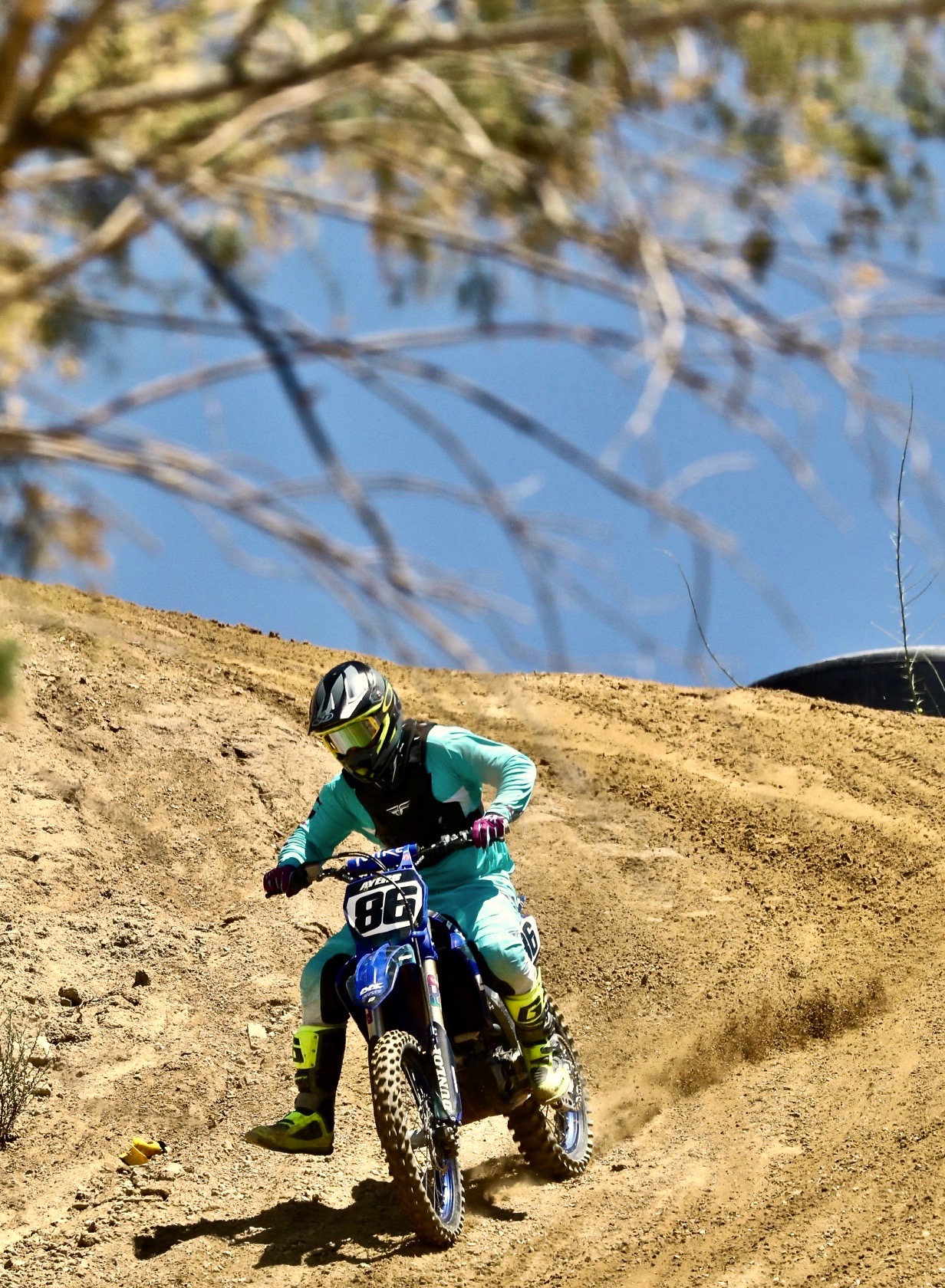 Chris Ayers (86) skates around the high side of this off-camber, downhill, right-hand turn. Photo: Debbi Tamietti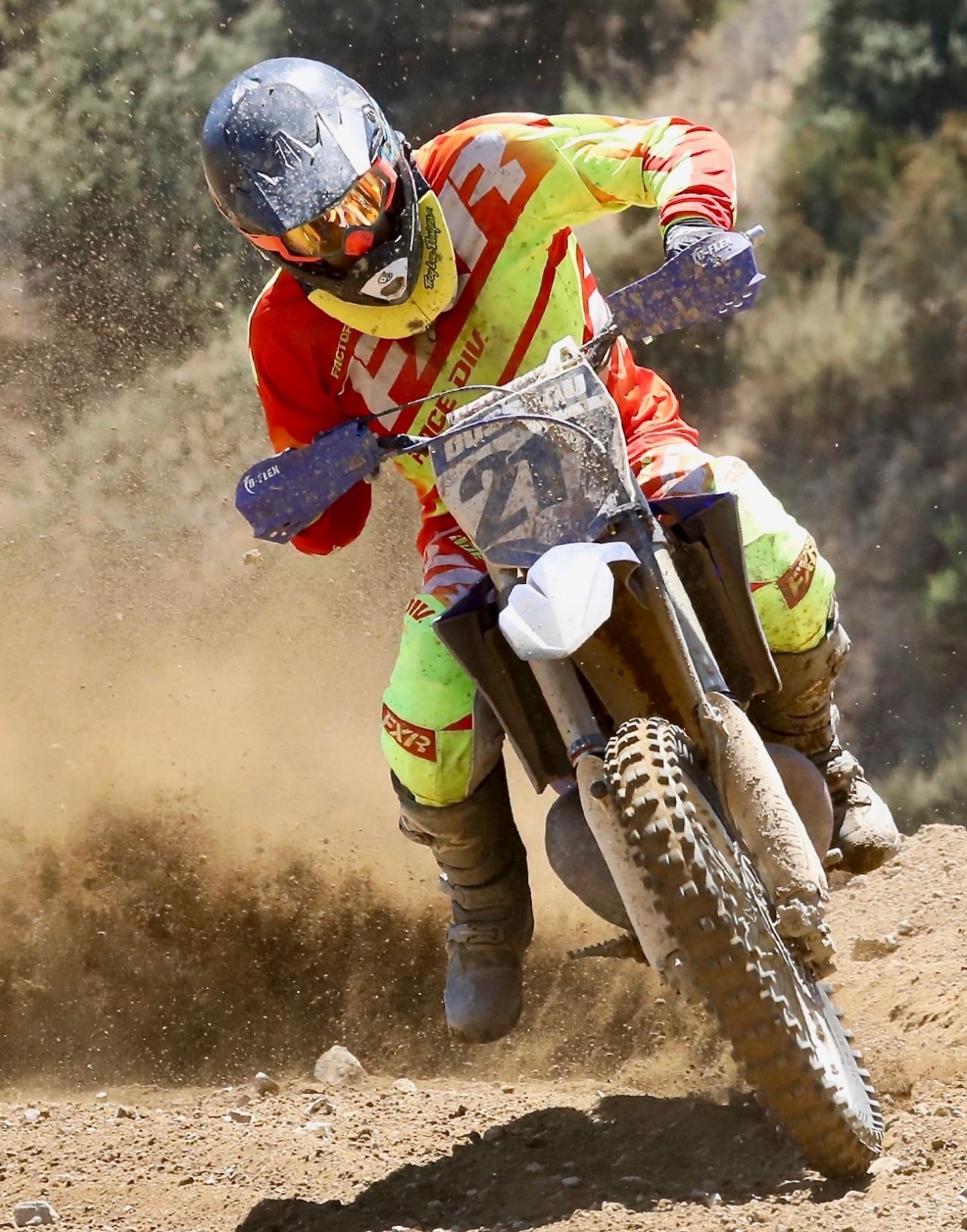 Lamont Dusseau (217) went 2-2 in the Over-40 Novices. Photo: Debbi Tamietti
The Collier clan. Photo: Debbi Tamietti
Mike Burgmeier (999) went 4-4 in the Over-40 Novice class. Photo: Jody Weisel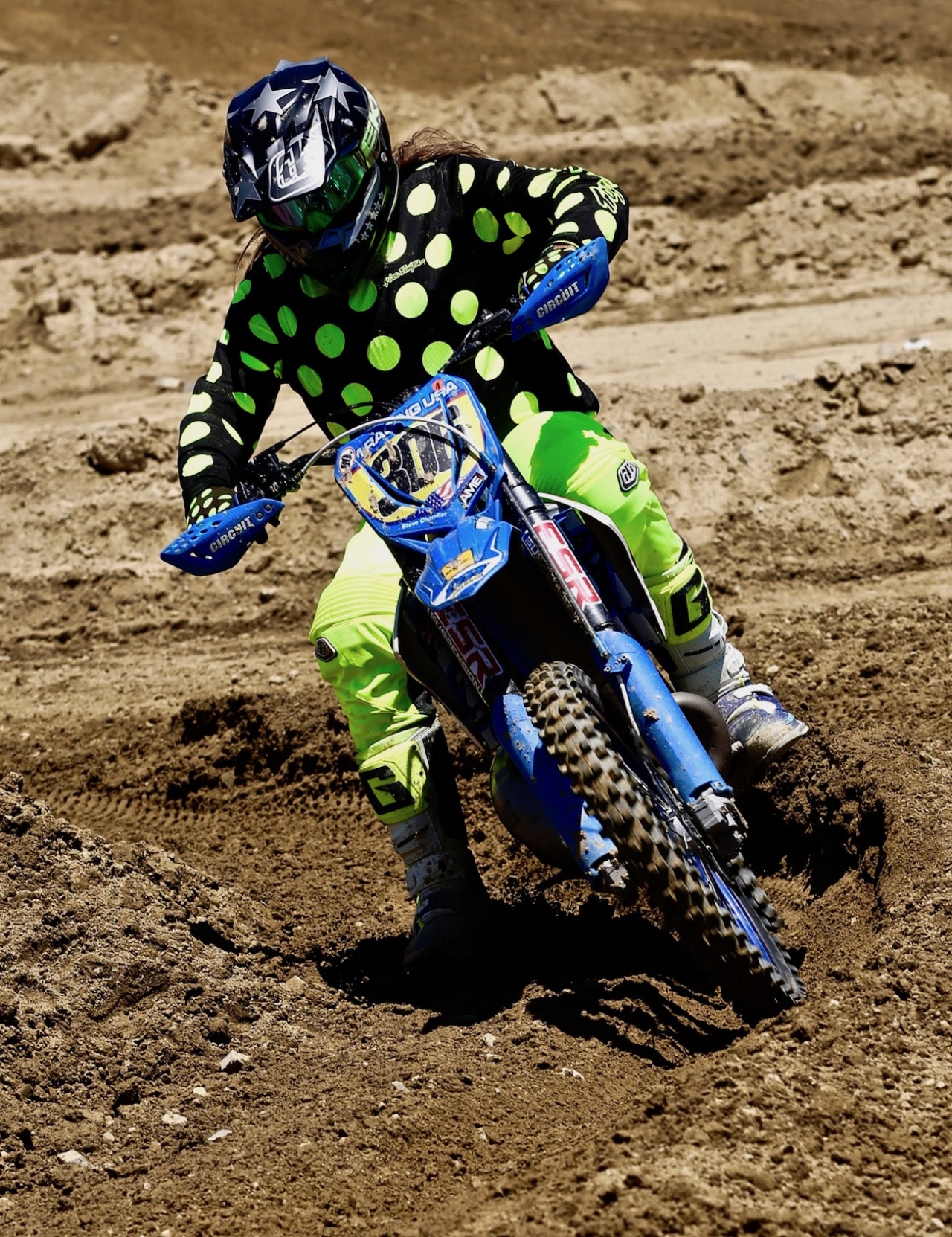 Steven Chandler (306) used his TM two-stroke to go 2-2 behind Duane Joice in the Over-60 Intermediates.. Photo: Jody Weisel

STI Tires Craig Petersen started the day on his rusty Honda CR125, but switched to a Yamaha YZ125 for the Over-40 Novice class. Photo: Jody Weisel

While the REM gang was racing on the REM track, the National track was being used for an UTV race. Photo: Debbi Tamietti
Kordel Caro (76) makes one of his rare appearances at REM. Photo: Dan Alamagos

Randel Fout (36) on MXA's project Honda CRF450. Photo: Dan Alamagos

Robert Pocius (153) grabbing a handful. Photo: Debbi Tamietti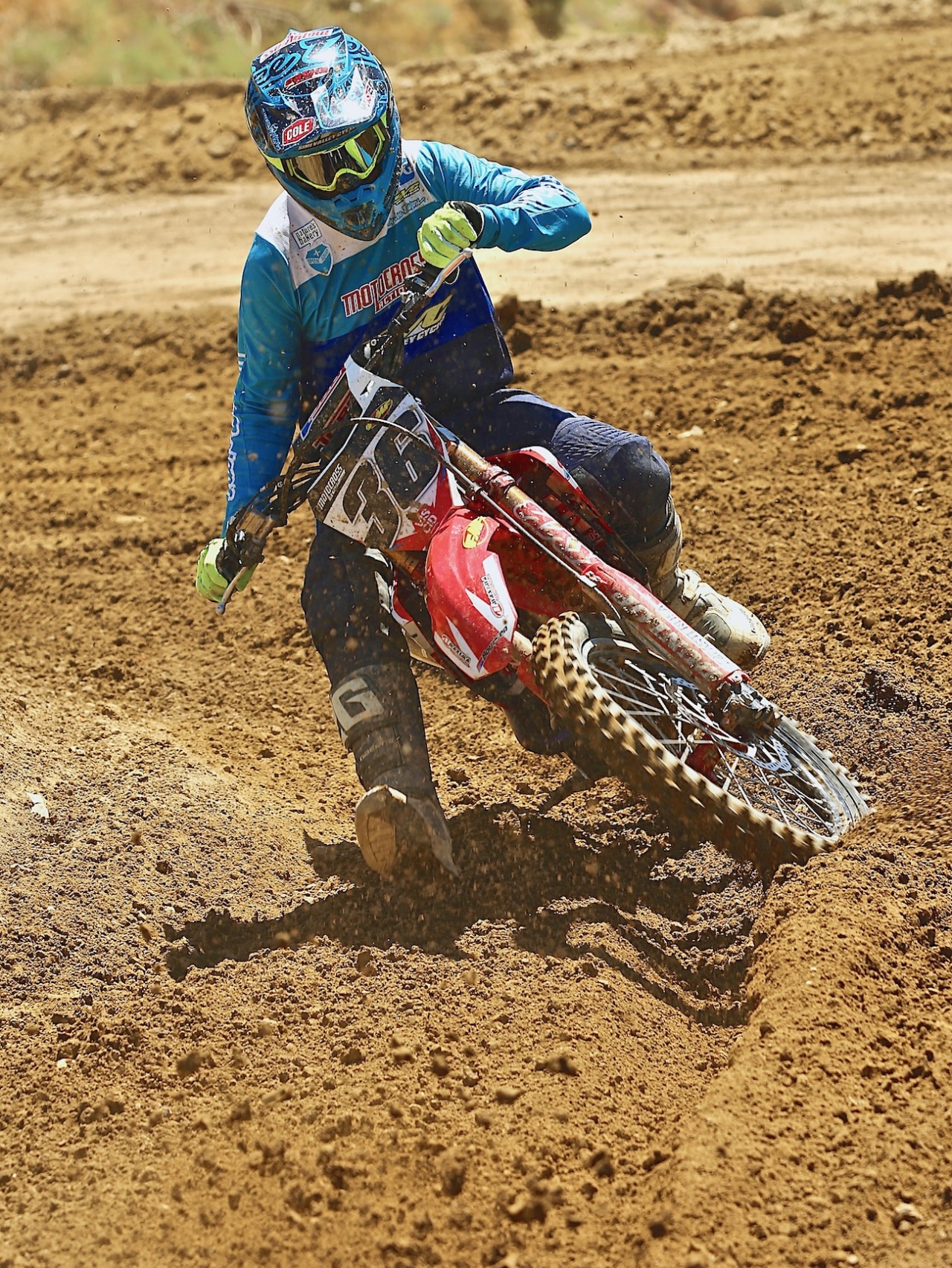 Jon Ortner (36) showed up to race his Simi Valley Yamaha YZ450F, but MXA drafted him to help with testing on its CRF450 project bike. Jon went 3-2 for second in the Over-50 Elite class. Photo: Jody Weisel

Mike Monaghan (36) crashed, by conservative estimate, 7 times on Saturday. His worst crash was in his third moto, but decided to race his fourth moto anyway.  Photo: Jody Weisel

Damion Collier cheers dad on in the 450 Pro race.  Photo: Jon Ortner

How many classes can be on the track at the same time? This is Over-40 Expert Ralf Schmit (73), 250 Intermediate Carter Dubach (15) and Vet Pro Tony Amaradio (130) racing in three separate classes at the same time—and obviously not cutting each other any slack.  Photo: Jon Ortner
REMAINING 2019 REM RACE SCHEDULE
Aug. 10…Glen Helen
Aug. 17…Glen Helen
Sept. 21…Glen Helen
Oct. 4…Glen Helen
Oct. 19…Glen Helen
Oct. 26…Glen Helen
Nov. 16…Glen Helen
Nov. 23…Glen Helen
Dec. 14…Glen Helen
Dec. 21…Glen Helen
REM will not return to Glen Helen until Saturday, August 10. For more info about REM motocross go to www.remsatmx.com or their Facebook page by Clicking Here.