REM MOTOCROSS RACE REPORT: WHO'D A THUNK THEY COULD ADD ANOTHER HILL AT GLEN HELEN
This hill, although not new, hasn't been used on the REM track in years. It has an identical brother 100 feet behind it (and the second hill is followed by an even steeper uphill, steeper yet downhill, and finally one more climb back to the front part of the REM track). Photo: Debbie Tamietti

PHOTOS BY DEBBI TAMIETTI, JON ORTNER & ERNIE BECKER
REM wanted to squeeze in one last race into September before Glen Helen used the whole park for massive multi-day events like the WORCS series (both motorcycle and quads), the 24 Hours of Glen Helen, a Tough Mudder Run, the REM Octobercross, World Vet Championship, a Mud Factor Run, Travis Pastrana's Nitro Rallycross and The Day in the Dirt. The REM racers don't want to take a long break (or even a short break), but the forced layoff will allow injuried riders to heal and eventually come back healthy for the October 30th Octobercoss race, which is the traditional warm-up race for the 2021 World Vet Championship on November 5-7. The Octobercross is run on a close version of the World Vet layout, which means it a very popular event for riders who want to sneak in some real-world practice five days before the World Vet starts.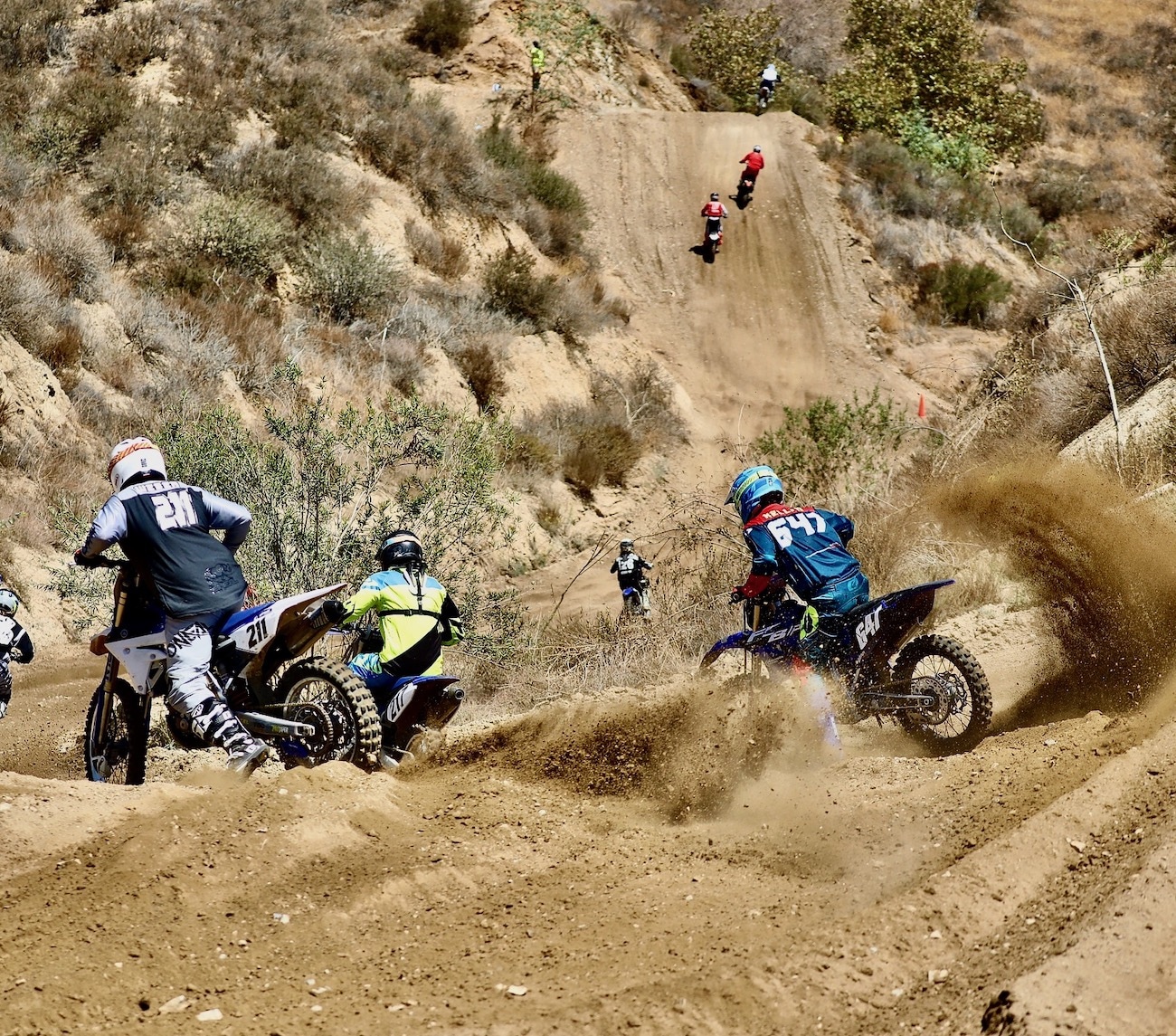 The new hill is hidden from spectator's view in the canyon on the other side of the Mt. Whitney ridge. Here, Robbie Weber (211), Lamont Dusseau (217) and Paul Kellen (647) get their first look at the hill. Photo: Debbie Tamietti

Even with this past Saturday's race being the last one for a month, REM still took the time to add a new section to the race track. The most intimidating thing about the new section was that it looked like a medium-size hill midway down the sand straight in the canyon, but it turned out to be three hills crammed together in quick succession. For the first hill, the riders veered to the left off the back straight and angled up a short, quick uphill. You could jump the top of the hill like a tabletop, but most of the saner riders elected to ride over the top instead of jumping, because the track turned to the right instantly at the top to line up with the second hill. If you jumped too far, you would land off the track. The next uphill was super-steep, but even steeper was the the following downhill that required a hard right-hand turn in order to make it down what felt like a vertical drop. At the bottom of this downhill was a slippery banked corner that turned 180 degrees to the left to go over a jump that led back to the front portion of the track. It was very technical.
Geremy Patterson (846) and Zack Wiley (13) come through the switchbacks that lead to the new hill. You can see the rider ahead of them at the base of the climb (upper right.) Photo: Debbie Tamietti

These three new hills, all of them out of sight to the fans in the pit, were in conjunction to three other climbs that the spectators could see from the pits. There were lots of spills in the sandy corner that led to the back straight , but no crashed on the new hills. However, Over-60 Intermediate Corby Reutgen was knocked out on that flat straight that led to the banked first turn when he hit a series of stutter bumps and lost the front end. Get well soon Corby. Meanwhile, 450 Beginner Isaak Uribe misjudged a tight left-hand turn at the crest of a hill and flew straight into the bank at the top of the hill. Both races were red flagged as the medics tended to Uribe's ankles and Reutgen's head.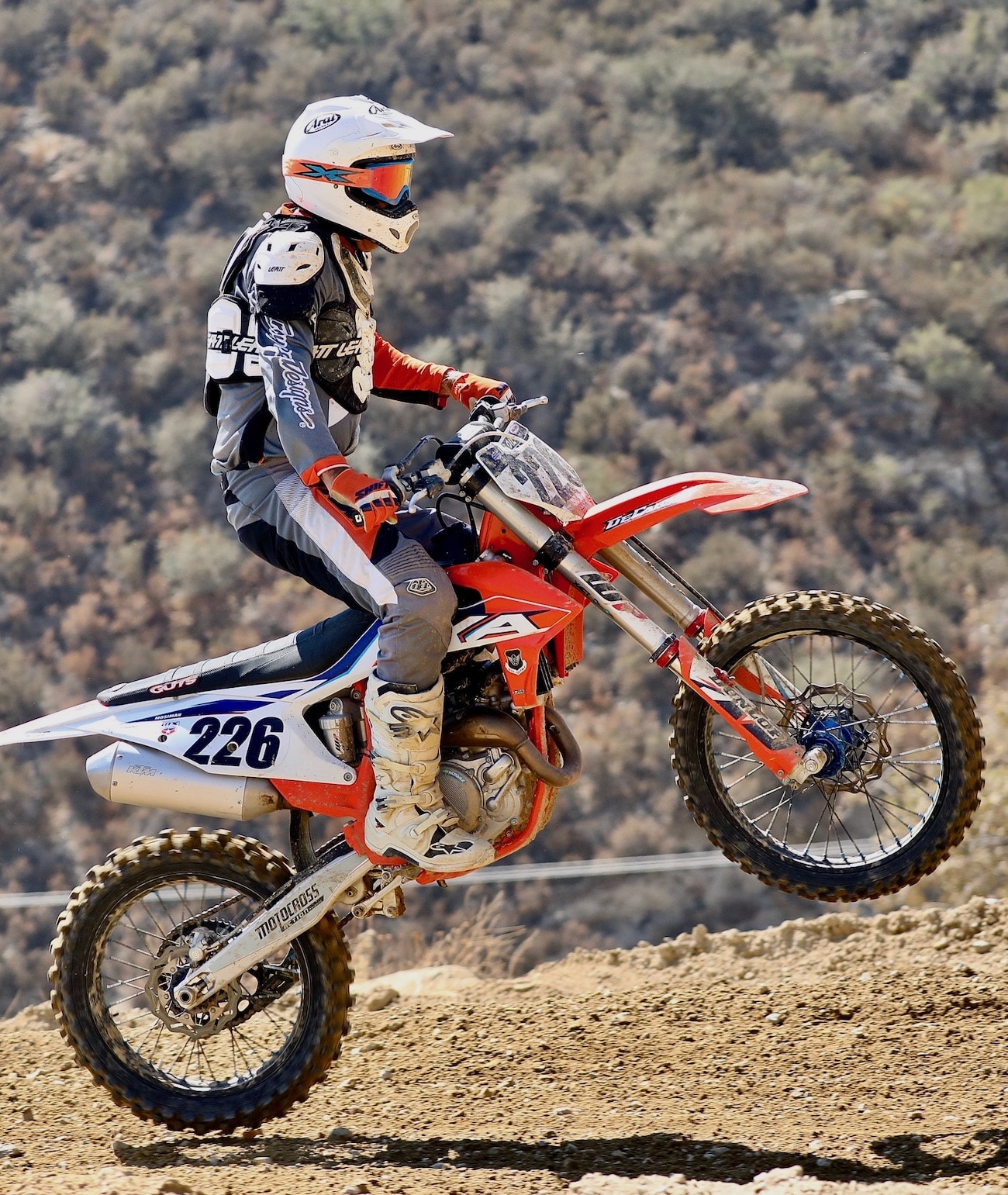 Last week MXA's Josh Mosiman raced this stock 2022 KTM 450SXF at the Hangtown 450 National. This week Randy Skinner raced it as a continuation of  MXA's testing in the Over-60 Expert class to a fourth overall. MXA races its test bikes every week in Pro, Intermediate and Vet class (from 30 to 65). Photo: Debbie Tamietti

Another MXA endurance test rider, Luc De Ley (73), won the Over-60 Intermediate class on a GasGas MC 250F. The Over-60 Intermediates were the biggest class at REM on Saturday. Photo: Debbie Tamietti

Kuwaiiti motocross star Barrack Aljasmi (2) comes to the USA every year to develop his motocross skills. Barrack went 2-2 in the Vet Novice class. Photo: Debbie Tamietti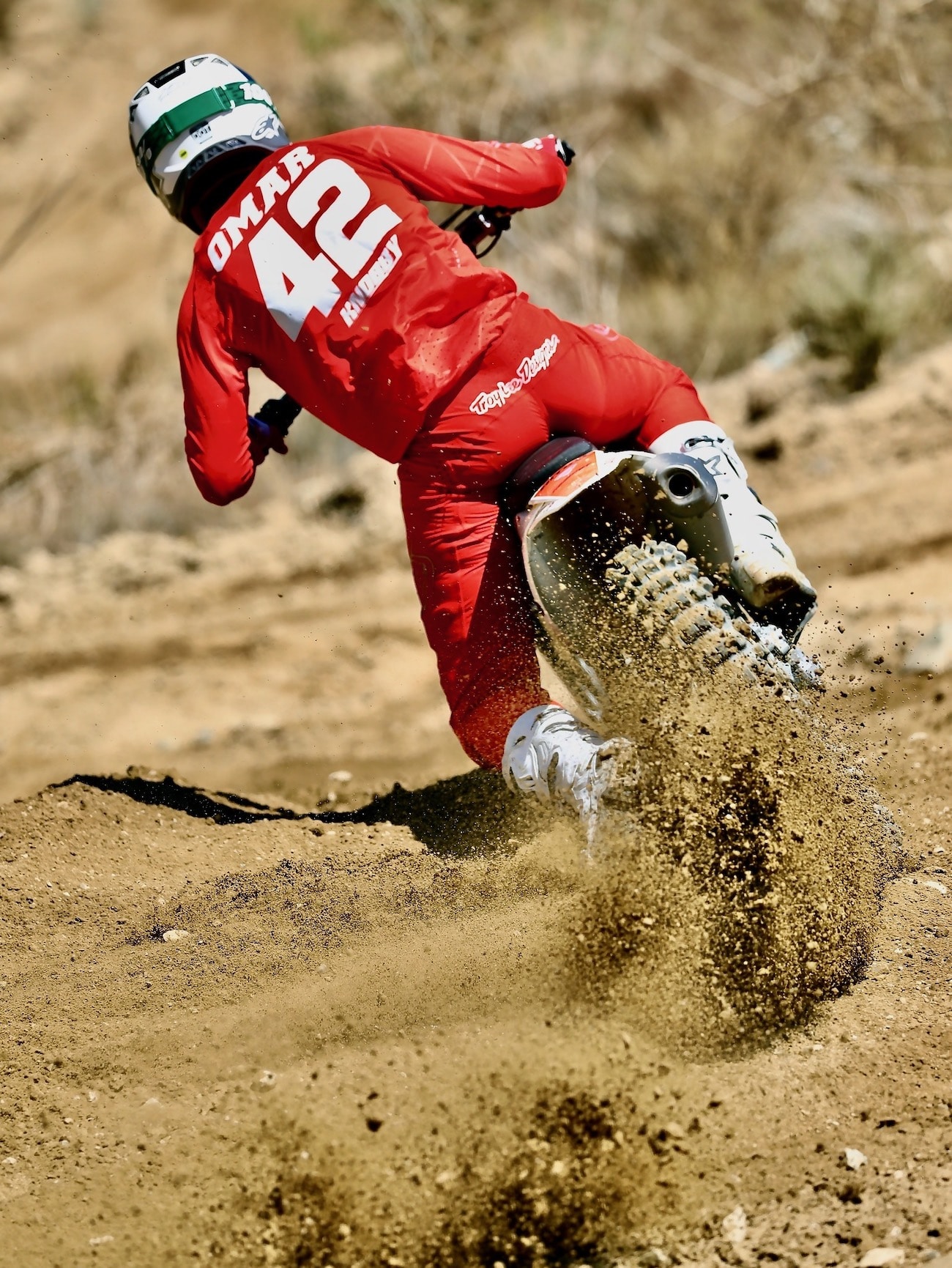 Kuwaiti Air Force Captain Omar Almedlej (42) came to SoCal for the first time to try his hand at American-style racing.  It was more intense, rougher and faster than Kuwaitti motocross tracks, but Omar went 5-6 in the Vet Novice class. Photo: Debbie Tamietti

Twisted Development's Jamie Ellis (40) is back from his 2021 AMA National Motocross Championship duties and took his first weekend off to come to REM and race. Jamie went 1-1 in the Vet Intermediate class. He loved the low-pressure life in the pits at REM. Photo: Debbie Tamietti

Kenny Licon (924) went 2-2 behind Jamie Ellis, while his brother Joel went 3-3 in the Over-30 Intermediates.Photo: Debbie Tamietti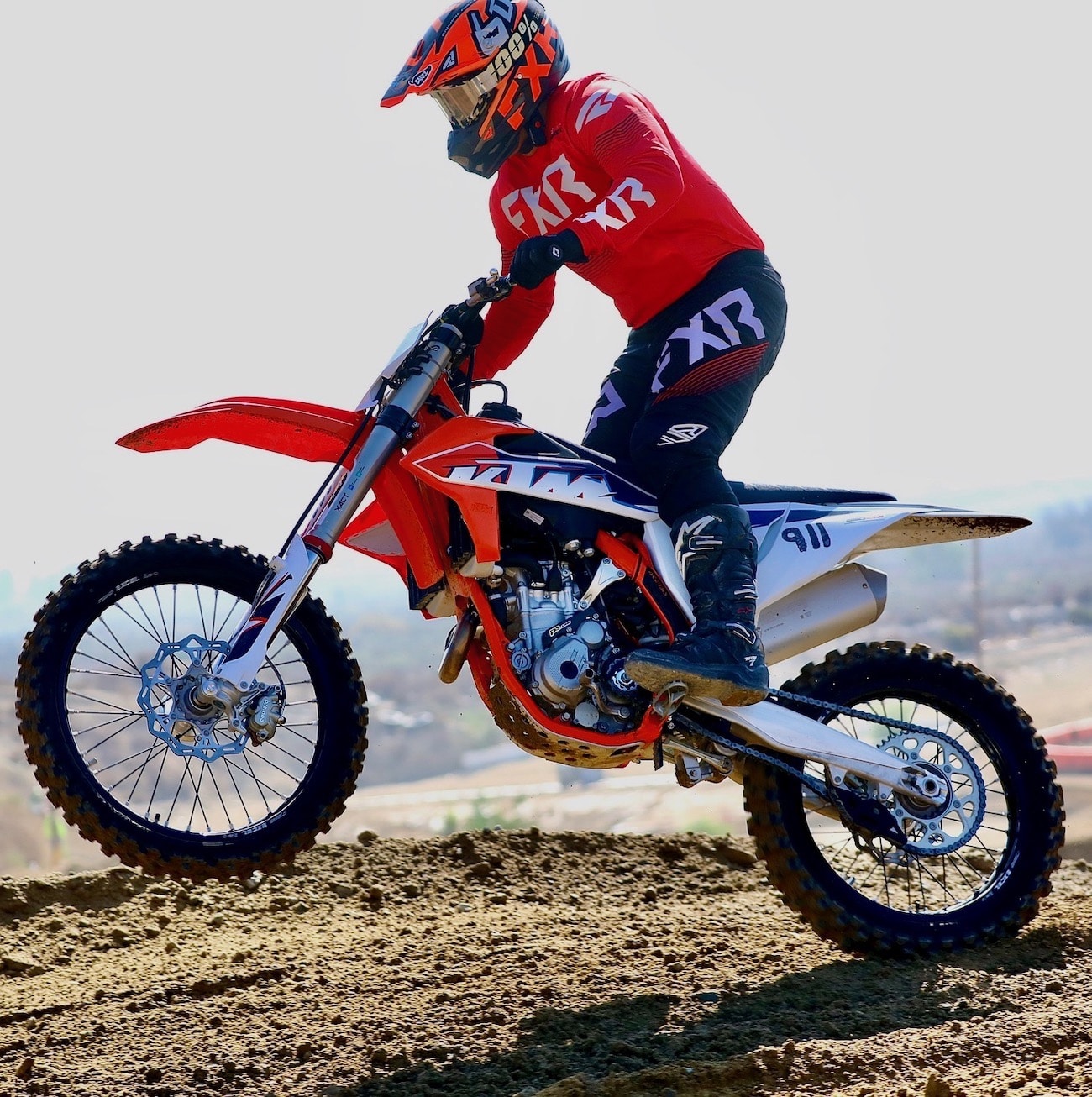 Isaac Uribe (911) whiskey throttled up a hill and instead of turning left at the crest to go back down the hill, failed to shut off and flew into a dirt wall. Isaac suffered ankle injuries and his new KTM will be on the sidelines for awhile. Photo: Debbie Tamietti
MXA's Josh Fout (94) slides his KTM 450SXF rear wheel to make a quick cutback coming out of this sweeper. Photo: Jon Ortner

Geremy Patterson (846) and dad Geoff (211) got a chance to play around together in practice.Photo: Debbie Tamietti

The Patterson clan: Geoff with his son Geremy and daughter Cammie with girlfriend Lynette at the rider's meeting. Photo: Debbie Tamietti
MXA test rider's Dennis Stapleton (left) and Brian Medeiros (right) were at REM hanging out. Dennis came out to watch over the Kuaitti team, while Brian just got back from a month visiting his family in Kaui. Photo: Debbie Tamietti

Preston Tilford (11) rocketed into the lead of both Pro motos, but his long seven-year lay-off from racing was no help in fighting arm pump. He had to pick a pace that allowed him to finish. Photo: Debbie Tamietti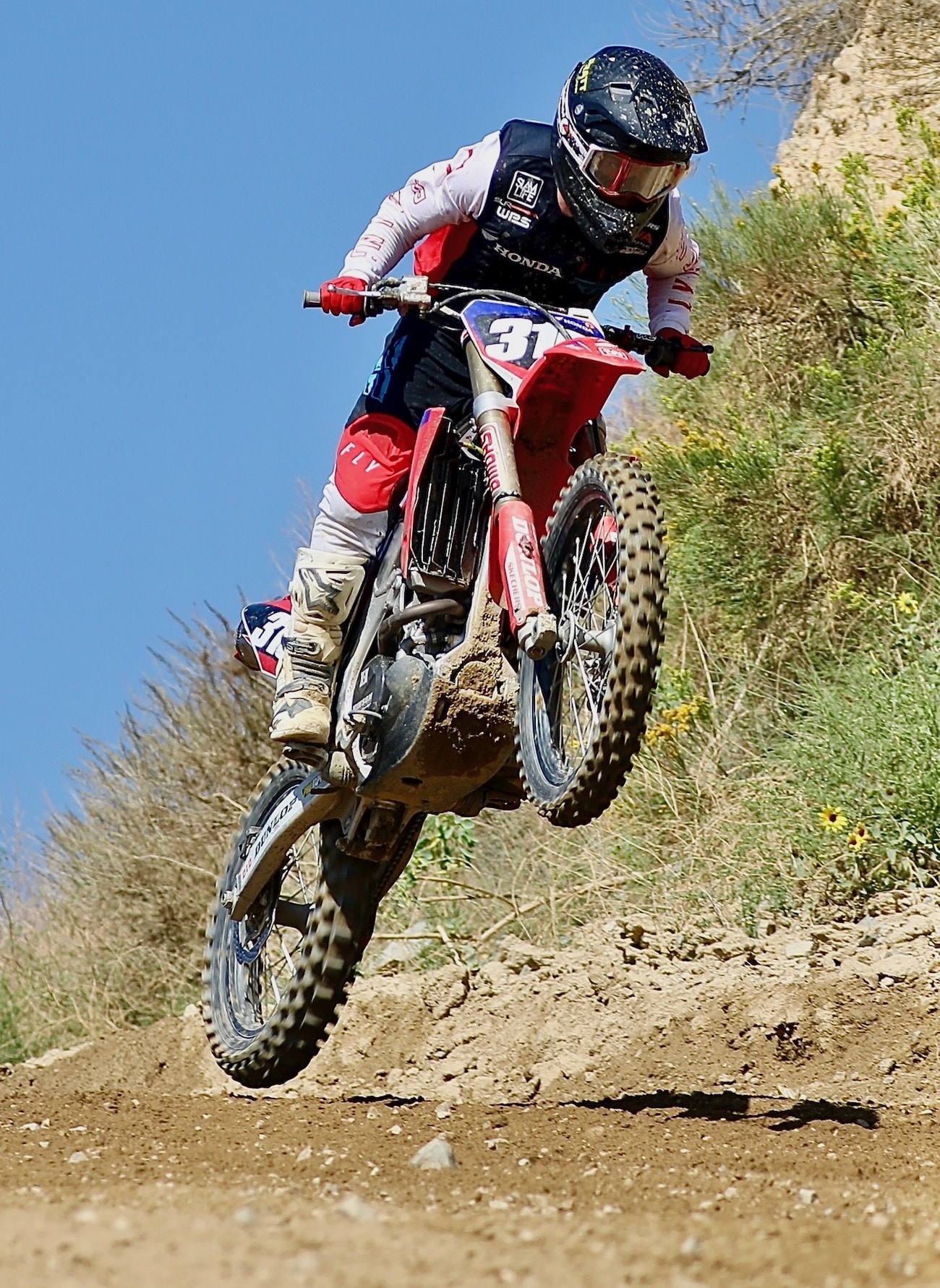 250 Intermediate Evan Stice (316) chased the Pro riders for a couple laps and then powered his way to the overall win of the combined 250/450 Intermediate/Pro race. Photo: Debbie Tamietti
Richard Taylor styles for awhile in the 250 Pro class. It was his first race in over a year. Photo: Debbie Tamietti
Pasha Afshar tries to walk on air, but thought better of it once his KTM reached its peak height. He put put his left foot back on the pegs rather than turn a Can-Can into a Can't-Can't. Photo: Jon Ortner

Pete Anagnos (29) won the Over-50 Intermediate class with a 3-1. Mike Phillips (433) went 10-10, but in the first turn they were dead even. Photo: Debbie Tamietti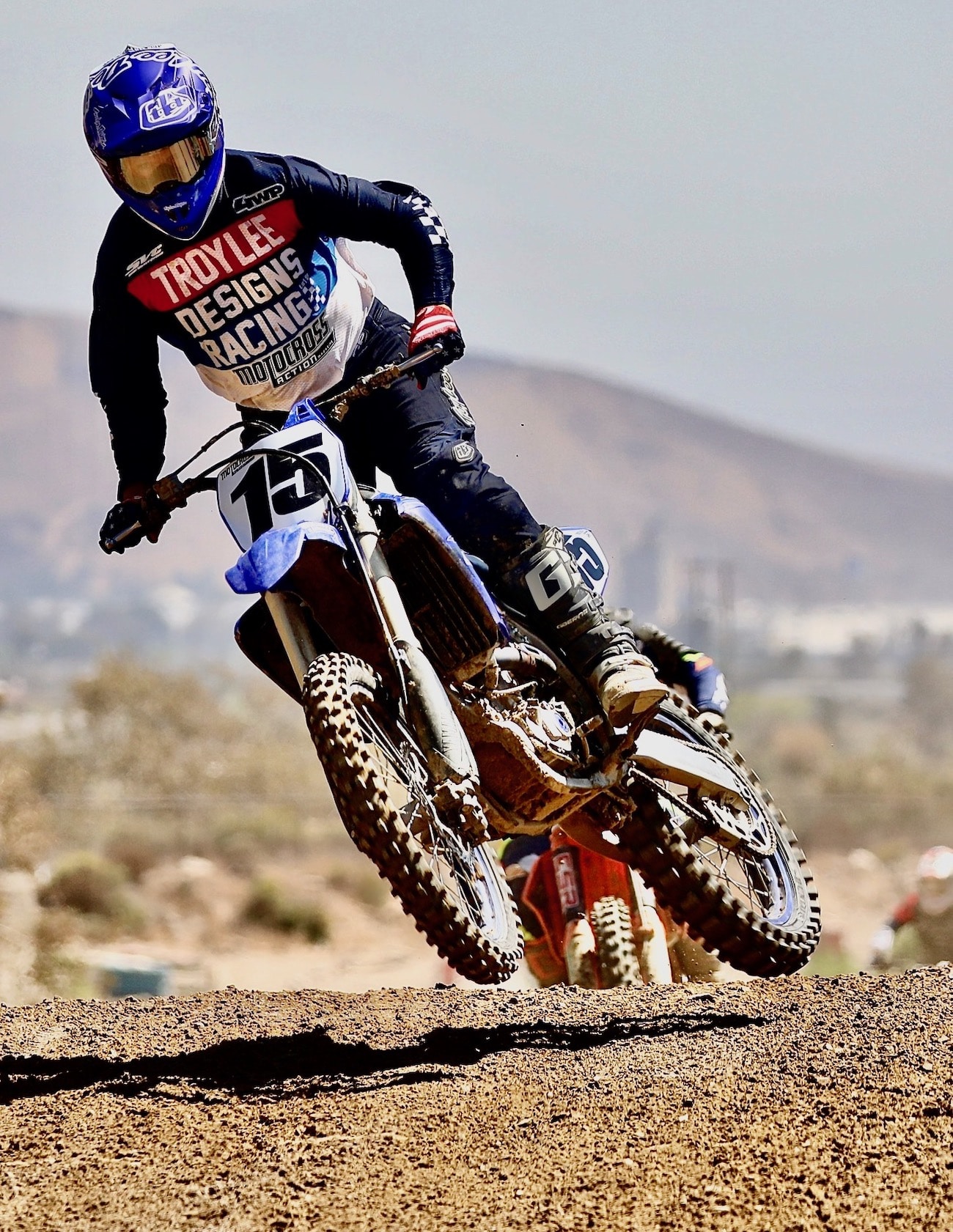 Jon Ortner (15) won the Over-50 Elite class with a 1-1 day, but Kevin Barda, Robert Reisinger and Ron Shuler made a race out of it in second, third and fourth places. Photo: Debbie Tamietti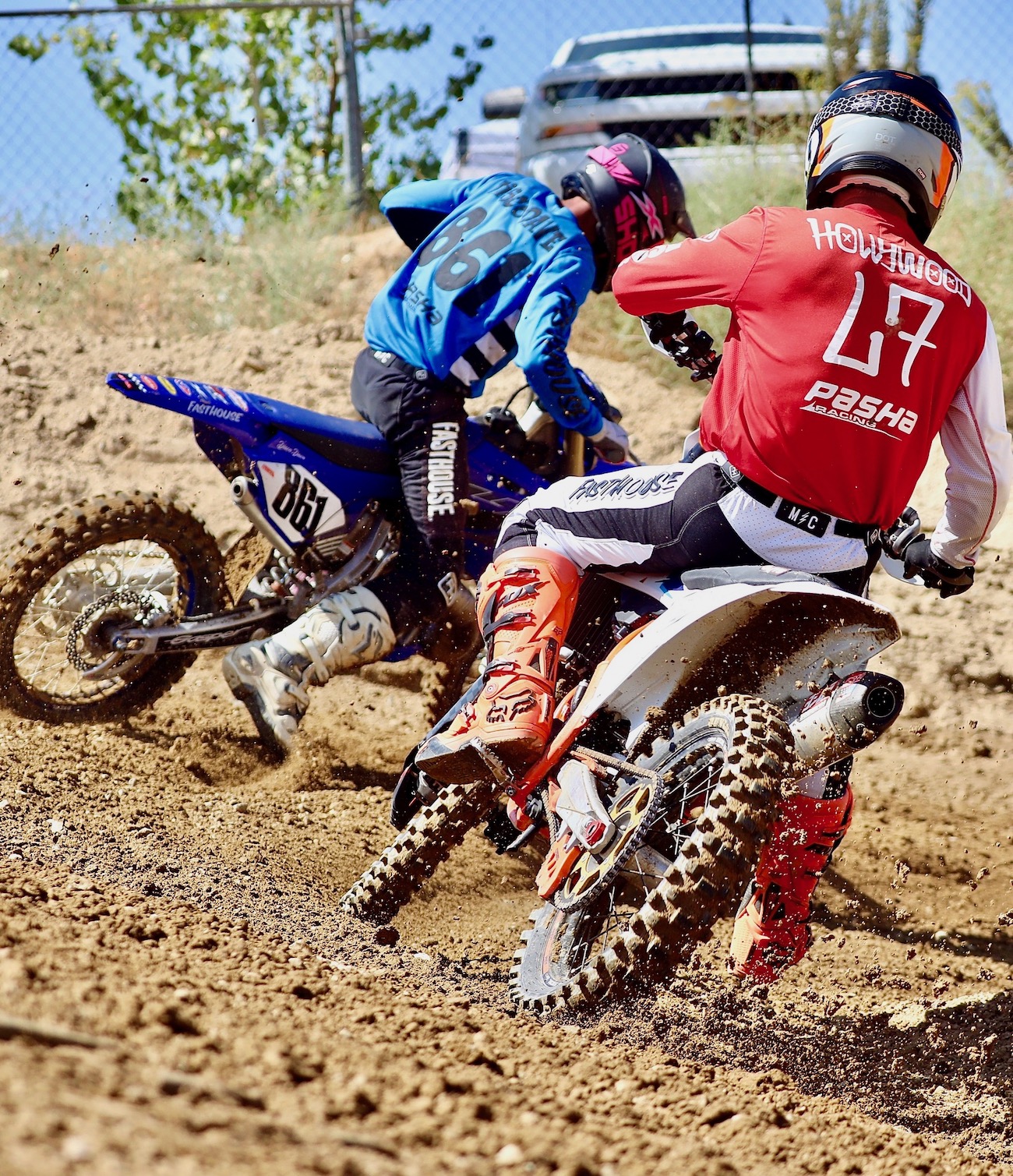 Pasha Afshar is busy make big plans for the 125 Pro classes (Over-30 and Over-50) for the World Vet Motocross Championship in November. Luckily, Pasha does his best thinking in the saddle. Pasha won the Over-50 Expert class with a 2-1. Here, he zeroes in on buddy David Cincotta's brand-new 2022 YZ250. Photo: Debbie Tamietti
Although Dave Eropkin (811) led the Over-60 Expert class, Robert Reisinger (96) came through for a 1-1 sweep. Photo: Debbie Tamietti

Val Tamietti is still waiting for his 2022 Yamaha YZ250 two-stroke to show up at his local Yamaha dealership. No problem, Val has an underground vault full of his left-over YZ250s. He just breaks one out on race day. Val went 4-3 for third behind Reisinger and Eropkin in the Over-60 Experts. Photo: Jon Ortner

The pressure to win the Over-60 Expert class at REM is intense, probably because all the locals grew up watching these guys when they were 20, 30, 40 and 50. Ed Guajardo (27) had a bad day on Saturday. How bad? He finished 5th. The top ten in this class can change weekly. Photo: Ernie Becker

Will Harper's (7) 1-1 won the Over-65 Expert class over Mark Donaldson's 3-2. Photo: Debbi Tamietti

Robbie Weber (211) went 4-4 in the Over-40 Novice class. Photo: Debbie Tamietti

Cole Myerly (H101) was second in the 450 Intermediate class. Photo: Debbie Tamietti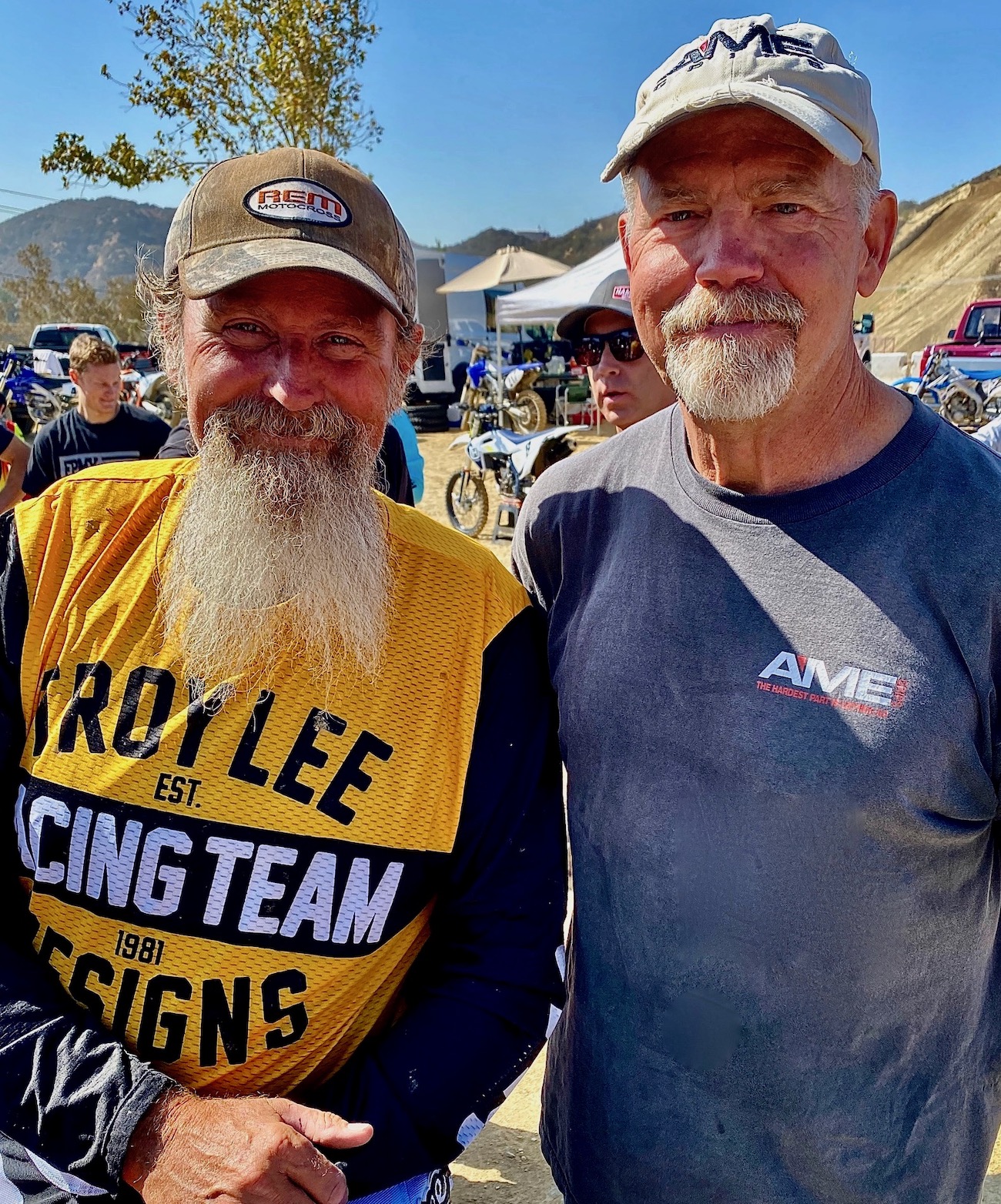 Steven Chandler (left) and Bob Rutten (right) both live in Utah, but drove down again this weekend to race with REM at Glen Helen. Photo: Debbie Tamietti
The AMA 450 Nationals are over, so Fredrick Noren's sponsor/team owner/mechanic Chris Cole (45) can get back to racing close to home. Photo: Debbie Tamietti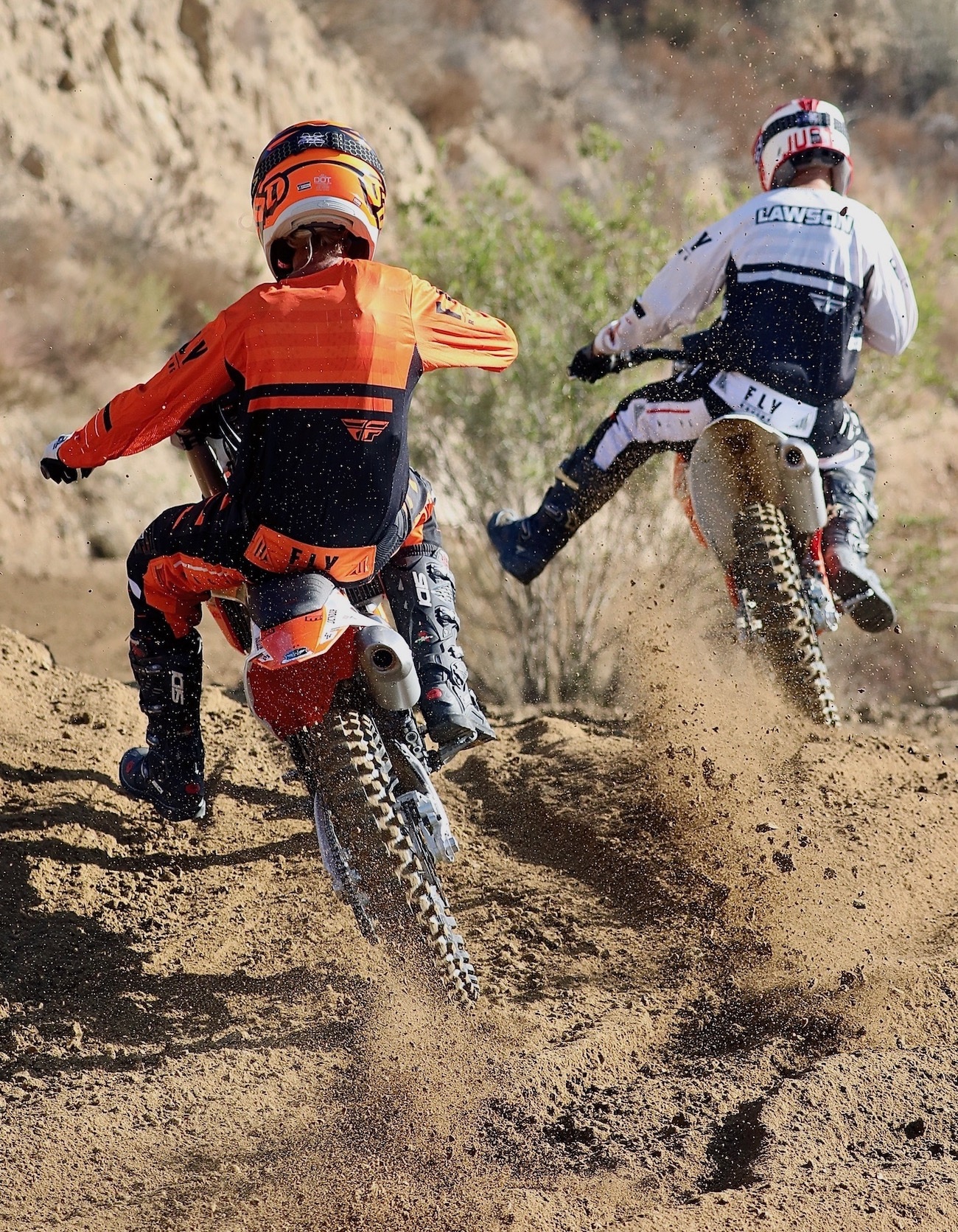 Randel Fout chases Dirt Bike's Ron Lawson, but wisely elects to break off early rather than follow Lawson off the track. Photo: Debbie Tamietti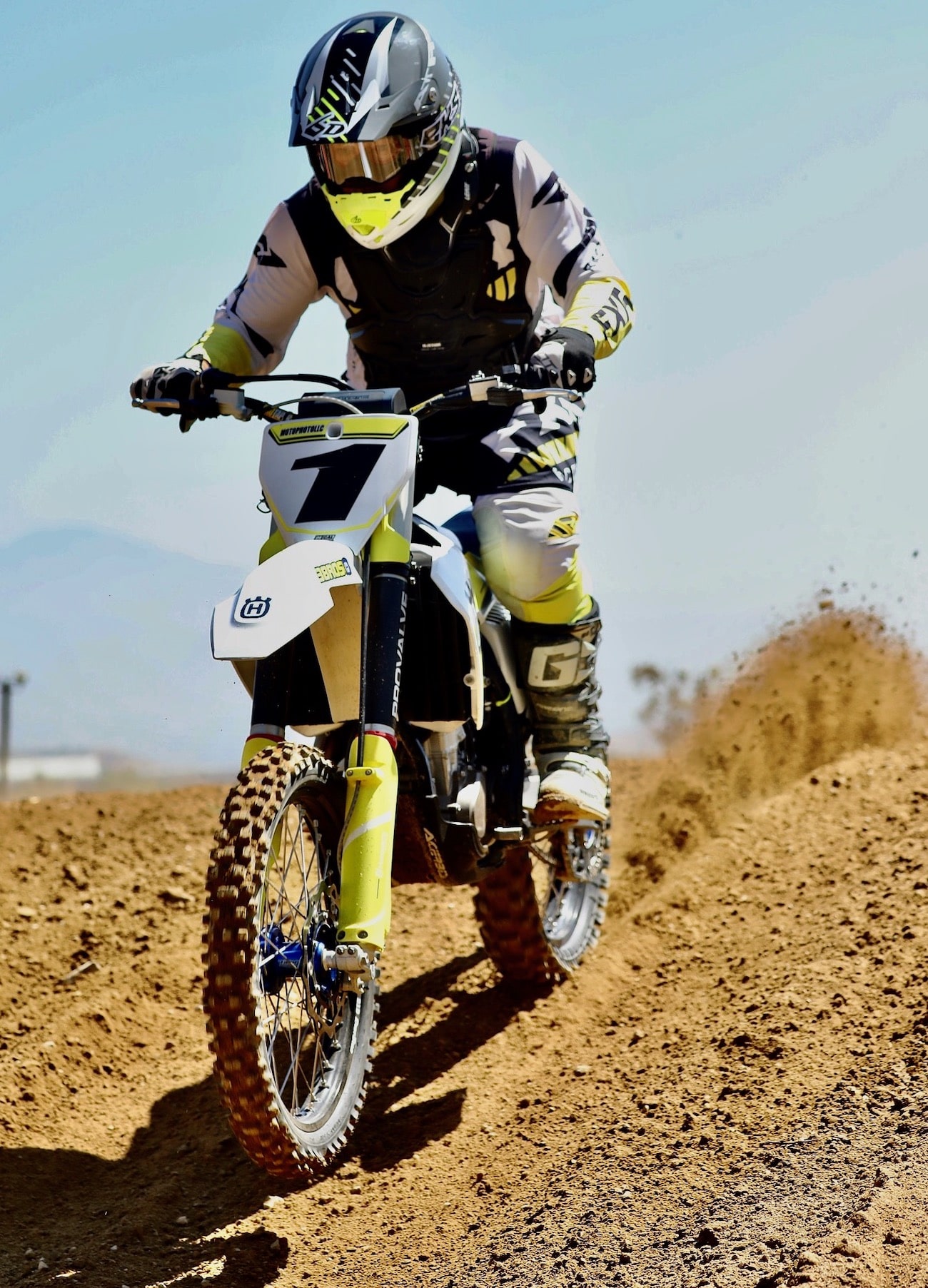 Rich Stuelke (1) rides with the SoCal Ol,d Timer's Club number one plate. He is one of the most dedicated riders in the pits. Photo: Debbie Tamietti

Mike Monaghan has finally decided that he needs to switched from a 125 two-stroke to a 250 two-stroke if he wants to win the Over-60 and Over-50 Experts ever again. Photo: Debbie Tamietti

2021 REM RACE SCHEDULE
Oct. 30…Octobercross (National Track)
Nov. 5-6…World Vet Championship
Nov. 20…REM track
Dec. 4…REM track
Dec. 18…REM track
Ryan Owensby (15) had all the good stuff on his bike and body, which he could afford because he saved money on numbers for his Yamaha. Photo: Debbie Tamietti

From left to right: Mic Rodgers, Mark Donaldson, Bill Seifert, Pasha Afshar and Ernie Becker. Photo: Debbie Tamietti
REM will be racing at the Octobercross on Oct. 30. For more information about REM go to www.remsatmx.com or Click Here for REM's Facebook page.