REM MOTOCROSS REPORT: SEAN COLLIER, GORDON WARD, DARE DEMARTLE, DENNIS STAPLETON & BRIAN MEDEIROS SHINE IN THE RAIN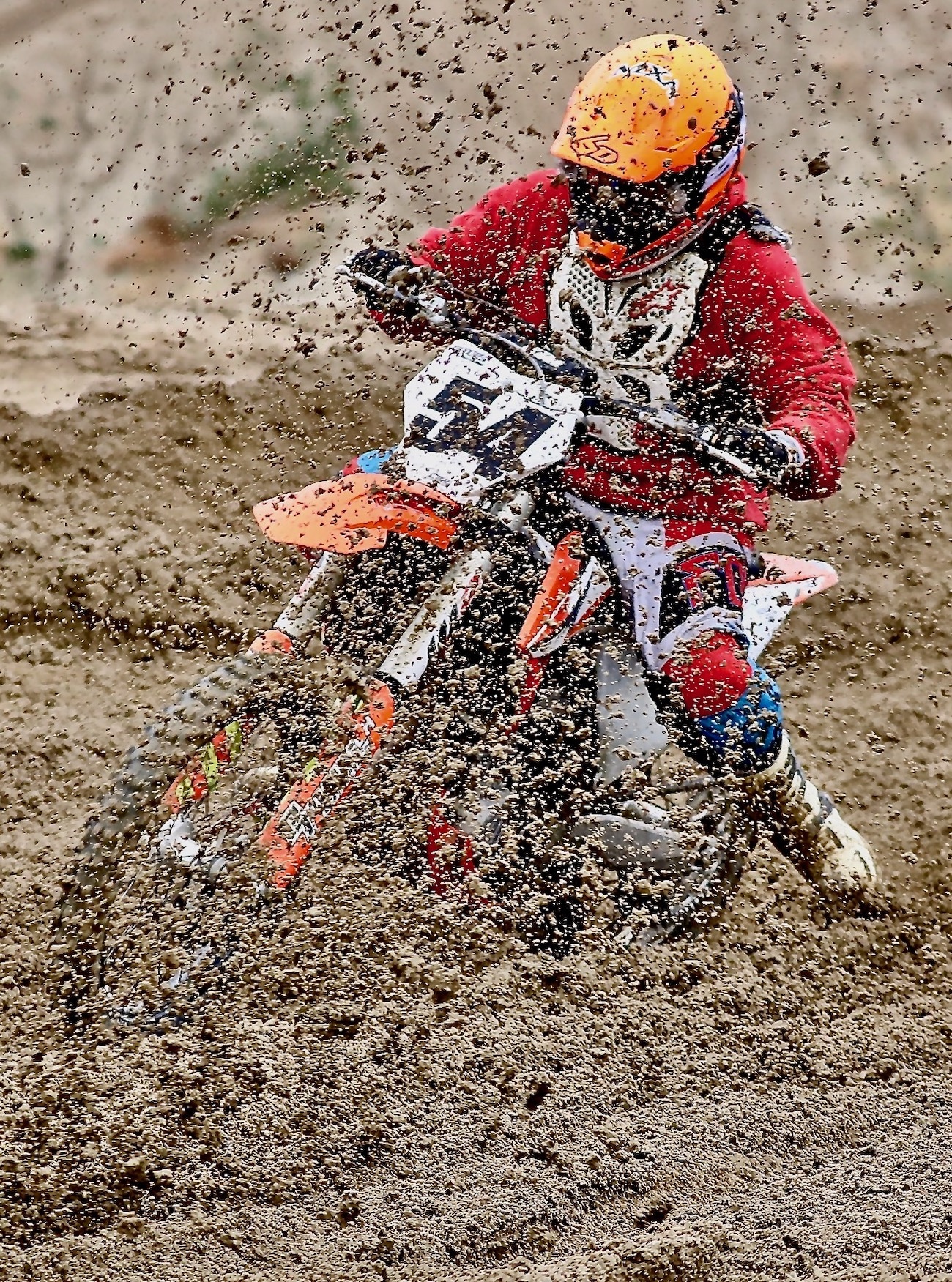 A morning rain shower (on top of a track that had already been watered), made for some rugged going early in the day. Here, Marc Crosby powers MXA's KTM 450SXF through the goop. Photo: Debbi Tamietti

PHOTOS BY DEBBI TAMIETTI  & DAN ALAMANGOS
This was a big week at REM—not only were they moving down to the Glen Helen Nationals track, but there would be a Pasha 125 Open event piggybacking on their regular program. It would also be a big day because it started raining, not hard, but constantly. To the track credit, for whatever credit your can give to dirt, well up well under the steady drizzle—and when the riders went out for practice they quickly pushed the slush off the main lines and when the rain finally stopped, every thing was good enough.
Sean Collier (207) won the 450 Pro class and came back to take third in the Pasha 125 Pro class behind Dare Demartile and Brian Medeiros. Photo: Dan Alamangos
The racing was good, there was a little peek-a-boo sun  by noon and most crashes results in dirty gear more than significant injuries. And there is always something cool about being on the gate, looking down the long start straight and seeing that big banked corner waiting for you…and, in the first 50 feet you are almost positive that you are going to be the first one there, but in the last 50 feet, a gaggle of guys burst past you by refusing to shut off.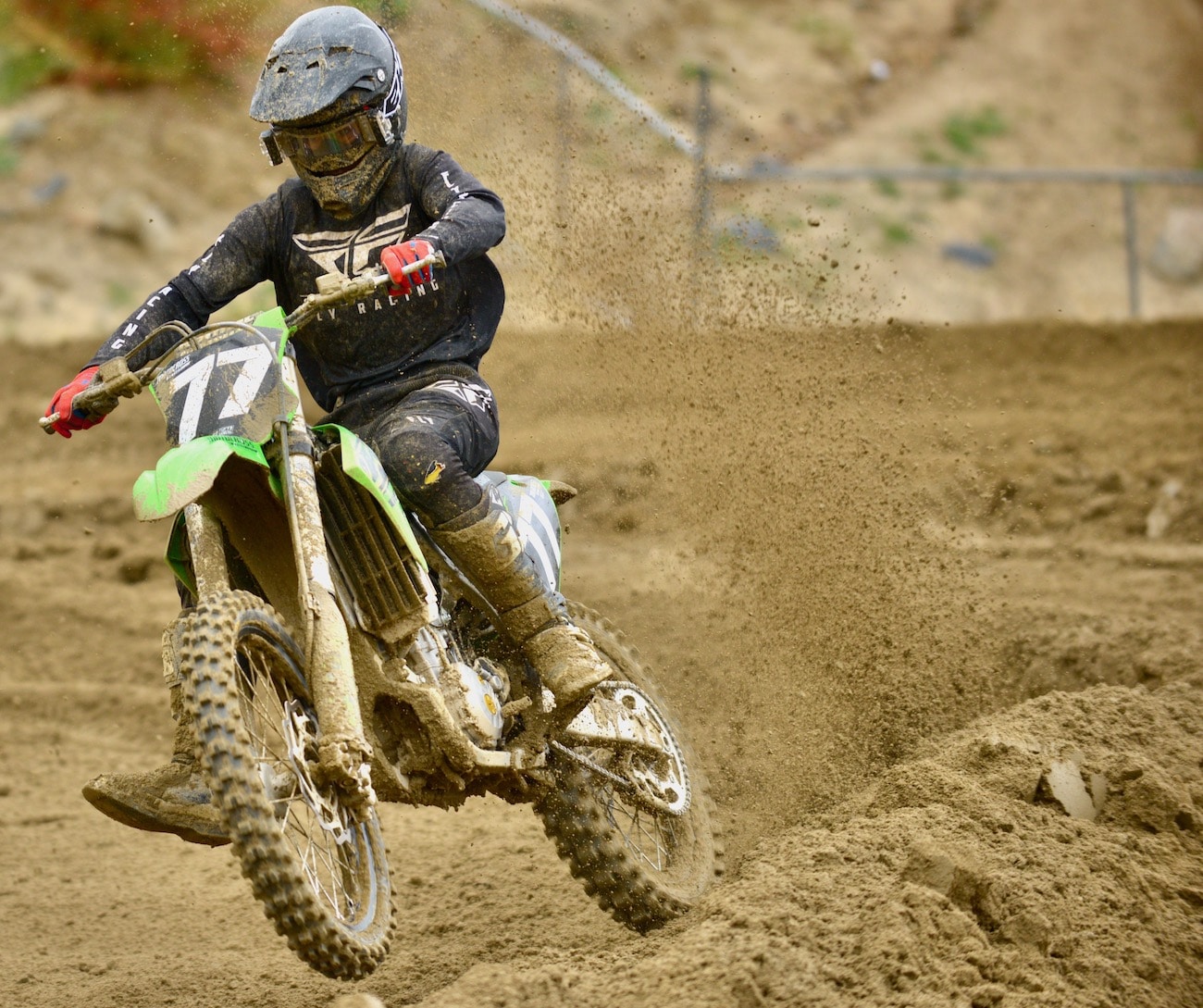 Brian Medeiros (77) won the 250 Pro class on MXA's Kawasaki KX250 , then raced MXA's KTM 150SX to second overall in the Pasha 125 Pro class. MXA tested five 125 two-strokes at Glen Helen on Friday in the bright sun and 72-degree weather, but mother nature had a surprises in store for the MXA guys on Saturday morning. Photo: Dan Alamangos
What follows is a photo essay of the day, the riders, the bikes and the conditions. enjoy it!
Ford Heit (144) went 2-2 in the 450 Pro class. He was sandwiched between Sean Collier and four-time Baja 1000 Champion Justin Jones. Photo: Debbi Tamietti.

Justin Jones has been working, racing and going to college, so he's glad that the upcoming Spring Break will let him concentrate on racing. Photo: Dan Alamangos
The 450 Pros were a close knit group at this point in the race. In this photo we can see Todd Sibell (829), Daniel Van Der Ziel (268), eventual winner Sean Collier (207) and Ford Heit (144). Photo: Dan Alamangos
Shiaru Honda is supposed to be in England preparing to race some MXGP races with Dave Thorpe, but England is on lock-down, so he came to America to test with Johnny Campbell's JCR team for awhile.
MXA's Dennis Stapleton (184) was caught in the weird light of the sun breaking through the clouds momentarily. Dennis won the Vet Pro class on a KTM 450SXF Factory Edition.  Photo: Debbi Tamietti

Brit Michael Carter(108) was second in the Vet Pros on an AEO GasGas. Photo: Debbi Tamietti

Photo One: Connor Styers (62) tries to get underneath 450 Intermediate Tyler Nichols (55), but Nichols is falling down. Photo: Dan Alamangos
Photo Two: Thanks to Connor Styers bike holding him up, Tyler Nichols didn't fall, but Connor did. They both got going and won the 450 Intermediates and 250 Intermediates respectively. Photo: Dan Alamangos
Dare Demartile has been at every Pasha 125 Open race held this year in order to get ready to the 2021 World Two-Stroke Championship on Saturday, April 3. Dare easily won this week's Pasha 125 Pro race. Photo: Debbi Tamietti
Photo 1: This is a lesson in how to pass a faster Husqvarna FC350 on a Yamaha YZ125. Robert Reisinger (96) leads Pete Murray (7) in this left hand corner. Robert sticks with the berm, but Murray dives to the inside. Photo: Dan Alamangos
Photo 2:  As the both round the corner, Murray has pulled even with Reisinger. Photo: Dan Alamangos
Photo 3: Pete Murray's smoother inside line gets to the corner exit first and poor Robert Reisinger is forced to break out of his sweeping berm when lapper Gene Boere (62V) is still in it. Murray went 2-2 in the Over-60 Expert class on his 125 and actually led on the last lap of the second moto, only to make a mistake and get passed by Zaca Station's Ed Guajardo for the win. Photo: Dan Alamangos

MXA's Luc De Ley (12) was assigned to race the 2021 GasGas MC125, but after it rained he thought that he didn't stand a chance of winning on the big, hilly, fast and muddy track on a 125. He wanted to switch bikes, but MXA said "no." Amazingly Luc went 1-1 (passing all the four-stroke riders that led him in the 70 mph Talladega first turn. Photo: Dan Alamangos

O'Neal Racing founder Jim O'Neal was the 2016 Over-70 World Vet Champion, which makes Jim 75 years old now. He won both motos of the Over-65 Intermediate class. Photo: Debbi Tamietti
Ed Guajardo was under tremendous pressure from 125-mounted Pete Murray in both Over-60 Expert motos. Ed could keep track of how close Pete was getting by the 125 sound behind him. Murray was faster than Guajardo, but Ed's YZ450F was faster up Mount Saint Helen than Murray's YZ125 and that was the difference. They had a great battle.  Photo: Debbi Tamietti

Pete Murray prefers to race his YZ125 no matter what class he is racing in—and he normally wins, but not this week. Photo: Debbi Tamietti
REM has a special Over-50 class for riders who are too fast for the normal Over-50 Expert class. It used to be a small select group of riders, but it has grown in 2021 as riders who dominate the Over-50 Experts get moved up. Giovanni Spinali (45) is now an Over-50 Elite rider and had to faced legendary Gordon Ward at REM this week. Spinali was fourth, Gordon Ward was an easy first. Photo: Debbi Tamietti

Bob Rutten was named the "2020 REM Sportsman of the Year." Bob lives in Utah and doesn't make it to every race in the winter when it snows at home, but he made it down this week in time to get his jacket and trophy. Photo: Debbi Tamietti

Don't ask us, but we are sure that this rider thought that he had the hot line around this scorner. Fred Nichol (56)s, Bob Rutten (8), Bruce Ashmore (111) and Val Tamietti (far right) might disagree. Photo: Debbi Tamietti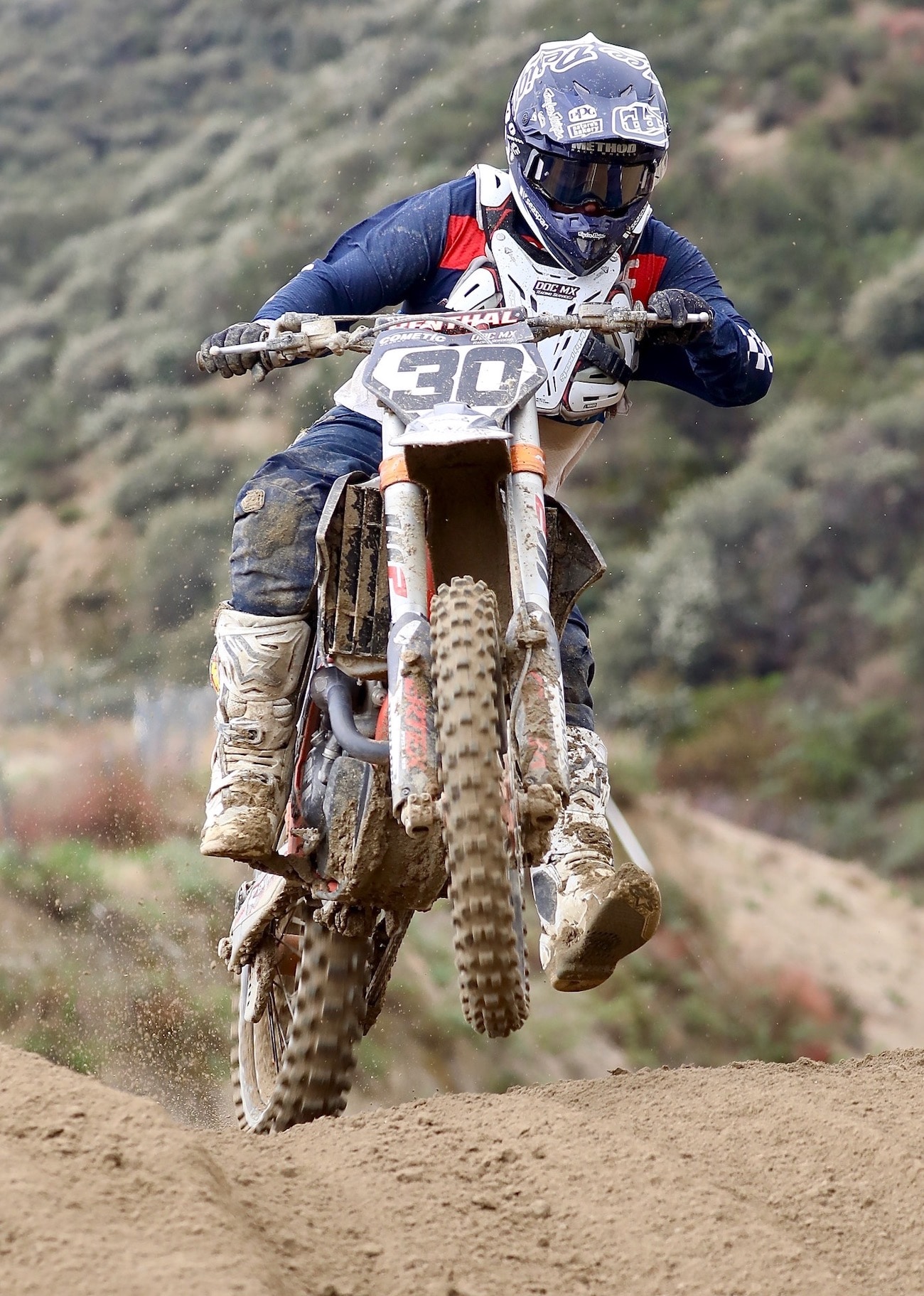 David O'Connor (3) has been busy with his new  DOC MX race shop, but he broke away to get in some throttle therapy. He's from Ireland, so little rain in SoCal is the equivalent of a lot sunshine in Ireland.  Photo: Debbi Tamietti
Greg Groom (596), was holding his own in the  Over-60 Expert class until he mistook the white flag for the checkered flag and pulled in a lap too early. Photo: Debbi Tamietti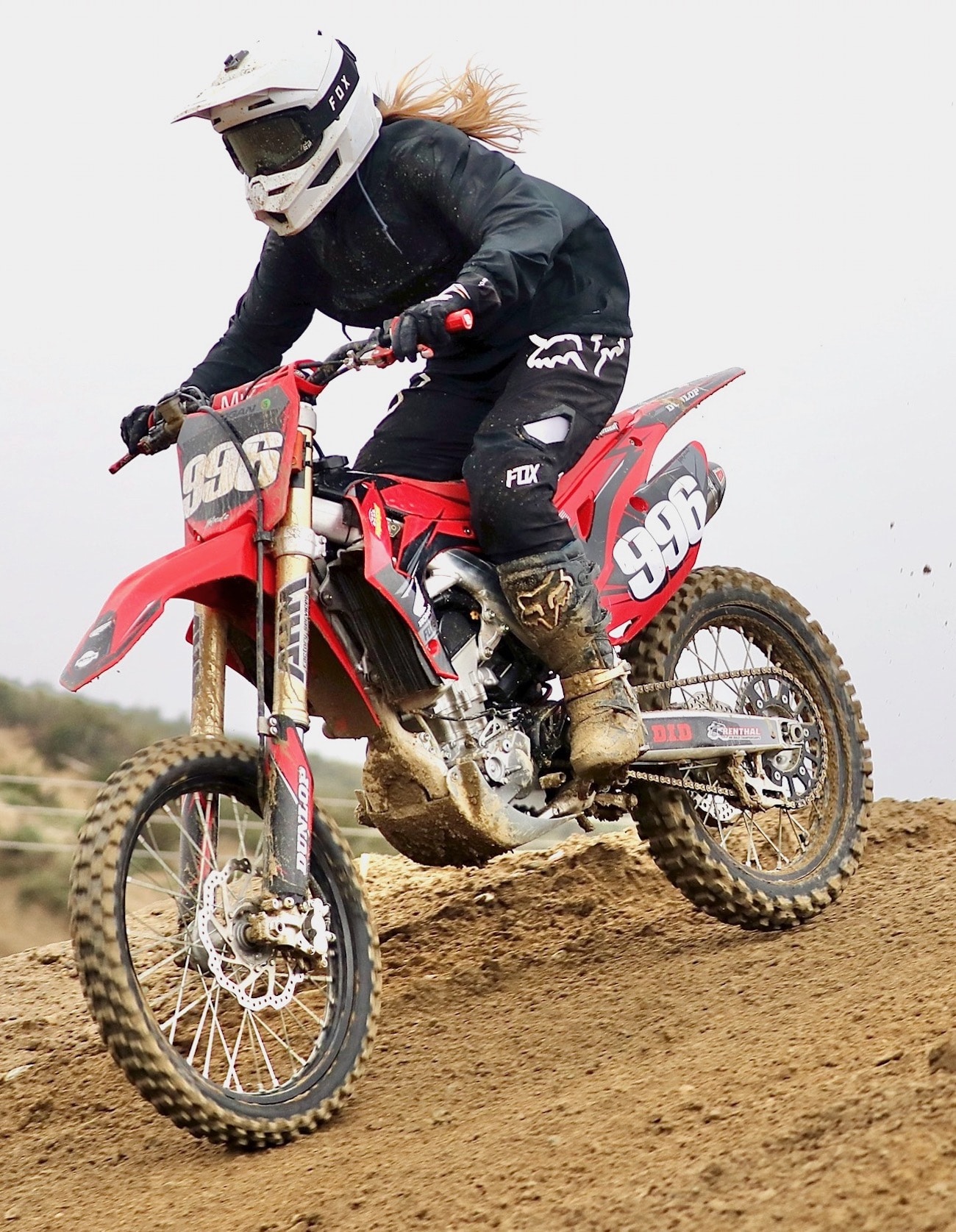 Samantha Ogen (996) went 1-1 in the Women's class. Photo: Debbi Tamietti
Famous chef Adam Taki (232) has the same look on his face as when he's first opens the oven to see if his souffle is okay. Adam won the Vet Intermediate class. Photo: Debbi Tamietti
Over-40 Expert winner Ralf Schmidt (73) goes up and over the Log Cabin. Ralf isn't just a TM rider, he is the American TM importer.  Photo: Debbi Tamietti
Lars Larsson accepts a special award from REM's Myra Thomason. Lars Larsson was given a framed Rich Stueke photo of himself by Rich Stuelke. Lars loved it. Photo: Debbi Tamietti

REM races again next weekend, March 27, on their ancestoral track on the hill above the Glen Helen National track. For more info go to www.remsatmx.com or Click Here for REM's Facebook page.