REM MOTOCROSS: THE NEW, THE OLD & THE CHRONICALLY COOL

Click on images to enlarge
Photos by Dan Alamangos and Debbi Tamietti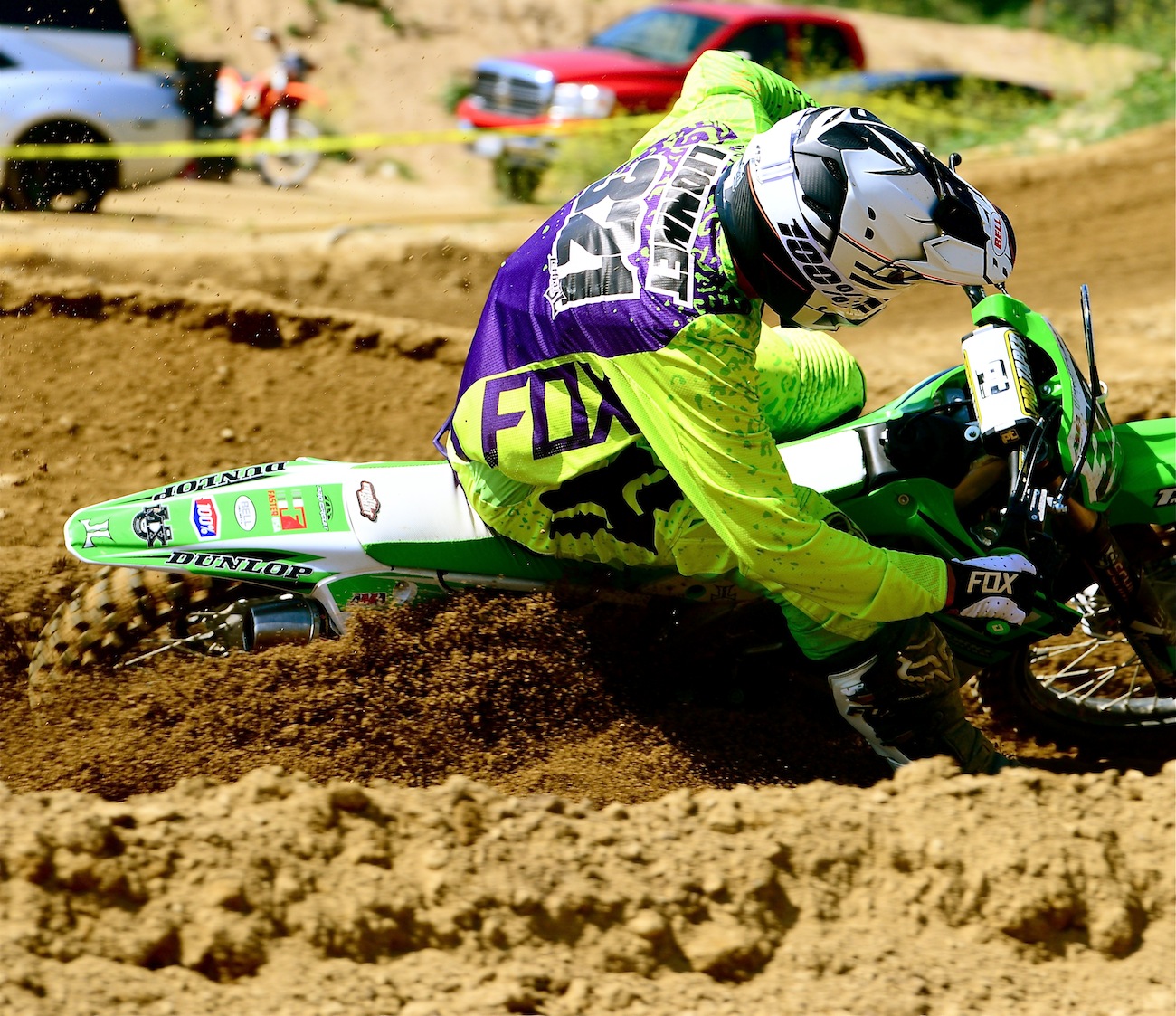 450 Pro winner Bradley Lionett gets about as low as you can go as he buries the right side of his bike in decomposed granite. Photo: Dan Alamangos
There is something inherently cool, although not in a motorhome crazy National Amateur motocross event way, to the friendly down-home local race. And nothing is more down-home and less local than the weekly REM motocross races at Glen Helen Raceway in SoCal.  It's not cool in the ears-in, bleached hair, silver necklace way that big-time motocross is. Instead it;s cool in that it features a brutally rough track, long motos and an amazingly efficient program that gets everybody done by 2:00 p.m. (at the latest). Best of all, it comes equipped with old friends from the 1970s, the kids of old friends from the 1970s and sometimes the kids of the kids of old friends from the 1970s.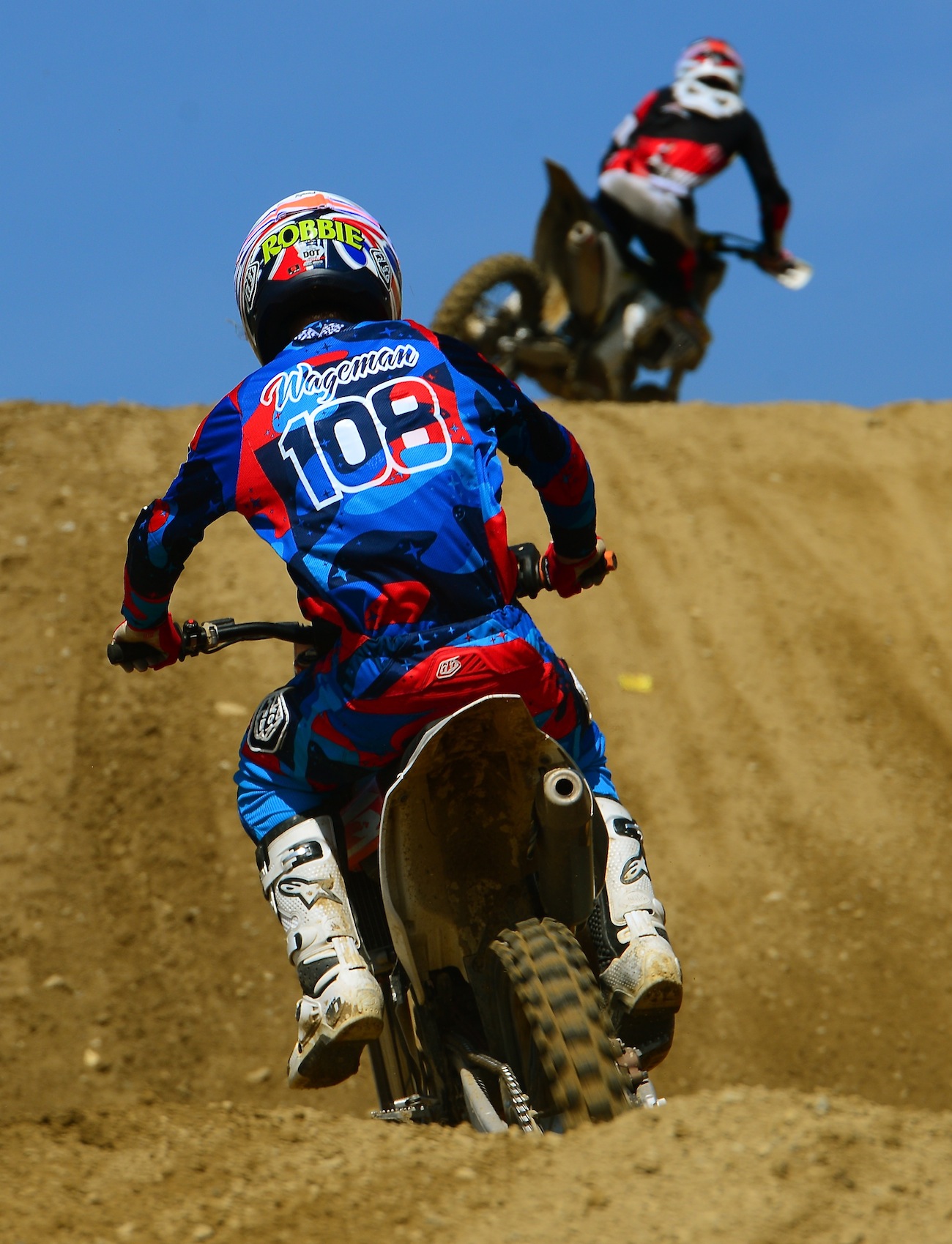 Robbie Wageman went 1-1 to sweep the 250 Pro class, while his brother R.J. was second overall in the 450 Pro class. Photo: Dan Alamangos
Because the REM motocross races are held over 40 times as year—there are a lot of personal rivalries that are played out on a weekly basis. The affronts of last week can be settled this week. A lot of good natured kidding is bounced back and forth between people who not only know you, but plan on stuffing you in the next moto. Of course, there are temper tantrums, but REM Motocross promoter Frank Thomason is quick to quench the flames—often with bans that can be as short as a month or as long as a lifetime. Fight at REM and you risk never racing at REM again. But, fights, take-outs and angry moments are kept to a minimum as the large majority of REM motocross racers have seen that and done that already—many back when they were AMA National Pros. Now, they are racing for fun—and while they want to win, they don't see it as anything worth endangering another rider for. They just want to be back by next week's race.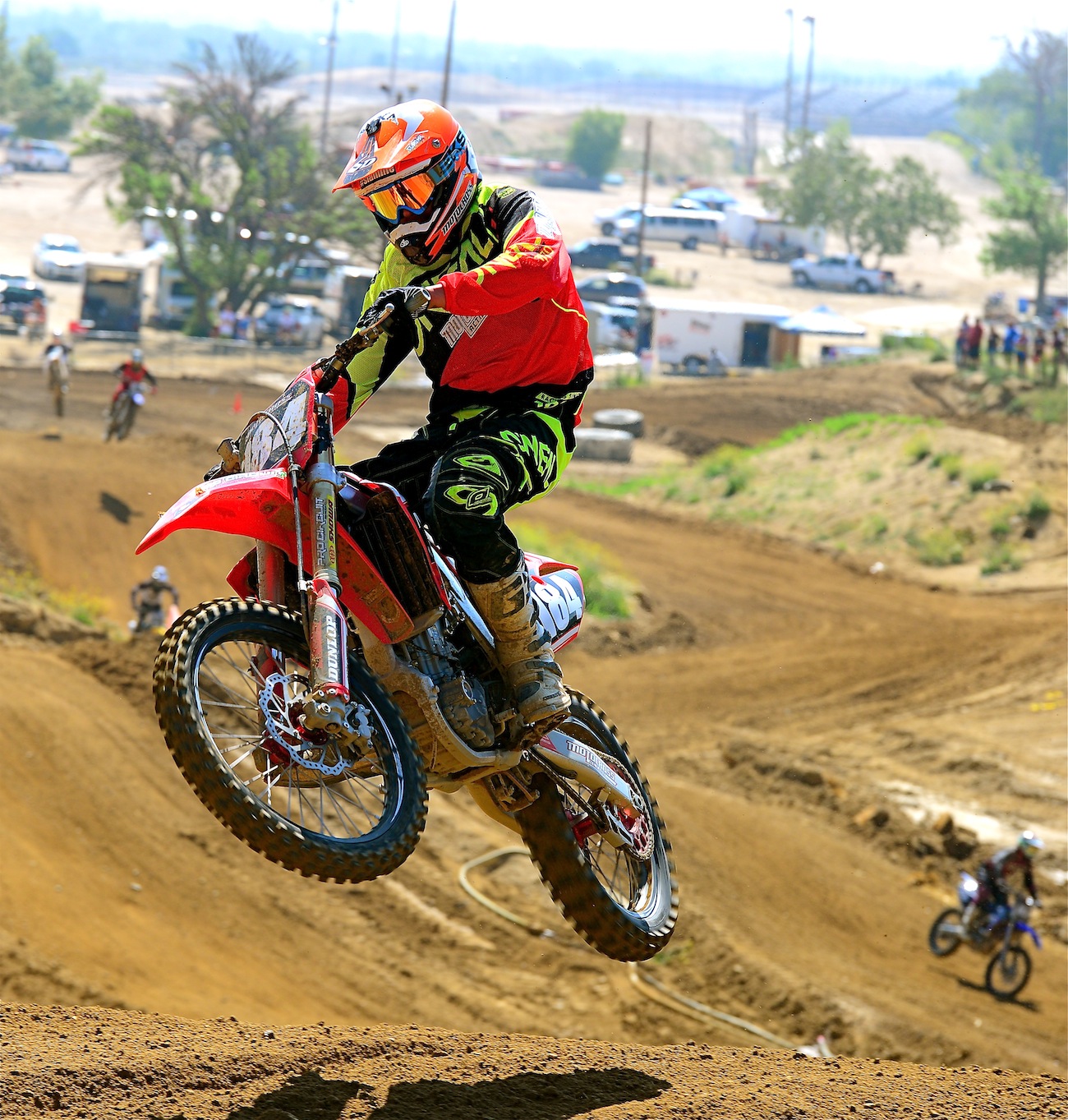 Dennis Stapleton (184) raced MXA's project Honda CF250. Believe it or not, we coaxed 5-1/2 extra horsepower out of our CRF engine. Photo: Dan Alamangos
This kind of atmosphere is conducive to a great day at the races. And that is what this week at REM was. There was a new track, 85-degree weather, bright sunshine and plenty of hard-fought races. Here is a quick photo gallery of the new, old and chronically hip
Vito Bednar went 6-3 in the 250 Intermediates for third overall behind Jonathan Magnusson and Ford Heit. Photo: Dan Alamangos
REM does not race on the World Two-Stroke Championship weekend (March 26), but will be back in action on April 2. For more information about REM motocross, go to www.remsatmx.com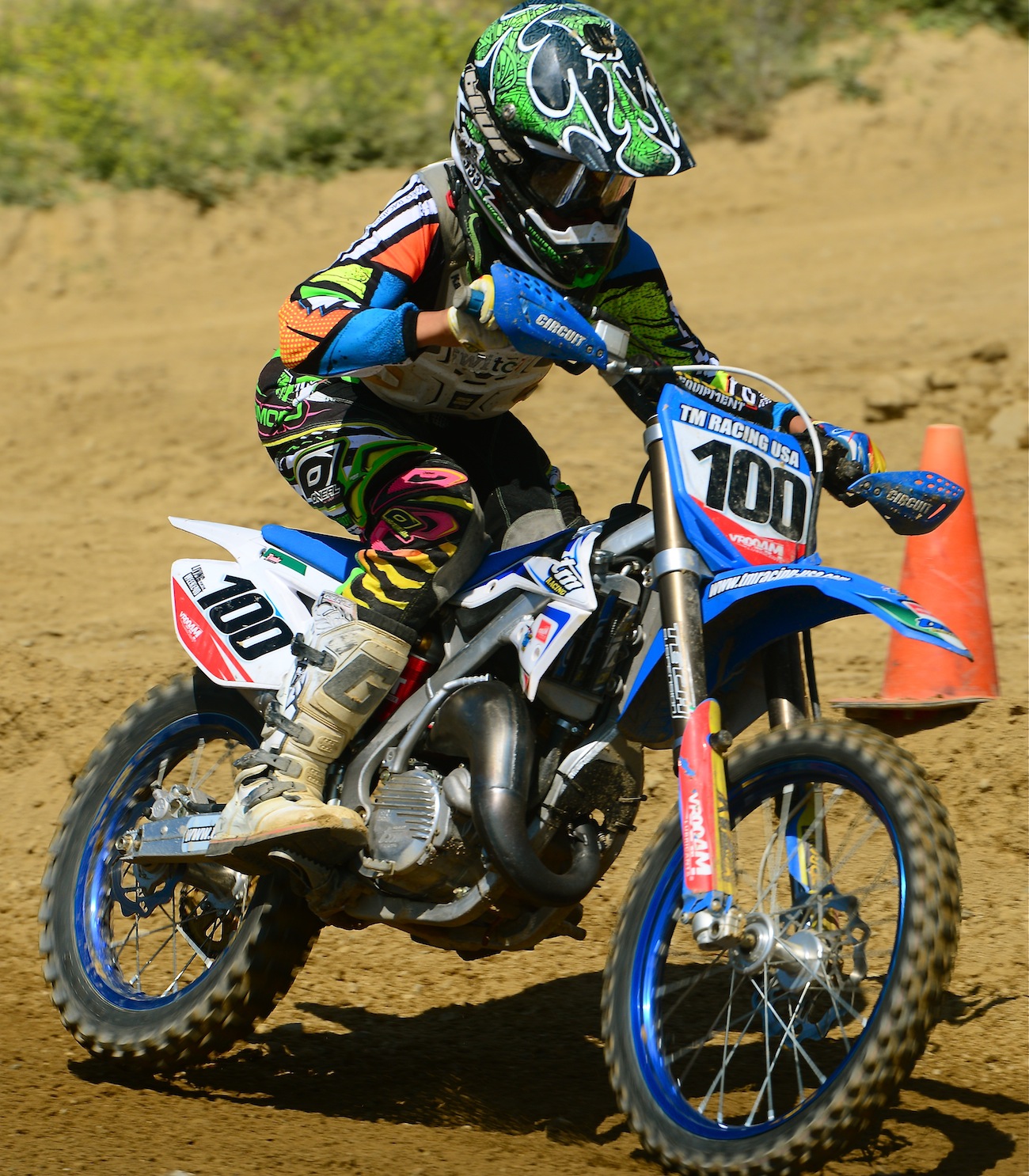 Luis Macias (100) raced a TM 85MX in the 250 Novice class. His 1-4 was good enough for the win as second place rider Maverick Smith went 5-1. Photo: Dan Alamangos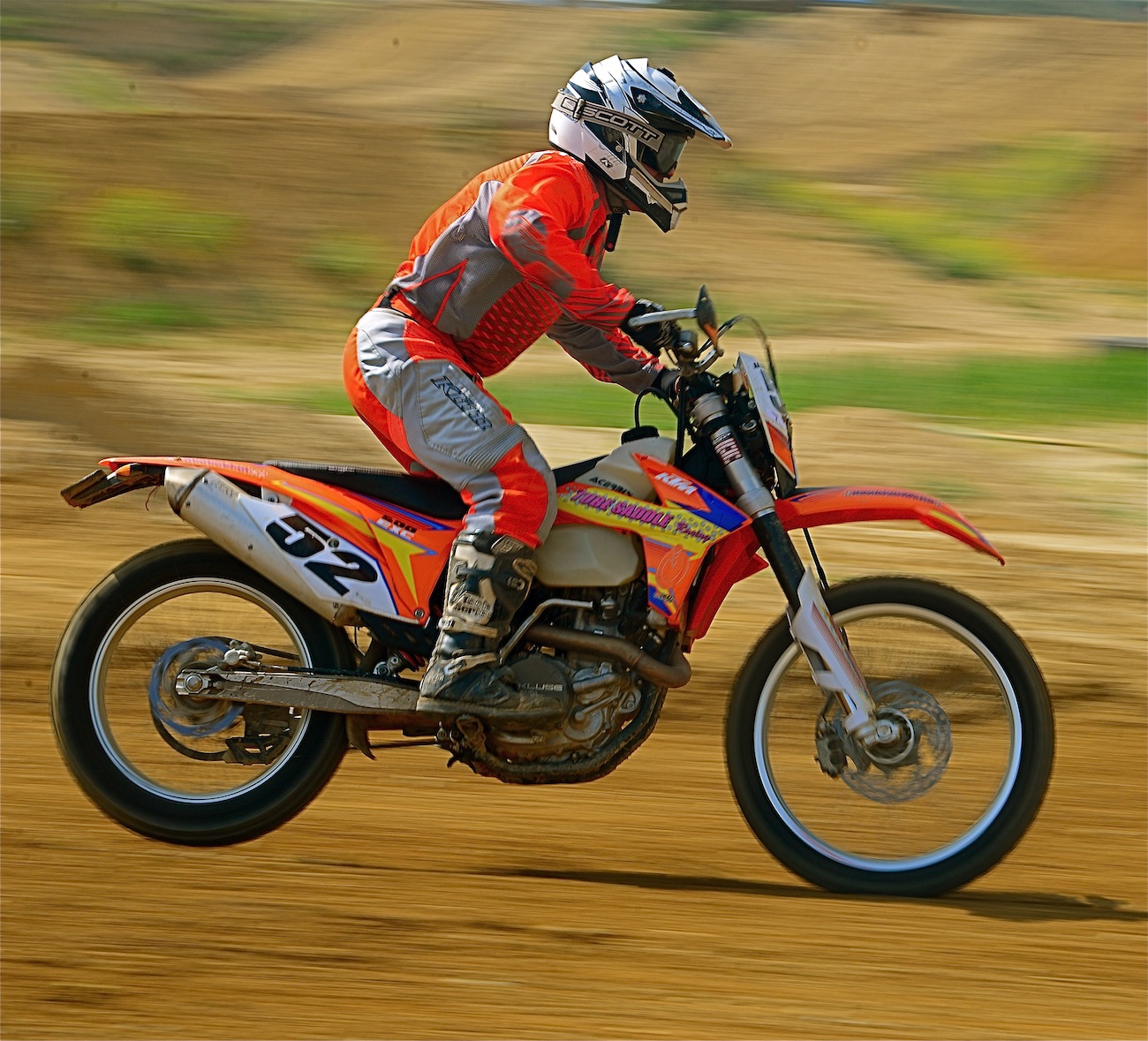 Tube Saddle inventor Jim Curry speed blurs his way by the camera in the Over-50 Novice class. Photo: Dan Alamangos
Last week Val Tamietti's 8-race win streak in the Over-50 Expert class was broken by former Kawasaki test rider Robert Reisinger. This weekend, Val started a new streak by using a 2-1 to beat Reisinger's 1-3. Photo: Dan Alamangos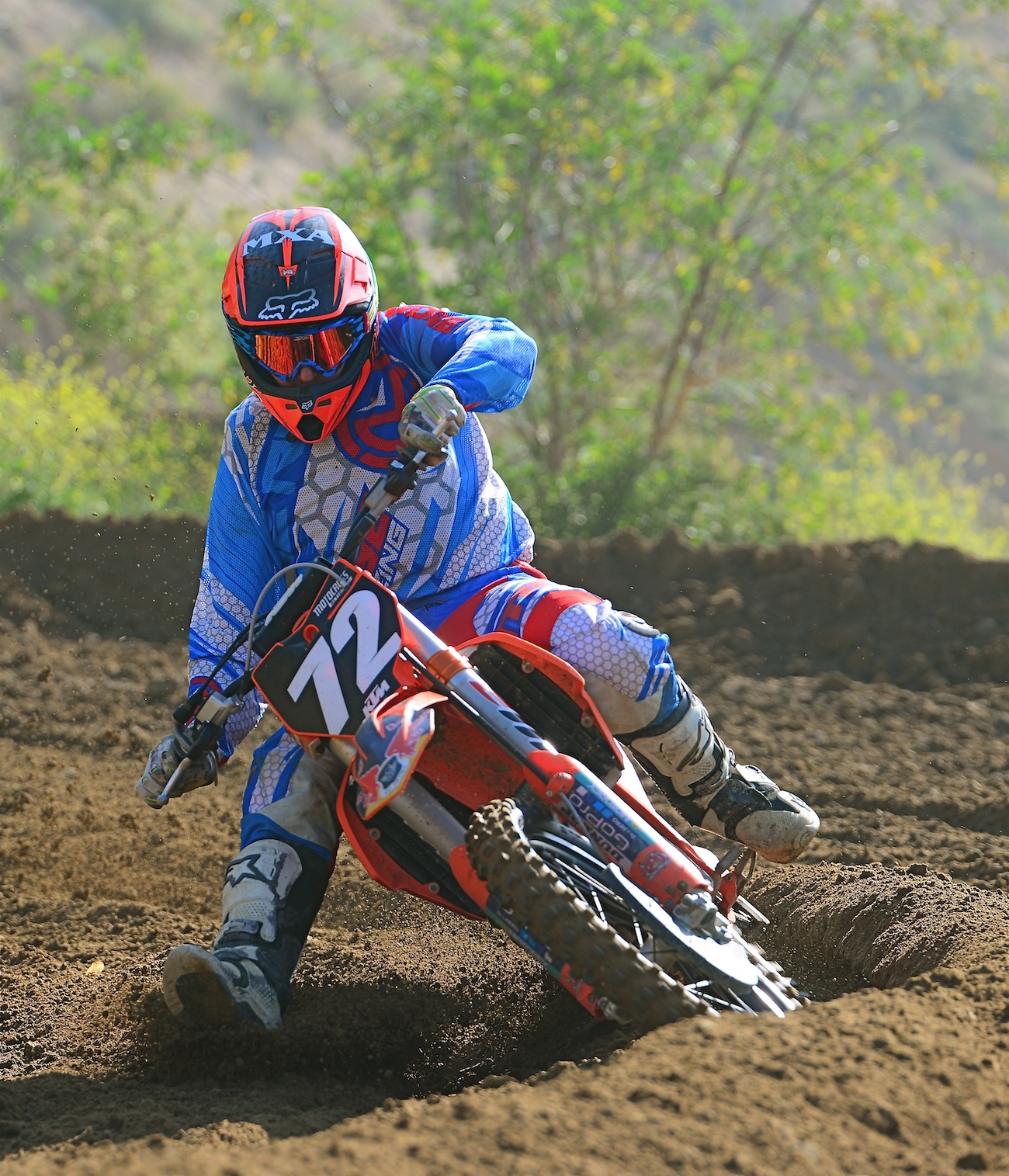 Chris Alamangos (72) and brother Dan each raced MXA's 2016 KTM 250SXF Factory Edition. It was a good test for the WP AER air forks as Dan weighs 150 pounds and Chis weighs 200. Photo: Dan Alamangos
Dan Alamangos (72) has crashed out of the last three races on a CRF450 and the wear and tear was getting to him. So, he parked the CRF and he elected to drop down to a less powerful 250. No crashes this week. Photo: Debbi Tamietti
Proving that you don't need the newest equipment to race, Frank Emerson (70) took his air-cooled, twin-shock, two-stroke, Husqvarna CR500 to 5th in the giant pack of Over-50 Novices. Photo: Dan Alamangos

Ignore the rocks, because that is what former 1960's Grand Prix and Trans-AMA racer Lars Larsson (92) is doing as Jody Weisel (52) and Nick Costello (188) give chase. Why should you ignore the rocks? Because these are baby rocks compared to the boulders unearthed on other parts of the track. Photo: Debbi Tamietti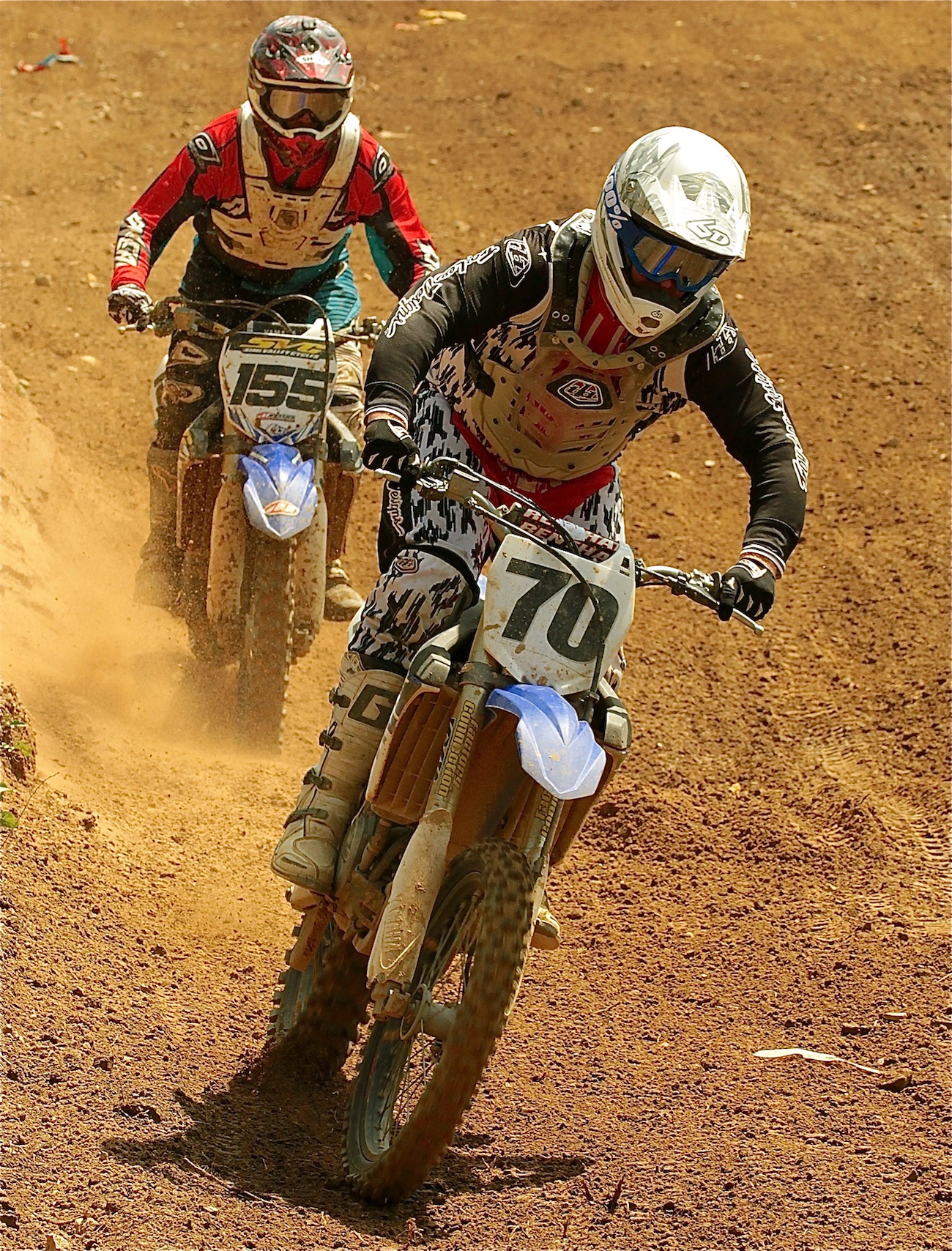 Alan Jullien (70) and Eddie Davis (155) made their switch from the Over-40 Experts to the Over-50 Elites. Davis went 1-1 for the win over Jullien's 3-2. Photo: Debbi Tamietti
Michael Ray Craig (192) was back for the second week in a row. Last week the former AMA Supercross winner raced MXA's 2016  KX450F, this week he was on a KTM 450SXF in the Over-40 Pro class. Photo: Debbi Tamietti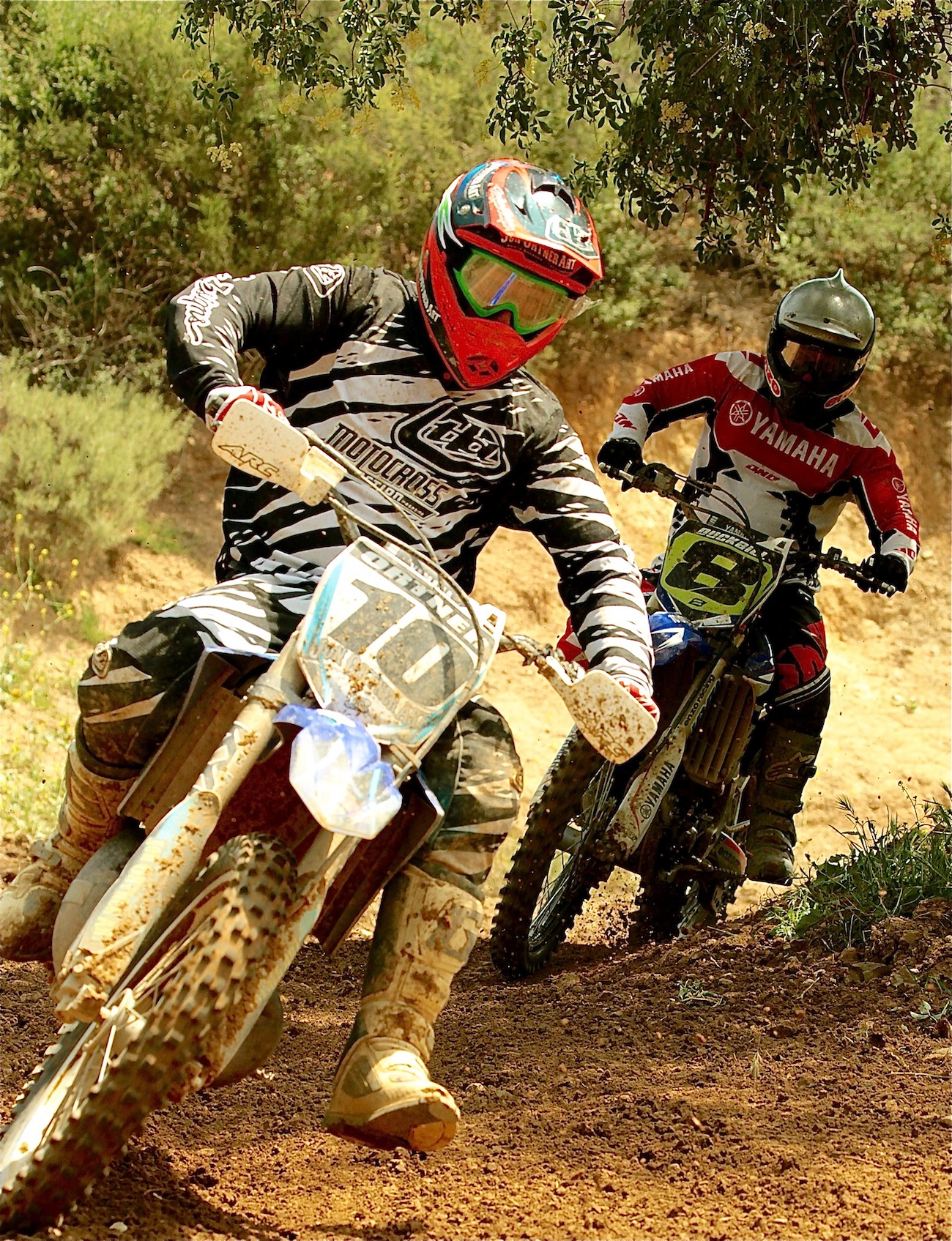 John Ortner (10) and the famous "Duckbill Dave" Sarian (8) race under the only tree on the front part of the REM track. Sarian hasn't raced in years, but turned in a remarkable 4th place in the Over-50 Experts. Photo: Debbi Tamietti

Cole Tompkins (133) navigates a steep uphill on the backside of Mt. Whitney as 450 Intermediate winner Bradley Denton (74) chases him. Believe it or not, photos don't do justice to how steep, loose or rough this hill was. Photo: Debbi Tamietti
AMA Hall of Famer Tom White (8) and Phil Cruz (950) fight over 3rd in the Over-65 Expert class. This moment goes to Tom, but third went to Phil in the end. Photo: Debbi Tamietti
The Women's class was an international battle as racers from Sweden, England, Australia and the USA battled it out. Here, Brit Nicole Hatcliffe (15) chases winner Nicole Loginger from Sweden. Photo: Debbi Tamietti
Ken Clark (82) was in the mix in the Over-40 Novice race. Photo: Debbi Tamietti
Joe Pena (911) went 3-3 for third in the Over-65 Experts and then dropped down an age group and went 7-3 for fifth in the Over-50 Intermediates. Photo: Debbi Tamietti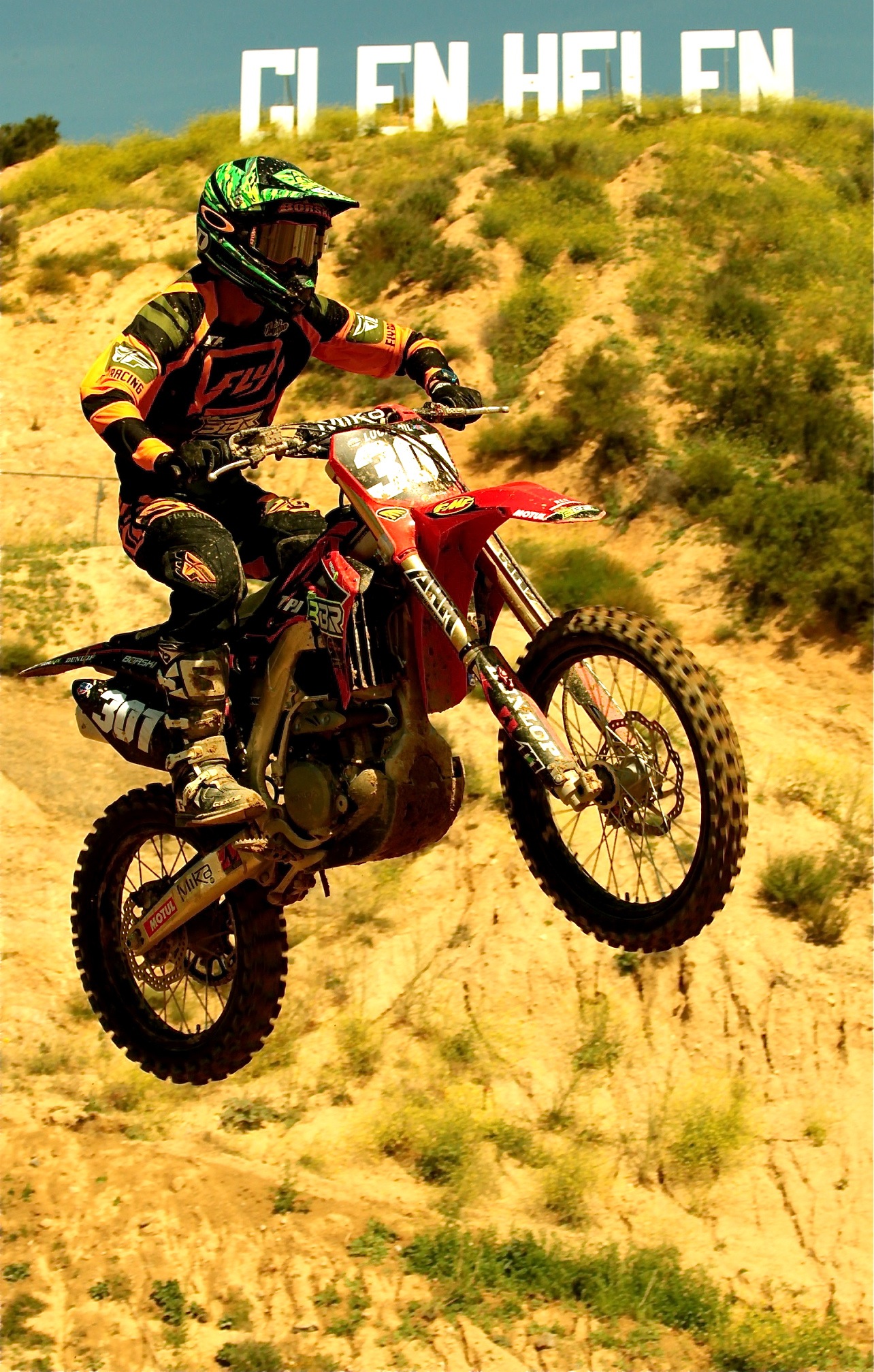 You never forget where you are at when you race at Glen Helen. Both motocross tracks have enormous Hollywood-style signs above them. Here, Andrew Borski (301) flies underneath one. Photo: Debbi Tamietti