REM GLEN HELEN: THE "GREG GROOM CREATIVE LINE AWARD" GOES TO…
Click on images to enlarge
Photos by Debbi Tamietti, Dan Alamangos, Kyoshi Becker & Rommel Andrade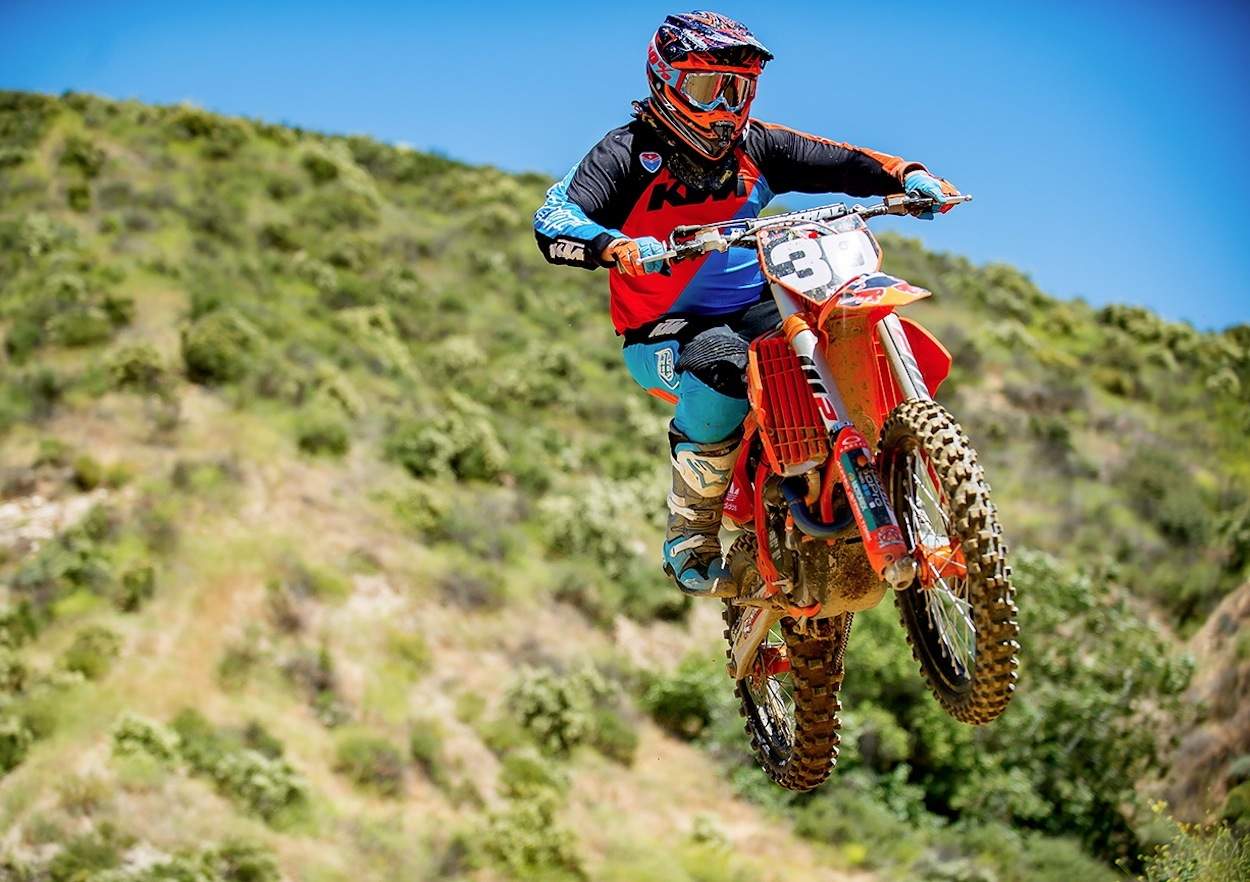 David O'Connor (3) got his first Vet Novice victory on the day that his mom came from Ireland to watch him race. Photo: Kyoshi Becker
Although the weathermen predicted 30 to 50 mile per hour winds across Southern California, the hardy band of REM motocross racers trekked from all corners of the state to race at Glen Helen. Every rider who came into the pits said, "You can't believe how windy it is at my house." Followed by "I can't believe that the wind isn't blowing here." The micro-climate of Glen Helen is a mystery. When it rains, you can't be sure that it's raining at Glen Helen. When it is dead calm everywhere, from Mount Baldy to Laguna Beach, the wind will be howling at Glen Helen. And, when it's hot across the Southland…well, then it's even hotter at Glen Helen.
The old hands claim that there is no Winter, Spring, Summer and Fall at Glen Helen—instead they say there are only two seasons…Hot or Windy. Take your pick.
Ty Cullins (16) raced a Beta two-stroke to gold in the 450 Intermediate class. Photo: Kyoshi Becker
What looked like it would be a miserable day of dust blowing through the pits, turned out to be a bright sunny day with adequate moisture in the track, that hung on longer than in a normal day. REM is watered by fire hoses and a water truck in the morning and, then, by fire hoses in the afternoon. As long as the dirt doesn't get too dry, it can be brought back to life by the fire hose crew. Everyone who mans a fire hose is a hero at Glen Helen.
450 INTERMEDIATE
1. Ty Cullins…1-1
2. Matt Pastor…2-2
3. Christian Gardner…3-3
Jon Ortner (15) raced MXA's Dean Wilson replica YZ450F. Yes, we know, Dean races a Husqvarna now, but we got his Pro Circuit engine, Kayaba works suspension, Dubya USA wheels, Cycra plastic and Split graphics to honor his privateer-to-factory rider success. Photo: Kyoshi Becker
As always, there was the normal gang of weekly racers, who can never be deterred from showing up, and they were joined by visiting riders from out of state and out of the country. REM has a reputation for running a super efficient, well oiled and very fast program. They understand that riders who race on Saturday want to get home and prep their bikes for riding on Sunday, so the average REM race is over by 2:30 p.m. And they do this while still giving the Pros and Intermediate's 20-minute motos and every other class 15-minute motos.
OVER-50 ELITE
1. Eddie Davis…1-1
2. Jon Ortner…2-2
3. Luther French…4-3
Kent Reed (491) went 2-1 to win the Over-60 Intermediate class in front of Jody Weisel's 1-3 and Jim McCartney's 3-2. That is McCartney behind Reed. Photo: Kyoshi Becker
The three biggest classes at REM this Saturday were the Over-50 Intermediates, followed by the Over-50 Experts and then the Over-40 Novices.The brand breakdowm, which last week was close between KTM and Yamaha, swung wildly in KTM's favor this weekend. 40 percent of the bikes at REM were KTMs—plus another 10 percent were Husqvarnas. Leaving only 50 percent of the bikes to divvy up. Yamaha got 23% of that group, Honda got 20% with Suzuki taking 4%. The scraps were divided between TM, Beta and Kawasaki. The amazing drop in KXs at Glen Helen is shocking—as it used to be a very popular choice.
OVER-60 INTERMEDIATE
1. Kent Reed…2-1
2. Jody Weisel…1-3
3. Jim McCartney…3-2
Dan Alamangos (35) was assigned to race MXA's WP Cone Valve fork equipped 2017 Honda CRF450 last week. He liked it so much that he asked if could be assigned to race it again this week. Photo: Kyoshi Becker

Ralf Schmidt (73) gets his TM 300MX two-stroke cranked on his way to third in the Over-40 Expert class. Phil Dowell (23) stays conservative. Photo: Rommel Andrade
OVER-40 EXPERT
1. James Lavender…1-1
2. David Cincotta…2-2
3. Ralf Schmidt…3-3
Jeremy Mowry (738) took the 250 Novice win and looked good while doing it. Photo: Rommel Andrade
OVER-30 OPEN
1. Mike Carter…1-1
2. Alan Julien…2-2
3. Joe Sutter…3-3
Kenny Maddux (418) put in a 5-5 for fifth in the Over-50 Expert class. Photo: Rommel Andrade
OVER-30 NOVICE
1. David O'Connor…1-1
2. Matt Lewis…3-2
3. Jason Bassett…2-3
John Caper (44) is back prepping for Mammoth Mountain after tearing his bicep muscle a few months ago. He had it surgically reattached. John went 6-5 in the Over-50 Novices. Photo: Dan Alamangos
OVER-40 INTERMEDIATE
1. Mike Carter…1-1
2. Mike Boyd…2-3
3. Giovanni Spinali…5-2
John Roggero (222) was the 250 Intermediate winner. Photo: Dan Alamangos
250 BEGINNER
1. Blake Bowen…1-1
2. Lamont Dusseau…2-2
3. Boaz Casucci…3-3

The winner of the "Greg Groom Creative Line Award" this week was none other than Greg Groom. He cheated by straightening out this right-hand turn (knocking the cone over as he went by). He should be penalized, but since he went 15-15 in the Over-50 Intermediates, the scorers just laughed it off. Unfortunately, he spawned a bunch of copy-cat cheaters who cut the course also. Photo: Dan Alamangos
OVER-50 EXPERT
1. Ron Shuler…3-1
2. C.T. Falk…2-2
3. Robert Reisinger…1-4
Matt Sweet (88) came down from Washington State to go 8-6 in the Over-40 Novices. He stayed at Dennis Stapleton's compound. Photo: Dan Alamangos
OVER-50 INTERMEDIATE
1. Giovanni Spinali…1-1
2. John Griffin…3-2
3. Lance Schoonmaker…2-3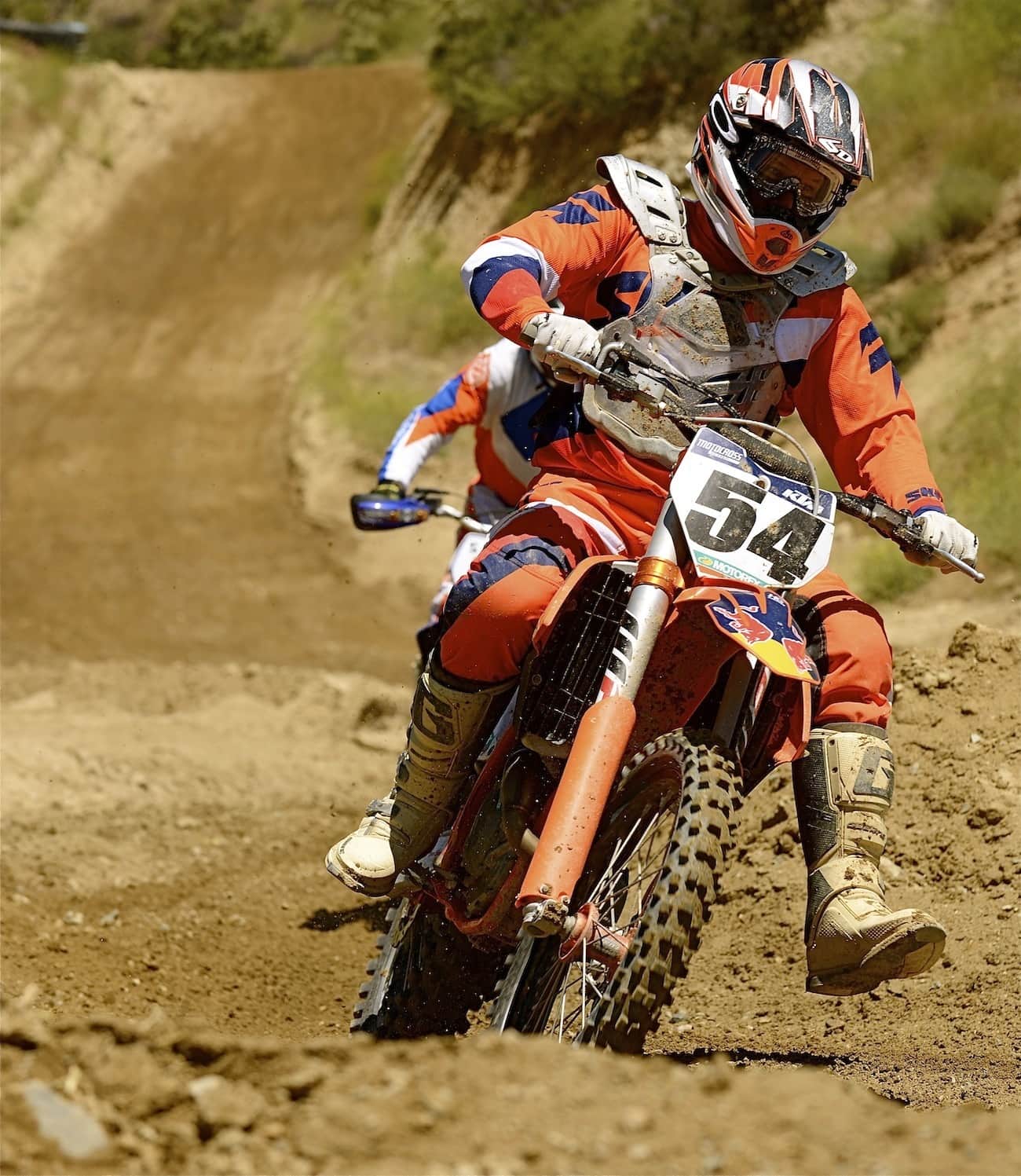 Mark Crosby (54) made the switch from a KTM 250SXF to a KTM 450SXF — he says its easier to race the 450 because of the broader powerband. Photo: Dan Alamangos
OVER-50 NOVICE
1. Glenn Pietronico…2-1
2. Milano Atanasovski…3-3
3. Greg Boren…5-2
Lyle Sweeter (55), Val Tamietti (31) and Brad Morrison (10) are all over 60 years old. Tamietti won the Over-60 Expert class and Sweeter took the Over-65 Expert win. Photo: Dan Alamangos
OVER-60 EXPERT
1. Val Tamietti…1-1
2. Brad Morrison…2-2
3. Mike Marion…3-3
Rich Stuelke (16) was the Over-65 Intermediate winner with a 2-1 over Dickie McMillen (1-2). Photo: Debbi Tamietti

Bradley Cole (14) and Josh Fout (37) work on their synchronized jumping, just in case it's in the Olympics. Photo: Debbi Tamietti
450 INTERMEDIATE
1. Ty Cullins…1-1
2. Matt Pastor…2-2
3. Christian Gardner…3-3
Jason Holub (105) drove in from Arizona to win the Over-40 Novices. Photo: Debbi Tamietti
OVER-40 NOVICE
1. Jason Holub…1-1
2. Russell Brown…3-2
3. Carmen Cafro…2-3
Former Pro Circuit Husqvarna rider Mike Monaghan (64) has never given up on two-strokes, but occasionally they give up on him. He crashed in the first moto of the Over-50 Experts and was too beat up to race the second moto. Photo: Debbi Tamietti
250 NOVICE
1. Jeremy Mowry…1-1
2. Dillon Ziegler…2-2
3. Nicholas Ziegler…3-3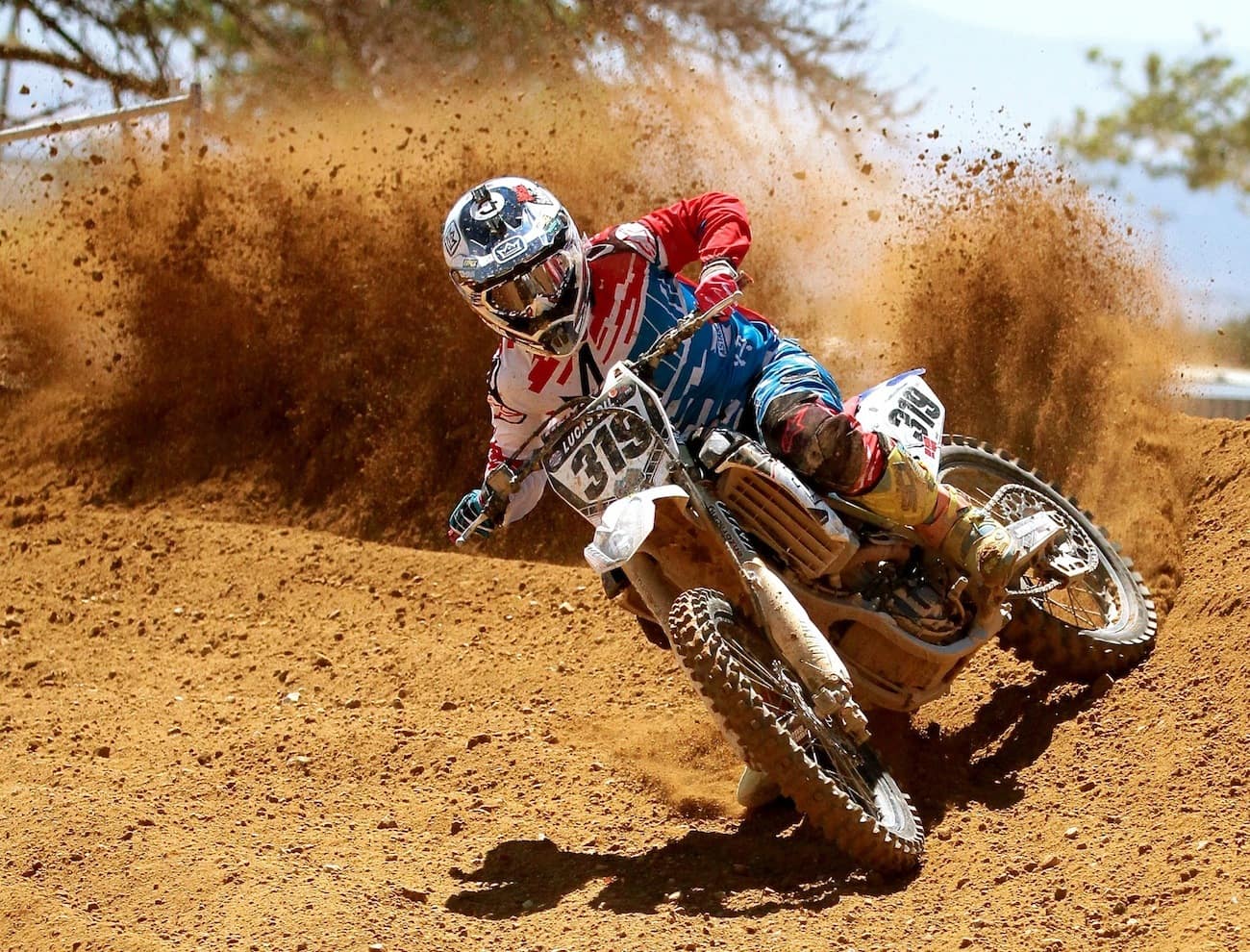 Dylan Bennett (319) was the 450 Pro winner. Photo: Debbi Tamietti
REM races again next Saturday, May 6, on the AMA National track and then on May 20 on the REM track. For more info go to www.remsatmx.com