REM RACE REPORT: EVER WISH YOU COULD GO BACK TO THE SADDLEBACK DAYS? THIS IS THE PLACE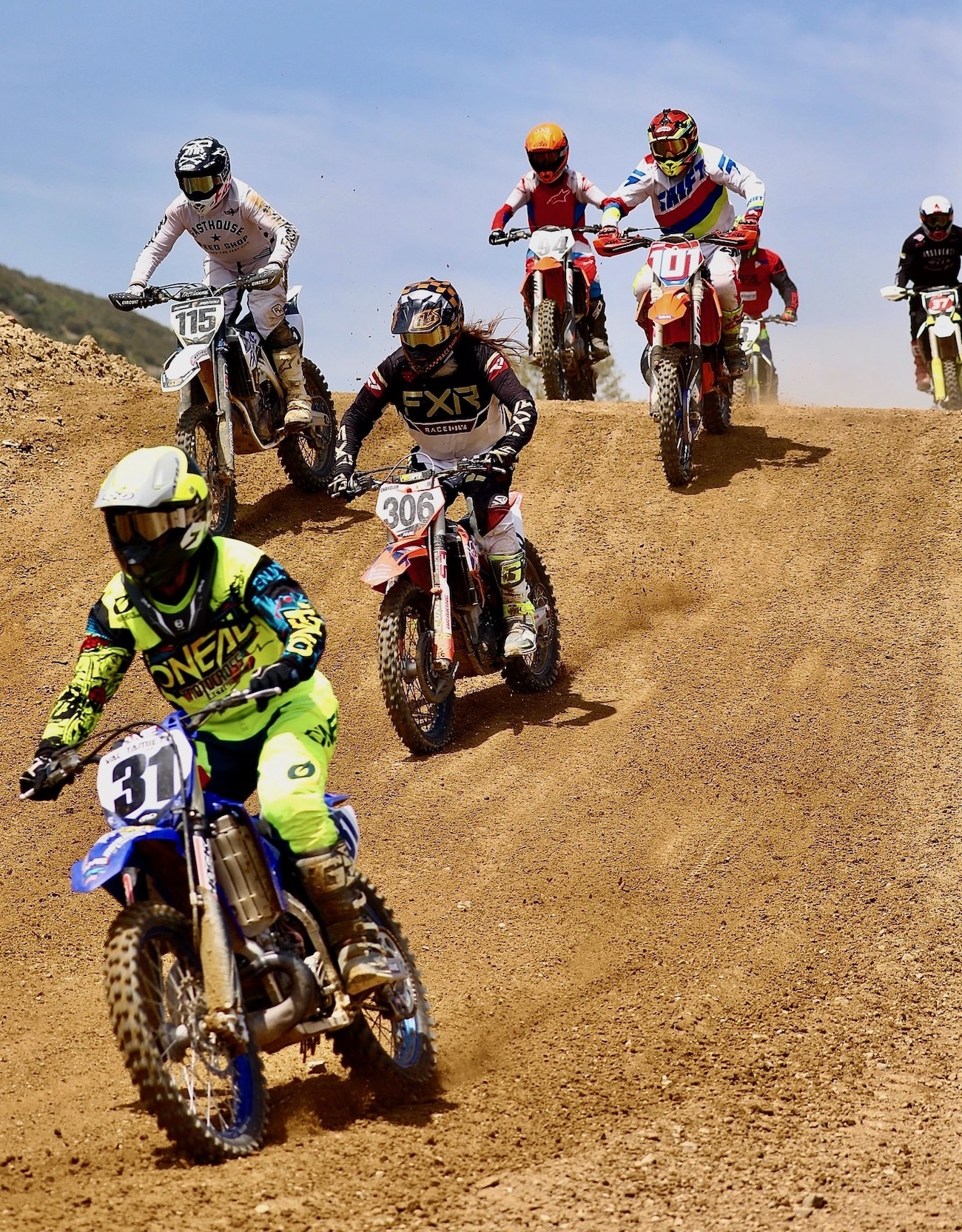 Val Tamietti (31), a former Saddleback Specialist, uses his YZ250 two-stroke to lead the pack over hill and dale. Photo: Debbi Tamietti
PHOTOS BY DEBBI TAMIETTI & DAN ALAMANGOS

REM Saturday motocross racers are the most laid-back racers in the sport. They hang out before and after the races, check on each other after a crash (even if they caused it) and know virtually everyone in the pits by name. There are REM racers who have parked next to the same guys for ten years; REM racers who sell their old race bikes to the same friend who bought their last olds one when they bought the new one they are selling to him now; REM racers who will lend their bike to a riders whose bike broke in practice; REM racers who are roofers, mechanics, plumbers, doctors and painters, and cut other REM racers unbelievable deals on their services; REM racers who try to kill each other on the track, only to laugh about as they pull off the track. They are, we hope, just like racers at tracks all across the country.
450 Pro winner Sean Lipanovich (505) can look down the hill and see where he is headed. Photo: Dan Alamangos
Best of all, REM promoters, Frank and Myra Thomason, run a super organized race program. They double-wave every start to avoid having to hold 12 different motos (times two). They run long motos and build a track that, although it has a few big jumps, none of them are dangerous. They normally get their complete race program done by 2:00 p.m. without shorting anyone on riding time.
Kyle Turner has a pretty clean set-up on his way to the 450 Beginner win. Photo: Debbi Tamietti
The REM track is build on the exact site of the original Arroyo Cycle Park. It sits on a plateau above the Glen Helen National track, with it's own pits, scoring tower, sign-up booth and concrete start line. It has fire hoses in most corners and the lower portion can be water by both water truck and fire hoses. All scoring is by transponder and you can sign up online to avoid having to wait in line in the morning. From the upper pits, you can see both the REM track and the National track, by walking 75 feet in either direction. On Saturday's when REM is the only scheduled race at Glen Helen, you can race at REM, and ride the Glen Helen National track or Stadiumcross track between motos. There is even a Pee-Wee track attached to the REM track so that you can bring your 50cc kids out to ride on a safe and fun entry-level play track.
MXA's Josh Fout raced a Beta 300RX two-stroke to a 1-1 win in the Vet Intermediate class. Photo: Debbi Tamietti
Don't expect a big production at an REM race. They have rules and they enforce them, but since most REM have been racing with them for a decades, all of the scofflaws and rule breakers are known to everyone in the pits. It is a low-key motocross race, on a safe track, with intense competition from some really fast guys—and lots of slow guys. They give away lots of swag at every riders meeting and Rich Stuelke from Motophoto (www.motophotollc.com) gives a framed photo away at every race to a lucky rider. Plus, famous moto-photographer Debbi Tamietti has a smug mug page (debbitamietti.smugmug.com), where she posts all the photos she shoots for MXA and where you can order hi-res digital images or prints of you or your buddies for around $1.50 (and Debbi gives all the money to charity at the end of each year).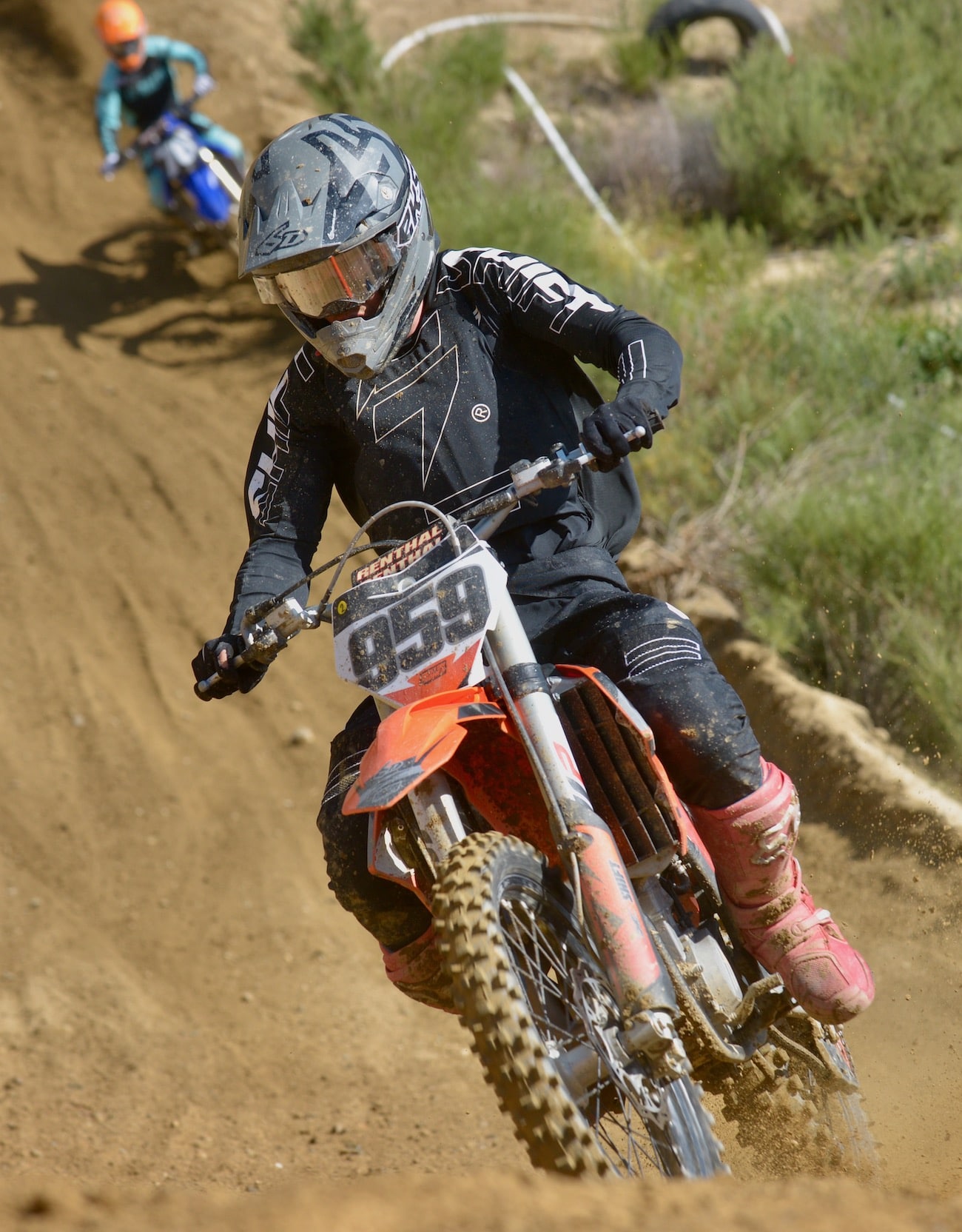 Max Groom (959) finished second in the 450 Pro class. Photo: Dan Alamangos
REM is as close as you can get to the the way motocross was before it became big business. You should try it some time. But, until then, enjoy the photos of  Saturday's race that Debbi and Dan Alamangos shot for MXA.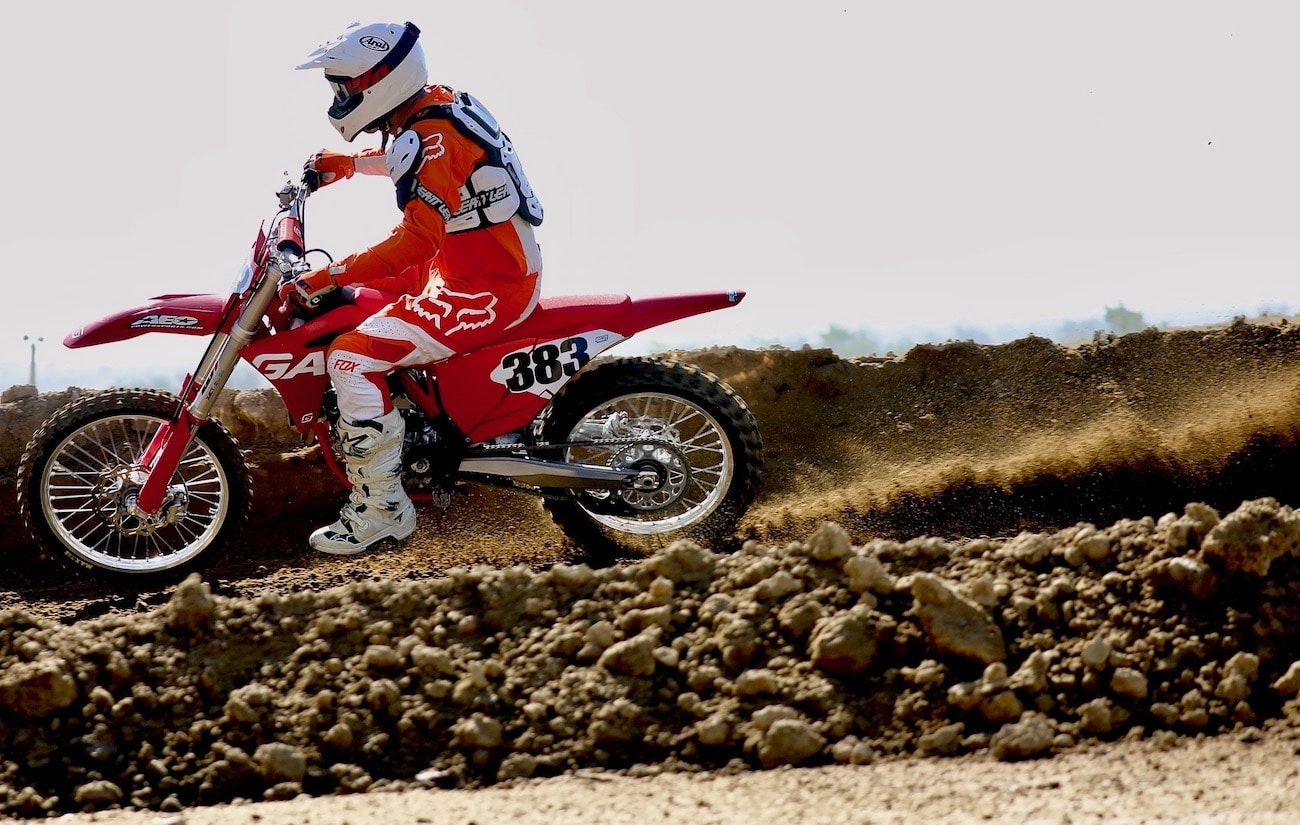 Randy Skinner, a former Saddleback Specialist, shoots a low, flat roost off the rear wheel of his GasGas MC 450. Photo: Debbi Tamietti
South African Alan Jullien (70), American Ron Schuler (middle) and Australian Dan Alamangos (98) try to set-up for a tight left-hand turn down a steep hill. Photo: Debbi Tamietti
Mason Olson (182) went 2-2 in the 250 Pro class. Photo: Dan Alamangos
Richard Taylor (141) torn his ACL at the Arlington Supercross and he has been in rehab to build up the strength in his knee so he can avoid surgery. Photo: Debbi Tamietti
This in the top three in the Over-60 Expert class: Robert Reisinger, a former Saddleback Specialist, (1-2) was second, Ed Guajardo (2-1) was first and Fred Nichols (3-4) was third. Photo: Debbi Tamietti
Brook Whipple (13) gives her CRF250 a handful of gas before heading down this long fast chute. Photo: Dan Alamangos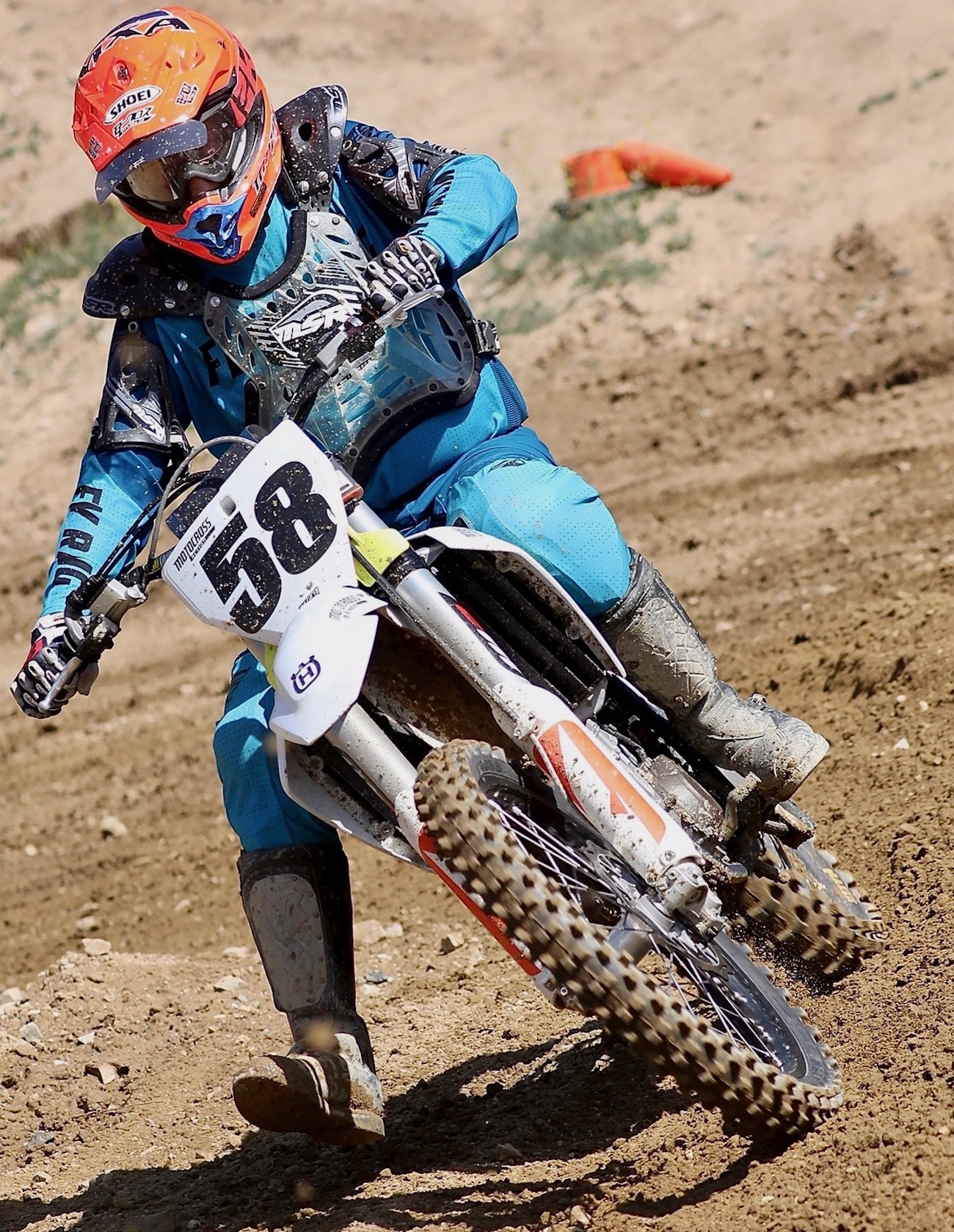 Lars Larsson (58), a former Grand Prix, ISDT, Trans-AMA and Saddleback Specialist, is heading back to Sweden on Wednesday, so this was his last REM race until he returns in October to get ready for the World Vet Championship. You gotta love Lars' black Super Victory leather boots. Photo: Debbi Tamietti
Jody Weisel (92), a former Saddleback Specialist, one fingers the front brake on MXA's GasGas EX 350, but uses a completely different finger to pull the clutch. You gotta love Jody's white Super Victory leather boots. Photo: Debbi Tamietti
Marc Crosby (38) and Luc De Ley (39), both former Saddleback Specialists, try to stay in numerical order. Photo: Debbi Tamietti

Batten down the hatches because there are rough seas ahead as Bryan Friday (43) and Ron Shuler (33) are on a collision course. Photo: Debbi Tamietti
Airline pilot Joe Melton (41) came back to racing after a long lay-off. Photo: Debbi Tamietti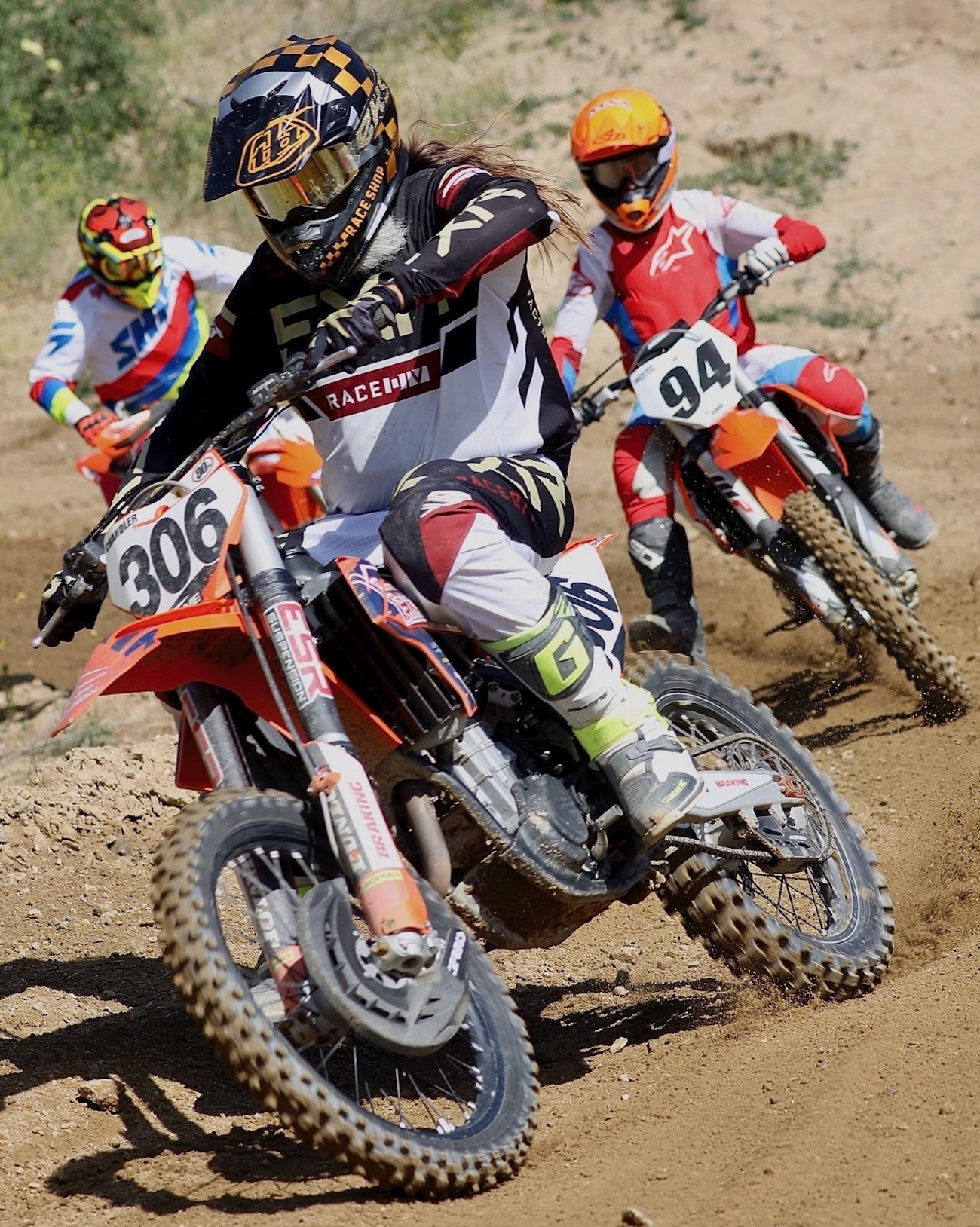 Steven Chandler (306) leads Randel Fout (94) and John Bosanko at the end of the back canyon straight. Photo: Debbi Tamietti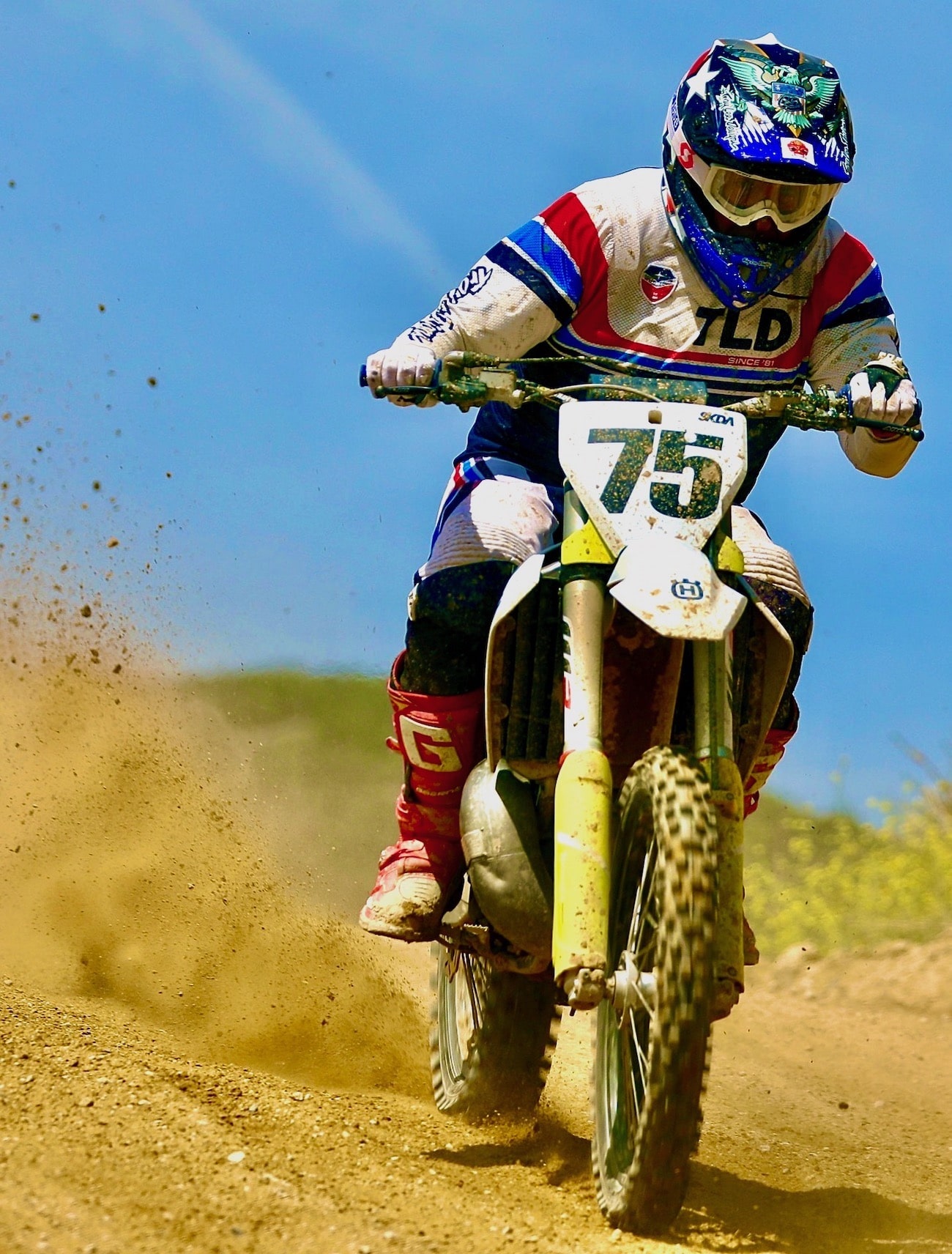 Frank Emerson (75) was fourth in the Over-60 Intermediate class with a 4-4 day. Photo: Debbi Tamietti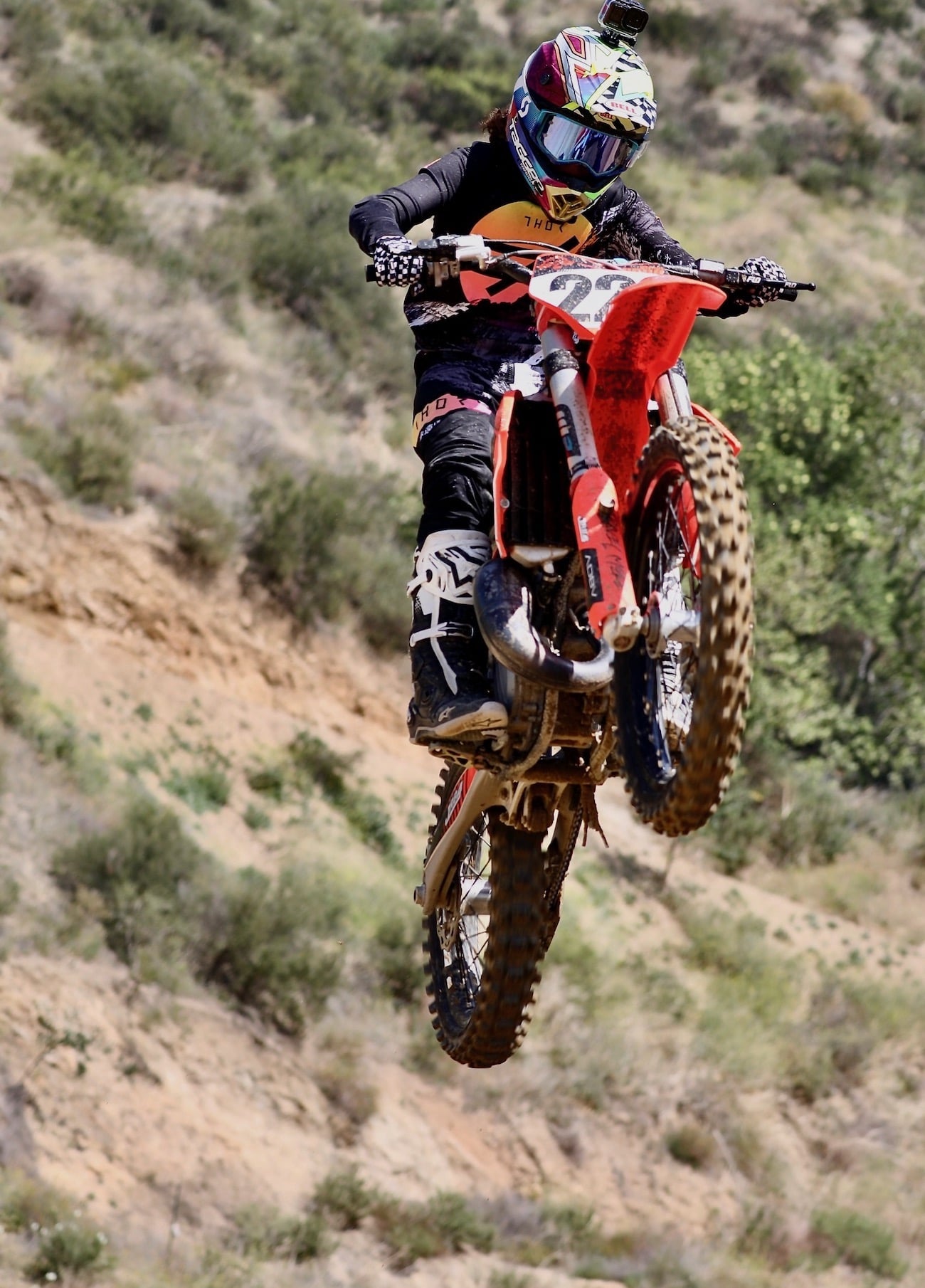 Ethan Webb (222) won the 125 two-stroke class. Photo: Debbi Tamietti
REM will  be racing next Saturday, April 17, at Glen Helen Raceway. For more info go to www.remsatmx.com or Click Here for REM's Facebook page.