REM'S 20TH BASH WAS A BLAST…WITH A COUPLE BASHES FOR GOOD MEASURE
Dennis Stapleton decided to skip the California Classic race at Pala to race the STI 125 Two-Stroke Challenge. He left REM $500 richer. Photo: Debbi Tamietti
Glen Helen was awash in racers this past weekend. REM's "20th Anniversary at Glen Helen" race drew almost 200 riders, while the International Old Timer's SoCal motocross National drew had over 200 riders from all across the western states. They were on the AMA National track. As an added bonus, the "SoCal Dual Sport Ride for Kids," a 100-mile charity ride for the Pediatric Brain Tumor Foundation, was staged and finished at Glen Helen. All of this on Saturday. Sunday saw day two of the OTMX National, a vintage ARX motocross on the REM track and a CalClub automobile SCCA Rallycross in Glen Helen's parking lot.
Stapleton's first place trophy. Photo: Debbi Tamietti
REM's 20th Anniversary race was a cool event as lots of past REM racers dusted off their helmets and came to spin laps on a beautiful 80-degree day. The celebration saw special prizes, 40 pizzas, unlimited donuts, Tom White commemorative T-shirts and special trophies. And, to their credit, REM was able to schedule the day's activities, thanks to multi-wave starts, so that there were were only eight races (times two motos).
Jeff Ward's son Aryton went 2-2 in the 250 Pro class behind Swede Kristoffer Palm. Photo: Debbi Tamietti
The only downside of the day was that the special 125cc two-stroke race that was sponsored by STI Tires only had ten entries. It's strange that two-stroke loyalist insist that two-strokes are the future, but then they don't support a race that was set up just for them. The only upside was for MXA's Dennis Stapleton, who not only won the STI Two-Stroke Challenge, but pocketed $500 for first place. And Dennis earned it, because in the combined 250 Pro, 450 Pro, Vet Pro and 125 two-stroke gate, Dennis holeshot all of the 450 four-strokes on his box-stock 2018 Husqvarna TC125 (including Kurt Nicoll, Tony Amaradio, Aryton Ward, Kristoffer Palm, Ryan Surratt and others). Some of them eventually ran Dennis down, but he ran out front for a couple of laps to the amazement of the crowd.
Kurt Nicoll took the Vet Pro win over Tony Amaradio. Photo: Dan Alamangos
Dan Almangos (67) braces for the down elevator on MXA's 2018 Honda CRF450. Photo: Debbi Tamietti
WELCOME TO THE TWILIGHT ZONE OF MOTOCROSS
In a strange Twilight Zone episode, that probably doesn't and couldn't happen at any track other than one in motocross-centric Southern California, the biggest class of the day was the Over-60 year-old riders. This has been going on for most of the 2018 season as riders from the good old days return to the mother ship. With 36 codgers hammering out laps, in their version of high-speed, the racing was intense. The old school Saddleback Pros, names that most Saddleback riders from the 1970s and 1980s would recognize, athough only by name not necessarily by hair color, have never given up on racing.
Val Tamietti won the Over-60 Expert class, but he didn't win either moto. Photo: Dan Alamangos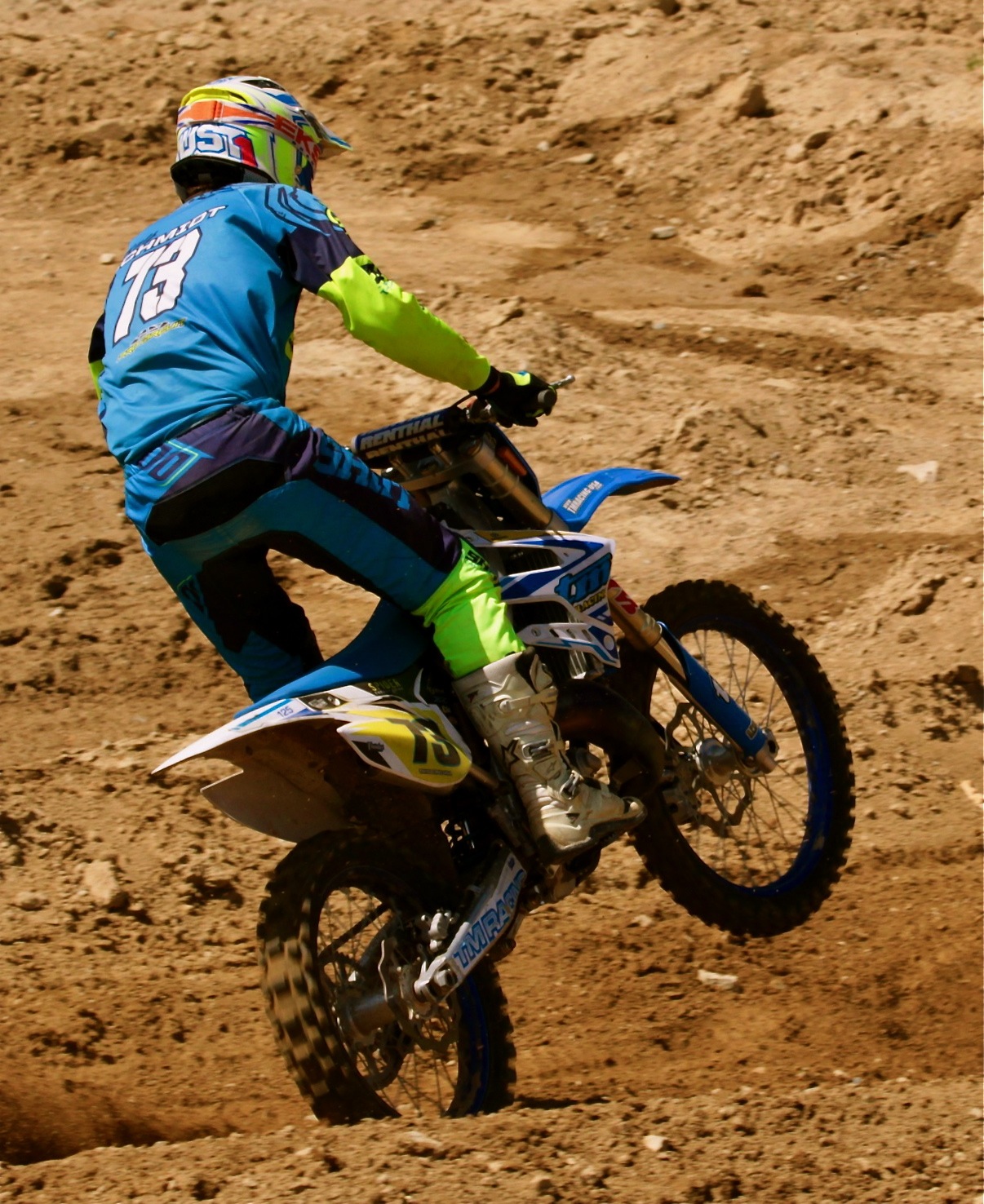 Ralf Schmidt raced 7 motos on Saturday. How did he do that? He raced two classes at REM and one three-moto class at the Old Timer's National on the National track. Photo: Debbi Tamietti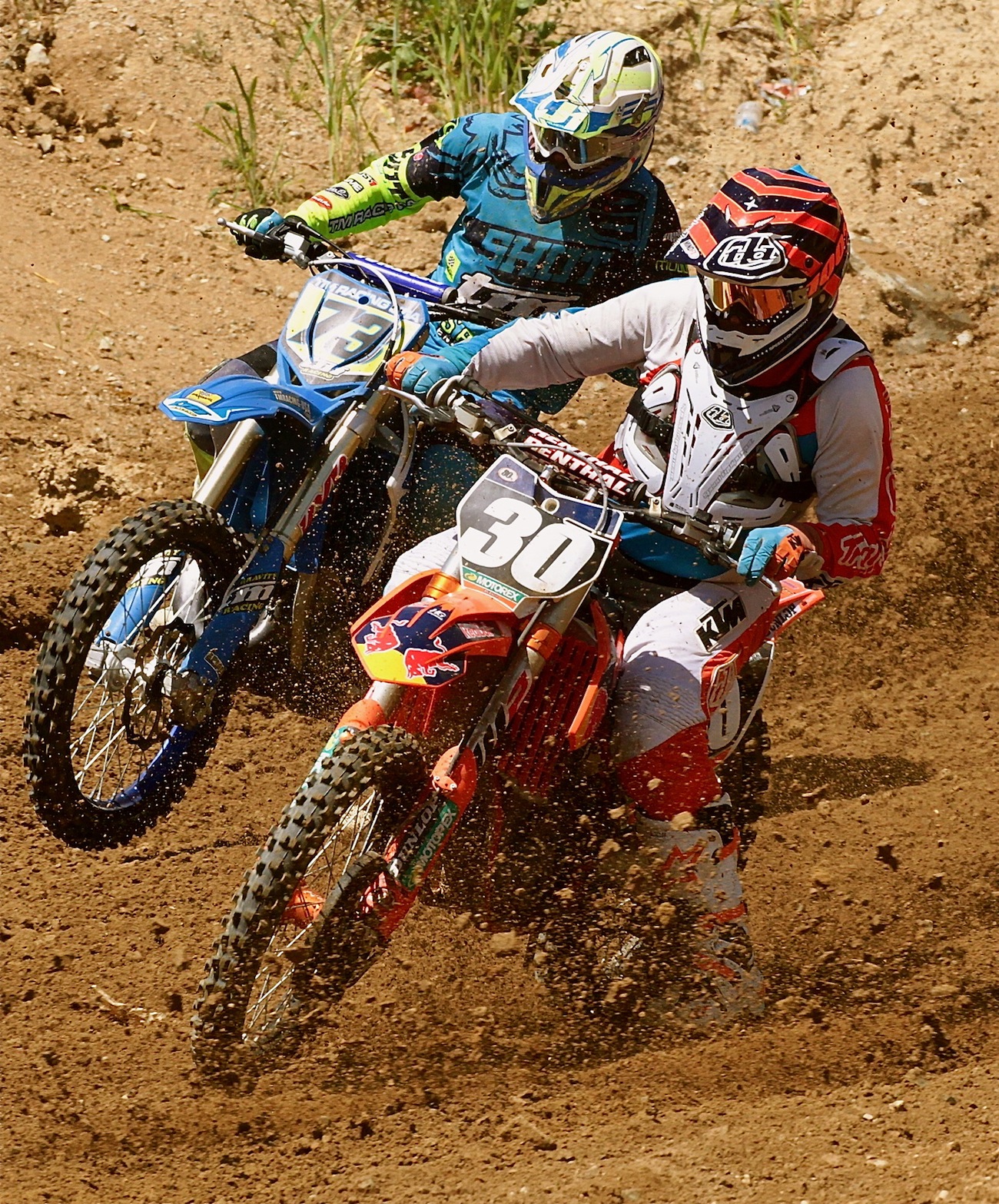 Holland versus Ireland. Dutchman Ralf Schmidt (73) tries to maximize his drive to get by Irishman DavId O'Connor (30). Photo: Debbi Tamietti
Val Tamietti won the Over-60 Experts with a 2-2 over Dave Eropkin's 4-1, Mike Monaghan's 3-4, Randy Skinner's 1-6, Bob Rutten's 5-3, Jim Latendresse's 8-5, Jim Hanson's 7-7, Pete Vetrano's 9-8, Kirk Bassett's 6-11 and Glen Senecal's 12-9.
Randy Skinner has his own cheering squad—he says it's his wife, but we think he's just trying to throw us off the trail. Photo: Debbi Tamietti
John Caper went 3-1 to win the Over-60 Intermediate class over T.V. Holmes' 2-3, Phil Cruz's 4-2 and Steven Chandler's 1-5. Photo: Debbi Tamietti
In the Over-60 Intermediates the top ten (in order) was John Caper, T.V. Holmes, Phil Cruz, Steven Chandler, Kent Reed, Dennis Smith, Mitch Evans, Brian Martin, Eric Carr and Gene Boere.
Randell Fout (22) acts as the pathfinder for Gary Jones (88) and David Sobodos. Photo: Dan Alamangos
Mark Hall (61) flew in from Boise to race at the REM 20th Anniversary race. Photo: Debbi Tamietti
THE BIG FIVE-OHS WERE SECOND BIGGEST


It's no surprise the next largest group of racers were the Over-50 crew (and that's without counting the 17 Over-50 Novices). In the Over-50 Elite class (for former AMA Pros) Billy Joe Mercier turned 50 and came out to wax the field on his Yamaha YZ250 two-stroke. Luther French was second with a 3-2, while Jon Ortner had a 2-3, Phil Dowell a 5-4 and Bob Weber a 4-5.
Are you as confused as we are? It turns out that the inside line, where Pasha Afshar (L7) is going leads directly to a series of bomb crater whoops. The outside line, where Billy Joe Mercier (501) is and Jon Ortner (10) is headed, is longer, but it's faster. Photo: Debbi Tamietti
James Lavender (325) was second in the Over-40 Expert class behind Mike Carter (2-1). Photo: Debbi Tamietti
The Over-50 Experts (one step below the Over-50 Elites) were won by 6D Helmets' Robert Reisinger over Chris Radzinki, Kevin Montgomery, Bryan Friday and Giovanni Spinali. Saddleback regular Luc Deley was on the top of the Over-50 Intermediate class with a 2-2 score, He was ahead of a top five of Eddie Jaramillo, Robert Pocius (on his new KTM 350SXF), Lonnie Paschal and Duane Quale.
THE ROLLING WOUNDED ARE BACK FROM IMPRISONMENT ON THE COUCH
Jody Weisel tried out his plated left arm and broken wrist for the first time in five months last week. He was back this week to see if he could make it hurt. Photo: Debbi Tamietti
Joe Sutter was seriously injured in a cartwheeling downhill crash when he jumped Mt. Whitney only to discover a fallen bike on the other side. He made his return to racing with a 8-9 day in the Over-50 Experts. Photo: Debbi Tamietti
Jeff Scott came off the couch to race his RM250 to an 11-7 day in the Over-50 Intermediates. The injured riders just want to get in some seat time, and consider a complete moto to be a victory. Photo: Debbi Tamietti
WHAT ABOUT THE NERVOUS NOVICES?
The Novice classes went as follows. 250 Novice went to Allen Mendelssohn with a 1-1. The 450 Novices were swept by Zack Randolph. The Vet Novices fell to Braden Larson over David O'Connor, Jason Goss, Mark Taylor and Corby Reutgen. The Over-40 Novices were won by Pete Vetrano, who dropped down from the Over-60 Experts by using the World Vet Championship rule that lets older riders move down one skill class per 10 years. Thus, 60-year-old Expert Pete Vetrano could race the Over-50 Intermediate class or the Over-40 Novices without breaking any rules.
Mike Monaghan (100) raced the Husky TC250 that Zach Bell won the World Two-Stroke Championship on two weeks ago. Mike went 3-4 in the Over-60 Expert class. Photo: Debbi Tamietti
The 450 Beginners were won by Steve Carranzan while Ryan Thurman took the 250 Beginners and Jason Edwards the Vet Beginners.
Suzy Mercier, Debbi Tamietti and PaM Skinner pose for Jon Ortner's camera Photo: Jon Ortner
Kayden Fillhart looks pro-moto in the 50cc class. Photo: Debbi Tamietti
REM has a Kid's Pee-Wee track attached to the east end of the big track. It is a fun track for 50cc and 65cc bikes. The kids have have their own battles, while Dad is off racing on the big track. Ryder Friday won the 50cc Pee-Wee class in front of Kale Bucher, Ryder Basler, Ryder Larson and Brodie Tryon. It is the first time in history that three riders named "Ryder" finished in the top five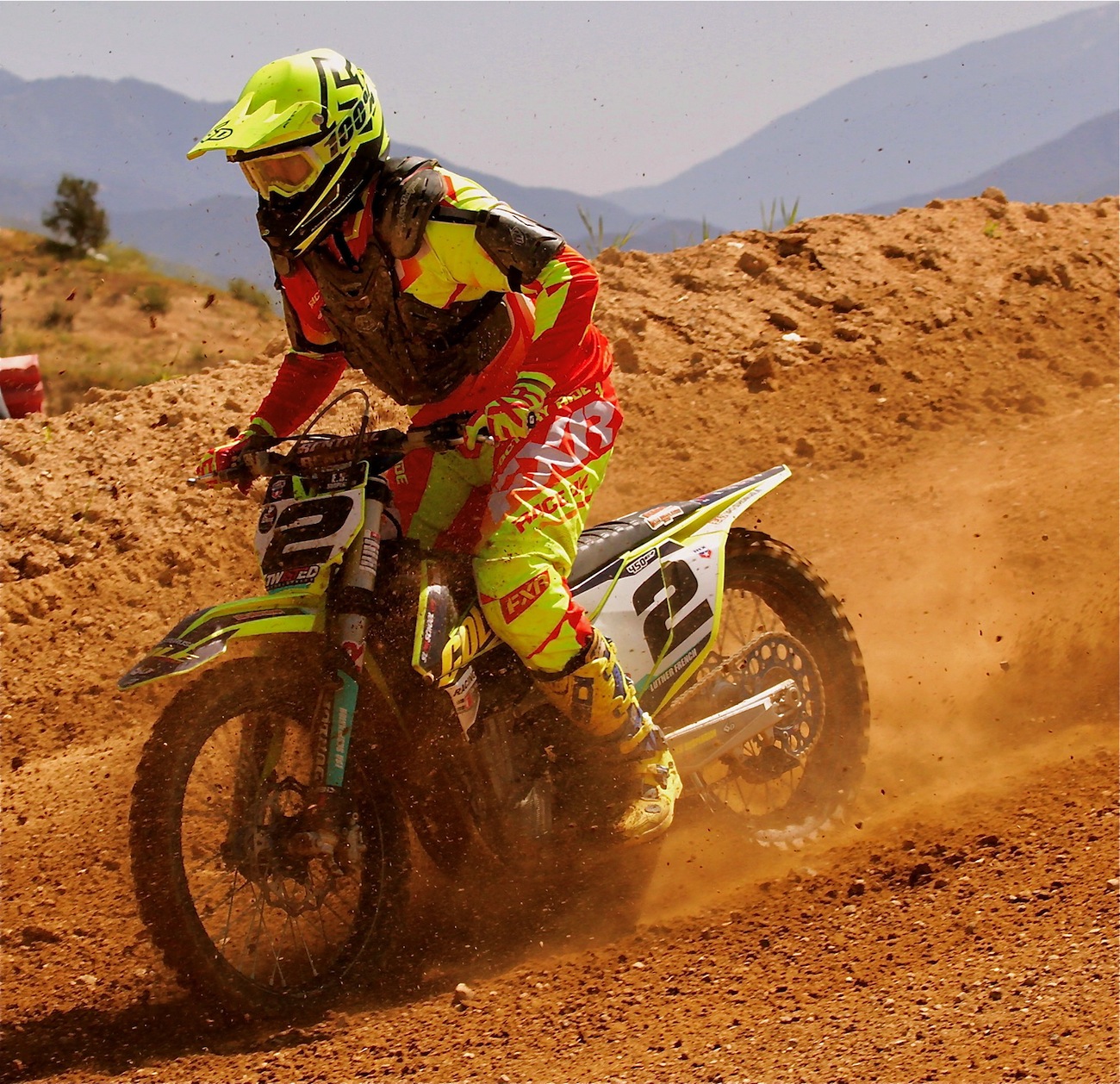 Sometimes you have to use all the travel your bike has. Luther French tries to find the ground with his engine cases. Photo: Debbi Tamietti
THE NEXT TWENTY YEARS
It is hard for many of the loyal REM gang to realize that it has been 20 years since REM moved from Carlsbad Raceway to Glen Helen—even though REM made plaques that listed every REM Number One rider from 1998 through to this past year to help ease the transition. And as you would expect from REM racers, the Number Ones from 1998, 2001, 2005, 2012, 2013, 2014, 2015, 2016 and 2017 were all racing at the 20th Anniversary motocross.
You gotta get above the crowd to get a clear view of the action. Photo: Dan Alamangos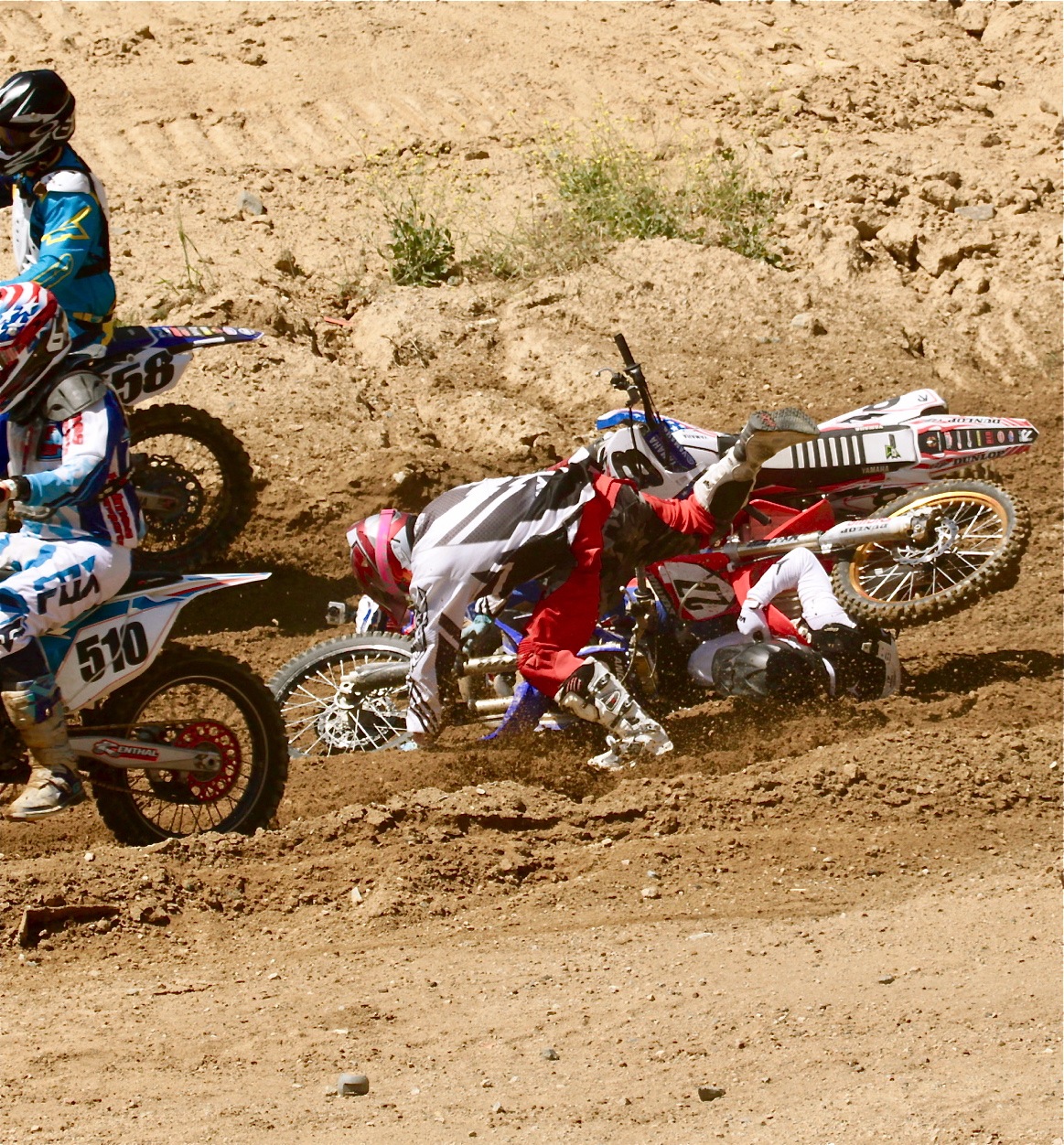 One of these three guys tried to make an iffy pass to gain a spot. It didn't work, except that #510 and #58 made three passes without breaking a sweat. Photo: Debbi Tamietti
The gaps in the Number One time line, represented by 1999, 2000, 2008, 2009, 2010 were filled by the dearly departed Rich Eierstedt (2000) and four-time REM Champ Dennis Boulware (1999, 2008, 2009, 2010). We miss them both
Over-50 Expert winner Robert Reisinger sweeps down into the back canyon. Photo: Dan Alamangos
UPCOMING 2018 REM RACES
April 28…….Spring Series #3
May 5………Spring Series #4 (National track)
May 12…….Spring Series #5
May 19…….Spring Series #6
June 2………Glen Helen, CA
June 16…….Glen Helen, CA
June 30…….Glen Helen, CA
Scott Noble (11), Jeremy McCool (335), Ryan Surratt (77), Garrick Noble (1) and Artyon Ward (77) stay tightly pack together in the Pro race. Photo: Debbi Tamietti
For more info about racing with REM Motocross, go to www.remsatmx.com