RIOTS, COVID-19 PRECAUTIONS & PIT SHOTS THE DAY BEFORE SALT LAKE CITY SUPERCROSS
Roger "The Man" Decoster making sure everything is running smoothly in the KTM pits. He's following orders wearing a face mask. 
RIOTS, COVID-19 PRECAUTIONS & PIT SHOTS THE DAY BEFORE SALT LAKE CITY SUPERCROSS
After close to a three-month delay due to COVID-19 the 2020 Supercross series is about to start back up in Salt Lake City, Utah. The remaining seven rounds will be inside Rice-Eccles Stadium with no fans. The day before the race, a riot started to break out in downtown Salt Lake City due to the George Floyd killing. The riot was only a few miles from the stadium. Utah's Governor called out the National Guard as well as an 8:00 pm curfew for Saturday night. It is unfortunate timing for the Supercross series, however, we doubt this will affect Feld's goal of having a race on Sunday, but it doesn't make things any easier for them after all the red tape that they had to get through to in order to have a race.
While our managing editor Daryl Ecklund was heading to and from the stadium today he got in the middle of the protest in the Salt Lake City streets. While he was stuck in the middle of protesters he shot a few photos. When he got to the stadium he was only able to get shots from the fence perimeter of the pits.
Since we were testing five different bikes at Glen Helen on Thursday, Daryl couldn't fly out to Salt Lake until Thursday afternoon. He was able to get tested for COVID-19 Friday morning, but he won't get the results back until Sunday morning. Meaning he can't get inside the Supercross pits or stadium until he gets back a negative COVID test which is why he had to shot photos from the fence. Here is what he saw through his lens.
For the Supercross TV Schedule click here
---
The Salt Lake City protest started off as a friendly one. 
As the hours past the protest started to turn into a riot. MXA's Daryl Ecklund was trying to get back to his hotel when he got stuck in the riot while the crowd flipped a police car and lit it on fire. 
Cooper Webb stated in the Supercross Press Conference yesterday that he is healthy and ready to bridge the gap in championship points. 
The people that didn't get their COVID-19 test cleared yet but needed to get stuff inside the pits had to meet people to get it over the fence. Here a Fly Racing rep gets helmets to the Rocky Mountain KTM team.
Rice Eccles Stadium is the sight of the final seven Supercross rounds. 
Factory KTM team manager, Ian Harrison checking out the data of Cooper's KTM 450SXF.
Social distancing signs like this one is posted all over the stadium. 
A set of Gaerne SG12's getting shined up. 
Tyler Bowers and his family must have got their COVID-19 test results back as they were in line to get wrist bands from Feld to allow them in the pits and stadium. 
American flags were flown around the pits.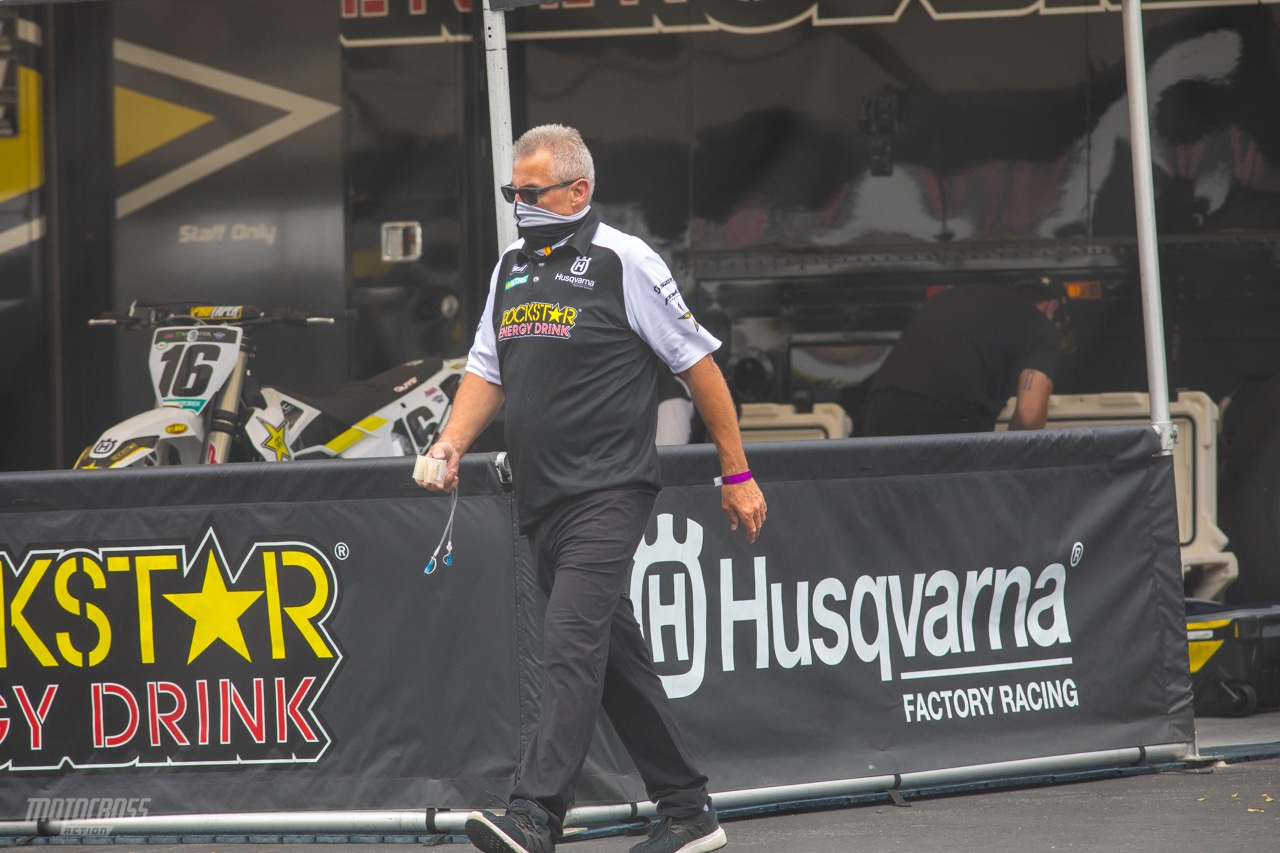 Zach Osborne's mechanic Dave Feeney. 
Rice-Eccles stadium was used in the 2002 Winter Olympic games.
Josh Hill's ClubMX YZ250F is in attendance but unfortunately Josh Hill isn't. He sustained a dislocated and fractured hip in a practice crash at ClubMX.  

Some bike cleaning going on for the BWR Honda boys.
There is a lot of construction going on inside the stadium to get the track built. 
Justin Thompson's KX250. 
Jason Anderson's factory Husky FC450. 
More bike building going on. 
Garrett Marchbanks Pro Circuit KX250. 
Tyler Bowers Trigger Racing KX450. 
Jalek Swoll's factory Husqvarna FC250. 
The rear end of Zach Osborne's factory FC450.
The factory Husky team getting ready for race day.
Deven Raper's KX450. 
The nearby mountains still have snow in them.
The COVID-19 testing crew. 
We hope the protest ends safely and soon so we can have great racing tomorrow!