RJ HAMPSHIRE'S HIGHS & LOWS: 250 WIN & DEVELOPING A NEW BIKE MID-SEASON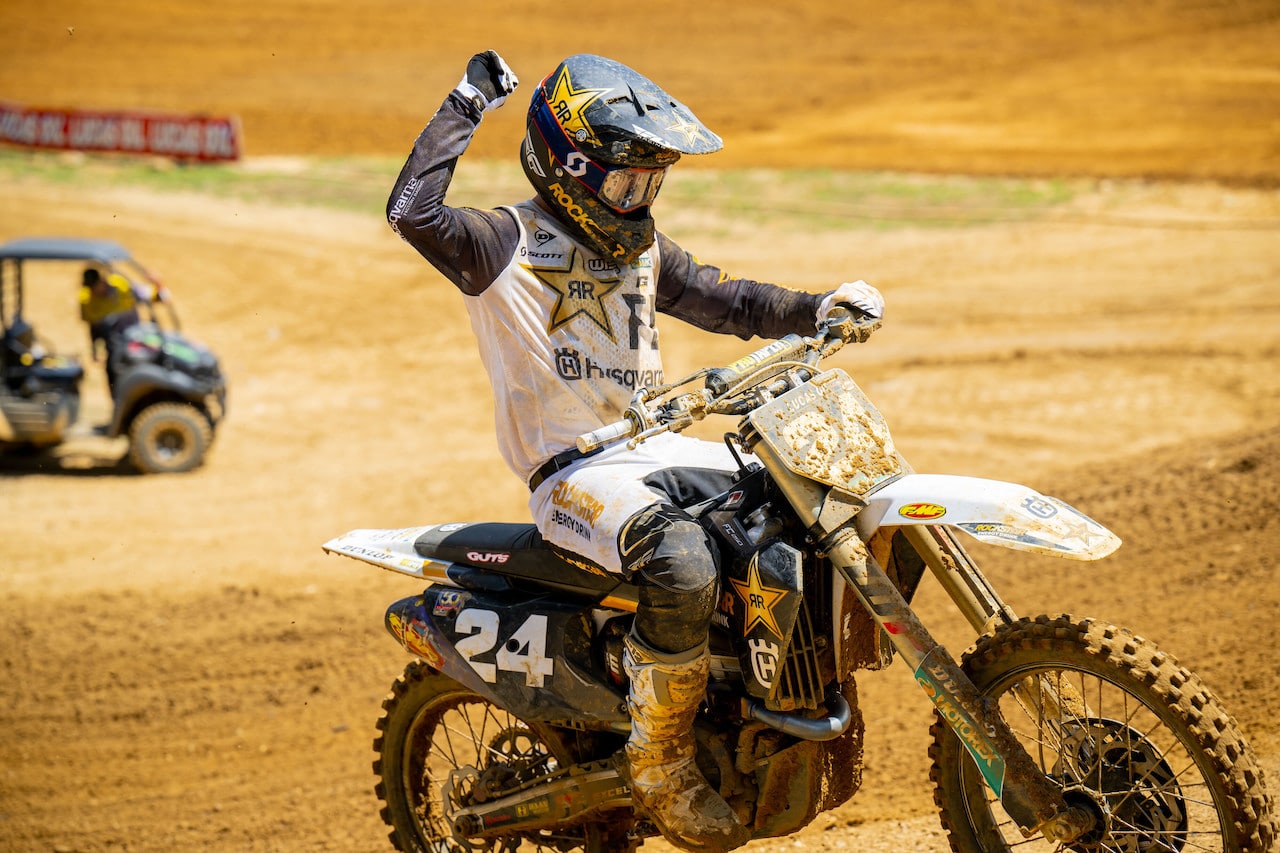 RJ HAMPSHIRE'S HIGHS & LOWS: 250 WIN & DEVELOPING A NEW BIKE MID-SEASON
The world-wide shutdowns have positive and negative affects on our sport. One positive, the shutdowns have inspired more people to buy a dirt bike to go riding. Some negatives, manufacturing facilities have gotten behind on production and the increased demand for bikes and parts has limited the availability of dirt bikes and dirt bike accessories. Due to major delays, the Rockstar Husqvarna 250 team didn't receive their 2022-1/2 Rockstar Edition FC250's until mid-December, only two weeks before the season opener at Anaheim. With an all-new bike and almost no time to test it, the KTM and Husky 250 riders had a steep learning curve. In this interview, RJ talks about developing a bike mid-season, he talks about his appreciation for the Rockstar Husqvarna team, his work ethic, the idea of racing a 450 Outdoors and he shares how the MXGP riders have made changes to their bikes that wouldn't be allowed under the AMA production rule here in the States.
By Jim Kimball
---
RJ, CONGRATS ON THE WIN AT BUDD'S CREEK. It was good, we have been making a lot of progress the last couple of weeks. I had a good feeling at Unadilla the weekend before. We found some things with the bike that brought some more comfort, and then I usually ride Budd's well. So, I had a lot of confidence coming in, got two good starts and that moto win, which I have not done in a while—so of course, it was special. The second moto, I got another good start and had good speed all day. I was stoked on the results and got the team back on top.  
YOU LOOKED COMFORTABLE WITH THE TRACK. I would say Red Bud and Budds Creek are two of my favorites and ones I ride well at, just because they are a little sandier and then have a harder base. And of course, I like Southwick. All these East Coast tracks are where I grew up and what I am used to, so I would say I am better on these. It brings more confidence into the weekend.  
YOUR HUSQVARNA FC250 IS ALL-NEW. IT TAKES A LONG TIME TO GET IT DIALED IN FOR A RIDER LIKE YOURSELF DOESN'T IT? That's true; big time! And we got the bike so late in the off-season. I did not actually get on it full time until sometime in January, and we did not get the bike until mid-December. You don't know if it is going to translate from the old bike to the new bike. A lot of things we were running through while going racing, which is always difficult. We were trying so many things that we didn't know if it would be better or not, but it was worth trying. I felt like we were figuring some things out in Supercross, and towards the end of it, my bike was getting better. We still had our struggles, but it was getting better. 
Now we have transferred into Motocross, and it is the same thing. It is like we are almost restarting again. New series, different type of bike, different set-up and yeah, same thing. The frame is completely different.  A lot of the things we were doing with the old bike, did not translate to the new bike because of how different the frames were.
DO YOU FEEL MORE COMFORTABLE WITH IT NOW? It took a while before we figured out a direction to go, and after that break after Washougal, we had an idea. That was the first time that we saw progress. We showed up at Unadilla in that first moto and I felt like I rode well. The second moto, we had some issues, but for the most part, I was stoked on at least making progress. But it is all of Austria, it is not just us or our team.  
ARE YOU SHARING INFO WITH THE KTM/HUSKY/GASGAS MXGP TEAMS? They figured it out on the Europe side with MXGP. It is just the changes they have made; we are not allowed to do here in the States, it is illegal for us to do it. So we had to take a different route. They already know what needs to be done to the bike leading up to next year.
Robert Jonas (Head of KTM Group Motorsports) was over here last week, and we talked a bunch and I know they had big plans. They have a direction of where they need to go. Of course, I have not rode the new bike yet, or next year's bike yet, but I am confident that they are going to figure this thing out. Like I said, we are making progress. Sure, I just went out and won, but I know that there is still a lot more that this bike can do, and a lot more positives it can do than negatives, so I don't think we are going to take a step back. 
RJ Hampshire's holeshot from 250 Moto 1 at Budds Creek. 
I'M SURE YOU WISH THINGS COULD HAVE BEEN FIGURED SOONER THOUGH. Yes, but like I said, it was just new, and you don't know until you go racing. Once you go racing, tracks are a lot different, and you don't know until you get there. That is where our big struggles were. I have not been able to get a start at all, and it is hard whenever you start in fifteenth. You must ride so much harder and then by the time you get up there, the guys are already gone.   
I SAY THIS ALL THE TIME, BUT THE 250 CLASS IS SO COMPETITIVE. There are a lot of fast guys, and the bike has a lot more value in the 250 class than the 450 class, because you can do so much more to the engine. The 450's come out of the box so fast all ready. In the 250's, you can tell the guys that got it figured out and are getting max power out of them. We had a new engine this year and not enough time to really develop it, test it, and figure out what is working and what is not. But now we have direction and a plan leading into next year.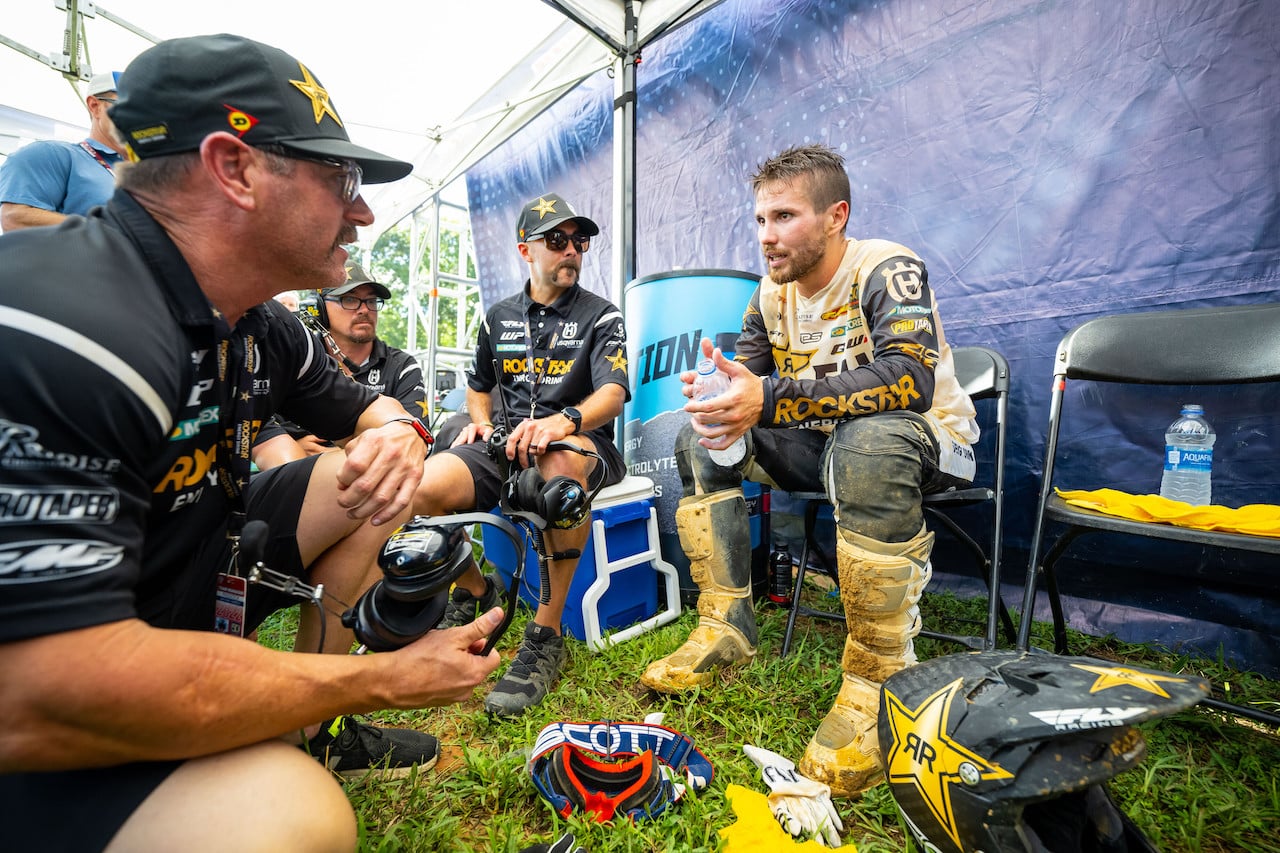 RJ Hampshire debriefing with team manager, Nathan Ramsey (left) and team crew chief, Sean Murphy (middle) after his 250 Moto 1 win at Budds Creek.
DIDN'T THE ROCKSTAR HUSQVARNA TEAM HAVE A LOT OF PERSONNEL CHANGES THIS YEAR? Yes, like you said, a lot of people that left. For the most part, I think our team has a good connection right now. Everybody there is solid. I enjoy having Nate (Ramsey, Team Manager) be a part of it. At first coming in, we did not really know each other much, but I would say we are dang close now. He listens and believes what I am saying, and with him as a racer, he can translate it well. 

We are figuring it out and then also, I lost my race mechanic Pat after Supercross, so I had C-Lo (Chris Loredo, Malcolm Stewart's mechanic) working for me for the first eight rounds rounds of outdoors. Then when Malcom came back, I got Amos, who was also a new guy that came over from the off-road KTM team. Now Anthony Amos is wrenching for me the rest of this year and so far, it has been pretty good dang good, so I am pretty sure that relationship is going to go into next year, so that will be good that we already kind of got our feet wet ending out this year.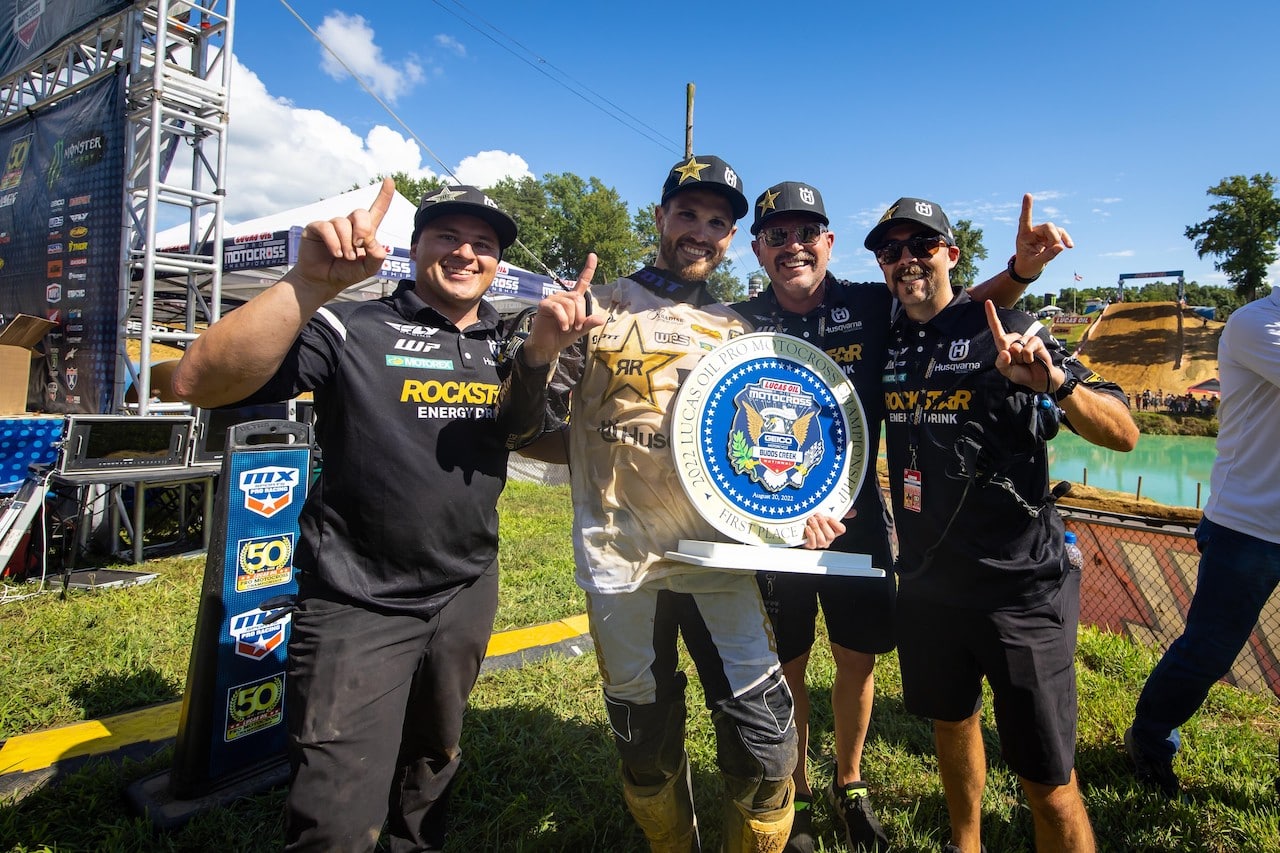 From left to right: Anthony Amos, RJ Hampshire, Nathan Ramsey, Sean Murphy.
RACING AT YOUR LEVEL, YOU NEED TO BE COMFORTABLE AND CONFIDENT WITH THE PEOPLE AROUND YOU. Yes, and that leads into even the practice mechanic back home. That is the guy that we are spending the most time with. We fly out to the races and then we have our race guy there, but really most of the work is done during the week.
My relationship with my new race mechanic Anthony Amos is great. We have been together two or three weeks and we already have our first win. I think that will translate and carry into next year and hopefully I'll be long-term with him.  
WHEN THE MOTOCROSS OF NATIONS TALK WAS STARTING OUT, I FELT LIKE YOUR NAME SHOUD'VE BEEN ON THE LIST. It was talked about, because of just of how it went down last year. I was picked, and ready to go, but did not end up getting to go. But Justin Cooper earned it this year, and leading up to last weekend, the dude is good. You look at me and I can't even get a start out there.
I would have one decent moto but then I am coming from twentieth place in the other moto. At the time, I would have picked Justin over myself. But I would have loved to have gone and represent my country. Who knows, maybe we get this bike figured out, and next year, it could be another shot for me.
I WONDER IF THEY SHOULD HAVE WAITED ANOTHER RACE BEFORE DECIDING. I don't know; I feel like Washougal for me was the one that really got it away from me. Even leading up to Millville, I rode well but was not on the box or anything like that. Washougal was one where I just struggled bad. We had big time issues and just did not ride good. Right then I felt like, "Okay, this is where I lost my chance to race the MXON." At Unadilla I rode well but it was too late by then. Even if I would have done well at my second moto, Justin gets the starts and has won a couple of moto's now. So, as I said, I would have taken him over myself at that point also.  
(Hampshire hit trackside stake and suffered deep cut, and punctured lung)
EVEN THOUGH YOU'VE HAD STRUGGLES, YOU ARE A FIGHTER, AND YOU NEVER GIVE UP. I agree, that is just how I was born and raised and that is how I have always been and always will be. You are going to get the best out of me no matter what. It does suck how the year went. My injury from Hangtown should have probably knocked me out. I should have missed probably three or four rounds but just the racer in me was saying, "Hey, we are going to go racing." Now physically, I am back to where I was at the beginning, on a bike that we are still trying to figure some things out with. If my crash at Hangtown did not happen, maybe I would have been a guy for the 250 class at MXON. I will take the blame for that. If the opportunity does come up for the MXON again, I am 100 percent in on it. I enjoy racing outdoors. I enjoy the suffering, putting in the work during the week, and going racing.
THIS MAY BE OLD NEWS NOW, BUT FOR A WHILE, YOU WERE GOING TO RACE THE 450 OUTDOORS, RIGHT? Yes, it was a two-week idea because we found out Malcolm was going to be out for a while. I ride the 450 well, and I like that power quite a bit. I was all for it and wanted to do it. I flew out to California and did some testing on it and, I was fast. I felt good on it and was ready to go, but it was hard for the team in Austria to want me to race the 450. I have never even raced one, and they had never even seen me ride one. I do enjoy the 450. I love riding it and who knows, I might have another shot here next year for outdoors.  
WHAT IS GOING ON FOR 2023? I am signed next year with Husqvarna. They believe in me, and they know that we have issues, and we have had issues, and they take a lot of the blame. They know the situation we are in. All they ask is that I go out there and do the best I can. That is what I am doing, the best I can right now. If I get a good start or if I am up there, I feel like I can battle for wins still, so that is our goal going forward.  
Everybody wants the same thing, which is to win. So, they are going to put the effort in. There is not so much we can do right now. We are in the season and can't really test too much stuff. Do what we can and just get ready for next year.  
LET'S TOUCH A LITTLE ON YOUR FAMILY LIFE. YOU ARE MARRIED AND HAVE ONE DAUGHTER AND ANOTHER CHILD ON THE WAY? Yes, my wife is due any day now. She is 38 weeks along, so it's coming up very soon. My family means everything to me. My wife, and I have been together pretty much since we were 18, so we spend a lot of time together, and have grown up together. We bought our first house together. She supports me and that is what you need in this sport.  
You never know when your career is going to be over. My daughter is almost three and she is the best thing ever, coming home from the track. She is always ready to go. It's nice to separate your home life from your racing. It brings you back down and be a normal dude again.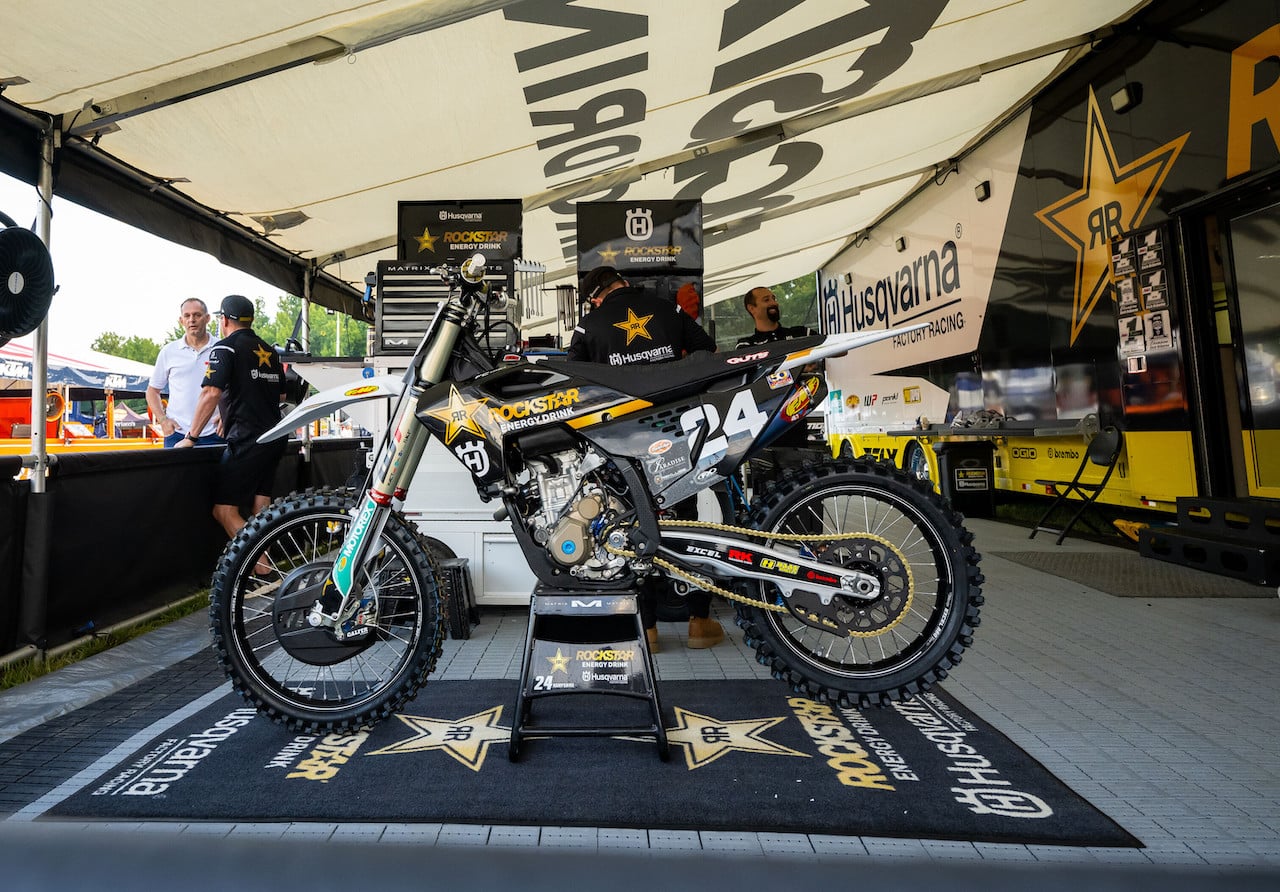 LET'S WRAP UP WITH 2022, I IMAGINE IT'S BEEN A YEAR OF HIGHS AND LOWS? Yes, even with missing a couple of motocross rounds it is still to this point my best overall year I have had. It just goes to show how much I have grown over the years. Being with Aldon and the boys down here in Florida. We work hard and I see things a lot differently now. I feel like I have learned a lot about the bike and the way it works, so I am able to translate that a lot better.
The Supercross win, the first in my career, that was huge. I feel like I can go win any moto. I am going to work my butt off, and even if we are a little bit behind on one thing, I am just going to work harder and be the best I can be. My team sees that. They know I am going to get everything I can out of it. I am just thankful to be in the spot I am in with my family, the team, my job. I am here again next year, and I am ready to go again this weekend!