ROGER DECOSTER CRASHES AT WASHOUGAL: HIS CHAMPIONSHIP HOPES ARE DASHED
There was an incident at the 2022 Washougal National that left everyone who saw the incident concerned for motocross icon Roger DeCoster, who was hit by a rider who ran off the track in the first turn—directly into the 77-year-old KTM boss. MXA's Trevor Nelson, who was standing just down from Roger, swung his camera around and shot this sequence
At the start of the second 450 moto at Washougal, Dutch Honda rider Lars Van Berkel left the track at speed in the first corner and went into the crowd of mechanics and team personnel in the infield—Van Berkel flew off his bike and collided into KTM World Motocross Consultant and five-time 500 World Champion Roger DeCoster. In this photo, Roger is sent flying and Lars Van Berkel tucks and  rolls.
A split second later Roger is still rolling fast and Lars Van Berkel is tangled up with his legs. To the right you can see the leg of another mechanic in the dust. He was just missed.

Lars Van Berkel's forward motion is stopped as he reaches up to pull his helmet down. As for Roger he is still rolling, but is rolling out of the way. Roger's radio flies into the dirt.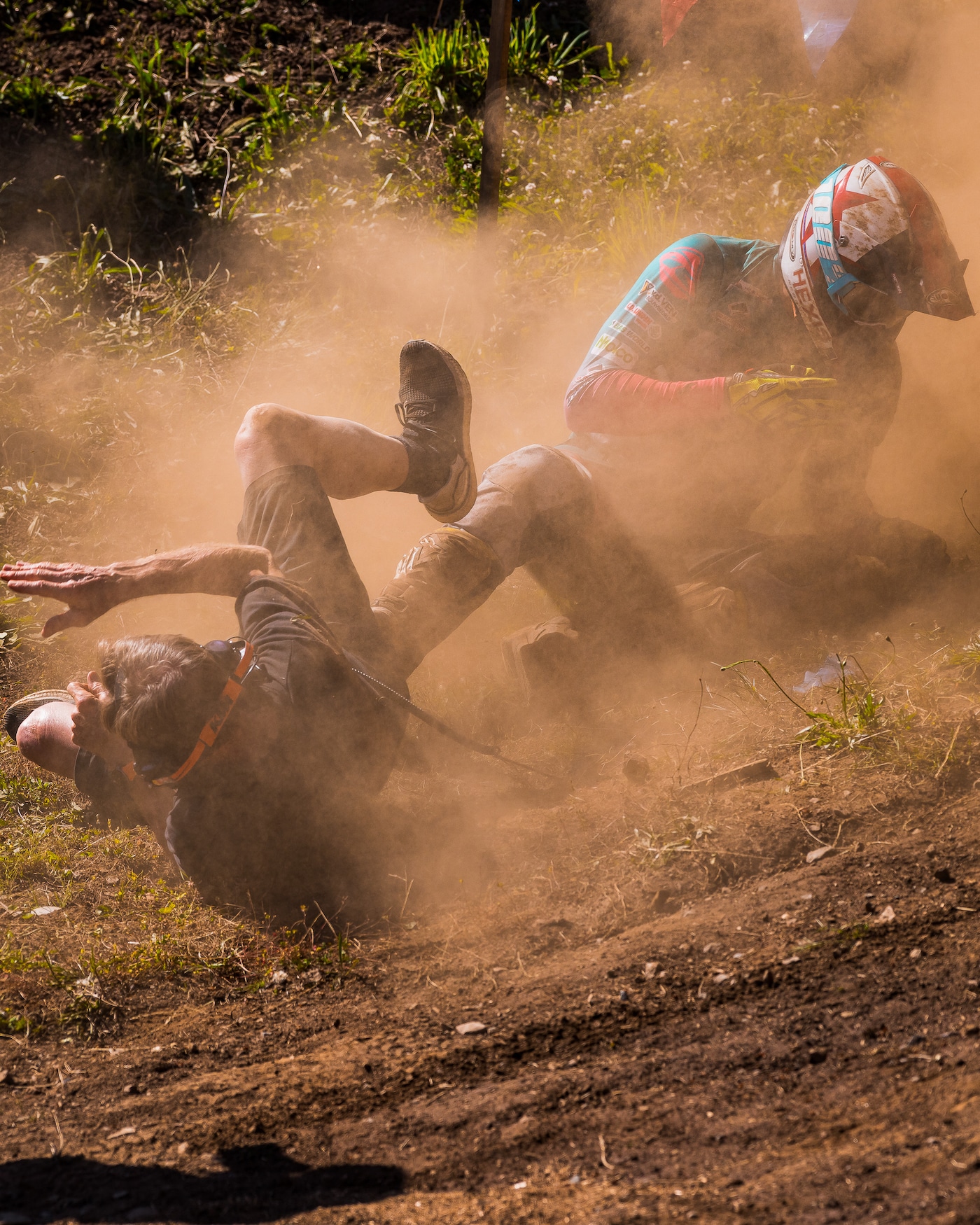 Lars Van Berkel said on Instagram, "Tough day at Washougal. I qualified straight into the motos, running midpack in moto 1, but had to pull off with an electrical issue. In the second moto I started next to Ryan Dungey, took a great start, but had a mega crash in corner 1 and ended my day in the medical unit, next to Roger DeCoster who I body slammed with my crash. Roger and I were placed into the same ambulance to get treatment."
The 77-year-old Roger suffered cuts and bruises, but was back in the pits and on the job later. He will be sore—especially his shoulders which took the brunt of hitting the ground. We will keep you updated.