ROGER DECOSTER INTERVIEW: "IT'S THE NEXT BEST THING TO RACING YOURSELF"

ROGER DECOSTER INTERVIEW: "IT'S THE NEXT BEST THING TO RACING YOURSELF"
The 2021 Monster Energy Supercross season is approaching rapidly and before it gets rolling, MXA caught up with Roger Decoster to pick his brain about all of the action going on under the KTM umbrella. KTM has taken their 250 program back and will host a lites class rider for the first time since Justin Hill and Marvin Musquin were on Red Bull KTM 250s back in 2015. GasGas is going racing in 2021 with the Troy Lee Designs team, Cooper Webb is healthy again after a big injury, the Rocky Mountain KTM team has swapped out Baggett for Savatgy and at 76-years-old, Roger Decoster is still motivated to go racing and help the riders and teams under the KTM umbrella succeed.
BY JOSH MOSIMAN
KTM BOUGHT GASGAS AND THEN TROY LEE TOOK OVER THE FACTORY PROGRAM, ARE YOU EXCITED TO HAVE THREE FACTORY TEAMS NOW? I think it's a lot of work. But when I take a step back and look at what our owner has done, it's pretty awesome. The fact that he is so committed to racing, is really nice. Like I said, it's a lot of work, but it's good to be a part of it. There's never anything getting stale at our company. There's always something new happening. They didn't even know a couple months ago when we were going to have production GasGas bikes and they told us, "Hey, you better organize a race team around GasGas." We said, "You know there is a production rule, we need to have bikes for sale?" They said, "Yeah, yeah, we'll figure that out."
THE GASGAS IS DIFFERENT FROM THE KTM WITH THE TRIPLE CLAMPS AND SUCH. DO YOU MESS WITH THE PRODUCTION BIKE A LOT? Well, we start from the production bike, but for the race team, the same parts will be available for all-three teams. Just cosmetically they will be different. But the engine, the main frame, the chassis components, will be the same for all three brands.
The Red Bull KTM lineup for the 2021 season. 
WHAT MOTIVATES YOU TO KEEP GOING RACING EVERY YEAR WITH THE KTM GROUP? Racing is something that has never gotten old for me. It always feels good to me to be a part of it. If I can still make a difference and help the performance of the bike or help the riders by giving advice that they can make good use of, that still feels good to me. It's the next best thing to racing yourself. Racing in my life has been the most exciting thing I have ever done and the most satisfying thing and this is as close as you're going to get if you don't race yourself.
WHAT ABOUT COOPER WEBB AND HIS BACK INJURY. HOW WAS THAT? Yeah, in his spine he had one of his discs come out and it was displaced, and it was damaged. He didn't realize how serious it was. It happened in Dallas went he went down and landed on the concrete. He didn't take any time off and he had a lot of pain. Then the Covid thing happened and he rested, but he didn't really catch exactly what happened to his back . Then he came back and was really strong in Salt Lake City, Utah. He scored the most points in Utah and he actually made up 14-points on Eli. Then, after the first 450 National he was in so much pain, that he went back to the doctor and they saw what happened. We decided to keep him away from riding and exercising and we started with treatments for his spine and disc.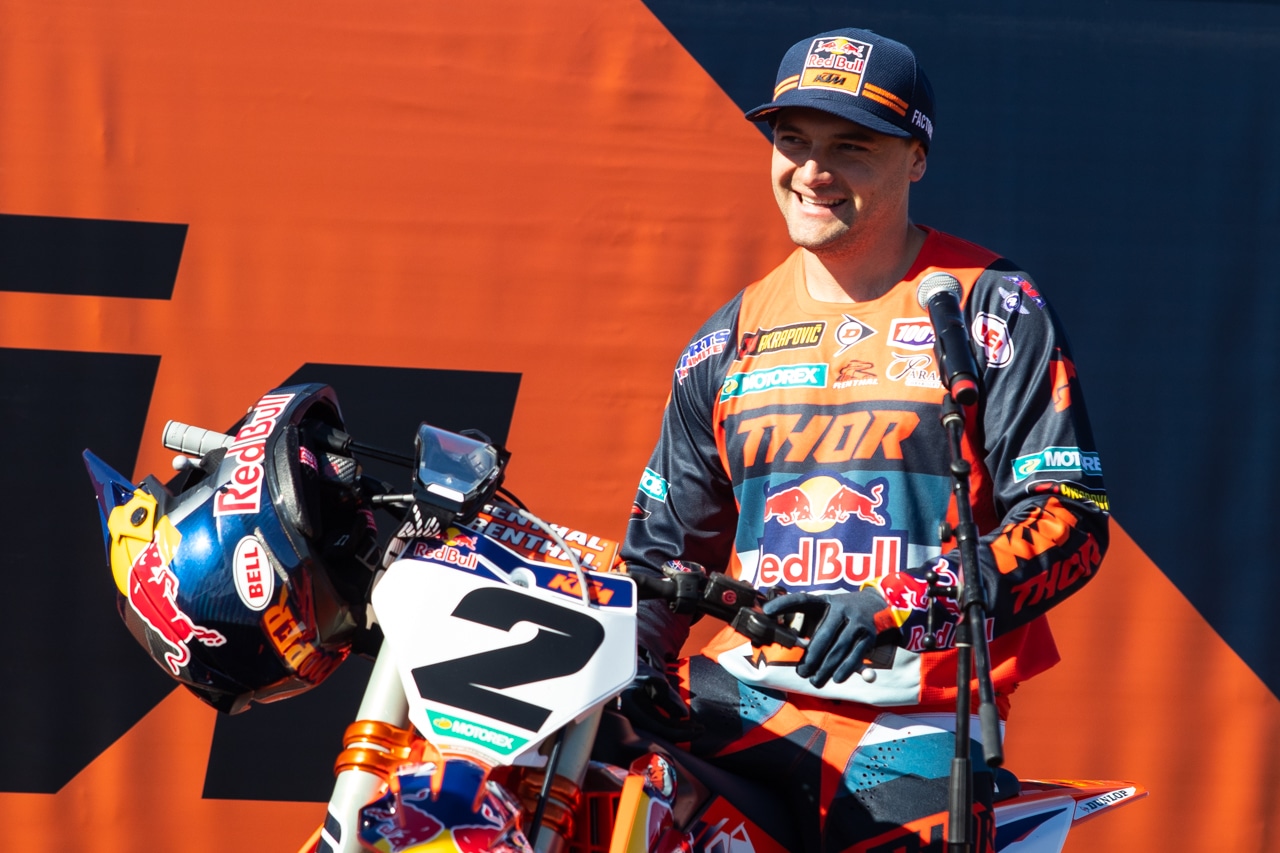 Cooper Webb was happy to sign a two-year extension on his contract with Red Bull KTM.
YOU SIGNED COOPER WHEN HE WAS STRUGGLING AND NOW HE HAS FOUND SUCCESS. HOW DO YOU LIKE WORKING WITH HIM? I like it a lot. His biggest quality is that he takes responsibility for what happened; and he takes the right action to fix it. He's not the kind of guy to make excuses and blame other people or situations or the bike or whatever. He takes responsibility for what is going on. I think that's his biggest quality. And he is a fighter. He wants to win.
NOBODY ELSE HAS MENTIONED IT YET, BUT WITH MAX VOHLAND'S SIGNING TO RED BULL KTM, HE AND HIS FATHER TALLON VOHLAND HAVE BECOME THE FIRST FATHER-SON DUO TO RIDE FOR ROGER DECOSTER. Yes, that's true.
WERE YOU MANAGING THE PEPSI HONDA TEAM THAT TALLON VOHLAND RODE FOR IN 1994? I was mainly there to help with the bike development. That team was run by the Becky's brothers that ended up working later with Luongo. They were like assistants to Luongo and I think one of the brothers still works for Luongo. I was there mainly on the technical side trying to get the bikes as cool as possible. What was cool at the time was that Pepsi was a sponsor.
Max Vohland and his Dad, Tallon Vohland. So far, this is the only father-son duo to both ride for Roger Decoster in their Pro racing careers. Click here to read our latest interview with Max Vohland.
WHEN I MENTIONED IT TO MAX VOHLAND, I TOLD HIM IT WAS PRETTY COOL THAT HE AND HIS DAD WERE THE FIRST FATHER-SON DUO TO RACE FOR YOU. Yeah, I never thought about that (laughs). That's pretty cool. It's true. Tallon was pretty good, but the team was kind of difficult for Tallon because his teammate was also the manager and the manager was a tough, tough guy to deal with. There were two riders on the team, one was the manager and the other was Tallon.
WHEN WAS THE FIRST TIME YOU NOTICED MAX VOHLAND? Well, I saw results when he was on a little bike from Loretta and so on. Then, a little bit before last year, Straight Rhythm, we got another look at him, a closer look at him. I had a day out with a bike for him and I liked what I saw and Ian, I think, felt the same way also. Then we kept an eye on him with Nathan Ramsey being our amateur guy now. I keep contact with him and follow what the young guys are doing. We wanted a young guy to work directly with the team because the last couple years, our results in the 250 class have not been what we'd like them to be. So we decided to take a young guy that has a fresh mind and work with him and hopefully we can learn from that and use what we learn with all our 250 riders.
Roger Decoster with KTM's Nathan Ramsey. Nathan is the Team Manager of the Orange Brigade KTM amateur program, signing riders to his team and also working directly with some of the Orange Brigade riders as their riding coach. 
MAX VOHLAND IS YOUNG AND HE HASN'T EVEN RIDDEN A 250 FOUR-STROKE FOR A FULL YEAR AND HE'S GOING TO BE RACING SUPERCROSS FIRST, THAT'S A LITTLE BIT DIFFERENT. Yeah, I think it was the beginning of September that we got him a 250 and we are very happy with how he's progressing. They're nice people, easy to work with. His Dad is a nice guy and wants the best for his kid.
MARVIN HAS BEEN WITH RED BULL KTM FOR A WHILE NOW. Yeah, it's going to be ten years, I think.
ARE YOU EXCITED FOR HOW HE WILL DO NEXT YEAR? Yeah, if he can be healthy for the whole year. Marvin, he's getting up there in age, but he has stayed young in his mind I feel, and I think he still wants to do better than he's done. He has the talent. If he can stay focused and not get injured, I think he has a chance.

Roger Decoster explained at the recent Red Bull KTM 2021 team intro that he's thankful to work for a company like KTM that continually invests in their racing program.   
HOW DO YOU LIKE YOU RIDERS WORKING WITH ALDON BAKER? Well, it's the best facility around. So, with Aldon everything is organized. The tracks are always ready when the riders are ready. There's a proper workshop, there's a proper gym, the tracks are watered. There's a person in charge of everything. One big advantage is to have a facility like that. It's basically the same as our new Supercross tracks next to our office in Murrieta. They're watered, maintained, we have a person designated to maintaining the track. To have all this available, the rider can focus on racing and on himself and what he has to do. Everything is ready for him and I think that's a big advantage.
WITH GASGAS YOU HAVE JUSTIN BARCIA NOW. IS HE GOING TO WORK WITH ALDON BAKER? The plan is that he won't work with Aldon and he will stay in California. But plans can change along the way. With Jason Anderson choosing not to go back to Aldon, there may be a spot available. But, for now, the plan is for him to be based in California.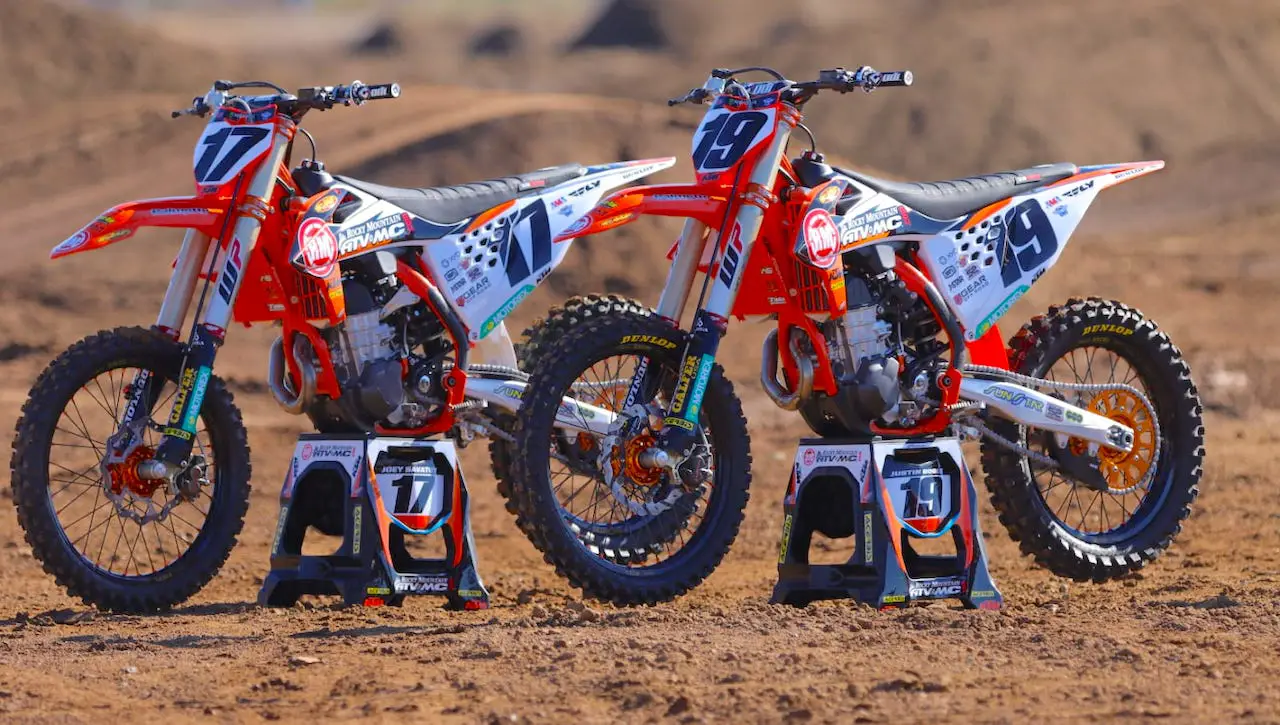 The Rocky Mountain KTM team will lineup with Justin Bogle and Joey Savatgy for 2021. As of right now, there is no official word on Blake Baggett's racing future.
HOW INVOLVED ARE YOU WITH SIGNING THE ROCKY MOUNTAIN KTM RIDERS? WERE YOU INVOLVED WITH BAGGETT LEAVING AND SAVATGY JOINING THE TEAM? No, I am separate from that. I'm involved with the bikes, the contract we have with Forrest Butler and the agreement we have with his team. But I'm not involved with hiring the riders.
SO, HE GETS TO CHOSE EXACTLY WHO HE WANTS? Yes. We have to accept who he chooses. I forget the language, but we have some statements in there that he has to ask for our approval and propose who he is going to hire.