RON LECHIEN RETURNS TO PRO MOTOCROSS THIS WEEKEND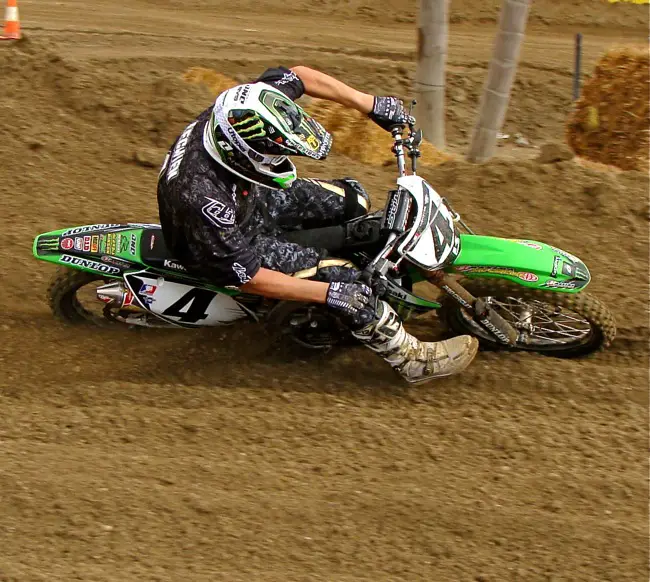 Ron Lechien warmed up for the World Vet by racing REM last weekend.
Ron Lechien is widely regarded by those in the know, as being one of the most talented riders ever to swing a leg over a motocross bike. Ron's accomplishments are many: Supercross wins, Motocross des Nations triumphs and the 1985 AMA 125 National title. Blazing speed combined with a smooth flowing style saw Ron often beating the best of the best with seeming ease.
After his racing career was over Ronnie went to work at the family business, Maxima Oils. At Maxima Ronnie helped his father, Dick, build the company into a powerhouse in performance engine oils and lubricants. Many of the top factory and privateer teams use Maxima and Ronnie is active in helping develop formulations that help keep the company on top.
All that work also lead to trade shows and a lot of time behind a desk. Over the years, Ronnie ended up putting on a lot of weight. Finally, two years ago after ballooning up to 288 pounds he had a revelation.
"One of the guys at work went on this weird diet," Ronnie said. "He lost a ton of weight. We all couldn't believe how good he looked; and he kept saying how he felt so much better. Well, it more or less inspired me." Ronnie set some goals and went on the same diet that his friend at work recommended (Dr. Siegal's Cookie Diet). He started at the Indy trade show two years ago in February at 288 pounds.
"I think a lot of it was that I was just so tired of feeling bad, not being able to buy nice clothes and looking good in them, waking up and being tired and sore. It was time to do something about it. I wanted my life back and made up my mind it was time to go get it."
Ronnie was serious indeed as two years later he is a fit and healthy at a fighting weight of 215 pounds. A side benefit is that he has come back to riding and now he's racing this weekend at the MTA World Vet Championships. "I almost raced the World Vet Championship last year, but just wasn't ready. I was riding a lot and having fun. I discovered, of course, that I could ride longer and go much faster without the weight. I did a lot of practice, but not too much racing," Ronnie reflected. "This year, I hit some races and did pretty well. I started to win a few and continued to get faster. I've been building and building and I feel pretty good. So, now I want to see where I stack up. That's why I decided to head out to this years Over-40 Pro class at the MTA World Vet Championships and see how I do."
There's one big road block/measuring stick, square in the way of Ronnie's dreams of victory in the Over- Pro class though – and it's in the form of 17-time World Vet Champion Doug Dubach (the current Over-30 and Over-40 World Champion?plus, the winner of the FIM Vet Cup at the USGP).
When asked if Doug was the goal at this year's MTA World Vet Championship, Ronnie was very candid. "He's the guy I'm gunning for. Hopefully I can run with him but I guess the whole point is that I'll never know unless I just get out there and race him. However it turns out, I'm just happy to be back in shape and have some fun racing. It's been much too long and I really missed it. I'm having a blast!"
Be sure to check out this race on Saturday. The fans will be lining the fences to see these two legendary racers battling it out over Glen Helen's steep hills and winding track. Of course there will be a whole lot of other fast guys in that race all wanting to end up on the top step.
For more info go to www.glenhelen.com