MXA WEEKEND NEWS ROUND-UP: THE SUPERCROSS VERSION OF IT
Click on images to enlarge

• KEN ROCZEN UPDATE: LESS GRUESOME THAN THE LAST TIME WE SAW IT
 
• CCM MOTORCYCLES TO OPEN A SKUNKWERKS DEPARTMENT
The new CCM Spitfire is the first model from their Skunkwerx department and it brings a new engine and unique frame.
After a bumper year of 150% sales growth, followed by a big cash injection, CCM have announced they are opening a 'Skunkwerx' department that will create a new series of bikes. The first bike from the Skunkwerx series is the Spitfire. CCM say the Spitfire is the cumulative work of a small group of mechanics and designers who have been working away behind the scenes and developing their ideas in their spare time. Like the original Lockheed Martin Skunkworks, CCM say the Skunkwerx team was able to build a dream bike without the hassle and constraints of budgets and bureaucracy. The Spitfire has an all new 600cc single engine, which puts out 55 horsepower. Looking at the data, the engine appears to be the same one fitted to the SWM RS650R (an unused model from when BMW owned Husqvarna). The brakes feature Brembo calipers front and rear, while the 19" wheels and tires solidify the flat track look.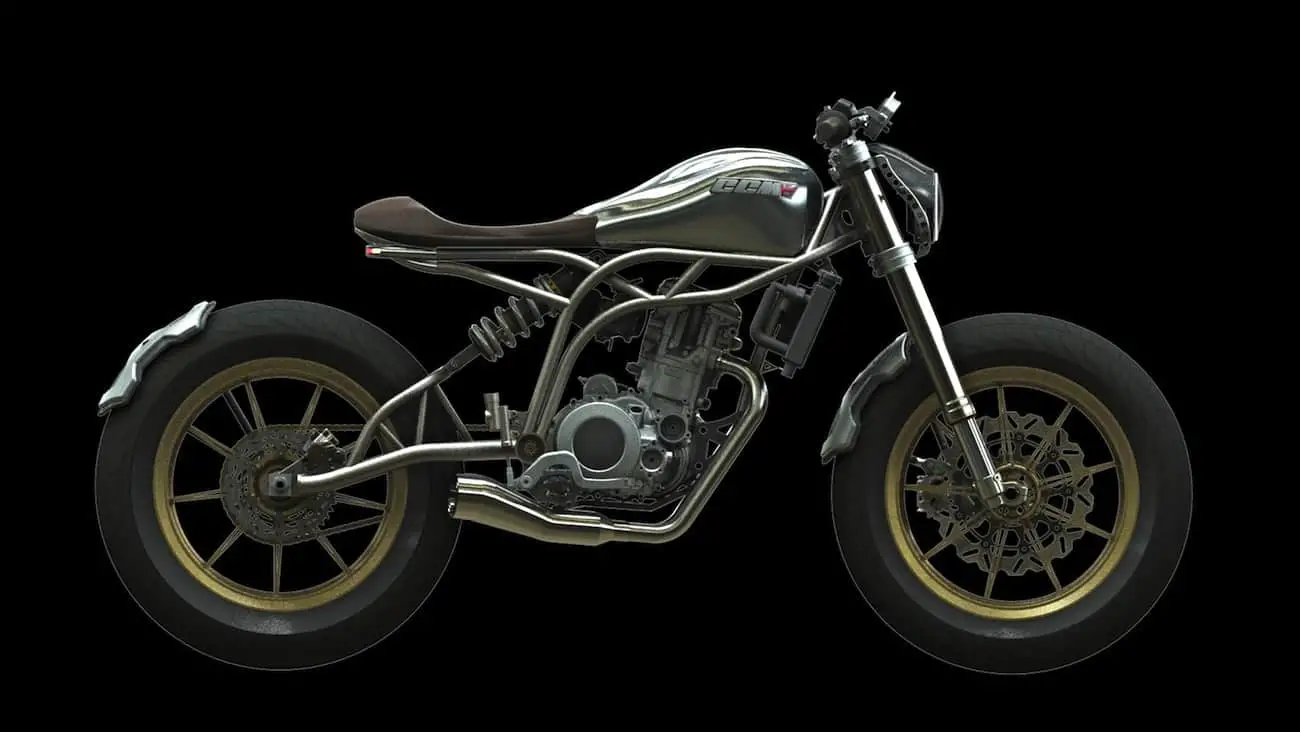 To produce the complex shapes of the trellis frame, CCM employed the skills of veteran welder Ted Unwin, who was one of the original members of Alan Clews' Clew Competition Machines in the early 1970s. The claimed weight is only 266 pounds dry.

Prince Andrew tries out a CCM GP450.
Not part of the Skunkwerx series, but still limited-edition, is the GP450 SR. CCM will manufacture 25 of the SR model and it will only be sold in the UK. While the regular GP450 remains in the range, it's not Euro-4 compliant ,but CCM say they will have a new GP600 Adventure to go into production mid-2018 that will be Euro-4 compliant and eventually Euro-5 compliant.
• FIRE DESTROYS SoCAL MOTORCYCLE SHOP MOTO FORZA

Husqvarna, Ducati, MV Agusta and Vespa dealership Moto Froza in Escondido, California, was destroyed by fire last Saturday night. The North Tulip Street business was fully engulfed in flames when firefighters were called at about 10:30 p.m. Fire crews were on the scene in 3 minutes, but the structure was too far gone to save—so they tried to keep the fire from spreading to a nearby paint store. The two-alarm fire may have caused as much as $2.5 million in damage. Fire investigators were on scene Sunday in an effort to determine the cause of the fire.
• LUCAS OIL IS THE PRESENTING SPONSOR FOR 2017 LORETTA LYNN AMATEUR CHAMPIONSHIP
Lucas Oil will be thee presenting sponsor of the 2017 Rocky Mountain ATV/MC AMA Amateur National, presented by Lucas Oil,on July 31 through August 5 at the historic Loretta Lynn Ranch in Hurricane Mills, Tennessee. This new partnership makes Lucas Oil's involvement in the sport of motocross a full circle as they also serve as the title sponsor for the AMA Lucas Oil Pro Motocross series. Nearly 22,000 racers are expected to qualify for the AMA Amateur National, in hopes of earning valuable experience and exposure needed before taking the next step in their racing career, which for some includes competing in the AMA Lucas Oil Pro Motocross Championship. "Lucas Oil and MAVTV are excited to be associated with the largest amateur motocross championship in the world, and look forward to a long relationship with this prestigious event," said Vice President of Sales, Mark Mitchell. "Every successful pro starts out as an amateur, and this event provides a great opportunity for us to connect our brands with those young riders and families in a meaningful way." Lucas Oil will also expand the current cable television package produced by RacerTV. After the racers have returned home from the AMA Amateur National, two one-hour highlight shows will air on NBC Sports Network.
• MEMORIES OF THE WAY WE WERE
Don't you hate it when someone writes all over the gas tank on your vintage CZ? This, however, is one autograph that increases the value of the bike.
• 2017 WOMEN'S EMX NATIONALS GET TITLE SPONSOR

ONSIA Sound Art as the new title sponsor for the 2017 Women's Professional Motocross Championship (WMX). ONSIA specializes in blending visual art with cutting-edge sound technology. Not only can the Bluetooth speaker be customized with a personal image, the flat panel speakers far exceed the sound quality from traditional speakers. A personal art piece makes a great decoration for a racer's home or garage, with the added benefit of music – where racers can listen to their favorite songs straight off their mobile phone – while working on their machines or prepping for their race. "We are excited about our sponsorship of the Women's Motocross Series and see this as a great opportunity to become involved with the motorcycle industry," explained Steve Ventre, CEO and Founder of ONSIA. "There is a strong demand for quality photography from the riders, their sponsors and their fans. We can turn those images into a unique Sound Art Speaker providing Bluetooth on-demand-sound for their home, trophy room or RV." ONSIA's hands-on approach will provide the WMX Championship with top-notch media exposure. Race reports, social media posts and marketing materials will be re-designed to incorporate ONSIA and the brand-new series logo. "We look forward to working with the women racing the WMX series, as well as meeting their families and sponsors as the series progresses throughout the season," continued Ventre.

• MIKE DOUGHTY TO REPLACE RETIRED DENNIS McNEAL AS A YAMAHA GENERAL MANAGER

Mike Doughty is the brother of Vintage Iron's Rick Doughty.
Yamaha Motor U.S. President Terry Okawa recently announced the promotion of Mr. Mike Doughty to the position of General Manager of Motorcycle Operations for Yamaha's Motorsports Group. Mike will assume the responsibilities of Dennis McNeal, long time manager of the motorcycle group, who recently retired.  Doughty has been with Yamaha for 27 years and most recently held the position of Regional Business Manager for the South Region.  "I am truly excited about this opportunity at what I consider a pivotal time for the motorcycle industry," said Mike Doughty. "Yamaha has, without a doubt, the best lineup of products in the industry and I believe the future looks very bright indeed for our Yamaha dealers!" Shortly after assuming his new role, Mike announced a restructuring of the motorcycle operations team to better prepare this segment of Yamaha's business for success into the future.
Derek Brooks, who was previously responsible for all motorcycle product planning operations, has been promoted to the new position of Motorcycle Product Line Manager, and will oversee both new model product planning and marketing. Chris Peterman, who held responsibilities for national area marketing pertaining to all Yamaha motorsports products, has joined the Motorcycle Group and will oversee wholesale promotions in the newly created Wholesale Operations Manager position.  David Schaufler, a long-time Yamaha Motorsports District Manager in the South Region, also joined the Motorcycle Group as the Off-Road Motorcycle Media Relations Manager. This addition will allow Marcus DeMichele, who previoulsly held responsibilities for all motorcycle media relations activities, to focus on the street segment and several upcoming very important new model introductions as the Street Motorcycle Media Relations Manager.  Philip Lash, formerly Yamaha's Off-Road Motorcycle Product Planning Manager, has been promoted to Senior Motorcycle Product Planning Manager. Philip will focus on all motorcycle products playing a key role in assisting both Marcus DeMichele and David Schaufler in all media relations activities. Martin Vivanco, currently the Motorcycle Retail Programs Manager, has been promoted and will have his area of responsibilites expanded to assist the motorcycle operations team with an important focus on key new product launches and their retail success.
• MOTOCROSS BIRTHDAYS: GEORGE IS 285 YEARS OLD & PRESTON IS ONLY 76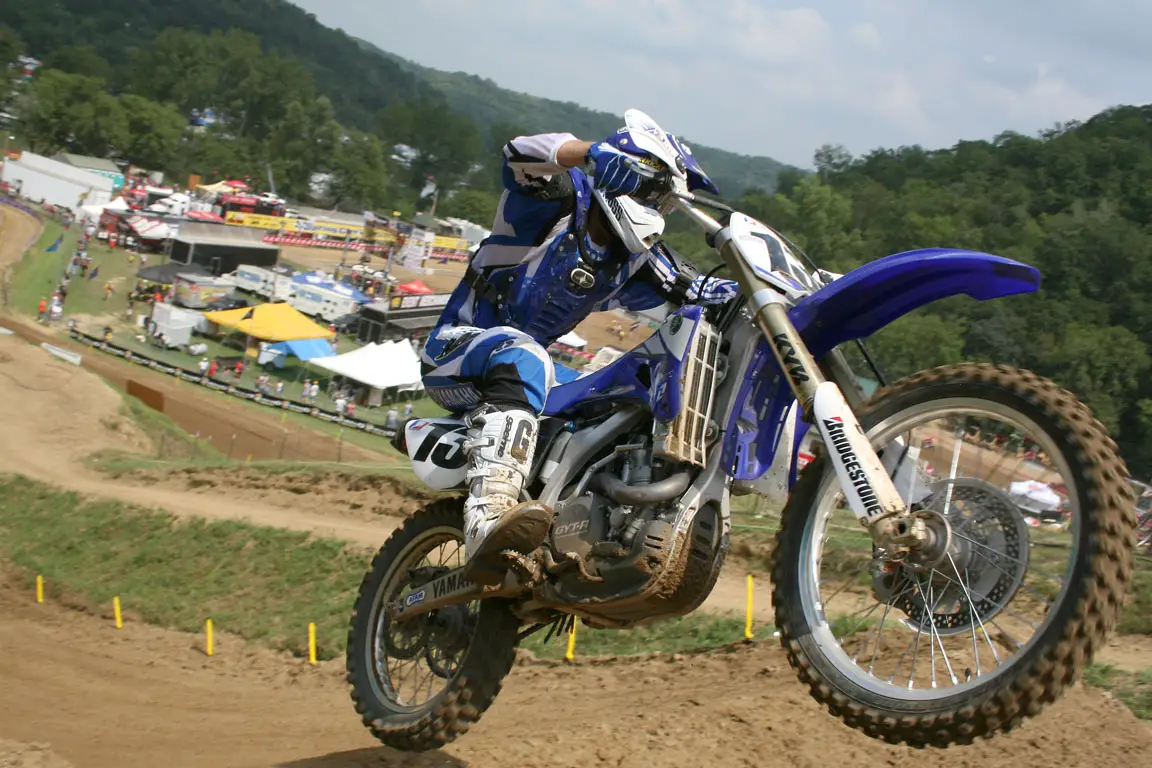 Feb. 17…Heath Voss 1978
Feb. 17…Stefy Bau 1977
Feb. 17…Fredric Bolley 1974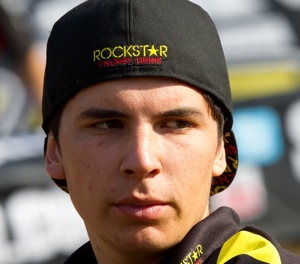 Feb. 17…Jason Anderson 1993
Feb. 18…Kevin Foley
Feb. 18…Tyler Evans 1980

Feb. 19…Preston Petty 1941
Feb. 19…Troy Adams 1983
Feb. 19…Michael Young 1981


Feb. 19…Joey Savatgy 1994
Feb. 19…Ian Trettel 1992
Feb. 20…Ray Tetherton

Feb. 21…Marc De Reuver 1983
Feb. 22…George Washington 1732
Feb. 22…Robert Distler
• MXA PRODUCT SPOTLIGHT: PRO CIRCUIT KTM 65 SX PIPE & SILENCER
Works pipe – With unparalleled performance, power and torque across the entire rpm range, the Pro Circuit KTM 65SX Works pipe is constructed of AKDQ high quality carbon steel with an unplated, oiled steel finish to give your bike that "factory" look. Hand welded and pounded seams with reinforced mounting brackets offer increased durability. $249.95. Platinum pipe – The same performance gains as the Works pipe but with a brilliant nickel coating make the Pro Circuit Platinum pipe the ideal choice for extreme weather conditions. Made using the same high quality AKDQ carbon steel as the Works pipe, the Platinum pipe is hand welded with pounded seams and reinforced mounting brackets just like the Works pipe. A nickel coating gives the Platinum Pipe a bright finish while protecting against nature's elements making maintenance a breeze. $249.95.
Ti-2 Shorty silencer – The Pro Circuit Ti-2 Shorty Carbon Kevlar/Titanium silencer is the latest piece of racing technology and is sure to be a favorite for most two-stroke riders. The Ti-2 is similar to the popular R-304 silencer except it is constructed with a carbon Kevlar shell, titanium tubing and titanium end-cap. The titanium and carbon Kevlar construction offers the "factory" look and appearance while reducing weight. The Ti-2 is for closed-course racing only. $329.95.
R-304 Shorty silencer – The R-304 silencer was developed as a full-race two-stroke silencer. The compact design of the short aluminum canister offers optimum performance gains and is recommended for closed-course racing only. Hex head screws are used to secure the inlet cap and can be removed easily for quick re-packing of the silencer. $134.95. For more info go to www.procircuit.com

• AL SMITH PASSES AWAY: FATHER OF MARTY SMITH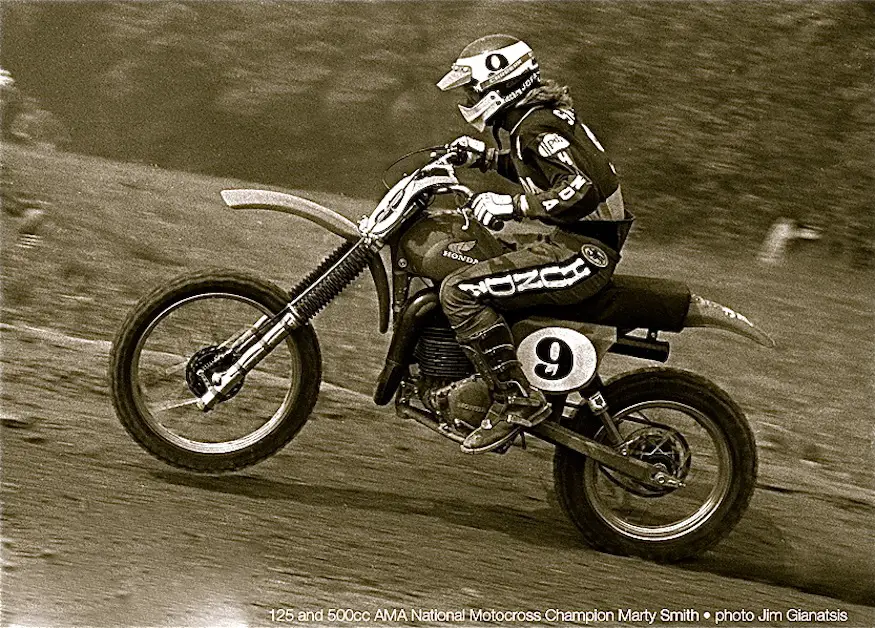 Marty Smith owes no small measure of his racing career to the dedication of his dad Al and mom Joan. They were right there at every step along the way. Photo: The Greek

Al Smith working on Marty's Monark 125 when the only people who knew who Marty Smith was traveled in SoCal's small, tight-knit, motocross community before there was a such a thing as Team Honda. Al passed away at the age of 90 earlier this month. Godspeed Al and best wishes to Joan.
• ARE THESE THE MOTOCROSS TIRES OF THE FUTURE?

No air. No flats. Lots of offroad potential. Bridgestone Airless-Tires spokes are constructed from a thermoplastic resin combined with a rubber tread.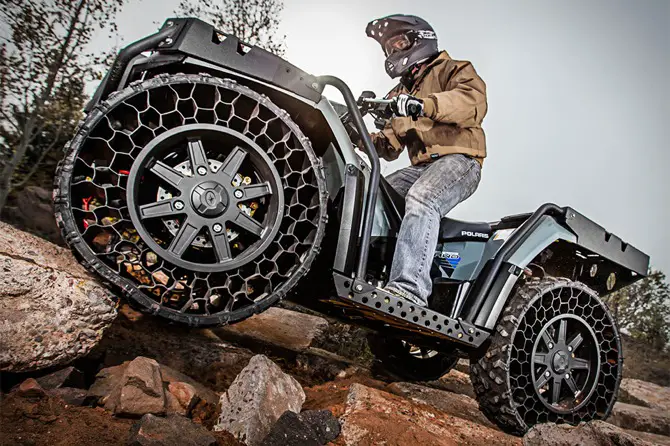 The stiffness comes from the shape and design of the ribbing. They can never go flat and can work even if 30 percent of their ribs are broken.
• THE CURRENT TOP TEN HEADING TO MINNESOTA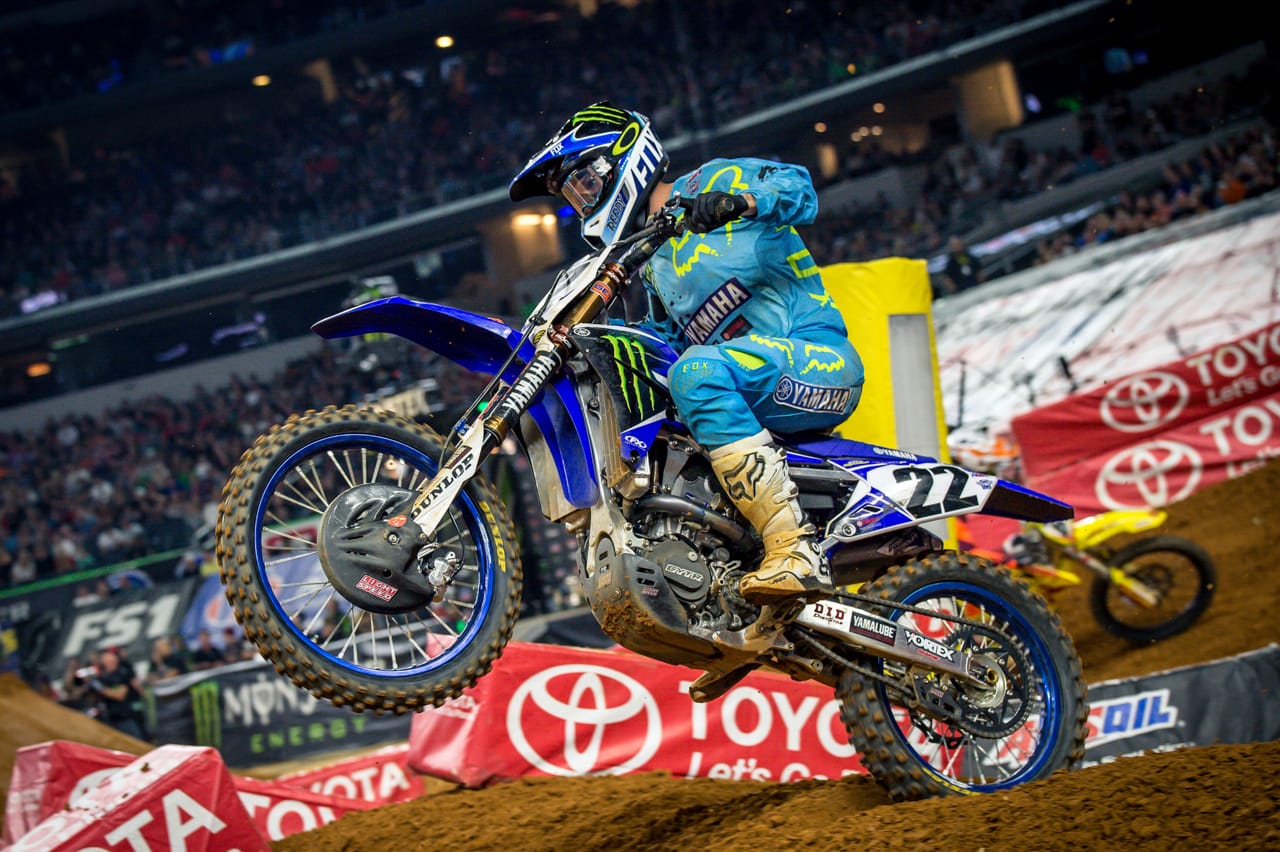 Chad Reed had mechanical issues in Dallas and is now 65 points behind points leader Ryan Dungey.
2017 450 SUPERCROSS POINTS STANDINGS
(After 6 of 17 rounds)
1. Ryan Dungey (KTM)…129
2. Marvin Musquin (KTM)…111
3. Cole Seely (Hon)…107
4. Eli Tomac (Kaw)…100
5. Jason Anderson (Hus)…85
6. Davi Millsaps (KTM)… 83
7. Cooper Webb (Yam)…71
8. Chad Reed (Yam)…64
9. Dean Wilson (Hus)…64
10. Broc Tickle (Suz)… 55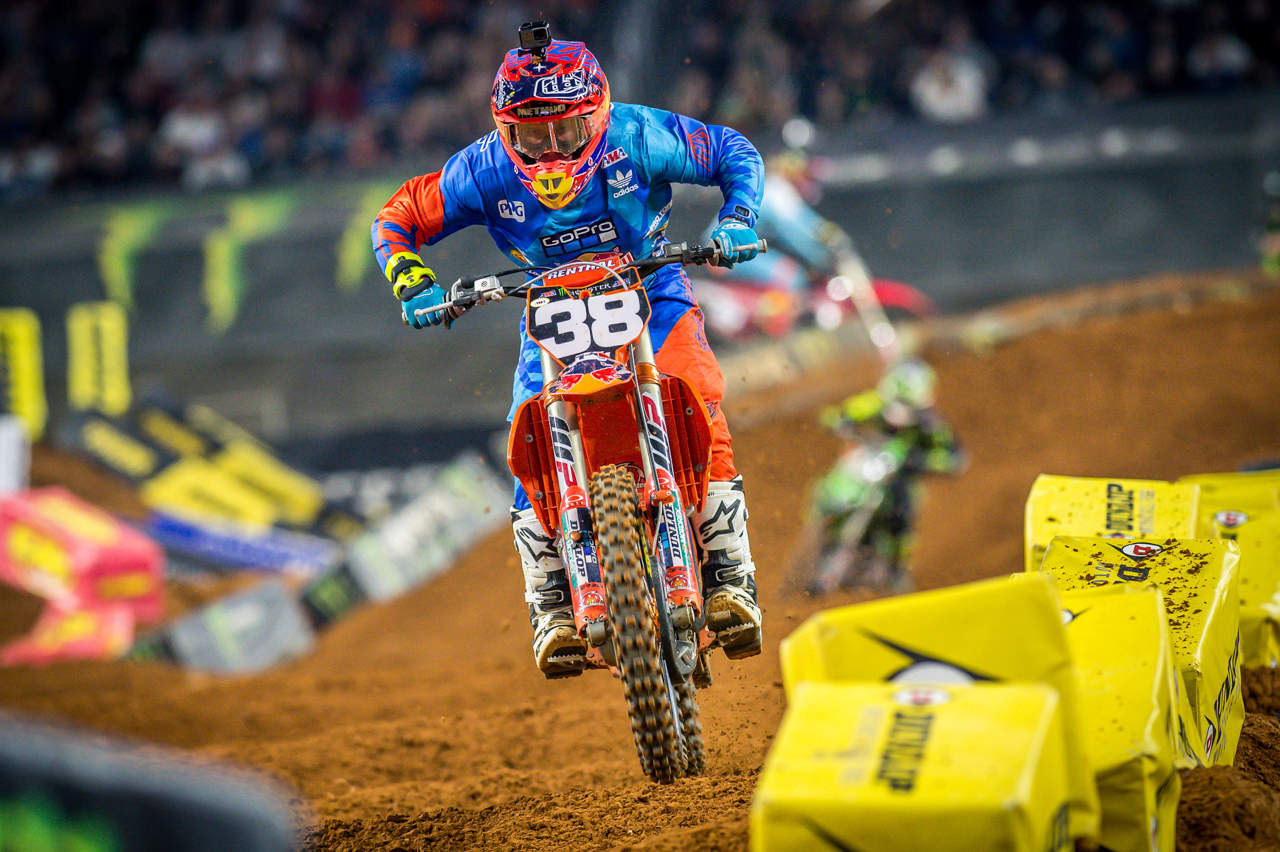 Shane McElrath's bike failed to finish the Dallas 250 West main event and he dropped to third in points.
2017 250 WEST POINTS STANDINGS
(After 6 of 8 rounds)
1. Justin Hill (Kaw)…138
2. Aaron Plessinger (Yam)…117
3. Shane McElrath (KTM)…113
4. Martin Davalos (Hus)…106
5. Jimmy Decotis (Hon)…91
6. Austin Forkner (Kaw)…90
7. Dan Reardon (Yam)…72
8. Kyle Chisholm (Hon)…60
9. Jeremy Martin (Hon)…55
10. Phil Nicoletti (Suz)… 54
• MXA PHOTO OF THE WEEK: WHAT WINNING REALLY FEELS LIKE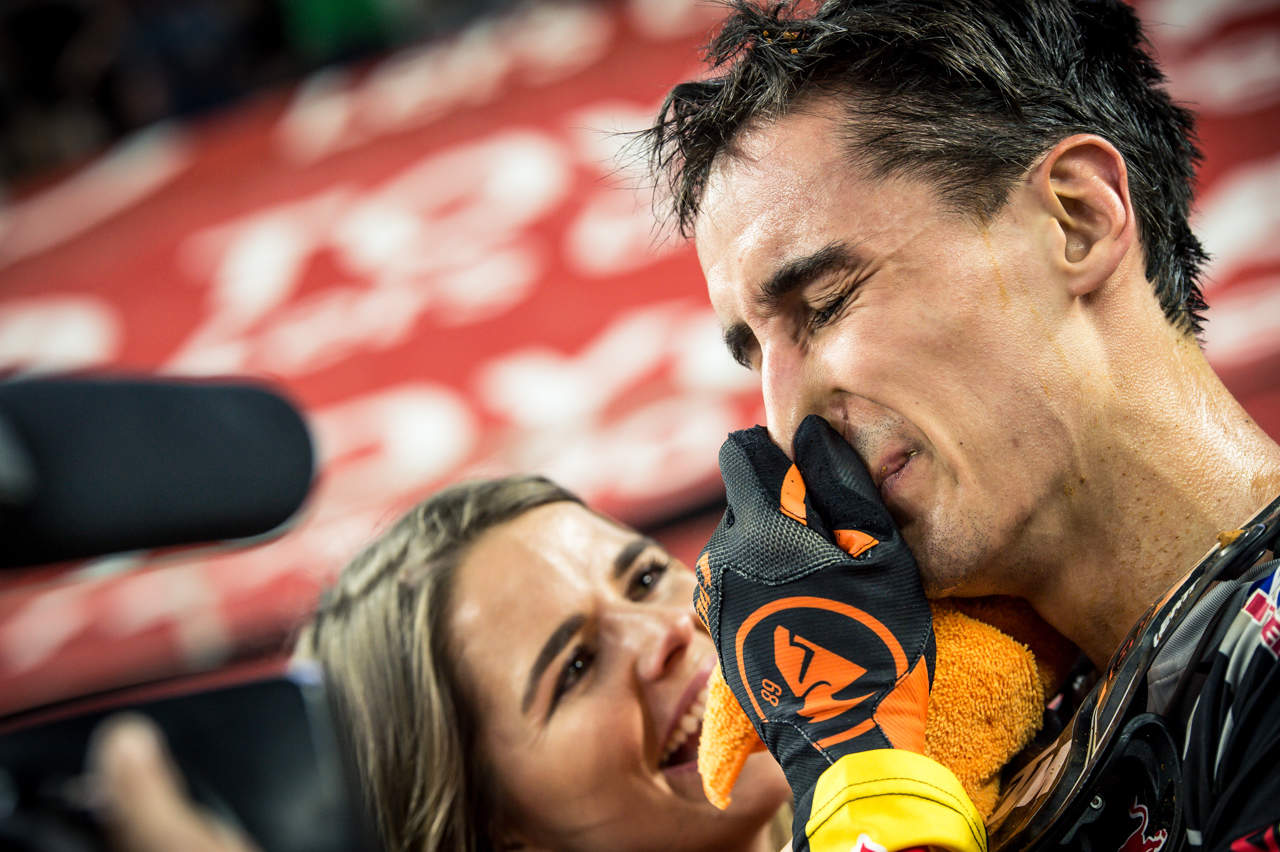 Brian Converse captures the emotion as Marvin Musquin breaks down after winning his first-ever 450 Supercross. His wife, Mathilde, comforts him —knowing that they are tears of joy.
• MTA WORLD TWO-STROKE CHAMPIONSHIP COMING ON APRIL 15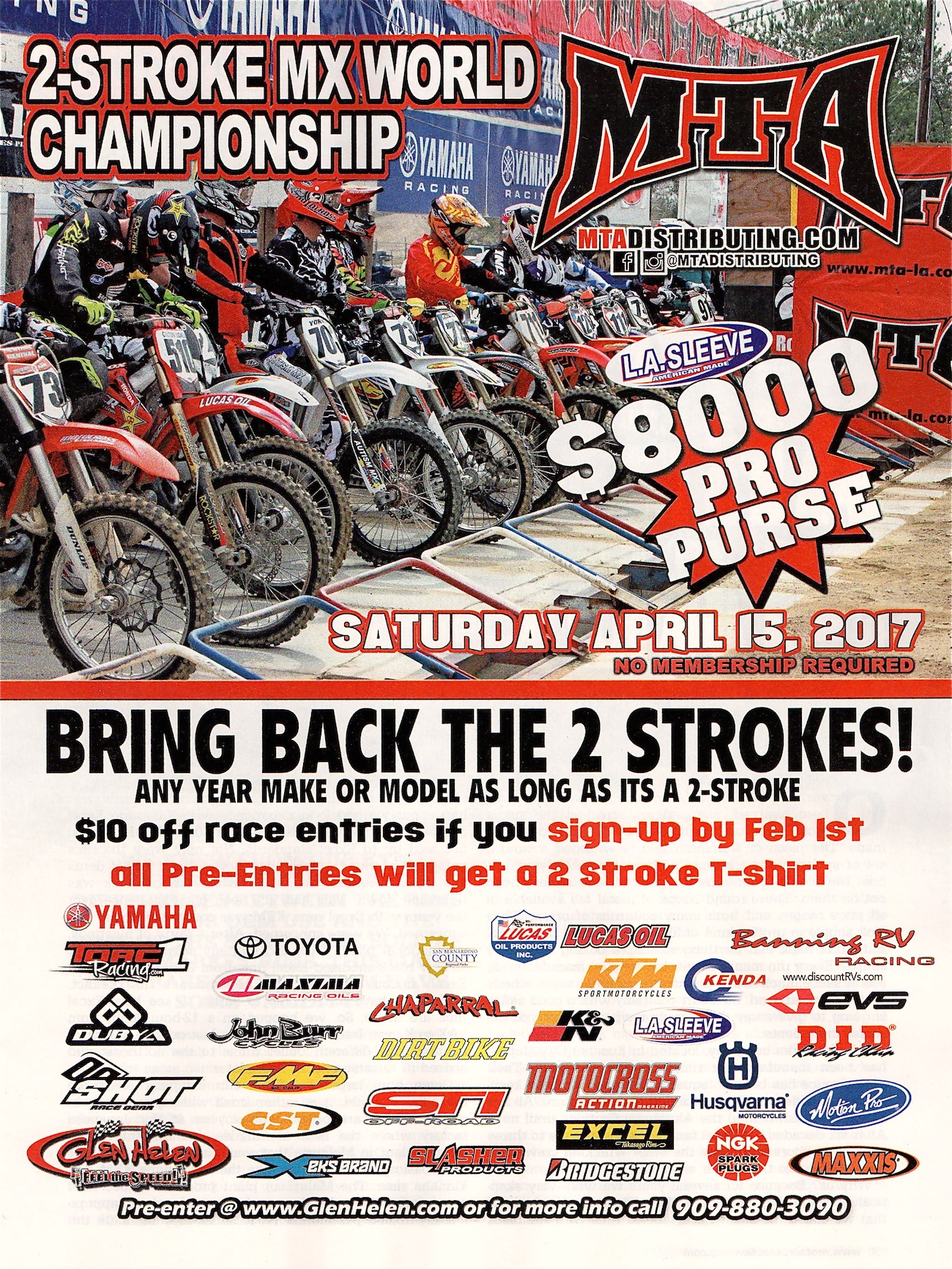 Just in case you need a little extra time to get your trusty, but rusty, two-stroke ready to race, the 2017 MTA World Two-Stroke Championship is a little over three months away. It will be held on Saturday, April 15, 2017, at Glen Helen Raceway.
• 2017 SUPERCROSS WINNERS AT A GLANCE
It was tough last weekend, but one man didn't falter. Marvin Musquin won his first-ever 450 Supercfross event.

Date           Venue                                           450                             250
Jan. 7……..Anaheim, CA………….Ken Roczen………..Shane McElrath
Jan. 14……San Diego, CA…………Ken Roczen………..Shane McElrath
Jan. 21……Anaheim, CA………….Ryan Dungey………Justin Hill
Jan. 28……Glendale, AZ………….Eli Tomac…………..Justin Hill
Feb. 4………Oakland, CA………….Eli Tomac……… ….Justin Hill
Feb. 11……..Arlington, TX……….Marvin Muquin……Justin Hill
Feb. 18……..Minneapolis, MN
Feb. 25……..Atlanta, GA
Mar. 4……….Toronto, ON
Mar. 11………Daytona, FL
Mar. 18………Indianapolis, IN
Mar. 25………Detroit, MI
Apr. 1………….St. Louis, MO
Apr. 8…………Seattle, WA
Apr 22………..Salt Lake City, UT
450 Points leader...Ryan Dungey (KTM)
250 West points leader…Justin Hill (Kaw)
• MEMORIES OF THE WAY WE WERE: THE BELGIANS

Belgium has always been a motocross powerhouse. After the glory days of Joel Robert, Roger DeCoster, Sylvain Geboers and Harry Everts, came these four men (from left to right) Andre Vromans, Georges Jobe, Andre Malherbe and Eric Geboers.
• REM RACES EVERY SATURDAY IN FEBRUARY.. IF IT EVER STOPS RAINING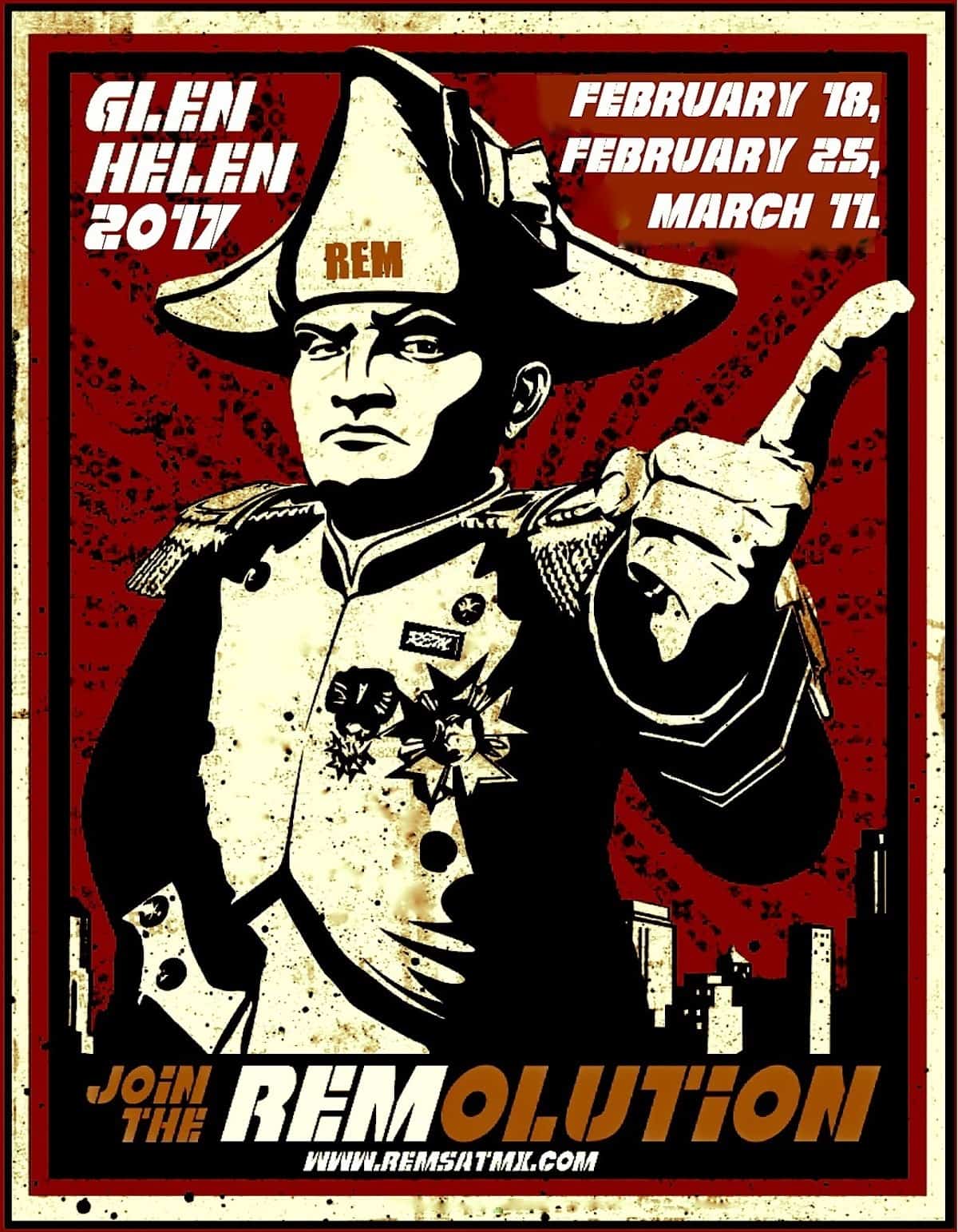 Glen Helen's REM motocross has added races to its already-scheduled race calendar to make up for the races that were rained out during California's torrential rains, but it jst keeps on raining. REM planned to race for four straight weeks in February, but they had to cancel Feb. 4 and Feb. 11 because of bad weather and with heavy rains predicted for Friday and Saturday of this weekend, the Feb.18 round is in doubt. Well, we still have February 25. For more info go to www.remsatmx.com

• FOREIGN RIDERS WHO MADE THE MAINS IN DALLAS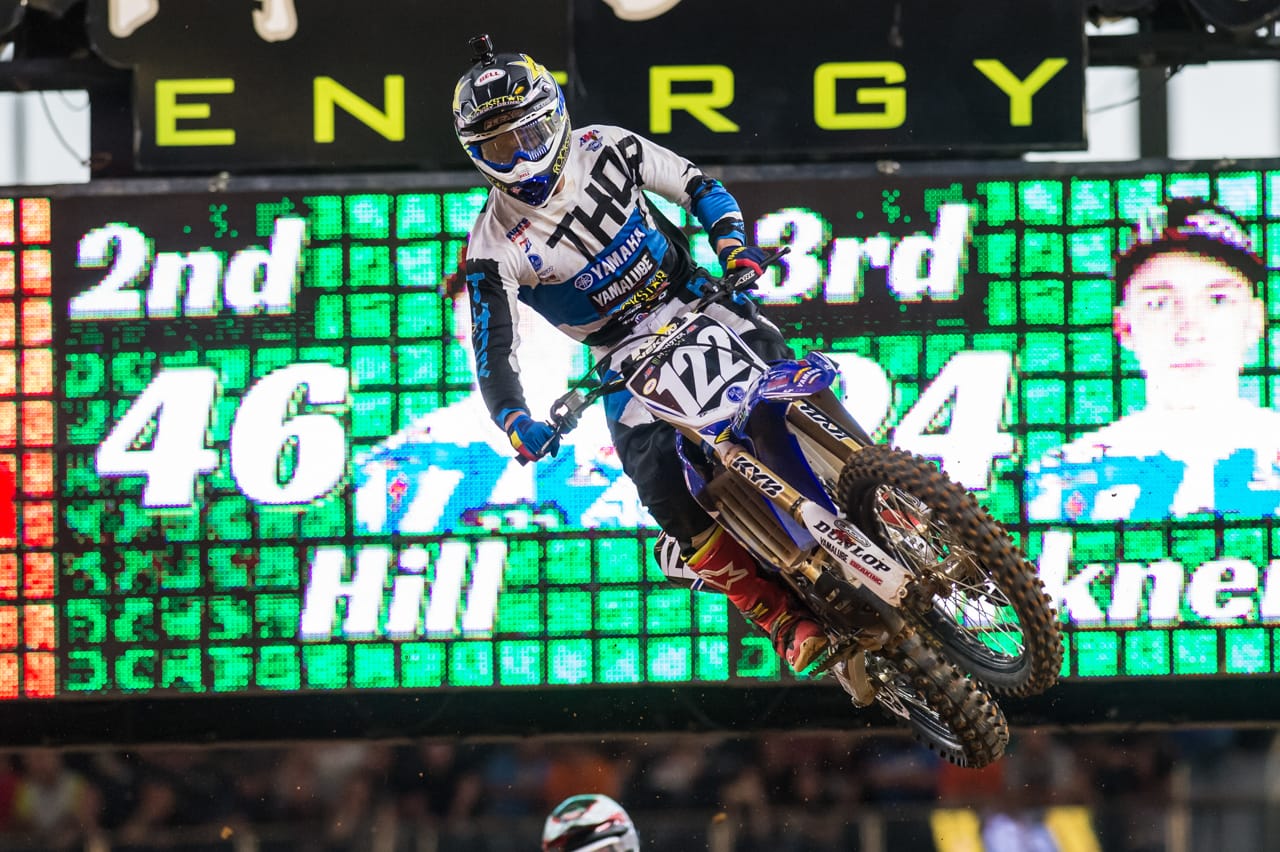 Dan Reardon (122) is 7th in 250 West points. Dallas was the last 250 West race for awhile, as the 250 East starts in Minneapolis this Saturday night.

These are the top foreign riders who made the main events in Dallasd last Saturday. There were two foreign-born riders in the top 5 of the 450 class—Marvin Musquin on the top step of the podium and Dean Wilson in 5th. The only other foreign rider was Chad Reed, who suffered a mechanical problem and ended up in 19th spot. In the 250 West, Australian Dan Reardon was 5th, Martin Davalos was 7th, fellow Aussie Hayden Mellross 9th and Swiss rider Killian Auberson 1y3th.
TOP FOREIGN RIDERS IN DALLAS' 450 CLASS
Marvin Musquin (France)……………1st
Dean Wilson (Scotland)……………..5th
Chad Reed (Australia)………………..19th
TOP FOREIGN RIDERS IN DALLAS' 250 WEST
Dan Reardon (Australia)…………….5th
Martin Davalos (Ecuador)…………..7th
Hayden Mellross (Australia)………..9th
Killian Auberson (Switzerland)…..16th
• HARRY TAYLOR CUP FOR HODAKAS ONLY ON APRIL 28-30

• THIS WEEKEND'S MINNEAPOLIS SUPERCROSS TRACK LAYOUT

• TAKE A DIGITAL LAP OF THE MINNEAPOLIS SUPERCROSS TRACK
• THE MINNESOTA TV SCHEDULE

Check your local listing for times in your region. Set your DVR accordingly.
• 2017 HUSKY WORLD CHAMPIONSHIP ON MARCH 4-5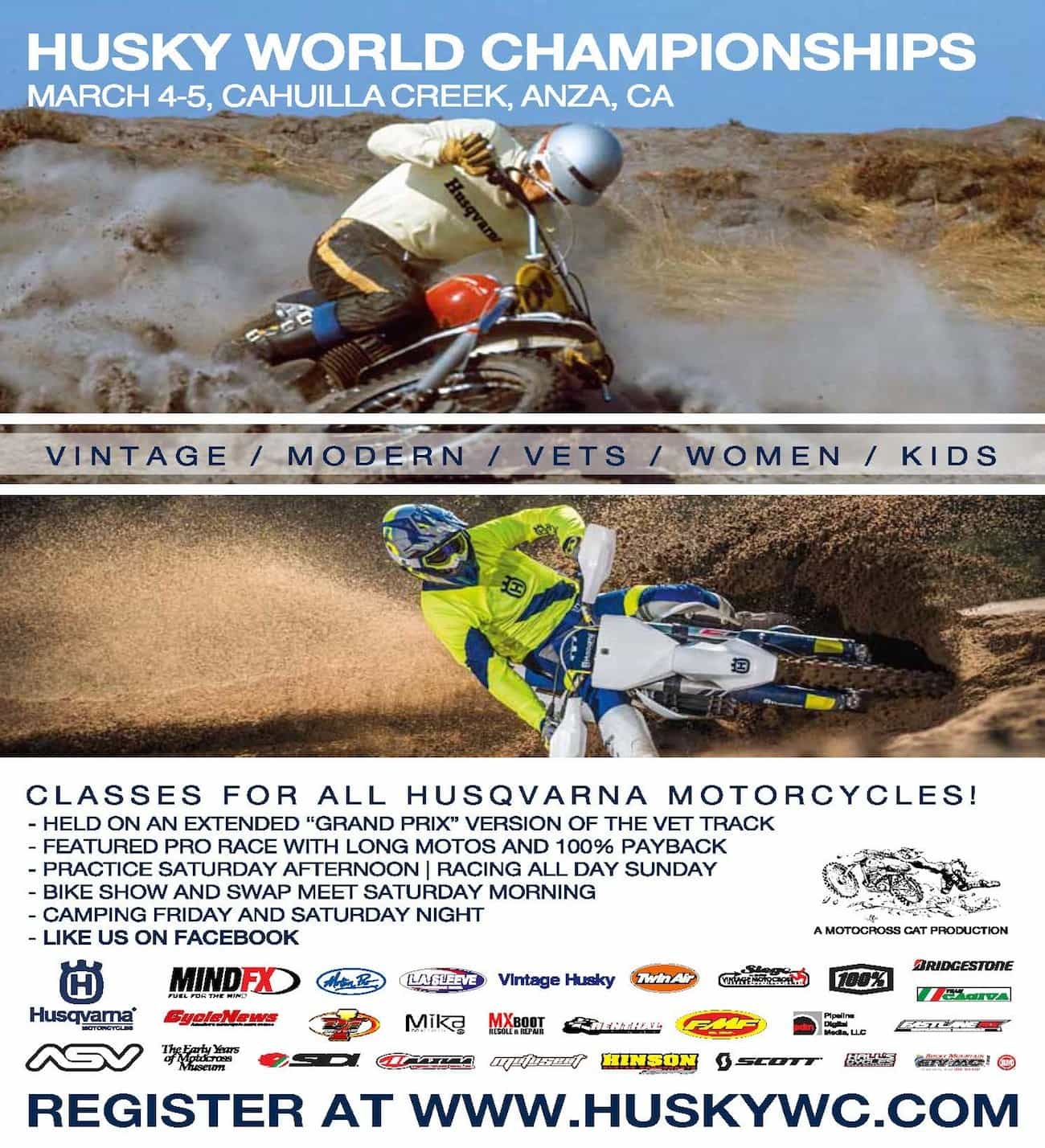 This news probably doesn't affect you unless you own a Husqvarna (and we aren't talking about just vintage Huskys, but new ones, old ones and pitiful ones). The race will be held at SoCal's Cahuilla Creek track on March 4-5. For more info go to www.huskywc.com.
• HOW TO SUBSCRIBE & GET MXA FOR FREE: ACTUALLY, WE PAY YOU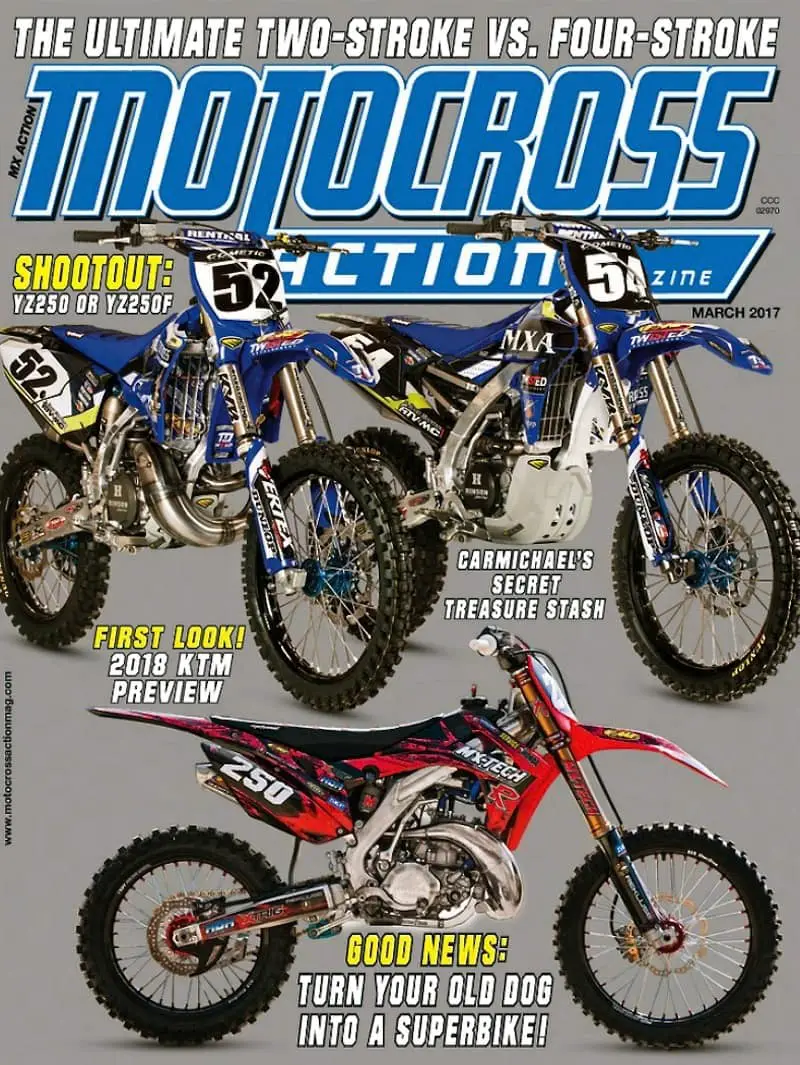 The March 2017 issue of MXA is on the news stands now and includes the most commonly asked for shootout ever — the YZ250 Two-stroke versus the YZ250F four-stroke. You should be reading MXA, and if you subscribe now you get a $25 gift certificate from Rocky Mountain ATV/MC which more than pays for your subscription.
Do you subscribe to MXA? You should. We know that you think that print magazines are dead and that the internet will fill the void, but most of the stuff in the current issue of MXA won't appear on the web for several months, if at all. Luckily, you can get all of MXA on your iPhone, iPad, Kindle or Android by going to the Apple Store, Amazon or Google Play. Better yet get the Digital desktop version at https://hi-torque.com/product/motocross-action-digital-edition/ for $9.99 a year.
The MXA test riders prefer the print version and not just because it is delivered by a uniformed employee of the U.S. Government, but because right now you can get 12 issues for $15.95 and a free $25 Gift Card from Rocky Mountain ATV/MC. That means that there is a profit to be made in this deal for you. For the Print magazine go to: https://hi-torque.com/product/motocross-action/
• HOW IS YOUR TWITTER GAME GOING? UP IT BY FOLLOWING MXA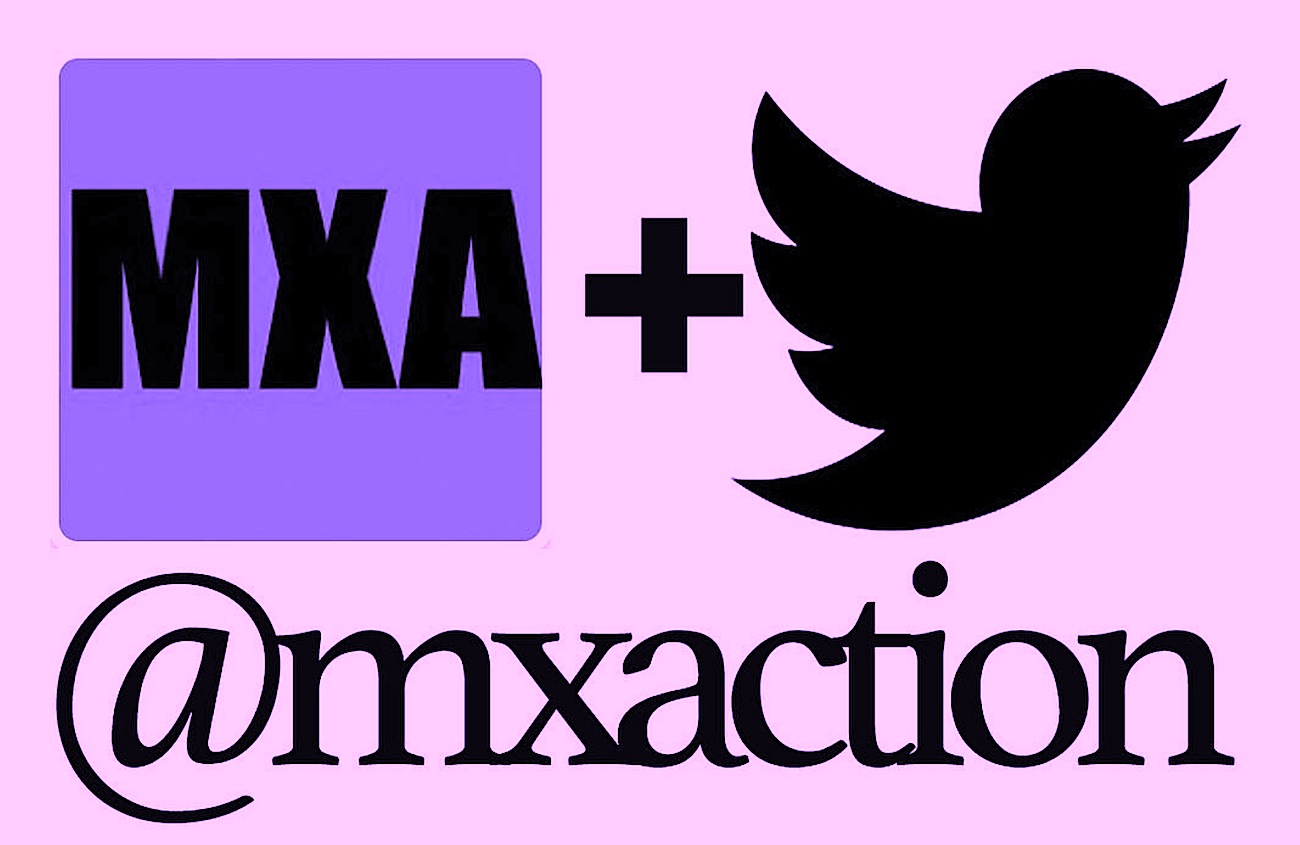 Follow us to see fresh content every day at www.twitter.com/MXAction or on twitter at "MXAction"

• 2017 MOTOCROSS SCHEDULES: WHERE TO BE & WHEN TO BE THERE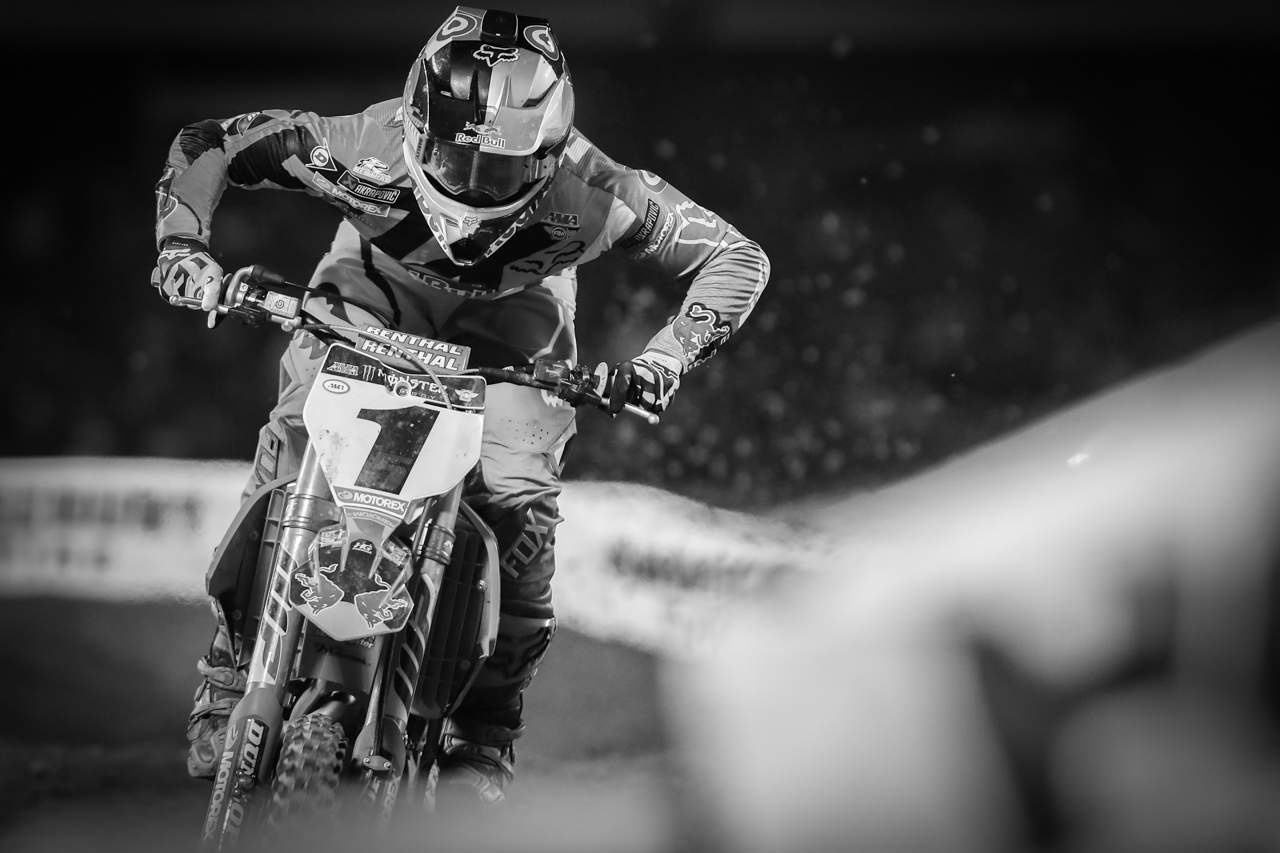 2017 AMA SUPERCROSS CHAMPIONSHIP
Jan. 7…………………………Anaheim, CA
Jan. 14………………………San Diego, CA
Jan. 21………………………Anaheim, CA
Jan. 28………………………Glendale, AZ
Feb. 4……………………….Oakland, CA
Feb. 11………………………Arlington, TX
Feb. 18………………………Minneapolis, MN
Feb. 25………………………Atlanta, GA
Mar. 4………………………Toronto, ON
Mar. 11………………………Daytona, FL
Mar. 18………………………Indianapolis, IN
Mar. 25………………………Detroit, MI
Apr. 1…………………………St. Louis, MO
Apr. 8………………………..Seattle, WA
Apr 22……………………….Salt Lake City, UT
2017 AMSOIL ARENACROSS CHAMPIONSHIP
Jan. 7-8…………………….Cincinnati, OH
Jan. 13-15…………………Grand Rapids, MI
Jan. 20-22…………………Baltimore, MD
Jan. 28-29…………………Nashville, TN.
Feb. 4-5…………………….Louisville, KY
Feb. 18-19…………………Kansas City, MO
Feb.y 25-26……………….Tampa, FL
Mar. 3-5…………………….Southaven, MS
Mar. 11-12…………………New Orleans, LA
Mar. 18-19…………………Portland, OR
Mar. 24-26…………………Reno, NV
April 1-2…………………….Sacramento, CA
April 21-23…………………Denver, CO
May 5-7…………………….Las Vegas, NV
2017 FIM MOTOCROSS WORLD CHAMPIONSHIP
Feb. 25…………………….Qatar (Saturday)
Mar. 5………………………Indonesia
Mar. 19…………………….Argentina
Apr. 2………………………Mexico
Apr. 16……………………..Italy
Apr. 23…………………….Holland
May 7………………………Latvia
May 21…………………….Germany
May 28…………………….France
June 11…………………….Russia
June 25……………………Italy
July 2……………………….Portugal
July 9……………………….San Marino (Cancelled)
July 23……………………..Czech Republic
Aug. 6……………………..Belgium
Aug. 13…………………….Switzerland
Aug. 20…………………….Sweden
Sept. 3………………………USA (Monday)
Sept. 10……………………Holland
Sept. 17…………………….France
2017 AMA NATIONAL CHAMPIONSHIP
May 20……………………Hangtown, CA
May 27.…………………..Glen Helen, CA
June 3..………………….Thunder Valley, CO
June 17..…………………Mt Morris, PA
June 24.………………….Muddy Creek, TN
July 1.…………………….Red Bud, MI
July 8..……………………Southwick, MA​
July 22.…………………..Millville, MN​
July 29.…………………..Washougal, WA
Aug. 12..………………….Unadilla, NY​
Aug. 19..………………….Budds Creek, MD​
Aug. 26.…………………..Crawfordsville, IN
2017 MOTOCROSS DES NATIONS
Oct. 1…………………..Matterley Basin, Great Britain
RICKY CARMICHAEL AMATEUR DAYTONA SUPERCROSS
Mar. 12-13…………….Daytona, FL
MTA WORLD TWO-STROKE CHAMPIONSHIP
Apr. 15…………………..Glen Helen, CA
2017 TRAVIS PASTRANA'S NITRO WORLD GAMES
June 24……………….Salt Lake City, UT
2017 AMA LORETTA LYNN AMATEUR NATIONAL CHAMPIONSHIP
July 31-Aug. 5…..…Hurricane Mills, TN
2017 SMX RIDERS & MANUFACTURERS CUP
Oct. 7………………….Gelsenkirchen, Germany
2017 WOMEN'S MOTOCROSS CHAMPIONSHIP
Mar. 13…………………….Daytona Beach, FL
Mar. 25……………………Wortham, TX
Apr. 9………………………San Diego, CA
May 5………………………Las Vegas, NV
May 18-19………………..Hangtown, CA
June 2…………………….Thunder Valley, CO
June 16……………………Mt. Morris, PA
Aug. 5……………………..Hurricane Mills, TN
2017 WORLD OFF ROAD CHAMPIONSHIP (WORCS)
Jan. 6-8…………………….Taft, CA
Jan. 27-29…………………Primm, NV
Feb. 17-19………………….Taft, CA
Mar. 10-12…………………Lake Havasu, AZ
Apr. 1-2…………………….Las Vegas, NV
Apr. 21-23…………………Hurricane, UT
May. 19-21…………………Cedar City, UT
Jun. 9-11…………………..Adelanto, CA
Sept. 8-10…………………Glen Helen, CA
Oct 13-15…………………..TBA
2017 ITALIAN NATIONAL CHAMPIONSHIP
Jan. 29…………..………..Riola Sardo
Feb. 5………………………Malagrotta
Feb.12………………..……Ottobiano
2017 MAXXIS BRITISH NATIONAL CHAMPIONSHIP
Mar. 12……………………Culham
Apr. 9………………………Lyng
Apr. 30…………………….Canada Heights
May 14……………………Hawkstone Park
June 18……………………Desertmartin
July 16…………………….Blaxhall
July 30…………………….Preston Docks
Aug 27……………………..Foxhill
2017 BELGIAN NATIONAL CHAMPIONSHIP
Mar. 12……………………Moerbeke-Waas
Mar. 26……………………Kruishoutem
Apr. 2……………………..Genk
Apr 10…………………….Mons
Apr. 18……………………Axel
Apr. 30……………………Wuustwezel
June 11…………………..Comines
June 18………………….Genk
July 22……………………Axel
July 23…………………..Hasselt
July 30…………………..Gooik
Aug. 15…………………..Balen
Aug. 20………………….Wachtebeke
Aug. 27………………….Orp le Grand
2017 CANADIAN NATIONAL CHAMPIONSHIP
June 4……………………Whispering Pines, BC
June 11………………….Blackwater, BC
June 18………………….Wild Rose, AB
June 25………………….Moto Valley, SK
July 9…………………….Gopher Dunes, ON
July 16…………………..Ulverton, QC
July 23…………………..Pleasant Valley, NS
July 30…………………..Riverglade, NB
Aug. 6…………………….Deschambault, QC
Aug. 13………………….RJ Motosport, ON
2017 DUTCH NATIONAL CHAMPIONSHIP
Mar. 26…………………..Oss
Apr. 9th…………………..Harfsen
May 14……………………Emmen
July 15-16……………….Lichtenvoorde
2017 ADAC GERMAN MASTERS CHAMPIONSHIP
Apr. 9……………………….Muhlberg
Apr. 30…………………….Jauer
May 14…………………….Molln
June 18……………………Bielstein
July 16…………………….Tensfeld
Aug. 27……………………Gaildorf
Sept. 24…………………..Holzgerlingen
2017 AUSTRALIAN NATIONAL CHAMPIONSHIP
April 1-2…………………..Wonthaggi, Victoria
April 23…………………..Appin, New South Wales
May 7……………………..Connondale, Queensland
May 21……………………Horsham, Victoria
May 28……………………Murray Bridge, South Australia
July 2……………………..Nowra, New South Wales
July 16……………………Shepparton, Victoria
July 30……………………Port Macquarie, New South Wales
Aug. 13…………………..Toowooba, Queensland
Aug. 19-20………………Coolum, Queensland
2017 AUSTRALIAN SUPERCROSS CHAMPIONSHIP
Sept. 9…………………..Queensland
Sept. 23…………………Queensland
Oct. 14…………………..TBA
Oct. 26…………………..South Australia
Nov. 4…………………….Victoria
Nov. 11-12……………..New South Wales
Photos: Brian Converse, Daryl Ecklund, Dan Alamangos, John Kerr, Massimo Zanzani, MXA, KTM, Honda.