MXA WEEKEND NEWS ROUND-UP: IT'S NOT SILLY ANYMORE
BLACK FRIDAY SALE: 2015 GLEN HELEN NATIONAL TICKETS AT A $20 DISCOUNT — NOV. 28 TO NOV. 30

CLICK HERE TO ORDER: www.eventbrite.com/e/glen-helen-mx-national-tickets-14005509857?aff=blackfridaysale&utm_source=Riders+%26+Spectators&utm_campaign=34c18fda2e-Black_Friday_Sale11_20_2014&utm_medium=email&utm_term=0_0c309d9dc9-34c18fda2e-24168345
RYAN VILLOPOTO'S GP BIKE (WITH CARBON SUBFRAME)

Here is a close up look at Ryan Villopoto's Kawasaki KX450F shot at the Santa Coloma de Farners MX Track in Spain. Photo: Jana Sanchez
IF YOU'RE A HINSON USER, HASHTAG "#HINSONDOMINATION"
Matt Moss in Australia.
Hinson Clutch Components support athletes across the globe. Just recently Hinson riders Matt Moss and Gavin Faith both claimed titles in the Australian Supercross Championship. At the 89th ISDE in San Juan, Argentina, Pela Renet won the individual overall and led France to a FIM World Trophy Team title. Meanwhile, life-long Hinson rider Justin Jones won the overall individual title in the Junior Trophy class. At the Paris-Lille Supercross Eli Tomac dominated both nights. And to wrap things up, Team THR Motorsports' Ricky Brabec, Robby Bell, Steve Hengeveld and Max Eddy Jr. took home the win at the SCORE Baja 1000. We'd like to congratulate each of these riders for their efforts and also for putting Hinson on top. Hinson components have won 282 National and World Championships in our 22 years of business.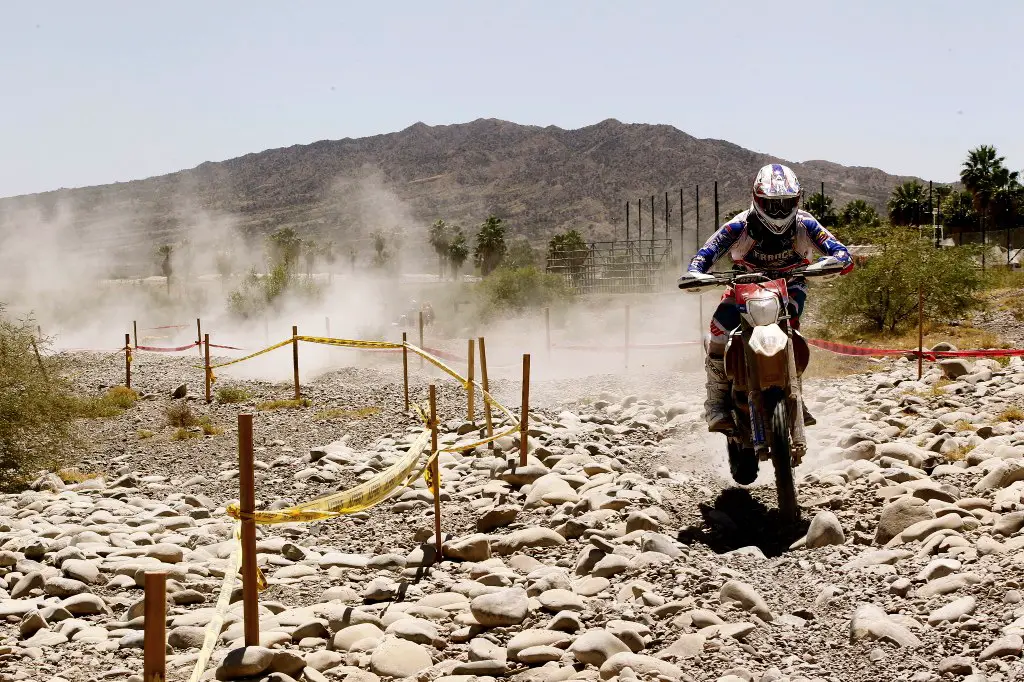 Pela Renet in Argentina.
And, if you happen to be dominating your division of racing whether it is on two wheels or four, we'd love to hear about it.  Use hashtag #HinsonDomination on Instagram or Twitter so we can keep up with your madness.
THE LAST REM RACE WILL BE ON DECEMBER 29 (BUT ALSO ON DEC. 6, 13 & 20)


This REM race poster is one month early, but if you want to race the final race of the year this is for you. However, since REM has a race every Saturday in December, the "Last REM Race" is really just one of four. Plus, they will race 40 times in 2015. For more info go to www.remsatmx.com.
TEAM BABBITT'S MONSTER ENERGY AMSOIL KAWASAKI ANNOUNCES 2015 LINE-UP

Team Babbitt's Monster Energy Amsoil Kawasaki is very excited to announce their line-up for the 2015 Arenacross seriesy. With the team releasing multi-champion Tyler Bowers from his contract to race AMA Supercross, there is a big hole to fill. Yet, owner Eddie Babbitt is certain his 2015 team is solid. Look for Zach Ames, Chris Blose, Matt Goerke and Jacob Hayes to make waves in the 2015 Amsoil Arenacross series.
Zach Ames returns to the team, and he's excited about the future," It means a lot to continue with Team Babbitt's. They are the premier team in Arenacross, and it makes it so much easier to do my job with them behind me." Joining Ames are veteran riders Chris Blose, and Matt Goerke. " I'm very excited to be a part of Team Babbitt's in 2015. It's going to be a great year of racing," said Blose. Matt Goerke added, " I'm very happy to be racing for Eddie Babbitt. He has a proven winning team, and I am excited for Arenacross!"
In addition to these three championship contenders, Team Babbitt's has added rookie Jacob Hayes to the team, and the young rider is excited about the future. "It's truly a blessing to be a part of such a dominant team. I cannot thank Eddie Babbitt and Team Manager Denny Bartz enough for this opportunity!"
For more information on Team Babbitt's, please visit www.teambabbitts.com.

2015 MXA 450 SHOOTOUT VIDEO: COME FLY WITH US

THE LAST SILLY SEASON MOVES: THE LITTLE TEAMS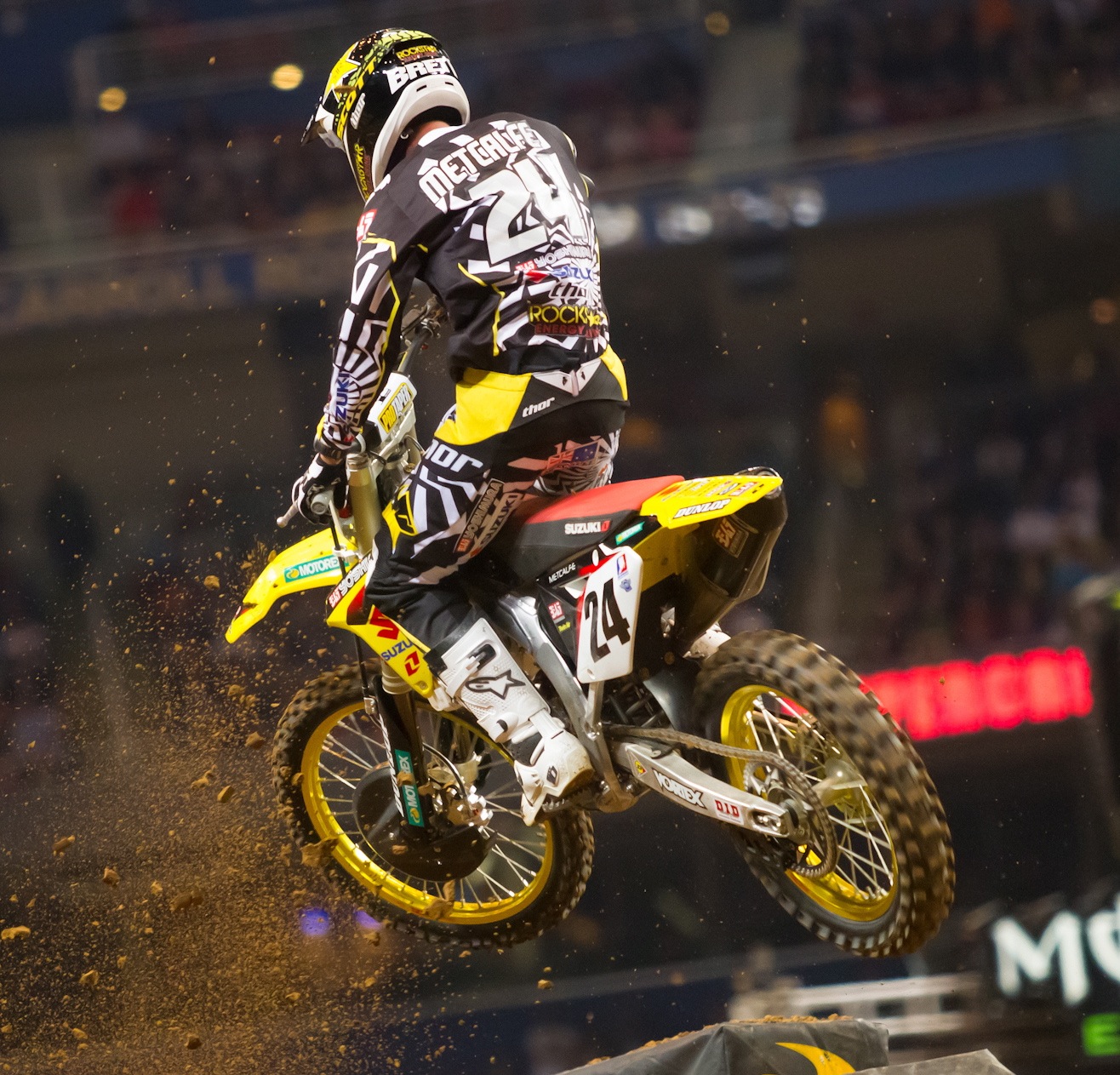 Metty will be on a Suzuki for the first six AMA Supercross races—then he will go to Canada.
For obvious reasons everyone focuses on the big teams, but it would be a very small sport without the up-and-comers, privateers and hard working support riders. These riders and the men who support them are the backbone of the sport and have been for the last 43 years. Here is a quick, and by no means complete, list of the "little teams."
DIRTY CANDY GRAPHICS
Ronnie Stewart
Robert Lind
Brett Metcalfe
MAFIA MOTO CREW
Nick Wey
MOTOSPORT.COM TEAM 100
Josh Hansen
ROCKWELL WATCHES
Nico Izzi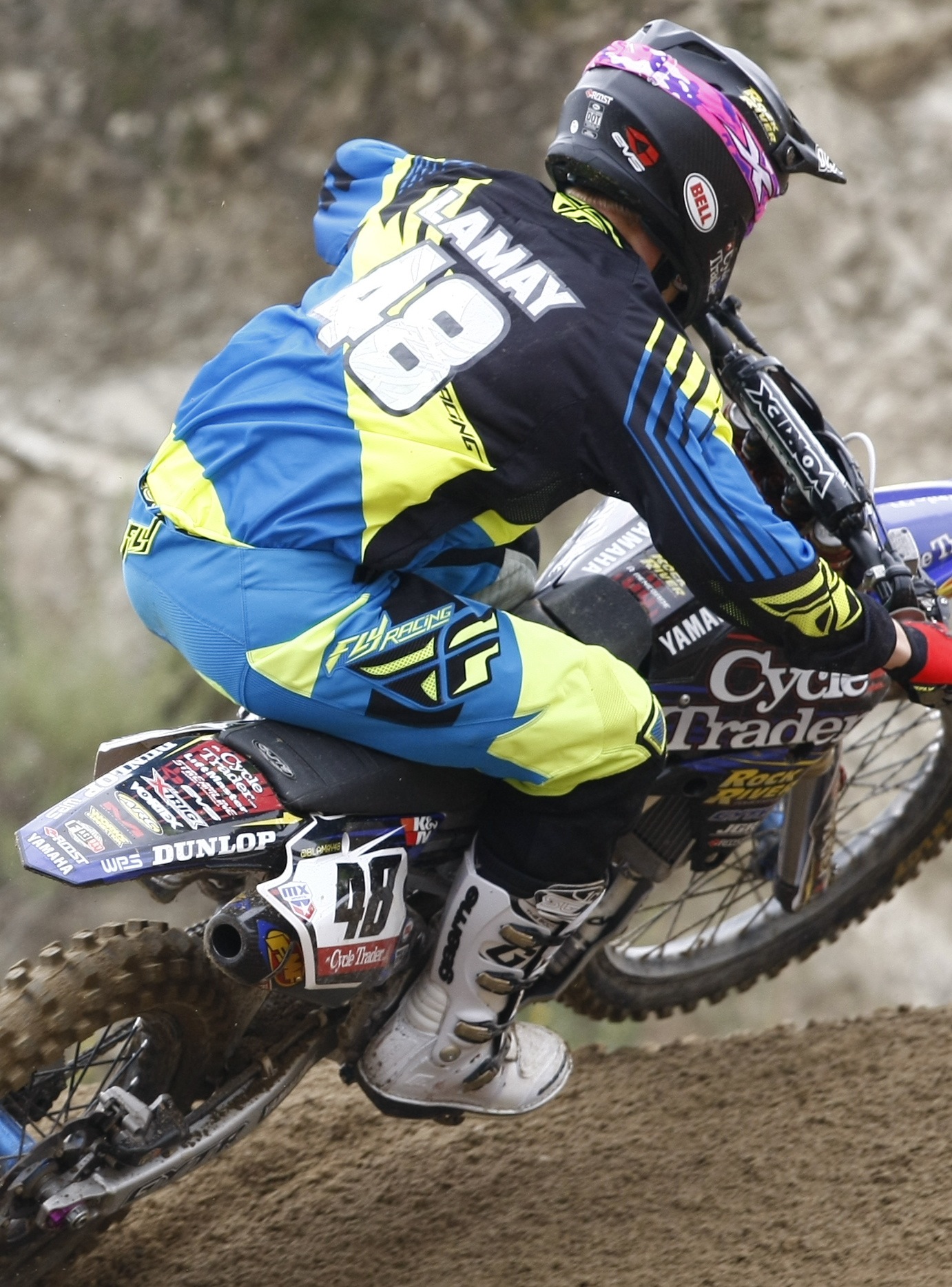 Ben Lamay will stay at the Cycle Trader team for 2015.
CYCLE TRADER ROCK RIVER YAMAHA
Ben Lamay
Alex Martin
Gregory Gehrer
Luke Renzland
FMF/ORANGE BRIGADE/KTM
Dakota Alix
SMARTOP MOTOCONCEPTS RACING
Mike Alessi
Vince Friese
GURRNAID ENERGY/AG MOTORSPORTS
Kyle Cunningham
Kyle Peters
Cade Clason
JAB MOTORSPORTS
Matt Lemoine
51 FIFTY ENERGY DRINK
Austin Politelli
TEAM TEDDER
Dakota Tedder
Fredrik Noren proved himself outdoors in 2014, now the pressure is on to prove that he can ride Supercross.
MOTOSPORT.COM/GPI/HONDA RACING
Fredrik Noren
Tommy Hahn
STRIKT SLATON YAMAHA
Scott Champion
Zach Freeberg
Cole Martinez
TEAM RSR
Zach Williams
Jesse Wentland
EXEO ENTERTAINMENT
Justin Starling
BARN PROS HOME DEPOT YAMAHA
Conner Elliott
Chris Howell
BLUE BUFFALO SLATER SKINS YAMAHA
Killy Rusk
Ryan Zimmer
JEREMY MCGRATH BECOMES KAWASAKI'S BRAND AMBASSADOR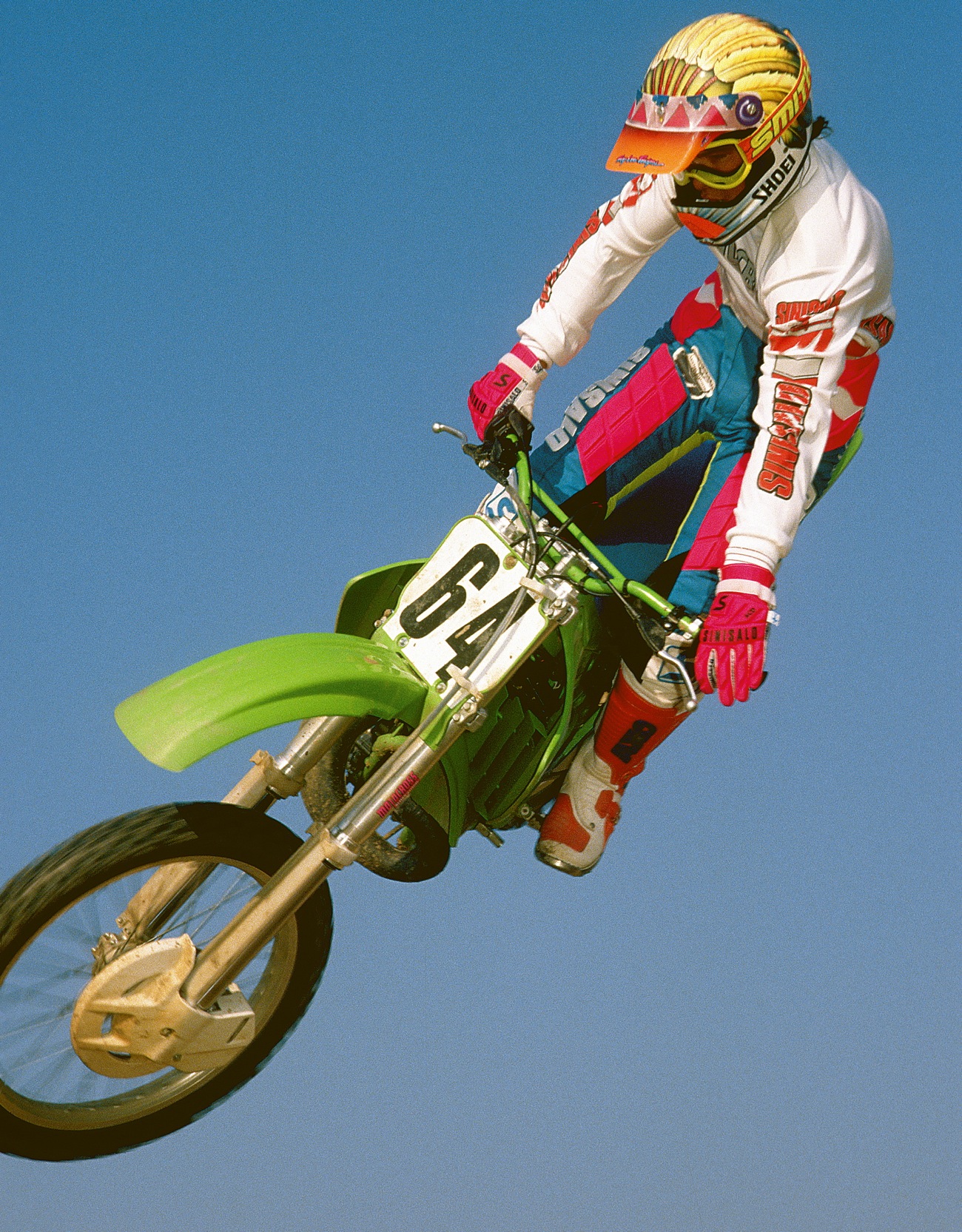 The last time anyone saw Jeremy on a Kawasaki was when he was an MXA test rider back in 1990.
There is nothing incredulous about a press release from Kawasaki that says, "After nearly 25 years, "Showtime" is coming back to Kawasaki.  Kawasaki Motors Corp., U.S.A. announced today that Jeremy McGrath has entered into a role as brand ambassador." MXA loves Jeremy, he was an MXA test rider before he was a Superstar, and, as the Greatest Supercross racer of all-time, he deserves whatever the industry has to offer, but…
…Jeremy hasn't ridden a Kawasaki since 1990 and we doubt that anyone working at Kawasaki today knew that Jeremy ever raced a green machine in the past. Plus, if anything, Jeremy has been Honda's Brand Ambassador for the last 10 years. Okay, we are up for starting a new era of Jeremy in green.
WHERE IN THE WORLD IS RYAN VILLOPOTO?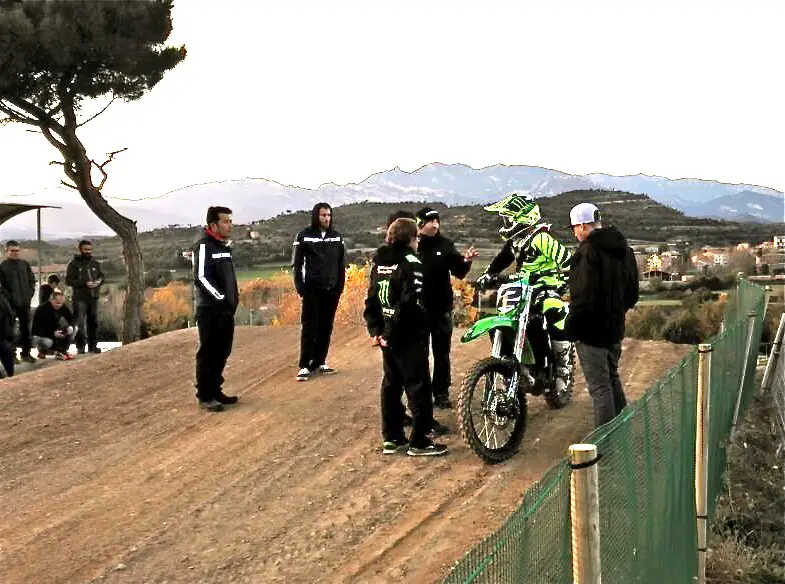 Ryan surrounded by his European crew during winter testing in Spain.
Spanish racer Xavi Costa sent us a photo of Ryan Villopoto at the Olvan track near Barcelona, Spain, earlier his week. Costa said that the KRT Kawasaki team was busy doing suspension testing and planned to go to the Bellpuig track after Olvan.
Xavi Costa was just in the USA to race the World Vet, but he had to go home to run into Ryan Villopoto.

KENNY ZAHRT RIDE DAY AT LACR ON SATURDAY, NOVEMBER 22 AT 2:00 P.M.
A MOTO PHOTO TIME WARP MOMENT: KETCHUP & JODY
George Kohler (57) and Jody Weisel (22) at the World Vet. This is the first time Jody's photo has appeared in Cycle News since he left the company and they sued MXA to get him back. The suit was dropped.

"Cycle News" ran this Ketchup Cox photo of Jody Weisel (22) racing at the 2014 World Vet Championship in last week's issue. The photo is unique because Jody and Ketchup are both Texas racers, they met in 1972 when Jody was a test rider, both of them worked at "Cycle News" in the early 1970s and when Jody left "Cycle News" for MXA in 1976 he brought Ketchup with him. Now. 42 years later, they are reunited for one brief moment on the pages of their old newspaper. Just sayin'.
HURRY! YAMAHA DIRT DEMOS AT MILESTONE SATURDAY

For more info go to www.milestonemx.com
BIRTHDAYS OF THE STARS: JOEL ROBERT, STEFAN EVERTS, RICKY CARMICHAEL & MARTY SMITH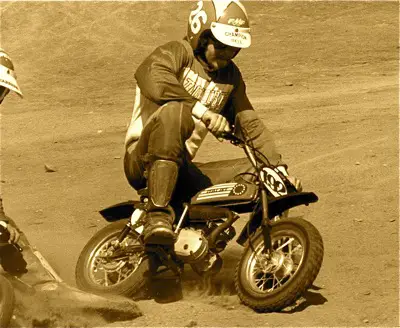 Nov. 22…Ron Turner
Nov. 22…Trevor Vines 1972
Nov. 23…Mike Katin

Nov. 23…Joel Robert 1943
Nov. 24…Joel Albrecht 1972

Nov. 24…Gareth Swanepoel 1984
Nov. 25…Michael LaPaglia

Nov. 25…Stefan Everts 1972
Nov. 25…Zach Bell 1994
Nov. 26…Travis Hodges 1971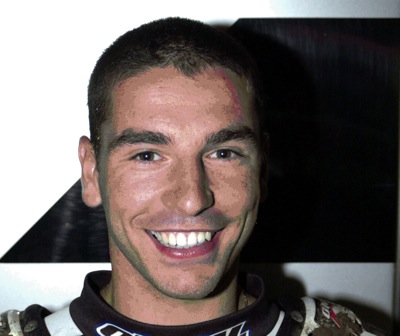 Nov. 26…Steve Boniface 1982
Nov. 26…Kyle Partridge 1986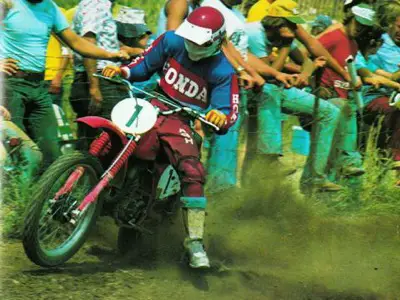 Nov. 26…Marty Smith 1956
Nov. 26…Travis Hodges 1971
Nov. 27…Karsten Butler
Nov. 27…Brent Brown

Nov. 27…Ricky Carmichael 1979
Nov. 27…Casey Lytle 1978

Nov. 28…Andrew Short 1982

Nov. 28…Jeremy van Horebeek 1989
START MAKING PLANS FOR THE 2015 RACING SEASON NOW
The Supercross season starts on January 3, 2015, at Anaheim Stadium.

2015 AMA SUPERCROSS CHAMPIONSHIP
Jan. 3………………….Anaheim, CA
Jan. 10…………………Phoenix, AZ
Jan. 17…………………Anaheim, CA
Jan. 24…………………Oakland, CA
Jan. 31…………………Anaheim, CA
Feb. 7……………,…….San Diego, CA
Feb. 14…………………Arlington, TX
Feb. 21…………………Atlanta, GA
Feb. 28…………………Atlanta, GA
March 7………………..Daytona, FL
March 14……………..Indianapolis, IN
March 21……………..Detroit, MI
March 28……………..St. Louis, MO
April 11………………..Houston, TX
April 18………………..Santa Clara, CA
April 25………………..East Rutherford, NJ
May 2…………………..Las Vegas, NV

2015 AMA NATIONAL CHAMPIONSHIP
May 16……………Hangtown, CA
May 23……………Glen Helen, CA
May 30……………Thunder Valley, CO
June 6……………..Muddy Creek, TN
June 13…………….Mt. Morris, PA
June 27……………Budds, MD
July 4………………Red Bud, MI
July 18……………..Millville, MN
July 25…………….Washougal, WA
August 8…………Unadilla, NY
August 15………..Miller Motorsports, UT
August 22 ……….Crawfordsville, IN
2015 FIM WORLD MOTOCROSS CHAMPIONSHIP
Feb. 28…………………Losail, Qatar
March 8………………..Si Racha, Thailand
March 29………………Neuwuen, Argentina
April 19………………..Arco di Trento, Italy
April 26………………..Valenswaard, Holland
May 10…………………Talavera, Spain
May 24…………………Matterley Basin, Great Britain
May 31…………………Villars Sous Ecot, France
June 14………………..Maggiora, Italy
June 21………………..Teutschenthal, Germany
July 5…………………..Uddevalla, Sweden
July 12…………………Kegums, Latvia
July 26…………………Loket, Czech Republic
Aug 2…………………..Lommel, Belgium
Aug 16…………………Trinidade, Brazil
Aug 30…………………Assen, Netherlands
Sept 13…………………Leon, Mexico
Sept. 20………………..Glen Helen, USA
2015 AMSOIL ARENACROSS CHAMPIONSHIP
Jan. 10-11……………Cincinnati, OH
Jan. 16-18……………Grand Rapids, MI
Jan. 23-25…………….Colorado Springs, CO
Jan. 31- Feb. 1……..Nashville, TN
Feb. 6-8……………….Wilkes-Barre, PA
Feb. 21-22……………Tampa, FL
Feb. 28- Mar.1………Kansas City, MO
Mar. 6-8……………….Council Bluffs, IA
Mar. 13-15……………Southaven, MS
Mar. 21-22……………New Orleans, LA
Mar. 28-29……………Austin, TX
April 11-12……………Spokane, WA
April 18-19……………Tacoma, WA
April 25-26……………Fresno, CA
May 1-3………………..Las Vegas, NV
2015 GEICO ENDUROCROSS CHAMPIONSHIP
March 6……………….Daytona Beach, FL
March 21……………..Salt Lake City, UT
April 25……………….Sacramento, CA
May 1………………….Las Vegas, NV
May 30………………..Phoenix, AZ
June 5…………………Austin, TX
Aug, 22………………Atlanta, GA
Oct. 3…………………Denver, CO
Oct. 17……………….Everett, WA
Nov. 7…………………Boise, ID
Nov. 20-21………….Ontario, CA
2015 WORCS WORLD OFFROAD CHAMPIONSHIP
Jan. 18…………………Taft, CA
Feb. 8………………….Primm, NV
March 1 ………………Peoria, AZ
March 29 …………….TBA
April 19……………….Hurricane, UT
May 24 ……………….Cedar City, UT
Aug. 2 …………………TBA
Sept. 27 ………………Glen Helen, CA
Oct. 18 ………………..Prim, NV
2015 WORLD SIDECAR CROSS CHAMPIONSHIP
April 6…………………Switzerland
April 12………………..France
May 10………………..Ukraine
May 17………………..Germany
May 25………………..Holland
June 7…………………Latvia
June 14……………….Czech Republic
July 5…………………..France
July 12…………………Belgium
July 19…………………Germany
Aug. 2…………………Estonia
Aug. 9…………………Latvia
Aug. 16……………….Ukraine
Sept.13………………..France
Sept.20………………..Germany
2015 AUSTRALIAN NATIONAL CHAMPIONSHIP
March 29……..Horsham, Vic
April 12……….Appin, NSW
April 26 ………Broadford, Vic
May 17 ……….Murray Bridge, SA
May 31………..Coolum, Qld
July 5 ………….Raymond Terrace, NSW
July 19 ………..Shepparton, Vic
August 2 ………Nowra, NSW
August 23 ……Toowoomba, Qld
August 30 …….Coolum, Qld
2015 WMX WOMENS MOTOCROSS CHAMPIONSHIP
Feb. 28…………………Losail, Qatar
March 8………………..Si Racha, Thailand
May 24…………………Matterley Basin, Great Britain
May 31…………………Villars Sous Ecot, France
June 21………………..Teutschenthal, Germany
July 26…………………Loket, Czech Republic    
THE YEAR IS ALMOST OVER, BUT YOU CAN STILL RACE SOME MORE?


2014 GEICO ENDUROCROSS  CHAMPIONSHIP
November 22………………Ontario, CA
2014 DAY IN THE DIRT GRAND PRIX
November 28-30…………..Glen Helen, CA
2014 CANADIAN ARENACROSS CHAMPIONSHIP
November 28-29……….Chilliwack, BC
December 5-6……………Chilliwack, BC
2014 REM GLEN HELEN MOTOCROSS SERIES
November 22…………..Glen Helen, CA
December 6……………..Glen Helen, CA
December 13……………Glen Helen, CA
December 20…………..Glen Helen, CA
December 27……………Glen Helen, CA (Double points)
YOU CAN GET MXA FOR YOUR PHONE, IPAD, TABLET, COMPUTER OR MAILBOX

Do you subscribe to MXA? You should. we know that you think that print magazines are dead and that the internet will fill the void, but most of the stuff in the current issue of MXA won't appear on the web for several months. Luckily, you can get all of MXA on iPhone, iPad, Kindle or Android by going to the Apple Store, Amazon or Google play, but better yet get thee Digital desktop version at https://hi-torque.com/product/motocross-action-digital-edition/ or click on the link below to get the print version delivered to your door for only $15.99 (plus you get a free $25 Gift Card from Rocky Mountain ATV/MC just for subscribing). There is a profit to be made in this deal for you. For the Print magazine go to: http://hi-torque.com/product/subscribe-to-motocross-action-magazine/
MEMORIES OF THE WAY WE WERE: CAN YOU SAY "UNCLE?"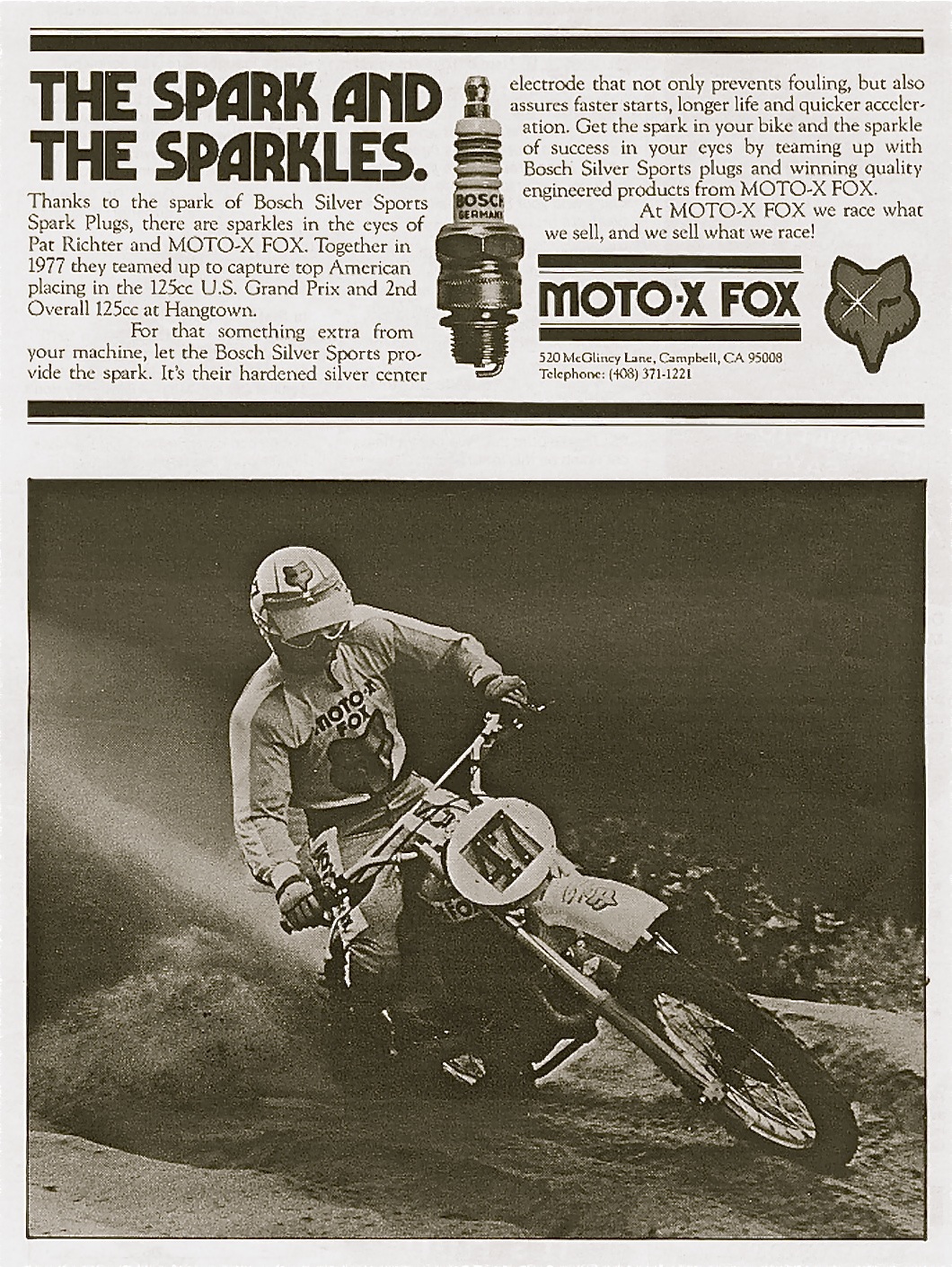 Pat Richter (47) finished 7th in the 1977 AMA 125 National Championships. The men in front of him were Broc Glover, Danny LaPorte, Bob Hannah, Warren Reid, Steve Wise, Mark Barnett and Gary Ogden. His best finish was a second overall at the 1977 Hangtown 125 National. What don't you know about Pat? He is the uncle of a rider named Ryan Villopoto.
2010 TO 2013 YAMAHA YZ450F IGNITION/FUEL MAPS
Although the MXA wrecking crew has moved on to working on and testing newer model bikes, we get lots of requests for the maps we ran on the 2010 through 2013 YZ450F's. In truth, we vastly preferred the "LESS HIT" maps at the bottom of the chart, but we have included all of the maps and what they do.