MXA'S WEEKEND NEWS ROUND-UP: THE GOOD, BAD & UGLY OF THE 500 GPS & TAMPA; THE GOOD OF TWO-STROKES
MXA PRODUCT SPOTLIGHT: "THE INSIDE LINE: RACING THE 500CC WORLD MOTOCROSS CHAMPIONSHIP"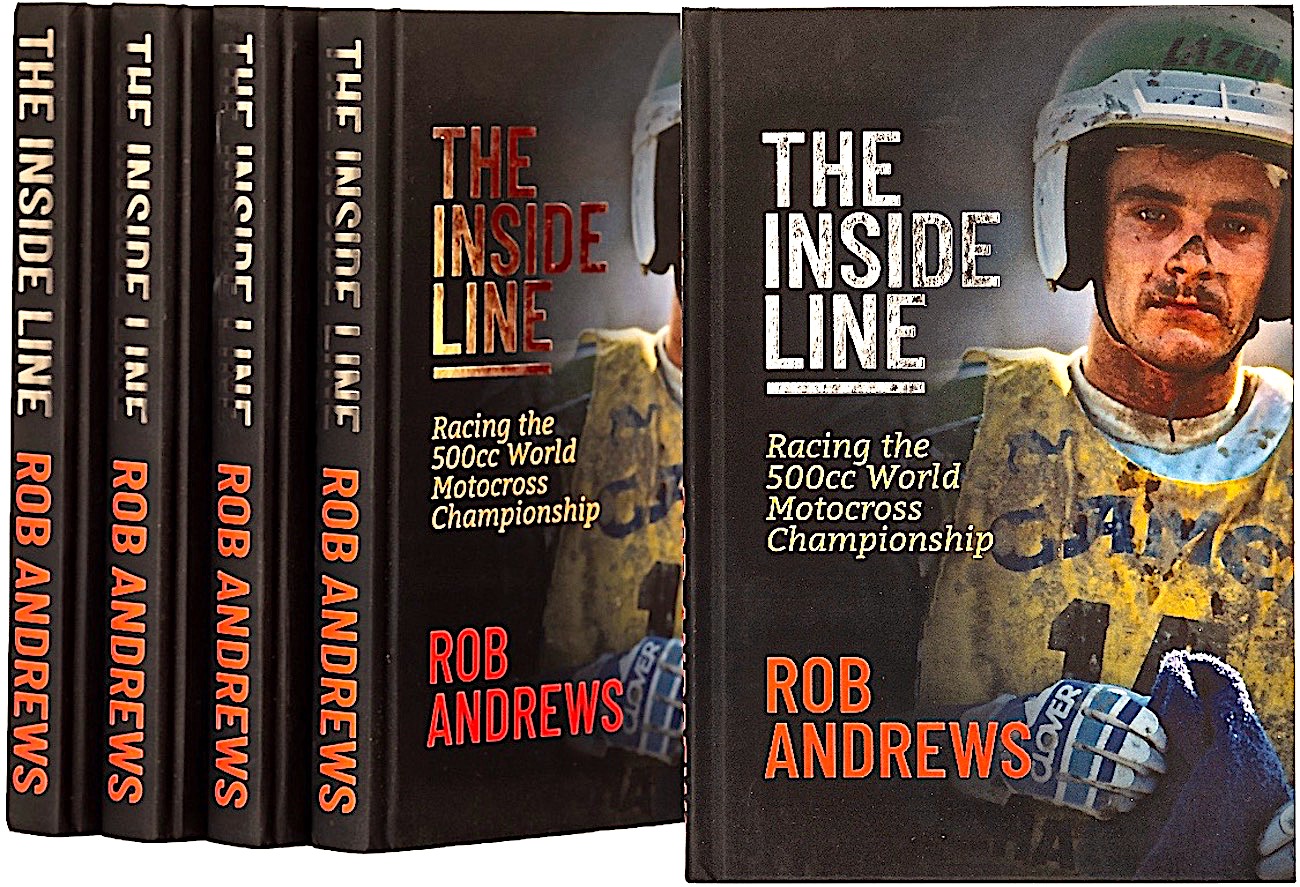 Rob Andrews' eagerly awaited new book, "The Inside Line: Racing the 500cc World Motocross Championship" is now available at www.theinsidelinebook.com.
Tracing the journey of the British former 500 GP star, from unremarkable amateur through to factory Kawasaki rider, GP contender, and member of Great Britain's 1985 Motocross des Nations team, "The Inside Line" is a unique, comprehensive, and fascinating first-hand account of what it was really like to race in the 500cc World Motocross Championship during its 1980s heyday.
Incredibly detailed, and unlike any publication that has come before, the reader will learn how the whole World Championship system worked, and discover what it was like to be a professional racer, riding a full-factory 500 against some of the sport's most decorated stars, and on many of the most famous and revered grand prix motocross circuits.
Rob Andrews is not just another pretty face who can race a motorcycle, he is a story teller that takes you inside and behind the scenes of what its like to race the FIM 500cc World Championships. The Namur Chapter is worth the price.
Never-before-published images from some of the sport's most acclaimed photographers highlight the book. Author Rob Andrews says: "I feel very fortunate that the best years of my GP racing career coincided with an incredibly memorable period for the 500cc World Championship. To be able to share my own experiences of that great time in motocross grands prix is equally exciting." On sale at www.theinsidelinebook.com now—worldwide shipping is available.
MXA'S FIRST RIDE OF THE 2020-1/2 KTM 450SXF FACTORY EDITION
2020 450 DYNO RUNS: WHICH ONE MAKES THE MOST POWER & WHERE THEY MAKE IT

The yellow boxes represent the most horsepower at that rpm, while the red boxes indicate the least horsepower at that rpm.
MXA'S FIRST RIDE OF THE 2020-1/2 HUSQVARNA FC450 ROCKSTAR EDITION
2020 AMA SUPERCROSS WINNERS AT A GLANCE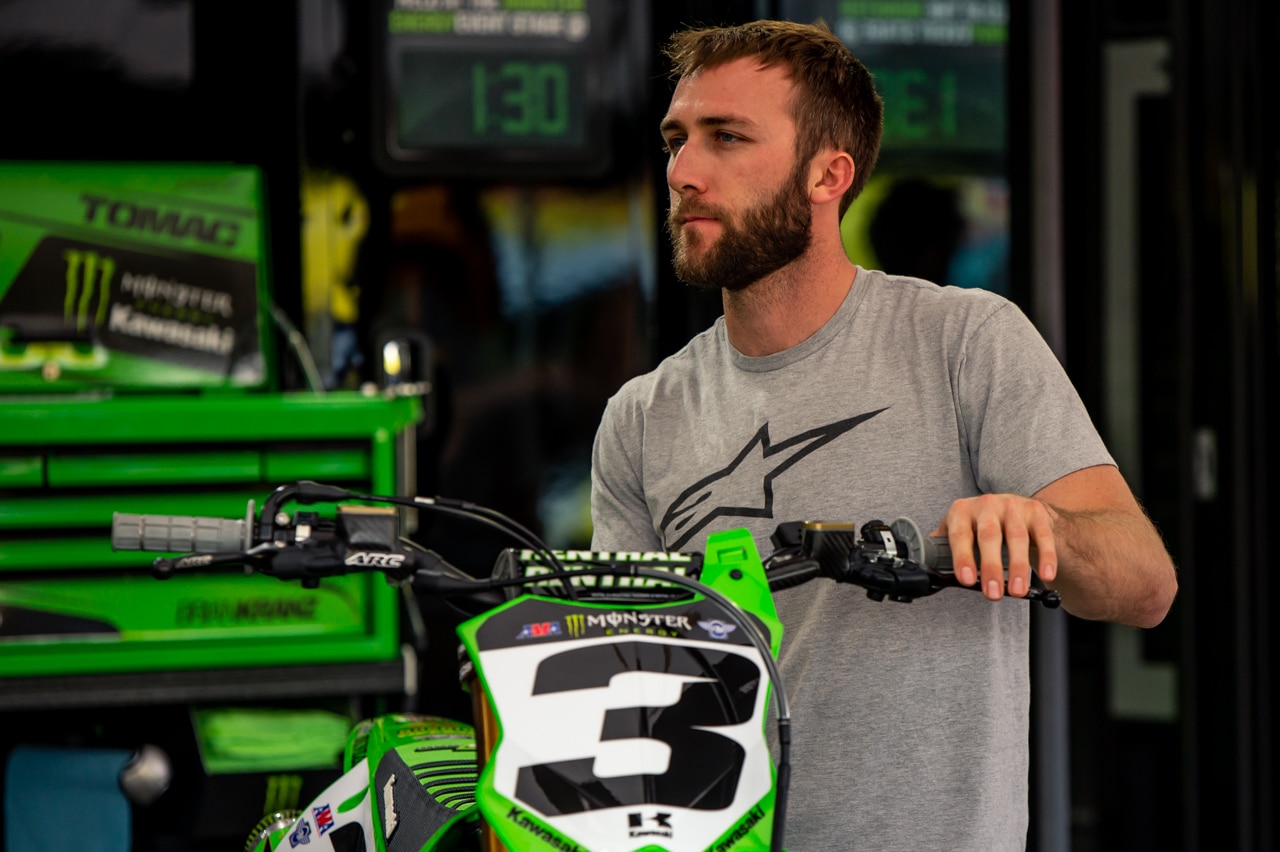 Eli Tomac (3) now has four wins out of eight races, Roczen has two and Barcia and Webb have one each.

Venue                                        450                                    250
1. Anaheim 1………….Justin Barcia………..Justin Cooper
2. St. Louis………………Ken Roczen…………..Austin Forkner
3. Anaheim 2………….Eli Tomac………………Dylan Ferrandis
4. Glendale…………….Ken Roczen…………..Austin Forkner
5. Oakland……………..Eli Tomac……………….Dylan Ferrandis
6. San Diego…………..Cooper Webb……….Dylan Ferrandis
7. Tampa…………………Eli Tomac……………….Shane McElrath
8. Arlington……………Eli Tomac……………….Chase Sexton
9. Atlanta………………
10. Daytona………….
11. Indianapolis……
12. Detroit…………….
13. Seattle…………….
14. Denver…………….
15. Foxborough……
16. Las Vegas………..
17. Salt Lake City….
450 Points leader…Ken Roczen
250 West Points leader…Dylan Ferrandis
250 East points leader…Shane McElrath/Chase Sexton (tie)

AMA SUPERCROSS STANDINGS HEADING TO THE 2020 DALLAS SUPERCROSS

AMA 450 SUPERCROSS STANDINGS
(After 7 of 17 rounds)
1. Eli Tomac (Kaw)…155
2. Ken Roczen (Hon)…151
3. Cooper Webb (KTM)…144
4. Justin Barcia (Yam)…135
5. Adam Cianciarulo (Kaw)…127
6. Jason Anderson (Hus)…118
7. Malcolm Stewart (Hon)…106
8. Justin Brayton (Hon)…102
9. Justin Hill (Suz)…93
10. Blake Baggett (KTM)…91
Chase Sexton.

AMA 250 EAST SUPERCROSS STANDINGS
(After 2 of 9 rounds)
1. Chase Sexton (Hon)…49
2. Shane McElrath (Yam)…49
3. Jeremy Martin (Hon)…40
4. R.J. Hampshire (Hus)…38
5. Garrett Marchbanks (Kaw)…37
6. Joey Crown (Yam)…31
7. Jordon Smith (Kaw)…28
8. Josh Hill (Yam)…28
9. Jo Shimoda (Hon)…26
10. Enzo Lopes (Hon)…19
AMA 250 WEST SUPERCROSS STANDINGS
(After 6 of 10 rounds)
1. Dylan Ferrandis (Yam)…135
2. Justin Cooper (Yam)…128
3. Austin Forkner (Kaw)…122
4. Brandon Hartranft (KTM)…110
5. Alex Martin (Suz)…98
6. Jacob Hayes (Hus)…89
7. Luke Clout (Hon)…83
8. Michael Mosiman (Hus)…82
9. Derek Drake (KTM)…78
10. Mitchell Oldenburg (Hon)…72
NEW RACE-READY 2020 MOOSE AGROID GEAR 
THE "PASHA 125 OPEN" TWO-STROKE CLASSIC AT GLEN HELEN

Broc Shoemaker (48) was able to pass his way to the front of the 125 two-stroke class for a  2-1 overall win. He earned $700 for his effort. Photo: Debbi Tamietti
Well-know motocross insider Pasha Afshar financed and found sponsors for a special 125cc two-stroke race—actually two races, one for riders from 21-years -old to 39-years-old (made up mostly of Pros) and one for riders 40-years-old and over. Pasha not only got Fasthouse, Wiseco, Stapo MX, STI tires, TruFusion Sports Recovery and Elite Media Technologies to sponsor the 125 events (which was held in conjunction with REM's regular program), but Pasha put up a $3000 purse (and paid $100 in holeshot money for both motos in the 125A and the Over-40 125B group). Here is a quick recap of who did what in both 125 two-stroke classes. It was sweet sound to everyone's ears.
Justin Hoeft (82) went 9-1 in to 450 Pro class for fourth on a Husqvarna FC450 and came back to go 2-2 for second in the 125A two-stroke class. Photo: Debbi Tamietti
Sean Collier (207) was the best of three Honda's CR125s in the 125 A field. Photo: Debbi Tamietti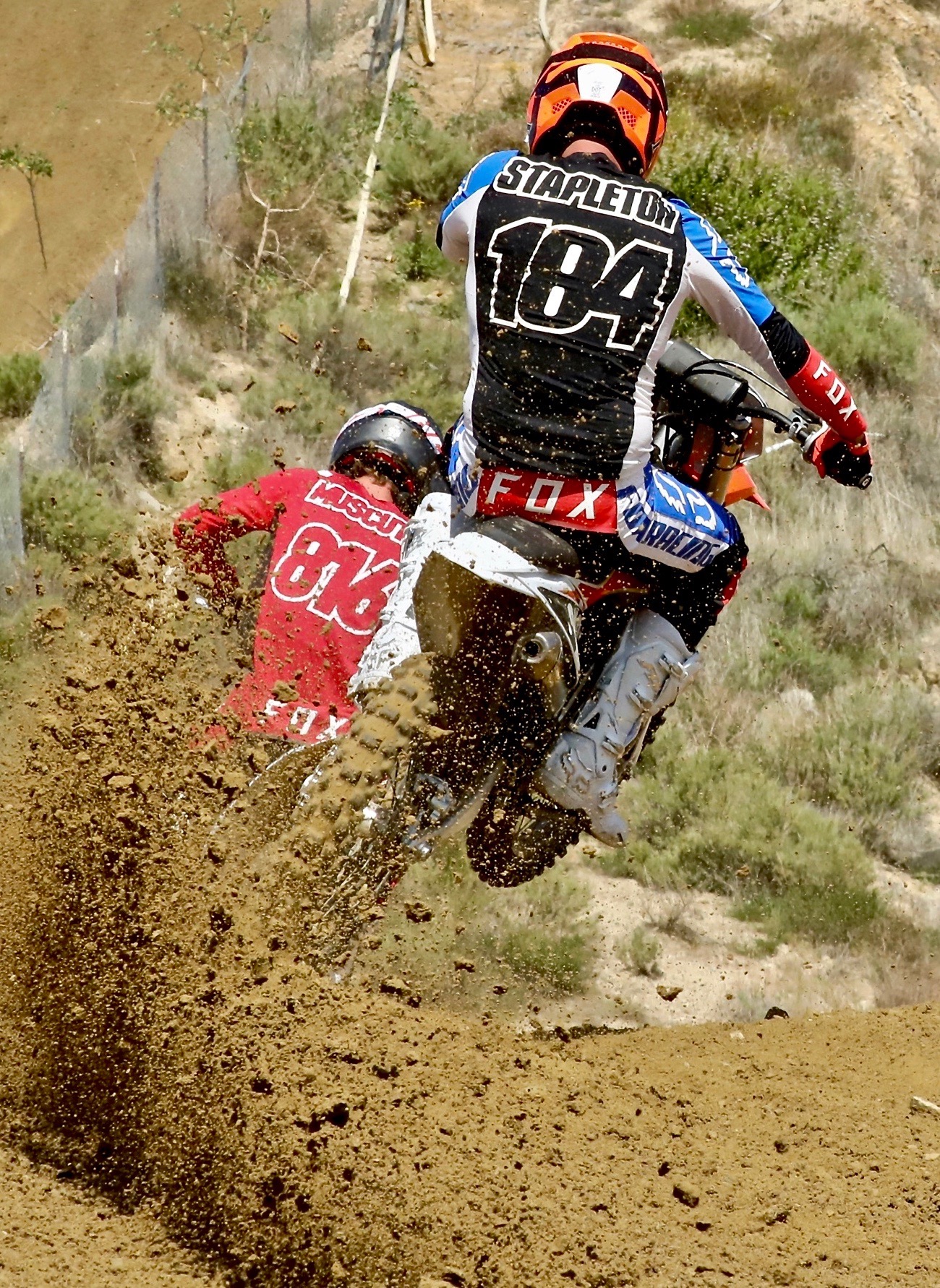 Dennis Stapleton (184) blew his race bike up in practice and had to borrowed a KTM 125SX from KTM's David O'Connor (since David was in the 125B moto). The oldest guy in the 125A race, Stapleton just missed the podium by one point. He got a fourth place check and flew to Kuwait for a race the next day. Photo: Dan Alamangos
Willy Simons, Jr. ran in the top three in both 125 A motos and fought hard to stay there, but got pushed back to fifth overall. Photo: Debbi Tamietti

MXA's Brian Medeiros led both 125 A motos, but a crash in the first moto sent him back to third place. In the second moto Brian had opened up a big lead on the pack only to get a flat front tire. He tried to keep going…. Photo: Dan Alamangos

…but this is what happens when you have a flat front tire. Brian ended up with the 3-13 for eighth overall. The only good thing in Brian's day was that at least he got the holeshot money in moto one. Photo: Dan Alamangos
In both 125 classes and in all four motos, being the first to the white holeshot line paid $100. Willy Simons, Jr. demonstrates. Photo: Dan Alamangos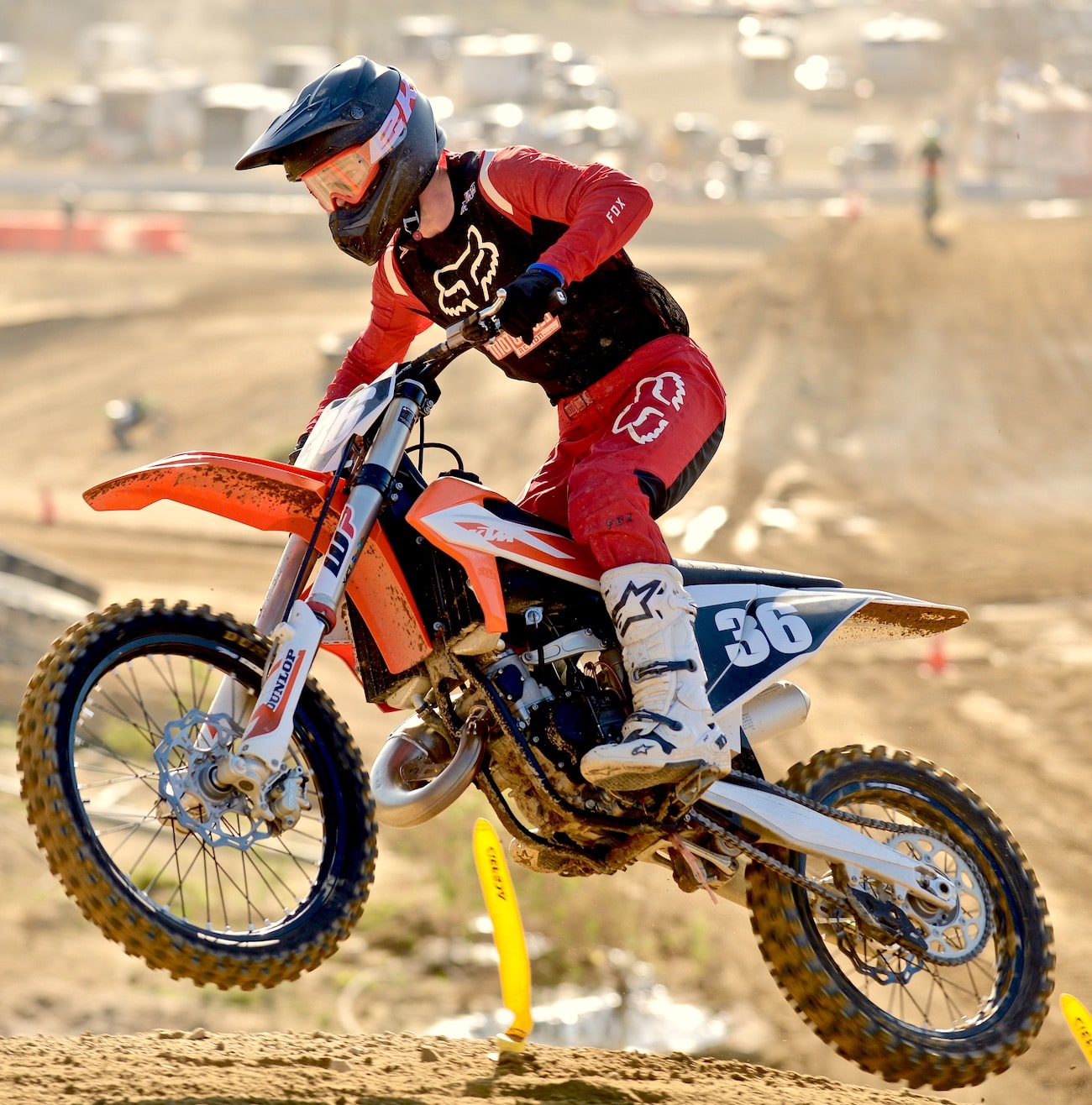 When MXA's Dan Alamangos elected not to race the "Pasha 125 Open," he handed over MXA's stock 2020 KTM 125SX to Justin Muscutt. Muscutt went 7-10, but ran in the top five in both motos until he made mistakes. Photo: Dan Alamangos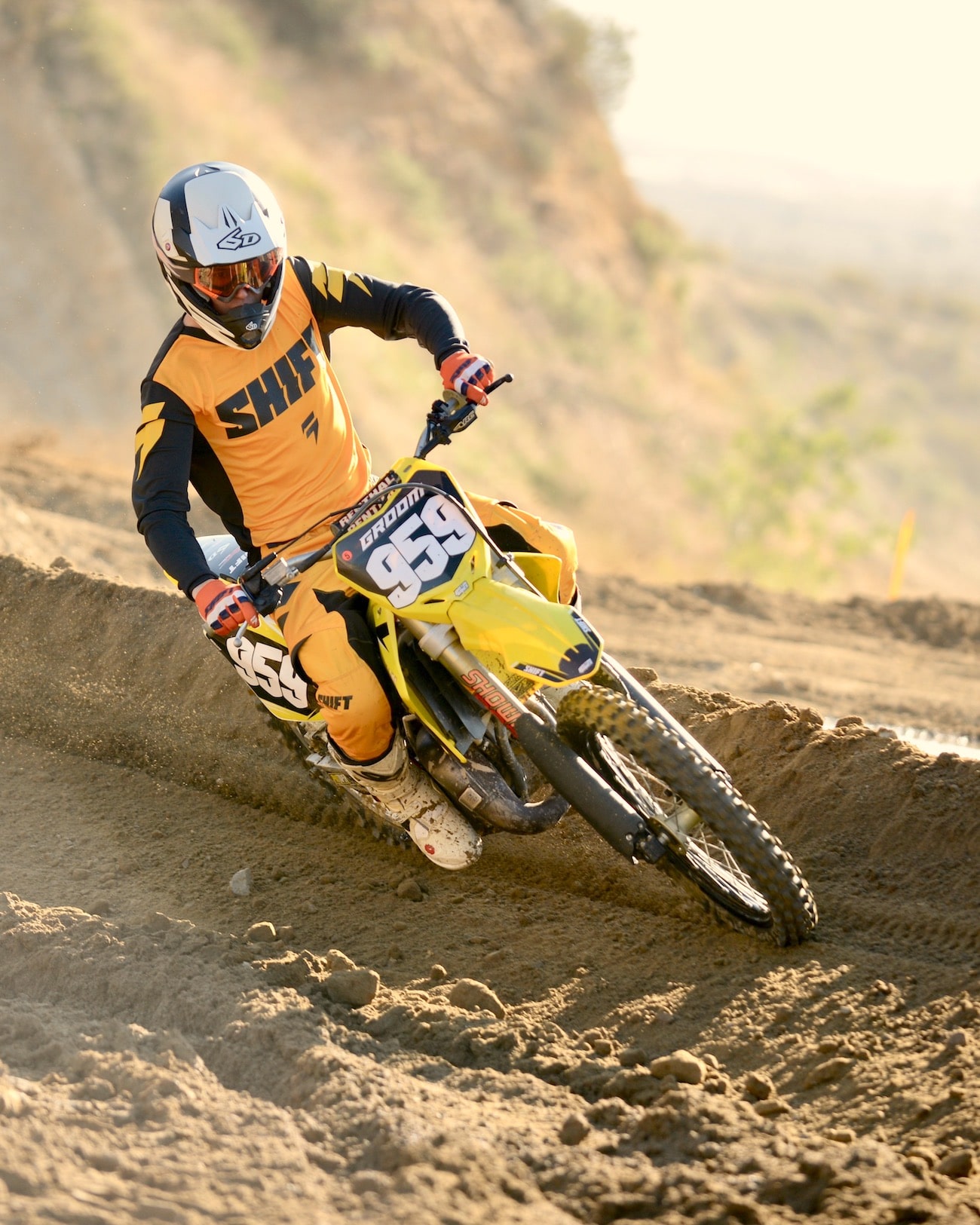 Max Groom (959) raced a 2006 Suzuki RM125 to tenth place in the 125 A class. This was Max's first race back at REM in almost five years. Photo: Dan Alamangos
Sean Collier (207) could not get a start in the 125 A motos. He had to come from way behind in both motos. Here, Sean duels with Dennis Stapleton in the second 125A moto, but couldn't get him. Dennis went 6-3 for fourth and Sean went 4-4 for third. Photo: Dan Alamangos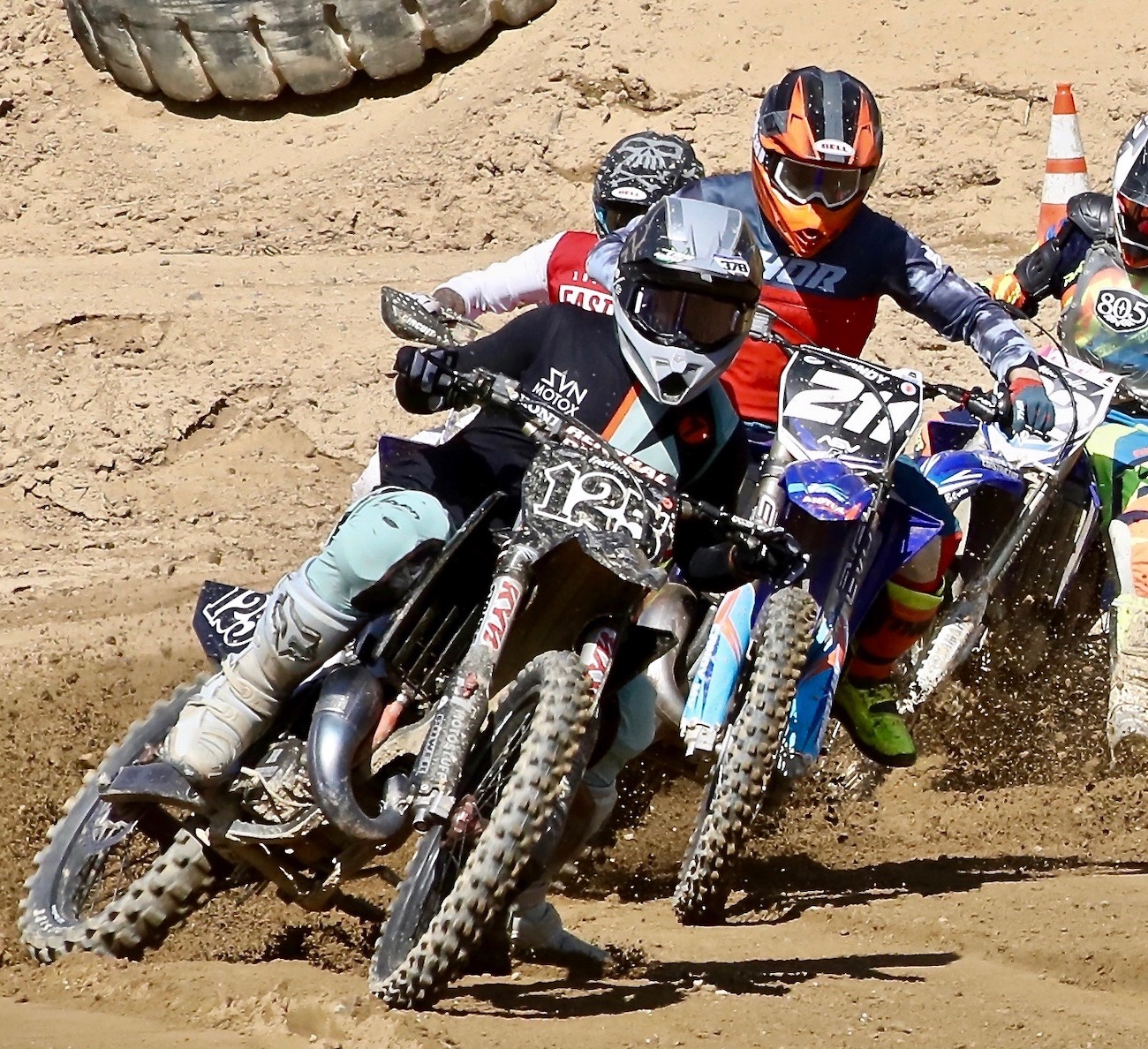 Former Pros Tim Beatty (125) and Craig Canoy (211) ran one-two in the Over-40 division of the "Pasha 125 Open" with 60-year-old Pete Murray third, Kevin Barda fourth and Todd Gravitt fifth. Photo: Debbi Tamietti
Pete Murray is the current Over-60 World Champion (and a former Over-50 and Over-40 World Champion). He came from the back in both Over-60 Expert motos to catch and pass the leader by mid-moto and pull away by a big margin to beat all the 450s. And he did it on a Yamaha YZ125X two-stroke cross-country model. He also finished third overall in the 125 Over-40 race. Photo: Debbi Tamietti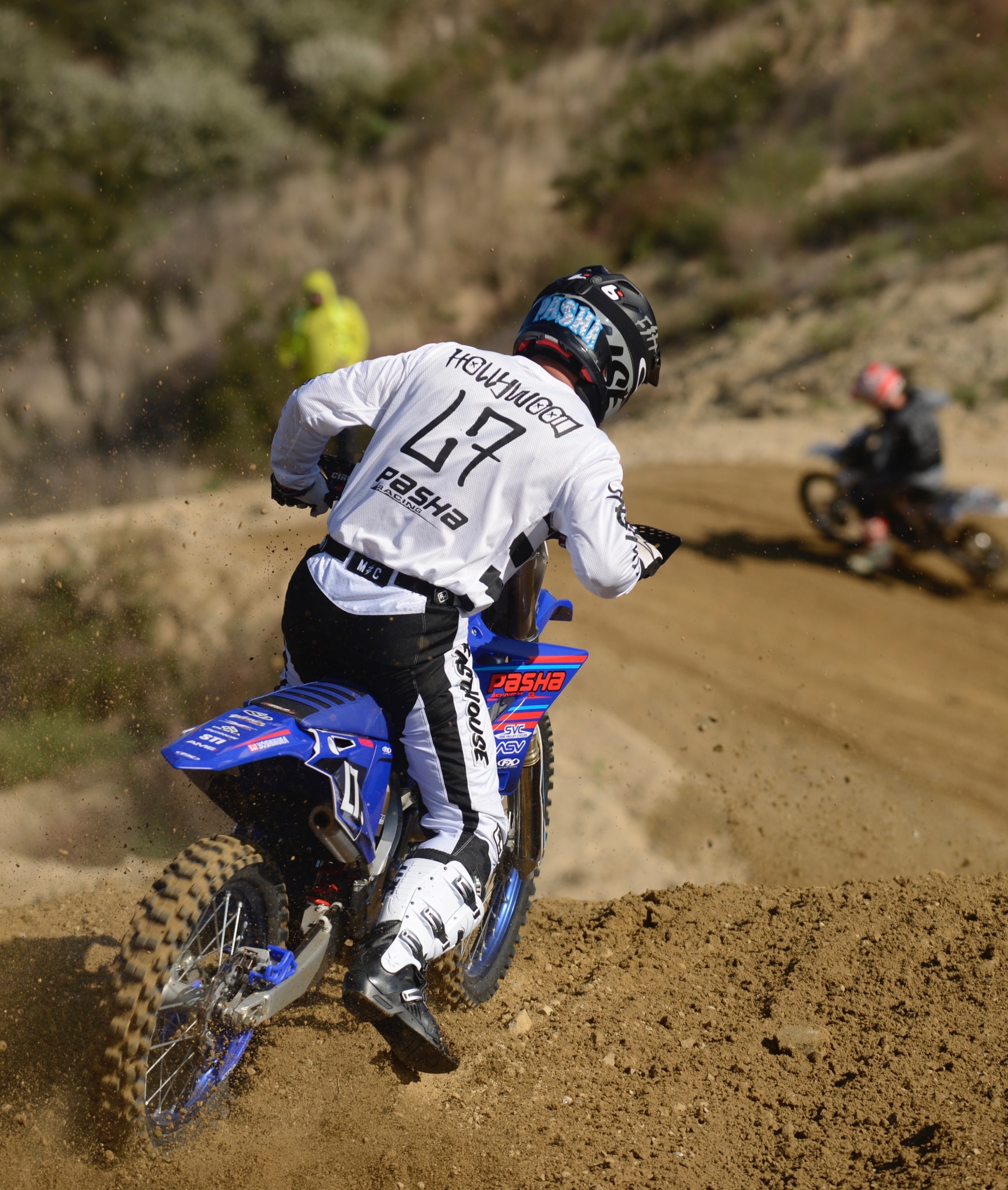 Pasha Afshar (L7) not only found sponsors for the "Pasha 125 Open" and a $3000 purse, but he finished eighth overall in the Over-40 125 class. If Pasha took his helmet off, you recognize him as the "bad guy" in the "Bennett's War" motocross movie.  Photo: Dan Alamangos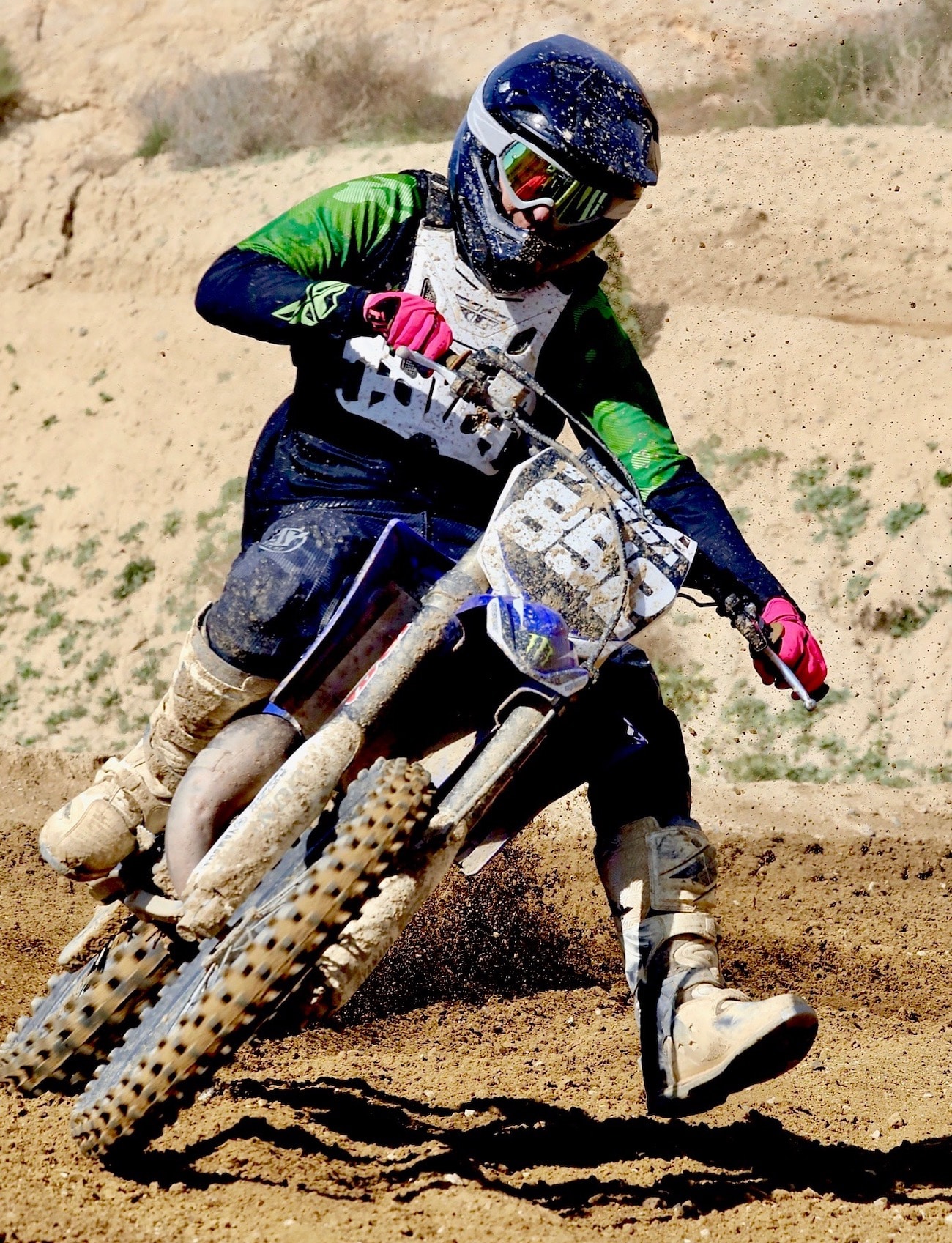 Kevin Barda looking good. Photo: Debbi Tamietti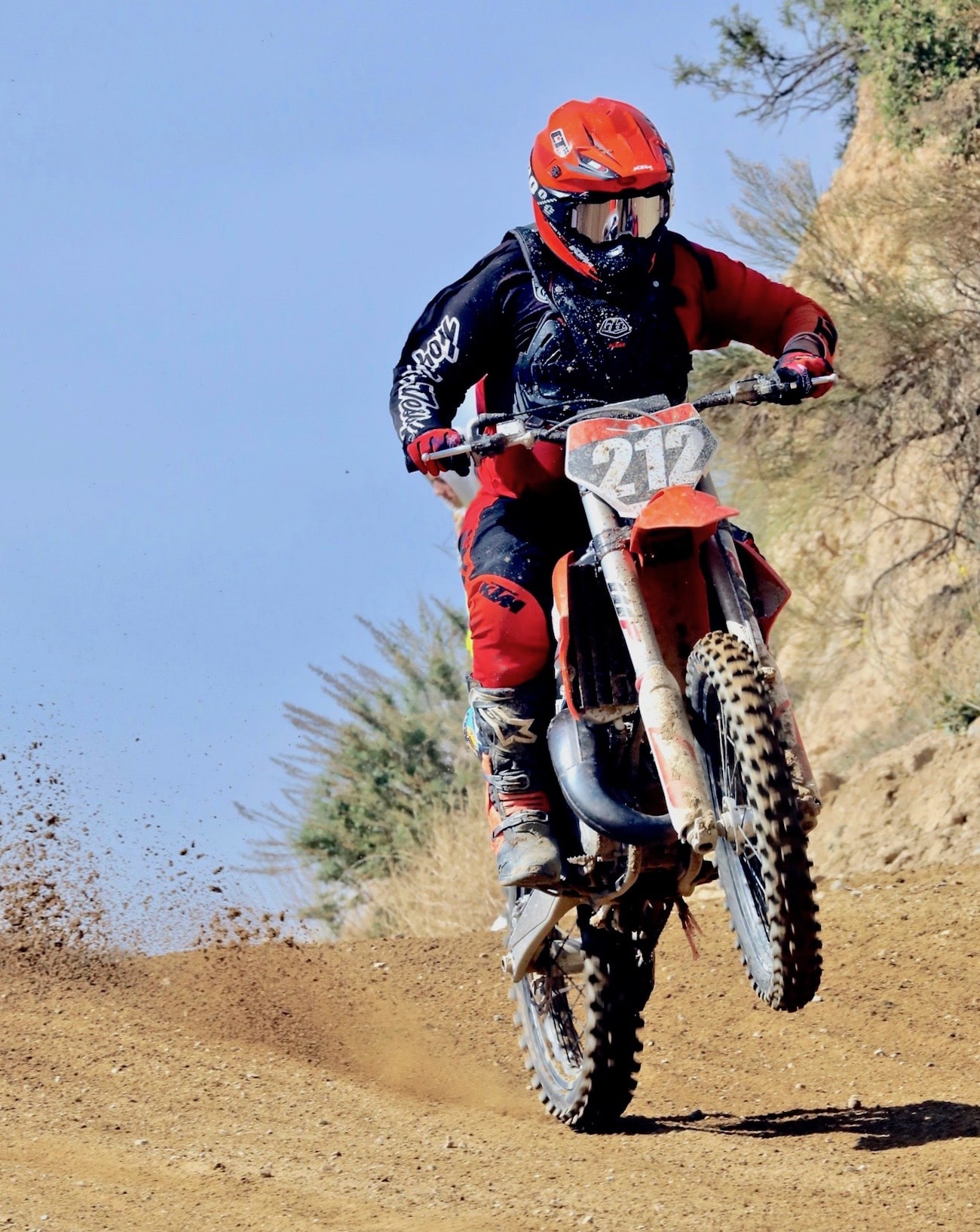 David O'Connor(212) is from Ireland where they don't always get to race in 75 degree weather. He lent his KTM 125 to Dennis Stapleton even though he was in the next moto. The race promoters held up the start until David could get his bike fueled up and get to the line. Photo: Debbi Tamietti
2020 TAMPA 450 SUPERCROSS VIDEO: THREE MINUTES OF ACTION…GOOD AND BAD

THE MARCH 2020 ISSUE IS HERE! IT IS JAM-PACKED FULL OF BIKE TEST & TECH ARTICLES

Not only do we ride Cooper Webb's KTM 300SX two-stroke works bike, but we do a midsize shootout beetween the KTM 350SXF, TM 300FI-MX & Husky FC350. Wait, there's more. We do a Yamaha YZ125 versus KTM 125 UnShootout and build a project Honda CRF450.

If you subscribe to MXA you can get the mag on your iPhone, iPad, Kindle or Android by going to the Apple Store, Amazon or Google Play or in a digital version. Even better you can subscribe to Motocross Action and get the awesome print edition delivered to your house by a uniformed employee of the U.S. Government. You can call (800) 767-0345 or Click Here (or on the box at the bottom of this page) to subscribe.
BIKES YOU'VE NEVER SEEN BEFORE: 1955 ARIEL 500 CROSS


This 1955 Ariel 500 HS Cross was both a last gasp for Ariel's 500cc four-stroke engine, but also the end of the era of the Big British Single.
To many motorcycle fans the Ariel brand is best known for its innovative 1931 Ariel Square Four 500. The Ariel Square Four, with a 500cc engine designed by Edward Turner, first appeared for the 1931 season. Around this time the company went into receivership and when a new company was formed, the Square Four displacement was increased to 600cc. During the Second World War Ariel made bikes for the British Arm. After the war, Ariel was bought by BSA and they produced the Ariel 500 Cross, which was more of an enthusiast design that a real model. d it last motorcycle–after a brief foray into two-stroke powered street bikes. Today, the Ariel named was licensed to be used on a lightweight, two-seat, sport cars called the Ariel Atom.
MXA TEAM TESTED: FLY RACING LITE GEAR

Fly Racing's Lite Racewear is designed for those who desire lightweight and unrestrictive gear. Fly Racing has earned a reputation as a durable and affordable brand of motocross gear. But, as of recently, the Idaho company has been focusing more on performance while still keeping price and durability in mind. The new Fly Lite Racewear is proof that the company can do both.
Jersey. The Fly Racing Lite jersey is 100-percent polyester and has three large, ventilated, mesh stretch panels. The panel at the top of the jersey expands across the shoulders and the back portion of the neck. The other two mesh panels extend from under each sleeve all the way down to the bottom of the jersey. The polyester material has a soft and silky feel, while laser-cut perforations in the chest and sleeves help dissipate heat. The jersey has an athletic fit that is comfortable and non-restrictive. The tail of the jersey is extended 2 inches to help keep it tucked in. It also has a low-profile, multi-directional, tag-less mesh collar, while the arm cuffs are reinforced with mesh to provide a comfortable fit and allow for superior mobility.
Pants. The Fly Racing Lite pant has a modern, lightweight, minimalist design. Multi-directional stretch ribs extend throughout the pants to maximize comfort and mobility. The full-floating saddle is surrounded by stretch rib material to allow the pants to move naturally with your body. The ergonomically pre-shaped knees accommodate most knee braces and guards. The waistband features a zipper-lock system and an adjustable ratcheting closure, while the trademarked Boa system on the back of the waistband allows for fast, on-the-fly, micro adjustability to ensure the perfect fit. The leather heat-shield panels on the knees come with durable DuPont Kevlar stitching. The pant features a small liner in the saddle area that increases durability and allows for more airflow throughout the rest of the pants.
Fit. The Fly Racing Lite gear has an athletic fit that is unrestrictive without excess material. The Boa system also creates a strong and precise fit around the waist. The Lite waistband can be stretched out to 34 inches and cinched down by the Boa system to an incredibly tight 26 inches.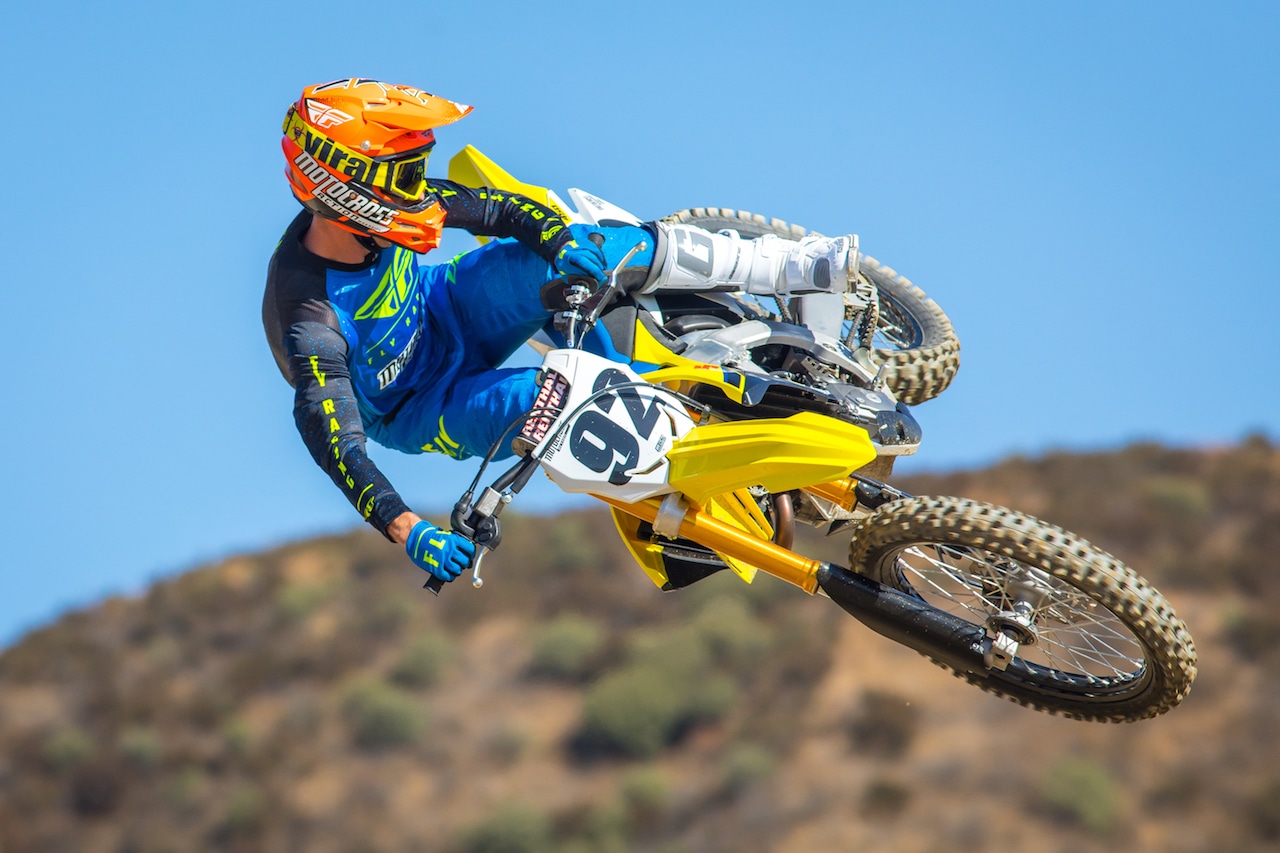 Durability. The lightweight and thin materials on the Lite Racewear suffer in the durability category. Without rubber patches to protect the knee area, the thin polyester material loses the fight against roost and crashes. Our test riders found holes and wear marks in the knees after their motos; however, the leather knee patches are 11 inches tall and 7 1/2 inches wide. They provide great protection against wear and tear on the inner knees when squeezing the bike.
Performance. The Fly Lite Racewear was designed with the help of Zach Osborne, Justin Brayton and Blake Baggett. From the polyester material used in both the jersey and pants to the adjustable Boa system on the waistband, Fly has found the perfect ratio of stretch and strength. MXA test riders especially liked that the waistband could be finely tuned to each rider's torso, while the form-fitting mesh and stretch-rib material comfortably hugs your body.
Options. The Fly Racing Lite gear is available in six different colorways. The jersey sizes range from small to double-extra large, while the pants fit 28- to 38-inch waists.
DIGITS? $49.95 (jersey), $179.95 (pants)—www.flyracing.com or (208) 319-3079.
MXA RATING: If you like form-fitting, athletic, lightweight gear that is as comfortable as your silk pajamas, the Fly Racing Lite Racewear will exceed your expectations.
INAUGURAL "DAY IN THE DIRT DOWN SOUTH" AT DADE CITY ON MARCH 13-15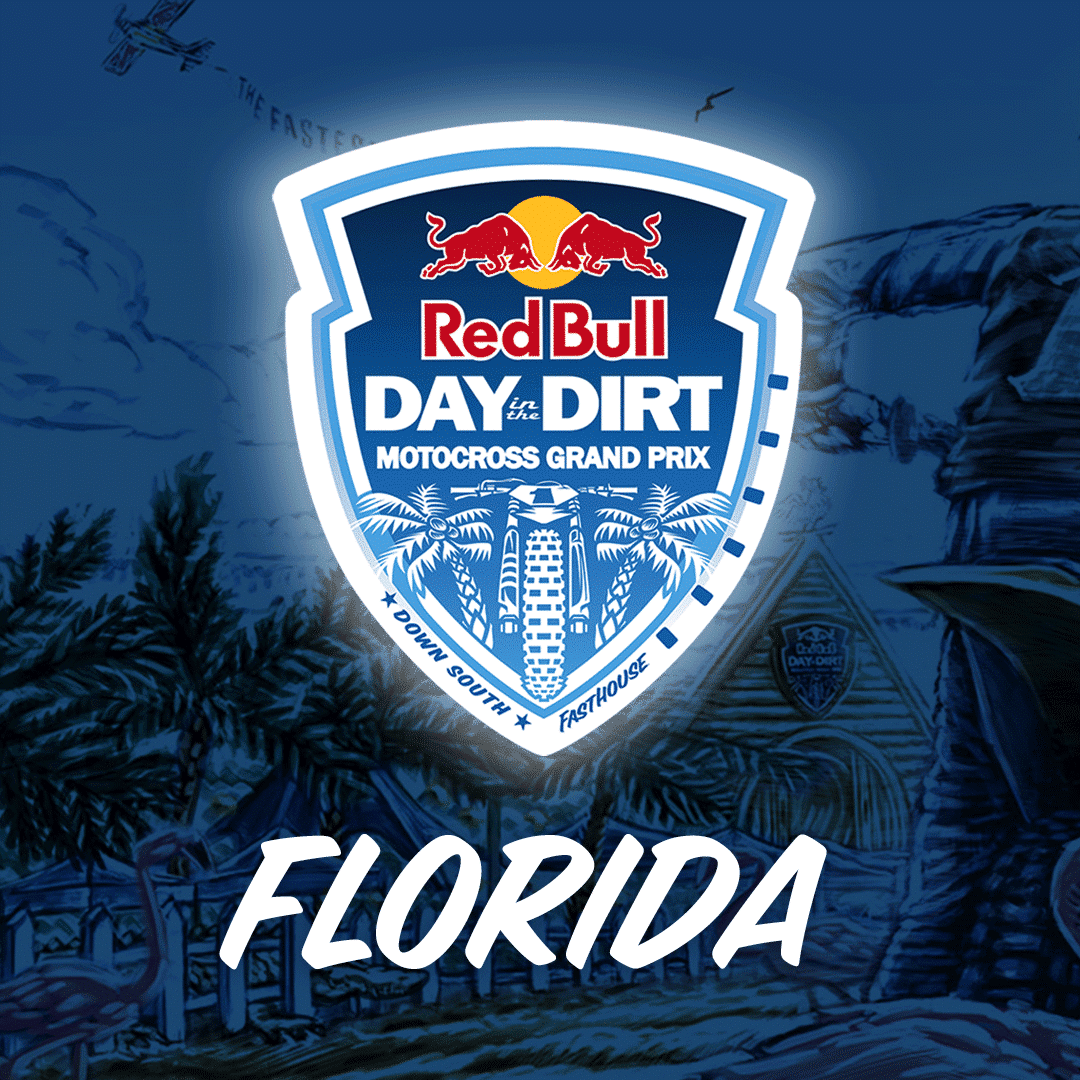 The Red Bull Day in the Dirt is coming to Dade City Motocross in Florida on March 13-15.Day in the Dirt has been held in SoCal for 22 years, but has expanded to Australian and now to the South. The Red Bull Day in the Dirt Down South promises to be a unique gathering of dirt bike-riding, fun-loving family and friends.The racing will happened all weekend with classes for all levels and ages – from Beginner to Pro, Minicycles to Vintage, Vets and Women, Two-Strokes, Off-Roaders—everyone. There will also be a wide array of team races like the Bosa Nova GP, Moto A Go-Go, the Old Switcheroo, the Still Smoking Two-Stroke race and finally the Coup de Grace Survival Race. Also, riders that compete in and finish five events become an Ironman and will receive a stylish trophy. For more information go to www.dayinthedirtdownsouth.com.
THE HANDY-DANDY TRACK MAPS OF ROUNDS 8 & 9 — DALLAS & ATLANTA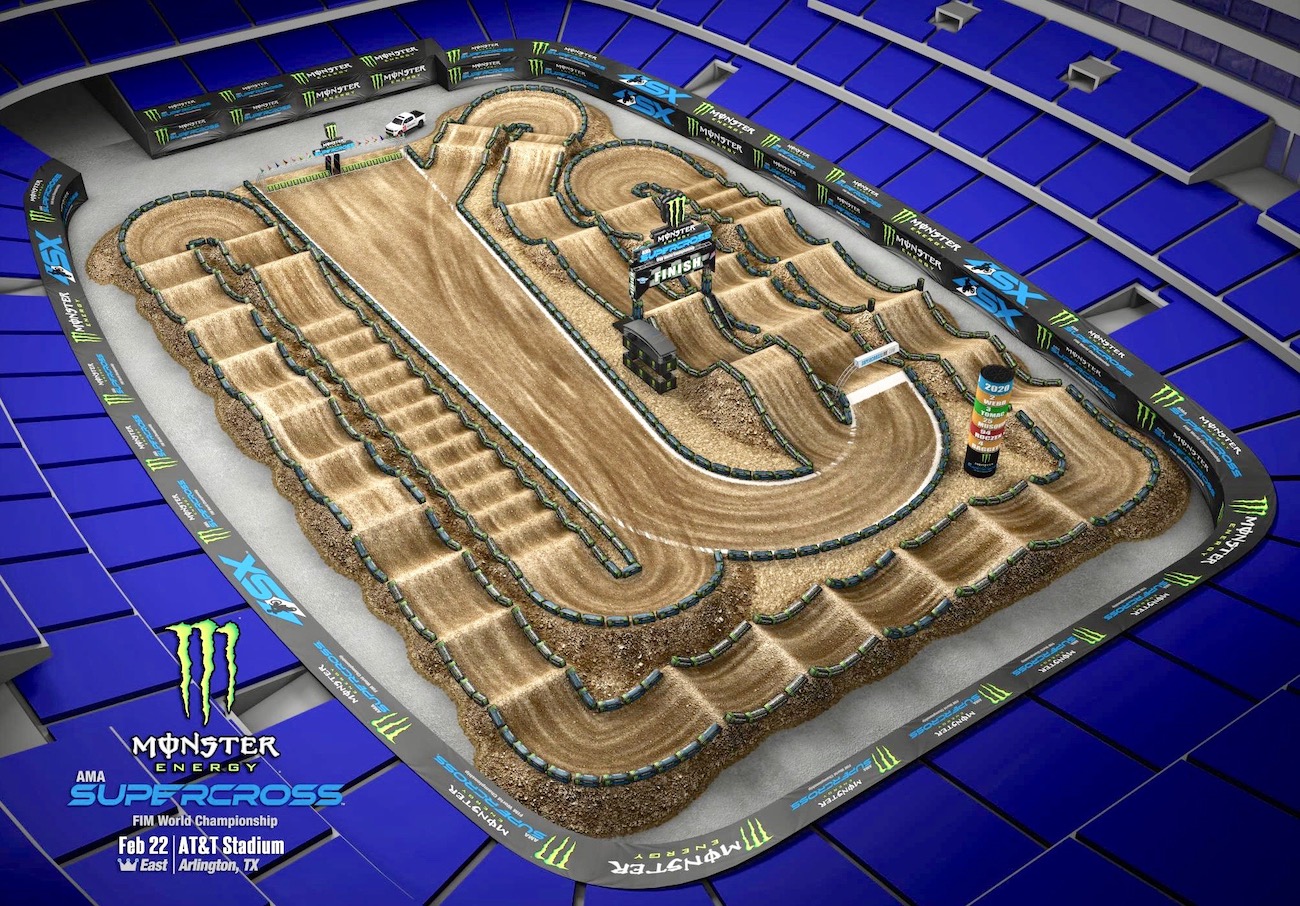 The next stop will be the Dallas Supercross this weekend at AT&T Stadium in Arlington, Texas. Dallas is a three-moto event.

Atlanta will be the 9th stop on the 17-race 2020 AMA Supercross Championship
WANNA RACE IN SOCAL? NEED TO RENT A BIKE? FIND A PLACE TO STAY? NEED MOTOCROSS INSTRUCTION: JUST CALL STAPO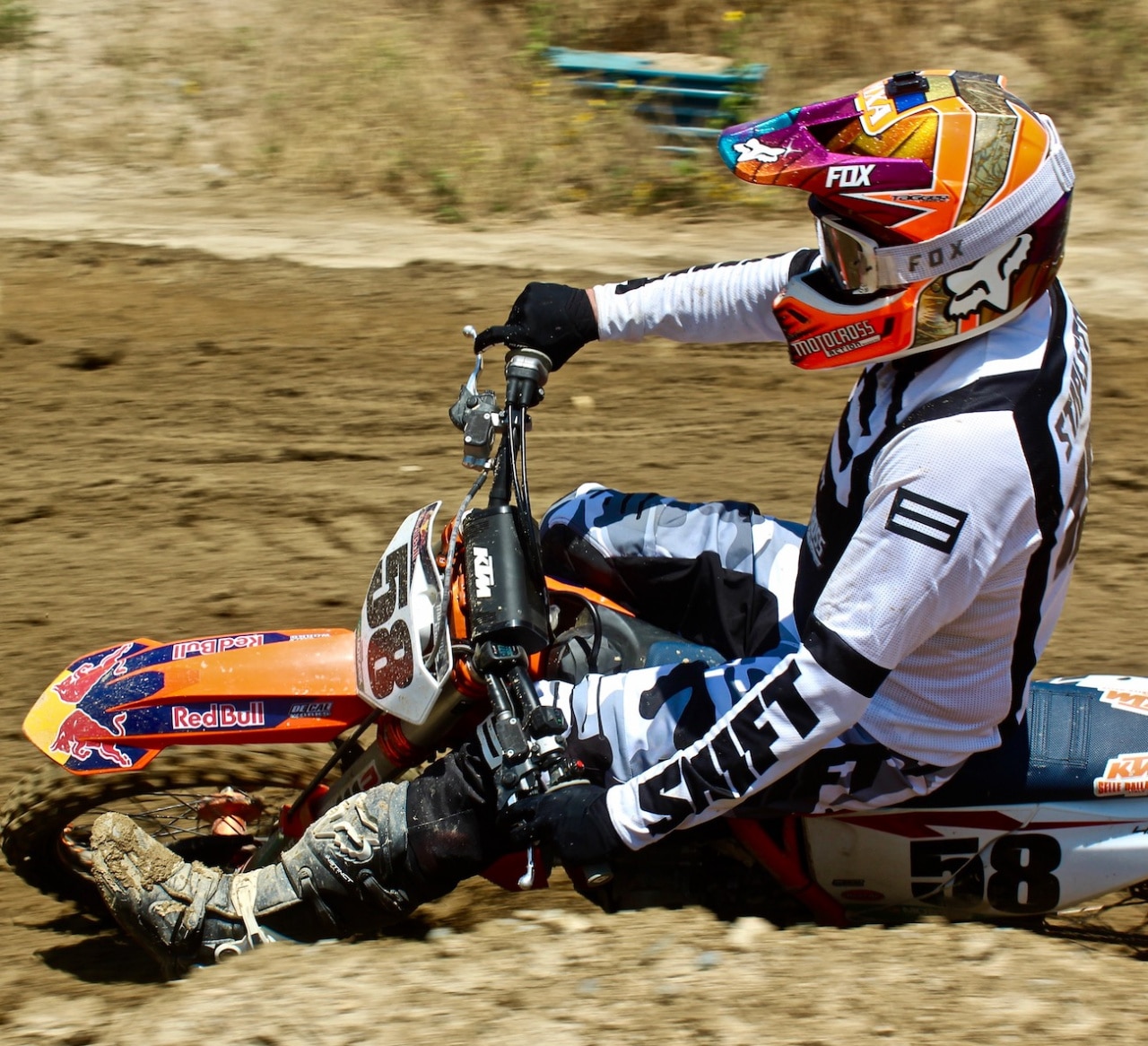 Dennis Stapleton doing what he does every day of the week — let him make your dreams come true.
In his spare time, when he's not testing with MXA, racing in a foreign country, going to Japan or helping many of his motocross buddies, MXA test rider Dennis Stapleton opens up his house, garage, bikes and mechanics to help riders who would like to come to SoCal on a motocross vacation. He offers full service to all of the Southern California tracks for racers or for play riders. Whether you want to rent a bike, move in for a week, race at Glen Helen or take motocross lessons—this is one-stop shopping. Just send them an email ([email protected]). If you'd like to live the SoCal lifestyle for a day, a weekend, a week, a month or three months, visit Dennis Stapleton's' website at www.knobbyshopsouth.org for more details!
MXA AD OF THE WEEK: WANTED! DAVID TAYLOR AND GARY DENTON
This faded race poster from Irwindale Raceway promises a $50 bonus, on top of the regular purse, for any 125 Pro who can "cleanly defeat both of these riders on the same night."
David Taylor, "The El Monte Terror," and Gary Denton, "The Chino Charger," were winning everything at the Irwindale drag strip night track (which is now a beer brewery). Bountys were not uncommon in SoCal night racing. It got the fans interested in who could beat the local hotshots. The name Gray Denton may sound familiar. In 1982 Gary finished 7th in the AMA 125 National Championships and 10th in 1983. However, he became most famous when he switched to quads and won eight consecutive AMA titles   from 1987 to 1994.
2020 SOBOBA TRAIL RIDE THIS SUNDAY ON THE SOBOBA INDIAN RESERVATION
For more information about the San Jacinto, California, trail ride go to www.sobobarides.biz
2020 OLD SCHOOL SCRAMBLES TT SERIES STARTS THIS SUNDAY AT GLEN HELEN

For more info go to www.ossrg.org
6TH ANNUAL VINTAGE "MOTOCROSS DES STATES" ON FEB. 29 AT WALDO MOTORSPORT PARK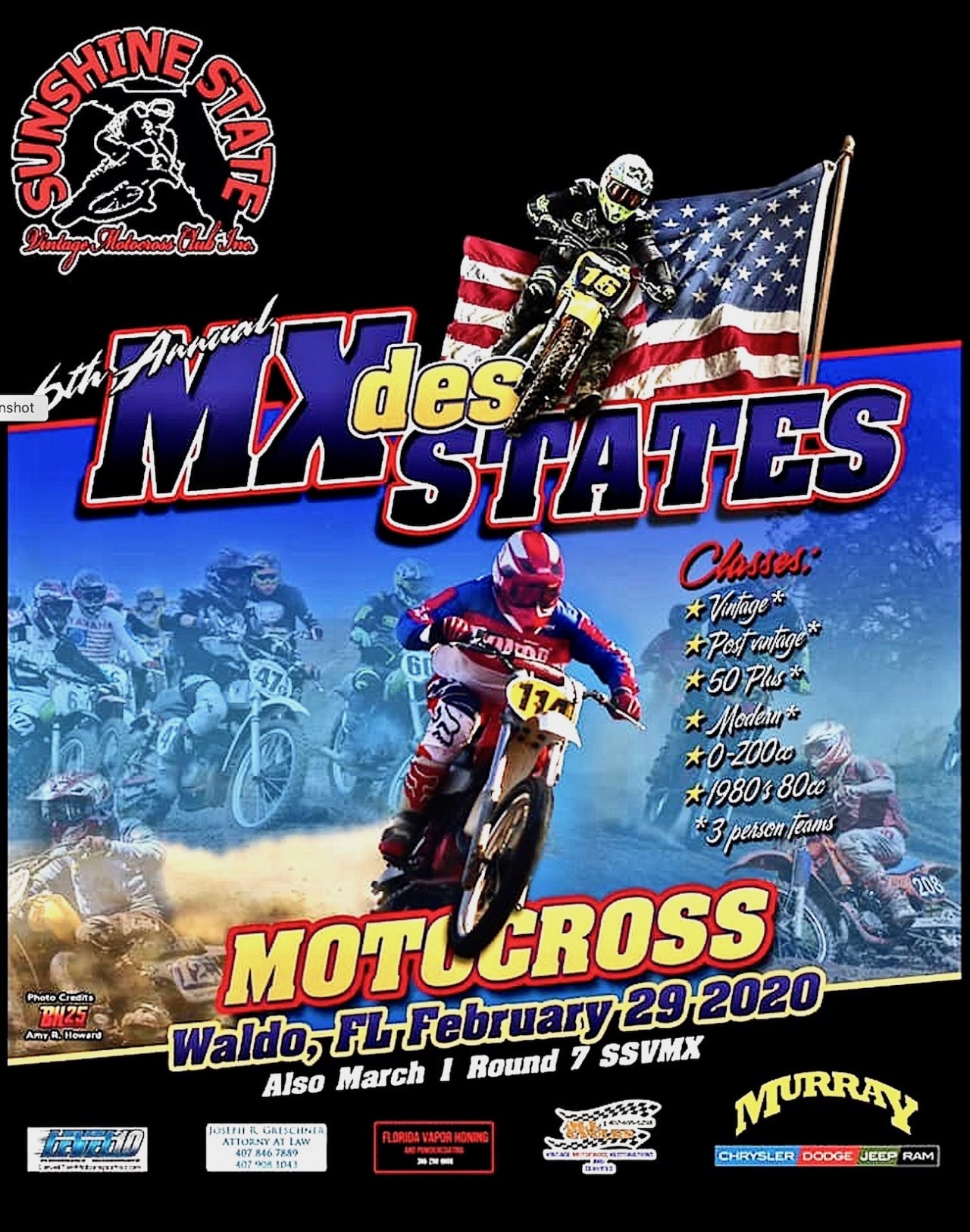 This is a three-day event, with practice on Friday, February 28, the Motocross des States on Saturday, February 29 and Round 7 of the Sunshine State Vintage Motocross series on Sunday, March 1. For more info go to www.waldomx.com
2020 KICKER ARENACROSS SERIES COMES TO SALT LAKE CITY ON FEBRUARY 28-29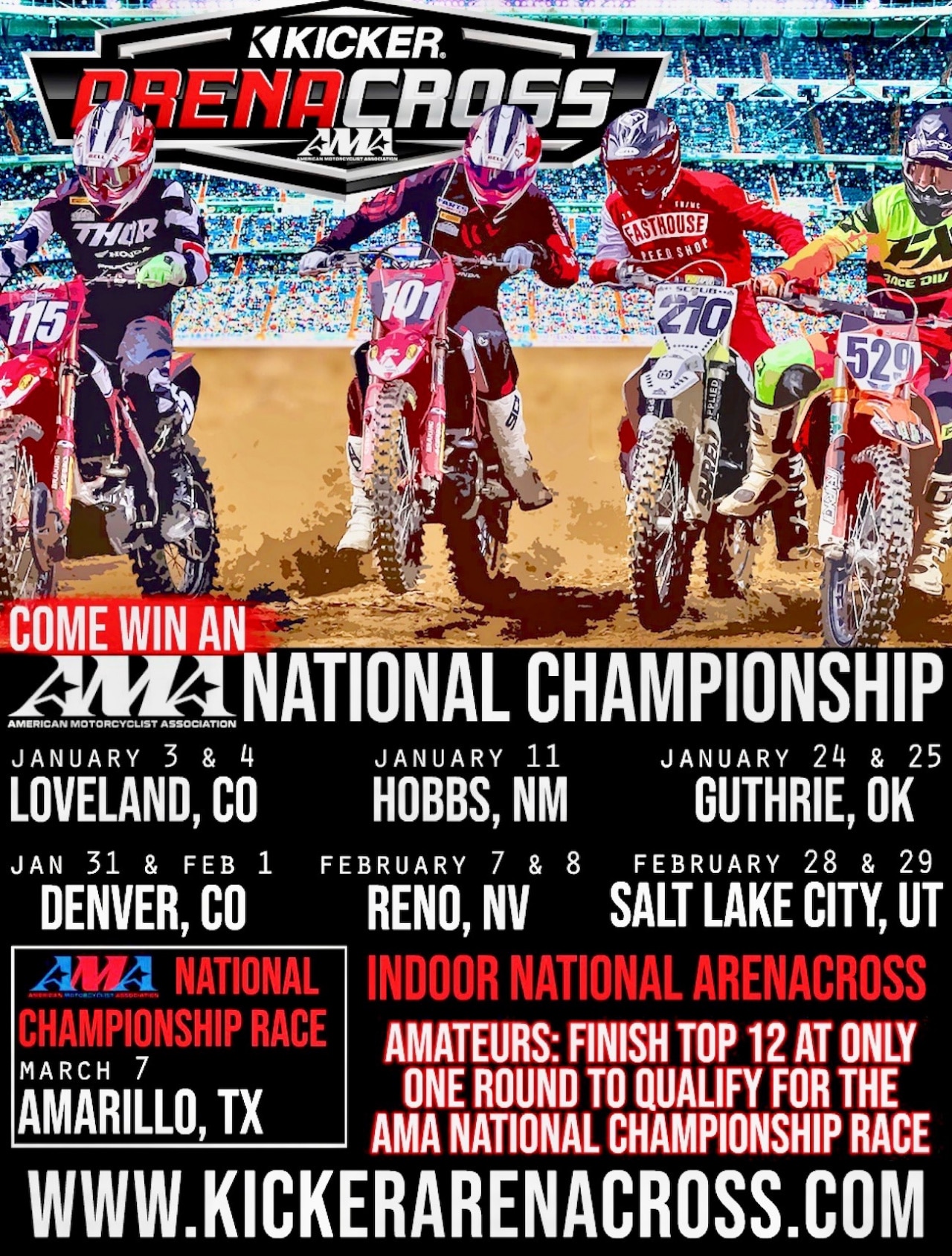 For more info go to www.kickerarenacross.com
GLEN HELEN'S 6-HOUR, 12-HOUR & 24-HOUR ENDURANCE RACE SERIES STARTS ON MARCH 8 WITH THE SIX-HOUR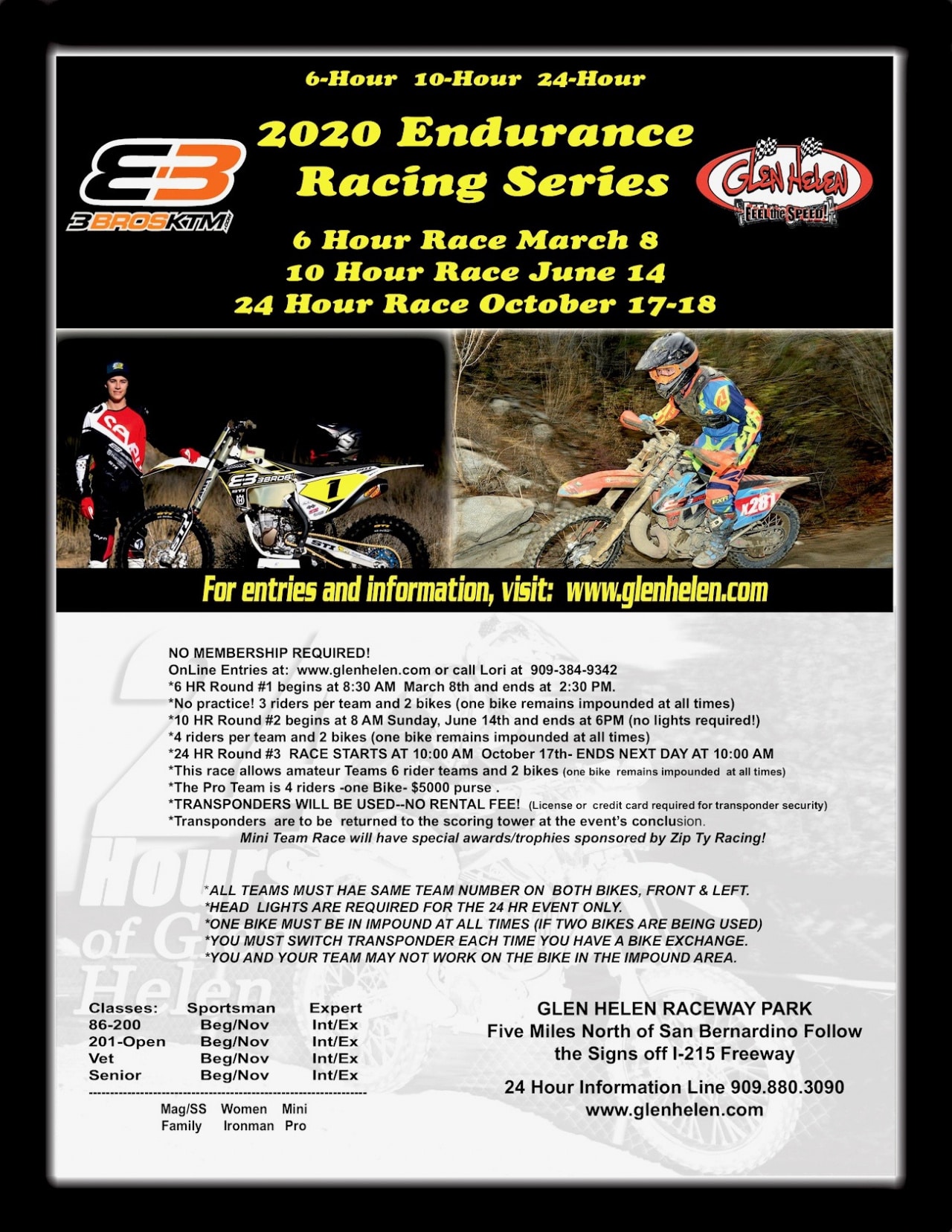 The 6-Hour is on March 8, 12-Hour on June 14 and the 24-Hour starts on October 17 (and ends on the 18th). For more info go to www.glenhelen.com
6TH ANNUAL MOTO MASTERS VET SERIES STARTS ON MARCH 14 AT JOHNSVILLE MX FARM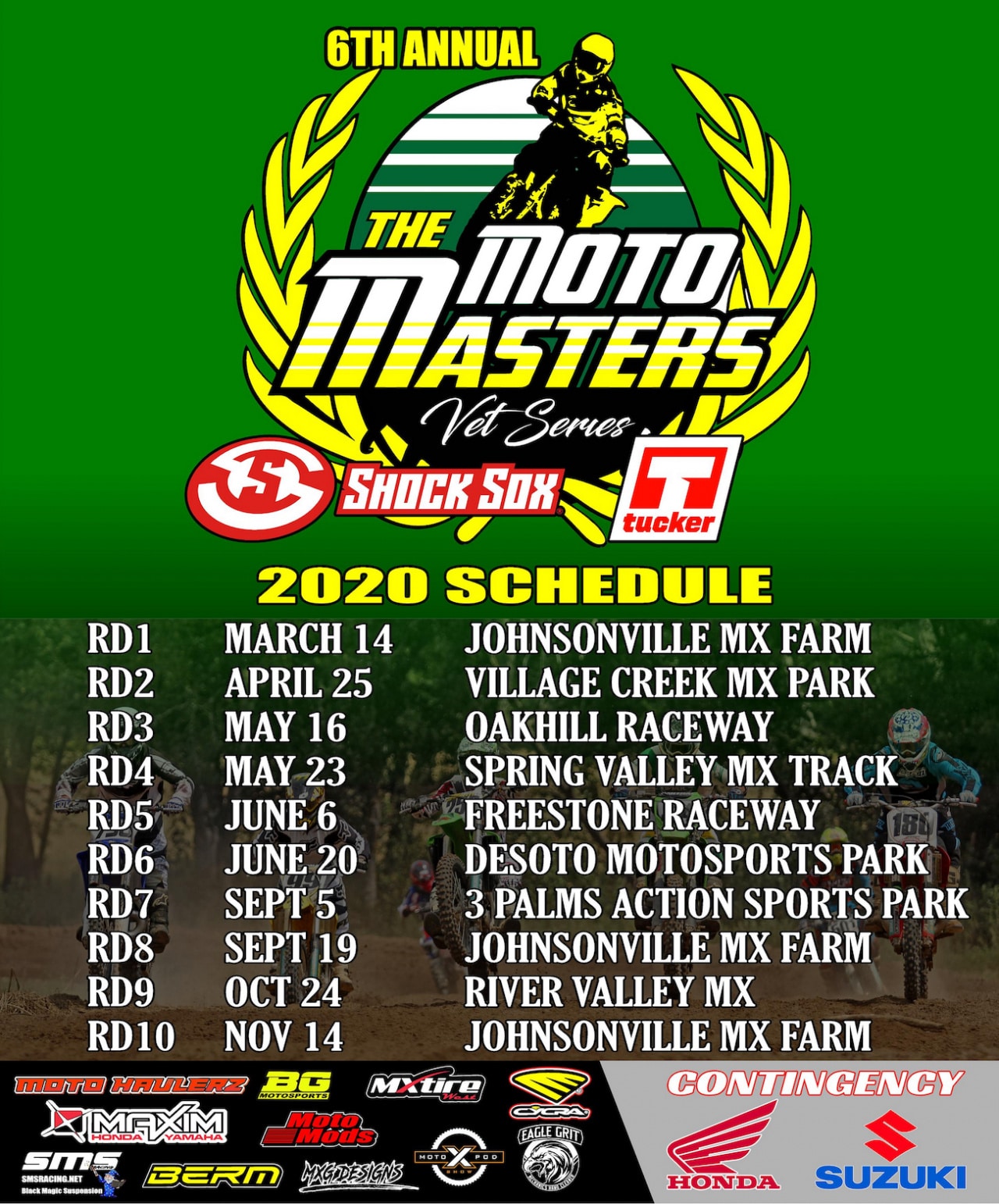 For more info go to www.johnsonvillemxfarm.com
2020 ARIZONA STATE CHAMPIONSHIP SERIES RACES ON MARCH 22 AT CANYON RACEWAY

For more information go to www.canyonmx.com or www.amxracing.com
2020 WISECO/FASTHOUSE WORLD TWO-STROKE CHAMPIONSHIP COMING ON APRIL 10-11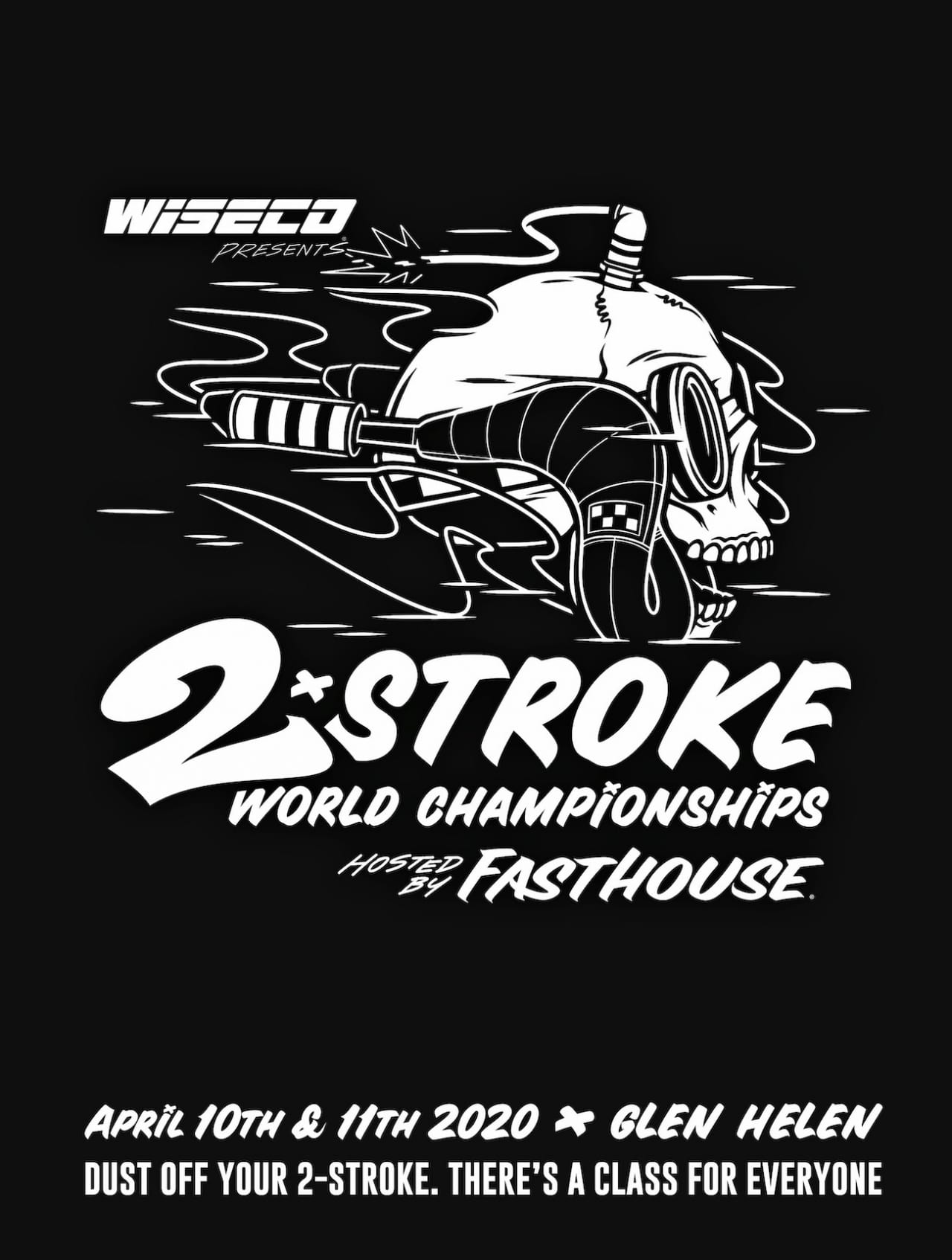 Pre-Entries go online on February 1, 2020. To pre-enter Click Here
LOOKING AHEAD! THE 2020 RACE CALENDAR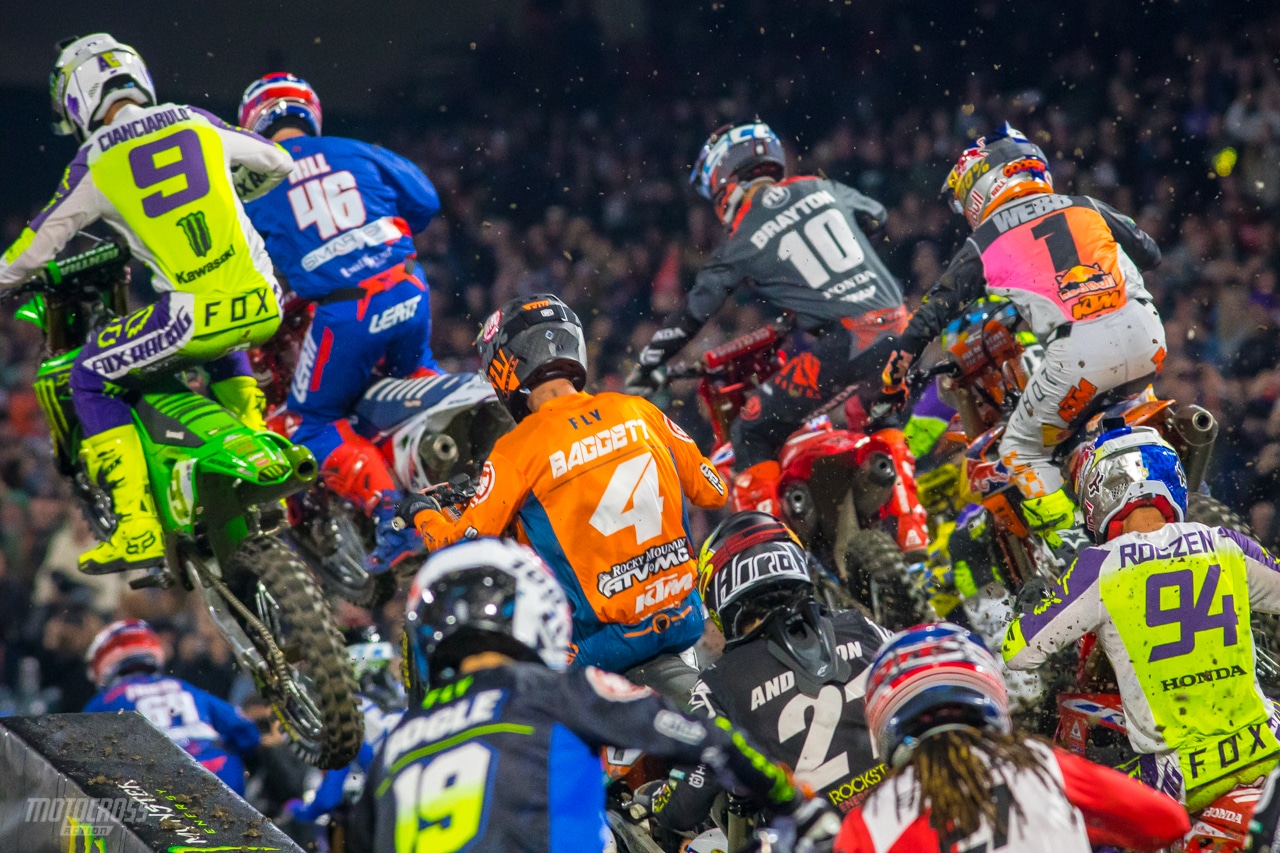 2020 AMA SUPERCROSS CHAMPIONSHIP
Jan. 4…Anaheim, CA (West)
Jan. 11…St. Louis, MO (West)
Jan. 18 …Anaheim, CA (West)
Jan. 25…Glendale, AZ (3-Moto) (West)
Feb. 1…Oakland, CA (West)
Feb. 8…San Diego, CA (West)
Feb. 15…Tampa, FL (East)
Feb. 22… Arlington, TX (3-Moto) (East)
Feb. 29… Atlanta, GA (East)
Mar. 7…Daytona Beach, FL (East)
Mar. 14…Indianapolis, IN (East)
Mar. 21…Detroit, MI (East)
Mar. 28…Seattle, WA (West)
Apr. 4…Denver, CO (East/West)
Apr. 18…Foxborough, MA (East)
Apr. 25…Las Vegas, NV (3-Moto) (West)
May 2…Salt Lake City, UT (East/West)
2020 AMA ARENACROSS CHAMPIONSHIP
Jan. 3-4…Loveland, CO
Jan. 11…Hobbs, NM
Jan. 24-25…Oklahoma City, OK
Jan. 31-Feb. 1… Denver, CO
Feb. 7-8…Reno NV
Feb. 28-29…Salt Lake City, UT
Mar. 7… Amarillo, TX
2020 AMA NATIONAL CHAMPIONSHIP
May 16…..Hangtown, CA
May 23…..Pala, CA
May 30….Thunder Valley, CO
Jun. 6……Jacksonville, FL
June 20…Mt. Morris, PA
June 27…Southwick, MA
July 4……Red Bud, MI
July 18….Millville, MN
July 25….Washougal, WA
Aug. 15…Unadilla, NY
Aug. 22…Budds Creek, MD
Aug. 29…Crawfordsville, IN
2020 FIM MOTOCROSS WORLD CHAMPIONSHIP
Mar. 1…Great Britain
Mar. 8…Holland
Mar. 22…Argentina
Apr. 5…Italy #1
Apr. 19…Spain
Apr. 26…Portugal
May 10…France
May 17…Italy #2
May 24…Germany
June 7…Russia
June 14…Latvia
June 28…Jakarta, Indonesia
July 5…Palembang, Indonesia
July 26…Czech Republic
Aug. 2…Belgium
Aug. 16…Sweden
Aug. 23…Finland
Sept. 6.…Turkey
Sept. 13…China
Sept. 20…Italy #3
2020 FIM MOTOCROSS WORLD SIDECAR CHAMPIONSHIP
Apr. 19…Holland
May 10…Czech Republic
May 17…Ukraine
June 21…Belgium
June 28…France
July 12…Estonia
Aug. 23…Belgium
Aug. 30…Switzerland
Sept. 6.…Slovenia
Sept. 13…Czech Republic
Sept. 20…Germany
2020 FIM MOTOCROSS DES NATIONS
Sept. 27.…Ernee, France
2020 WORLD TWO-STROKE CHAMPIONSHIP
April 10-11.…Glen Helene, CA
2020 AMA ENDUROCROSS CHAMPIONSHIP
Aug. 22…Prescott Valley, AZ
Sept. ??…TBA
Oct. 3,…Amarillo, TX
Oct. 10…Denver, CO
Nov. 7…Boise, ID
2020 WORCS OFF-ROAD CHAMPIONSHIP
Jan. 26…Primm, NV
Feb. 23…Taft, CA
Mar. 22… Havasu, AZ
Apr. 19…Blythe, CA
May 3…Las Vegas, NV
May 31…Cahuilla Creek, CA
July 19…Prineville, OR
Sept. 20…Glen Helen, CA
Oct. 18…Mesquite, NV
Nov. 15…Primm, NV
2020 WORCS SPRINT ENDURO CHAMPIONSHIP
Feb. 14-15…Taft, CA
June 5-6…Cahuilla, CA
June 24-25…Prineville OR
Sept. 26…Glen Helen, CA
2020 CANADIAN NATIONAL CHAMPIONSHIP
May 31…Wild Rose, AB
June 7…Blackwater, BC
June 14…Dorva, AB
June 21…MotoVally, SK
July 12…Gopher Dunes, ON
July 19…San Del Lee, ON
July 26…Riverglade, NB
Aug. 2…Deschambault, QC
Aug. 16…Walton, ON
2020 MICHELIN BRITISH NATIONAL CHAMPIONSHIP
Mar. 22…Fatcat MotoParc
Apr. 19…Desertmartin, Ireland
Apr. 26…Hawkstone Park
July 5…Canada Heights
Aug. 9…Landrake
Sept. 6t…Cusses Gorse
2020 ACU BRITISH NATIONAL CHAMPIONSHIP
Apr. 12…Lyng
May 3…Foxhill
May 31…Blaxhall
June 21…Deertmartin, Ireland
July 12…Culham
Aug. 30…Landrake
2020 IRISH NATIONAL CHAMPIONSHIP
Apr. 4…Desertmartin
May 10…TBA
June 6…Claudy
July 19…TBA
Aug. 15…Tandragee
Sept. 13…TBA
2020 AUSTRALIAN NATIONAL CHAMPIONSHIP
April 4-5…Horsham, Victoria
May 3… Newry, Victoria
May 24…Queensland
June 28…Glympie, Queensland
July 25-26…Maitland, New South Wales
Aug. 22-23…Coolum, Queensland
2020 AUSTRALIAN SUPERCROSS CHAMPIONSHIP
Oct. 3 …Western Australia
Oct. 17… South Australia
Oct. 31…Queensland
Nov. 7 …New South Wales
Nov. 14…TBA
Nov. 28…Victoria
2020 ADAC GERMAN NATIONAL CHAMPIONSHIP
Apr. 13…Fürstlich Drehna
May 3…Mölln
May 31…Möggers, Austria
June 21…Aichwald
July 12…Holzgerlingen
July 19…Tensfeld
Aug. 30…Bielstein
Sept.13…Gaildorf
2020 REM COMMOTION BY THE OCEAN
July 3-5…Glen Helen, CA
2020 AMA NATIONAL AMATEUR CHAMPIONSHIP
Aug. 3-8….Hurricane Mills, TN
2020 FIM JUNIOR WORLD CHAMPIONSHIP
Aug. 8-9…Megalopolis, Greece
REM OCTOBERCROSS
Oct. 31…Glen Helen, CA
2020 DUBYA WORLD VET MOTOCROSS CHAMPIONSHIP
Nov. 6-8…Glen Helen , CA
TALK MOTO WITH ON MXA'S FACEBOOK GROUP CHAT


We love everything moto and want to bring all moto junkies together into one place to share their two cents, ideas, photos, bike fixes, bike problems and much more. To check it out first you must need to or already have a Facebook account. If you don't, it isn't much work and you could even have an alias so nobody knows it is you. To join click HERE. After you request to join we will accept your request shortly after.
FOLLOW MXA ON TWITTER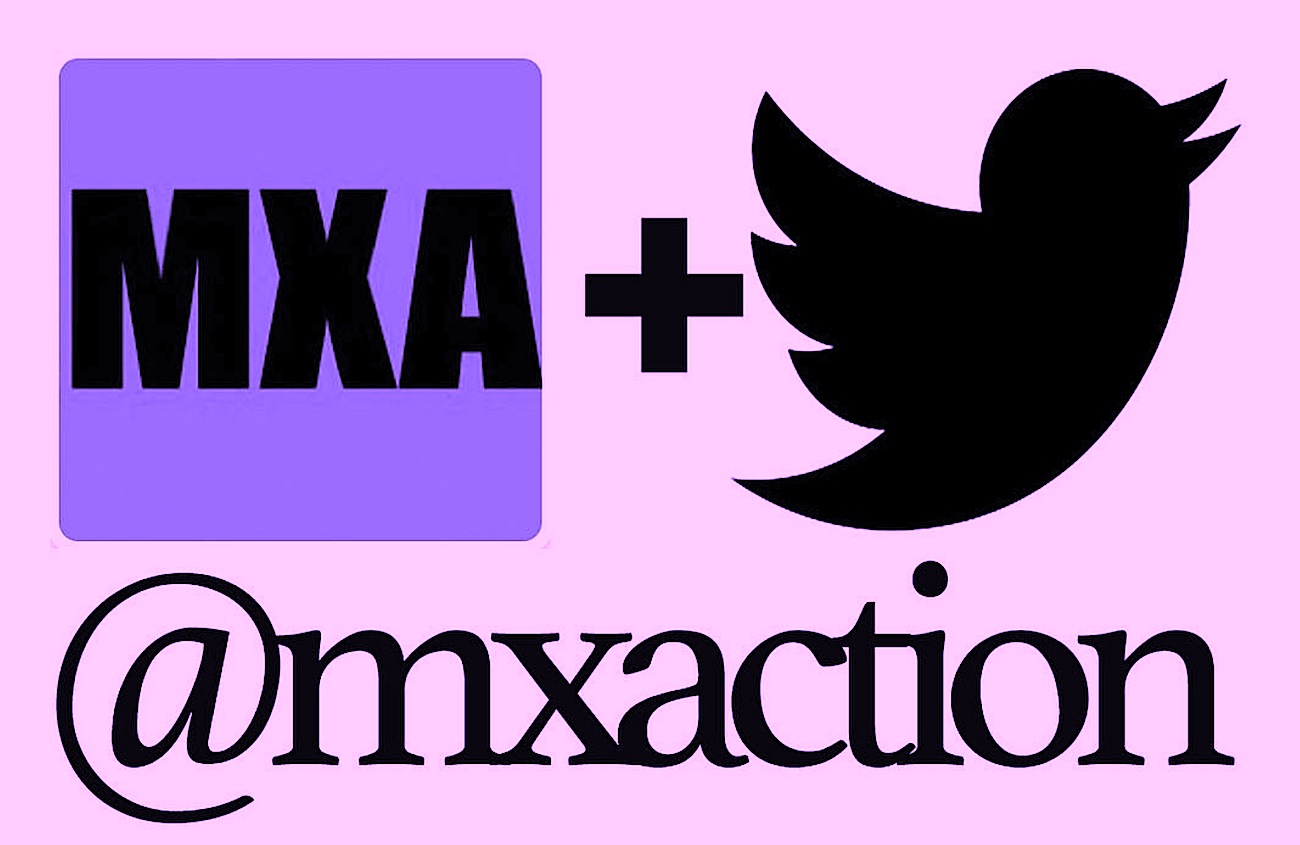 Follow us to see fresh content every day at www.twitter.com/MXAction or on twitter at "MXAction."
MXA YOUTUBE CHANNEL | HIT THAT SUBSCRIBE BUTTON

The MXA wrecking crew is everything moto related. Check out our MXA YouTube channel for bike reviews, Supercross coverage, rider interviews and much more. And don't forgot to hit that subscribe button.
Photos: Brian Converse, Josh Mosiman, Debbi Tamietti, Dan Alamangos, Daryl Ecklund, MXA,