MXA'S WEEKEND NEW ROUND-UP: A POTPOURRI OF FACTS THAT MAKE A COMPENDIUM OF MOTO KNOWLEDGE
ARLINGTON (DALLAS) SUPERCROSS TV SCHEDULE: NEW TIME, THIS WEEK IT IS ON AT 5:30 PACIFIC (8:30 EASTERN)

The 2019 Aelington Supercross will be shown live on Saturday, February 16 at 5:30 p.m. Pacific Time (8:30 p.m. Eastern). Click on image to enlarge
COME WITH US ON OUR FIRST DAY OF TESTING THE 2019-1/2 KTM FACTORY EDITION
CLASSIC MXA TEST RIDER PHOTOS: AN AWESOME SIGHT THEY REMEMBER TO THIS DAY

Here are two MXA test riders lined up next to each other during the 1981 Supercross series. Gary Jones (844) and Mike Monaghan (739) are still racing today and can be found at Glen Helen almost every weekend lining up behind the gate. No longer hnaging out in the stadiums, four-time 250 National Champion Gary Jones races in the Over-60 Expert class and Mike is in the Over-50 Experts.

IF THE FUTURE IS NOW — WHERE ARE THIS FUTURISTIC IDEAS FROM A FEW YEARS AGO?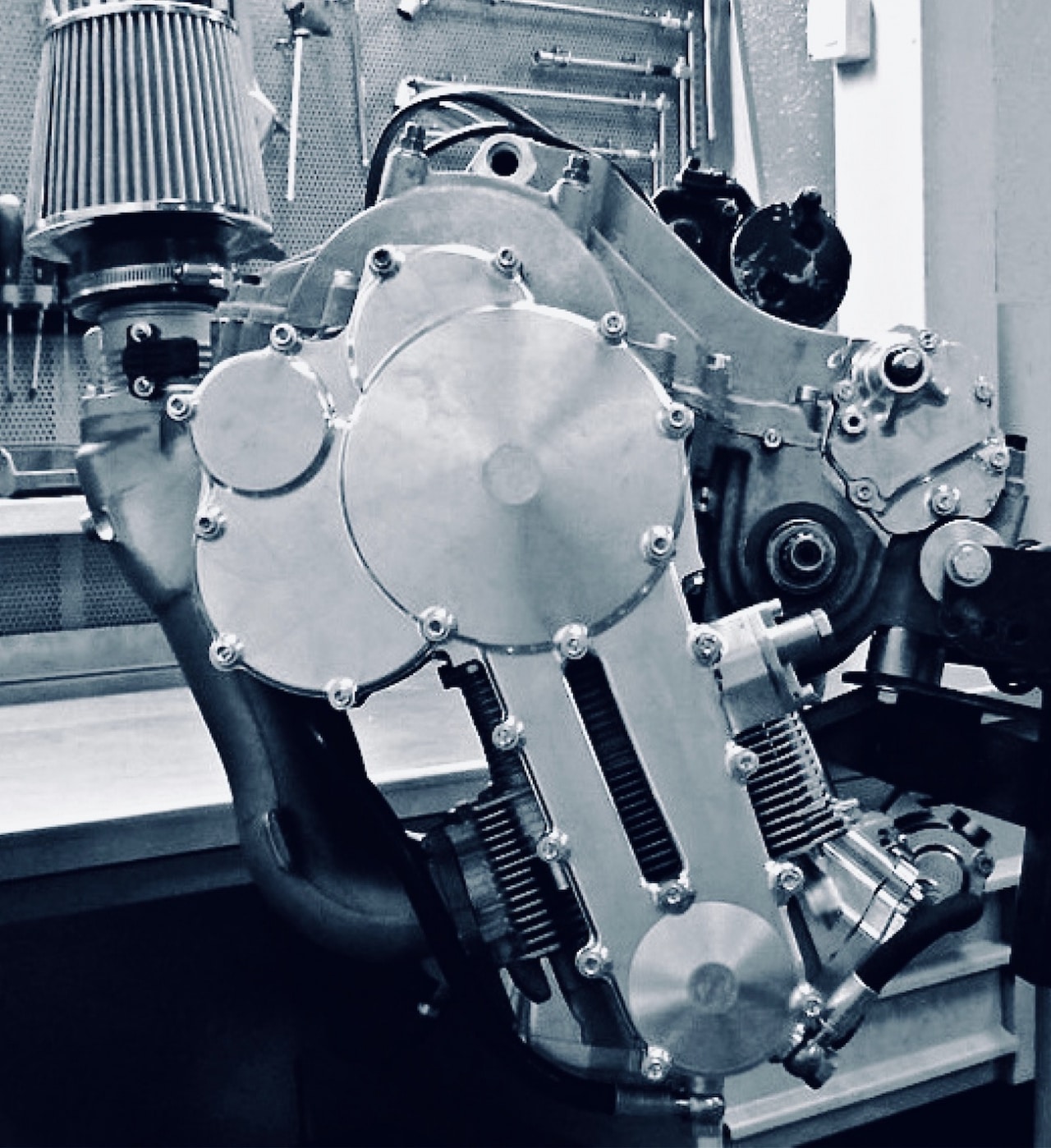 The Super 32 Rovescio upside-down engine.

Italian designer Daniele Sabatini of Nembo Motociclette designed an 1814cc three-cylinder engine that is totally upside down. Husaberg had an upside-down on the FE450 cross-country bike a few years ago, but Sabatini went whole hog. Called the Super 32 Rovescio, the engine uses two valves per cylinder and is air cooled. By turning the engine upside down, Sabatini can use the crankcases as a chassis component and get the air-cooled cylinders down into the unimpeded air stream the engine he gets the crankcase to act as a chassis component

The Kawasaki J was designed to change the ergonomics to suit the speed and style of riding you were doing.
The electric-powered Kawasaki "J" concept features two narrow front wheels and one larger rear wheel. In motion the "J's" handlebars and riding position can transform from a road-racer stance to a comfortable riding position. In performance-mode, the front wheels and handlebars move closer together, and rider and bike-height drops closer to the road.
The Ossa fuel-injected, backwards cylinder, snake pipe offroad bike

Spanish brand Ossa designed and built a small batch of fuel-inject two-stroke off-road bikes way before KTM came out with the 250i. The Ossa fuel tank was behind the radiators, the cylinder was radically canted backwards, the fuel-injection nosszle was in the front of the cylinder and the rear facing exhaust piped snake around in a circle to get the designed tuned length. Unfortunately, Ossa was bought by GasGas and then GasGas filed for bankruptcy and got bought by another Spanish firm—but Ossa was dropped from the portfolio.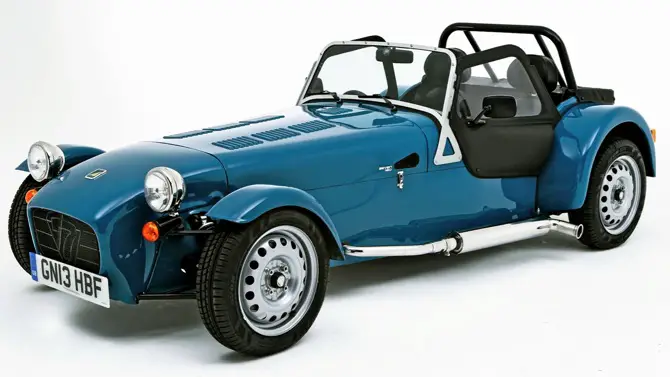 The Caterham Seven is a continuation brand for the Lotus Seven that ended production in 1972.
You may have heard of Caterham sports cars. They make a retro continuation of the classic Lotus Seven. After Lotus ended production of the Lotus Seven in 1972, Caterham bought the rights to the design, and today make both kits and fully assembled cars. Now they want to expand out of cars.

Caterham Classic e-bike cruiser.
But you probably have not heard of the Caterham electric bicycles. They make two bicycle models: (1) The Classic e-bike cruiser with 1920's board track styling and (2) the Carbon e-bike with a 36-Volt, 250 Watt brushless motor, feeding its power through an eight-speed Shimano Nexus gear hub.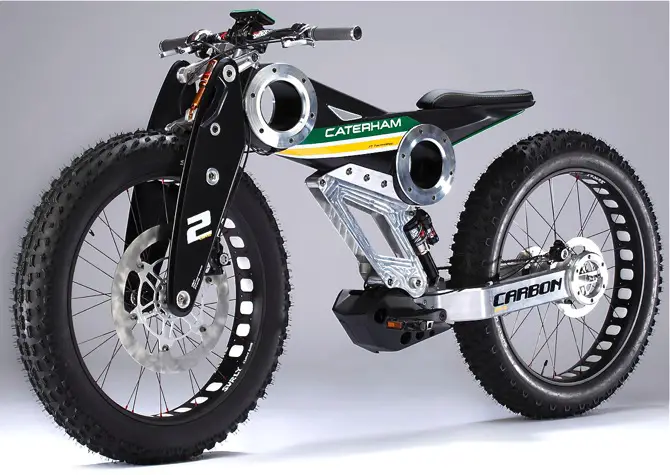 Caterham Carbon e-bike.
Power comes from Panasonic 36 V, 12 Ah lithium batteries (and an optional second battery pack can be added if desired). For more info go to www.caterhambikes.com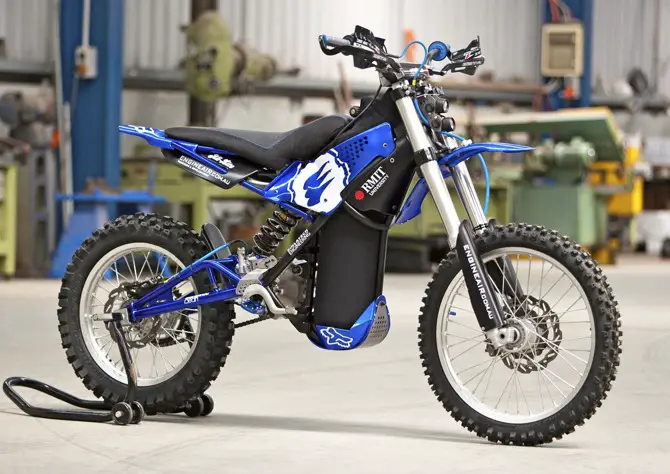 Yamaha 02 Pursuit.

Built on a loaner Yamaha WR250, the O2 Pursuit looks like any other off-road bike, but its power comes from compressed air stored in a scuba diving tank hidden under the bodywork. It is powered by DiPietro air rotary engine. Range is reportedly 60 miles and it has been clocked at 87 mph.

No air. No flats. Lots of offroad potential.
Bridgestone Airless-Tires spokes are constructed from a thermoplastic resin combined with a rubber tread. If this seems far-fetched read below.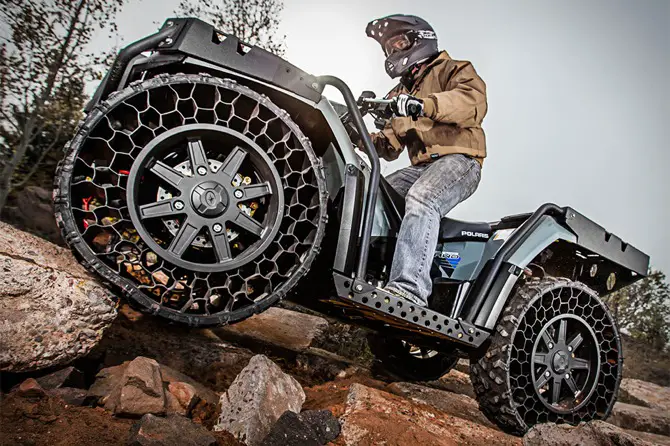 Offroad potential realized.
The Polaris Sportsman WV850 H.O. is the first production vehicle to come with airless tires—what Polaris calls Non-Pneumatic Tire (NPT) technology. The "Terrain Armor" tires can never go flat, will work even if 30 percent of their honeycomb design is broken.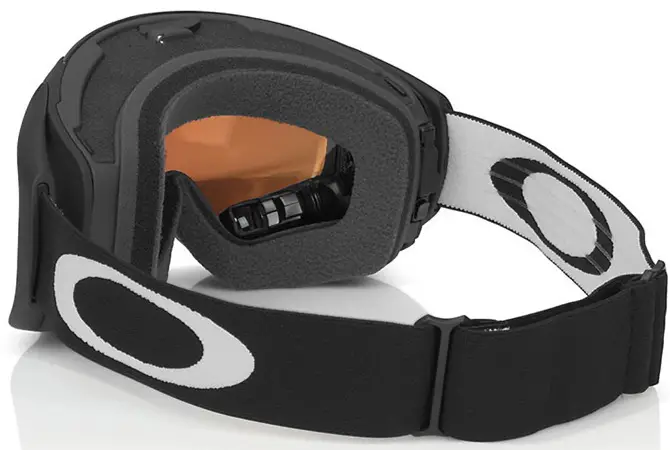 Oakley's Head Up Display goggles connect to your phone
Five years ago Oakley introduced its Airwave HUD (Heads Up Display) goggles connect to your smartphone to displays speed, navigation, GPS, music, phone calls, text, jump height, air time and distance. At $800 a pair, you can figure out why you've never seen a pair.

Suzuki electric Extrigger.
The Suzuki Extrigger Concept bike boasted fore and aft light-emitting devices that transmitted information via complex blinking… for no reason that we can think of.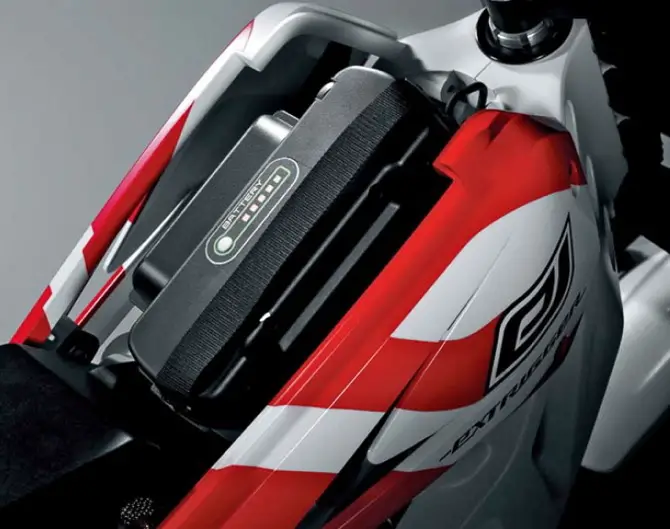 The battery plugs into the Extrigger gas tank—which doesn't hold gas.
The aluminum-framed Suzuki Extrigger comes with inverted forks, mag wheels, disc brakes and 136.7 pound dry weight. The electric motor comes from Panasonic.
YOU DO THE MATH! SUBSCRIBE TO MXA & GET A $25 CHAPARRAL GIFT CARD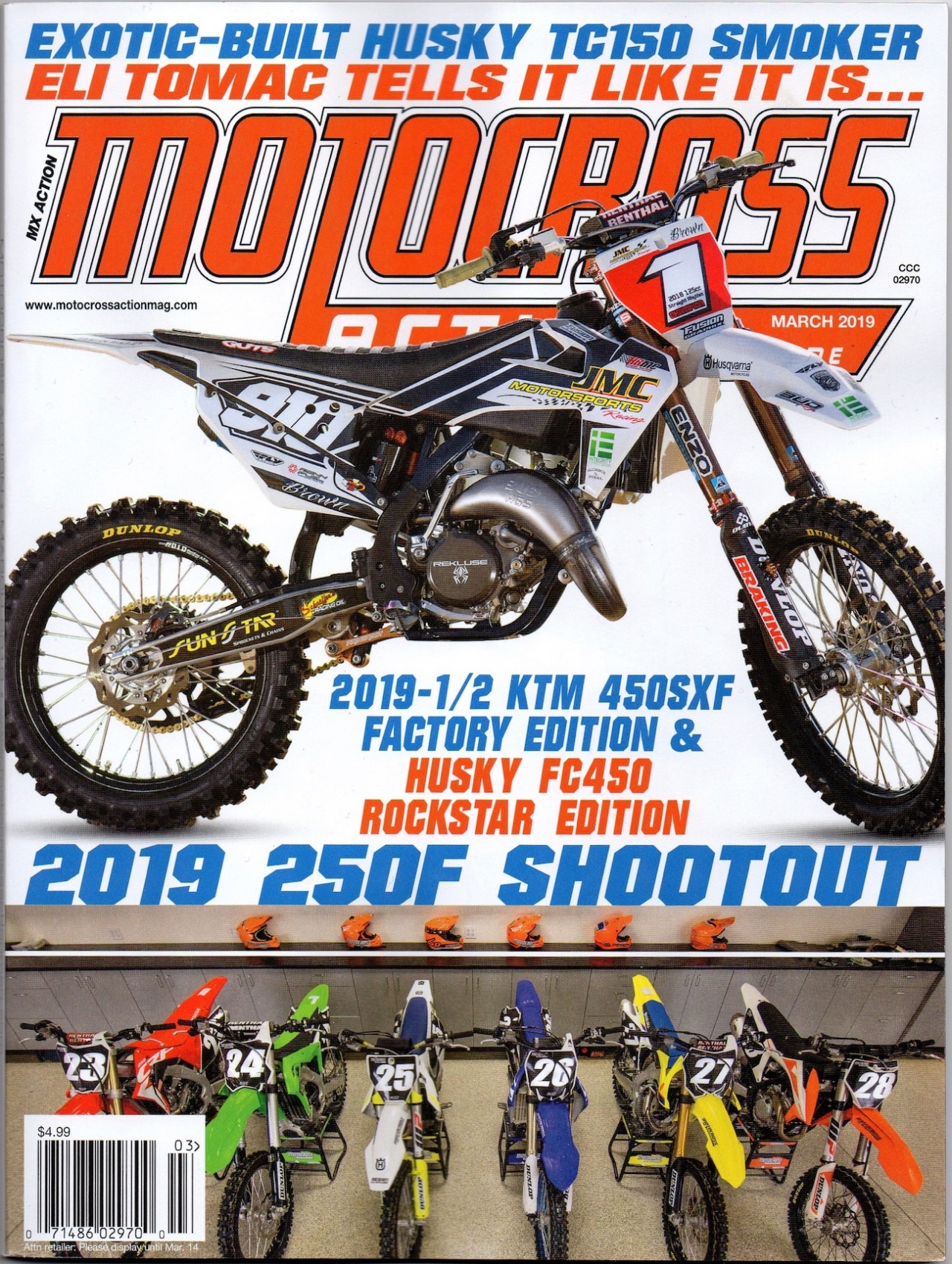 If you subscribed to Motocross Action, the March 2019 issue of MXA would be in your mailbox, computer or iPhone now.
The March issue of MXA is jam-packed with bike tests, product reviews and moto-info. Not only do we have the 2019 MXA 250 Four-Stroke Shootout in this issue, but a 2019 Husqvarna FC350 test, 2019 Yamaha YZ250 two-stroke test,  a retro-test of Chad Reed's 2002 L&M Yamaha YZ450F and a 2019 Honda CRF250 test. Plus, a test of Carson Brown's Straight Rhythm winning Husky TC125 two-stroke and Austin Forkner's 2019 AMA 250 East Supercross KX250 four-stroke. Not to mention an revealing interview with Eli Tomac.
Do you subscribe to MXA? You should. We know that you think that print magazines are dead and that the internet will fill the void, but most of the stuff in the current issue of MXA won't appear on the web for several months, if at all. Luckily, you can get all of MXA on your iPhone, iPad, Kindle or Android by going to the Apple Store, Amazon or Google Play or in a digital version. Even better you can subscribe to Motocross Action and get a $25 Chaparral gift card to spend on whatever motorcycle parts or products you need. You can call (800) 767-0345 or CLICK HERE or click on the box at the bottom of this page.
MXA AD OF THE WEEK: 1965 COTTON COBRA 250

Pabatco of Athena, Oregon, was the distributor of the English-built Cotton Cobras in the mid-1960s. This was the same Pabatco that would later achieve fame for designing the ubiquitous Hodaka Super Rat. Suggested retail price of the 1965 Cotton Cobra was $575 . There are very few Cottons in the U.S. because American riders never embraced the brand. Collectors and AHRMA racers still don't to this day!
2019 AMA SUPERCROSS WINNERS AT A GLANCE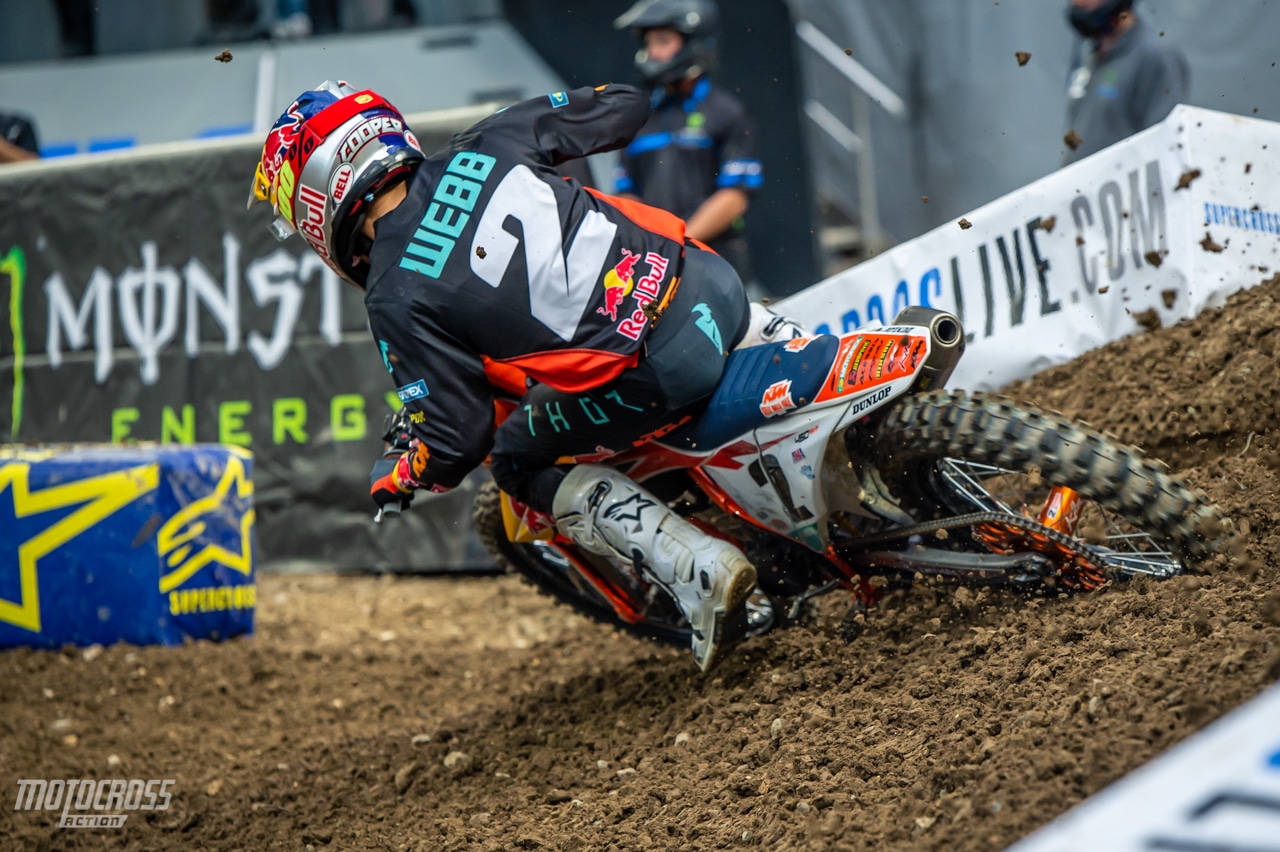 Cooper Webb (2) and Adam Cianciarulo are the only riders with three wins so far in 2019 AMA Supercross series.

Date               Venue                                            450                                250
Jan. 5……..Anaheim, CA………………..Justin Barcia………..Colt Nichols
Jan. 12…..Glendale, AZ…………………Blake Baggett……..Adam Cianciarulo
Jan. 19…..Anaheim, CA…………………Cooper Webb……..Shane McElrath
Jan. 26…..Oakland, CA………………….Cooper Webb……..Adam Cianciarulo
Feb. 2……San Diego, CA………………..Eli Tomac…………….Adam Cianciarulo
Feb. 9…….Minneapolis, MN………….Cooper Webb……..Austin Forkner
Feb. 16…..Arlington, TX……………….
Feb. 23….Detroit, MI……………………
Mar. 2……Atlanta, GA……………………
Mar. 9……Daytona Beach, FL………
Mar. 16…Indianapolis, IN…………….
Mar. 23….Seattle, WA…………………..
Mar. 30……Houston, TX………………
Apr. 6……..Nashville, TN……………….
Apr. 13……Denver, CO…………………
Apr. 27……East Rutherford, NJ…
May 4……..Las Vegas, NV……………
450 Points leader…Ken Roczen (Hon)
250 West points leader…Adam Cianciarulo (Kaw)
250 East points leader…Austin Forkner (Kaw)
WHO'S WHO IN AMA SUPERCROSS POINTS AFTER 6 of 17 ROUNDS

Ken Roczen leads the 450 points standings after 6 rounds, but hasn't won a race yet. Four riders are with 2 points of each for this week's red plate.

CURRENT AMA 450 SUPERCROSS POINTS STANDINGS
(After 6 of 17 rounds)
1. Ken Roczen (Hon)…125
2. Cooper Webb (KTM)…124
3. Eli Tomac (Kaw)…123
4. Marvin Musquin (KTM)…123
5. Dean Wilson (Hus)…95
6. Justin Barcia (Yam)…88
7. Blake Baggett (KTM)…82
8. Chad Reed (Suz)…81
9. Aaron Plessinger (Yam)…79
10. Cole Seely (Hon)…77
Austin Forkner (24) put Pro Circuit on the top step of the Minneapolis podium and gave Mitch Payton's team first place in both the 250 East and 250 West at the same time.

CURRENT AMA 250 EAST SUPERCROSS POINTS STANDINGS
(After 1 of 10 rounds)
1. Austin Forkner (Kaw)…26
2. Jordon Smith (KTM)…23
3. Justin Cooper (Yam)…21
4. Alex Martin (Suz)…19
5. Chase Sexton (Hon)…18
6. Mitchell Oldenburg (Yam)…17
7. Kyle Cunningham (Hon)…16
8. Brandon Hartranft (Yam)…15
9. Jordan Bailey (Hus)…14
10. Kyle Peters (Suz)…13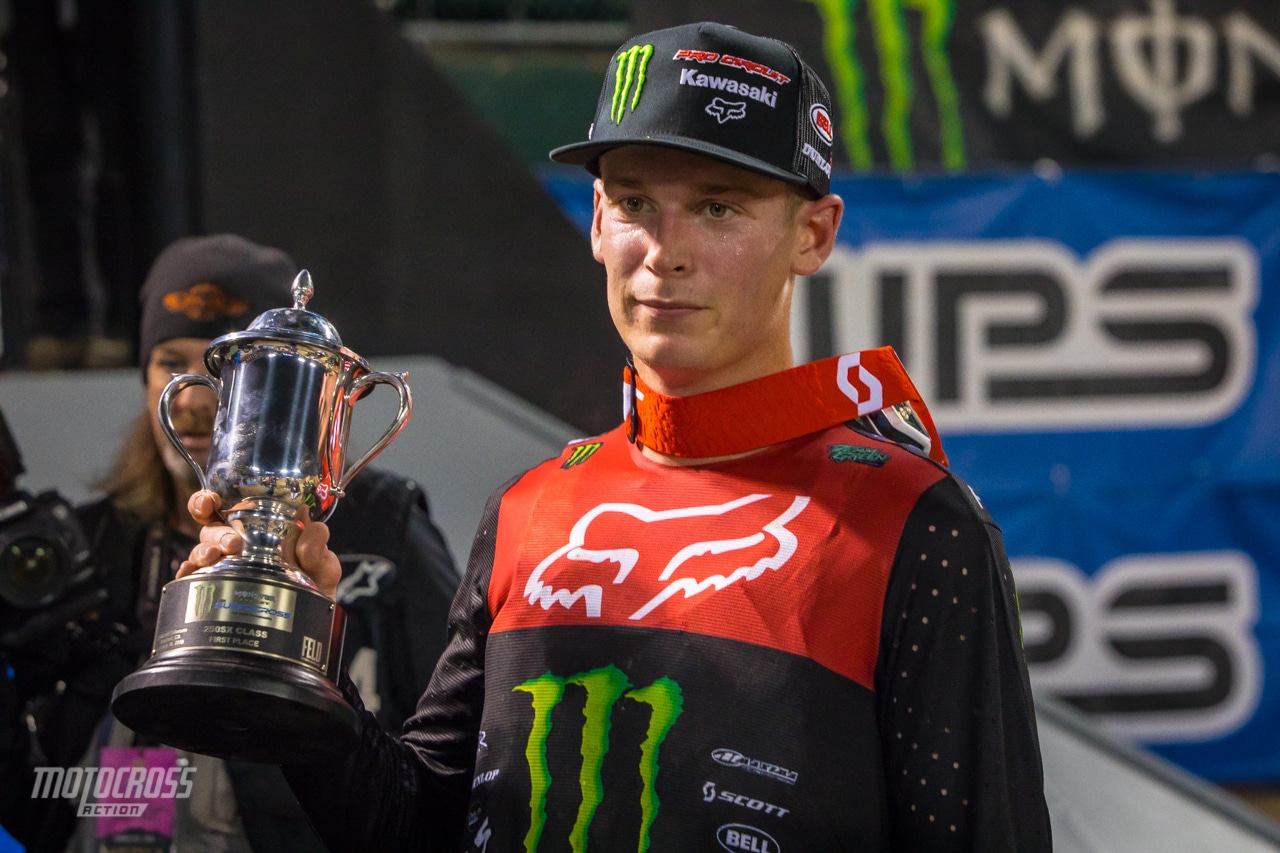 Adam Cianciarulo leads the 250 West by 8 points over Shane McElrath and will until the next 250 West race, which is a combined East/West shootout in Atlanta on March 2.
CURRENT AMA 250 WEST SUPERCROSS POINTS STANDINGS
(After 5 of 10 rounds)
1. Adam Cianciarulo (Kaw)…114
2. Shane McElrath (KTM)…106
3. Colt Nichols (Yam)…104
4. Dylan Ferrandis (Yam)…102
5. R.J. Hampshire (Hon)…75
6. Jimmy Decotis (Suz)…73
7. Cameron McAdoo (Yam)…72
8. Garrett Marchbanks (Kaw)..71
9. Chris Blose (Hus)…70
10. Jess Pettis (KTM)…66
KNOCKING ON HEAVEN'S DOOR! HOPING TO BE IN THE "TOP TEN" SOON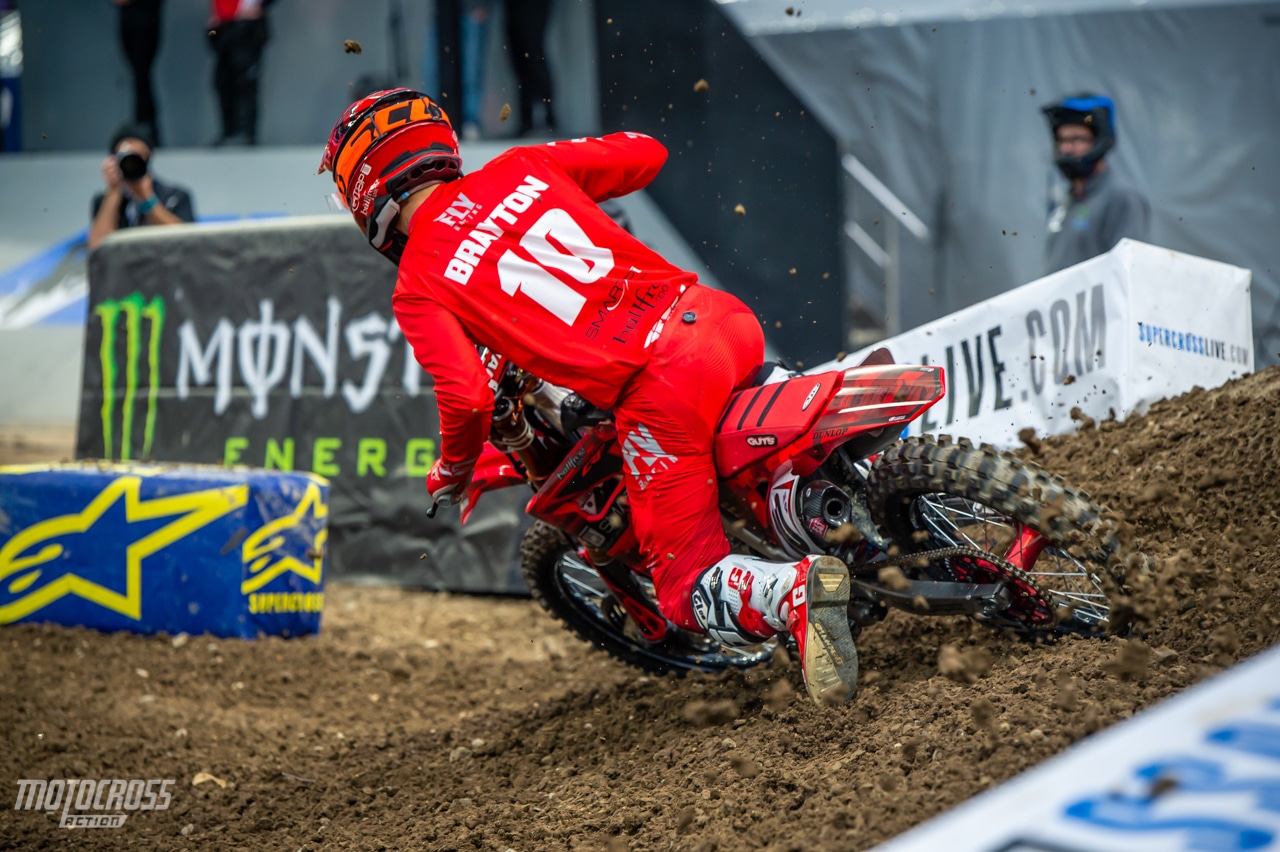 Justin Brayton was in 12th place in 450 points a week ago, but after a fifth place in Minneapolis he climbed to 11th in points and is 7 points out of the top ten—which is held by Cole Seely.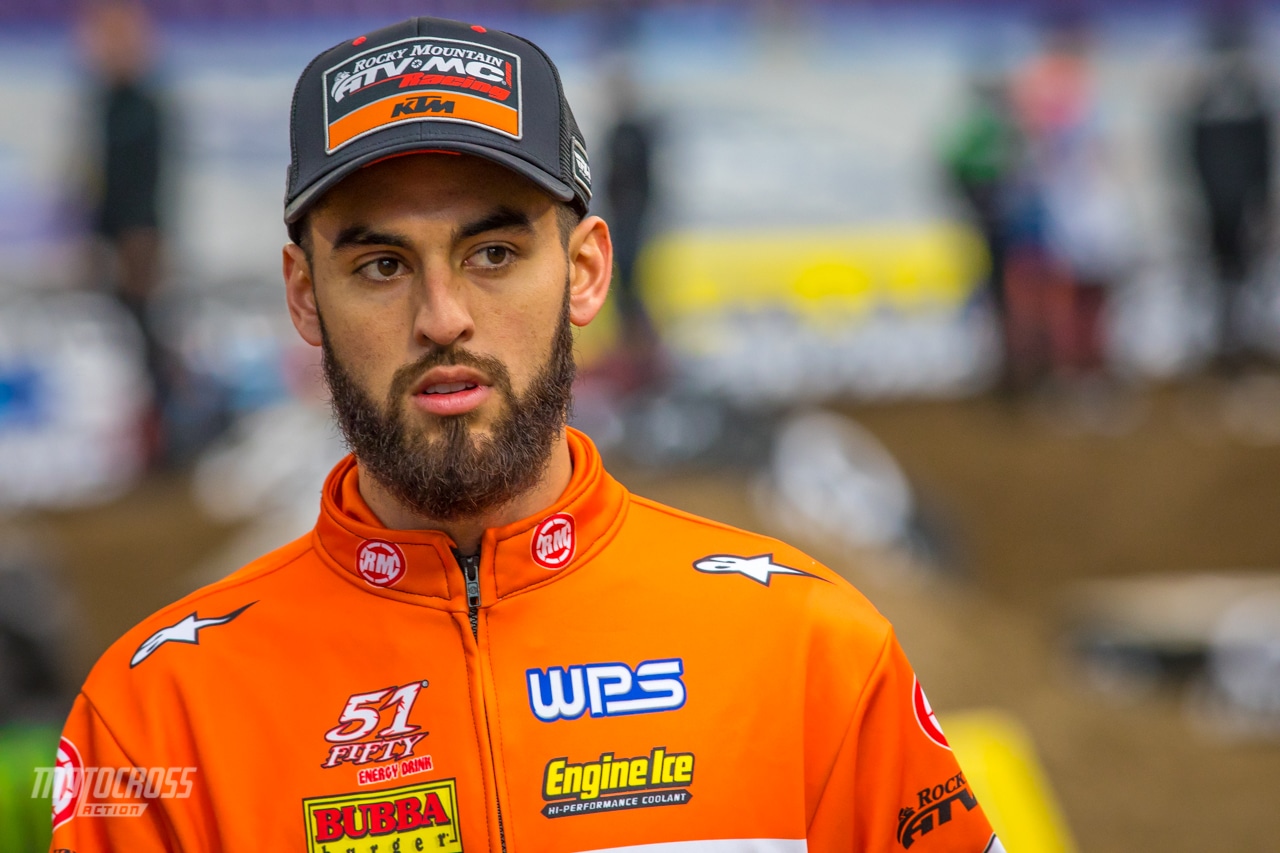 Justin Bogle's 13th in Minneapolis didn't help out his cause. He is stuck at 13th in 450 points and is 17 points out of tenth place. Justin has gone 19, 15, 17, 10, 4 and 13. He needs more single-digit finishes.

Joey Savatgy gained one place in the 450 points standings as he jumped from 15th to 14th thanks to a 4th in Minnesota. Joey has three top ten finishes (8,7,4), but missed Glendale with an injury and had his KX450 blow-up in Oakland. He is only one point behind 13th place Bogle.
Tyler Bowers is 16th in points (and is behind 15th place Jason Anderson in points, even though Anderson only raced the first three rounds). Bowers 14th place in Minneapolis didn't help his cause. Tyler is 17 points behind Savtagy, 18 points behind Bogle and 28 points out of tenth place.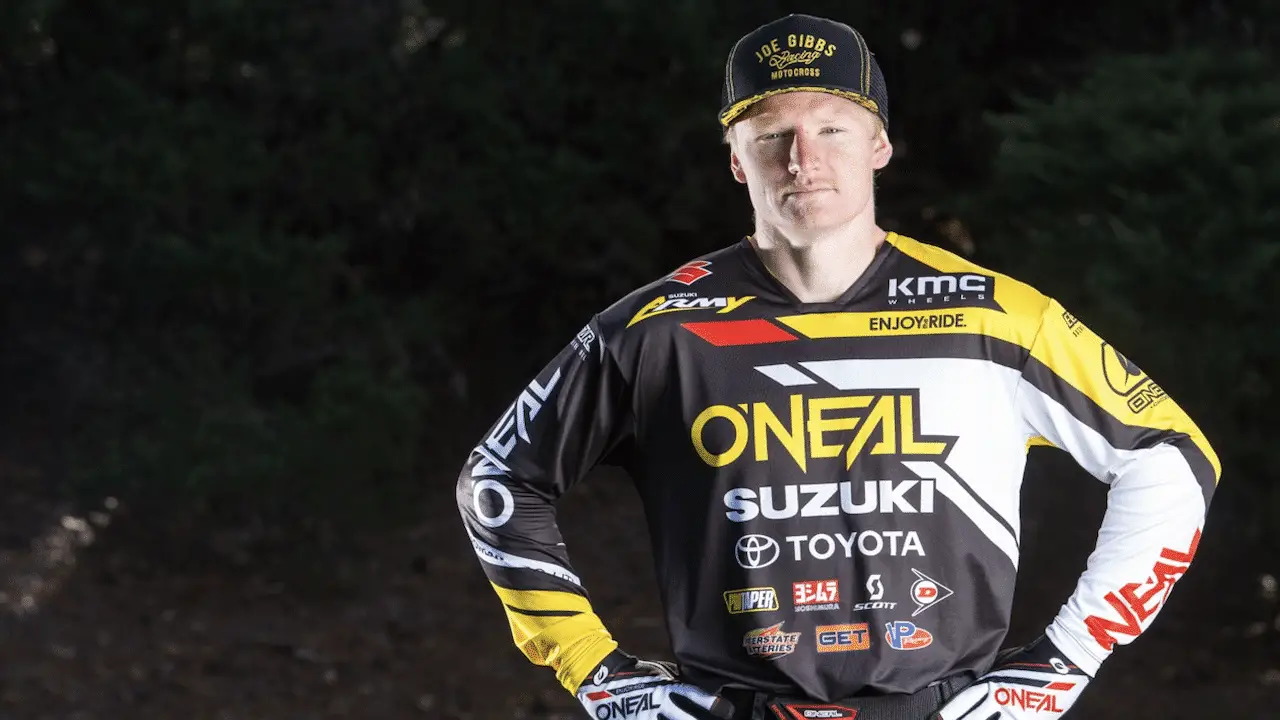 Justin Hill missed the last two races, but he wasn't in the top ten of the four events he did race. He is 17th in points.
Kyle Chisholm missed one race and finished last in one race, so he is only working with four good scores out of six races. Kyle is 18th in points and is 48 points out of tenth spot, which is held by Cole Seely.
Ben Lamay has been consisted in the five races he scored points in, but his average finish is 17th place—which leaves him 19th in AMA 450 points.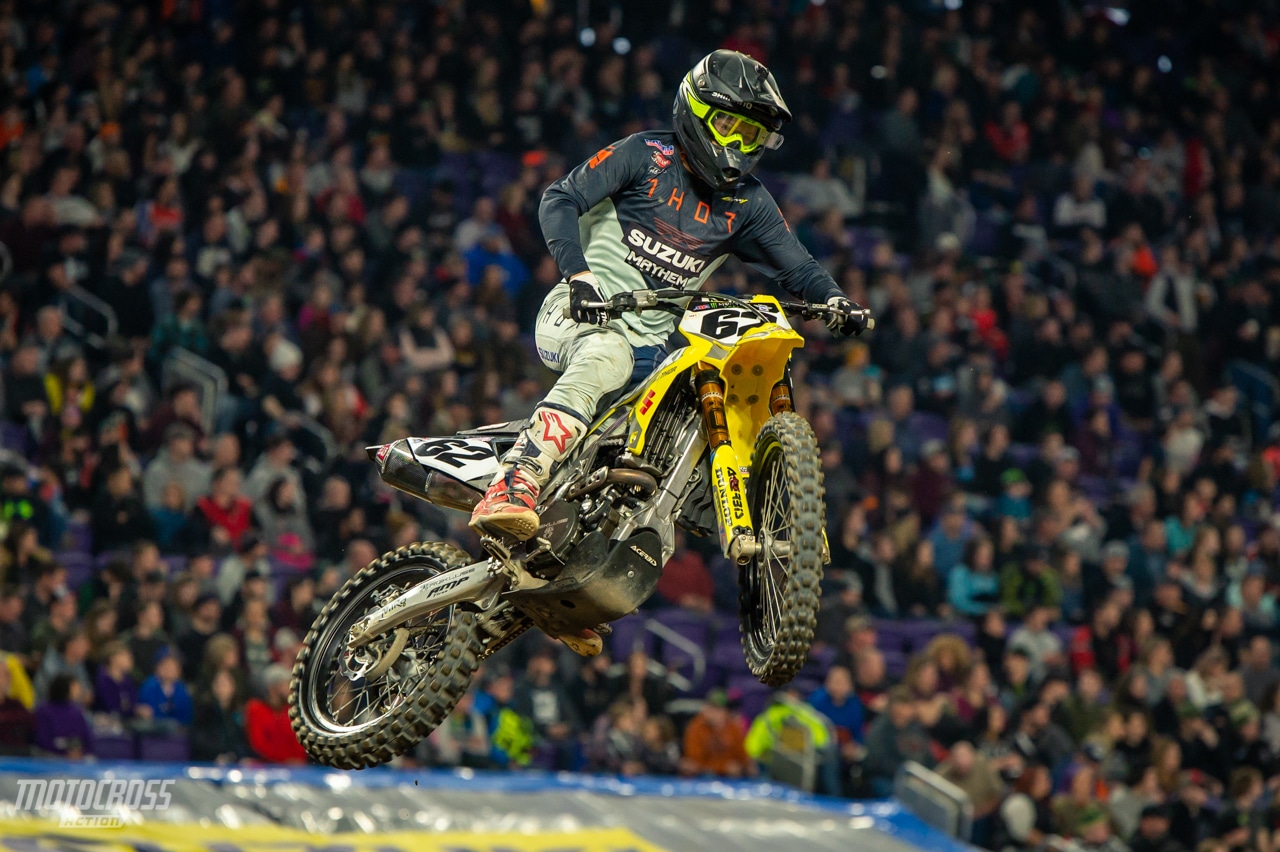 Alex Ray is the last of the riders who have scored points in five or more races (everyone below him in points has on score in 3 or less events). In the five races that Alex scored points in he went 17, 20, 17, 20, 16. When you add those finishes, along with the one race he missed, he is 20th in 450 points and 52 points out of tenth place.

AMA RULE OF THE WEEK: DOLING OUT THE CASH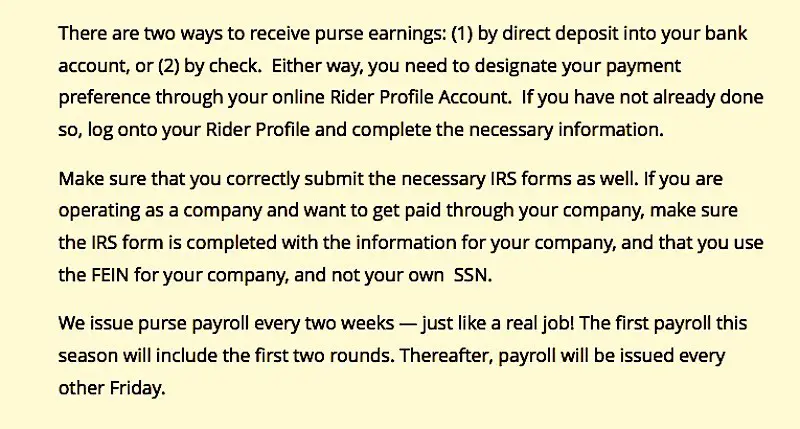 Gone are the days when riders lined up after an AMA National waiting to get handed the cash they earned, so that they could buy gas to get to the next race on the schedule. Now, the riders receive their purse money by check. Not just by check, but also by direct deposit to their bank (like anyone would trust the AMA with their direct deposit bank number). The kicker? The AMA takes two weeks to process the payment. Given that the AMA has to write 160 checks after each race (to pay the top 40 by moto in all four National motos) that is a lot of work for their small staff.
It should be noted that no matter how generous the AMA feels about handing out approximately $70,000 per week in purse money to the riders at a National (and $96,000 a week at a Supercross), it's not their money. The AMA doesn't pay the riders a red cent. The purse money comes from each individual National promoter and from Feld in Supercross. The AMA's only visible investment is in AMA shirts and clipboard —so they can look busy.
Instead, the AMA (or its surrogates) takes money from the riders and teams hand-over-fist, but really don't give anything back. It is often ask why riders have to pay an entry fee to provide entertainment for the ticket holders. Do you think Beyonce has to pay to sell out a stadium? And no matter how you cut it, the riders on the track are the talent. They draw the crowd—without them there is no crowd. The riders shouldn't have to pay a entry fee, which the AMA then doles back out to them as purse money.
BIKES YOU'VE NEVER SEEN BEFORE: 1963 GREEVES 250 SILVERSTONE ROAD RACER (MODEL 24RAS)

Although famous for its motocross bikes, Greeves also produced an economical 250 road racer in 1963 called the Silverstone.
It used the then-new Villiers powerplant featuring a Greeves designed cylinder head and barrel, four-speed transmission, 2 gallon fiberglass tank, Amal 5GP2 carburetor with a remote float bowl, cast LM6 aluminum downtube and leading link forks (with Girling shocks hidden inside the Reynold 531 chromoly fork tubes).
The engine was a 246cc Villier Mark 36A with a 66mm bore and 72mm stroke. It was fitted with a Greeves-built aluminum cylinder and head. The claimed horsepower was 31 horses at 7400 rpm. The fairing was only the top half of a normal road race fairing to insure sufficient air to the engine. The Silverstone had a 50-3/4 inch wheelbase and weighed 189 pounds.
BIRTHDAYS OF THE STARS: VALENTINO IS 40

Feb. 15…Davi Millsaps 1988

Feb. 16…Josh Hansen 1984
Feb. 16…Don Emde 1951

Feb. 16…Valentino Rossi 1979
Feb. 17…Fredric Bolley 1974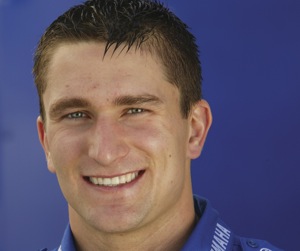 Feb. 17…Heath Voss 1978
Feb. 17…Stefy Bau 1977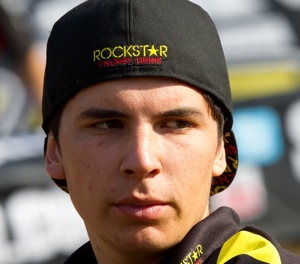 Feb. 17…Jason Anderson 1993
Feb. 18…Kevin Foley
Feb. 18…Tyler Evans 1980

Feb. 19…Preston Petty 1941
Feb. 19…Troy Adams 1983
Feb. 19…Michael Young 1981


Feb. 19…Joey Savatgy 1994
Feb. 19…Ian Trettel 1992
Feb. 20…Ray Tetherton

Feb. 21…Marc De Reuver 1983
Feb. 22…George Washington 1732
Feb. 22…Robert Distler
WISECO PRESENTS THE WORLD TWO-STROKE CHAMPIONSHIPS HOSTED BY FASTHOUSE ON APRIL 20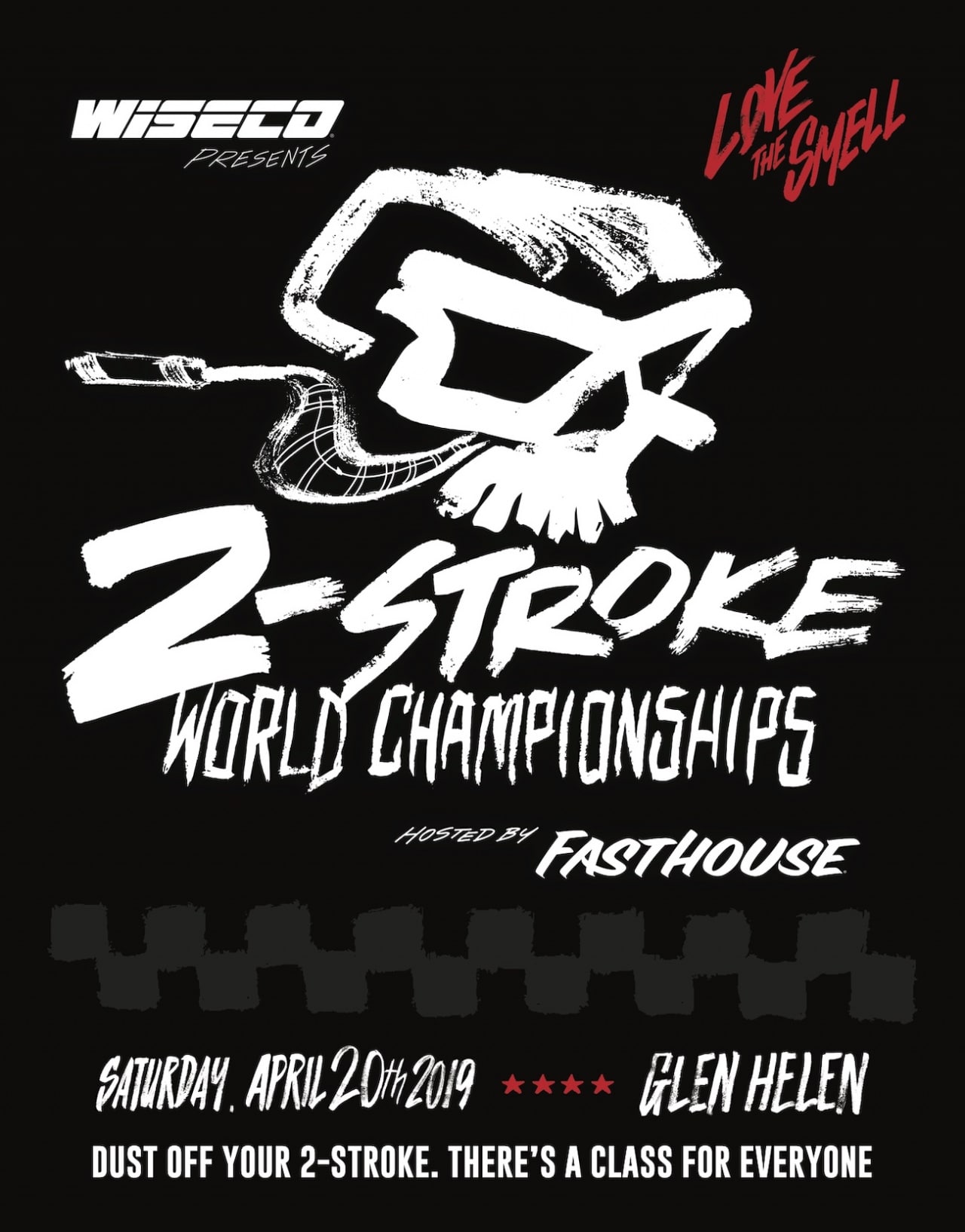 Dust off your two-stroke, 'cuz there's a class for everyone. For more info go to www.glenhelen.com
REM MOTOCROSS ON SATURDAY, FEBRUARY 9
REM has not held a race yet in 2019. They have been rained out or had hurricane force winds force cancellations since the turn of the year. Hopefully February's three races on Feb.9, 16 and 23 will get typical SoCal sunshine. For more info go to www.remsatmx.com.
2019 MX 250 SHOOTOUT: HOW THEY RANK FROM ONE TO SIX
3-BROS 6-HOUR, 10-HOUR & 24-HOUR DATES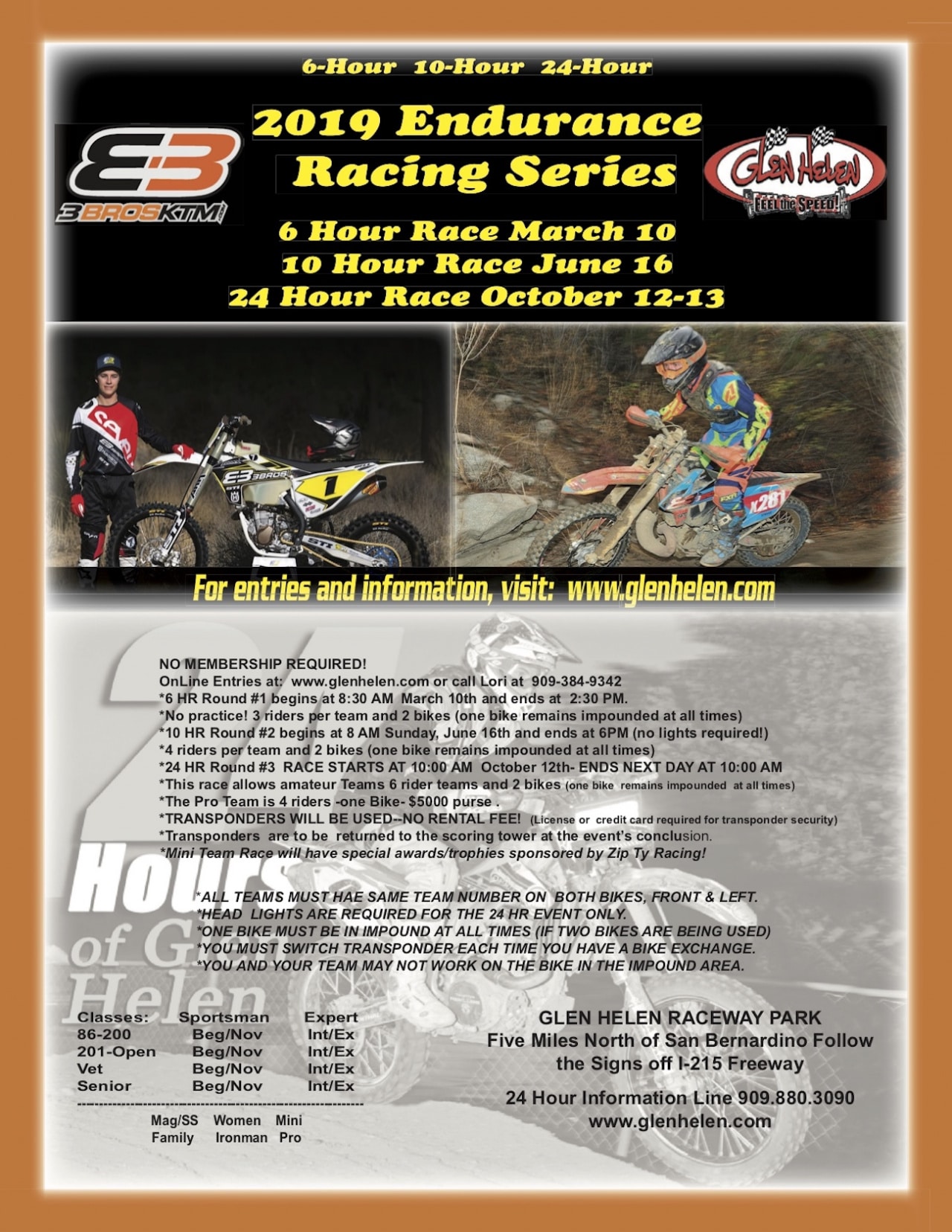 For more info go to www.glenhelen.com
YOU GOTTA KNOW THE TRUTH: 2019 MXA 450 SHOOTOUT VIDEO
ENTER THE 51/FIFTY SWEEPSTAKES TO WIN A BLAKE BAGGET REPLICA KTM 450SXF…SECOND PLACE GETS TO GO RIDING IN COSTA RICA

Official Rules: To enter Click Here and fill out the form. One (1) entry per person. Grand Prize: One (1) "Grand Prize" winner selected May 01, 2019. One (1) Second place winner selected May 01, 2019. Grand Prize includes: (a) One (1) KTM Supercross Replica Blake Baggett Motorcycle. (b) Second place includes: A trip to Costa Rica with Costa Rica Unlimited (c) Weekly winners at Supercross get: 51FIFTY Apparel Packages and other prizes. Open to legal residents located within the 50 United States/DC who are aged 18, or the age of majority in his/her state of residence, whichever is older. Void where prohibited or restricted by law.
WHERE YOU'LL BE IN THE FUTURE: 2019 RACE SCHEDULE


Join the crowd in Anaheim Stadium. on Saturday night. It won't be raining this time.

2019 AMA SUPERCROSS SERIES
Jan. 5…………………………….Anaheim, CA
Jan. 12………………………….Glendale, AZ
Jan. 19………………………….Anaheim, CA (3-moto race)
Jan. 26………………………….Oakland, CA
Feb. 2……………………………San Diego, CA
Feb. 9…………………………..Minneapolis, MN
Feb. 16………………………….Arlington, TX
Feb. 23………………………….Detroit, MI (3-moto race)
Mar. 2……………………………Atlanta, GA (250 E/W Shootout)
Mar. 9……………………………Daytona Beach, FL
Mar. 16………………………….Indianapolis, IN
Mar. 23………………………….Seattle, WA
Mar. 30………………………….Houston, TX (3-moto race)
Apr. 6……………………………Nashville, TN
Apr. 13………………………….Denver, CO
Apr. 27………………………….East Rutherford, NJ
May 4……………………………Las Vegas, NV (250 E/W Shootout)
2019 AMA NATIONAL CHAMPIONSHIP
May 18……………………Hangtown, CA
May 25.…………………..Pala, CA
June 1..……………….….Thunder Valley, CO
June 15..…………………Mt. Morris, PA
June 22.………………….Jacksonville. FL
June 29..…………………Southwick, MA
July 6.………………….….Red Bud, MI​
July 20.……………………Millville, MN​
July 27.……………………Washougal, WA
Aug. 10..………………….Unadilla, NY​
Aug. 17..………………….​Budds Creek, MD
Aug. 24.…………………..Crawfordsville, IN
2019 FIM MOTOCROSS WORLD CHAMPIONSHIP
Mar. 3…………………… Argentina (fly-away)
Mar. 24……………………England
Mar. 31……………………Holland
Apr. 7……………….……..Italy #1
May 1……………………..Shanghai (fly-away)
May 12……………………Italy #2
May 19…………………..Portugal
May 26……………………France
June 9…………………….Russia
June 16…………………..Latvia
June 23…………………..Germany
July 7………………………Indonesia #1 (fly-away)
July 14……………………Indonesia #2 (fly-away)
July 28……………………Czech Republic
Aug. 4………………….….Belgium
Aug. 18……………………Italy #3
Aug. 25…………………..Sweden
Sept. 8……………………Turkey
Sept. 22…………………..Hong Kong (fly-away)
2019 MOTOCROSS DES NATIONS
Sept. 29…………………………….Assen, Holland
2019 WORLD OFF-ROAD CHAMPIONSHIP (WORCS)
Jan. 18-20………………………..Primm, NV
Feb. 1-3……………………………Glen Helen, CA
Mar. 1-3……………………………Lake Havasu, AZ
Mar. 22-24……………………….Peoria, AZ
Apr. 12-14………………………..Las Vegas, NV
Apr. 26-28………………………..Taft, CA
May 24-26……………………….Mesquite, NV
July 30-Aug. 4…………………McCleary, WA
Sept. 13-15……………………..Glen Helen, CA
Oct. 4-6……………………………Milford, CA
Nov. 15-17……………………….Primm, NV
2019 WORLD TWO-STROKE CHAMPIONSHIP
April 20…………………………..Glen Helen
2019 MAMMOTH MOUNTAIN MOTOCROSS
June 21-30……………………….Mammoth Lakes, CA
2019 CANADIAN NATIONAL CHAMPIONSHIP
June 1………………………………Wild Rose, AB
June 8………………………………Blackwater, BC
June 15…………………………….McNabb Valley, MB
July 13……………………………..Gopher Dunes, ON
July 20……………………………..San Del Lee, ON
July 27……………………………..Riverglade, NB
Aug. 3………………………………Deschambault, QC
Aug. 17…………………………….Walton, ON
2019 AMA NATIONAL AMATEUR CHAMPIONSHIP
July 29-Aug. 3………………….Loretta Lynn, TN
2019 BRITISH ARENACROSS CHAMPIONSHIP
Jan. 18-19………………………….Belfast, Irl
Feb. 1-2……………………………..Birmingham, GB
Feb. 15-6…………………………..Sheffield, GB
2019 BRITISH NATIONAL CHAMPIONSHIP
Mar. 10……………………………..FatCat
Apr. 14………………………………Lyng
May 5……………………………….Canada Heights
June 2………………………………Blaxhall
June 30…………………………….Desertmartin
July 21……………………………..Hawkstone Park
Aug. 11……………………………..Foxhill
Sept. 15……………………………Landrake
2019 BRITISH APICO TWO-STROKE FESTIVAL
May 25-26……………………….Marshfield MX
Aug. 3-4……………………………Iron Works Moto
Sept. 21-22……………………..Sellindge MX
2019 GERMAN MX MASTERS CHAMPIONSHIP
April 14…………………………….Princely Drehna
June 2………………………………Moggers, Austria
June 30…………………………….Molln
July 21……………………………..Tens
Aug. 11…………………………….Gaildorf
Sept. 1……………………………..Biel
Sept. 15……………………………Wood Gerlingen
2019 AMA VINTAGE MOTORCYCLE DAYS
July 5-7…………………………….Lexington, Ohio
2019 AMA NATIONAL AMATEUR CHAMPIONSHIP
July 29-Aug. 3………………….Loretta Lynn, TN
2019 RYAN VILLOPOTO AMATEUR MOTOCROSS CUP
Aug. 22-25………………………..Grays Harbor, WA
2019 MONSTER ENERGY CUP
Oct. 21……………………………..Las Vegas, NV
2019 WORLD VET CHAMPIONSHIP
Nov. 2-3……………………………..Glen Helen, CA
GLEN HELEN'S DECAL DAY: GET $10 OFF THURSDAY PRACTICE IF YOU HAVE A GLEN HELEN DECAL ON YOUR TRUCK

On one random Thursday practice day every month Glen Helen will give any rider with a Glen Helen decal on their vehicle a $10 discount. And they will give you free Glen Helen stickers at the front gate. So, the next time you come through the front gate, get a free decal and put it on your truck.
2019 SOCAL OLD TIMERS MX RACE SCHEDULE

For more info go to www.socalotmx.org
2019 SRA GRAND PRIX RACE DATES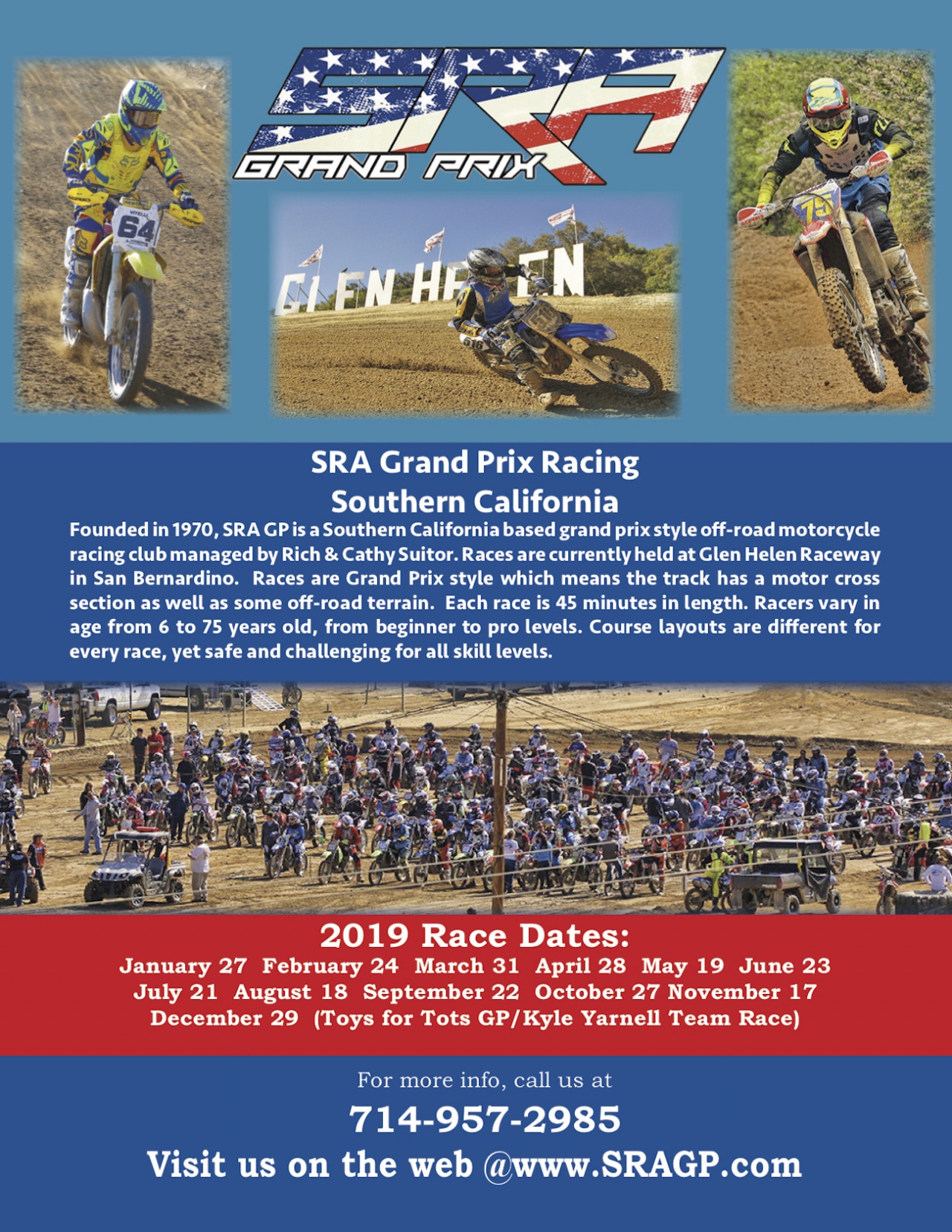 For more info go to www.sragp.com
3-BROS 6-HOUR, 10-HOUR & 24-HOUR DATES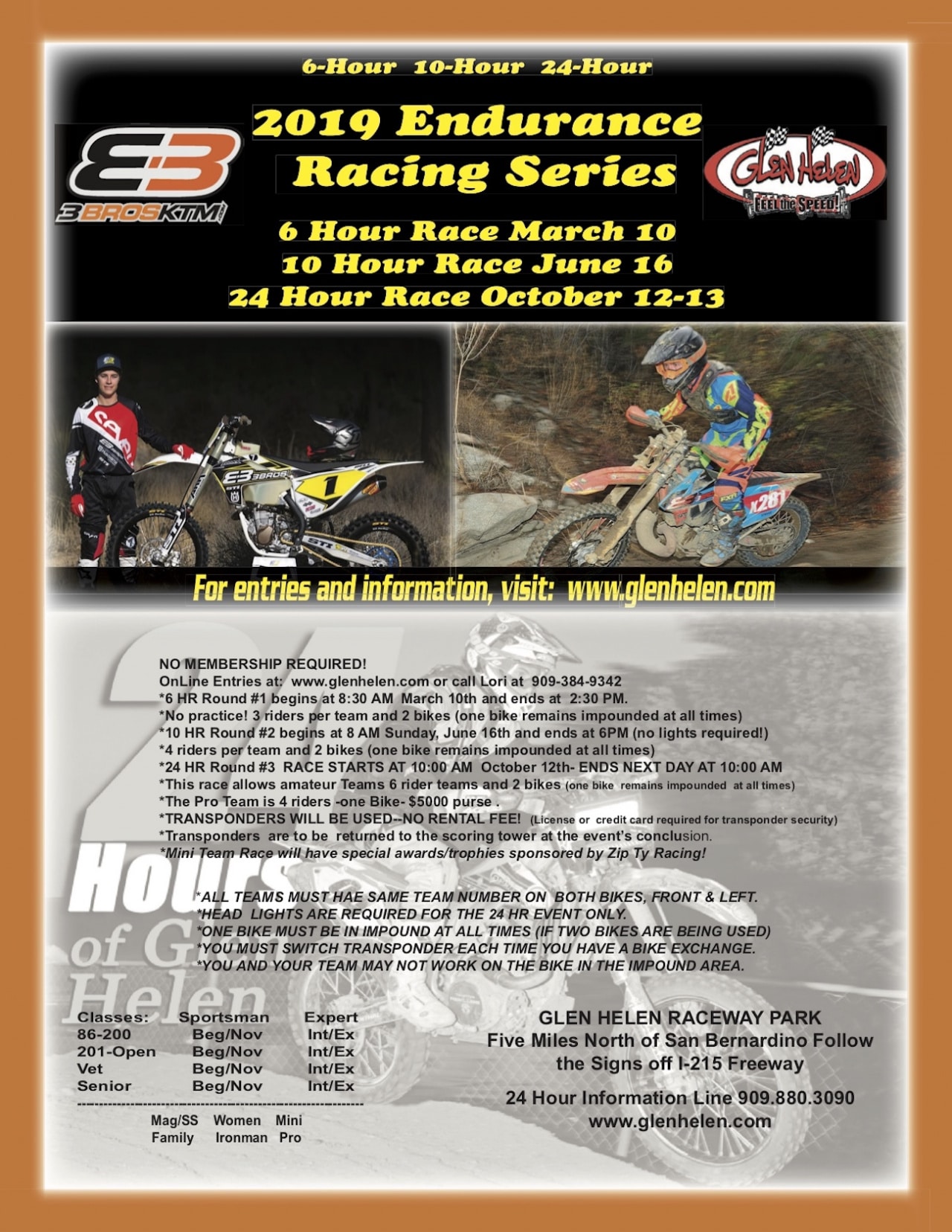 For more info go to www.glenhelen.com
2019 REM MOTOCROSS RACE SCHEDULE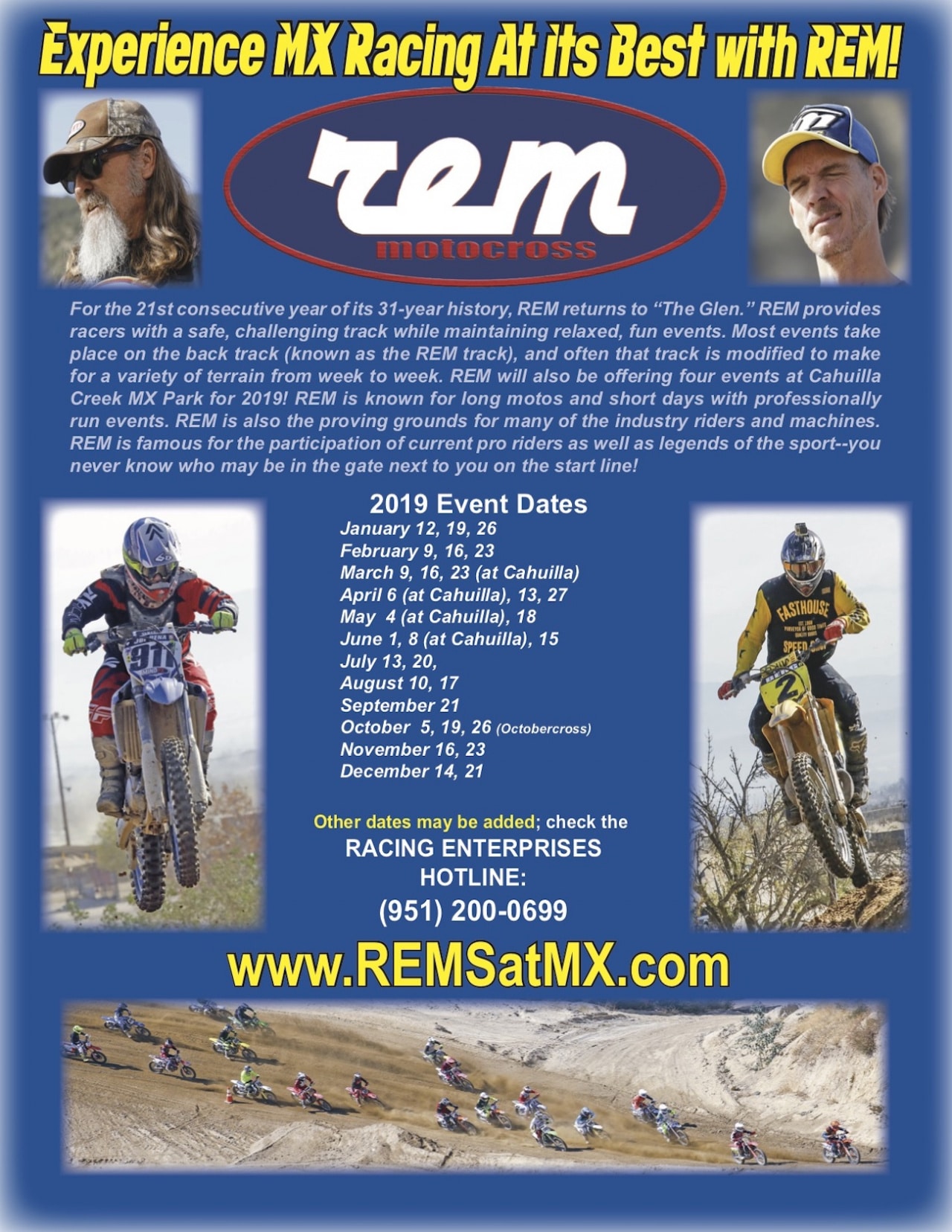 For more info go to www.remsatmx.com
2019 WORCS RACE SCHEDULE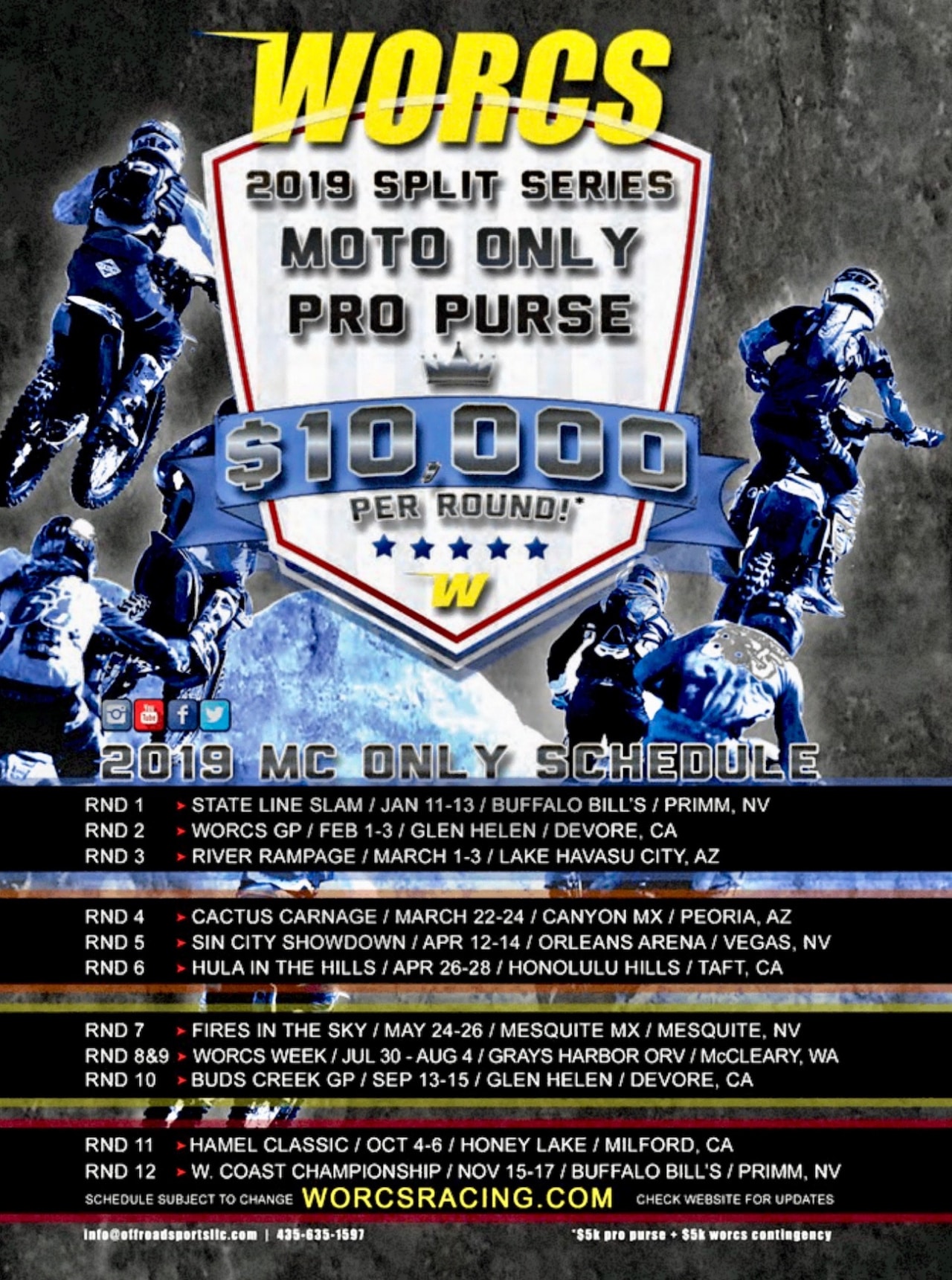 For more info go to www.worcsracing.com
FOLLOW MXA ON TWITTER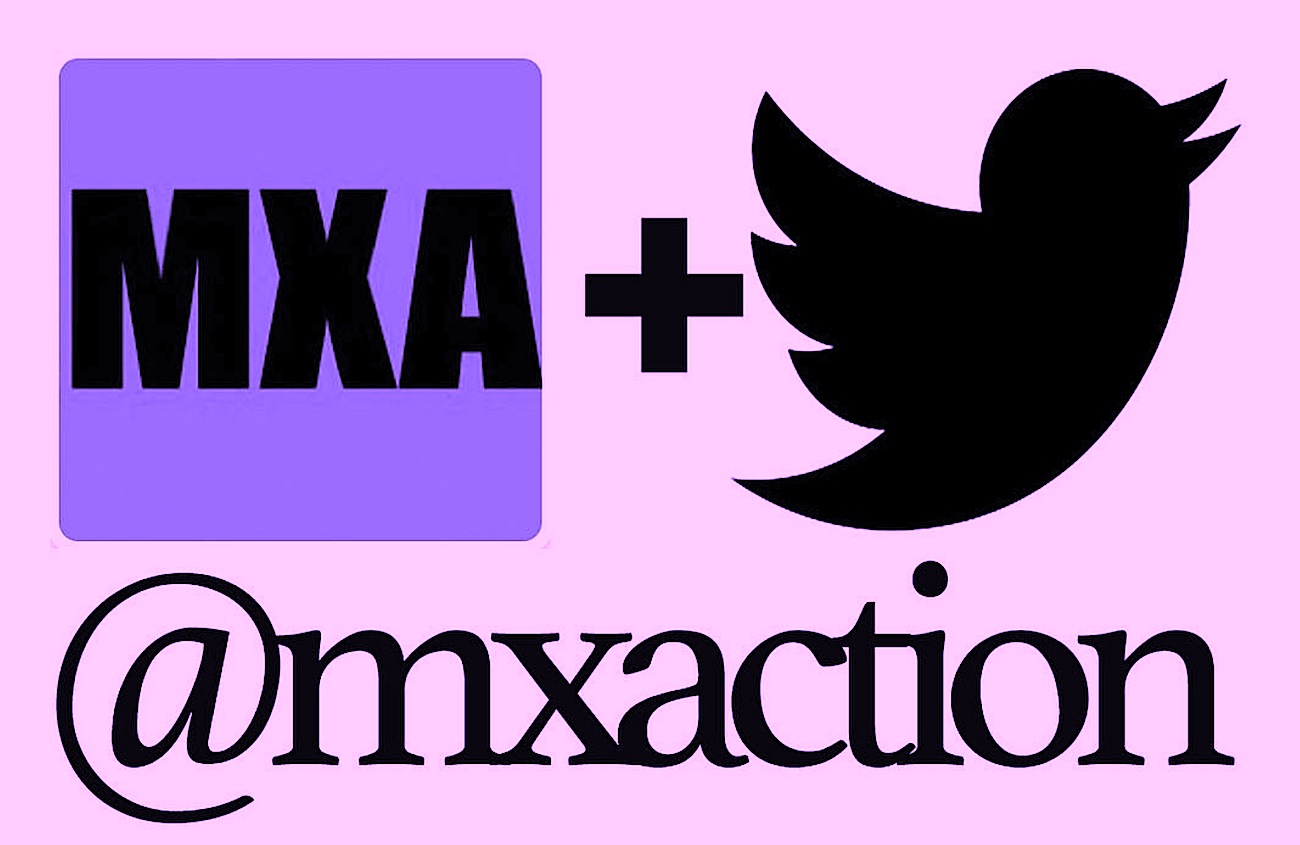 Follow us to see fresh content every day at www.twitter.com/MXAction or on twitter at "MXAction."
TALK MOTO WITH ON MXA'S FACEBOOK GROUP CHAT


We love everything moto and want to bring all moto junkies together into one place to share their two cents, ideas, photos, bike fixes, bike problems and much more. To check it out first you must need to or already have a Facebook account. If you don't, it isn't much work and you could even have an alias so nobody knows it is you. To join click HERE. After you request to join we will accept your request shortly after.
MXA'S SNAP CHAT FEED
If you are a Snap Chat user then add us to your stories. Get sneak peaks of everything moto. Our Snap Chat name is motocrossaction. Or just take a Snap of the picture above and it will add MXA automatically to your feed.
Photos: Brian Converse, Travis Fant, Daryl Ecklund, John Ker, Ray Archer, Debbi Tamietti, MXA