MXA'S WEEKEND NEWS ROUND-UP: SUPERCROSS IS OVER, MOTOCROSS IS CONFUSED & THE GP'S ARE DELAYED
HAVE YOU SEEN THE AUGUST 2020 ISSUE OF MXA? YOU SHOULD SUBSCRIBE BECAUSE IT IS THE BEST DEAL IN  MOTOCROSS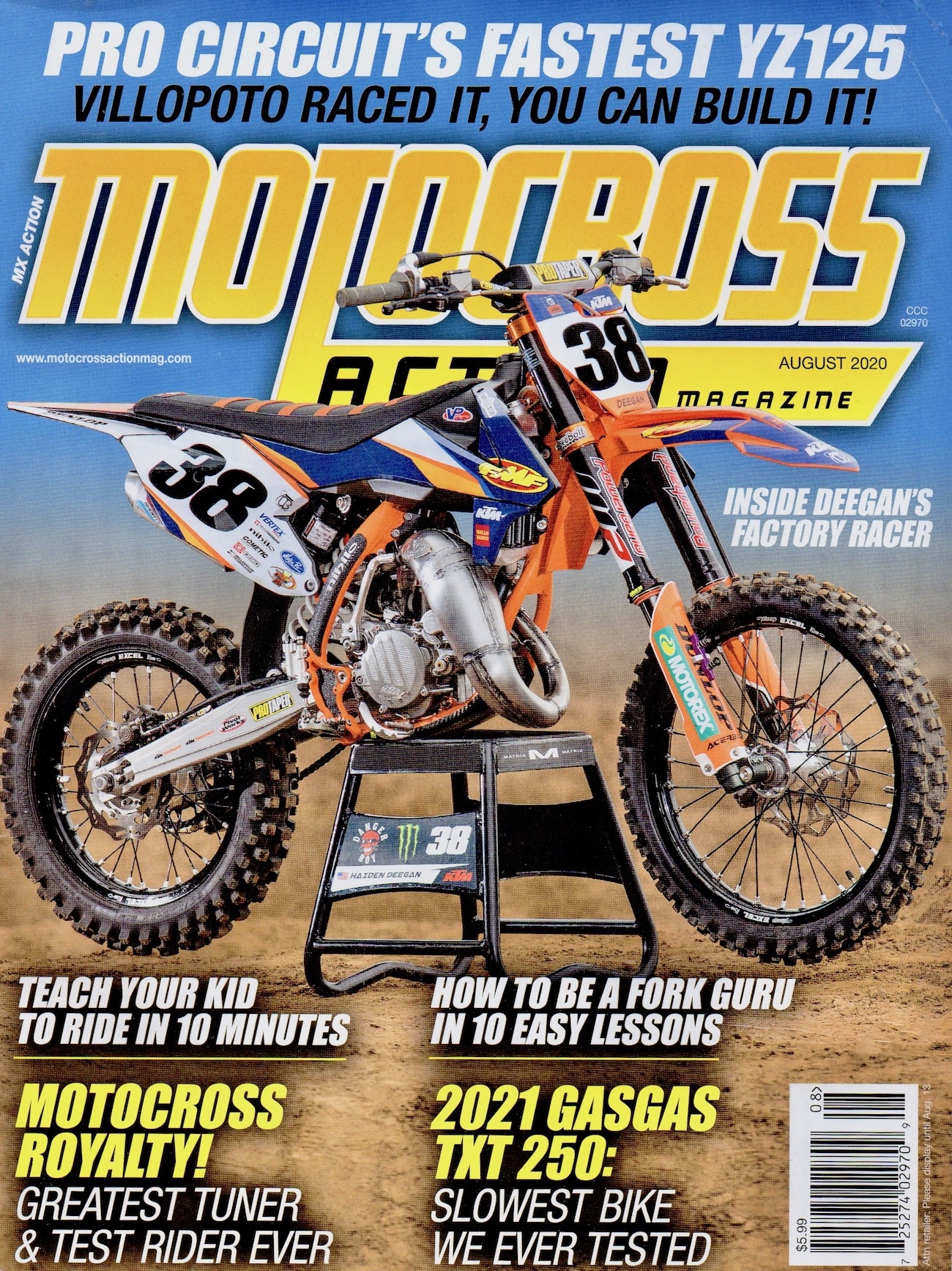 In this issue, out this week, we testa full race Pro Circuit Yamaha YZ125 that we built for the World Two-Stroke Championships. We also had Doug Dubacj sheparad our GYTR-kitted YZ450F through its hop-up phase. Unwilling to leave well enough alone we herded up a bunch of kids to help us test a Stacyc electric balance bike, ask a kid to let us ride his full-race Supermini and not only resurrected a 2005 Honda CR125, but blew it up, while we were at it. If that wasn't enough we interview Rocket Rex Staten to prove that we weren't afraid of him.
HOW TO SUBSCRIBE TO MXA SO THAT YOU NEVER MISS ANOTHER ISSUE OR SPEND A PENNY
If you subscribe to MXA you can get the mag on your iPhone, iPad, Kindle or Android by going to the Apple Store, Amazon or Google Play or in a digital version. Even better you can subscribe to Motocross Action and get the awesome print edition delivered to your house by a uniformed employee of the U.S. Government. You can call (800) 767-0345 or Click Here (or on the box at the bottom of this page) to subscribe.
TAKE THE MXA 2020 READER SURVEY & HAVE A CHANCE TO WIN FREE THOR GEAR!

Score free head-to-toe Thor gear now! Complete our reader survey we'll take your input to help improve future web and monthly print content of Motocross Action. One lucky winner will be chosen at random to receive a free gear ensemble from Thor (style and/or color may vary). This year's Thor (www.thormx.com) gear giveaway includes the following: Prime Pro jersey and pants, Sector Split with MIPS helmet, Radial boots, Sniper Pro goggles, and Agile gloves. That's $750 worth of products, so don't miss this opportunity to win all this stylish gear for free! Fill out the entire survey!
MXA PRODUCT SPOTLIGHT: MAXIMA'S PERFORMANCE LINE OF HANDY PRODUCTS

MAXIMA WATERPROOF GREASE
High performance Lithium complex grease that excels in a multitude of conditions, from light duty chassis applications to extreme conditions such as wheel bearings. Formulated with a high dropping point and a robust antioxidant system, the NLGI Grade 2 grease remains stable and effective at extreme temperatures. The Lithium complex thickener and high-quality base oils combine with an advanced additive package to ensure excellent protection against wear, water washout, corrosion and oxidation. Retail price: $8.95.
MAXIMA HI-TEST OCTANE BOOSTER
Concentrated, metal-free octane booster designed to increase power by increasing octane number and combustion efficiency. The advanced formulation eliminates knocking by increasing the auto-ignition temperature of the air/fuel mixture and readily mixes with all fuels, including nitro and alcohol mixtures. The all organic blend contains no metal or phosphorus compounds and effectively increases power at dosages as low as 1 oz. HI-TEST per gallon of fuel. Retail price: $6.50.
MAXIMA ASSEMBLY GREASE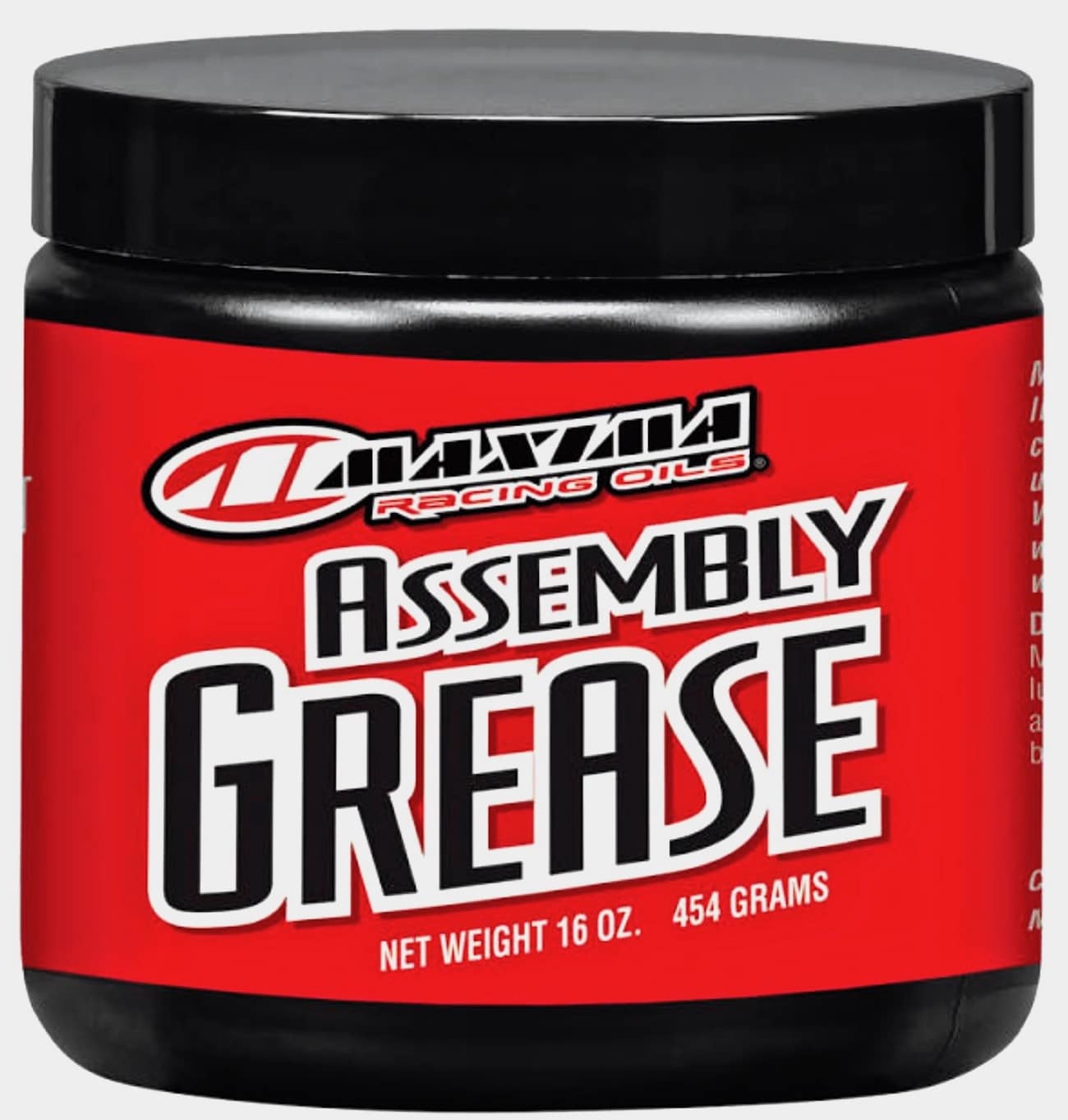 High-performance assembly grease that excels in a multitude of heavy duty and light duty applications, from building engines to building chassis. The unique calcium sulfonate complex soap thickener combines with a proprietary additive system to deliver unmatched thermal stability and extreme pressure performance. The oil-soluble formulation won't clog filters and provides exceptional protection against corrosion, water washout and wear. Retail price: $15.95.
MAXIMA SC1 HIGH GLOSS

SC1 High Gloss coating is specifically formulated to protect and beautify multiple surfaces such as plastic, vinyl and carbon fiber. Safe for use on plastic, gloss or matte finishes. Excellent for use on plastic fenders, wheel wells and components. Outstanding mud and rubber deflector. Makes the cleaning-up process easier. Can be applied to the surface and left untouched or allowed to setup and buffed to a dry sheen leaving a long-lasting luster without attracting dirt and road debris. Water resistant. Retail price: $10.50.
MAXIMA SYNTHETIC CHAIN GUARD

Maxima Chain Guard is an advanced chain lubricant specifically formulated for today's off-road and on-road, high performance motorcycle chains. It is compounded with the finest synthetic lubricating bases and reinforced with the most advanced anti-wear and extreme pressure additives available. It also contains special additives to prevent "fling-off" and protect against rust & corrosion. Chain Guard is o-ring safe and makes an excellent lubricant. Retail price: $7.50 (6 ounce can), $11.50 (15 ounce can).
For more information go to www.maximausa.com or see your local dealer.
MXA AD OF THE WEEK: FMF CR125 RACER PACKAGE

Not only a 1976-1977 Honda  CR125 kit bike, but also a sleeve-down kit to make the CR125 into a CR100. The 100cc class was a big deal in the early and late 1970s..
CLASSIC MOTOCROSS PHOTO: DARYL ECKLUND TRACES THE ARC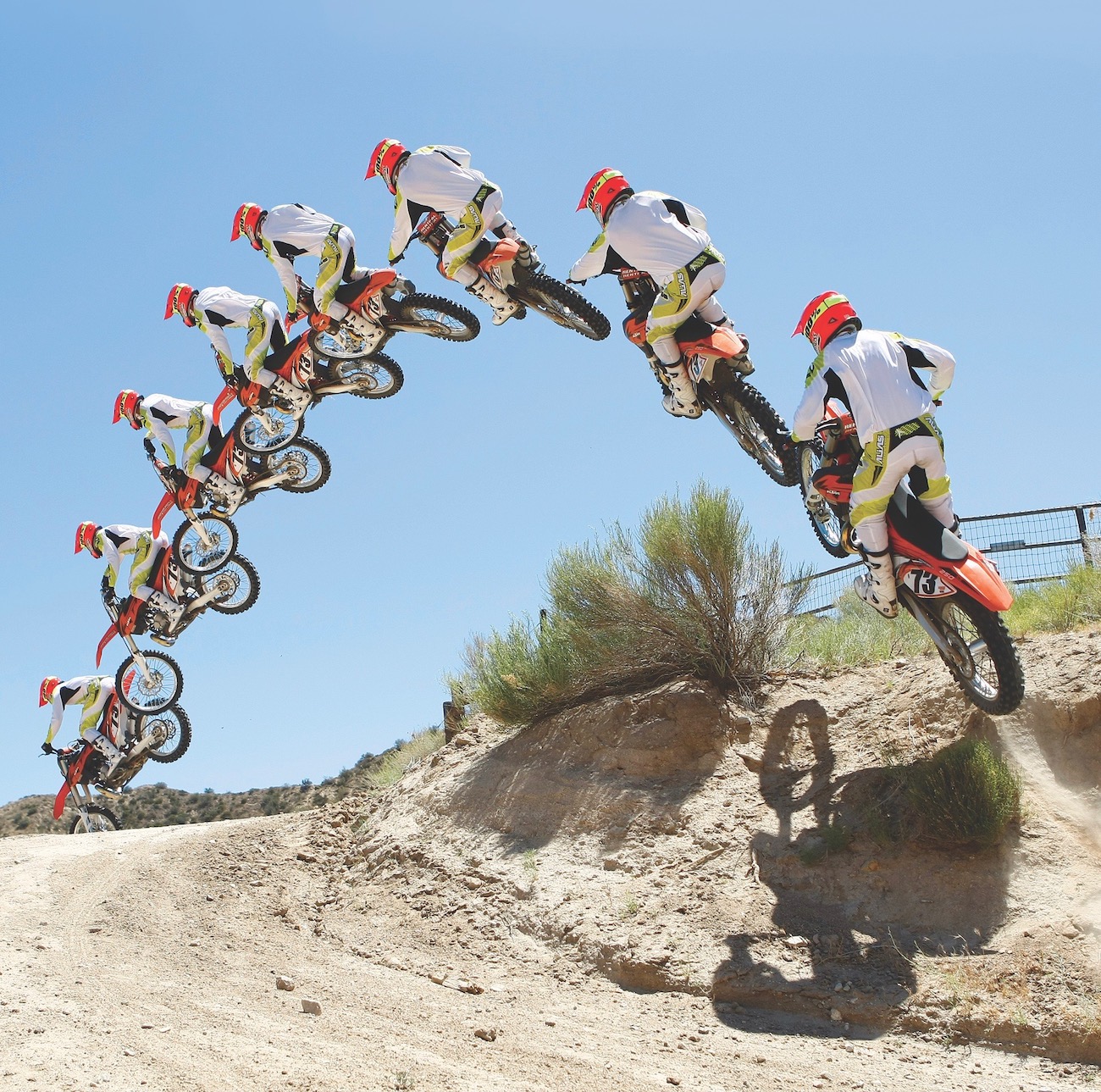 Daryl Ecklund splits into eight to complete this jump.

THIS WEEK'S BIRTHDAY BOYS: BENGT ABERG 76, MARTY TRIPES 64 & KURT CASELLI 37

June 26…Bengt Aberg 1944
June 26…Carl Nunn 1979
June 27…Craig Rood
June 28…Spud Walters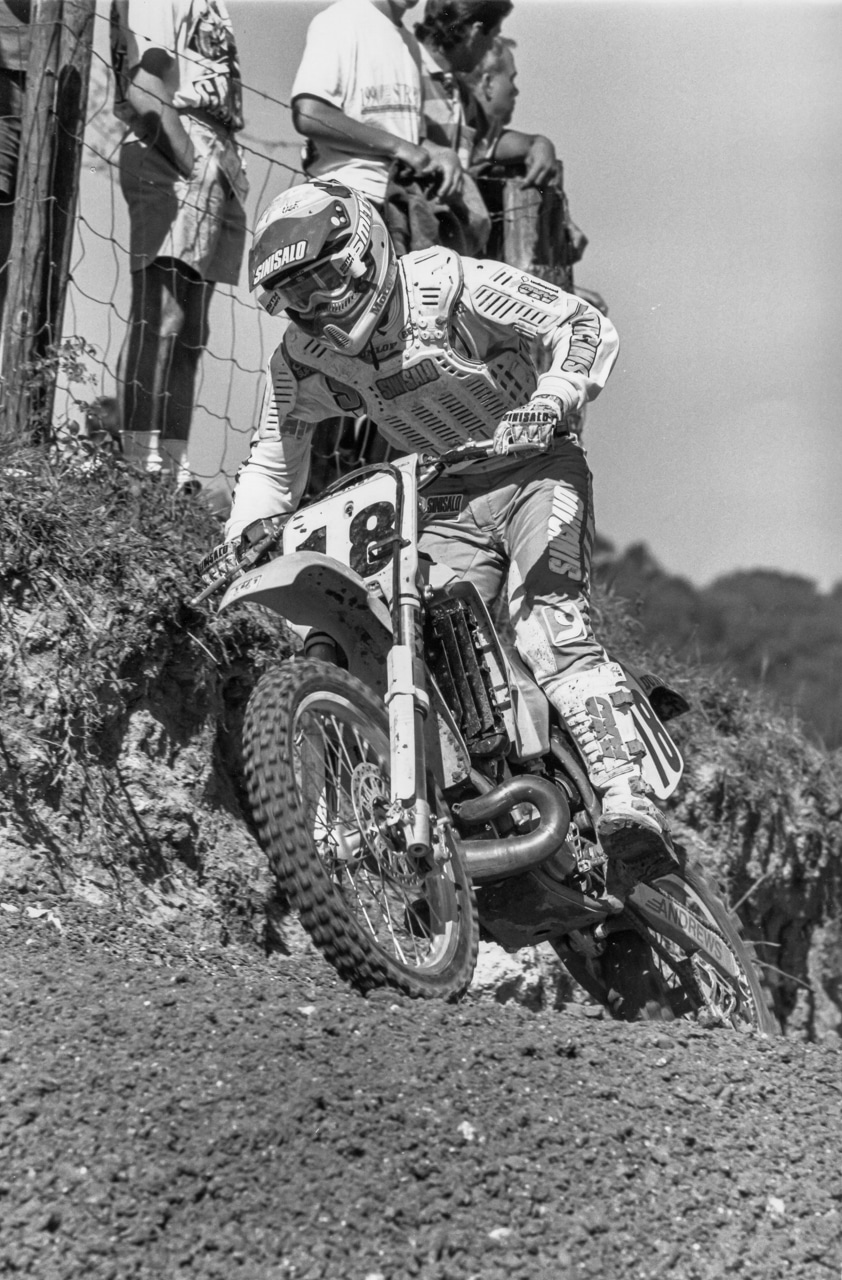 June 29…Fred Andrews 1965
June 29…Bob Haro
June 29…Ford Dale 1988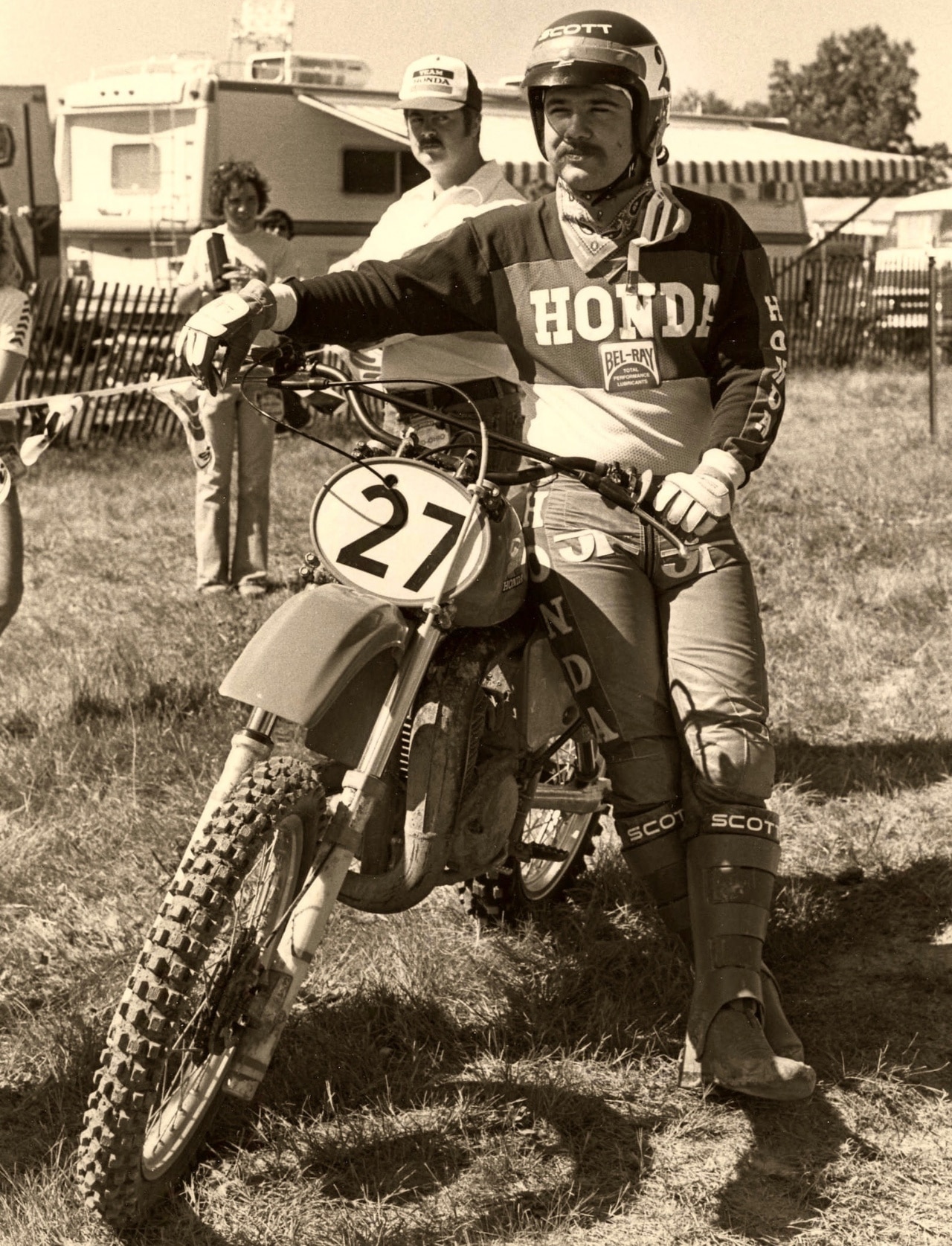 June 29…Marty Tripes 1956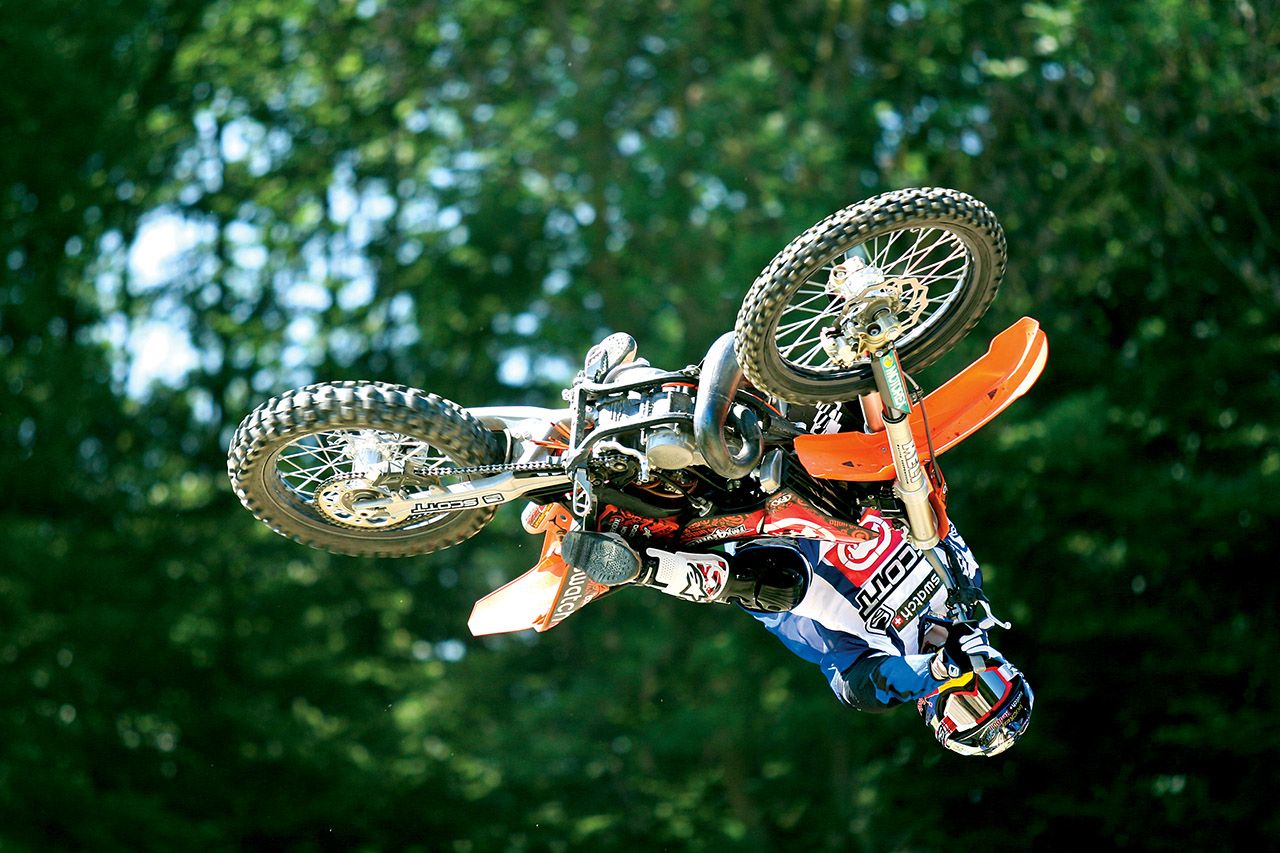 June 29…Matt Rebeaud 1982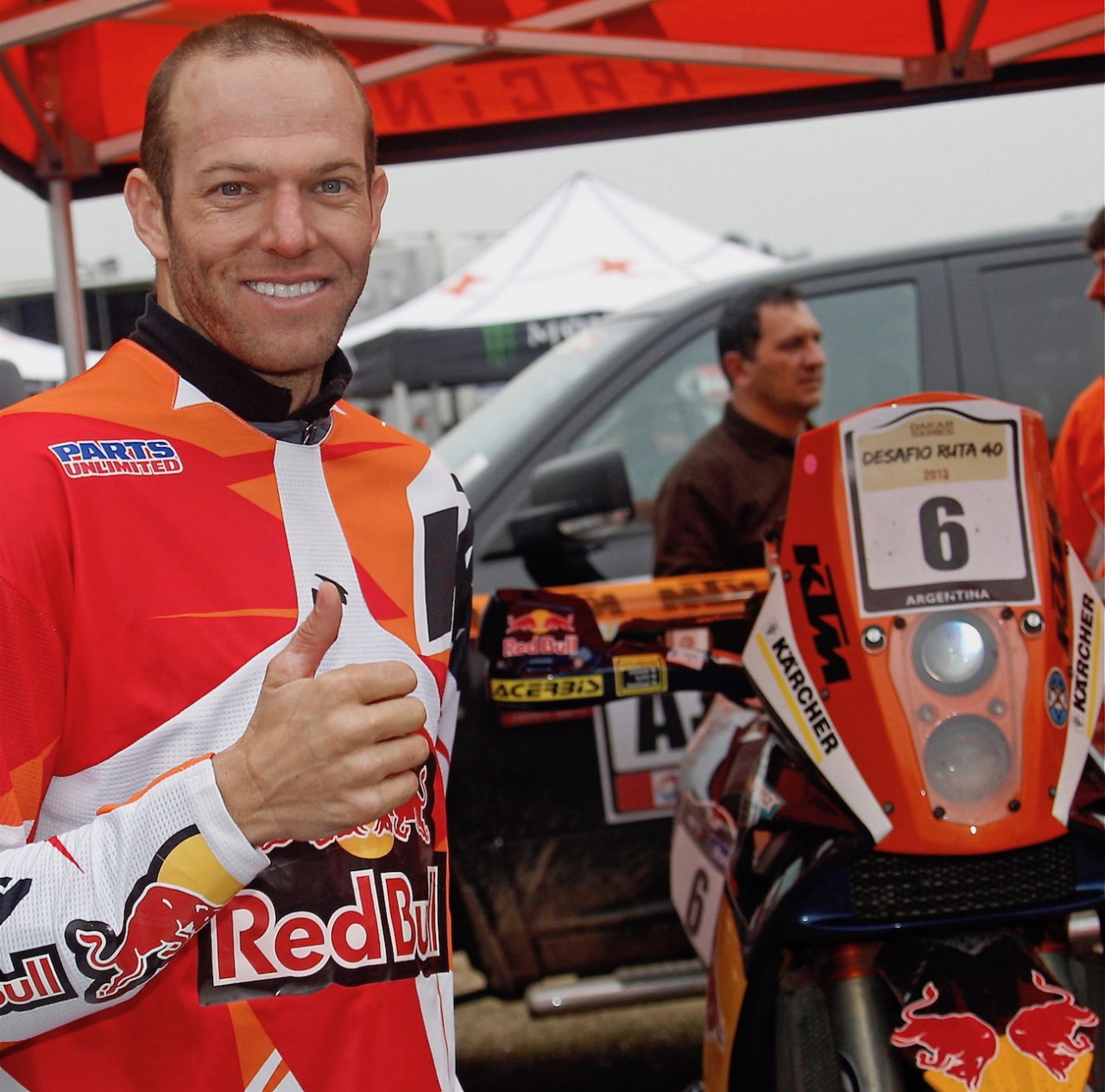 June 30…Kurt Caselli 1983
June 30…Roy Janson
June 30…Doug Dubach 1963
THE 32:1 PREMIX CLASSIC COMING TO LAST CHANCE RACEWAY ON SEPT. 11-13
For more information about the September 11-13 race in Montana go to www.lastchancemx.com.
2020 WISECO WORLD TWO-STROKE MOTOCROSS CHAMPIONSHIP WILL BE HELD ON OCTOBER 3, 2020
For more information go to www.glenhelen.com
40TH ANNUAL CZ WORLD CHAMPIONSHIP RESCHEDULED FOR OCTOBER 9-10 AT MARYSVILLE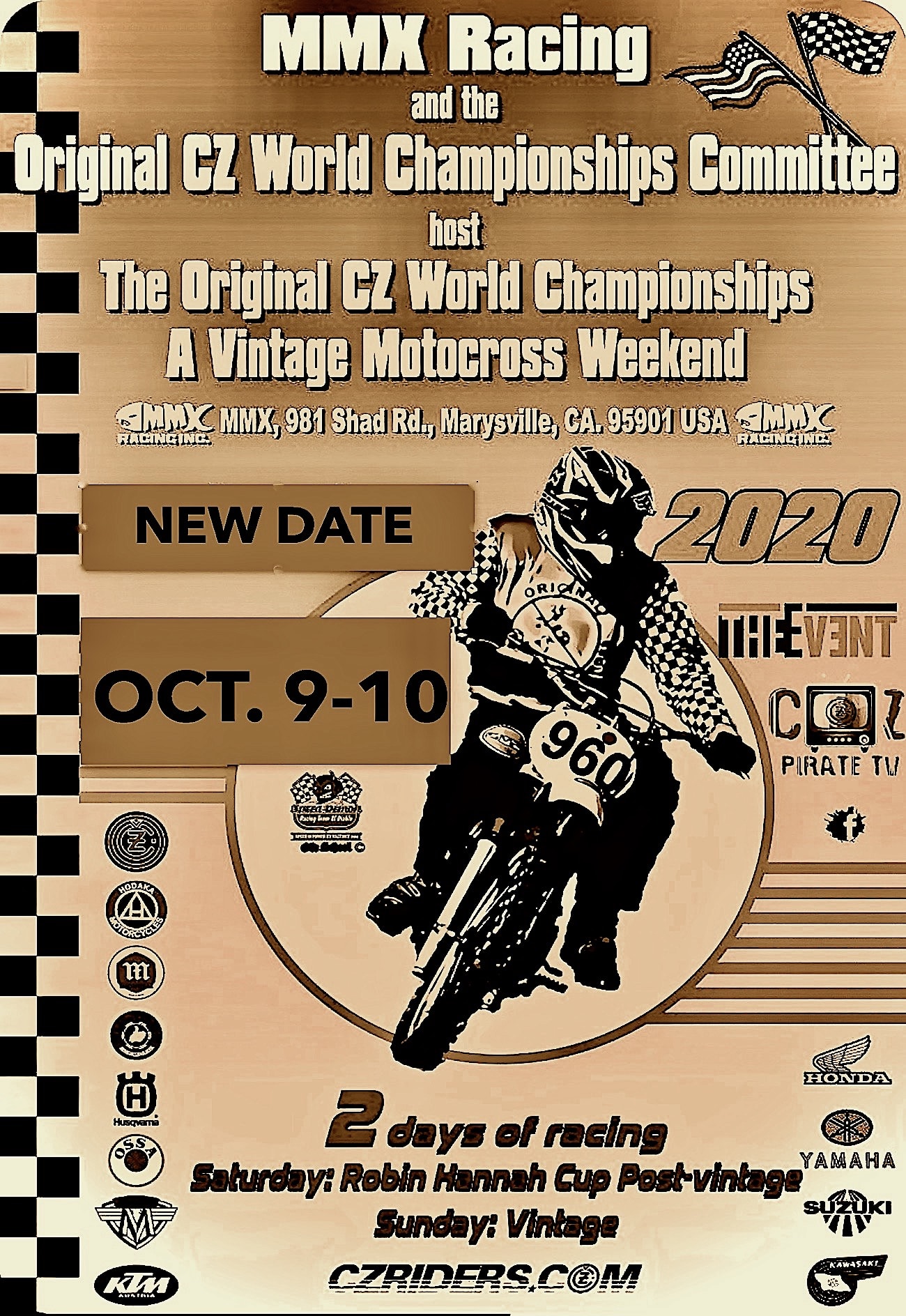 Dating back to 1980 when MXA's Jody Weisel, Ketchup Cox and Pete Maly talked Saddleback Saturday promoter Jim Beltnick into holding a CZ race, the CZ World Championship is now on its 40th anniversary in 2020. For more information go to www.czriders.com
36TH ANNUAL WORLD VET MOTOCROSS CHAMPIONSHIP ON NOVEMBER 6-8: START PLANNING NOW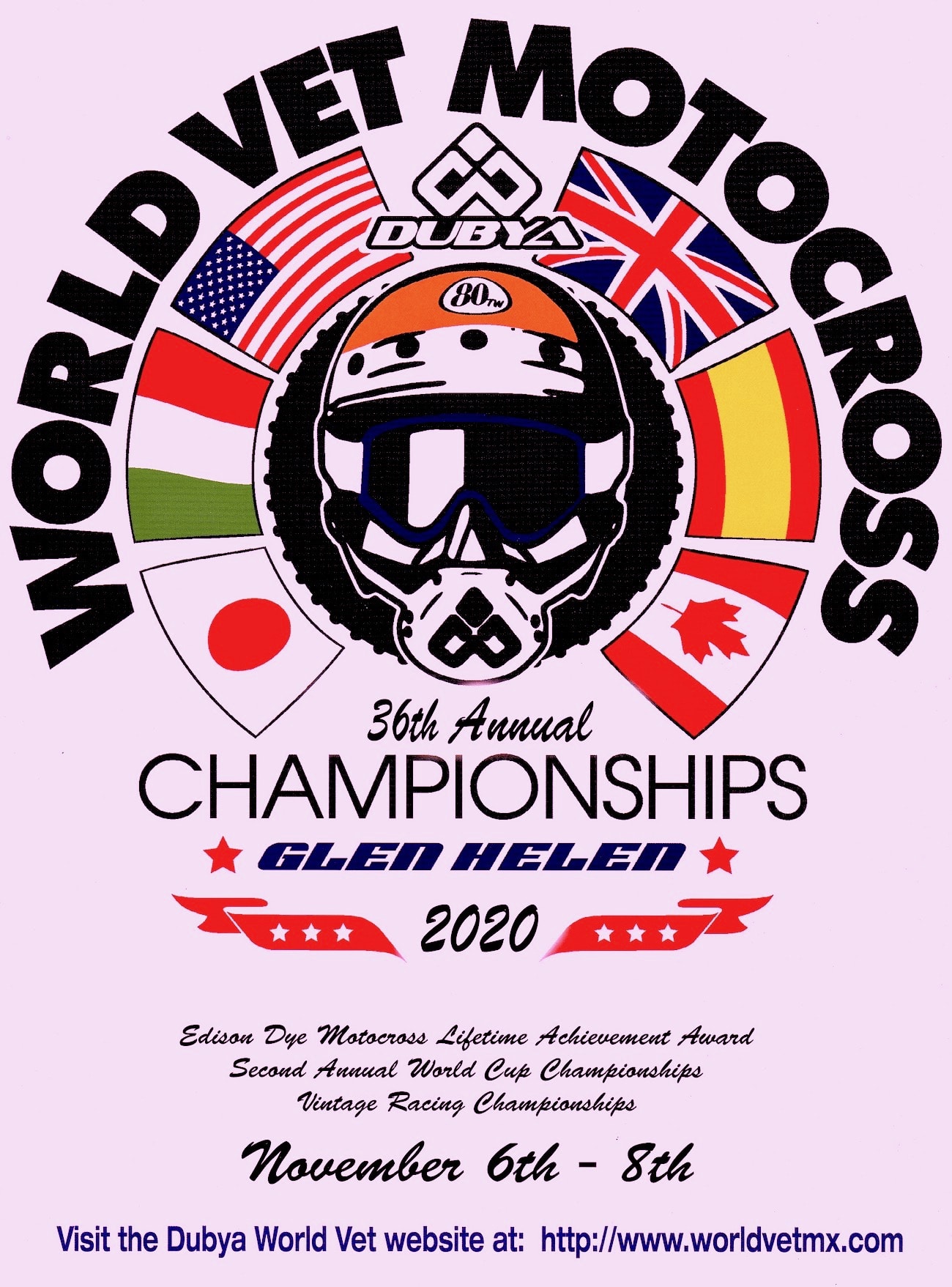 For more information go to www.worldvetmx.com
AIM EXPO CHANGES ITS DEALER SHOW FROM OCTOBER TO JANUARY, 2021, IN COLUMBUS, OHIO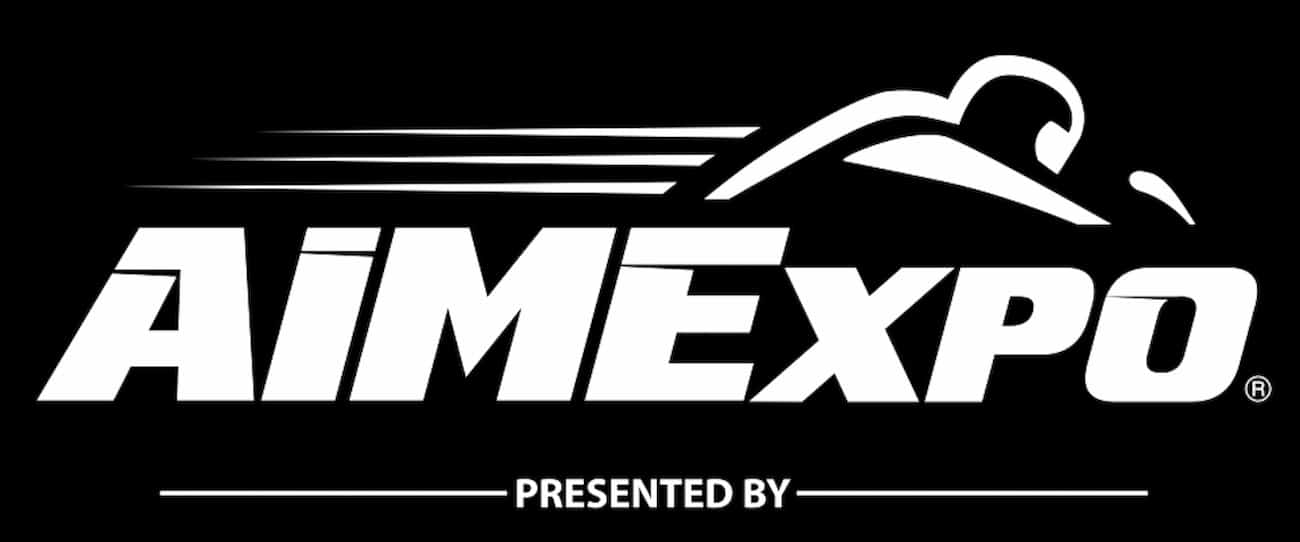 The American International Motorcycle Expo (AIMExpo) will change the date of the 2020 motorcycle show from October 2020 to Jan. 21-23, 2021. It will be held at the Greater Columbus Convention Center in Columbus, Ohio. The 2021 show will now focus on retailers over three days instead of four. For 2021, AIMExpo will become a trade-only event. The transition to trade-only will bring more focus on industry needs and education. AIMExpo hope to educate dealers on improving efficiency, staying competitive and enhancing the bottom line.
BORED AT HOME? TRY FREE ACCESS TO MXA DIGITAL EDITIONS FOR FREE, FREE FREE, FREE FREE FREE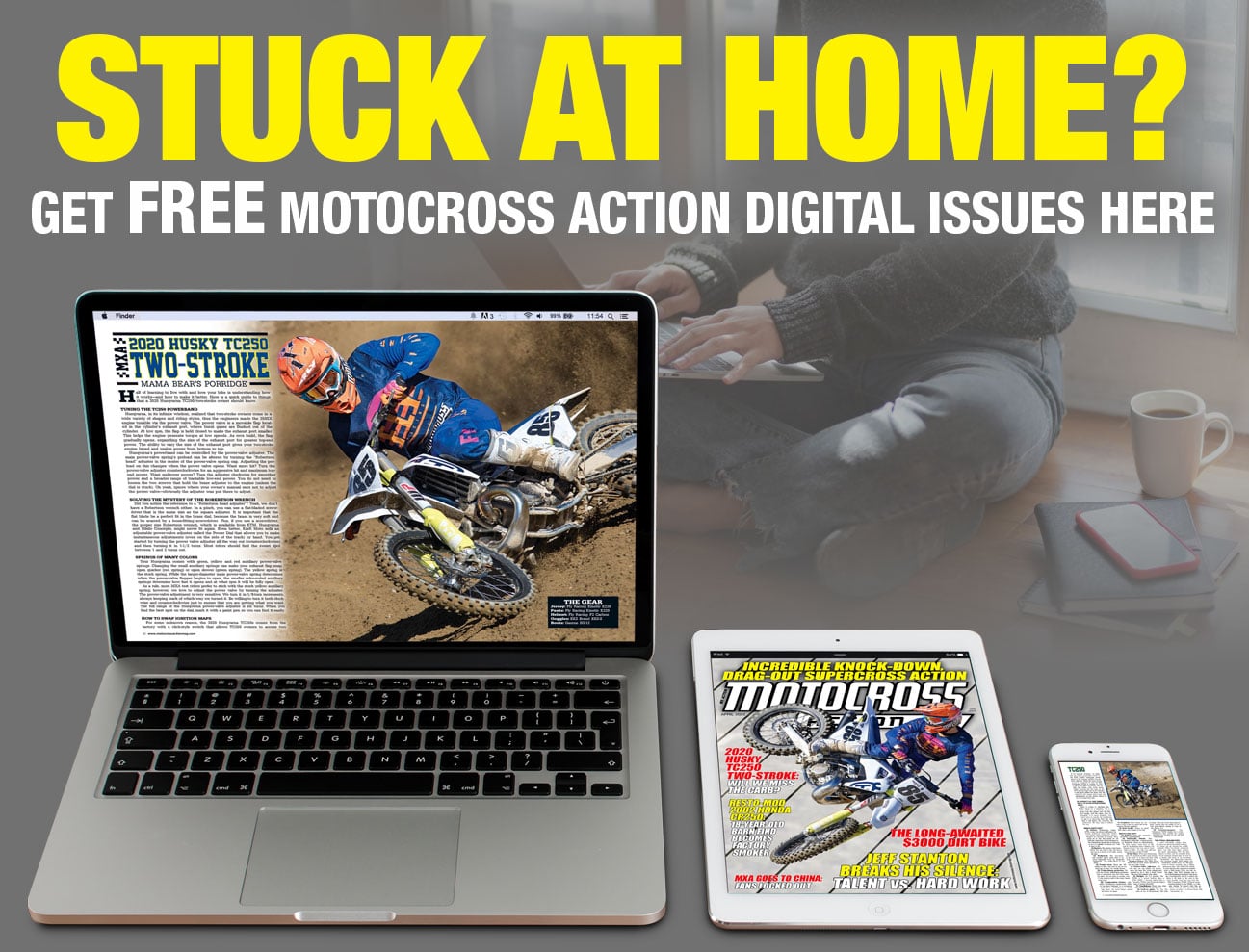 Click here or on the above photo to get your free digital issues.
THE EVER CHANGING 2020 RACE SCHEDULES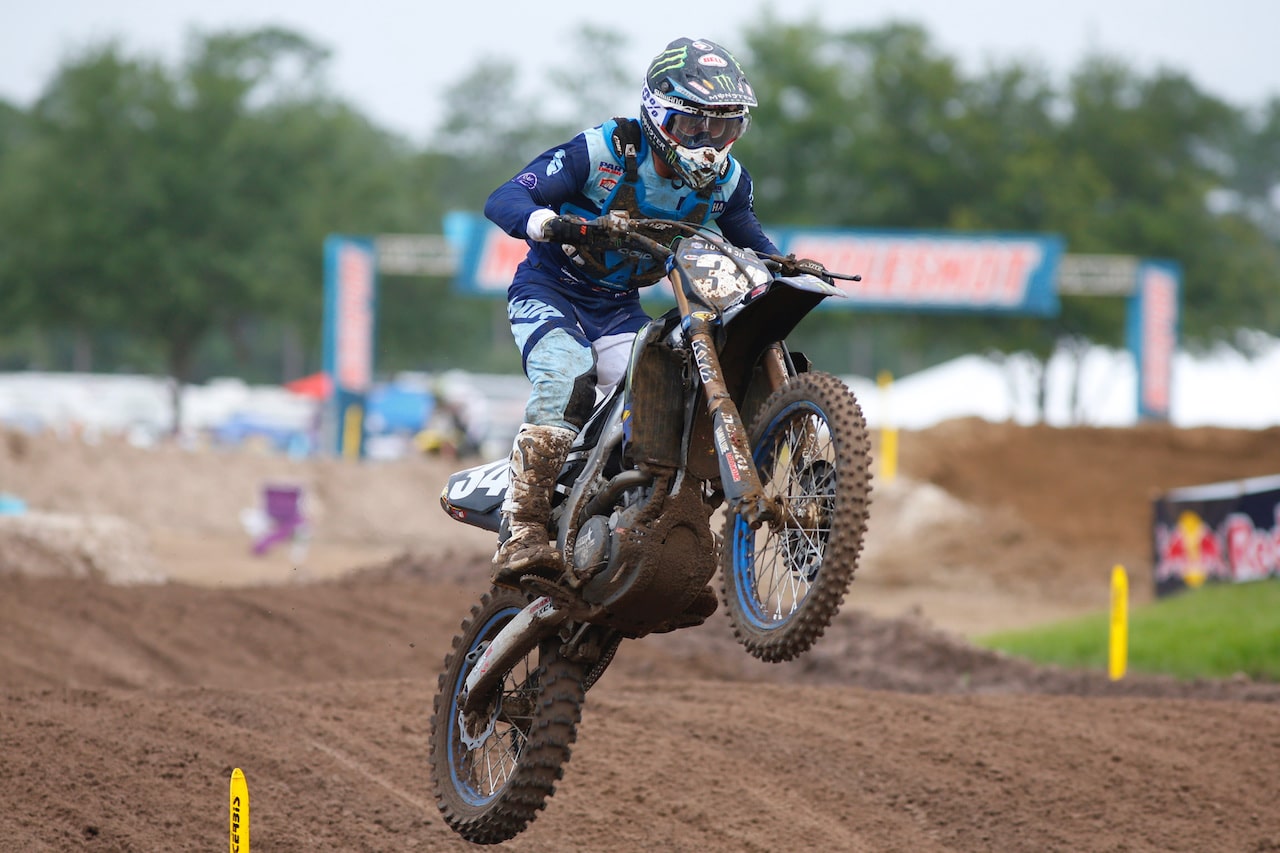 Jacksonville, Florida, has been named the second 250/450 National of the 2020 motocross season. It joins Crawfordsville and Pala on a schedule that has 10 "to-be-announced" dates. Don't expect every race on the National schedule to be held in 2020 (and that includes Pala).

TENTATIVE AMA NATIONAL  MOTOCROSS CHAMPIONSHIP
July 18…Crawfordsville, IN
July 25…Jacksonville, FL
TBA…Washougal, WA
TBA…Mt. Morris, PA
TBA…Southwick, MA
TBA…Red Bud, MI
TBA…Lakewood, CO
TBA…Unadilla, NY
TBA…Hurricane Mills, TN
TBA…Millville, MN
TBA…Budds Creek, MD
TBA…Pala, CA
REVISED 2020 FIM MOTOCROSS WORLD CHAMPIONSHIP
Mar. 1…Matterley, Great Britain (Held)
Mar. 8…Valkenswaard, Holland (Held)
Aug. 9…Kegums, Latvia
Aug. 16…Uddevalla, Sweden
Aug. 23…KymiRing, Finland
Sept. 6.…Afyonkarahisar, Turkey
Sept. 20…TBA
Sept. 27…MXDN, Ernee, France
Oct. 4…Trentino, Italy
Oct. 11..Arroyomolinos, Spain
Oct. 18…Agueda, Portgual
Oct. 25…Lommel, Belgium
Nov. 1…Jakarta, Indonesia
Nov. 8…TBA, Indonesia
Nov. 22…Neuquen, Argentina
Nov. 29…TBA
TBA…Loket, Czech Republic
TBA…Teutschenthal, Germany
TBA…Imola, Italy
TBA…Orlyonok, Russia
2020 FIM MOTOCROSS DES NATIONS
Sept. 27.…Ernee, France
REVISED 2020 CANADIAN NATIONAL CHAMPIONSHIP
July 25-26…Courtland, ON
Aug…1-2…Chatsworth, ON
Aug. 15-16…Walton, ON
Aug. 29-30…Sand Del Lee, ON
Sept. 5-6….Deschambault, QC
REVISED 2020 AUSTRALIAN NATIONAL MOTOCROSS CHAMPIONSHIP
Aug. 9…Connondale. QLD
Aug. 6…Maitland, NSW
Sept. 16…Newry, VIC
Sept. 12…Horsham, VIC
Oct. 4…Gympie, QLD
Oct. 11…Coolum, QLD
2020 AMA NATIONAL AMATEUR CHAMPIONSHIP
Aug. 3-8….Hurricane Mills, TN
2020 WISECO WORLD TWO-STROKE CHAMPIONSHIP
Oct. 3…Glen Helen, CA
2020 MONSTER ENERGY CUP
Oct. 10…Carson, CA
REM OCTOBERCROSS
Oct. 31…Glen Helen, CA
2020 DUBYA WORLD VET MOTOCROSS CHAMPIONSHIP
Nov. 6-8…Glen Helen , CA
JOIN MXA'S FLIPBOARD PAGE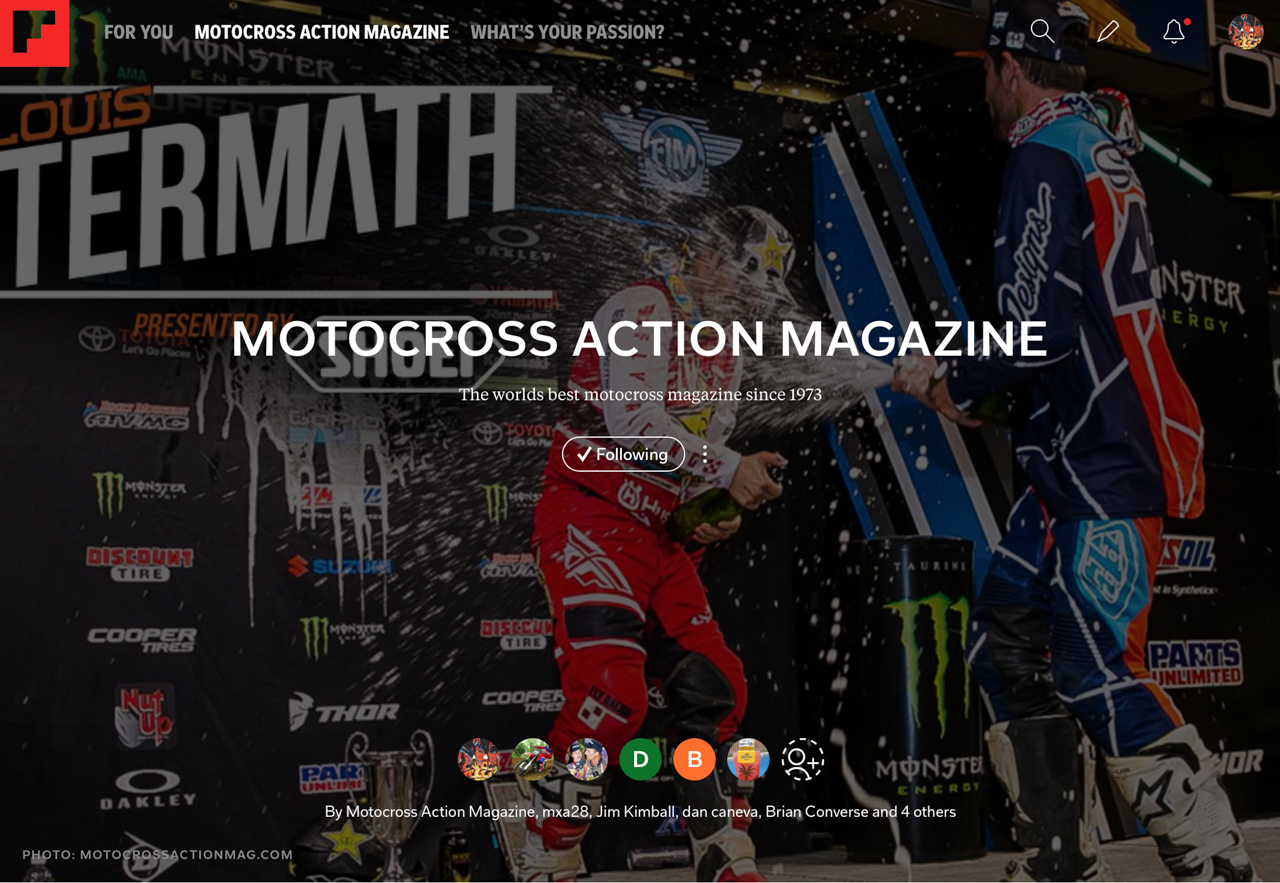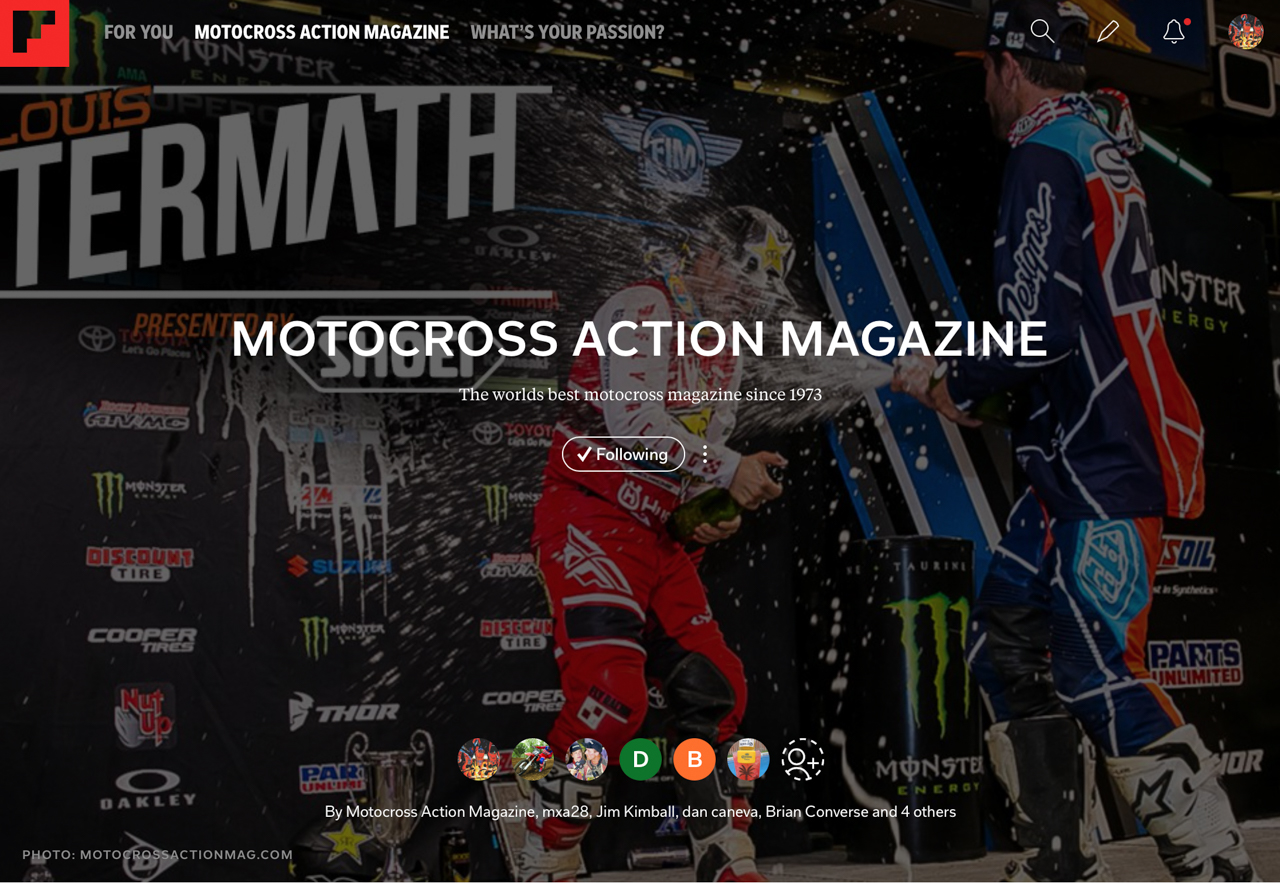 If you use Flipboard make sure to subscribe to the Motocross Action page for all the updates on our website. Click HERE to check out the page.