MXA'S WEEKEND NEW ROUND-UP: THE WEEK THAT WILL BE
BLAKE BAGGETT'S USADA LETTER FROM COLORADO: CLEAN AS A WHISTLE
Kudos to Blake for being open and forthcoming. According to sanctioning body MX Sports, every rider tested at Thunder Valley, 12 in all, passed their USADA tests — surprisingly, even James Stewart, who theoretically should have failed based on the prescription medicine he said he was taking when he failed his Supercross WADA test.
REAL TRUE-TO-LIFE RUMORS, BUT NOT NECESSARILY TRUE

Who da man? And, where's he going?
The silly season is silly, but it is human nature to try to be the first to know something, even if its not true. What is true is that it doesn't matter who signs with who in the summer of 2014—all that really matters is who lines up on what at the start of the 2015 season.

Eli Tomac: Eli has done himself a world of good over the last four races and since this is the last year of the Geico contract—he is suddenly the hot commodity. He didn't like his CRF450 during the Supercross season, does he like it enough now to stay in red? Eli could write his own ticket at this point in his career. Perhaps green would offer the most green.

Davi Millsaps: Davi has been taking flak for hiding out during the 2014 National season, but, in what can be considered to be the biggest gamble of 2015, he is at the top of the list at Team Kawasaki.

Husqvarna: With Husky getting ready for the 2014 season there may be four new job openings in the sport. It looks like Jason Anderson (shown above), Zach Osborne and Martin Davalos have filled three of them. We'd be looking at Weston Peick if we were Husqvarna.

Justin Barcia: Although he nursing an injury right now, he will be at Joe Gibbs Yamaha in 2015.

Ken Roczen: Kenny hasn't said a word about it, but he's leaving KTM to go to RCH Suzuki (and perhaps taking the number one plate with him).

Ryan Villopoto: No one knows what he is going to do, and based on past evidence perhaps Ryan doesn't either. He could fulfill the option year on his Team Kawasaki contract for 2015, he could race Supercross-only in 2015, he could go to Europe for Kawasaki (since Gautier Paulin will leave Kawasaki for the Honda GP team next year) or RV could quit. Given that he sold his Florida training compound and fired trainer Aldon Baker all signs point to…oh, who knows what they point to?

Dean Wilson:  Deano will join Ryan Dungey at Team KTM (in the 450 class). Word on the street is that Dean's Pro Circuit teammate Justin Hill will join him there (theoretically to ride the 250 class with Marvin Musquin—who KTM has not signed for 2015 yet).

Cole Seely: Cole will join Trey Canard at Team Honda — leaving no room at the inn for anyone else. Also there are strong rumors that Seely's current Troy Lee Design's team will switch to KTMs for 2015.

Arnaud Tonus: Tonus will join the Pro Circuit Kawasaki team in 2015. The GP rider will have to live through the 250 East Supercross series (which is all that any American team expects of a European transplant in his first year) so that he will be healthy enough to be a player in the 250 Nationals.

Martin & Webb: They already re-upped at Star Yamaha for 2015.

Chad Reed: We would expect Chad to give it one last try in Supercross before calling it quits. We don't expect him to race the Nationals ever again.

Ivan Tedesco: Ivan announced his retirement on Friday — effective immediately.

Chiara Fontanesi: Chiara Fontansesi repeated as the WMX Women's World Champion by five points over Aussie Meghan Rutledge. Livia Lancelot,  Steffi Laier and Nancy van De Ven rounded out the top five
ADAM CIANCIARULO BREAKS LEG… NO BIG DEAL SAYS ADAM

MEXICAN GRAND PRIX PREVIEW OR IS THAT PRIXVIEW?
PDR ANNOUNCES 3-DAY REAR SHOCK TURNAROUND
Press release: We are highly experienced and have the ability to serve both the large and small customers faster than anyone else. We have gained a reputation for some of the best work around.  We stand behind our product and feel that our knowledge and experience is what sets us apart from others.  We look forward to serving you as one of our new customers. We also offer a variety of other services, please be sure to check out our website at www.parmadaveracing.com or contact us at (440) 590-3213.
RIDE WITH KEN ROCZEN AS HE CHASES & PASSES RYAN DUNGEY AT MILLVILLE
 WHO'S WHO IN THE AMA NATIONAL ZOO: HEADING TO UNADILLA

Eli Tomac (3) missed the first four AMA 450 Nationals, but is already in the top ten in points.
DATE………..TRACK……….…..450………………..250
May 24………Glen Helen………..Ryan Dungey…………Jeremy Martin
May 31………Hangtown……….…Ken Roczen……………Jeremy Martin
June 7……….Thunder Valley…..Ken Roczen……………Blake Baggett
June 14………Mt. Morris…………James Stewart…….…Blake Baggett
June 28………Muddy Creek…….Ken Roczen……………Cooper Webb
July 5…………Red Bud…………….Ken Roczen…………..Jeremy Martin
July 12……….Budds Creek……….Ryan Dungey…….….Blake Baggett
July 19……….Millville…………….,.Eli Tomac……………..Jeremy Martin
July 26……….Washougal…………Ryan Dungey…….….Marvin Musquin
Aug. 9…………Unadilla…………
Aug. 16……….Indiana…………..
Aug. 23………..Miller …………..
450 Points Leader: Ken Roczen
250 Points Leader: Jeremy Martin
STANTON, CARMICHAEL & EMIG AT THE EVERTS CHARITY RACE
450 AMA NATIONAL POINTS STANDINGS AFTER WASHOUGAL
Ken Roczen lost 10 points of his 24 point lead at Washougal — he now leads Ryan Dungey by 14 points with three races left.
(After 9 of 12 races)
1. Ken Roczen……………..407
2. Ryan Dungey…………..393
3. Trey Canard…………….330
4. Brett Metcalfe………….256
5. James Stewart………….226
6. Josh Grant……………….218
7. Andrew Short……………218
8. Weston Peick……………217
9. Eli Tomac…………………212
10. Chad Reed………………156
250 AMA NATIONAL POINTS STANDINGS AFTER WASHOUGAL
Jeremy Martin.
(After 9 of 12 races)
1. Jeremy Martin……………377
2. Cooper Webb……………..334
3. Blake Baggett……………..323
4. Marvin Musquin…………291
5. Justin Bogle……………….274
6. Christophe Pourcel……..274
7. Jason Anderson………….236
8. Cole Seely…………………..212
9. Jessy Nelson……………….185
10. Alex Martin……………….150
MEMORIES OF THE WAY WE WERE

Where were you on April 5, 1981. We know where we were.
TAKE A LAP OF SOCAL'S COMPETITIVE EDGE TRACK …ON THE 2015 CRF250
WHAT'S HAPPENING IN THE WORLD OF MOTOCROSS?


The Loretta Lynn National Amateur Championship runs from July 27 to August 2.

July 27……..AMA Supermoto Championship…………………..Salt Lake City, UT
July 27……..250/450 FIM World Championship……………..Czech Republic
July 27……..WMX Women's World Championship………….Czech Republic
July 27……..Canadian National Championship……..…………Deschambault
July 27-Aug.2……Loretta Lynn National Amateur….………..Hurricane Mills, TN
August 3…….Australian National Championship……………..Raymond Terrace, NSW
August 3…….250/450 FIM World Championship…………….Belgium
August 3…….300cc Two-Stroke Championship……………….Belgium
August 3…….All-Japan National Championship………………Sugo, Japan
August 3……..Canadian National Championship……..……….Riverglades
August 3……..WORCS Offroad Championshp……..……………McC;eary, WA
August 3…….World Sidecar Motocross Championship………Estonia
August 5-6……16th Annual Surfercross……………………………Trail 6, CA
THIS WEEK'S BIRTHDAY BOYS  & ONE GIRL

July 26…Sarah Whitmore
July 26…Oscar Wirdeman
July 27…Aleksandr Tonkov 1993
July 27…Trampas Parker 1967

July 29…Matt Rebeaud 1982

July 30…Josh Hill 1989
July 30…Jeff Dement 1975

July 31…Blake Wharton 1991
Aug. 1…Vince Arimitsu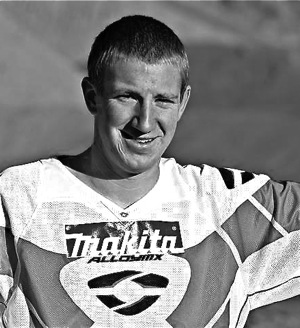 Aug. 1…Broc Hepler 1986
Aug. 1…Frankie Latham
ROUND 4 OF THE REM SUMMER SERIES ON SATURDAY, AUGUST 1

For more info go to www.remsatmx.com
WHO'S FIRST TO THE FIRST TURN THE MOST TIMES
Christophe Pourcel has the most holeshots in the 250 Nationals.
450 CLASS
1. Ryan Dungey……………5
2. Josh Grant………………2
2. Chad Reed………………2
2. Ken Roczen…………….2
2. Eli Tomac……………….2
6. Jake Weimer…………..1
6. Trey Canard……………1
6. Justin Brayton…………1
250 CLASS
1. Christophe Pourcel….5
2. Zach Bell………………..3
2. Justin Bogle……………3
4. Jeremy Martin………..2
5. Jessy Nelson……………1
5. Matt Bisceglia………….1
5. Joey Savatgy……………1
WORKS CONNECTION KAYABA PSF AIR FORK SWIVELING AIR VALVE


If you own a new CRF450 or KX450F with Kayaba PSF, you know that checking and adjusting the air pressure in the forks is not easy. If you add oversized bars the problem gets worse.
Works Connection came up with a product that makes checking and adjusting the air pressure in your PSF forks very simple and quick (no matter what position your handlebar mounts are in). For more info go to www.worksconnection.com