MXA'S WEEKEND NEWS ROUND-UP: MORE FUN THAN A BARREL OF MONKEYS
MXA RACE POSTER UPDATE: WHAT'S ON DECK IN MX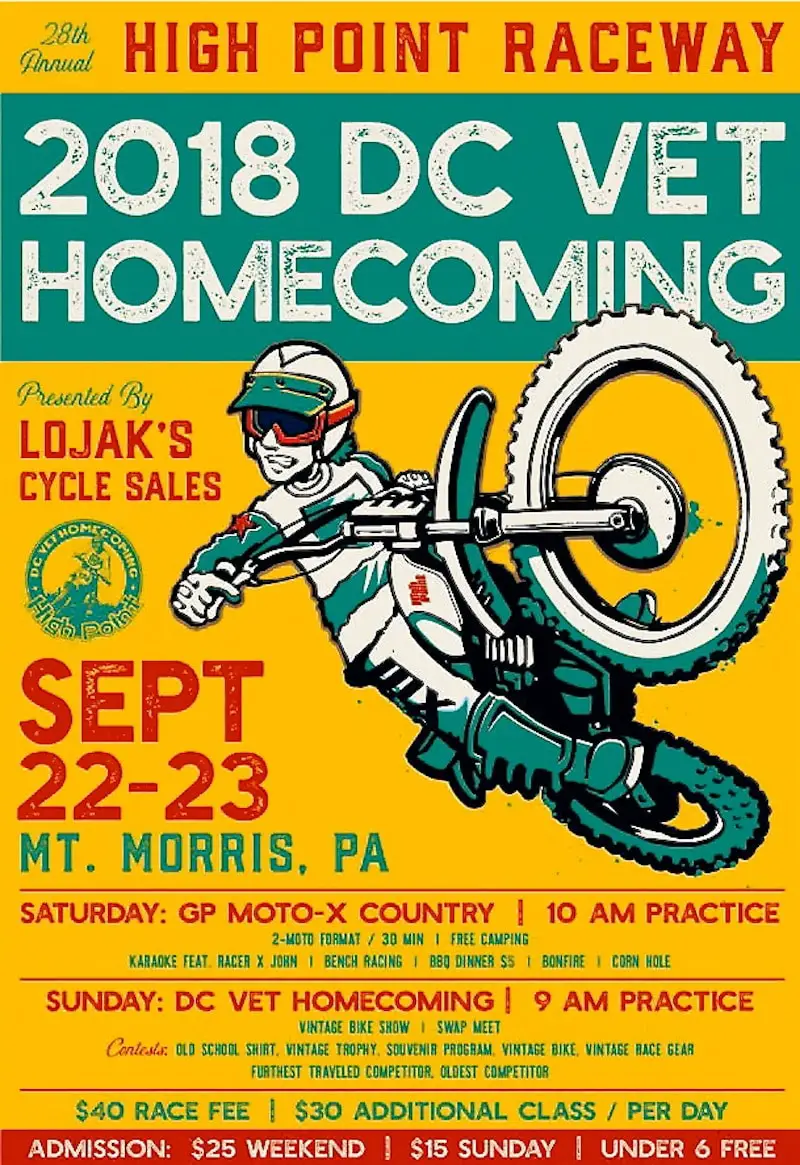 2018 DC VETS HOMECOMING MOTOCROSS ON SEPT. 22-23 AT MT. MORRIS
For more info go to www.highpointmx.com
MAXIMA 927 TWO-STROKE RIDE DAY TOMORROW AT GLEN HELEN
On Thursday, September 27, Maxima Racing Oils will be celebrating a day for two-stroke—called "927 DAY." The Maxima staff will be at Glen Helen Raceway showing off their newest products, providing product support and giving those on two-strokes some free goodies! "The Dogger" Ron Lechien will also be there spinning laps on his KX500 and signing posters. The first 100 two-strokes through the gate will get a free bottle of Castor 927 and a cool T-shirt! Normal hours and gate fee applies. For more info go to www.GlenHelen.com.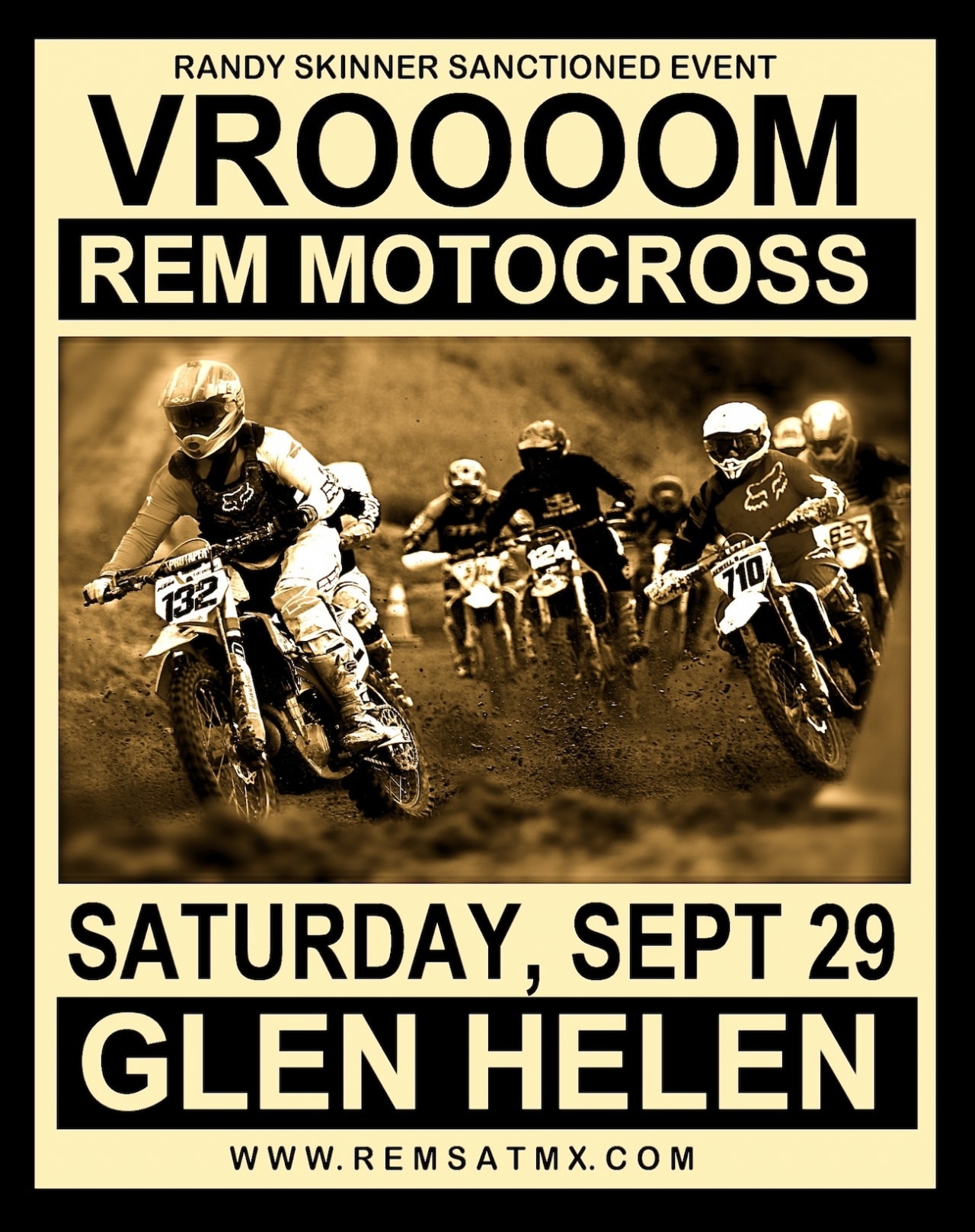 REM GLEN HELEN MOTOCROSS RETURNS ON SEPTEMBER 29
For more info go to www.remsatmx.com.
BOYESEN BUDDY BOOGIE SPEED FESTIVAL OCTOBER 5-7
Held on October 5-7, 2018, at the Pagoda Motorcycle Club in Birdsboro, PA. For more info go to www.pagodamc.org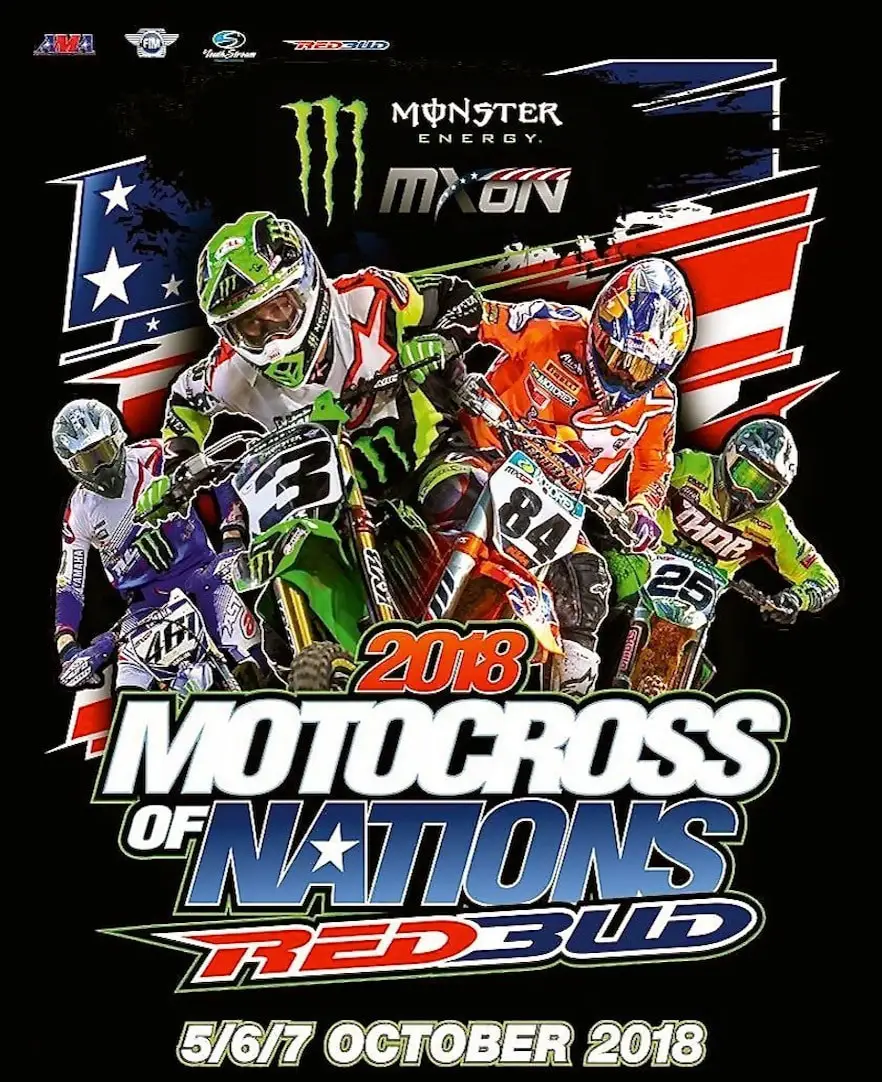 2018 MOTOCROSS DES NATIONS AT RED BUD ON OCT. 6-7
For more information go to www.redbudmxon.com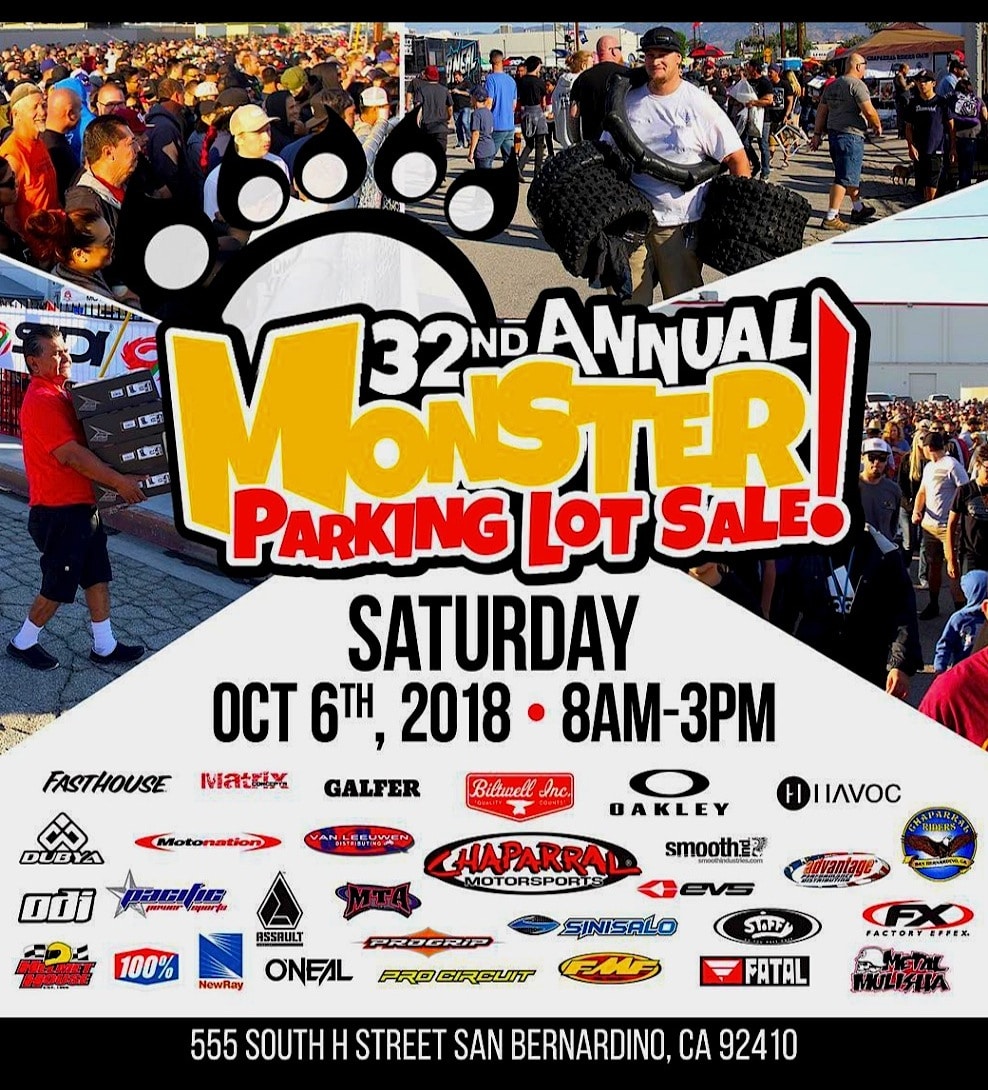 32nd ANNUAL CHAPARRAL MOTORSPORTS' PARKING LOT SALE ON OCT. 6
For more info go to www.chapmoto.com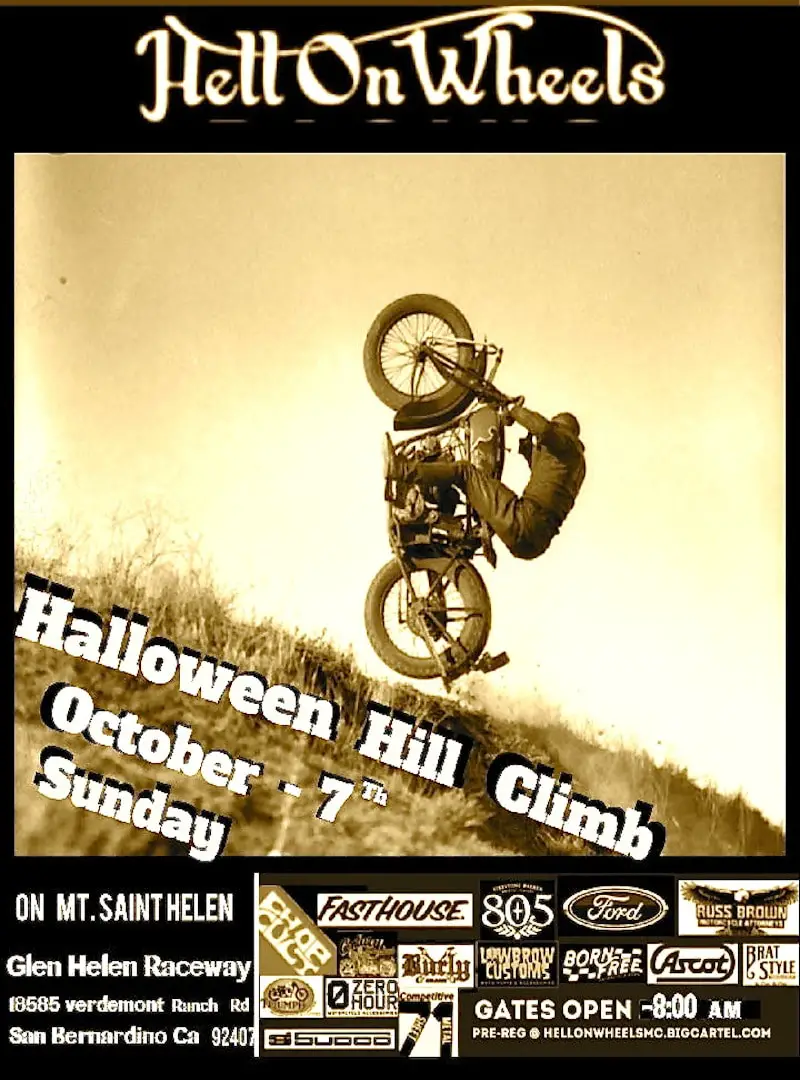 HALLOWEEN HILL CLIMB UP GLEN HELEN'S MT. SAINT HELEN ON OCT. 7
To pre-register mail to [email protected]
2018 MARSEILLE SUPERCROSS ON OCT. 12-13
For more information go to www.supercrossinternationalmarseille.com

IDAHO "FREECROSS" ON OCTOBER 12-14 IN CASCADE
For more information go to www.imopromotions.com
AIM EXPO MOTORCYCLE SHOW IN LAS VEGAS ON OCT. 13-14
For more info go to www.aimexpousa.com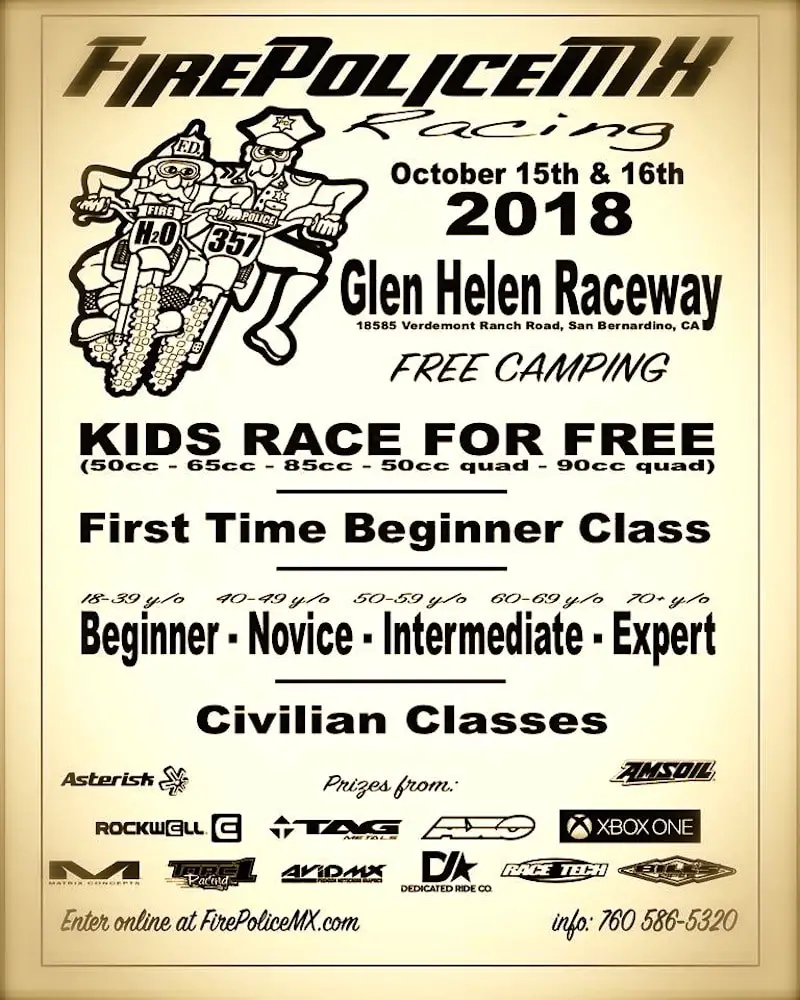 POLICE & FIRE MOTOCROSS ON OCTOBER 15-16 AT GLEN HELEN
Civilians are welcome to come out and race the Monday-Tuesday event. Pre-enter at www.firepolicemx.com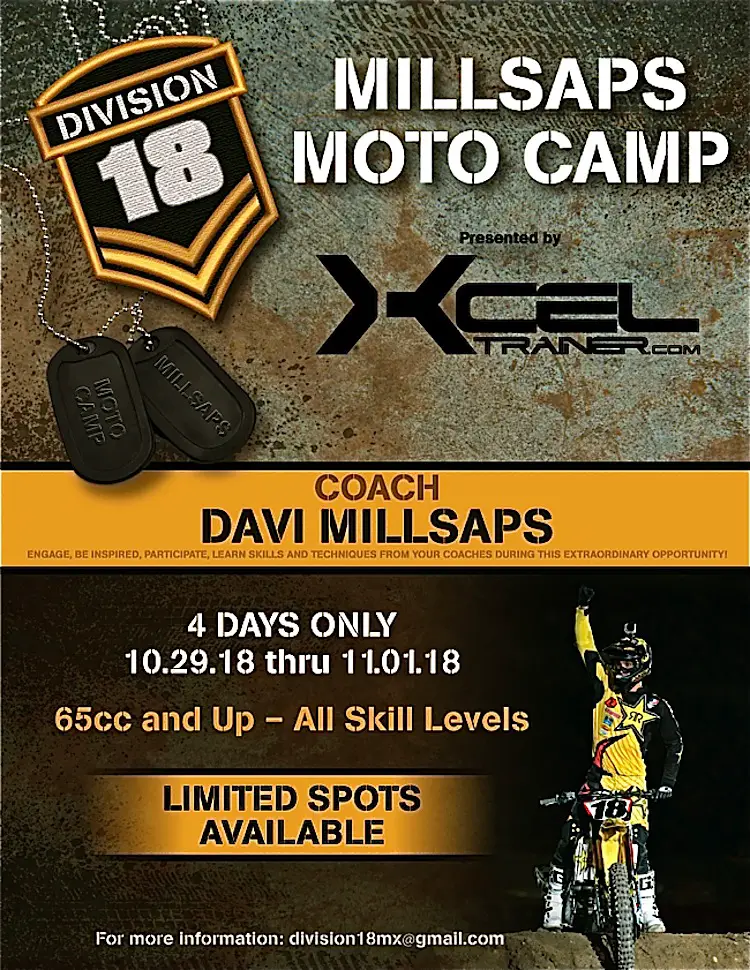 DAVI MILLSAPS "DIVISION 18" MOTO CAMP: OCT. 29 – NOV. 1
It will be held in Ft. Pierce, Florida, at the Xcel training compound. For more info email to [email protected]

2018 JAPAN SUPERCROSS ON NOVEMBER 3
Dylan Ferrandis, Malcolm Stewart, Aaron Plessinger, Justin Brayton, Christian Craig, Jimmy Decotis and Weston Peick have signed on so far. For more info go to www.japansupercross.com
2018 DUBYA WORLD VETERAN MOTOCROSS CHAMPIONSHIP ON NOV. 3-4 AT GLEN HELEN
For more information go to www.worldvetmx.com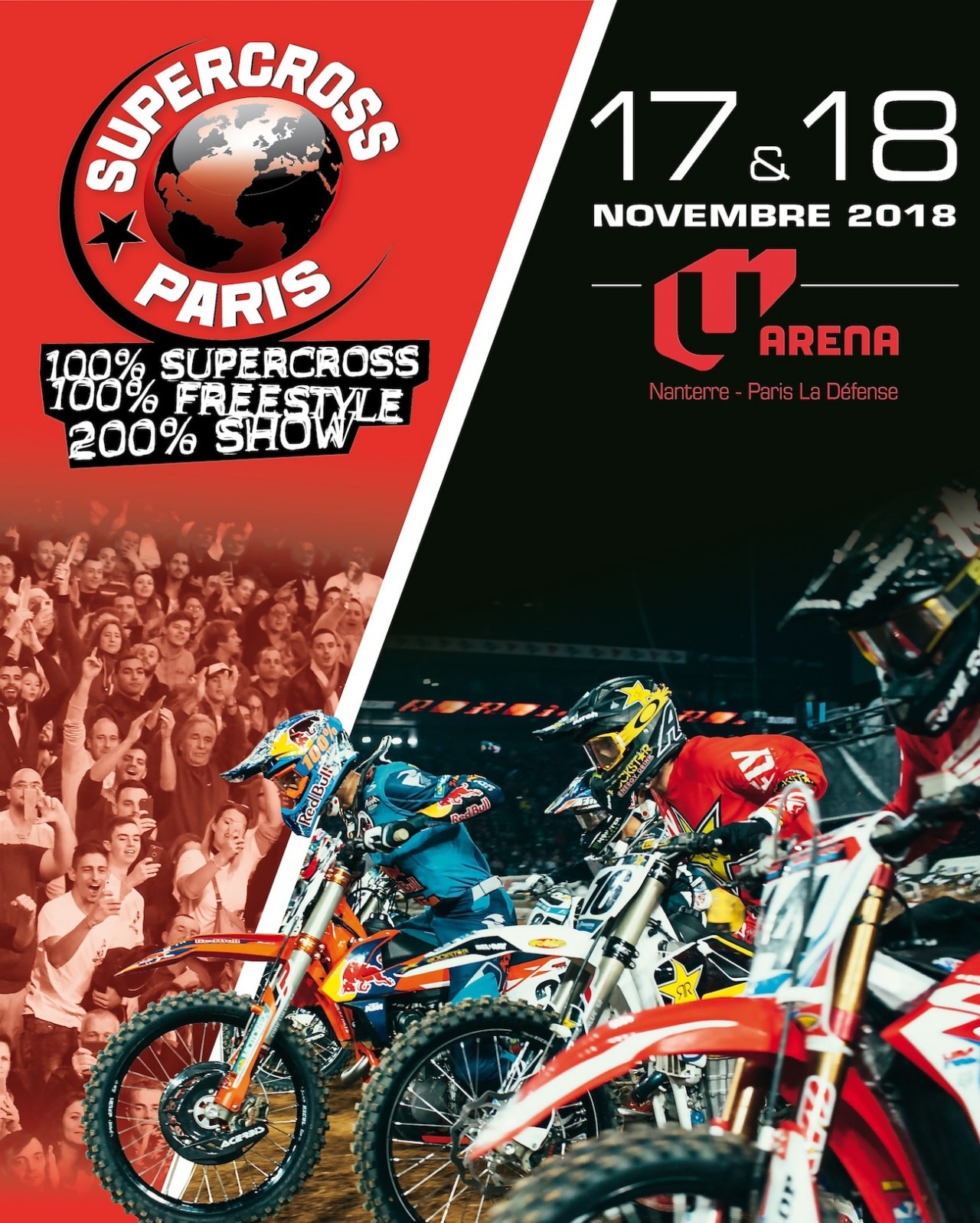 2018 PARIS SUPERCROSS ON NOVEMBER 17-18
For more info, brush up on your high school French and then go to www.supercrossparis.com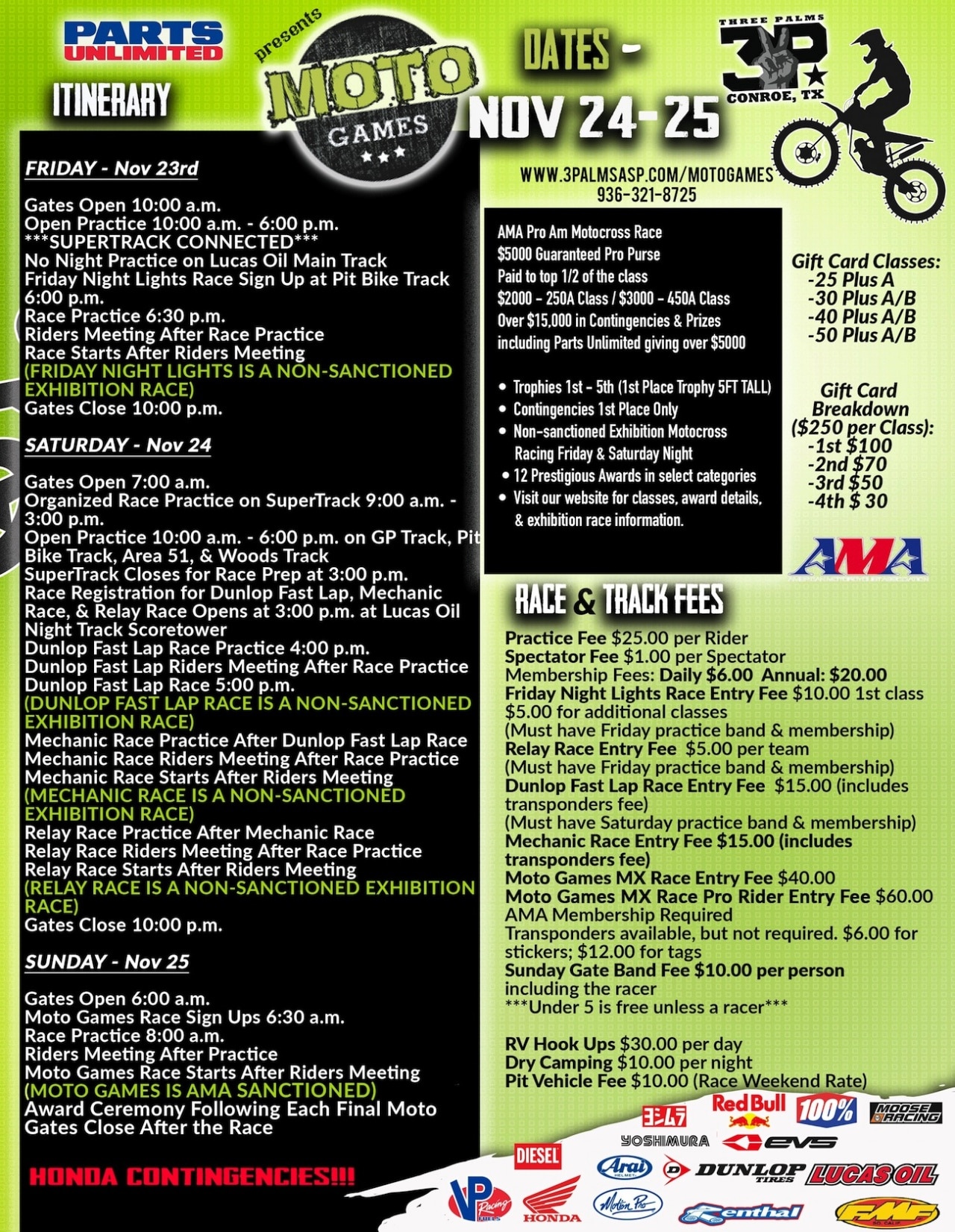 THREE PALMS "MOTO GAMES" ON NOV. 24-25
For more information (although they seemed to have squeezed everything short of "War and Peace" into their poster) go to www.3palmsasp.com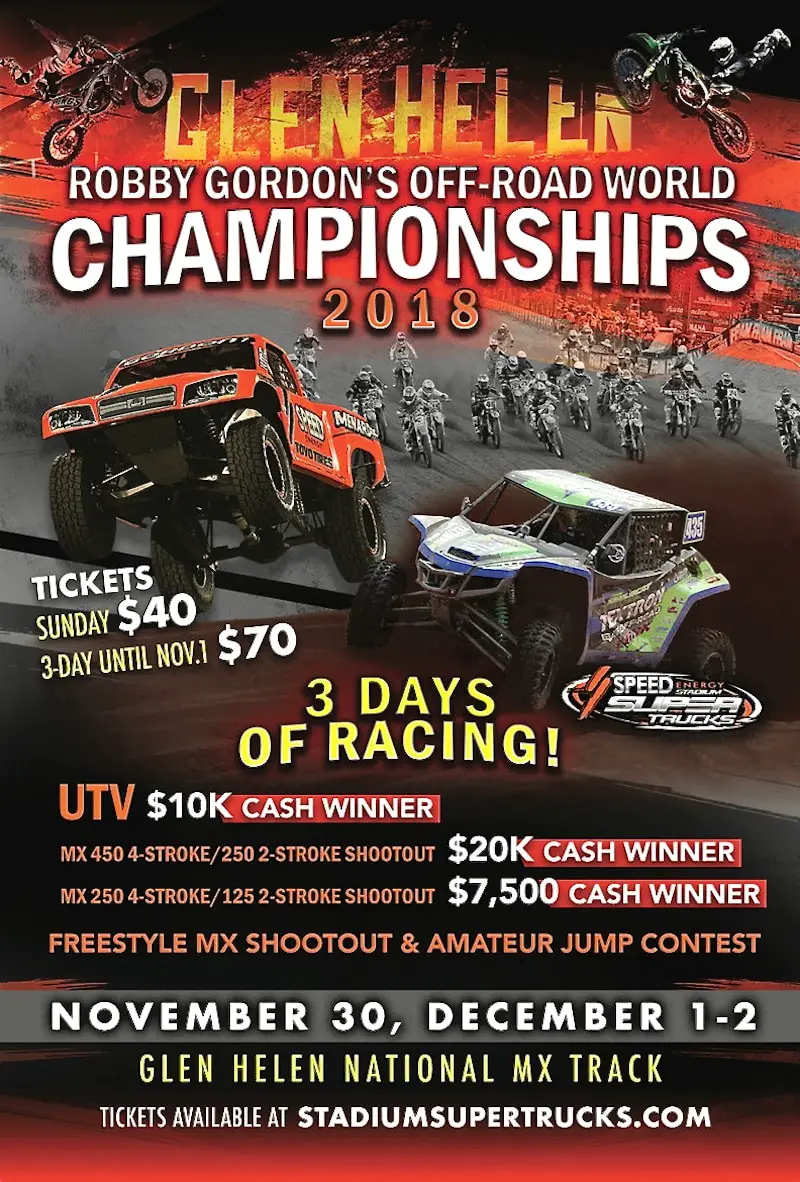 2018 ROBBIE GORDON OFFROAD WORLD CHAMPIONSHIPS ON NOV. 30—DEC. 1
$20,000 to the winner of the 450 class and $7500 to the winner of the 250 class. For more info go to www.stadiumsupertrucks.com

BIRTHDAYS OF THE WEEK: ERIK KEHOE, DAVE THORPE, RYAN SIPES & VICTOR SHELDON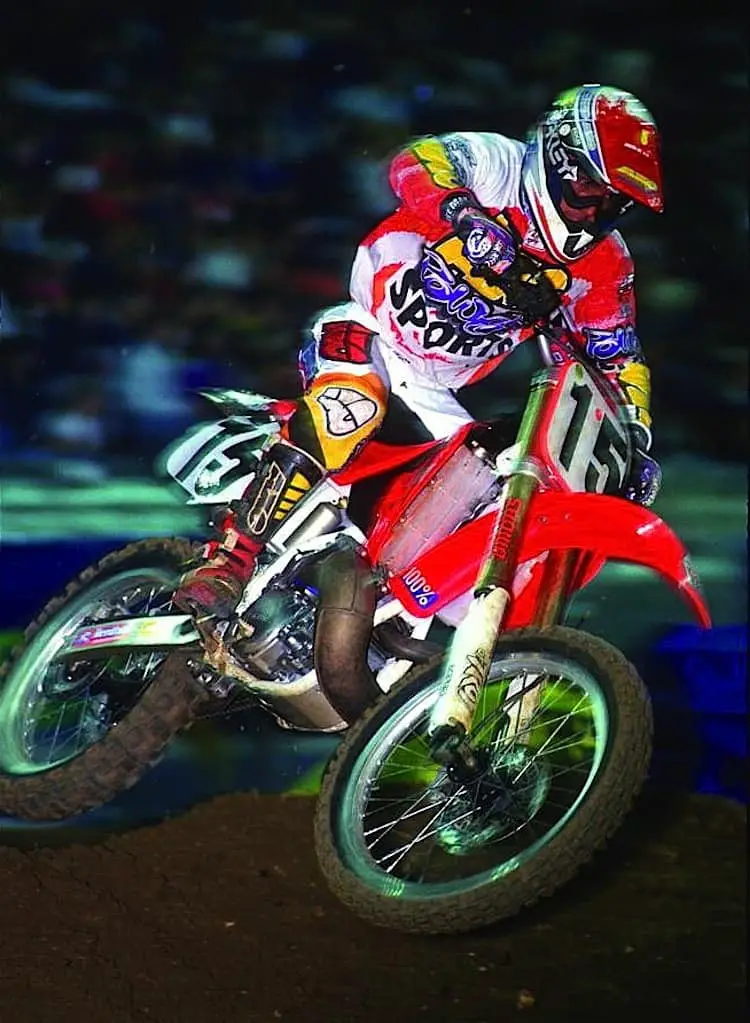 Sept. 28…Erik Kehoe 1964
Sept. 28…Danny Massie
Sept. 28…Gregory Aranda 1989
Sept. 29…Dave Thorpe 1962
Sept. 29…Ricky Dietrich 1987
Oct. 1…Bobby Kiniry 1985
Oct. 1…Dana Wiggins
Oct. 1…Jon Ortner 1961
Oct. 2…Victor Sheldon
Oct. 2…Jim Neese
Oct. 3…Grayson Goodman 1971
Oct. 3…Kinney Jones
Oct. 4…Ryan Sipes 1984
Oct. 4…Jeremy Garges
Oct. 4…Nathan Watson 1995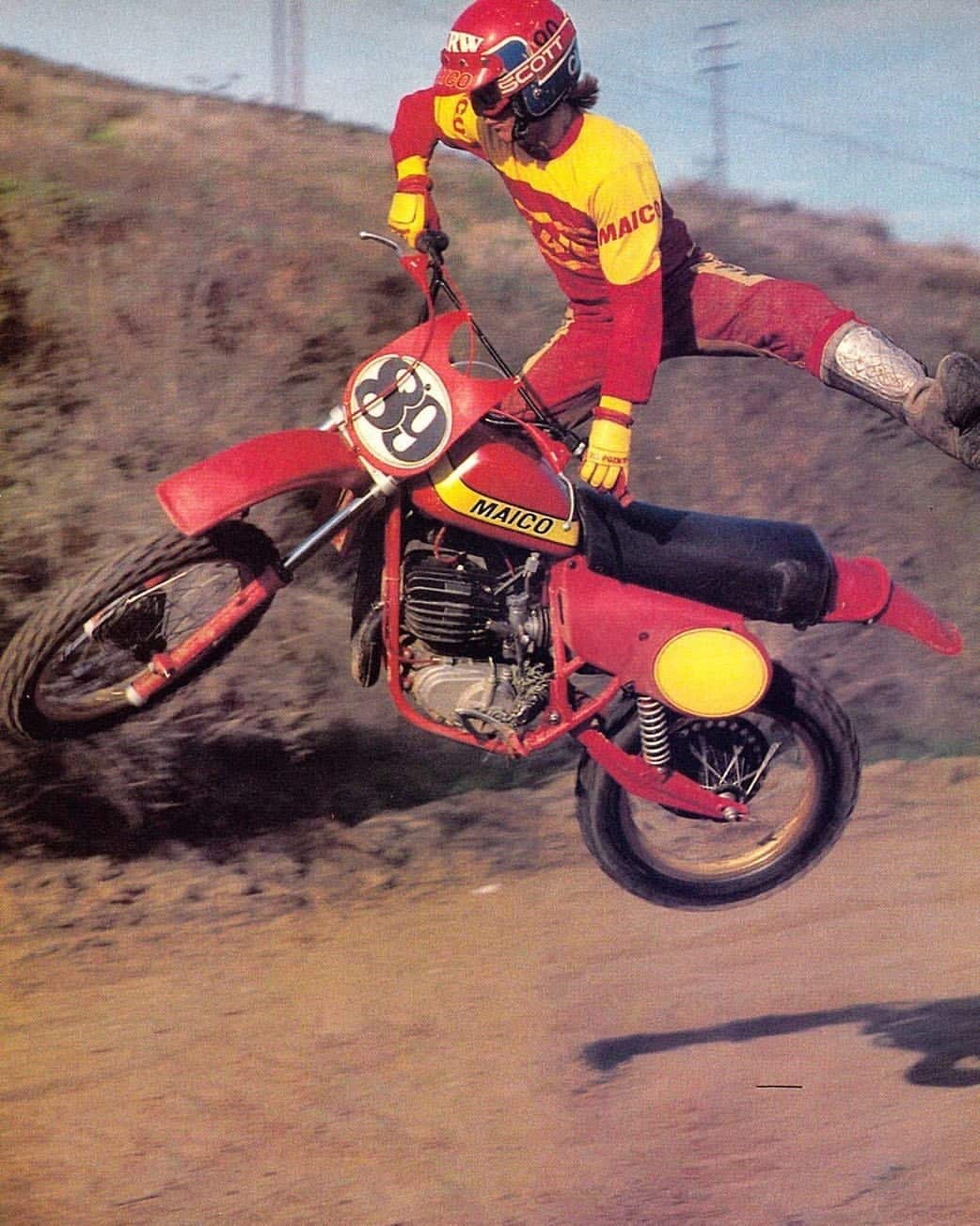 Oct. 5…Danny Chandler 1959
Oct. 5…Johnny Marley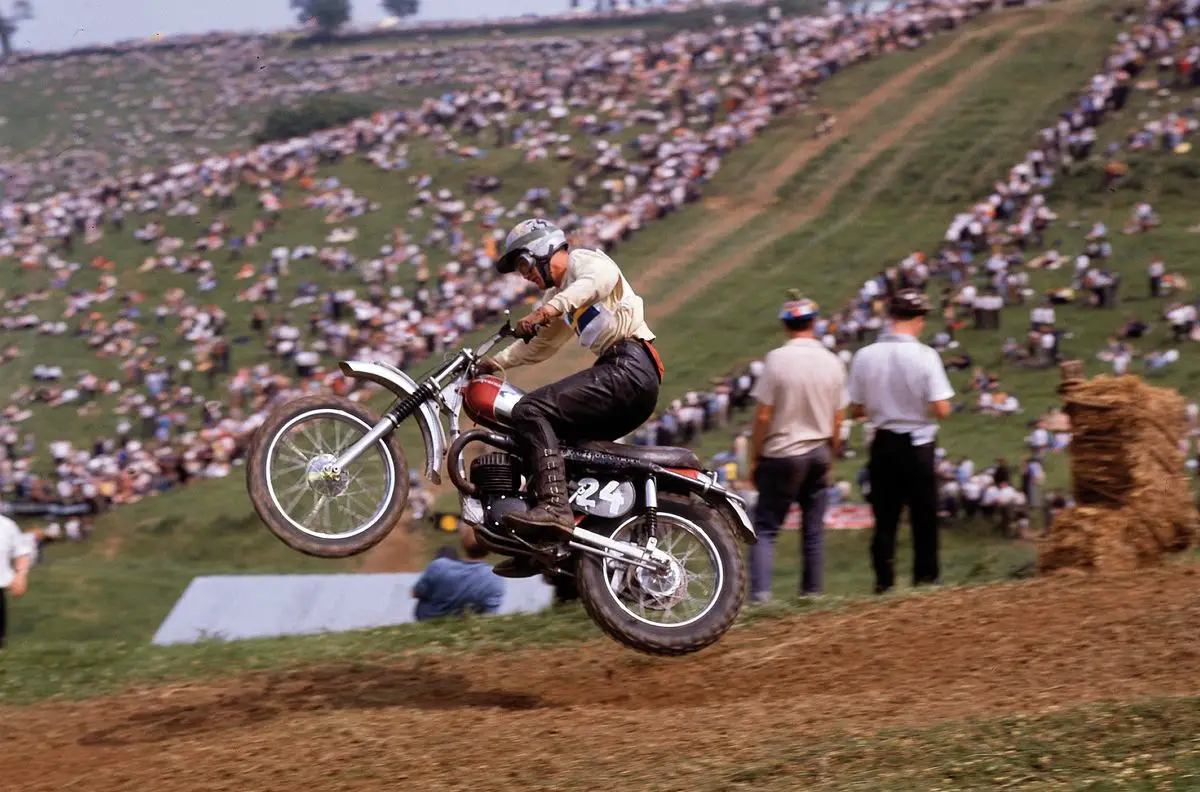 Oct. 5…Ake Jonsson 1942
Oct. 5…Randy Valade

MXA COVER OF THE WEEK: "TOMORROW'S MX BIKES" NEVER GOT HERE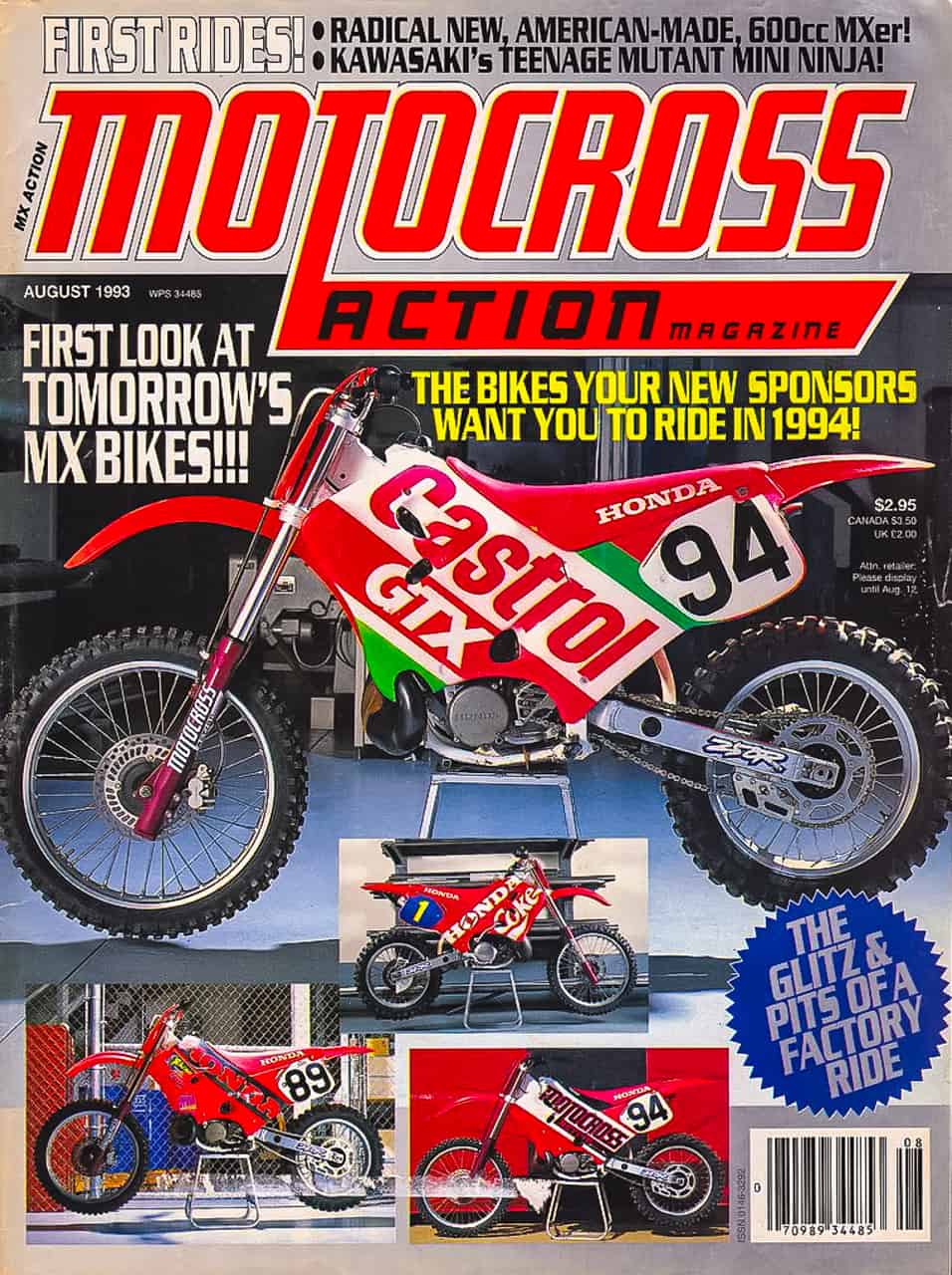 There is little doubt that the lack of signage on motocross bikes has hurt them when it comes to signing outside sponsors. Over 25 years ago, Slater Skins and Rhino Skins tried to get race teams to switch to bodywork that would allow sponsors logos to be visible from the stands. Although a handful or Arenacross and freestyle riders adopted them, no race teams took the plunge because the motorcycle manufacturers didn't want the teams to cover up the look of their bikes.
JASON ANDERSON ON HIS FULL-WORKS HUSQVARNA TC250 TWO-STROKE
MXA PRODUCT SPOTLIGHT: LEATT 2.5 KIDS CHEST PROTECTOR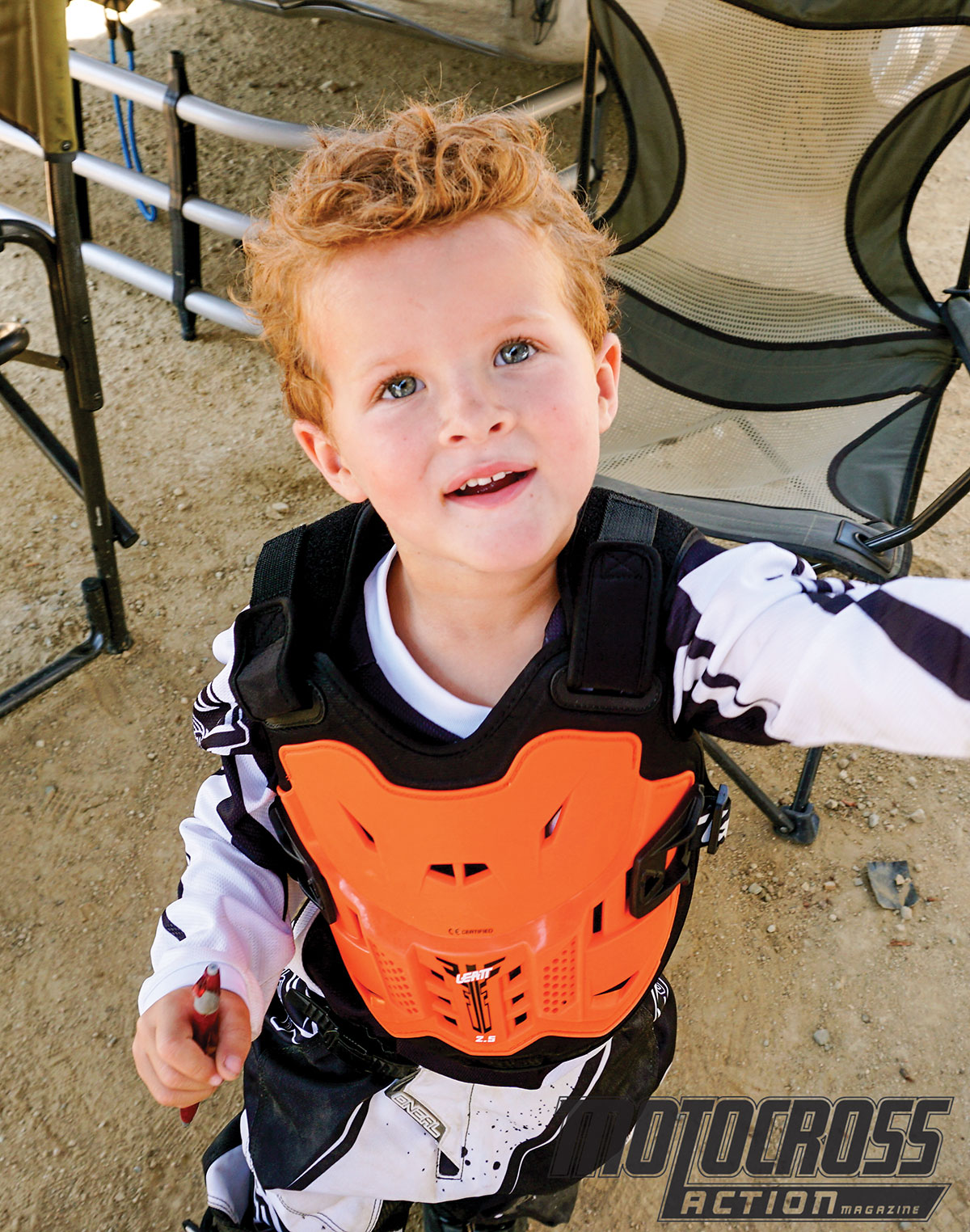 Have you ever tried to find riding gear for little Johnny. We went looking for gear that would fit a 4- to 7-year-old kid. Virtually every helmet, boot, glove and chest protector was way too big. That's why we were thrilled to find the Leatt 2.5 chest protector. It's small—so small that it would barely fit on the thigh of an adult rider.The Leatt 2.5 chest protector is designed for riders who are between 3-foot-7 and 4-foot-5. It is CE-certified as roost protection (EN 14021) and made from extremely tough HDPE plastic and washable biofoam. The clamshell-style Leatt 2.5 chest protector comes in black or orange.
It is important that a chest guard fit snugly against the body. This not only allows for more movement, but keeps the plastic pieces where they should be in a crash. The Leatt clamshell does a great job of covering the chest and back of a small rider. Parents feel more confident with the addition of hard plastic protection over the flak-jacket style of upper-body coverage. The 2.5's clamshell offers very good wrap-around coverage—not just for the chest and back, but for the ribs also.
The Leatt 2.5 is the best chest and back protection that a parent could find for a small racer. It is a unique product because it meets the needs of an under-represented segment of the motocross market. The Leatt 2.5 chest protector is protective enough to calm the fears of a parent, but sleek and slim enough for a small child to want to wear.
DIGITS? $59.00—www.leatt.com or (800) 691-3314.
MXA RATING: When a kid is too small to wear readily available motocross gear, that doesn't stop him from wanting to ride. Leatt's 2.5 chest protector addresses a market that very few companies ever think about—4-year-olds.
2019 MOTOCROSS ACTION 450 SHOOTOUT: THE REAL WINNER AND ITS WORTHY CONTENDERS
2018 GRAND PRIX WINNERS: THE 20TH & LAST GP IS ON SUNDAY

If Jeffrey Herlings wins in Italy this Sunday he will have won 17 of 20 GPs in 2018.
Date            Venue                      450                              250
Mar. 4……..Argentina…………..Jeffrey Herlings………..Pauls Jonass
Mar. 18……Holland #1………….Jeffrey Herlings………..Pauls Jonass
Mar. 25……Spain………………….Tony Cairoli……………..Pauls Jonass
Apr. 8………Italy #1………………Jeffrey Herlings………..Jorge Prado
Apr. 15…….Portugal…………….Jeffrey Herlings……….Jorge Prado
May 1………Russia……………….Clement Desalle……….Pauls Jonass
May 13…….Latvia………………..Jeffrey Herlings………..Thomas Kjer Olsen
May 20…….Germany……………Jeffrey Herlings……….Jorge Prado
June 3………England……………Jeffrey Herlings……….Pauls Jonass
June 10…….France……………..Jeffrey Herlings……….Jorge Prado
June 17…….Italy #2……………..Tony Cairoli……………..Jorge Prado
July 1……….Indonesia #1…….Jeffrey Herlings………..Calvin Vlaanderen
July 8……….Indonesia #2…….Jeffrey Herlings………..Jorge Prado
July 22……..Czech Rep……….Jeffrey Herlings………..Jorge Prado
Aug. 5………Belgium……………Jeffrey Herlings………..Jorge Prado
Aug. 19…….Switzerland……….Jeffrey Herlings………..Jorge Prado
Aug. 26…….Bulgaria……………Jeffrey Herlings………..Jorge Prado
Sept. 2…….Turkey………………..Jeffrey Herlings…………Thomas Covington
Sept. 16……Holland #2…………Jeffrey Herlings………..Jorge Prado
Sept. 30……Italy #3
450 Champion…Jeffrey Herlings (KTM)
250 points leader…Jorge Prado (KTM)
FIM WORLD CHAMPIONSHIP POINTS WITH ONE RACE LEFT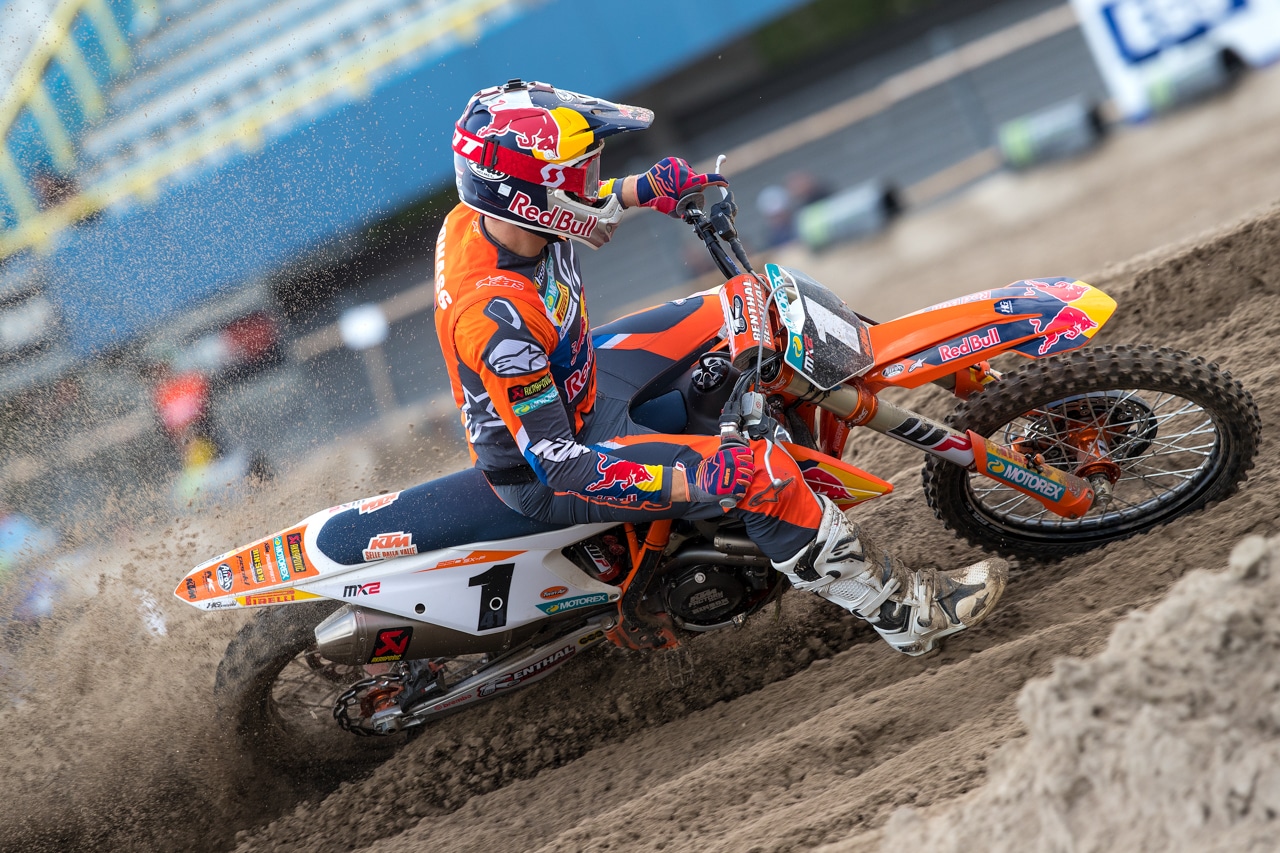 Pauls Jonass (1) most likely will be handing his number one plate to Jorge Prado in Italy—unless a Corrado Maddii event happens.

CURRENT 2018 250 GRAND PRIX POINTS
(After 19 of 20 rounds)
1. Jorge Prado…823
2. Pauls Jonass…777
3. Thomas Kjer Olsen…633
4. Ben Watson…585
5. Thomas Covington…565
6. Calvin Vlaanderen….521
7. Jago Geerts…366
8. Michele Cervellin…365
9. Hunter Lawrence…331
10. Henry Jacobi…311
Roman Febvre's season ended early with an injury—he will most likely slip to sixth in the 450 World standings and he won't be riding for Team France at the Motocross des Nations either. He has been replaced by Jordi Tixier.

CURRENT 2018 450 GRAND PRIX POINTS
(After 19 of 20 rounds)
1. Jeffrey Herlings…883
2. Tony Cairoli…782
3. Clement Desalle…645
4. Tim Gajser…619
5. Romain Febvre…544
6. Gautier Paulin…541
7. Glenn Coldenhoff…511
8. Jeremy Seewer…445
9. Jeremy Van Horebeek…404
10. Max Anstie…366
SUBSCRIBE TO MXA & GET A $25 CHAPARRAL GIFT CARD—YOU MAKE A PROFIT BY READING MXA

If you had subscribed to Motocross Action, the October 2018 issue of MXA would be in your mailbox, computer or iPhone already. It has tests of the  2019 KTM 250SXF, 2019 Kawasaki KX450, 2019 Yamaha YZ450F, FMF's 45th Anniversary Husqvarna FC450, Retro-Test of Scott Sheak's 2001 Plano Honda CR125 and the cover bike—MX-Tech's KTM125SX two-stroke. Plus, a Justin Barcia interview where he tells what it was like to come back from the brink. And everything that you ever wanted to know about everything moto.

Do you subscribe to MXA? You should. We know that you think that print magazines are dead and that the internet will fill the void, but most of the stuff in the current issue of MXA won't appear on the web for several months, if at all. Luckily, you can get all of MXA on your iPhone, iPad, Kindle or Android by going to the Apple Store, Amazon or Google Play or in a digital version. Even better you can subscribe to Motocross Action and get a $25 Chaparral gift card to spend on whatever motorcycle parts or products you need. You can call (800) 767-0345 or www.hi-torque.com/product/motocross-action or click on the box at the bottom of this page.
2019 RACE SCHEDULE: FOR THOSE WHO CAN'T WAIT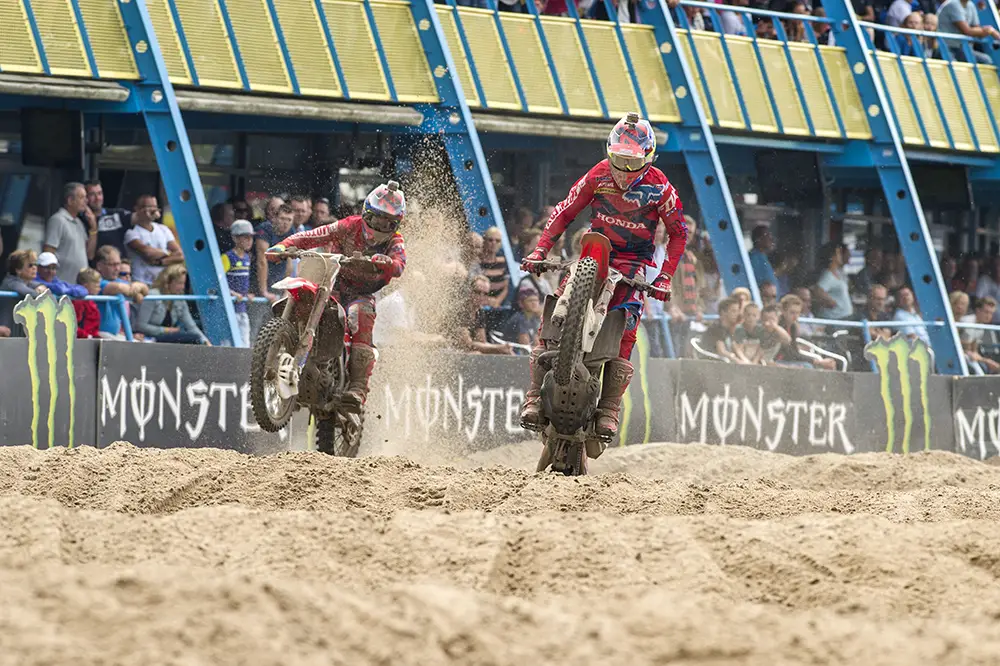 The 2019 Motocross des Nations will be held at the Assen road race circuit in Holland. It is a man-made sand track built on the front straight.
2019 AMA SUPERCROSS SERIES
Jan. 5…………………………….Anaheim, CA
Jan. 12………………………….Glendale, AZ
Jan. 19………………………….Anaheim, CA
Jan. 26………………………….Oakland, CA
Feb. 2……………………………San Diego, CA
Feb. 9…………………………..Minneapolis, MN
Feb. 16………………………….Arlington, TX
Feb. 23………………………….Detroit, MI
Mar. 2……………………………Atlanta, GA
Mar. 9……………………………Daytona Beach, FL
Mar. 16………………………….Indianapolis, IN
Mar. 23………………………….Seattle, WA
Mar. 30………………………….Houston, TX
Apr. 6……………………………Nashville, TN
Apr. 13………………………….Denver, CO
Apr. 27………………………….East Rutherford, NJ
May 4……………………………Las Vegas, NV
2019 FIM MOTOCROSS WORLD CHAMPIONSHIP
Feb. 28……………………………TBA
Mar. 10……………………………Argentina
Mar. 24……………………………England
Mar. 31……………………………Holland
Apr. 21……………………………Italy #1
Apr. 21……………………………Hong Kong
May 1……………………………..China
May 12……………………………Russia
May 26……………………………Latvia
June 2…………………………….Germany
June 16…………………………..France
June 23…………………………..Italy #2
July 7……………………………..Indonesia #1
July 14……………………………Indonesia #2
July 28……………………………Czech Republic
Aug. 4…………………………….Belgium
Aug. 18…………………………..Switzerland
Sept. 1……………………………TurkeyBulgaria
Sept. 15………………………….Portugal
Sept. 22………………………….Italy #3
2019 MOTOCROSS DES NATIONS
Sept. 29………………………….Assen, Holland 
MXA AD OF THE WEEK: "SIX OUT OF THE PAST SEVEN"

CZ may have won six out of the past seven years in the 250 or 500 class, but the 1972 CZ125 was lucky to win a local race. It was the same chassis, seat, tank, wheels and suspesnion as on the CZ360, but with an anemic 125cc engine. CZ laimed 225 pounds during an era when 125s weight 195 pounds.
BIKES YOU'VE NEVER SEEN BEFORE: 1980 DERBI RC125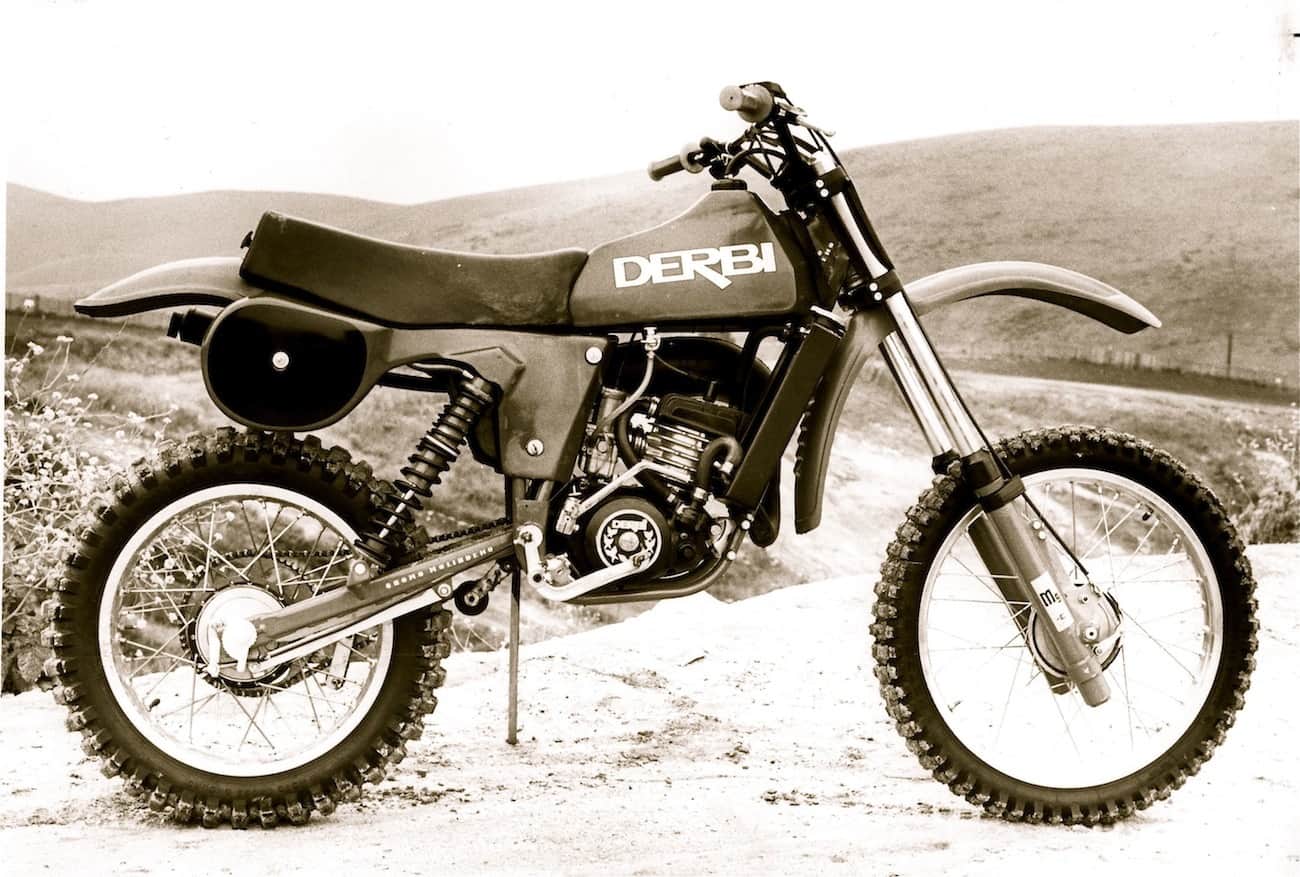 This 1980 Derbi RC125, shot at Saddleback Park, may well have been the only one imported to the United States in 1980—or any other year.
JOIN MXA'S FLIPBOARD PAGE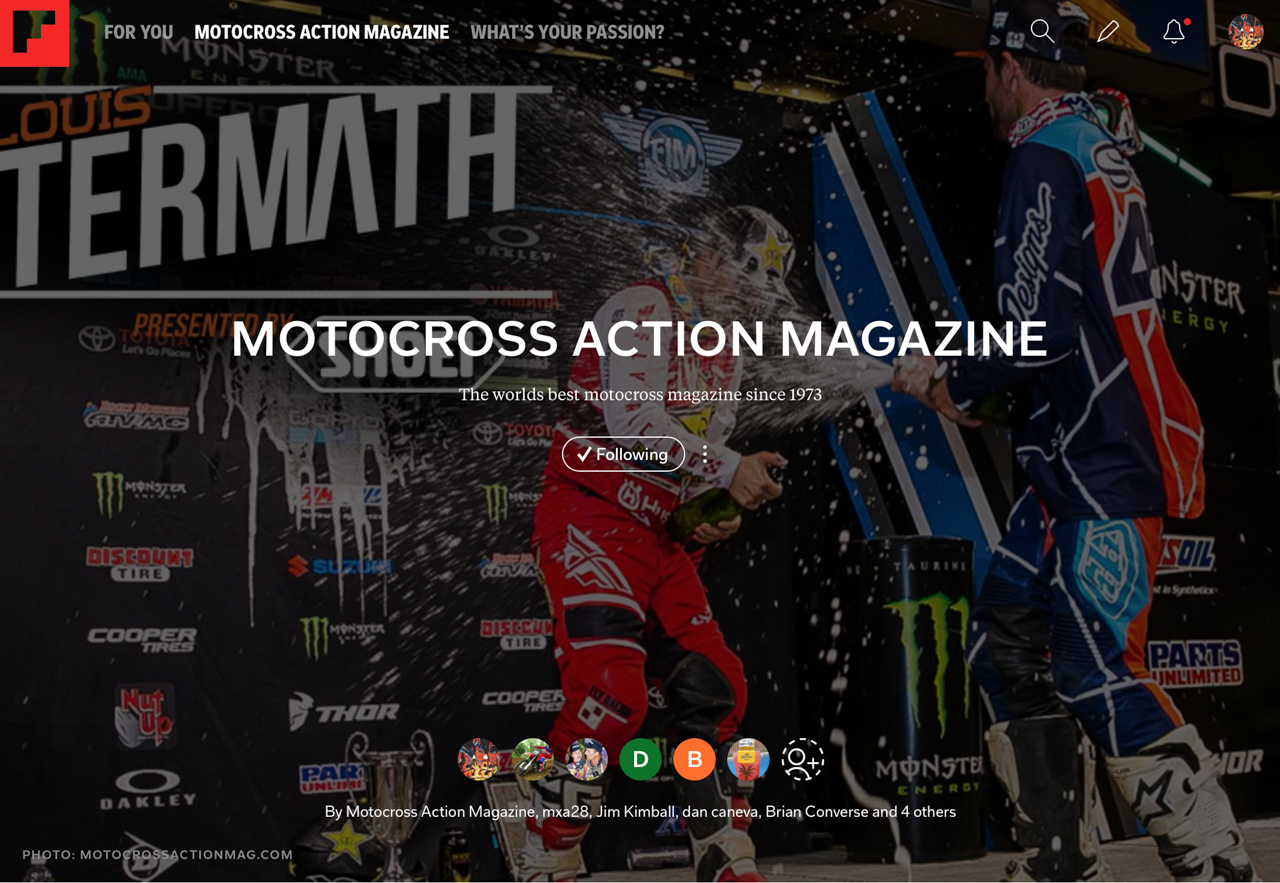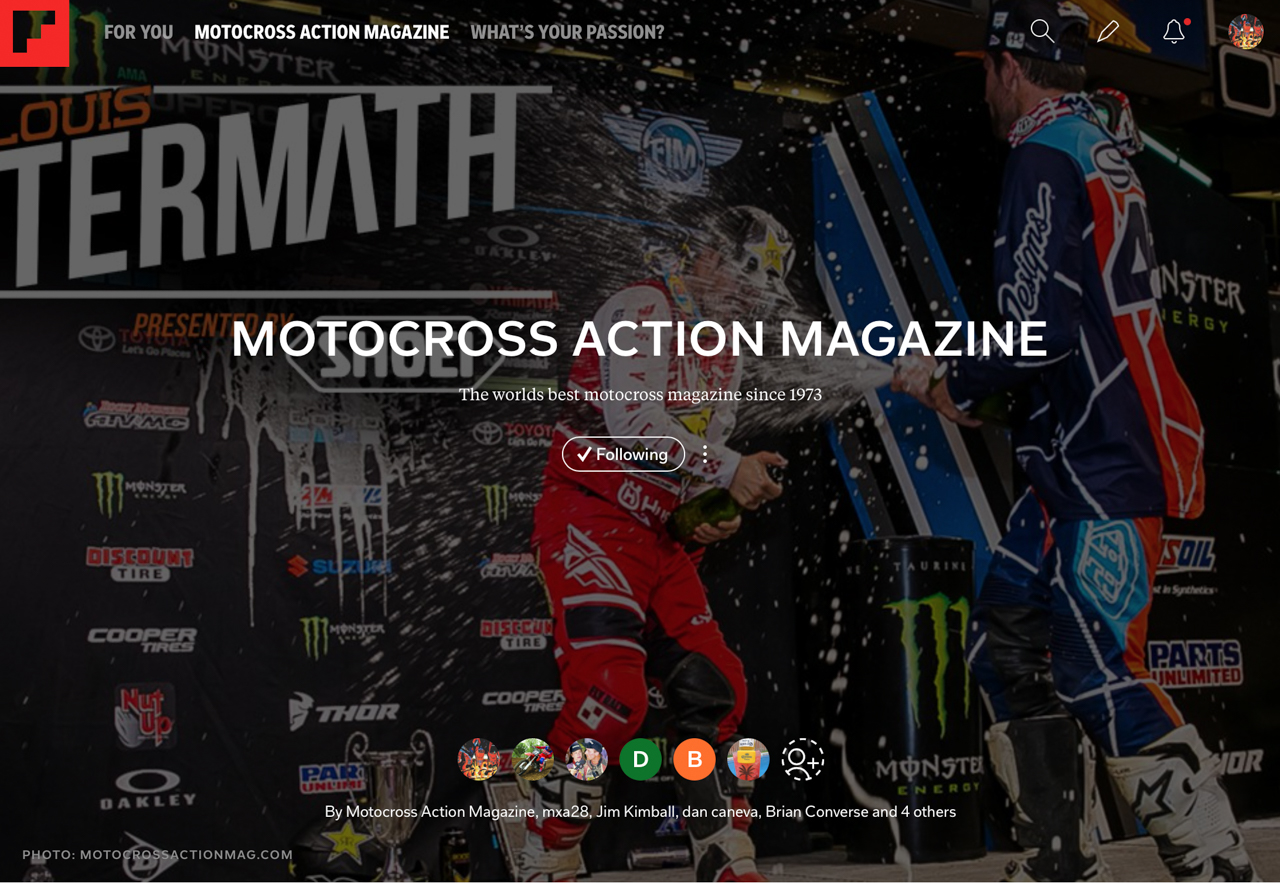 If you use Flipboard make sure to subscribe to the Motocross Action page for all the updates on our website. Click HERE to check out the page.
TALK MOTO WITH ON MXA'S FACEBOOK GROUP CHAT


We love everything moto and want to bring all moto junkies together into one place to share their two cents, ideas, photos, bike fixes, bike problems and much more. To check it out first you must need to or already have a Facebook account. If you don't, it isn't much work and you could even have an alias so nobody knows it is you. To join click HERE. After you request to join we will accept your request shortly after.
MXA'S SNAP CHAT FEED
If you are a Snap Chat user then add us to your stories. Get sneak peaks of everything moto. Our Snap Chat name is motocrossaction. Or just take a Snap of the picture above and it will add MXA automatically to your feed.
FOLLOW MXA ON TWITTER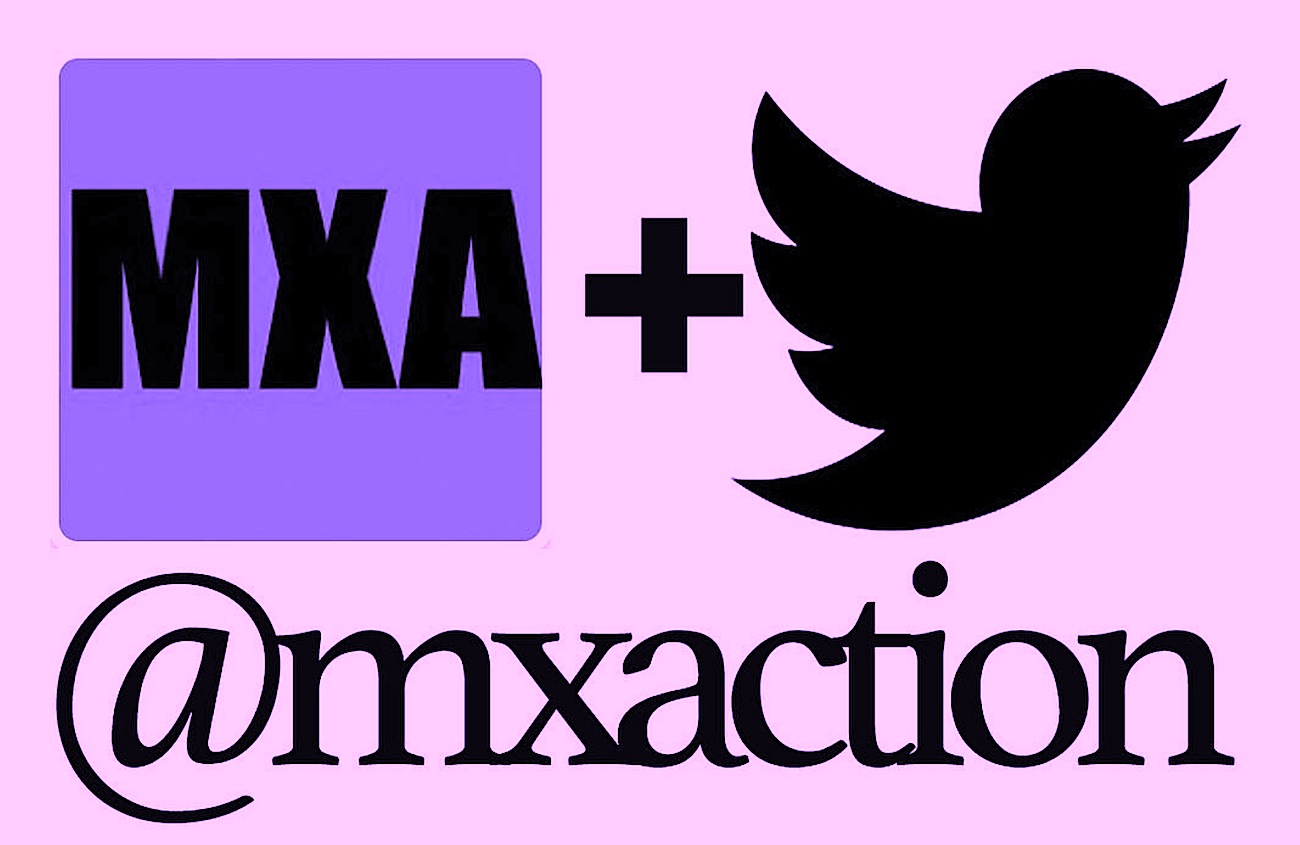 Follow us to see fresh content every day at www.twitter.com/MXAction or on twitter at "MXAction."
SAVE THE DATE! LIST OF REMNANTS OF THE 2018 MOTOCROSS SEASON — THE BEST IS YET TO COME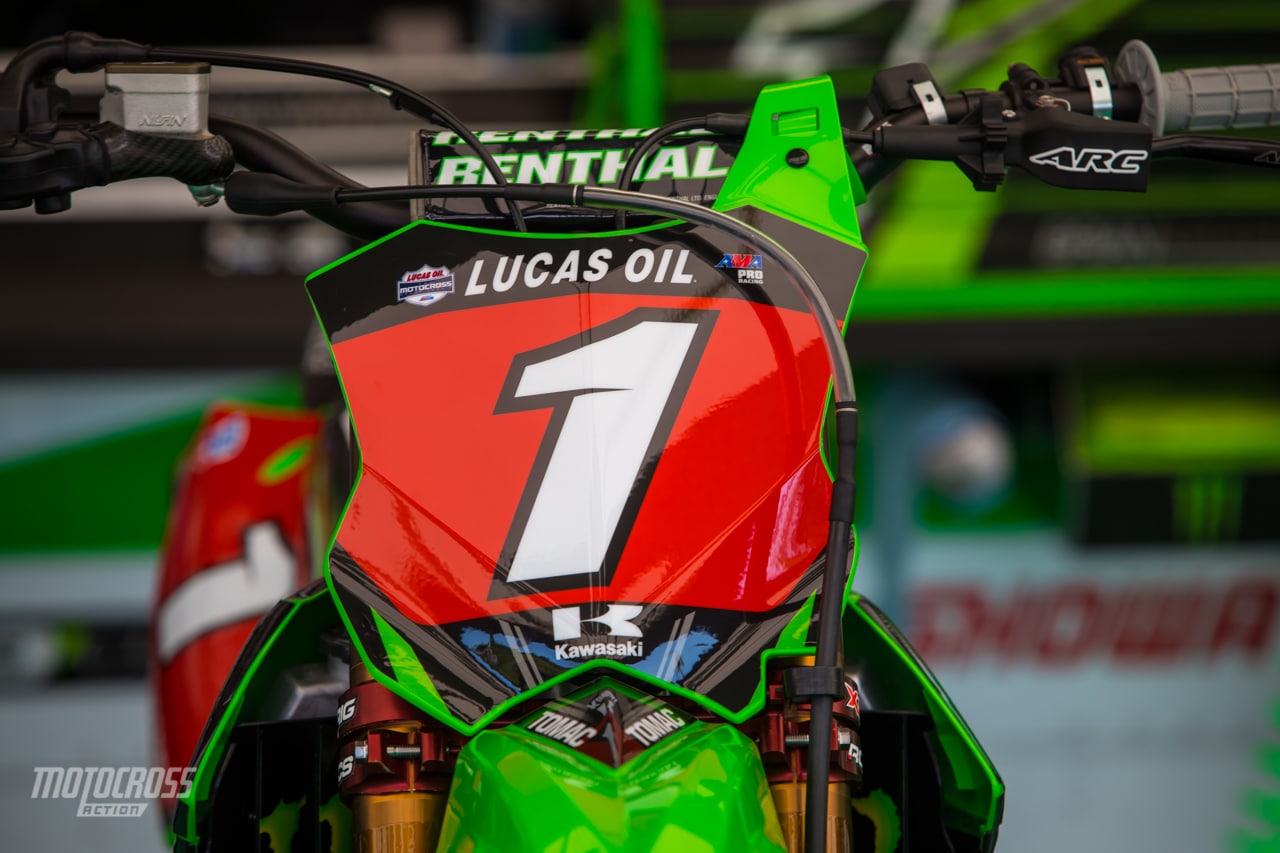 Eli Tomac will be running this number next year.
2018 FIM MOTOCROSS WORLD CHAMPIONSHIP
Sept. 30………………………Italy 3
2018 MOTOCROSS DES NATIONS
Oct. 7………………………..Red Bud, MI
2018 BOYESEN BUDDY BOOGIE
Oct. 5-7……………………..Birdsboro, PA
2018 MONSTER ENERGY CUP
Oct. 13……………………Las Vegas, NV
2018 MARSEILLE SUPERCROSS
Oct. 12-13……………….Marseille, France
2018 RED BULL STRAIGHT RHYTHM
Oct. 20…………………….Pomona, CA
2018 REM OCTOBERCROSS
Oct. 27………………………..Glen Helen, CA
2018 DUBYA WORLD VET CHAMPIONSHIP
Nov. 3-4…………………..Glen Helen, CA
2018 PARIS SUPERCROSS
Nov. 17-18…………………….Paris, France
2018 THOR MINI OLYMPICS
Nov. 19-24…………..…….Gainesville, FL
2018 DAY IN THE DIRT
Nov. 24-26…………………….Glen Helen, CA
2018 ROBBY GORDON OFF-ROAD CHAMPIONSHIP
Dec.1-2………………………..Glen Helen, CA
2018 REM GLEN HELEN CHAMPIONSHIP
Sept. 29………………..…Summer Series #6
Oct. 6……………………..Glen Helen, CA
Oct. 20……………………Glen Helen, CA
Oct. 27……………………Glen Helen, CA (National track)
Nov. 17……………………Glen Helen, CA
Dec. 1……………………..Glen Helen, CA (Canceled)
Dec. 15……………………Glen Helen, CA
Dec. 22……………………Glen Helen, CA
Dec. 29…………..…….…Glen Helen, CA
2018 WORLD OFFROAD CHAMPIONSHIP (WORCS)
Oct. 19-21………………….…Adelanto, CA
Nov. 9-11………………….…..Primm, NV
2018 OLD SCHOOL SCRAMBLES CHAMPIONSHIP
Dec. 9………………………..Glen Helen, CA
2018 ENDUROCROSS CHAMPIONSHIP
Oct. 20…………………………..Denver, CO
Oct. 27…………………………..Everett, WA
Nov. 3……………………………Boise, ID
Photos: Debbi Tamietti, Brian Converse, James Brenner, Jody Weisel, KTM, Kawasaki, Travis  Fant, Ray Archer, Daryl Ecklund, MXA, MXGP