MXA WEEKEND NEW ROUND-UP: FEMUR, SHOULDER & WRIST
JEFFREY HERLINGS IS NOW LIGHTER AND LESS MAGNETIC

Jeffrey had the metal they installed after his crash removed, placed in a jar and put on his mantle as a reminder of a long six months.
Jeffrey Herlings had the metal plates and screws removed from his broken femur this past week. "Having the metal taken from my leg is another important step in my recovery process and I'm really looking forward to being back on my bike for some solid track time ahead of the start of the season," said Herlings. Pit Beirer, head of KTM Motorsports, said, "The removal of the metal from Jeffrey's leg means he is one step closer to being able to resume his training and prepare for the coming season. Jeffrey is a fighter and a winner and we look forward to seeing him back on the bike as soon as he gets the green light from his doctors."
MUSQUIN WINS IN GENEVA ON FRIDAY & SATURDAY NIGHTS

Marvin Musquin won both nights in Geneva. This gave Euro fans a boost after hometown Swiss hero Arnaud Tonus had to pull out of Geneva with a wrist injury suffered in testing.
Marvin Musquin won both nights of the Geneva Supercross in Switzerland. The other AMA riders were inconsistent. Malcolm Stewart had a 3rd, Josh Hill had a 5th and 3rd and Kyle Chisholm had a 9th and 11th.

Adam Cianciarulo's 2015 preparation took a step back in Geneva. Hopefully he will get a clean bill of health from his own doctor.
Adam Cianciarulo crashed in Geneva on Friday and was taken to a hospital to check for a dislocated shoulder. He will wait to get back to the states for a full medical exam.
NIGHT 1 RESULTS: GENEVA SUPERCROSS
1. Marvin Musquin
2. Cedric Soubeyras
3. Malcolm Stewart
4. Fabien Izoird
5. Josh Hill
6. Valentin Teillet
7. Angelo Pellegrini
8. Christophe Martin
9. Kyle Chisholm
10. Matteo Bonini
NIGHT 2 RESULTS: GENEVA SUPERCROSS
1. Marvin Musquin
2. Greg Aranda
3. Josh Hill
4. Fabien Izoird
5. Cedric Soubeyras
6. Valentin Teillet
7. Jason Clermont
8. Angelo Pellegrini
9. Christophe Martin
10. Loic Rombaut
LUKE DUNCAN'S "DAY IN THE DIRT" HIGHLIGHT VIDEO

USED IT, ABUSED IT, TESTED IT: KITE/EXCEL WHEELSET BY DUBYA
Kite's billet aluminum, anodized hubs are manufactured in Mandello Del Lario, Italy. Dubya is also the Talon hub importer which gives them two price ranges. We laced our Kite hubs up to Excel A60 rims, which are 15 percent stronger than Excel's Signature Series rims, but would have been just as happy with DID STX rims (which cost the same). Kite stainless steel, double-butted spokes tied the pieces together.
VERDICT: Kite wheels are used by Ryan Dungey, James Stewart, Ken Roczen, Davi Millsaps and Antonio Cairoli and the hubs are available in red, black, blue, green and orange, for both full-size bikes and minibikes. The spokes can be order in the same colors. These aren't just Xeroxed billet components, Kite's weight, options, colors, sponsored riders and price make them a major player in the wheel world. The prices vary based on your rim and spoke choices— www.dubyausa.com or (714) 279-0200.
MEMORIES OF THE WAY WE WERE: WHERE ARE THEY NOW?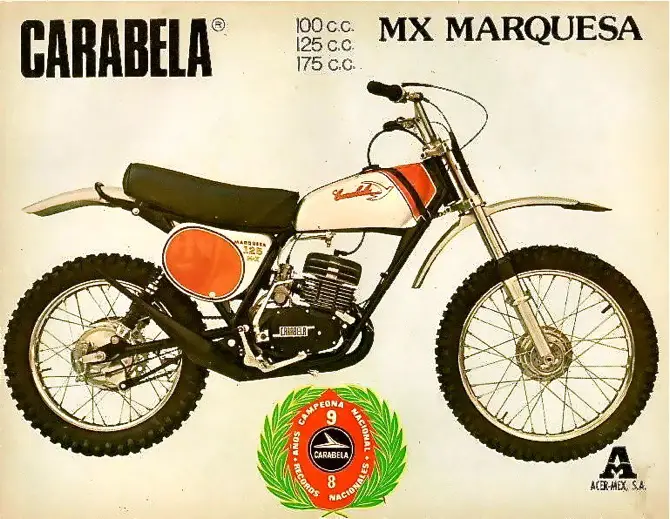 THIS WEEK'S BIRTHDAY BOYS: BEN TOWNLEY NOW A VET

Dec. 6…Kyle Chisholm 1987
Dec. 6…Joaquim Rodrigues 1981

Dec. 7…Jake Weimer 1987
Dec. 7…Bob Morales 1963
Dec. 7…David Philippaerts 1983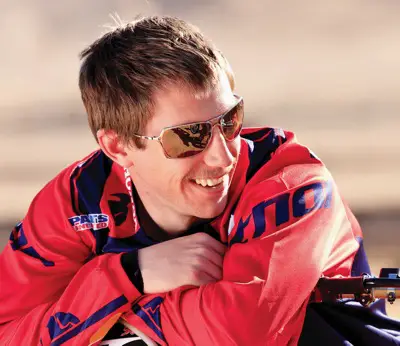 Dec. 9…Ben Townley 1984
Dec. 10…Bob Graham
Dec. 10…Earl May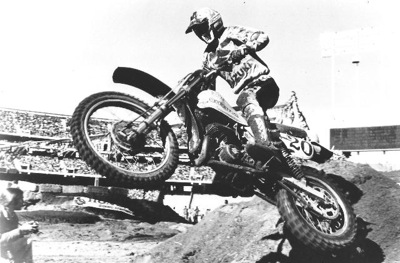 Dec. 11…Darrell Shultz
Dec. 11…Lance Smail 1970
Dec. 11…Keith S. Johnson 1970

Dec. 12…Marty Moates 1956
2014 WRAPS UP AT GLEN HELN ON DECEMBER 27


2014 MILESTONE PRO SX INVITATIONAL
December 13……………..Milestone, CA
2014 YAMAHA PRO-AM MX & GP
December 13-14…………..Glen Helen, CA
LACR GRAND OPENING GRAND PRIX
December 21……………..Palmdale, CA
2014 REM GLEN HELEN MOTOCROSS SERIES
December 6……………..Glen Helen, CA
December 13……………Glen Helen, CA
December 20…………..Glen Helen, CA
December 27……………Glen Helen, CA (Double points)
A QUICK EURO PRIMER: MOVING AROUND

Tony Cairoli is not going anywhere, although there was a rumor that he might test the 450SXF to have a little more ammunition against Ryan Villopoto's KX450F.

Jordi Tixier won the 2014 250 World Championship for KTM, but will take his number one plate to CLS Kawasaki.

Max Nagl got bounced from Team Honda and landed at Husqvarna.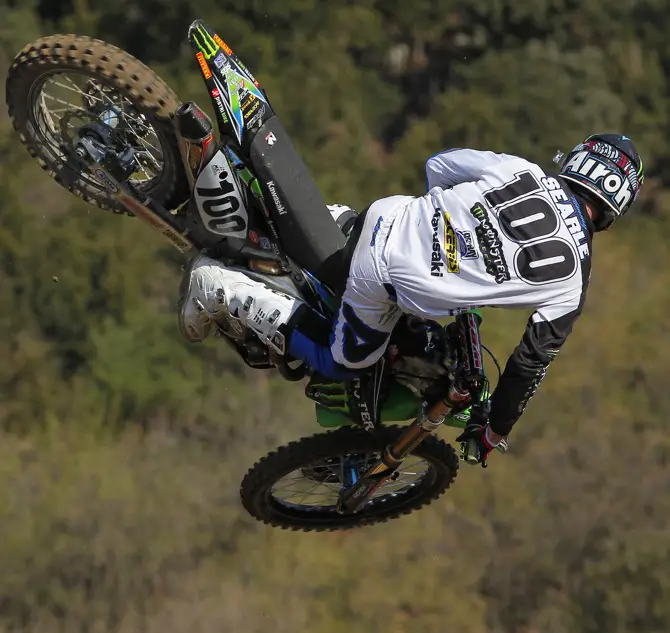 Tommy Searle left Kawasaki and moved to KTM for 2015.

Gautier Paulin will turn in his green duds for Team Honda gear. This move shook up the pits and made Kawasaki hot to get Ryan Villopoto to agree to race one more year.

The pit pundits say the same thing every year — "If Clement Desalle doesn't beat Cairoli this year, he will never beat him."
"I DON"T WANT WHAT THEY HAD, I WANT WHAT THEY WANTED:" THE HUSKY VITPILEN

YOU CAN GET MXA FOR YOUR PHONE, IPAD, TABLET, COMPUTER OR MAILBOX
The new issue of MXA (January 2015) is in the mail now and will be on news stands soon. What's in it? A 2015 250cc Two-Stroke Shootout, a 2015 250F Four-Stroke Shootout, an Ivan Tedesco interview, a giant dyno breakdown of all the 2015 450s and a 2015 Honda CRF450 test.
Do you subscribe to MXA? You should. we know that you think that print magazines are dead and that the internet will fill the void, but most of the stuff in the current issue of MXA won't appear on the web for several months. Luckily, you can get all of MXA on iPhone, iPad, Kindle or Android by going to the Apple Store, Amazon or Google play, but better yet get thee Digital desktop version at https://hi-torque.com/product/motocross-action-digital-edition/ or click on the link below to get the print version delivered to your door for only $15.99 (plus you get a free $25 Gift Card from Rocky Mountain ATV/MC just for subscribing). There is a profit to be made in this deal for you. For the Print magazine go to: http://hi-torque.com/product/subscribe-to-motocross-action-magazine/
ASK THE MXPERTS: WHY IS A HINSON CLUTCH BETTER THAN STOCK?
Dear MXA,
What makes a Hinson clutch better than the stock clutch? It seems that the factory could do what Hinson does.
It does seem that way, doesn't it? But, they don't. The cost of a production bike equipped with a clutch as good as a Hinson clutch would cost hundreds of dollars more on the showroom floor. Hinson uses aircraft-spec aluminum, starts with a billet of the alloy and CNC-machines it into the basket, pressure plate and inner hub. All the parts are hard anodized, special oil holes are machined in and tolerances are as close as possible. For cost efficiency, a stock clutch is made from less expensive cast parts. The closest any manufacturer comes to producing a high-end clutch system is KTM.
USED IT, ABUSED IT, TESTED IT: MARTY SMITH RE-GRIP GRIP

As three-time AMA National Champion Marty Smith worked with students at his Marty Smith Motocross Clinic, (619) 659-0273, he came to realize that the hardest thing to teach riders to do was to regrip the throttle as they moved their arm through the full range motion. In frustration Marty designed a special grip that had a raised bar running lengthwise at the 4 o-clock position. The raised bar served as an indicator to help his riders regripped properly.
VERDICT: We liked the Marty Smith Re-Grip because it made us think and it made us better riders?$12.95 or www.odigrips.com or www.martysmithmotocross.com.
2014 YAMAHA PRO-AM ON DEC. 13-14: MX ON SATURDAY & GP ON SUNDAY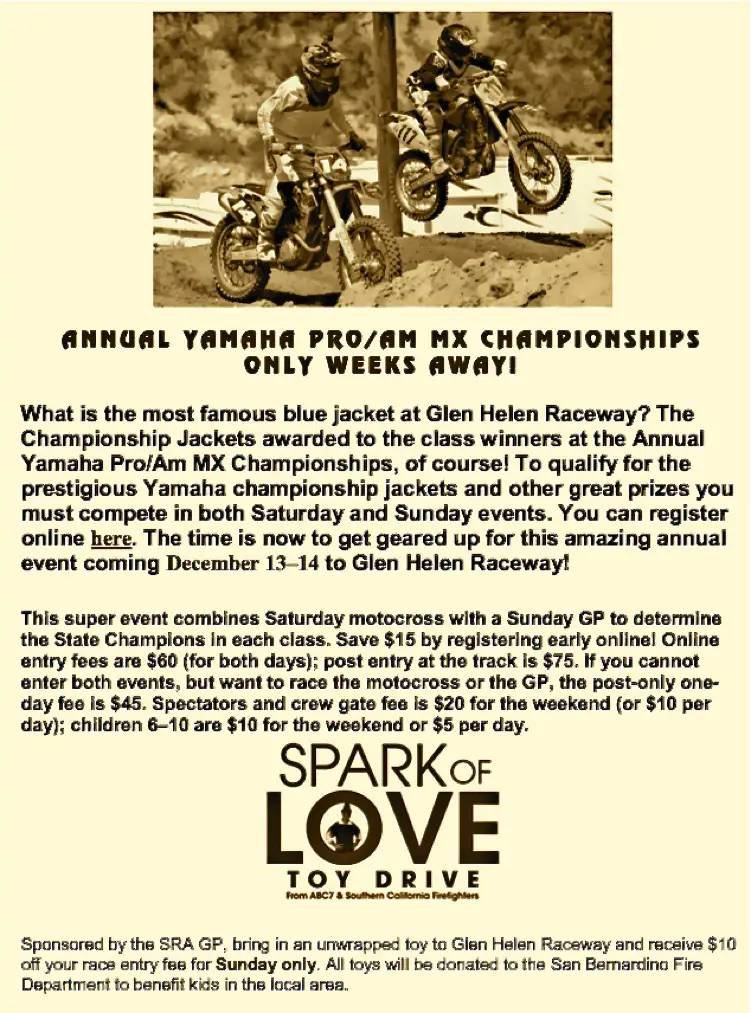 For more info go to www.glenhelen.com
MILESTONE TO HOST 2ND ANNUAL INVITATIONAL SUPERCROSS ON DEC. 13
The Pro Super X Invitational returns to SoCal's Milestone Raceway on December 13. There will be a $10,000 purse for the invited riders, Larry Huffman will do the announcing and the gate fee to watch is $15. For more info go to www.milestone mx.com.

LACR TO HOST FIRST GRAND PRIX SINCE REOPENING ON DEC. 21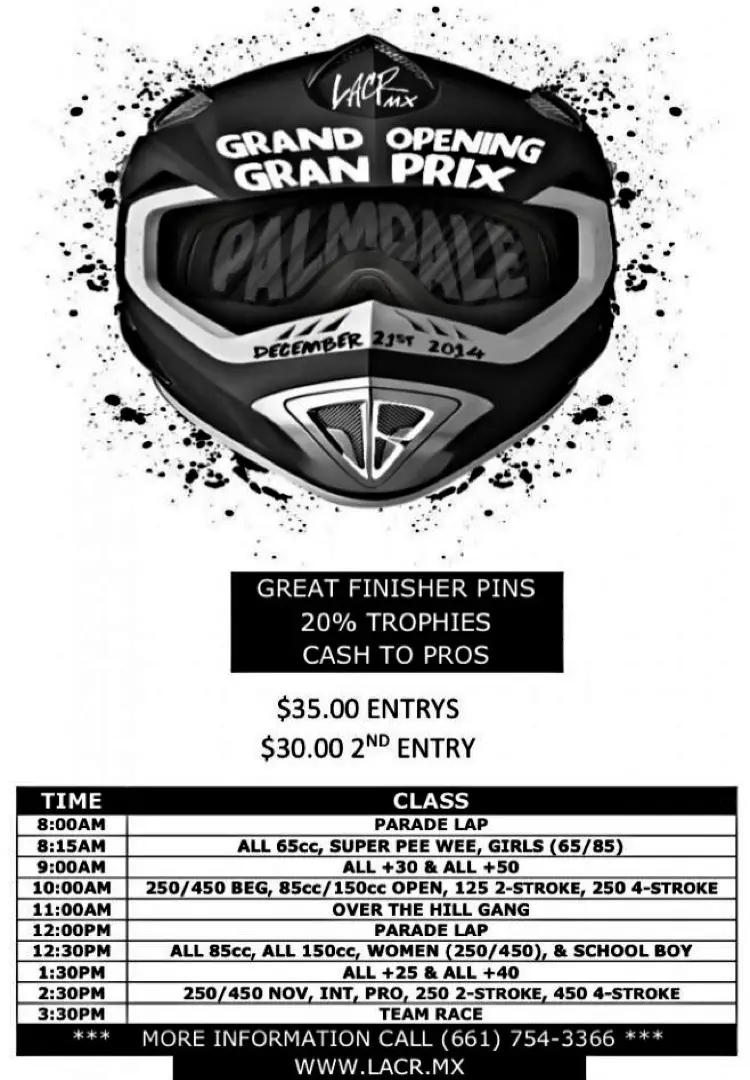 For more info go to www.lacr.mx
USED IT, ABUSED IT, TESTED IT: HJC RPHA-X HELMET
Until the RPHA-X, HJC's most expensive offroad helmet retailed for $145. Not any more! The RPHA (Revolutionary Performance Helmet Advantage) is a matrix of carbon fiber, aramid, fiberglass and organic non-woven fabric that retails for $349.95. With the RPHA series, HJC cut the weight to 2.93 pounds.
VERDICT: HJC achieved their goals with the RPHA-X. (1) It is light. (2) It it offers premium features. (3) It uses high-tech construction techniques. (4) It meets the mid-line price target. (5) It is viable option for a motocross racer. $349.99 (solid white), $354.99 (matte black), $359.99 (graphics) ? (562) 407-2186 or www.hjchelmets.com.
THE 2015 RACE CALENDAR
The 2015 Supercross season starts on in less than a month at Anaheim Stadium.

2015 AMA SUPERCROSS CHAMPIONSHIP
Jan. 3………………….Anaheim, CA
Jan. 10…………………Phoenix, AZ
Jan. 17…………………Anaheim, CA
Jan. 24…………………Oakland, CA
Jan. 31…………………Anaheim, CA
Feb. 7……………,…….San Diego, CA
Feb. 14…………………Arlington, TX
Feb. 21…………………Atlanta, GA
Feb. 28…………………Atlanta, GA
March 7………………..Daytona, FL
March 14……………..Indianapolis, IN
March 21……………..Detroit, MI
March 28……………..St. Louis, MO
April 11………………..Houston, TX
April 18………………..Santa Clara, CA
April 25………………..East Rutherford, NJ
May 2…………………..Las Vegas, NV

2015 AMA NATIONAL CHAMPIONSHIP
May 16…………….…Hangtown, CA
May 23…………….…Glen Helen, CA
May 30………….……Thunder Valley, CO
June 6………………..Muddy Creek, TN
June 13……………….Mt. Morris, PA
June 27………………Budds, MD
July 4…………………Red Bud, MI
July 18………..……..Millville, MN
July 25……………….Washougal, WA
August 8………….…Unadilla, NY
August 15……….…..Miller Motorsports, UT
August 22 …………..Crawfordsville, IN
2015 FIM WORLD MOTOCROSS CHAMPIONSHIP
Feb. 28…………………Losail, Qatar
March 8………………..Si Racha, Thailand
March 29………………Neuwuen, Argentina
April 19………………..Arco di Trento, Italy
April 26………………..Valenswaard, Holland
May 10…………………Talavera, Spain
May 24…………………Matterley Basin, Great Britain
May 31…………………Villars Sous Ecot, France
June 14………………..Maggiora, Italy
June 21………………..Teutschenthal, Germany
July 5…………………..Uddevalla, Sweden
July 12…………………Kegums, Latvia
July 26…………………Loket, Czech Republic
Aug 2…………………..Lommel, Belgium
Aug 16…………………Trinidade, Brazil
Aug 30…………………Assen, Netherlands
Sept 13…………………Leon, Mexico
Sept. 20………………..Glen Helen, USA
2015 AMSOIL ARENACROSS CHAMPIONSHIP
Jan. 10-11………….…Cincinnati, OH
Jan. 16-18………….…Grand Rapids, MI
Jan. 23-25…………….Colorado Springs, CO
Jan. 31- Feb. 1…..…..Nashville, TN
Feb. 6-8……………….Wilkes-Barre, PA
Feb. 21-22……………Tampa, FL
Feb. 28- Mar.1………Kansas City, MO
Mar. 6-8……………….Council Bluffs, IA
Mar. 13-15……………Southaven, MS
Mar. 21-22……………New Orleans, LA
Mar. 28-29……………Austin, TX
April 11-12……………Spokane, WA
April 18-19……………Tacoma, WA
April 25-26……………Fresno, CA
May 1-3………………..Las Vegas, NV
2015 GEICO ENDUROCROSS CHAMPIONSHIP
March 6……………….Daytona Beach, FL
March 21……………..Salt Lake City, UT
April 25……………….Sacramento, CA
May 1………………….Las Vegas, NV
May 30………………..Phoenix, AZ
June 5…………………Austin, TX
Aug, 22……………….Atlanta, GA
Oct. 3………………….Denver, CO
Oct. 17…………………Everett, WA
Nov. 7………………….Boise, ID
Nov. 20-21…………..Ontario, CA
2015 WORCS WORLD OFFROAD CHAMPIONSHIP
Jan. 18…………………Taft, CA
Feb. 8………………….Primm, NV
March 1 ………………Peoria, AZ
March 29 …………….TBA
April 19……………….Hurricane, UT
May 24 ……………….Cedar City, UT
Aug. 2 …………………TBA
Sept. 27 ………………Glen Helen, CA
Oct. 18 ………………..Prim, NV
2015 WORLD SIDECAR CROSS CHAMPIONSHIP
April 6…………………Switzerland
April 12………………..France
May 10………………..Ukraine
May 17………………..Germany
May 25………………..Holland
June 7…………………Latvia
June 14……………….Czech Republic
July 5…………………..France
July 12…………………Belgium
July 19…………………Germany
Aug. 2…………………Estonia
Aug. 9…………………Latvia
Aug. 16……………….Ukraine
Sept.13………………..France
Sept.20………………..Germany
2015 AUSTRALIAN NATIONAL CHAMPIONSHIP
March 29……..……Horsham, Vic
April 12……..……..Appin, NSW
April 26 …….…..…Broadford, Vic
May 17 ………….….Murray Bridge, SA
May 31………..…….Coolum, Qld
July 5 ……………….Raymond Terrace, NSW
July 19 ………..……Shepparton, Vic
August 2 …….….…Nowra, NSW
August 23 …………Toowoomba, Qld
August 30 ……..….Coolum, Qld
2015 WMX WOMENS MOTOCROSS CHAMPIONSHIP
Feb. 28…………………Losail, Qatar
March 8………………..Si Racha, Thailand
May 24…………………Matterley Basin, Great Britain
May 31…………………Villars Sous Ecot, France
June 21………………..Teutschenthal, Germany
July 26…………………Loket, Czech Republic

USED IT, ABUSED IT, TESTED IT: EARTH X KTM LFX BATTERY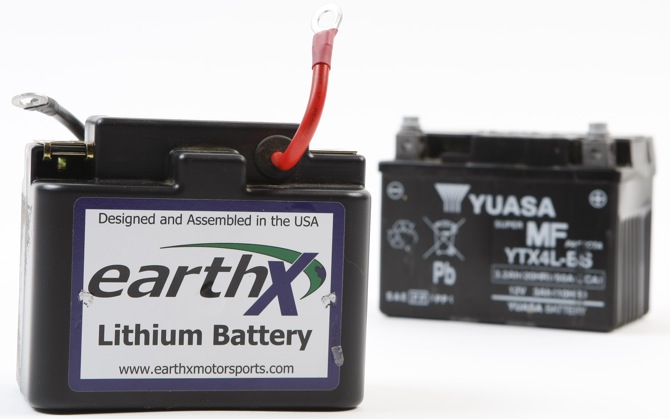 The EarthX battery is two pounds, one ounce lighter than the stock KTM Yuasa YTX battery. It uses Lithium Iron Phosphate technology instead of the traditional lead acid construction. As an added plus, it can be charged with a regular battery charger (some LFX batteries can't be). Lithium Iron Phosphate batteries have an incredibly long charge life and excellent cranking power.

VERDICT: You might think that as long as the engine starts, one battery is the same as another. That's not true because LFX batteries are nontoxic, longer lasting, more powerful, easier to recharge and several pounds lighter than lead-acid batteries. $159.95 (ETX12A) ? www.earthxmotorsports.com or (970) 301-6064.
FAMOUS LOS ANGELES COLISEUM CRASH: JASON UPSHAW GETS EJECTED
FOR REM RACERS ONLY: WHAT'S UP IN 2015?

Are you willing to race 36 times next year? Would you survive the wear and tear? How about your bike? How many times can it be run over? You'd be amazed at how many REM racers never miss a single race.
For 2015 REM is changing some things up. They will continue to have the 6D Quarterly Helmet Challenge, in which any REM racer that races in every REM race during each individual quarter will be automatically entered into a quarterly drawing for a new 6D helmet. There are four (4) shots at winning a new 6D helmet regardless of how you finish, as long as you race in every race in that quarter.
REM will continue its Top Ten in Glen Helen points, but will add in class winners regardless of how many points scored.
New for 2015: There will be no Spring Series or Summer Series. Instead there will be two entirely different series — both of which will allow riders to take breaks between events to heal up or take care of other business. With 36 races scheduled for 2015 this is the longest running points paying motocross series in the USA.
The first series will be made up of one race per quarter that will be held on the Glen Helen AMA National track (not on the REM track). To qualify for series awards you must race all four — but since they will be spread out across Winter, Spring, Summer and Fall, it will be easy to plan ahead. The final race of this series will be the Octobercross race on the Saturday of Halloween week. The other three races will be announced later.
The second series will be 12-races long and consist of one race per month on the REM track. The win series awards in the 12-race series a rider must race at least 10 events. All of these races will be the second race of each month. To qualify for both series you must a card-holding REM member (although racers do not be an REM member to race with REM they miss out on several serious discounts that make joining worthwhile).
Another new change is that racers who score enough advancement points during a particular quarter to be moved up will be allowed to advance to the next class with their series points earned (depending on the class, circumstances and the decision of the promoters).
TENTATIVE 2015 REM RACE SCHEDULE
JANUARY
Jan. 10
Jan. 17
Jan. 24
Jan. 31
FEBRUARY
Feb. 7
Feb. 14
Feb. 21
MARCH
Mar. 7
Mar. 14
Mar. 21
APRIL
Apr. 4
Apr. 11
Apr. 18
MAY
May 2
May 9
May 30
JUNE
June 6
June 20
June 27
JULY
July 18
July 25
AUGUST
Aug. 8
Aug. 15
Aug. 22
Aug. 29
SEPTEMBER
Sept. 5
Sept. 12
OCTOBER
Oct. 3
Oct. 17
Oct. 24
Oct. 31
NOVEMBER
Nov. 14
Nov. 21
DECEMBER
Dec. 5
Dec. 12
Dec. 19
For more info got to www.remsatmx.com
IN CASE YOU MISSED IT! EVERY 2015 GRAND PRIX TEAM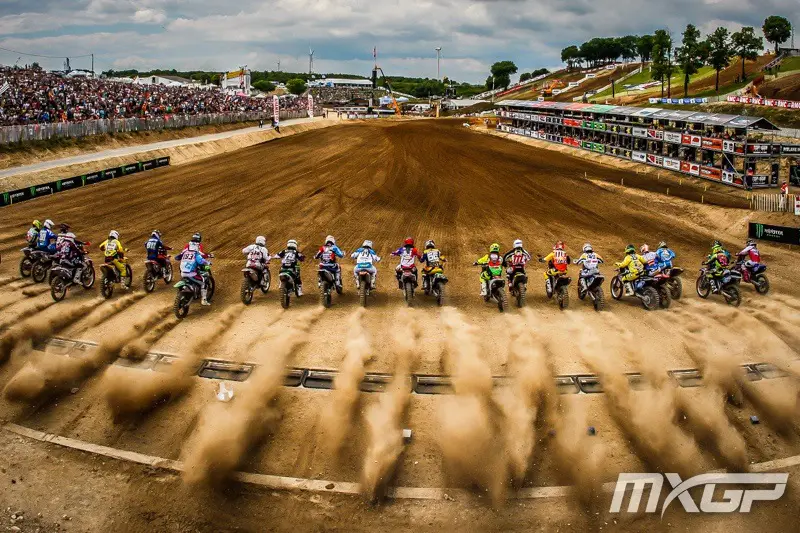 The 2015 Grand Prix season starts on February 28, 2015, in Losail, Qatar. Here is a quick list of the riders and teams that will be there (wherever Qatar is).
KAWASAKI TEAMS
KAWASAKI FACTORY
Ryan Villopoto …450
Tyla Rattray …450
CLS KAWASAKI
Jordi Tixier …250
Dylan Ferrandis …250
Thomas Covington …250
BUD RACING KAWASAKI
Xavier Boog …450
SDR KAWASAKI COSWORTH
Max Anstie …250
Mel Pocock …250
YAMAHA TEAMS
YAMAHA FACTORY
Jeremy van Horebeek …450
Romain Febvre …450
KEMEA REYTEC YAMAHA
Benoit Paturel …250
Damon Graulus …250
DP19 RACING YAMAHA
David Philippaerts …450
STANDING CONSTRUCT YAMAHA
Julien Lieber …250
Valentin Guillod …250
HONDA TEAMS
HONDA FACTORY
Gautier Paulin …450
Evgeny Bobryshev …450
24MX HONDA
Christophe Charlier …450
Filip Bengtsson …450
ASSOMOTOR HONDA
Alessandro Lupino …450
Second Rider: TBA
GARIBOLDI HONDA
Tim Gajser …250
Jorge Zaragoza …250
J-TECH HONDA
Jens Getteman …250
Vsevolod Brylyakov …250
SUZUKI TEAMS
SUZUKI FACTORY
Clement Desalle …450
Kevin Strijbos …450
ROCKSTAR ENERGY SUZUKI EUROPE
Glenn Coldenhoff …450
Jeremy Seewer …250
KTM TEAMS
KTM  FACTORY
Antonio Cairoli  …450
Ken de Dycker …450
Tommy Searle …450
Jeffrey Herlings …250
Pauls Jonass …250
WILVO FORKRENT KTM
Jake Nicholls …450
Steven Frossard …450
MARCHETTI KTM
Jose Butron …450
Ivo Monticelli …250
HITACHI CONSTRUCTION MACHINERY UK KTM
Shaun Simpson …450
Ben Watson …250
Petar Petrov …250
HUSQVARNA TEAMS
ICE ONE HUSQVARNA
Max Nagl …450
Todd Waters …450
Nathan Watson …450
WILVO NESTAAN HUSQVARNA
Aleksandr Tonkov …250
Dean Ferris …450
RICCI RACING HUSQVARNA
Rui Goncalves …450
Christopher Valente …250
Michael Ivanov …250
TM TEAMS
TM RACING FACTORY
Davide Guarneri …450
Photos by Massimo Zanzani, Ray Archer, Honda, Kawasaki, MXGP, Suzuki, John Basher, John Ker, Jody Weisel, Dan Alamangos