MOTOCROSS ACTION WEEKEND NEWS ROUND-UP: LOTS OF RACES

JORDI TIXIER FINED $5300 AFTER THAILAND INCIDENT
2014 250 World Champion Jordi Tixier.
Jordi Tixier was fined $5300 fine for allegedly punching the track doctor and an FIM official at the Grand Prix of Thailand. Tixier had suffered from heat exhaustion in the first moto and on the last lap collapsed on the track and was unable to finish the race. Later, when told by the track doctor and an FIM official that he could not race the second moto for medical reason, he reportedly struck both of them. Tixier avoid the subject when he said, "It was definitively not a good weekend, as I couldn't finish the first race. I had recovered from 20th to 11th, but on the last lap in the waves section I couldn't hold the bike and crashed.  My brain was not working as usual; I gave 100% during the race and with the heat I suddenly had no energy, no concentration and crashed. They took me in the medical service for treatment, but I couldn't start the second race."
Although there are report that Tixier has been banned from racing in Argentina on March 28, there has been no official word on this from the FIM. It is assumed that Tixier suffered from disorientation as a result of his heat exhaustion and, although there is no doubt that he was involved in some kind of altercation with the race officials, he deserves a full hearing before any more penalties are assessed. Tixier wasn't the only 250 GP rider not allowed to start the second moto. Jeremy Seewer and Tim Gajser had received fluids via an IV prior between motos—and were thus not allowed to continue. Gajser had finished third in moto one, and went to line for the second moto before being sent back to the pits.
GLEN HELEN NATIONAL AMATEUR DAYS ON MAY 21-22

The 2015 Glen Helen AMA National will be here before you know it…and the Glen Helen Amateur days will be here two-days before that. Pre-entries are now open online for the National AMA Amateur Days on May 21-22.
On Thursday, May 21, there will classes for 50cc (4-to-6 Stock, 5-to-8, shaft drive/XR), 65cc (First-time/Beginner, 7-to-9, 9-to-11 ), 85cc (First time/Beginner, 9-to-11, 12-to-13, 14-to-16), 250F (A & B & C & D), 450F (A & B & C & D), Over-25 (A & B & C) and Over-40 (A & B & C & D) riders.
On Friday, May 22, the classes will be Over-50 (A & B), Over-60, Over-30 (A, B &C), Women (+14), Supermini (12-to-15), Schoolboy (12-to-16), Two-Stroke and College (16-to-24).
Both AMA Amateur Days will have practice at 7:30 a.m. with racing starting at 9:00 a.m. Gates will be open from 6:00 a.m. to 10:00 p.m. There is a special online pre-entry race fee of $60 ($20 less than post-entry fee). AMA Membership is required, if you aren't an AMA member you can purchase it at the track for $40 for one full year. You Must be registered to race either Amateur Day. Click here to register online www.glenhelen.com/register/.
2015 AMA SUPERMOTO CHAMPIONSHIP SERIES COMING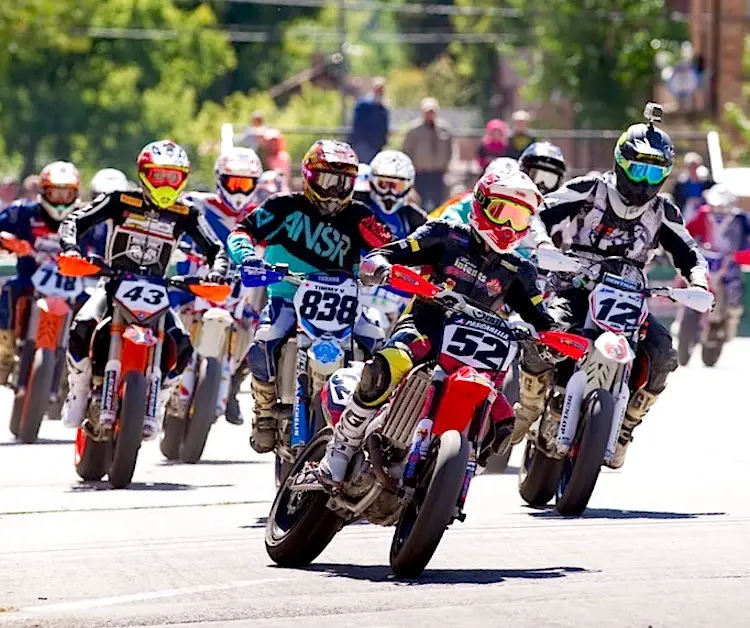 2012 Daytona 200 winner Joey Pascarella in the front.
The American Motorcyclist Association has announced the complete schedule for the 2015 AMA Supermoto National Championship Series. Two new venues join the series this year: New Hampshire Motor Speedway in Loudon, New Hampshire, and Muscle Man Honda Circuit in Tucson, Arizona. The addition of the New Hampshire races widens the series reach considerably. The first race is on April 3-5 at the Adams Kart Track in Riverside, California. The final event of the 8-race series (although the first Sturgis race does not pay points) will be in Tuczon, Arizona. The 2015 AMA Supermoto National Championship Series includes Novice, Youth and Intermediate classes, plus age and displacement-based classes. For more info go to  www.amanationalsupermoto.com.
2015 AMA SUPERMOTO NATIONAL CHAMPIONSHIP SERIES
April 3-5…………….…Riverside, CA
May 29-30…………….Plymouth, WI
June 19-21…………….Loudon, NH
July 3-4…………….….Denver, CO
Aug. 1-2…………….…Sturgis, SD *
Aug. 14-15…………….Salt Lake City, UT
Sept. 18-20……………Sturgis, SD
Nov. 6-8…………….…Tucson, AZ
* Non-points-paying event
MXA PRODUCT SPOTLIGHT: PRO CIRCUIT O-RING GREASE & ASSEMBLY LUBE
Pro Circuit's PC-03 Seal & O-Ring Grease is designed for use on any seal or O-ring during assembly. It's blended with PTFE, a Teflon like material, creating a super slick surface for less internal wear and friction even at extreme temperatures. PC-03 retails for $9.95.
PC-04 Assembly Lube is designed to prevent metal-to-metal contact upon engine start-up before adequate lubrication can be supplied. PC-04 is also excellent for use on bolt threads for accurate torque readings. PC-04 retails for $9.95.For more info go to www.procircuit.com.
SUPERCROSS AT A GLANCE: INDY HERE WE COME

Any rider who wins an AMA Supercross is having a successful season. Eli Tomac wants more than just one win though.


Date             Venue                     450                           250
Jan. 3…..Anaheim I………….Ken Roczen….….Jessy Nelson
Jan. 10…Phoenix……………..Eli Tomac………..Cooper Webb
Jan. 17…Anaheim II………….Ken Roczen……..Cooper Webb
Jan. 24…Oakland…………….Trey Canard….….Malcolm Stewart
Jan. 31…..Anaheim III…….…Ryan Dungey…..Cooper Webb
Feb. 7…..San Diego………..…Trey Canard…..…Cooper Webb
Feb. 14…Dallas……………..….Ryan Dungey…..Marvin Musquin
Feb. 21…Atlanta………….……Chad Reed…..…..Jeremy Martin
Feb. 28…Atlanta………………..Ryan Dungey…..Marvin Musquin
Mar. 7…Daytona………………..Ryan Dungey…..Marvin Musquin
Mar. 14…..Indy
Mar. 21…Detroit
Mar. 28…St. Louis
Apr. 11…..Houston
Apr. 18….Santa Clara
Apr. 25….New York
May 2……Las Vegas
450 Points leader…Ryan Dungey (KTM)
250 West points leader…Cooper Webb (Yam)
250 East points leader…Marvin Musquin (KTM)
MOTOCROSS ACTION PHOTO OF THE WEEK I

You are the center of attention. You see the camera focused on you and you alone. It's your moment in the limelight. Little do you know that you are being photo bombed by the flagman. Debbi Tamietti captured this moment at REM last Saturday with Justin Hoeft (615) and flagman Bill Christensen.

2015 GP'S AT A GLANCE UP TO THAILAND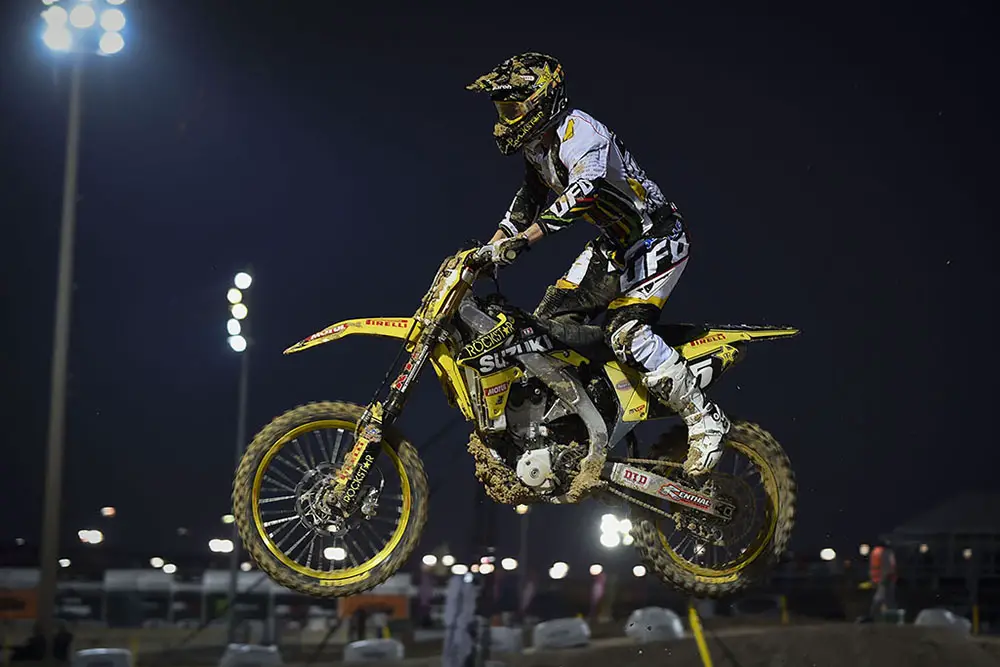 After two mediocre racetracks in front of meager crowds, the GP circus takes two weeks off before going to another never ridden on track in Argentina. Clement Desalle has gone 2-2-2-2 so far this seaosn.

Date             Venue                          450                                 250
Feb. 28……Qatar………..Max Nagl………………Jeffrey Herlings
March 8..…Thailand…….Ryan Villopoto……..Jeffrey Herlings
March 29…Argentina…..
April 19……Italy…………..
April 26……Holland……..
May 10…….Spain………..
May 24…….England…….
May 31….…France………
June 14……Italy…………..
June 21…..Germany…….
July 5………Sweden……..
July 12…….Latvia………..
July 26……Czech Rep….
Aug 2……..Belgium……..
Aug 16……Brazil………….
Aug 30……Holland………
Sept 13….Mexico………..
Sept. 20…Glen Helen….
450 Points Leader…Clement Desalle (Hus)
250 Points Leader…Jeffrey Herlings (KTM)

WHO'S WHO IN 2015 SUPERCROSS POINTS?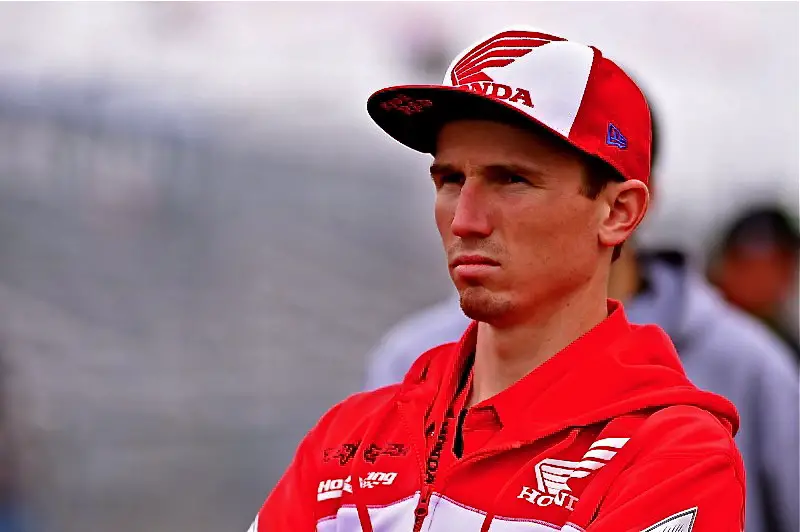 Cole Seely has no shot at winning the 2015 AMA Supercross Championship, but he's in a six-man battle for third in points.

2015 AMA 450 SUPERCROSS POINTS STANDINGS
(After 10 of 17 races)
1. Ryan Dungey…224
2. Trey Canard…184
3. Eli Tomac…159
4. Ken Roczen…156
5. Chad Reed…140
6. Jason Anderson…140
7. Cole Seely…138
8. Blake Baggett…135
9. Andrew Short…109
10. Broc Tickle…107
2015 AMA 250 EAST SUPERCROSS POINTS STANDINGS
(After 4 of 9 races)
1. Marvin Musquin…97
2. Jeremy Martin…85
3. Justin Bogle…84
4. Joey Savatgy…72
5. Martin Davalos…56
6. R.J. Hampshire…38
7. Anthony Rodriquez…34
8. Vince Friese…38
9. Kyle Peters…43
10. Jimmy Decotis…42
2015 AMA 250 WEST SUPERCROSS POINTS STANDINGS
(After 6 of 9 races)
1. Copper Webb…136
2. Jessy  Nelson…106
3. Tyler Bowers…104
4. Zach Osborne…102
5. Shane McElrath…86
6. Aaron Plessinger…81
7. Justin Hill…79
8. Josh Hansen…79
9. Alex Martin…75
10. Malcolm Stewart…69
MEMORIES OF THE WAY WE WERE
1953: This was KTM's first bike logo. It came on the 1953 KTM R100.
1954: The first official KTM logo was created when Ernst Kronreif, the "K" in KTM,  joined the company in 1954. At this time, there was no consistent coloring: the oval was printed partly in orange and blue.
1958: Not an official logo, but another alternative that appeared in 1958.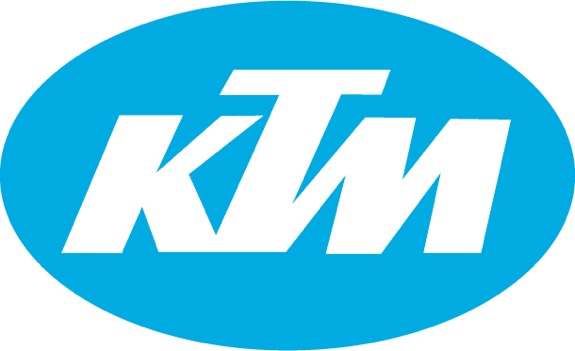 1962: Erich Trunkenpolz inherited the company after his father's death and established this new logo with an "updated" lettering. After winning the first World Championship title in 1974, Erwin Lechner, the sales manager, decided to change the logo again: the oval was stretched, the blue color became bolder.
1978: In 1978 the logo was again slightly edited. The blue coloring became darker. There were two versions: the original with outline and another one without.
1989: After the acquisition by the Taus-Gruppe, the KTM logo experienced a bigger change. The oval disappeared and the slogan "Fun in Motion" was added.
1992: Three years later, Stefan Pierer took over the company and initiated the company´s re-launch. Pierer maintained the logo of 1989, but adapted it to the company's core business "motorcycles."

1996: Since 1996 KTM has been defined by its orange color. Kiska reduced the logo to the lettering only.
1999: In 1999, the logo did not only change in terms of color, it also changed its shapes: the rear edge was adjusted and the T-line extended to line up precisely with K and M.
2003 on: Down to present day, the logo created in 2003 remains unchanged.
USED IT, ABUSED IT, TESTED IT: ARC MEMLON UNBREAKABLE COMPOSITE LEVERS
They said it couldn't be done and 50 years of motocross history had proven them right–until Bob Barnett came along. What did ARC's Bob Barnett do? He built the first unbreakable lever. Not only did Bob build an unbreakable lever, but a folding one at that. And, he got the factory teams to test it, approve it and race with it. This is the lever that many factory riders choose.
VERDICT: ARC logged in 27 different composite recipes before settling on the Memlon matrix composite. The Memlon Composite lever is so pliable that you can bend it in a circle. Test riders worried that they would feel the flex under braking, but in motion they never noticed it. ARC pioneered the folding lever concept, and now they are the first with an unbreakable lever. These levers are tough. ARC also makes the same lever sin forged aluminum. Prices vary from $64.95 on up for Memlon levers – www.arclevers.com or (714) 543-0362.
JOSH HILL POSTS UP FROM THE DAYTONA HOSPITAL

FREE LUNCH & A GREAT SEAT: WANNA FLAG THE GLEN HELEN NATIONAL?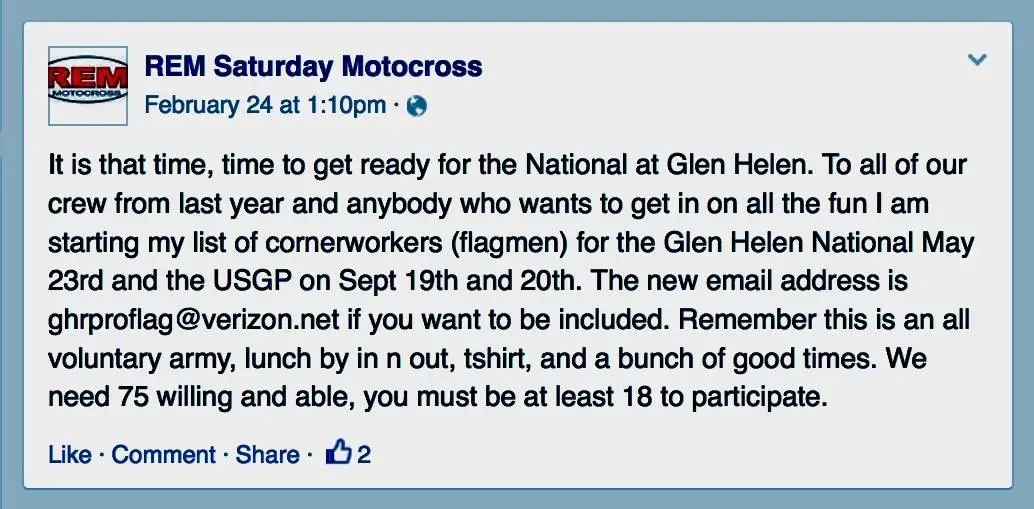 Send an email to [email protected] to sign on to a very important job.

THIS WEEK'S BIRTHDAY BOYS: JUSTIN 31, CHAD 33, FERRY 40


Mar. 13…Shaun Simpson 1988
Mar. 13…Josh Demuth 1979

Mar. 15…Chad Reed 1982
Mar. 16…Pete Fox
Mar. 16…Pat Schutte

Mar. 16…Stephane Roncada 1979
Mar. 17…Jacob Marsack

Mar. 17…Alessio Chiodi 1973
Mar. 17…Pat Barton 1966

Mar. 19…John Gregory 1940
Mar. 20…Erick Vallejo 1979
Mar. 20…Ray Conway

MOTOCROSS ACTION PHOTO OF THE WEEK II

We'll never complain about a track having too many turns ever again.
FAIR WARNING! INDY IS ON FOX SPORTS 2


All times are Eastern. There are 5 races left on Fox Sports 1, 1 race on Fox Sports 2 and one on Fox. New York on April 25 is a day race.

HOW TO SUBSCRIBE TO MXA AND MAKE MONEY

The April 2015 issue of  MXA could be hand delivered to your door by a uniformed agent of the Federal Government. Is this a great country or what?

Do you subscribe to MXA? You should. We know that you think that print magazines are dead and that the internet will fill the void, but most of the stuff in the current issue of MXA won't appear on the web for several months. Luckily, you can get all of MXA on iPhone, iPad, Kindle or Android by going to the Apple Store, Amazon or Google play, but better yet get the Digital desktop version at https://hi-torque.com/product/motocross-action-digital-edition/ or click on the link below to get the print version delivered to your door for only $15.99 (plus you get a free $25 Gift Card from Rocky Mountain ATV/MC just for subscribing). There is a profit to be made in this deal for you. For the Print magazine go to: http://hi-torque.com/product/subscribe-to-motocross-action-magazine/

COMING EVENTS: START MAKING PLANS

2015 AMA  SUPERCROSS CHAMPIONSHIP
March 14………….…..Indianapolis, IN
March 21……………..Detroit, MI
March 28……………..St. Louis, MO
2015 AMSOIL ARENACROSS CHAMPIONSHIP
Mar. 13-15……………Southaven, MS
2015 GNCC CROSS-COUNTRY CHAMPIONSHIP
March 15…………………Washington, GA
2015 BRITISH NATIONAL CHAMPIONSHIP
March 15…Hilton Park
2015 FRENCH NATIONAL CHAMPIONSHIP
March 15……………….Sommieres
2015 DUTCH NATIONAL CHAMPIONSHIP
March 15…………….…Gemert
2015 WOMEN'S NATIONAL CHAMPIONSHIP
Mar. 21……………..…Wortham, TX
2015 GEICO ENDUROCROSS CHAMPIONSHIP
March 21……………..Salt Lake City, UT
2015 SPANISH NATIONAL CHAMPIONSHIP
March 22…Valverde Del Camino
2015 GRAND PRIX OF ARGENTINA
March 29………………Neuwuen, Argentina
2015 AUSTRALIAN NATIONAL CHAMPIONSHIP
March 29……..……Horsham, Vic
WORLD TWO-STROKE CHAMPIONSHIP
April 4…Glen Helen, CA
SALT LAKE CITY ENDUROCROSS ON SATURDAY, MARCH 21
For more info go to www.endurocross.com
LAKE HAVASU WORCS RACE ON MARCH 27-29
For more info go to www.worcsracing.com
WORLD MINI GRAND PRIX AT GLEN HELEN: APRIL 14-18

For more info go to www.nmamx.com
Photos: John Basher, John Ker, Ray Archer, KRT Kawasaki, Jimmy Mac, MXGP, Suzuki, Geico Honda, Honda, Pro Circuit,