MOTOCROSS ACTION WEEKEND NEWS ROUND-UP: THE CLOSER WE GET THE FARTHER IT IS

PLANNING ON BUYING A PRO CIRCUIT EXHAUST? GET A FREE GEAR BAG


For more info go to www.procircuit.com. Offers end on April 19 (while supply lasts).
WHERE IN THE WORLD IS GEORGE KOHLER?
SoCal racers won't have three-time REM number one racer George Kohler to kick any around for awhile. George plans on being very busy playing with his new toy — a 1941 Chevy pickup truck. He hasn't given up on racing bikes, but he doesn't want to mess up the bed of his hot rod…yet.
GODSPEED LAURIE OLCOTT (1968-2015)
Laurie Olcott, Vice President of Stimilon International, a motocross event company she ran with her husband, David, passed away peacefully at her home on February 12. She was 46, and had valiantly fought breast cancer for five years and left two daughters, Annalyse and Kailina, behind. Sharing her husband's passion for motocross and snowboarding led to their founding of Stimilon, where the two organized and ran snowboard and motocross events from their base in Clinton, Connecticut.
"Laurie had been involved with all Stimilon events since we met in 1994," said husband David Olcott.  "She was the VP of Operations and the brains behind a smoother registration process, more efficient scoring, and a fair and balanced awards and raffle presentation. She loved the riders and worked tirelessly to ensure they got more value out of the Stimilon Experience than they paid for. Her smile could just light up any room she entered." A fund has been established to help the Olcott daughters. The link is: www.gofundme.com/mmeshw
YAMAHA RIDERS AT ROSENAU POWERSPORTS ON FRIDAY NIGHT


Friday night night, on the eve of the Monster Energy Supercross at Ford Field in Detroit, MI, several Yamaha-supported Supercross riders will be making an appearance and signing autographs at nearby RosenaPowersports.
Details are as follows:

Friday from 6:00 p.m. to 7:00 p.m.
Rosenau Powersports
24732 Ford Road
Dearborn Heights, MI 48127
(313)278-5000
USED IT, ABUSED IT, TESTED IT: DICK'S RACING INTELAJET KTM CARB MOD
Dick's Racing progressively bores out the stock KTM 250SX two-stroke carb from 36mm to 39mm and installs the creative Intelajet system to build an effective KTM 250/300 two-stroke carb. It fits on all KTM two-stroke carbs from 2004 to 2015 and Husky TC250s from 2014-2015.
Intelajet's upstream emulsion tube kicks in a mist of fuel at high rpm.
VERDICT: Dick Wilk of Dick's Racing taper-bores the stock KTM carb so that it flows from 36mm to 39mm; he can also taper-bore the ends for even more power. Tapering the carb's bore makes the Keihin PWK work like a 36mm carb below one-third throttle but a big carb above that. The Intelajet is the two-stroke equivalent of the dual fuel-injection nozzles on the Kawasaki KX250F. The Keihin carb functions normally below two-thirds throttle, but as air velocity increases, excess fuel is sprayed out of the Intelajet's emulsion tube upstream from the main jet. It has the feel of a supercharger. The Intelajet doesn't dump raw fuel into the carb as much as it sprays a fine mist into the air stream to enhance fuel burn at high rpm. The amount of fuel coming through the emulsion tube is controlled by an air-bleed dial, which is accessible to the rider. The performance was a awesome! Incredible! Worth the money! Amazing! Fantastic! Unbelievable! Pick the adjective that you like best. The gain in top-end power and overrev was immediately noticeable to every MXA test rider. It has no effect on power below two-thirds throttle, but once the mist kicks in, the KTM 250SX feels like it has a jet pack attached to it. We love it.
This dial controls air flow to the emulsion tube.
DIGITS: $425.00 (carb bored progressively from 36mm to 39mm with Intelajet installed); $250.00 (taper bored only), $30.00 (Intelajet mounting kit); $40.00 (taper-bore carb ends) — www.dicksracing.com or (916) 705-3193.
TWO-STROKES AT THE AMA NATIONALS…AT LEAST AT THE GLEN HELEN ROUND
Doug Dubach (15) loves his two-strokes and he loves Glen Helen. Even though Doug is 52-years old—he is  still a threat to win.
At the Glen Helen 250/450 Nationals there will be a Pro Two-Stroke race. It will be on the same day as the AMA Nationals and held before the first motos of the AMA National. There will be no track changes for the two-stroke class — whatever the AMA National Pros race on the two-strokes will race on. It is an invitational race and the field will be 40 riders. There are no displacement limits — 125cc, 150cc, 250cc, 300cc and 500cc are allowed.
If you'd like to race, the easiest way to get inis to race the world Two-Stroke Championships on April 4, 2015 at Glen Helen. The top ten riders in the 250 pro class will be automatically seeded into the National Two-Stroke race . If you make the top ten in the 250 Pro class at the World Two-Stroke Championship, which has a $7000 purse, you will be guaranteed a starting spot on the AMA National Two-Stroke gate. The remaining 30 riders will be selected from the riders who apply — but they will be vetted to insure that the rider is capable of racing on a National track against fast competition. This selection process will be done for the health and well being of riders who may want to race on a National track…until they actually get on a National track. The selection process will be rigorous, but it would be a good chance for an up-and-coming rider, who is not entered in the Glen Helen National, or a rider who wants to race the Nationals in the future, to get his feet wet. To find out more about the World Two-Stroke Championship go to www.glenhelen.com.
The National Two-Stroke race will be a support class for the AMA 250/450 National and will only be one moto. For more information or to request consideration, email Lori at Glen Helen([email protected])  or Mark Moore ([email protected]).
THE ART OF MOTO COMING TO A THEATER NEAR YOU…WELL, NEAR SoCAL
"The Art of Moto" film has partnered with Tugg, a niche web-based platform that helps bring independent films to local theaters and communities, to do two screenings of the motocross movie on Thursday, April 2, the AMC Theatre at Victoria Gardens in Rancho Cucamonga at 7:30 p.m. and on Tuesday, April 7, at 7:30 pm at the Regency Granada Hills 9 in Granada Hills. Additional screenings will be announced soon. All tickets must be reserved through Tugg. There is a catch, but it is for producer/director Mark Homan to worry about. For the screenings to happen, a minimum amount of tickets must be sold before a given deadline at each theatre.
"We are very excited to be working with Tugg to present "The Art of Moto" on the big screen in local communities," said director and producer Mark Homan. "A theatrical screening really is the way to appreciate the dynamic cinematography and 5.1 surround sound of this spectacle of motocross. Tugg makes it easy to host, sponsor, or just attend an event. It's a fun way to get your moto community together to celebrate the world's toughest sport and connect with new and old friends at the same time.  Through this model, other films, such as "On Any Sunday: The Next Chapter" and "Why We Ride" have been able to present their films in front of sold-out audiences on the big screen."
To buy tickets to "The Art of Moto" showing listed above go to www.tugg.com/titles/art-of-moto or if you like "The Art of Moto" to show in your town fill out the Tugg Event request form at www.tugg.com/event_requests/new?movie=art-of-moto and choose a theater, date and time. If enough people are interested in your town, it won't be long until you can sit back and enjoy the show.
HERE IS "THE ART OF MOTO" TRAILER

MXA PRODUCT SPOTLIGHT: SMOOTH INDUSTRIES GAERNE WATER BOTTLE
We know that you've never wished that you could drink out of your Gaerne SG-12 boot, but Smooth has made it a possibility. Their 14-ounce foldable water bottle is shaped like a Gaerne SG-12 boot. It is eco-friendly and made from BPA-free plastic and comes with a carabiner so you can latch it onto just about anything. $8.95–www.smoothindustries.com or (760) 723-2522.
SUPERCROSS AT A GLANCE: DETROIT IS HIS SATURDAY

With 5 wins in 11 races, Ryan Dungey holds all the cards. There are six races left in the season.

Date             Venue                     450                           250
Jan. 3…..Anaheim I………….Ken Roczen….….Jessy Nelson
Jan. 10…Phoenix……………..Eli Tomac………..Cooper Webb
Jan. 17…Anaheim II………….Ken Roczen……..Cooper Webb
Jan. 24…Oakland…………….Trey Canard….….Malcolm Stewart
Jan. 31…..Anaheim III…….…Ryan Dungey…..Cooper Webb
Feb. 7…..San Diego………..…Trey Canard…..…Cooper Webb
Feb. 14…Dallas……………..….Ryan Dungey…..Marvin Musquin
Feb. 21…Atlanta………….……Chad Reed…..…..Jeremy Martin
Feb. 28…Atlanta………………..Ryan Dungey…..Marvin Musquin
Mar. 7…Daytona………………..Ryan Dungey…..Marvin Musquin
Mar. 14…..Indy…..……………..Ryan Dungey…..Marvin Musquin
Mar. 21…Detroit
Mar. 28…St. Louis
Apr. 11…..Houston
Apr. 18….Santa Clara
Apr. 25….New York
May 2……Las Vegas
450 Points leader…Ryan Dungey (KTM)
250 West points leader…Cooper Webb (Yam)
250 East points leader…Marvin Musquin (KTM)
WHAT DOES RYAN DUNGEY NEED TO CLINCH THE CROWN
Ryan Dungey.
Heading to Detroit, Ryan Dungey had a 45-point lead over Trey Canard. Looking into the future, even if Trey Canard had been able to win the next six races (counting Detroit), Dungey could win the 2015 Supercross Championship over Canard by finishing fourth or better at the last 6 rounds. Now, with Trey injured, Eli Tomac becomes Ryan's main competition. Tomac is currently 77 points behind Dungey. With 25 points paid in each round and 5 races left, the best that Eli Tomac can hope for is to win all 5, which would give him a grand points total at season's end of 319 points (194 + 125 = 319). Since Dungey is already has 271 points, quick subtraction would show that if Ryan Dungey can earn 50 points over the next five races he will be the Champion. That breaks down to 11th or better in every remaining race. Of course, Supercross is a fickle sport. Anyone can get knocked down in the first turn, break a bone during mid-week practice or get the flu. Whether these ills befall Eli or Ryan, as they have Trey, the points will remain in flux for the next 5 weekends (actually 6 weekends because the series takes one weekend off on April 4 — after Houston). As for the next closest rider after Eli Tomac, that is Cole Seely. Cole is 91 point behind Dungey. Ryan can beat Cole to the title by making the top 15 every weekend (and could not show up at the next three races and still have a 16-point lead with two races to go).
DEBBI TAMIETTI'S PHOTO OF THE WEEK
Getting one rider lined up in the lens is hard enough, but somehow Debbi Tamietti got four of them to slot into perfect places.
2015 GP'S AT A GLANCE UP TO THAILAND

After two mediocre racetracks in front of meager crowds, the GP circus takes two weeks off before going to another never ridden track in Argentina. Clement Desalle is in the points lead.

Date             Venue                          450                                 250
Feb. 28……Qatar………..Max Nagl………………Jeffrey Herlings
March 8..…Thailand…….Ryan Villopoto……..Jeffrey Herlings
March 29…Argentina…..
April 19……Italy…………..
April 26……Holland……..
May 10…….Spain………..
May 24…….England…….
May 31….…France………
June 14……Italy…………..
June 21…..Germany…….
July 5………Sweden……..
July 12…….Latvia………..
July 26……Czech Rep….
Aug 2……..Belgium……..
Aug 16……Brazil………….
Aug 30……Holland………
Sept 13….Mexico………..
Sept. 20…Glen Helen….
450 Points Leader…Clement Desalle (Hus)
250 Points Leader…Jeffrey Herlings (KTM)

WHO'S WHO IN 2015 SUPERCROSS POINTS?

There is no doubt that Trey Canard is fast enough to win, but he has to get better starts if he wants to run down Dungey's 45-point lead.

2015 AMA 450 SUPERCROSS POINTS STANDINGS
(After 12 of 17 races)
1. Ryan Dungey…271
2. Trey Canard…204
3. Eli Tomac…194
4. Cole Seely…180
5. Chad Reed…170
6. Ken Roczen…156
7. Blake Baggett…154
8. Jason Anderson…145
9. Andrew Short…136
10. Broc Tickle…134
Justin Bogle has been steady in the 250 East and, even with Marvin Musquin's hot streak, Justin is only 13 points back.
2015 AMA 250 EAST SUPERCROSS POINTS STANDINGS
(After 6 of 9 races)
1. Marvin Musquin…144
2. Justin Bogle…131
3. Jeremy Martin…103
4. Joey Savatgy…93
5. R.J. Hampshire…84
6. Jimmy Decotis…69
7. Anthony Rodriquez…68
8. Kyle Peters…65
9. Martin Davalos…63
7. Vince Friese…58
2015 AMA 250 EAST SUPERCROSS POINTS STANDINGS
(After 5 of 9 races)
1. Marvin Musquin…122
2. Justin Bogle…106
3. Jeremy Martin…85
4. R.J. Hampshire…74
5. Joey Savatgy…73
6. Martin Davalos…62
7. Vince Friese…58
8. Jimmy Decotis…57
9. Kyle Peters…57
10. Anthony Rodriquez…52
Cooper Webb has a 30-point lead in the 250 West with Houston, Santa Clara and Vegas left.
2015 AMA 250 WEST SUPERCROSS POINTS STANDINGS
(After 6 of 9 races)
1. Copper Webb…136
2. Jessy  Nelson…106
3. Tyler Bowers…104
4. Zach Osborne…102
5. Shane McElrath…86
6. Aaron Plessinger…81
7. Justin Hill…79
8. Josh Hansen…79
9. Alex Martin…75
10. Malcolm Stewart…69
MEMORIES OF THE WAY WE WERE
The Grand Old brands don't always make it to the finish line.
LOOKING FOR A JOB IN THE INDUSTRY? RIDE ENGINEERING HAS AN OPENING

Ride Engineering is looking for a motocross rider who wants a full-time position as a sales and customer service expert. Ride Engineering is based in Costa Mesa, California, and specializes in bolt-on motocross accessories. The position requires good computer (Microsoft Outlook, Excel and QuickBooks), a positive sales attitude and excellent verbal skills. The focus will be on processing inbound orders and soliciting dealer sales within a given territory. It also entails keeping detailed notes, processing orders, staying current on all product knowledge, monitoring back orders and assisting in payment collections. Ride Engineering would prefer someone with two or four years of college, two years sales experience and five years of riding experience. In the process the job will teach how a small business operates and the position offers a base salary plus generous commissions. For immediate consideration send your resume to [email protected].
DAN ALAMANGOS' PHOTO OF THE WEEK
"Either this hill is steeper than it looks or my brakes are locked up." Dan Alamangos not only shot the photo, but he freed the rider from his entanglement.

FREE LUNCH & A GREAT SEAT: WANNA FLAG THE GLEN HELEN NATIONAL?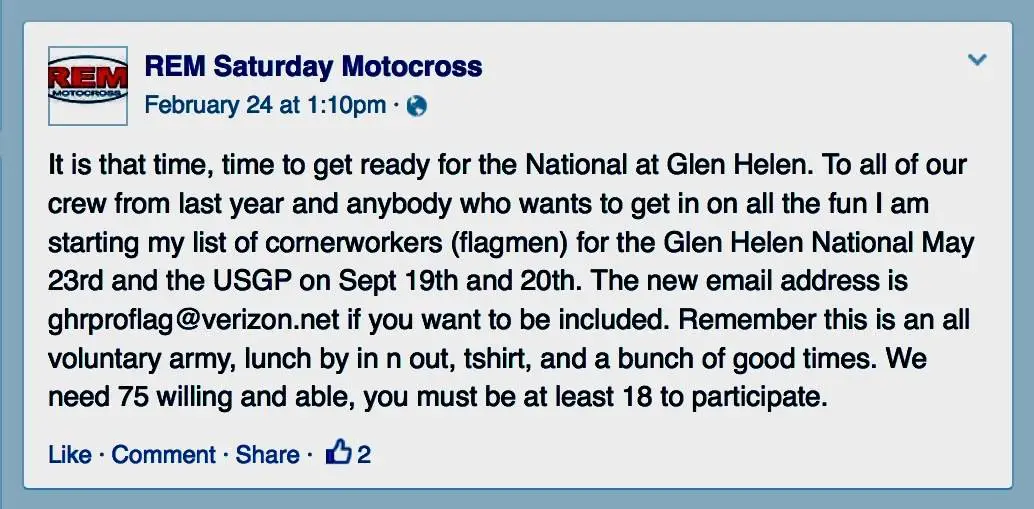 Send an email to [email protected] to sign on to a very important job.

THIS WEEK'S BIRTHDAY BOYS: THE KING OF COOL

Steve McQueen was the highest profile motorcycle racer the sport has ever had. He would have turned 85 next Tuesday.
Mar. 20…Erick Vallejo 1979
Mar. 20…Ray Conway
Mar. 21…Paul Friedrichs 1940
Mar. 21…Andre Malherbe 1956
Mar. 21…Bruce Hendel
Mar. 23…Justin Bogle 1993
Mar. 23…Fredrik Noren 1992
Mar. 24…Steve Lamson 1971
Mar. 24…Steve McQueen 1930
Mar. 24…Davide Guarneri 1985
Mar. 25…Justin Barcia 1992
Mar. 25…Johnny O'Mara 1961
Mar. 25…Dave Osterman
Mar. 26…Dr. John Bodnar
Mar. 26…Gautier Paulin 1990
Mar. 26…Mike Jones 1966
ST. LOUIS SUPERCROSS TV SCHEDULE


All times are Eastern. There are 5 races left on Fox Sports 1 and one on Fox. New York on April 25 is a day race.

250/450 WORLD CHAMPIONSHIP POINTS

Clement Desalle (25) has gone 2-2-2-2 in the first tw0 450 GPs this year to lead the points over Tony Cairoli (222).
2015 FIM 450 POINTS STANDINGS
(After 2 of 17 races)
1. Clement Desalle…88
2. Tony Cairoli…79
3. Max Nagl….78
4. Ryan Villopoto…70
5. Romain Febvre…67
6. Gautier Paulin…67
7. Kevin Strijbos…55
8. Evgeny Bobryshev…45
9. Todd Waters…40
10. Shaun Simpson…38
Jordi Tixier's 250 World Championship defense has gotten off to a rocky start after he missed the second moto in Thailand with heat stroke.

2015 FIM 250 POINTS STANDINGS
(After 2 of 17 races)
1. Jeffrey Herlings….1000
2. Dylan Ferrandis…78
3. Pauls Jonass…70
4. Julien Lieber…62
5. Valentin Guillod…58
6. Aleksandr Tonkov…56
7. Thomas Covington…53
8. Tim Gajser…52
9. Petar Petrov…41
10. Jeremy Seewer…38
HOW TO SUBSCRIBE TO MXA AND MAKE MONEY

The April 2015 issue of  MXA could be hand delivered to your door by a uniformed agent of the Federal Government. Is this a great country or what?

Do you subscribe to MXA? You should. We know that you think that print magazines are dead and that the internet will fill the void, but most of the stuff in the current issue of MXA won't appear on the web for several months. Luckily, you can get all of MXA on iPhone, iPad, Kindle or Android by going to the Apple Store, Amazon or Google play, but better yet get the Digital desktop version at https://hi-torque.com/product/motocross-action-digital-edition/ or click on the link below to get the print version delivered to your door for only $15.99 (plus you get a free $25 Gift Card from Rocky Mountain ATV/MC just for subscribing). There is a profit to be made in this deal for you. For the Print magazine go to: http://hi-torque.com/product/subscribe-to-motocross-action-magazine/

COMING EVENTS: START MAKING PLANS

2015 AMA  SUPERCROSS CHAMPIONSHIP
March 28……………..St. Louis, MO
2015 WORLD OFFROAD CHAMPIONSHIP (WORCS)
March 27-29…………..Lake Havasu, AZ
2015 DUTCH NATIONAL CHAMPIONSHIP
March 29…………….…Halle
2015 GRAND PRIX OF ARGENTINA
March 29………………Neuwuen, Argentina
2015 AUSTRALIAN NATIONAL CHAMPIONSHIP
March 29……..…..…Horsham, Vic
WORLD TWO-STROKE CHAMPIONSHIP
April 4…………………..Glen Helen, CA
LAKE HAVASU WORCS RACE ON MARCH 27-29
For more info go to www.worcsracing.com
WORLD MINI GRAND PRIX AT GLEN HELEN: APRIL 14-18

For more info go to www.nmamx.com
GLEN HELEN NATIONAL AMATEUR DAYS ON MAY 21-22

The 2015 Glen Helen AMA National will be here before you know it…and the Glen Helen Amateur days will be here two-days before that. Pre-entries are now open online for the National AMA Amateur Days on May 21-22.
On Thursday, May 21, there will classes for 50cc (4-to-6 Stock, 5-to-8, shaft drive/XR), 65cc (First-time/Beginner, 7-to-9, 9-to-11 ), 85cc (First time/Beginner, 9-to-11, 12-to-13, 14-to-16), 250F (A & B & C & D), 450F (A & B & C & D), Over-25 (A & B & C) and Over-40 (A & B & C & D) riders.
On Friday, May 22, the classes will be Over-50 (A & B), Over-60, Over-30 (A, B &C), Women (+14), Supermini (12-to-15), Schoolboy (12-to-16), Two-Stroke and College (16-to-24).
Both AMA Amateur Days will have practice at 7:30 a.m. with racing starting at 9:00 a.m. Gates will be open from 6:00 a.m. to 10:00 p.m. There is a special online pre-entry race fee of $60 ($20 less than post-entry fee). AMA Membership is required, if you aren't an AMA member you can purchase it at the track for $40 for one full year. You Must be registered to race either Amateur Day. Click here to register online www.glenhelen.com/register/.
Photos: John Basher, John Ker, Ray Archer, Massimo Zanzani, Suzuki, Geico Honda, KTM, Honda, Kawasaki