MOTOCROSS ACTION WEEKEND NEWS ROUND-UP: LIGHT THE FUSE

USED IT, ABUSED IT, TESTED IT: X BRAND GOX GOGGLE

The X Brand GOX is a well-crafted, no-nonsense, basic motocross goggle without frills. It lacks fancy air scoops, quick-release lens systems, nose guards or outrigger brackets. Instead, it offers a low price point.
VERDICT: The best compliment the MXA wrecking crew can pay to the GOX goggle is that we didn't notice it while riding. It did everything well and was totally unobtrusive. We admit there are goggles with better straps, peripheral vision, lens mounting systems and more bells and whistles, but the X Brand GOX is above average in every one of those categories. It's the kind of goggle you want to wear because it works and it doesn't break the bank.
DIGITS: $34.00 to $47.00—www.eksbrand.com or (818) 592-6434.
BRIT CRASH! ADAM STERRY'S LANDS ON JORDAN BOOKER
ANCIENT HISTORY: THE FINAL 2015 SUPERCROSS STANDINGS
FINAL 2015 AMA 450 SUPERCROSS POINTS STANDINGS
1. Ryan Dungey…390
2. Eli Tomac…305
3. Cole Seely…277
4. Chad Reed…226
5. Blake Baggett…223
6. Trey Canard…204
7. Jason Anderson…200
8. Broc Tickle…194
9. Andrew Short…180
10. Westin Peick…160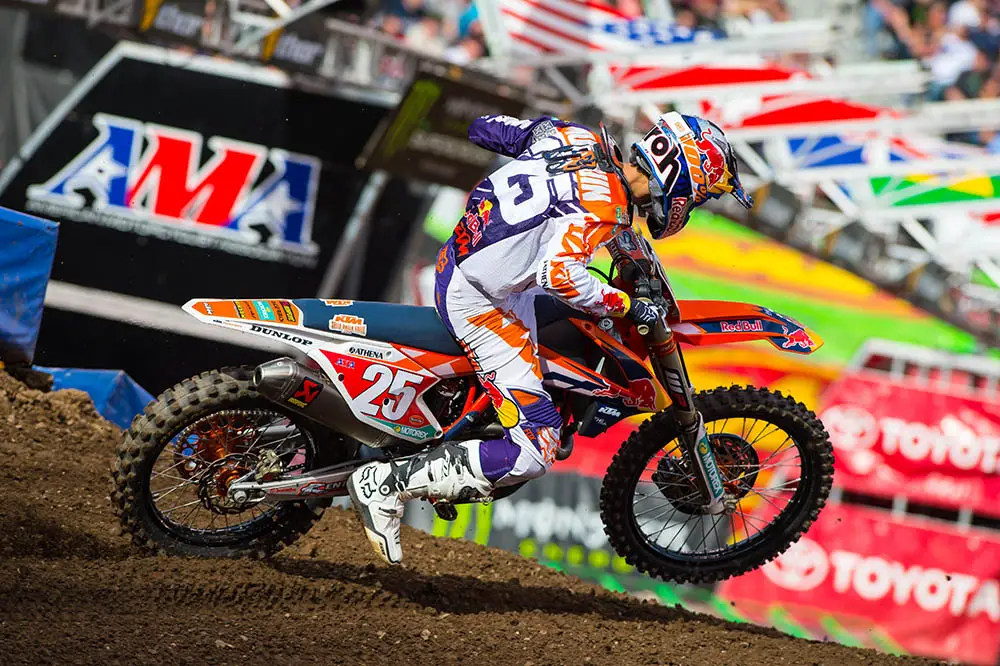 Marvin Musquin.
FINAL 2015 AMA 250 EAST SUPERCROSS POINTS STANDINGS
1. Marvin Musquin…194
2. Justin Bogle…171
3. Jeremy Martin…143
4. Joey Savatgy…133
5. R.J. Hampshire…100
6. Anthony Rodriquez…98
7. Kyle Peters…91
8. Jimmy Decotis…87
9. Kyle Cunningham…72
10. Martin Davalos…63
Cooper Webb.
FINAl 2015 AMA 250 WEST SUPERCROSS POINTS STANDINGS
1. Cooper Webb…161
2. Zach Osborne…116
3. Shane McElrath…108
4. Jessy  Nelson…106
5. Tyler Bowers…105
6. Aaron Plessinger…99
7. Justin Hill…94
8. Alex Martin…91
9. Malcolm Stewart…89
10. Josh Hansen…89

THIS WEEK'S BIRTHDAY BOYS: TIBBLIN, DYE & EKINS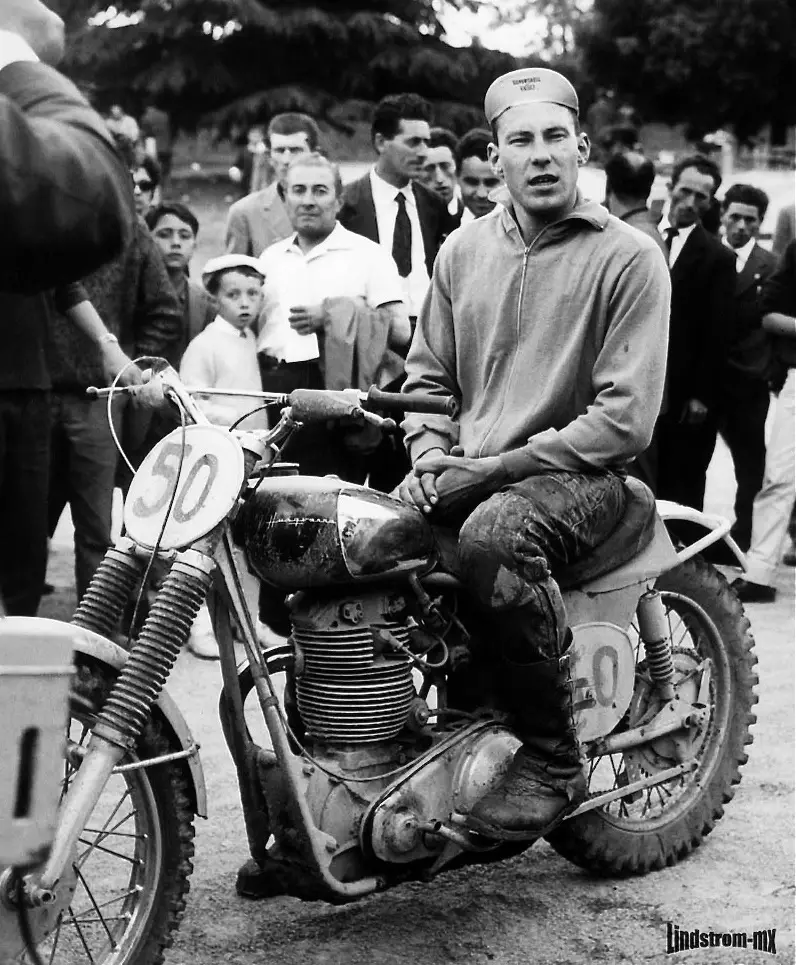 Rolf Tibblin in 1962 on the Husqvarna four-stroke.

May 7…Rolf Tibblin 1937
May 7…Matt Tedder
May 7…Justin Hill 1995
May 9…Brian Deegan 1975
May 10…Bud Ekins 1930
May 10…Edison Dye 1918
May 10…Jason McCormick 1975
May 10…Jessy Nelson 1994
May 11…John van den Berk 1967
May 11…Jeremy Martin 1993
May 13…Billy Whitley
May 14…Kyle Regal 1991
30 MINUTES OVER GLEN HELEN THIS SATURDAY
The last chance to race two long motos at Glen Helen before the AMA National.

The weekly REM races are holding 30-minute motos for the Pro classes on Saturday, May 9. If you are thinking of racing the Hangtown and Glen Helen AMA Nationals, perhaps you should see just how long 30-minutes is. For more info go to www.remsatmx.com.

MOTORCYCLE AD OF THE WEK: THREE BIKES IN ONE

Do you remember the 200cc Honda Fat Cat? 1/3rd, motorcycle, 1/3rd ATV and 1/2rd Rokon Trailbreaker? Can you guess the year? 1986.
LAST LOOK! JUST THE WINNERS

This is a Supercross start, but now it is time for a Supercross stop.
Date      Venue                        450                           250
Jan. 3…..Anaheim I………….Ken Roczen…..…..Jessy Nelson
Jan. 10…Phoenix……………..Eli Tomac………….Cooper Webb
Jan. 17…Anaheim II………….Ken Roczen……….Cooper Webb
Jan. 24…Oakland…………….Trey Canard….……Malcolm Stewart
Jan. 31…Anaheim III…..….…Ryan Dungey…….Cooper Webb
Feb. 7…San Diego……..…..…Trey Canard…….…Cooper Webb
Feb. 14…Dallas……………..….Ryan Dungey…….Marvin Musquin
Feb. 21…Atlanta………….……Chad Reed…..……Jeremy Martin
Feb. 28…Atlanta………………..Ryan Dungey…..Marvin Musquin
Mar. 7…Daytona………………..Ryan Dungey…..Marvin Musquin
Mar. 14…..Indy…..……………..Ryan Dungey…..Marvin Musquin
Mar. 21…Detroit………….…….Eli Tomac………..Justin Bogle
Mar. 28…St. Louis…..…………Ryan Dungey…..Marvin Musquin
Apr. 11…..Houston…………..….Cole Seely………Cooper Webb
Apr. 18….Santa Clara………….Ryan Dungey…..Cooper Webb
Apr. 25….New York……………Eli Tomac…..…..Marvin Musquin
May 2……Las Vegas……..…..……Ryan Dungey…..Marvin Musquin
450 Supercross Champion…Ryan Dungey (KTM)
250 West Champion…Cooper Webb (Yam)
250 East Champion…Marvin Musquin (KTM)
250 East/West Shootout winner…Marvin Musquin (KTM)

KURT CASELLI FOUNDATION AT MOTODOFFO WINERY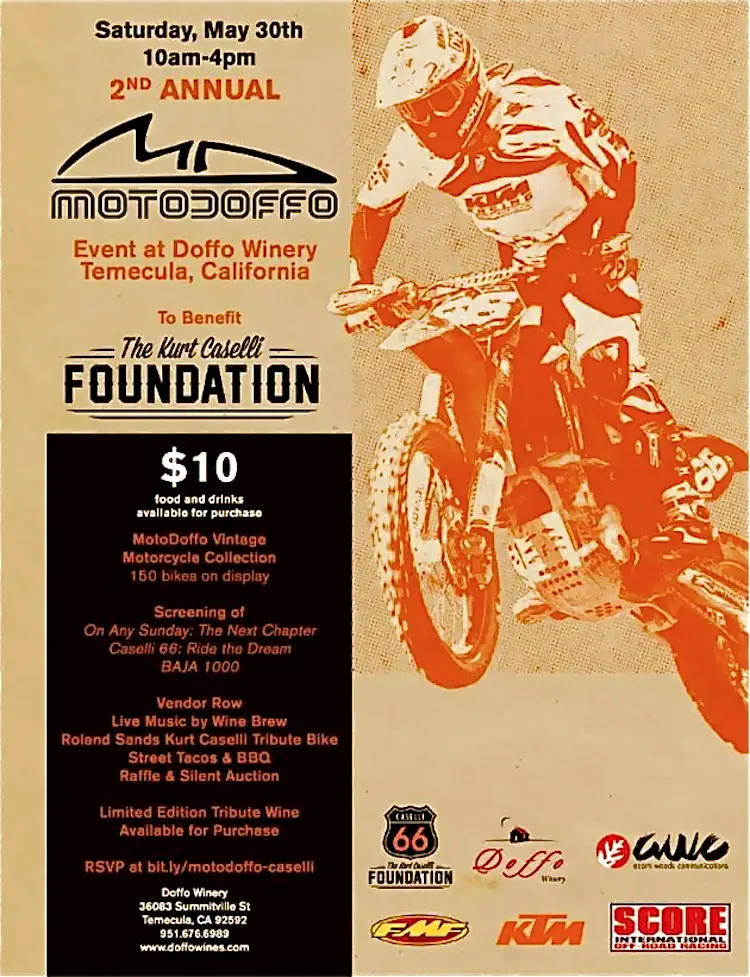 The Kurt Caselli foundation will be holding an event at the Motodoffo winery in Temecula, California, on May 30. For more info go to www.doffowines.com
UNITED STATES GRAND PRIX ON SEPTEMBER 20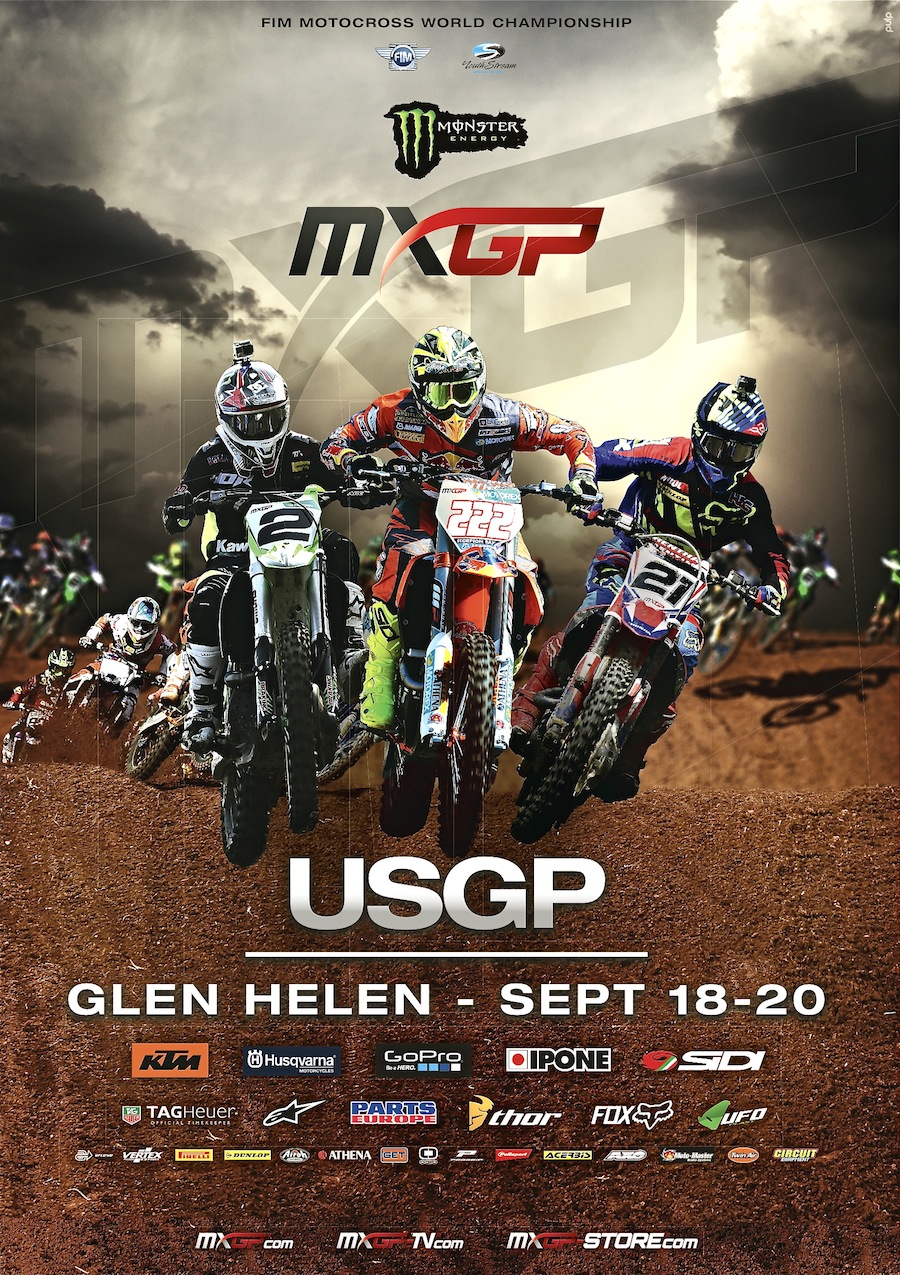 For more info go to www.glenhelen.com.
MEMORIES OF THE WAY WE WERE


This is the poster for the 1974 Superbowl of Motocross in the L.A. Coliseum. Can you guess the year? 1974.
DAN ALAMANGOS PHOTO OF THE WEEK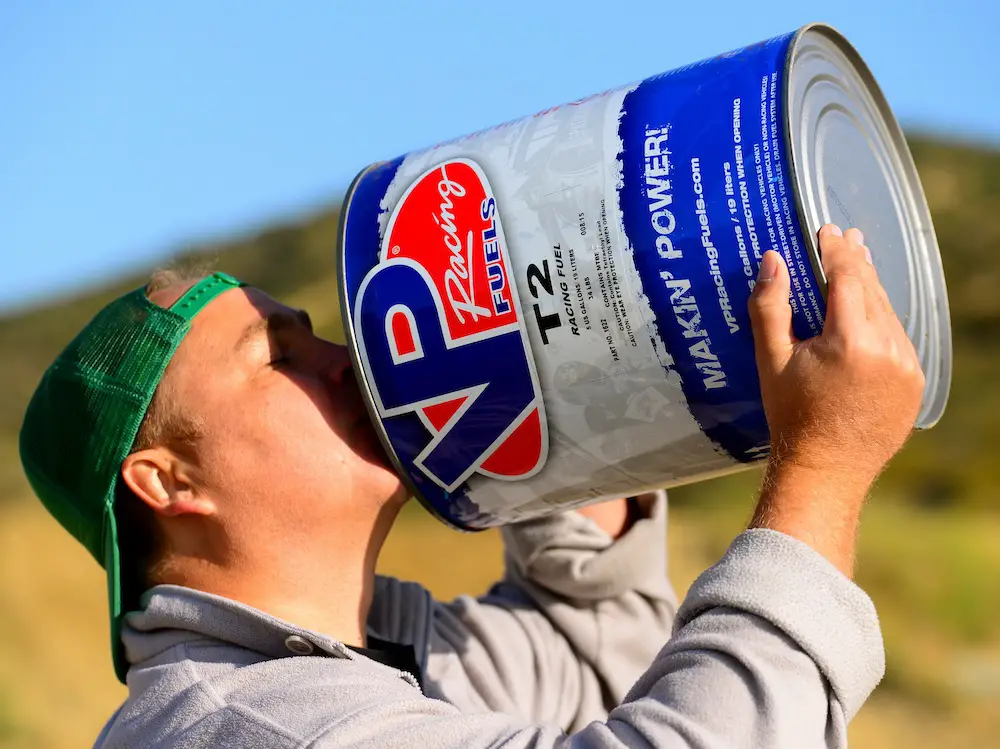 There is no truth to the rumor that VP is coming out with its own energy drink…in a jumbo-sized can. In fact, right after Dan shot this photo there was a lot of gagging, coughing and spitting going on.
SoCAL OLD TIMER MX SERIES ON MAY 31, JUNE 7 & JUNE 21
For more info go to www.socalotmx.org
THREE MINUTES OF MEMORABLE CRASHES

USED IT, ABUSED IT, TESTED IT: JGRMX ADJUSTABLE YZ250/450F SUBFRAME
Joe Gibbs Racing's adjustable subframe for YZ250Fs and YZ450Fs lowers the subframe via heim joints that attach to the frame. Every 360-degree rotation of the heim joint is equal to a 3mm change in subframe length, which when multiplied by the angle to the rear of the subframe can account for lowering the rear of the subframe as much as 8mm.
VERDICT: How low can you go? Until your rear tire hits the underside of the fender. We loved this product, but it does require care in setting it up.
DIGITS: $450.00 (complete), $180.00 (with your subframe). www.jgrmx.com or (704) 875-0573.
DONNIE HANSEN MOTOCROSS SCHOOLS IN CALIFORNIA ON MAY 8 & MAY 13
Donnie Hansen Motocross Academy (DHMA) has announced two One-Day MX Schools for in California in May. The first is scheduled for Friday, May 8, at Cal City MX Park in California City, California. The second one will be at the legendary Hangtown MX Classic at the Prairie City OHV Park in Rancho Cordova, California on Wednesday, May 13. For more info on the California City school go to www.CalCityMXPark.com and for Hangtown go to www.HangtownMX.com. For info on all Donnie Jansen schools visit www.DHMA.com
HOW TO SUBSCRIBE TO MXA AND MAKE MONEY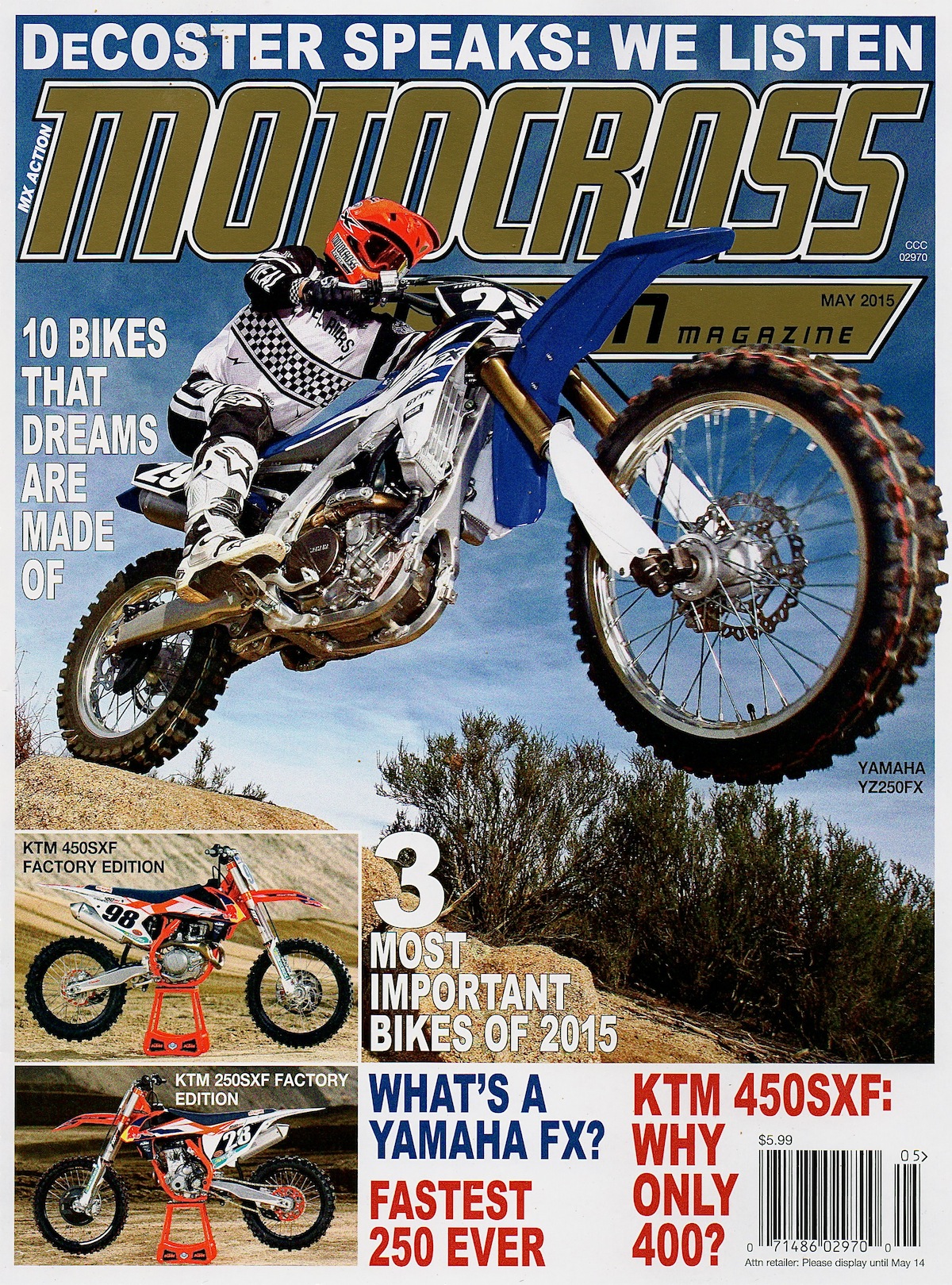 The May 2015 issue of MXA could be hand delivered to your door by a uniformed agent of the Federal Government. Is this a great country or what?
Do you subscribe to MXA? You should. We know that you think that print magazines are dead and that the internet will fill the void, but most of the stuff in the current issue of MXA won't appear on the web for several months, if at all. Luckily, you can get all of MXA on your iPhone, iPad, Kindle or Android by going to the Apple Store, Amazon or Google play, but better yet get the Digital desktop version at https://hi-torque.com/product/motocross-action-digital-edition/ or click on the link below to get the print version delivered to your door for only $15.99 (plus you get a free $25 Gift Card from Rocky Mountain ATV/MC just for subscribing). There is a profit to be made in this deal for you. For the Print magazine go to: http://hi-torque.com/product/subscribe-to-motocross-action-magazine/
WHERE TO BE FOR THE FORESEEABLE FUTURE


Take a freind to the races with you.
2015 WORLD SIDECAR CROSS CHAMPIONSHIP
May 10……………………….…………..Ukraine
2015 FIM WORLD MOTOCROSS CHAMPIONSHIP
May 10………………………………..……Talavera, Spain
2015 GNCC CROSS-COUNTRY CHAMPIONSHIP
May 10……………………………………….Odessa, NY
2015 AMA 250/450 NATIONAL CHAMPIONSHIP
May 16…………………………………………Hangtown, CA
2015 AUSTRALIAN NATIONAL CHAMPIONSHIP
May 17 ……………………………………….….Murray Bridge, SA
2015 WORLD OFFROAD CHAMPIONSHIP (WORCS)
May 24 …………………………………………….Cedar City, UT
DEBBI TAMIETTI'S PHOTO OF THE WEEK
Just how fast do you have to go to look like a blur. Mike Alessi demonstrates.

2015 AMA NATIONAL CHAMPIONSHIP SCHEDULE
The Triple Step-Up makes an appearance 400 miles North of its home base. This is Hangtown's new 150-foot step-up.

May 16…………….…Hangtown, CA
May 23…………….…Glen Helen, CA
May 30………….……Thunder Valley, CO
June 6………………..Muddy Creek, TN
June 13……………….Mt. Morris, PA
June 27………………Budds, MD
July 4…………………Red Bud, MI
July 18………..……..Millville, MN
July 25……………….Washougal, WA
August 8………….…Unadilla, NY
August 15……….…..Miller Motorsports, UT
August 22 …………..Crawfordsville, IN
2015 GP'S AT A GLANCE: THE RACE IN SPAIN, RUNS MAINLY WITHOUT 'POTO

Ryan Villopoto will be missing from the starting line in Spain this weekend while he recovers from his broken tailbone.

Date             Venue                          450                                 250
Feb. 28……Qatar………….Max Nagl………………Jeffrey Herlings
March 8..…Thailand…….Ryan Villopoto………Jeffrey Herlings
March 29…Argentina……Max Nagl……………..Dylan Ferrandis
April 19……Italy…………..Max Nagl………………Tim Gajser
April 26……Holland……..Gautier Paulin………Jeffrey Herlings
May 10…….Spain………..
May 24…….England…….
May 31….…France………
June 14……Italy…………..
June 21…..Germany…….
July 5………Sweden……..
July 12…….Latvia………..
July 26……Czech Rep….
Aug 2……..Belgium……..
Aug 16……Brazil………….
Aug 30……Holland………
Sept. 13….Mexico………..
Sept. 20…Glen Helen….
450 Points Leader…Clement Desalle (Hus)
250 Points Leaders…Jeffrey Herlings (KTM)
CURRENT 250/450 WORLD CHAMPIONSHIP POINTS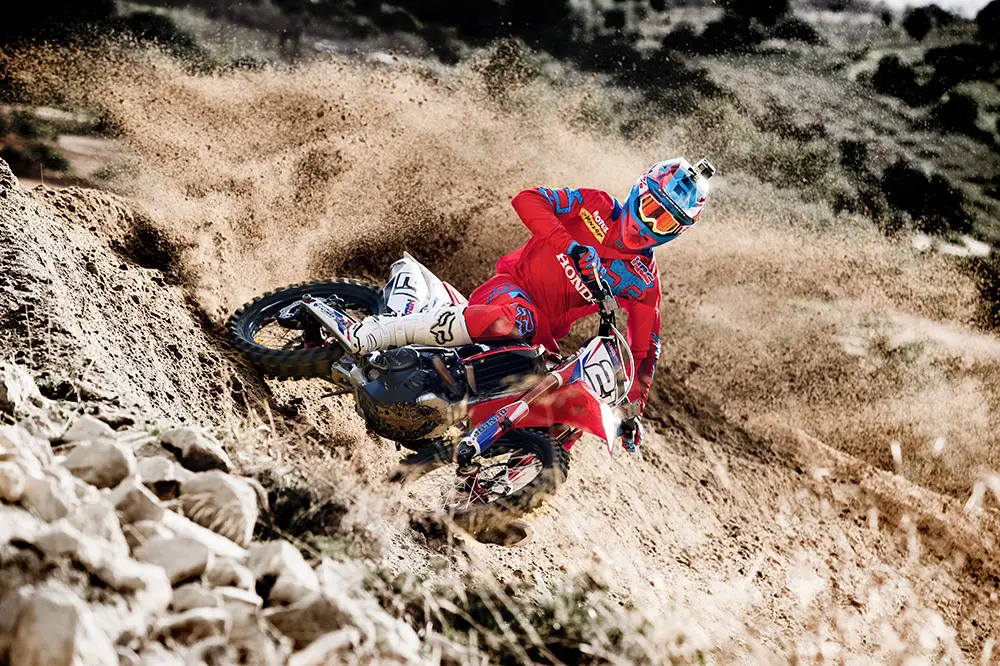 Gautier Paulin hopes to pick up where he left off in Holland two weeks ago.

2015 FIM 450 POINTS STANDINGS
(After 5 of 17 races)
1. Max Nagl….214
2. Clement Desalle…209
3. Tony Cairoli…184
5. Gautier Paulin…178
4. Romain Febvre…156
6. Evgeny Bobryshev…138
7. Ryan Villopoto…124
8. Shaun Simpson…98
9. Todd Waters…92
10. Glenn Coldenhoff…860
2015 FIM 250 POINTS STANDINGS
(After 5 of 17 races)
1. Jeffrey Herlings….222
2. Dylan Ferrandis…185
3. Pauls Jonass…148
4. Tim Gajser…137
5. Aleksandr Tonkov…133
6. Valentin Guillod…129
7. Jeremy Seewer…125
8. Julien Lieber…121
9. Jordi Tixier…115
10. Thomas Covington…102
OVER THE HILL GANG SUMMER SERIES STARTS MAY 17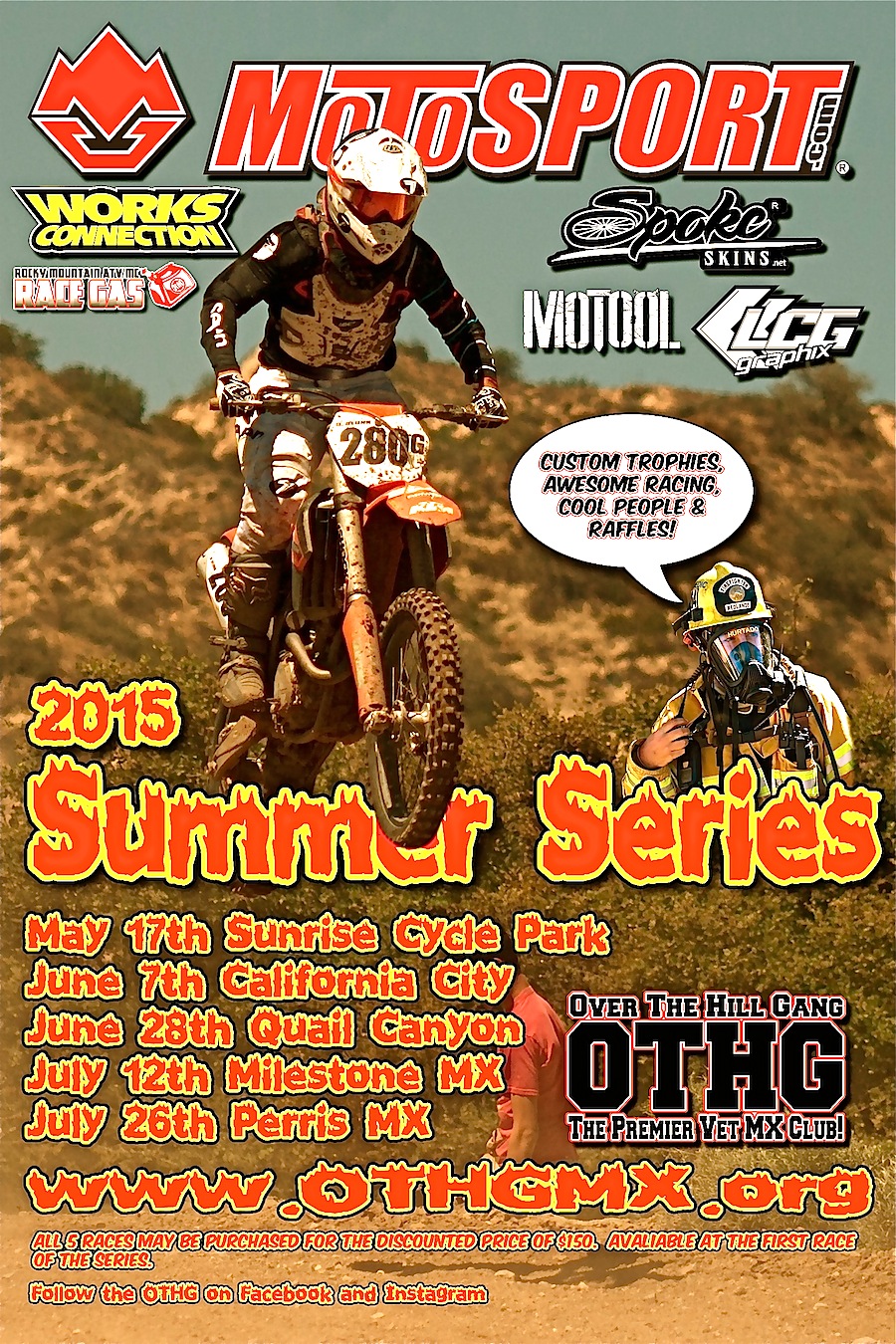 The five-race series starts at Sunrise Cycle Park. For more info go to www.othgmx.org
Photos: John Basher, Debbi Tamietti, Dan Alamangos, Massimo Zanzani, Ray Archer, Honda, Lindstrom MX, KTM, Yamaha Racing.