MOTOCROSS ACTION WEEKEND NEWS ROUND-UP: NEWS ON JUSTIN JONES

Click on images to enlarge
ELI TOMAC HAS ONE SURGERY, ONE TO GO
Eli Tomac.
Eli Tomac underwent successful surgery on his left shoulder last Thursday and is on the road to recovery following his crash on May 30 at the Thunder Valley National in Denver. Doctors at Steadman Clinic in Vail, Colorado, successfully repaired damaged tendons in Tomac's left shoulder. The surgery for Tomac's right shoulder, which needs a less-complicated repair, has been scheduled to take place in two weeks. Eli has already has begun physical therapy on his left shoulder , but will not be completely recover until later this fall.
JUSTIN JONES INJURED AT BAJA 500

While leading the Baja 500 with a 4-minute lead, Justin Jones was hit by a pickup truck going backwards on the course. Jones, the son of four-time National Motocross Champion Gary Jones, suffered leg and hip injuries and was immediately transported to a hospital. His bike was repaired so that his teammate could continue the race. Photo: Haywood Racing


The pickup truck shows the damage where Justin Jones was clipped by the left front fender. Justin Jones led the USA Junior Trophy team to a Gold Medal in the 2014 ISDT and has been selected to lead the team again in 2015. Photo: Haywood Racing
JUSTIN JONES UPDATE FROM HIS HOSPITAL BED

MIKE BROWN WINS X GAMES OVER-40, OVER-30, OVER-25 AND OVERALL ENDUROCROSS
Mike Brown.
Mike Brown won his third X Games Enduro X Gold medal in Austin, Texas. The Rockstar Husqvarna rider overtook Cody Webb near the midway point of the race and never looked back. FMF KTM's Taylor Robert had a great first race back after taking five months off recovering from a wrist injury to take the Silver medal with a late race pass on Webb as well. Webb held onto third on his team FMF/RPM/Team Maxxis KTM.
2015 X GAMES ENDUROCROSS RESULTS
1. Mike Brown…Hus
2. Taylor Robert…KTM
3. Cody Webb…KTM
4. Colton Haaker…Hus
5. Geoff Aaron…Gas
6. Kyle Redmond…Bet
7. Nick Thompson…KTM
8. Ty Tremaine…KTM
9. Cory Graffunder…KTM
10. Jamie Lanza…KTM
MATRIX MAMMOTH MT. 2015 RACER SUPPORT PROGRAM
Press release: With Mammoth Motocross just around the corner, we wanted to make sure you were all geared up with custom Matrix Concepts products! Receive a 30% discount on all products when you use promotion code MM2015 at checkout. Include your race name and number in the comment section at checkout and we will throw some custom graphics on your product for free! Free graphics only apply to customizable products. Check out our Custom ID page to see what can be customized with your name and number. This offer cannot be combined with other promotions or discount offers. We are currently accepting 2015 Rider Resumes at: www.matrixracingproducts.com/sponsorship
MXA PRODUCT SPOTLIGHT: EKS BRAND EZ TEAR STRAP RAMP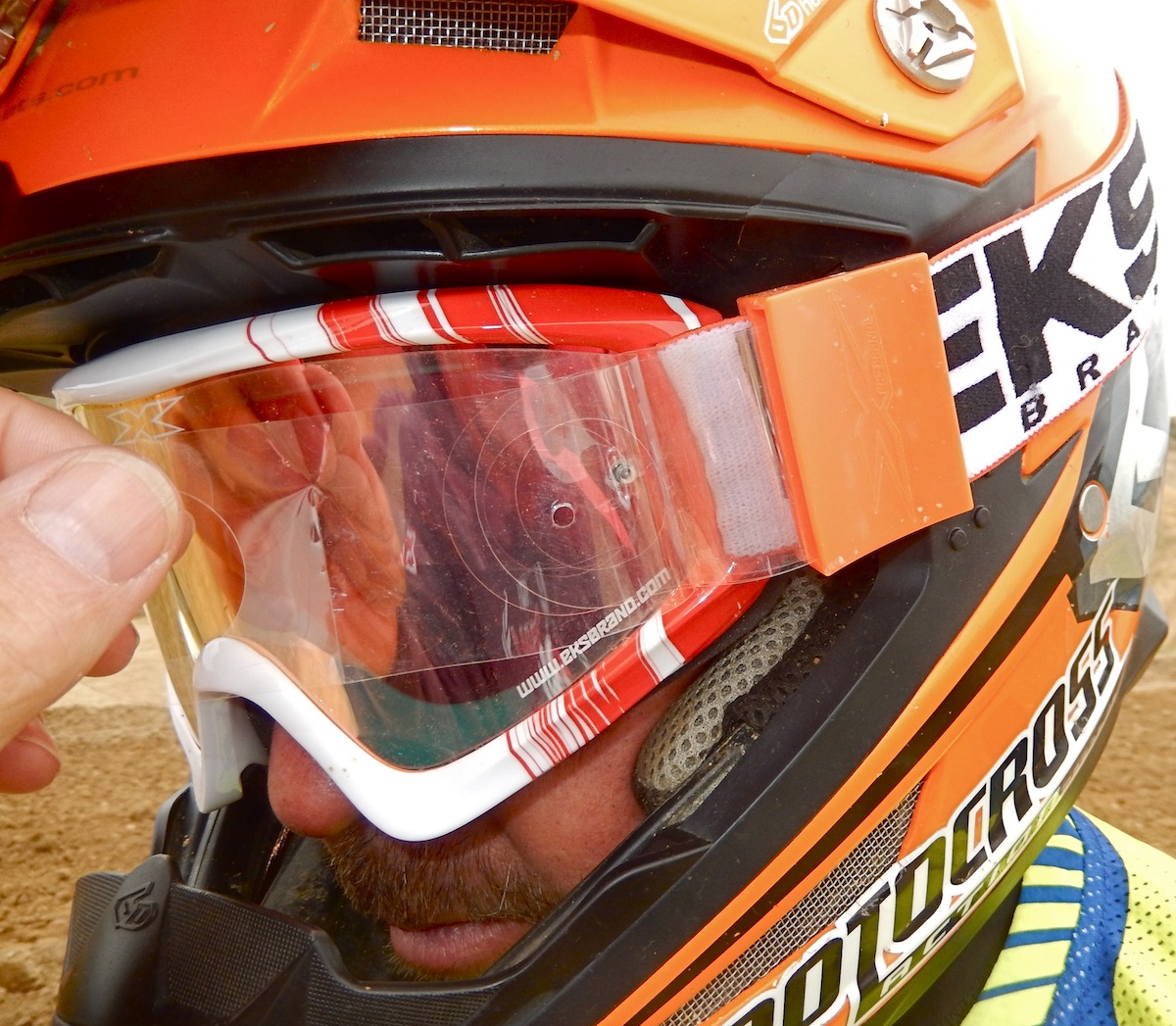 A solution to little problems that causes big trouble.
Have you ever pulled all, or at least more than one, tearoff off at a time? Of course you have. And usually it's a mud race and it probably happened on the first lap and you probably ended up getting smoked because you couldn't see the rest of the moto.  C'mon! That has happened to all of us. Well, EKS Brand has a solution to this long time problem. The EZ Tear is a patent pending invention that helps you to pull one tear off at a time. The EZ Tear is a hollow, ramp-shaped device that attaches to your goggle strap. Its purpose is to hide the folded, back-up tearoffs and only allow the top tearoff tab to be exposed. When you reach up to pull the tearoff your thumb is guided by the ramp directly to the top tearoff. When the top tearoff is pulled off, the next one pops out from the hollow ramp. Although developed by EKS Brand, the EZ Tear Strap Ramp works on 95 percent of goggle brands. This unique product is available through the EKS Brand at www.eksbrand.com and at fine retailers everywhere. At $12.99 it's a product that needs to be in every motocross racer needs.

CANADIANS WIN IN CANADA: COLE THOMPSON AND KAVEN BENOIT
At Round two of the Canadian National Motocross Championship at The Wastelands in Nanaimo, British Columbia, Ontario's Cole Thompson and Quebec's Kaven Benoit won the 450 and 250 classes overall. the top three in the 450 class was Thompson, Matt Goerke and Colton Facciotti. Last week's 450 winner, Brett Metcalfe was foruth.In the 250 class it was Benoit, Jeremy Medaglia  and Shawn Maffenbeier.
NANAIMO RESULTS: 450 CLASS
1. Cole Thompson (KTM)…1-2
2. Matt Goerke (Yam)…4-1
3. Colton Facciotti (Hon)…2-3
4. Brett Metcalfe (Kaw)…3-4
5. Tyler Medaglia (Hus)…6-5
6. Teddy Maier (Kaw)…7-6
7. Bobby Kiniry (Yam)…5-8
8. Cade Clason (KTM)…8-7
9. Kyle Keast (Hon)…10-9
10. Dylan Schmoke (KTM…9-13
NANAIMO RESULTS: 250 CLASS
1. Kaven Benoit (KTM)…1-1
2. Jeremy Medaglia (Hon)…3-2
3. Shawn Maffenbeier…(Yam) 2-7
4. Brad Nauditt…(Yam) 6-3
5. Morgan Burger…(Yam) 7-6
6. Jesse Pettis…(Yam) 5-8
7. Blake Savage…(Yam) 8-9
8. Seth Rarick…(KTM) 10-10
9. Kris Keefer…(Yam) 11-11
10. Jared Petruska…(Yam) 9-14
TOM WHITE & THE $50,000 BOB HANNAH SCULPTURE!
Motocross as art via the Hurricane. Photo: Debbi Tamietti
This bronze Clyde Ross Morgan-designed Bob Hannah sculpture brought a $50,000 bid at Tom White's High Hopes Head Injury Program charity event at the "Early Years of Motocross Museum" on Sunday. The first $21,000 went to the artist and the remaining $29,000 went to the High Hopes head injury program. It is one of 39 pieces to be molded. What is most amazing is that the second-place bidder didn't withdraw his $28,000 bid, but instead got the artist to agree to sell him casting number 2 as long as anything over $21,000 would also go High Hopes. If your pockets are flush with coin and are interested in the remaining Hannah art pieces, contact Clyde Ross Morgan at www.clyderossmorgan.com. AMA Hall of Famer, dirt tracker, White Brothers founder and REM motocrosser Tom White opened up his "Early Years of Motocross" museum, house, grounds and hospitality to host 600 people at the High Hopes Head Injury Program charity event. He raised over $100,000 thanks to the generosity of motorcycle people. You can see Tom's museum at www.earlyyearsofmx.com.
Tom White. You gotta admire a guy who needs a mule to get from his kitchen to the bathroom of his house. Photo: Debbi Tamietti
THREE OF THE 2016 BIG-SIX 450s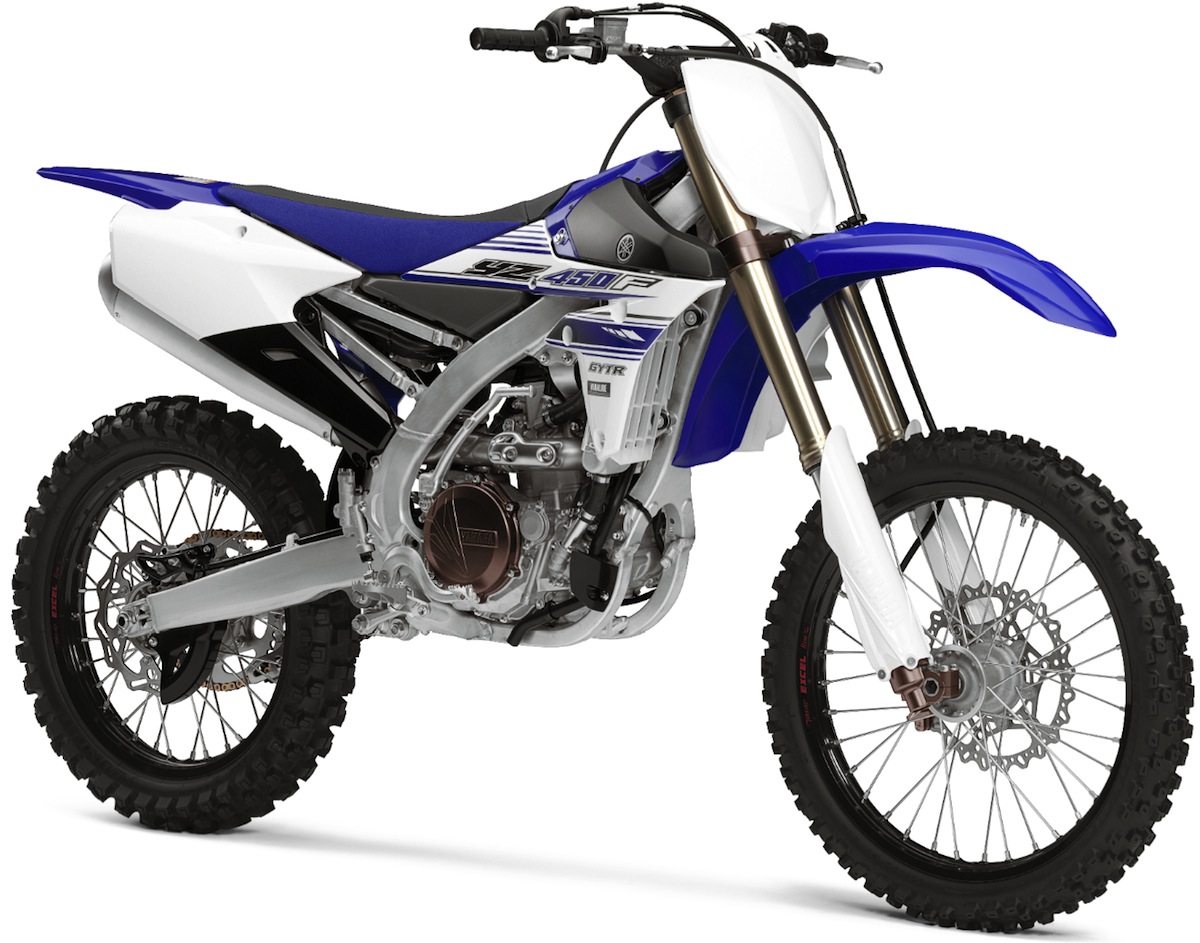 2016 Yamaha YZ450F.

2016 Kawasaki KX450F.

2016 KTM 450SXF.
THIS WEEK'S BIRTHDAY BOYS: THE ALMOND FARMER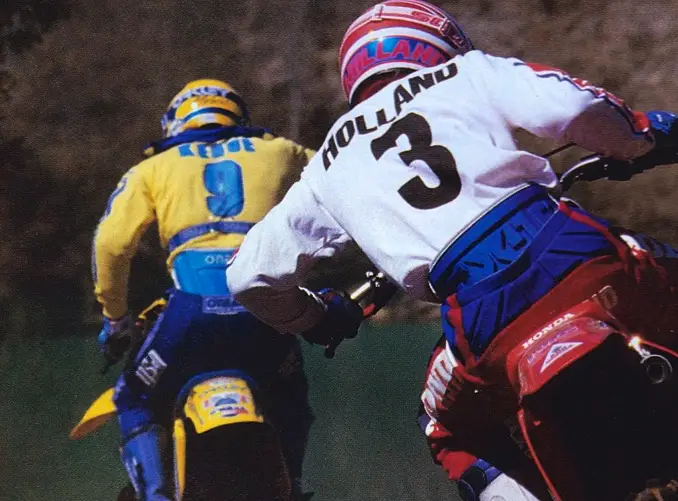 George Holland won the 1988 AMA 125 National Championship and today is an almond farmer in Central California.

June 6…George Holland
June 6…Tony Gardea
June 6…A. J. Cantazaro 1993

June 6…Ken DeDycker 1985
June 7…Ricky Ryan
June 8…Manuel Priem 1981
June 9…Brad Hagseth
June 9…Antonio Balbi 1981
June 10…Ronnie Renner 1977
June 10…Michael Byrne 1979
June 12…Randy Hawkins
AT A GLANCE: 2015 AMA NATIONAL CHAMPIONSHIPS
It is amazing how quickly the tide shifts. Last week all anyone could talk about was Eli Tomac. This week he is forgotten and Ryan Dungey is the flavor of the week.

Date             Venue                                        450                                    250
May 16…..Hangtown, CA………….Eli Tomac…….….Jeremy Martin
May 23…Glen Helen, CA………….Eli Tomac…….….Marvin Musquin
May 30…Thunder Valley, CO……Ryan Dungey……Jeremy Martin
June 6…Muddy Creek, TN……….Ryan Dungey……Jeremy Martin
June 13…Mt. Morris, PA
June 27…Budds, MD
July 4…Red Bud, MI
July 18…Millville, MN
July 25…Washougal, WA
Aug.t 8…Unadilla, NY
Aug. 15…Miller Motorsports, UT
Aug. 22 …Crawfordsville, IN
450 Points Leader…Ryan Dungey (KTM)
250 Points Leaders…Jeremy Martin (Yam)

MEMORIES OF THE WAY WE WERE
The Flyin' Hawaiian John Desoto was a factory CZ, Montesa, Suzuki and Kawasaki rider back in the day, but don't get too misty about his factory Suzuki ride. The American team riders raced production TM400s.
DEBBI TAMIETTI'S PHOTO OF THE WEEK
This photo could be one of the greatest trivia question of all-time. Can you name the four people in this photo? All are motorcycling greats. Answer at the bottom of this page.
2015 GP'S AT A GLANCE: NAGL HANGS ON, BUT TONY IS COMING

Clement Desalle dislocated his shoulder in France, but hopes to be back in Italy on June 14.

Date             Venue                          450                                    250
Feb. 28……Qatar………….Max Nagl………………Jeffrey Herlings
March 8..…Thailand…….Ryan Villopoto………Jeffrey Herlings
March 29…Argentina……Max Nagl……………..Dylan Ferrandis
April 19……Italy…………..Max Nagl………………Tim Gajser
April 26……Holland……..Gautier Paulin………Jeffrey Herlings
May 10…….Spain…………Tony Cairoli……………Valentin Guillod
May 24…….England….…Tony Cairoli……………Valentin Guillod
May 31….…France……….Romain Febvre………Jeffrey Herlings
June 14……Italy…………..
June 21…..Germany…….
July 5………Sweden……..
July 12…….Latvia………..
July 26……Czech Rep….
Aug 2……..Belgium……..
Aug 16……Brazil………….
Aug 30……Holland………
Sept. 13….Mexico………..
Sept. 20…Glen Helen….
450 Points Leader…Max Nagl (Hus)
250 Points Leaders…Jeffrey Herlings (KTM)
2016 KX450F PROMO VIDEO: KAWASAKI KX450 IN ACTION
CURRENT 250/450 WORLD CHAMPIONSHIP POINTS
Max Nagl (12) has a 19-point lead over Tony Cairoli. The injured Clement Desalle has dropped back to 41 points adrift.

2015 FIM 450 POINTS STANDINGS
(After 8 of 18 races)
1. Max Nagl…332
2. Tony Cairoli…313
3. Clement Desalle…291
4. Romain Febvre…282
5. Gautier Paulin…252
6. Evgeny Bobryshev…247
7. Shaun Simpson…169
8. Todd Waters…138
9. Glenn Coldenhoff…134
10. Ken de Dycker…133
Other notables: 11. Tyla Rattray; 12. Jeremy Van Horebeek; 13. Ryan Villopoto; 14. David Philippaerts; 15. Dean Ferris; 28. Mike Alessi.
Thomas Covington (64) came straight out of Lorettas and went to the GPs. He's never raced a single AMA Pro race. Thomas is 12th in 250 GP points. Jeffrey Herlings (84) could DNF the next four motos and still be in the points lead.

2015 FIM 250 POINTS STANDINGS
(After 8 of 18 races)
1. Jeffrey Herlings…358
2. Valentin Guillod…246
3. Pauls Jonass…245
4. Jordi Tixier…229
5. Aleksandr Tonkov…218
6. Tim Gajser…209
7. Jeremy Seewer…208
8. Dylan Ferrandis…205
9. Julien Lieber…184
10. Max Anstie…183
Other notables: 12. Thomas Covington; 13. Benoit Paturel; 15. Robert Justs; 20. Mel Pocock; 21. Ben Watson;  27. Harri Kullas.

ZACH OSBORNE'S CAREER HIGH
Zach Osborne started racing the Nationals in 2006, but when that went sour he moved to England to race the GPs.
Zach Osborne's second place finish at Thunder Valley last week was his highest placing ever in an AMA National—and even though the former 250 GP winner started racing the AMA Nationals back in 2006, this week's runner-up spot was only his third podium ever in the U.S. Nationals. He got 3rds at Lakewood and Southwick in 2013. Unfortunately, Zach went 9-9- at Muddy Creek on Saturday.
CHRISTIAN CRAIG'S CAREER HIGH
Christian Craig spent most of his previous full-time AMA Pro career injured.
Christian Craig got a fill-in ride for Lakewood, Colorado, and finished an impressive 5th in the 250 class for the Geico Honda team last weekend. It was Craig's highest AMA National finish ever and his only top-five (although he scored one top-five in the 250 West Supercross Championship at the 2013 Salt Lake City Supercross). Unfirtunately, this week Craig got sick and failed to score a single AMA point at Muddy Creek.
MOTORCYCLE AD OF THE WEEK: SAND BLASTER

Sand Blaster is a great name for a desert bike, but the actual name of this 1982 Maico desert race was the "Sand Spider."
HOW TO SUBSCRIBE TO MXA AND MAKE MONEY
The July 2015 issue of MXA is coming to a mailbox near your front door, but only if you subscribe. And you should, just to see MXA's all-two-stroke, all-the-time, July smoker issue. Plus, subscribers get a $25 Rocky Mountain gift card which pays for their subscription and then some.

Do you subscribe to MXA? You should. We know that you think that print magazines are dead and that the internet will fill the void, but most of the stuff in the current issue of MXA won't appear on the web for several months, if at all. Luckily, you can get all of MXA on your iPhone, iPad, Kindle or Android by going to the Apple Store, Amazon or Google play, but better yet get the Digital desktop version at https://hi-torque.com/product/motocross-action-digital-edition/ or click on the link below to get the print version delivered to your door for only $15.99 (plus you get a free $25 Gift Card from Rocky Mountain ATV/MC just for subscribing). There is a profit to be made in this deal for you. For the Print magazine go to: http://hi-torque.com/product/subscribe-to-motocross-action-magazine/
BE THERE OR BE SQUARE: UPCOMING RACES

The giant REM 4th of July race will be held on the Glen Lelen National track on…you got it, the 4th of July. For more info go to www.remsatmx.com
2015 AMA NATIONAL CHAMPIONSHIP
June 13……………….Mt. Morris, PA
2015 CANADIAN NATIONAL CHAMPIONSHIP
June 14………………Wild Rose
June 21………………Moto Valley Raceway
2015 BRITISH NATIONAL CHAMPIONSHIP
June 28………………Blaxhall Circuit
2015 WORLD SIDECAR CROSS CHAMPIONSHIP
June 14……………….Czech Republic
2015 FIM WORLD MOTOCROSS CHAMPIONSHIP
June 14…………………..Maggiora, Italy
June 21……………….…..Teutschenthal, Germany
2015 AMA SUPERMOTO CHAMPIONSHIP
June 19-21…………………Loudon, NH
MAMMOTH MOUNTAIN MOTOCROSS
June 19-28………………….Mammoth Lakes, CA
REM 4TH OF JULY SPECTACULAR
July 4……………………….Glen Helen, CA
BEN TOWNLEY COMES OUT OF RETIREMENT…AGAIN
Ben Townley at Coolum on the Penrite Honda. Photo: Jeff Crow
Evergreen Ben Townley, 31, who has retired several times, largely because of injuries, returned to racing again this past weekend at the Coolum round of the Australian National Championships. Townley, who also came out of retirement in August of last year only to get hurt, won the first moto for the Penrite Honda team. He even had time to stall his CRF450. Townley came back in the second moto to finish fifth, for third overall. Townley is only racing selected events in the Championship and not contending for the title. "To take the first moto win felt amazing," said Townley. "I haven't trained for 30 minute motos for such a long time so last weekend definitely tested me. In Moto two I stalled again and crashed and I had nothing left in the tank.  I still love racing and challenging myself and that was a fantastic feeling. Overall my times were good and give me a great foundation to build on. I will certainly be back for more rounds this year and look forward to training over the coming months in preparation. I can't thank the team enough, the bike was outstanding considering the little time I have had on it."
COOLUM RESULTS: AUSTRALIAN 450 NATIONALS
1. Lawson Bopping…2-2
2. Kirk Gibbs…4-1
3. Ben Townley…1-5
4. Kade Mosig…7-3
5. Luke Styke…3-7
6. Adam Monea…6-4
7. Jesse Dobson…5-6
8. Dan Reardon…8-8
9. Cody Cooper…11-9
10. Dylan Long…10-10

SoCAL OLD TIMER MX SERIES ON JUNE 21
NEXT OVER THE HILL GANG SUMMER SERIES RACE ON JUNE 28
GLEN HELEN 10-HOUR ENDURANCE RACE ON ON JUNE 14
YAMAHA SPRING SERIES ROUND 2 ON ON JUNE 21
Photo quiz Answer: John Desoto (standing on his head without his shirt on), famous race announcer Larry Huffman (in the white socks), "On Any Sunday's" Malcolm Smith (in the blue jeans) and four-time National Champion Gary Jones (behind Malcolm).
Photos: John Basher, Debbi Tamietti, Ray Archer, Geico Honda, Husqvarna, Yamaha, Kawasaki, Massimo Zanzani, KTM.