MXA'S WEEKEND NEWS ROUND-UP: ALL THE NEWS WE COULD HERD TOGETHER

Click on images to enlarge
DEAN WILSON'S MESSAGES TO SHAUN SIMPSON & FRANK AND MYRA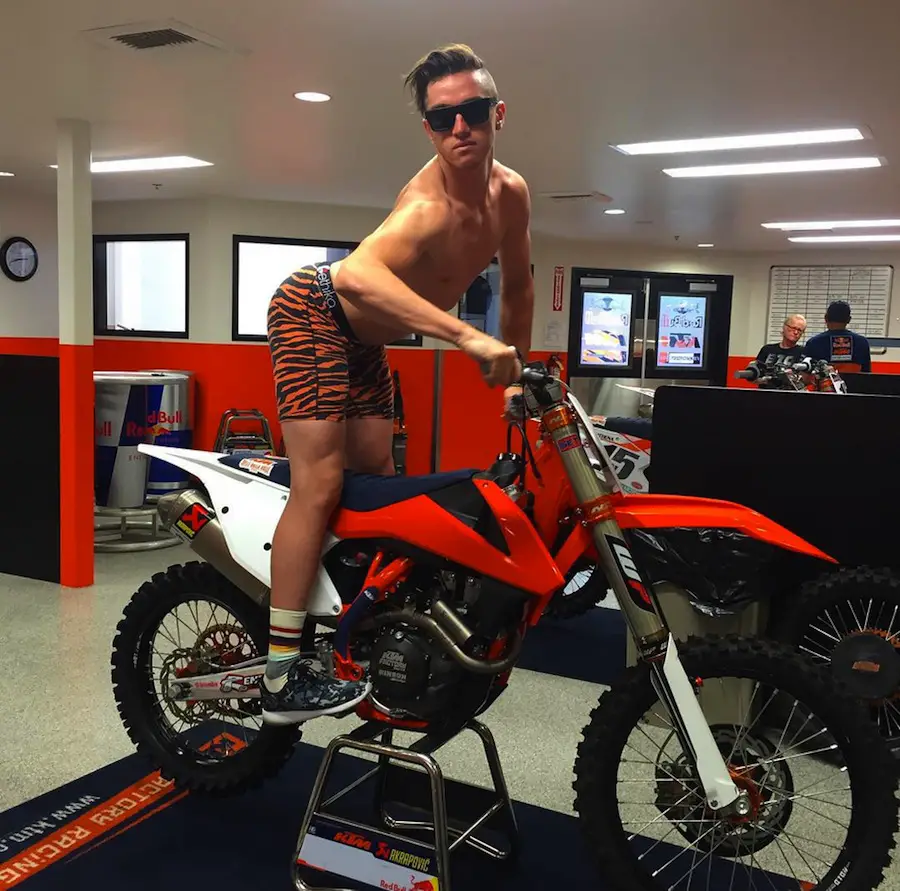 Shaun Simpson gets to ride an American works KTM 450SXF for his one-shot ride at the Unadilla National this weekend. Fellow Scot Dean Wilson dropped by the KTM race shop to make sure Shaun's bike is properly broken in.
Dean raced four motos at REM Glen Helen on Saturday as a warm-up for Unadilla. He wanted to say thanks to REM promoters Frank and Myra Thomason.
HONDA'S PROTOTYPE 2017 CRF450 AT THE ALL-JAPAN NATIONALS: AKIRA NARITA ON BOARD
HOW TREY CANARD'S COMEBACK WENT AT WASHOUGAL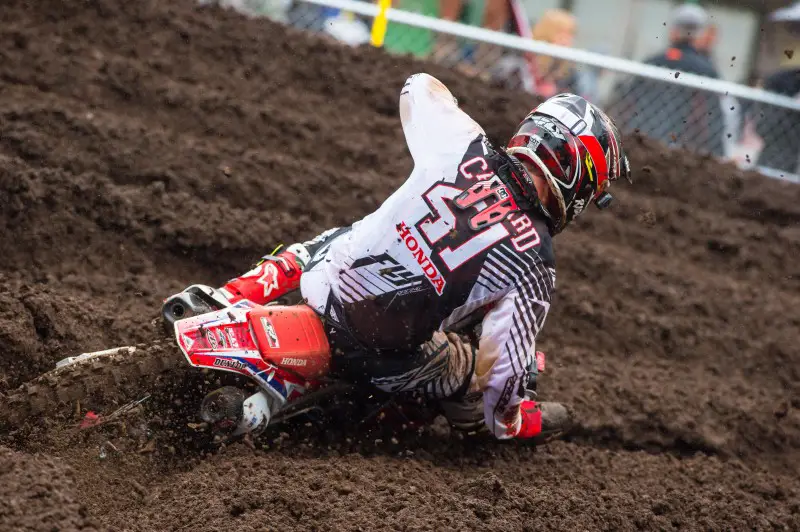 Trey at Washougal.

Trey and the Honda crew had to arrive in Washington in time for Thursday's Press day activities (it rotates by team every week). Trey Canard was given the benefit of two 20-minute practice sessions ahead of Saturday's race. "It's always a great opportunity when you get to ride the track before race day," said Trey, "but I think it was especially good this week since it was my first race back. Even though the track was completely different from Thursday to Saturday, it was nice to get out there and have more time on the bike."
The other side of Trey at Washougal.

As for what Trey thought about the race, he said. "It wasn't necessarily a bad day because I've had much worse here, but I'm also not totally happy with how things went. My results weren't great so I'm disappointed in that. I didn't get great starts in either moto, went down a few times and overall feel like I didn't ride as well as I should have. The track was extremely slick and very tough, so I'm happy to be leaving healthy and have the first race back under my belt."
TREY'S BACK, BUT COLE SEELY HAS SHOULDER SURGERY…OUT OF ACTION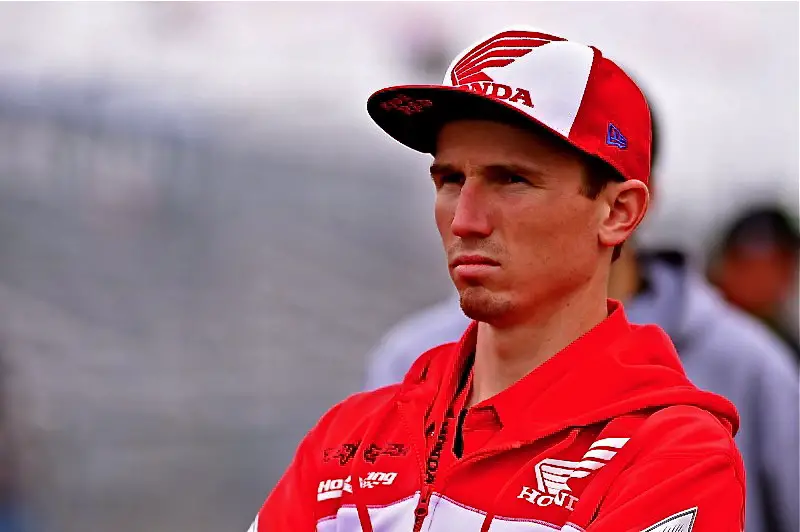 Cole Seely.
Team Honda's Cole Seely has surgery on his right shoulder on Wednesday at the Newport Surgical Center in Newport Beach, California, where Dr. Warren G. Kramer repaired a "Bankart lesion in the glenoid labrum." Cole's injury was sustained during a dislocation that occurred in a July 18 practice crash at the Millville National. Seely's 2015 National season is over while he recovers. This was his second injury of the 2015 National season. He missed two Nationals with a hamstring injury leading up to Millville. Cole said, "My doctor said the surgery went well and that I'll be able to begin light rehab almost immediately. This setback is very disappointing though. I had such a great Supercross season, but I've had nothing but challenges throughout the motocross series. We had hoped I would only be out for a couple weeks, but my shoulder was obviously worse than we thought and now I'll be missing the rest of the season. I'm committed to getting back to 100% as soon as possible and to helping the team prepare for the 2016 season."
KTM's TOM MOEN BREAKS TIB/FIB AT PERRIS RACEWAY
Tom Moen.
If you are a KTM fan you may remember Tom Moen as the mechanic who built the first modern four-stroke to ever make an AMA Supercross main event. Ridden by Lance Smail, the specially-built KTM 540 made the Daytona Supercross main on March 7, 1997 (which was before Doug Henry raced the Yamaha YZ400 prototype).
Lance Smail with the first four-stroke to ever make a Supercross main event—when it was thought that it couldn't be done.
In 1996 Tom Moen had approached his KTM boss Rod Bush about the possibility of building a four-stroke for the AMA Supercross series. Bush approved a budget to build three machines for Smail to race. They were one-off specials based on 620 LC4 cranks mated to 400cc piston to produce 538cc. The 1997 AMA Supercross series was the only AMA races that Smail raced the bike in, as he switched to Husaberg for 1998. Tom Moen is still working at KTM 18 years later, but is no longer in the race department. He heads up KTM's Press Relations department. This past weekend Tom crashed at Perris Raceway and broke his tib/fib. His surgery will be performed by Dr. Alexander of Mobile Medical Unit fame. Get well soon Tom (and remember you don't need that leg to start a KTM).
SUCCESSFUL SURGERY FOR RED BULL KTM'S JEFFREY HERLINGS

This is how Jeffrey's 2014 season ended…ditto for 2015.

We've never read a press release that said "unsuccessful surgery," just as no hop-up shop ever hands us a dyno chart where their product makes less horsepower than stock — so let's hope that all goes well with Jeffrey Herlings' hip during his recovery period. Here is the official press release from KTM.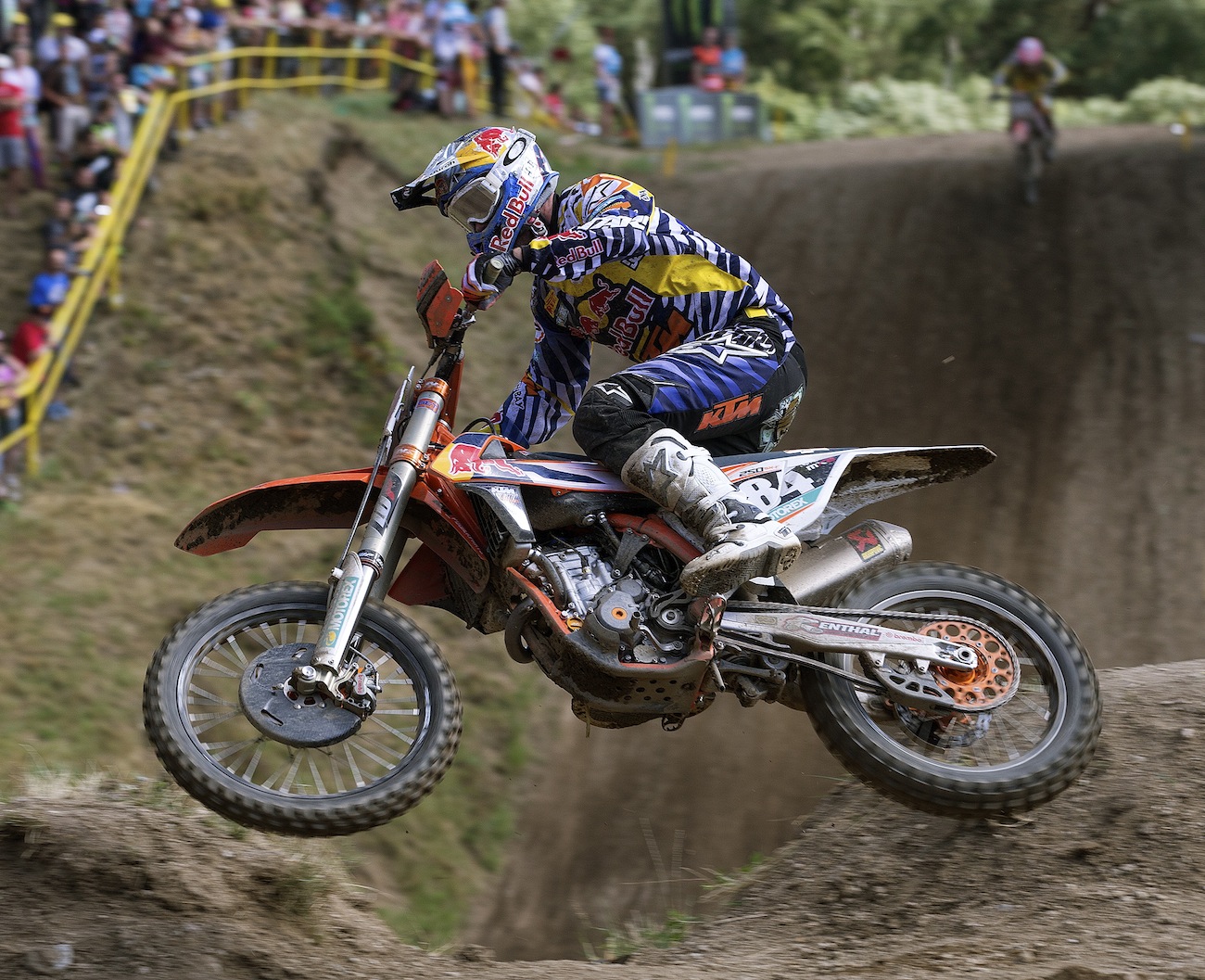 Herlings in Loket just before his crash. he will not be back in 2015. The good news, his young teammate Pauls Jonass took over his points lead (juts like last year with teammate Jordi Tixier).
"KTM Racing has announced that Red Bull KTM Factory MX2 rider Jeffrey Herlings has undergone successful surgery to repair the injury he sustained in a crash in MX2 qualifying at the Loket circuit in the Czech Republic on Saturday. Jeffrey dislocated his hip during the crash, and as already confirmed by his team manager Dirk Groebel after Sunday's MXGP of Czech Republic, the Dutch rider and two-time MX2 World Champion will not ride again in 2015.
"While Herlings' injury came as a blow to the Red Bull KTM Factory Team, Pit Beirer, KTM Motorsports Director has confirmed that he has received the best possible care by doctors in the Czech Republic, and in Belgium, and he must now concentrate on his recovery process. After receiving treatment by the medical crew on the circuit, Jeffrey was transported by ambulance to the hospital in nearby Karlovy Vary (also known as Carlsbad) where doctors successfully re-engaged the dislocated hip. He was then transported on Sunday by medical jet to Belgium to be treated by Dr. Toon Claes, the renowned specialist for motocross injuries at the Sint Elisabeth Hospital in Herentals. As it had also been established by doctors that there was a small chip of bone in the hip joint as a result of the crash, the assistance of orthopedic hip specialist Dr. Filiep Bataille was also called in to remove it. The Factory team wishes to thank both Dr. Claes, and especially Dr. Filiep Bataille, who kindly interrupted his summer holiday to allow the team to fly him back to perform the special procedure."

MXA'S BILLY MUSGRAVE WINS KARTING SUMMERNATIONALS


MXA test rider Billy Musgrave switched to karts full-time after breaking his femur, in a kart, a couple years ago. Since then he has worked his way up to the Pro ranks in karting and last weekend won the 2015 Pro Tour Summer Nationals in Indiana. Billy has a factory ride with Praga karts and his dad, MXA test rider Willy Musgrave, has his own kart team and aftermarket company. Find out more at www.musgraveracing.com.
MXA PHOTO OF THE WEEK: AND NOW FOR SOMETHING…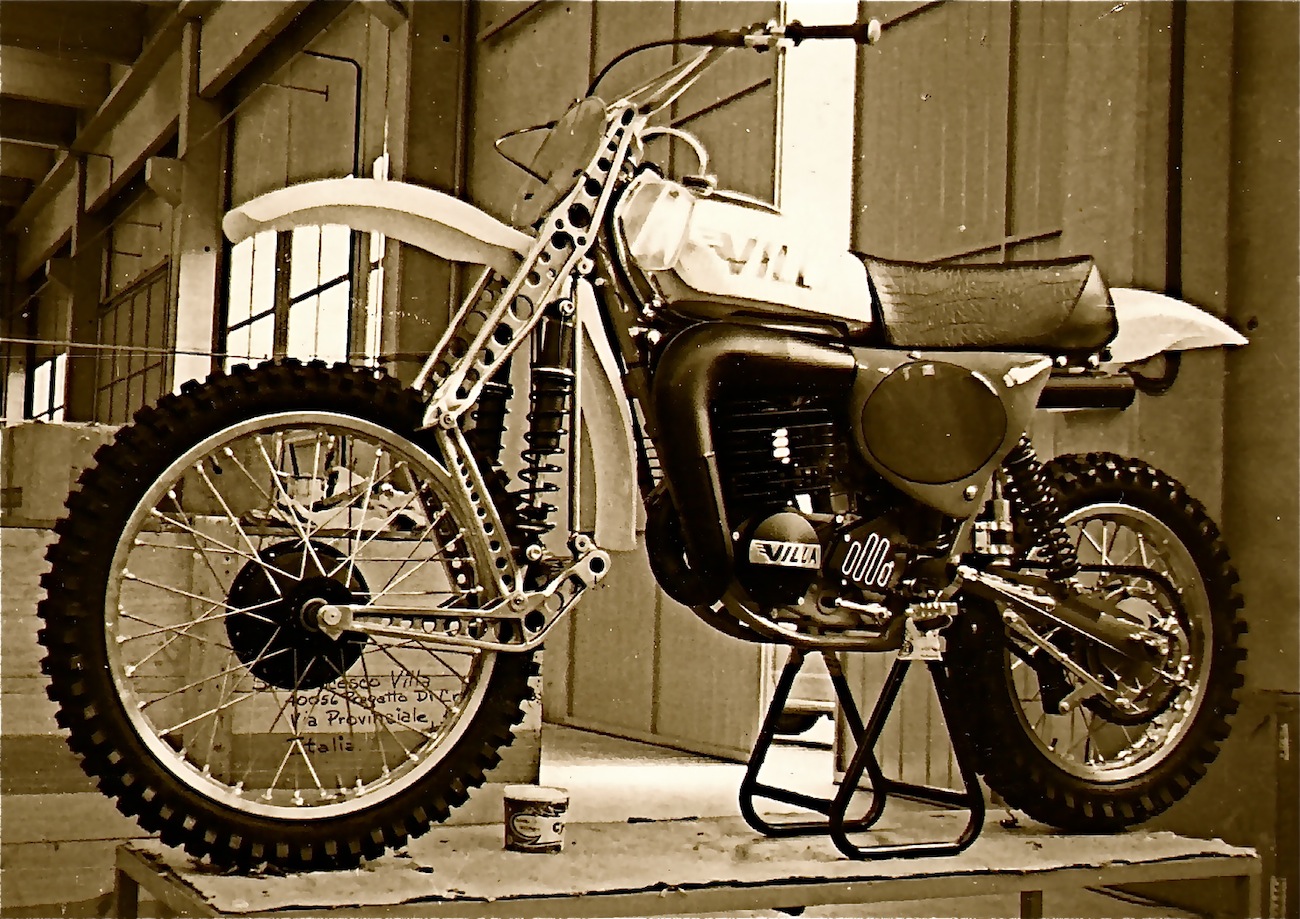 Villa Motorcycles were made in Italy. Although never popular in the USA, they did have a technology deal with Carabela that saw their two-stroke engines in some race bikes on this side of the Atlantic—most notably raced by Billy Grossi. However, this Villa MX250 is unique in that it runs Ribi Quadrilateral forks that have been machined out of aluminum. Honda eventually bought the rights to these forks and made their own aluminum struts, but the fork is most famous for being raced in the 500 GPs by Roger DeCoster, in steel tubing form, on his Suzuki.

MXA PRODUCT SPOTLIGHT: FMF'S CARBON FIBER HEAT SHIELDS

FMF Racing has introduced all-new Factory Carbon Fiber heat shields for their Megabomb and Yamaha exhaust. For more info go to www.fmfracing.com
Carbon Megabomb Heat shield (fits all titanium and stainless FMF Megabomb Headers): $99.99.
Yamaha YZ 250/450F 2014-2016 (fits FMF or stock OEM header): $99.99.
SEE WHY TIM GAJSER ISN'T LEADING THE 250 GP'S RIGHT NOW

MEMORIES OF THE WAY WE WERE
How many of these Team O'Neal riders can you name? Just in case you are stumped by the guy in the upper right, because we know you got the other  7 right, the answers are at the bottom of this page.
AND NOW FOR SOMETHING DIFFERENT: YAMAHA BW450
Inspired by the Yamaha BW200 and Honda Fat Cat, the BW450 is build by XFR in St. George, Utah.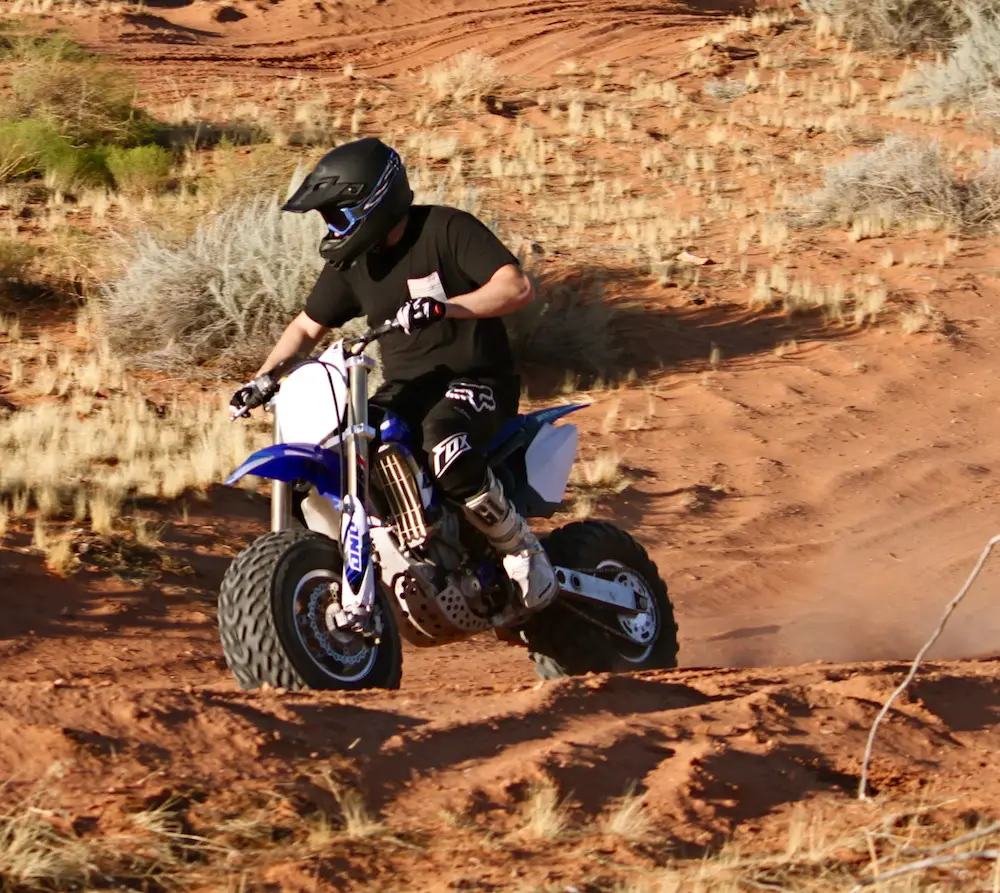 The big wheel conversion kit allows conversion of 1999 through 2014 Yamaha YZ400s, YZ426Fs or YZ450Fs (not the backwards engine models) into a Big Wheel, without compromising the integrity of the bike. It is designed for dunes and sand riding. Perfect for Glamis or Pismo this Thanksgiving. For more info go to www.bigwheelconversion.com.

2015 AMA NATIONAL CHAMPIONSHIPS AT A GLANCE: ONLY 4 POINTS SEPARATE MARTIN & MUSQUIN

Three races to go. Barring disaster for Dungey, the title chase will be decided before the last round.

WHO'S WON WHAT, WHEN THEY DID IT AND  WHERE
Date               Venue                                      450                                    250
May 16…..Hangtown, CA………….Eli Tomac…….….Jeremy Martin
May 23…Glen Helen, CA………….Eli Tomac…….….Marvin Musquin
May 30…Thunder Valley, CO……Ryan Dungey……Jeremy Martin
June 6…Muddy Creek, TN………..Ryan Dungey……Jeremy Martin
June 13…Mt. Morris, PA…………..Ken Roczen….….Marvin Musquin
June 27…Budds Creek, MD………Justin Barcia…….Marvin Musquin
July 4…Red Bud, MI……………….Justin Barcia….….Jeremy Martin
July 18…Millville, MN………………Ryan Dungey……Cooper Webb
July 25…Washougal, WA………….Ryan Dungey……Cooper Webb
Aug. 8…Unadilla, NY
Aug. 15…Miller Motorsports, UT
Aug. 22 …Crawfordsville, IN
450 Points Leader…Ryan Dungey (KTM)
250 Points Leaders…Jeremy Martin (Yam)
2015 WORLD CHAMPIONSHIPS AT A GLANCE: NEW FACES



With points leader Jeffrey Herlings repeating last year's injury heartbreak, Tim Gajser or Valentin Guillod (92) stand the best chance of winning the 2015 FIM 250 World Championship.

WHO'S WON WHAT, WHEN THEY DID IT AND  WHERE
Date             Venue                              450                                    250
Feb. 28……Qatar………….Max Nagl……………..Jeffrey Herlings
March 8..…Thailand……..Ryan Villopoto………Jeffrey Herlings
March 29…Argentina……Max Nagl……………..Dylan Ferrandis
April 19……Italy…………..Max Nagl………………Tim Gajser
April 26……Holland……..Gautier Paulin…….…Jeffrey Herlings
May 10…….Spain…………Tony Cairoli………..…Valentin Guillod
May 24…….England….…Tony Cairoli……………Valentin Guillod
May 31….…France……….Romain Febvre……….Jeffrey Herlings
June 14……Italy…………..Romain Febvre……….Tim Gajser
June 21…..Germany…….Romain Febvre……….Tim Gajser
July 5………Sweden…..….Romain Febvre……….Tim Gajser
July 12…….Latvia……..…..Glenn Coldenhoff……Max Anstie
July 26……Czech Rep…..Romain Febvre……….Valentin Guillod
Aug 2……..Belgium……..Shuan Simpson……….Max Anstie
Aug 23……Italy………….
Aug 30……Holland………
Sept. 13….Mexico………..
Sept. 20…Glen Helen….
450 Points Leader…Romain Febvre (Hus)
250 Points Leaders…Pauls Jonass (KTM)
THIS WEEK'S BIRTHDAY BOYS: BROC'S B-DAY…NO, NOT GLOVER OR TICKLE

Andy Jefferson raced for Mitch Payton's Pro Circuit team in the 1980s and was the first black racer to ever make an AMA Supercross main event.

Aug. 1…Broc Hepler 1986
Aug. 1…Vince Arimitsu
Aug. 1…Frankie Latham
Aug. 4…Mike Gosselaar
Aug. 4…Jay Marmont 1983
Aug. 4…Julien Cerny 1972
Aug. 5…Andy Jefferson 1961
Aug. 5…Eric Geboers 1962
FUEL-INJECTED HONDA CR250 TWO-STROKE? NOT EVEN CLOSE!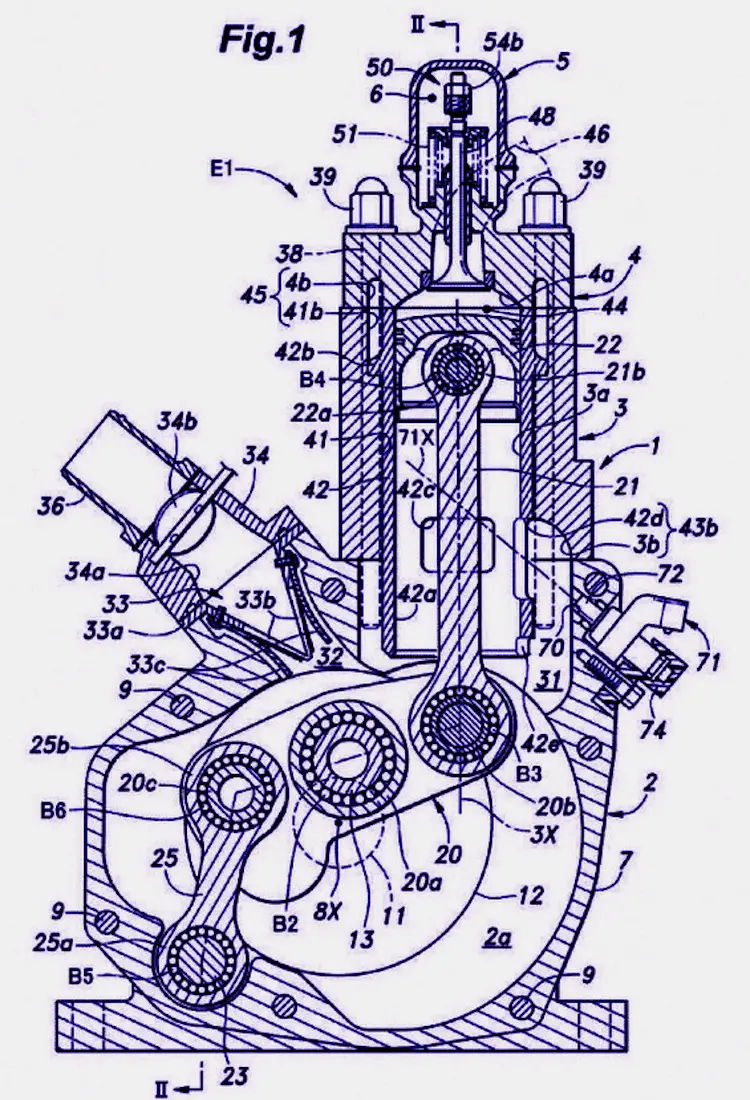 The motorcycle world got all atwitter (even on Twitter) because Honda patented a fuel-injected two-stroke engine last week. First, this isn't a motocross engine. Did you notice the flat base that is cast into the cases. That is so this engine can be bolted to a plate, water pump or work bench. This is a light-duty industrial engine. Second, motocross engines don't come with a stroke this long. Just the opposite. Third, take a close look at the crankshaft. The rod is offset to one side and the crank has links that pin it in place. This engine is not going to turn any rpm at all. Fourth, this engine's fuel injection is far from the oft-dreamed-of Direct Injection. It's as indirect as it can be. The injector is just above the crankcase (#71). The fuel is then pumped up via transfer ports to a push rod-activated poppet-valve that acts as the exhaust port. Honda hasn't made a two-stroke motocross bike since 2007—and this engine is not going to change that.

A HANDFUL OF MXA'S 2016 "FIRST RIDE" VIDEOS
You can see even more at www.youtube.com/channel/UC13uOawMwZh56D2dEn41Gyw
2016 SUZUKI RM-Z450

2016 HONDA CRF450

2016 YAMAHA YZ450F

2016 KTM 450SXF

OVER-THE-HILL 9-11 MEMORIAL RACE IS ON SEPTEMBER 13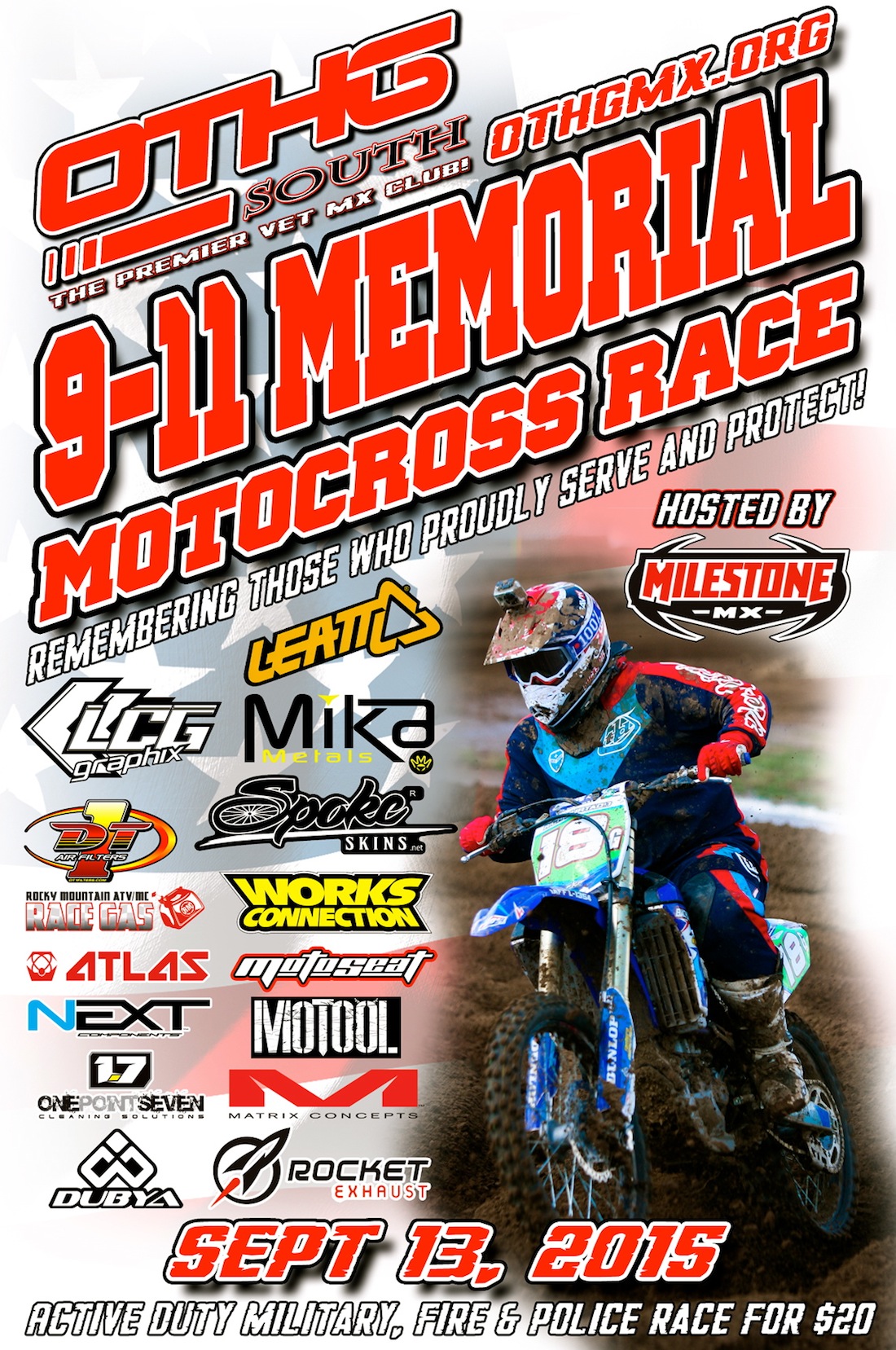 REM'S "STRAIGHT EIGHT" IS NOW THE "STRAIGHT SEVEN"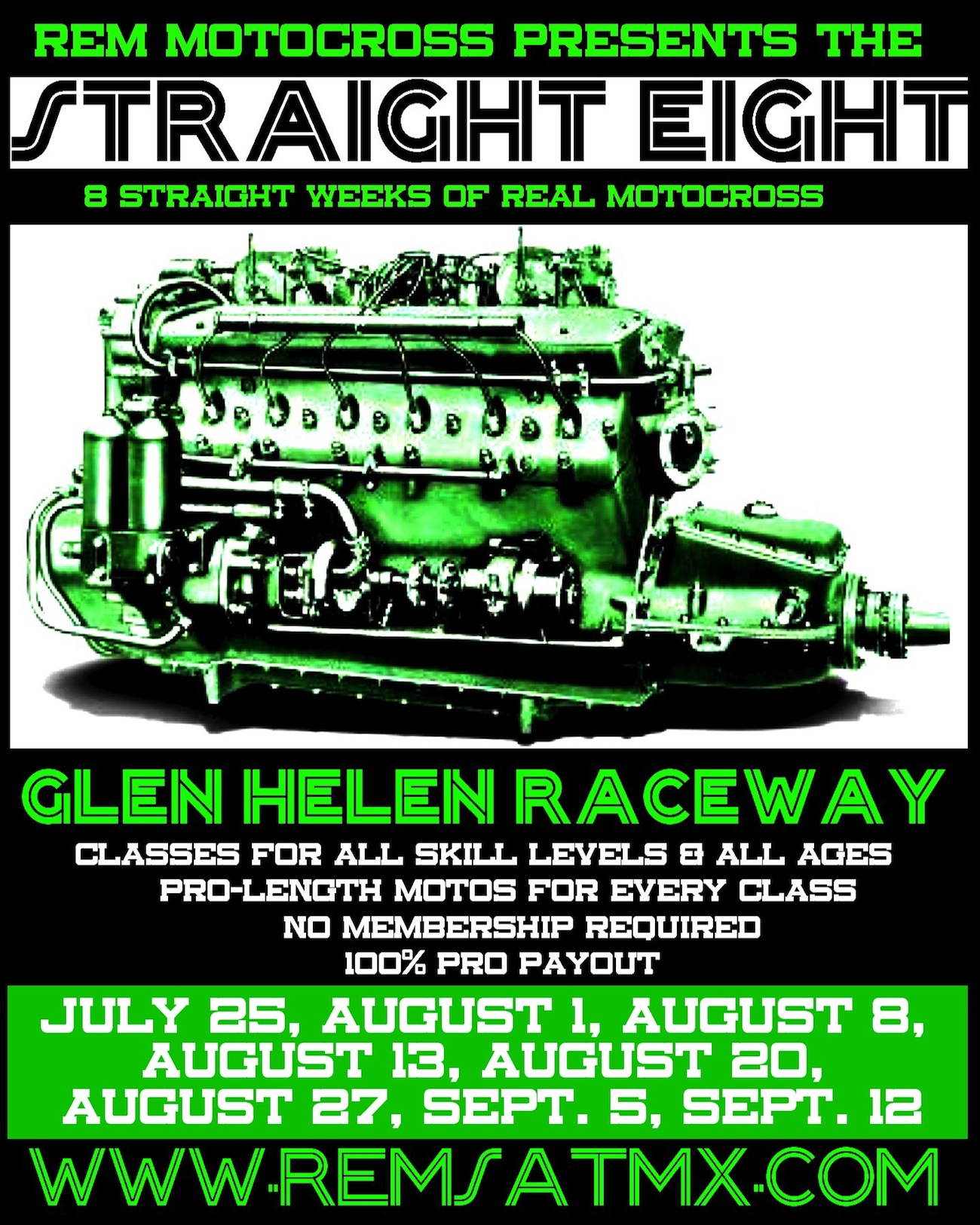 Two down, six to go. The "Straight 8" is now the "Straight 6." Race 3 of 8 will be on Saturday August 8. For more info go to www.remsatmx.com.
2016 AMA SUPERCROSS CHAMPIONSHIP SCHEDULE

If you are a privateer, you should race the 250 West. The 2016 Supercross season starts with 6 straight West Coat rounds, all of which can be done in a pickup truck (and for four of them you can be sleeping in your bed in Temecula that night).

2016 AMA SUPERCROSS CHAMPIONSHIP
Jan. 9…………………….Anaheim, CA
Jan. 16………………….San Diego, CA
Jan. 23………………….Anaheim, CA
Jan. 30………………….Oakland, CA
Feb. 6……………………Glendale, AZ
Feb. 13………………….San Diego, CA
Feb. 20………………….Arlington, TX
Feb. 27………………….Atlanta, GA
March 5………………….Daytona, FL
March 12………………..Toronto, CAN
March 19………………..Detroit, MI
April 2………………..….Santa Clara, CA
April 9………………..….Indianapolis, IN
April 16………………….St. Louis, MO
April 23………………….Foxboro, MA
April 30………………….East Rutherford, NJ
May 7…………………….Las Vegas, NV
2016 FIM WORLD MOTOCROSS CHAMPIONSHIP SCHEDULE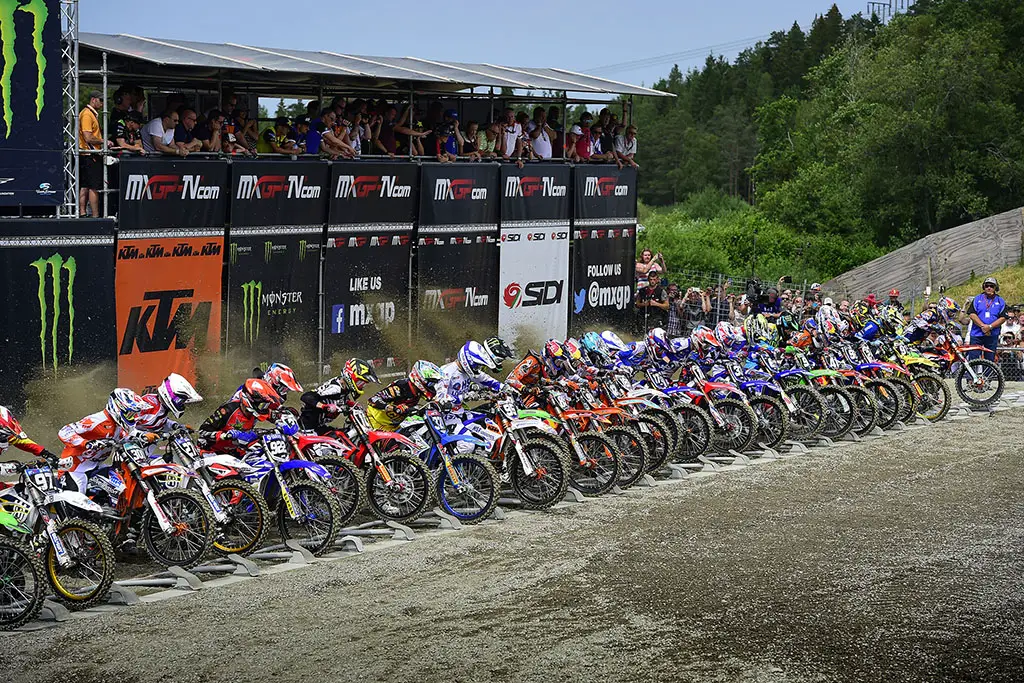 Don't believe what you read on the FIM World Motocross Championship schedule. Every year Giuseppe Luongo releases his dream schedule, but by the time the races roll around there are three Italian GPs filling in the holes.

2016 FIM MOTOCROSS WORLD CHAMPIONSHIP
Feb. 27……………………..Losail, Qatar
Mar. 20…………………….Johannesburg, South Africa
April 10…………………….Neuquen, Argentina
April 24…………………….TBA, Italy
May 1………………………Valkenswaard, Holland
May 15…………………….Teutschenthal, Germany
May 22……………………..Matterly Basin, Great Britain
June 5………………………St Jean d'Angely, France
June 12…………………….Lommel, Belgium
June 26…………………….Kegums, Latvia
July 3……………………….Uddevalla, Sweden
July 10……………………..TBA
July 24………………………Loket, Czech Republic
Aug. 7……………………….Frauenfeld, Switzerland
Aug. 14……………………..Assen, Holland
Aug. 28……………………..TBA
Sept. 4……………………….Leon, Mexico
Sept.11………………………Glen Helen, USA
Sept. 25……………………..Motocross des Nations…Maggiora, Italy
WHAT'S LEFT? WHERE TO BE & WHEN TO BE THERE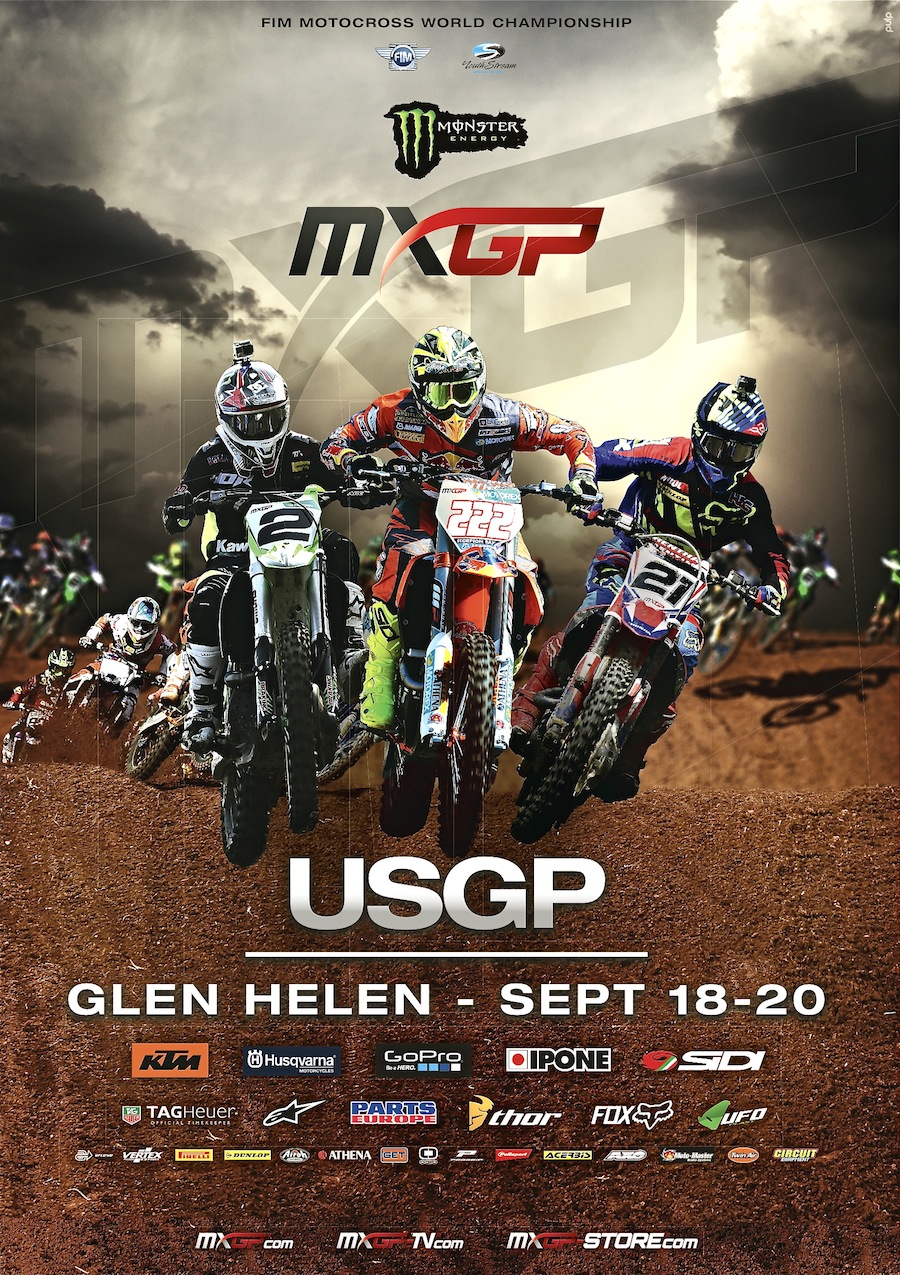 Tony Cairoli will be back for Glen Helen, but Herlings won't. There will be new faces on the GP podium. How many of them will be Americans on September 20.

2015 AMA NATIONAL CHAMPIONSHIP
August 15……….…..Miller Motorsports, UT
August 22 …………..Crawfordsville, IN
2015 FIM WORLD MOTOCROSS CHAMPIONSHIP
Aug 16…………………Trinidade, Brazil (canceled)
Aug. 23………………..Mantova, Italy
Aug 30…………………Assen, Holland
Sept 13…………………Leon, Mexico
Sept. 20………………..Glen Helen, USA
2015 AMA SUPERMOTO CHAMPIONSHIP
Aug. 14-15………….…..Miller Motorsports, UT
2015 WORLD SIDECAR CROSS CHAMPIONSHIP
Aug. 9…………………………Latvia
2015 AUSTRALIAN NATIONAL CHAMPIONSHIP
August 23 ………………….…Toowoomba, Qld
August 30 …………………….Coolum, Qld
2015 CANADIAN NATIONAL CHAMPIONSHIP
Aug. 9…………………………..Motocross Ulverton
Aug. 16………………………….Walton Raceway
2015 GERMAN NATIONAL CHAMPIONSHIP
Aug. 9……………………….…Ried
Aug. 23…………………………Lichtenvoorde
GRAND PRIX OF USA
Sept. 20……………………….Glen Helen, CA
MOTOCROSS DES NATIONS
Sept. 27……………………….Ernee, France
WORLD VETERAN MOTOCROSS CHAMPIONSHIP
Nov. 7-8……………………….Glen Helen, CA
SUBSCRIBE TO MXA AND MAKE MONEY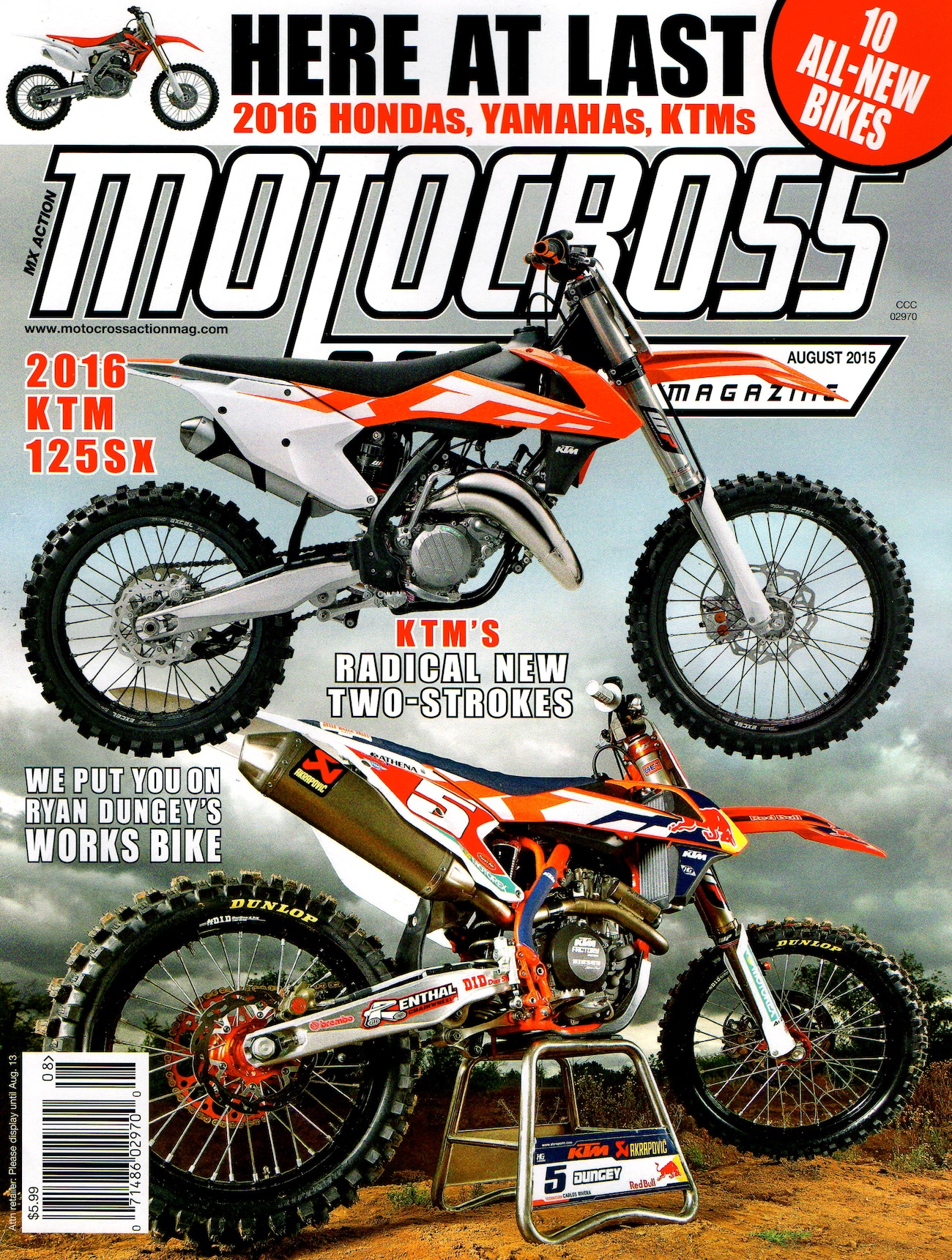 Don't miss your chance to get the August issue of MXA hand delivered to you by a uniformed agent of the United States Government. Plus, subscribers get a $25 Rocky Mountain gift card which pays for their subscription and then some.

Do you subscribe to MXA? You should. We know that you think that print magazines are dead and that the internet will fill the void, but most of the stuff in the current issue of MXA won't appear on the web for several months, if at all. Luckily, you can get all of MXA on your iPhone, iPad, Kindle or Android by going to the Apple Store, Amazon or Google play, but better yet get the Digital desktop version at https://hi-torque.com/product/motocross-action-digital-edition/ or click on the link below to get the print version delivered to your door for only $19.99 (plus you get a free $25 Gift Card from Rocky Mountain ATV/MC just for subscribing). There is a profit to be made in this deal for you. For the Print magazine go to: http://hi-torque.com/product/subscribe-to-motocross-action-magazine/
Team O'Neal answers: Back row: "Flyin" Brian Myerscough, 1982 500cc National Champ Darrell Schultz, former Team Honda manager Erik Kehoe, Steve Martin. Front row: Billy "Sugar Bear" Grossi, "Radical" Ron Turner, Scott Burnworth and Jim "Hollywood" Holley.
Photos by Ray Archer, Honda, John Basher, KTM, John Ker, Massimo Zanzani, Jody Weisel and MXA