MXA WEEKEND NEWS ROUND-UP: A CONTROVERSY FREE WEEK… ALMOST


Click on images to enlarge
BLUE BUFFALO/SLATER SKINS/YAMAHA SIGNS BENNY BLOSS

The Blue Buffalo/Slater Skins/Yamaha team is making news leading into the 2016 season. First, they hired Larry Brooks as their team manager and now they have signed 2016 Loretta Lynn's Horizon Award winner Benny Bloss for the 2016 AMA 250 East Supercross series and AMA National Championships. Bloss rose to prominence when he won the Open Pro/Sport class at Lorettas and finished 15th overall at the Indiana round of the AMA 450 Nationals (in his first-ever AMA Pro race). The Blue Buffalo/Slater Skins/Yamaha team will announce a second rider soon.
KTM TO OPEN MUSEUM IN MATTIGHOFEN IN 2017
The proposed KTM Museum will be 90,000 square feet.
"Currently we are pushing to get all the permits in place," said project manager Alex Pierer. "There is the museum building itself, but we also need to pull down a structure in the front and concentrate on the construction of an underground parking facility. We'll make an adjacent building with flats and a fitness room. We have the permits for the museum, we just need the rest organized because the two sites will be done simultaneously. Generally it is all on track and in November we will start to dismantle all the existing buildings and then begin the earthwork and foundations."

The museum will tell the story of KTM and its various twists and turns over the decades.

"The nice part is not only thinking about the museum, but also the content; I would say this is 30% of the job at the moment," says Alex Pierer. "It will be the chance to get really close to most of our World Championship winning bikes, souvenirs that you cannot get anywhere else, displays and stories that show what KTM really means to us. Since the crisis we've had an average of ten World Champions a year and this story is vastly different from any other manufacturer. The museum itself will have a floor space of 90,000 square-feet over three stories and will also contain an apprentices workshop, which we will move  out of the factory and place it where visitors can see behind the scenes. A warehouse will have see-through walls so people can glimpse all the bikes together. The museum will cater for all age groups and I think it will be a place where a kid can have as much fun as an adult. We also want to change content often so that people might want to visit again. There are a lot of ideas on the table but nothing is 100% fixed yet. We don't want to get too specific at the moment and maybe miss a detail that we'd like to include. Construction will take place throughout 2016 and the building should be enclosed by the end of the year for the winter weather. The plan is to be open by the end of 2017 which would also be a perfect date for the opening as it will be the 25th anniversary of KTM '2.0.'"
ANDREW SHORT INJURED & ANNOUNCES FINAL SEASON
WHERE TO BE, WHEN TO BE THERE & WHAT TO WEAR
2015 KURT CASELLI RIDE DAY
Dec. 4……………………………..Glen Helen, CA
2015 AUSTRALIAN SUPERCROSS CHAMPIONSHIP
Dec. 5……………………………..Melbourne, Vic
2015 GENEVA SUPERCROSS
Dec. 4-5………………………….Geneva, Swis
2015 OTHG MX CHRISTMAS MOTOCROSS
Dec. 6……………………………Pala, CA
REM's LAST THREE 2015 RACES
Dec. 5……………………………Glen Helen
Dec. 12…………………………..Glen Helen
Dec. 19…………………………..Glen Helen
2016 HANGOVER-AND-A-HALF GP
Jan. 3……………………………Glen Helen
BLACK FRIDAY'S OVER, BUT CHRISTMAS SALES ARE HERE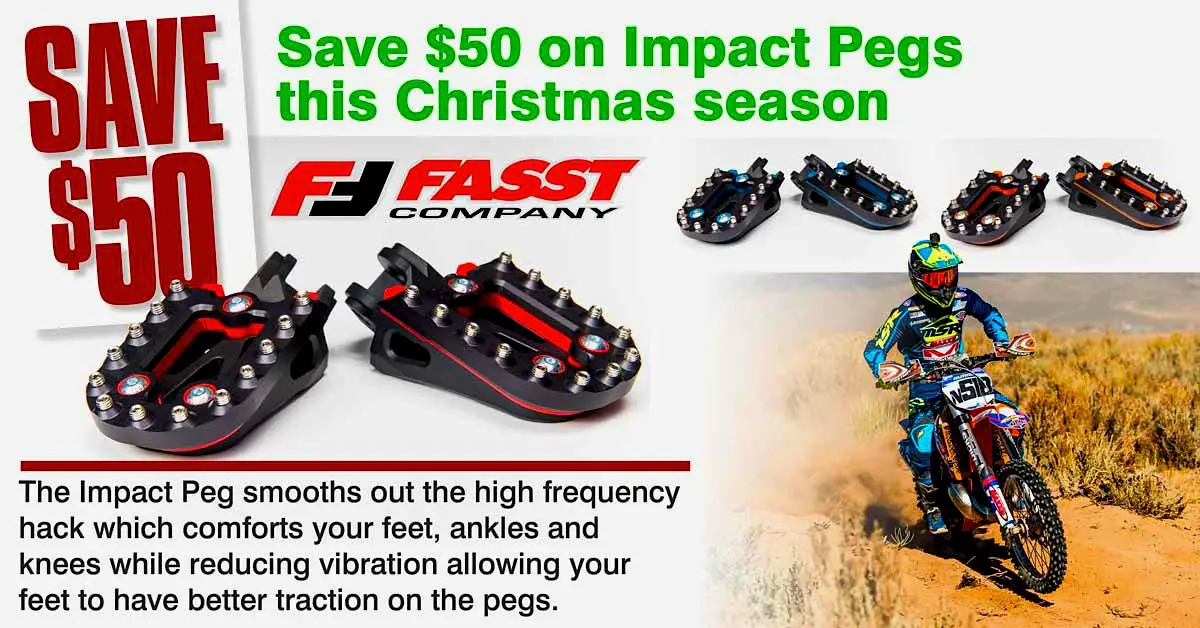 For more info go to www.fasstco.com
VOLTCROSS: RAFFE MINI THUNDER ELECTRIC MINICYCLE

The $2950 Raffe Mini Thunder electric Pee-Wee.

The Raffe is a performance electric bike that kids can learn the fundamentals of riding on—while being able to ride almost anywhere. Equipped with top-of-the-line components, the Raffe bike is a great choice for the aspiring rider who wants to enter the competitive motocross world. Raffe eliminates the worry of maintenance costs that a regular gas engine requires. Raffe is 50cc Junior competitive, and has been tested in the racing environment with plenty of first place results. Not only a pure racing machine, it is also a perfect bike for the beginner rider who is totally new to the sport. Often kids get scared by the sound that a internal combustion engine produces.
An onboard computer monitors the power delivery and battery consumption using an advanced buttonless system. The computer interface gives the parent total control over how the power and speed are deployed. The Raffe is also equipped with a waterproof 12-volt socket, allowing you to connect USB devices or car-lighter type tools, such as a tire pump, to the bike.  The bike is now a source of energy to charge your electronics or get you out of a bind while at the track or on the trails. For a limited time the Raffe bike is available for $2950.00.  This is $1,000.00 less than comparable gas motorcycles. to get more info go to www.igg.me/at/raffebikes

BIRTHDAYS OF THE STARS: DANNY LAPORTE IS 58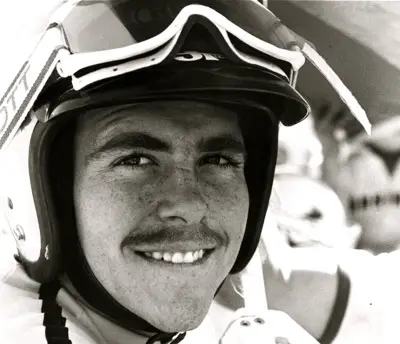 Dec. 3…Danny LaPorte 1957
Dec. 3…Craig Decker 1975
Dec. 3…Danny LaPorte 1957
Dec. 3…Maxime Desprey 1993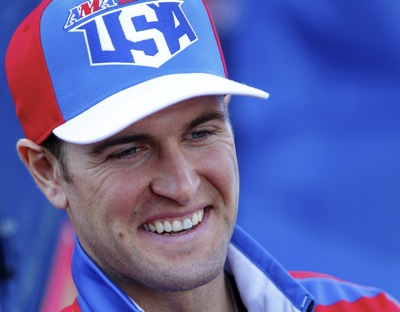 Dec. 4…Ryan Dungey 1989
Dec. 4…Tiger Lacey 1982

Dec. 4…Jim Gibson 1961
Dec. 4…Greg Blackwell 1953

Dec. 5…Casey Johnson 1975
Dec. 6…Kevin Walker 1970

Dec. 6…Joaquim Rodrigues 1981
Dec. 6…Kyle Chisholm 1987
Dec. 7…Bob Morales 1963

Dec. 7…Jake Weimer 1987
Dec. 7…David Philippaerts 1983
GLEN HELEN'S HANGOVER-AND-A-HALF GRAND PRIX ON JANUARY 3, 2016
After a tough New Year's Eve you should be ready to race by Sunday, January 3. Most of the big bike races will be 75-minutes long, with the Kyle Yarnell Memorial Team Race going for an hour-and-a-half. There will be one lap of practice at 8:00 a.m. for those riders who don't want to wing it when the flag flies. Find out more info at www.glenhelen.com
HOW TO SUBSCRIBE TO MXA AND MAKE MONEY
If you had subscribed to MXA, the January 2016 issue would be sitting in the throne room right now. It's chock full of good stuff — including the only 2016 450 shootout worth reading.  Plus, subscribers get a $25 Rocky Mountain gift card that pays for their $15.99 subscription and then some.

Do you subscribe to MXA? You should. We know that you think that print magazines are dead and that the internet will fill the void, but most of the stuff in the current issue of MXA won't appear on the web for several months, if at all. Luckily, you can get all of MXA on your iPhone, iPad, Kindle or Android by going to the Apple Store, Amazon or Google play, but better yet get the Digital desktop version at https://hi-torque.com/product/motocross-action-digital-edition/ for $9.99 a year. The MXA test riders prefer the print version and not just because it is delivered by a uniformed employee of the U.S. Government, but because for only $15.99 you get 12 issues and a free $25 Gift Card from Rocky Mountain ATV/MC. That means that there is a profit to be made in this deal for you. For the Print magazine go to: http://hi-torque.com/product/subscribe-to-motocross-action-magazine/

ASK THE MXPERTS: SoCAL REUNION RACE CHEATERS?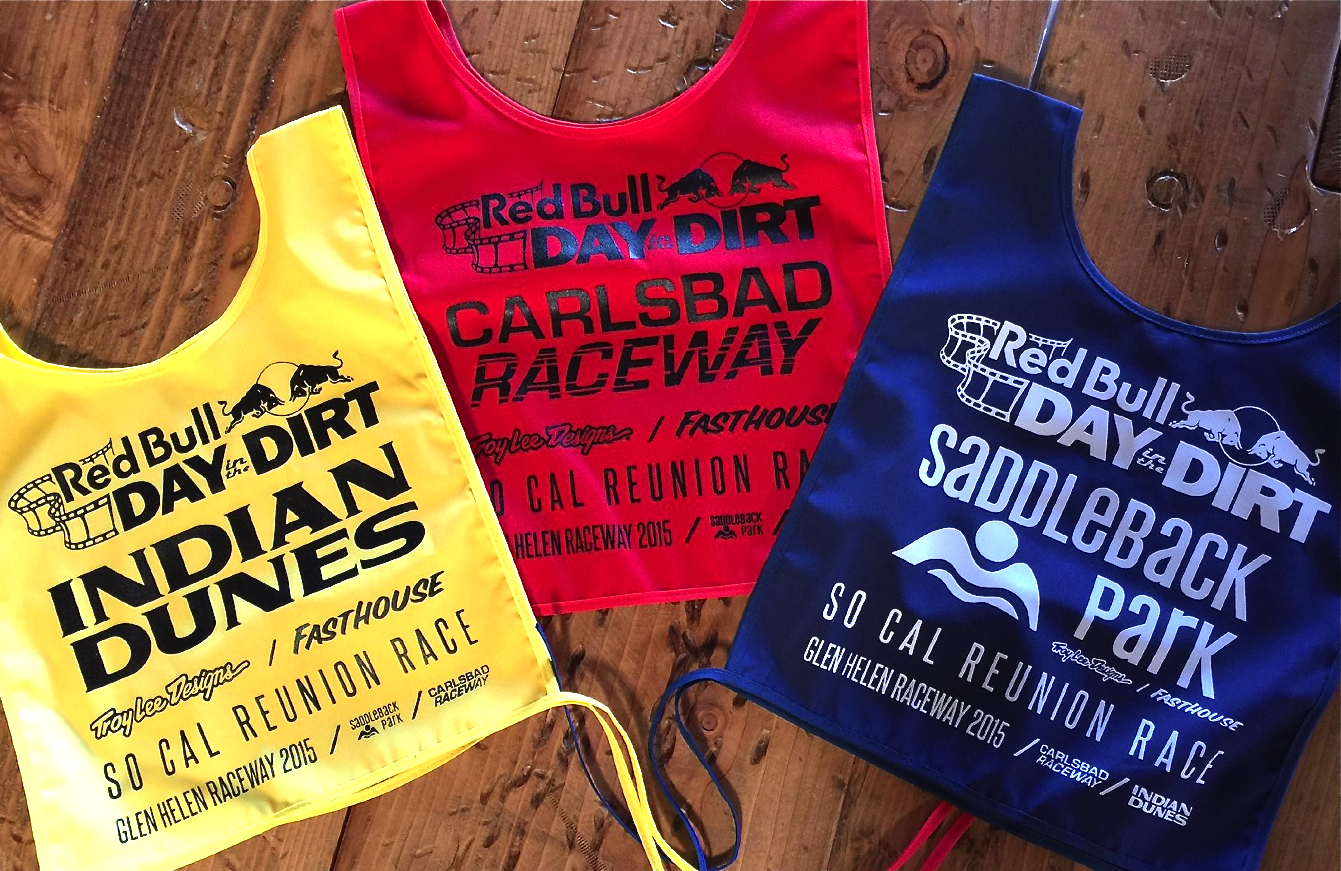 Dear MXA,
Although I know that MXA has nothing to do with running the "Day In The Dirt" race, I'm asking you this question because I know that many of the MXA test riders were Saddleback Specialists. I went to the "Day In The Dirt" with the sole intent of racing in the SoCal Reunion Race against all the guys I remember racing with at Saddleback in the 1970s. Guess what? The race was packed with young guys who I'm sure weren't born when Saddleback was open. By my account Saddleback closed its gates 32 years ago — so a rider would have to be almost 40 years old to have raced there? To me it was wrong. Am I wrong?
If you were right, it is totally wrong. The promo for the SoCal Reunion race said, "For everyone who has ever spent time racing at Saddleback, Carlsbad or Indian Dunes, here's your chance to get back on the track with your old buddies or your old rivals." But short of putting an age limit (from when each track closed — plus a few years) on the riders wearing Saddleback, Carlsbad or Indian Dunes bibs, there is no way to control who claims to have raced at one of these tracks back in the day. We are sure that there are some cheaters and some one-timers, but the promoters haven't tried to put any controls on who races. Plus, Indian Dunes and Carlsbad stayed open for several years after Saddleback closed, which opens the doors for riders younger than your window. When you get older, everyone looks like a kid. However, we looked at the SoCal Reunion Race results and don't see any glaring proof of teenage cherry pickers. On a side note: Do you think that all riders in the Stuntman Grand Prix work in the movie industry?
2015 RED BULL "DAY IN THE DIRT 18" RESULTS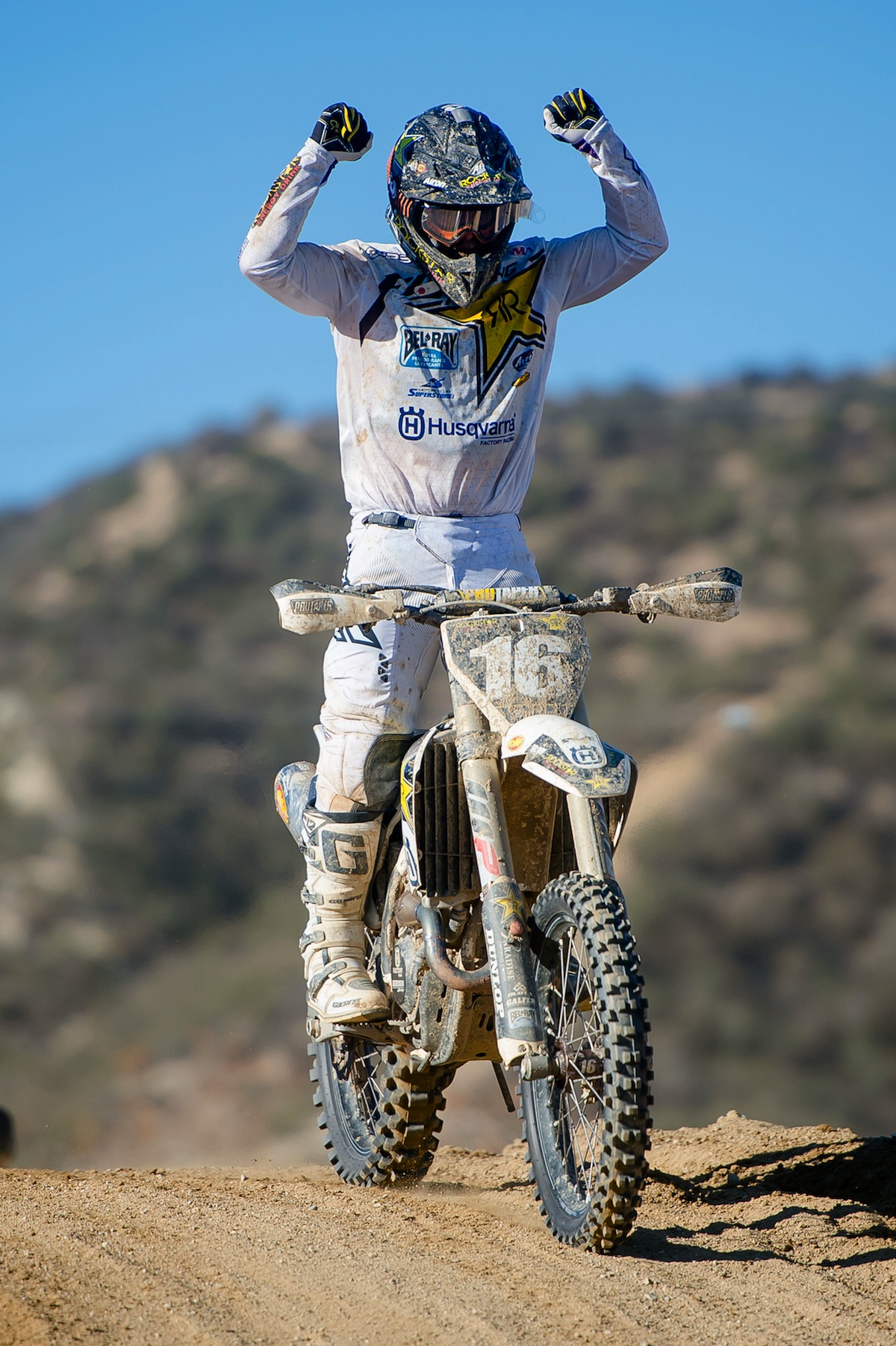 Zach Osborne at the finish line of the Coupe de Grace GP. Photo: Kyoshi Becker

COUP DE GRACE GP
1. Zach Osborne
2. Taylor Robert
3. Sean Cantrell
4. Blayne Thompson
5. Colton Udall
6. Ivan Ramirez
7. Robbie Wageman
8. Arik Swan
9. Chris See
10. Eric Yorba
Josh Grant with his dad Mike on the starting line. Josh has been riding a Suzuki since leaving his fill-in ride at Team Kawasaki. He doesn't have a deal for 2016 yet, but he's at the top of the fill-in list. Photo: Kyoshi Becker

PRO-AM GRAND PRIX
1. Josh Grant
2. Sebastien Tortelli
3. Blayne Thompson
4. Mitchell Falk
5. Sean Cantrell
6. Dalton Shirey
7. Carlen Gardner
8. Justin Hoeft
9. Derek Drake
10. Willy Simons Jr.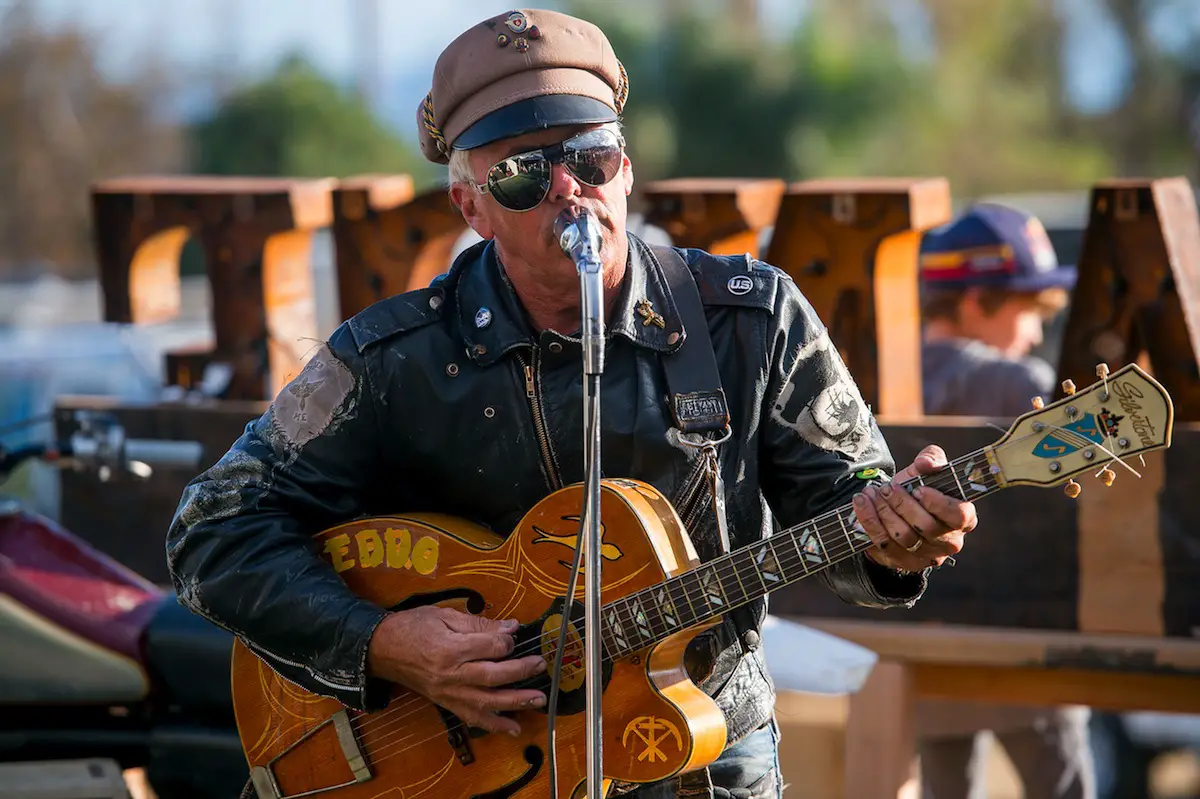 Based on the look of the knuckles on his left hand, he must have hit the ground hard in the Leather Jacket 450 class. Photo: Kyoshi Becker

SOCAL REUNION RACE
1. Mike Sleeter
2. Mark Tilley
3. Ron Lechien
4. Jon Ortner
5. Terry Cook
6. Jason Norton
7. Mason O'Brian
8. Jeff Niblack
9. Louie Franco
10. Zeke Landers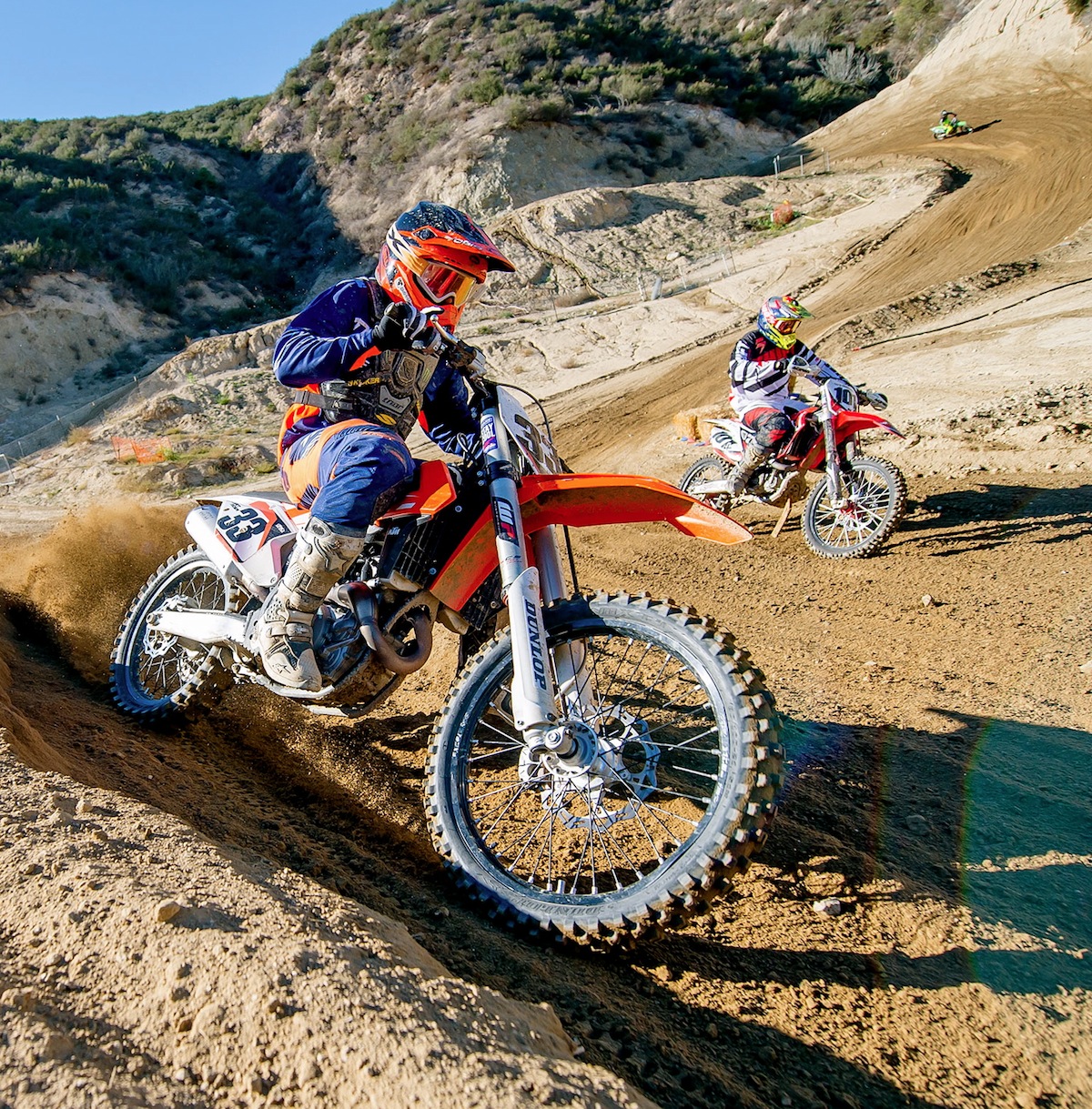 Taylor Robert (33) was on the track almost continuously during the three-day weekend. He just signed a deal to race for KTM's World Enduro Championship team for 2016. Photo: Kyoshi Becker

TWO-STROKE REVIVAL RACE
1. Taylor Robert
2. Trevor Stewart
3. Jarryd McNeil
4. Griffin Dexter
5. Dalton Shirey
6. Derek Drake
7. Colton Udall
8. Willy Simons Jr.
9. Derek Kelley
10. Mike Sleeter

OVER-THE-HILL-GANG CHRISTMAS TOY MOTOCROSS THIS SUNDAY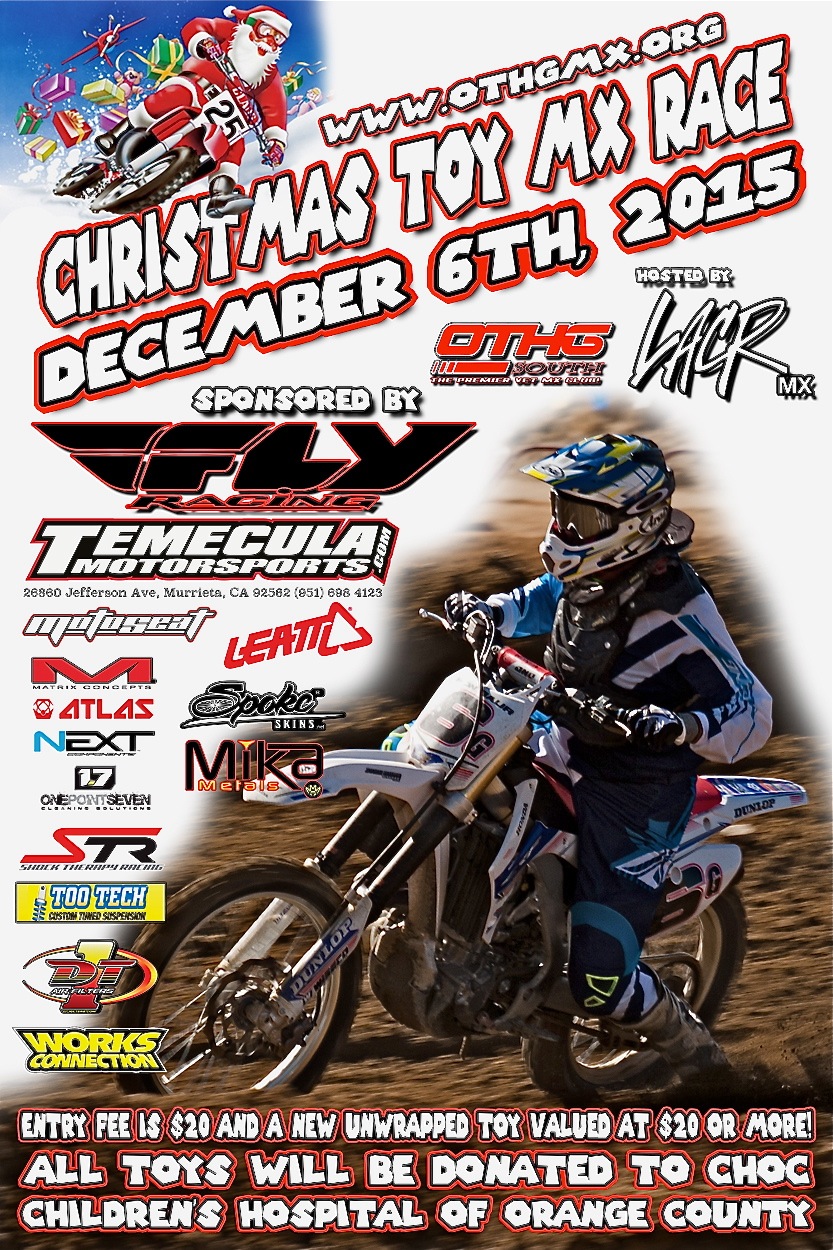 The race will be at LACR. Find out more info at www.othgmx.org
READY FOR SUPERCROSS? LOOKING BACK AT JASON UPSHAW'S CRASH

$10,000 MTA WORLD TWO-STROKE CHAMPIONSHIP ON MARCH 26
The 2016 MTA World Two-Stroke Championship will be held on March 26, 2016, at Glen Helen Raceway. It will have a $10,000 purse, classes for all skill levels and engine sizes. Entry is $40 for Amateur and Vet classes ($85 for the Pro class). There is no charge for transponders. For more info go to www.glenhelen.com

ALL THE BIG RACES OF 2016: MAKE PLANS NOW

2016 AMA SUPERCROSS CHAMPIONSHIP
Jan. 9…………………….Anaheim, CA
Jan. 16………………….San Diego, CA
Jan. 23………………….Anaheim, CA
Jan. 30………………….Oakland, CA
Feb. 6……………………Glendale, AZ
Feb. 13………………….San Diego, CA
Feb. 20………………….Arlington, TX
Feb. 27………………….Atlanta, GA
March 5………………….Daytona, FL
March 12………………..Toronto, CAN
March 19………………..Detroit, MI
April 2………………..….Santa Clara, CA
April 9………………..….Indianapolis, IN
April 16………………….St. Louis, MO
April 23………………….Foxboro, MA
April 30………………….East Rutherford, NJ
May 7…………………….Las Vegas, NV

2016 AMA NATIONAL CHAMPIONSHIP
May 21……………………Hangtown, CA
May 28.…………………..Glen Helen, CA
June 4..…………………..Thunder Valley, CO
June 18..…………………Mt Morris, PA
June 25.………………….Muddy Creek, TN
July 2.…………………….Red Bud, MI
July 9..……………………Southwick, MA​
July 16.…………………..Millville, MN​
July 23.…………………..Washougal, WA
Aug. 13..………………….Unadilla, NY​
Aug. 20..………………….Budds Creek, MD​
Aug. 27.…………………..Crawfordsville, IN​

2016 FIM MOTOCROSS WORLD CHAMPIONSHIP
Feb. 27……………………..Losail, Qatar (Saturday)
Mar. 06……………………..Suphan Buri, Thailand
Mar. 13……………………..Sepang, Malaysia
Mar. 28……………………..Valkenswaard, Holland (Monday)
April 10……………………..Neuquen, Argentina
April 17……………………..Leon, Mexico
May 1……………………….Kegums, Latvia
May 8……………………….Teutschenthal, Germany
May 15……………………..Pietramurata, Italy
May 29……………………..TBA
June 5………………………St Jean d'Angely, France
June 19…………………….Matterly Basin, Great Britain
June 26…………………….Mantova, Italy
July 24………………………Loket, Czech Republic
July 31………………………Lommel, Belgium
Aug. 7……………………….Frauenfeld, Switzerland
Aug. 28……………………..Assen, Holland
Sept. 3………………………Charlotte, USA (Saturday)
Sept.11……………………..Glen Helen, USA

2016 AMSOIL ARENACROSS CHAMPIONSHIP
Jan. 9-10………………….Cincinnati,OH
Jan. 15-17………………..Baltimore, MD
Jan. 22-24………………..Allentown, PA
Jan. 30-31………………..Greensboro, NC
Feb. 4-7…………………..Colorado Springs, CO
Feb. 13-14………………..Omaha, NB
Feb. 20-21………………..Tampa, FL
Feb. 27-28………………..Birmingham, AL
Mar. 12-13………………..Lafayette, LA
April 2-3…………………..Ontario, CA
April 9-10…………………Salinas, CA
April 16-17………………..Tacoma, WA.
April 22-24………………..Nampa, ID
May 6-8…………………..Las Vegas, NV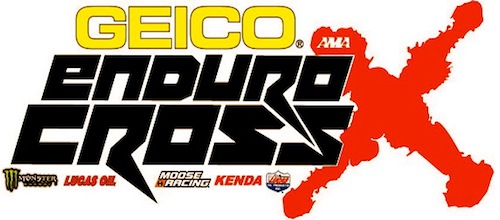 2016 GEICO ENDUROCROSS CHAMPIONSHIP
Aug. 27……………………..Atlanta, GA
Sept. 3………………………Sioux Falls, SD
Sept. 10…………………….Salt Lake City, UT
Sept. 24…………………….Phoenix, AZ
Oct. 1………………………..Denver, CO
Oct. 22………………………Everett, WA
Nov. 5………………………..Boise, ID
Nov. 19………………………Ontario, CA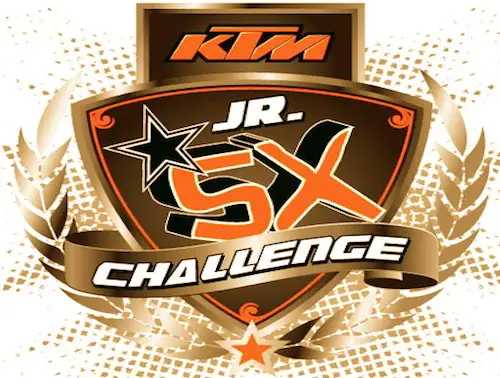 2016 KTM JUNIOR SUPERCROSS CHALLENGE
Jan. 16……………………..San Diego, CA
Jan. 23……………………..Anaheim II, CA
Feb. 6……………………….Phoenix, AZ
Feb. 20……………………..Dallas, TX
Feb. 27……………………. Atlanta, GA
Mar. 12…………………….Toronto, CAN
Mar. 19…………………….Detroit, MI
April 9………………………Indianapolis, IN
April 16…………………….St. Louis, MO
May 7……………………….Las Vegas, NV

2016 CANADIAN NATIONAL CHAMPIONSHIP
June 5…………………..Kamloops, BC
June 12………………….Nanaimo, BC
June 19………………….Calgary, Alb
June 26………………….Regina, Sask
July 10…………………..Courtland, ON
July 17…………………..Ulverton, NS
July 24……………….….Pleasant Valley, NS
July 31…………………..Moncton, NB
Aug. 7……………………Deschambault, QC
Aug. 14………………….Barrie, ON

2016 ITALIAN NATIONAL CHAMPIONSHIP
Jan. 31…………………….Alghero
Feb. 7………………………Lamezia Terme
Feb. 15…………………….Ottobiano

MTA WORLD TWO-STROKE CHAMPIONSHIPS
Mar. 26……………………..Glen Helen, CA

2016 AMA VINTAGE MOTORCYCLE DAYS
July 8-10…………………..Lexington, OH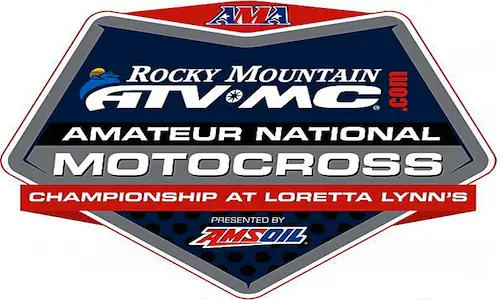 2016 AMA NATIONAL AMATEUR CHAMPIONSHIP
Aug. 1-6……………………..Loretta Lynn, TN



2016 MOTOCROSS DES NATIONS
Sept. 25………………………Maggiora, Italy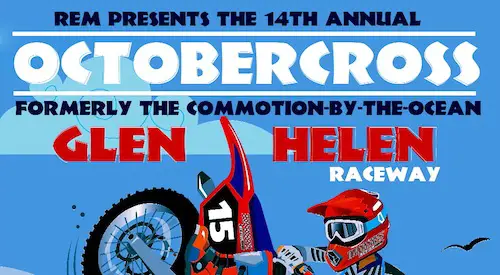 2016 REM OCTOBERCROSS
Oct. 29……………………….Glen Helen, CA

2016 DUBYA WORLD VET CHAMPIONSHIP
Nov. 5-6…………………….Glen Helen, CA
Photos: John Basher, Massimo Zanzani, MXA and Kyoshi Becker