MXA'S WEEKEND NEW ROUND-UP: ALESSI TO CROSS THE BORDER
Click on images to enlarge.
EUROPE IN A TIZZY, BUT ISN'T THAT NORMAL

Gautier Paulin barely raced in the last two seasons, but he 's headed to Honda where they are used to riders who miss large chunks of races.
Let's face it, when Clement Desalle got hurt last week that was the end of the competition in the 2014 GP season. Cairoli and Herlings were gonna win anyway, but Clement Desalle at least put up some resistance. If Desalle can't ride this weekend, or is detuned from hitting the ground, he will end up 90 or more points behind. That puts all the burden to try to make it look good on Jeremy Van Horebeek (who is now second in points). as for Herlings he is already 135 points ahead of second place—which is a five moto lead (and that discounts the fact that Herling skipped a race and gave up an additional 50 points).
It is the Ryan Villopoto rumor that won't die. No, it isn't his misleading statements about racing the 2014 AMA Nationals. Which were perhaps the low-light in what had been a fairly honest, if almost non-existent, relationship with the American press and fans. No one in the USA will ever believe a word that Ryan Villopoto ever says about his plans to race any series because he purposely misled the public. Now, Ryan is the subject of new rumors circulating throughout the European press that he will move to Europe and race the 450 GP class next year for Kawasaki. We'll let the European press sort this out for themselves—we've already been burned.
The main ingredient in this rumors is the fact that Gautier Paulin, currently on the factory Kawasaki GP team, but sitting on the sidelines injured, is leaving Kawasaki to sign with Team Honda for 2015. Of course this means that either Max Nagl or Evgeny Bobryshev will be leaving Team Honda. We would bet that the Russian will get the ax, not because he isn't talented, but because he is fragile. You could say the same thing for Max Nagl, but Max is more marketable than Evgeny.
There is some movement in the 250GP class, but since Jeffrey Herlings is intent on staying in the 250 class for at least another year, it doesn't matter who signs who. Herlings will win in 2015 unless he is abducted by aliens. It should be noted that under FIM rules, that were conveniently changed to suit Jeffrey Herlings and KTM a years ago, he would have been forced to move out of the class already. MXA is not a fan of rules that force riders out of the 250 class, just as we loath the Over-23 rule that will remove the majority of Herlings' competition for 2015. More power to Jeffrey. He can theoretically win the 250 World Championship three more times before he turns 23…and when Jeffrey turns 23, the rule will magically be changed.
Have you seen the proposed 2015 FIM Grand Prix schedule? It goes to Qatar, Thailand, Argentina (twice), Russia, Brazil and Mexico. Those meandering trips to the far reaches of the globe represent 40 percent of the 2015 GP schedule. It's a given that Qatar is a joke and that Thailand is a riot-plagued country where riders where injured because of being forced to use local fuel because of a Thai government ban on foreign race fuel, but the rest aren't all that much better. Where did Argentina come from? Where did Argentina come from? We said that twice because they are scheduled to hold one GP in March and second one in August. Shouldn't they hold a local race first? Weren't any lessons learned in Mexico? Which by the way will be the last race of 2015. It is a stand-alone fly-away race—which means that the teams have to fly from Holland to Mexico to do one last event. That's a little pricey, not to mention sending their bikes to Mexico two weeks before the MXDN in France. Finally, Russia may seem like a world power, but they have Cold War borders guards, greedy customs agents, minimal road signs, old world accommodations, potholed asphalt and nobody wants to go there — save for Bobryshev and Tonkov. This schedule is designed to drain the pockets of the riders and teams of every last cent they have, while transferring the money into Youthstream's coffers.
BEHIND THE SCENES AT KAWASAKI EUROPE

JEFF ALESSI TO RACE AGAIN… IN CANADA
Jeff's bike under the MCR awning next to Mike's.
Jeff Alessi says of his plan to race for his brothers team in Canada this weekend (copy edited into actual English):
"This came as a surprise to me because talking to my dad and Genova about racing up in Canada was not part of their plan. I haven't raced more than two times this year. However, Daniel Tibo from Deschambault (round 7 of the Canadian series near Quebec) and Stephan from Overton MX were interested in my dad and Genova letting me race the last few rounds. They would provide me with the plane tickets to make it to their tracks to race the last 4 rounds for Moto Concepts (with the truck driver Jerry wrenching for me).I'm going up to Canada to have fun, I don't want any problems with any riders. I just plan on racing my own race and doing the best I can and rebuilding my confidence for next year."
2010 TO 2013 YAMAHA YZ450F IGNITION/FUEL MAPS
Although the MXA wrecking crew has moved on to working on and testing newer model bikes, we get lots of requests for the maps we ran on the 2010 through 2013 YZ450F's. In truth, we vastly preferred the "LESS HIT" maps at the bottom of the chart, but we have included all of the maps and what they do.
WHO HAS LED THE MOST LAPS IN 2014?
Bretcafle has only led 3 laps so far, which is 100 laps less than Roczen.
450 LAPS LED
Ken Roczen…………..103
James Stewart……….50
Josh Grant…………….16
Trey Canard…………..11
Ryan Dungey…………9
Eli Tomac………………8
Brett Metcalfe………..3
Justin Barcia………….1
Chad Reed……………..1
Who would have guessed that Marvin Musquin would have hit the front at least once by now?

250 LAPS LED
Jeremy Martin………..85
Blake Baggett………….36
Cooper Webb………….34
Christophe Pourcel…24
Jessy Nelson…………..8
Justin Bogle……………8
Matt Bisceglia………….1
Joey Savatgy……………1
USED IT, ABUSED IT, TESTED IT: CV4 HIGH-PRESSURE RADIATOR CAP

CV4 radiator caps.
Since the boiling point of water increases when the water is placed under pressure, a radiator cap has a coil spring situated between two rubber seals. The stiffness of the spring determines how much pressure the water is under. As the water heats up, it expands. This expansion puts pressure on the radiator cap's spring. When the radiators internal pressure exceeds the spring rate of the radiator cap, the hot coolant escapes and overflows between the two rubber seals
VERDICT: The MXA wrecking crew always changes the stock 1.1 radiator caps on Honda, Yamaha and Suzuki motocross bikes. With CV4 offering a 2.0 kg/cm2 cap we can easily stop our test bikes from puking out water on the starting line or steaming like Turkish sauna after a mud race. $21.95 (Japanese brands), $28.95 (KTM and Husaberg) ? www.cvproducts.com or your local dealer.
RIDER'S POINT OF VIEW OF THE BUDDS CREEK NATIONAL TRACK
HOW MANY MOTOS BEHIND ARE THE CHASERS?
Ken Roczen (94) has a one moto lead over everyone in the field. Ryan Dungey is the closest, but he is 26 points behind.
Since the AMA pays 25 points per moto win (which adds up to 50 points for a 1-1 day), you can simply count how many points behind the chasers are from the points leader or, as the season progresses, you can start to count how many motos they are behind (which then leads to how many complete races they trail the leader). For example, Ken Roczen has 280 points and Ryan Dungey is 26 points behind Kenny at 254. That means that Ken and Ryan are not still racing in the same moto. If Kenny has a bad moto and DNF's at Budds Creek, he will still be leading the title chase by one point over Ryan Dungey (assuming Dungey wins the same moto). With this mathematical concept in hand, let's list how many motos the major contenders trail Ken Roczen in the 450 Nationals (with 6 races to go — or 300 points to go).
ON THE SAME MOTO (within 25 points)
1. Ken Roczen…………….280
ONE MOTO BEHIND (within 50 points)
2. Ryan Dungey………….-26
TWO MOTOS BEHIND (within 75 points)
3. Trey Canard………….-54
THREE MOTOS BEHIND (within 100 points)
4. James Stewart……….-84
FOUR MOTOS BEHIND (within 125 points)
5. Brett Metcalfe………..-112
6. Josh Grant…………….-121
FIVE MOTOS BEHIND (within 150 points)
7. Andrew Short………..-146
8. Chad Reed…………….-148
9. Weston Peick…………-149
SIX MOTOS BEHIND (within 175 points)
10. Malcolm Stewart…..-160
SEVEN MOTOS BEHIND (within  200 points)
11. Phil Nicoletti………….-197
12. Eli Tomac……………..-200
EIGHT OR MORE MOTOS BEHIND (within 200 points)
13. Jake Weimer………….-206
14. Fredrik Noren………..-208
15. Ben Lamay…………….-210
16. Matt Goerke………….-221
17. Justin Barcia…………-228
18. Kyle Chisholm………-233
19. Justin Brayton……….-238
20. Ivan Tedesco…………-243
21. Killy Rusk……………..-246
22. Jimmy Albertson……-248
23. Ryan Sipes…………….-254
24. Evgeny Mikhaylov….-255
25. Sean Collier…………..-260
26. Tommy Weeck……….-262
27. Christian Craig……….-266
28. Ronnie Stewart……….-268
29. Cade Clason…………..-268
30. Nick Wey……………….-271
31. Nick Schmidt………….-272
32. P. J. Larsen…………….-272
33. Kevin Rookstool……..-274
34. Noah McConahy………-275
35. Kinser Endicott……….-278
36. Sean Hackley…………..-278
37. Joey Peters……………..-279
38. Sergy Astaykin……….-279
39 Stephen Ransdell……..-279
BIRTHDAYS OF THE WEEK: FEETS TURNS 83, KENT IS 60

July 11…Kent Howerton 1954
July 12…Todd DeHoop 1968

July 12…David Philippaerts 1983
July 13…Destry Abbott 1972
July 13…Adam Duckworth

July 14…Robbie Maddison 1981
July 15…Jimmy Mac McIlvain 1959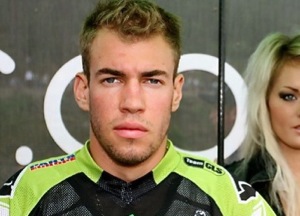 July 15…Steven Frossard 1987
July 16…Josh Summey 1983

July 17…Chuck "Feets" Minert 1931

July 17…Carey Hart 1975

July 17…Nico Izzi 1990
BELGIAN ROUND OF THE WORLD SIDECAR CHAMPIONSHIP CANCELED THIS WEEKEND

Points leaders Ben Adrianssen and Ben van den Bogaart will keep their lead this weekend. Photo: Luc Vanderaa
The 5th round for the FIM World Championship in Genk, Belgium has been canceled due to very poor track conditions caused by lots of rain.
WORLD SIDECAR CHAMPIONSHIP POINTS STANDINGS
(after 5 of 10 rounds)
1. Ben Adriaenssen / Ben van den Bogaart……….174
2. Jan Henrickx / Elvijs Mucenieks…………………150
3. Stuart Brown / Josh Chamberlain………………..149
4. Etienne Bax / Kaspars Stupelis……………………146
5. Valentin Giraud / Nicolas Musset………………..122
6. Daniel Willemsen / Robbie Bax……………………106
7. Jason Van Daele / Tim Smeuninx…………………86
8. Phillip Stenborg / Simon Stenborg……………….84
9. Daniel Millard / Joe Millard………………………..72
10. Vaclav Rozenhnal / Bruno Kalin…………………67
MEMORIES OF THE WAY WE WERE
Steve Simons deserves all the credit in the world for his suspension inventions and can easily be credited with the advancement of upside-down forks and cartridge rods. In the early 1980s Steve decided to sell his UDX-60 forks to the public. They were used by Brad Lackey on his 500 World Championship winning Suzuki. The Simons forks had 50mm fork legs and weighed three pounds less than conventional forks of the day.
ASK THE MXPERTS: HE'S YOUNG AT HEART

Dear MXA,
How old is Roger DeCoster? He must be collecting Social Security. Is he be the oldest team manager ever?
Roger DeCoster was born on August 28, 1944 and will be 70 on his next birthday. He has been eligible for Social Security for  four years and, yes, he is the oldest team manager in America.
WHO'S WHO IN THE AMA NATIONAL ZOO: HEADING TO BUDDS CREEK

Eli Tomac (3) missed the first four AMA 450 Nationals, but earned 80 out of a possible 100 points in the last two.
DATE………..TRACK………..450………………..250
May 24………Glen Helen……….Ryan Dungey……….Jeremy Martin
May 31………Hangtown…………Ken Roczen………….Jeremy Martin
June 7……….Thunder Valley….Ken Roczen………….Blake Baggett
June 14………Mt. Morris……….James Stewart………Blake Baggett
June 28………Muddy Creek…..Ken Roczen…………..Cooper Webb
July 5…………Red Bud………….Ken Roczen………….Jeremy Martin
July 12……….Budds Creek…….
July 19……….Millville…………..
July 26……….Washougal………
Aug. 9…………Unadilla…………
Aug. 16……….Indiana…………..
Aug. 23………..Miller …………..
450 Points Leader: Ken Roczen
250 Points Leader: Jeremy Martin
WHAT'S HAPPENING IN THE WORLD OF MOTOCROSS?
The NMA Grand National Championship starts July 18.
July 12……..Canadian National Championship………..Gopher Dunes
July 13………Australian 250/450 National………………Connondale, Qld
July 13………Finnish 250/450  Grand Prix……………….Finland
July 13………300cc Two-Stroke Championship…………Finland
July 13………WORC Offroad Series……………………….…Cedar Ridge, UT
July 13…..…World Sidecarcross…………….………………..Belgium (canceled)
July 18-23…NMA Grand National Championship.……Oklahoma City, OK
July 19………Mid-Ohio Vintage Championship………….Lexington, OH
July 20……..All-Japan National Championship…………Fujisawa, Japan
July 20……..Maxxis British National Championship…..Doncaster, GB
MXA PRODUCT SPOTLIGHT: M.PAC PORTABLE AIR CONDITIONER
The PolarPack foam bricks are frozen and then packed around the 18-volt fan.
It's hot out there and it is going to get hotter. There is a solution. The M.Pac is a small, lightweight, air conditioning unit that runs off battery power and uses frozen PolarPack foam bricks to keep a rider cool after a moto. Weighing just under 11 pounds, the M.Pac is designed to sit on the rider's lap, on the tailgate of his truck or on the handlebars on the starting line. Once you are ready for a blast of cool air, just flip the switch. The difference in temperature between a hot SoCal summer day and the PolarPack-cooled air was in the neighborhood of 15 degrees. And, the hotter the day the cooler the air felt. Some MXA test riders even held a spray bottle full of ice water and misted it into the M.Pac's breeze for more cooling.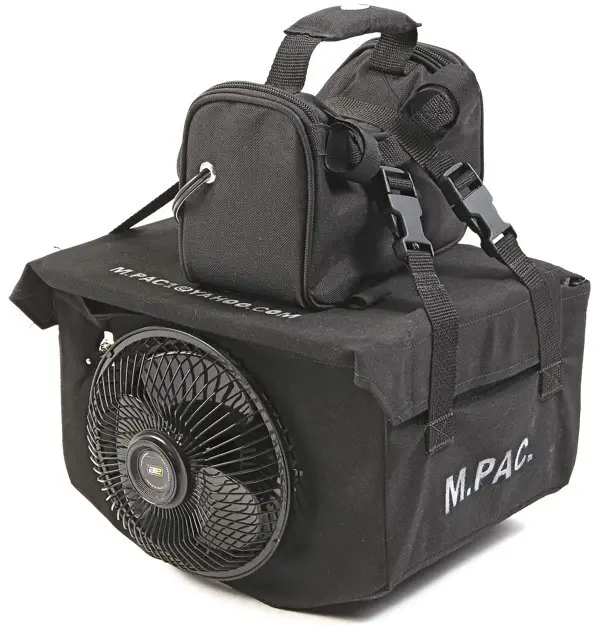 It can be used on the starting line or in the pits.

Expect to see Christophe Pourcel using one of these pretty soon, just like this road racer is doing.
Powered by a supplied Black & Decker power tool battery, the M.Pac Portable Air Conditioner retails for $240.00 and comes with the cooler case, battery pack, charger, battery and five PolarPacks foam bricks. For more info go to Facebook and search "M.PAC portable air conditioner" or just click here www.facebook.com/pages/MPAC-Portable-Air-Conditioner/644440695645624.
Photos by Tony Alessi, Geico Honda, KTM, Suzuki, John Basher, John Ker, Luc Vanderaa, Mark Chilson, Scott Mallonee, Hondajet