MXA WEEKEND NEWS ROUND-UP: WHO, WHAT, WHY & WHATZAT?

Click on images to enlarge
NO KAWASAKI TEAM AT THE FIRST MXGP IN QATAR ON FEB. 27

Clement Desalle is sidelined.
Clement Desalle broke his arm this weekend at the Valence race. He will be out for two months. Meanwhile, Desalle fellow KRT 450 teammate, Jordi Tixier, had to stop riding to have his wrist operate don. Jordi will miss Qatar and Thailand, but hopes to be ready when the MXGP circus come home from the two-race fly-away. That means that the KRT Kawasaki team will have no riders in the 450 class. Perhaps they should call Ryan Villopoto—he seems healthy at the moment.
SATURDAY'S ATLANTA TV SCHEDULE
Please note that Dallas is on Fox Sports 1, but Atlanta, Detroit and Las Vegas are on Fox Sports 2. St.Louis and Boston are day races that will be on the main Fox TV network.
MEMORIES OF THE WAY WE WERE: THE HEAD SHAKE MAKER

Do you remember when Yamaha mounted the radiator on the triple clamps, Lance Moorewood jumps this 1982 YZ250 on a rainy day at Saddleback. The 8 extra pounds of radiator, hoses and water didn't do a lot for the handling.


MXA PRODUCT SPOTLIGHT: PRO CIRCUIT KTM 65 SX PIPE & SILENCER
Works pipe – With unparalleled performance, power and torque across the entire rpm range, the Pro Circuit KTM 65SX Works pipe is constructed of AKDQ high quality carbon steel with an unplated, oiled steel finish to give your bike that "factory" look. Hand welded and pounded seams with reinforced mounting brackets offer increased durability. $249.95. Platinum pipe – The same performance gains as the Works pipe but with a brilliant nickel coating make the Pro Circuit Platinum pipe the ideal choice for extreme weather conditions. Made using the same high quality AKDQ carbon steel as the Works pipe, the Platinum pipe is hand welded with pounded seams and reinforced mounting brackets just like the Works pipe. A nickel coating gives the Platinum Pipe a bright finish while protecting against nature's elements making maintenance a breeze. $249.95.
Ti-2 Shorty silencer – The Pro Circuit Ti-2 Shorty Carbon Kevlar/Titanium silencer is the latest piece of racing technology and is sure to be a favorite for most two-stroke riders. The Ti-2 is similar to the popular R-304 silencer except it is constructed with a carbon Kevlar shell, titanium tubing and titanium end-cap. The titanium and carbon Kevlar construction offers the "factory" look and appearance while reducing weight. The Ti-2 is for closed-course racing only. $329.95.
R-304 Shorty silencer – The R-304 silencer was developed as a full-race two-stroke silencer. The compact design of the short aluminum canister offers optimum performance gains and is recommended for closed-course racing only. Hex head screws are used to secure the inlet cap and can be removed easily for quick re-packing of the silencer. $134.95. For more info go to www.procircuit.com

2016 SUPERCROSS WINNERS AT A GLANCE
It's nice to have Trey Canard back in action. He just needs few more race laps to be a contender. He was fifth in San Diego.
Date           Venue                                450                                250
Jan. 9…….Anaheim……………….Jason Anderson….Cooper Webb
Jan. 16……San Diego……………..Ryan Dungey………Cooper Webb
Jan. 23……Anaheim II……………Ryan Dungey………Cooper Webb
Jan. 30……Oakland……………….Ryan Dungey………Joey Savatgy
Feb. 6…….Phoenix…………………Ken Roczen………..Christian Craig
Feb. 13……San Diego II…………..Ryan Dungey………Joey Savatgy
Feb. 20……Dallas………………….Ken Roczen………..Cooper Webb
Feb. 27……Atlanta………………..
March 5……Daytona……………..
March 12…Toronto………………..
March 19…Detroit…………………
April 2……..Santa Clara…………
April 9……..Indianapolis…………
April 16……St. Louis……………..
April 23……Boston………………..
April 30……New York…………….
May 7……..Las Vegas……………
450 Points leader…Ryan Dungey (Hus)
250 West points leader…Cooper Webb (Yam)

MARTY SMITH PARTNERS WITH HALFPRO MOTOCROSS VACATIONS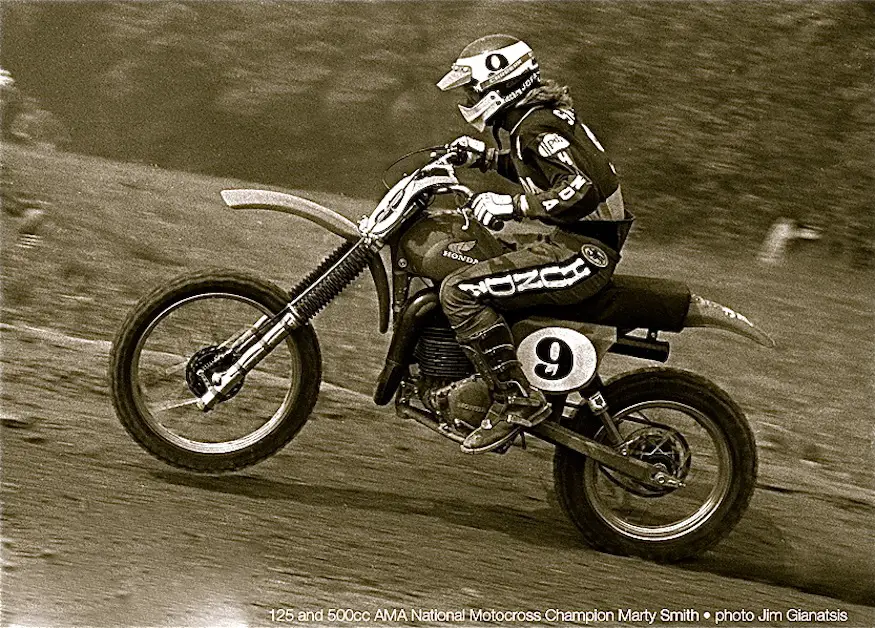 Marty Smith: The teen idol of American motocross is now a coach and Supercross team owner. Photo; The Greek

Former AMA 125cc and 500cc AMA National Champion Marty Smith will offer riding seminars for Half Pro MotocrossVacations of Southern California. You'll get to hang out with Marty for half a day at Pala Raceway, get riding tips, practice on his special practice course, talk with the Champ about racing and take pictures together. It's a once in a lifetime experience for any fan of the Golden Age of American Motocross. Marty Smith Riding Seminars will be held on the first Tuesday of every month. The cost is $200, with all-day riding access to the track included. Ride your own bike, or rent a new HalfPro MX bike from their complete lineup of 250 and 450cc bikes. Marty Smith Riding Experience days require pre- booking and a 5-rider minimum (which is refundable if there is not a minimum). Special Groups and Clubs can also book their own private Marty Smith Riding Experience any day of the week.
HalfPro Motocross Vacations offers motocross vacations in a beautiful resort home with all the amenities and your choice of the bikes to ride. Included in a HalfPro vacaion package is bike transportation, personal tour guide, riding at Perris Raceway, Star West, Pala Raceway, and of course the legendary Glen Helen National track. Plus, some of the world's finest offroad riding in open deserts and challenging mountain trails. You can ride and explore new locations all week and never have to come back to the truck except when its time to gas up again and grab a snack, or head back home each evening to the HalfPro House for Barbecue and a your favorite cold Beverage. For complete Information on a custom designed dream motocross vacation for you, your family and friends, and to book a spot in the Marty Smith Riding Experience go to www.HalfPro.com or call (951) 238-1799.
ARE THESE TIRES IN YOUR FUTURE?

No air. No flats. Lots of offroad potential.
Bridgestone Airless-Tires spokes are constructed from a thermoplastic resin combined with a rubber tread.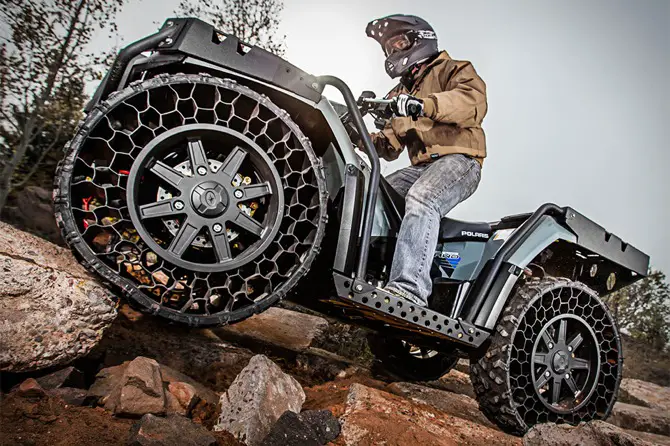 Polaris NPT technology.
The Polaris Sportsman WV850 H.O. is the first production vehicle to come with airless tires — what Polaris calls Non-Pneumatic Tire (NPT) technology. The "Terrain Armor" tires can never go flat, will work even if 30 percent of their honeycomb design is broken.
UPCOMING RACES: WHO, WHAT, WHY & WHERE
2016 AMA SUPERCROSS CHAMPIONSHIP
Feb. 20………………..…..Dallas, TX
Feb. 27…………………….Atlanta, GA
2016 AMSOIL ARENACROSS CHAMPIONSHIP
Feb. 20-21………………….Tampa, FL
Feb. 27-28…………………Birmingham, AL
2016 REM MOTOCROSS
Feb. 20…………………….Glen Helen, CA
Feb. 27…………….……….Glen Helen, CA
2016 SPANISH NATIONAL CHAMPIONSHIP
Feb. 21………………………San Lucard, Cadiz
2016 KTM JUNIOR SUPERCROSS CHALLENGE
Feb. 20……………………..Dallas, TX
Feb. 27……………………. Atlanta
Mar. 12…………………….Toronto
2016 FIM MOTOCROSS WORLD CHAMPIONSHIP
Feb. 27……………………..Losail, Qatar (Saturday)
Mar. 06………………..…..Suphan Buri, Thailand
Mar. 13……………………..Sepang, Malaysia (canceled)
2016 BRITISH NATIONAL CHAMPIONSHIP
March 6……………………..Preston Docks

THIS WEEK'S BIRTHDAY BOYS: HEATH VOSS IS 38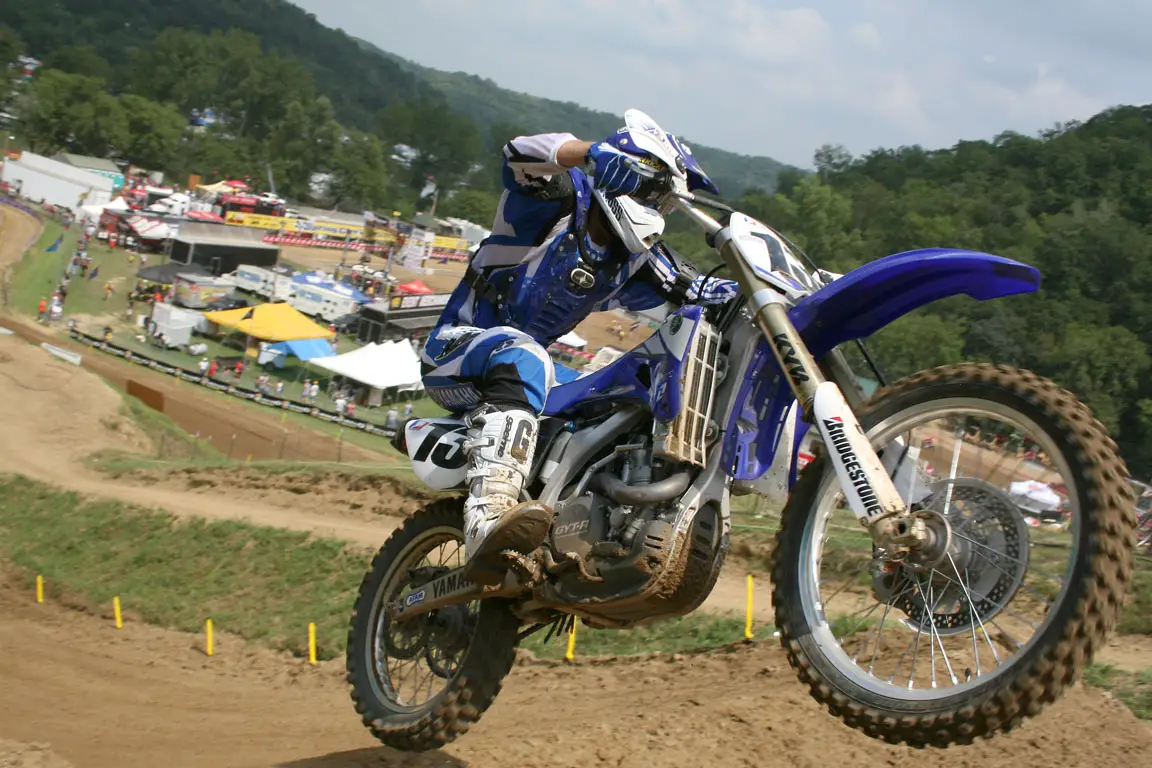 Feb. 17…Heath Voss 1978
Feb. 17…Stefy Bau 1977
Feb. 17…Fredric Bolley 1974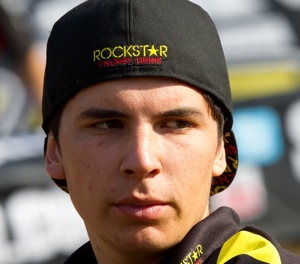 Feb. 17…Jason Anderson 1993
Feb. 18…Kevin Foley
Feb. 18…Tyler Evans 1980

Feb. 19…Joey Savatgy 1994
Feb. 19…Troy Adams 1983
Feb. 19…Michael Young 1981
Feb. 19…Ian Trettel 1992
Feb. 20…Ray Tetherton

Feb. 21…Marc De Reuver 1983
Feb. 22…George Washington 1732
Feb. 22…Robert Distler
DEBBIE TAMIETTI'S PHOTO OF THE WEEK
Don't park too close to the track or you'll end up with your truck's windshield peppered by roost. The crack in the upper right corner actually sprayed glass shards into the driver's seat. Jody Weisel learned a $200 lesson that he should have already known.
HOW TO SUBSCRIBE TO MXA AND MAKE MONEY
You probably haven't seen the March 2016 issue of MXA yet, but if you subscribed it would be in the trusty hands of a uniformed agent of the U.S. Government on its way to your mailbox right now. Or, you can wait for the bike tests, product reviews, Ricky Carmichael interview and tech features to appear on the internet…in a couple months. Your choice.

Do you subscribe to MXA? You should. We know that you think that print magazines are dead and that the internet will fill the void, but most of the stuff in the current issue of MXA won't appear on the web for several months, if at all. Luckily, you can get all of MXA on your iPhone, iPad, Kindle or Android by going to the Apple Store, Amazon or Google Play. Better yet get the Digital desktop version at https://hi-torque.com/product/motocross-action-digital-edition/ for $9.99 a year. The MXA test riders prefer the print version and not just because it is delivered by a uniformed employee of the U.S. Government, but because for only $15.99 you get 12 issues and a free $25 Gift Card from Rocky Mountain ATV/MC. That means that there is a profit to be made in this deal for you. For the Print magazine go to: http://hi-torque.com/product/subscribe-to-motocross-action-magazine/


Click on images to enlarge
BUCKELEW BENEFIT PRACTICE AT ARIZONA'S CANYON RACEWAY FEB. 27
The Buckelew family needs your help.
OVER-THE-HILL-GANG WINTER SERIES AT MILESTONE — FEB. 28

For more info go to www.othgmx.org
CORY NORTON FUND RAISER RIDE DAY ON TUESDAY, MARCH 1
At Glen Helen on Tuesday March 1. Gates open at 9:00a.m. and close at 5:00 p.m. $20 donation to help a firefighter in need.
$10,00 MTA WORLD TWO-STROKE CHAMPIONSHIP — MARCH 26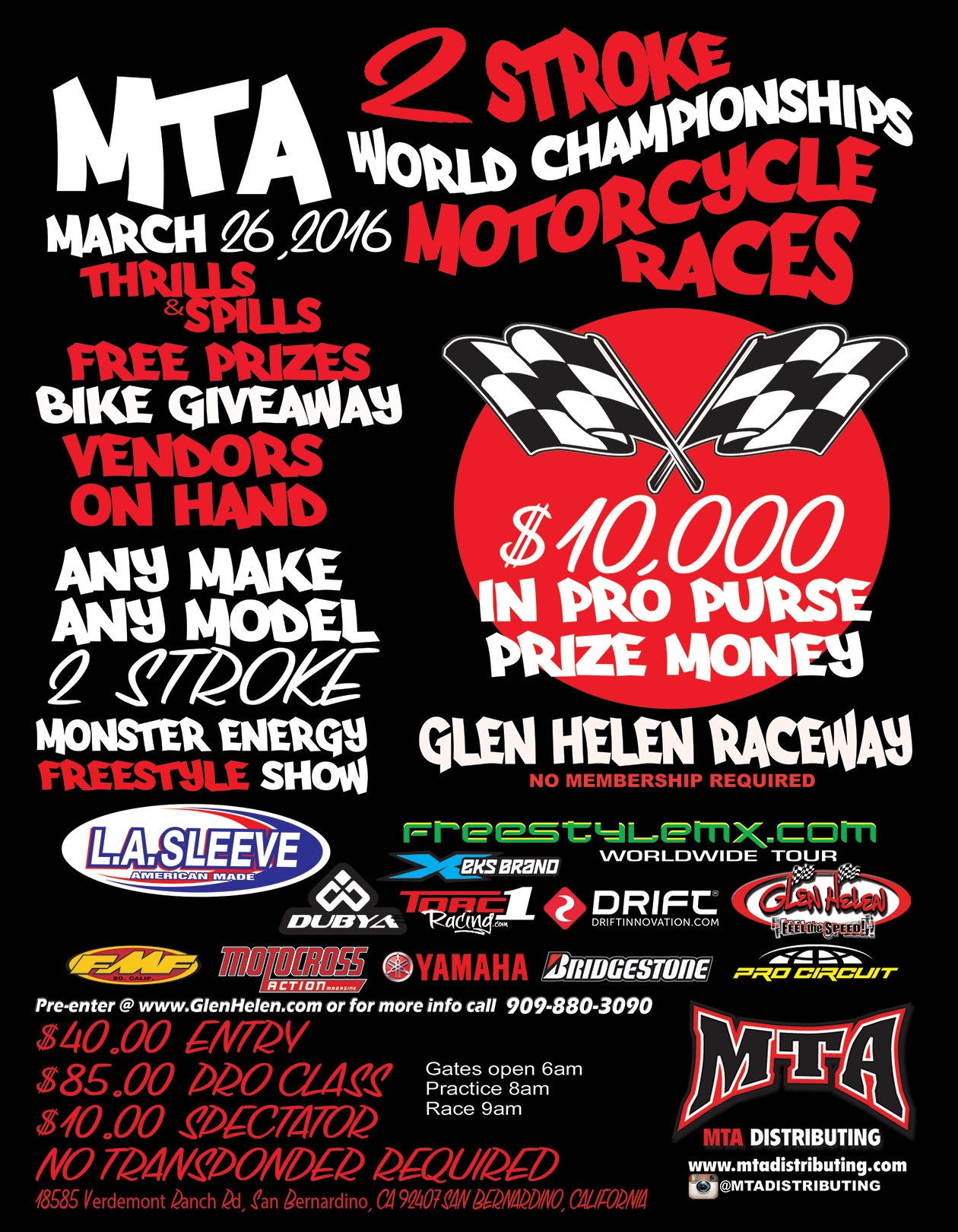 For more info go to www.glenhelen.com
"BABES IN THE DIRT" AT HUNGRY VALLEY — APRIL 22-24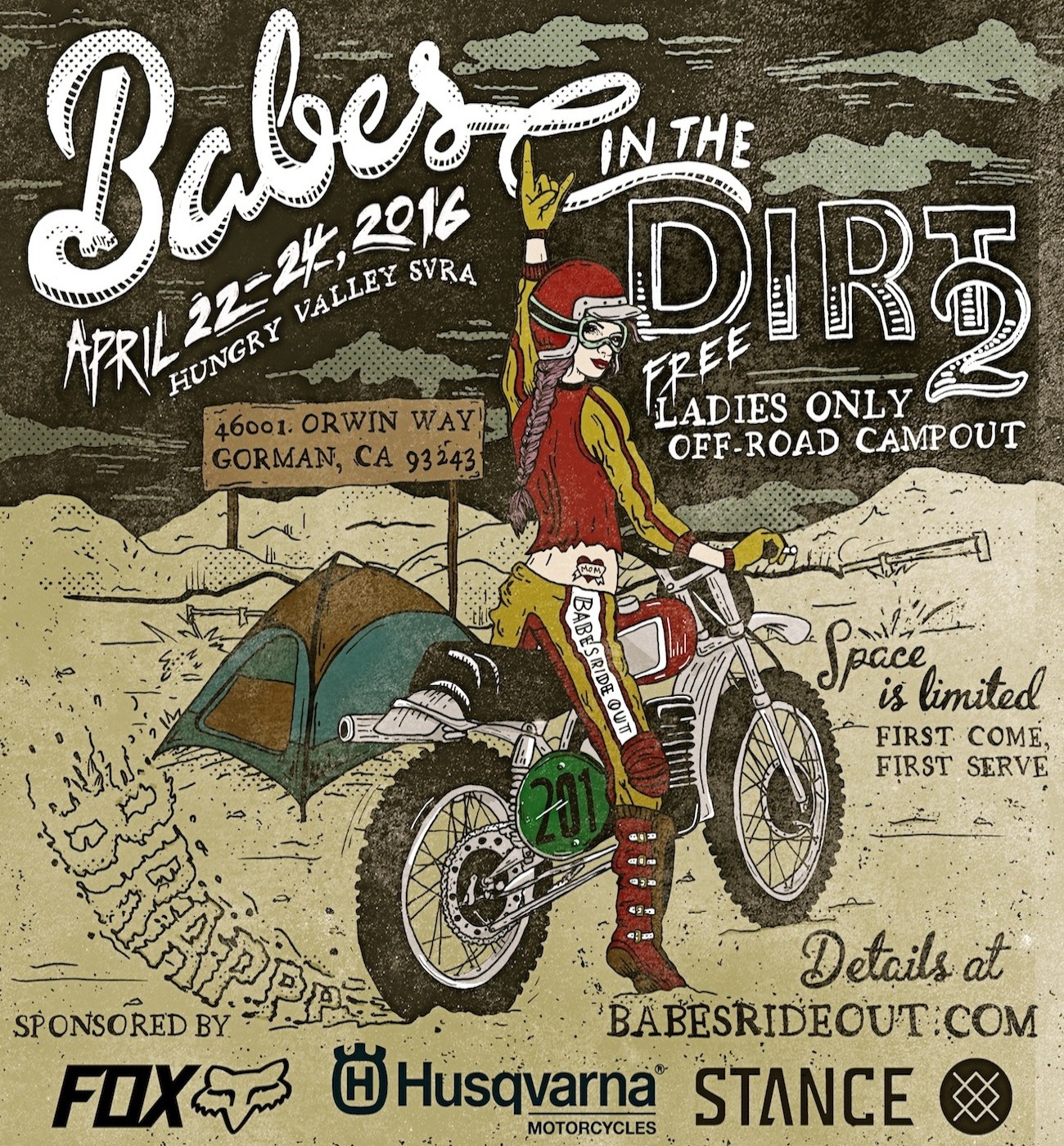 For more info go to www.babesrideout.com
CZ WORLD CHAMPIONSHIP REVIVAL — APRIL 24

For more info go to www.avdra.com



2016'S BIGGEST RACES: THE ONES YOU MISSED ARE IN BLUE

2016 AMA SUPERCROSS CHAMPIONSHIP
Jan. 9…………………….Anaheim, CA
Jan. 16………………….San Diego, CA
Jan. 23………………….Anaheim, CA
Jan. 30………………….Oakland, CA
Feb. 6……………………Phoenix, AZ
Feb. 13………………….San Diego, CA
Feb. 20………………….Dallas, TX
Feb. 27………………….Atlanta, GA
March 5………………….Daytona, FL
March 12………………..Toronto, CAN
March 19………………..Detroit, MI
April 2………………..….Santa Clara, CA
April 9………………..….Indianapolis, IN
April 16………………….St. Louis, MO
April 23………………….Foxboro, MA
April 30………………….East Rutherford, NJ
May 7…………………….Las Vegas, NV

2016 AMA NATIONAL CHAMPIONSHIP
May 21……………………Hangtown, CA
May 28.…………………..Glen Helen, CA
June 4..…………………..Thunder Valley, CO
June 18..…………………Mt Morris, PA
June 25.………………….Muddy Creek, TN
July 2.…………………….Red Bud, MI
July 9..……………………Southwick, MA​
July 16.…………………..Millville, MN​
July 23.…………………..Washougal, WA
Aug. 13..………………….Unadilla, NY​
Aug. 20..………………….Budds Creek, MD​
Aug. 27.…………………..Crawfordsville, IN​

2016 FIM MOTOCROSS WORLD CHAMPIONSHIP
Feb. 27……………………..Losail, Qatar (Saturday)
Mar. 06……………………..Suphan Buri, Thailand
Mar. 13……………………..Sepang, Malaysia (canceled)
Mar. 28……………………..Valkenswaard, Holland (Monday)
April 10……………………..Neuquen, Argentina
April 17……………………..Leon, Mexico
May 1……………………….Kegums, Latvia
May 8……………………….Teutschenthal, Germany
May 15……………………..Pietramurata, Italy
May 29……………………..Talavera de la Reina, Spain
June 5………………………St Jean d'Angely, France
June 19…………………….Matterly Basin, Great Britain
June 26…………………….Mantova, Italy
July 24………………………Loket, Czech Republic
July 31………………………Lommel, Belgium
Aug. 7……………………….Frauenfeld, Switzerland
Aug. 28……………………..Assen, Holland
Sept. 3………………………Charlotte, USA (Saturday)
Sept.11……………………..Glen Helen, USA

2016 AMSOIL ARENACROSS CHAMPIONSHIP
Jan. 9-10………………….Cincinnati,OH
Jan. 15-17………………..Baltimore, MD
Jan. 22-24………………..Allentown, PA
Jan. 30-31………………..Greensboro, NC
Feb. 4-7…………………..Colorado Springs, CO
Feb. 13-14………………..Omaha, NB
Feb. 20-21………………..Tampa, FL
Feb. 27-28………………..Birmingham, AL
Mar. 12-13………………..Lafayette, LA
April 2-3…………………..Ontario, CA
April 9-10…………………Salinas, CA
April 16-17………………..Tacoma, WA.
April 22-24………………..Nampa, ID
May 6-8…………………..Las Vegas, NV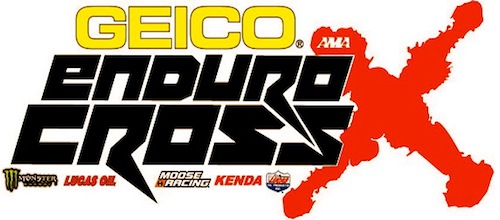 2016 GEICO ENDUROCROSS CHAMPIONSHIP
Aug. 27……………………..Atlanta, GA
Sept. 3………………………Sioux Falls, SD
Sept. 10…………………….Salt Lake City, UT
Sept. 24…………………….Phoenix, AZ
Oct. 1………………………..Denver, CO
Oct. 22………………………Everett, WA
Nov. 5………………………..Boise, ID
Nov. 19………………………Ontario, CA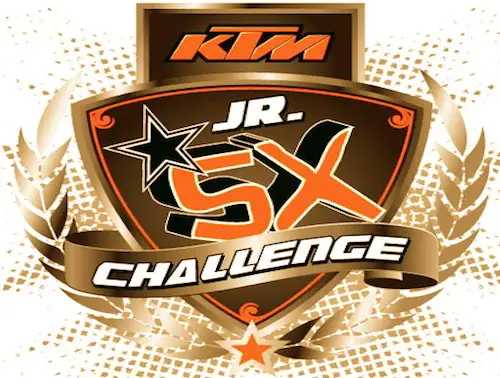 2016 KTM JUNIOR SUPERCROSS CHALLENGE
Jan. 16……………………..San Diego, CA
Jan. 23……………………..Anaheim II, CA
Feb. 6……………………….Phoenix, AZ
Feb. 20……………………..Dallas, TX
Feb. 27……………………. Atlanta, GA
Mar. 12…………………….Toronto, CAN
Mar. 19…………………….Detroit, MI
April 9………………………Indianapolis, IN
April 16…………………….St. Louis, MO
May 7……………………….Las Vegas, NV

2016 AMA SUPERMOTO CHAMPIONSHIP
April 9…………………….Bakersfield, CA
June 18………………….Loudon, NH
July 2……………………..Sturgis, SD
Aug. 6…………………….Quebec, Can
Sept. 3…………………..Denver, CO
Oct. 22…………………..Tucson, AZ

2016 CANADIAN NATIONAL CHAMPIONSHIP
June 5…………………..Kamloops, BC
June 12………………….Nanaimo, BC
June 19………………….Calgary, Alb
June 26………………….Regina, Sask
July 10…………………..Courtland, ON
July 17…………………..Ulverton, NS
July 24……………….….Pleasant Valley, NS
July 31…………………..Moncton, NB
Aug. 7……………………Deschambault, QC
Aug. 14………………….Barrie, ON

2016 ITALIAN NATIONAL CHAMPIONSHIP
Jan. 31…………………….Alghero
Feb. 7………………………Lamezia Terme
Feb. 14…………………….Ottobiano

MTA WORLD TWO-STROKE CHAMPIONSHIPS
Mar. 26……………………..Glen Helen, CA
2016 CZ WORLD CHAMPIONSHIPS
April 24…………………..Marysville,CA

2016 AMA JUNIOR MOTO X INDOOR AMATEUR CHAMPIONSHIP
May 11-14…………………..Guthrie, OK

2016 AMA VINTAGE MOTORCYCLE DAYS
July 8-10…………………..Lexington, OH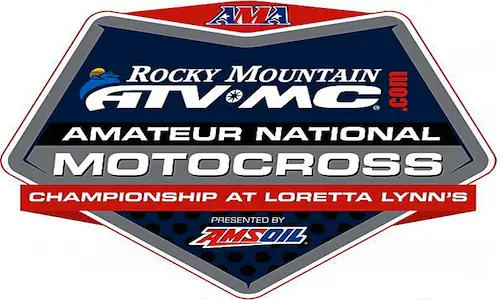 2016 AMA NATIONAL AMATEUR CHAMPIONSHIP
Aug. 1-6……………………..Loretta Lynn, TN



2016 MOTOCROSS DES NATIONS
Sept. 25………………………Maggiora, Italy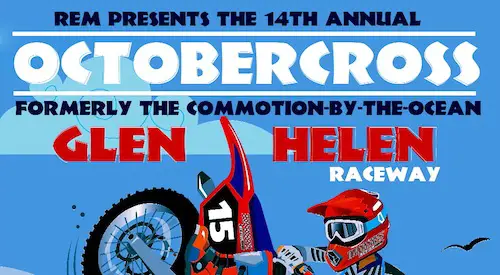 2016 REM OCTOBERCROSS
Oct. 29……………………….Glen Helen, CA

2016 DUBYA WORLD VET CHAMPIONSHIP
Nov. 5-6…………………….Glen Helen, CA
Photos: John Basher, Daryl Ecklund, Travis Fant, Debbi Tamietti, Jody Weisel, Kyoshi Becker, Yamaha, Kawasaki KRT, Pro Circuit and MXA