MXA WEEKEND NEWS ROUND-UP: SOME OF IT IS ROUNDED DOWN

Click on images to enlarge
GUESS WHO WENT ALL-ELECTRIC?

Team Kawasaki is the first AMA Pro team to switch to Power Lift electric bike stands. They will not only use the stands on Ei Tomac's and Wil Hahn's bikes, but will provide technical input on how to improve the product. For more info go to www.powerliftsystem.com. Photo: Brown Dog Wilson/Power Lift

6D INTRODUCES NEW ATB-1T MOUNTAIN BIKE HELMET
The 6D ATB-1T is the world's first three-quarter coverage mountain bike helmet utilizing 6D'sOmni-Directional Suspension (ODS ) technology. The ATB-1T reduces the transfer of angular acceleration force by means of its 3-dimensional displacement and shearing capability of the ODS system when subject to impacts. The ATB-1T is available in 6 distinct color options in sizes Medium-Large (55-59cm). Sizes XS-Small and XL-XXL will be available early summer. The retail price is $269.95. For more info go to www.6dhelmets.com
BROC HEPLER SIGNS WITH GAS GAS TO RACE SELECTED 2017 ENDUROS
Broc Hepler (left) and Johnny Barber.

Gas Gas Motos North America has signed former AMA National winner Broc Hepler to race selected 2017 National Enduros and some Full Gas Sprint Enduros with the support of John Barber and key sponsors Lunova, Spectro Oils and FMF Racing. "Broc has been making the transition away from the National motocross world to the offroad market and will be a great asset to help us continue develop our enduro models. He's already been testing the bike and feels very comfortable on the EC250. We look forward to working with Broc and team manager John Barber on bike development along with racer growth in the east coast," said Mark Berg of Gas Gas Motos North America stated. To read an interview with Broc Hepler about the effects that multiple concussion caused on his motocross career click here.
CEDRIC SOUBEYRAS TO RACE 250 EAST FOR BUD RACING

Soubeyras will start in Daytona this week. Photo: Mediacross/Bud Racing

Cedric Soubeyras, one of Europe's best Supercross riders and a consistent winner in the European Arenacross and Supercross events, will start his 2016 American adventure in Daytona this weekend with Team Bud Racing Monster Energy Kawasaki. Bud had planned to race the 250 West with Darian Sanayei and Maxime Desprey, but Sanayei got hurt before the season started and Desprey broke his femur at round four. Bud had race bikes ready, but no fill-in riders. Which is where Cedric Soubeyras comes in. Cedric Soubeyras said, "I know that it's a tough challenge, but I'm ready for it, and I don't want to have any regrets in the future. I'm 26 years old; I was free of any contract so it was now or never to enter my American dream. I wanted to do what I like this year, as I'm not dreaming anymore when I race the French series. Bud Racing had no plans for the 250 East Coast, but we came to an agreement. I have raced several times in the USA in the past, but I never when I was physically at my best,. Of course I'm dreaming to get podiums, but I know that it will be very, very complicated."
MEMORIES OF THE WAY WE WERE: TWO GUYS & 3-1/2 DECADES

This photo of British Grand Prix racer Rob Andrews (left) and Jody Weisel was shot in 1981 at the San Diego Supercross. When this photo was taken, Rob was a fresh-faced kid, while Jody was a veteran of the moto-wars and already 34 years old. Who would think that these two guys would stay friends for the next 35 years.

Here are photos of Rob Andrews and Jody Weisel shot last month at Glen Helen. Could you have recognized them?
THE CURRENT TOP TEN: LEADING INTO DAYTONA

With his 250 East purse money and Social Security check, Martin Davalos is in the money.

2015 AMA 250 EAST POINT STANDINGS
(After 1 of 9 races)
1. Martin Davalos…25
2. Malcolm Stewart …22
3. Aaron Plessinger…20
4. Jeremy Martin…18
5. Justin Hill…16
6. R.J. Hampshire…15
7. Darryn Durham…14
8. Tyler Bowers…13
9. Alex Frye…12
10. Jimmy Albertson…11
2015 AMA 250 WEST POINT STANDINGS
(After 7 of 9 races)
1. Cooper Webb…145
2. Joey Savatgy…134
3. Christian Craig…129
4. Colt Nichols…117
5. Zach Osborne…110
6. Jimmy Decotis…99
7. Mitch Oldenburg…97
8. Kyle Peters…87
9. Kyle Cunningham…69
10. Jordon Smith…63
James Stewart (7) handed Ryan Dungey 3 extra points when Bubba ignored the blue flags and raced with the leaders—eventually allowing Dungey to pass Musquin on the last lap for the 450 win. Not what you expect from a 14th place racer.

2015 AMA 450 POINT STANDING
(After  of 17 races)
1. Ryan Dungey…191
2. Ken Roczen…158
3. Jason Anderson…145
4. Cole Seely…134
5. Chad Reed…132
6. Eli Tomac…129
7. Marvin Musquin…114
8. Davi Millsaps…103
9. Justin Brayton…98
10. Jake Weimer…77
MXA FASHBACK: ONE YEAR AGO TODAY



Terry Varner collapsed in the Glen Helen pits at an REM race. Luckily, the medical crew attended to him right away and even though it was touch-and-go, they loaded him in the ambulance and got him to the hospital in time. Terry had blocked arteries in his heart and suffered a major cardiac incident. Terry recovered from triple bypass surgery and is back racing every weekend.
6D Helmets was issued a U.S. Patent for its proprietary Helmet Omnidirectional Energy Management Systems. The helmet was introduced to the offroad motorcycle industry in November 2012, by co-founders Bob Weber and Robert Reisinger, but the patent was not issued until February 17, 2015.
Steve McQueen's Cyclone board track racer was put up for auction this time last year and sold for $775,000. The McQueen name is magic at auctions as 8 of the top 100 motorcycles ever sold belonged to the late Hollywood star.
KTM announced that they would enter the MotoGP series in 2017. They showed a mock-up what their RC16 V4 engine would look like.
Chad Reed won last year's Atlanta Supercross. This year he is struggling as of late—finishing 12th in Dallas and is 54 points behind the points leader.


Jeremy Martin won the opening round of the 250 East series in Atlanta 12 months ago. His Atlanta defense begins in this weekend.

Takahiro Hachigo was named the President of Honda Motor Company to replace Takanobu Ito. Ito assumed the post of Director and Advisor to Honda.
Ryan Dungey had  a 25-point lead on Trey Canard and 31 points on Ken Roczen in the 2015 AMA 450 Supercross Championships at this point last year. This year, Ryan has a 23-point lead on Ken Roczen and a 35-point lead on Jason Anderson.
Ryan Villopoto was making headlines as the two-time 450 National Champion, three-time 250 National Champion, four-time 450 Supercross Champion and four-time MXDN winner was in Qatar for the opening round of his ill-fated 2015 MXGP program. Ryan only entered 5 races, winning one, before getting hurt and calling it quits. His bike quit on the starting line at the Qatar GP.

2016 SUPERCROSS WINNERS AT A GLANCE
Evergreen Chad Reed made the podium in Atlanta. Chad is currently 5th in points wedge between Tomac and Seely.

Date           Venue                                450                                250
Jan. 9…….Anaheim……………….Jason Anderson….Cooper Webb
Jan. 16……San Diego……………..Ryan Dungey………Cooper Webb
Jan. 23……Anaheim II……………Ryan Dungey………Cooper Webb
Jan. 30……Oakland……………….Ryan Dungey………Joey Savatgy
Feb. 6…….Phoenix…………………Ken Roczen………..Christian Craig
Feb. 13……San Diego II…………..Ryan Dungey………Joey Savatgy
Feb. 20……Dallas…………………..Ken Roczen………..Cooper Webb
Feb. 27……Atlanta………………….Ryan Dungey………Martin Davalos
March 5……Daytona……………..
March 12…Toronto………………..
March 19…Detroit…………………
April 2……..Santa Clara…………
April 9……..Indianapolis…………
April 16……St. Louis……………..
April 23……Boston………………..
April 30……New York…………….
May 7……..Las Vegas……………
450 Points leader…Ryan Dungey (Hus)
250 West points leader…Cooper Webb (Yam)
250 East points leader…Martin Davalos

UPCOMING RACES: WHO, WHAT, WHY & WHERE
2016 AMA SUPERCROSS CHAMPIONSHIP
March 5……………….….Daytona, FL
March 12…………………Toronto, CAN
March 19…………………Detroit, MI
2016 AMSOIL ARENACROSS CHAMPIONSHIP
Mar. 12-13………………..Lafayette, LA
2016 REM MOTOCROSS
Mar. 12…………………….Glen Helen, CA
Mar. 19…………………….Glen Helen, CA
2016 KTM JUNIOR SUPERCROSS CHALLENGE
Mar. 12…………………….Toronto, CAN
2016 FIM MOTOCROSS WORLD CHAMPIONSHIP
Mar. 06………………..…..Suphan Buri, Thailand
Mar. 13……………………..Sepang, Malaysia (canceled)
Mar. 28……………………..Valkenswaard, Holland (Monday)

2016 BRITISH NATIONAL CHAMPIONSHIP
March 6……………………..Preston Docks
MTA WORLD TWO-STROKE CHAMPIONSHIPS
Mar. 26……………………..Glen Helen, CA

THIS WEEK'S BIRTHDAY BOYS:

Feb. 25…Craig Anderson 1978
Feb. 26…Billy Laninovich 1983
Feb. 26…Jean-Sebastian Roy 1974
Feb. 27…Rick "Super Hunky" Sieman

Feb. 27…Ryan Morais 1983
Feb. 28…Ryan Clark 1978
Feb. 28…Cameron Steele

Feb. 28…Kevin Windham 1978
Feb. 28…Wayne Hinson 1949
Feb 28…Glenn Hansen
Mar. 1…Dan Reardon 1986

Mar. 1…Harry Kullas 1992
Mar. 2…Elliott Banks-Browne 1990
Mar. 3…Shawn Norfolk
HOW TO SUBSCRIBE TO MXA AND MAKE MONEY
You probably haven't seen the March 2016 issue of MXA yet, but if you subscribed it would be in the trusty hands of a uniformed agent of the U.S. Government on its way to your mailbox right now. Or, you can wait for the bike tests, product reviews, Ricky Carmichael interview and tech features to appear on the internet…in a couple months. Your choice.

Do you subscribe to MXA? You should. We know that you think that print magazines are dead and that the internet will fill the void, but most of the stuff in the current issue of MXA won't appear on the web for several months, if at all. Luckily, you can get all of MXA on your iPhone, iPad, Kindle or Android by going to the Apple Store, Amazon or Google Play. Better yet get the Digital desktop version at https://hi-torque.com/product/motocross-action-digital-edition/ for $9.99 a year. The MXA test riders prefer the print version and not just because it is delivered by a uniformed employee of the U.S. Government, but because for only $15.99 you get 12 issues and a free $25 Gift Card from Rocky Mountain ATV/MC. That means that there is a profit to be made in this deal for you. For the Print magazine go to: http://hi-torque.com/product/subscribe-to-motocross-action-magazine/


Click on images to enlarge
CORY NORTON FUND RAISER RIDE DAY THIS TUESDAY, MARCH 1
At Glen Helen on Tuesday March 1. Gates open at 9:00a.m. and close at 5:00 p.m. $20 donation to help a firefighter in need.
$10,00 MTA WORLD TWO-STROKE CHAMPIONSHIP — MARCH 26

For more info go to www.glenhelen.com
"BABES IN THE DIRT" AT HUNGRY VALLEY — APRIL 22-24

For more info go to www.babesrideout.com
CZ WORLD CHAMPIONSHIP REVIVAL — APRIL 24

For more info go to www.avdra.com



2016'S BIGGEST RACES: THE ONES YOU MISSED ARE IN BLUE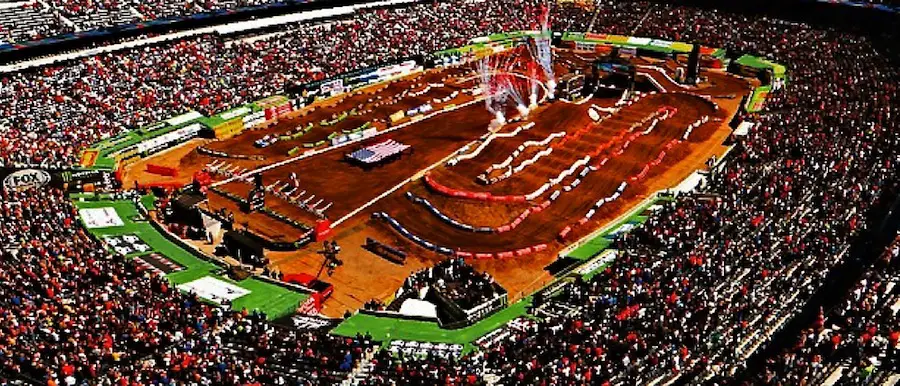 2016 AMA SUPERCROSS CHAMPIONSHIP
Jan. 9…………………….Anaheim, CA
Jan. 16………………….San Diego, CA
Jan. 23………………….Anaheim, CA
Jan. 30………………….Oakland, CA
Feb. 6……………………Phoenix, AZ
Feb. 13………………….San Diego, CA
Feb. 20………………….Dallas, TX
Feb. 27………………….Atlanta, GA
March 5………………….Daytona, FL
March 12………………..Toronto, CAN
March 19………………..Detroit, MI
April 2………………..….Santa Clara, CA
April 9………………..….Indianapolis, IN
April 16………………….St. Louis, MO
April 23………………….Foxboro, MA
April 30………………….East Rutherford, NJ
May 7…………………….Las Vegas, NV

2016 AMA NATIONAL CHAMPIONSHIP
May 21……………………Hangtown, CA
May 28.…………………..Glen Helen, CA
June 4..…………………..Thunder Valley, CO
June 18..…………………Mt Morris, PA
June 25.………………….Muddy Creek, TN
July 2.…………………….Red Bud, MI
July 9..……………………Southwick, MA​
July 16.…………………..Millville, MN​
July 23.…………………..Washougal, WA
Aug. 13..………………….Unadilla, NY​
Aug. 20..………………….Budds Creek, MD​
Aug. 27.…………………..Crawfordsville, IN​

2016 FIM MOTOCROSS WORLD CHAMPIONSHIP
Feb. 27……………………..Losail, Qatar (Saturday)
Mar. 06……………………..Suphan Buri, Thailand
Mar. 13……………………..Sepang, Malaysia (canceled)
Mar. 28……………………..Valkenswaard, Holland (Monday)
April 10……………………..Neuquen, Argentina
April 17……………………..Leon, Mexico
May 1……………………….Kegums, Latvia
May 8……………………….Teutschenthal, Germany
May 15……………………..Pietramurata, Italy
May 29……………………..Talavera de la Reina, Spain
June 5………………………St Jean d'Angely, France
June 19…………………….Matterly Basin, Great Britain
June 26…………………….Mantova, Italy
July 24………………………Loket, Czech Republic
July 31………………………Lommel, Belgium
Aug. 7……………………….Frauenfeld, Switzerland
Aug. 28……………………..Assen, Holland
Sept. 3………………………Charlotte, USA (Saturday)
Sept.11……………………..Glen Helen, USA

2016 AMSOIL ARENACROSS CHAMPIONSHIP
Jan. 9-10………………….Cincinnati,OH
Jan. 15-17………………..Baltimore, MD
Jan. 22-24………………..Allentown, PA
Jan. 30-31………………..Greensboro, NC
Feb. 4-7…………………..Colorado Springs, CO
Feb. 13-14………………..Omaha, NB
Feb. 20-21………………..Tampa, FL
Feb. 27-28………………..Birmingham, AL
Mar. 12-13………………..Lafayette, LA
April 2-3…………………..Ontario, CA
April 9-10…………………Salinas, CA
April 16-17………………..Tacoma, WA.
April 22-24………………..Nampa, ID
May 6-8…………………..Las Vegas, NV

2016 GEICO ENDUROCROSS CHAMPIONSHIP
Aug. 27……………………..Atlanta, GA
Sept. 3………………………Sioux Falls, SD
Sept. 10…………………….Salt Lake City, UT
Sept. 24…………………….Phoenix, AZ
Oct. 1………………………..Denver, CO
Oct. 22………………………Everett, WA
Nov. 5………………………..Boise, ID
Nov. 19………………………Ontario, CA

2016 KTM JUNIOR SUPERCROSS CHALLENGE
Jan. 16……………………..San Diego, CA
Jan. 23……………………..Anaheim II, CA
Feb. 6……………………….Phoenix, AZ
Feb. 20……………………..Dallas, TX
Feb. 27……………………. Atlanta, GA
Mar. 12…………………….Toronto, CAN
Mar. 19…………………….Detroit, MI
April 9………………………Indianapolis, IN
April 16…………………….St. Louis, MO
May 7……………………….Las Vegas, NV

2016 AMA SUPERMOTO CHAMPIONSHIP
April 9…………………….Bakersfield, CA
June 18………………….Loudon, NH
July 2……………………..Sturgis, SD
Aug. 6…………………….Quebec, Can
Sept. 3…………………..Denver, CO
Oct. 22…………………..Tucson, AZ

2016 CANADIAN NATIONAL CHAMPIONSHIP
June 5…………………..Kamloops, BC
June 12………………….Nanaimo, BC
June 19………………….Calgary, Alb
June 26………………….Regina, Sask
July 10…………………..Courtland, ON
July 17…………………..Ulverton, NS
July 24……………….….Pleasant Valley, NS
July 31…………………..Moncton, NB
Aug. 7……………………Deschambault, QC
Aug. 14………………….Barrie, ON

2016 ITALIAN NATIONAL CHAMPIONSHIP
Jan. 31…………………….Alghero
Feb. 7………………………Lamezia Terme
Feb. 14…………………….Ottobiano

MTA WORLD TWO-STROKE CHAMPIONSHIPS
Mar. 26……………………..Glen Helen, CA
2016 CZ WORLD CHAMPIONSHIPS
April 24…………………..Marysville,CA

2016 AMA JUNIOR MOTO X INDOOR AMATEUR CHAMPIONSHIP
May 11-14…………………..Guthrie, OK

2016 AMA VINTAGE MOTORCYCLE DAYS
July 8-10…………………..Lexington, OH

2016 AMA NATIONAL AMATEUR CHAMPIONSHIP
Aug. 1-6……………………..Loretta Lynn, TN



2016 MOTOCROSS DES NATIONS
Sept. 25………………………Maggiora, Italy

2016 REM OCTOBERCROSS
Oct. 29……………………….Glen Helen, CA

2016 DUBYA WORLD VET CHAMPIONSHIP
Nov. 5-6…………………….Glen Helen, CA
Photos: Brian Converse, John Basher, Daryl Ecklund, Travis Fant, Jody Weisel, Kyoshi Becker and MXA