MXA WEEKEND NEWS ROUND-UP: GOOD NEWS, BAD NEWS, WHAT'S NEW?

Click on images to enlarge
ALL HAIL BEN TOWNLEY: SOMEONE OTHER THAN MXA FINALLY SPEAKS UP
Ben Townley (8) is the true hero of the Grand Prix of Thailand. He may have gone DNF-2, but he did more for Grand Prix motocross than all the see-no-evil GP winners, sponsors and team managers combined. Things only get better when the flaws are exposed.
In what is a mystery, the state of the Qatar and Thailand fly-away tracks has always been glossed over by an overly chummy and weak-willed European media and the GP riders that find it easier to keep their mouths shut. These terrible race tracks are an embarassment to the traditions of GP racing—and especially onerous given the lip service that Youthstream made over the winter about how they were going to fix the tracks, prep the dirt better and make the tracks safer. Youthstream even hired GP rider Rui Goncalves to oversee the rider's interest when it came to racetracks. Well, after Qatar and Thailand, Rui should step down from his Youthstream job in protest. But, the silence from the GP paddock in the face of tracks that are barely above the quality of local practice tracks in America is deafening.
But, thankfully, New Zealand's Ben Townley finally gave his opinion of how bad things were at the first two GPs of 2016. After Saturday's qualifying races Ben Townley said, "These tracks…are just not good enough. Qatar and here isn't the pinnacle of our sport. We are the MXGP, the best riders in the world, and these guys can't sit here and honestly say this is an amazing place to ride a motorcycle. We are in a flat paddock in the middle of nowhere. To be here and in conditions like this is, in my opinion, not good enough for the sport. This is the best championship in the world. I think that it deserves better."
Of course, everyone expects Youthstream's Giuseppe Luongo to crack down on Townley—and Luongo's foul-mouthed tirade against Townley after the press conference was incredibly unprofessional—especially given that he said that Townley was "unprofessional" and that he had already complained to Team Suzuki about Townley. If you are expecting anyone on the GP circuit or European press to speak up about the truth that Ben told, don't hold your breath.
450 THAI GP RESULTS
1. Romain Febvre…Yam
2. Tim Gajser…Hon
3. Jeremy Van Horebeek…Yam
4. Evgeny Bobryshev…Hon
5. Antonio Cairoli…KTM
6. Shaun Simpson…KTM
7. Gautier Paulin…Hon
8. Kevin Strijbos…Suz
9. Ben Townley…Suz
10. Tommy Searle…Kaw
250 THAI GP RESULTS
1. Jeffrey Herlings…KTM
2. Jeremy Seewer…Suz
3. Aleksandr Tonkov…Yam
4. Benoit Paturel…Yam
5. Pauls Jonass…KTM
6. Vsevolod Brylyakov…KAW
7. Petar Petrov…Kaw
8. Alvin Östlund…Yam
9. Max Anstie …Hus
10. Samuele Bernardini…TM
450 WORLD CHAMPIONSHIP POINTS
(After 2 of 17 events)
1. Romain Febvre…92
2. Tim Gajser…86
3. Evgeny Bobryshev…74
4. Jeremy Van Horebeek…68
5. Antonio Cairoli…64
6. Shaun Simpson…57
7. Kevin Strijbos…48
8. Tommy Searle…47
9. Max Nagl…44
10. Ben Townley…42
250 WORLD CHAMPIONSHIP POINTS
(After 2 of 17 events)
1. Jeffrey Herlings…100
2. Jeremy Seewer…74
3. Aleksandr Tonkov…70
4. Pauls Jonass…68
5. Petar Petrov…56
6. Samuele Bernardini…47
7. Benoit Paturel…46
8. Dylan Ferrandis…44
9. Brent Van Doninck…44
10. Vsevolod Brylyakov…38
BEN TOWNLEY'S BRAVE STAND: DOES HE STAND ALONE?

Read what the MX-GP Action Group has to say about Ben Towley's comments in Thailand and the state of Grand Prix motocross. The MX-GP Action Group has fought the good fight against the horrid management of Youthstream for years. They have been the lone voice crying out in the muffled and chained world of GP racing. To read their latest comments click here
2016 DAYTONA SUPERCROSS RESULTS
Eli Tomac celebrating with the fans.
DAYTONA 450 RESULTS
1. Eli Tomac…Kaw
2. Ryan Dungey…KTM
3. Marvin Musquin…KTM
4. Jason Anderson…Hus
5. Ken Roczen…Suz
6. Trey Canard…Hon
7. Josh Grant…Suz
8. Christophe Pourcel…Hus
9. Justin Brayton…KTM
10. Cole Seely…Hon
Jeremy Martin lights the candles.
DAYTONA 250 EAST RESULTS
1. Jeremy Martin…Yam
2. Justin Hill…KTM
3. Martin Davalos…Hus
4. Malcolm Stewart…Hon
5. Aaron Plessinger…Yam
6. Arnaud Tonus…Kaw
7. R.J. Hampshire…Hon
8. Jesse Wentland…Hon
9. Tyler Bowers…Kaw
10. Shane McElrath…KTM
DAVI CRASHES ON LAST LAP: WAITING FOR WORD FROM DOCTOR

Update from Davi: "Just a little update. I ended up breaking 3 ribs and severely bruised and partially collapsed my lung and they was some bleeding around it, but other than that I'm great.

THE CURRENT TOP TEN: LEADING AFTER DAYTONA

Malcolm Stewart put up a great battle at the front, but couldn't hold off Martin, Hill or Davalos—and dropped to third in the 250 East points chase.

2015 AMA 250 EAST POINT STANDINGS
(After 2 of 9 races)
1. Martin Davalos…45
4. Jeremy Martin…43
2. Malcolm Stewart…40
4. Justin Hill…38
5. Aaron Plessinger…36
6. R.J. Hampshire…29
7. Tyler Bowers…25
8. Benny Bloss…18
9. Arnaud Tonus…17
10. Jimmy Albertson…16
Husqvarna's Zach Osborne is 5th in 250 West points (35 points behind Cooper Webb) with two races left.
2015 AMA 250 WEST POINT STANDINGS
(After 7 of 9 races)
1. Cooper Webb…145
2. Joey Savatgy…134
3. Christian Craig…129
4. Colt Nichols…117
5. Zach Osborne…110
6. Jimmy Decotis…99
7. Mitch Oldenburg…97
8. Kyle Peters…87
9. Kyle Cunningham…69
10. Jordon Smith…63
Ryan Dungey wanted to win Daytona, but he's smart enough to understand that a second is a win if his closest challenger (Roczen) is back in fifth place. That's how Championships are won.

2015 AMA 450 POINT STANDING
(After 9 of 17 races)
1. Ryan Dungey…213
2. Ken Roczen…174
3. Jason Anderson…163
6. Eli Tomac…154
4. Cole Seely…145
5. Chad Reed…141
6. Marvin Musquin…134
8. Justin Brayton…110
8. Davi Millsaps…105
10. Jake Weimer…81
HOW MANY RACES BACK IS THE 450 PACK?
They are all racing against the number 1, but none of them are racing on the same race.
Nobody is racing on the same race as Ryan Dungey—which means he can DNF a race and still maintain his points lead. The AMA pays 25 points to the winner of every race, and once a rider gets more than 25 points ahead of his competition, he has a one-race safety net, 50 points is a two-race safety net, 75 points is a three-race safety net and so on.
The closest: Ken Roczen (94) is 39 point back. That is one race (25 points), plus 14 points adrift.
Second closest: Jason Anderson (21) is 50-points behind. That is exactly two races behind Dungey.
Eli Tomac is 59 points adrift, which means that Ryan Dungey could DNF two races and still lead by 9 points.
Cole Seely is 68 points back, which means that Ryan Dungey could DNF two races, and still lead by 18 points.
Chad Reed is 72 points behind, which means that Ryan Dungey could DNF two races, and still lead by 22 points.
Marvin Musquin is 79 points back, which means that Ryan Dungey could DNF three races, and still lead by 4 points.
Everyone outside of the top seven is at least four races (100 points) behind Ryan Dungey.
James Stewart is 204 points back, which means that Ryan Dungey has already eliminated James from the title chase.
2016 SUPERCROSS WINNERS AT A GLANCE
Evergreen Chad Reed made the podium in Atlanta. Chad is currently 5th in points wedge between Tomac and Seely.

Date           Venue                                450                                250
Jan. 9…….Anaheim……………….Jason Anderson….Cooper Webb
Jan. 16……San Diego……………..Ryan Dungey………Cooper Webb
Jan. 23……Anaheim II……………Ryan Dungey………Cooper Webb
Jan. 30……Oakland……………….Ryan Dungey………Joey Savatgy
Feb. 6…….Phoenix…………………Ken Roczen………..Christian Craig
Feb. 13……San Diego II…………..Ryan Dungey………Joey Savatgy
Feb. 20……Dallas…………………..Ken Roczen………..Cooper Webb
Feb. 27……Atlanta………………….Ryan Dungey………Martin Davalos
March 5……Daytona……………….Eli Tomac…………..Jeremy Martin
March 12…Toronto………………..
March 19…Detroit…………………
March 26…No race………………
April 2……..Santa Clara…………
April 9……..Indianapolis…………
April 16……St. Louis……………..
April 23……Boston………………..
April 30……New York…………….
May 7……..Las Vegas……………
450 Points leader…Ryan Dungey (KTM)
250 West points leader…Cooper Webb (Yam)
250 East points leader…Martin Davalos (Hus)
DARRYN DURHAM RELEGATED TO SPECTATOR

WHERE WAS VICKY GOLDEN AT DAYTONA?
Vicki Golden.
Last week in Atlanta, Vicki Golden failed to make the top 40 in timed qualifying by only 1.77 seconds off the 40th place time. This Saturday night at Daytona, Golden missed the cut by 3.80 seconds and was 48th in timed qualifying. Her Daytona lap time was 11 seconds slower than the fastest lap time in the 250 East, but that is to be expected on the faster and rougher Daytona track.

WANT TO FLAG AT THE GLEN HELEN NATIONAL ON MAY 28?


REM promoter Frank Thomason has been in charge of the Glen Helen AMA 250/450 National flaggers for as long as anyone can remember. As a rule, Frank chooses his flaggers from the ranks of motocross racers, starting with his own REM Glen Helen riders, but there are always spots open to anyone who would like to be more than a spectator. It is an incredibly important job and the safety of the riders lays in the balance. Oh yeah, it's also a thankless task—except for those who have been saved by a man with a flag. If you'd like to sign up email Frank at [email protected]
WHAT THE MXA WRECKING CREW IS UP TO THIS WEEK
The MXA wrecking crew split into two groups this week (sometimes three) . John Basher, Dennis Stapleton and Travis Fant went to the Atlanta Supercross and are spending the week leading up to Daytona testing bikes, shooting videos and staying out late. After the race, they fanned out across Georgia and Florida. They went to the Carmichael Farm (above) on Monday to spend some time with Joey Savatgy, Gavin Faith and Stillez Robertson before heading to…
…Climax Motorsports Park (above) to test the Xceldyne Yamaha YZ450F and PHXtreme's Honda CRF250. That's Dennis Stapleton spreading some Georgia sand around on the PHXtreme CRF250. Meanwhile…
…the Red Dog Compound (above) awaited our arrival to spend some quality time with Cole Seely and Trey Canard (as they get ready for Daytona)…
…Then it was off to the Baker Factory on Thursday to spend some time with Jason Anderson (above), Ryan Dungey and Marvin Musquin. The next stop for all of us is Daytona. However, far away from Florida…
…Daryl Ecklund, Kyoshi Becker, Jody Weisel and the rest of the gang are at Glen Helen (above) doing back-to-back tire tests (always a fun way to spend 8 hours). Plus, we tested a new 2016 Kawasaki KX450F map (to stop the backfiring and detonation) and picked up our rebuilt 2016 KTM 125SX that we will be racing at the World Two-Stroke race in three weeks.
NEW 250/450 FIM GRAND PRIX RULE

BELL HELMETS IS SOLD


Vista Outdoor has entered into an agreement to buy Bell Sports Corporation for $400 million in cash plus an earn-out related to the future performance. The deal will be finalized in 30 to 60 days following normal regulatory approvals. Vista Outdoor owns CamelBak and Bolle and makes products for shooting sports also. The seller, BRG Sports, will now focus on its most recognizable remaining brand, Riddell. Riddell is a designer of protective sports equipment including football helmets and shoulder pads. BRG Sports' current owners, Fenway Partners Capital Fund II and Fund III, and Ontario Teachers' Pension Plan, will maintain their investments in the Company.
THE MAG GROUP CLOSES DOWN "MOTORCYCLE USA" WEB & DIGITAL


Motorcycle USA was launched in 1986 and at one time included a print magazine, digital magazine and website—now, it is no more. As of last Friday, the operation was closed down and the announcement came via a Twitter message. The website was best known as aN extension of the Motorcycle Superstore's online presence. The company had been absorbed by the Motorsport Aftermarket Group (MAG) in 2012, which made the decision to shutter the website.
AND THEN, THE MAG GROUP UNLOADS "CYCLE NEWS"

One week after closing down "Motorcycle USA," the MAG Group sold "Cycle News" to Sean Finley's Powersport Media group. "Cycle News" has been around for over 50 years, although it gave up its weekly print newspaper years ago and went all digital—it is an important part of motorcycle history. "Cycle News" was purchased by the MAG Group five years ago, but will now be under new, but the experienced, management. MXA wishes Cycle News well under their new team—especially because several MXA guys worked at Cycle News in the past—most notably Jody Weisel and Ketchup Cox in the 1970s.
EURO ENVIRONMENTAL RULES CLOSING IN ON 125 TWO-STROKE ENDURO BIKES
Small bore two-stroke enduro bikes are under the Euro-4 gun.

According to auto evolution: KTM and Husqvarna 125cc two-strokes may be legislated out of existence by 2017. Stricter European emission regulations, called "Euro-4," might make 125cc offroad bikes, however, not motocross bikes, unable to be compliant. New technology would be needed to get 125cc and 150cc two-strokes to meet the strict new regulations—and the question then becomes should KTM and Husqvarna invest in new technology for these small displacement bikes or forego European models and instead chase sales outside of the European continent.

MTA WORLD TWO-STROKE CHAMPIONSHIP TO GIVE AWAY A BIKE

MTA has really upped the ante for this year's World Two-Stroke Championships! Included in the March 26th program are $10,000 in purses for the Open Pro and 125 Pro Classes ($8000 to the Open Pros and $2000 to the 125 Pros); a fantastic tricked-out Yamaha to be raffled-off to one lucky entrant, a huge Monster Energy Freestyle Show, vendor displays and, of course, great two-stroke racing for all classes and all levels! Saturday, March 26, will be a day packed with activities and racing, and will be a great experience for both racers and spectators. Online entries are in the "register" link of the Glen Helen website (www.glenhelen.com). Gates open at 6:00 a.m., with practice at 8:00 a.m. and racing at 9:00 a.m. Spectator entry is only $10; amateur entries are $40, with pro entries at $85.00. Each racer receives a ticket with his/her entry and one  ticket will be drawn, with the lucky holder the recipient of the trick MTA/ProCircuit YZ.
MXA PRODUCTS SPOTLIGHT: NIHILO KTM 65SX TALL SEAT FOAM
Nihilo Concepts knows that the 2016 KTM 65SX is a great machine, but that many riders need a taller seat as the grow up. Nihilo Concepts tall foam for the 2016 KTM 65 is a full 1″ taller and made from high-quality medium-density foam for comfort and control. The features include: (1) a custom Nihilo seat cover; (2) a full 1″ taller than stock; (3) the perfect foam density for comfort and control; (4) mirror fit to the stock seat pan. $79.95 at www.nihiloconcepts.com.
THIS WEEK'S BIRTHDAY BOYS: COLE SEELY WILL BE 26 ON THURSDAY

Mar. 7…Jake Canada 1991
Mar. 7…Beau Bamburg
Mar. 8…Larry Naston

THE WAY WE WERE: 1979 WORLD MINI GRAND PRIX

Last year, the NMA canceled the 2015 World Mini Grand Prix (WMGP) one week before it was to be held at Glen Helen. It was the end of the line for one of the iconic minicycle events in motocross history. The World Mini set the standard and paved the way for all of today's amateur events. It deserved a better send off.
UPCOMING RACES: WHO, WHAT, WHY & WHERE
2016 AMA SUPERCROSS CHAMPIONSHIP
Mar. 12…………………..Toronto, CAN
Mar. 19………..…………Detroit, MI
Mar. 26…………………..No race
2016 AMSOIL ARENACROSS CHAMPIONSHIP
Mar. 12-13………………..Lafayette, LA
April 2-3…………………..Ontario, CA
2016 REM MOTOCROSS
Mar. 12…………………….Glen Helen, CA
Mar. 19…………………….Glen Helen, CA
2016 KTM JUNIOR SUPERCROSS CHALLENGE
Mar. 12…………………….Toronto, CAN
Mar. 19…………………….Detroit
April 9………………………Indianapolis
April 16……………………..St. Louis
May 7……………………….Las Vegas
2016 FIM MOTOCROSS WORLD CHAMPIONSHIP
Mar. 13……………………..Sepang, Malaysia (canceled)
Mar. 28……………………..Valkenswaard, Holland (Monday)

2016 BRITISH NATIONAL CHAMPIONSHIP
April 10……………………..Landrake
MTA WORLD TWO-STROKE CHAMPIONSHIPS
Mar. 26……………………..Glen Helen, CA
UNITED STATES GRAND PRIX
Sept. 10-11……………….Glen Helen, USA
HOW TO SUBSCRIBE TO MXA AND MAKE MONEY
You probably haven't seen the April 2016 issue of MXA yet, but if you subscribed it would be in the trusty hands of a uniformed agent of the U.S. Government on its way to your mailbox right now. Or, you can wait for the product reviews, KTM 450SXF Factory Edition test and tech features to appear on the internet…in a couple months. Your choice.

Do you subscribe to MXA? You should. We know that you think that print magazines are dead and that the internet will fill the void, but most of the stuff in the current issue of MXA won't appear on the web for several months, if at all. Luckily, you can get all of MXA on your iPhone, iPad, Kindle or Android by going to the Apple Store, Amazon or Google Play. Better yet get the Digital desktop version at https://hi-torque.com/product/motocross-action-digital-edition/ for $9.99 a year. The MXA test riders prefer the print version and not just because it is delivered by a uniformed employee of the U.S. Government, but because for only $15.99 you get 12 issues and a free $25 Gift Card from Rocky Mountain ATV/MC. That means that there is a profit to be made in this deal for you. For the Print magazine go to: http://hi-torque.com/product/subscribe-to-motocross-action-magazine/


2016'S BIGGEST RACES: THE ONES YOU MISSED ARE IN BLUE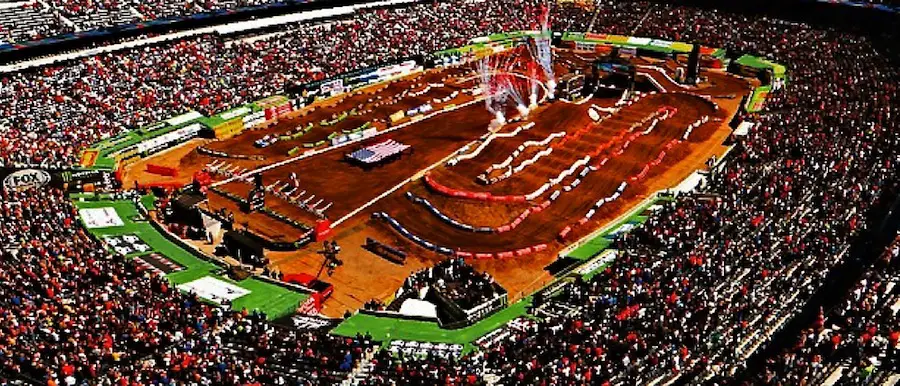 2016 AMA SUPERCROSS CHAMPIONSHIP
Jan. 9…………………….Anaheim, CA
Jan. 16………………….San Diego, CA
Jan. 23………………….Anaheim, CA
Jan. 30………………….Oakland, CA
Feb. 6……………………Phoenix, AZ
Feb. 13………………….San Diego, CA
Feb. 20………………….Dallas, TX
Feb. 27………………….Atlanta, GA
March 5………………….Daytona, FL
March 12………………..Toronto, CAN
March 19………………..Detroit, MI
April 2………………..….Santa Clara, CA
April 9………………..….Indianapolis, IN
April 16………………….St. Louis, MO
April 23………………….Foxboro, MA
April 30………………….East Rutherford, NJ
May 7…………………….Las Vegas, NV

2016 AMA NATIONAL CHAMPIONSHIP
May 21……………………Hangtown, CA
May 28.…………………..Glen Helen, CA
June 4..…………………..Thunder Valley, CO
June 18..…………………Mt Morris, PA
June 25.………………….Muddy Creek, TN
July 2.…………………….Red Bud, MI
July 9..……………………Southwick, MA​
July 16.…………………..Millville, MN​
July 23.…………………..Washougal, WA
Aug. 13..………………….Unadilla, NY​
Aug. 20..………………….Budds Creek, MD​
Aug. 27.…………………..Crawfordsville, IN​

2016 FIM MOTOCROSS WORLD CHAMPIONSHIP
Feb. 27……………………..Losail, Qatar (Saturday)
Mar. 06……………………..Suphan Buri, Thailand
Mar. 13……………………..Sepang, Malaysia (canceled)
Mar. 28……………………..Valkenswaard, Holland (Monday)
April 10……………………..Neuquen, Argentina
April 17……………………..Leon, Mexico
May 1……………………….Kegums, Latvia
May 8……………………….Teutschenthal, Germany
May 15……………………..Pietramurata, Italy
May 29……………………..Talavera de la Reina, Spain
June 5………………………St Jean d'Angely, France
June 19…………………….Matterly Basin, Great Britain
June 26…………………….Mantova, Italy
July 24………………………Loket, Czech Republic
July 31………………………Lommel, Belgium
Aug. 7……………………….Frauenfeld, Switzerland
Aug. 28……………………..Assen, Holland
Sept. 3………………………Charlotte, USA (Saturday)
Sept.11……………………..Glen Helen, USA

2016 AMSOIL ARENACROSS CHAMPIONSHIP
Jan. 9-10………………….Cincinnati,OH
Jan. 15-17………………..Baltimore, MD
Jan. 22-24………………..Allentown, PA
Jan. 30-31………………..Greensboro, NC
Feb. 4-7…………………..Colorado Springs, CO
Feb. 13-14………………..Omaha, NB
Feb. 20-21………………..Tampa, FL
Feb. 27-28………………..Birmingham, AL
Mar. 12-13………………..Lafayette, LA
April 2-3…………………..Ontario, CA
April 9-10…………………Salinas, CA
April 16-17………………..Tacoma, WA.
April 22-24………………..Nampa, ID
May 6-8…………………..Las Vegas, NV

2016 GEICO ENDUROCROSS CHAMPIONSHIP
Aug. 27……………………..Atlanta, GA
Sept. 3………………………Sioux Falls, SD
Sept. 10…………………….Salt Lake City, UT
Sept. 24…………………….Phoenix, AZ
Oct. 1………………………..Denver, CO
Oct. 22………………………Everett, WA
Nov. 5………………………..Boise, ID
Nov. 19………………………Ontario, CA

2016 KTM JUNIOR SUPERCROSS CHALLENGE
Jan. 16……………………..San Diego, CA
Jan. 23……………………..Anaheim II, CA
Feb. 6……………………….Phoenix, AZ
Feb. 20……………………..Dallas, TX
Feb. 27……………………. Atlanta, GA
Mar. 12…………………….Toronto, CAN
Mar. 19…………………….Detroit, MI
April 9………………………Indianapolis, IN
April 16…………………….St. Louis, MO
May 7……………………….Las Vegas, NV

2016 AMA SUPERMOTO CHAMPIONSHIP
April 9…………………….Bakersfield, CA
June 18………………….Loudon, NH
July 2……………………..Sturgis, SD
Aug. 6…………………….Quebec, Can
Sept. 3…………………..Denver, CO
Oct. 22…………………..Tucson, AZ

2016 CANADIAN NATIONAL CHAMPIONSHIP
June 5…………………..Kamloops, BC
June 12………………….Nanaimo, BC
June 19………………….Calgary, Alb
June 26………………….Regina, Sask
July 10…………………..Courtland, ON
July 17…………………..Ulverton, NS
July 24……………….….Pleasant Valley, NS
July 31…………………..Moncton, NB
Aug. 7……………………Deschambault, QC
Aug. 14………………….Barrie, ON

2016 ITALIAN NATIONAL CHAMPIONSHIP
Jan. 31…………………….Alghero
Feb. 7………………………Lamezia Terme
Feb. 14…………………….Ottobiano

MTA WORLD TWO-STROKE CHAMPIONSHIPS
Mar. 26……………………..Glen Helen, CA
2016 CZ WORLD CHAMPIONSHIPS
April 24…………………..Marysville,CA

2016 AMA JUNIOR MOTO X INDOOR AMATEUR CHAMPIONSHIP
May 11-14…………………..Guthrie, OK

2016 AMA VINTAGE MOTORCYCLE DAYS
July 8-10…………………..Lexington, OH

2016 AMA NATIONAL AMATEUR CHAMPIONSHIP
Aug. 1-6……………………..Loretta Lynn, TN



2016 MOTOCROSS DES NATIONS
Sept. 25………………………Maggiora, Italy

2016 REM OCTOBERCROSS
Oct. 29……………………….Glen Helen, CA

2016 DUBYA WORLD VET CHAMPIONSHIP
Nov. 5-6…………………….Glen Helen, CA
Photos: Harry Leitner, Jimmy Mac, Brian Converse, John Basher, MTA, Daryl Ecklund, Jake Klingensmith, Travis Fant, Jody Weisel, Kyoshi Becker, Suzuki, MXGP, KTM and MXA