MXA WEEKEND NEWS ROUND-UP: WHOZAT, WHAZIT & WHOA NOW!

Click on images to enlarge
RAPID RACE RESULTS: MEXICAN GRAND PRIX TO GAJSER
Tim Gajser is 3 for 5 and the old stars are beginning to wonder what's happening.

450 MEXICAN GP RESULTS
1. Tim Gajser…Hon
2. Romain Febvre…Yam
3. Max Nagl…Hus
4. Evgeny Bobryshev…Hon
5. Clement Desalle…Suz
6. Antonio Cairoli…KTM
7. Valentin Guillod…Yam
8. Tommy Searle…Kaw
9. Jeremy Van Horebeek…Yam
10. Kevin Strijbos…Suz
450 WORLD CHAMPIONSHIP POINTS
(After 5 of 17 events)
1. Romain Febvre…219
2. Tim Gajser…216
3. Antonio Cairoli…171
4. Evgeny Bobryshev…170
5. Max Nagl…165
6. Jeremy Van Horebeek…162
7. Kevin Strijbos…127
8. Shaun Simpson…122
9. Glenn Coldenhoff…104
10. Tommy Searle…98
Jeffrey Herlings keeps on winning in the weak 250 class, but he's probably kicking himself for not moving to the 450 class.
250 MEXICAN GP RESULTS
1. Jeffrey Herlings…KTM
2. Jeremy Seewer…Suz
3. Vsevolod Brylyakov…Kaw
4. Pauls Jonass…KTM
5. Aleksandr Tonkov…Yam
6. Petar Petrov…Kaw
7. Benoit Paturel…Yam
8. Samuele Bernardini…TM
9. Max Anstie…Hus
10. Jorge Zaragoza…Hon
250 WORLD CHAMPIONSHIP POINTS
(After 5 of 17 events)
1. Jeffrey Herlings…250
2. Jeremy Seewer…192
3. Pauls Jonass…166
4. Aleksandr Tonkov…163
5. Petar Petrov…132
6. Benoit Paturel…126
7. Vsevolod Brylyakov…121
8. Samuele Bernardini…117
9. Alvin Ostlund…89
10. Max Anstie…82
TACOMA ARENACROSS: "RACE TO THE CHASE" AT HALFWAY POINT
WATCH TACOMA IN UNDER A MINUTE

TACOMA ARENACROSS RESULTS
1. Gavin Faith (Kaw)…2-3
2. Jacob Hayes (Kaw)…5-1
3. Ben Lamay (HON)…3-4
4. Jace Owen (HON)…6-2
5. Chris Blose (Kaw)…1-7
6. Travis Sewell (KTM)…4-6
7. Austin Politelli (Kaw)…8-8
8. Ryan Breece (YAM)…12-5
9. Kyle Regal (HUS)…7-12
10. Cody VanBuskirk (KTM)…11-9
ARENACROSS "RACE TO THE CHASE" POINTS STANDINGS
1. Gavin Faith…126
2. Chris Blose…126
3. Jacob Hayes…113
4. Jace Owen…110
5. Ben Lamay…105
7. Gared Steinke…82
8. Kyle Regal…74
9. Cody VanBuskirk…45
10. Daniel Herrlein…1
DEAN FERRIS WINS APPIN ROUND OF AUSSIE NATIONALS


APPIN RESULTS: 450 CLASS
1. Dean Ferris…Yam
2. Brett Metcalfe…Hus
3. Todd Waters…Suz
4. Kirk Gibbs…KTM
5. Matt Moss…Kaw
6. Daniel Reardon…Yam
7. Kade Mosig…Kaw
8. Jacob Wright…Yam
9. Dylan Long…Hon
10.  Jay Wilson…Hon
AUSTRALIAN NATIONAL 450 POINT STANDINGS
1. Dean Ferris…127
2. Kirk Gibbs…125
3. Todd Waters…119
4. Matt Moss…117
5. Brett Metcalfe…104
6. Kade Mosig…104
7. Daniel Reardon…99
8. Dylan Long…92
9.  Jay Wilson…86
10. Kurt Wightman…69
APPIN RESULTS: 250 CLASS
1. Caleb Ward…KTM
2. Kale Makeham…Yam
3. Luke Arbon…Hus
4. Nathan Crawford…Hus
5. Jayden Rykers…KTM
6. Wade Hunter…Yam
7. Jake Moss…Kaw
8. Jed Beaton…Yam
9. Wilson Todd…Yam
10. Richie Evans…Yam
AUSTRALIAN NATIONAL 250 POINT STANDINGS
1. Caleb Ward…126
2. Nathan Crawford…115
3. Jake Moss…107
4. Luke Arbon…106
5. Kale Makeham…104
6. Jed Beaton…102
7. Wilson Todd…102
8. Jayden Rykers…101
9. Wade Hunter…84
10. Hamish Harwood…81
RYAN DUNGEY DOES IT AGAIN; ROCZEN CAN'T STOP HIM
The bike that Ryan Dungey credits with all of his success.
ST. LOUIS RESULTS: 450 CLASS
1. Ryan Dungey …KTM
2. Ken Roczen…Suz
3. Jason Anderson…Hus
4. Justin Bogle…Hon
5. Trey Canard…Hon
6. Chad Reed…Yam
7. Eli Tomac…Kaw
8. Josh Grant…Kaw
9. Justin Brayton…KTM
10. Mike Alessi…Hon
Other notables: 11. Justin Barcia; 12. Blake Baggett; 13. Jake Weimer; 14. Broc Tickle; 15. Marvin Musquin; 16. Weston Peick…Yam
450 POINT STANDINGS
1. Ryan Dungey…328
2. Ken Roczen… 280
3. Jason Anderson…260
4. Eli Tomac…226
5. Chad Reed..208
6. Marvin Musquin…188
7. Cole Seely..173
8. Justin Brayton…161
9. Trey Canard…154
Other Notables: 11. Davi Millsaps (105); 12. Mike Alessi (105); 13. Weston Peick (102); 15 Christophe Pourcel (94); 17. Blake Baggett (62); 19. Josh Grant (54); 20. Justin Barcia (37).
ST. LOUIS RESULTS: 250 EAST
1. Jeremy Martin…Yam
2. Aaron Plessinger…Yam
3. Shane McElrath…KTM
4. R. J. Hampshire…Hon
5. Gannon Audette…Kaw
6. Anthony Rodriquez…Kaw
7. Alex Frye…KTM
8. Malcolm Stewart…Hon
9.  Tyler Bowers…Kaw
10. Paul Coates…Hon
Other notables: 11. Benny Bloss; 12. Matt Biscelgia; 15. Martin Davalos; 16. Darryn Durham; 19. Jimmy Albertson; 21. Cedric Soubeyras; 22. Gradie Featherstone.
250 EAST POINTS STANDINGS
1. Malcolm Stewart…115
2. Aaron Plessinger… 114
3. Jeremy Martin…99
4. Martin Davalos…83
5. Tyler Bowers…78
6. Gannon Audette…77
7. R.J. Hampshire…77
8. Shane McElrath…73
6. Justin Hill…63
10. Matthew Bisceglia…58
Other notables: 11. Anthony Rodriquez (58); 12. Paul Coates (50); 14. Benny Bloss (45); 16. Cedric Soubeyras (41); 18. Arnaud Tonus (29); 20. Jimmy Albertson (22).
DON'T FORGET AGAIN! BOSTON IS A "DAY RACE" ALSO…ONLY ONE HOUR LATER
This week's AMA Supercross race from Foxboroughwill be shown at 4:00 p.m. (Eastern)on the Fox network. That is 1:00 p.m. on the west coast. Remember, it is not on Fox Sports 1 and Fox Sports 2, but on Fox.
GREAT PLAINS VINTAGE MOTOCROSS SERIES ON APRIL 24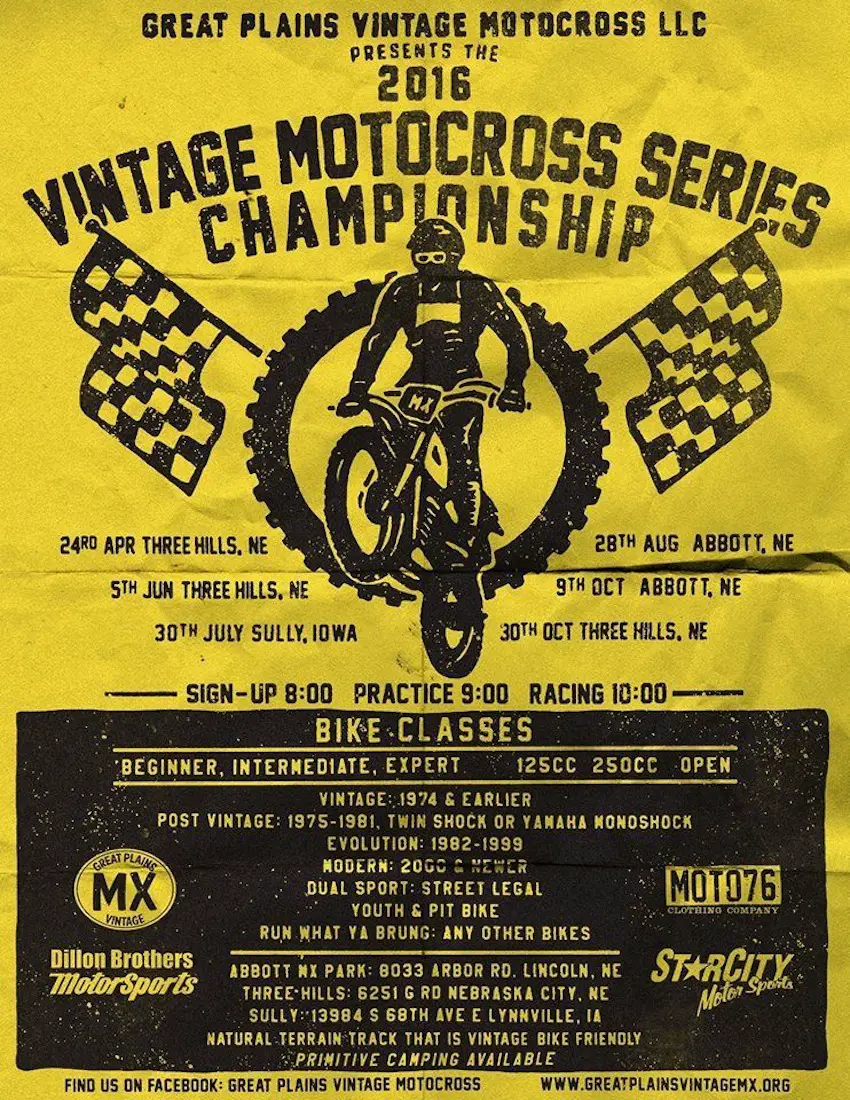 For more info go to www.greatplainsvintagemx.org
WHAT THE MXA WRECKING CREW IS WORKING ON
Back in 2007 the MXA wrecking crew absolutely hated the 2007 KX250 two-stroke. It was what we call a "stomp and turn bike" because you had to stomp your foot on the ground to keep it from washing out. But, what if we tested a 2007 Kawasaki KX250 with motorcycle suspension? Would it less of a handful? We'll let you know when it appears in a future MXA magazine. Until then, just enjoy looking at it.
With the help of the Husqvarna R&D department and Rockstar team, we built a 2016 Husky FC250 that will knock your socks off. It has every tech trick in the book—and we're going to tell them to you…but you gotta keep your socks on until the test comes out.
In the current issue of MXA we tell you 20 tips to building a better 2016 Honda CRF250, then in the following issue we run it through the wringer to find out what a 44-horsepower CRF250 can do.
You've never seen a TM 300MX like this before. It may have rolled out of the Pesaro, Italy, factory ready to race, but we took it ten steps farther with the help of Gravity Racing's Ralf Schmidt, ProX, C84, Crosspro, Dunlop and TM Racing USA.  We even sent the suspension to Germany to let GPM do the mods.
Next month we will reveal our 2016 Husqvarna TC125 versus Husqvarna TC150 two-stroke shootout. "What's that? You say that Husky doesn't make a TC150. Well, we'll tell you how to build your own."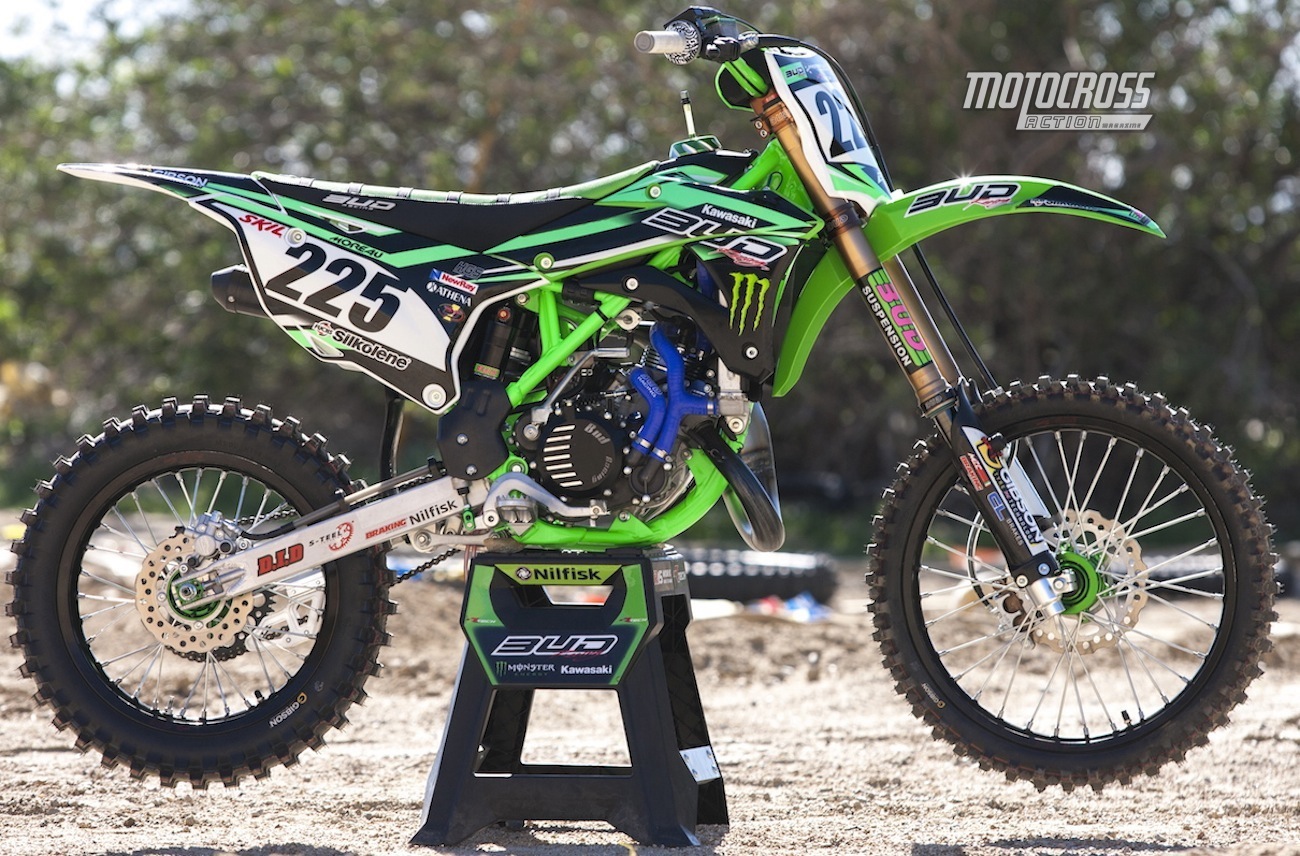 Is this the meanest looking Kawasaki two-stroke you've ever seen? It is a KX85 punched out to 112cc and outfitted with everything from an extra radiator to full-race suspension. Built for French minicycle rider Brian Moreau, who has since moved to the EMX 125 Championship, the MXA wrecking crew tested this missile for the July 2016 issue.
Want a little motocross trivia? When Honda was getting ready to release the CRF150 four-stroke minicycle, Yamaha had a YZ150F waiting in the wings. However, when the CRF150 was anything but a sales success, Yamaha shelved the project. This is what it would have looked like. BBR hand-built every part of this bike, save for the Yamaha engine, which they bored out to 150cc. It's coming in the July issue also.
AND NOW FOR SOMETHING DIFFERENT: SWM IS COMING TO AMERICA
Who wouldn't want a motorcycle made at Speedy Working Motors? Although they aren't on American shores yet, the Speedy Working Motors (SWM) bikes will arrive in time for the 2017 new model introduction season. SWM was founded back in 1971 and had success in offroad and trials events before folding in 1984. They are back in Europe and headed for America. Former Cagiva, Husqvarna and Aprilia engineer Ampelio Macchi is the man behind the return of the old SWM brand. The line-up will focus on enduro and dual sport models like the RS300R shown above. And it is rumored that there will be a 125cc two-stroke in the future. SWM are produced in Lombardia, Italy, but funded by the Chinese Shineray group. Some of the engines will be sourced from Husqvarna, not the KTM-owned Husqvarna, but the previous Husqvarna in Italy. You don't need to look closely to see that the dirt bikes are very similar to the Huskys of three years ago. Stay tuned for more information.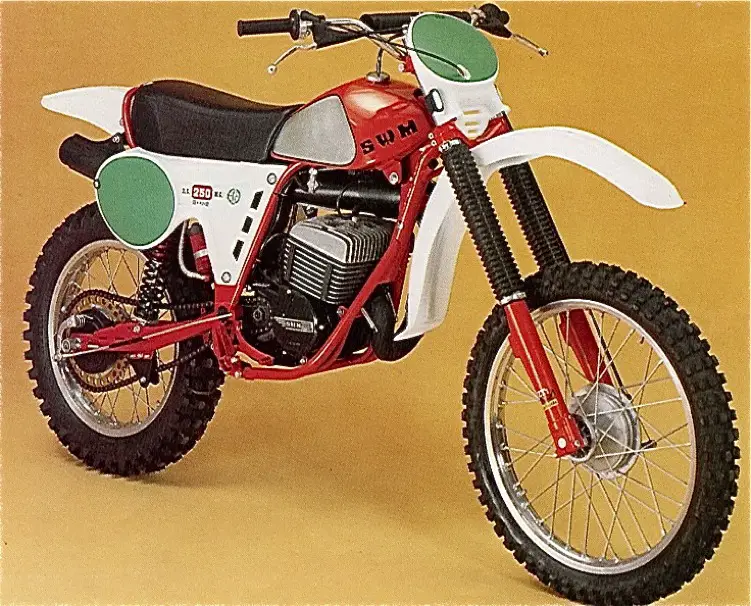 For those who have never seen an SWM before — here is a 1979 250MX.
The actual meaning of the acronym SWM is based on the names of founders Pietro Sironi and Fausto Vergani and the town they were from—Vimercate near Milan. SWM stands for Sironi Vergani Vimercate Milan.Where did they get the "W"? When the V's of Vergani and Vimercate were placed close to each they looked like W—so they went with it.
SUBSCRIBE TO MXA & GET A $25 GIFT CARD
You can get all of MXA on your iPhone, iPad, Kindle or Android by going to the Apple Store, Amazon or Google Play. Better yet get the Digital desktop version at https://hi-torque.com/product/motocross-action-digital-edition/ for $9.99 a year. The MXA test riders prefer the print version and not just because it is delivered by a uniformed employee of the U.S. Government, but because for only $19.99 you get 12 issues and a free $25 Gift Card from Rocky Mountain ATV/MC. That means that there is a profit to be made in this deal for you. For the Print magazine go to: http://hi-torque.com/product/subscribe-to-motocross-action-magazine/
HONOR ROLL: 2016 SUPERCROSS WINNERS AT A GLANCE
Ryan Dungey can afford to just follow Ken Roczen around for the next four races and still will the Supercross crown comfortably. Ken Roczen (94) needs to win and he needs some help if he wants the million dollars bonus.

Date           Venue                                450                                250
Jan. 9…….Anaheim……………….Jason Anderson….Cooper Webb
Jan. 16……San Diego……………..Ryan Dungey………Cooper Webb
Jan. 23……Anaheim II……………Ryan Dungey………Cooper Webb
Jan. 30……Oakland……………….Ryan Dungey………Joey Savatgy
Feb. 6…….Phoenix…………………Ken Roczen………..Christian Craig
Feb. 13……San Diego II…………..Ryan Dungey………Joey Savatgy
Feb. 20……Dallas…………………..Ken Roczen………..Cooper Webb
Feb. 27……Atlanta………………….Ryan Dungey………Martin Davalos
March 5……Daytona……………….Eli Tomac…………..Jeremy Martin
March 12…Toronto…………………Ken Roczen………..Justin Hill
March 19…Detroit………………….Jason Anderson…..Malcolm Stewart
April 2……..Santa Clara…………..Ryan Dungey……….Cooper Webb
April 9……..Indianapolis…………Ryan Dungey……….Aaron Plessinger
April 16……St. Louis……………….Ryan Dungey……….Jeremy Martin
April 23……Boston………………..
April 30……New York…………….
May 7……..Las Vegas……………
450 Points leader…Ryan Dungey (KTM)
250 West points leader…Cooper Webb (Yam)
250 East points leader…Malcolm Stewart (Hon)
LISTA DE HONOR: 2016 GRAND PRIX WINNERS AT A GLANCE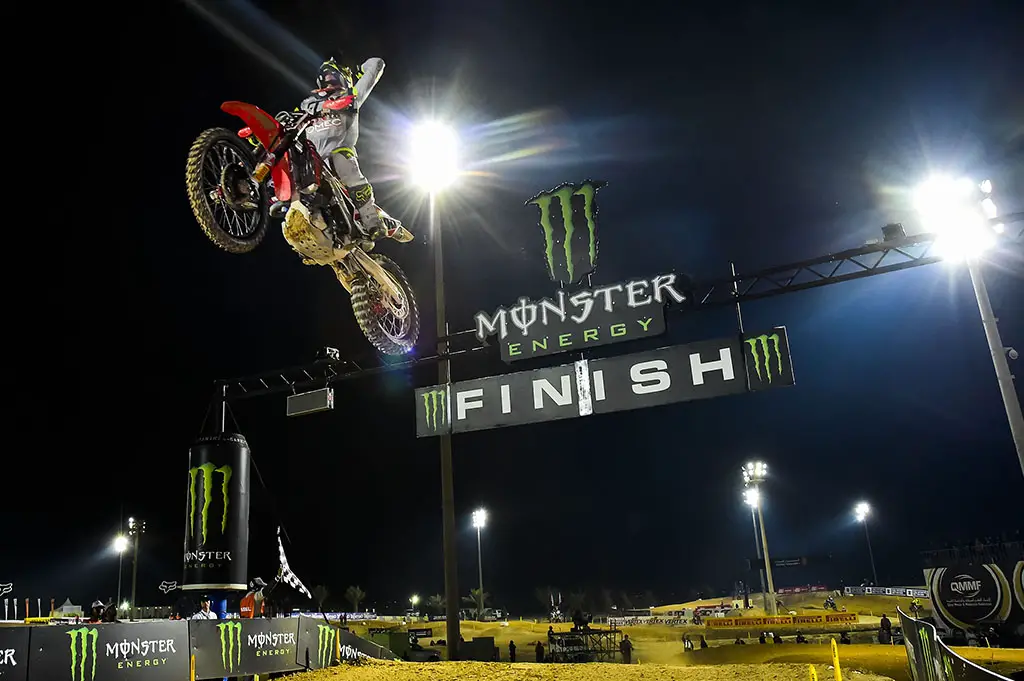 Rookie Tim Gajser won in Qatar, Argentina and Mexico while second-year rookie Romain Febvre won in Thailand and Holland.

Date           Venue                                450                                250
Feb. 27…. Qatar…………………..Tim Gajser…………..Jeffrey Herlings
Mar. 6…..Thailand……………….Romain Febvre…….Jeffrey Herlings
Mar. 28…Holland………………..Romain Febvre…….Jeffrey Herlings
April 10….Argentina…………….Tim Gajser…………..Jeffrey Herlings
April 17….Mexico………………..Tim Gajser…………..Jeffrey Herlings
May 1…… Latvia………………
May 8……Germany………………
May 15….Italy………………
May 29….Spain………………
June 5……France………………
June 19….Great Britain………………
June 26….Italy………………
July 24…..Czech Republic………………
July 31…..Belgium………………
Aug. 7……Switzerland………………
Aug. 28….Holland………………
Sept. 3…..Charlotte, USA………………
Sept.11…..Glen Helen, USA………………
450 Points leader…Romain Febrve (Yam)
250 West points leader…Jeffrey Herlings (KTM)
UPCOMING RACES: WHO, WHAT, WHY & WHERE
2016 AMA SUPERCROSS CHAMPIONSHIP
April 23……………………Foxboro, MA (day race)
April 30………………..….East Rutherford, NJ
May 7………………………Las Vegas, NV
2016 AMSOIL ARENACROSS CHAMPIONSHIP
April 22-24………………..Nampa, ID
May 6-8……………………Las Vegas, NV
2016 REM MOTOCROSS
April 23………………………Glen Helen, CA
April 30………………………Glen Helen, CA (USGP track)
2016 KTM JUNIOR SUPERCROSS CHALLENGE
May 7……………………….Las Vegas
2016 FIM MOTOCROSS WORLD CHAMPIONSHIP
May 1……………………….Kegums, Latvia
May 8……………………….Teutschenthal, Germany
May 15……………………..Pietramurata, Italy

2016 AUSTRALIAN NATIONAL CHAMPIONSHIP
May 1…………………………Broadford, VIC
May 22………………………Murray Bridge, SA
2016 SPANISH NATIONAL CHAMPIONSHIP
April 24……………………..Alhama, Murcia
May 22………………………Belpuig, Lieida
2016 AMA NATIONAL CHAMPIONSHIP
May 21………………………..Hangtown, CA
May 28.………………………Glen Helen, CA
2016 BRITISH NATIONAL CHAMPIONSHIP
May 29………………………Wakes Colne
UNITED STATES GRAND PRIX
Sept. 3……………………..…Charlotte, USA (Saturday)
Sept. 11……………….…..….Glen Helen, USA
TIME CAPSULE: ONE YEAR AGO TODAY
Davi Millsaps was fired from Team Kawasaki for unspecified reasons. He sat out the rest of 2015 and signed a BTO KTM deal for 2016.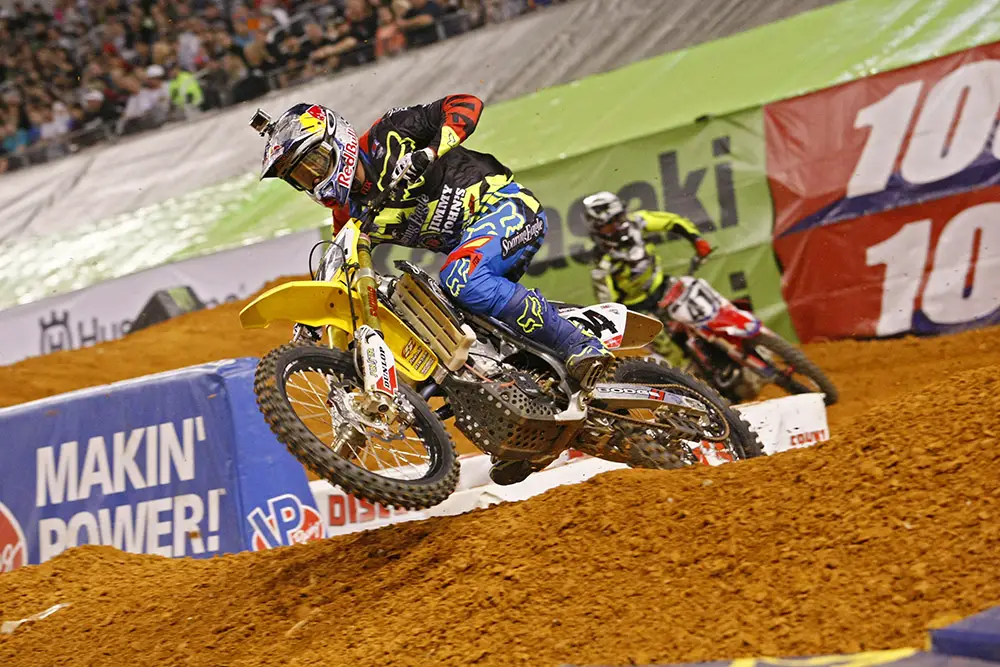 Ken Roczen pulled out of the AMA Supercross series after the 9th round and ended the 2015 Supercross season in 12th place. He took the time off to prepare for the AMA Nationals.
This was Kawasaki's headquarters one year ago when they sold their 262,463 square-foot U.S. headquarters to the Bixby Land Co. for $44.25 million. They moved to a new building a few miles away.

The China National Chemical Corp, better known as ChemChina, bought Pirelli for $7.7 billion. The deal gave state-owned ChemChina the technology to make premium tires and gave the Italian firm a boost in the huge Chinese car market.


At the very last second the NMA canceled the 2015 World Mini Grand Prix. It would have been the 44th Annual running of one of the iconic amateur events in motocross history. Then, in July they canceled the Oklahoma-based NMA Grand National Championship event.

MXA GEAR GUIDE: 2016 YAMAHA YZ450F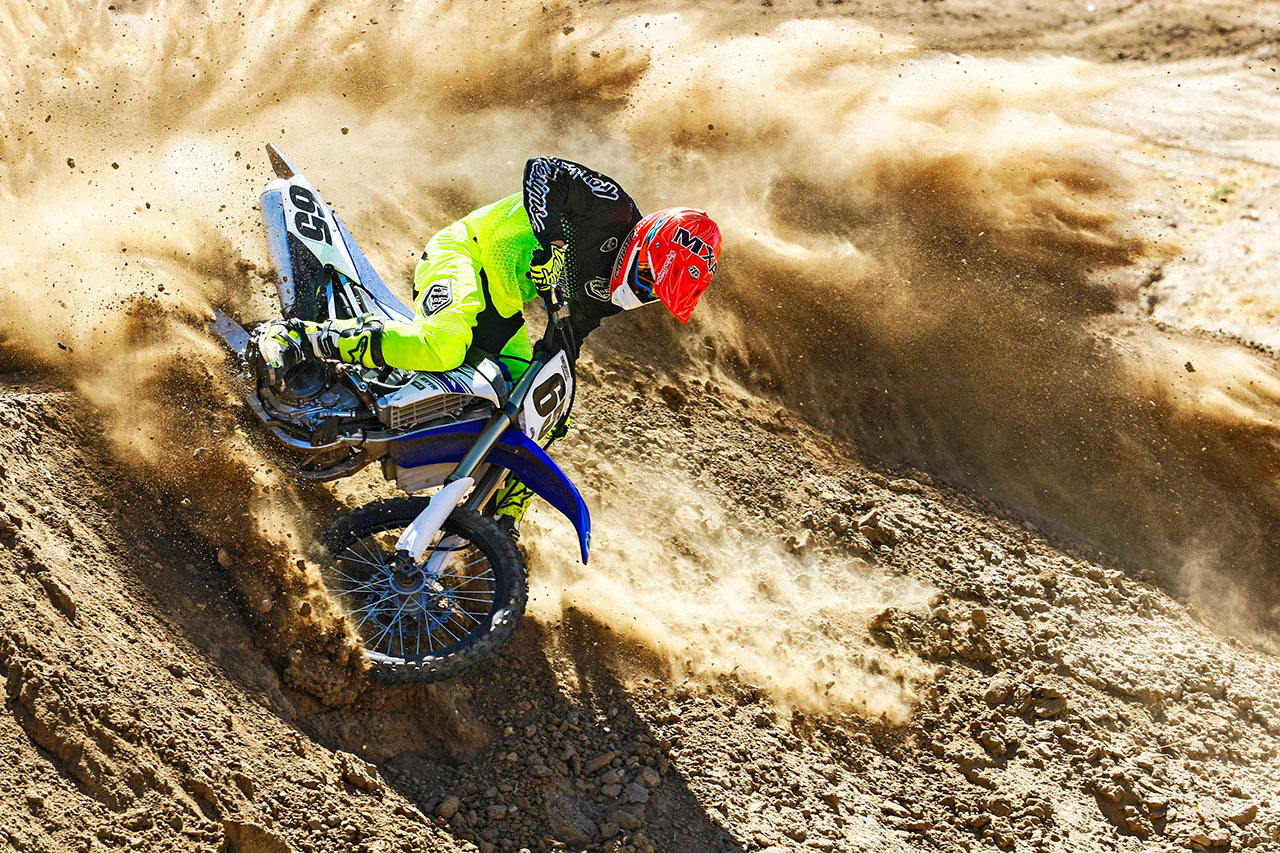 MXA's "Gear Guide" is designed to show you what 2016 gear the MXA wrecking crew wearss for our bike tests. This is what we wore on the 2016 Yamaha YZ450F test. If you like what you see, be sure to click on the contact links for more information. Click on images to enlarge.
PANT: Troy Lee Designs SE Air Starburst Flo Yellow/Black
JERSEY: Troy Lee Designs SE Air Starburst Flo Yellow/Black
GLOVES: Troy Lee Designs SE Pro Flo Yellow
HELMET: Troy Lee Designs SE3 One Shot Rocket Red
GOGGLES: Eks Brand Limited Flo Orange/Blue
BOOTS: Alpinestars Tech 8 RS Yellow/Black

SUPPLIER CONTACTS:
Troy Lee Designs: www.troyleedesigns.com or (800) 239-6566.
Eks Brand: www.eksbrand.com or (818) 706-1700.
Alpinestars: www.alpinestars.com or (800) 409-0903.
THIS WEEK'S BIRTHDAY BOYS: GARY JONES WILL BE 64 NEXT FRIDAY

Four-time 250 National Champion Gary Jones has a birthday coming up next Friday.

April 18…Jim Holley 1961
April 18…Colt Humphrey 1983
April 19…Larry Ward 1970
April 22…Gary Jones 1952
April 23…Mike Fisher 1967
MXA MOTO-CHALLENGE: NAME THIS BICENTENNIAL HERO
This Honda privateer had the honor of winning his first-ever AMA 125 National on July 4th, 1976. He was also the first privateer to ever win a National. Can you name him.  The answer is at the bottom of the page.
MEMORIES OF THE WAY WE WERE
Before the days of lightweight, digital, action cameras, the only way to get POV footage was with a camera bolted to your helmet and a lead counterweight on the other side. That's A.J. Whiting getting a sore neck.
REM GLEN HELEN: APRIL 23RD & APRIL 30TH
For more info go to www.remsatmx.com
"BABES IN THE DIRT" AT HUNGRY VALLEY — APRIL 22-24

For more info go to www.babesrideout.com
CZ WORLD CHAMPIONSHIP REVIVAL — APRIL 24

For more info go to www.avdra.com
HOW TO SUBSCRIBE TO MXA AND MAKE MONEY
You probably haven't seen the May 2016 issue of MXA yet, but if you subscribed it would be in the trusty hands of a uniformed agent of the U.S. Government on its way to your mailbox right now. Or, you can wait for the product reviews, 44-horsepower CRF250 test and Husky versus Husky shootout to appear on the internet…in a couple months. Your choice.

Do you subscribe to MXA? You should. We know that you think that print magazines are dead and that the internet will fill the void, but most of the stuff in the current issue of MXA won't appear on the web for several months, if at all. Luckily, you can get all of MXA on your iPhone, iPad, Kindle or Android by going to the Apple Store, Amazon or Google Play. Better yet get the Digital desktop version at https://hi-torque.com/product/motocross-action-digital-edition/ for $9.99 a year. The MXA test riders prefer the print version and not just because it is delivered by a uniformed employee of the U.S. Government, but because for only $19.99 you get 12 issues and a free $25 Gift Card from Rocky Mountain ATV/MC. That means that there is a profit to be made in this deal for you. For the Print magazine go to: http://hi-torque.com/product/subscribe-to-motocross-action-magazine/

MOTO-CHALLENGE ANSWER 
Texan Steve Wise describes the day this way, "On July 4, 1976, at the AMA National at Kaiser Ridge, Maryland, I had a perfect storm of a day. I was back on my own CR125 with Jimmy Strait as my mechanic. I holeshot the first moto and was leading until Marty Smith finally went by. I knew he was faster than me so I decided to save as much energy as possible for the second moto. Well, I pulled another holeshot in the second moto and Smith caught me on the last lap, but this time I wasn't pulling over. I didn't come that far just to get beat, so I started blocking him. It worked and I became the first privateer to win a 125 National."

Photos: Scott Mallonee, Kyoshi Becker, Debbi Tamietti,  John Basher, Brian Converse, Massimo Zanzani, MXA