MXA WEEKEND NEWS ROUND-UP: REVENGE OF THE TRIPLE STEP-UP

REVENGE OF THE TRIPLE STEP-UP
Josh Grant boosting Glen Helen's new resurrected Triple Step-Up jump.
The Triple Step-Up is back. One of the most iconic jumps in motocross history, the multi-level leap isn't just long, at 140 feet, but it actually gains 30 feet in height the farther you jump. Jody Weisel designed the original jump many years ago, and with the help of Carl Scanlon (to work out the construction details) and Josh Grant (to do with the test jumping), the Triple Step-Up has developed a loyal following. That loyal following was royally bummed when the Triple Step-Up was replaced with the steeply banked Velodrome turns (to make the Glen Helen National track more friendly to TV production). But everyone at Glen Helen, from Jody to Carl or Lori to Bud to Josh Grant to the spectators, wanted the Triple Step-Up back.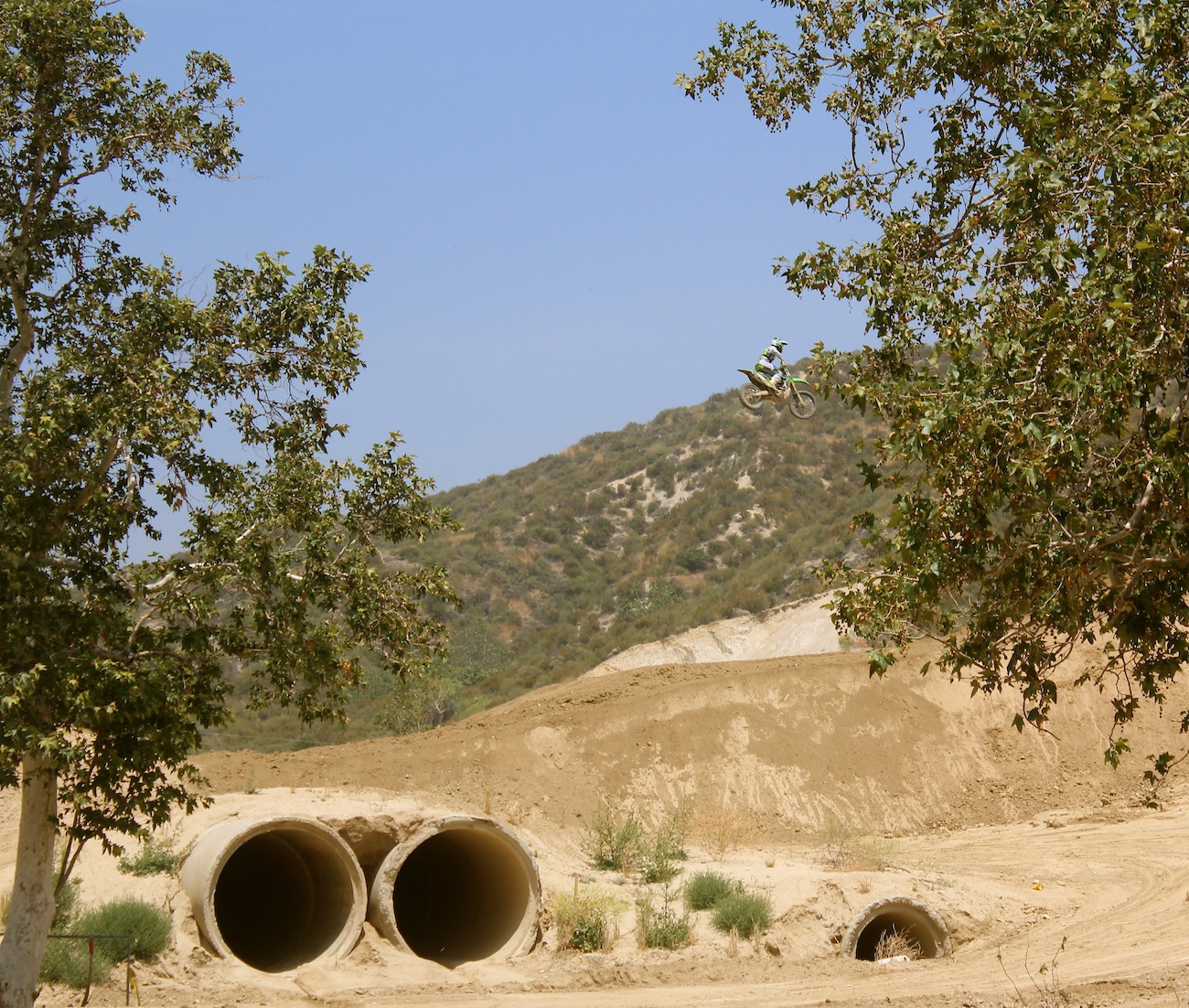 The first landing  is 50 feet, the second landing (up next to the bleachers is 110 feet) and the third landing is 140 feet (at the road crossing).

When Glen Helen started planning for the May 28, 2016 AMA 250/450 National, track designer Jody Weisel handed out a basic nondescript track map. When questioned about the details, he said there would be a meeting six weeks before the National. On thet appointed day, Jody revealed that the Triple-Step-Up was back. And now, Wednesday, May 11, the first test of the Triple Step-Up was held. As always, Jodh Grant was there, but so were Adam Cianciarulo, Austin Forkner and Arnaud Tonus. Cianciarulo was the first to pull the trigger on the Triple Step-Up (and its companion downhill jump.
The bleachers were moved closer together and MXA gave up its hospitality tent to make room for the Triple Step-Up landing on the left, while there is an equally big jump on the right which floats the riders back down to flat ground. Note the rider in the air on the right.
You probably didn't know that Glen Helen runs tests on its obstacles before committing to putting them in the track, but Jody and Carl don't want to leave anything to chance. On this day, the invited riders were free to provide any input they had and it was decided that the basic design of both jumps that go past the bleachers are in the ballpark design-wise. They would get refined, as much refinement as you can make with a Cat, and tested again. Then, they will be used in a mellower form in an amateur race—before being finalized for the May 28th National.
Austin Forkner lofts his KX250F over the blind precipice back down to level ground. This is what you call a "leap of faith."

There were not a lot of math equations needed to build the Triple Step-Up. Jody and Carl have built it so many times in the past that they know exactly what it takes to jump 140 feet. They look at it, talk about it, make some adjustments and then call Josh Grant to try it. Often Josh wants to it be bigger, longer and higher. He doesn't always get his wish—because there are normal humans to take into consideration.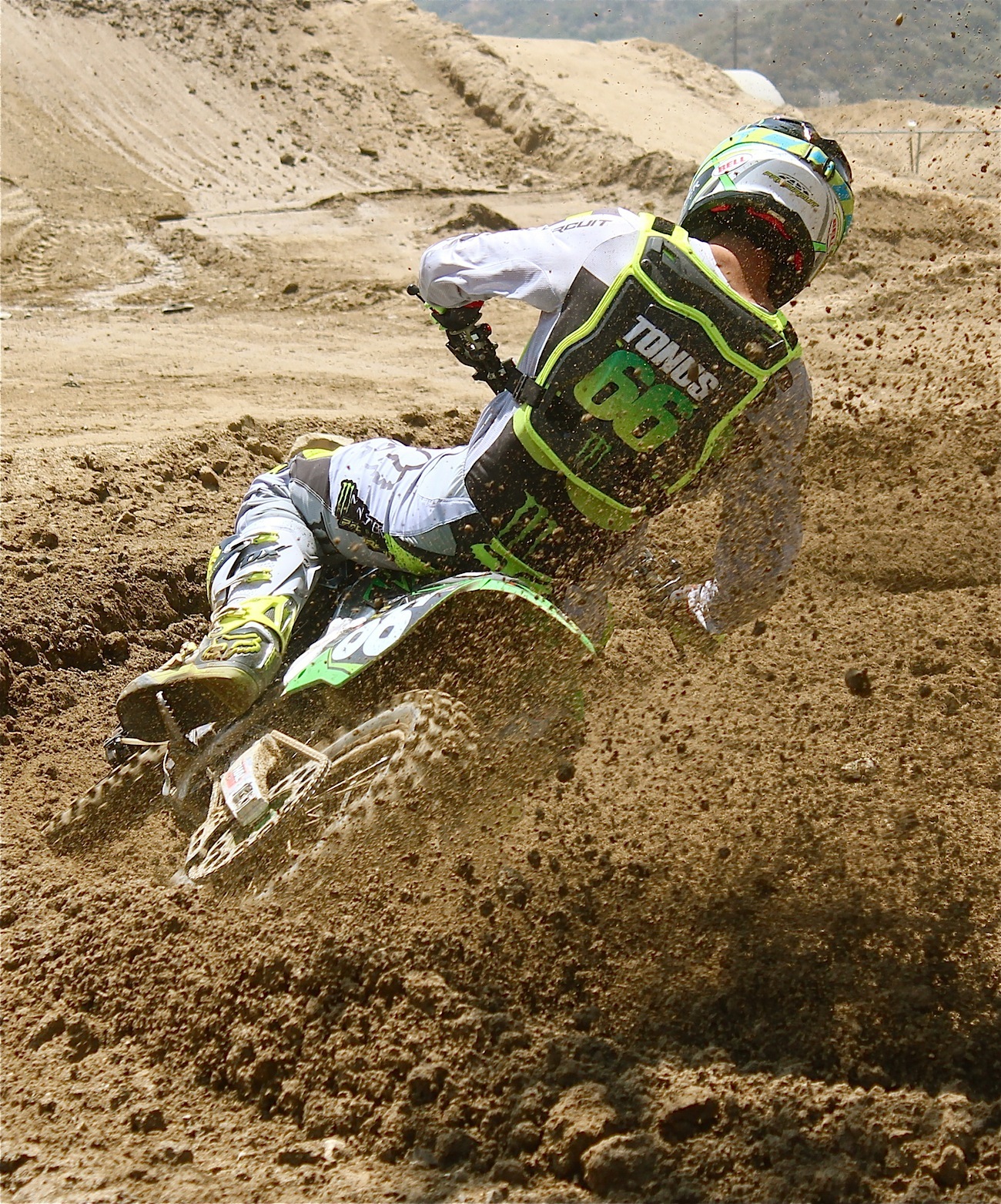 Arnaud Tonus (66) has been injured most of the last two years, but this year he will start the AMA 250 Nationals healthy for the first time.
The Triple Step-Up was last used in 2009, but that will all change on May 28, 2016. For more info about the Glen Helen National go to www.glenhelen.com
MXA PRODUCT SPOTLIGHT: PRO CIRCUIT KTM TRIPLE CLAMPS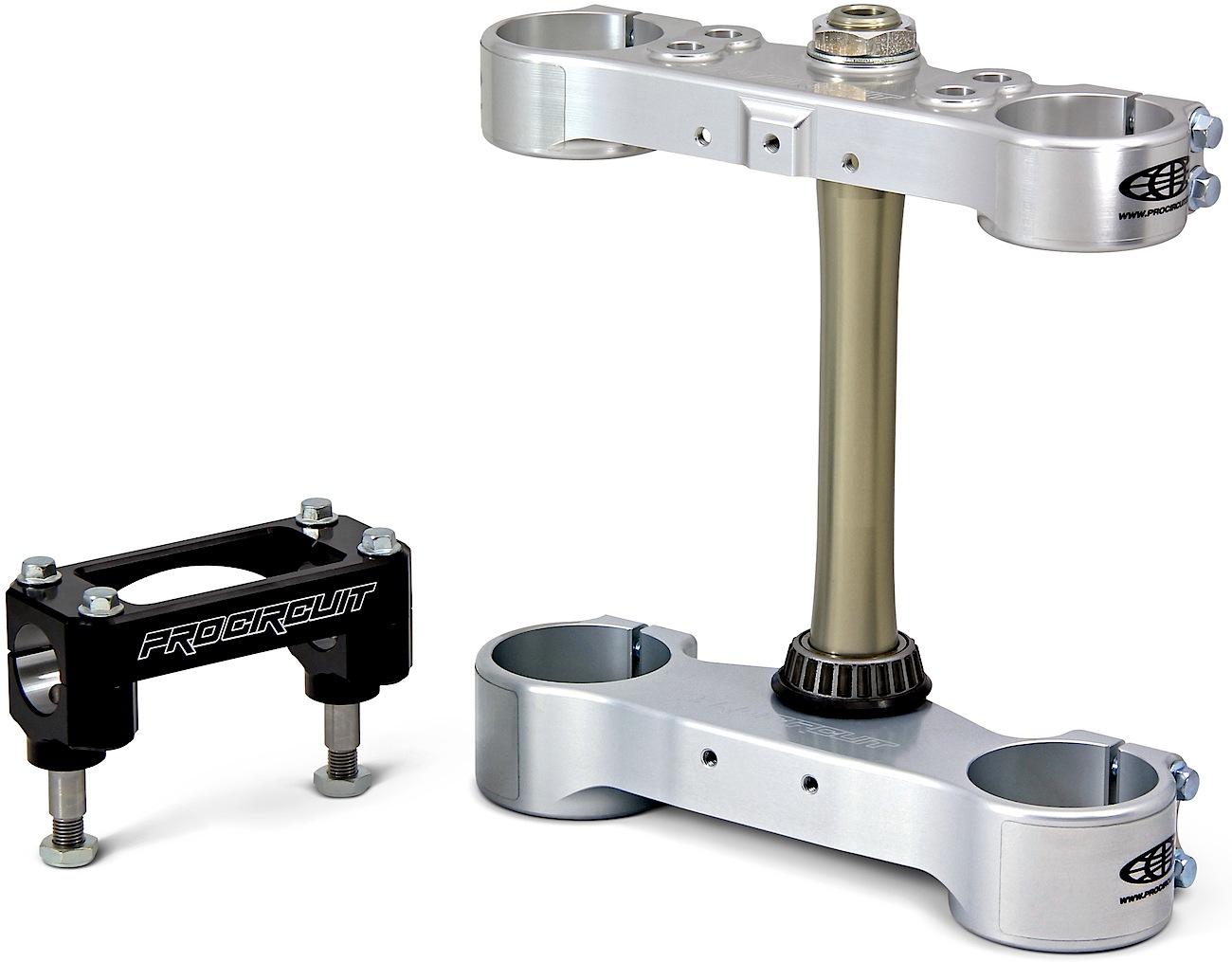 Manufactured in the USA from 6061 aircraft-quality billet, Pro Circuit's KTM triple clamps fit every model from 125 two-stroke to 450 four-stroke dating back to 2013. Pro Circuit Triple Clamps are clear anodized for a works look and a durable, protective finish. Reversible bar mounts let you choose from four different mounting positions allowing you to customize the ergonomics of your bike to fit your riding style. They are engraved with the iconic Pro Circuit logo on both the top and bottom clamp and the bottom clamp includes pre-assembled steering stem and bearing. The retail price is $699.95 at www.procircuit.com.
THIS WEEK'S BIRTHDAY BOYS: THE ORIGINAL BROC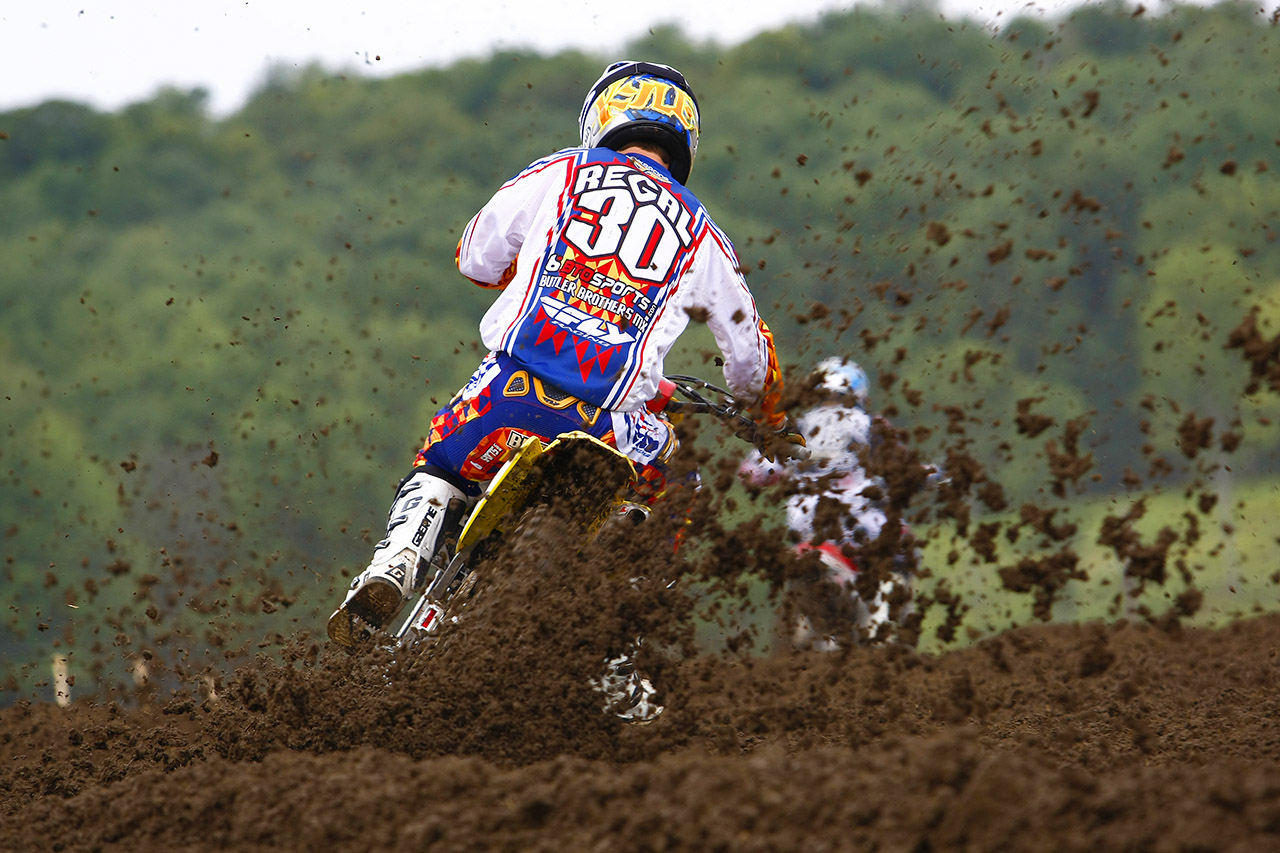 May 14…Kyle Regal 1991
May 15…Joe Oehlhof 1976
May 15…Jackson Esselman
May 15…Warren Johnson 1968
May 15…Kyle Loza 1986
May 15…Daniel McCoy 1984
May 16…Dustin Miller 1981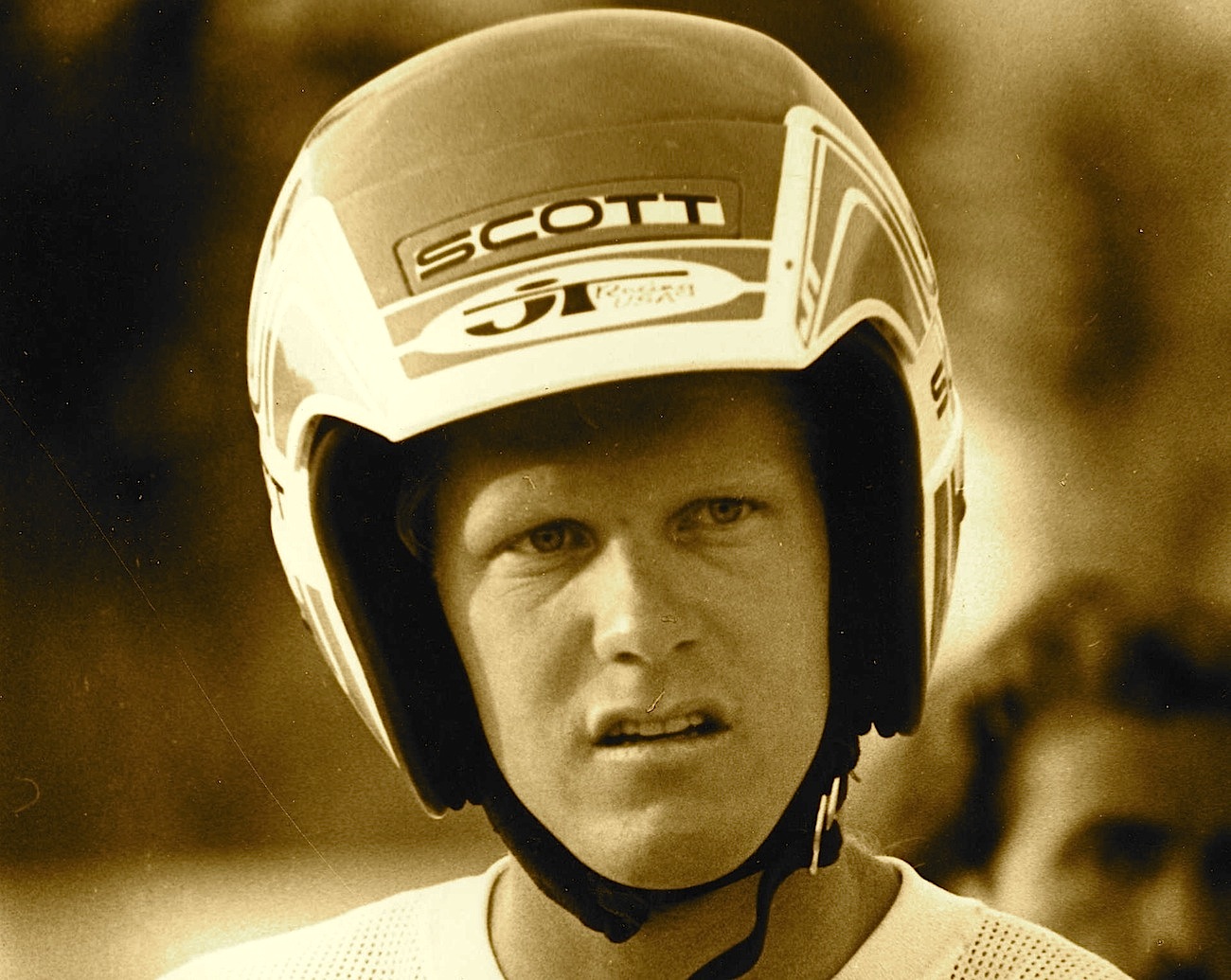 May 16…Broc Glover 1960 
May 16…Laurette Cushman
May 17…Rui Goncalves 1985
May 17…Darrin Sorenson
May 17…Ryan Abrigo
May 17…Paul Coates 1104
May 18…John Anderson 1963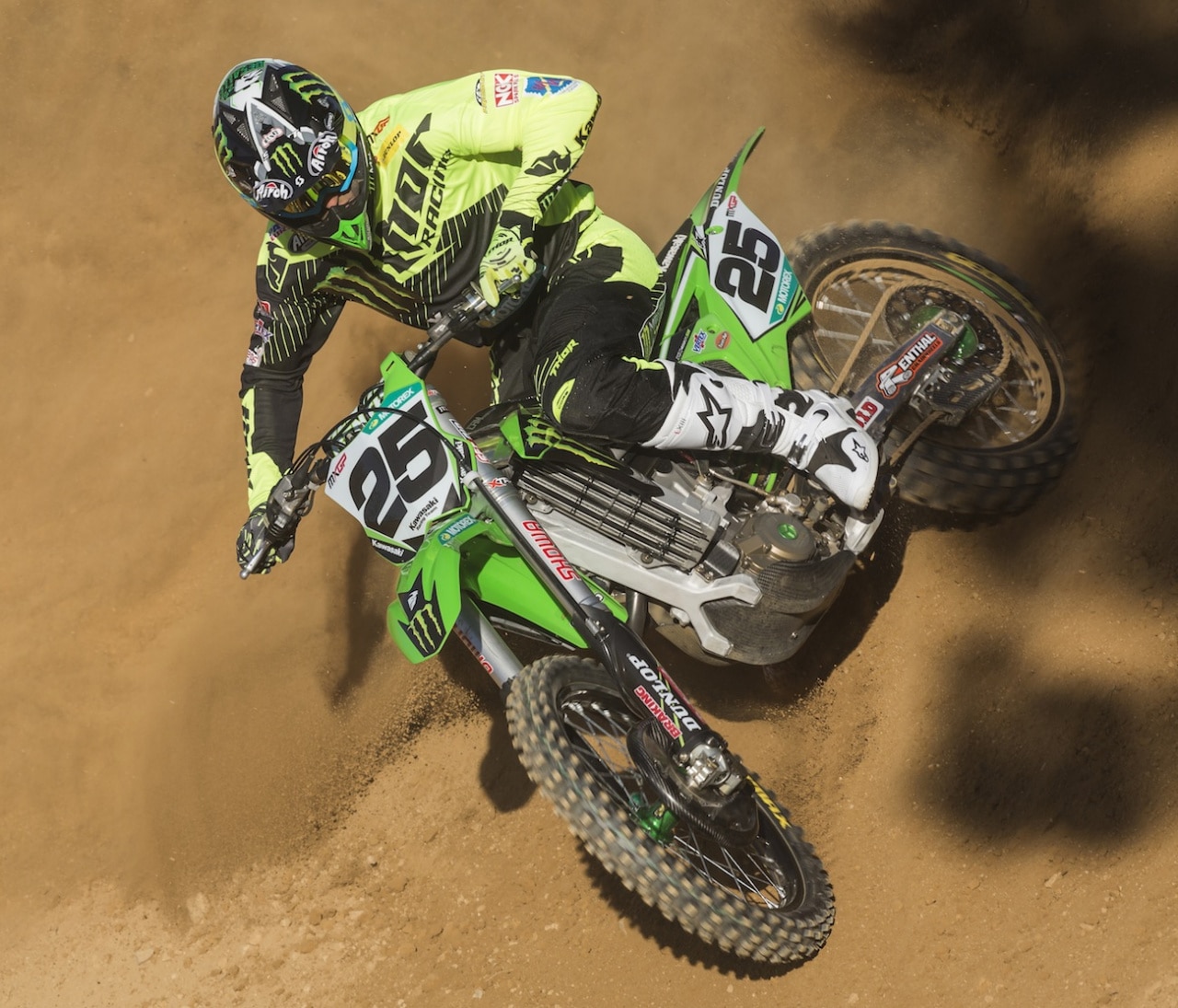 May 19…Clement Desalle 1989
May 19…Mike Alessi 1988
MOTORCYCLE AD OF THE WEEK: PRO CIRCUIT CIRCA 1985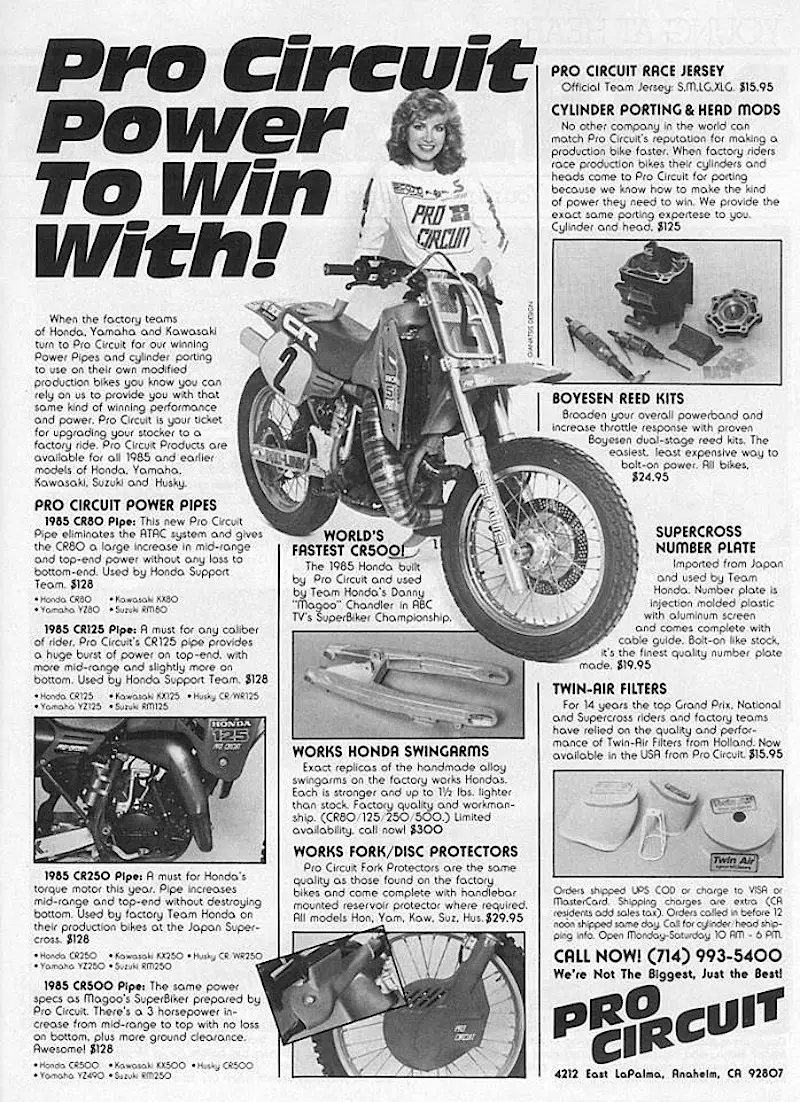 Featuring Danny Magoo Chandler's ABC-TV Superbiker's CR500?
WHICH WAY TO AIM THE VAN: RACES APLENTY!
2016 REM MOTOCROSS
May 21………………………..Glen Helen, CA
June 4………..……………….Glen Helen, CA
June 12………………………..Glen Helen, CA (Sunday)
2016 FIM MOTOCROSS WORLD CHAMPIONSHIP
May 15……………………..Pietramurata, Italy
May 29……………………..Talavera de la Reina, Spain
June 5………………………St Jean d'Angely, France

2016 AUSTRALIAN NATIONAL CHAMPIONSHIP
May 22……………………..Murray Bridge, SA
May 29………………………Wanneroo WA
2016 SPANISH NATIONAL CHAMPIONSHIP
May 22………………………Belpuig, Lieida
2016 AMA NATIONAL CHAMPIONSHIP
May 21………………………..Hangtown, CA
May 28.………………………Glen Helen, CA
June 4..………………..…….Thunder Valley, CO
2016 BRITISH MAXXIS NATIONAL CHAMPIONSHIP
May 22………………………Hawkstone Park
June 12……………………..Desmartin, No. Ireland
2016 AMA VINTAGE MOTORCYCLE DAYS
July 8-10…………………..Lexington, OH
2016 AMA NATIONAL AMATEUR CHAMPIONSHIP
Aug. 1-6……………………..Loretta Lynn, TN
UNITED STATES GRAND PRIX
Sept. 3……………………..…Charlotte, USA (Saturday)
Sept. 11……………….…..….Glen Helen, USA
2016 MOTOCROSS DES NATIONS
Sept. 25…………………….Maggiora, Italy
2016 DUBYA WORLD VET CHAMPIONSHIP
Nov. 5-6…………………….Glen Helen, CA
MEMORIES OF THE WAY WE WERE: IT DOESN'T LOOK LIKE A 2007 RM-Z450

This is the 1967 Suzuki RH67 works bike. You gotta love the Greeves-style rear fender number plates, rubber strap on the gas cap, bent metal rod for a brake pedal and massive front drum brake. You've come a long way baby.
CURRENT FIM GRAND PRIX POINTS AFTER TEUTSCHENTHAL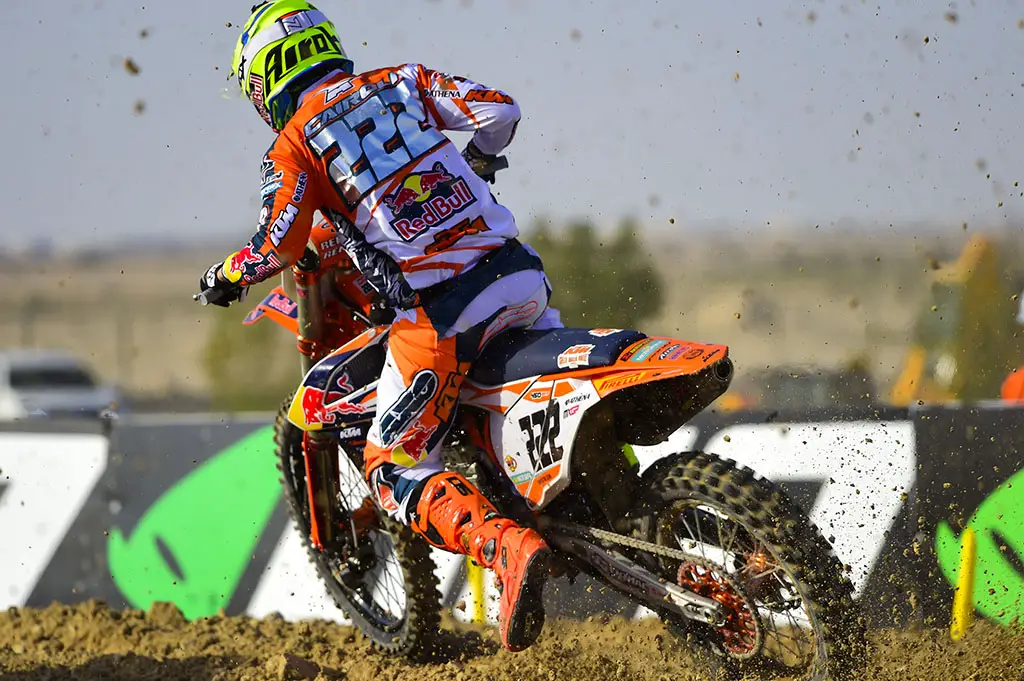 Tony Cairoli won his first race of 2016 in Germany last weekend, but he's 36 points behind Tim Gajser.

450 WORLD CHAMPIONSHIP POINTS
(After 7 of 17 events)
1. Tim Gajser…299
2. Romain Febvre…291
3. Antonio Cairoli…263
4. Max Nagl…238
5. Evgeny Bobryshev…232
6. Jeremy Van Horebeek…215
7. Kevin Strijbos…189
8. Shaun Simpson…168
9. Valentin Guillod…139
10. Glenn Coldenhoff…136
Max Anstie has all the potential in the world, but none of the luck. Max is 7th in 250 GP points.

250 WORLD CHAMPIONSHIP POINTS
(After 7 of 17 events)
1. Jeffrey Herlings…350
2. Jeremy Seewer…270
3. Pauls Jonass…218
4. Aleksandr Tonkov…186
5. Benoit Paturel…186
6. Petar Petrov…183
7. Max Anstie…182
8. Vsevolod Brylyakov…157
9. Samuele Bernardini…149
10. Brent Van Doninck…129
2016 GRAND PRIX WINNERS AT A GLANCE
Max Nagl is still looking for his first win in 2016. It didn't come in Germany.

Date           Venue                                450                                250
Feb. 27…. Qatar…………………..Tim Gajser………….Jeffrey Herlings
Mar. 6…..Thailand……………….Romain Febvre…….Jeffrey Herlings
Mar. 28…Holland………………..Romain Febvre…….Jeffrey Herlings
April 10….Argentina…………….Tim Gajser…………..Jeffrey Herlings
April 17….Mexico………………..Tim Gajser…………..Jeffrey Herlings
May 1…… Latvia………………….Tim Gajser…………..Jeffrey Herlings
May 8……Germany……………..Tony Cairoli………….Jeffrey Herlings
May 15….Italy………………
May 29….Spain………………
June 5……France………………
June 19….Great Britain………………
June 26….Italy………………
July 24…..Czech Republic………………
July 31…..Belgium………………
Aug. 7……Switzerland………………
Aug. 28….Holland………………
Sept. 3…..Charlotte, USA………………
Sept.11…..Glen Helen, USA………………
450 Points leader…Tim Gajser (Hon)
250 West points leader…Jeffrey Herlings (KTM)
FINAL 2016 AMA SUPERCROSS STANDINGS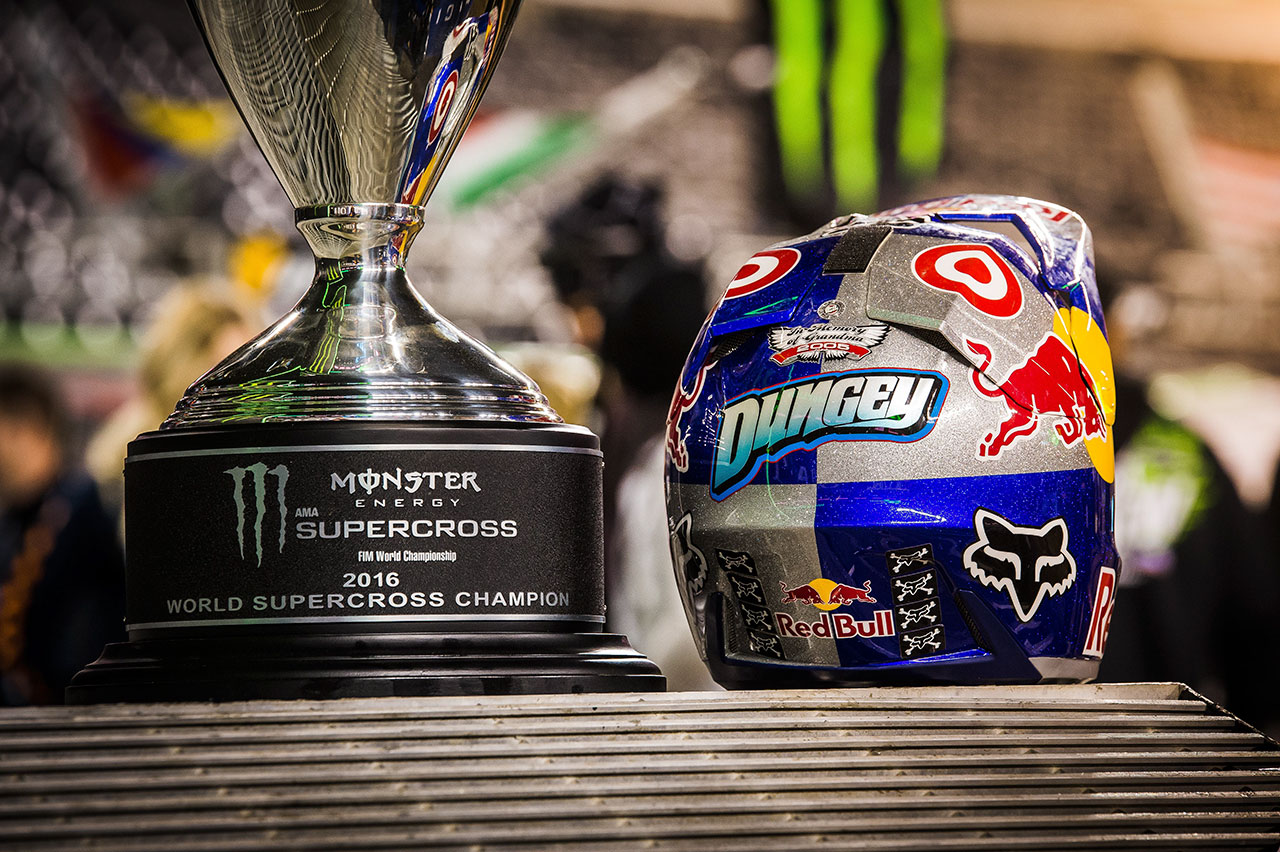 450 POINTS STANDINGS
(after 17 of 17 races)
1. Ryan Dungey (KTM)…391
2. Ken Roczen (Suz)…331
3. Jason Anderson (Hus)…315
4. Eli Tomac (Kaw)…290
5. Chad Reed (Yam)…250
6. Cole Seely (Hon)…219
7. Marvin Musquin (KTM)…214
8. Justin Brayton (KTM)…200
9. Trey Canard (Hon)…196
10. Jake Weimer (Suz)…128
11. Justin Bogle (Hon)…127
12. Mike Alessi (Hon)…126
13. Weston Peick (Yam)…125
14. Davi Millsaps (KTM)…106
15. Christophe Pourcel (Hus)…94
16. Vince Friese (Hon)…92
17. Blake Baggett (Suz)…87
18. Josh Grant (Kaw)…79
19. Broc Tickle (Suz)…61
20. Justin Barcia (Yam)…56
Malcolm Stewart got the 250 East crown by 16 points over Aaron Plessinger. Photo: Brian Converse

250 EAST POINTS STANDINGS
(After 9 of 9 races)
1. Malcolm Stewart (Hon)…180
2. Aaron Plessinger (Yam)…164
3. Jeremy Martin (Yam)…147
4. Martin Davalos (Hus)…141
5. Tyler Bowers (Kaw)…122
6. Gannon Audette (Kaw)…121
7. Shane McElrath (KTM)…113
8. R.J. Hampshire (Hon)…104
9. Anthony Rodriguez (Kaw)…78
10. Matt Bisceglia (Suz)…68
11. Justin Hill (KTM)…63
12. Cedric Soubeyras (Kaw)…59
13. Paul Coates (Hon)…58
14. Alexander Frye (KTM)…58
15. Dakota Alix (KTM)…50
16. Luke Renzland (Yam)…48
17. Justin Starling (Kaw)…48
18. Benny Bloss (Yam)…46
19. Jesse Wentland (Hon)…41
20. Jimmy Albertson (Suz)…31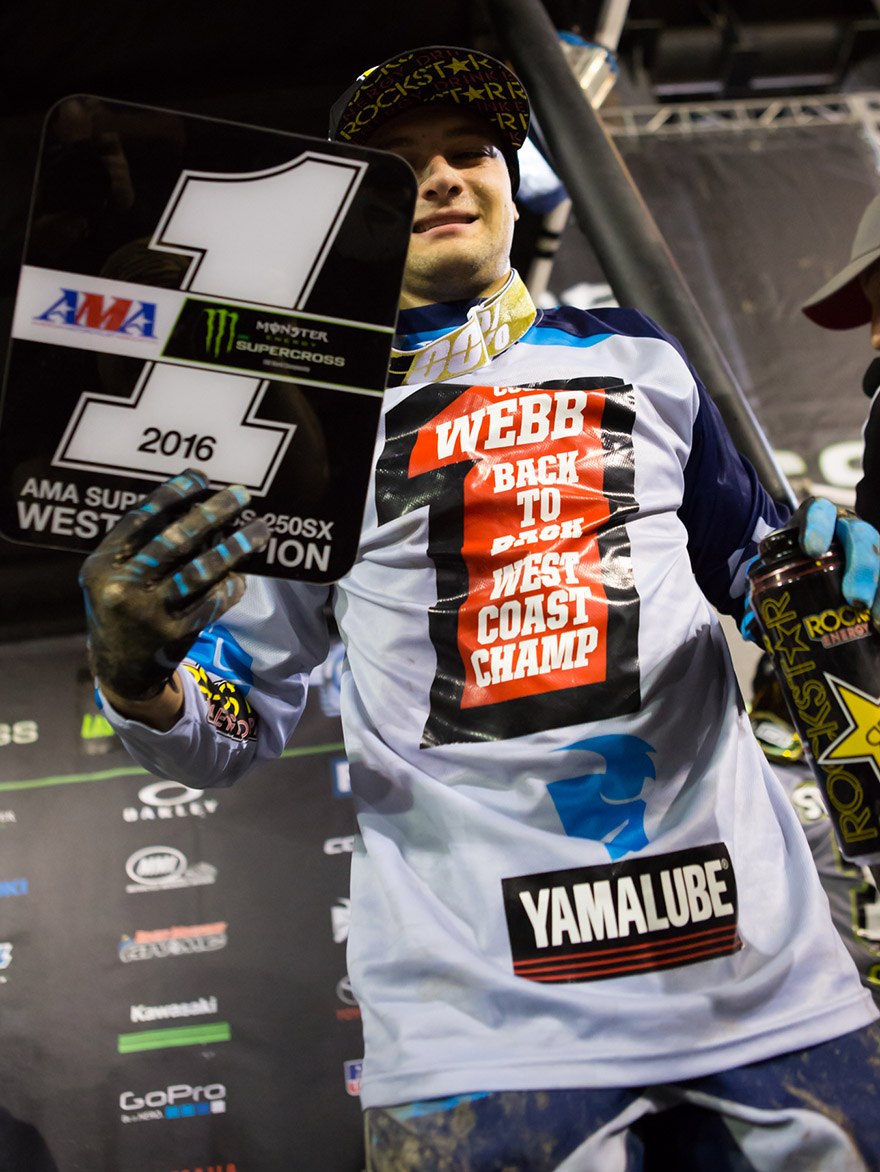 Cooper Webb lost 15 of his 16 point lead in Las Vegas, but managed to squeak out the 250 West title.
250 WEST POINTS STANDINGS
(After 9 of 9 races)
1. Cooper Webb (Yam)…180
2. Joey Savatgy (Kaw)…179
3. Christian Craig (Hon)…160
4. Zach Osborne (Hus)…154
5. Colt Nichols (Yam)…147
6. Mitchell Oldenburg (KTM)…122
7. James Decotis (Hon)…111
8. Kyle Peters (Hon)…100
9. Kyle Cunningham (Suz)…78
10. Jordon Smith (Hon)…78
11. Alex Martin (Yam)…78
12. Chris Alldredge (Kaw)…66
13. Michael Leib (Yam)…64
14. Cole Martinez (Yam)…53
15. Cole Thompson (KTM)…47
16. Hayden Mellross (Yam)…45
17. Scott Champion (Yam)…38
18. Fredrik Noren (Hon)…30
19. Mitchell Harrison (Yam)…25
20. Jessy Nelson (KTM)…22
2016 SUPERCROSS WINNERS AT A GLANCE
Joes Savatgy never gave up. He was the mud meister in Vegas and came within a hair of having a fairy tale ending to his 250 West season.

Date           Venue                                450                                250
Jan. 9…….Anaheim……………….Jason Anderson….Cooper Webb
Jan. 16……San Diego……………..Ryan Dungey………Cooper Webb
Jan. 23……Anaheim II……………Ryan Dungey………Cooper Webb
Jan. 30……Oakland……………….Ryan Dungey………Joey Savatgy
Feb. 6…….Phoenix…………………Ken Roczen………..Christian Craig
Feb. 13……San Diego II…………..Ryan Dungey………Joey Savatgy
Feb. 20……Dallas…………………..Ken Roczen………..Cooper Webb
Feb. 27……Atlanta………………….Ryan Dungey………Martin Davalos
March 5……Daytona……………….Eli Tomac…………..Jeremy Martin
March 12…Toronto…………………Ken Roczen………..Justin Hill
March 19…Detroit………………….Jason Anderson…..Malcolm Stewart
April 2……..Santa Clara…………..Ryan Dungey……….Cooper Webb
April 9……..Indianapolis…………Ryan Dungey……….Aaron Plessinger
April 16……St. Louis……………….Ryan Dungey……….Jeremy Martin
April 23……Boston…………………Ken Roczen………….Martin Davalos
April 30……New York……………..Ken Roczen…………Malcolm Stewart
May 7……..Las Vegas……………….Ryan Dungey……..Joey Savatgy
450 Champion…Ryan Dungey (KTM)
250 West Champion...Cooper Webb (Yam)
250 East Champion…Malcolm Stewart (Hon)
SUBSCRIBE TO MXA & DIRT BIKE FOR ONE LOW PRICE
And get two $25 Rocky Mountain gift cards as a bonus. That's $50 off your next parts bill for a $32 investment. For more info go to www.hi-torque.com/mxcombo
FACES TO GO WITH THE NAMES

All-around good guy and wonderful person Giuseppe Luongo.
Spanish motocross legend and funk music magnate Xavi Costa.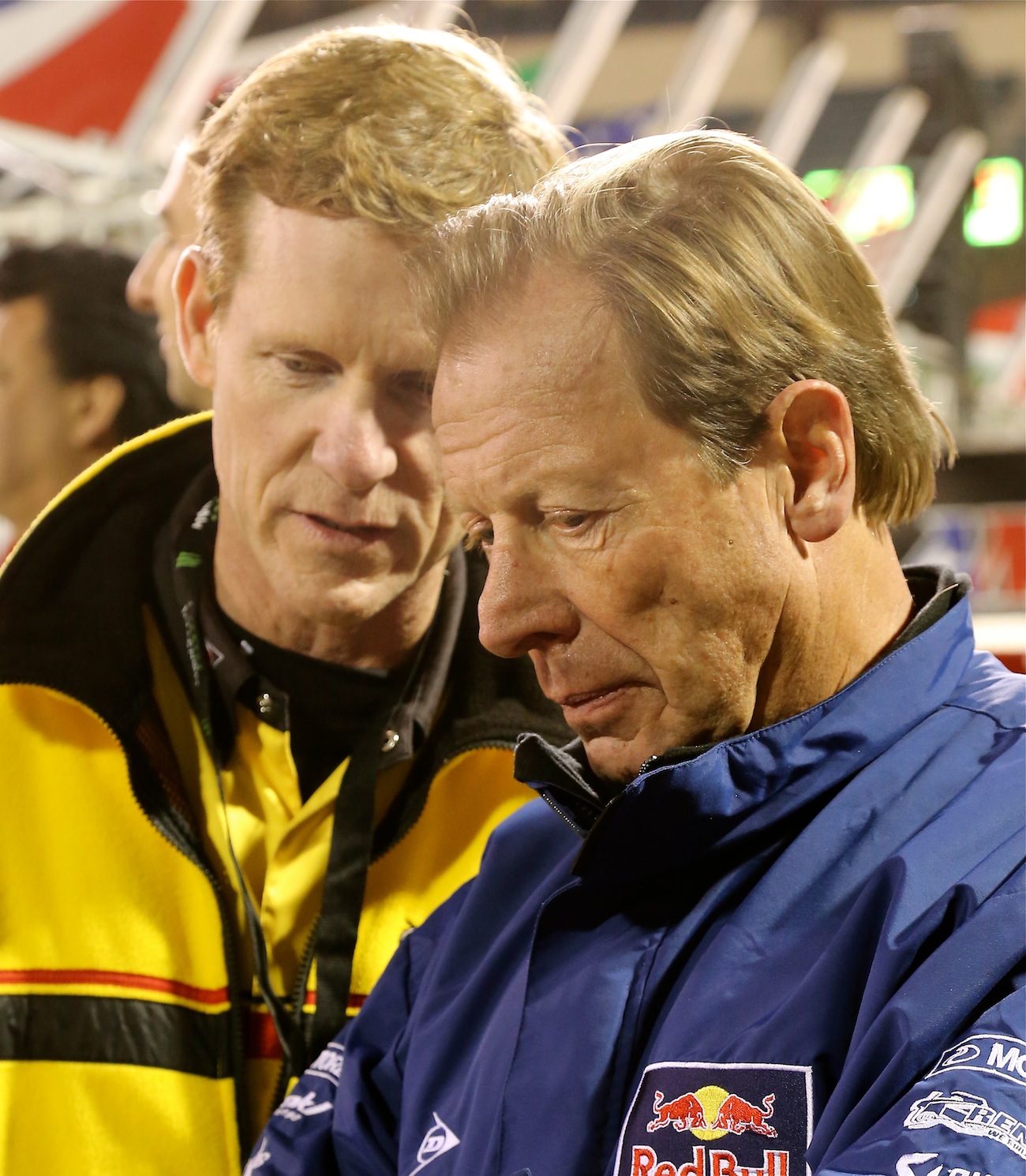 Dunlop's Broc Glover and KTM's Roger DeCoster.
Works Connection's Eric Phipps

Former Factory rider and current trainer Ryan Hughes.
JGR's Jeremy Albrecht.
MXA GEAR GUIDE: 2016 KTM 125SX
MXA's "Gear Guide" is designed to show you what 2016 gear the MXA wrecking crew wears for our bike tests. This is what we wore on the 2016 KTM 125SX test. If you like what you see, be sure to click on the contact links for more information. Click on images to enlarge.
PANT: O'Neal Racing Hardwear Flow black/white
JERSEY: O'Neal Racing Hardwear Flow black/red
GLOVES: O'Neal Racing Jump Hardwear Race black/white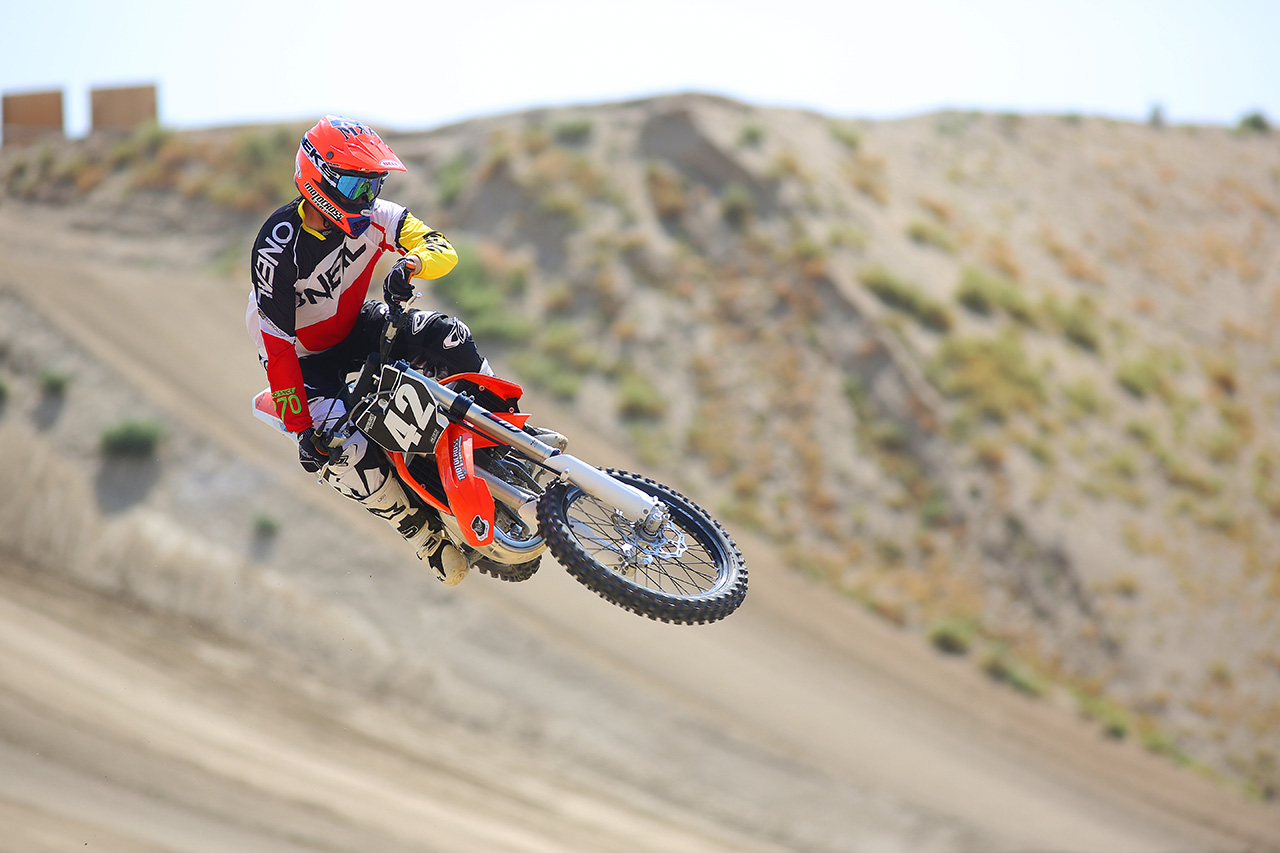 HELMET: Bell Moto-9 (custom painted
GOGGLES: Eks Brand LTD Cyan
BOOTS: Alpinestars Tech 10 white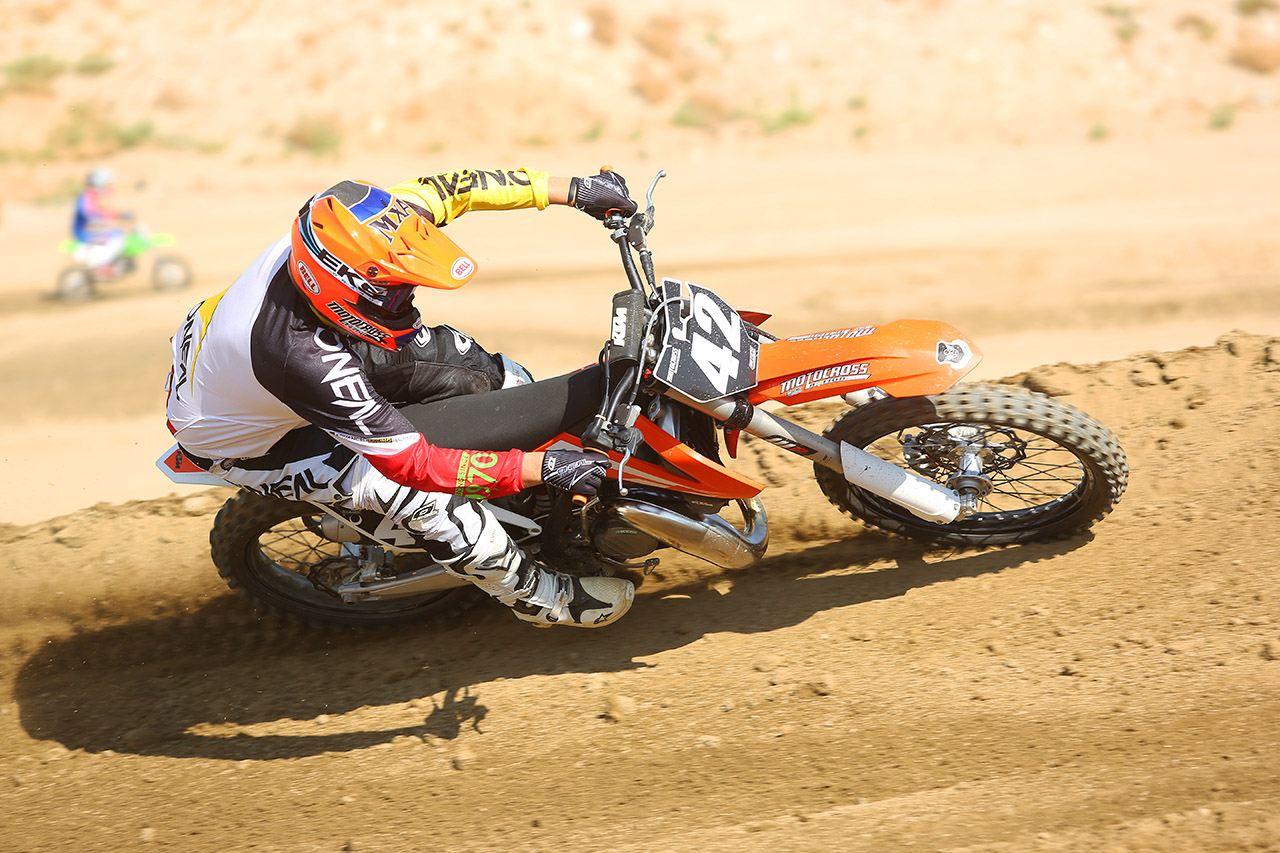 SUPPLIER CONTACTS:
O'Neal Racing: www.oneal.com
EKS Brand: www.eksbrand.com or (818) 706-1700
Bell Helmets: www.bellhelmets.com or (800) 216-9446
Alpinestars: www.alpinestars.com or (800) 409-0903
MXA MOTO-CHALLENGE: IS THIS TOO EASY?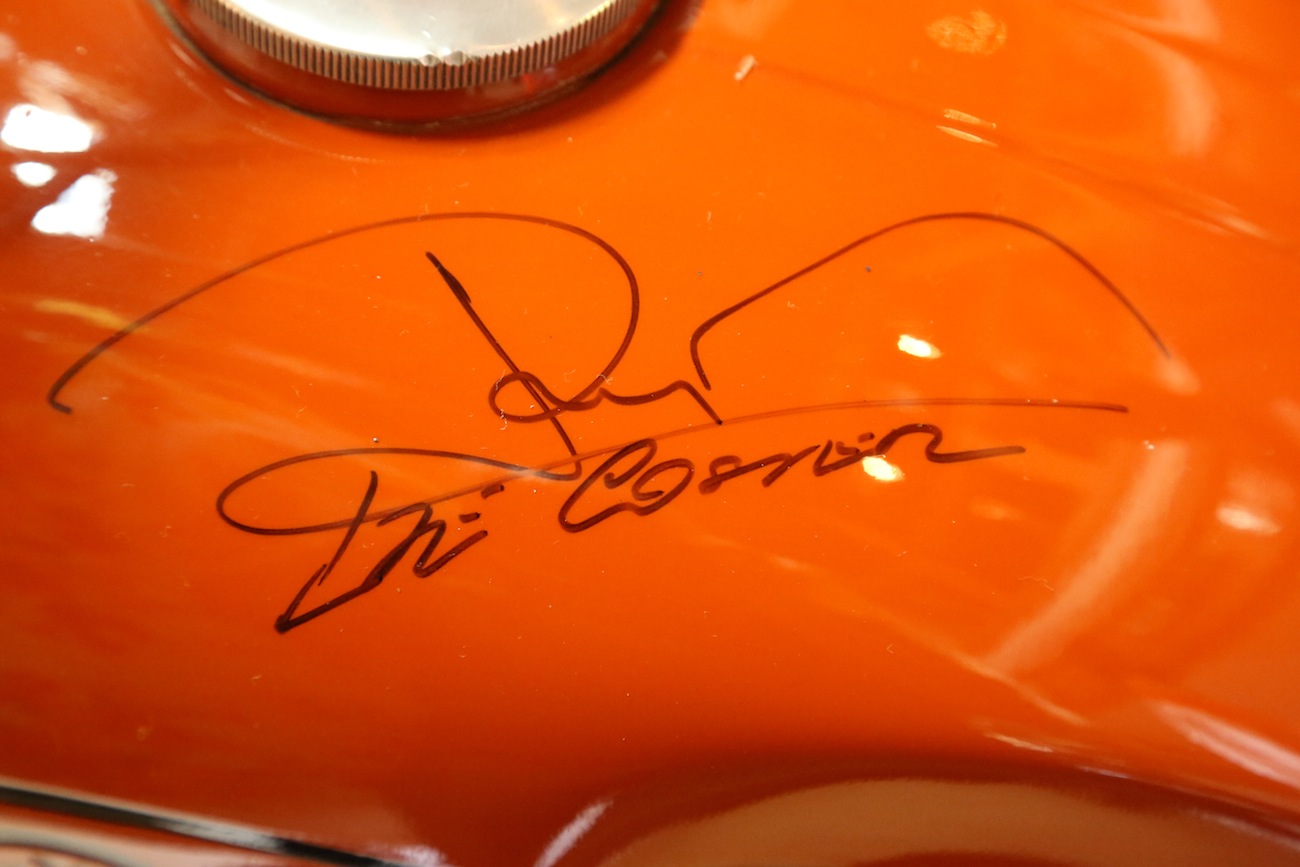 We don';t think anyone will have trouble deciphering this rider's signature, but what brand of bike did he write it on?  The answer is at the bottom of the page.
REM NATIONAL TUNE-UP RACE: 7 DAYS BEFORE THE GLEN HELEN NATIONAL
For more info go to www.remsatmx.com
GLEN HELEN NATIONAL PRE-RACE PARTY ON FRIDAY, MAY 27

For more info go to www.glenhelen.com
3RD ANNUAL KURT CASELLI FOUNDATION EVENT AT DOFFO WINERY
For more info on the June 11 event go to www.doffowines.com/caselli-16
UNITED STATES GRAND PRIX AT GLEN HELEN ON SEPT. 11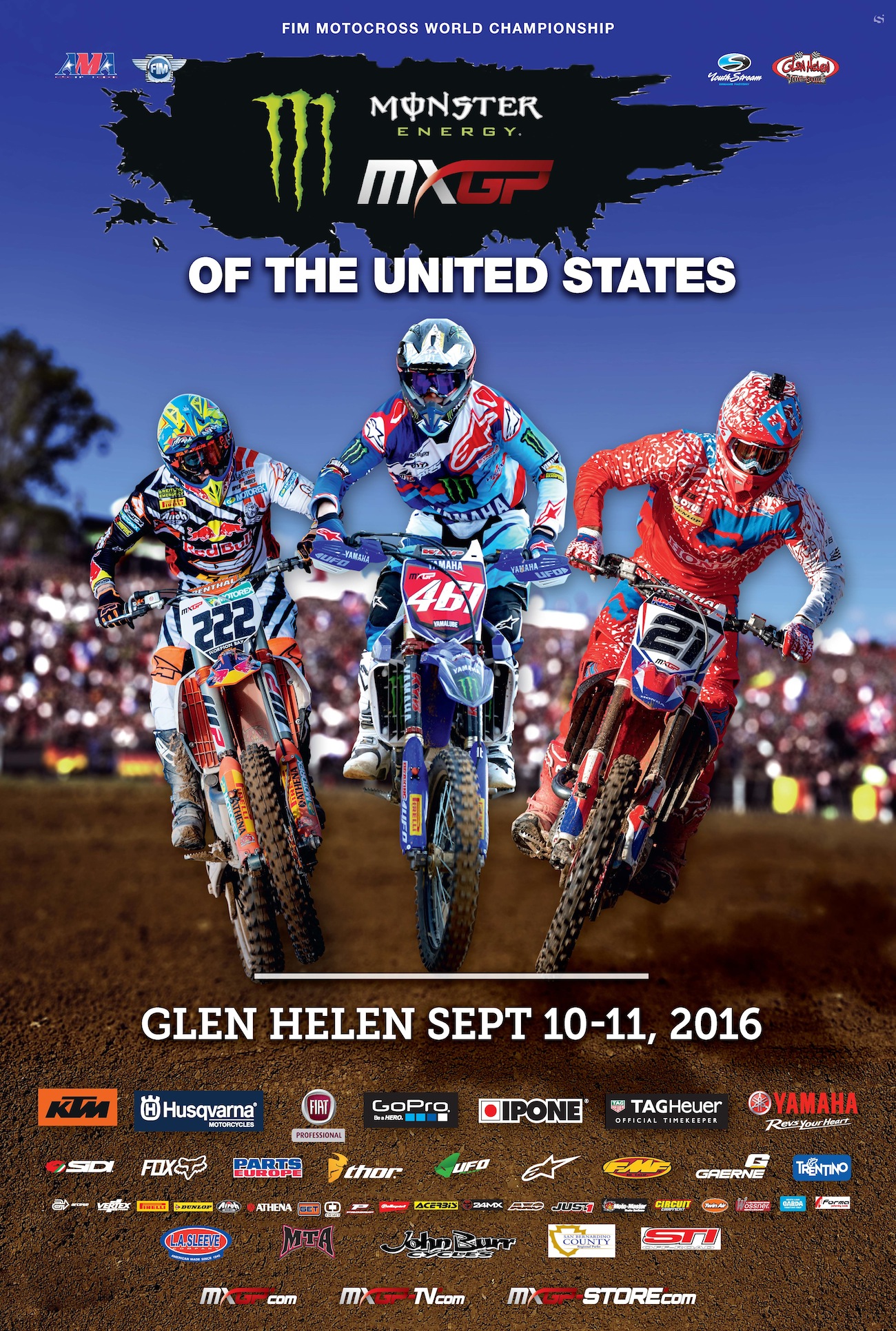 For more info go to www.glenhelen.com
2016 GLEN HELEN NATIONAL: OPEN PRACTICE, AMATEUR RACE & MORE
The May 28th AMA 250/450 Nationals at Glen Helen will actually start on Wednesday, May 25, when RV will be allowed into their camping spots starting at 2:00 p.m. Thursday will be the open for practice for the next day's AMA Amateur Motocross. Friday will be reserved for the amateur races and Saturday will be the AMA National. You can get all the information you need at www.glenhelen.com.
 HOW TO SUBSCRIBE TO MXA AND MAKE MONEY
You probably haven't seen the May 2016 issue of MXA yet, but if you subscribed it would be in the trusty hands of a uniformed agent of the U.S. Government on its way to your mailbox right now. Or, you can wait for the product reviews, 44-horsepower CRF250 test and KTM 125SX versus Yamaha YZ125 shootout to appear on the internet…in a couple months. Your choice.

Do you subscribe to MXA? You should. We know that you think that print magazines are dead and that the internet will fill the void, but most of the stuff in the current issue of MXA won't appear on the web for several months, if at all. Luckily, you can get all of MXA on your iPhone, iPad, Kindle or Android by going to the Apple Store, Amazon or Google Play. Better yet get the Digital desktop version at https://hi-torque.com/product/motocross-action-digital-edition/ for $9.99 a year. The MXA test riders prefer the print version and not just because it is delivered by a uniformed employee of the U.S. Government, but because for only $19.99 you get 12 issues and a free $25 Gift Card from Rocky Mountain ATV/MC. That means that there is a profit to be made in this deal for you. For the Print magazine go to: http://hi-torque.com/product/subscribe-to-motocross-action-magazine/

MOTO-CHALLENGE ANSWER 
Roger DeCoster on a Czechoslovakian-built CZ.
Photos: Jody Weisel, Honda, Scott Mallonee, Brian Converse, Kyoshi Becker, Debbi Tamietti, Dan Alamangos, John Basher, Yamaha, James Bremmer, KTM, Massimo Zanzani, MXA