WEEKEND NEWS ROUND-UP: ALL TRUTH, NO LIES

WHERE SKIPPY PLANS TO BE THIS SUMMER: IT WON'T BE AT A NATIONAL
Chad Reed's summer plans include racing at the British GP at Matterley Basin (June 19), the Italian GP at Mantova (June 26), the Charlotte Motor Speedway USGP (September 3), the Glen Helen USGP (September 11) and the Sydney Supercross (November 12-13).
WHERE & WHEN TO WATCH THE AMA 250/450 NATIONALS ON TV
MAV-TV: MAV will show the first motos of both the 450 and 250 classes. These shows will be live over a two-hour block of time.
NBC SPORTS NETWORK: NBCSN will carry coverage of the second motos of the 250 and 450 classes. Most of the races will be live, with the exception of Hangtown, Millville, Unadilla, Budds Creek and Crawfordsville (which will be shown on a delay). NBCSN will also show a mid-season highlight show and separate 250 and 450 wrap-up post-season shows.
NATIONAL BROADCASTING CORPORATION (NBC): NBC will show the second motos of Mt, Morris, Muddy Creek and Soutwick live.
THREE 2017 450 MOTOCROSSERS: KTM, HUSKY & KAWASAKI
2017 KTM 450SXF: Totally new in 2016, the big Katoom gets a 3.1 pound weights savings, making the already light 450SXF, as light as many 250Fs. It will also feature WP AER air forks, traction control and improved bar mounts.
2017 Kawasaki KX450F: For 2017 Kawasaki focused their R&D dollars on bringing the KX250F up to the standards set by the 2016 Kawasaki KX450F. That doens't mean that Kawasaki didn't make improves to the2017 KX450F—just that they are refinements instead of major updates.
2017 Husqvarana FC450: New for 2017 are the AER air forks, lighter overall weight, Dunlop MX3S tireds (last year it had MX52 rubber), aluminum head stays, Magura hydraulic clutch and launch control/traction control/multiple maps.
JOSH OSBY: BEFORE THE GATE DROPS
GOOD ON YOU: DANNY GLOVER TO RACE IN OZ
THE GLOVER FILES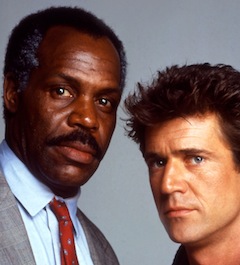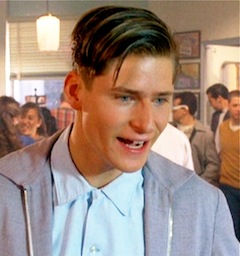 Danny Glover.                                              Crispin Glover.                                      Broc Glover.
THIS IS A LITTLE MISLEADING
This is a European Facebook page showing how deeps the ruts were at the Teutschenthal MXGP race. The problem? The top photo is from a sand track, definitely not the Toot, and the bottom right photo is Dan Alamangos checking out a rut at Glen Helen's REM races.

PRODUCT SPOTLIGHT: MATRIX CONCEPTS M3 UTILITY CANS
Updates include all new durable team graphics designs, increased wall thickness in all four-bottom corners, and reinforced bottom seams. Additional updates include reengineered top plastic fill caps and new hose kits for increase life and durability.
Add the above new improvements to the great features below:
– Easy to handle 4.2 gallons capacity.
– Angled side dispensing spout for accurate filling.
– Large opening for easy fill.
– 2 handle design for easy of use.
– Team graphics and custom logo options.
– New no leak caps.
– Hose spout Kit stainless steel hose clamps and cap tether.
Order yours at www.matrixracingproducts.com
Combine these features with endorsements from the top teams in racing like Robby Bells Precision Concepts, Randy Hawkins AmPro Yamaha, HRC MXGP, KRT MXGP, Gariboldi Racing MXGP, JGR, BTO KTM, RCH, Factory Suzuki, Geico Honda, MCSS SUZUKI, Star Racing, Factory Yamaha, Tedder Racing, Josh Hansen 100 Racing and legends Twitch, Jeremy McGrath, and Ryan Villopoto.
THIS WEEK'S BIRTHDAY BOYS: CLEMENT IS 27

May 19…Clement Desalle 1989
May 19…Mike Alessi 1988
May 20…Joel Roelants 1989
May 22…Matt Lemoine 1989
May 22…Sergio Avanto 1971
May 24…Steve Hatch 1969
May 24…Darryn Durham 1989
May 25…Chad Pederson 1971
May 26…Ryan Holliday
MOTORCYCLE AD OF THE WEEK: STEEN BY ALSPORT

Back in the 1970s kids would beg, plead and cajole their dads to buy them a Steen X-100. It made 10 horsepower, had leading link forks and was powered by a Hodaka engine. It even came in an 80cc version with a Fuji engine.

WHERE THE BOYS ARE: THE MOTOCROSS SEQUEL

2016 AMA NATIONAL CHAMPIONSHIP
May 21………………………Hangtown, CA
May 28.……………………..Glen Helen, CA
June 4..……………………..Thunder Valley, CO
June 18..……………………Mt Morris, PA
2016 REM MOTOCROSS
May 21………………………..Glen Helen, CA
June 4………..……………….Glen Helen, CA
June 12………………………..Glen Helen, CA (Sunday)
2016 FIM MOTOCROSS WORLD CHAMPIONSHIP
May 29……………………..Talavera de la Reina, Spain
June 5………………………St Jean d'Angely, France

2016 AUSTRALIAN NATIONAL CHAMPIONSHIP
May 22……………………..Murray Bridge, SA
May 29………………………Wanneroo WA
2016 SPANISH NATIONAL CHAMPIONSHIP
May 22………………………Belpuig, Lieida
2016 AMA NATIONAL CHAMPIONSHIP
May 21………………………..Hangtown, CA
May 28.………………………Glen Helen, CA
June 4..………………..…….Thunder Valley, CO
2016 BRITISH MAXXIS NATIONAL CHAMPIONSHIP
May 22………………………Hawkstone Park
June 12……………………..Desmartin, No. Ireland
2016 AMA VINTAGE MOTORCYCLE DAYS
July 8-10…………………..Lexington, OH
2016 AMA NATIONAL AMATEUR CHAMPIONSHIP
Aug. 1-6……………………..Loretta Lynn, TN
UNITED STATES GRAND PRIX
Sept. 3……………………..…Charlotte, USA (Saturday)
Sept. 11……………….…..….Glen Helen, USA
2016 MOTOCROSS DES NATIONS
Sept. 25…………………….Maggiora, Italy
2016 DUBYA WORLD VET CHAMPIONSHIP
Nov. 5-6…………………….Glen Helen, CA
MEMORIES OF THE WAY WE WERE: IF YOU ARE 60, YOU AREN'T OLD ENOUGH

This is a 1955 Yamaha YA1. It is pretty classic looking for a Japanese bike from 61 years ago. Note the plunger rear suspension and sweet fork boots.
MXA PRODUCT SPOTLIGHT: FLY BOOT WASH STAND

The Fly Boot Wash Stand is designed for easy motocross boot washing. It holds your boots upside down to keep water from entering them, makes a handy drying rack and folds away for compact storage. The metal frame is made from powder-coated steel. The retail price is $24.95. More info go to www.flyracing.com.
2016 CZ WORLD CHAMPIONSHIPS: E-STREET MX
CURRENT FIM GRAND PRIX POINTS AFTER ARCO DI TRENTO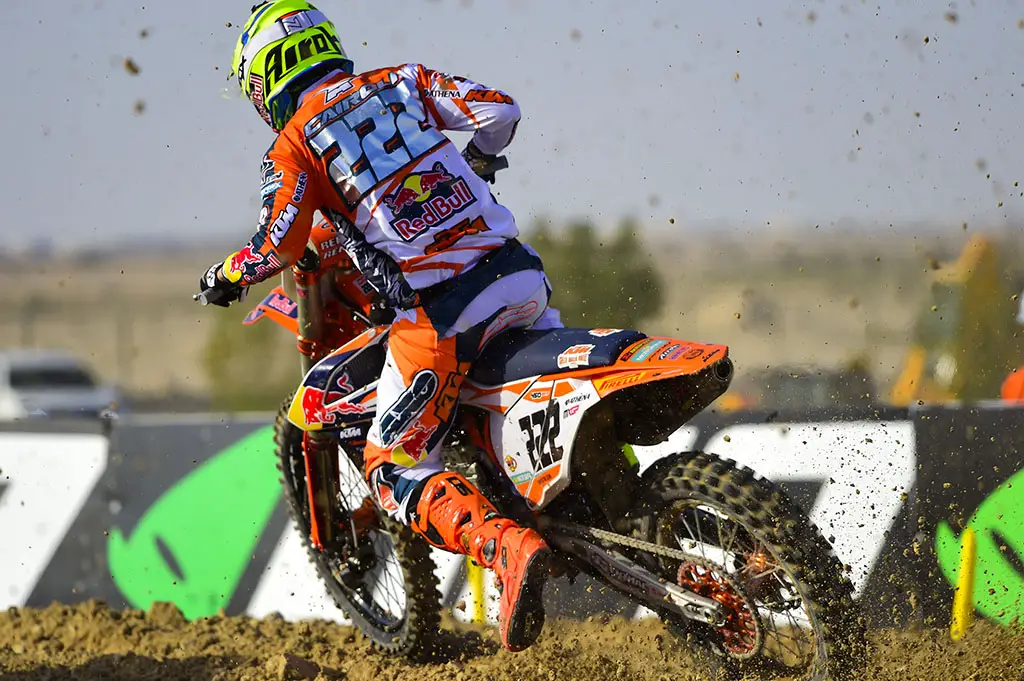 Tony Cairoli won his second GP in a row in Italy and is 25 points behind Tim Gajser.

450 WORLD CHAMPIONSHIP POINTS
(After 8 of 17 events)
1. Tim Gajser…335
2. Romain Febvre…331
3. Antonio Cairoli…310
4. Max Nagl…273
5. Evgeny Bobryshev…264
6. Jeremy Van Horebeek…247
7. Kevin Strijbos…204
8. Shaun Simpson…189
9. Valentin Guillod…153
10. Glenn Coldenhoff…146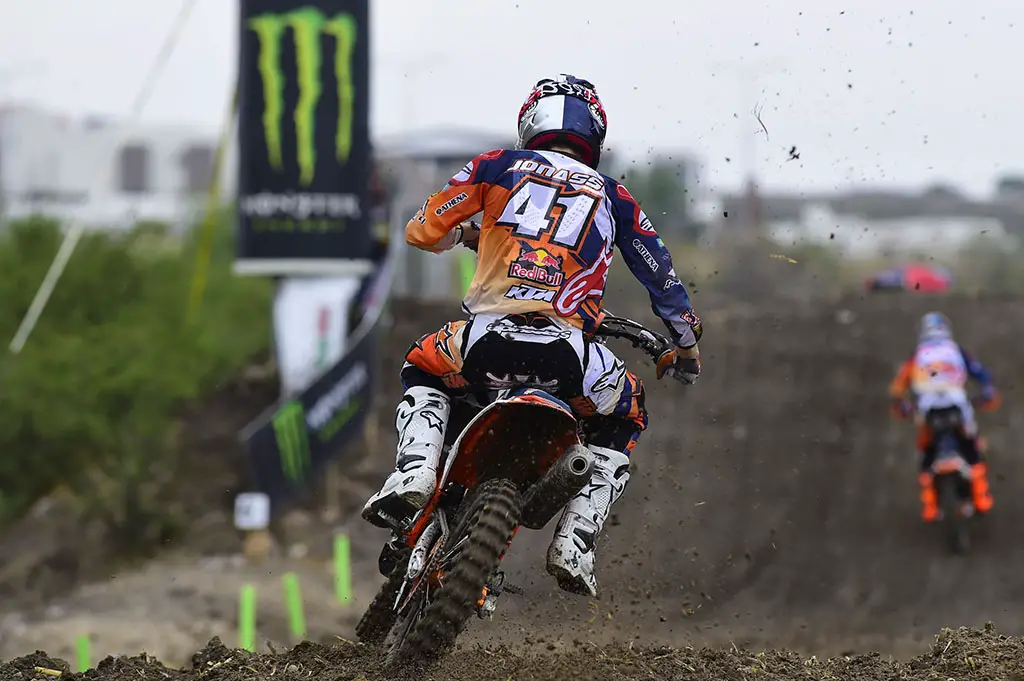 Pauls Jonass, who is Herling eventual replacement in the 250 GPs, is third in points.

250 WORLD CHAMPIONSHIP POINTS
(After 7 of 17 events)
1. Jeffrey Herlings…397
2. Jeremy Seewer…297
3. Pauls Jonass…260
4. Benoit Paturel…211
5. Aleksandr Tonkov…210
6. Petar Petrov…202
7. Max Anstie…182
8. Vsevolod Brylyakov…182
9. Samuele Bernardini…179
10. Dylan Ferrandis…162
2016 GRAND PRIX WINNERS AT A GLANCE
Gone with the win. Jeffrey Herlings perfect season went down the tubes when Dylan Ferrandis (4) beat him in the first moto in Italy last weekend.

Date           Venue                                450                                250
Feb. 27…. Qatar…………………..Tim Gajser………….Jeffrey Herlings
Mar. 6…..Thailand……………….Romain Febvre…….Jeffrey Herlings
Mar. 28…Holland………………..Romain Febvre…….Jeffrey Herlings
April 10….Argentina…………….Tim Gajser…………..Jeffrey Herlings
April 17….Mexico………………..Tim Gajser…………..Jeffrey Herlings
May 1…… Latvia………………….Tim Gajser…………..Jeffrey Herlings
May 8……Germany……………..Tony Cairoli………….Jeffrey Herlings
May 15….Italy…………………….Tony Cairoli………….Jeffrey Herlings
May 29….Spain………………
June 5……France………………
June 19….Great Britain………………
June 26….Italy………………
July 24…..Czech Republic………………
July 31…..Belgium………………
Aug. 7……Switzerland………………
Aug. 28….Holland………………
Sept. 3…..Charlotte, USA………………
Sept.11…..Glen Helen, USA………………
450 Points leader…Tim Gajser (Hon)
250 West points leader…Jeffrey Herlings (KTM)
MXA GEAR GUIDE: 2016 KAWASAKI KX450F

MXA's "Gear Guide" is designed to show you what 2016 gear the MXA wrecking crew wears for our bike tests. This is what we wore on the 2016 Kawasaki KX450F test. If you like what you see, be sure to click on the contact links for more information. Click on images to enlarge.
PANT: Fly Racing Evolution 2.0 Switchback blue/hi-vis
JERSEY: Fly Racing Evolution 2.0 Switchback blue/hi-vis
GLOVES: Fly Racing Pro Lite hi-vis
HELMET: Bell Moto-9
GOGGLES: EKS Brand Fade Volcano cyan/white
BOOTS: Gaerne SG-12 white
SUPPLIER CONTACTS:
Fly Racing: www.flyracing.com or (208) 319-3079
EKS Brand: www.eksbrand.com or (818) 706-1700
Bell Helmets: www.bellhelmets.com or (800) 216-9446
Gaerne: www.gaerneusa.com or your local dealer
MASSIMO'S ITALIAN GRAND PRIX PHOTO GALLERY
Arco di Trento is a lovely place, but the dirt leaves a lot to be desired.
Tony Cairoli isn't done yet. The kids, Febvre and Gajser, are faster than he is, but Tony isn't making any mistakes.


Romain Febrve (461) is the current champ, but he is stuck in a Gajser/Cairoli sandwich in the points.
After Gajser, Febvre and Cairoli, Max Nagl is the best of the veterans.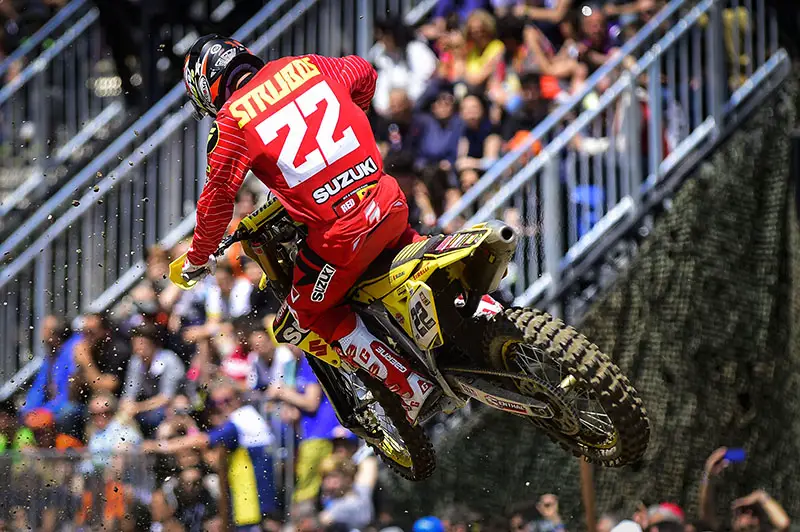 Team Suzuki has fallen on hard times. Their riders, either Kevin Strijbos or Ben Townley, are always injured or struggling. Strijbos is 131 points behind Gajser after 8 races.
Honda isn't much better off than Suzuki. They have banked a lot on Russian Evgeny Bobryshev, but he is a hit-or-miss rider. Bobby is currently fifth in points, while Gautier Paulin missed most of the first 8 races and is 19th in the 450 title chase.
Jeffrey Herlings (84) did everything in his power to pass Dylan Ferrandis in the first moto, but couldn't seal the deal. In the second moto, Ferrandis got a bad start and Herlings' 2-1 took the win—his 8th out of 8. Ferrandis is moving to America in 2017 to ride for Star Yamaha.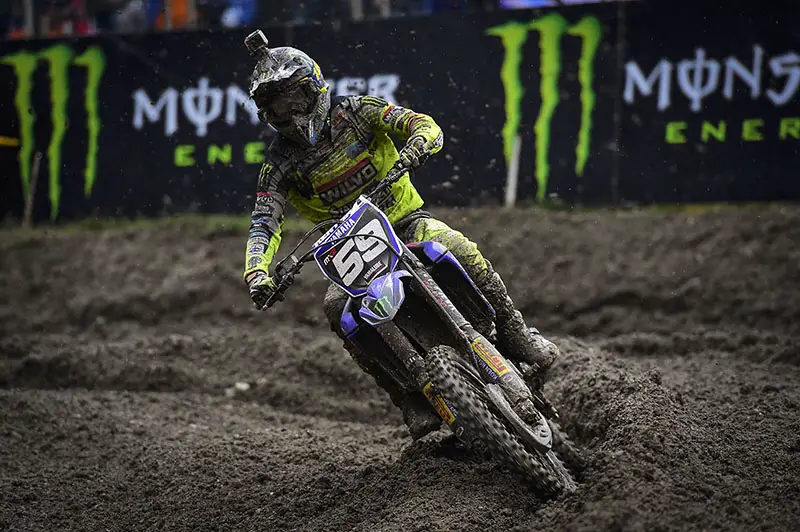 Aleksandr Tonkov is 5th in the 250 World Championship.


Samuele Bernardini has piloted his TM 250MX into the top ten in the 250 World Championships. Bernardini won the 300cc Two-Stroke Championship for TM before moving to the GPs.


Jeremy Seewer is second in 250 Grand Prix points, which if you use the last two 250 Grand Prix seasons as a measure, means that he's the odds-on favorite to win the 250 title.


Robert Justs (95) gets the holeshot in front of the Factory KTM duo of Jeffrey Herlings (84) and Pauls Jonass (41).
OLD NEWS! FINAL 2016 AMA SUPERCROSS STANDINGS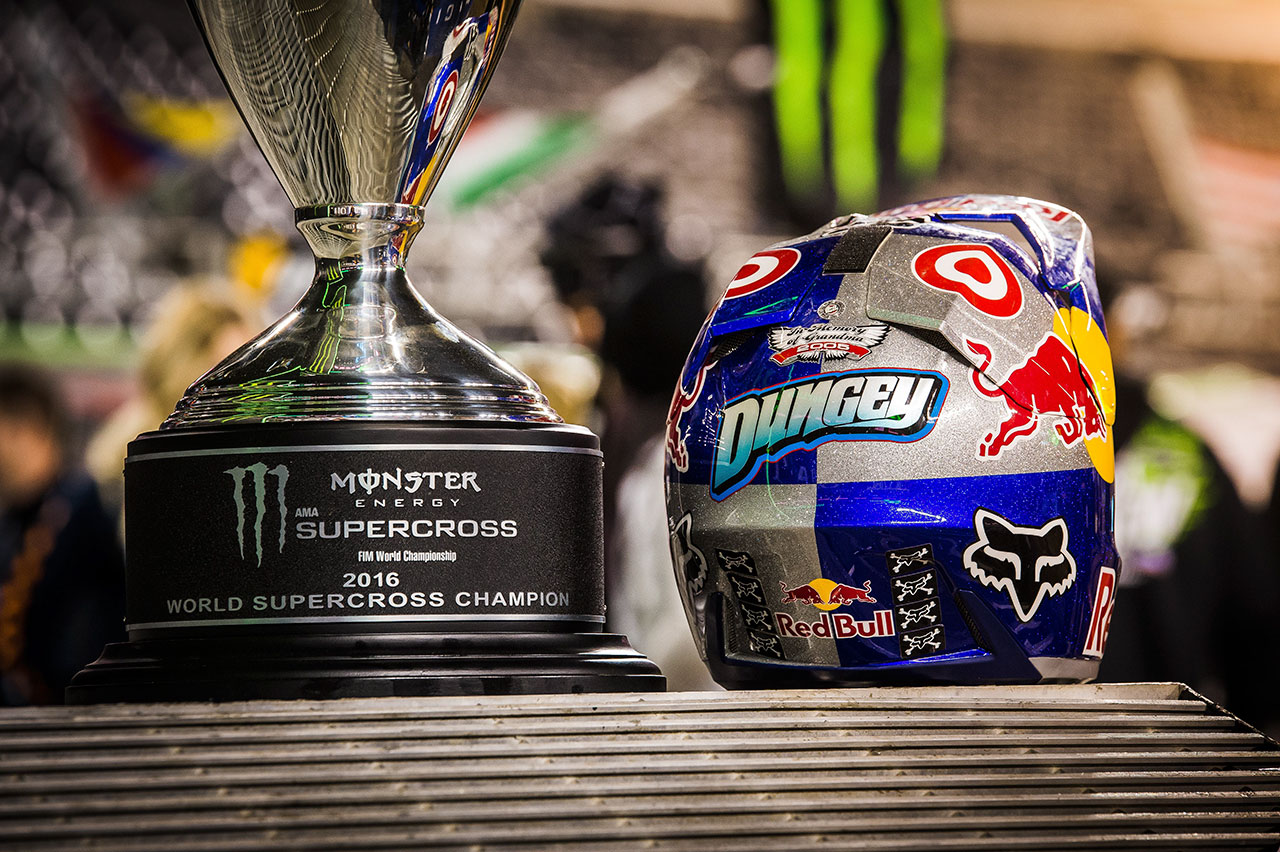 450 POINTS STANDINGS
(after 17 of 17 races)
1. Ryan Dungey (KTM)…391
2. Ken Roczen (Suz)…331
3. Jason Anderson (Hus)…315
4. Eli Tomac (Kaw)…290
5. Chad Reed (Yam)…250
6. Cole Seely (Hon)…219
7. Marvin Musquin (KTM)…214
8. Justin Brayton (KTM)…200
9. Trey Canard (Hon)…196
10. Jake Weimer (Suz)…128
11. Justin Bogle (Hon)…127
12. Mike Alessi (Hon)…126
13. Weston Peick (Yam)…125
14. Davi Millsaps (KTM)…106
15. Christophe Pourcel (Hus)…94
16. Vince Friese (Hon)…92
17. Blake Baggett (Suz)…87
18. Josh Grant (Kaw)…79
19. Broc Tickle (Suz)…61
20. Justin Barcia (Yam)…56
Malcolm Stewart got the 250 East crown by 16 points over Aaron Plessinger. Photo: Brian Converse

250 EAST POINTS STANDINGS
(After 9 of 9 races)
1. Malcolm Stewart (Hon)…180
2. Aaron Plessinger (Yam)…164
3. Jeremy Martin (Yam)…147
4. Martin Davalos (Hus)…141
5. Tyler Bowers (Kaw)…122
6. Gannon Audette (Kaw)…121
7. Shane McElrath (KTM)…113
8. R.J. Hampshire (Hon)…104
9. Anthony Rodriguez (Kaw)…78
10. Matt Bisceglia (Suz)…68
11. Justin Hill (KTM)…63
12. Cedric Soubeyras (Kaw)…59
13. Paul Coates (Hon)…58
14. Alexander Frye (KTM)…58
15. Dakota Alix (KTM)…50
16. Luke Renzland (Yam)…48
17. Justin Starling (Kaw)…48
18. Benny Bloss (Yam)…46
19. Jesse Wentland (Hon)…41
20. Jimmy Albertson (Suz)…31
SUBSCRIBE TO MXA & DIRT BIKE FOR ONE LOW PRICE
And get two $25 Rocky Mountain gift cards as a bonus. That's $50 off your next parts bill for a $32 investment. For more info go to www.hi-torque.com/mxcombo
FACES TO GO WITH THE NAMES

Pit Beirer.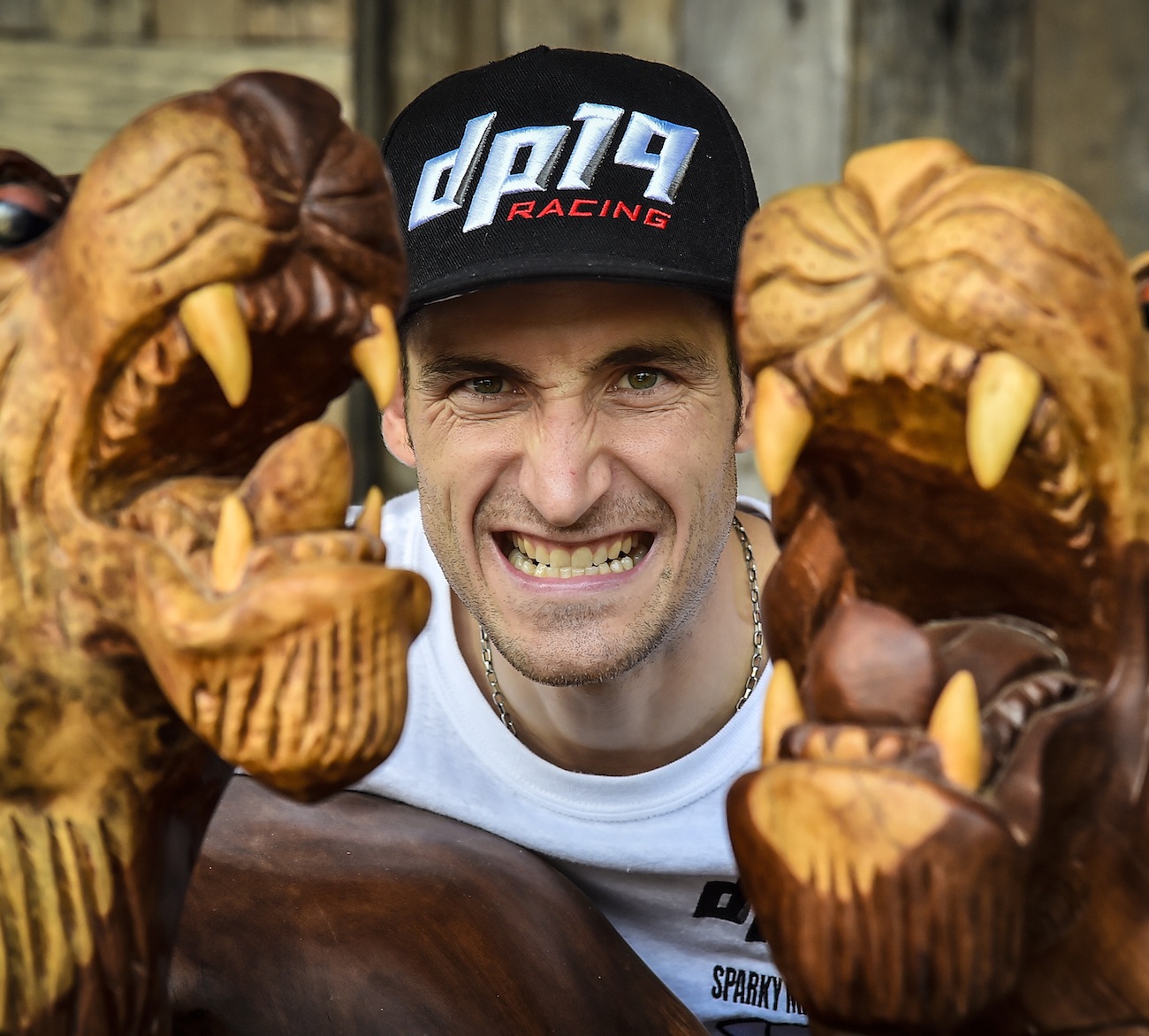 David Philippaerts.
Tyla Rattray.
Casey Lytle.
Ben Townley.
MXA MOTO-CHALLENGE: IS THIS TOO HARD?
We think that you might be able to name the guy on the right, but aren't sure that you can guess the man on the left. However, we don't care if you guess the rider on the right, this quiz is about the man on the left. Here are two clues to his name. (1) If you raced in the 1970s you saw it every time you looked at your bike. (2) The jumpsuit he is wearing is the only thing he ever wore. The answer is at the bottom of the page.
REM NATIONAL TUNE-UP RACE THIS SATURDAY, MAY 21

For more info go to www.remsatmx.com
GLEN HELEN NATIONAL PRE-RACE PARTY ON FRIDAY, MAY 27

For more info go to www.glenhelen.com
3RD ANNUAL KURT CASELLI FOUNDATION EVENT AT DOFFO WINERY
For more info on the June 11 event go to www.doffowines.com/caselli-16
UNITED STATES GRAND PRIX AT GLEN HELEN ON SEPT. 11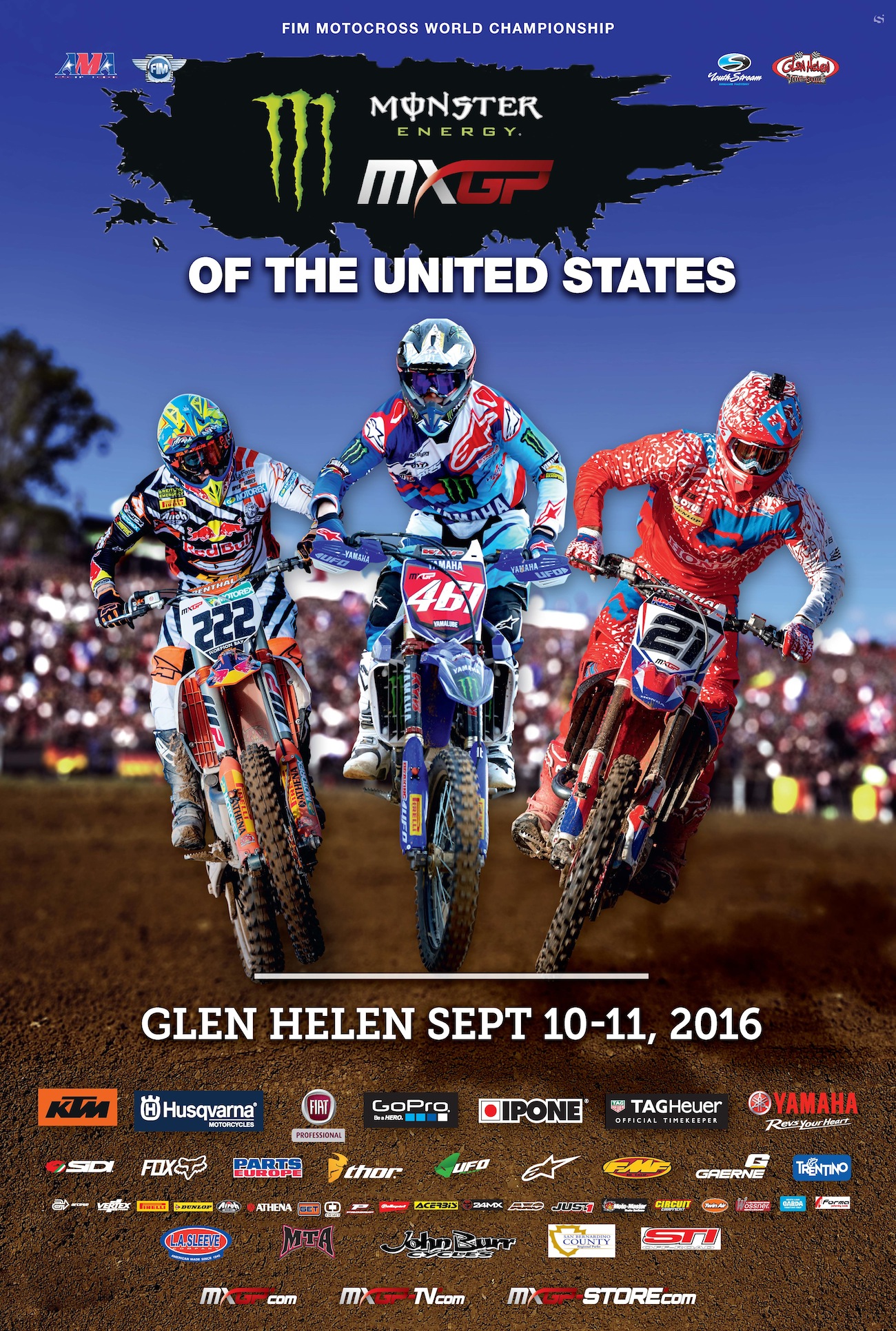 For more info go to www.glenhelen.com
2016 GLEN HELEN NATIONAL: OPEN PRACTICE, AMATEUR RACE & MORE
The May 28th AMA 250/450 Nationals at Glen Helen will actually start on Wednesday, May 25, when RV will be allowed into their camping spots starting at 2:00 p.m. Thursday will be the open for practice for the next day's AMA Amateur Motocross. Friday will be reserved for the amateur races and Saturday will be the AMA National. You can get all the information you need at www.glenhelen.com.
 HOW TO SUBSCRIBE TO MXA AND MAKE MONEY
You probably haven't seen the May 2016 issue of MXA yet, but if you subscribed it would be in the trusty hands of a uniformed agent of the U.S. Government on its way to your mailbox right now. Or, you can wait for the product reviews, 44-horsepower CRF250 test and KTM 125SX versus Yamaha YZ125 shootout to appear on the internet…in a couple months. Your choice.

Do you subscribe to MXA? You should. We know that you think that print magazines are dead and that the internet will fill the void, but most of the stuff in the current issue of MXA won't appear on the web for several months, if at all. Luckily, you can get all of MXA on your iPhone, iPad, Kindle or Android by going to the Apple Store, Amazon or Google Play. Better yet get the Digital desktop version at https://hi-torque.com/product/motocross-action-digital-edition/ for $9.99 a year. The MXA test riders prefer the print version and not just because it is delivered by a uniformed employee of the U.S. Government, but because for only $19.99 you get 12 issues and a free $25 Gift Card from Rocky Mountain ATV/MC. That means that there is a profit to be made in this deal for you. For the Print magazine go to: http://hi-torque.com/product/subscribe-to-motocross-action-magazine/

MOTO-CHALLENGE ANSWER 

Preston Petty was one of America's greatest racers in the 1960s, but is best known today for being the man who invented the plastic fender. Why he is kissing Jody Weisel in the photo above is a mystery.
Photos: Massimo Zanzani, Scott Mallonee, Brian Converse, Kyoshi Becker, Jody Weisel, Honda, Ray Archer, Debbi Tamietti, Dan Alamangos, John Basher, Yamaha, Suzuki, KTM, MXA