MXA WEEKEND NEWS ROUND-UP: FALLING BY THE WAYSIDE

AT A GLANCE: 2016 AMA NATIONAL CHAMPIONSHIPS
Alex Martin won his first AMA National at Glen Helen along with his first 250 National points lead and red plate. Not a bad day.

Date             Venue                                 450                                      250
May 21…Hangtown, CA……..Ken Roczen……………Joey Savatgy
May 28…Glen Helen, CA……Ryan Dungey………….Alex Martin
June 4……Thunder Valley, CO…
June 18..…Mt Morris, PA………..
June 25..…Muddy Creek, TN…..
July 2.…….Red Bud, MI………….
July 9..…….Southwick, MA​……..
July 16….…Millville, MN​………..
July 23.…..Washougal, WA…….
Aug. 13..….Unadilla, NY…………​
Aug. 20..…Budds Creek, MD….​
Aug. 27.….Crawfordsville, IN…
450 Points Leader…Ken Roczen (Suz)
250 Points Leaders…Alex Martin (Yam)
50 YEARS OF MOTOCROSS CELEBRATED AT GLEN HELEN
Former World Champion Torsten Hallman (left) came to the Glen Helen National to celebrate the 50th anniversary from when Torsten first brought the sport to America. Glen Helen had artist and former AMA National rider Jon Ortner (right) paint a commemorative poster for the event and the two signed autographs at the Glen Helen Museum.
CURRENT AMA NATIONAL POINTS STANDINGS
All the talk of a perfect season is now history. Ken Roczen went 4-1 for second at Glen Helen.
AMA 450 NATIONAL POINTS STANDINGS
(After 2 of 12 rounds)
1. Ken Roczen…93
2. Ryan Dungey…91
3. Eli Tomac…76
4. Jason Anderson…735
5. Trey Canard…62
6. Josh Grant…56
7. Cole Seely…54
8. Marvin Musquin…48
9. Phil Nicoletti…45
10. Justin Barcia…39v
The top four in 250 National points are only separated by 4 points. They are Alex Martin (26), Cooper Webb (17), Joey Savatgy (37) and Jeremy Martin (1).

AMA 250 NATIONAL POINTS STANDINGS
(After 2 of 12 rounds)
1. Alex Martin…79
2. Cooper Webb…77
3. Joey Savatgy…76
4. Jeremy Martin…75
5. Aaron Plessinger…63
6. Austin Forkner…58
7. Jessy Nelson…57
8., Zach Osborne…45
9. R. J. Hampshire…41
10. Tristan Charboneau…36
KYOSHI BECKER'S PHOTO OF THE WEEK

Most podium shots are boring photos of three guys holding energy drink cans, separated by girls in clothes that even a weather girl wouldn't wear, standing in front of a jumble of logos. MXA's Kyoshi Becker captured one of the best podium shots we've seen in a long time when he climbed on the roof of Glen Helen's Museum to shoot Eli Tomac, Ryan Dungey and Ken Roczen spraying the crowd with champagne. In the background you see the racetrack, the Talladega first turn, the American flag at the top of Mt. Saint Helen and the puffy clowds over Mt. Baldy in the distance.
THIS WEEK'S BIRTHDAY BOYS: GEORGE HOLLAND


June 2…Steve Wise 1957
June 2…Ray Sommo 1968

June 2…Randy Skinner 1958
June 4…Dewitt Knox III 1954
June 5…John Knowles
June 5…Paul Delaurier
June 6…Terry Baisley
June 6…Manuel Monni 1984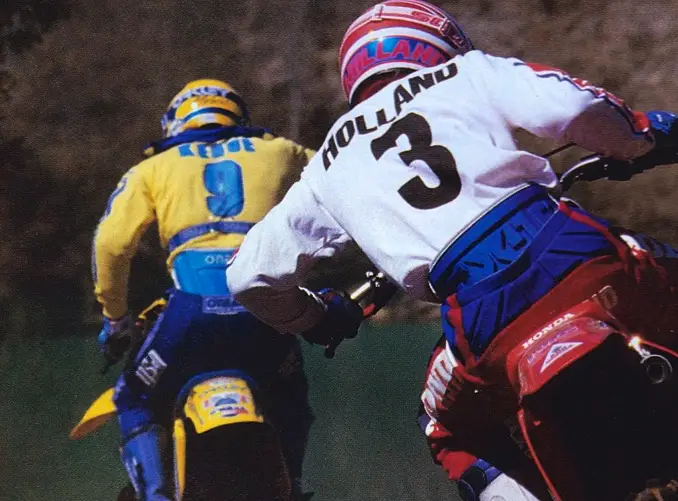 June 6…George Holland
June 6…Tony Gardea
June 6…A. J. Cantazaro 1993

June 6…Ken DeDycker 1985
June 7…Ricky Ryan
June 8…Manuel Priem 1981
June 9…Brad Hagseth
MXA PRODUCT SPOTLIGHT: EKS BRAND EZ TEAR STRAP RAMP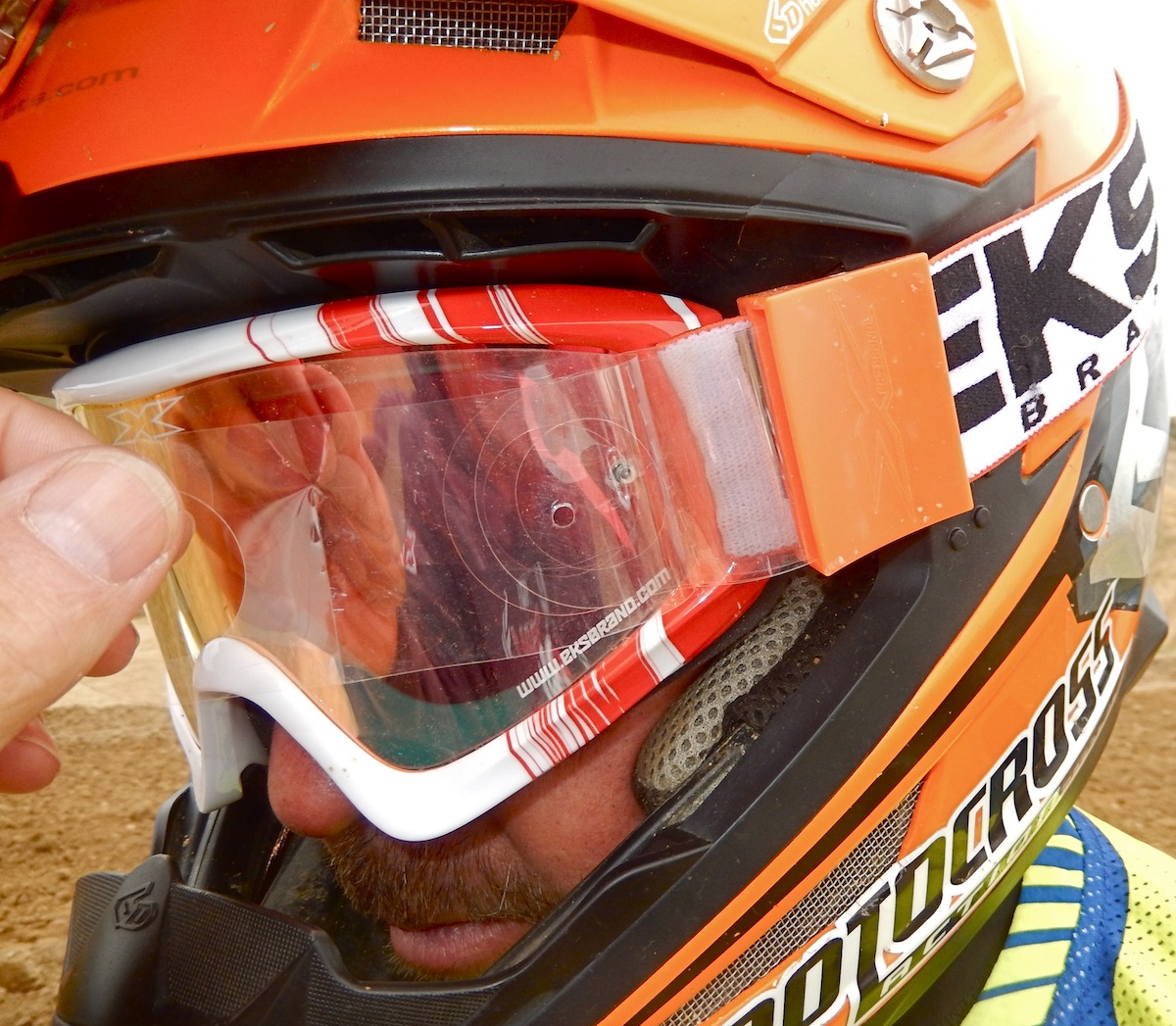 A solution to little problems that causes big trouble.
Have you ever pulled all, or at least more than one, tearoff off at a time? Of course you have. And usually it's a mud race and it probably happened on the first lap and you probably ended up getting smoked because you couldn't see the rest of the moto.  C'mon! That has happened to all of us. Well, EKS Brand has a solution to this long time problem. The EZ Tear is a patent pending invention that helps you to pull one tear off at a time. The EZ Tear is a hollow, ramp-shaped device that attaches to your goggle strap. Its purpose is to hide the folded, back-up tearoffs and only allow the top tearoff tab to be exposed. When you reach up to pull the tearoff your thumb is guided by the ramp directly to the top tearoff. When the top tearoff is pulled off, the next one pops out from the hollow ramp. Although developed by EKS Brand, the EZ Tear Strap Ramp works on 95 percent of goggle brands. This unique product is available through the EKS Brand at www.eksbrand.com and at fine retailers everywhere. At $12.99 it's a product that needs to be in every motocross racer needs.
MOTORCYCLE AD OF THE WEEK: DATSUN LI'L HUSTLER

If you were interested in motocross in 1972, you were in the market for a 99-horsepower Datsun pickup truck. It was perfect for hauling your Penton 125 around. The retail price of a Datusn was $2200.

WHAT THE MXA WRECKING CREW WAS UP TO WEDNESDAY

Wednesday we met the KTM crew to pick up our 2017 KTM 250SX two-stroke and begin testing it. We spent the day shooting video, action photos and dialing in the jetting and suspension. We got to ride on the Glen Helen National track and put in many hours of two-stroke bliss. Now the work begins.
We wanted to test some different gearing on the 250SX, both up and down, but KTM didn't bring any sprockets with them. Jody Weisel said that he might have some sprockets. He flipped the rubber mat up in the bed of his Toyota pickup and revealed his secret stash of rear sprockets (plus one zip-tie). Amazingly, the sprocket we needed was in there.
THIS MONTH RACE SCHEDULE: MAKE PLANS NOW

2016 AMA NATIONAL CHAMPIONSHIP
June 4..………………….Thunder Valley, CO
June 18..…………………Mt Morris, PA
June 25.………………….Muddy Creek, TN
July 2.…………………….Red Bud, MI
2016 REM MOTOCROSS
June 4………..……….…..Glen Helen, CA
June 12……………………Glen Helen, CA (Sunday)
June 25……………………Glen Helen, CA
July 2………………………Glen Helen, CA (AMA National track)
July 9………………………Glen Helen, CA
July 23……………………..Glen Helen, CA
2016 FIM MOTOCROSS WORLD CHAMPIONSHIP
June 5………………….…..St Jean d'Angely, France
June 19…………………….Matterly Basin, Great Britain
June 26…………………….Mantova, Italy

2016 AUSTRALIAN NATIONAL CHAMPIONSHIP
July 3……………………….Nowra, NSW
July 17………………………Conondale QLD
July 31………………………Shepparton, VIC
2016 BRITISH MAXXIS NATIONAL CHAMPIONSHIP
June 12……………………..Desmartin, No. Ireland
July 3………………………..Leucher, Scotland
July 17………………………Blaxhall
2016 AMA VINTAGE MOTORCYCLE DAYS
July 8-10…………………..Lexington, OH
2016 AMA NATIONAL AMATEUR CHAMPIONSHIP
Aug. 1-6……………………..Loretta Lynn, TN
UNITED STATES GRAND PRIX
Sept. 3……………………..…Charlotte, USA (Saturday)
Sept. 11……………….…..….Glen Helen, USA
2016 MOTOCROSS DES NATIONS
Sept. 25…………………….Maggiora, Italy
2016 DUBYA WORLD VET CHAMPIONSHIP
Nov. 5-6…………………….Glen Helen, CA
MEMORIES OF THE WAY WE WERE: THE MOVIE, THE MAN

Remember when Robert Redford rode a stripped down Yamaha RT-1?
CURRENT FIM GRAND PRIX POINTS HEADING TO FRANCE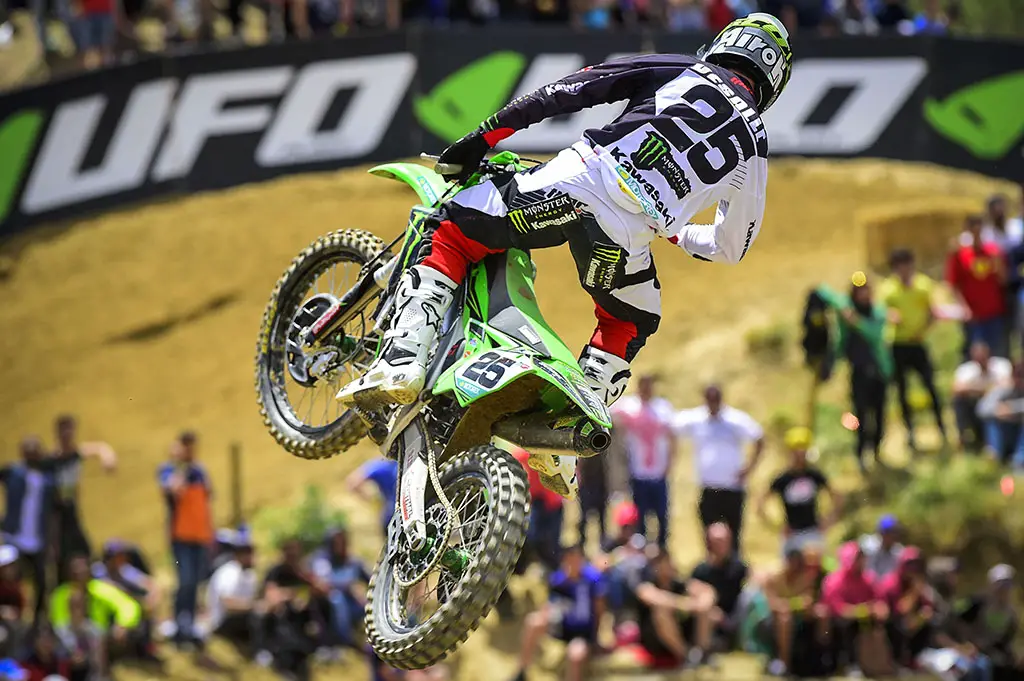 Clement Desalle switched from Suzuki to Kawasaki, broke his arm at the start of the GP season and raced the first 4 races with it in a cast. He can write this year off as a learning experience with the KX450F.

450 WORLD CHAMPIONSHIP POINTS
(After 9 of 17 events)
1. Tim Gajser…385
2. Romain Febvre…361
3. Antonio Cairoli…338
4. Max Nagl…317
5. Evgeny Bobryshev…295
6. Jeremy Van Horebeek…274
7. Shaun Simpson…210
9. Kevin Strijbos…204
9. Valentin Guillod…180
10. Glenn Coldenhoff…156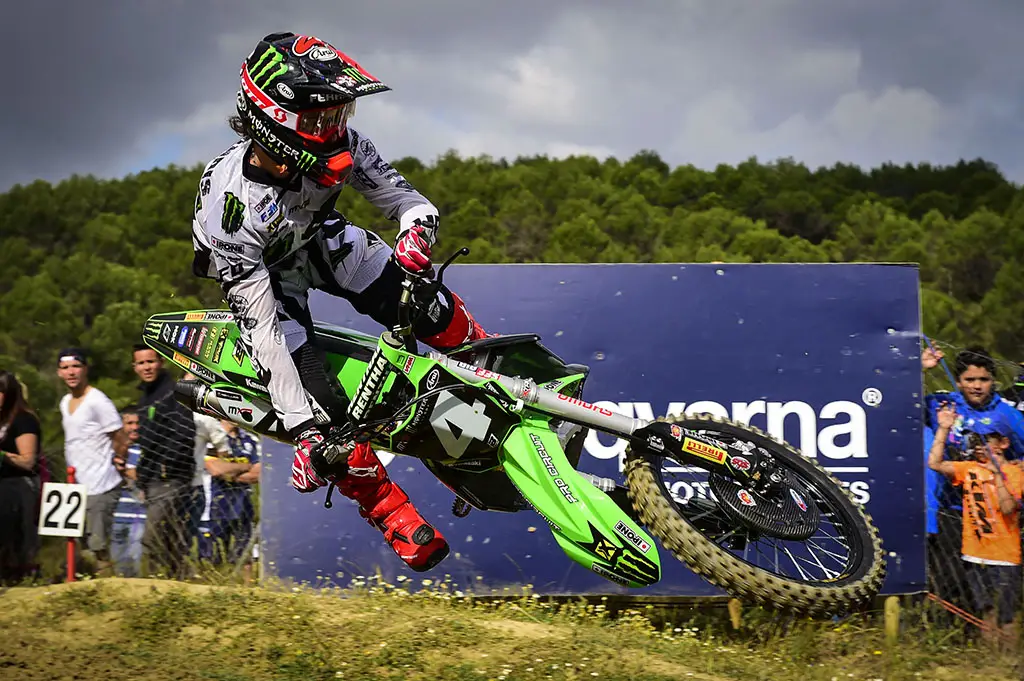 Kawasaki's Dylan Ferrandis is making up ground fast in the 250 GPs after missing five races. He is now in 9th place and only 10 points out of sixth. He says he's coming to America in 2017.

250 WORLD CHAMPIONSHIP POINTS
(After 9 of 17 events)
1. Jeffrey Herlings…447
2. Jeremy Seewer…325
3. Pauls Jonass…300
4. Benoit Paturel…251
5. Aleksandr Tonkov…240
6. Petar Petrov…210
7. Max Anstie…205
8. Samuele Bernardini…204
9. Dylan Ferrandis…200
10. Vsevolod Brylyakov…197
2016 GRAND PRIX WINNERS AT A GLANCE
After Tony Cairoli won in Germany and Italy, Tim Gajser put the hammer down in Spain to open up a 24-point lead on Febvre and 47 on Cairoli.

Date           Venue                                450                                250
Feb. 27…. Qatar…………………..Tim Gajser………….Jeffrey Herlings
Mar. 6…..Thailand……………….Romain Febvre…….Jeffrey Herlings
Mar. 28…Holland………………..Romain Febvre…….Jeffrey Herlings
April 10….Argentina…………….Tim Gajser…………..Jeffrey Herlings
April 17….Mexico………………..Tim Gajser…………..Jeffrey Herlings
May 1…… Latvia………………….Tim Gajser…………..Jeffrey Herlings
May 8……Germany……………..Tony Cairoli………….Jeffrey Herlings
May 15….Italy…………………….Tony Cairoli………….Jeffrey Herlings
May 29….Spain………………….Tim Gajser…………..Jeffrey Herlings
June 5……France………………
June 19….Great Britain………………
June 26….Italy………………
July 24…..Czech Republic………………
July 31…..Belgium………………
Aug. 7……Switzerland………………
Aug. 28….Holland………………
Sept. 3…..Charlotte, USA………………
Sept.11…..Glen Helen, USA………………
450 Points leader…Tim Gajser (Hon)
250 West points leader…Jeffrey Herlings (KTM)
MXA GEAR GUIDE: 2016 TM 450MX
MXA's "Gear Guide" is designed to show you what 2016 gear the MXA wrecking crew wears for our bike tests. This is what we wore on the 2016 TM 450MX test. If you like what you see, be sure to click on the contact links for more information. Click on images to enlarge.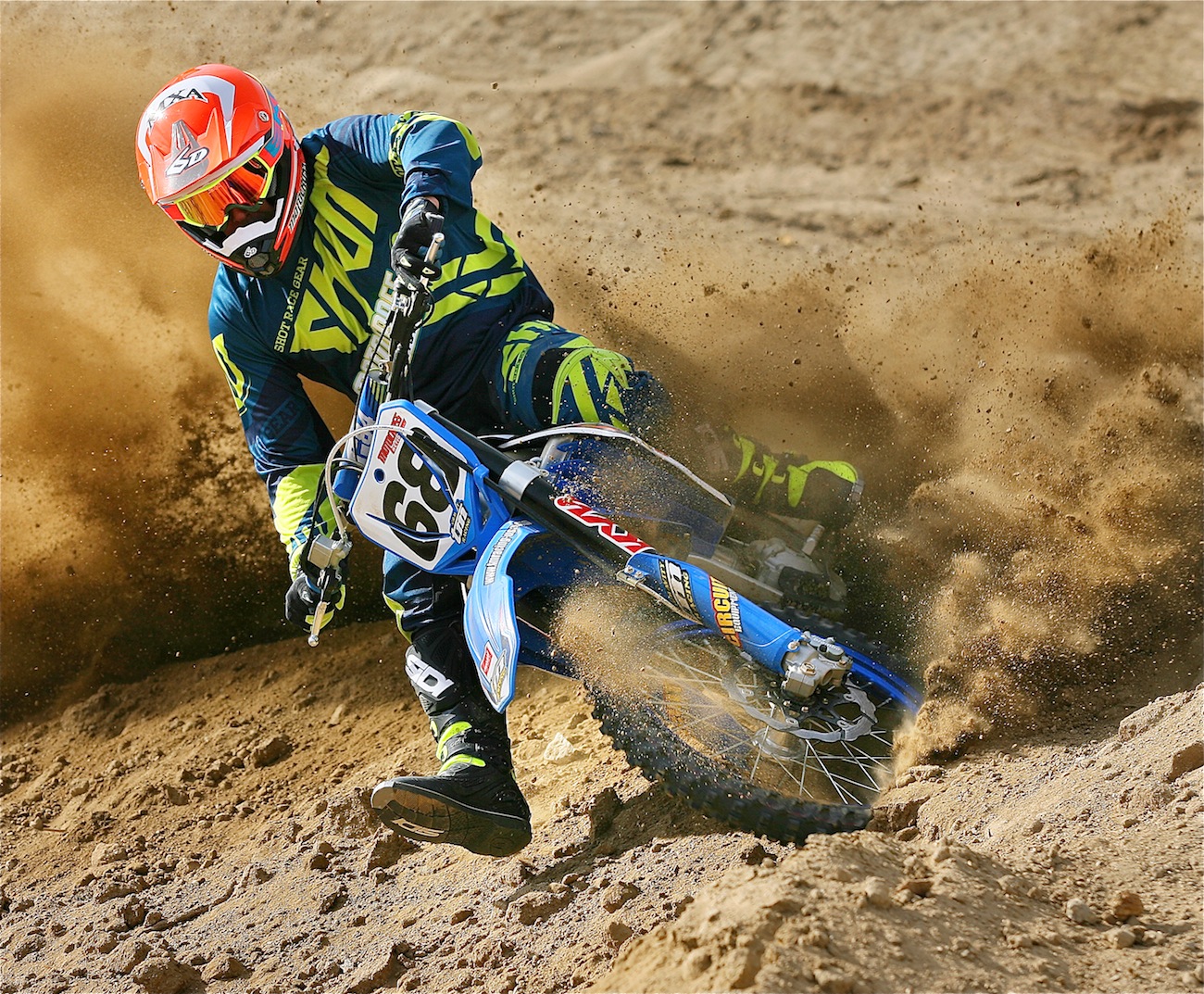 PANT & JERSEY: Shot Contact Navy Lime
GLOVES: Shot Contact Navy Lime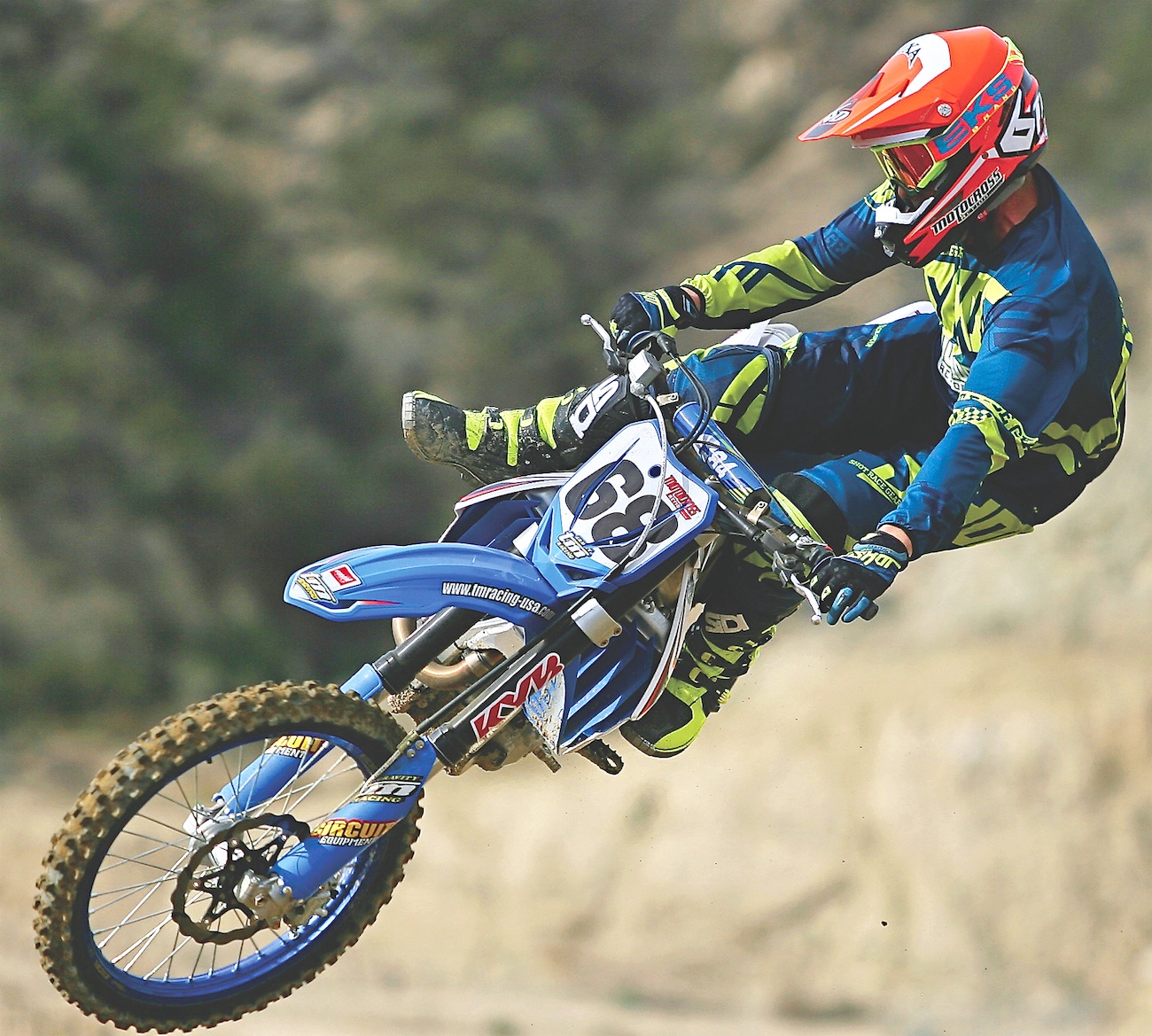 HELMET: 6D ATR-1 (custom painted)
GOGGLES: EKS Brand X Fade Volcano Flo Yellow Cyan Flo Red
BOOTS: Sidi Crossfire 2 SR
SUPPLIER CONTACTS:
Shot Race Gear: http://usa.shotracegear.com/
6D Helmets: www.6dhelmets.com or (714) 772-2121
EKS Brand: www.eksbrand.com or (818) 706-1700
Sidi: www.motonation.com or (619) 401-4100
PRODUCT SPOTLIGHT: MATRIX CONCEPTS USA LIMITED EDITION PRODUCTS

All USA Limited Edition products are 20 percent off through June 8th, 2016.
A2 Aluminum Stand – Aluminum factory edition
A7 Folding Ramp – 7.5ft. Lightweight folding ramp
M1 Worx Tie Down – 1.0" Tie Down with a plastic nameplate & steel carabineers
MZ1 Industrial Can – 4.0 Gallon with 2-handle design
M64 Elite Stand – Plastic composite elite stand
M80 Tool Boxes – Lightweight high quality all steel construction toolboxes available in three, four, and eight drawer configurations
Shop all USA products here: www.matrixracingproducts.com
SUBSCRIBE TO MXA & DIRT BIKE FOR ONE LOW PRICE
And get two $25 Rocky Mountain gift cards as a bonus. That's $50 off your next parts bill for a $32 investment. For more info go to www.hi-torque.com/mxcombo
FACES TO GO WITH THE NAMES

Announcer Tom White and Ryan Dungey.
Los Angeles Police Chief Charlie Beck, Tom White and Torsten Hallman.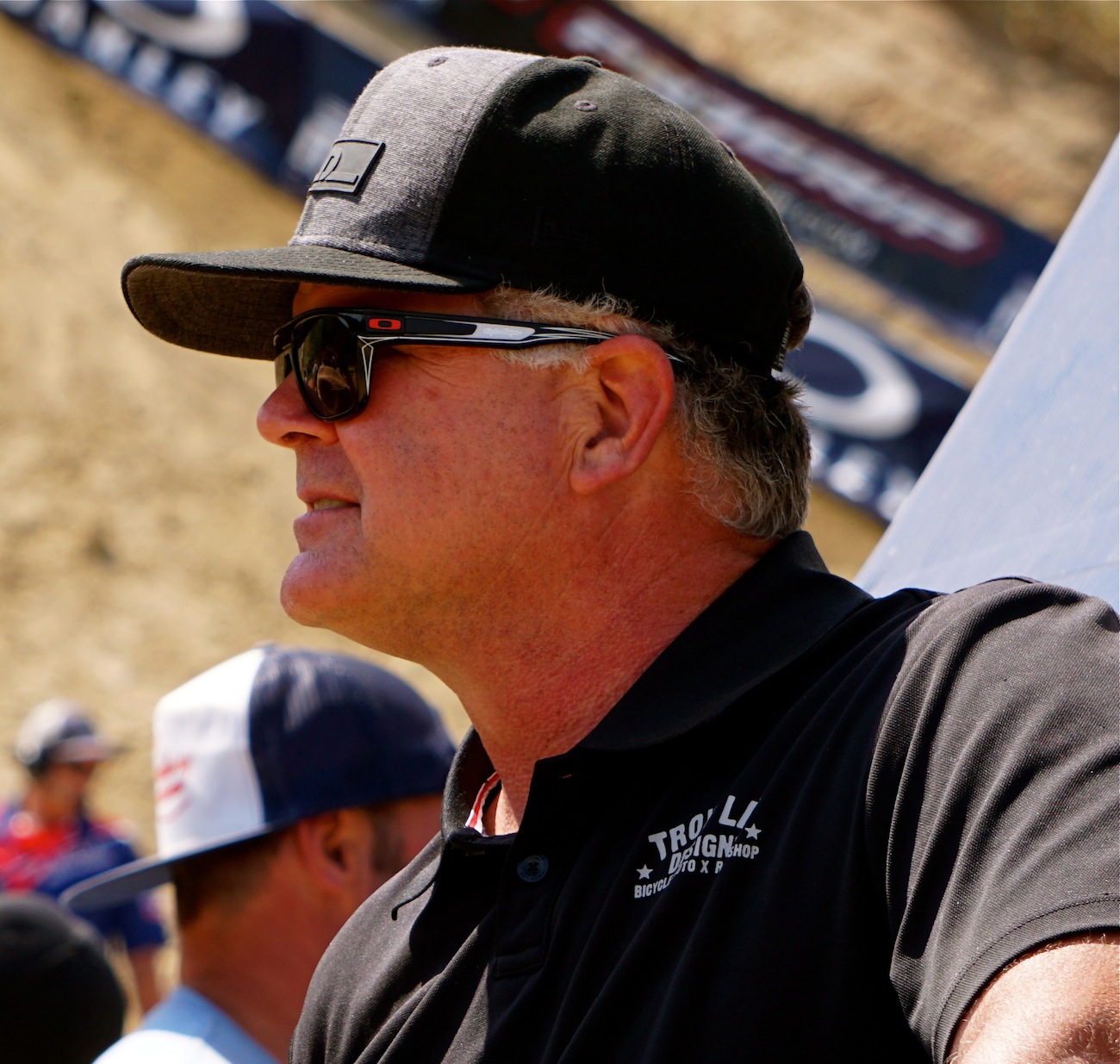 Troy Lee Designs' Bill Keefe.
1970s National Minicycle Champion Flyin' Mike Brown.

Star Yamaha's Cooper Webb.
John Perry.
MXA MOTO-CHALLENGE: NAME THIS MXA TEST RIDER

This could be tough, but we are going to help you. Can you name the MXA test rider on the March 1980 cover? He was an AMA National rider, he currently owns a suspension company and he married the sister of an AMA National Champion (who didn't have to change her last name after they were married). For extra bonus, what's causing him to endo and what does his helmet design refer to? The answer is at the bottom of the page.
SOCAL VINTAGE MX CLASSIC SATURDAY AT GLEN HELEN
For more info go to www.socalvintagemxclassic.com.
VINTAGE SWAP MEET ON SUNDAY (JUST DOWN THE STREET FROM KTM)
Sunday, June 5 at 38372 Innovation Court, Murrietta, California. For more info call (951) 600-0900.
REM IS ALSO AT GLEN HELEN THIS SATURDAY, JUNE 4

For more info go to www.remsatmx.com.
3RD ANNUAL KURT CASELLI FOUNDATION EVENT AT DOFFO WINERY
For more info on the June 11 event go to www.doffowines.com/caselli-16
UNITED STATES GRAND PRIX AT GLEN HELEN ON SEPT. 11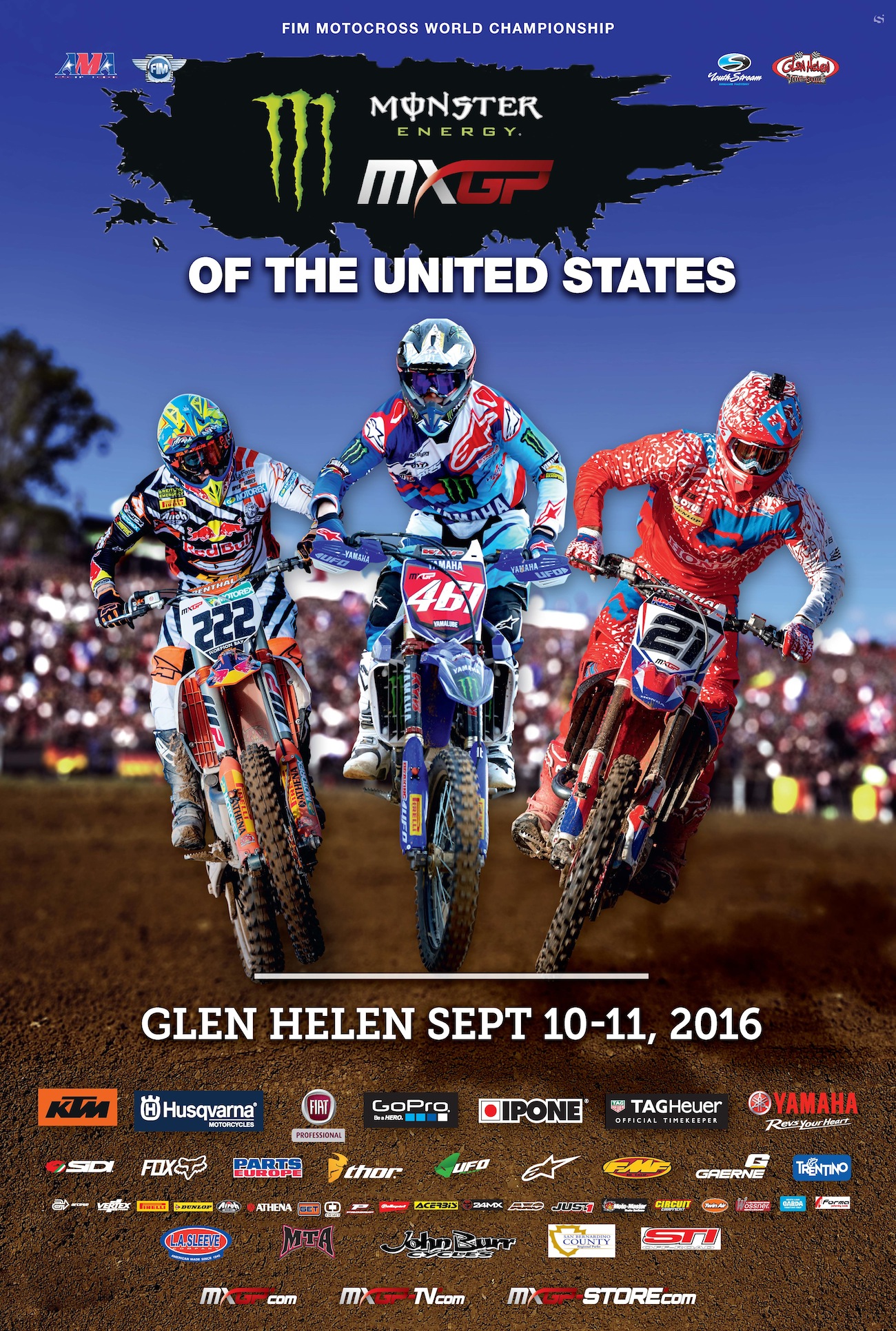 For more info go to www.glenhelen.com
HOW TO SUBSCRIBE TO MXA AND MAKE MONEY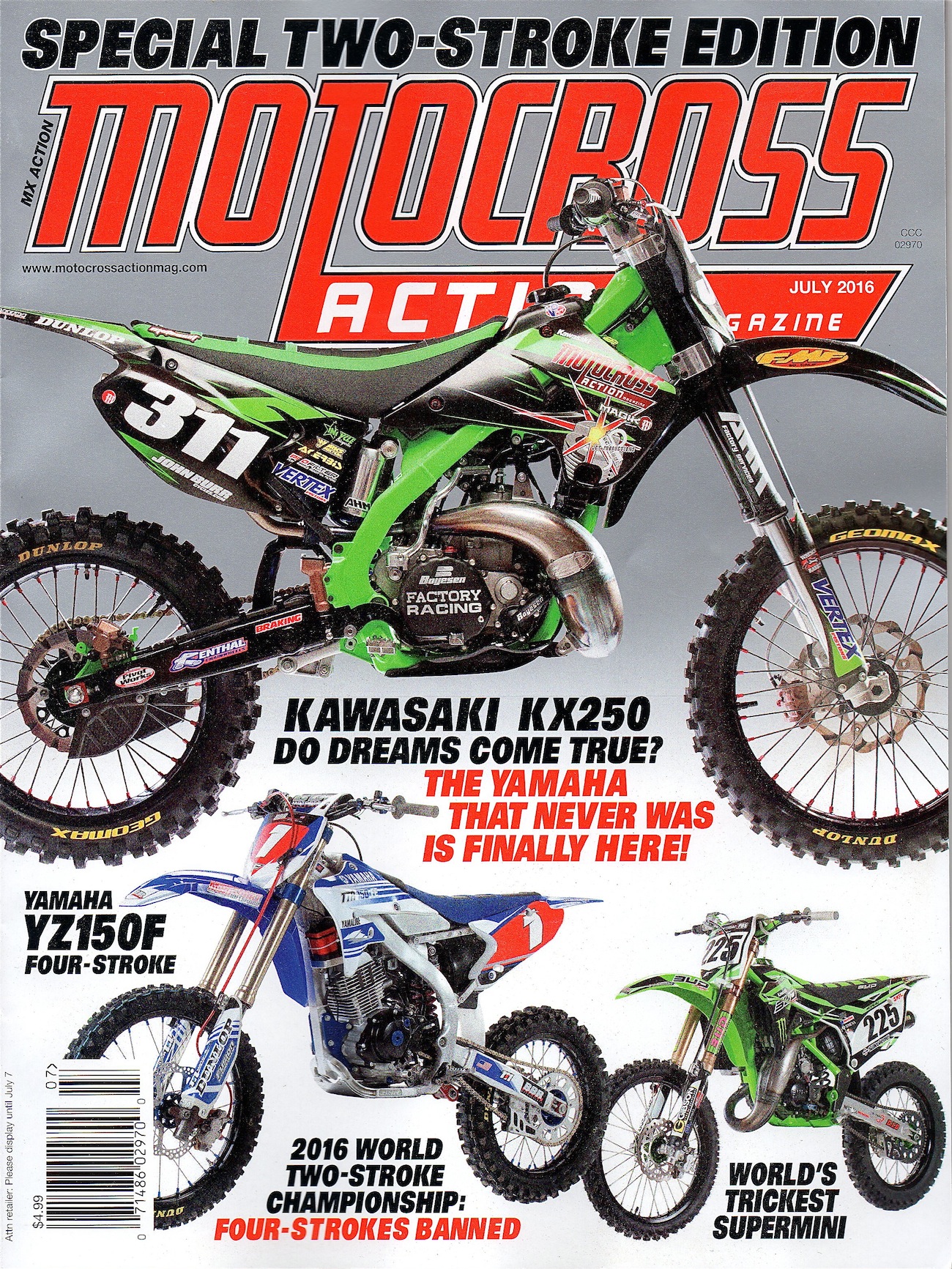 The July 2016 issue of MXA will be out this coming week. Will it be hand delivered to your humble abode by a uniformed agent of the U.S. Government or will you sit around and wait for its content to appear on the internet in a month or two? We'd subscribe—especially since it won't cost you any money when you get a $25 gift certificate from Rocky Mountain ATV/MC for subscribing.

Do you subscribe to MXA? You should. We know that you think that print magazines are dead and that the internet will fill the void, but most of the stuff in the current issue of MXA won't appear on the web for several months, if at all. Luckily, you can get all of MXA on your iPhone, iPad, Kindle or Android by going to the Apple Store, Amazon or Google Play. Better yet get the Digital desktop version at https://hi-torque.com/product/motocross-action-digital-edition/ for $9.99 a year. The MXA test riders prefer the print version and not just because it is delivered by a uniformed employee of the U.S. Government, but because for only $19.99 you get 12 issues and a free $25 Gift Card from Rocky Mountain ATV/MC. That means that there is a profit to be made in this deal for you. For the Print magazine go to: http://hi-torque.com/product/subscribe-to-motocross-action-magazine/

MOTO-CHALLENGE ANSWER 
The answer is Clark Jones. Above is a photo of Clark's Pro Circuit Husqvarna passing his brother-in-law Gary Jones (on an Ammex) at the Superbowl of Motocross. Clark is no where to be seen. Clark would go on to form Noleen Racing, which ran the Sizzler Yamaha team that Larry Ward rode for when he finished second in the 1995 AMA Supercross Championship (as a privateer). Noleen would also build a successful mountain bike shock. Clark is married to Lois Jones, the sister of four-time National Champ Gary Jones and former factory rider DeWayne Jones. The reason Clark is crashing MXA's 1980 Honda CR250 test bike is because a stick got stuck in the countershaft sprocket throwing him over the bars. It is visible beneath the bike. As for the helmet design—that is the face paint design from the band Kiss. Today, Noleen can be reached by going to www.noleenJ6.com.
Photos: Massimo Zanzani, Scott Mallonee, Brian Converse, Kyoshi Becker, Jody Weisel, Ketchup Cox, Honda, Ray Archer, Debbi Tamietti, Dan Alamangos, John Basher, Yamaha, Suzuki, KTM, MXA