MXA'S WEEKEND NEWS ROUND-UP: BIG SALES NEWS FOR KTM, PLUS, THE 2020 TAMPA SUPERCROSS IS MAKE-IT OR BREAK-IT
KTM SET SALES RECORD FOR THE NINTH YEAR IN A ROW
KTM's Austrian headquarters.
KTM and Husqvarna combined for a total of 280,099 motorcycles sold in 2019, an increase of seven per cent over 2018's sales totals. That makes it nine years in a row of sales growth for the company as a whole. Of the 280,099 units sold, 234,449 bikes were KTMs, and 45,650 were Husqvarnas. That's a 7% increase over 2018's sales. According to the company's documents, the 2019 revenues stream was up four per cent over 2018.
Stefan Pierer.
Additionally, for 2020, KTM owner Stefan Peirer, under the umbrella of the corporation, has also added Spanish brand Gas Gas to its lineup of KTM, Husqvarna and Gas Gas. Within the last decade KTM released it first models in India, where it partnered with Pune-based Bajaj group, which bought a 47.99 percent interest in KTM. Of the 280,099 bike sold, 50,705 were in India—mostly 125, 200, 250 and 390 Dukes.
KTM is expanding into street bikes, electric bikes and maybe even trials bikes, but their core market, especially in America is off-road riders. KTM believed in the off-road market when the Big Four backed away—and that paid dividends especially in two-strokes.
Pierer Mobility, formerly known as KTM Industries, just released its year-end numbers and they were positive, especially in the US market, where overall motorcycle sales of most brands are either down or flat, but in KTM's and Husqvarna's case sales were up. Stefan Pierer has a five-year plan to sell 400,000 motorcycles a year, which would surpass Kawasaki as the third-largest motorcycle manufacturer in the world. However, KTM has little chance of overtaking number two Yamaha (at 5,000,000 bike a year ) or Honda at 20,000,00 bikes a year.
ARE YOU READY FOR THE "PASHA 125 OPEN" TWO-STROKE RACE THIS SATURDAY AT REM

For more info go to www.remsatmx.com
THE SUPER73 ELECTRIC BIKE: IT REMINDS US OF A BONANZA MINI-BIKE
The Super73 R-Series electric bike is labeled as a sport-cruiser-style motorbike. It is built with an aircraft-grade aluminum alloy frame and a fully adjustable air spring suspension fork. It features multi-class ride modes and a connected electronics suite compatible with both iOS and Android mobile devices through the new Super73 mobile app. When programmed in the Class-2 riding mode the Super73 can legally ride on most bike paths without a license, insurance or registration. There is also an "Unlimited" mode, which allows the rider to access up to 2000 watts of power via the throttle. This enables the Super73 to reach speeds in excess of 28mph and is intended exclusively for riding off public roads and on private property. While most electric bikes use a 400-700 watt-hour battery, the Super73 is powered by a state-of-the-art 960 watt-hour battery. This provides an estimated 40 miles of range at 20mph when using throttle-only operation, and an estimated 75 miles of range using the ECO pedal assist mode. The Super73 is available in three colors: Galaxy Black, Apollo White, and Hudson Blue. The MSRP $2695. For more information go towww.super73.com.
THE NEXT EVERTS IS IN LINE TO JOIN GRAND DAD HARRY & FATHER STEFAN
The son of ten-time FIM World Champion Stefan Everts and grandson of four-time 125 World Champion Harry Everts, 15-year-old Liam Everts rips his KTM in the this past weekend's 125 two-stroke race at the Hawkstone Park International in England. The first 125 race was a clear win for Brit Joel Rizzi, as Liam Everts came through the pack to finish second, just a couple of seconds adrift. Second time out and it was the Liam Everts show as he won by 40 seconds from Rizzi to take the overall victory. MotoHead's Adam Duckworth caught up with Liam and his dad Stefan, still bravely fighting back from malaria.
2020 AMA SUPERCROSS WINNERS AT A GLANCE
Eli Tomac got his second win of the 2020 season. He still didn't get the points lead, but he's close.

Venue                                        450                                    250
1. Anaheim 1………….Justin Barcia………..Justin Cooper
2. St. Louis………………Ken Roczen…………..Austin Forkner
3. Anaheim 2………….Eli Tomac………………Dylan Ferrandis
4. Glendale…………….Ken Roczen…………..Austin Forkner
5. Oakland……………..Eli Tomac……………….Dylan Ferrandis
6. San Diego…………..Cooper Webb……….Dylan Ferrandis
7. Tampa…………………Eli Tomac……………….Shane McElrath
8. Arlington…………..
9. Atlanta………………
10. Daytona………….
11. Indianapolis……
12. Detroit…………….
13. Seattle…………….
14. Denver…………….
15. Foxborough……
16. Las Vegas………..
17. Salt Lake City….
450 Points leader…Ken Roczen
250 West Points leader…Dylan Ferrandis
250 East points leader…Shane McElrath
AMA SUPERCROSS STANDINGS HEADING TO THE 2020 DALLAS SUPERCROSS

Ken Roczen managed to keep the red plate as the points leader, but only by one point.

AMA 450 SUPERCROSS STANDINGS
(After 7 of 17 rounds)
1. Eli Tomac (Kaw)…155
2. Ken Roczen (Hon)…151
3. Cooper Webb (KTM)…144
4. Justin Barcia (Yam)…135
5. Adam Cianciarulo (Kaw)…127
6. Jason Anderson (Hus)…118
7. Malcolm Stewart (Hon)…106
8. Justin Brayton (Hon)…102
9. Justin Hill (Suz)…93
10. Blake Baggett (KTM)…91
Shane McElrath won round one of the 250 East and got the automatic points lead.

AMA 250 EAST SUPERCROSS STANDINGS
(After 1 of 9 rounds)
1. Shane McElrath (Yam)…26
2. Chase Sexton (Hon)…23
3. Jeremy Martin (Hon)…21
4. Garrett Marchbanks (Kaw)…19
5. Jordon Smith (Kaw)…18
6. R.J. Hampshire (Hus)…17
7. Kyle Peters (Hon)…16
8. Joey Crown(Hus)…15
9. Jimmy DeCotis (Suz)…14
10. Jo Shimoda (Hon)…13
The battle over who's the big wig at Star Yamaha team had some fire in it five races ago, but Dylan Ferrandis has won three of the six 250 West races to overshadow Justin Cooper (32).

AMA 250 WEST SUPERCROSS STANDINGS
(After 6 of 10 rounds)
1. Dylan Ferrandis (Yam)…135
2. Justin Cooper (Yam)…128
3. Austin Forkner (Kaw)…122
4. Brandon Hartranft (KTM)…110
5. Alex Martin (Suz)…98
6. Jacob Hayes (Hus)…89
7. Luke Clout (Hon)…83
8. Michael Mosiman (Hus)…82
9. Derek Drake (KTM)…78
10. Mitchell Oldenburg (Hon)…72
2020 SAN DIEGO SUPERCROSS IN SLOW MOTION…IT STILL LOOKS PRETTY FAST
THE 26-POINT COUNTDOWN: WHO'S STILL IN IT TO WIN IT…AND WHO ISN'T?
This is the top three from the San Diego Supercross—they are also third, fifth and seventh in the 2020 standings after six of 17 races.
If you win an AMA Supercross Main Event you earn 26 points. After six rounds of the AMA Supercross Championship the maximum number of points any rider could have is 156. Guess what? Nobody has been perfect. The current points leader, Ken Roczen has 130 points with Eli Tomac at 129, Cooper Webb at 121, Justin Barcia at 116, Adam Cianciarulo at 113 and Jason Anderson at 105.
But, we aren't interest in  the small gaps between the top five, we are interest in big gaps, more accurately 26-point gaps. Why? Because if you are 26 points behind the leader, you are technically one full race out of the title chase. By subtracting 26 from Ken Roczen's 130 points, you would discover that if you have earned more than 104 points you are still racing on the same race as Kenny.
Guess what? Last weekend there were six riders still racing on the same race as points leader Ken Roczen. They were Eli Tomac, Justin Barcia, Jason Anderson, Cooper Webb and Adam Cianciarulo. This week the same six riders will go Saturday's Tampa Supercross still racing on the same race as the points leader.
Jason Anderson (21) is a former AMA 450 Supercross Champion, but he is the man on the bubble. Jason has to have a good night in Tampa to avoid falling a full race behind the points leader.

By the same math, if you are behind Kenny by 52 points (130-52=78) you are two events behind the points leader and, heaven forbid,  if you have only scored 78 points over the first six races, you will be behind by three complete races after only six races (which means that Kenny could enter the monkhood and skip three races and you still wouldn't be ahead of him on points).
Justin Brayton (1) hopes that going back East will help his results. Justin is currently 39 points behind the points leader, but embroiled in a tight race with Blake Baggett, and Malcolm Stewart for seventh in the standings.
HOW FAR BEHIND KEN ROCZEN ARE THE TOP 15 ARE IN POINTS?
(On the same race)
1. Ken Roczen..-0
2. Eli Tomac…-1
3. Cooper Webb…-9
4. Justin Barcia…-14
5. Adam Cianciarulo…-17
6. Jason Anderson…-25
(More than one race behind)
7. Blake Baggett..-40
8. Malcolm Stewart…-40
9. Justin Brayton…-39
10. Zach Osborne…-55
11. Justin Hill…-55
12. Aaron Plessinger…60
13. Dean Wilson…61
14. Vince Friese…70
15. Martin Davalos…80
THE MARCH 2020 ISSUE IS HERE! IT IS JAM-PACKED FULL OF BIKE TEST & TECH ARTICLES

Not only do we ride Cooper Webb's KTM 300SX two-stroke works bike, but we do a midsize shootout beetween the KTM 350SXF, TM 300FI-MX & Husky FC350. Wait, there's more. We do a Yamaha YZ125 versus KTM 125 UnShootout and build a project Honda CRF450.

If you subscribe to MXA you can get the mag on your iPhone, iPad, Kindle or Android by going to the Apple Store, Amazon or Google Play or in a digital version. Even better you can subscribe to Motocross Action and get the awesome print edition delivered to your house by a uniformed employee of the U.S. Government. You can call (800) 767-0345 or Click Here (or on the box at the bottom of this page) to subscribe.
BIKES YOU'VE NEVER SEEN BEFORE: IT'S A BSA…SORT OF


This is Jody's Weisel's personal 1953 Sunbeam S7 Deluxe—with its original condition mist green paint. This motorcycle belonged to Jody's father before him and has been in the family for 67 years. Click on images to enlarge.
Recently at auction, a British-built Sunbeam S7 sold for $16,500. The Sunbeam S7 was quite unique  in its day. It had an unusual longitudinally-mounted, horizontally split, overhead cam, 487cc, inline twin engine based on an experimental 1932 BSA design. It had a coil ignition, wet sump lubrication, dry clutch and shaft drive to the rear wheel. Rear suspension was handled by plunger shocks mounted to the rear hub. Sunbeam S7's were among the most expensive bikes you could buy in 1953 and it was over-engineered for the time. In it's 67 years Jody's Sunbeam has racked up only 1300 miles. That's 19 miles a year.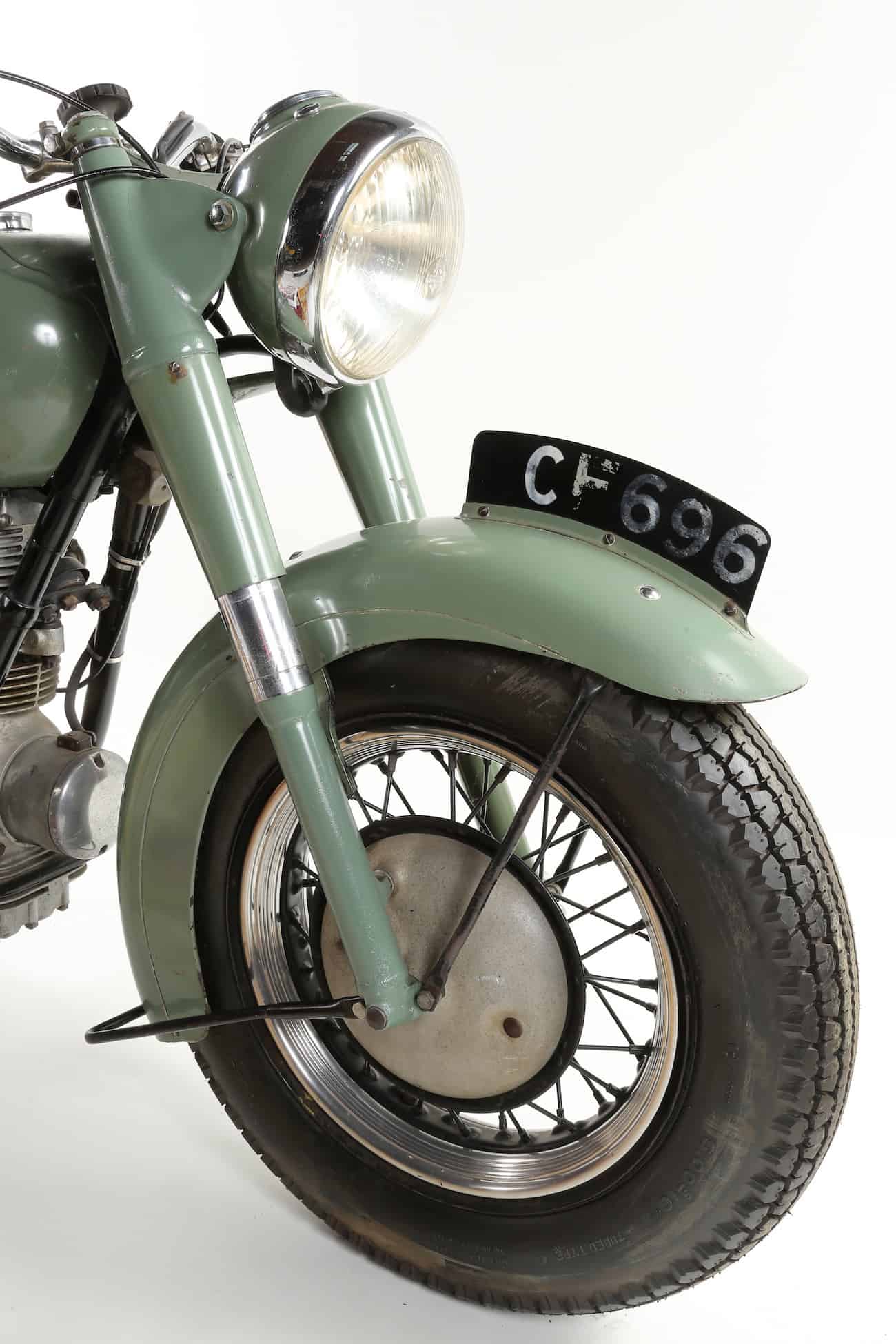 Although once a stand-alone motorcycle manufacturer, Sunbeam was bought by BSA in 1943 — evidenced by the fact that the S7's forks are BSA units — gussied up.
The shaft-drive rear hub used a worm-gear drive and was attached to the plunger rear shocks. The bike has never been restored.
INAUGURAL "DAY IN THE DIRT DOWN SOUTH" AT DADE CITY ON MARCH 13-15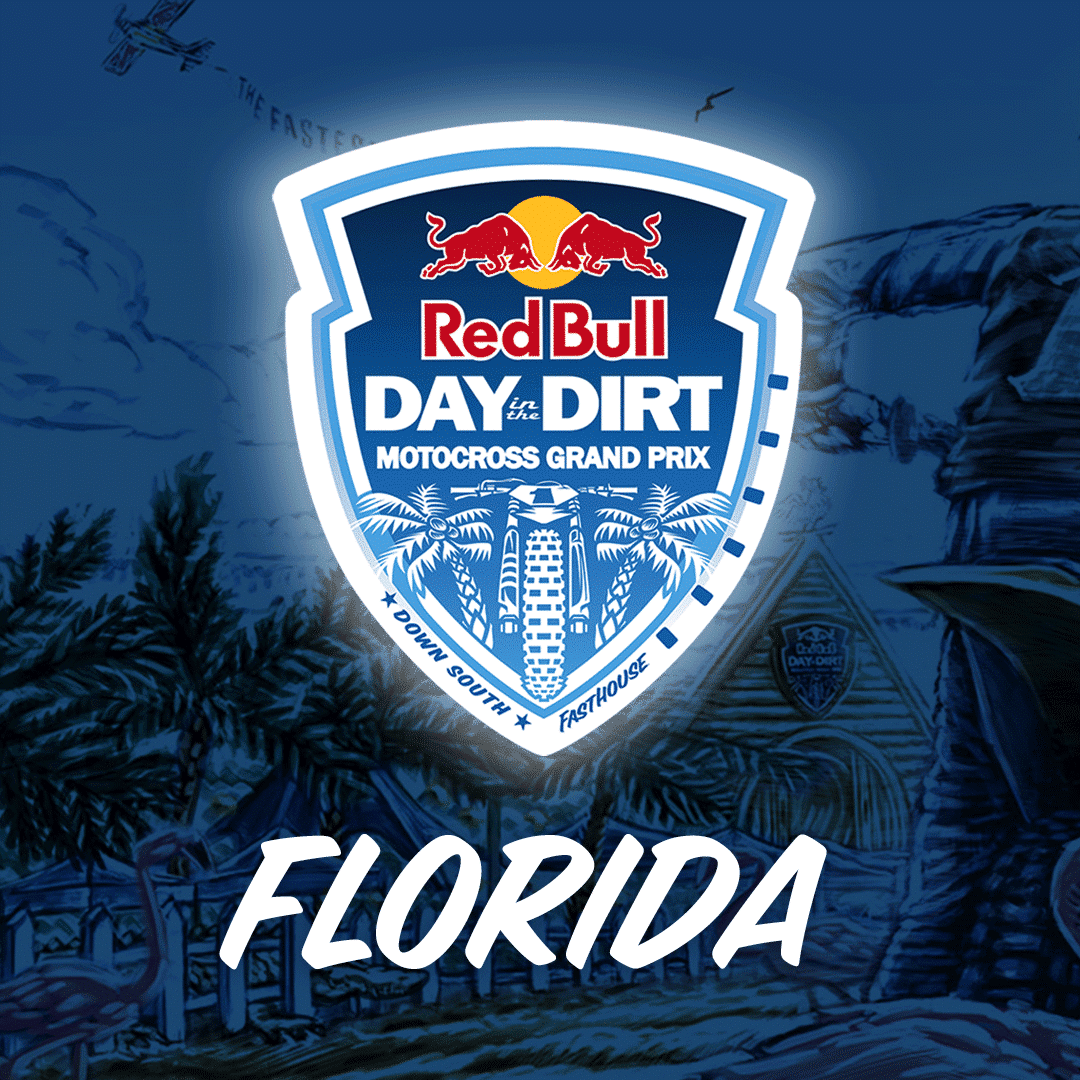 The Red Bull Day in the Dirt is coming to Dade City Motocross in Florida on March 13-15.Day in the Dirt has been held in SoCal for 22 years, but has expanded to Australian and now to the South. The Red Bull Day in the Dirt Down South promises to be a unique gathering of dirt bike-riding, fun-loving family and friends.The racing will happened all weekend with classes for all levels and ages – from Beginner to Pro, Minicycles to Vintage, Vets and Women, Two-Strokes, Off-Roaders—everyone. There will also be a wide array of team races like the Bosa Nova GP, Moto A Go-Go, the Old Switcheroo, the Still Smoking Two-Stroke race and finally the Coup de Grace Survival Race. Also, riders that compete in and finish five events become an Ironman and will receive a stylish trophy. For more information go to www.dayinthedirtdownsouth.com.
THE HANDY-DANDY TRACK MAPS OF ROUNDS 7 & 8 — TAMPA & DALLAS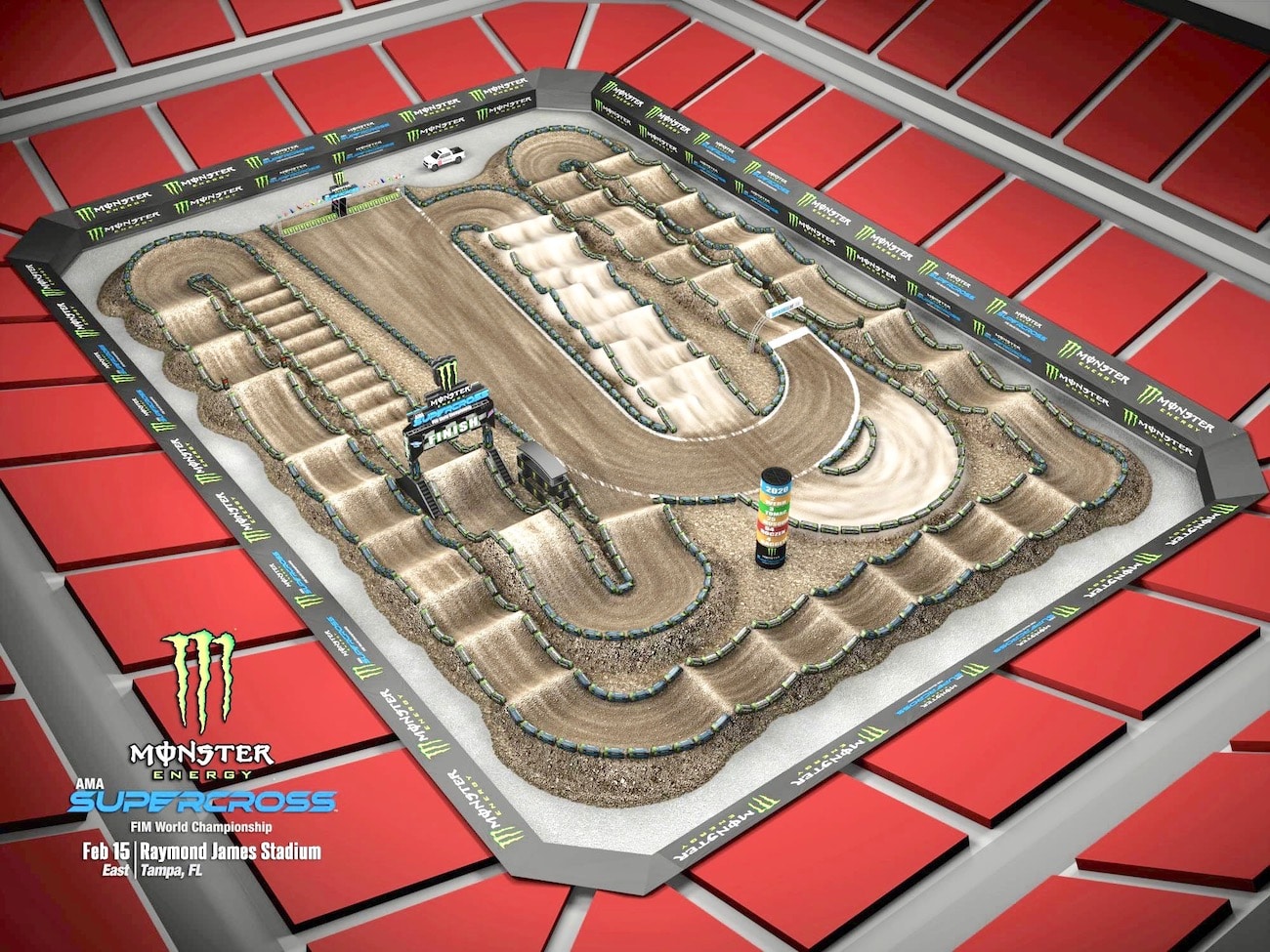 The 2020 AMA Supercross series moves East for the Tampa Supercross on February 15. It also marks the start of the AMA 250 East regional championship (as the 250 West will now take a six-race break in their title chase).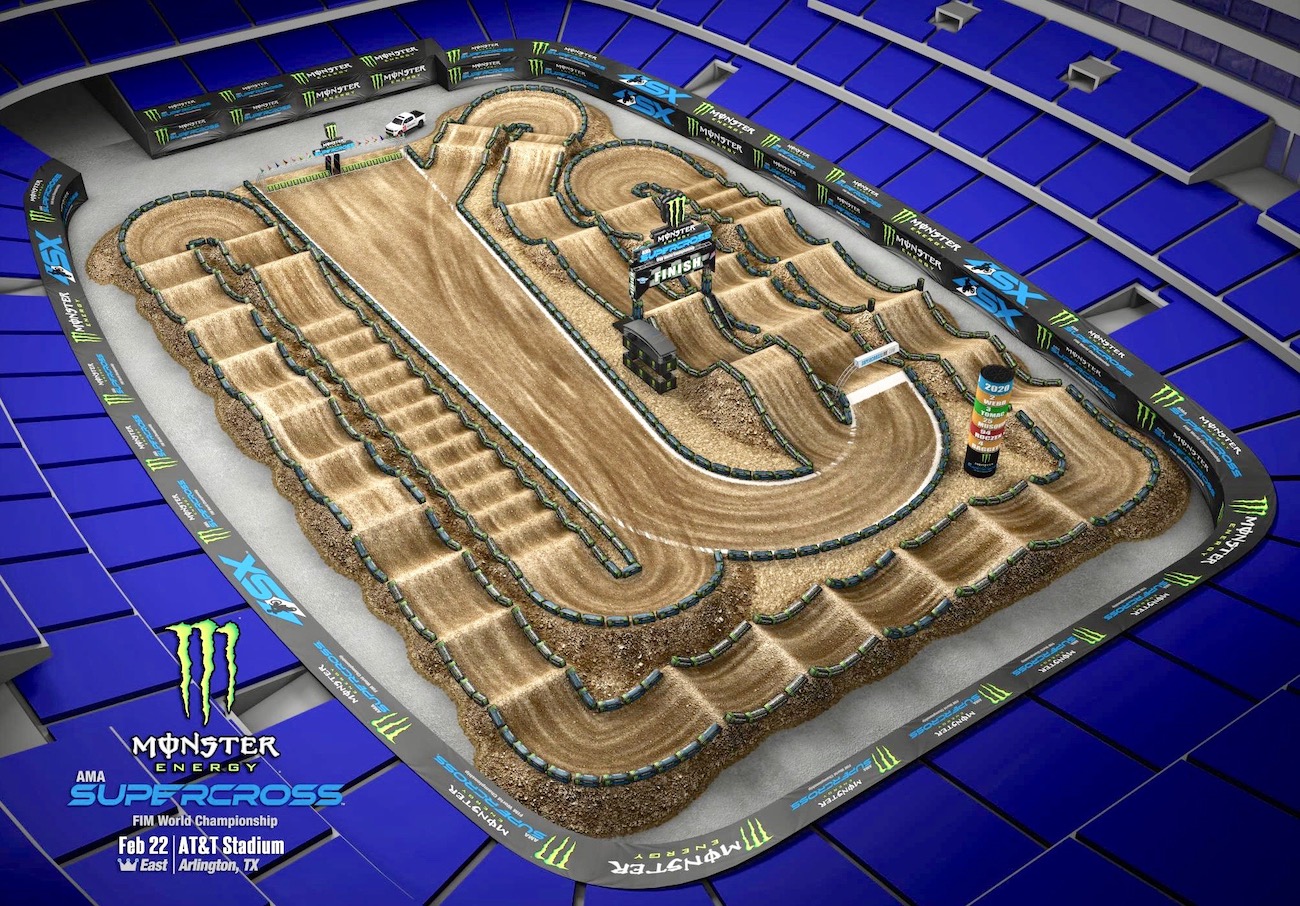 After the long drive from San Diego to Tampa, the Supercross carvan will reverse directions and go halfway back to San Diego when they stop in Dallas on February 22 for a three-moto event.
PHOTO OF THE WEEK: WHAT'S THIS? A SIGN OF MATURITY & SPORTSMANSHIP AT A SUPERCROSS RACE?

After their hard-fought battle at the San Diego Supercross, Adam Cianciarulo (9) and Cooper Webb (1) actually shook hands after the checkers. Even more surprising, the hand shake was initiated by Cooper Webb. This was in sharp contrast to a lot of the finger pointing and arm waving from the other riders in the 450 class.
WANNA RACE IN SOCAL? NEED TO RENT A BIKE? FIND A PLACE TO STAY? NEED MOTOCROSS INSTRUCTION: JUST CALL STAPO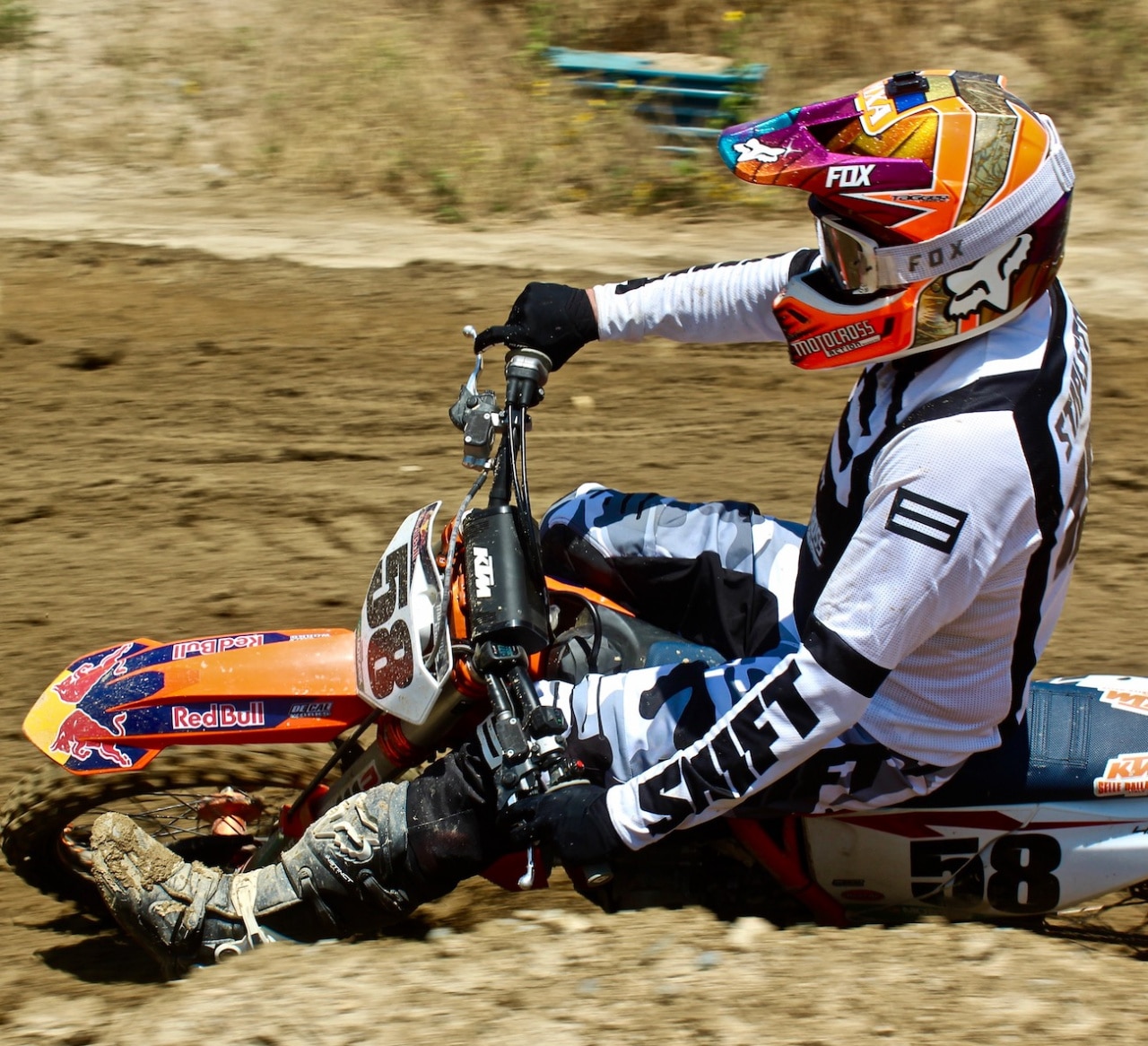 Dennis Stapleton doing what he does every day of the week — let him make your dreams come true.
In his spare time, when he's not testing with MXA, racing in a foreign country, going to Japan or helping many of his motocross buddies, MXA test rider Dennis Stapleton opens up his house, garage, bikes and mechanics to help riders who would like to come to SoCal on a motocross vacation. He offers full service to all of the Southern California tracks for racers or for play riders. Whether you want to rent a bike, move in for a week, race at Glen Helen or take motocross lessons—this is one-stop shopping. Just send them an email ([email protected]). If you'd like to live the SoCal lifestyle for a day, a weekend, a week, a month or three months, visit Dennis Stapleton's' website at www.knobbyshopsouth.org for more details!
STARTING THIS WEEKEND, REM MOTOCROSS AT GLEN HELEN FOR 6 OF 7 WEEKS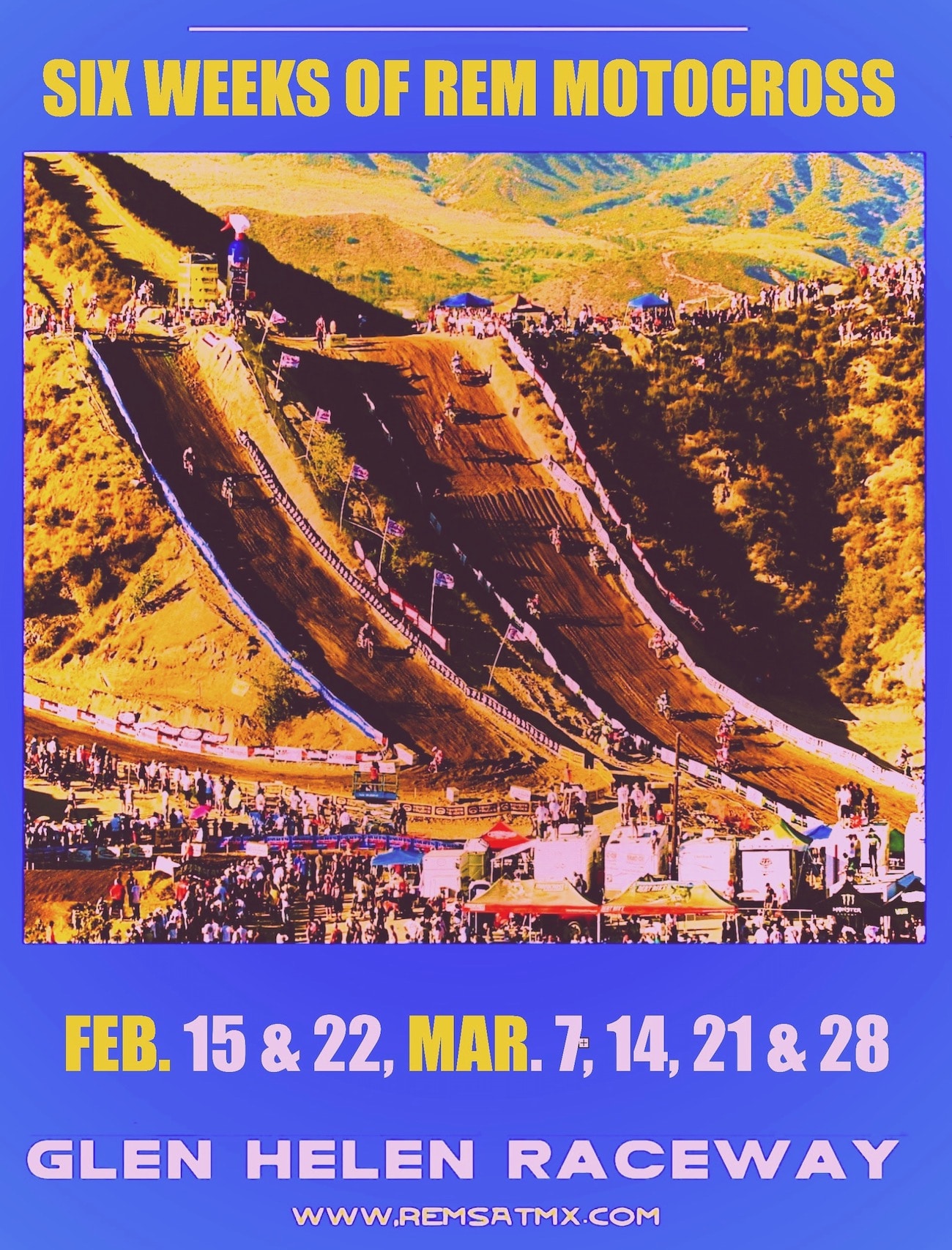 For more information go to www.remsatmx.com
MXA AD OF THE WEEK: WHEN THE CATS AWAY, MOUSE WILL PLAY

We loved the headline of this 1982 Honda CR80 ad, but if you don't know who Mouse McCoy was, it won't mean a thing. What you probably also don't know is that the lightswitch powerband of the CR80 made it one of the least popular minicycle to own in the 1980s.
MXA MOTO-QUIZ: WE WERE ALL YOUNG ONCE
Quite obviously this a Pro Circuit Kawasaki rider, but there have been so many of them it is hard to tell who's who. This rider won both the 125 East and the 125 West, the Las Vegas U.S. Open, the Paris Supercross and the 125 National and World Championship. But, which Pro Circuit Champion is this? The answer is on the bottom of this page.
2020 SOBOBA TRAIL RIDE ON FEBRUARY 23, 2020, ON THE SOBOBA INDIAN RESERVATION
For more information about the San Jacinto, California, trail ride go to www.sobobarides.biz
2020 OLD SCHOOL SCRAMBLES TT SERIES STARTS ON FEBRUARY 23
For more info go to www.ossrg.org
6TH ANNUAL VINTAGE "MOTOCROSS DES STATES" ON FEB. 29 AT WALDO MOTORSPORT PARK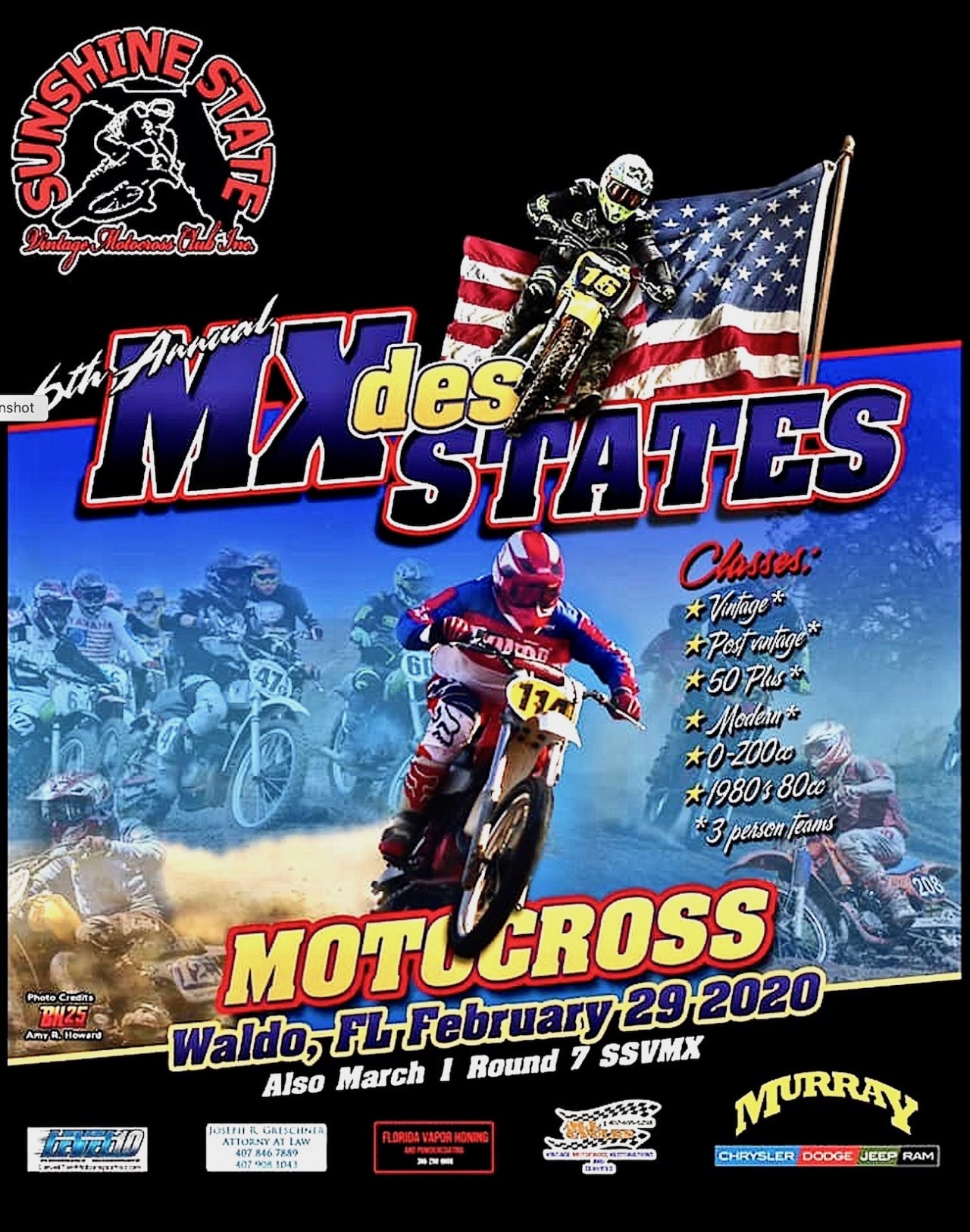 This is a three-day event, with practice on Friday, February 28, the Motocross des States on Saturday, February 29 and Round 7 of the Sunshine State Vintage Motocross series on Sunday, March 1. For more info go to www.waldomx.com
2020 KICKER ARENACROSS SERIES COMES TO SALT LAKE CITY ON FEBRUARY 28-29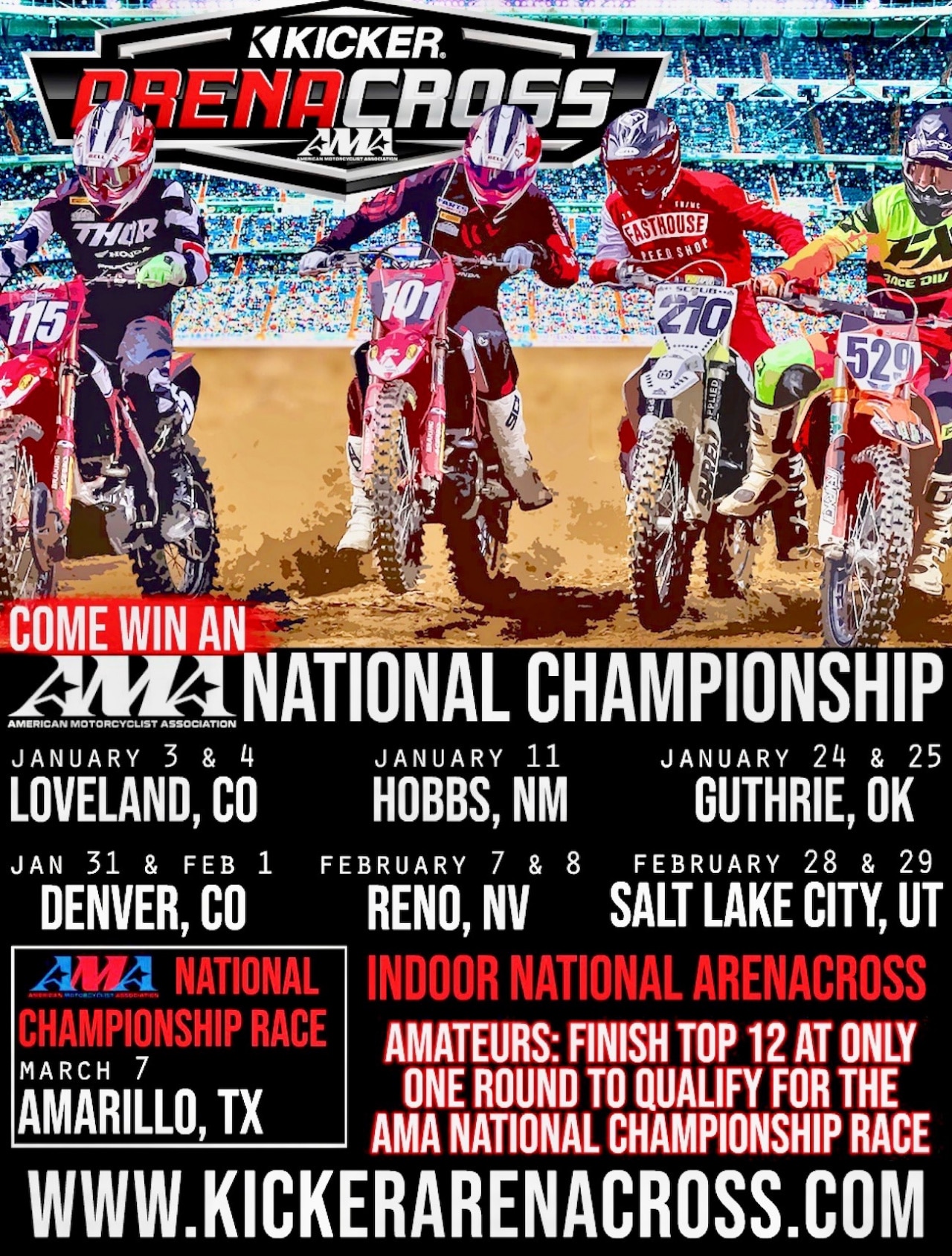 For more info go to www.kickerarenacross.com
GLEN HELEN'S 6-HOUR, 12-HOUR & 24-HOUR ENDURANCE RACE SERIES STARTS ON MARCH 8 WITH THE SIX-HOUR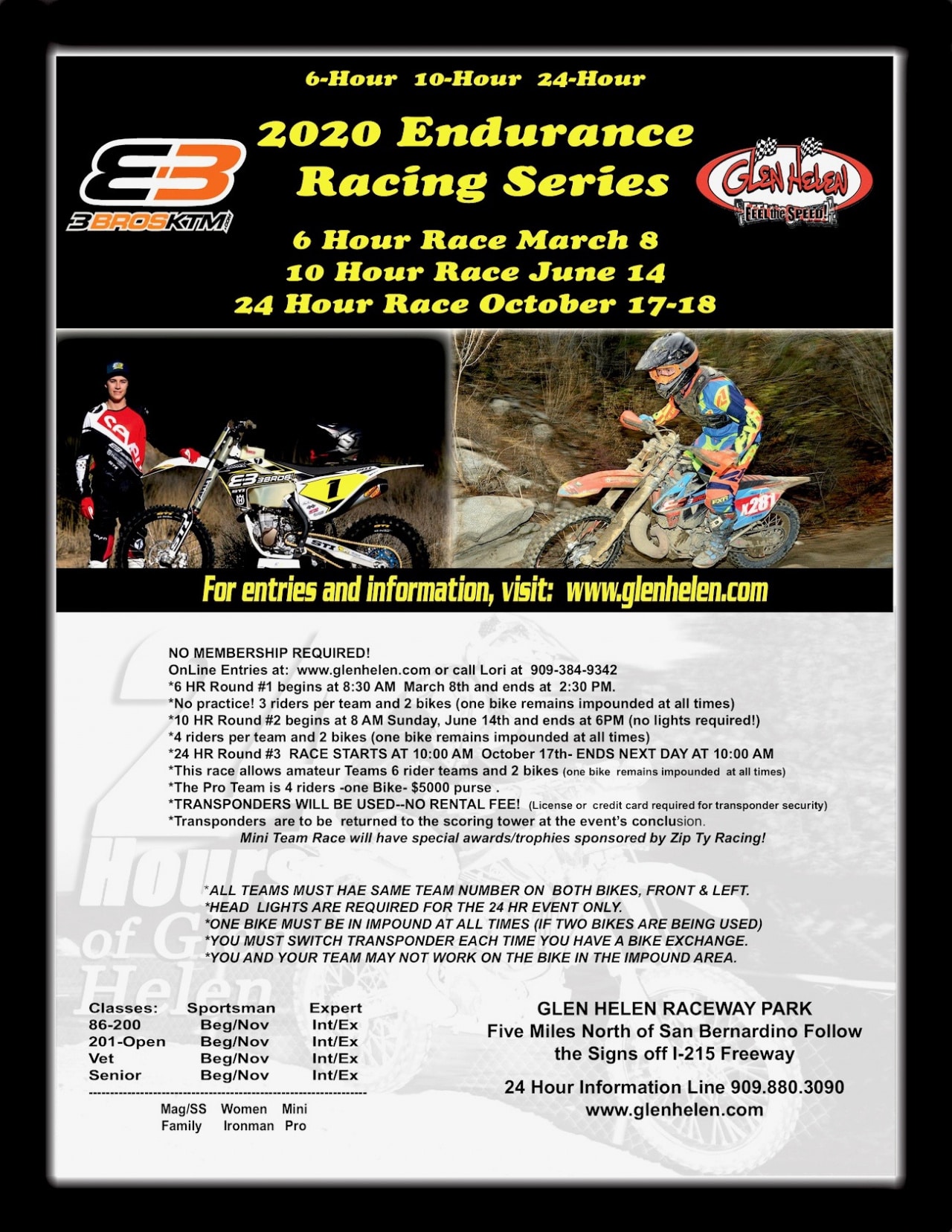 The 6-Hour is on March 8, 12-Hour on June 14 and the 24-Hour starts on October 17 (and ends on the 18th). For more info go to www.glenhelen.com
6TH ANNUAL MOTO MASTERS VET SERIES STARTS ON MARCH 14 AT JOHNSVILLE MX FARM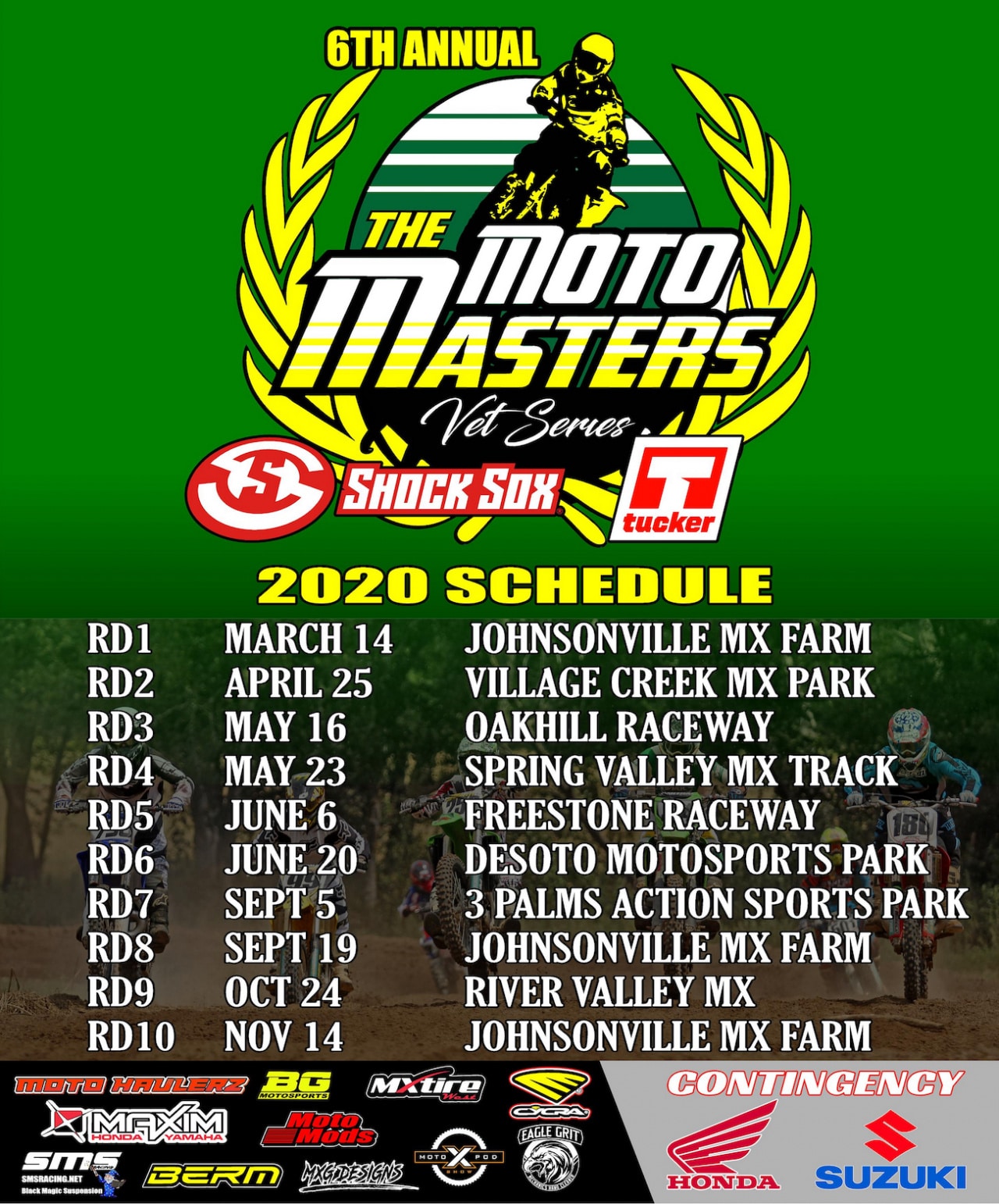 For more info go to www.johnsonvillemxfarm.com
2020 ARIZONA STATE CHAMPIONSHIP SERIES RACES ON MARCH 22 AT CANYON RACEWAY

For more information go to www.canyonmx.com or www.amxracing.com
2020 WISECO/FASTHOUSE WORLD TWO-STROKE CHAMPIONSHIP COMING ON APRIL 10-11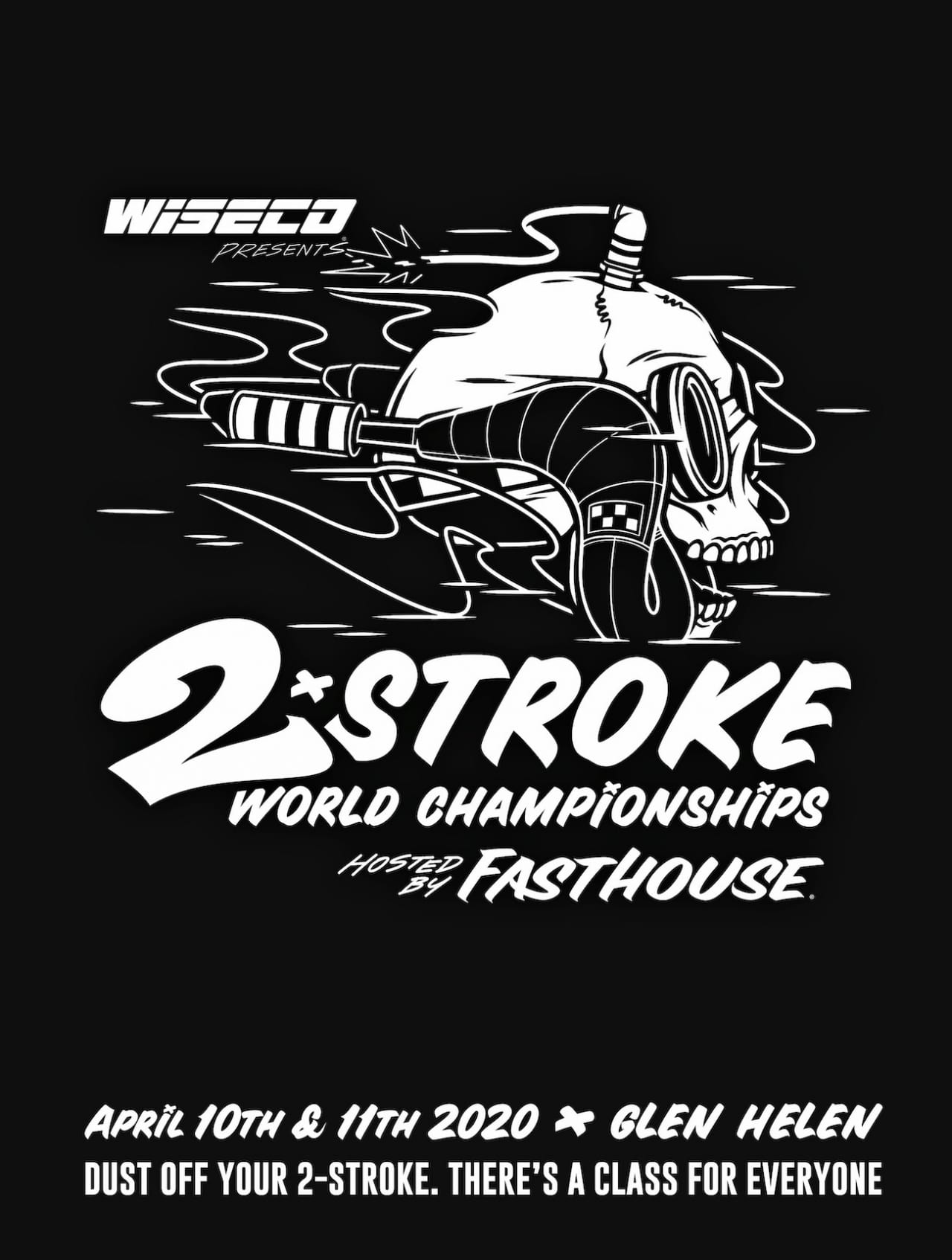 Pre-Entries go online on February 1, 2020. To pre-enter Click Here
LOOKING AHEAD! THE 2020 RACE CALENDAR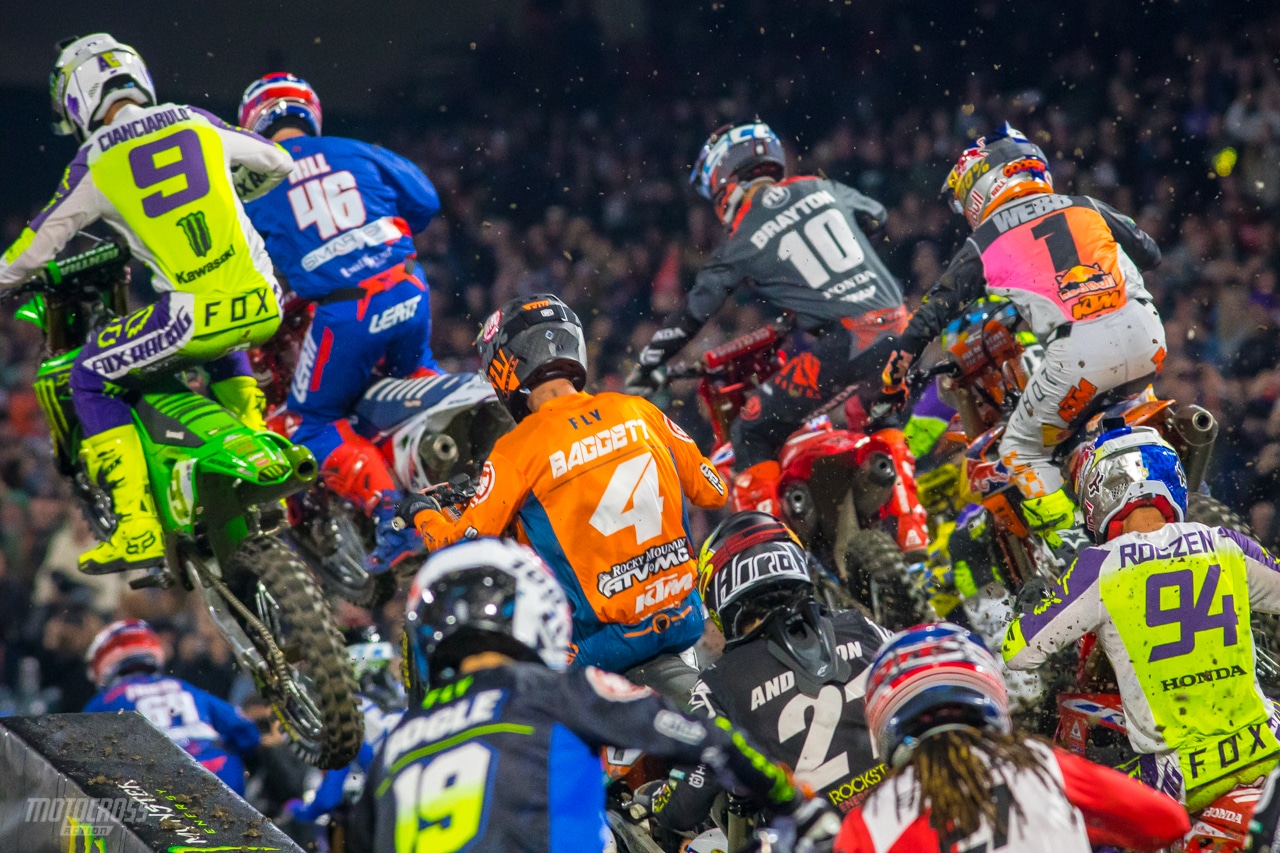 2020 AMA SUPERCROSS CHAMPIONSHIP
Jan. 4…Anaheim, CA (West)
Jan. 11…St. Louis, MO (West)
Jan. 18 …Anaheim, CA (West)
Jan. 25…Glendale, AZ (3-Moto) (West)
Feb. 1…Oakland, CA (West)
Feb. 8…San Diego, CA (West)
Feb. 15…Tampa, FL (East)
Feb. 22… Arlington, TX (3-Moto) (East)
Feb. 29… Atlanta, GA (East)
Mar. 7…Daytona Beach, FL (East)
Mar. 14…Indianapolis, IN (East)
Mar. 21…Detroit, MI (East)
Mar. 28…Seattle, WA (West)
Apr. 4…Denver, CO (East/West)
Apr. 18…Foxborough, MA (East)
Apr. 25…Las Vegas, NV (3-Moto) (West)
May 2…Salt Lake City, UT (East/West)
2020 AMA ARENACROSS CHAMPIONSHIP
Jan. 3-4…Loveland, CO
Jan. 11…Hobbs, NM
Jan. 24-25…Oklahoma City, OK
Jan. 31-Feb. 1… Denver, CO
Feb. 7-8…Reno NV
Feb. 28-29…Salt Lake City, UT
Mar. 7… Amarillo, TX
2020 AMA NATIONAL CHAMPIONSHIP
May 16…..Hangtown, CA
May 23…..Pala, CA
May 30….Thunder Valley, CO
Jun. 6……Jacksonville, FL
June 20…Mt. Morris, PA
June 27…Southwick, MA
July 4……Red Bud, MI
July 18….Millville, MN
July 25….Washougal, WA
Aug. 15…Unadilla, NY
Aug. 22…Budds Creek, MD
Aug. 29…Crawfordsville, IN
2020 FIM MOTOCROSS WORLD CHAMPIONSHIP
Mar. 1…Great Britain
Mar. 8…Holland
Mar. 22…Argentina
Apr. 5…Italy #1
Apr. 19…Spain
Apr. 26…Portugal
May 10…France
May 17…Italy #2
May 24…Germany
June 7…Russia
June 14…Latvia
June 28…Jakarta, Indonesia
July 5…Palembang, Indonesia
July 26…Czech Republic
Aug. 2…Belgium
Aug. 16…Sweden
Aug. 23…Finland
Sept. 6.…Turkey
Sept. 13…China
Sept. 20…Italy #3
2020 FIM MOTOCROSS WORLD SIDECAR CHAMPIONSHIP
Apr. 19…Holland
May 10…Czech Republic
May 17…Ukraine
June 21…Belgium
June 28…France
July 12…Estonia
Aug. 23…Belgium
Aug. 30…Switzerland
Sept. 6.…Slovenia
Sept. 13…Czech Republic
Sept. 20…Germany
2020 FIM MOTOCROSS DES NATIONS
Sept. 27.…Ernee, France
2020 WORLD TWO-STROKE CHAMPIONSHIP
April 10-11.…Glen Helene, CA
2020 AMA ENDUROCROSS CHAMPIONSHIP
Aug. 22…Prescott Valley, AZ
Sept. ??…TBA
Oct. 3,…Amarillo, TX
Oct. 10…Denver, CO
Nov. 7…Boise, ID
2020 WORCS OFF-ROAD CHAMPIONSHIP
Jan. 26…Primm, NV
Feb. 23…Taft, CA
Mar. 22… Havasu, AZ
Apr. 19…Blythe, CA
May 3…Las Vegas, NV
May 31…Cahuilla Creek, CA
July 19…Prineville, OR
Sept. 20…Glen Helen, CA
Oct. 18…Mesquite, NV
Nov. 15…Primm, NV
2020 WORCS SPRINT ENDURO
Feb. 25…Taft, CA
May 24… Mesquite, NV
July 25…Prineville, OR
Sept. 26…Glen Helen, CA
Oct. 31…Cahuilla, CA
2020 CANADIAN NATIONAL CHAMPIONSHIP
May 31…Wild Rose, AB
June 7…Blackwater, BC
June 14…Dorva, AB
June 21…MotoVally, SK
July 12…Gopher Dunes, ON
July 19…San Del Lee, ON
July 26…Riverglade, NB
Aug. 2…Deschambault, QC
Aug. 16…Walton, ON
2020 MICHELIN BRITISH NATIONAL CHAMPIONSHIP
Mar. 22…Fatcat MotoParc
Apr. 19…Desertmartin, Ireland
Apr. 26…Hawkstone Park
July 5…Canada Heights
Aug. 9…Landrake
Sept. 6t…Cusses Gorse
2020 ACU BRITISH NATIONAL CHAMPIONSHIP
Apr. 12…Lyng
May 3…Foxhill
May 31…Blaxhall
June 21…Deertmartin, Ireland
July 12…Culham
Aug. 30…Landrake
2020 IRISH NATIONAL CHAMPIONSHIP
Apr. 4…Desertmartin
May 10…TBA
June 6…Claudy
July 19…TBA
Aug. 15…Tandragee
Sept. 13…TBA
2020 AUSTRALIAN NATIONAL CHAMPIONSHIP
April 4-5…Horsham, Victoria
May 3… Newry, Victoria
May 24…Queensland
June 28…Glympie, Queensland
July 25-26…Maitland, New South Wales
Aug. 22-23…Coolum, Queensland
2020 AUSTRALIAN SUPERCROSS CHAMPIONSHIP
Oct. 3 …Western Australia
Oct. 17… South Australia
Oct. 31…Queensland
Nov. 7 …New South Wales
Nov. 14…TBA
Nov. 28…Victoria
2020 ADAC GERMAN NATIONAL CHAMPIONSHIP
Apr. 13…Fürstlich Drehna
May 3…Mölln
May 31…Möggers, Austria
June 21…Aichwald
July 12…Holzgerlingen
July 19…Tensfeld
Aug. 30…Bielstein
Sept.13…Gaildorf
2020 REM COMMOTION BY THE OCEAN
July 3-5…Glen Helen, CA
2020 AMA NATIONAL AMATEUR CHAMPIONSHIP
Aug. 3-8….Hurricane Mills, TN
2020 FIM JUNIOR WORLD CHAMPIONSHIP
Aug. 8-9…Megalopolis, Greece
REM OCTOBERCROSS
Oct. 31…Glen Helen, CA
2020 DUBYA WORLD VET MOTOCROSS CHAMPIONSHIP
Nov. 6-8…Glen Helen , CA
TALK MOTO WITH ON MXA'S FACEBOOK GROUP CHAT


We love everything moto and want to bring all moto junkies together into one place to share their two cents, ideas, photos, bike fixes, bike problems and much more. To check it out first you must need to or already have a Facebook account. If you don't, it isn't much work and you could even have an alias so nobody knows it is you. To join click HERE. After you request to join we will accept your request shortly after.
FOLLOW MXA ON TWITTER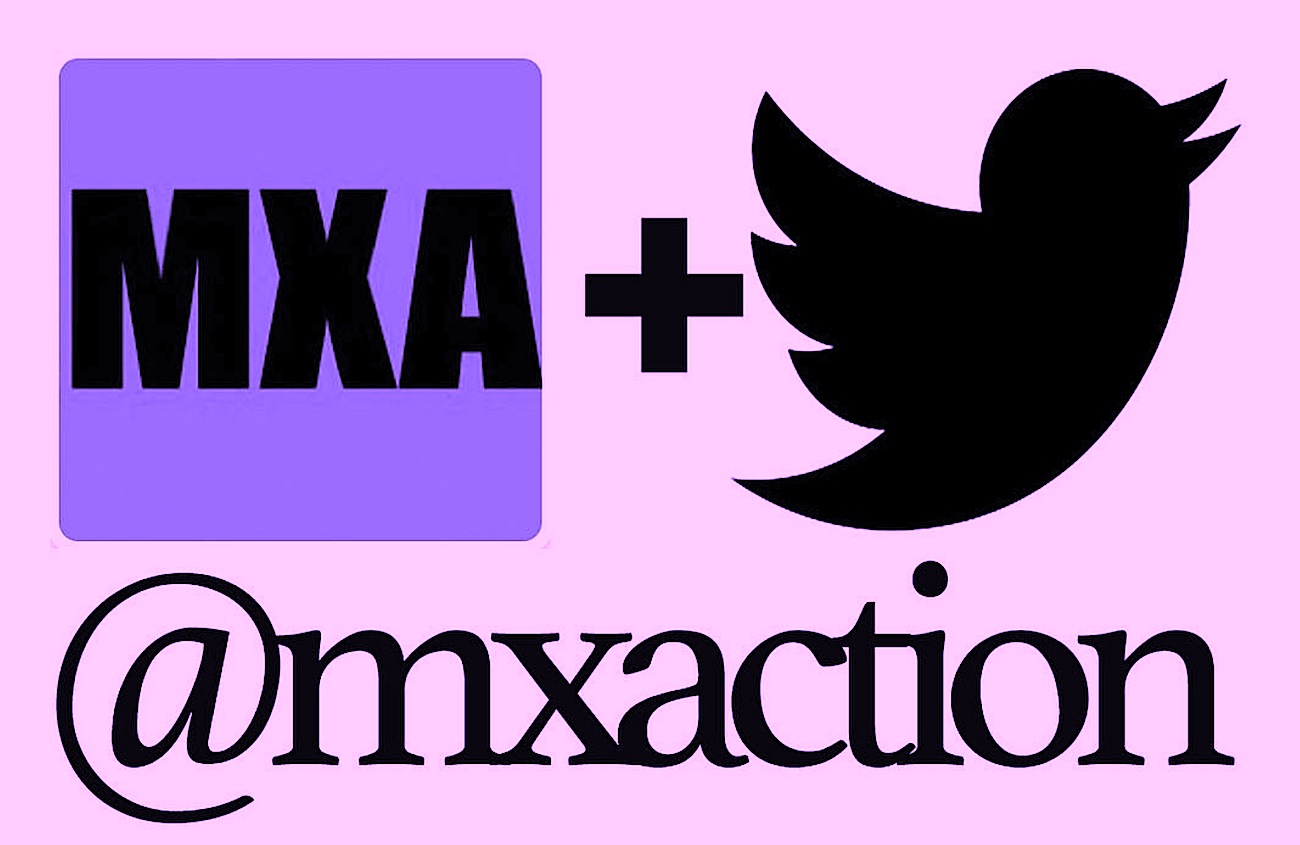 Follow us to see fresh content every day at www.twitter.com/MXAction or on twitter at "MXAction."
MXA YOUTUBE CHANNEL | HIT THAT SUBSCRIBE BUTTON

The MXA wrecking crew is everything moto related. Check out our MXA YouTube channel for bike reviews, Supercross coverage, rider interviews and much more. And don't forgot to hit that subscribe button.
MXA MOTO-QUIZ ANSWER
Photos: Brian Converse, John Basher, Jody Weisel, Josh Mosiman, Debbi Tamietti, Travis Fant, Daryl Ecklund, MXA, KTM