MXA'S WEEKEND NEWS ROUND-UP: A BIG WEEKEND FOR DAD, UNCLE AND GRANDPA…AND SOMEDAY YOU
• 2023 AMA NATIONAL MOTOCROSS RACE SCHEDULE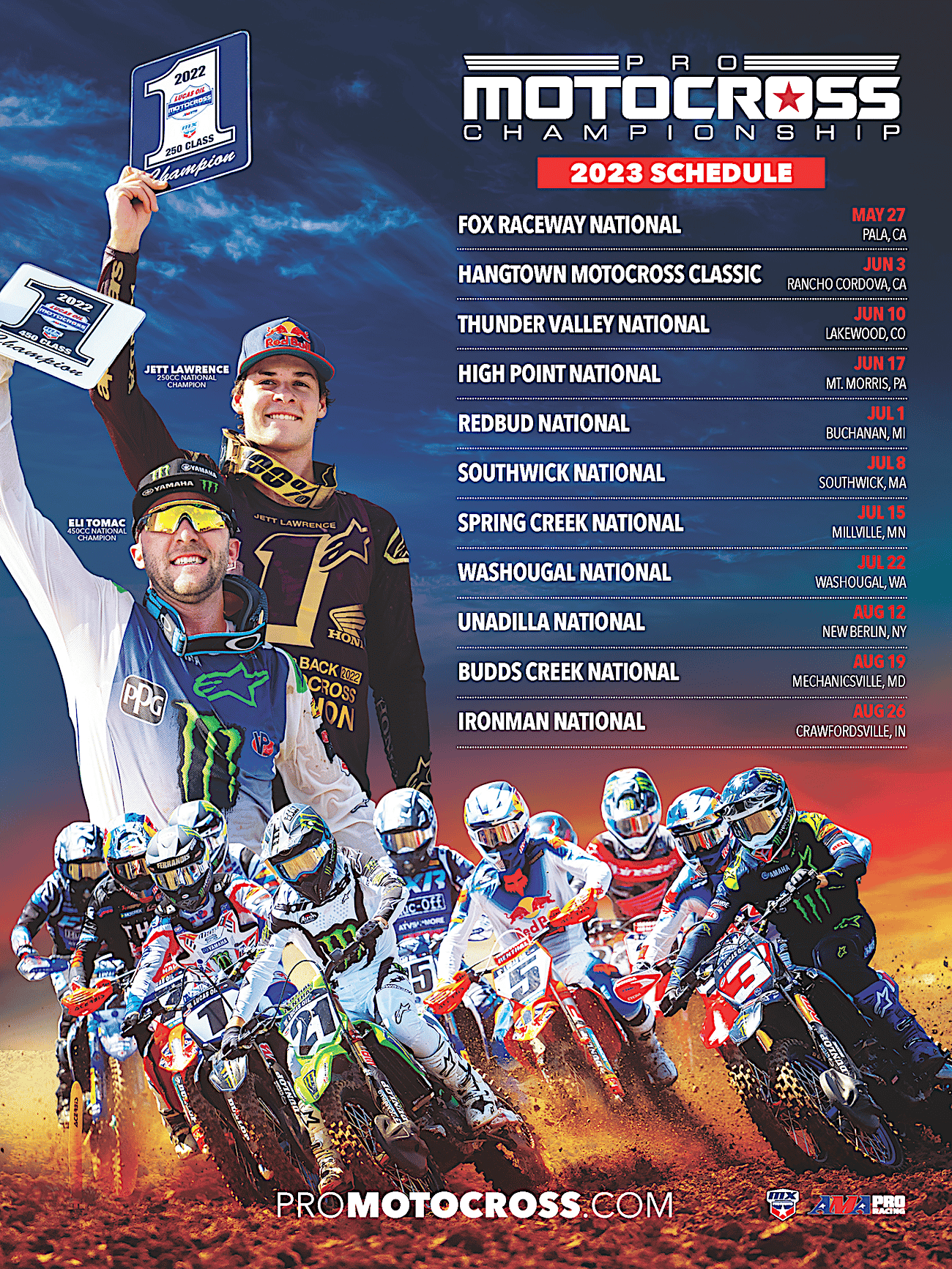 • MXA'S JOSH MOSIMAN LAPPING YAMAHA'S GOAT FARM TEST TRACK
• 2023 AMA SUPERCROSS RACE SCHEDULE
• MXA VIDEO: 2023 YAMAHA YZ450F VIDEO TEST
• FIM WORLD MOTOCROSS CHAMPIONSHIP RACE SCHEDULE

• THIS WEEK AT MXA WITH JOSH MOSIMAN: K-ROC ON A YZ-ZED, 150SX TESTING AT PERRIS & LOTS MORE
• MXA'S PRODUCT SPOTLIGHT: MOOSE RACING TI FOOTPEGS
Moose Racing has introduced their new Titanium Foot Pegs. The Moose Ti Foot Pegs provide a factory look and save weight at only 300 grams per set. Made from aerospace grade titanium (Grade 5 Ti-6AL-4V) with chamber-controlled welding, the pegs have an aggressive 57mm cleated platform with an inner cleated webbing design for added traction surface and strength.
They also offer a beveled front and rear edge to prevent hanging up in deep ruts. Available now for all popular late offroad models the MSRP is $269.95 for all fitments. For more info go to www.mooseracing.com.
• LOOKING TO THE FUTURE: THE 2023 RACE SCHEDULES
2023 AMA SUPERCROSS CHAMPIONSHIP
Jan. 7…Anaheim, CA
Jan. 14…Oakland, CA
Jan. 21…San Diego, CA
Jan. 28…Anaheim, CA
Feb. 4…Houston, TX
Feb. 11…Tampa, FL
Feb. 25…Arlington, TX
Mar. 4…Daytona Beach, FL
Mar. 11…Indianapolis, IN, MI
Mar. 18…Detroit, MI
Mar. 25…Seattle, WA
Apr. 8…Glendale AZ
Apr. 15…Atlanta, GA
Apr. 22…East Rutherford, NJ
Apr. 29…Nashville, TN
May 6…Denver, CO
May 13…Salt Lake City, UT
2023 SUPERMOTOCROSS PLAYOFF SCHEDULE
Sept. 9…TBA
Date TBA…TBA
Oct. 14: Los Angeles, CA
2023 AMA ARENACROSS CHAMPIONSHIP
Nov. 18, 2022…Albany, GA
Nov. 25, 2022…Albany, NY
Jan. 6…Loveland, CO
Jan.13…Prescott, AZ
Jan. 20…Guthrie, OK
Jan. 27….Guthrie, OK
Feb. 3…Reno, NV
Feb. 10…Denver, CO
Feb. 24…Hobbs, NM
Mar. 3…Amarillo, TX
Mar. 10…Tulsa, OK
Mar. 17…Salem, VA
Mar. 24…Little Rock, AR
Mar. 31…Lexington, KY

2023 2023 FIM WORLD MOTOCROSS CHAMPIONSHIP
Mar. 12…Argentina
Mar. 26…TBA
Apr. 10…TBA
Apr. 16…Italy
Apr. 30…Portugal
May 7…Spain
May 21…France
Jun. 4…Latvia
Jun. 11…Germany
Jun. 25…Indonesia
July 2…Indonesia
July 16…Czech Rep.
July 23…Belgium
Aug. 6…Finland
Aug. 13…Sweden
Aug. 20…Holland
Sept. 3…Turkey
Sept. 17…Vietnam
Oct. 1…TBA
Oct. 15…England
2023 AMA NATIONAL MOTOCROSS CHAMPIONSHIP
May 27…Pala, CA
June 3…Hangtown, CA
June 10…Thunder Valley, CO
June 17…Mt. Morris, PA
July 1…Red Bud, MI
July 8…Southwick, MA
July 15…Millville, MN
July 22…Washougal, WA
Aug. 11…Unadilla, NY
Aug. 19…Budds Creek, MD
Aug. 26…Crawfordsville, IN
2013 MOTOCROSS DES NATIONS
Oct. 22…Ernee, France
MXA VIDEO: 2023 KTM FREERIDE ELECTRIC TRAIL BIKE VIDEO TEST
• MXA PRODUCT SPOTLIGHT: LEATT'S 2023 MOTOCROSS BOOTS RANGE
Leatt's MX boot range will have your ankles and feet fully protected while enjoying the time at the track or on the trails. The 5.5 Flexlock, 4.5, and 3.5 boots all offer great comfort, the quality of the materials used are noticeable once you slide your foot inside.
Once you have seen Leatt's market leading Slidelock closure function, you will see why this feature alone is leaving riders speechless as it ensures the perfect seal best fit around your knee protection. Great designs mean these boots won't just have you feeling safe, but also looking great. For more info go to www.leatt.com/us/
2033 LEATT 5.5 FLEXLOCK BOOT
The Leatt 5.5 FlexLock boot, was a 3-year project with long term development and testing using our Pro athletes from all over the world! The 5.5 boot is a real head tuner when it comes to looks and style, but the design brief was comfort and protection also, and we nailed it first time.
Leatt's adjustable FlexLock system reduces forces to the ankle by up to 37% and the knee by up to 35% by Locking out the ankle movement when over flexed, giving you that feeling of security.With great feel of the frame, gear lever and rear brake, these boots instantly feel so good. You must check out our SlideLock Velcro function it really is groundbreaking in security fastening boot technology. Retail price: $449.99.
2023 LEATT 4.5 BOOT

The 4.5 Boot offers advanced technology at a mid-range price point. Moto boots are undoubtedly one of the most essential pieces of protective gear a rider should invest in. This boot is designed to enhance your riding skills, through comfort and feel while protecting your feet from serious injuries should you take a fall.
With many features taken from the super successful 5.5 FlexLock, the 4.5 boot is a real looker. Designed with a solid frame, a tough sole and our SlideLock Velcro function it really is a great option for protective footwear. Retail price: $339.99.
2023 LEATT 3.5 BOOT

Great design, comfortable and safe at a price point that is hard to beat. We have included the amazing SlideLock closure system as used on both the 4.5 and 5.5 FlexLock boots along with the extended foot peg riding zone for those that like to ride on the toes.
A low-profile toe box means easy gear changing and soft padding wraps inside the ankle area ensures comfort and safety is achieved. Also available in Junior sizes. Retail price: $219.99.
MXA VIDEO: 2023 KTM 300SX FUEL-INJECTED TWO-STROKE VIDEO TEST
• MXA PHOTO OF THE WEEK: MONOCHROMATIC LOOK
Fashion tastes come and go, but in the 1980s being color coordinated was the height of style. Take Lance Moorewood on this  bright yellow Suzuki RM500 (even the fork legs are yellow). It is set of tastefully by a solid yellow Bell helmet (with a Techno paint scheme), yellow Smith goggles, yellow MXA jersey, yellow HRP High-Back pants with the kidney belt built into the pants) and yellow and black Gaerne boots.
• MXA VIDEO: 2023 KAWASAKI KX250 VIDEO TEST
• MXA AD OF THE WEEK—IF THIS WEEK WAS IN 1965
This 1965 BSA ad celebrates Jeff Smith's 1965 FIM 500 Wrold Motocross Championship on a BSA 441 four-stroke. It was Jeff 's second straight 500 title, but it would also be Jeff's and BSA's last title as the two-stroke dominated for the next 27 years.
• MXA VIDEO: 2023 GASGAS MC450F  VIDEO TEST
• $13,000 PASHA 125 PRO TWO-STROKE CLASSES AT THE WORLD VET ON NOV. 5-6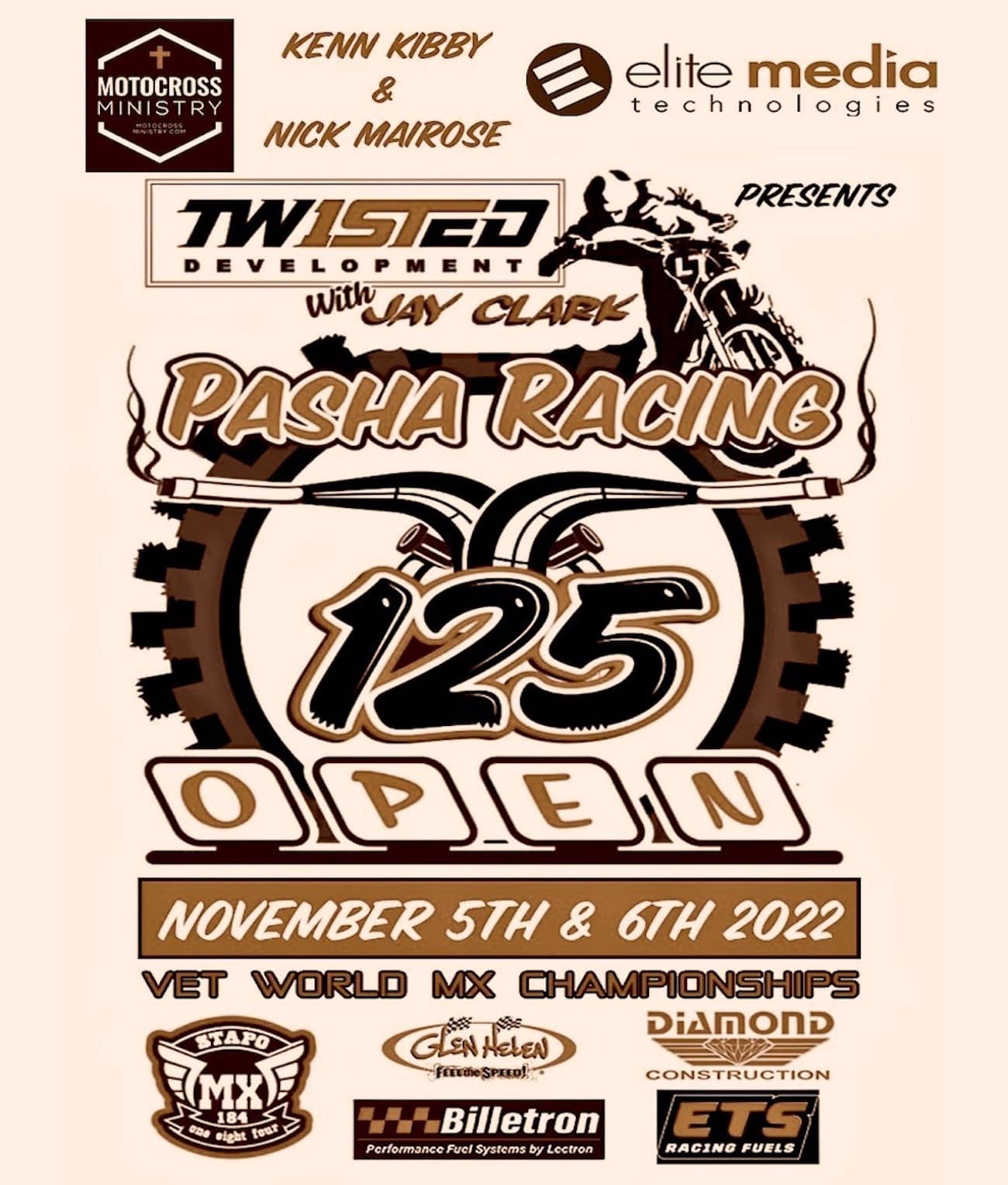 There will be an Over-30 125 Pro class on Saturday, November 5 that pays first, second and third and an Over-50 125 Pro class on Sunday, November 6 that pays first through fifth — with two motos on each day. For more info go to www.glenhelen.com.
• BACKYARD ENGINEERING: NO ROOM FOR THE AIRBOX? NO PROBLEM FOR A TEXAN
The Knox Box airbox.
Modern motocrossers lack the creativity of riders from the 1970s. Back in the day, when a racer had an issue with his bike he went out in the garage and invented a solution. Such was the case with AMA National rider Dewitt Knox, III. When the throttle stuck on his 1973 Yamaha YZ250A at the Lake Whitney National because dirt got past the minuscule Yamaha air filter, Dewitt's dad decided that the YZ needed a bigger and better air filter, but there wasn't any room for it with the monoshock in the way.
Dewitt Knox III's Yamaha YZ250 with the Knox Box on the back.
Undeterred, Dewitt, Jr. cast a plaster of Paris mold of a remote airbox to fit on the rear fender. From the mold, he made a fiberglass airbox to hold the air filter up and away from roost and dirt. A 3-inch flex hose ran from the fender to the stock airbox. If it was muddy or dusty, Dewitt raced with the air filter in the Knox Box. If the dirt was good, he ran the stock Yamaha filter but with the air coming from the empty Knox Box.
DeWitt ran the Knox Box on his YZs in 1973-1975; then, when he switched to Husqvarnas in 1976-1977, his dad made a new one for the Swedish bike. DeWitt scored several top-20 National finishes and won the 250 Support class at the 1975 Cycle-Rama 125 National in San Antonio.
• MXA VIDEO:2023 KAWASAKI KX450 VIDEO TEST
• 2022 WORLD VET MOTOCROSS CHAMPIONSHIP STARTS THIS WEEKEND
• MXA VIDEO: 2023 GASGAS MC350F VIDEO TEST
• 2023 HONDA CRF450 "FIRST RIDE" VIDEO VIEWS BY MEDIA OUTLET
Below are the official YouTube 2023 Yamaha YZ450F viewer numbers for MXA, Dirt Bike, Swap, Vital and Racer X as of October 27.

• MXA VIDEO: 2023 HONDA CRF450 VIDEO TEST
• THE DECEMBER 2022 ISSUE OF MXA IS JUST AROUND THE CORNER! SUBSCRIBE AND YOU WON'T MISS ANYTHING
On The Cover: The all-new 2023 Husqvarna FC250 graces the December cover of MXA, along with the 2023 Honda CRF-2 electric Pee-Wee.
Did you know that you can subscribe to MXA at virtually no cost to you—because when you subscribe you receive a Rocky Mountain ATV/MC credit for $25 towards anything in their massive inventory. Plus, you will get all the content in the 12 monthly issues of Motocross Action magazine—from four-stroke tests, two-stroke tests, retro tests, race coverage, new tech to product tests….most of which never appear on the internet. And, don't forget, that $25 credit from Rocky Mountain ATV/MC that will more than cover the cost of your subscription. To subscribe call (800) 767-0345 or Click Here
• MXA VIDEO: 2023 GASGAS MC250 VIDEO TEST
• THE FINAL WORCS RACE IS ON NOV. 4-5 IN MESQUITE, NEVADA

• MXA VIDEO: MXA VIDEO: 2023 HUSQVARNA FC250 VIDEO TEST
• 10TH ANNUAL KURT CASELLI RIDE DAY AT DEC. 3 AT PALA
The Kurt Caselli Foundation will host its 10th Annual Kurt Caselli Ride Day presented by Rocky Mountain ATV/MC, FMF and KTM on Saturday, December 3d, 2022 at Fox Raceway in Pala, California.
• MXA VIDEO: 2023 SUZUKI RM-Z250 VIDEO TEST
•2022 FIRE & POLICE ELSINORE GRAND PRIX ON TUESDAY, DECEMBER 6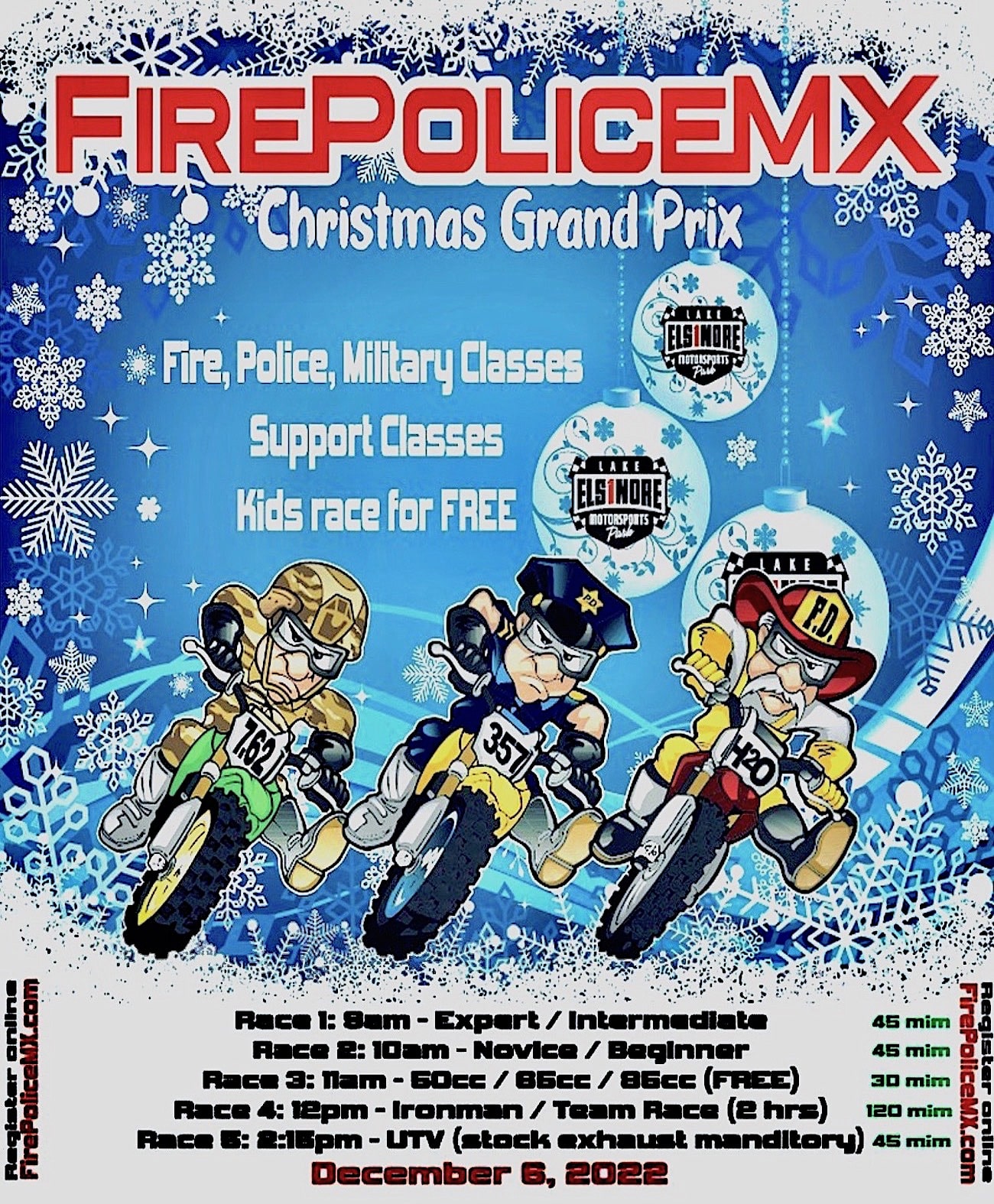 For more information or to sign-up go to www.firepolicemx.com
• 2023 SOBOBA TRAIL RIDE WILL BE ON FEBRUARY 26, 2023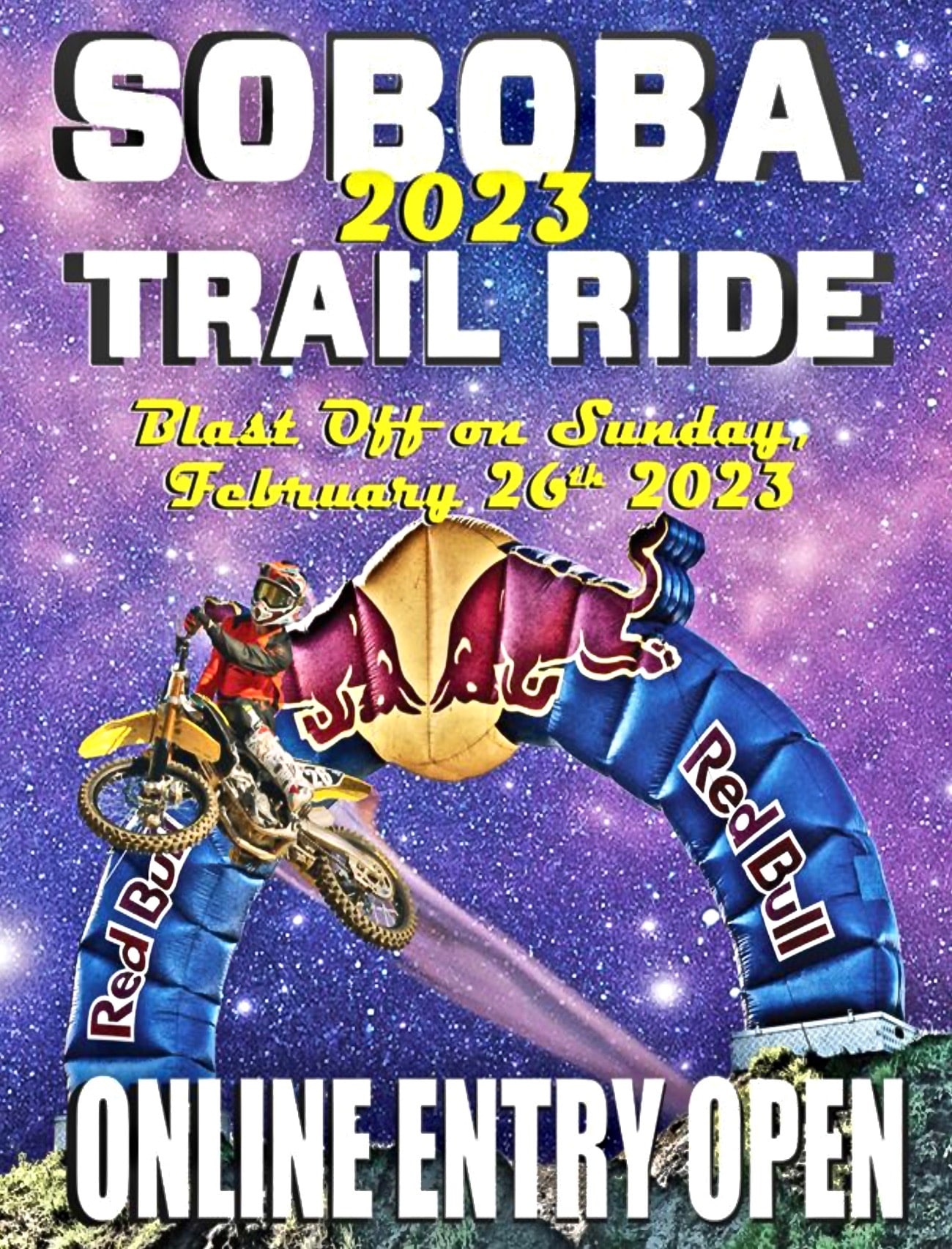 For more info go to www.sobobarides.biz/home
• HOW SMART DO YOU HAVE TO BE TO SUBSCRIBE TO MXA? YOU SUBSCRIBE AND GET A $25 ROCKY MOUNTAIN GIFT CREDIT—SEEMS SIMPLE

You can't afford not to subscribe, because when you order a subscription, Rocky Mountain ATV/MC sends you a $25 gift credit to use on anything you want from their massive selection. Plus, subscribers to MXA can also choose to get the digital mag on their iPhone, iPad, Kindle or Android by going to the Apple Store, Amazon or Google Play or in a digital version. Even better, you can subscribe to Motocross Action and get the awesome print edition delivered to your house by a uniformed employee of the U.S. Government. Do we have to mention the $25 Rocky Mountain ATV/MC gift card again? You can't lose on this deal? Call (800) 767-0345 or Click Here
•  THE REMAINING RACES OF THE 2022 SEASON
The 2022 World Vet Motocross Championship is shaping up to be a barn burner, as lots of former motocross stars, including Jeremy McGrath, are lining up to win the Over-30, Over-40, Over-50, Over-60, Over-70, Over-80 titles…and the Over-30 Pasha 125 Pro and Over-50 Pasha 125 Pro two-stroke events (with a $13,000 purse).
2022 AMA ENDUROCROSS SERIES SCHEDULE
Sept. 17…Salt Lake City,UT
Sept. 24…Redmond, OR
Oct. 1…Denver, CO
Oct. 22…Prescott Valley, AZ
Nov. 5…Boise, ID
Nov. 19…Reno, NV
2022 SATURDAY AT THE GLEN RACE SCHEDULE
Apr. 2…Spring Series #1
Apr. 23…Spring Series #2
Apr. 30…Spring Series #3
May 7…Spring Series #4
May 14…Spring Series #5 (National Track)
June 11…Summer Series #1
June 25…Summer Series #2
July 9…Summer Series #3
July 30…Summer Series #5
Aug. 13…Summer Series #6  & Pasha 125 Open (National Track)
Aug. 27…..Fall Series #1
Sept. 10…Fall Series #2
Sept. 17…Fall Series #3
Oct. 1…Fall Series #4 & Pasha 125 Open (National Track)
Oct. 15…Fall Series #5
Oct. 22…Fall Series #6
Oct. 29…World Vet Warm-Up (National Track)
Nov. 5-6…Dubya World Vet Championship (National Track)
Nov. 12..Winter Series #1
Nov. 19…Winter Series #2
Dec. 3…Winter Series #3
Dec. 10…Winter Series #4 (National Track)
2022 WORCS OFF-ROAD SCHEDULE
Jan. 21-23…Primm, NV
Feb. 18-20…Glen Helen, CA
Mar. 11-13…Lake Havasu City, AZ
Apr. 8-10…Taft, CA
Apr. 29-May 1…Las Vegas, NV
May 27-29…Cedar City, UT
Sept. 16-18…Preston, ID
Oct. 14-16…Mesquite, NV
Nov. 4-6…Primm, NV
2022 AUSTRALIAN SUPERCROSS CHAMPIONSHIP
Oct. 21…Melbourne, Vic
Oct. 29…Adelaide, SA
Nov. 26…Newcastle, NSW
Dec. 3…Wagga Wagga, NSW
2022 MOTOCROSS DES NATIONS
Sept. 25… Red Bud, MI
2022 WORLD VET MOTOCROSS CHAMPIONSHIP
Nov. 5-6…Glen Helen, CA
2022 PARIS SUPERCROSS
Nov. 12-13… Paris, France
• MXA YOUTUBE CHANNEL | HIT THAT SUBSCRIBE BUTTON

The MXA wrecking crew is everything moto related. Check out our MXA YouTube channel for bike reviews, Supercross coverage, rider interviews and much more. And don't forget to hit that subscribe button.